Top Inspiring Flooring Trends for Your Home
Laminate flooring colors are exploding with an abundance of styles, colors and designs. No surprises there as it's the most in demand flooring option because of its affordability, ease of installation and long durability with up to 20 years guarantee with selected European Brands.
This type of flooring is breaking innovations on the use of materials, installation methods, designs that not only look good but feel good too.  Enormous emphasis is given to achieving the look of real wood and stone, and to the naked eye, you could hardly tell the difference.
One major advantage is if you have moderate DIY skills, a few tools and a little effort you can lay laminate flooring yourself and put that little extra money towards the products itself.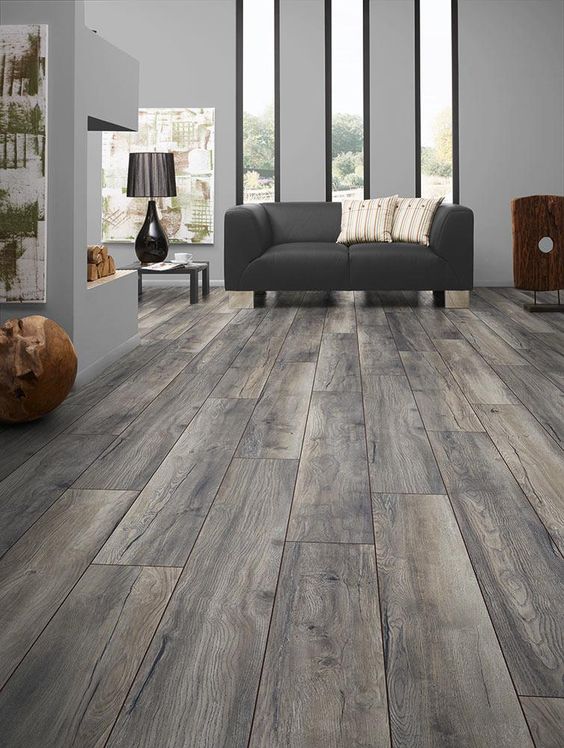 Image Source: Pinterest
It doesn't all come down to cost; laminate is also available in stain and scratch resistant materials that have anti-mold and mildew characteristics compared to real wood.
They looks so real you wouldn't need to compensate on the wood finish, whichever one you want, they are available and affordable. You can find a whole range of realistic wood effect laminate flooring colors that resemble quality natural oak or hand-scraped reclaimed wood. Manufacturers and leading brands continue to experiment with design trends that combine industrial, traditional and modern styles all in one floor that gives a fusion look, so you can decorate with furnishing without limitation, or change them without worrying about the flooring.
Its flexibility means it can go anywhere; from coastal cottages to palatial estates.
Right now, the most popular laminate flooring planks mimic hardwood floors, in lighter colors and wider planks.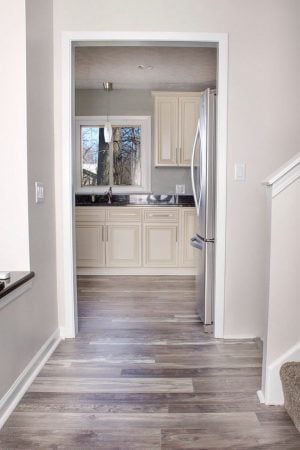 Image Source: Pinterest.com
Color is only part of the story. Keep scrolling below to see the looks dominating flooring this year.
Beach White Washed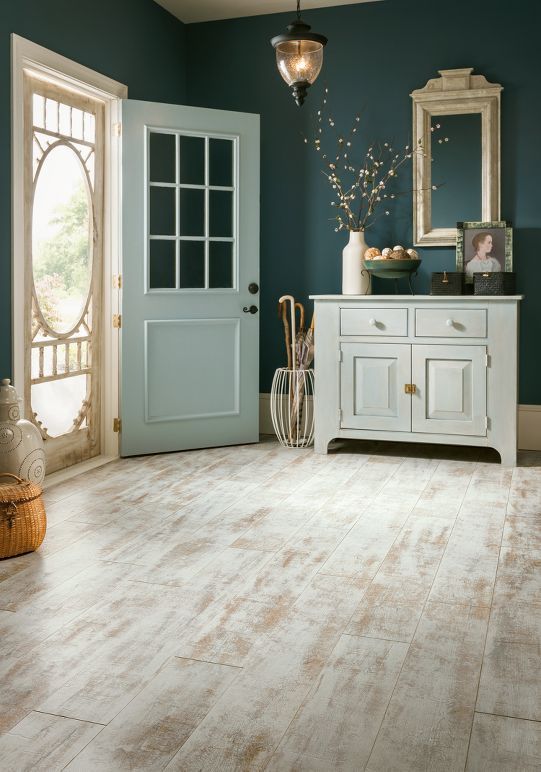 Image Source: Bruce.com
Wide planked white washed laminate flooring color is laid back, modern, as trending and cool as a Californian beach house. Its an easy color to live with and becoming popular across the country. While white floors show dirt easily, this floor hides dirt with it uneven textured look.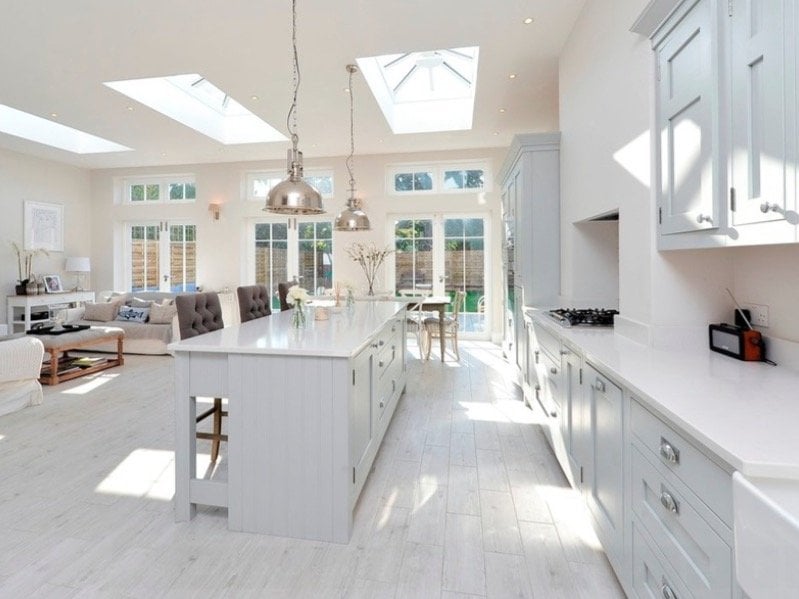 Image Source: Freshome.com 
Light flooring color will make your rooms and home look larger and more open and is perfect for the kitchen or basement.
Blonde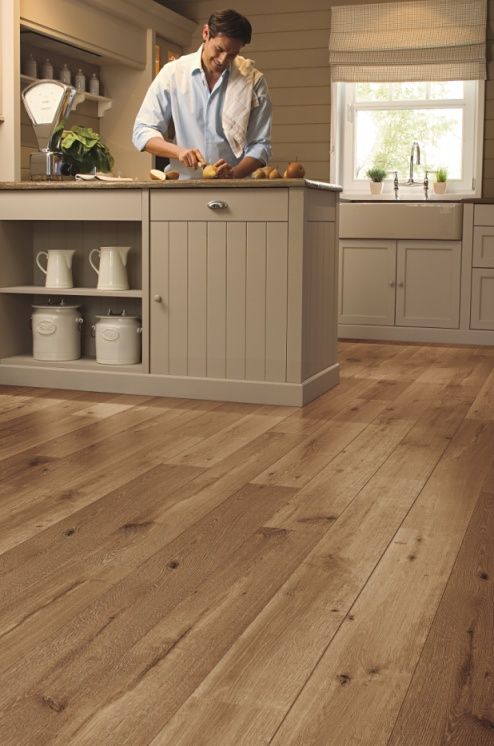 Image Source: Pinterest
With all the advantages of light bright floors, making your rooms look larger and brighter, this color adds warmth to your rooms and can hide dirt even more. Wider planks are popular; with varying degrees of reclaimed and knotted looks like the one below from HGTV.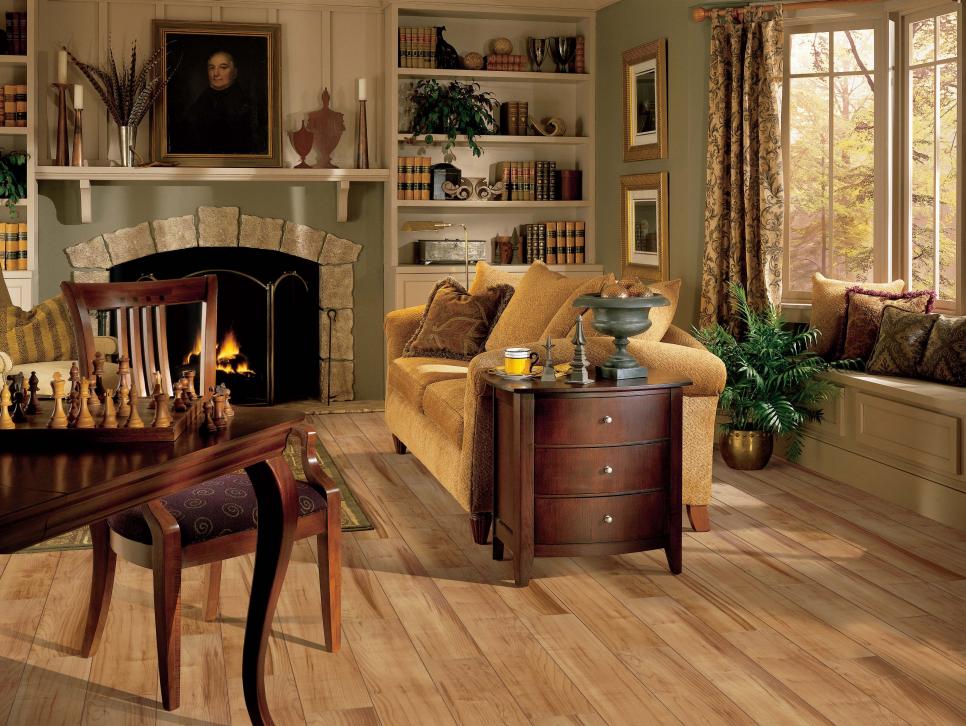 Image Source: HGTV
Shades of Gray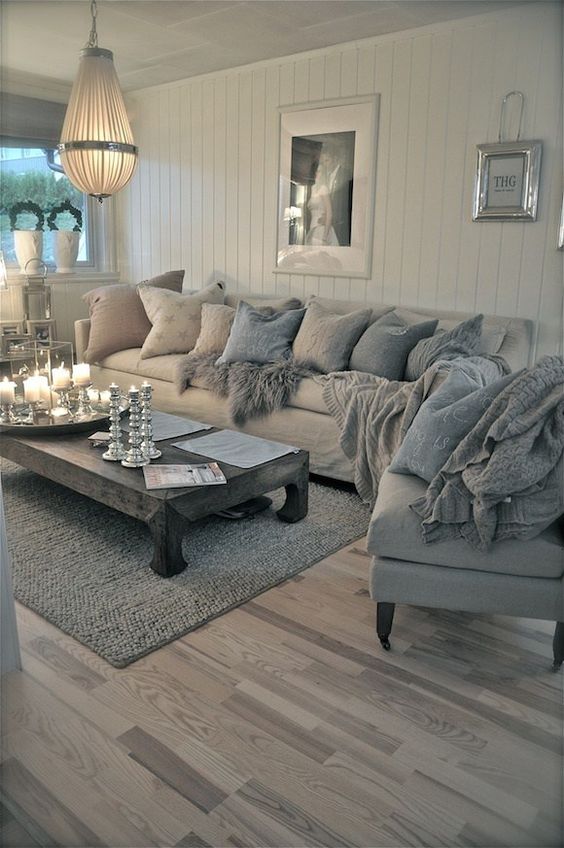 Image Source: lizmarieblog.com
The color gray has been exploding into every area of home decorating and laminate floors have a wide range of gray flooring to match your decor. 
But like all flooring colors it comes in a variety of shades, shapes and styles. Some look more weathered and worn, while others have hints of brown giving it warmth.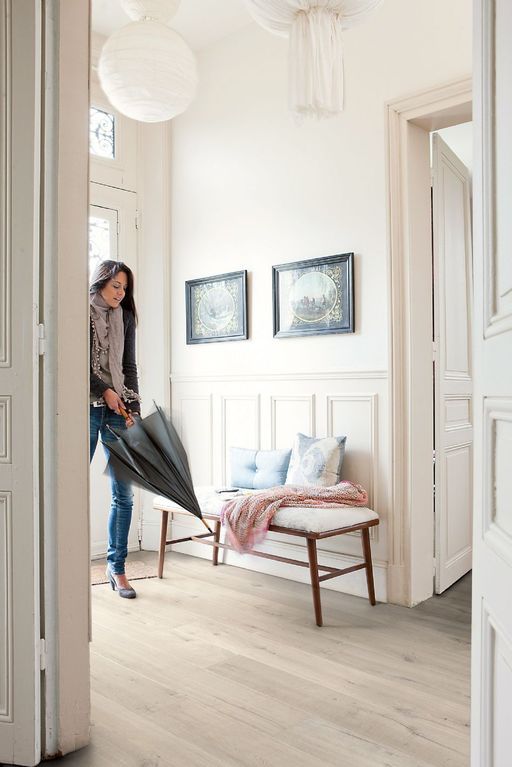 If your walls are also gray, consider going for a gray floor color that is not too similar, otherwise your room could look muted and lifeless.
Espresso Black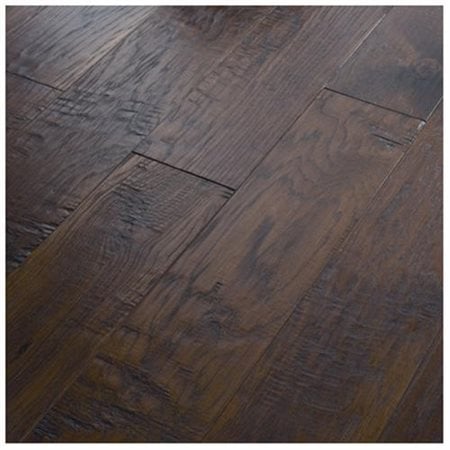 Dark espresso, almost black floors are modern, sleek and quickly becoming very popular in urban contemporary homes. These deep rich colors are very elegant.
They work well in large rooms and I also like them in small rooms where you have little space to play with and want to add warmth and drama.
They can reflect dust easily which means regular sweeping under furniture.
The Finishes 
Image Source: Shanty2Chic
Its not only flooring color that is trending but a new range of styles that can make a difference in the flooring color you choose. Here are four that are making their mark.
Reclaimed Wood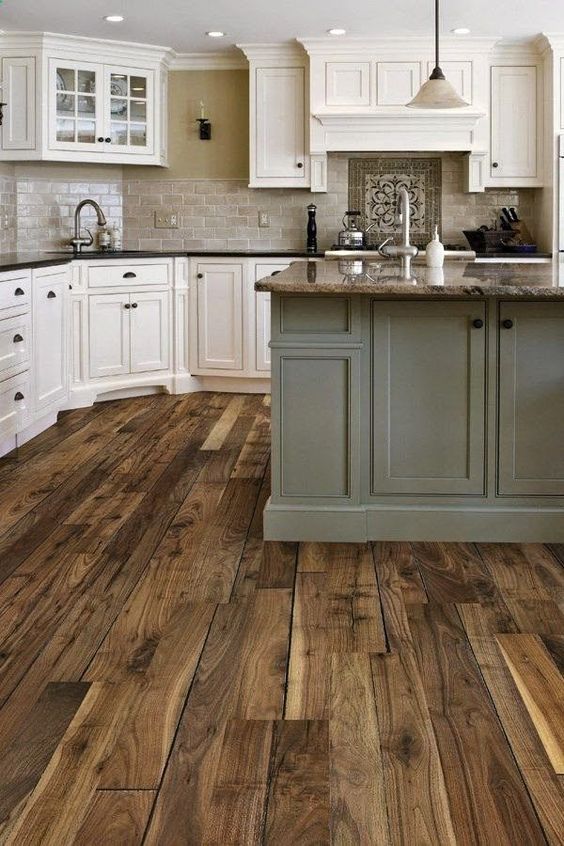 Source: Hometalk
With the trend focus on distinctive and original, this flooring looks unique and rustic and very much on trend and at a fraction of the price or reclaimed hardwood prices.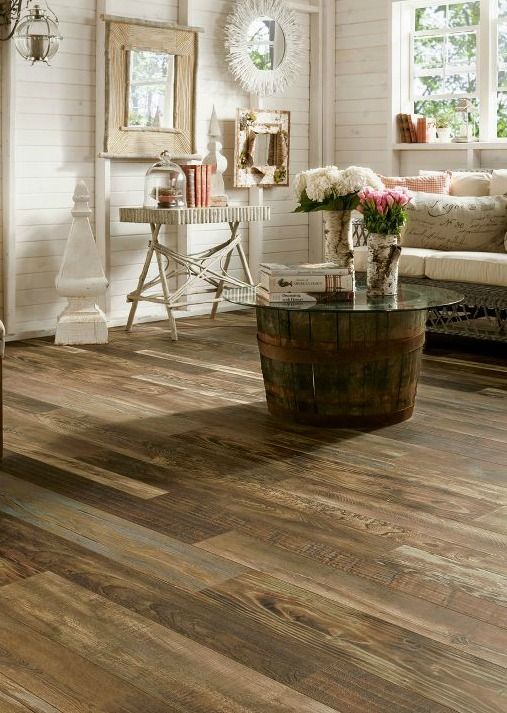 Image Source: Pinterest
Reclaimed wood laminate flooring is a real cost saver for stylish homeowners who want the look but not the price tag. 
Weathered & Distressed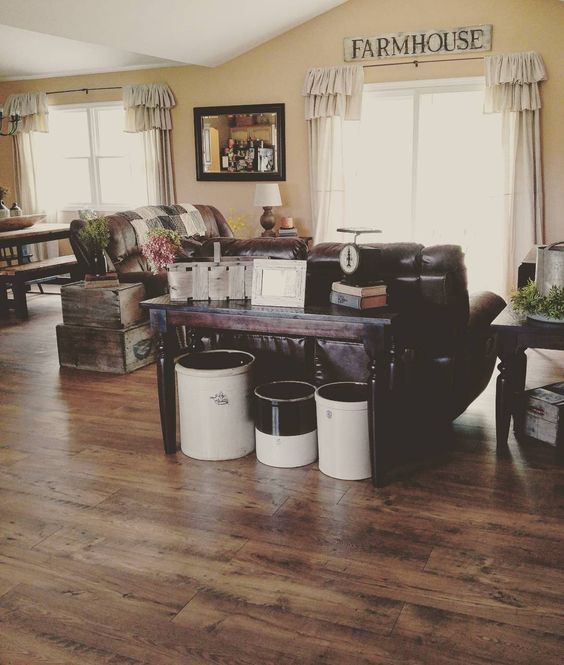 Image Source: Instagram
This look is similar to reclaimed wood laminates. The weathered and distressed wood look oozes character and charm and is a look that goes with so many current home decorating styles.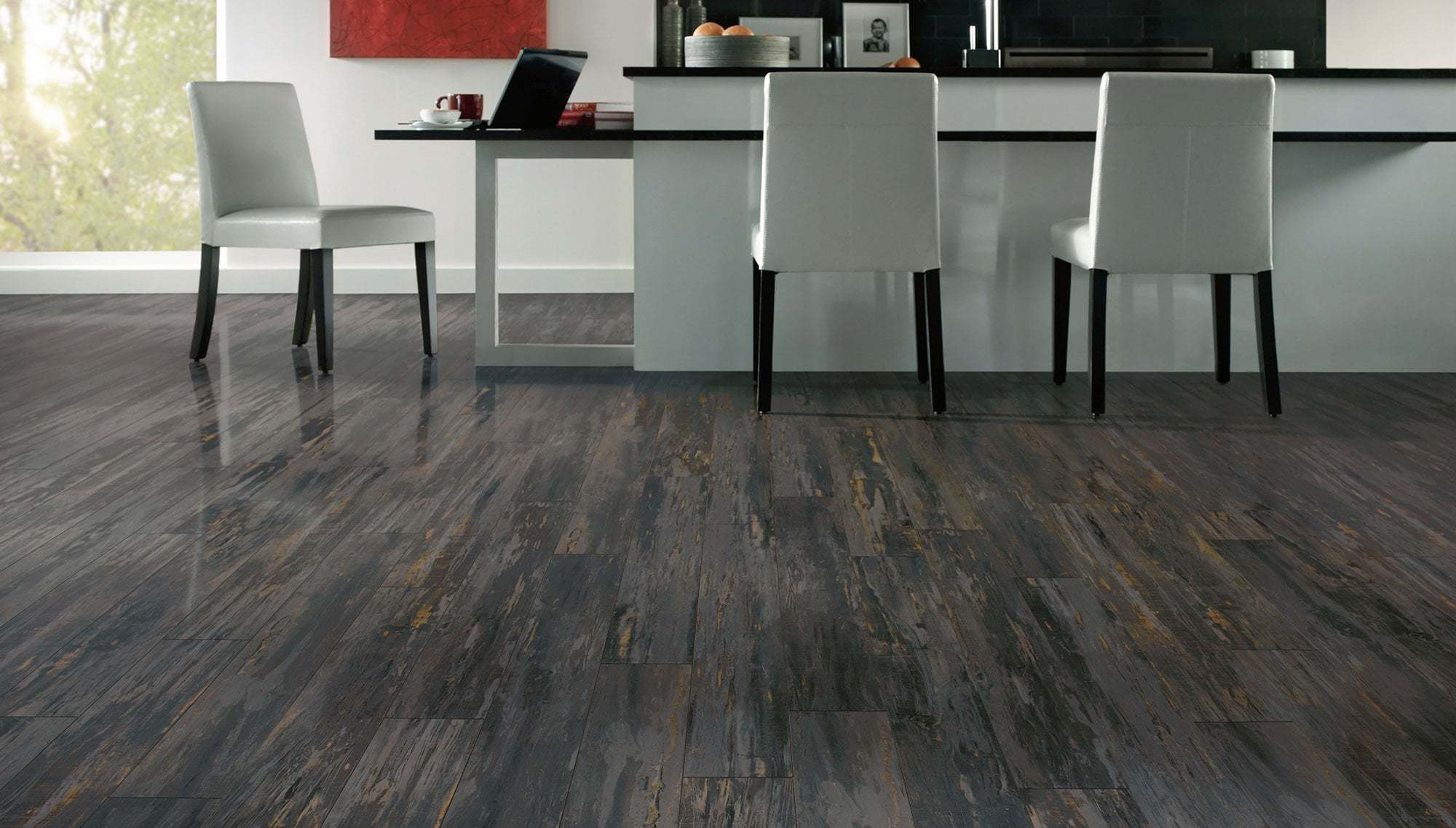 Image Source: Pinterest
Rustic & Hand Scraped Wood Look Laminate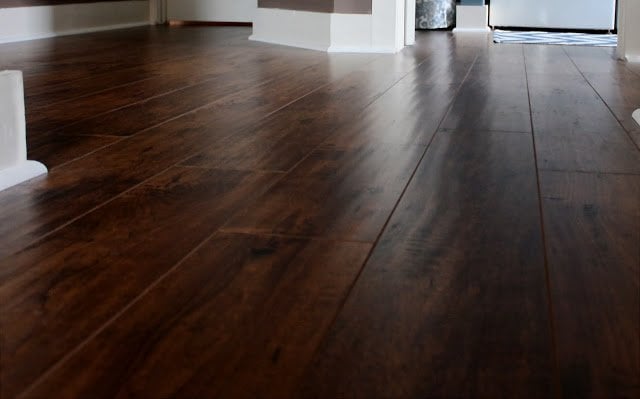 Image Source: TheYellowCapeCod.com
Another distinctive handcrafted style is hand scraping and rustic look laminates. 
Long, ingrained scrapes in the finish, leave the flooring to look original, crafted and classic, and notably less costly than hardwood. It looks expensive and will stand the test of time. 
Exotic Wood Look Laminate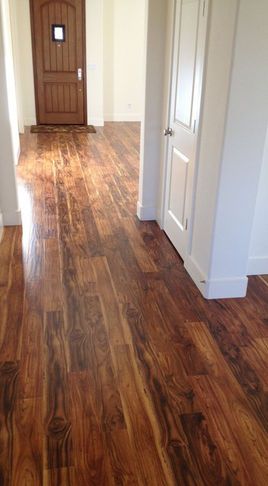 Image Source: Houzz
Laminates have now entered the exotic hardwood arena. Manufacturers have managed to copy this look impeccably. It is now possible to purchase convincing exotic look a like woods in laminate, rather than import expensive, exotic solid hardwoods from around the world. 
Patterns and Styles
So what else is trending in laminate floors.... let's have a look...
To begin with there are flooring patterns like herringbone and Chevron. This is often used for smaller areas like entries, hallways or bathrooms where it can look like a stunning feature.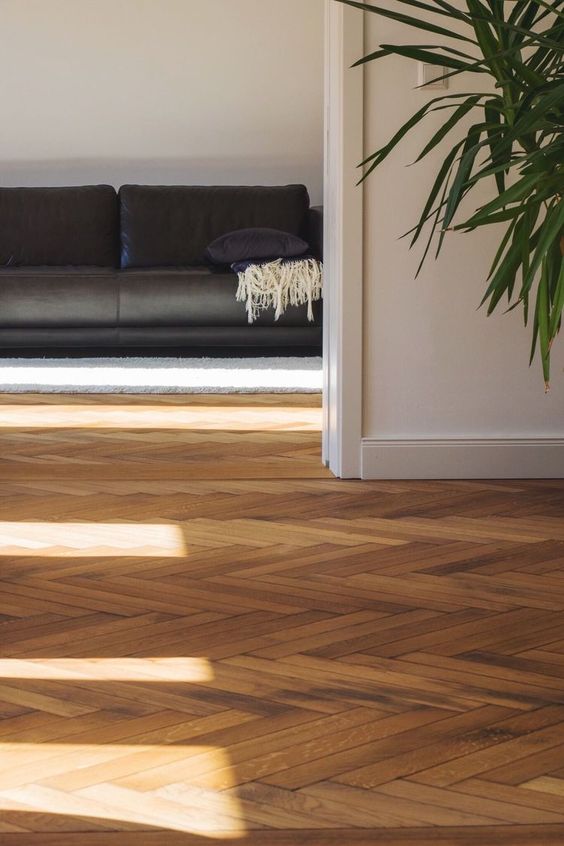 Image Source: TheSpruce.com
You can try something less common that creates a focus point such as diagonal flooring pattern. This can add something special to an otherwise featureless room and often used on expensive hardwood floors. You use more laminate to get a consistent look, so your laminate costs will go up, but the investment is well worth the initial cost.
The possibilities with laminate flooring are endless; the choices are expanding and the price range is getting wider with cheaper, and also, more expensive options.