Join Our Newsletter!
Join our email list to see what's trending in color scheme trends, DIY projects and new ideas from our regular blog posts. From living room paint colors, bedroom storage or outdoor living, our regular blog posts help you decide what you like and what works for you.
Two Gifts to Get You Started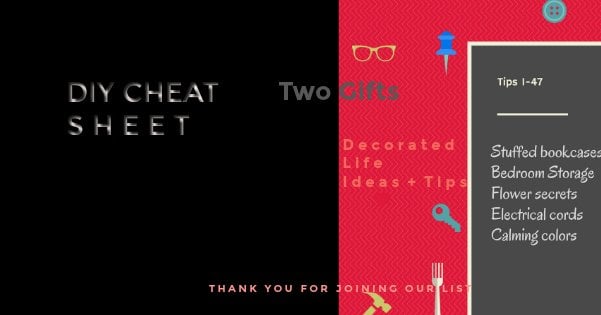 Once you join the first thing you will receive is two small gifts as a Thank You! The first gift is a DIY Cheat Sheet to help you with small DIY projects, while the second is a six week Interior Decorating Series full of small ideas, tips and decorating tricks.
If you are a seasoned DIYer and decorator you can skip the six week mini course and only receive the weekly blog posts. Either way, it's a resource with tutorials, photos and videos for you to access when you want. Just flip through it each week to get some quick ideas.

Please contact me at [email protected] if you have any questions.