Decorated Life is reader-supported. When you buy through links on our site, we may earn an affiliate commission. Learn More
Rugs that Will Look Great on Long Hallways
If you need a rug for a long hallway, your best bet is a runner.
Runners are typically 2.5 feet wide by 8 feet long – although you can find them as long as 16 feet and as broad as 3 feet. They're ideal for hallways and entryways.
And in the case you're working with a super long hallway, you can double up and use two – to keep them in place, simply add rug tape underneath.
Here are 15 rugs for long hallways.
Add a Vintage Feel with an Oriental Runner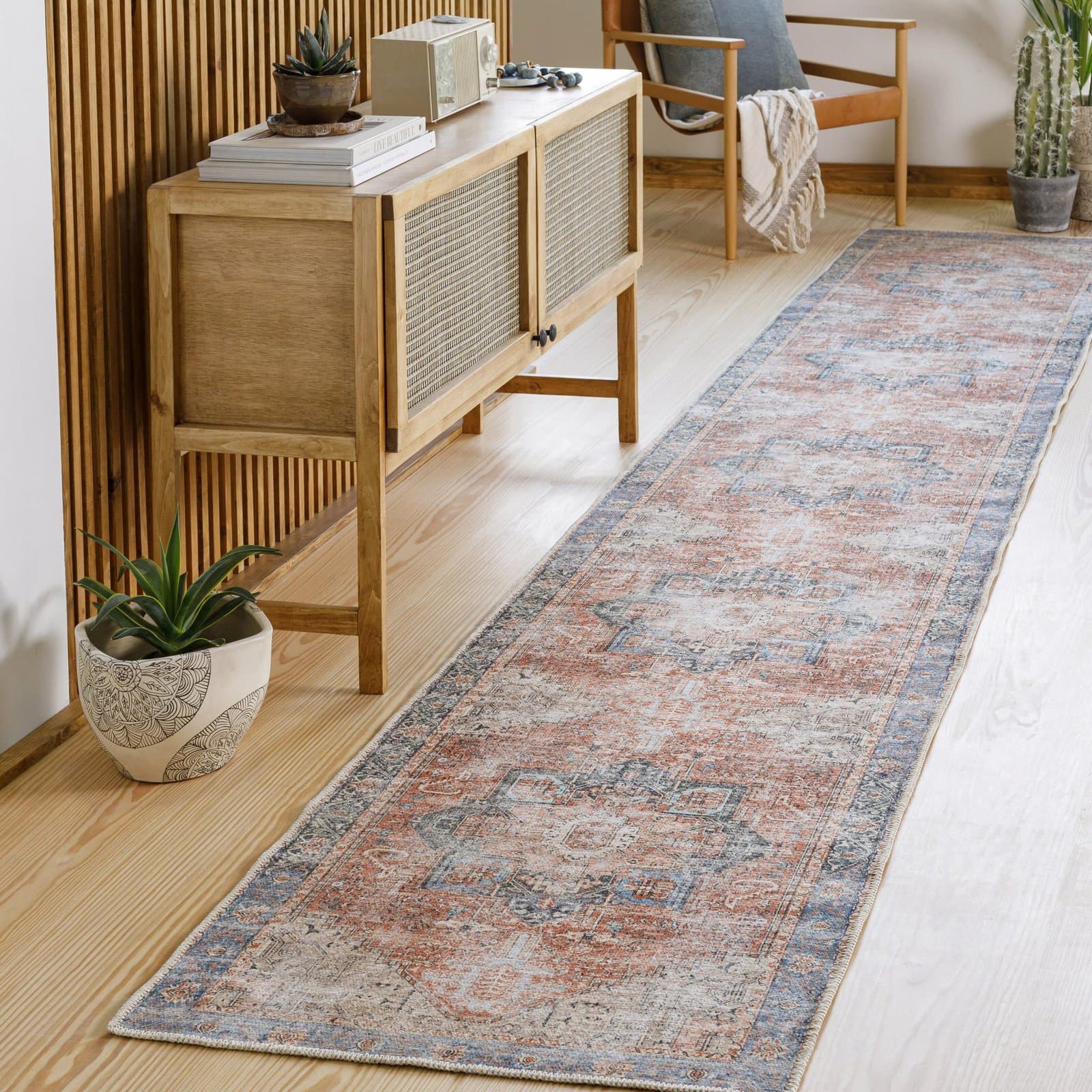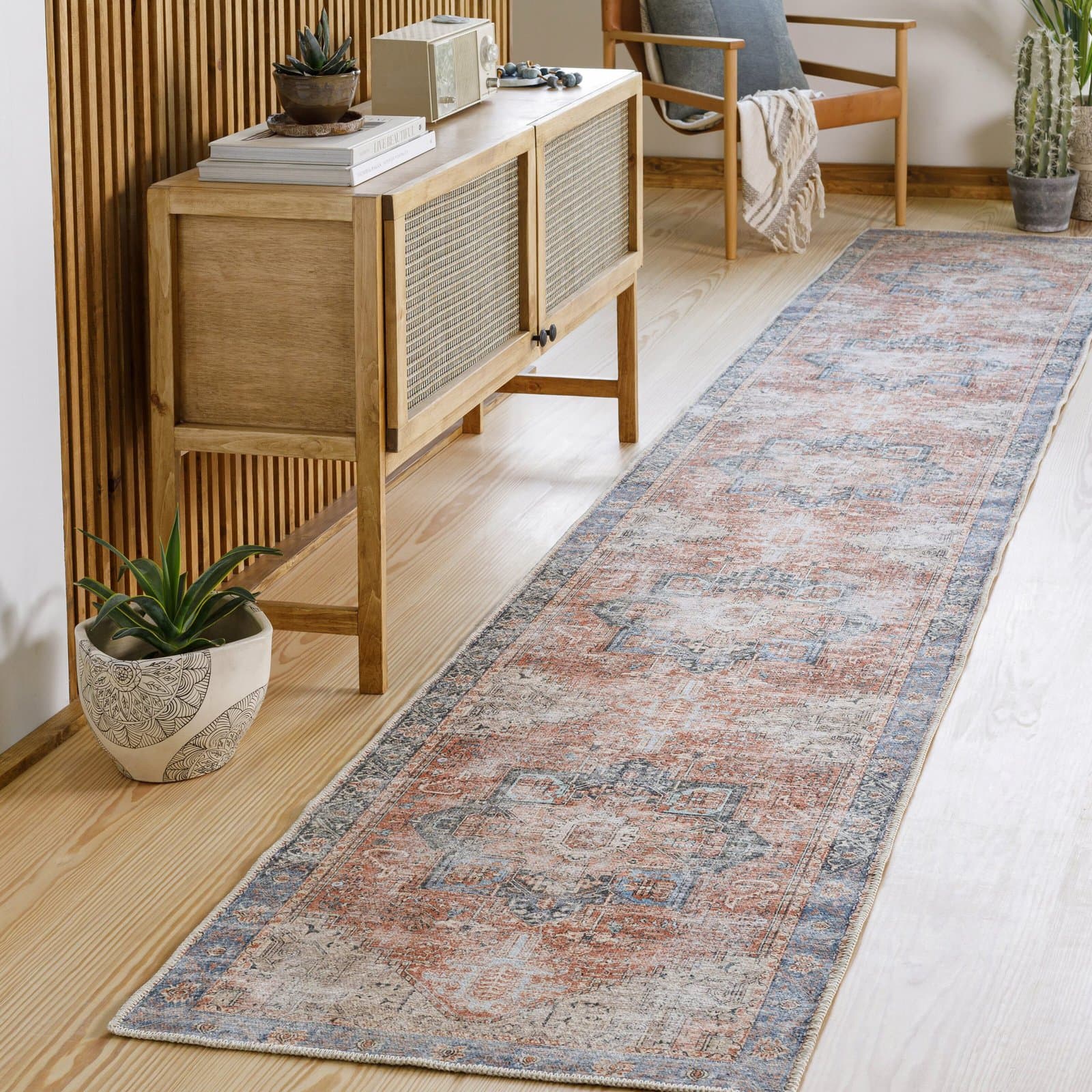 An oriental runner works with many decor styles and will give your hall a vintage feel. In addition to being beautiful, it's also machine washable, which is great if you live in a busy household.
This runner rug measures 2'7" and 7' 10". It comes in five color options – four of which are predominantly blue.
For an Earthy Look, Try This Recycled Cotton Runner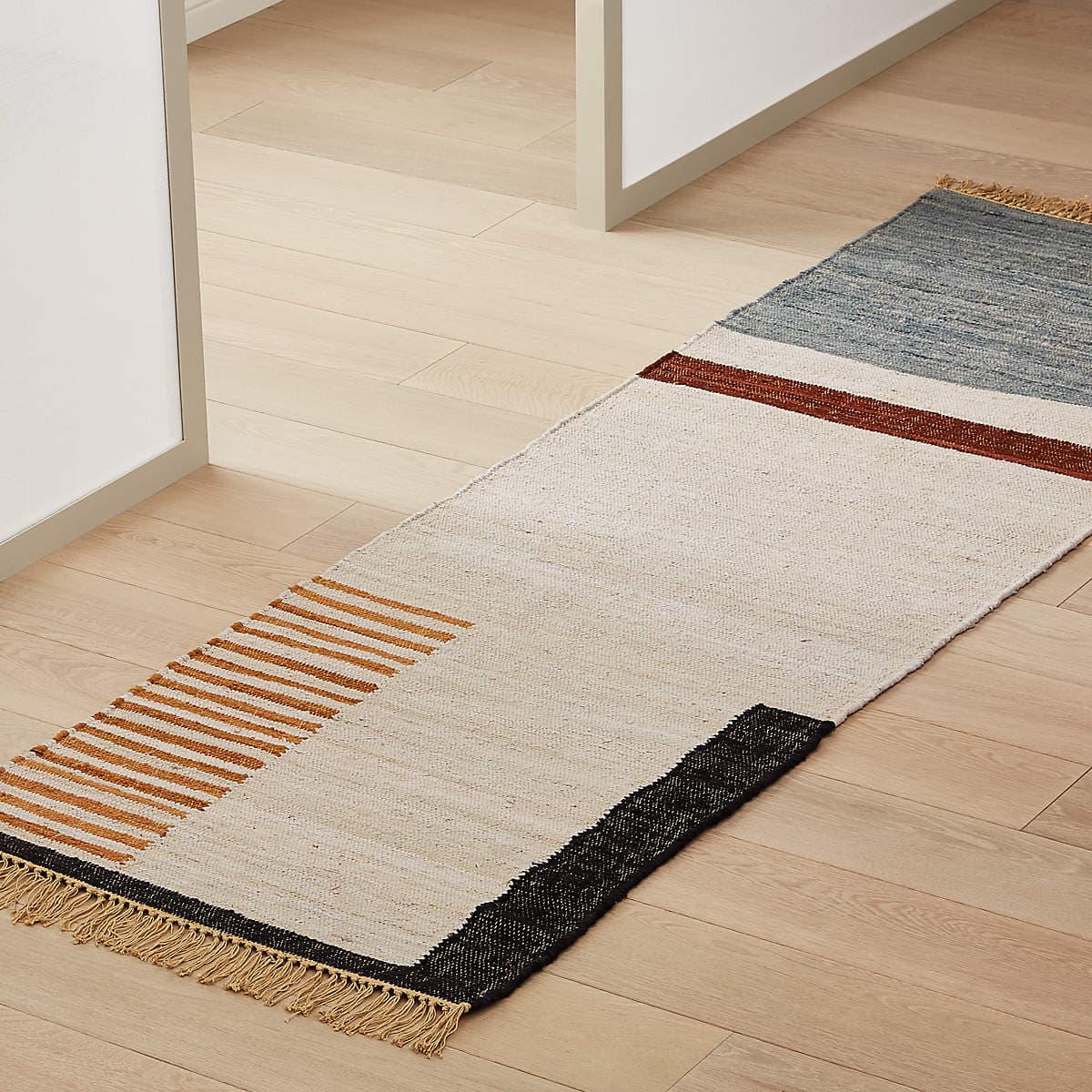 This recycled cotton runner from CB2 is a top contender if you like using eco-friendly material throughout your home.
It features earthy hues of blue, brown, copper, and cream. It's 2.5′ x 8′ long and comes in bigger area rug sizes. It's handwoven of 100% recycled cotton and is durable enough for high-traffic hallways.
Bring in Texture with a Long Jute Rug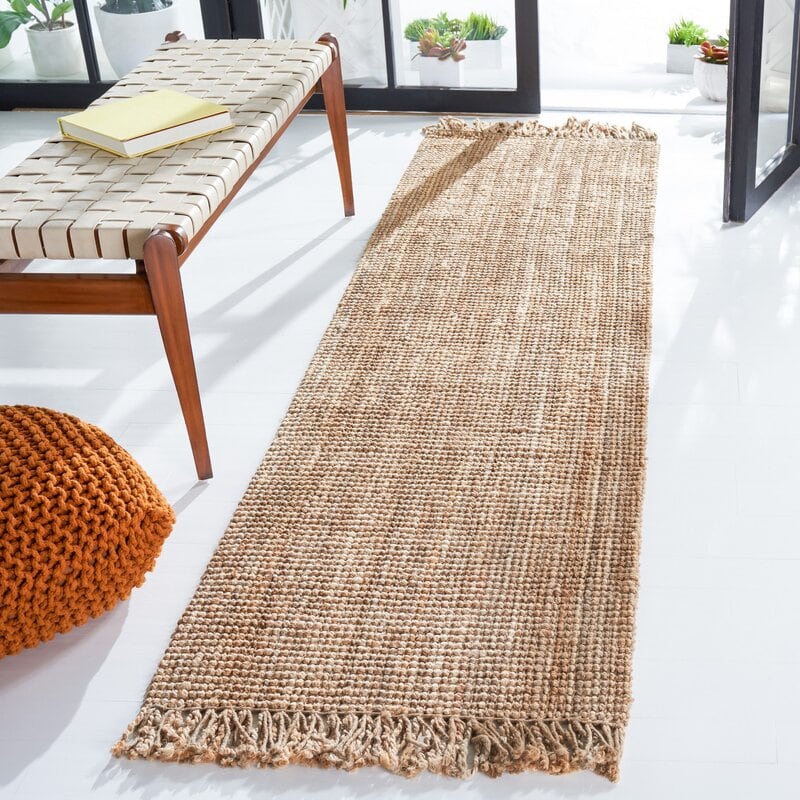 Whether you want to pack in texture or need to find a durable and inexpensive rug, jute is the way to go.
Jute is a natural material, and its thick fibers hold up well to foot traffic. It adds texture and dimension to your space without costing you an arm and a leg. But there is one caveat – if you have hardwood floors, put a rug pad underneath any jute runner.
Order This Rug for a Modern but Minimal Look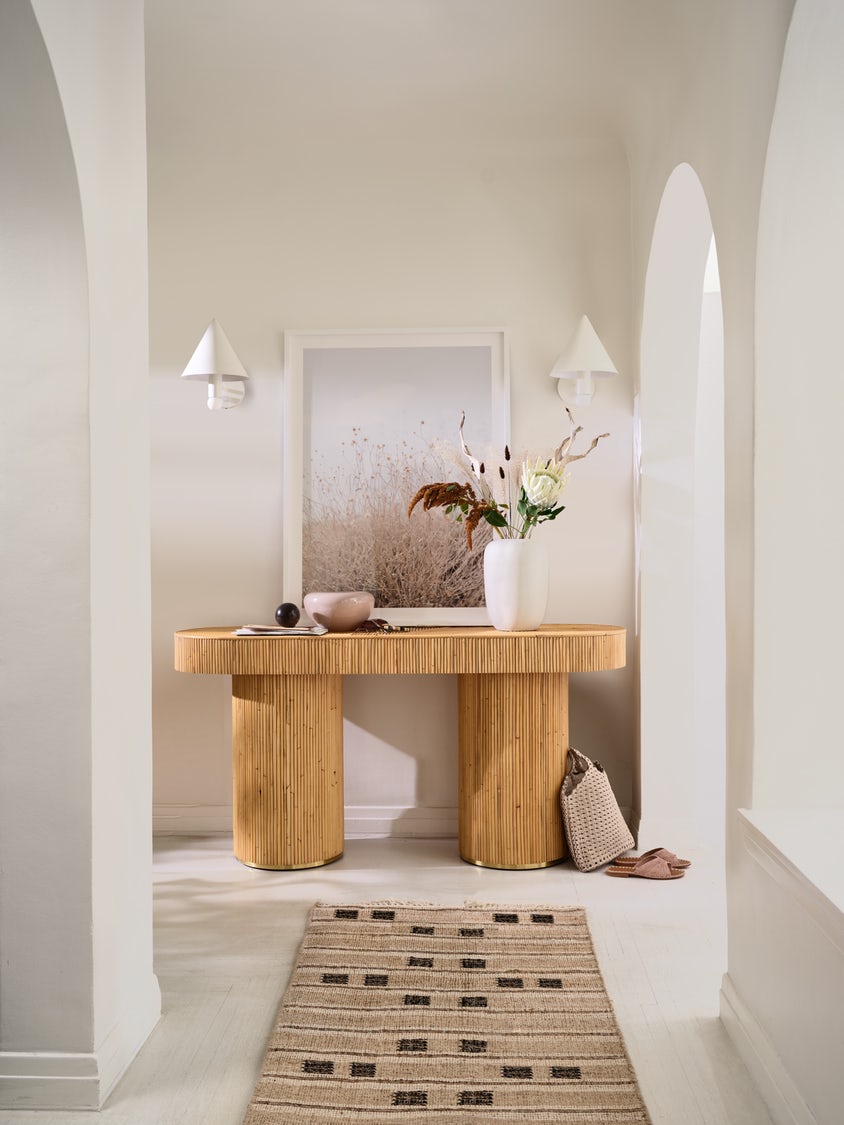 If you prefer the light and airiness of Scandinavian or minimal style, this rug fits the bill. While you can use it in any design, it's stunning in a space with white walls and wood floors.
From DWR, this is a flatweave jute rug with a simple black pattern. It's 2.5' x 9', perfect for a long hallway. You can also find it in area rug options if you're looking to coordinate.
Give Your Hall a Moroccan Touch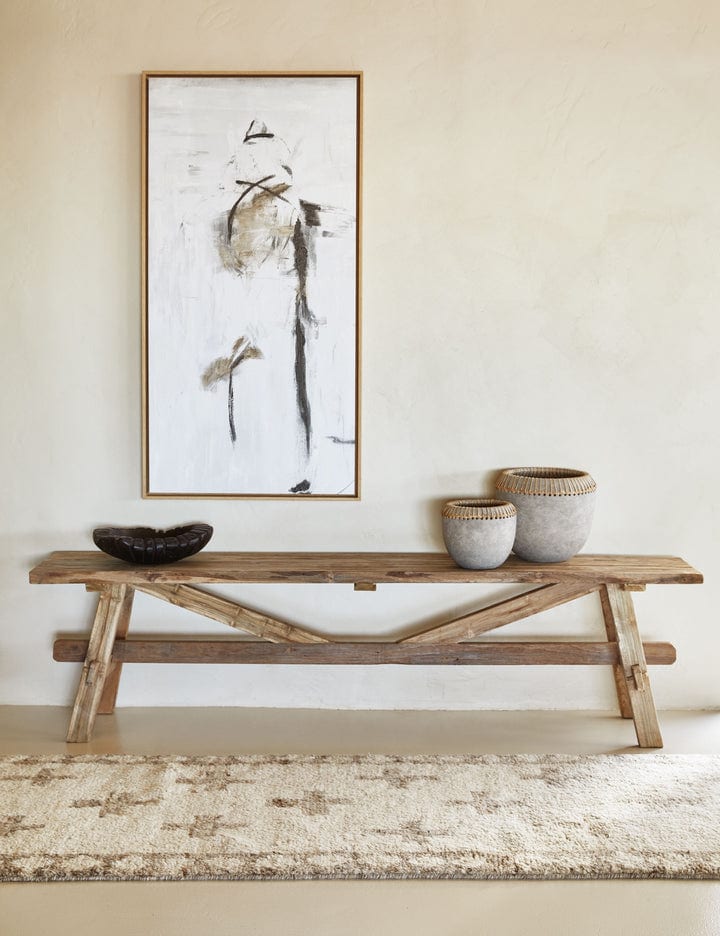 Do you like boho style? If yes, add a Moroccan rug to your hallway.
This Acoma Moroccan wool rug from Lulu and Georgia packs a simple but pretty pattern with a shag-like texture. The runner measures 2.5′ by 8,' but you can double up and use two if you have an extra-long hall.
Try This Blue Rug for a Bold Pop of Color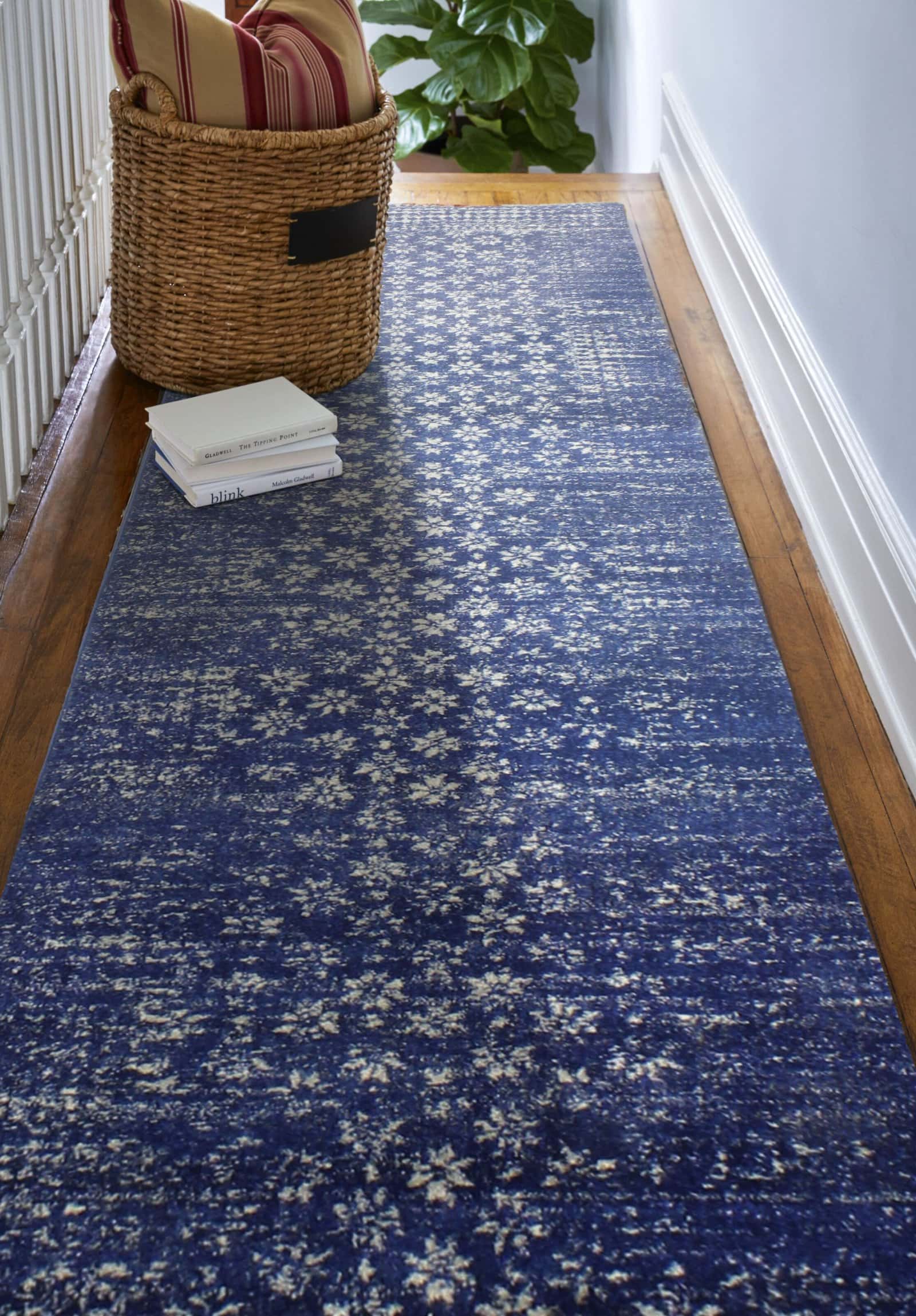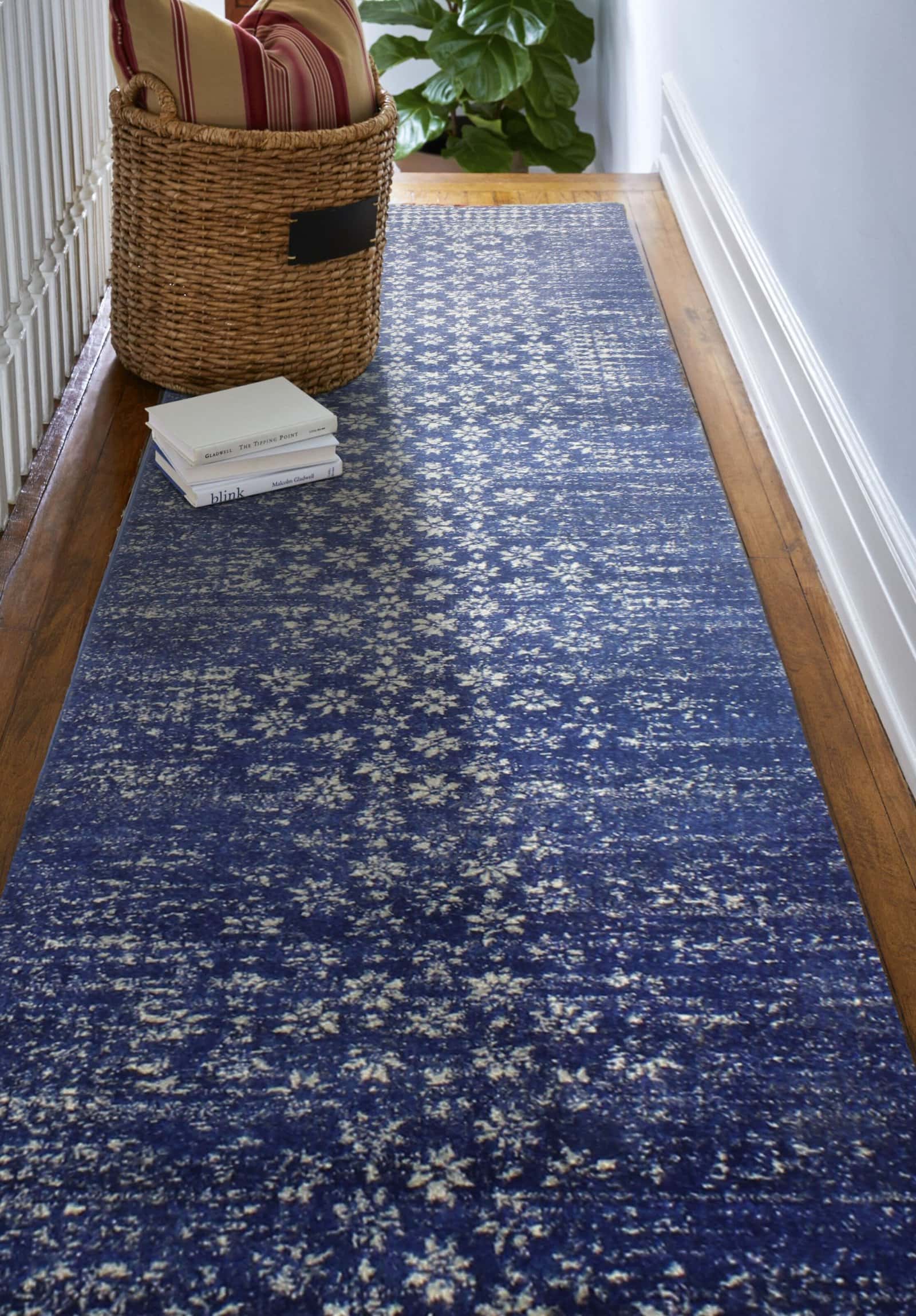 It's easy to see current rug trends are pretty neutral. However, if neutral isn't quite your thing, you can try a bold pop of color.
If you like blue, use this runner for your hallway. The color is very vibrant while still looking mature. The rug measures 2.5' x 8' and comes in other sizes. It's fitting for modern, boho, and eclectic design styles.
Accent Your Hall with This Durable Indoor/Outdoor Rug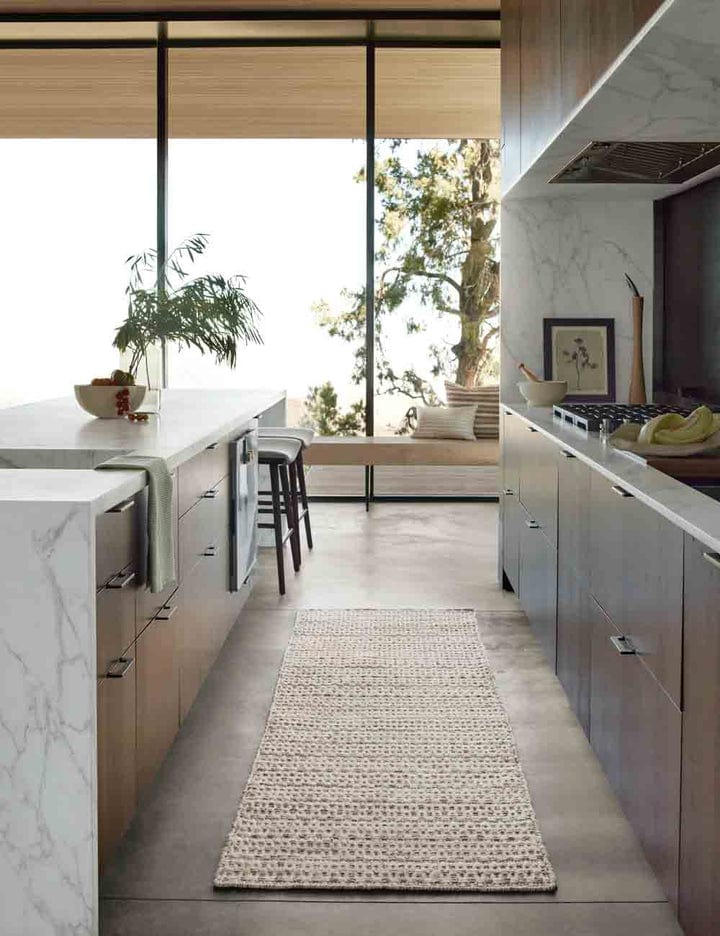 High traffic halls need rugs that can stand up to wear and tear. And really, there's no better solution than an indoor/outdoor rug.
This flatweave rug from Lulu and Georgia has synthetic fibers built to last. Its design is neutral and versatile, so it will work with any decor style.
Use This Rug for a Modern Southwestern Touch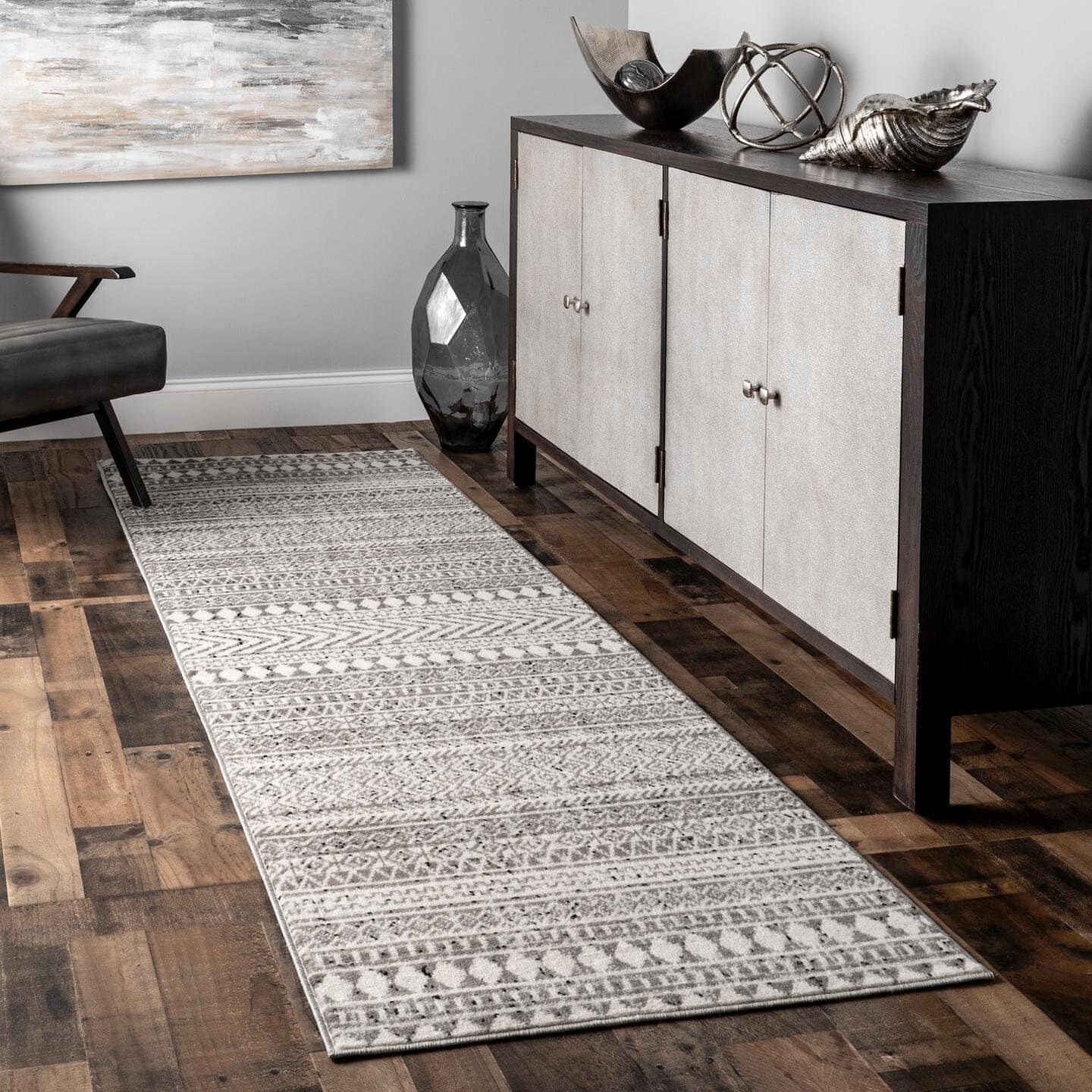 If southwestern style is your go-to, this rug packs in the right patterns using neutral colors.
You can find this rug at Wayfair in over 11 sizes, including a 2' x 6' runner. Its pattern and subtle gray and white color scheme work for many modern home styles. If you need this for an extra-long hallway, consider ordering two and installing them with rug tape.
Stay Eco-Friendly with this Recycled Denim Rug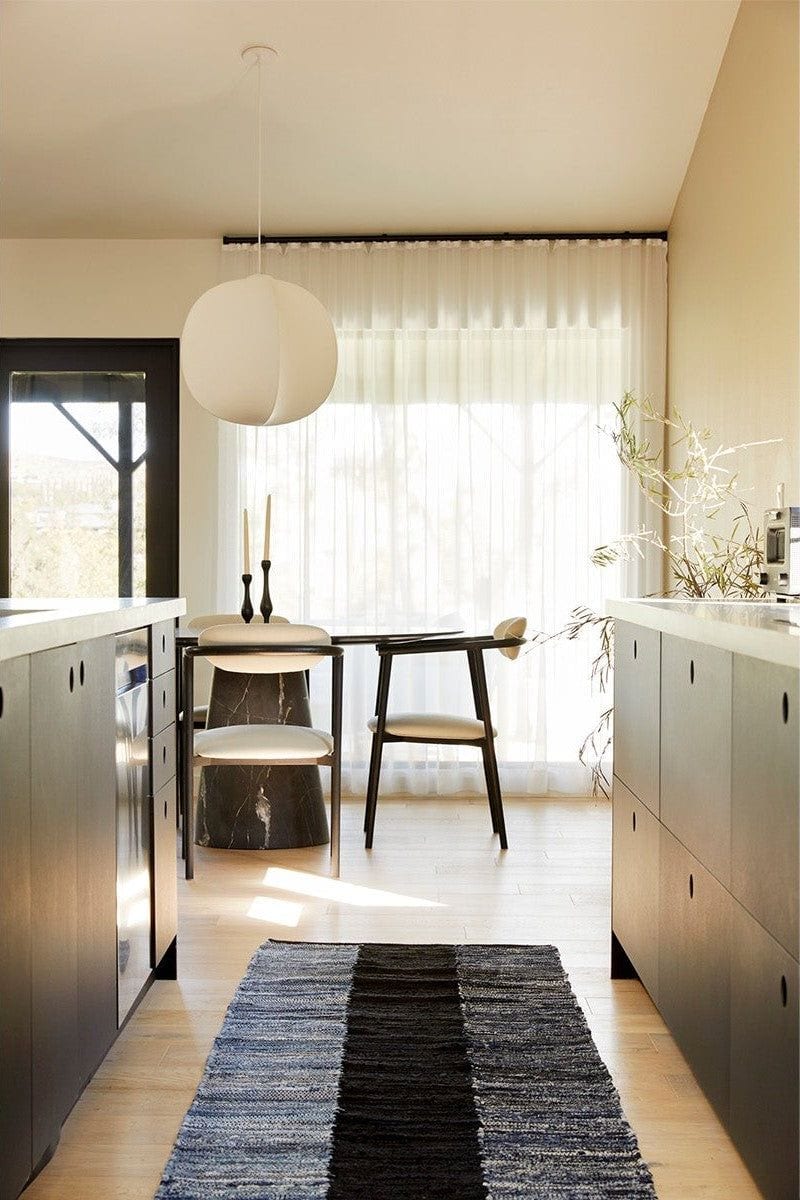 Want another eco-friendly option? This runner from Urban Outfitters is handwoven recycled denim in a flatweave.
You can get this rug in cream and black or blue and black – both options are basic enough to coordinate with any modern style decor. And the best thing about this rug? It's washing machine friendly.
Line Your Hall with an Extra Long, One of a Kind Runner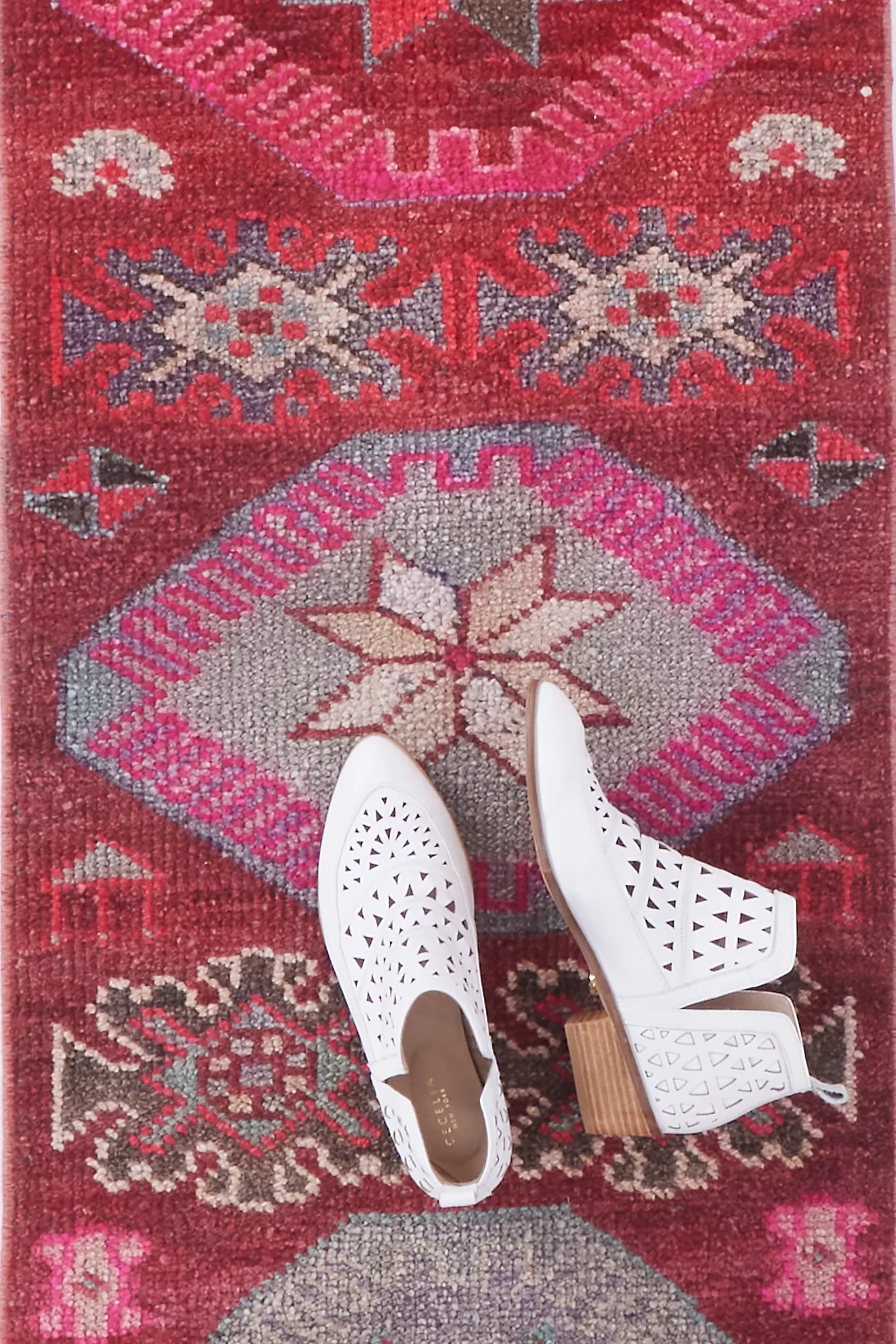 If you need an extra-long runner rug for the hallway, look no further. This one-of-a-kind vintage rug is over 11 feet long.
It has bold red, pink, teal, and gray hues throughout, making it a great statement piece. If you don't like this exact color or pattern, Anthropologie has several other extra long runners that are one of a kind.
Complement Your Hall with Boho Style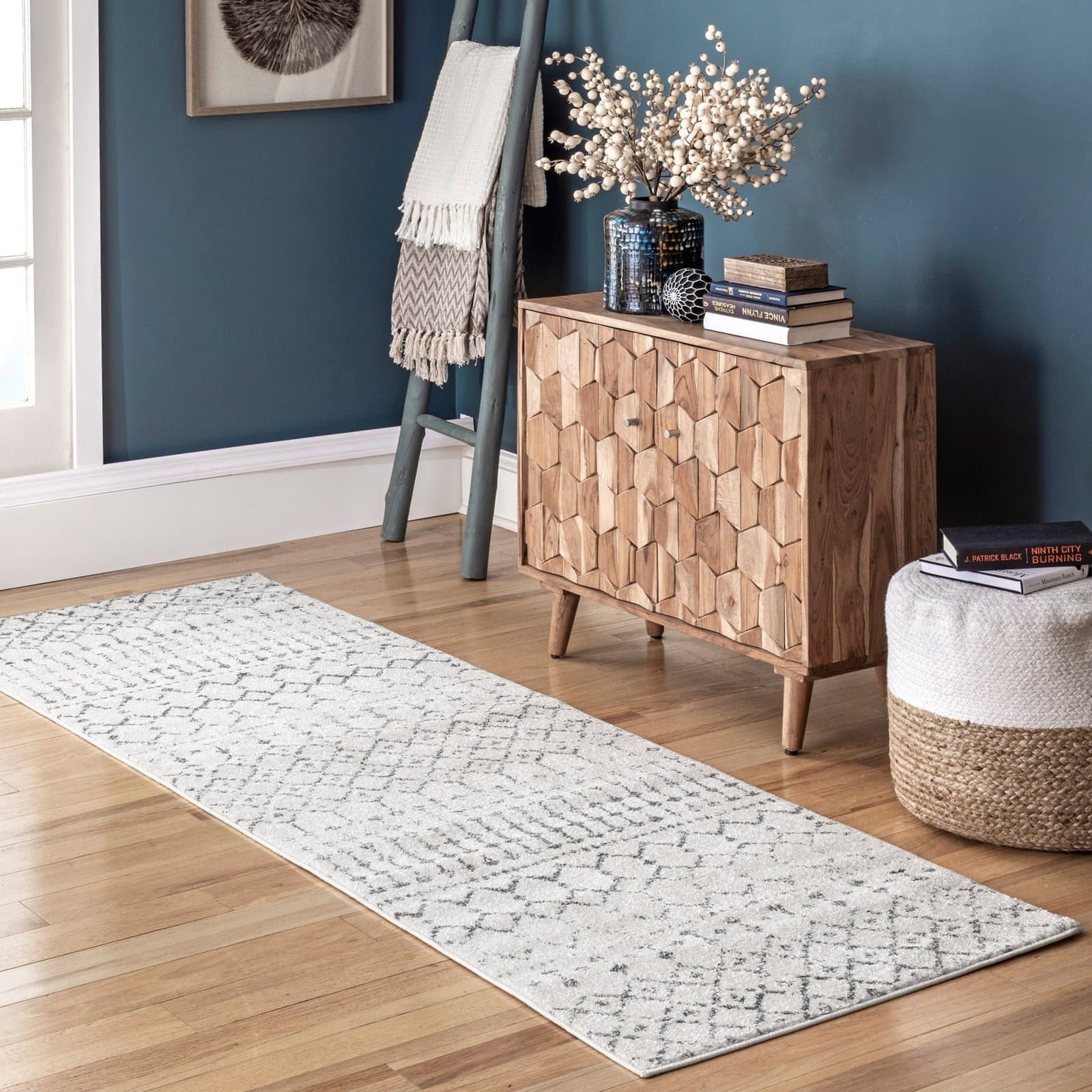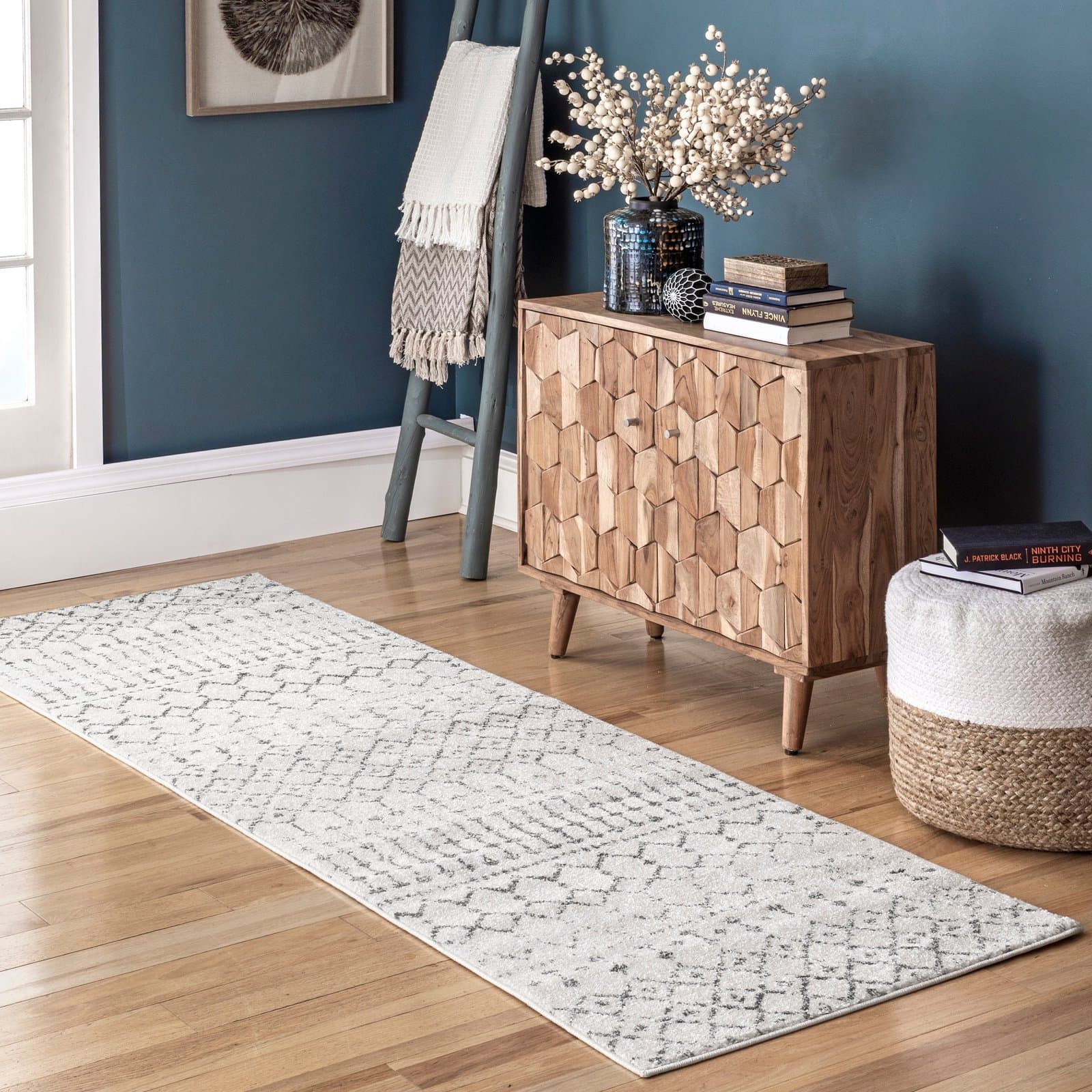 Chances are you've seen variations of this rug before. It's one of the most widely used area rugs on Instagram, and you can now get it in a runner.
You can find this runner at Overstock and choose between several sizes and 11 colors. It comes in extra long runner lengths that range from 6 to 16 feet long.
Keep it Simple with a Streamlined Jute and Sisal Runner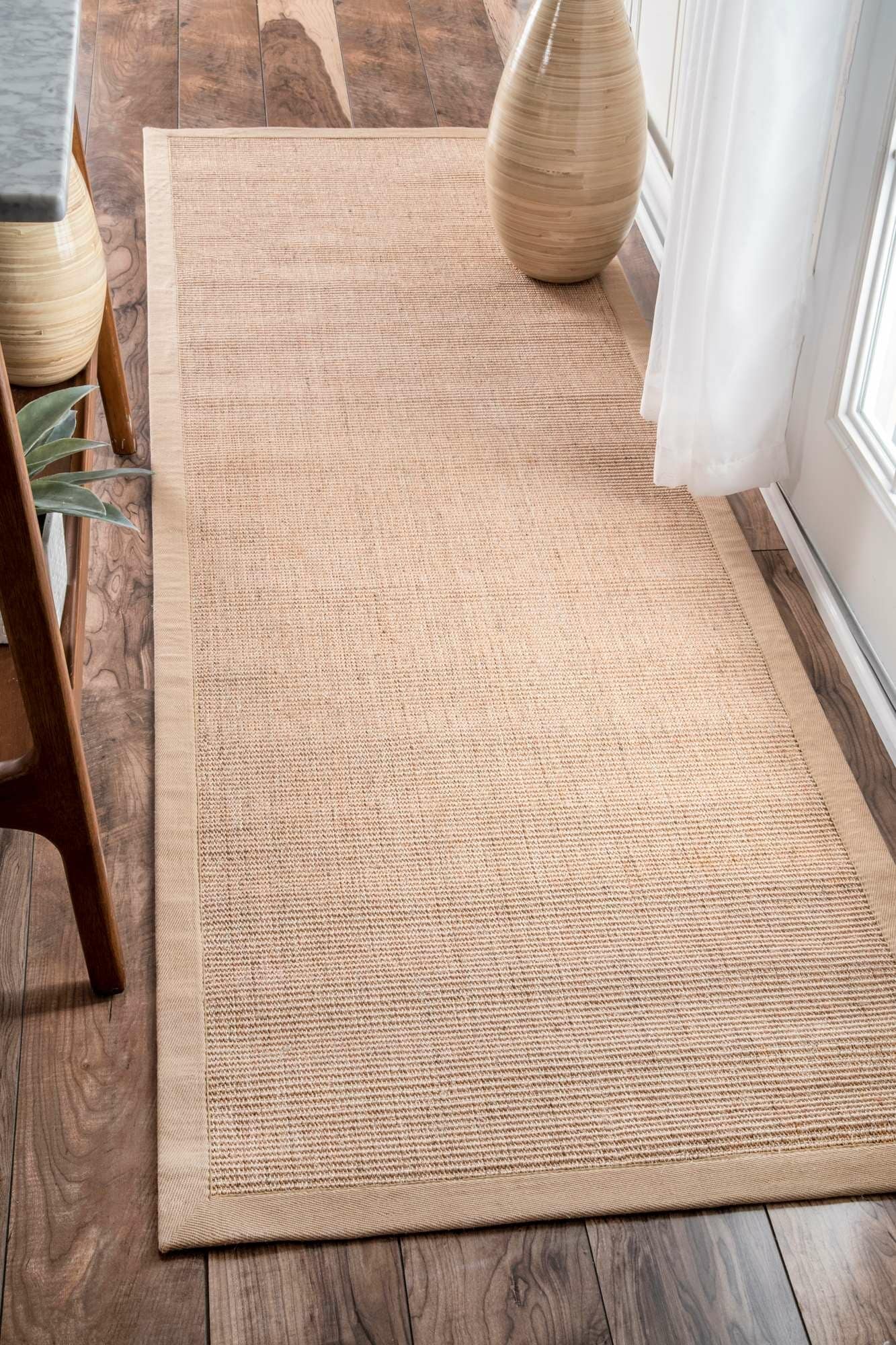 Jute has many looks. While you'll most often see it in chunky braided rugs, you can also find it in softer flatweave runners like this.
From Wayfair, this jute and sisal rug is about as versatile as you can get. It will look great regardless of the style of your home or the floor underneath. It comes in several sizes, including a 2.5' x 6' runner.
Draw Attention with a Bold Pattern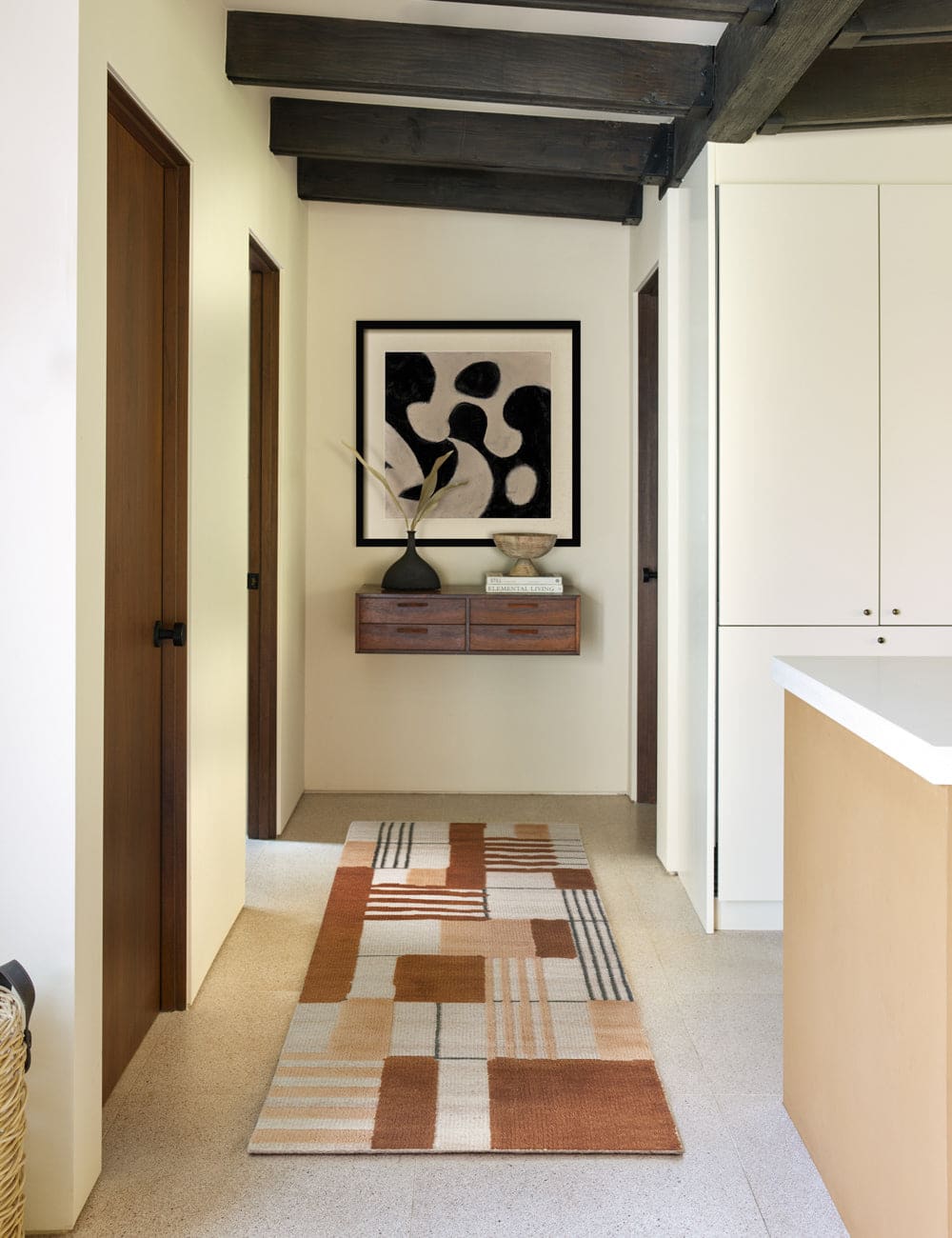 If you want to impact your hall without it looking too busy, consider a bold pattern in a neutral tone. For example, a geometric design like this draws attention without looking child-like.
You can get this runner at Lulu and Georgia. The measurements are 2.5′ x 8,' but you can also get it in larger area rug sizes.
Make a Statement with this Illustration-Based Runner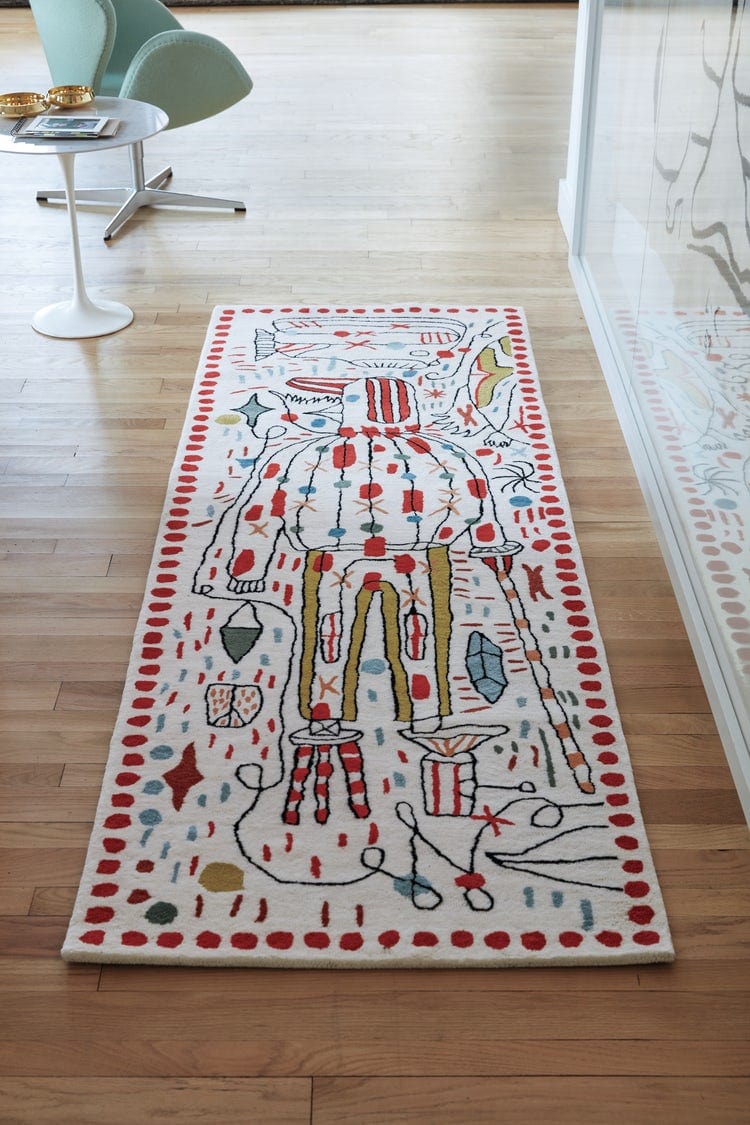 Looking for something entirely out of the ordinary? This illustration-based runner from DWR is it. It's hand-tufted New Zealand wool and designed by Jamie Hayon.
The rug measures approximately 2.5′ x 8′. It's an excellent option for a kids' hallway, ultra-modern hall, or anywhere you want to make a statement.
Use a Shag Rug for Added Texture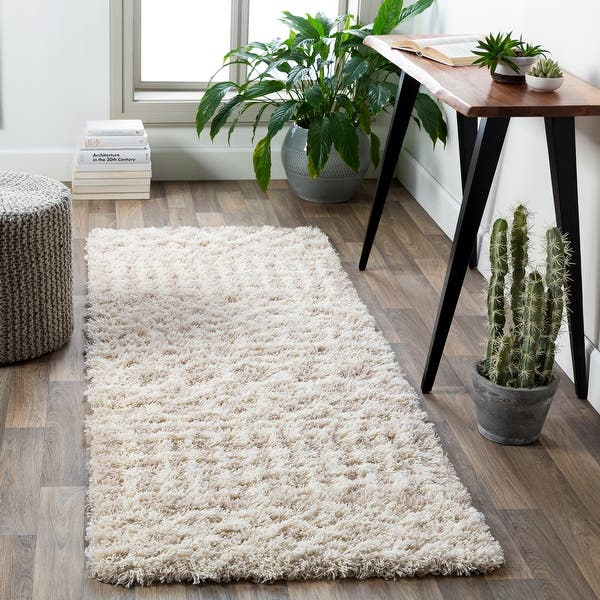 If you want to add texture to your space but aren't into jute, a shag runner is a great alternative. This one from Overstock has a beautiful but subtle pattern and comes in nine different colors.
The lengths of this runner range from 5′ to 18′ long. You can also get it in larger area-size rugs to coordinate your hall runner with your living room.
Final Thoughts
If you need an extra-long runner for your hallway, you have two options: use two regular runners or find one that goes up to 16+ feet in length.
If you are looking for something basic that's durable and inexpensive, go with a jute or sisal runner. (Just make sure to put a rug pad underneath so it doesn't scratch up your hardwoods.) If you want to add more interest to your hallway, look for a runner with pattern or vibrant colors.