Decorated Life is reader-supported. When you buy through links on our site, we may earn an affiliate commission. Learn More
Shoji White by Sherwin Williams Paint Color Review
So if you're on board with color trends, you know that palettes are getting warmer. Toasty neutrals like taupe are definitely in vogue. If you'd like to warm up gently, but you don't want to dive into clay colors and cinnamon, then you just might be in the market for a cream greige.
Greige, the harmonious blend of gray and beige into a balanced neutral, has been dominating the paint world for years now because of its versatility and ease of use.
But take that incredibly popular color, add a twist of light–but not yellow!–cream–and you get something new. Something refreshing and exciting, but just as easy to use.
Allow me to introduce you to Shoji White, the cream greige.
What Color is Shoji White?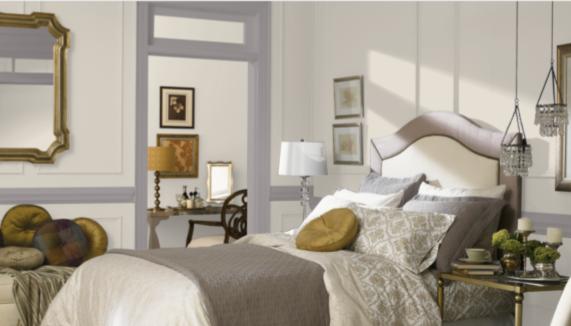 Shoji White is a light greige color, blended with a brightening dose of cream. This cozy neutral pulls double-duty as an off-white, but has enough depth to work as a true color.
LRV of 74
Shoji White has a light reflectance value, or LRV, of 74. Light reflectance value is a scale designed to measure how bright a color is, and ranges from absolute black at 0 to sheer white at 100. The higher the number, the lighter the color.
Off-white colors typically range from about 73 to 82, with numbers above 82 being true whites. Shoji White is a color that hangs out on the divide between neutral colors and off-whites, able to work for either family.
What Undertones Does Shoji White Have?
Shoji White is a greige color, so it will sometimes look more gray and other times look more beige. Its cream blend means the beige side will dominate. It can also flash green undertones in the right setting.
Is Shoji White a Warm Color or a Cool Color?
Shoji White is a warm neutral, owing to the cream and beige parts of its mix. It comes out toastier than your average greige.
Where Can You Use Shoji White?
As both a light neutral and an off-white, Shoji White is easy to use in any room of your home.
I cannot overstate how popular Shoji White is as an exterior color. It's a particular favorite for exterior trims. The splash of greige depth gives it some body under even direct sunlight.
Shoji White is also very popular as a bedroom wall color. It's light enough to be restful and warm enough to make the room feel comforting and gently cozy.
Do you have permanent fixtures involving natural materials, like naturally colored wood and stone? Shoji White pairs beautifully with natural elements, especially when it's the lightest color in your palette.
Let's take a look at Shoji White in home spaces, and gather inspiration for our own projects!
Kitchen
Shoji White offers a softer option for the ever-popular white kitchen.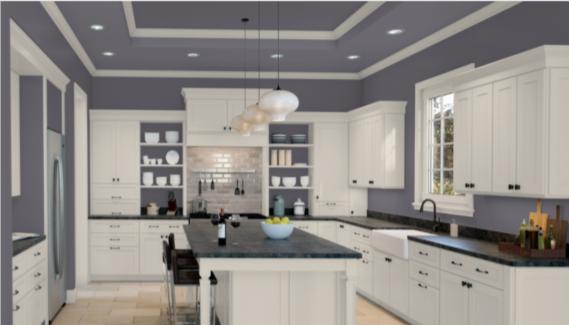 Shoji White cabinets give a creamy glow against Exclusive Plum walls in this kitchen.
Dining Room
Shoji White brightens up this elegant-feeling dining room.
Living Room
This neutral living room, built around Shoji White, exudes a feeling of peace and calm.
Shoji White forms a beautiful backdrop for the natural stone and wood in this rustic living room.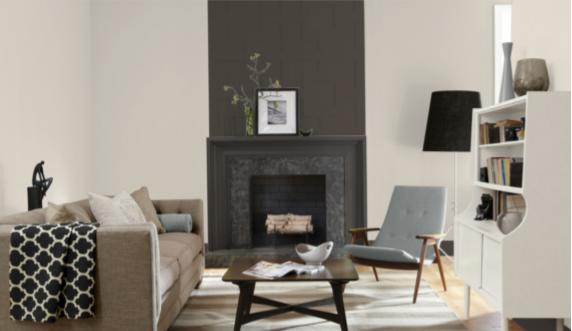 Shoji White and Black Fox partner in this modern neutral living room.
Bedroom
Shoji White and Gauntlet Gray partner in this bedroom for a dramatic contrast that looks sophisticated and calming.
Shoji White's cool gray undertones are on display in this southwestern-inspired bedroom.
Bathroom
This warm and cozy bathroom glows with Shoji White walls.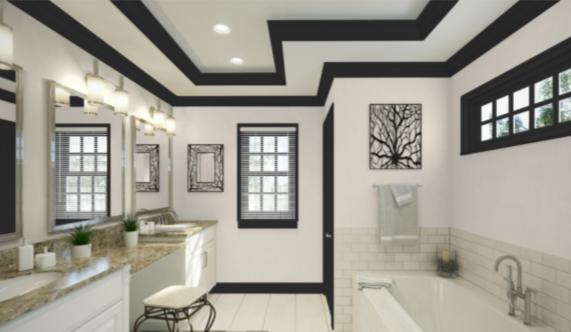 Shoji White walls and Tricorn Black trim look chic and sophisticated in this bathroom.
Entryway
Warm natural wood and Shoji White form a bright and cozy partnership in this entryway.
Exterior
Shoji White plays well with other greige colors, such as those on this home's accents.
Shoji White and sage green are classic traditional colors on this home exterior.
Shoji White shows off a pretty creamy tone against the gray stone of this home exterior.
Coordinating Colors for Shoji White
Shoji White has both of the key elements for easy color palettes: it's light and it's neutral. That creamy touch of warmth is there, but it's not yellow enough to give you headaches.
You'll likely be pairing Shoji White with your favorite dark colors, but if you want to go lighter, a very clean, very bright white is an option that will contrast.
Any of the colors that you'd traditionally pair with a greige are going to work handsomely with Shoji White. Darker grays, like charcoal and slate, are beautiful options, as are any of your black and near-black neutrals.
Blues are almost required next to a creamy color like this. Try your favorite navy blue, dusky blue, or even deep teal.
If you love a nature-inspired or country style, herbal greens next to Shoji White will blow your mind. Try a sage or evergreen and you'll see what I mean.
Need some coordinating color inspiration for Shoji White? Here are some ideas to get you started:
How Does Shoji White Compare with Other Colors?
Shoji White vs Alabaster by Sherwin Williams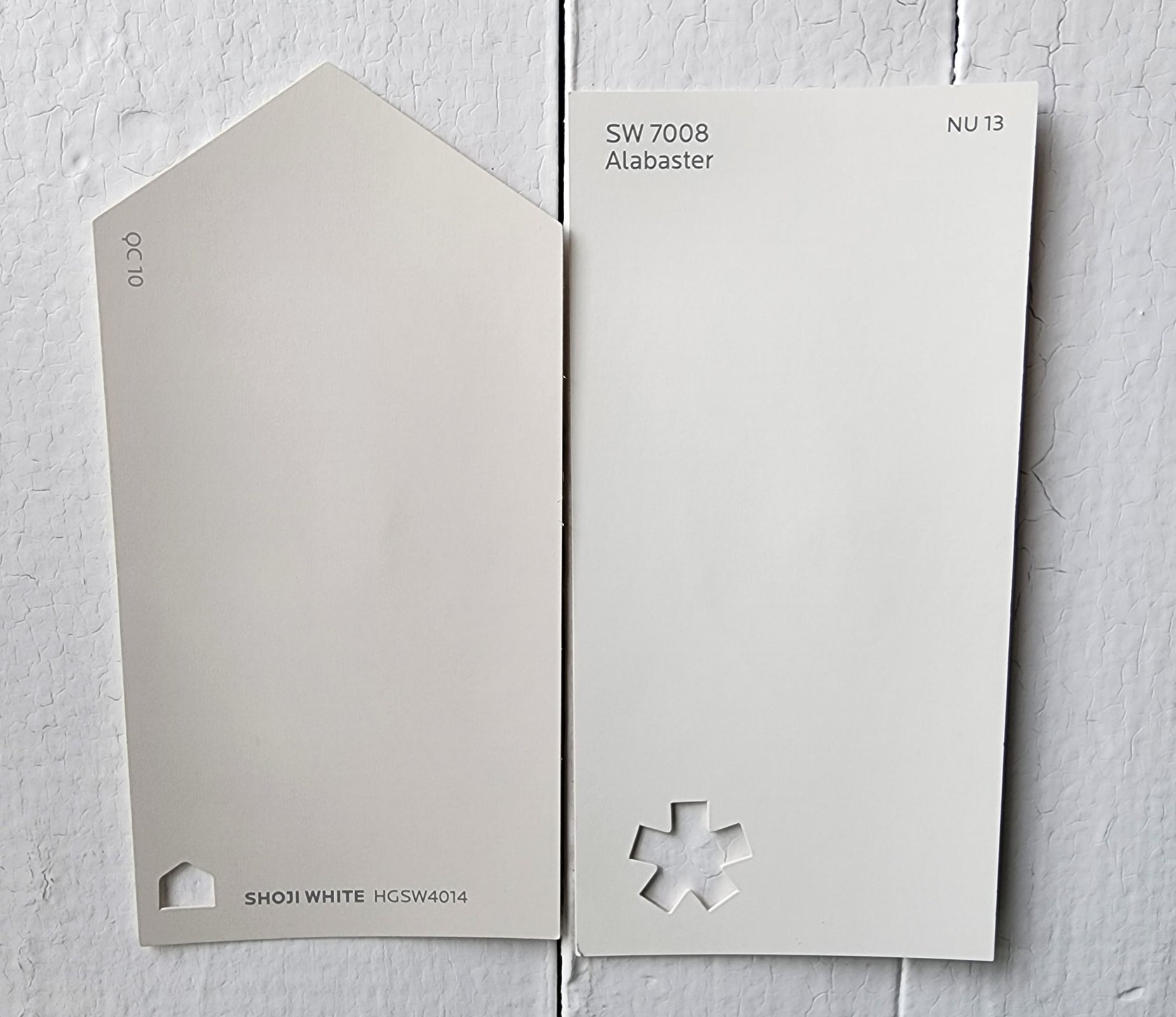 Alabaster is a white that gives the sense of being creamy without straying into yellow. It's significantly brighter than Shoji White, with a LRV of 82 to Shoji White's 74. When these two colors are side-by-side, Shoji White looks rather beige, and Alabaster looks like a clean white.
Shoji White vs White Duck by Sherwin Williams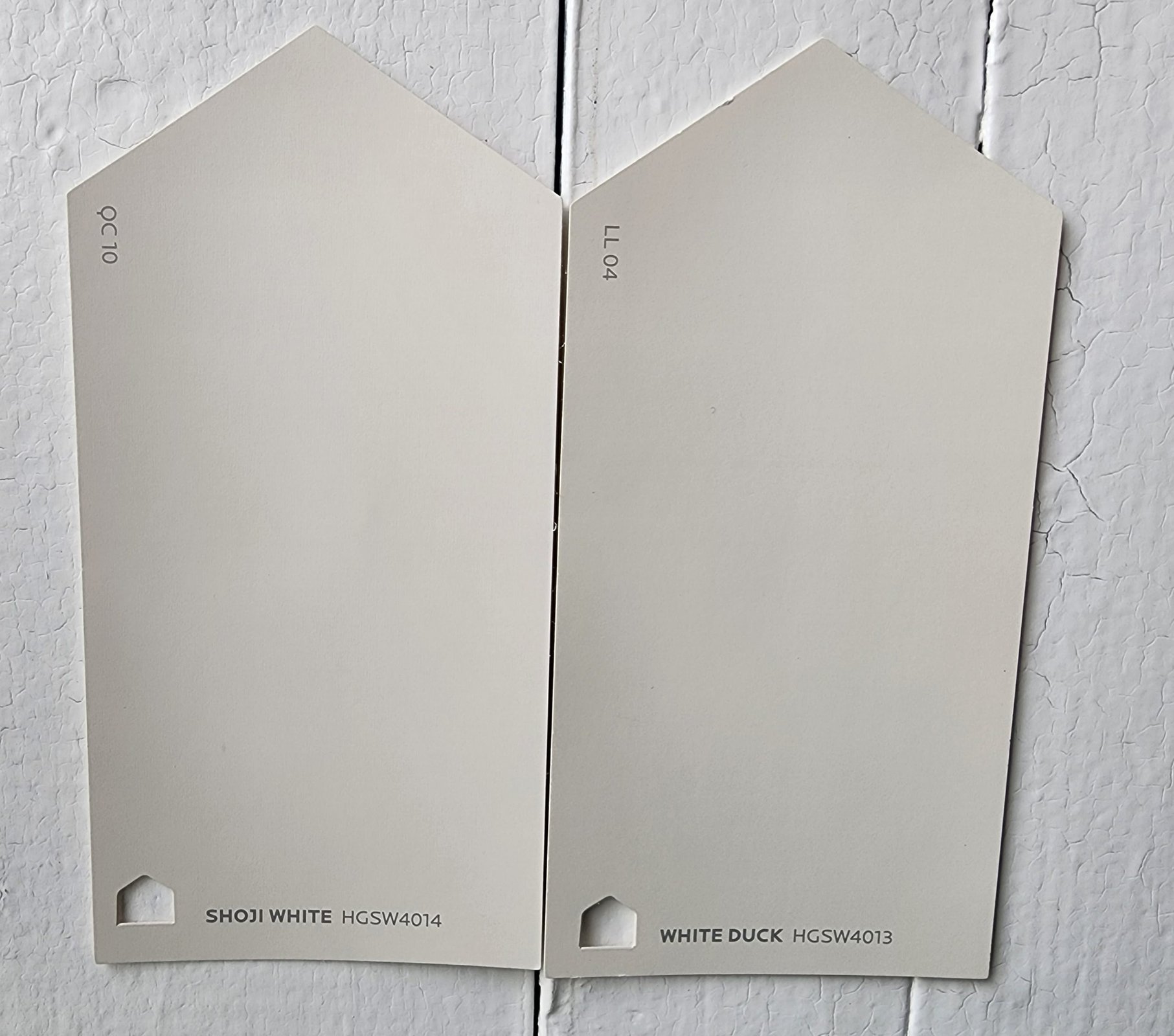 White Duck is so close to Shoji White, you'll likely have difficulty telling these two apart! They're both neutral off-whites of identical brightness and very similar composition. White Duck does read a touch warmer. Just like Shoji White, it has a LRV of 74.
Shoji White vs Oyster White by Sherwin Williams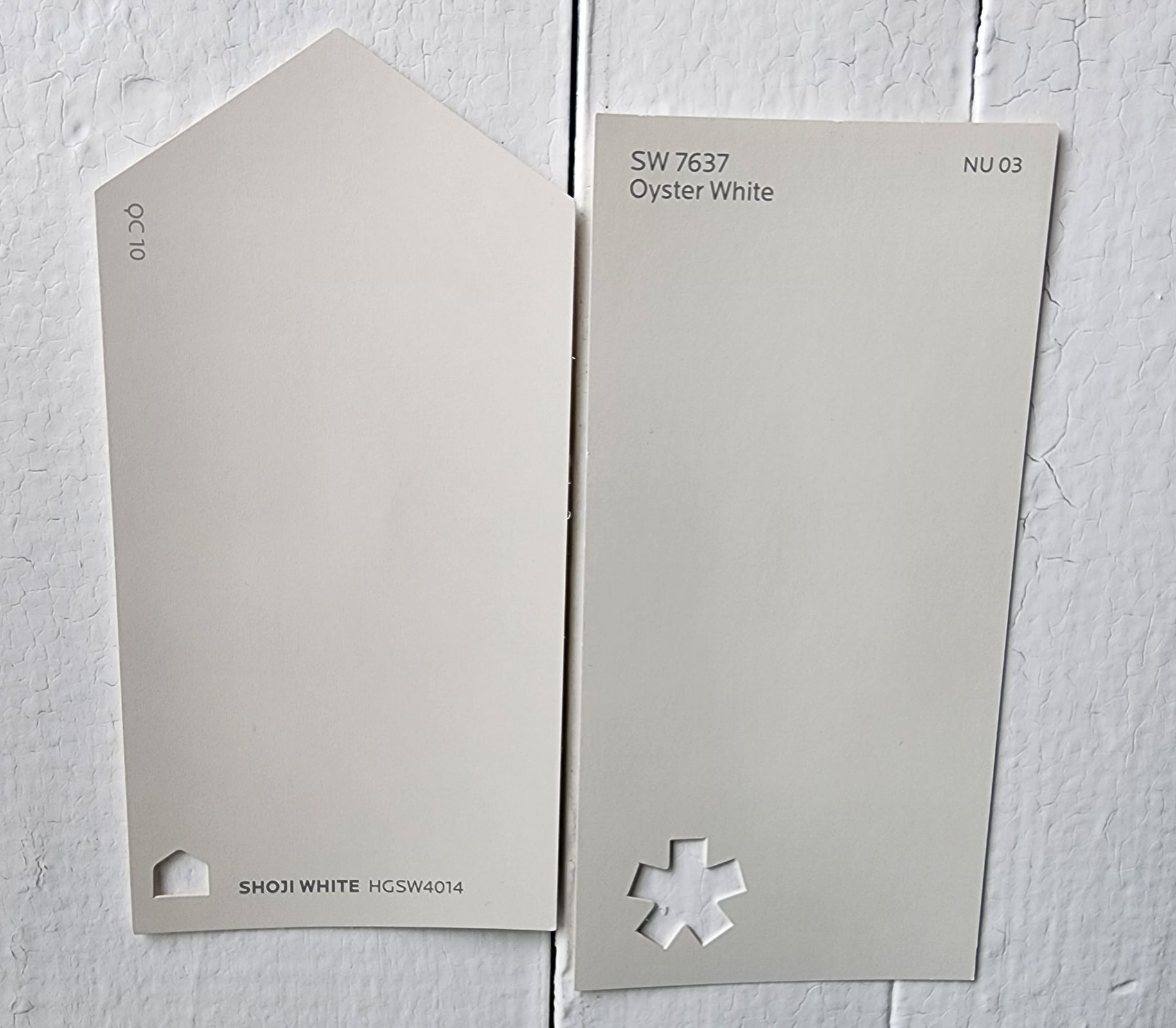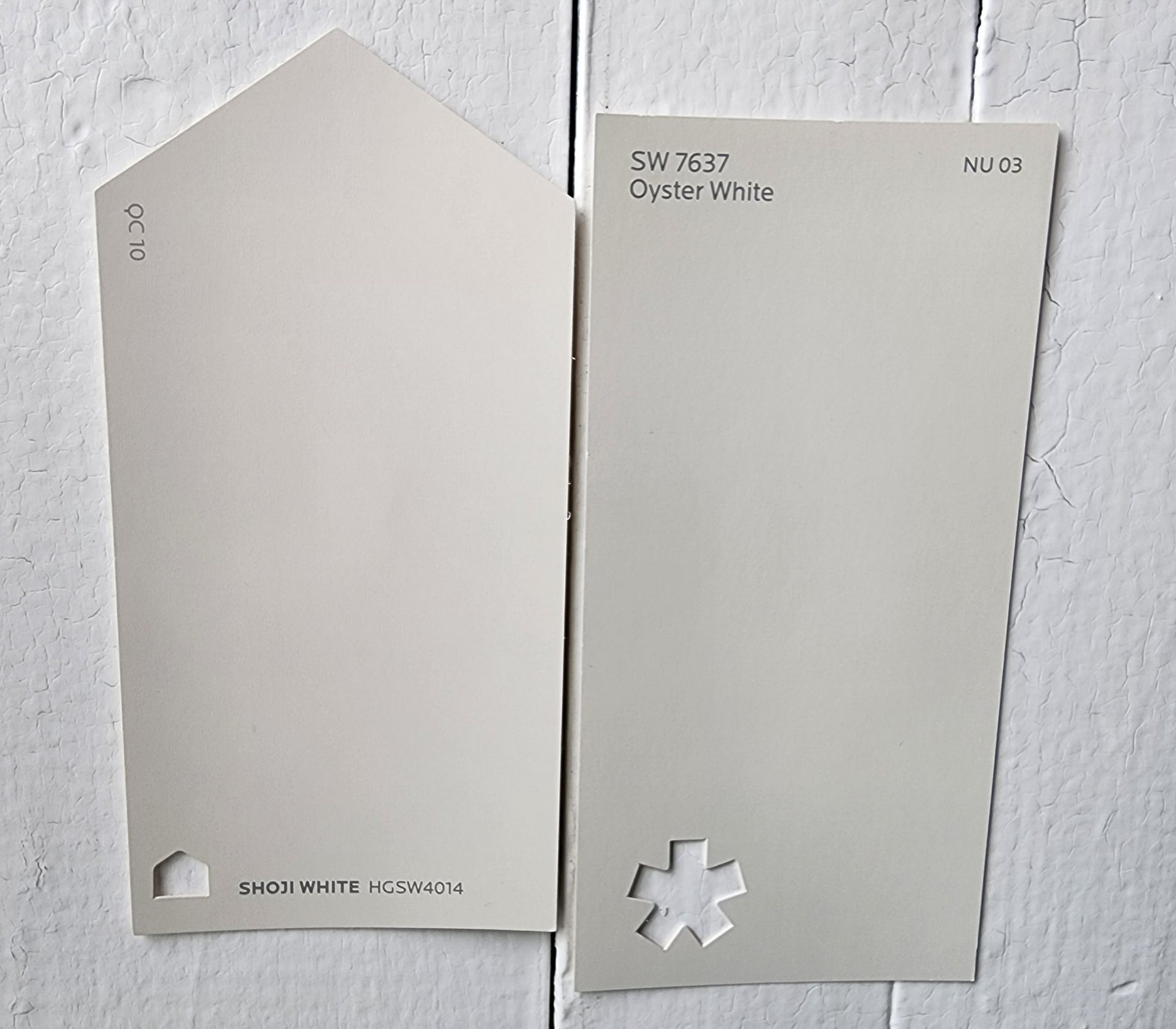 Oyster White is another neutral off-white that's very close to Shoji White. But Oyster White is deep enough that it starts to drop back into the range of neutral colors, as opposed to the off-white family to which Shoji White belongs. Oyster White is a touch cooler than Shoji White. Its LRV is 72.
Shoji White vs Swiss Coffee by Benjamin Moore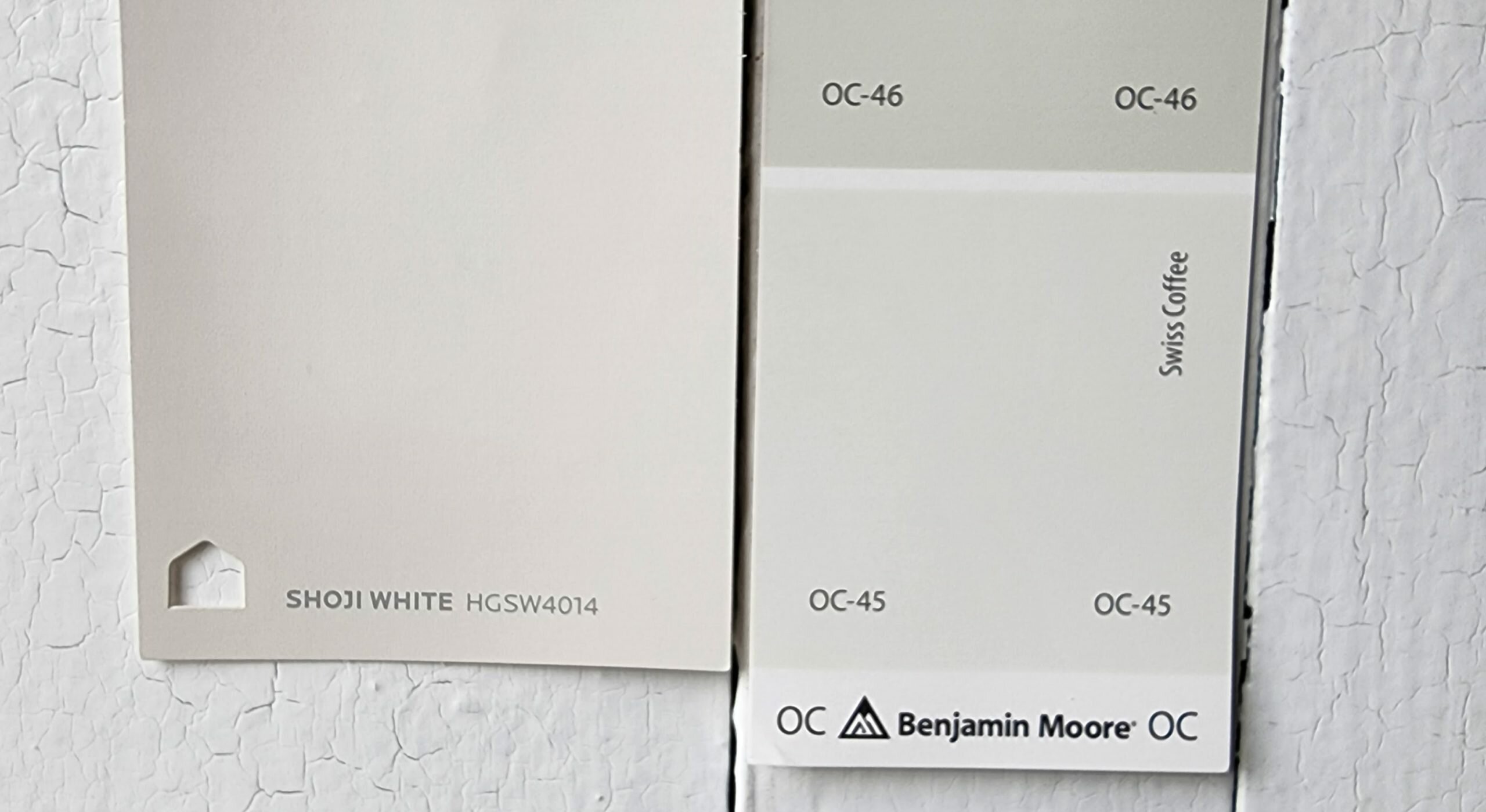 Swiss Coffee is a lighter and warmer color than Shoji White. It's bright enough to straddle the divide between the off-whites and the true whites, with its LRV of 83.93. Swiss Coffee does have a certain beigey creaminess that's in the same family as Shoji White, but since it's a lot brighter, these colors aren't too close.
Shoji White vs White Dove by Benjamin Moore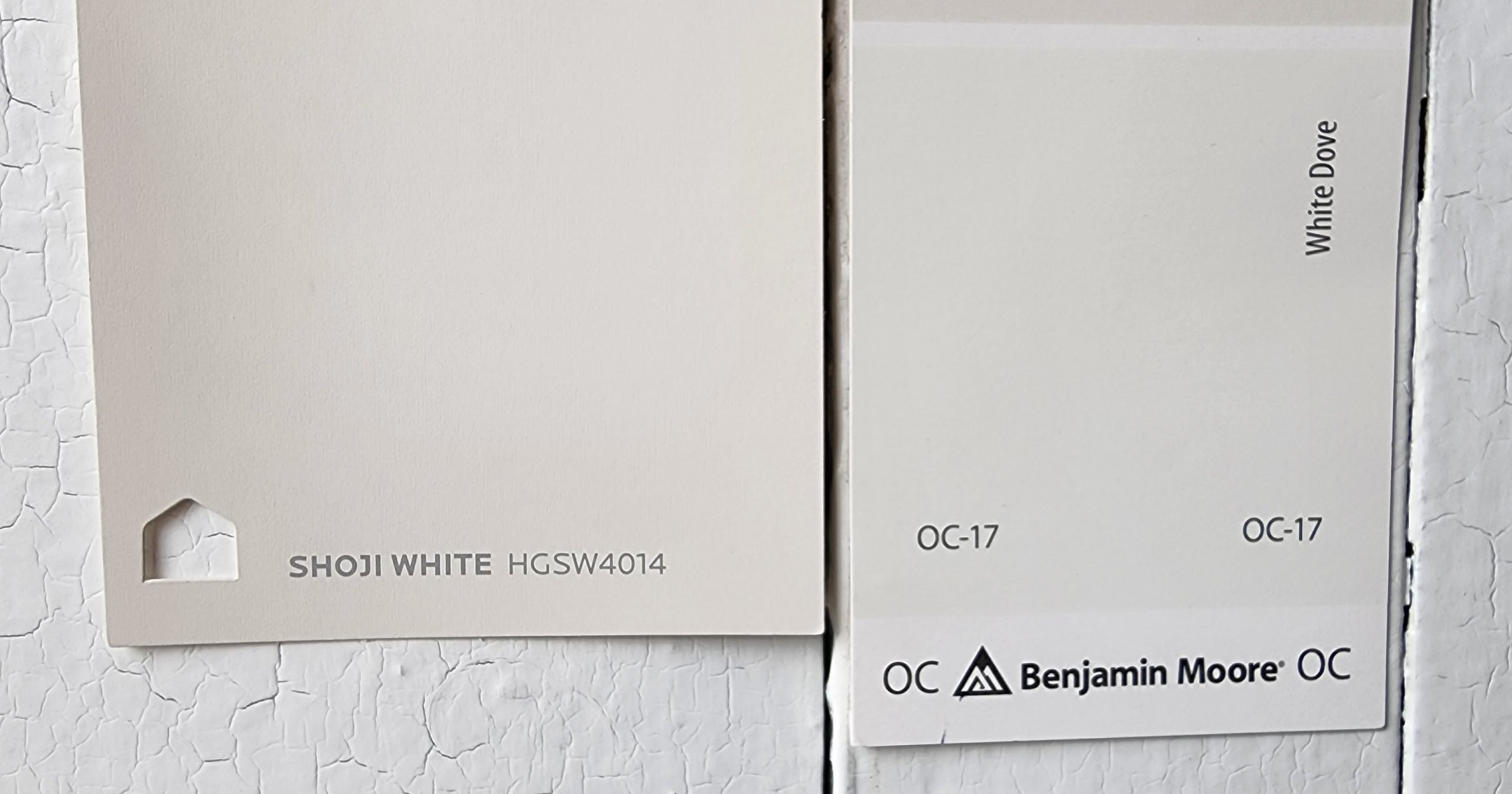 White Dove is a softly shaded white with a gentle glow that sets it apart in the paint world. Some of that shading tonally matches Shoji White. But White Dove is definitely bright enough to be a true white, while Shoji White is hanging out in the off-white to nearly-a-color range. White Dove is also warmer than Shoji White. Its LRV is 85.38.
Final Thoughts
Shoji White, the cream greige, is a warm, light twist on an enduring favorite. It's just the thing to answer the trend of hotter palettes without committing too deeply. This versatile neutral will serve you well in any room of the home, but is especially popular on exteriors. Where will you use Shoji White?