Decorated Life is reader-supported. When you buy through links on our site, we may earn an affiliate commission. Learn More
Throw Pillows Ideas for a Black Couch
Are you looking for the best throw pillows for a black couch?
Black couches are a great staple piece for the living room. And you can use throw pillows to change how they look – which is great if you have an evolving style.
If you need to see some pictures, here are 15 throw pillow ideas for your black couch.
Keep it Classic with Black and White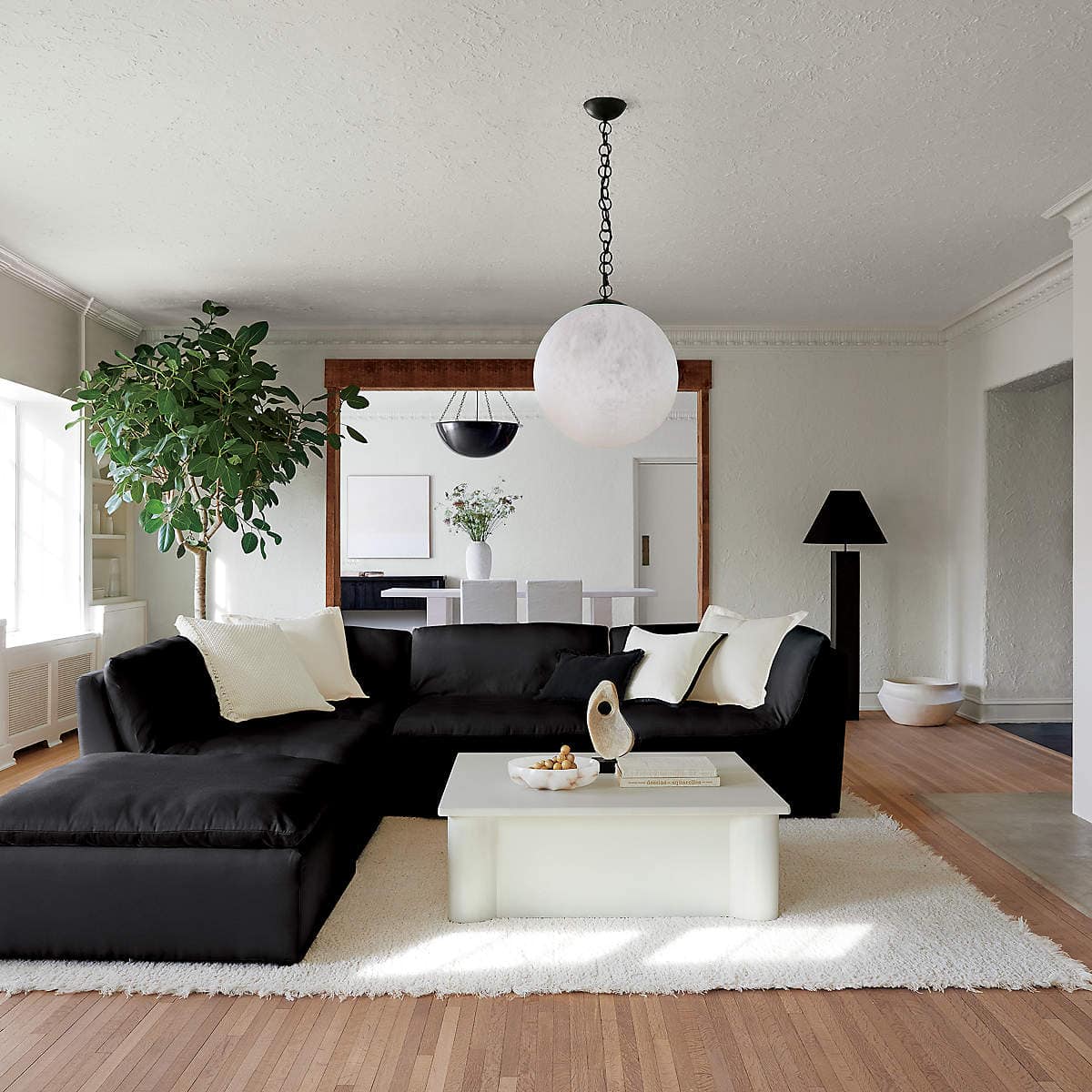 Black and white is a classic color combo that never goes out of style. If you have a modern or traditional living room, this is an easy look to implement.
The pillows pictured are from CB2. They come in black, ivory, mauve, or blue with a down-alternative or feather down insert. You can use just the black and white options on your couch or mix in a little color.
Warm Up a Black Couch with a Metallic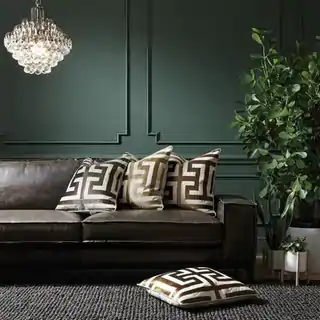 Black leather sofas already add texture and patina to a room. If you want to intensify that look, add a pillow with metallic accents.
These pillows are from Overstock and come in copper, gold, pearl, and silver. You can mix and match the metallics or add one to your current pillow stash. And while these are great for black leather, they work with any black sofa.
Accent Your Couch with a Simple Patterned Pillow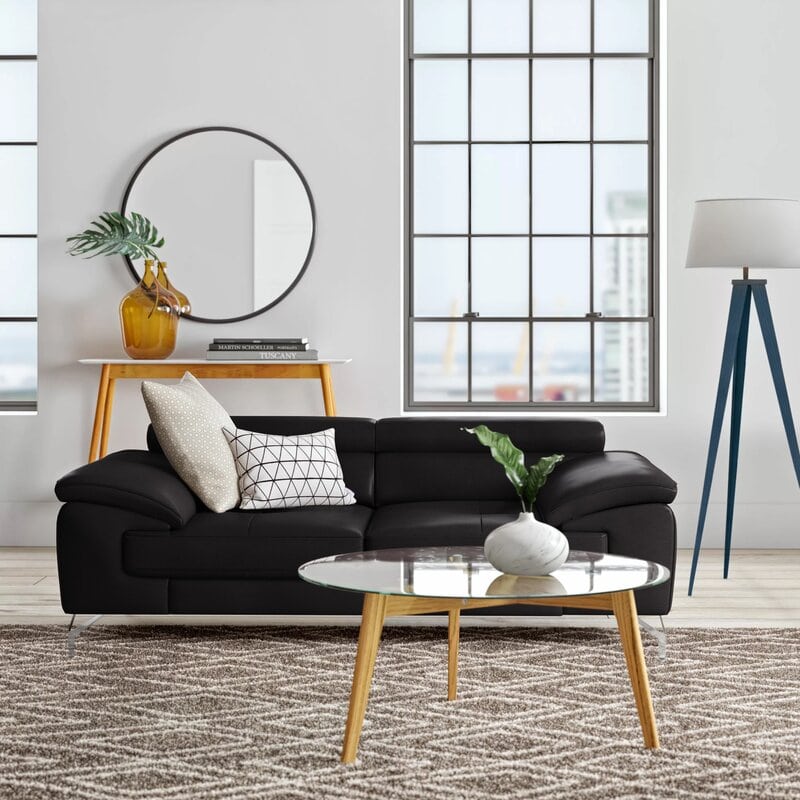 If you want a minimal look without everything completely bare, go with a subtle design. A simple black and white pattern is an easy match for any black sofa.
Consider using this pillow on its own or mixing it with colors. And if you like mixing patterns, you can use a bold print with this since it's pretty subdued.
Use White and Khaki for a Softer Look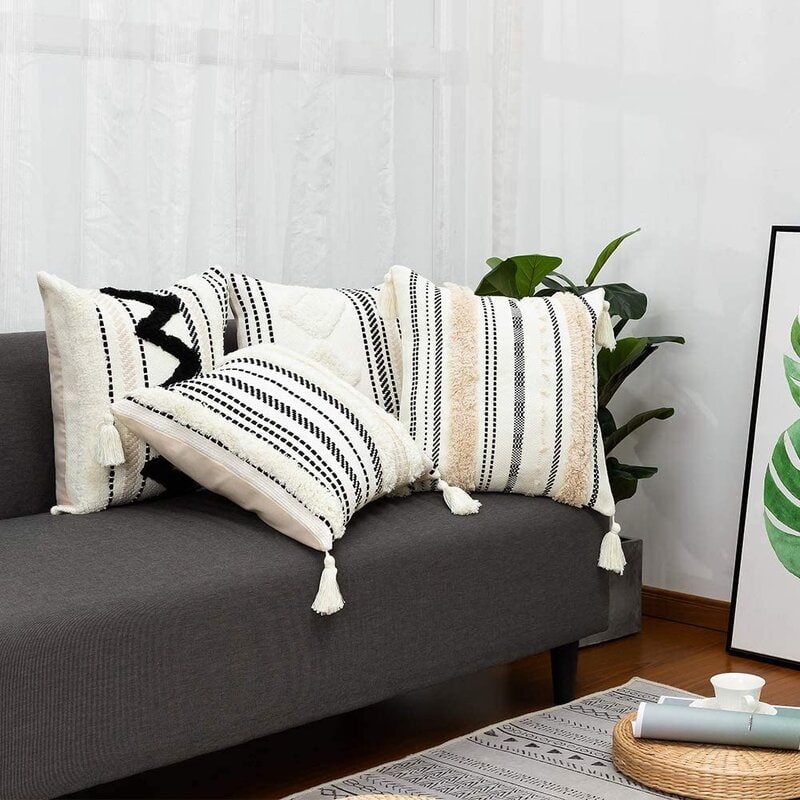 Black sofas on their own can look a bit harsh or cold. If you prefer a more inviting look, adding pillows with whites and khakis is the way to go.
These pillow covers measure 18 x 18 inches. You can put them over a slightly larger pillow insert for a full look and fill your couch with them. This style is ideal for boho and modern farmhouse rooms.
Swap Out Covers for Ivory and Gray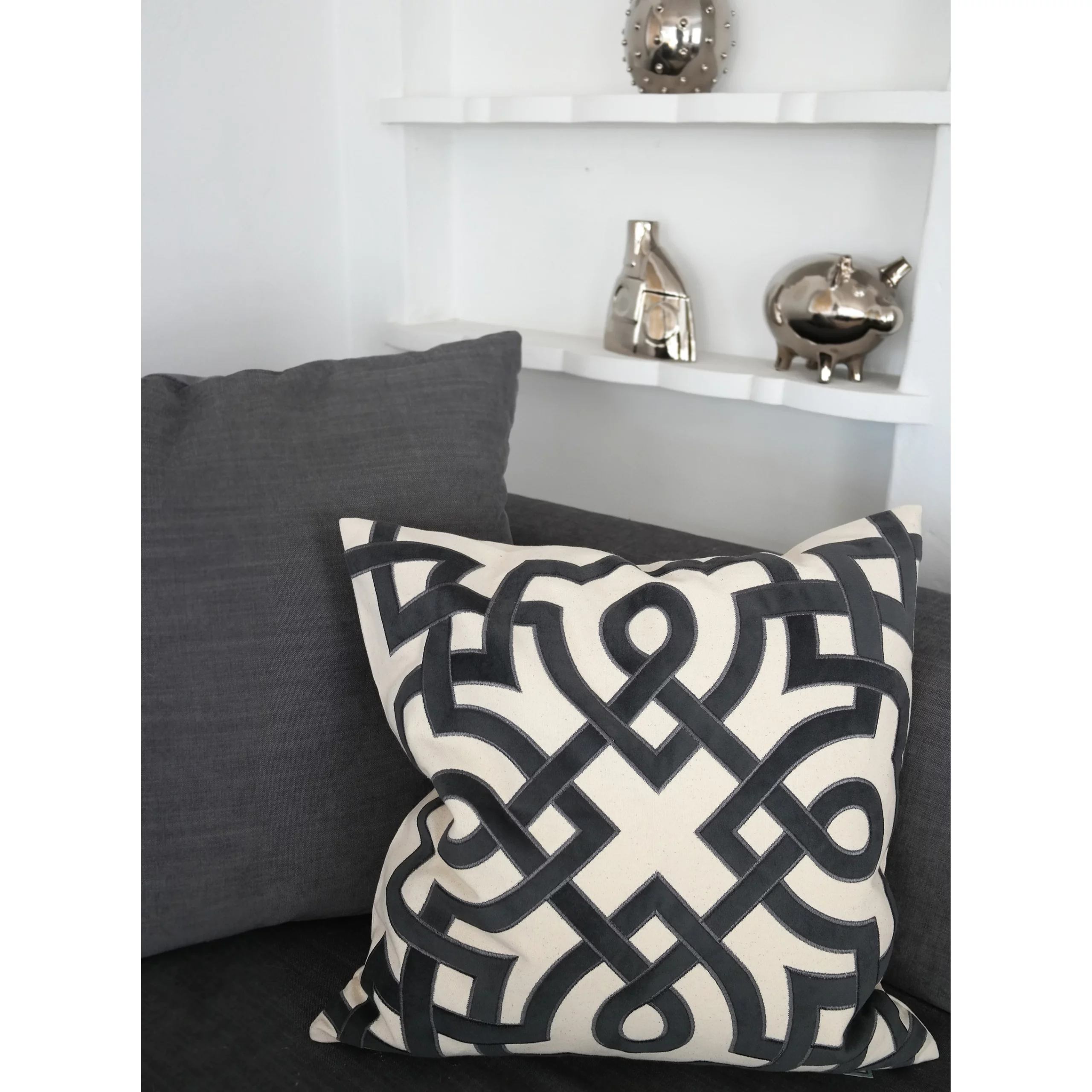 Pillow throw covers are the easiest way to change up the look of your sofa. When you're not using them, you can easily store them and pull them back out when you're ready for a sofa refresh.
This ivory and gray geometric pattern is a great pillow cover for a black couch. Since it's neutral, it will coordinate with other colors of pillows and add pattern to your room.
Add a Bold Pop of Yellow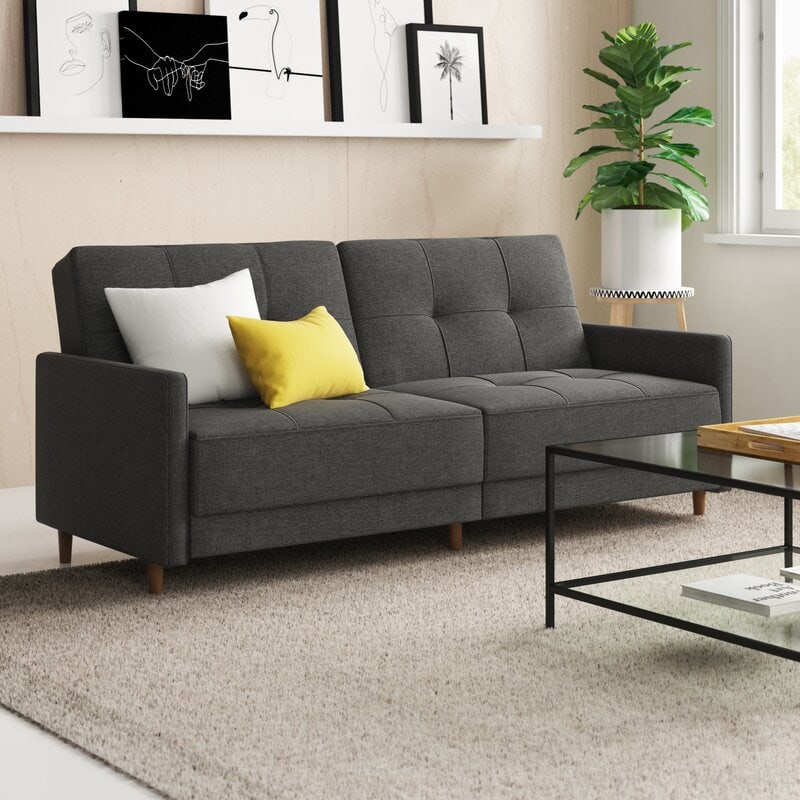 While neutrals are the dominating throw pillow trend, there's no reason you can't add a pop of color to your black sofa.
A bold yellow will brighten your room. You can use it in conjunction with other pillows or keep the look simple, using just two of these.
Modernize with Cowhide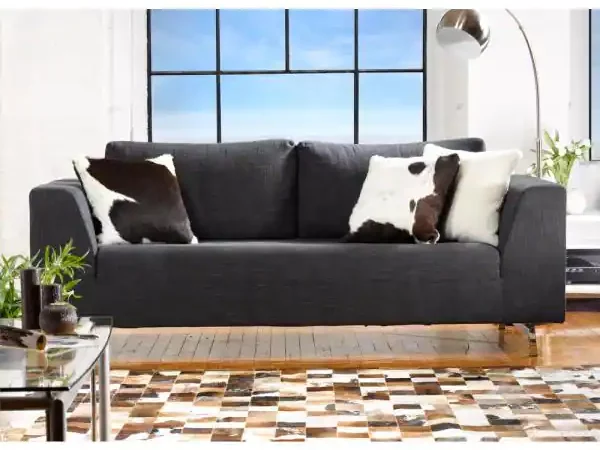 If you're doing a modern farmhouse look in your living room, this cowhide pillow is the perfect addition.
These pillows are 100% natural cowhide, so they'll add warmth and texture to your space. They're very soft and the perfect pillow if you like to snuggle on the sofa. These look great on their own, but you can also mix them with other pieces.
Try a Neutral Floral Pattern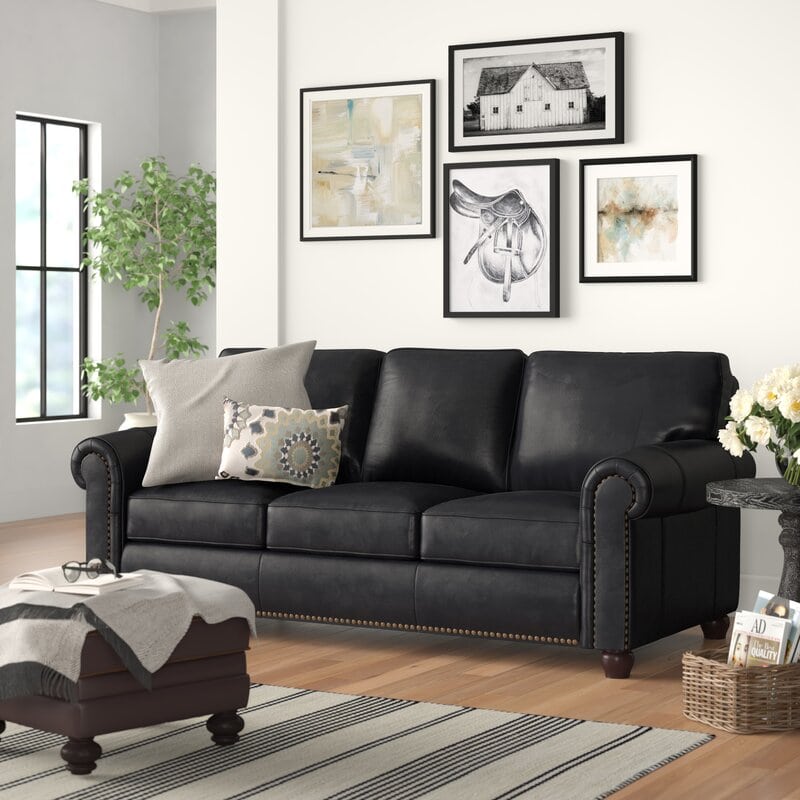 There is no reason florals can't work with a black couch. You can use something bright and cheery or a muted color palette like this.
From Wayfair, this cream pillow features shades of blue, yellow, brown, and black. It's pretty yet understated and will add an elegant feel to your black sofa.
Whimsify Your Couch with a Gold Rhino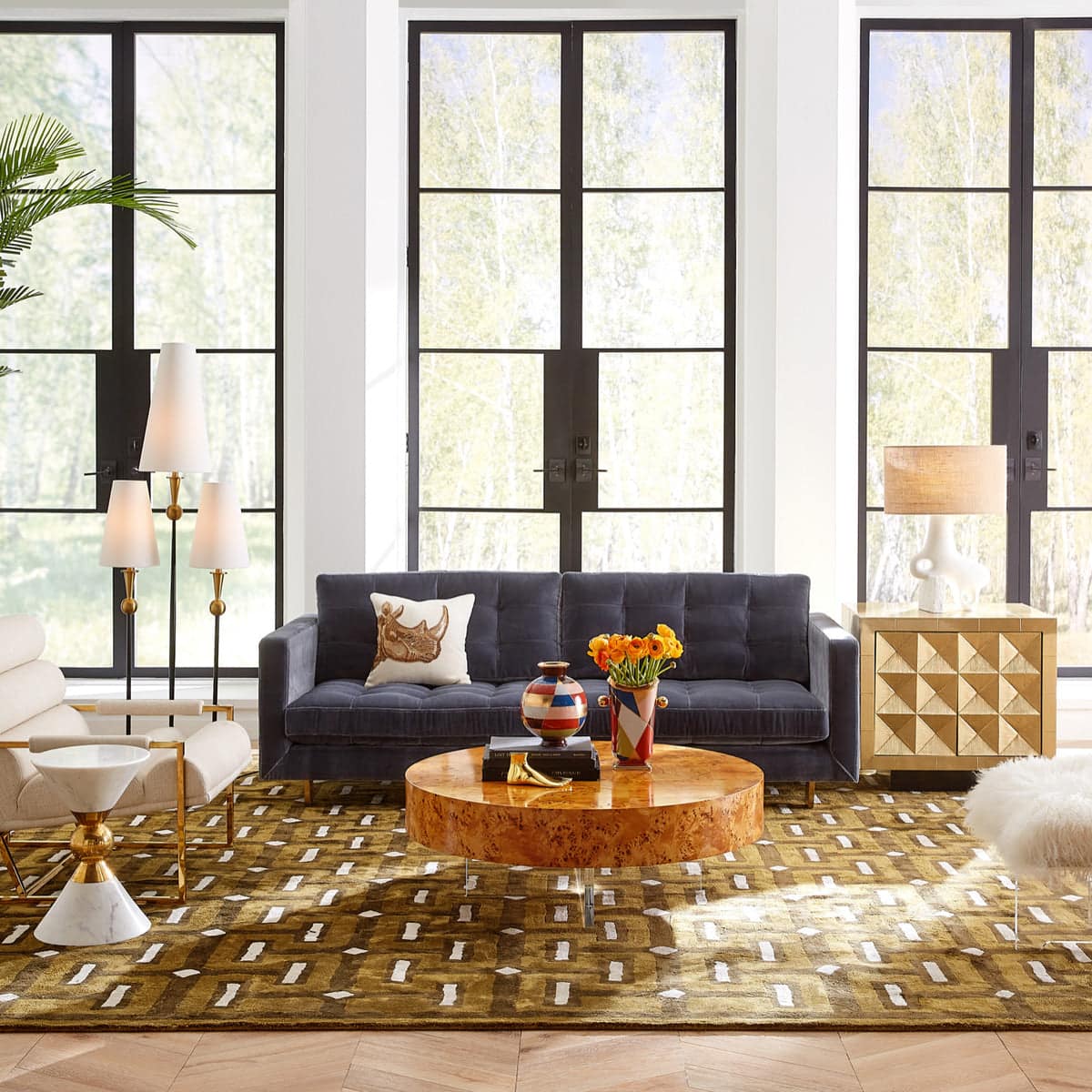 I love a touch of whimsy sprinkled throughout a room. If you feel the same, consider a pillow similar to this from Jonathan Adler.
It features beautiful gold beads embroidered on a white pillowcase. Use it on its own to create a fun accent or layer it with other whimsical pillows.
Make Your Couch More Comfy with Gray Lumbar Pillows
If you're looking for some thick throw pillows, comfy enough to lay your head on for a nap, these might do the trick.
You can find these at Crate and Barrel. They're handmade and feature wool and cotton knots in gray, cream, and black. Since these pillows have a high-quality but versatile design, they're great for most decor styles.
Soften Black Leather with Lighter Pillows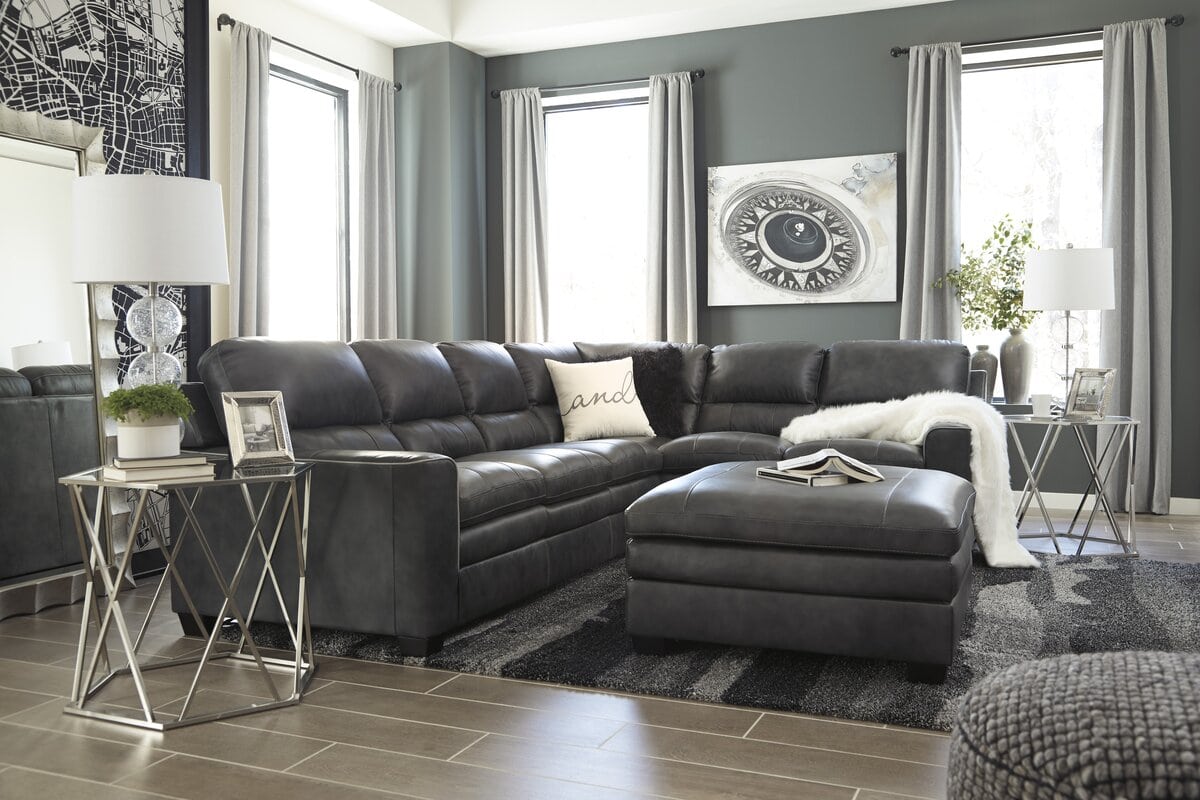 Black leather couches take on different looks based on the decor you surround them with. They can look masculine and rugged or soft and more traditional.
If you have a black leather sofa and want a softer look, go with light linen pillows. You can accent your couch with just one pillow as pictured or create a beautiful pillowscape.
Combine Boho Pillows with a Black Couch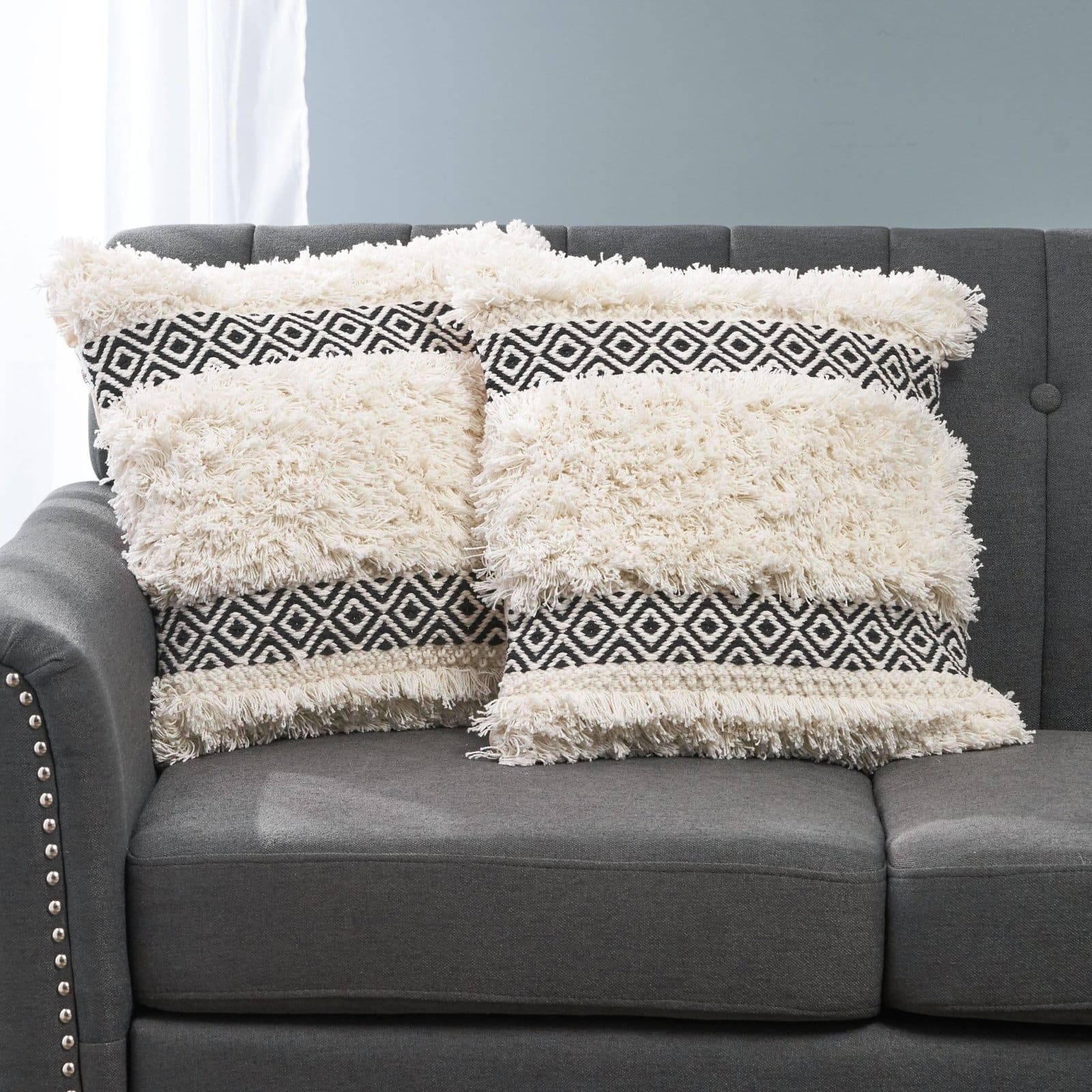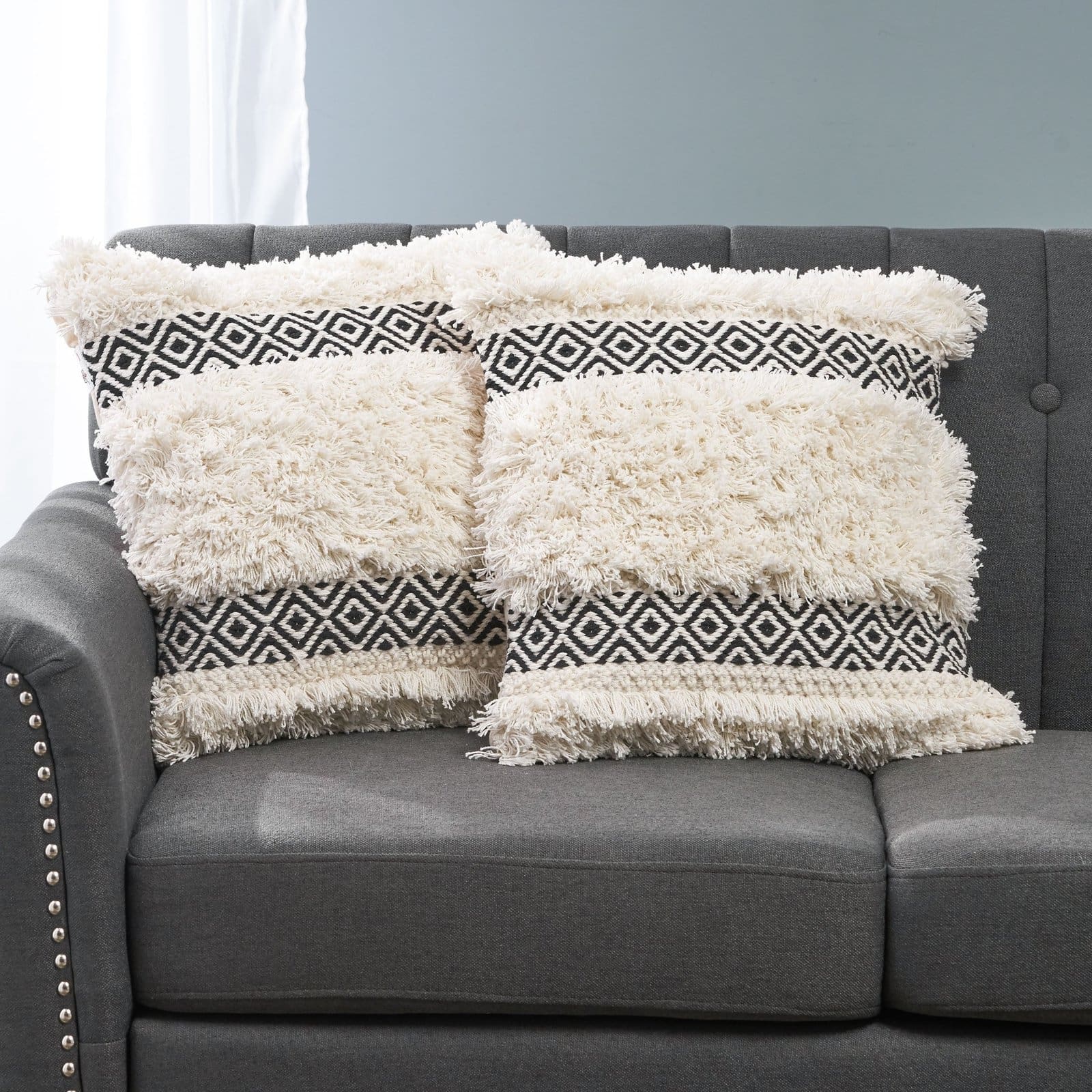 Boho is one of the coziest decor styles. It features lots of texture with a strong focus on comfort.
If you're trying to get this effect in your room, these pillows from Overstock are the perfect addition. They are black and white, come in a set of two, and feature tufting with a handmade element. You can also use these in a modern farmhouse design.
Texturize with Shag Pillows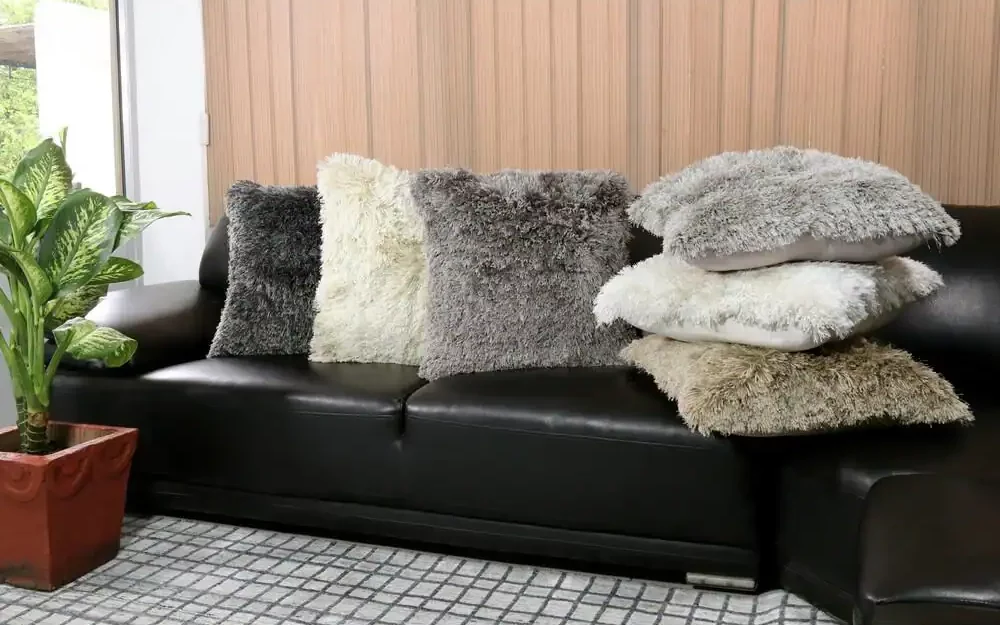 Shag pillows pack in the texture and look best when layered with different materials.
This particular shag pillow is taupe, so it's an excellent choice for adding warmth to your space. You can also get it in white or dark gray. Consider using it with cream or black linen pillows. It fits most decor styles, especially modern.
Try Navy and Gold for Luxe Look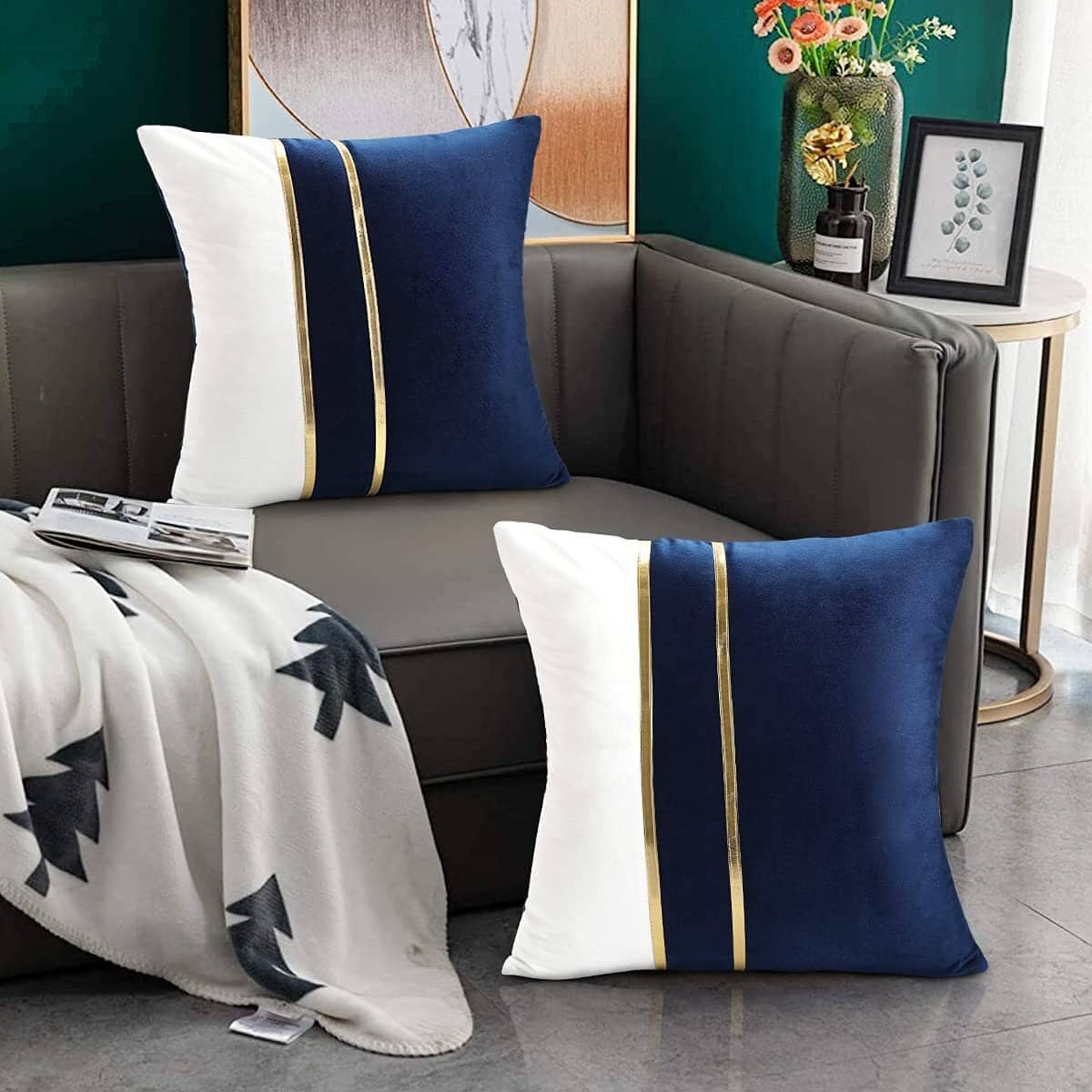 If you're after that luxe look, navy and gold is the color combo to use. It'll give your black sofa a regal feel, but also use works for a more traditional look.
These pillows come in a set of two and measure 18 x 18 inches. Since they're 100% velvet, they'll add texture to your black sofa and feel great against the skin.
Add a Bit of Color to Your Room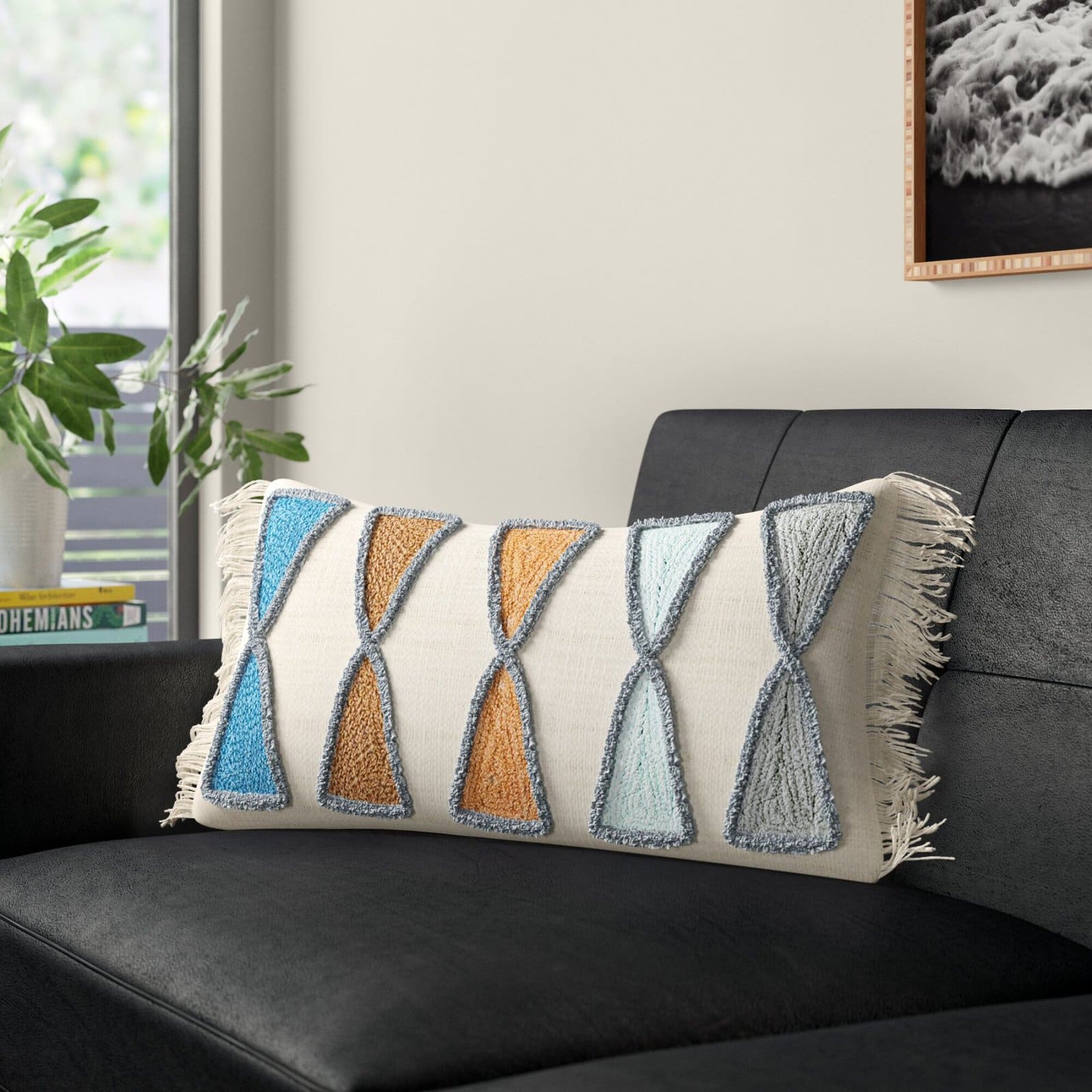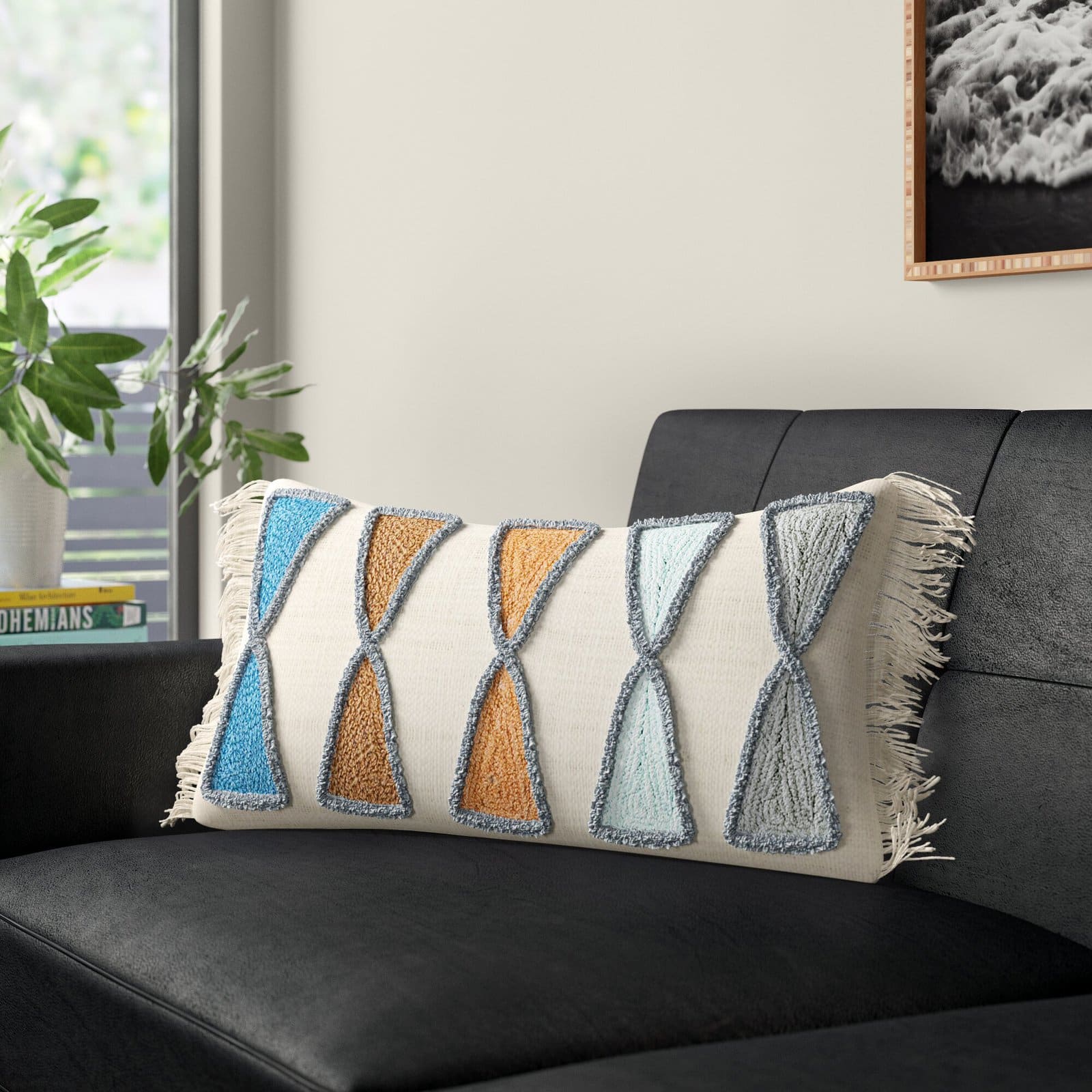 Finding the perfect colorful pillow for your black couch can be tricky. After all, your goal is probably to add color without looking child-like. This pillow is a great way to do so.
From Wayfair, this lumbar pillow features shades of blue, orange, and gray. It has fringe ends and a minor fraying throughout for visual interest. Use this on its own or add it to your pillow collection.
Final Thoughts
A lot of throw pillows go with black couches. But because black is so dark, the ones that look best have lighter or muted color schemes.
Some easy matches for black couches are cream, gray, and light colors. But don't forget to also look for pillows that add texture to your space. Combine pillows of different fabrics and colors for an intentionally collected look.