Decorated Life is reader-supported. When you buy through links on our site, we may earn an affiliate commission. Learn More
10 Types of Front Doors to Boost Your Curb Appeal
Your front door is like jewelry for your house.
While you can go with a standard white door, putting a little effort into the color and design selection can make a huge difference in curb appeal.
You don't need to be super bold, but selecting an option that coordinates with the style of your home is always a smart move.
Here are some choices to consider if you're in the market for a new front door.
Front Door Materials Overview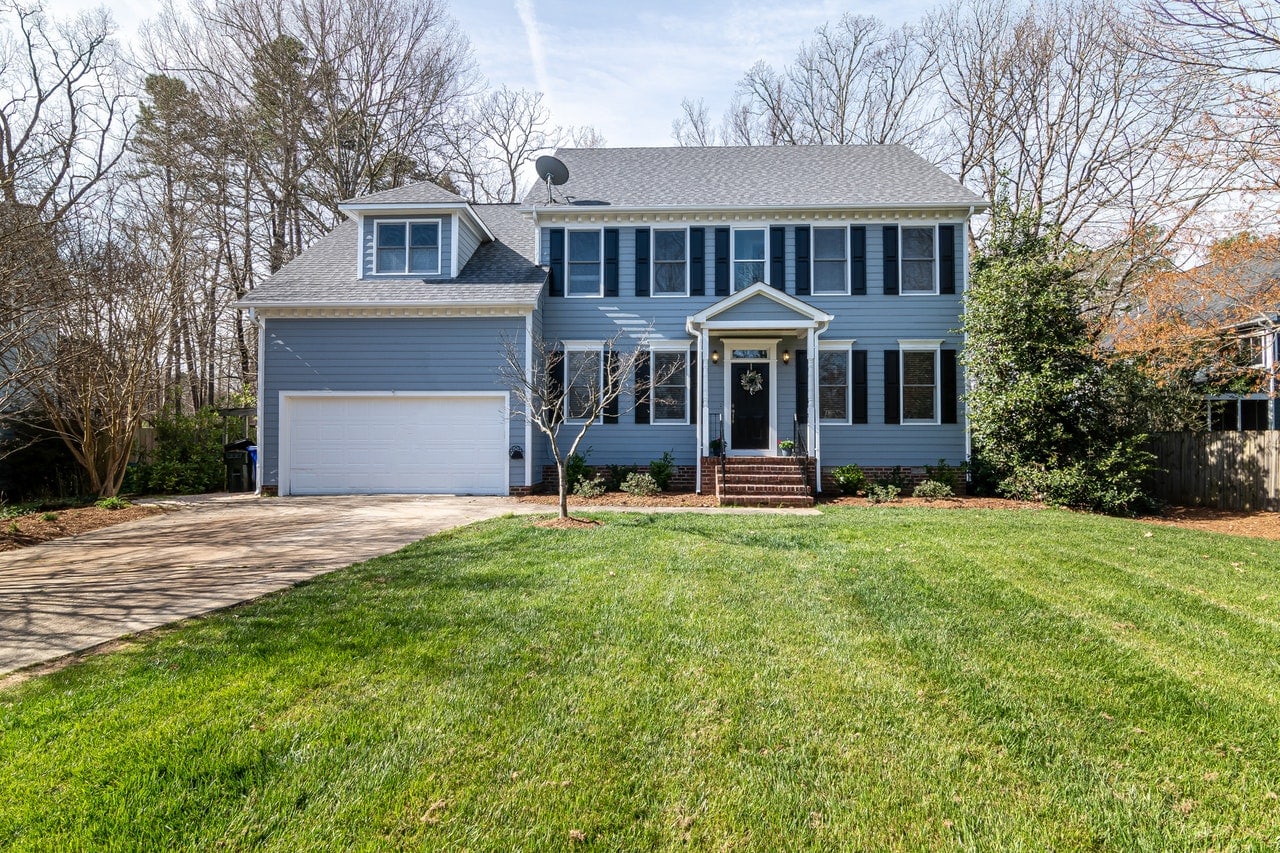 When shopping for a new front door, you'll come across hundreds of design options, but they're usually the same four materials: fiberglass, wood, steel, or wrought iron.
Fiberglass Front Doors
If you've ever browsed the door selection at a home improvement store like Lowes or Home Depot, most of what you saw was fiberglass.
Fiberglass is a durable front door option – it's widely used in new construction and is one of the most popular residential front doors.
The center of a fiberglass door is insulated, while the hard outer shell is a fiber-reinforced polymer.
While you can paint a fiberglass door if you'd like, you don't have to. Fiberglass doors are maintenance-free and should easily last 15-20 years.
Wood Front Doors
Wood doors are a classic option fit for many styles. You'll often see them on cabins, rustic, and stone homes, but they can add a touch of natural beauty to any house.
Not all wood species make good front doors, though. You need to look for wood that does well with humidity and doesn't rot or mold.
You'll usually find wooden front doors in one of the following:
Douglas Fir
Cedar
Ponderosa Pine
White Oak
African Mahogany
You may need to seal your wood front every couple of years to keep it in good condition. A well-maintained wooden front door can last more than 50 years.
Steel and Wrought Iron Front Doors
Even though steel and wrought iron are slightly different, they're often lumped together in the door category.
Both are solid, durable front door materials. You can find them in many styles, including wrought iron options with intricate detailing.
Steel and wrought iron are much less common than wood and fiberglass for residential spaces. Instead, they're usually the door of choice for commercial buildings.
Most steel front doors have rust and scratch-proof coatings and will last up to 100 years.
Styles of Front Doors: Examples and Ideas
Even though there are only four widely used door materials, there are hundreds of styles. Many styles are similar with only minor differences, like swapping out a section of panels with windows, for example.
Here are ten styles of front doors you can use as inspo for your home.
Fiberglass Doors With and Without Accent Windows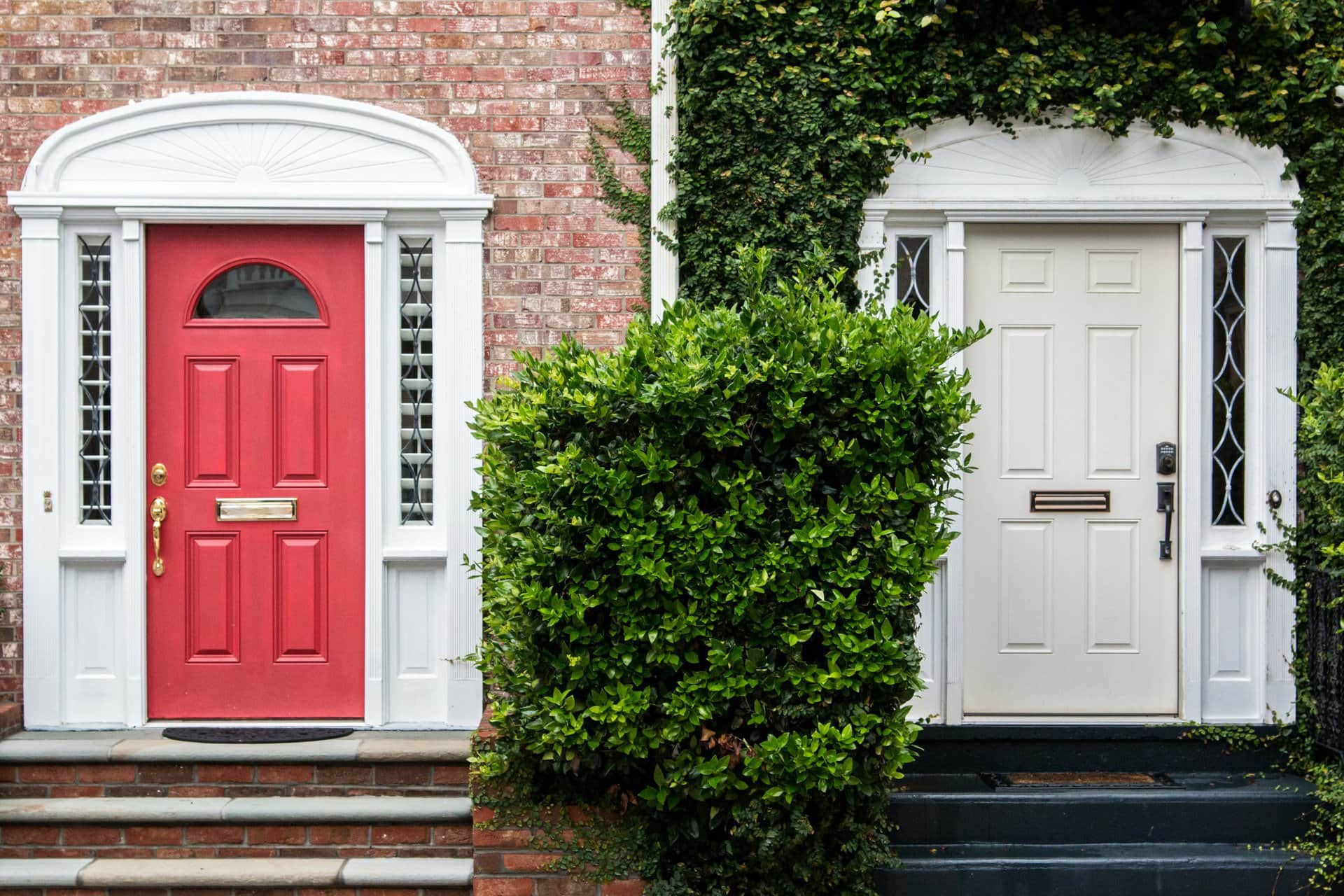 Fiberglass is the most common type of front door for residential spaces. You can find fiberglass doors in many styles – with and without windows.
On this side by side, the doors are very similar. The most significant difference (aside from color) is that one has a panel of windows and one doesn't.
Arched Wooden Front Door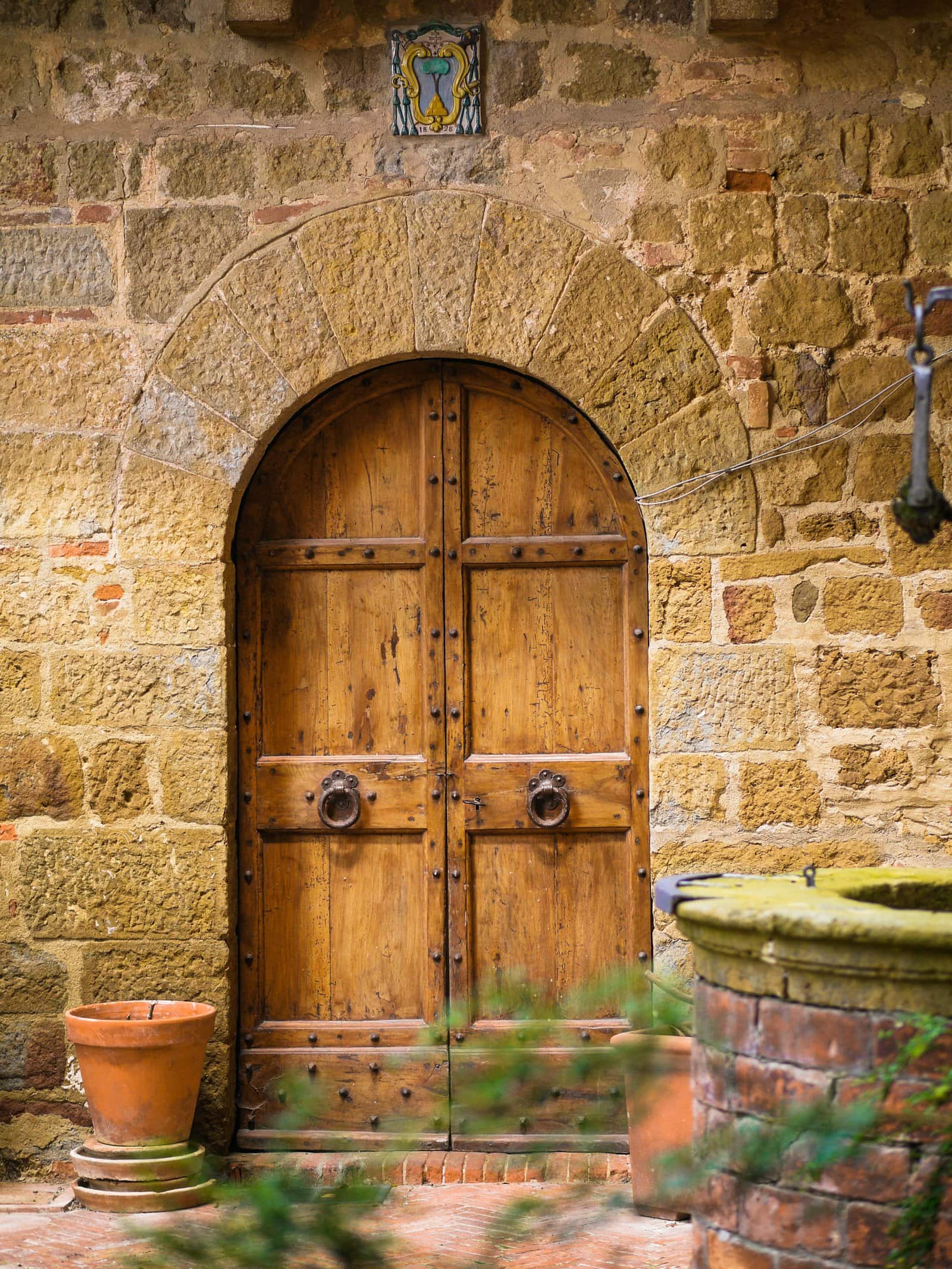 Go with arched wood doors if you want to add natural beauty and a quaint, old-fashioned look to your home.
These doors are a statement maker. They pair wonderfully with cabins and stone houses. However, you can also use these to contrast a modern home with a darker siding.
Wrought Iron Front Door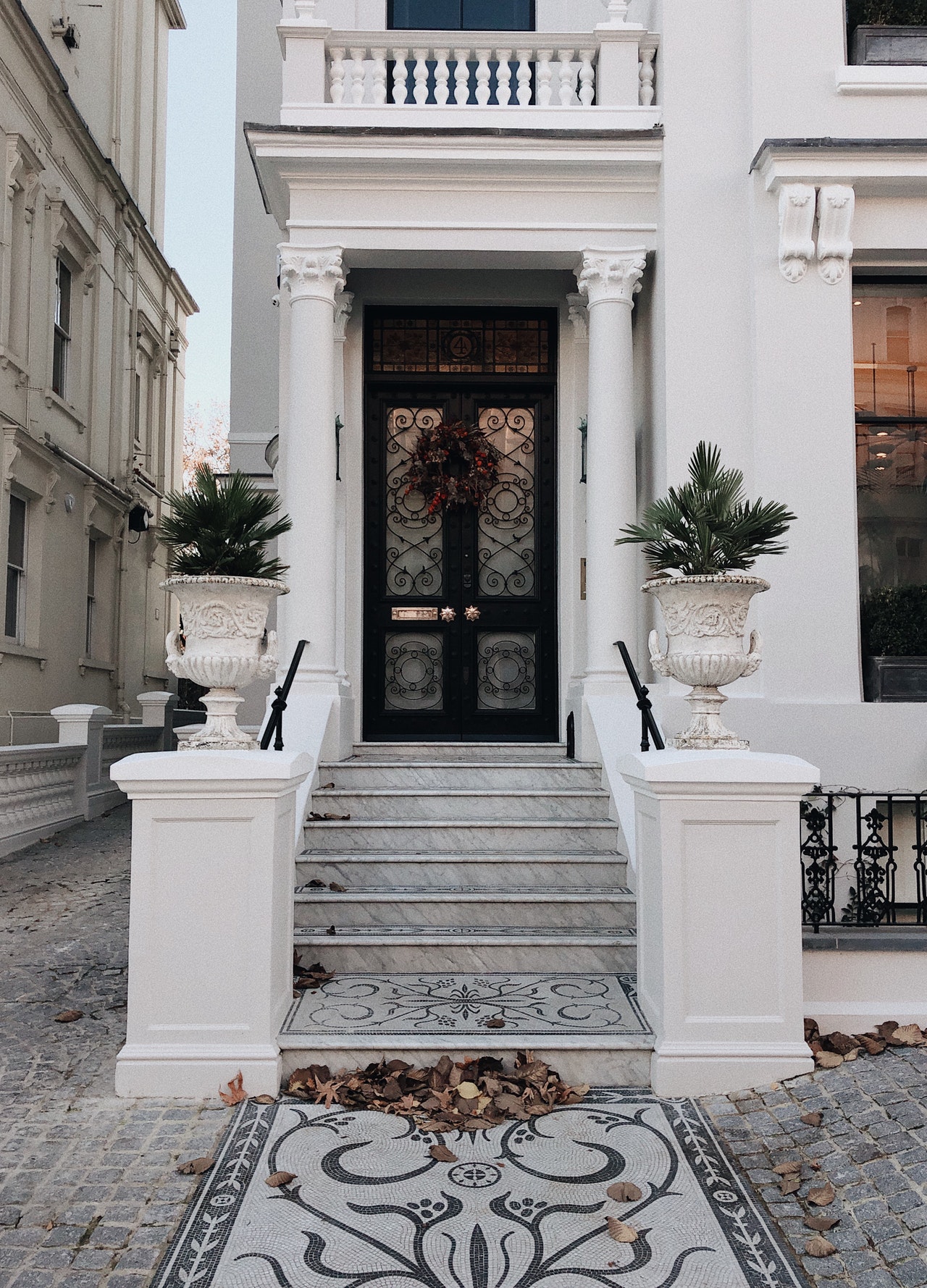 Wrought Iron doors give off a very high-end stately look. They pair well with natural or painted brick.
If you can't find a wrought iron front door you like, you can add a wrought iron storm door to your home's entrance.
Wooden Double Doors with Windows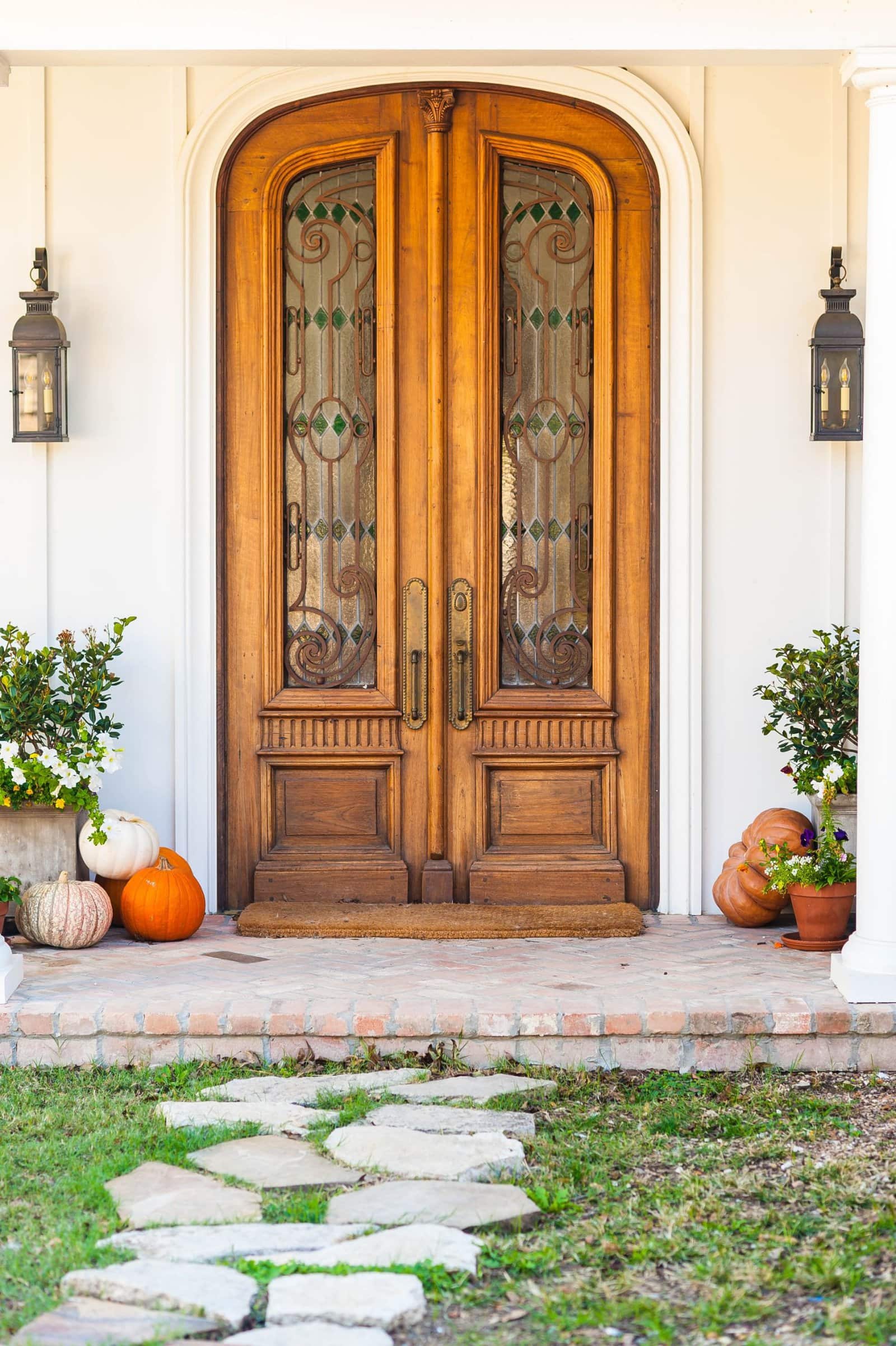 Wooden doors will last for decades. And if you want something with a timeless style, this set is a great option.
Wooden double doors with windows can work with many homes but look great on older farmhouses or traditional styles.
Glass Front Door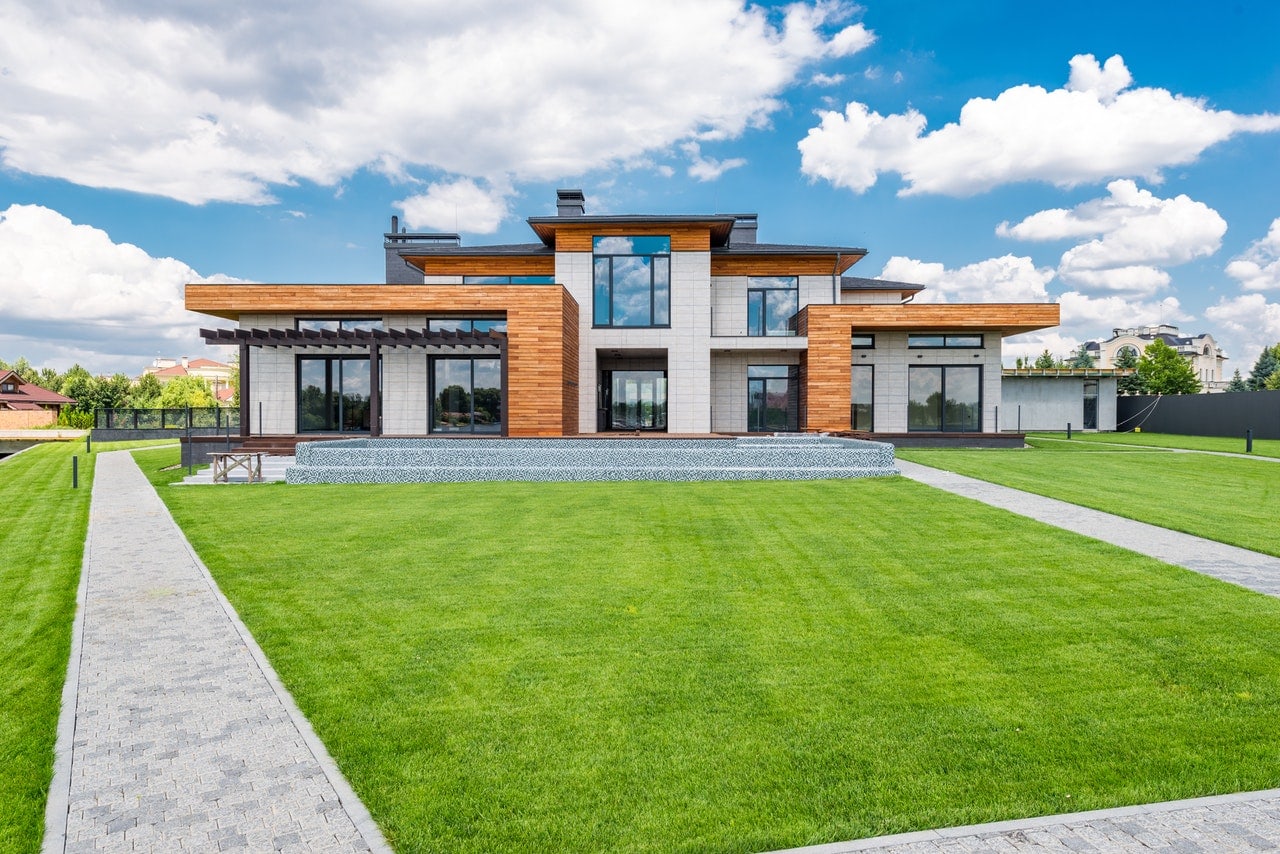 If you want to let the light in, a glass front door will do the trick. The biggest downside to using glass front doors is the lack of privacy.
You can put blinds or curtains over your glass front door for added privacy. This style of door works best on ultra-modern homes.
Single Wooden Front Door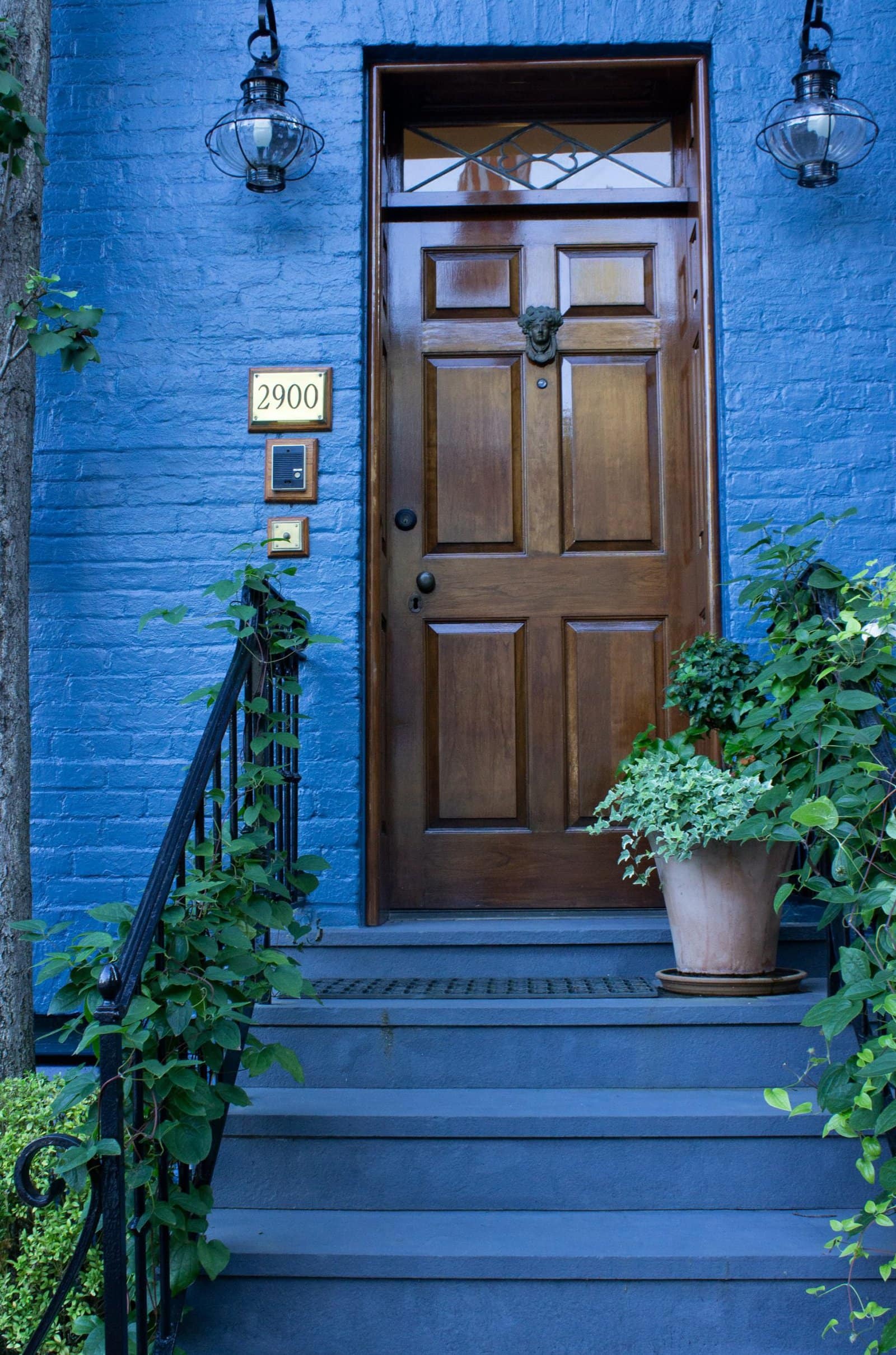 If you have a small entrance or no interest in a double door, use a single wood door at your entry. The single wood door goes with just about any style and contrasts colored siding for a balanced look.
You can find wooden front doors in dark and light finishes.
Front Door with Large Glass Panels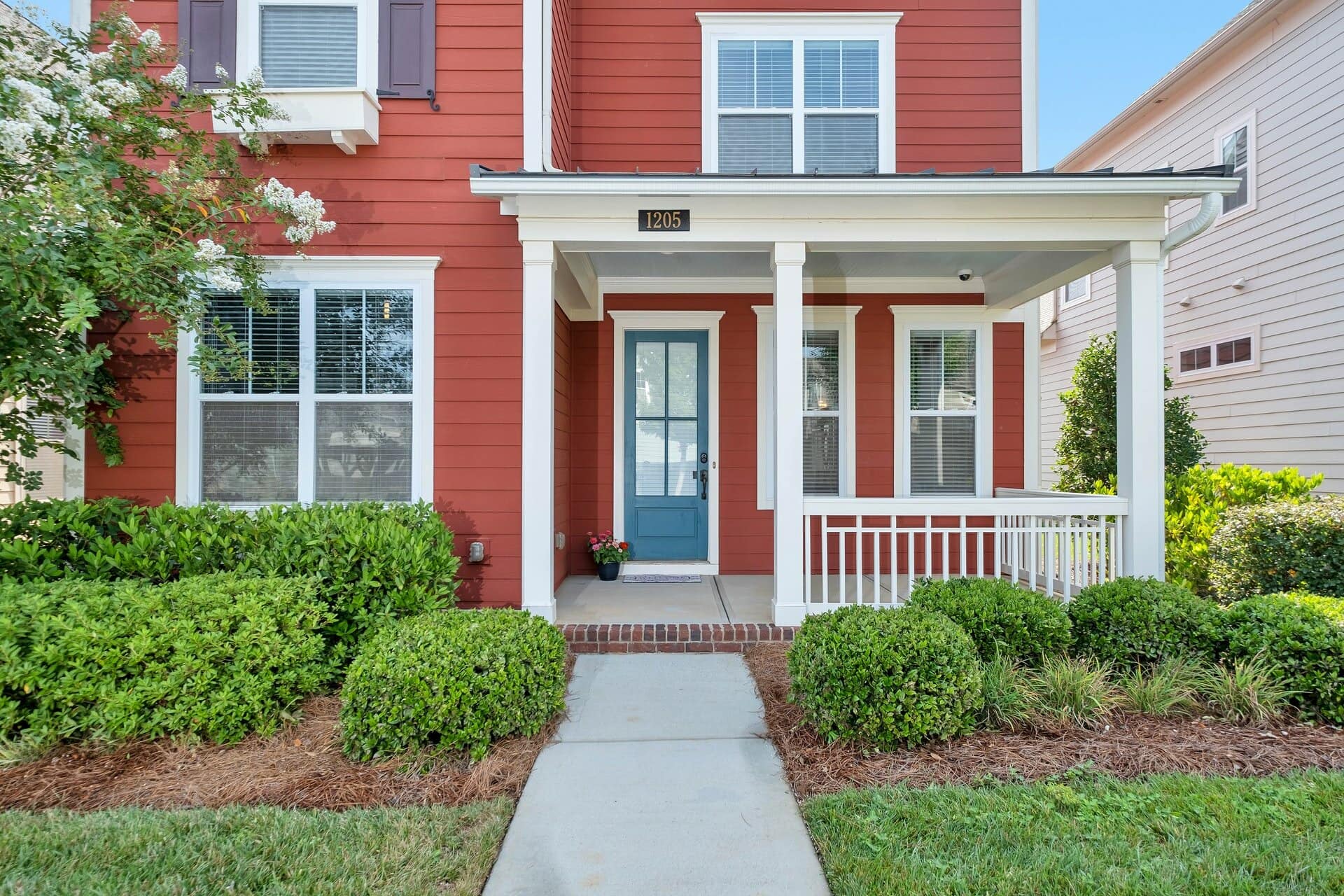 A front door with large glass panels is a meet-in-the-middle option if you want to let some light in but aren't a fan of all glass. This painted fiberglass door features four large panels.
You can hang a curtain or blinds over the glass for privacy. You can find similar doors in wood and fiberglass options.
Fiberglass Door with Oval Window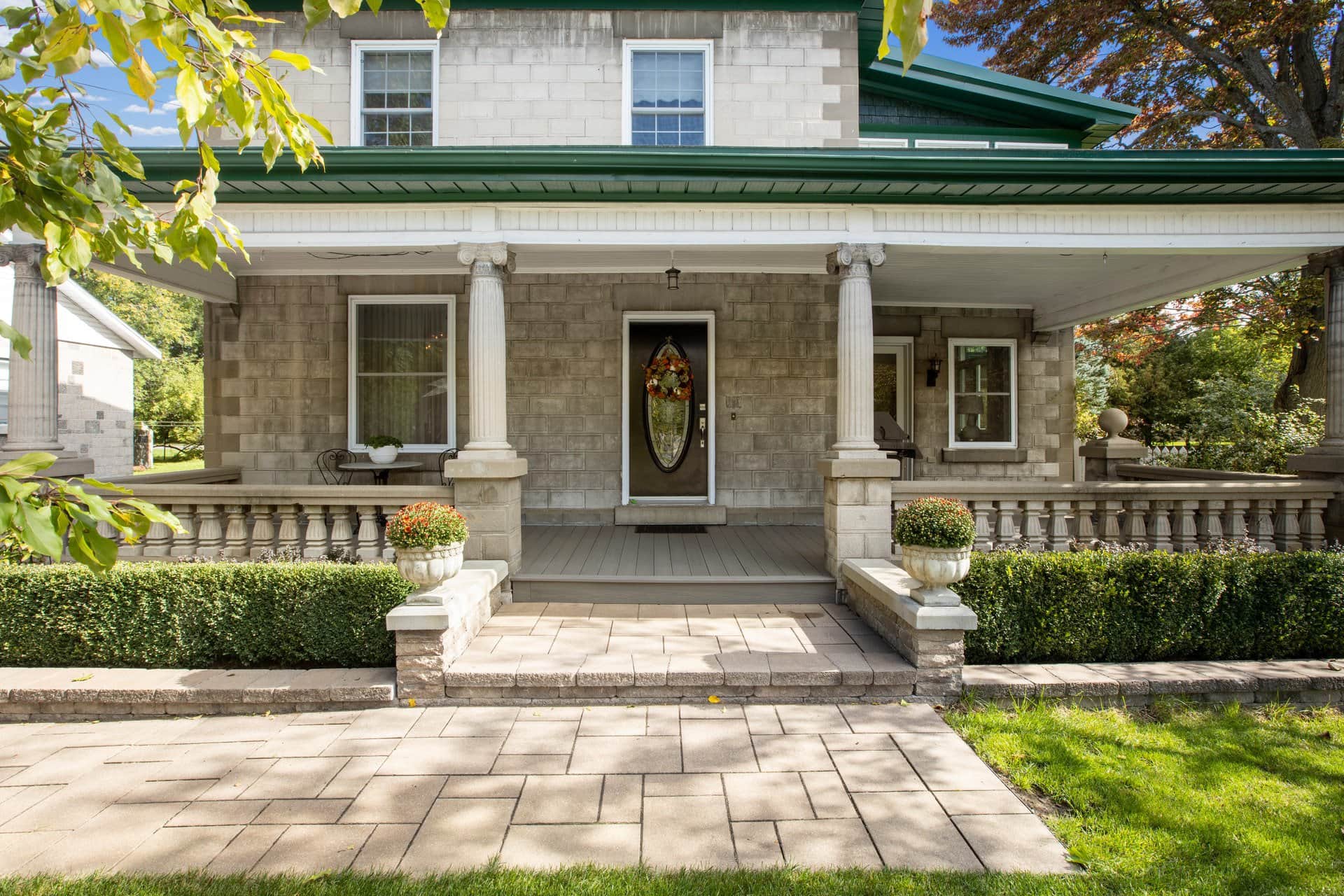 A standard entryway door in homes built in the past 30 years is this fiberglass front door with a large oval window.
You can find a door similar to this in any major home improvement store. It works well for traditional-style homes.
Front Door with Coordinating Trim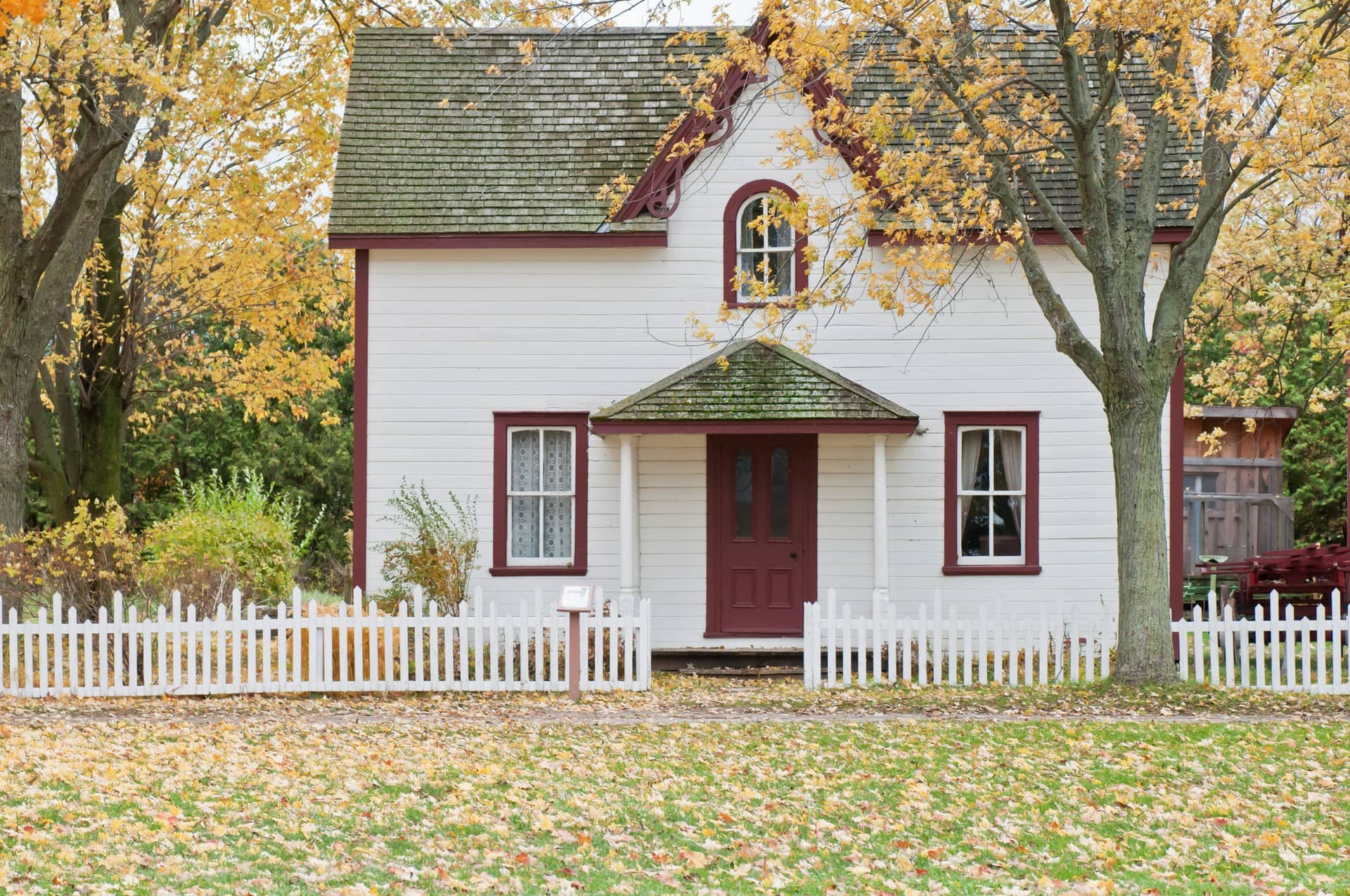 If you're wondering what color front door to get, an easy option is to match it to your trim. In this photo, the painted wood door is maroon to match the accents on the rest of the home.
If you can't find the perfect door color to match your home, you can always paint it yourself.
Cedar Front Door with Small Glass Panels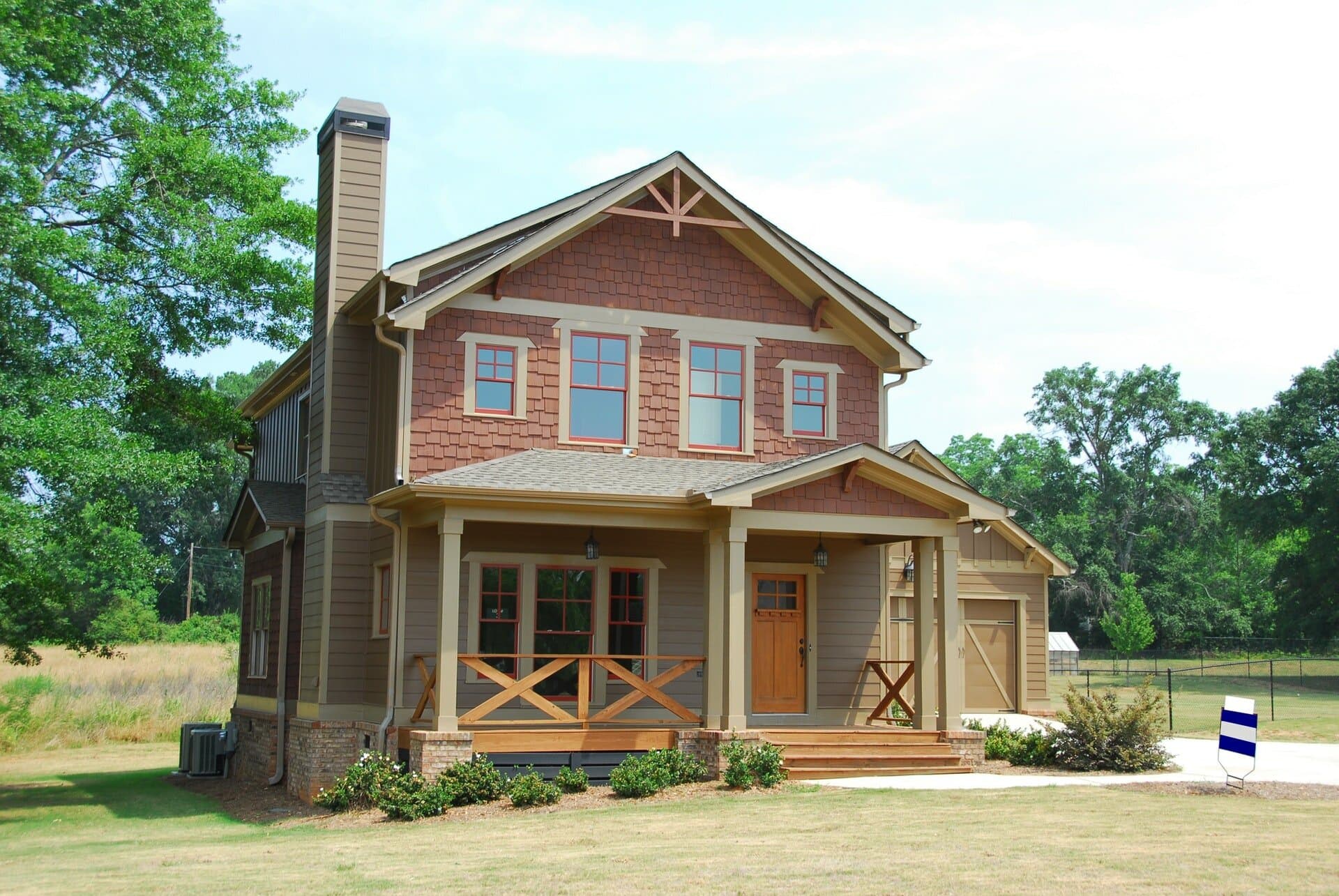 Cedar is a naturally weather-resistant wood. If you add a sealant to a cedar door, it will retain its warm wood color. If you don't add a sealant, it will fade to silvery gray over time.
Cedar looks great with many types of homes and is currently a top pick for farmhouse-style doors.
Final Thoughts
There are four main types of front doors: fiberglass, wood, steel, and wrought iron. Of those four, fiberglass and wood are the two most often found in residential homes. Within the types of front doors, there are hundreds of styles.
Go with fiberglass if you want a simple door that won't break the budget but will still look good. On the other hand, if you want to add natural beauty and texture, go with wood. From there, you can decide whether you'd like windows, a single or double door, or something unique.