Decorated Life is reader-supported. When you buy through links on our site, we may earn an affiliate commission. Learn More
What Color Cabinets Go With White Appliances? 15 Ideas
White appliances offer a blank slate for what color cabinets you choose to decorate your kitchen. As a result, you have more freedom with cabinet colors, whether you decide to keep them in their natural beauty or paint them.
We've gathered fifteen of the best cabinet colors for white appliances. While you can use white cabinets with white appliances for a monochromatic look, you can also go with more dramatic colors like black, green, blue, gray, turquoise, and red.
Rhinestone by Sherwin Williams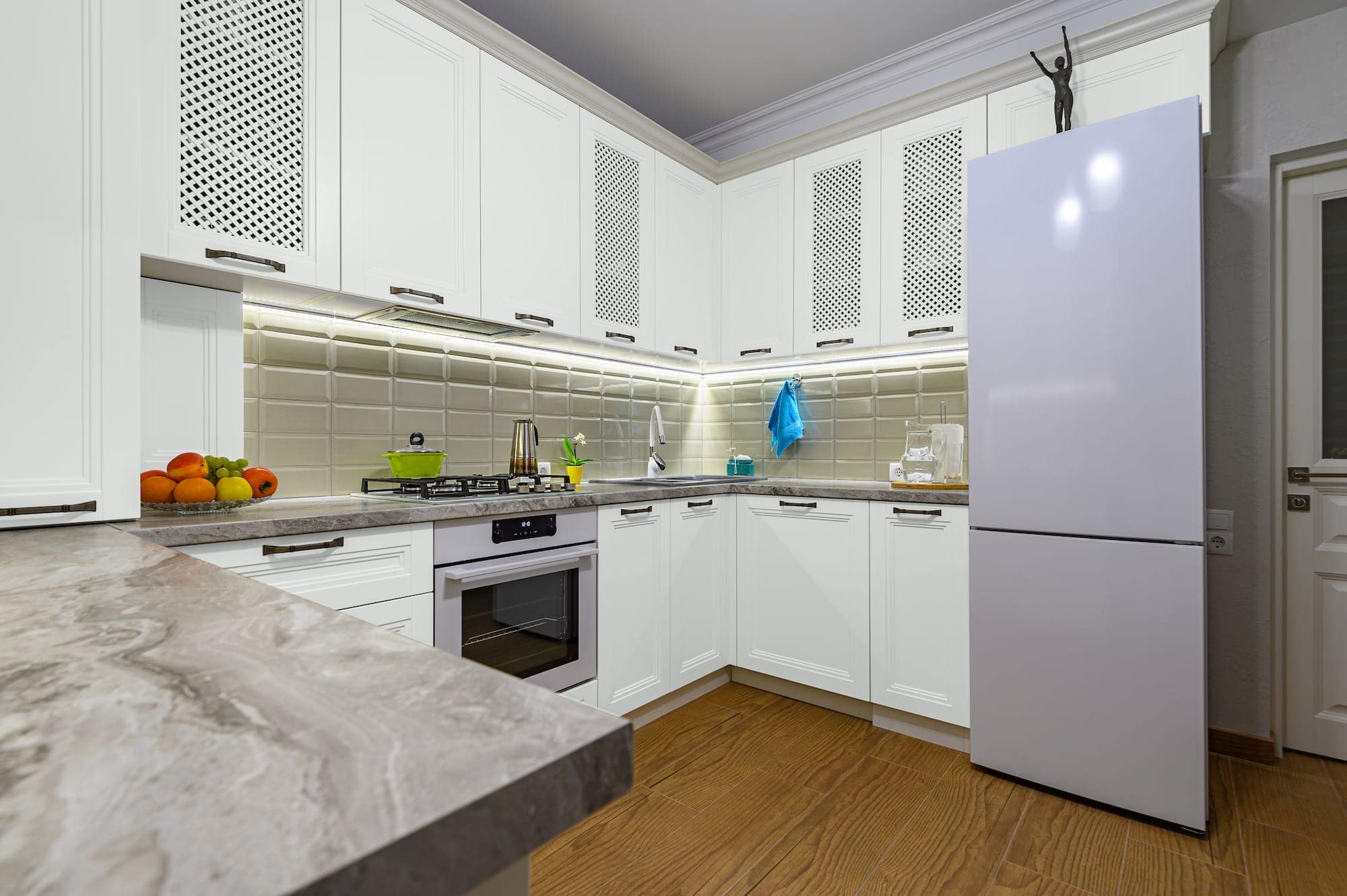 Rhinestone is a pale gray that can give your cabinets a slight color difference to contrast against white appliances. Using a lighter gray keeps things bright while still interesting with pigmentation, so there's less chance of looking washed out.
For a touch of oomph, accent with a darker gray like March Wind or create an accent wall or island in a beautiful dark blue-gray like Daphne.
Ceiling Bright White by Sherwin Williams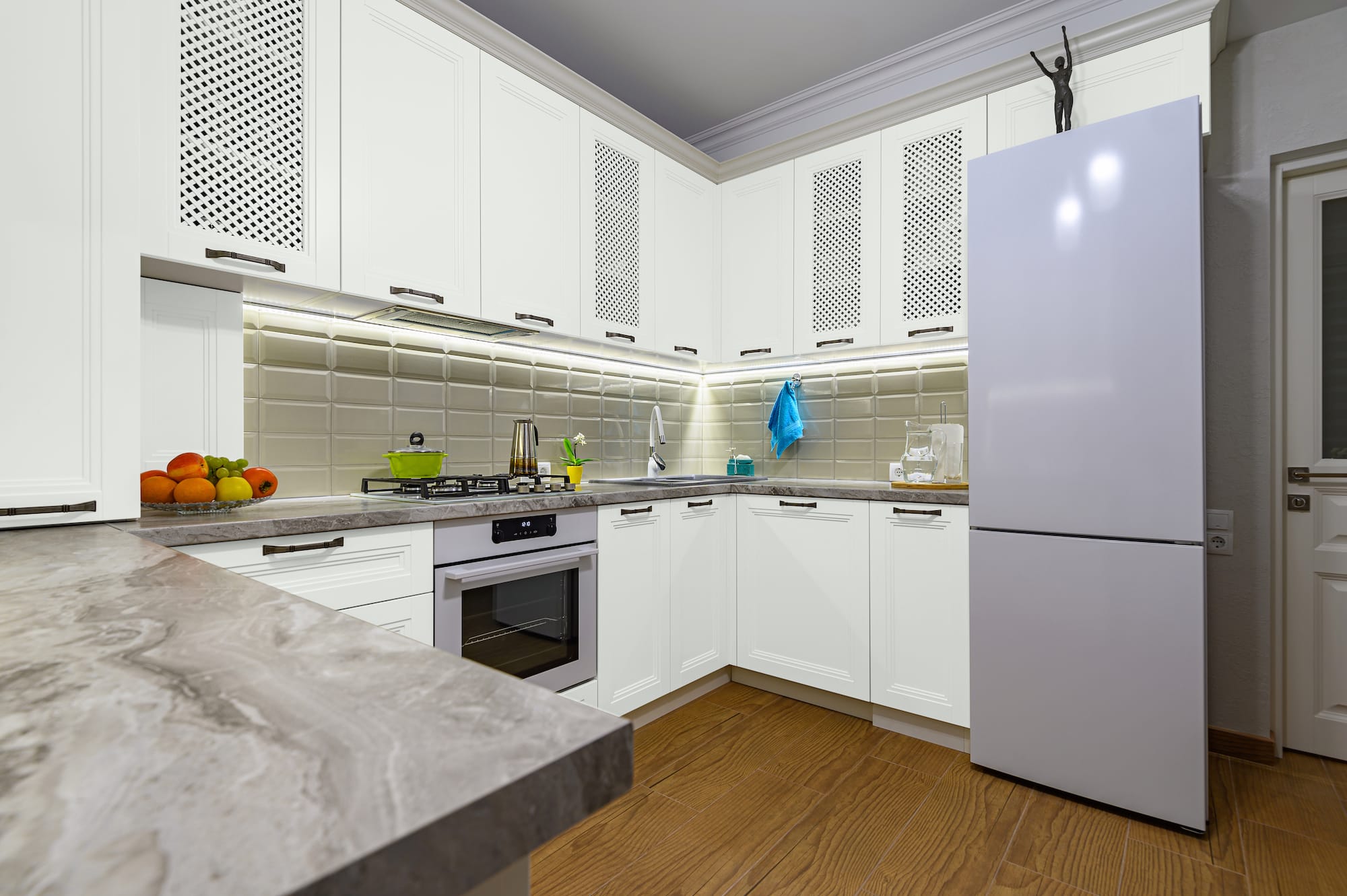 If you want a shade of white to create a monochromatic look, Ceiling Bright White is a sparkling shade with tinted pigmentation that can give your kitchen cabinets personality.
Because you're going with so much white, choose a patterned backsplash or add a bold accent to give your space some personality. Teals or blues like Blustery Sky or grays make a statement.
Online by Sherwin Williams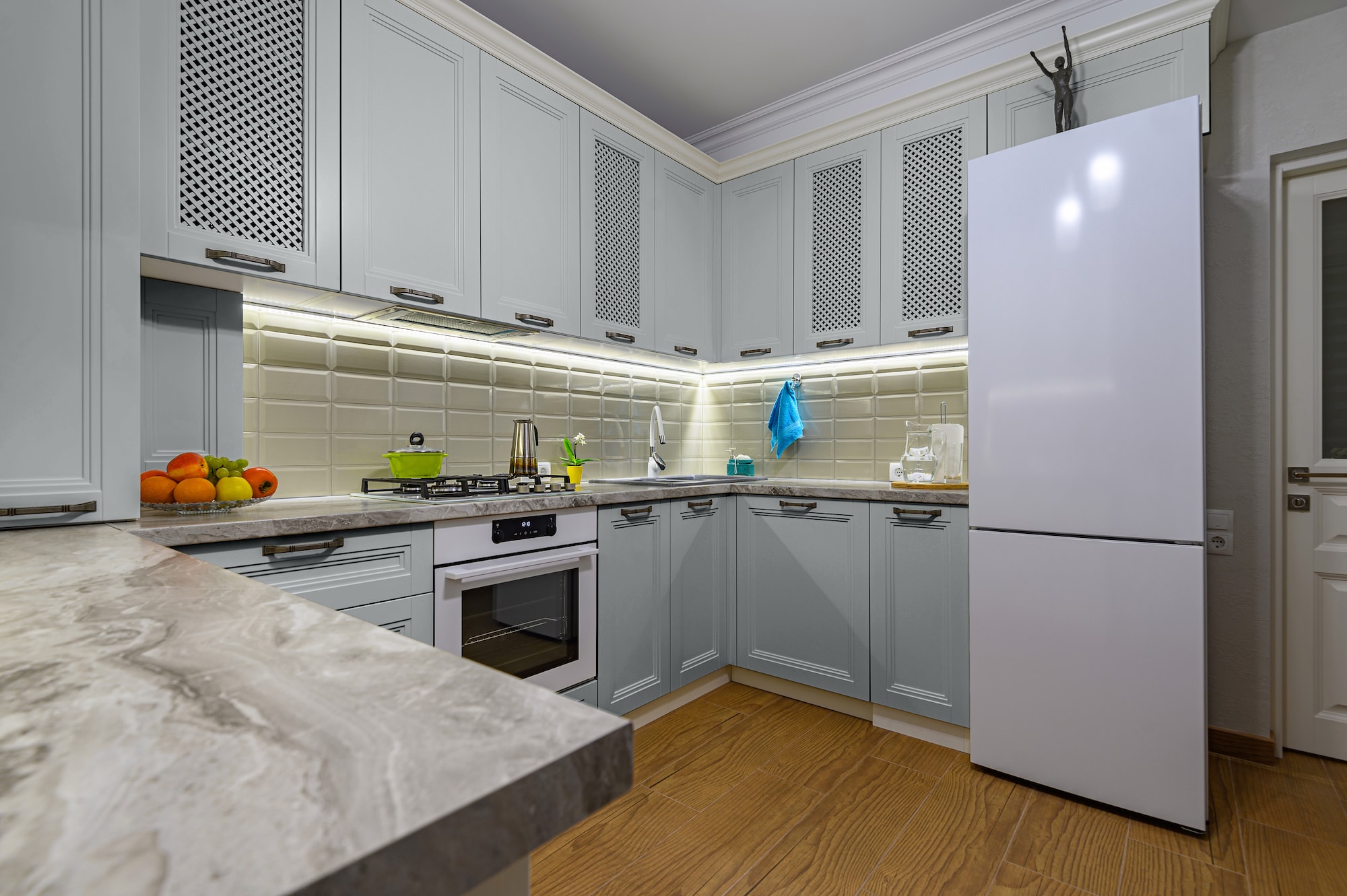 Online is a medium saturated gray with shadows that give it neat notes of brown and gray. We love going with gray cabinets with white appliances because it's a versatile color combination.
Grays with this chameleon effect is timeless and will go with whatever theme you decide to decorate your kitchen, even if you remodel.
Lobelia by Sherwin Williams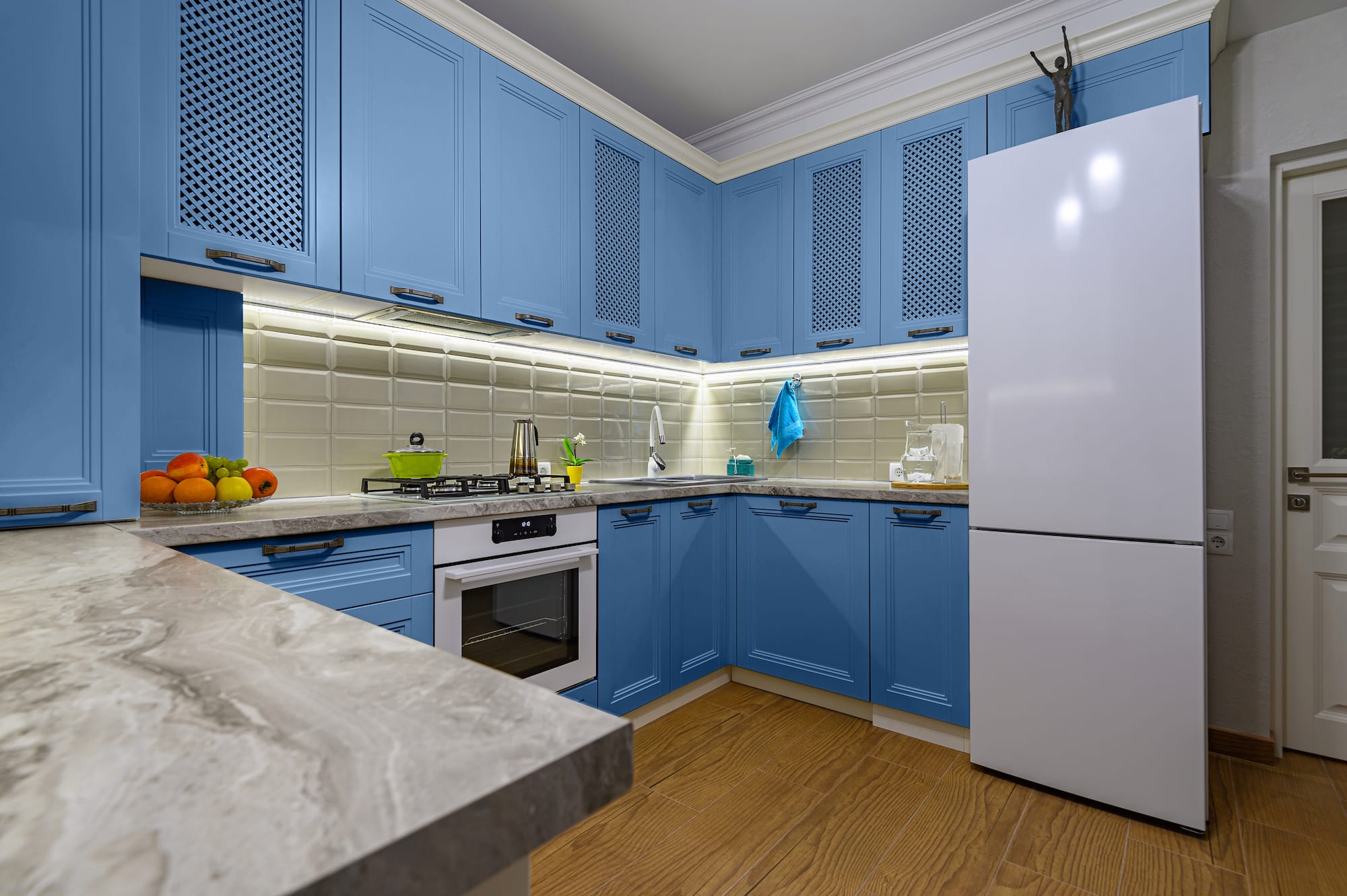 Lobelia is a stunning blue that's the perfect balance between not too dark that it's going to make your space feel cramped and depressing. But it's not too light that it feels like you're trying to bring the outdoors inside.
Suppose you're worried about going with full cabinetry in color this saturated. In that case, you can go with a two-tone design with lowers in Lobelia and uppers in a bright white with glass inserts or open shelving in natural wood grain. Or you could go with white cabinetry and limit Lobelia for the uppers or only as an island or feature wall.
Cyberspace by Sherwin Williams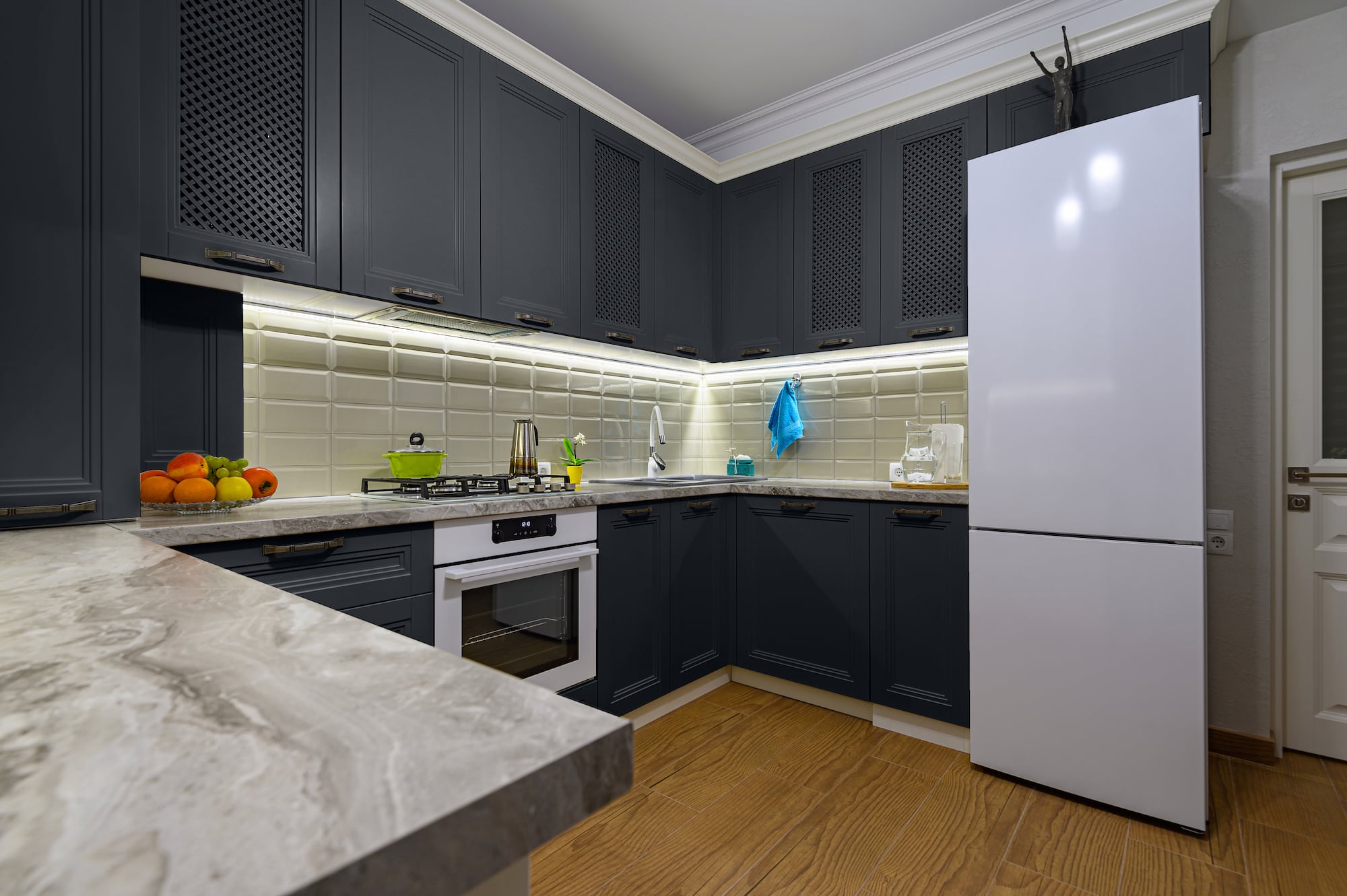 Black may not be a color that you immediately think of when trying to picture what color cabinets work best with white appliances. But doing black cabinets with white appliances can work for retro or vintage or modern and minimalistic designs.
Cyberspace is a dark, dense color that reminds you of the vastness of space. Unfortunately, there is too much of a good thing, which is one of those times. You may want to limit the use of this color to one section of cabinetry to prevent things from getting too dark.
Pineapple Cream by Sherwin Williams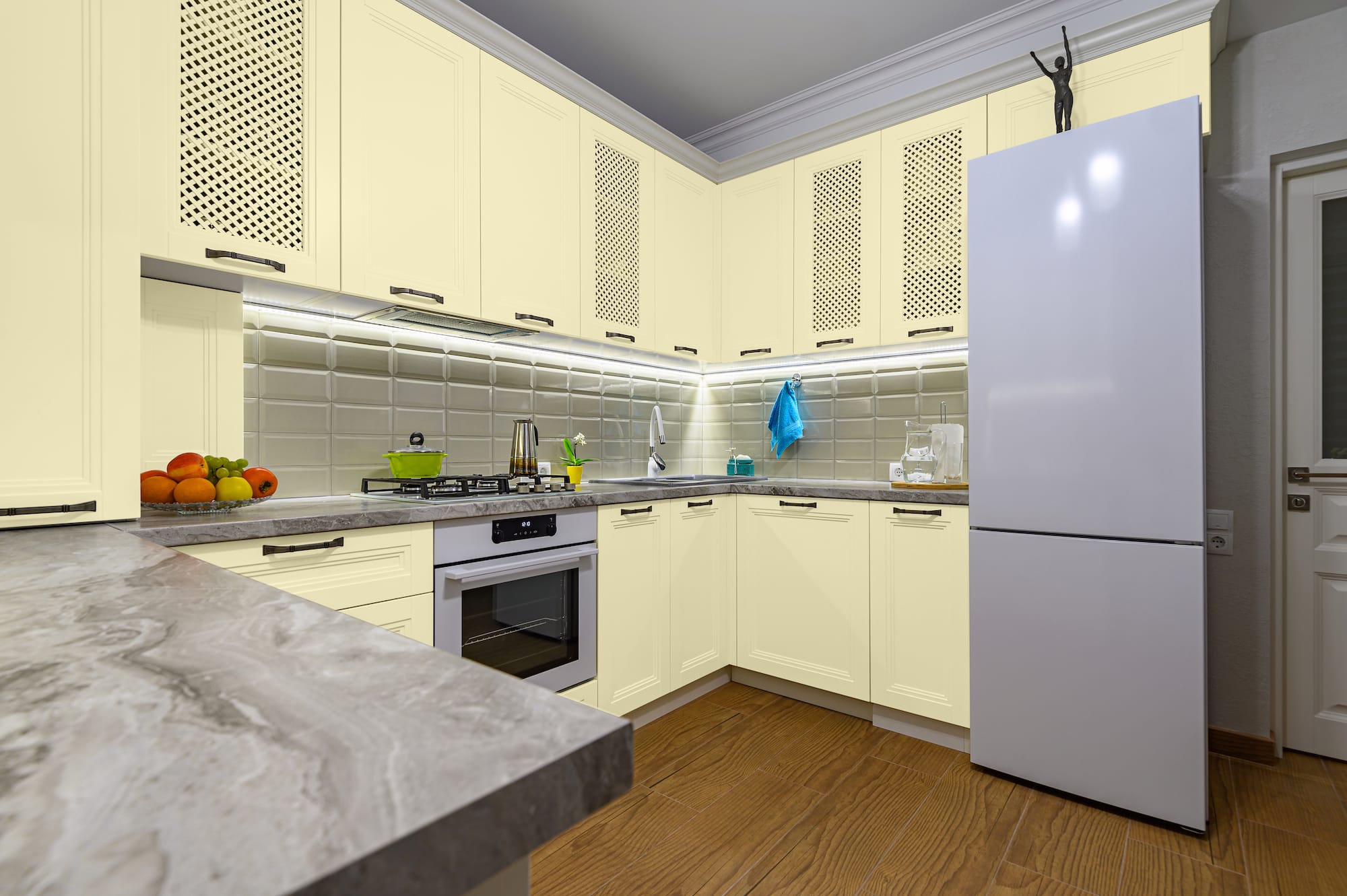 For a cheerful, light kitchen, paint your cabinets a pale yellow like Pineapple Cream. This color is a dull yellow with beige and tan notes. Painting your cabinets this color can give your kitchen a French, vintage, or country feel when paired with white appliances.
First Snowfall by Benjamin Moore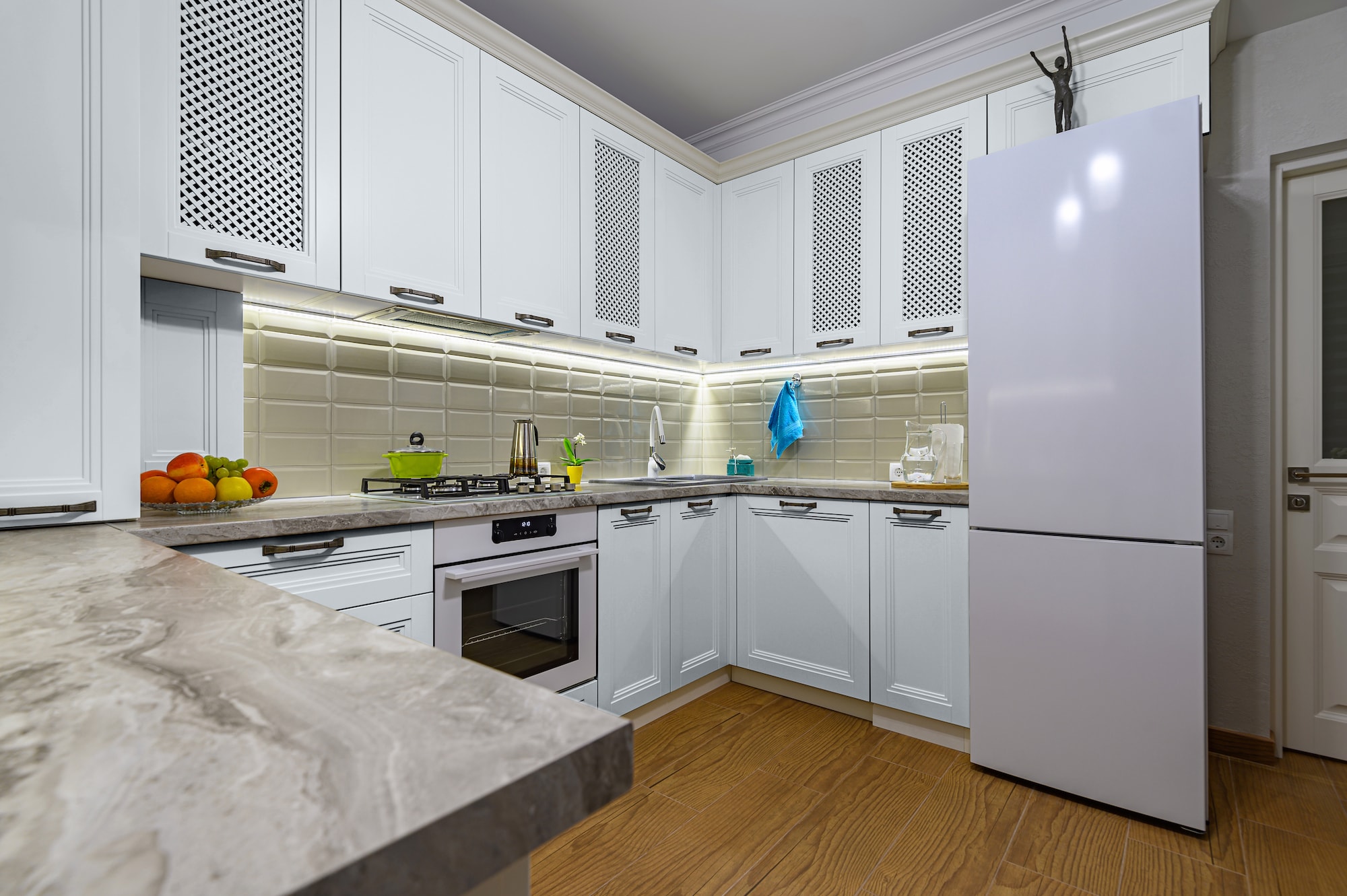 First Snowfall is a chilly gray that reminds you of the angry skies as it dumps endless amounts of powdery white. You can capture this feeling in your kitchen by going with this gray for the cabinets and using white cabinets.
Choose a bright white for the ceiling and gray tile or hardwood on the floor. Go with greenish-grays like Olive or dark blues for a bold color accent. 
Athens Blue by Benjamin Moore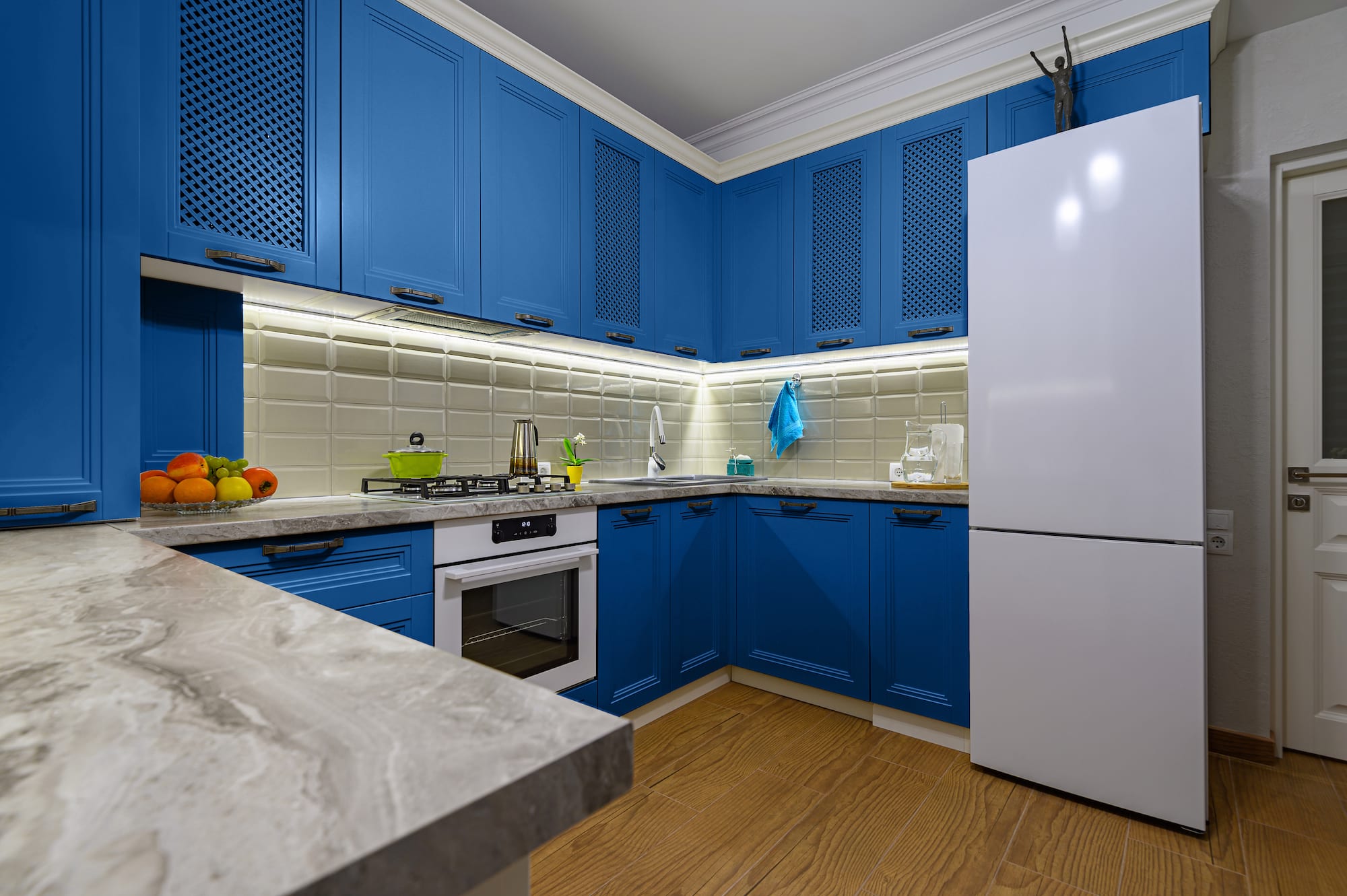 Athens Blue is a brilliant dark blue that inspires feelings of Olympia and the Greek legends. We love this blue for lower with light gray, white, or natural wood uppers. You can use a bold, saturated blue like this for modern, contemporary, traditional, or antique-inspired themes.
Juniper Green by Benjamin Moore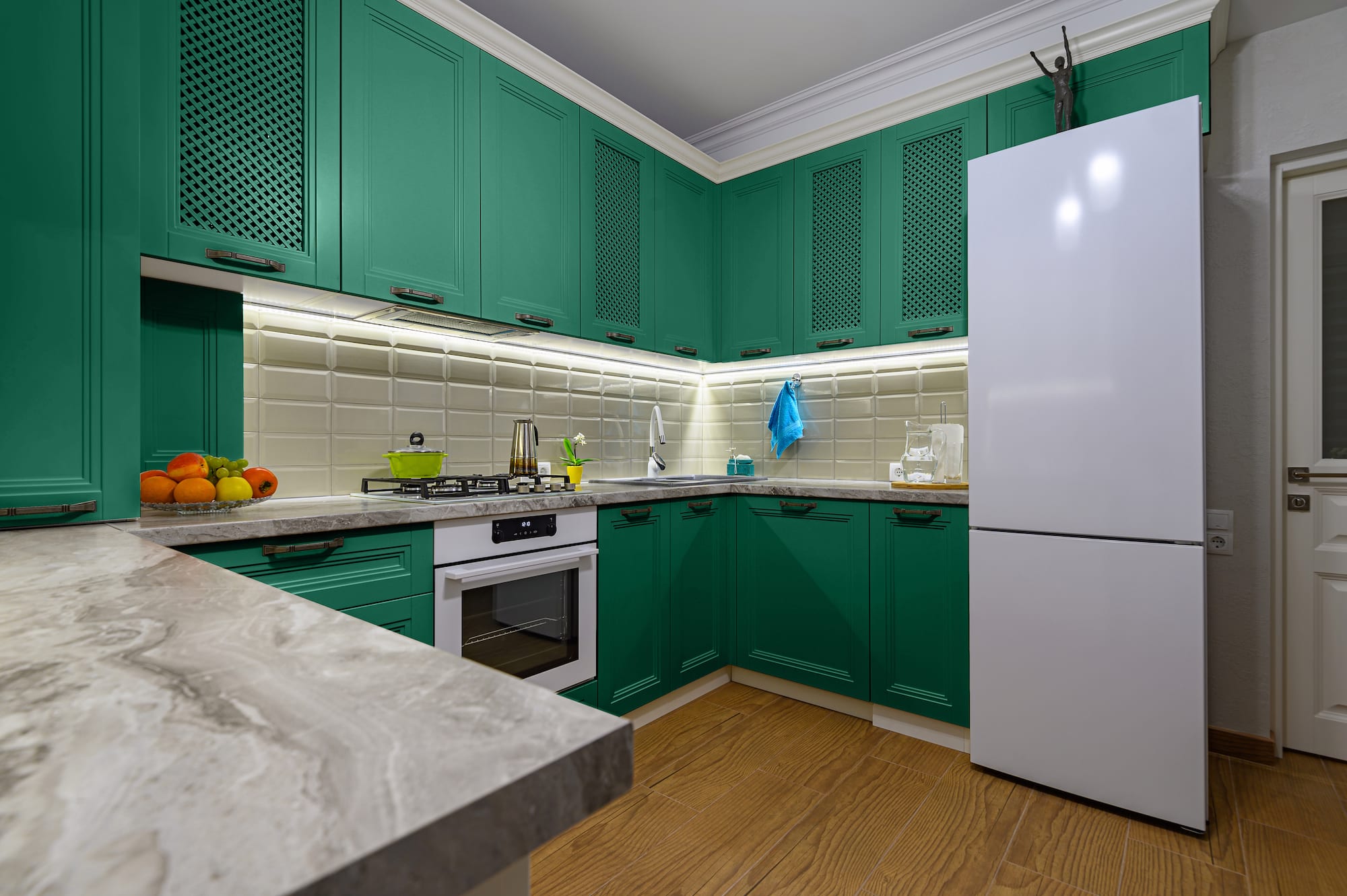 Juniper Green is a bold, bright green that's medium-toned. You can use this heavily saturated color for rustic, mountain, and country-themed kitchens with white appliances. While too much can be overpowering, going with two-toned cabinetry is a perfect balance. Or limit the color to an island, butler's pantry, or a single section of cabinets.
Cascade Mountains by Benjamin Moore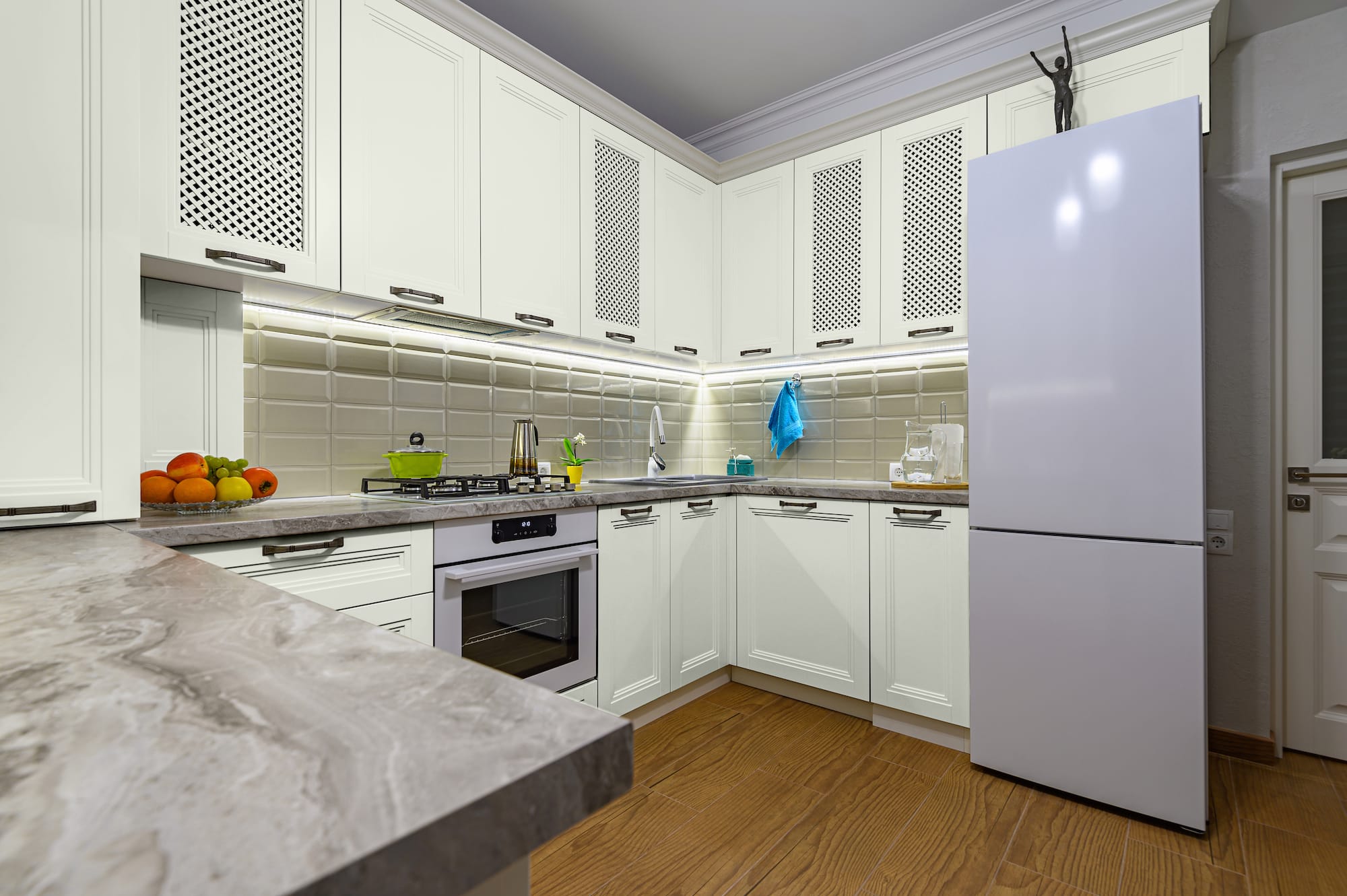 Cascade Mountains is a grayish-beige – greige – that can give your cabinets subtle pigmentation. This timeless color is just enough to keep your kitchen feeling warm and inviting instead of cold and colorless. And the neutrality of it gives you the option of redecorating with many different colors over time without having to repaint the cabinets each time.
Palatial Skies by Benjamin Moore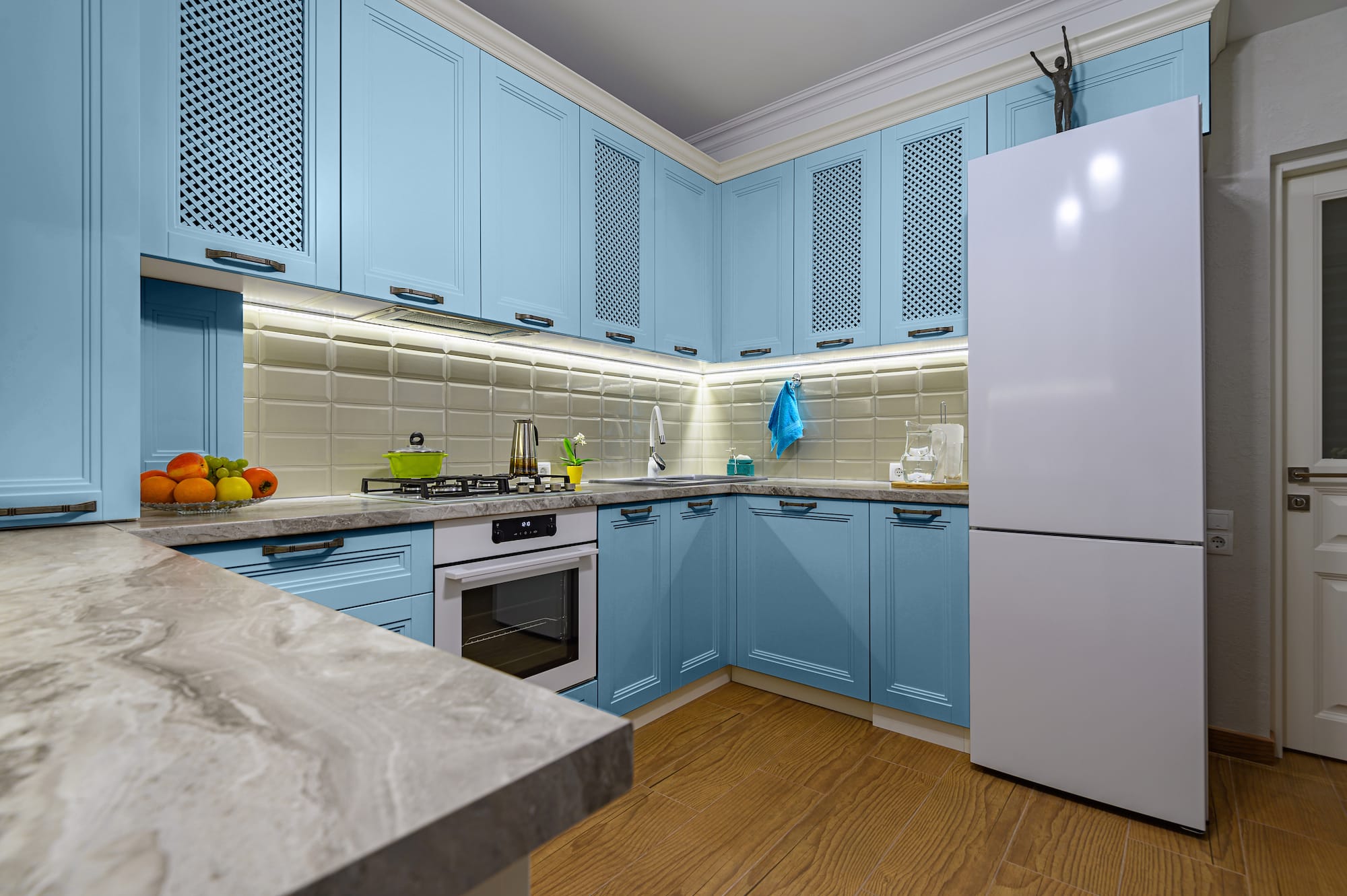 If you like the pretty blue of a clear blue sky, you may enjoy the nuance you can achieve by painting your cabinets Palatial Skies. This lighter blue leans heavily towards gray, looking like a sky that's heavy with a storm rolling in on the horizon. However, the darkness in the blue lets this color act as a neutral that's light enough to work for all-over cabinet color.
Dove by Behr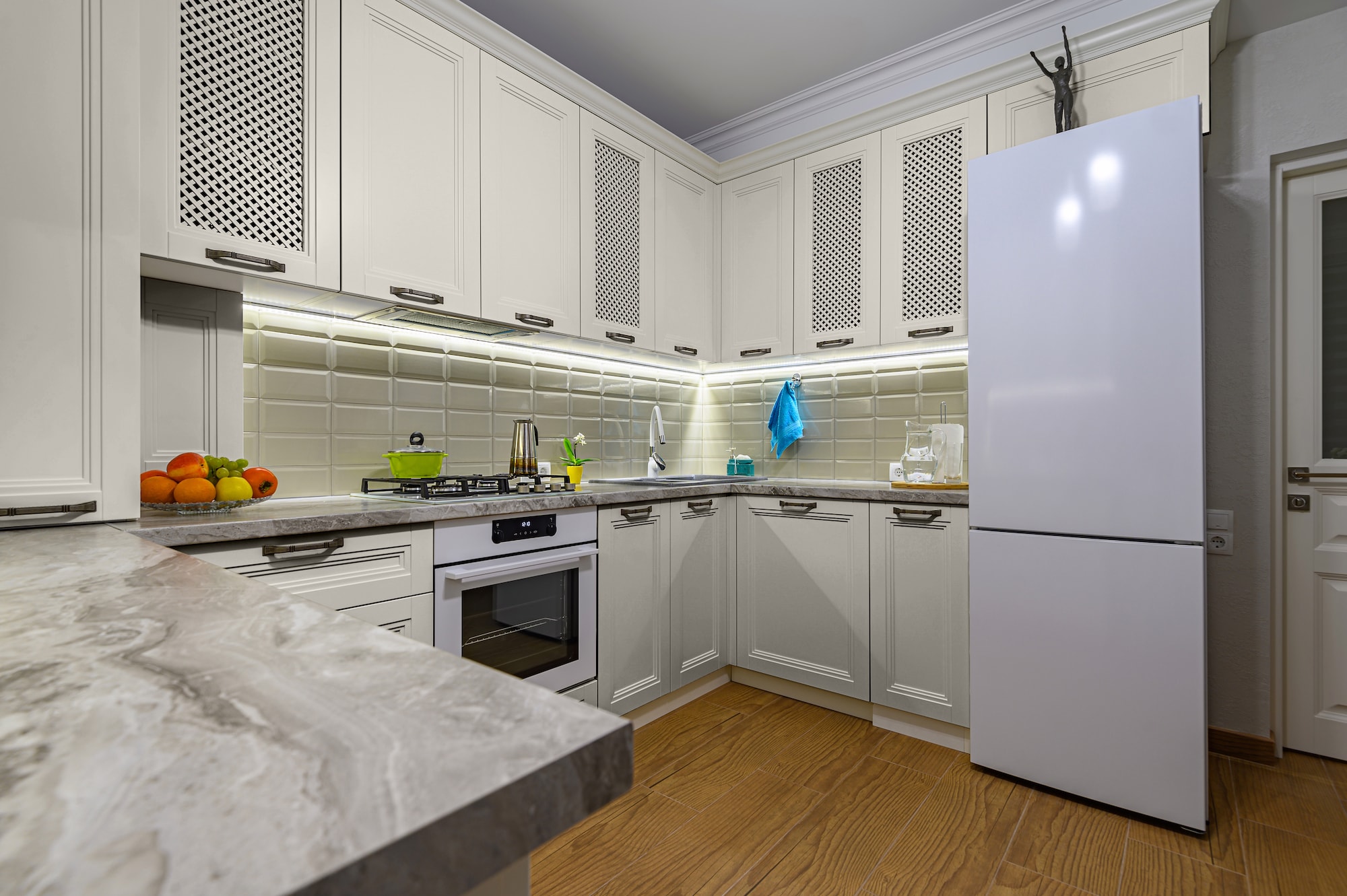 Dove is a grayish-brown that favors mauve in the right conditions. Using this color for cabinets is another fantastic neutral choice that saves time and money by reducing the things you have to change during upgrades. And best of all, the versatility of this color can work for any design from traditional to transitional.
Frost by Behr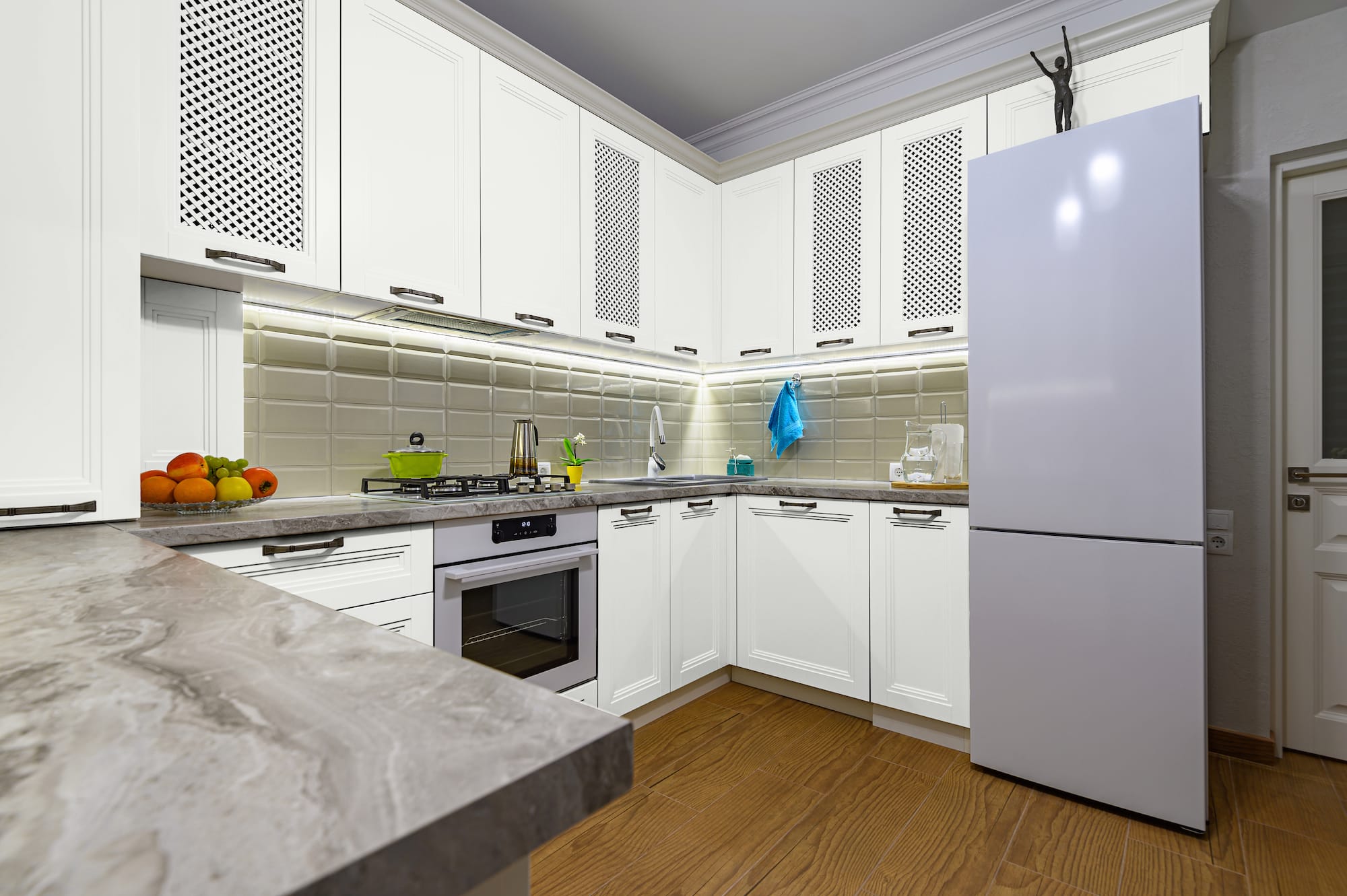 Frost is a cool, high LRV shade of white with light tinting that gives just the faintest traces of gray. We love using a white like this for cabinets with white appliances for a clean, minimal palette.
Also, if you're remodeling your home with plans to sell, a neutral palette of white on white can increase the chances of your home selling faster.
Hazy by Farrow & Ball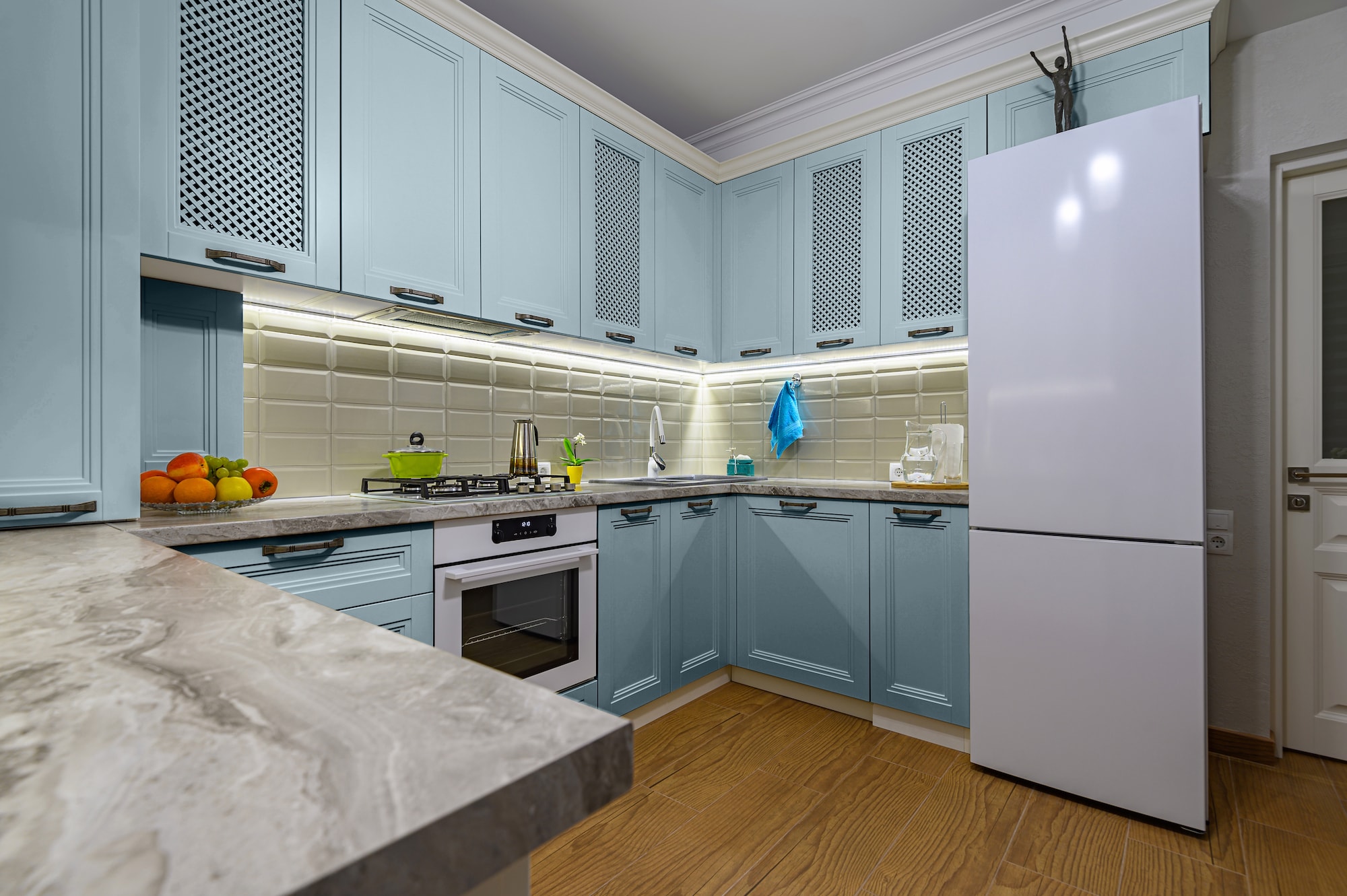 Hazy is a fascinating mix of heavy gray and medium-toned blue inspired by how fog rolls in along the coast, blanketing the land in a mystical haze. The muted neutrality of this pigmented color is versatile but fresh and can work for all-over color or when paired with a lighter neutral.
Ash Gray by Farrow & Ball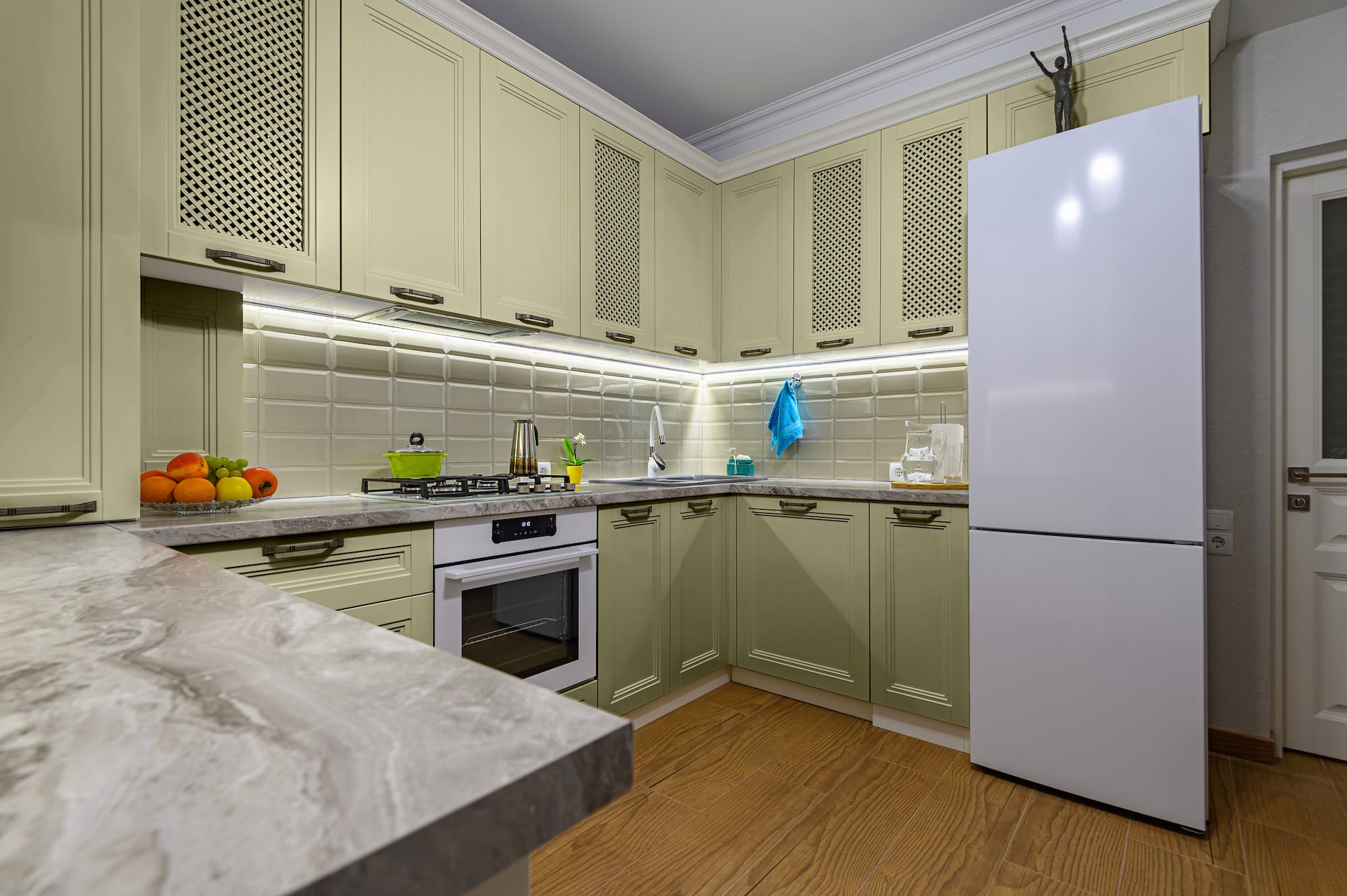 Ash Gray doesn't look much like gray but more like a brownish beige. This warm neutral can give your cabinets a honeyed richness that offsets the bright blankness of white appliances. You can use this greenish-gray color for a country, rustic, traditional, or European-influenced decor.
The lighting will determine how this color shows, with bright natural daylight turning greener while low lighting brings out more gray.
In Closing
Having white appliances gives you an open canvas for what you want to do with your cabinet color. When choosing what color cabinets go with white appliances, you also want to consider other elements like wall color, flooring, backsplash, and counter colors. Potential colors include blues, greens, whites, and grays.