Decorated Life is reader-supported. When you buy through links on our site, we may earn an affiliate commission. Learn More
What Color Floors Go With Oak Cabinets?
While browsing in the store for furniture, the oak cabinets caught your eye. With their rich golden tones and warm wooden texture, you knew they would look perfect in your home.
And you were right. They are beautiful.
The only problem is that you never considered what color floor would match oak, and now you're wondering what to do.
The good news is that it's easier to match oak cabinets with flooring than you might think. We're going to run through your options and what factors you need to consider.
What Color Flooring for Honey Oak Cabinets?
Honey oak is available in different shades but isn't usually any darker than mid-brown and has noticeable warmth in its tones. Often stained to provide a distinctive amber finish, honey oak is a versatile shade that can combine well with many different floor colors.
White flooring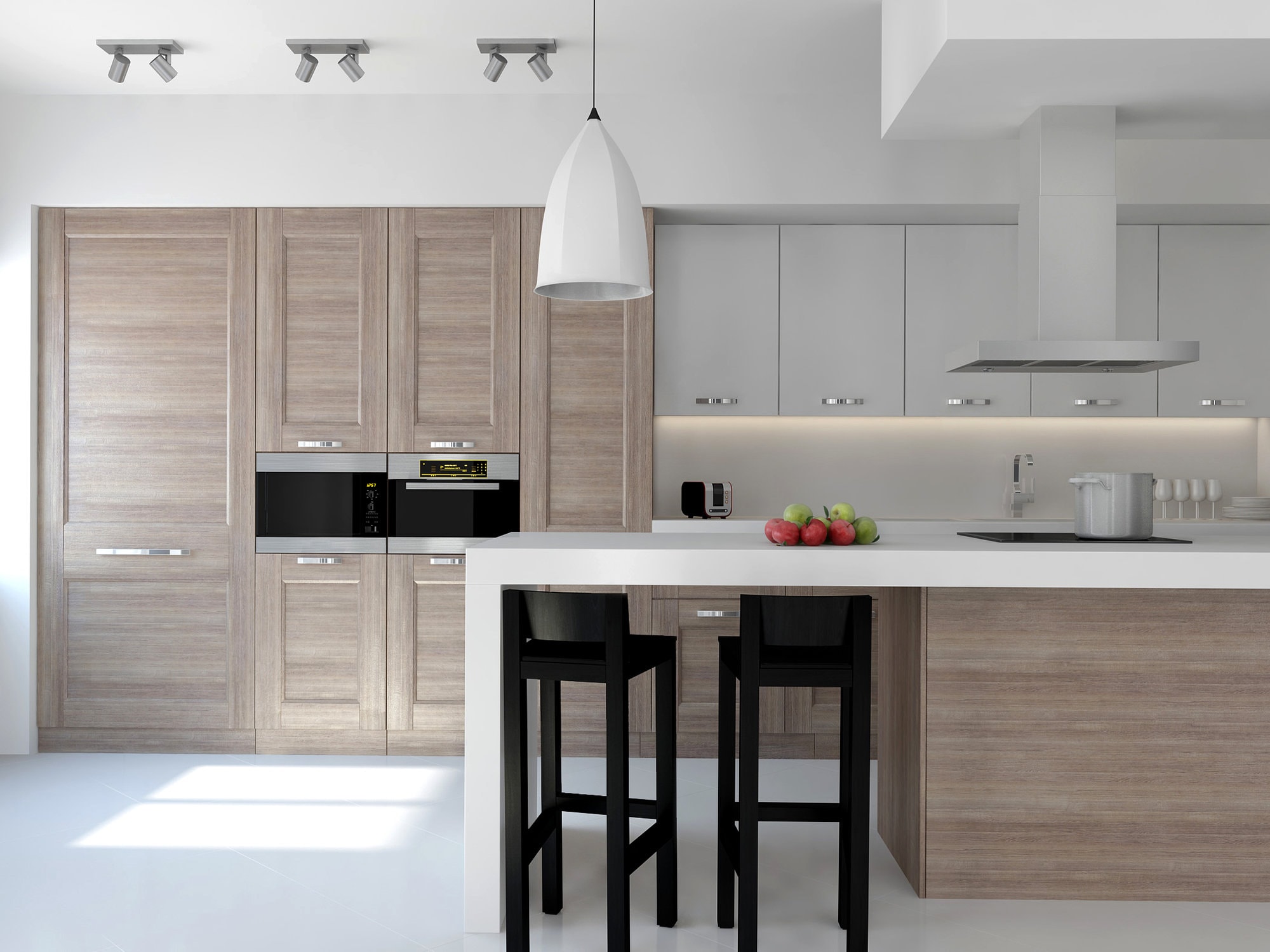 White flooring is a classic color that may seem like an easy option. However, if your oak cabinets are very dark, steer well clear of white, as the contrast can be too severe for comfort.
If you have light oak cupboards and want to aim for a farmhouse style, white flooring is a perfect choice. It's particularly good for shabby chic or rustic themes, as well as creating a modern, Scandinavian look too.
White flooring can lighten the space and make it feel larger and brighter. If you add light-coloured work surfaces, it's a good way of bringing the honey oak cabinets and the white flooring together in a harmonious balance.
Gray flooring
One of the most sought-after colors in recent years, gray flooring is a neutral choice that can work well with almost every shade of oak. However, it can also look cold and clinical if you don't get the tones right.
Lighter oak should be paired with a mid to dark gray; this creates a contemporary look which is clean and simple. You can change the hardware on the cabinets to antique brass, copper or bronze to link the flooring and the cabinets more closely.
Pair a dark, large floor tile with honey oak cabinets for a contemporary style. Colors such as charcoal, black and dark gray will create a bold look that complements modern kitchens especially well. Use white grout and finish with light gray worktops for a timeless effect.
Colors from nature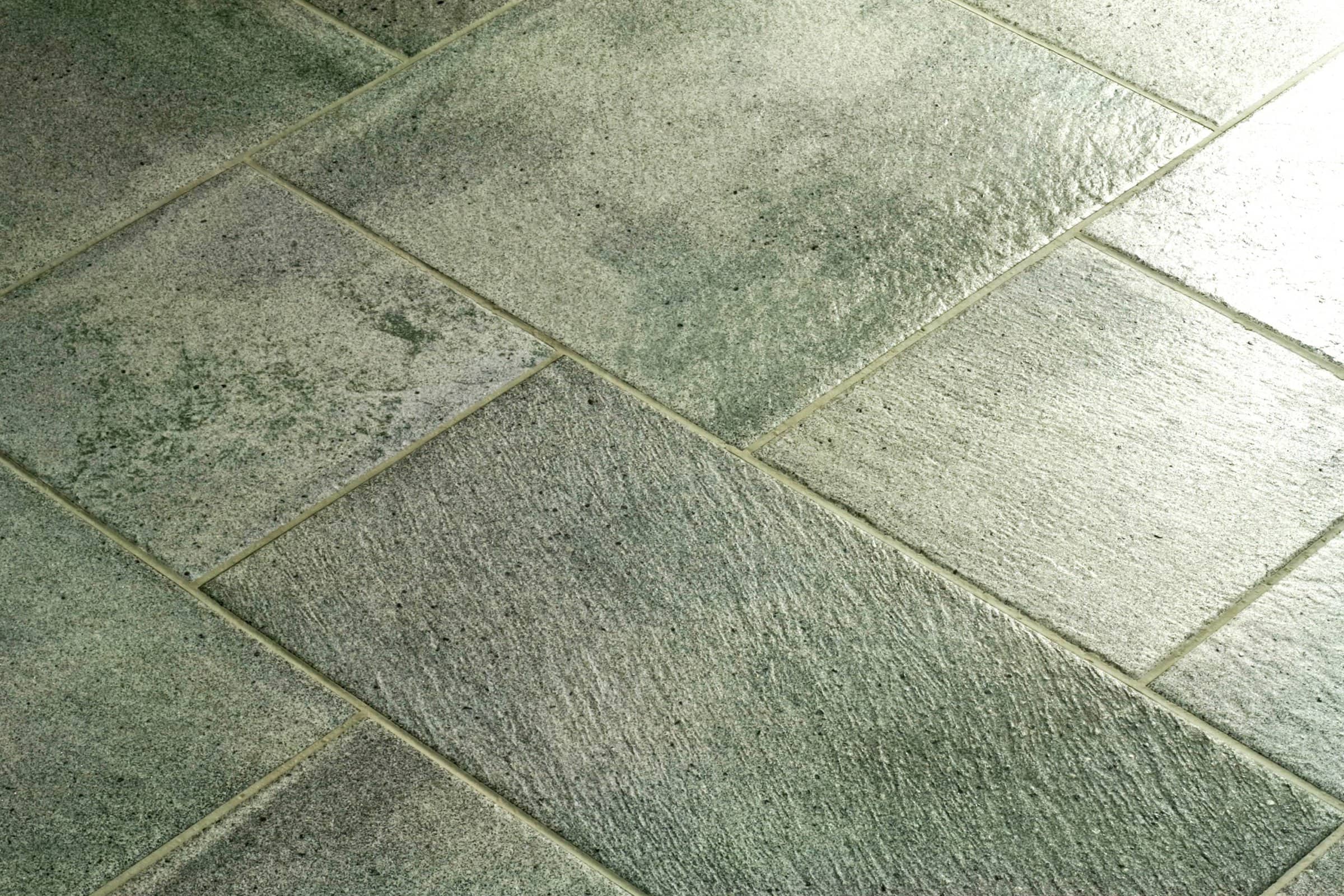 As a natural material, oak matches effortlessly with colors found in nature. Earthy tones, and deep greens can create a decor that's soothing to the eye.
For light honey to mid-oak cabinets, forest greens and taupe will create a striking effect. You could even opt for a stronger look with indigo and deep blues to pair with the oak.
If you prefer paler shades, duck egg blue and sage green are gentler hues which still provide a pop of color without clashing with the warm tones of honey oak.
What Color Flooring for Dark Oak Cabinets?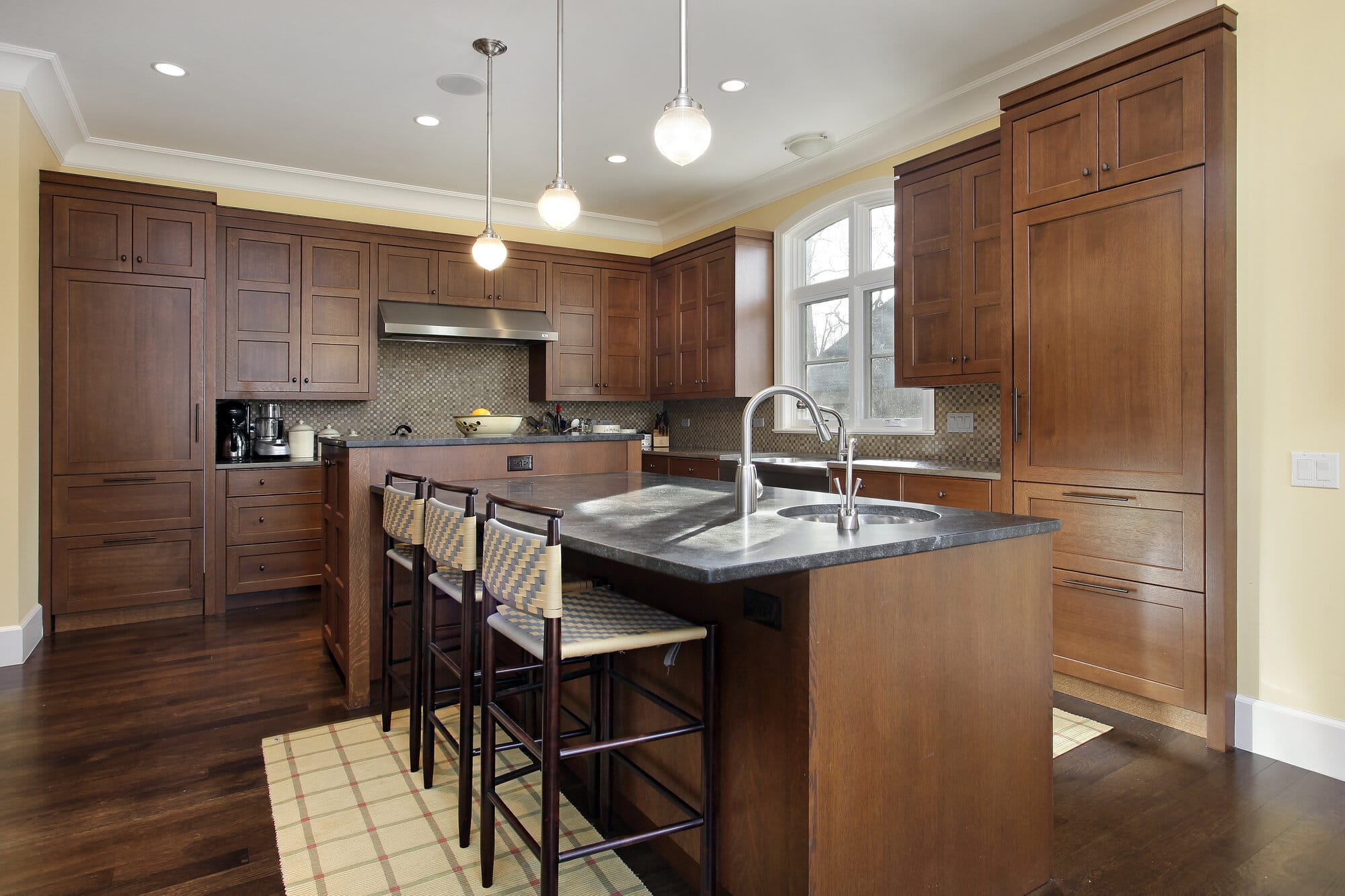 Oak can be stained in any shade and is available in very dark tones. If this is the case, you'll need to choose the color of your flooring with precision to avoid making the room feel gloomy.
White flooring
White flooring with dark oak cabinets is a tricky combination which can look very severe if you're not careful. There's nothing wrong with colors that have a strong contrast but consider introducing some intermediate shades to soften the style.
White flooring looks clean and elegant, and is available in multiple styles from porcelain tiles to whitewashed timber. A soft gray worktop can match well with any type of white flooring while preventing it from looking too stark.
Brown flooring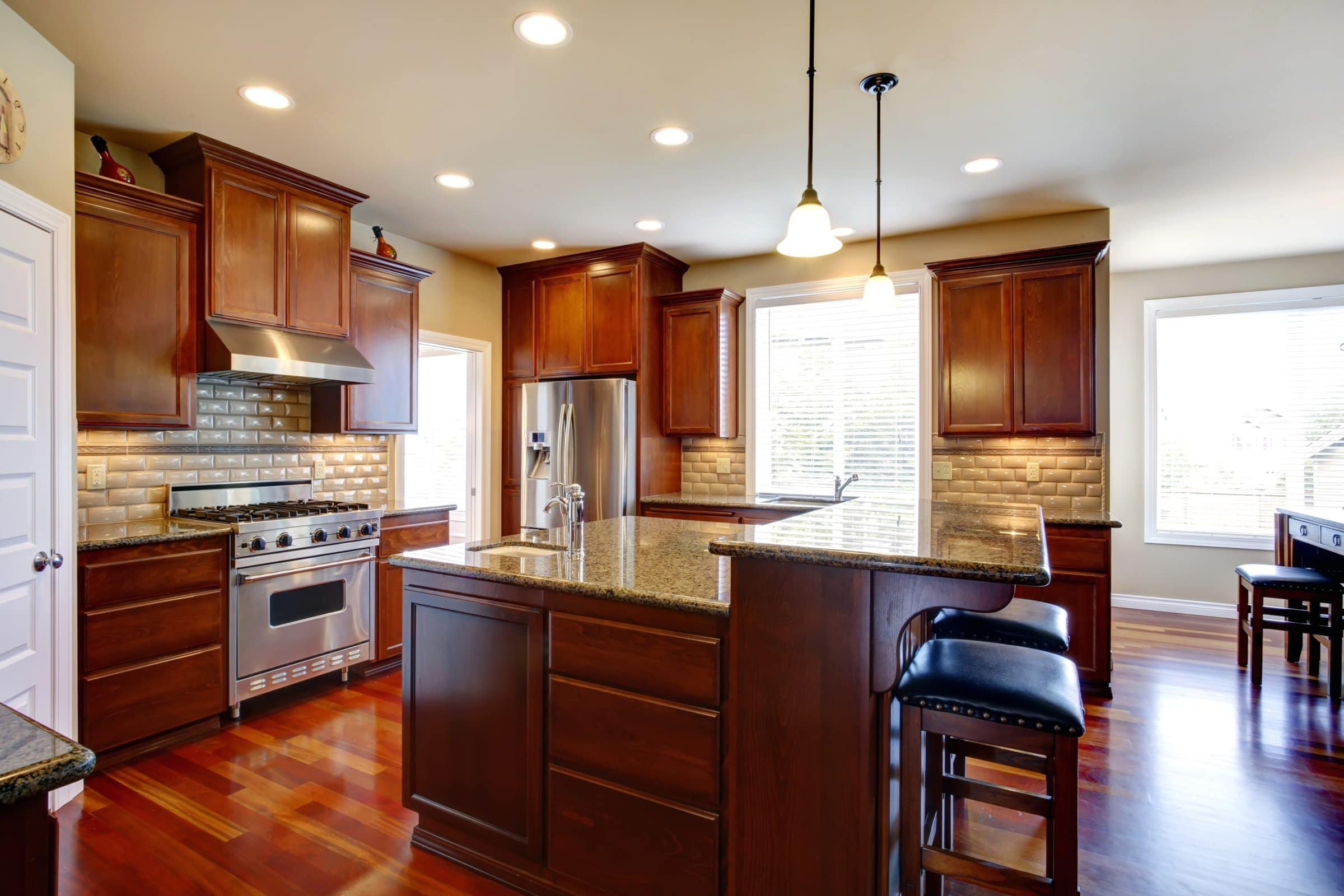 Dark flooring with warm, chocolate tones is often the best choice for dark oak cabinets. The flooring can be even darker than the cabinets, and will create a comforting, traditional decor. Opt for wide plank flooring for a more modern look that has a classic twist.
Oak is a versatile color and the color flooring you choose will accentuate those tones within the woodgrain. A darker brown flooring will create a cozy atmosphere without being too somber or overpowering.
If the room is smaller, a lighter brown floor will provide the same complementary tones but can help the space to look larger. The different shades in oak mean that any brown flooring will work well.
Red flooring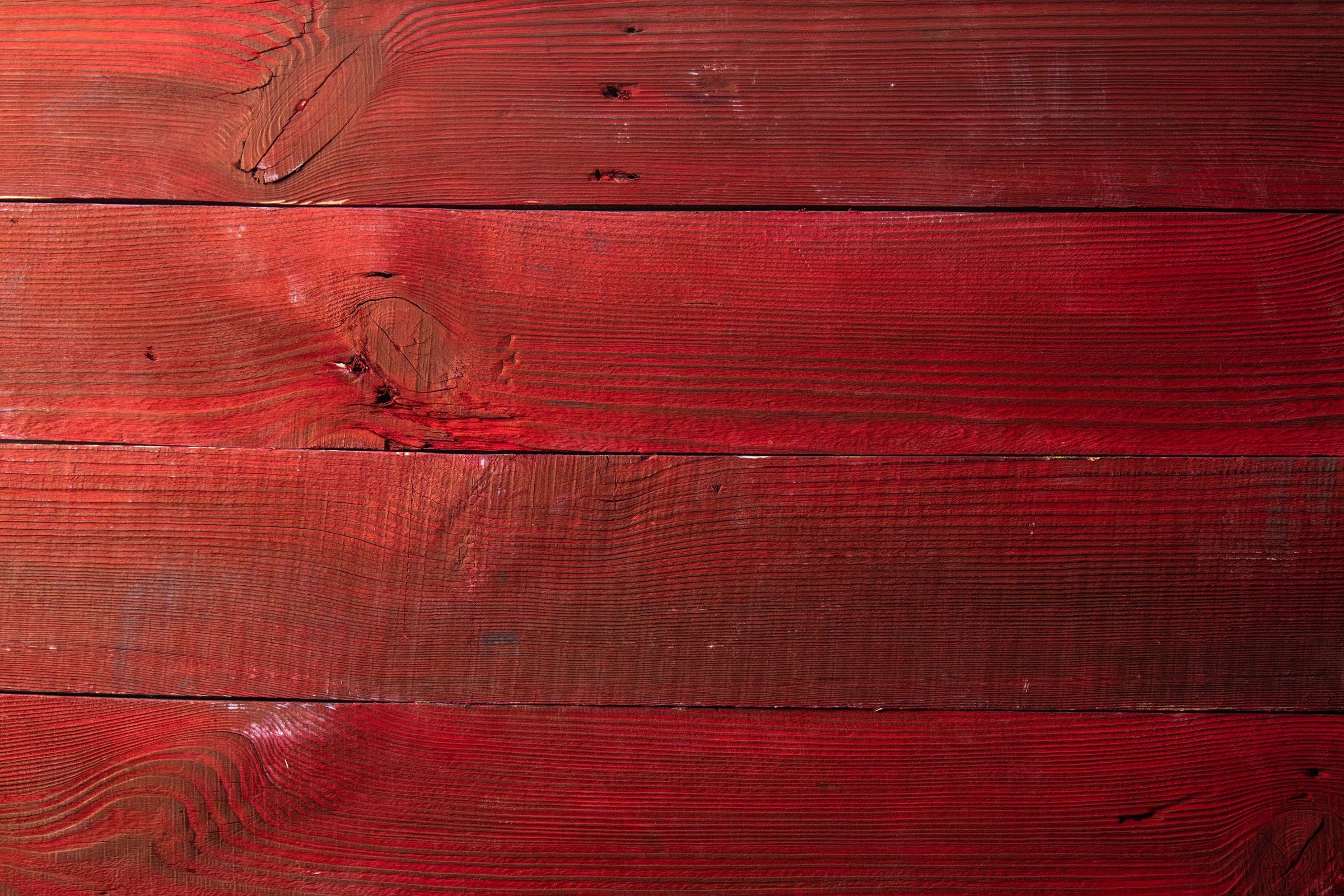 If you have dark oak cabinets, red might not be the color that instantly springs to mind – but you might be pleasantly surprised. Although it's a powerful combination, the warmth of oak means that red hues look wonderful on the floor.
Steer clear of pillarbox red and look for rich jewel tones like mahogany, wine, and dark cherry red. These shades of red have multi-tonal depth and will help to accentuate the warm, reddish notes in the oak timber.
Bright flooring
If you enjoy decorating with vivid colors, there's a wide selection to choose from which pair well with dark oak. Bright flooring will saturate your room with color, and will really pop if your accessories also pick out the same shade.
Lime green and burnt orange are fabulously retro and when combined with dark oak, offer a vintage chic appeal. For a more contemporary style, pick teal or sky blue for flooring that doesn't sink out of sight.
Should My Flooring Be Lighter or Darker Than My Furniture?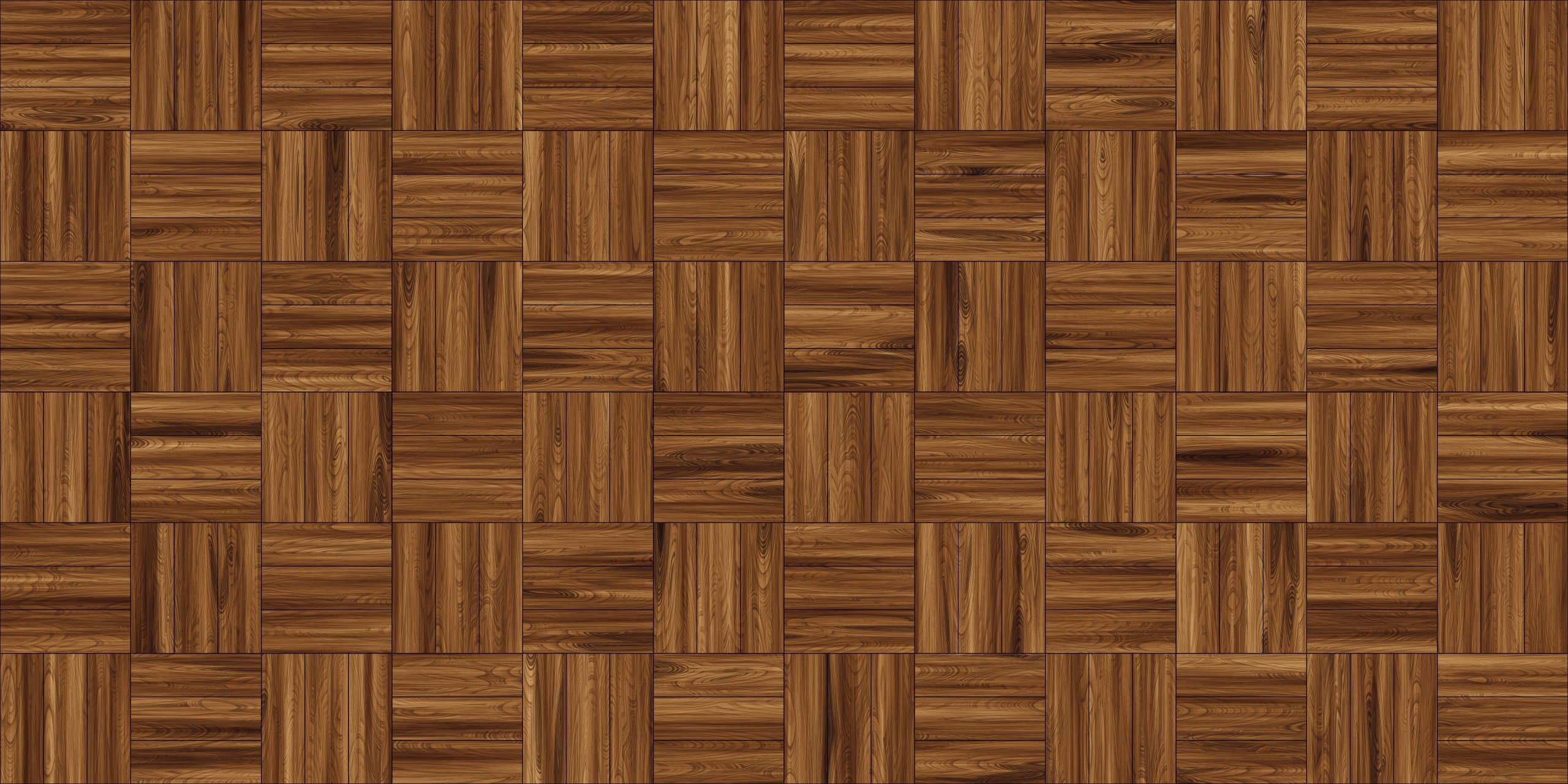 Oak is such a wonderful choice of wood that there really aren't any hard and fast decor rules you need to follow when choosing your flooring.
You can opt for either darker or lighter flooring, which will work well with your oak cabinets. Oak also matches nicely with a neutral color scheme, giving you maximum choice for finding flooring you love.
If your oak cabinets are particularly light or dark, think carefully before adopting a similar shade. A room that's too light all over or too dark could feel either washed-out or oppressive – neither is ideal! Mid-range oak provides the greatest flexibility in choosing from the widest selection of floor colors.
Do Patterned Floors Work With Oak Cabinets?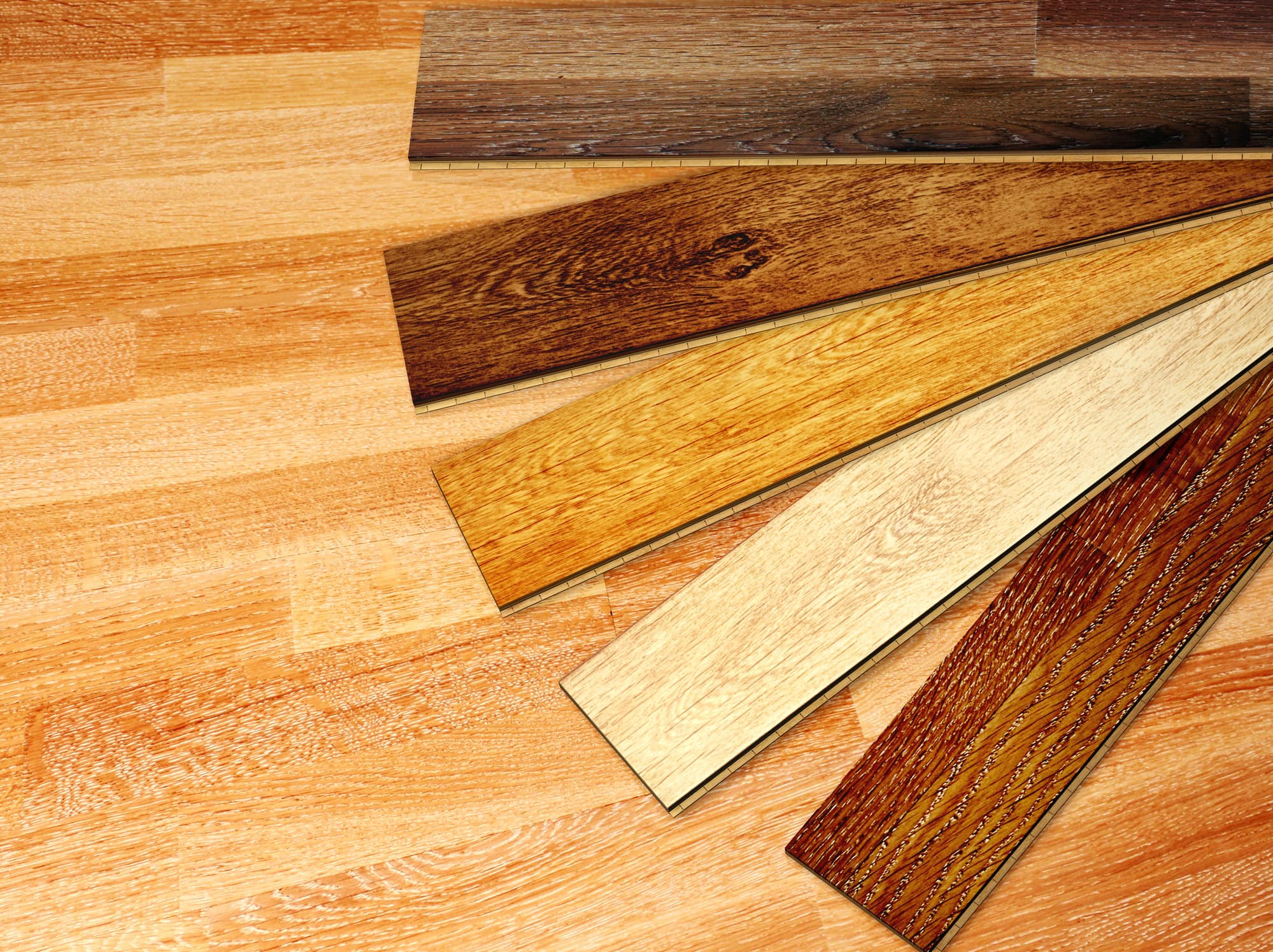 Patterned floors can create a beautiful effect when used with oak cabinets, but care needs to be taken as it won't look good in every room. A patterned floor tile will look too busy if your room is too small or has ornate decor.
A glossy finish on your oak can also compete with a patterned floor. Therefore, it's a better choice for matte oak cabinets, with plain floors for high-sheen wood.
Choose a patterned floor when you have lots of oak cabinets and want to provide a contrast to the expanse of wood. Larger rooms or pared-down, simple cabinet styles are the best partner for a patterned floor.
Show Off Your Oak Cabinets to Their Best
Oak cabinets are a high-quality item of furniture that should last you for many years. The right flooring will show the wood off to its best, showcasing the grain and the full spectrum of tones.
However, because oak comes in so many shades, it's essential to pair it with the right color. Hopefully this article has helped to explain how to find complementary colors that work with the wood rather than against it.