Decorated Life is reader-supported. When you buy through links on our site, we may earn an affiliate commission. Learn More
What Color Hardware is Good for Gray Cabinets?
Gray is one of the most popular interior design colors.
Not only is it a neutral that coordinates with everything, but depending on the shade, it can take on many looks.
If you're trying to spruce up your gray cabinetry but can't decide on hardware, here are 15 knobs and pulls to consider.
Try Gold for a More Polished Look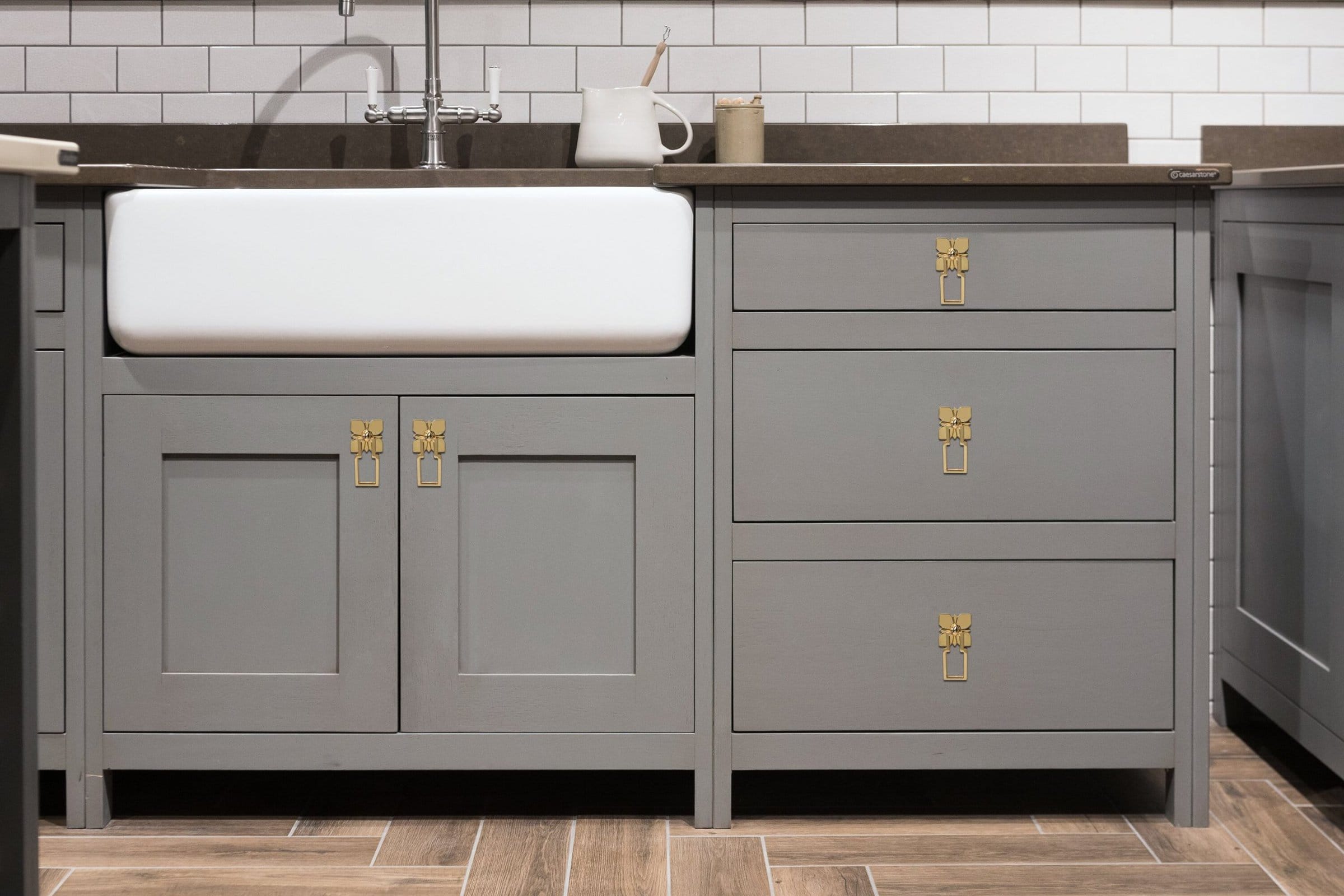 Gray cabinetry often comes off as relaxed and casual. But, with the right hardware, you can dress it up and give it a more polished style.
These polished gold ring pulls from Wayfair contrast gray for a sophisticated, higher-end look. They have a unique art deco design with a ring pull on the bottom. You can use these for a transitional, art deco, or a more formal look with any gray-colored cabinet.
Go Modern Farmhouse with Matte Black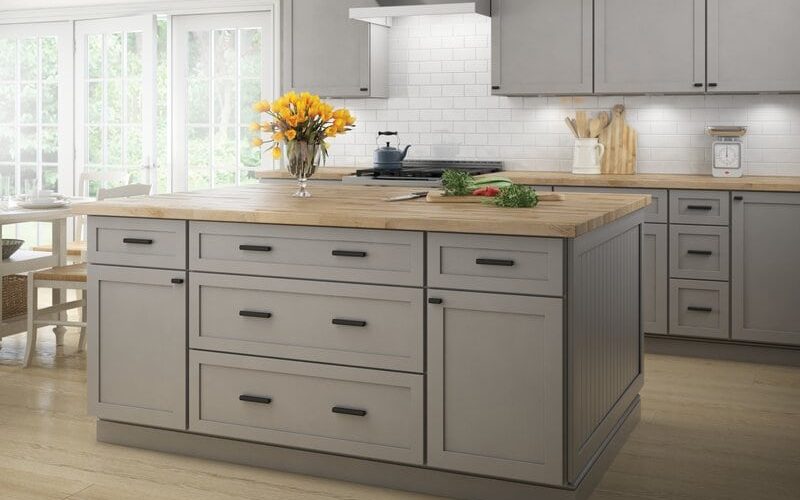 Gray can be a great cabinet color for a modern farmhouse design. And right now, the trending hardware choice for this style is matte black.
From Wayfair, these 4-inch center to center pulls work well for drawers. You can use one of the pulls on small drawers and double up on larger ones. Then, find a coordinating flat black handle to put on your cabinets.
Accent Drawers with a Tapered Edge Pull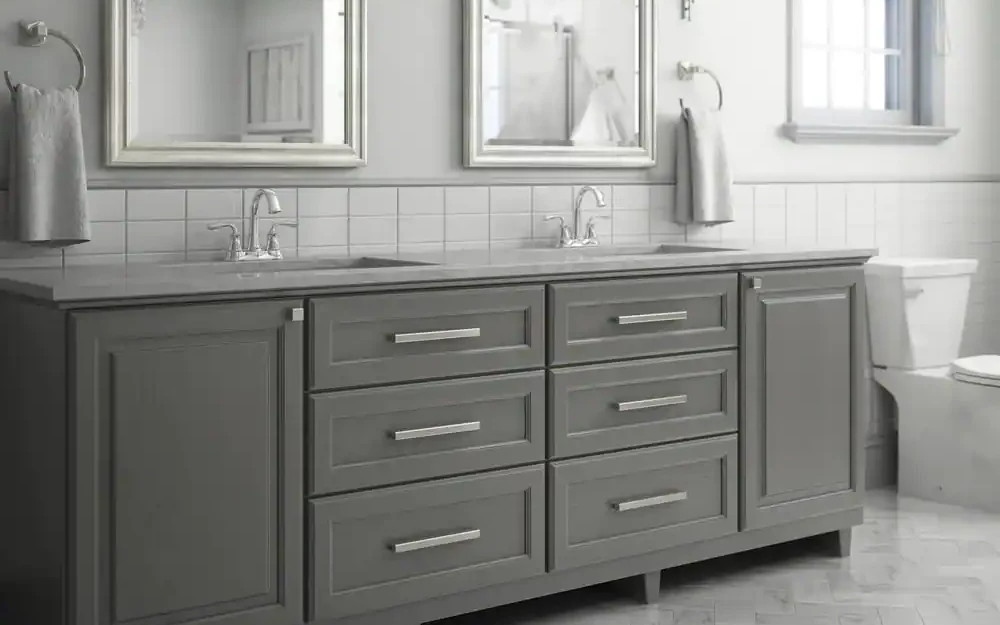 Depending on your cabinetry setup, it might make the most sense to use different hardware on your drawers than your cabinets. For a contemporary choice, consider tapered pulls like these from the Home Depot.
You can find these pulls in three finishes: satin nickel, matte black, and champagne bronze. If you have light to medium gray cabinets, any finish will work. However, if your cabinets are dark gray, opt for a satin nickel or champagne bronze.
Use Champagne Bronze for a Pretty Contrast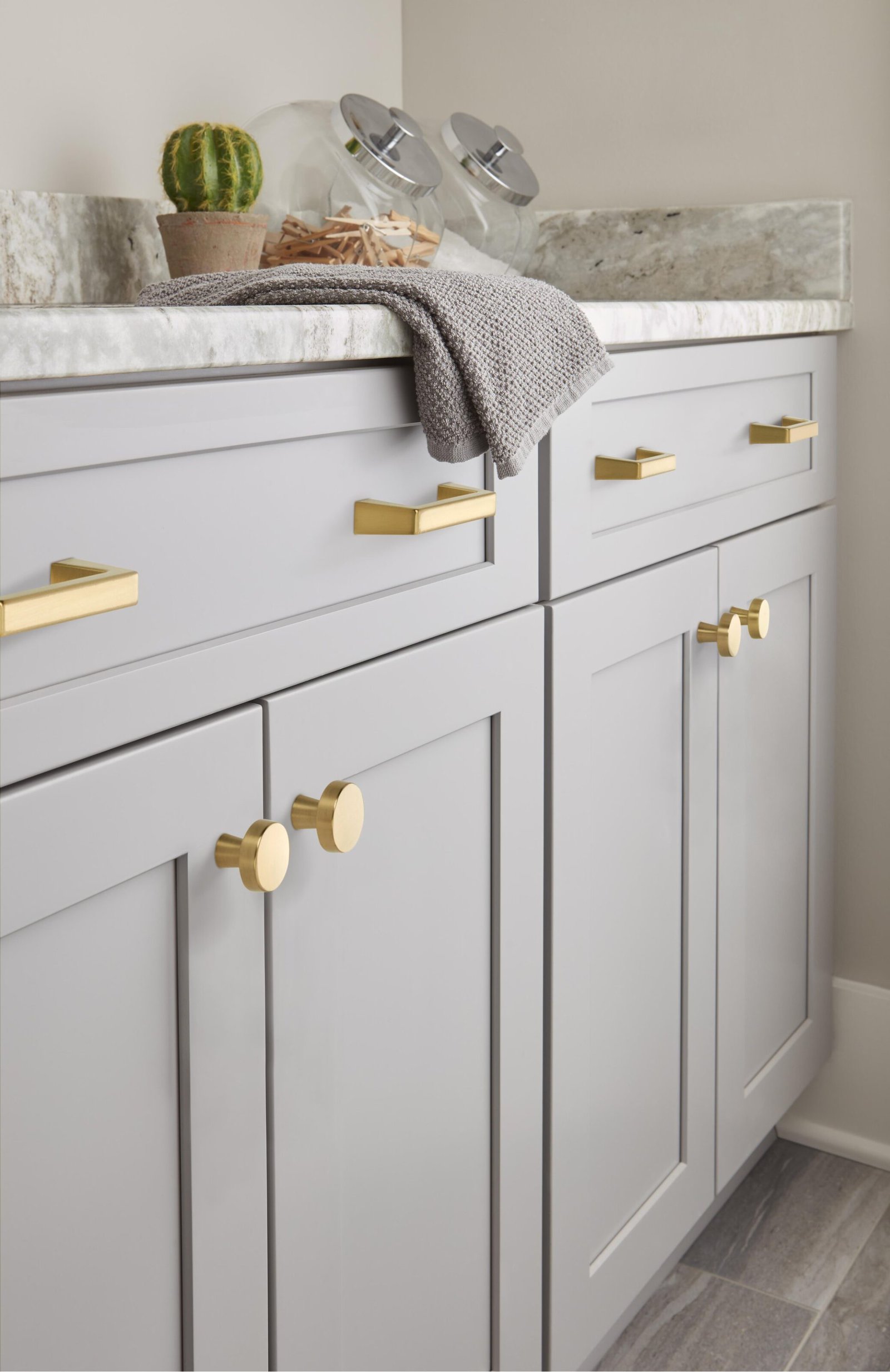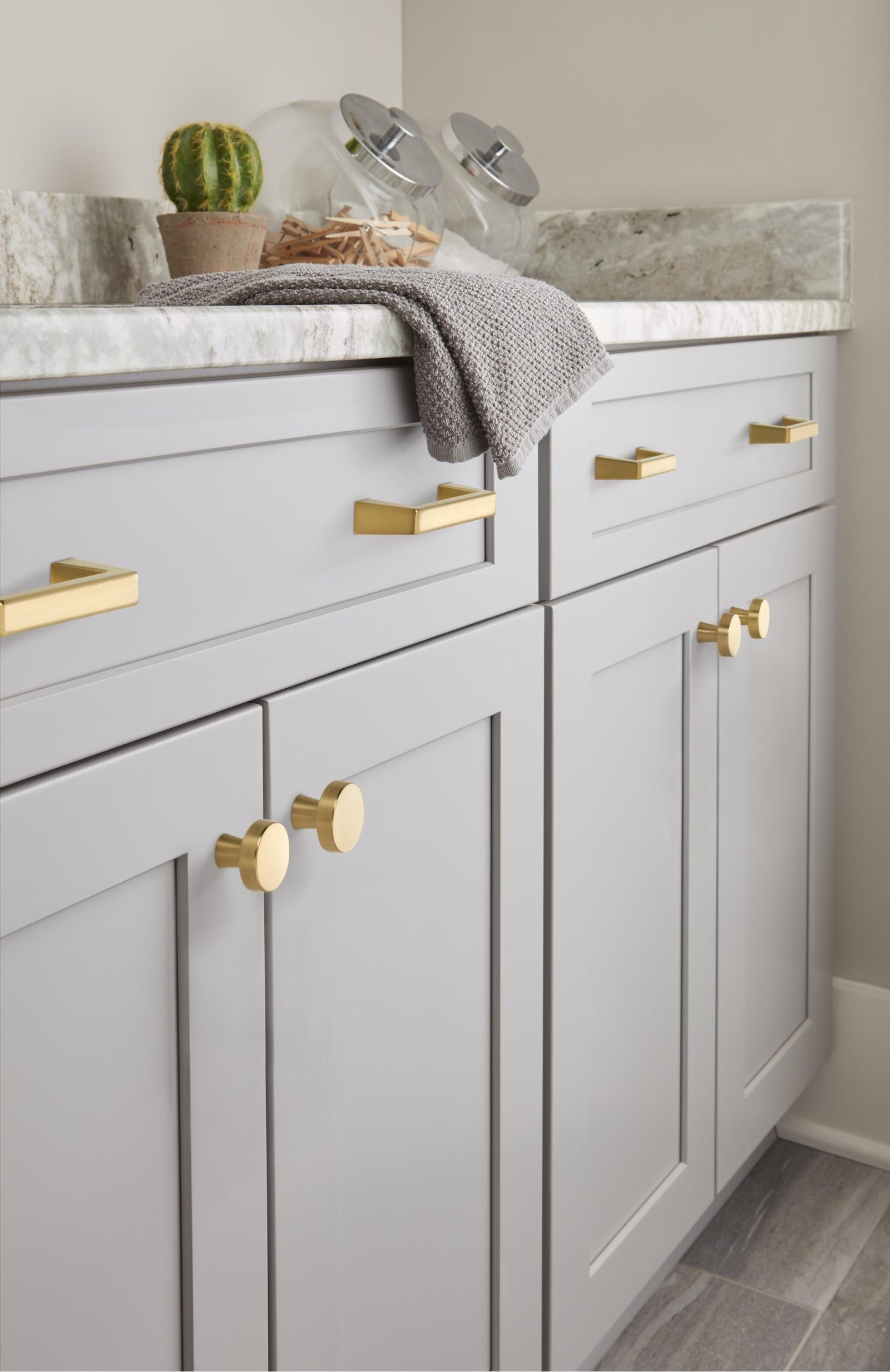 One of the most important things to keep in mind when choosing hardware is contrast. Naturally, you want hardware that's at least a little different than the color of your cabinetry.
If you want high contrast but like a softer, more feminine look, consider this champagne bronze pull. The hardware color pops against gray cabinetry and works well for many design styles.
Add Luxury with Brass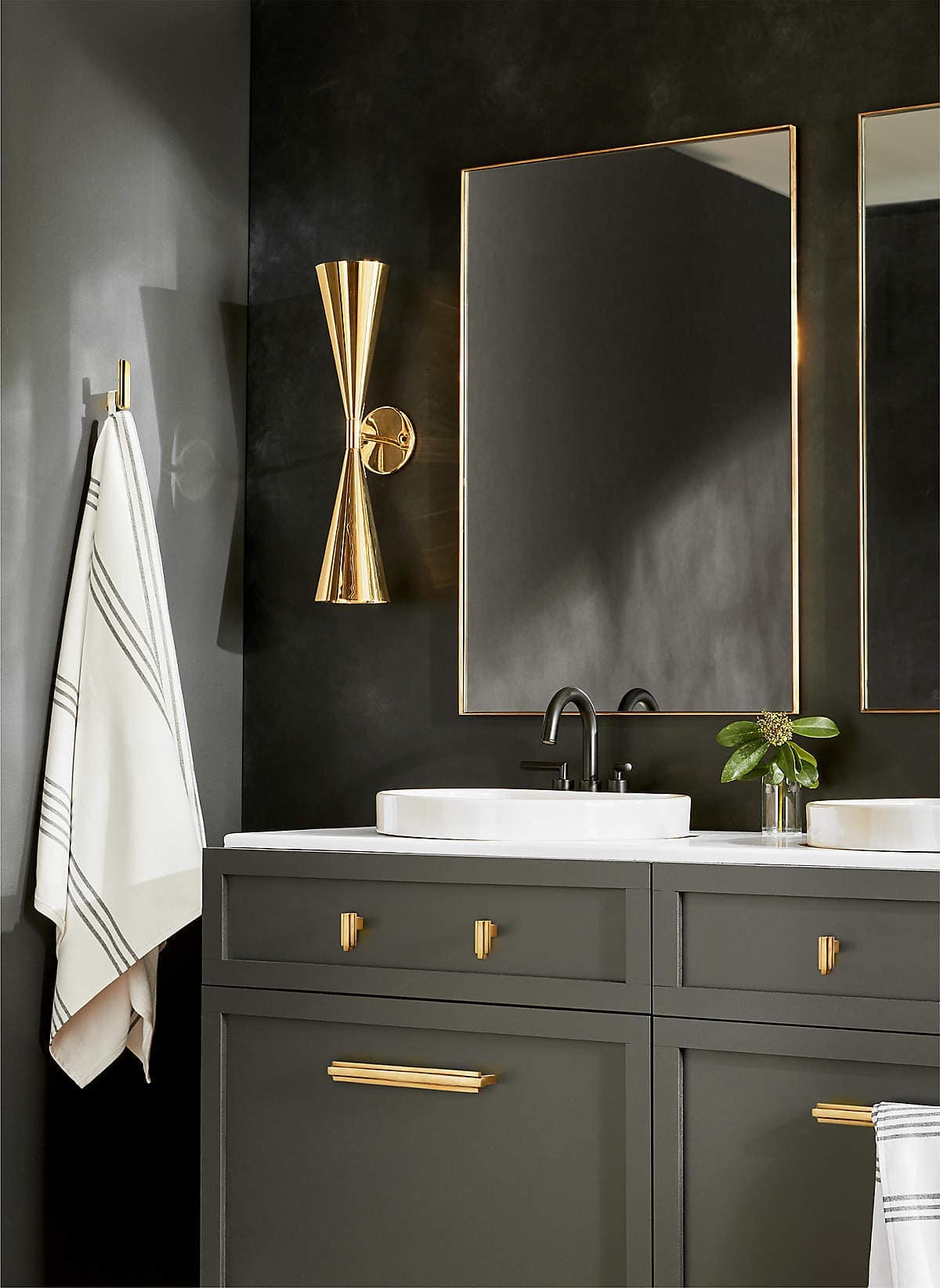 If luxury is what you're after, brass is the way to go. No matter the color of your cabinets, brass offers tons of contrast, which makes it best for modern or contemporary designs.
These unpolished brass pulls are from CB2 and come in four sizes, ranging from 3 to 5 inches. If you go with these pulls, CB2 has many other unpolished brass pieces to coordinate with your room.
Sophisticate Your Space with a Unique Satin Nickel Pull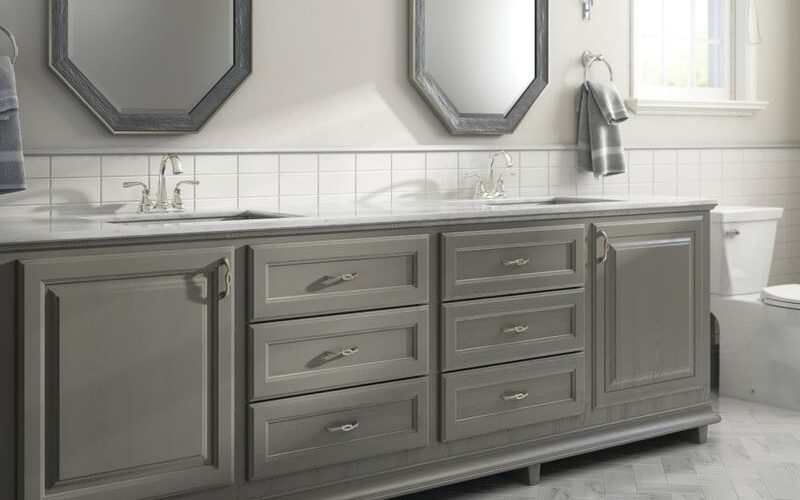 Satin nickel is a tried and true hardware choice for gray cabinets. It coordinates perfectly without standing out or stealing attention from other design elements.
For a more sophisticated spin on the look, you can try arch pulls like these from Wayfair. Rather than being super sleek or harsh, the pull has a twisting design suitable for traditional and transitional style rooms.
Modernize Your Cabinetry with Skinny Black Hardware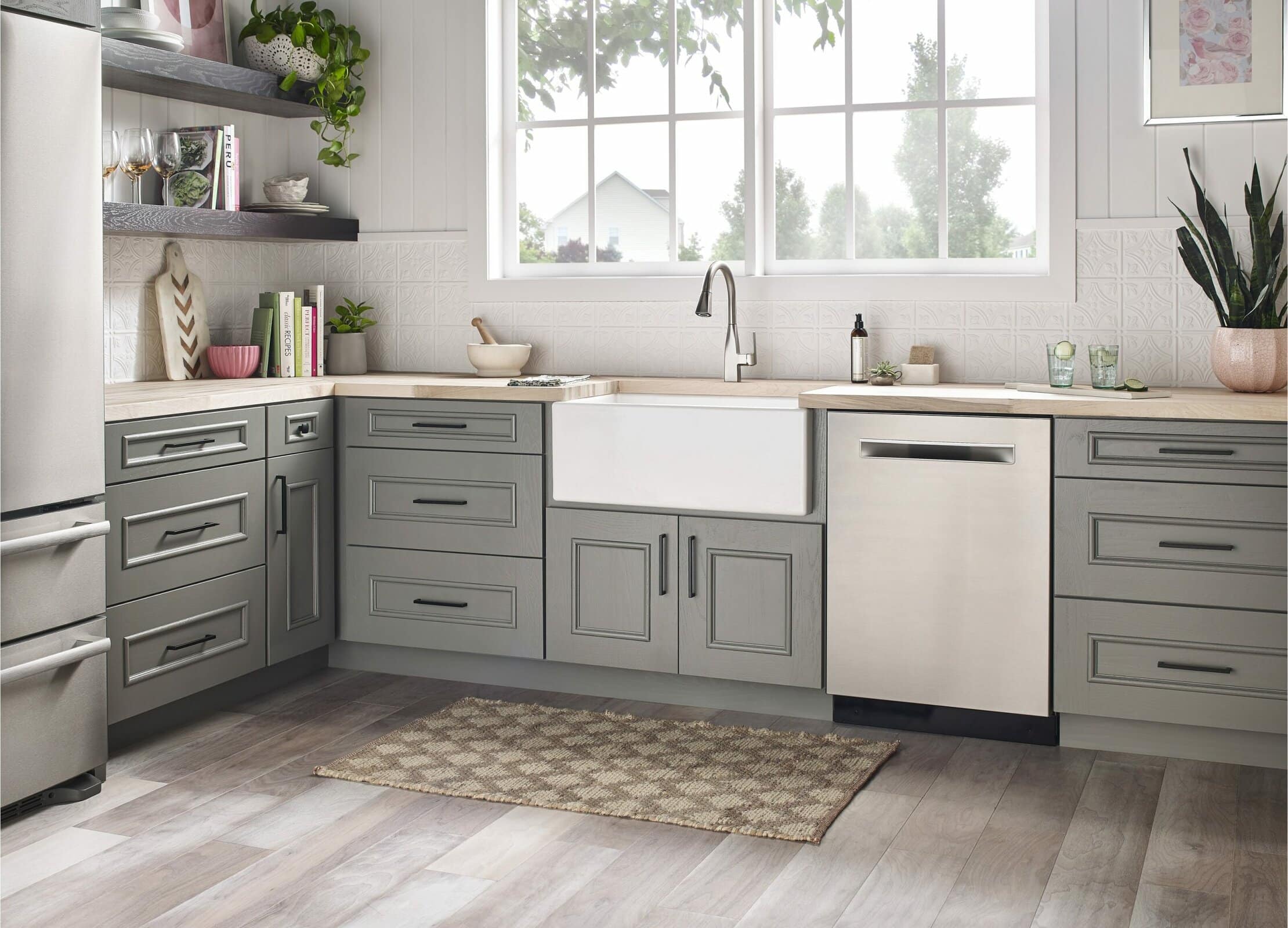 If you want an effortlessly modern look that will coordinate with the rest of your room, a streamlined black handle is the way to go. You can use these handles vertically on cabinets and horizontally on drawers.
These simple pulls come from Wayfair. They also come in brushed gold, satin bronze, and satin nickel if you like the style but not the color.
Elevate Black with a Bronze Accent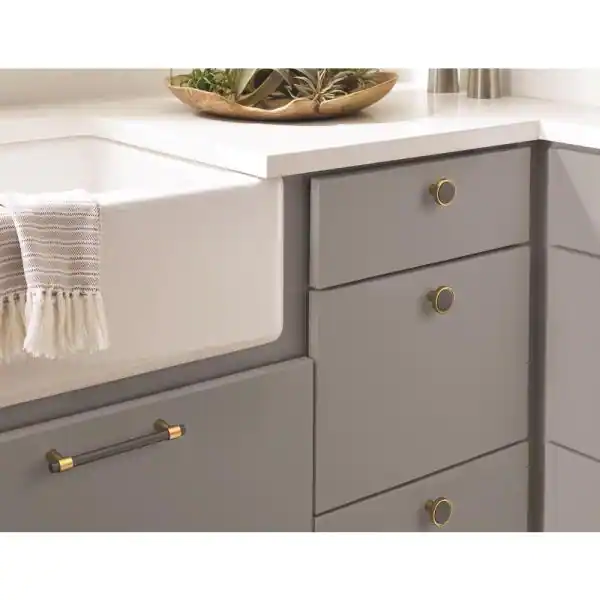 If you like black hardware but want a bit more contrast, a black and gold pull like this is the ultimate solution.
These art deco-inspired pulls from the Home Depot have a black bar with champagne bronze accents. You can even find matching knobs with a black inlay surrounded by bronze.
Get a Trendy Look with Acrylic Knobs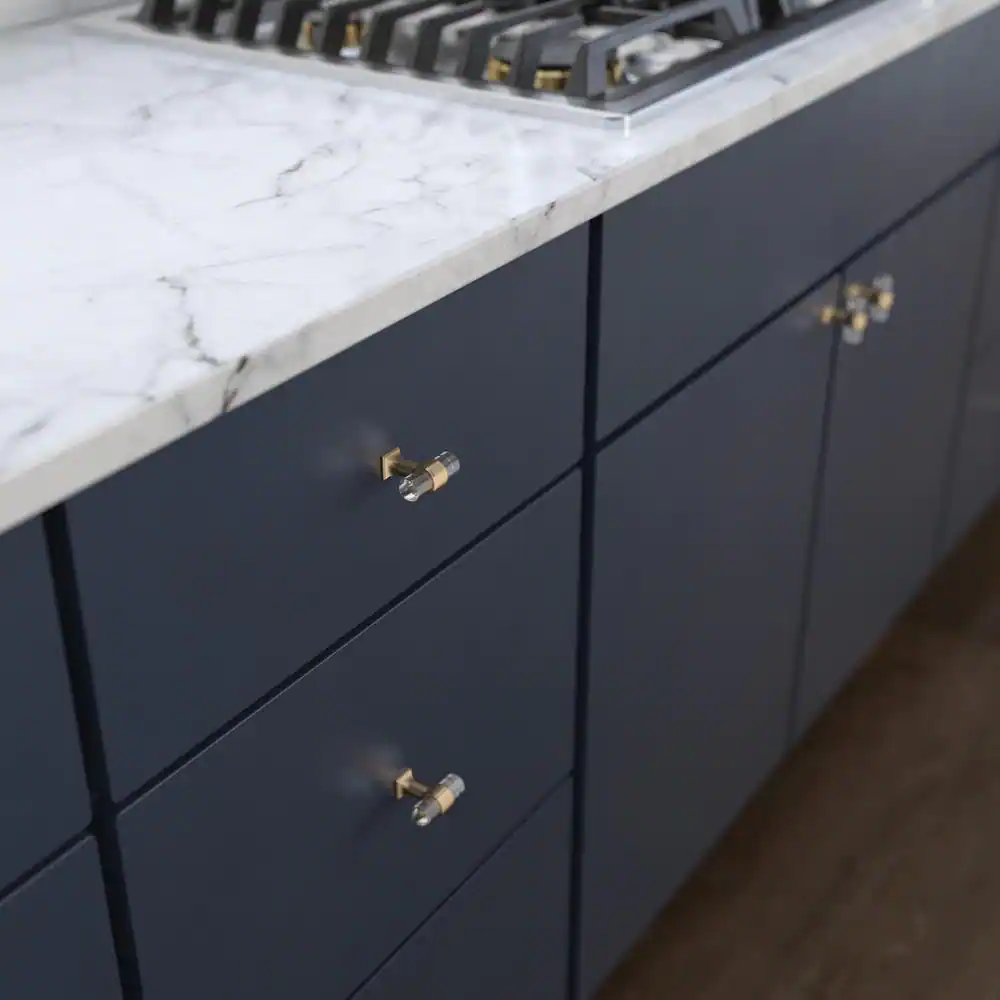 Acrylic is really popular right now. You'll find it in everything from coffee tables to serving trays. So, if you want to jump on this trend, consider an acrylic knob.
From Home Depot, these knobs feature champagne bronze with acrylic bars on them. You can also find coordinating pulls for your cabinets. These offer a modern but feminine touch.
Keep it Easy with Basic Black Pulls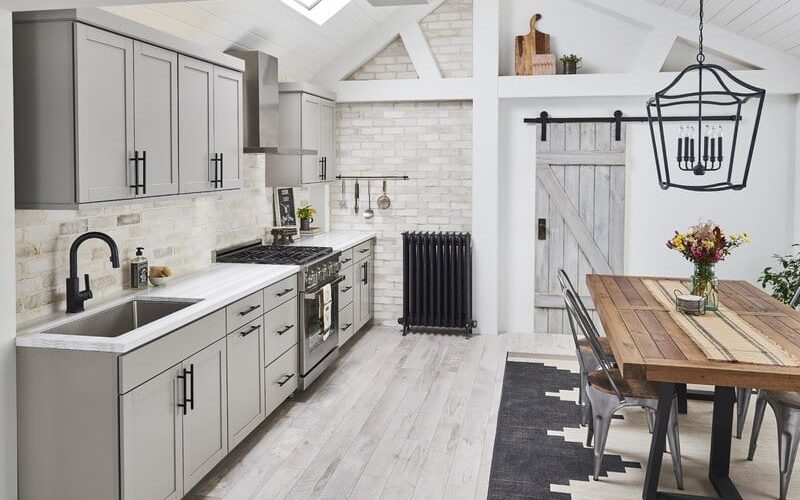 Are you looking for a hardware solution guaranteed to look good? Try a basic black pull. A simple black handle will look good with any decor and any gray color cabinet.
These come from Wayfair and are 5 1/16 inch center to center. You can also find them in brushed gold, satin bronze, and satin nickel.
Warm Up Your Room with Oil Rubbed Bronze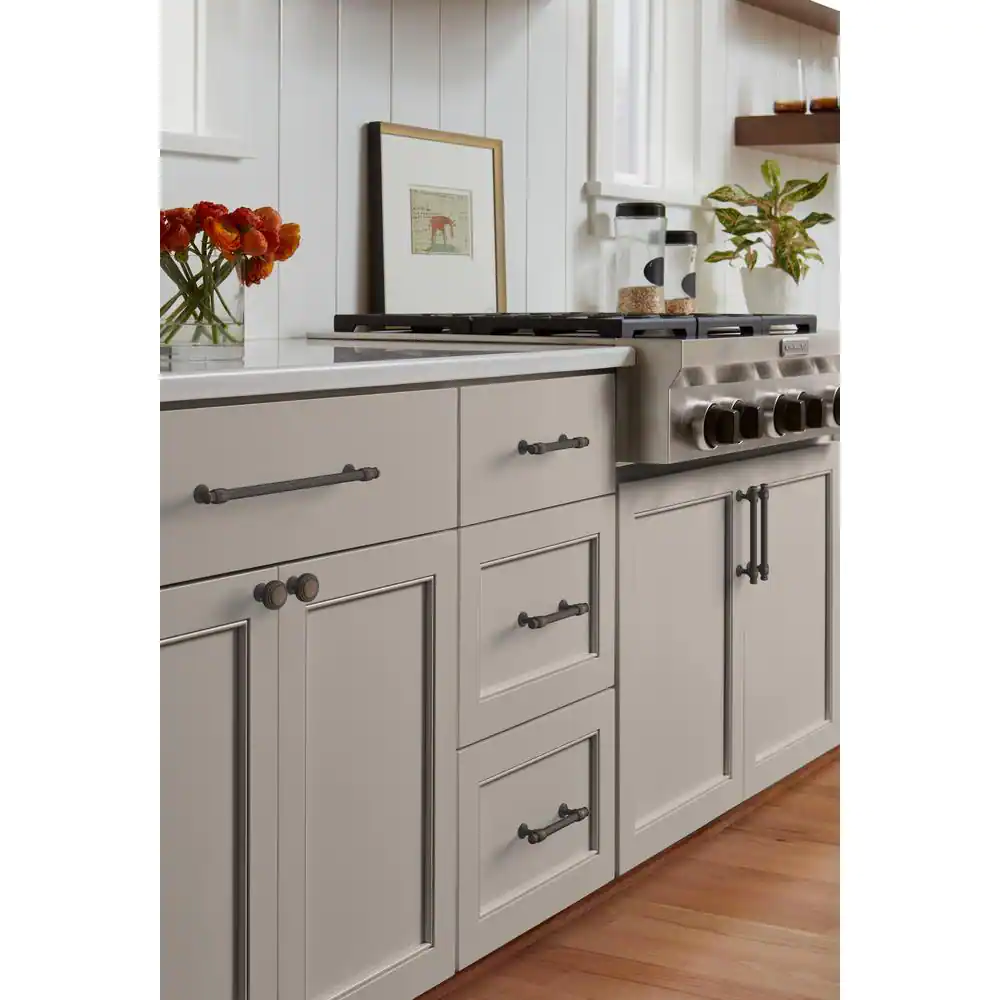 Good design is all about balancing colors and materials. And since gray cabinets are usually cool-toned, a way to add warmth is with oil-rubbed bronze hardware.
Oil rubbed bronze contrasts light and medium gray cabinets beautifully. This is a great hardware choice if you prefer a lived-in look or want to avoid too many cool colors in the kitchen.
For a Worn-In Look, Try Distressed Brass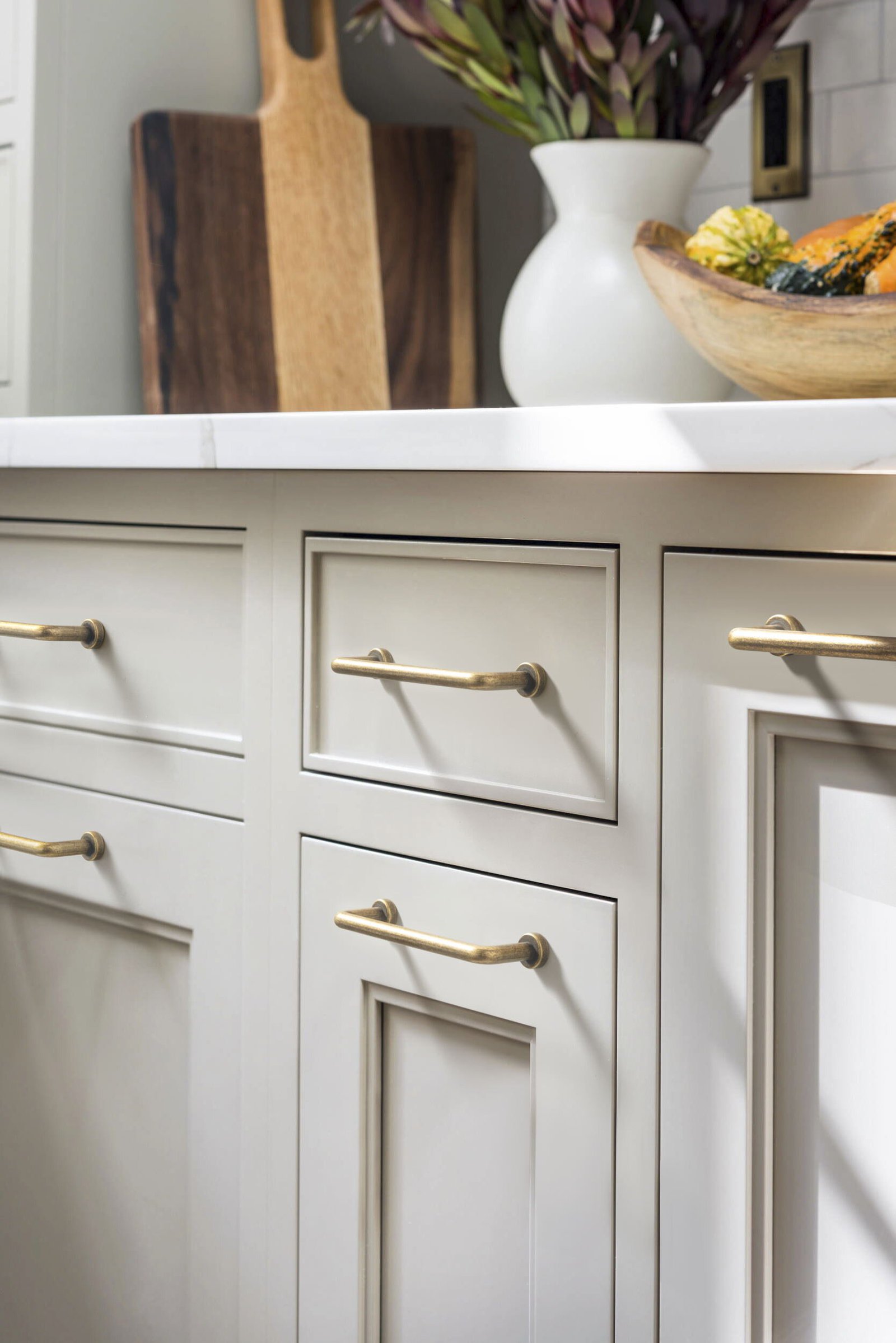 If you like to decorate with vintage pieces, consider distressed hardware. If you use an antique-style piece like this, it will give your cabinets a sophisticated feel.
These pulls measure 5 inches center to center, and you can use them for drawers and cabinets. They come in antique brass and antique silver – both perfect for all gray cabinetry.
Swap Out Knobs for Cup Pulls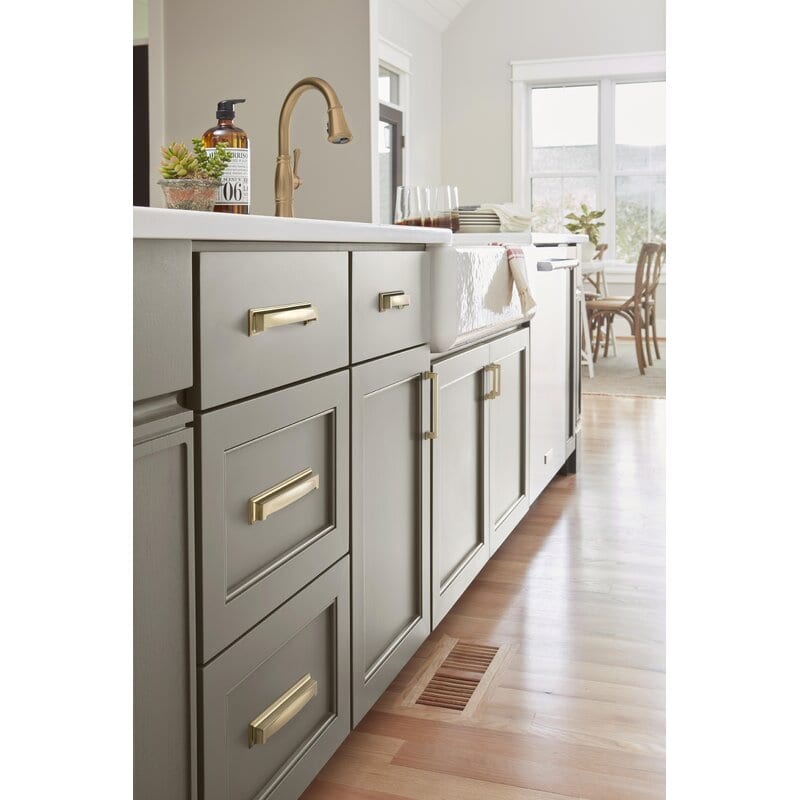 The style of your cabinet hardware is every bit as important as the color. So, if you're looking for something modern without being harsh or overly streamlined, a cup pull is one to consider.
Cup pulls look amazing in traditional and farmhouse-style kitchens. And this version from Wayfair comes in six colors, so there will be a good option for your space.
Freshen Your Room with Polished Chrome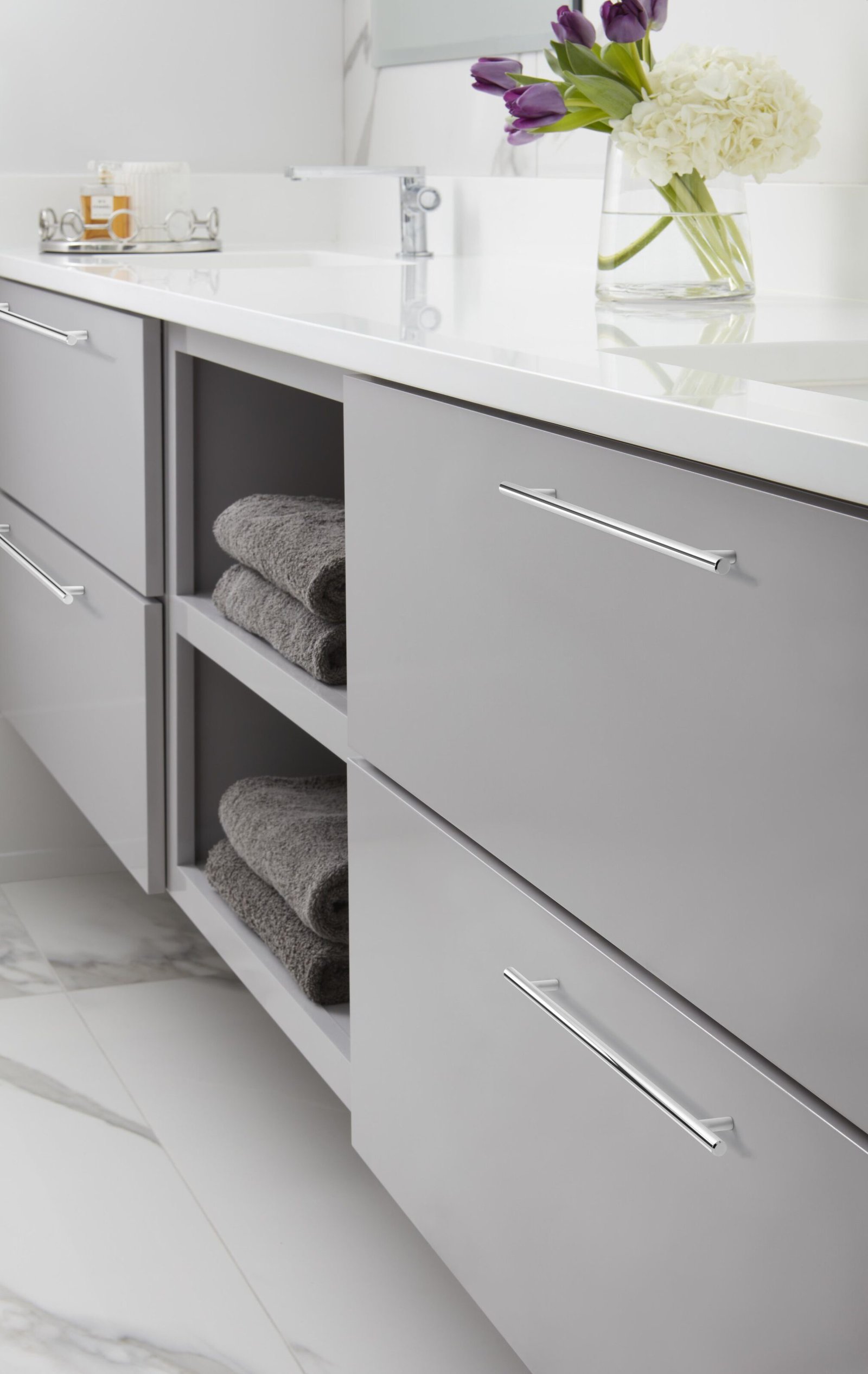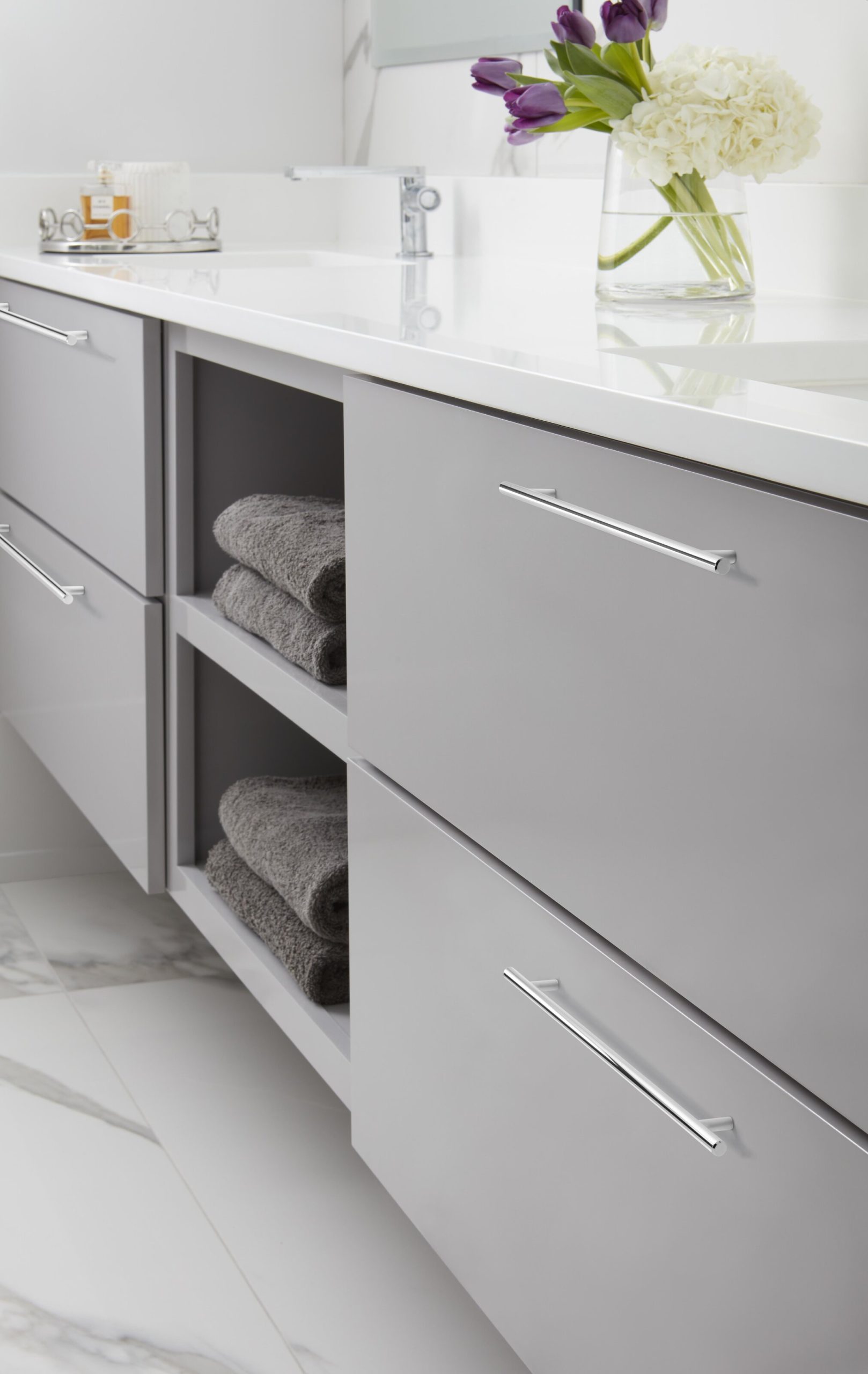 If your home design is light and cheery, polished chrome hardware is the perfect fit. Polished chrome tends to have a brightening effect and majorly contrasts dark cabinets.
You can find these chrome pulls at Wayfair. They come in several sizes ranging from 3 to 12 inches long. You can use smaller ones for drawers and larger sizes for cabinets.
Use Finger Pulls for a Minimal Look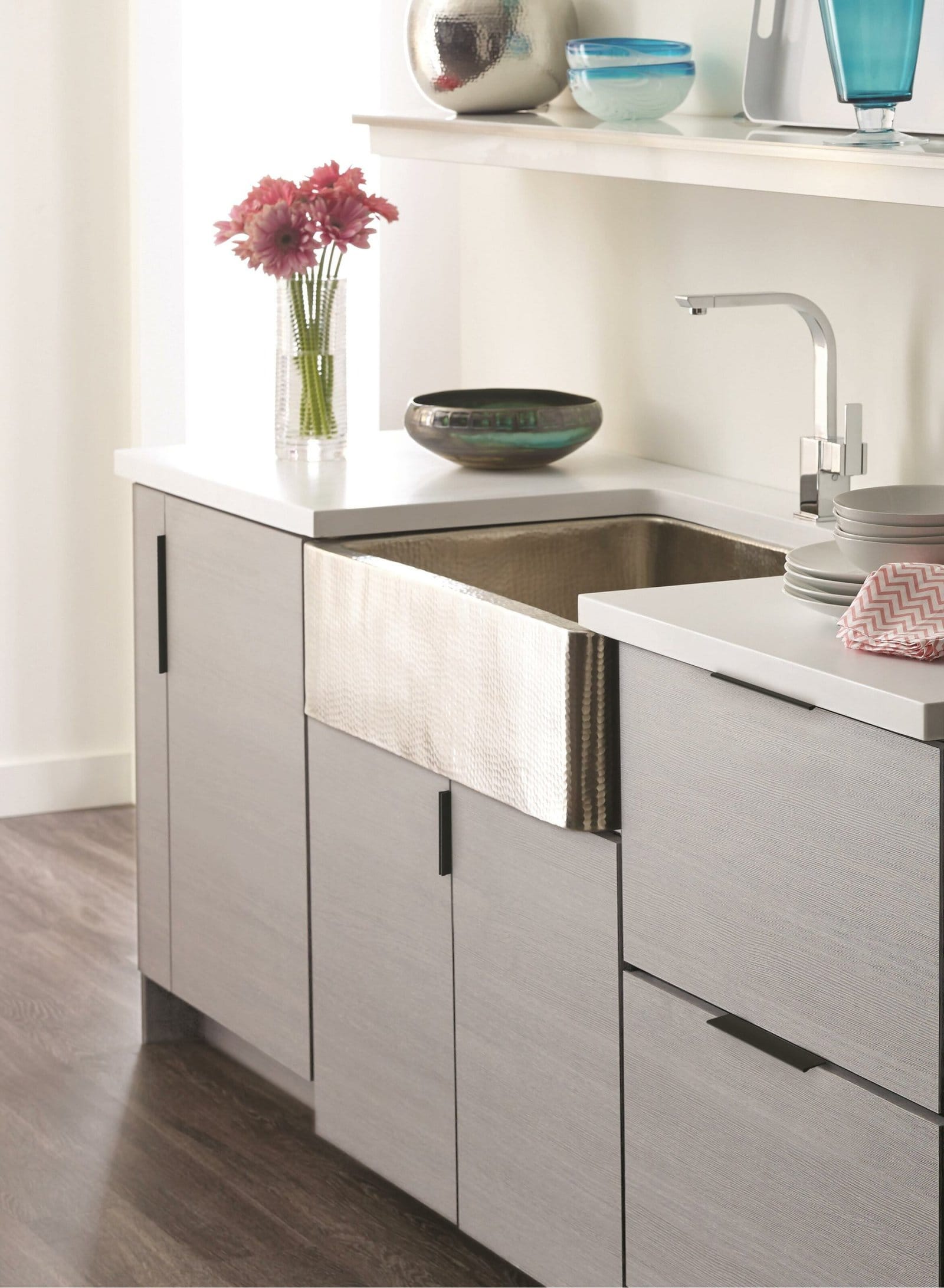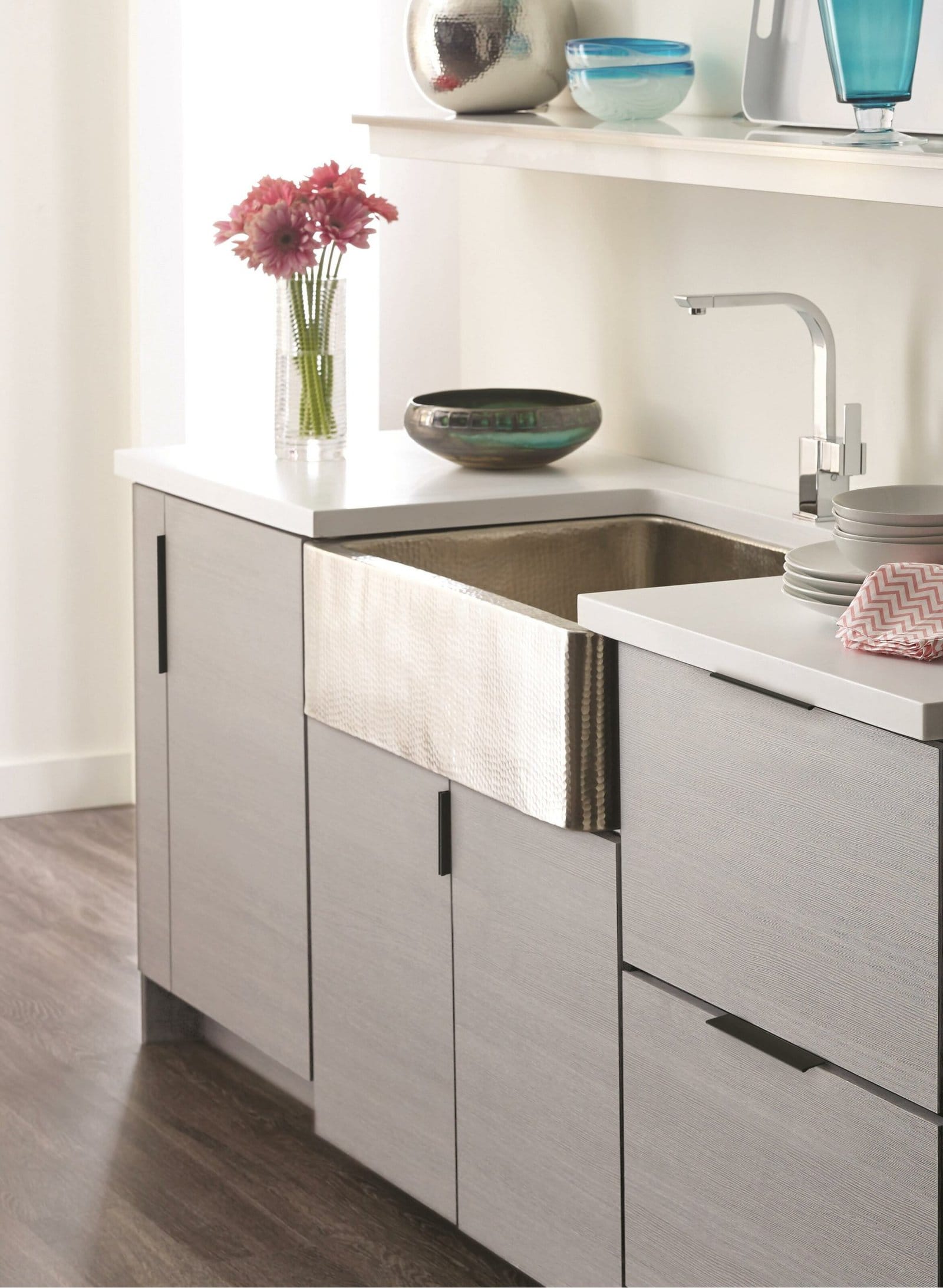 Minimal rooms are free of clutter and use simple designs. If you're into this look, ditch decorative knobs and use finger pulls on your cabinetry.
You can install these finger pulls at the top of drawers and bottom cabinetry. They'll take up little space but still provide a lovely accent against gray. You can find these in five color options.
Final Thoughts
It's essential to put some thought into your cabinet hardware. While nearly every color knob and pull will work against gray, the option you choose will influence the look of your cabinets.
The easiest choices are matte black and satin nickel. However, you can try champagne bronze for a softer contrast or go with brass for a high-end feel to your space.