Decorated Life is reader-supported. When you buy through links on our site, we may earn an affiliate commission. Learn More
What Color Hardware Looks Good on Black Cabinets?
Whether you're remodeling your kitchen or bathroom, hardware is one area you shouldn't overlook.
Because while picking something as small as a knob or pull might feel inconsequential, hardware is like jewelry for your cabinet. It's practical and can majorly influence the way your space looks.
If you have black cabinetry, here are some of the best hardware options.
Get a Sleek Look with Polished Gold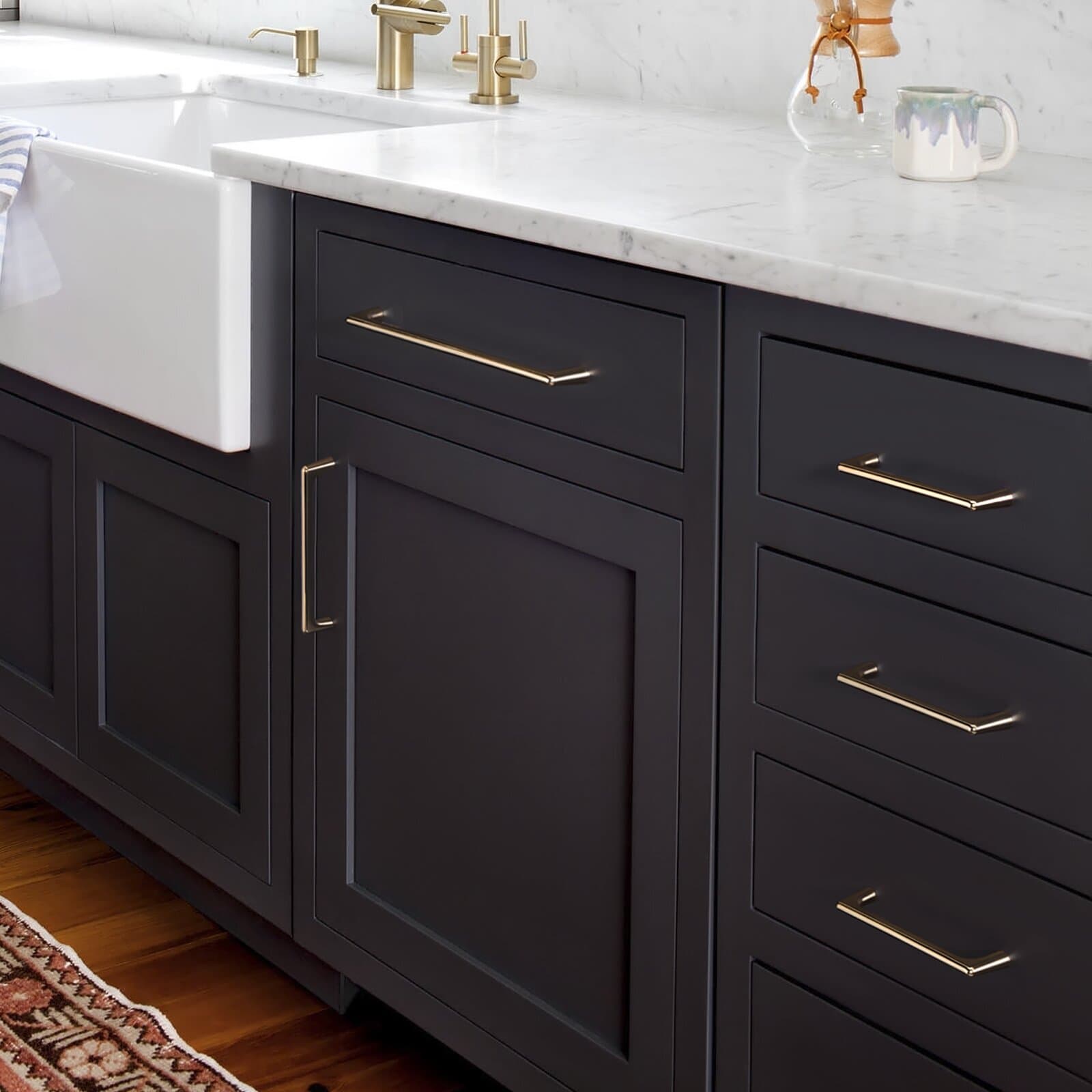 If you like everything in your room to feel sleek and pulled-together, polished gold pulls are the way to go. Polished gold contrasts sharply against a black cabinet, adding contemporary style.
These pulls are from Wayfair and have a slim design, appropriate for modern and minimal rooms. They measure five inches, center to center, and come in three other finishes.
Use Champagne Bronze for a Softer Contrast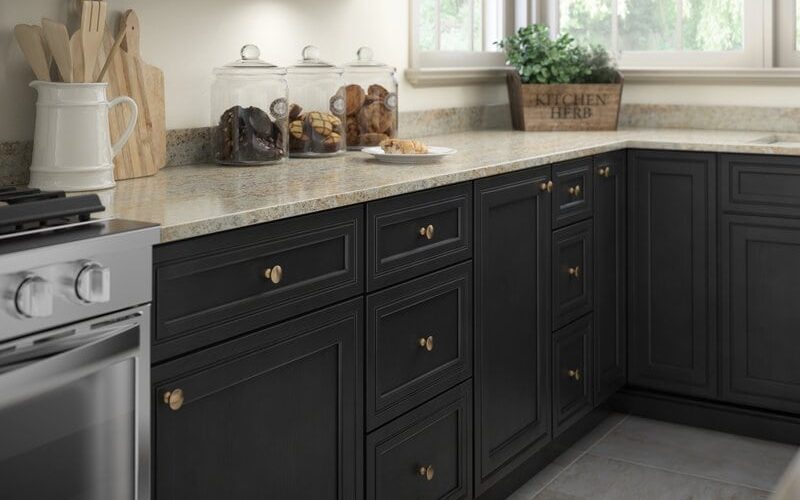 If you like the look of gold but think it's too harsh for your space, champagne bronze is a similar but softer choice.
Champagne bronze is currently one of the most popular hardware finishes. It adds a soft elegance to any color cabinet. You can use something like this knob throughout your room or add a coordinating pull to your drawers.
Accent Your Cabinets with Satin Nickel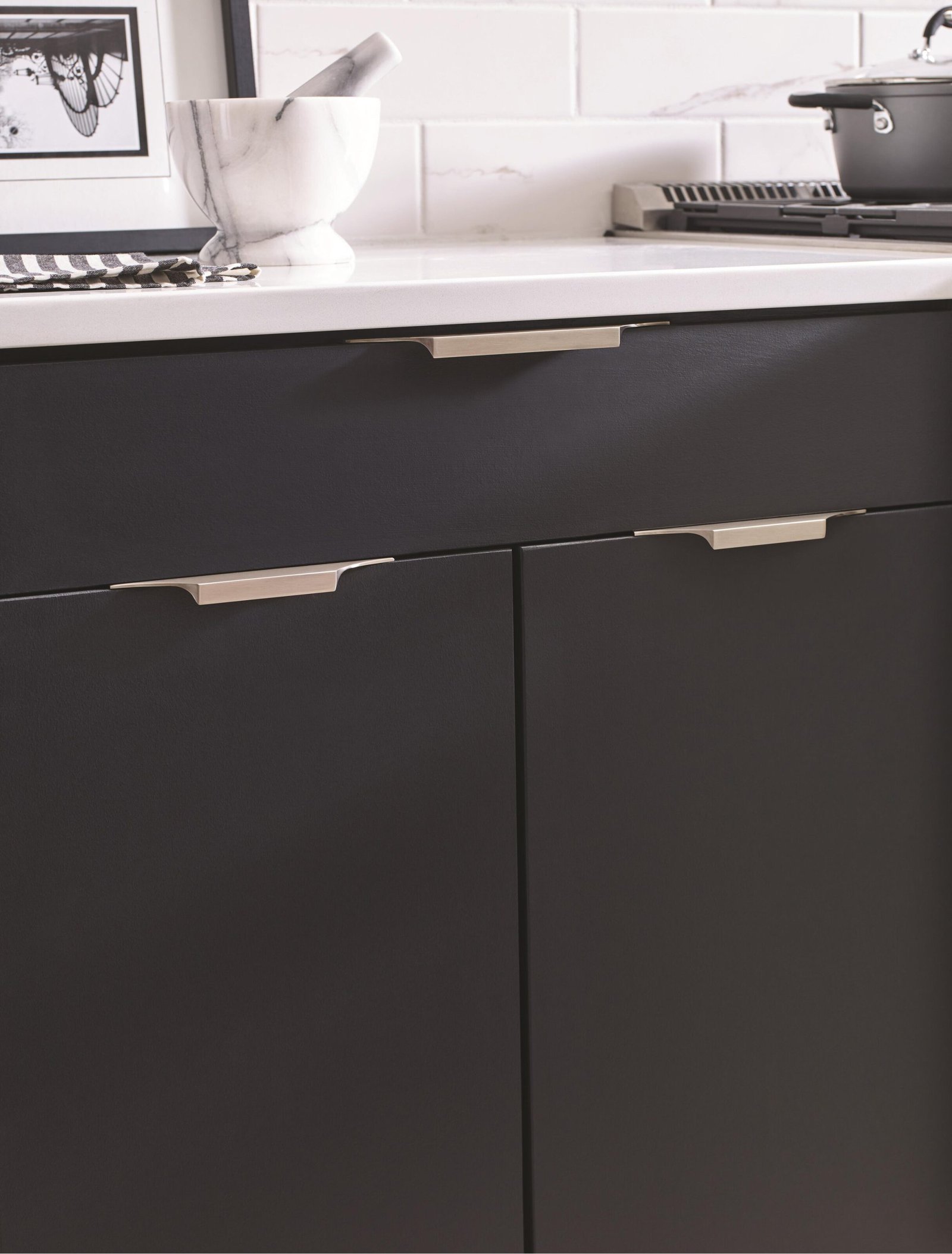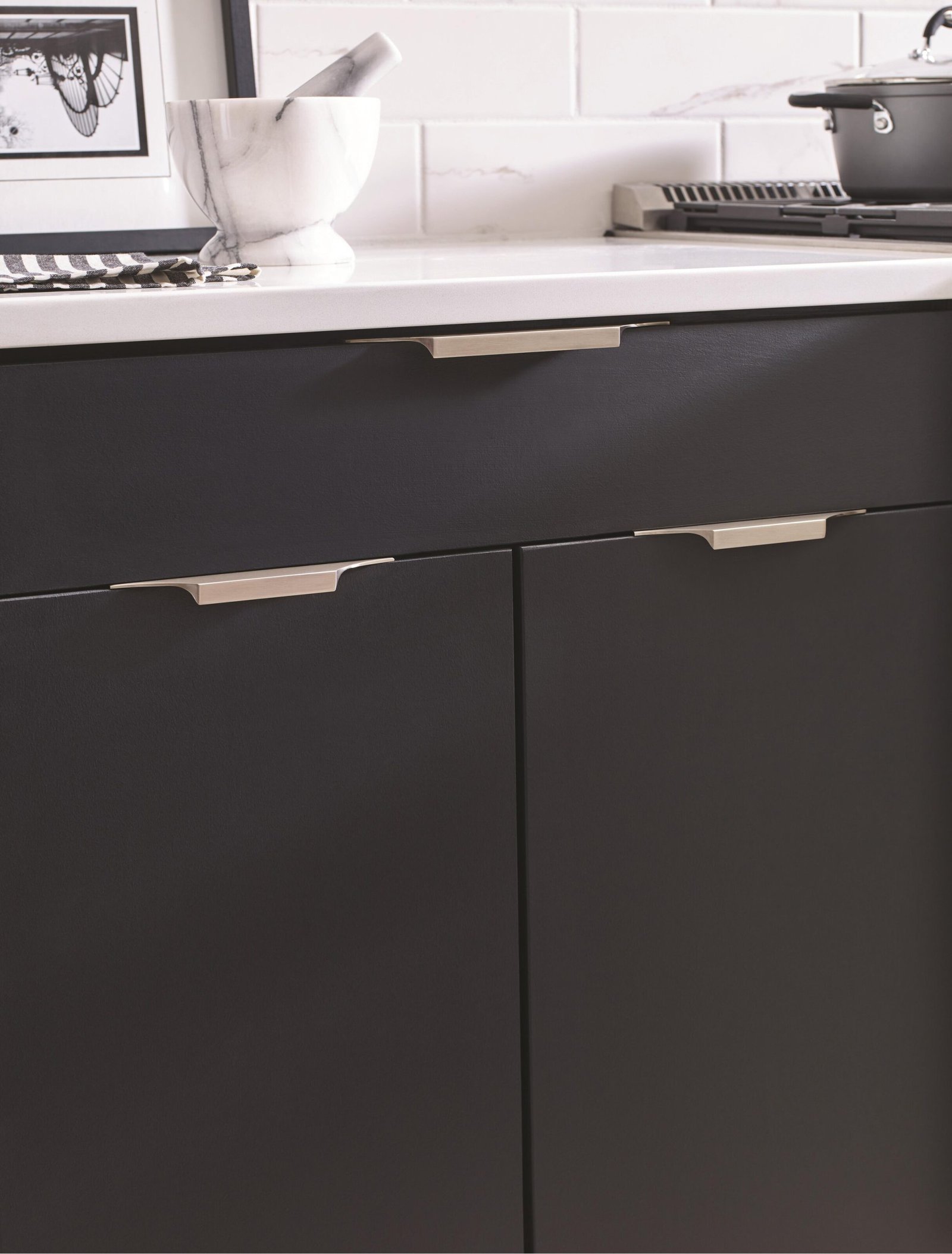 Satin nickel is one of the most timeless hardware finishes, seemingly never going out of style. It also works beautifully against a black cabinet.
These satin nickel finger pulls are perfect for rooms you'd like to feel more modern. The minimal style combined with a satin nickel finish looks excellent without stealing attention from other elements.
Try a Vintage Black Bar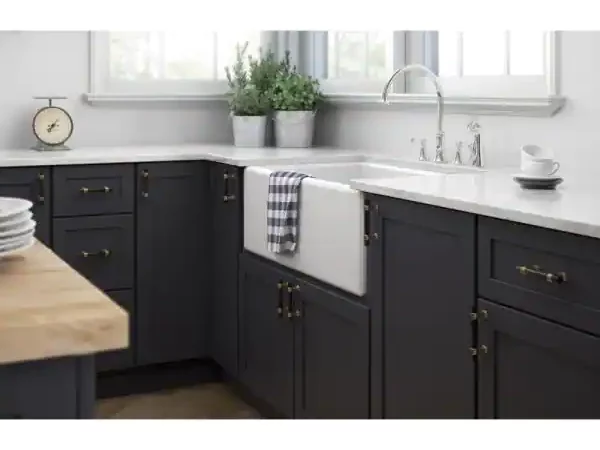 Wondering if black cabinets with black hardware works? It does. You just need to use a different shade of black.
These pulls have a brushed brass accent and black wooden bar, offering color contrast and texture. And fortunately, you can find coordinating hardware in many sizes to use on drawers and cabinets.
Go With a Black Nickel Vibed Pull for an Artsy Touch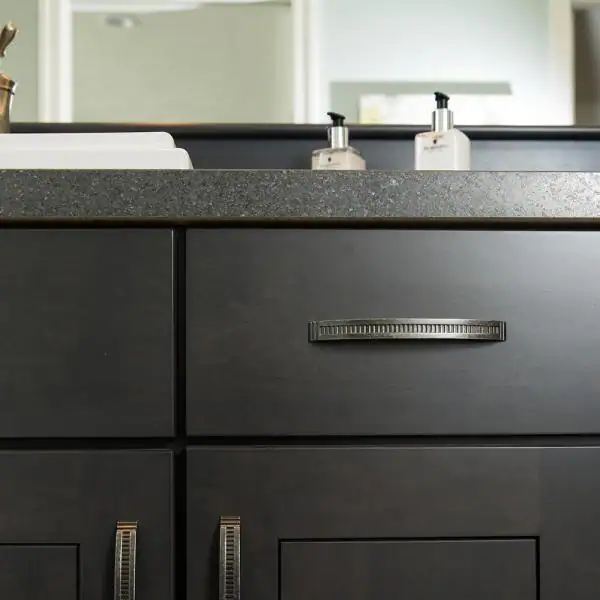 Another dark hardware option are these black nickel vibed pulls. These will add an art-deco touch to your room with their darkened, silvery appearance.
You can find these pulls at the Home Depot in a 3 and 5-inch center to center option. Use them on drawers and cabinets for an antique look.
Consider Brass for a Polished Look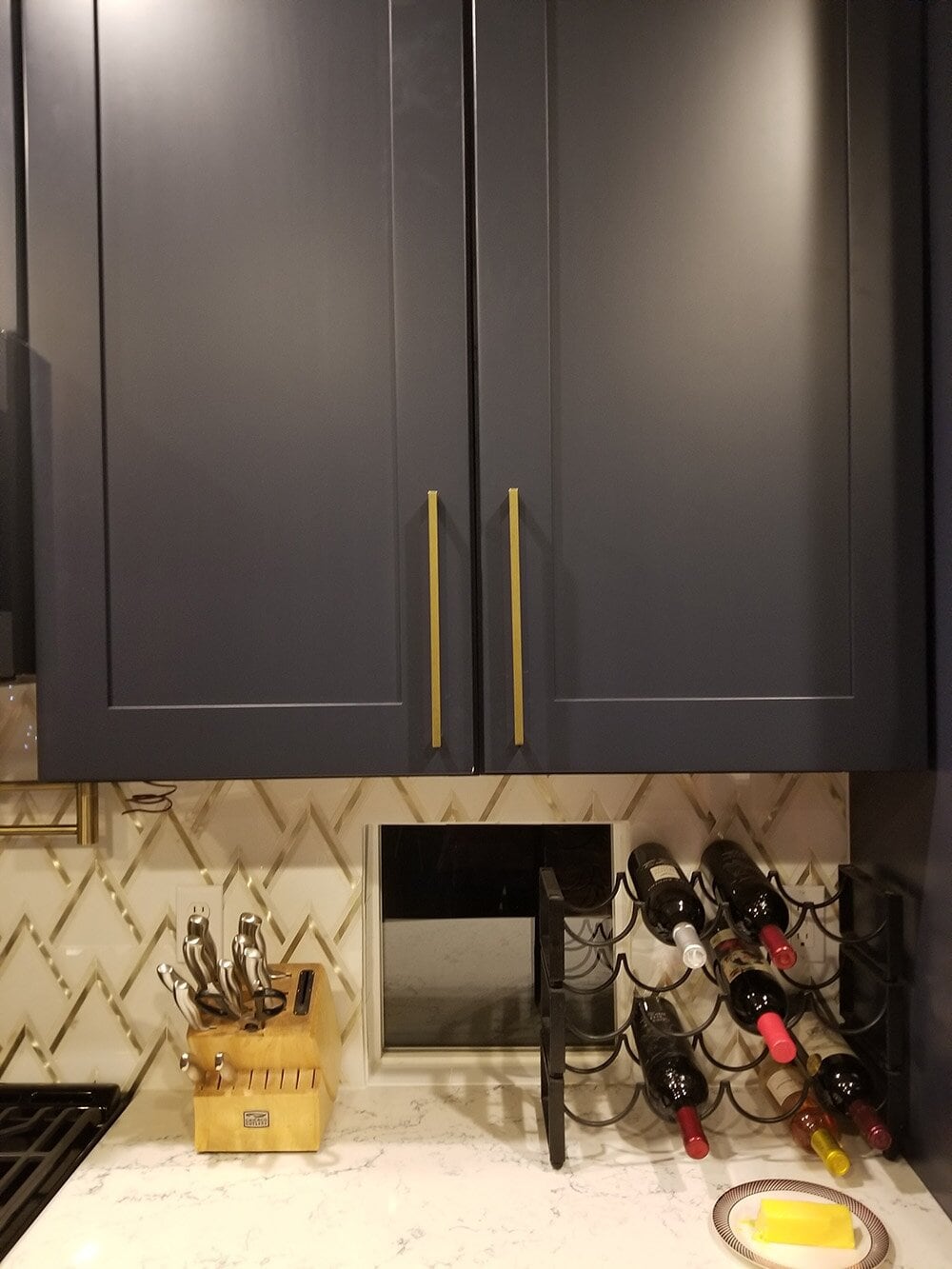 If you love the look of brass, consider using it on your black cabinets. You'll get a pulled-together look that works with many decor styles.
This pull is from Wayfair and is a vintage brass finish. It comes in several sizes ranging from 3 ¾ inches to 11 5/16 inches. You can even find this in other unique finishes, including high gloss white and french gold.
For Minimal Style, Use a Black Chrome Finger Pull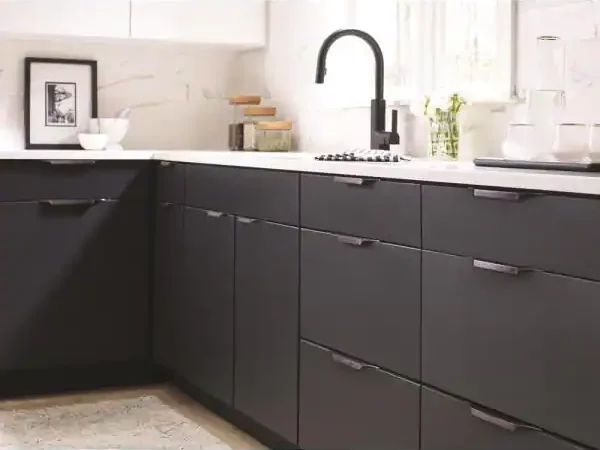 One of my favorite finishes for black cabinets is black chrome. It's very low contrast but still adds texture to the room.
While it's harder to find black chrome than some other finishes, you can get this one at Wayfair. It's a finger pull that works with any modern kitchen or bathroom design. Use these finger pulls on your drawers and lower cabinets and add a coordinating knob to the upper cabinets.
Bring in a Small Bar Pull for Cabinets and Drawers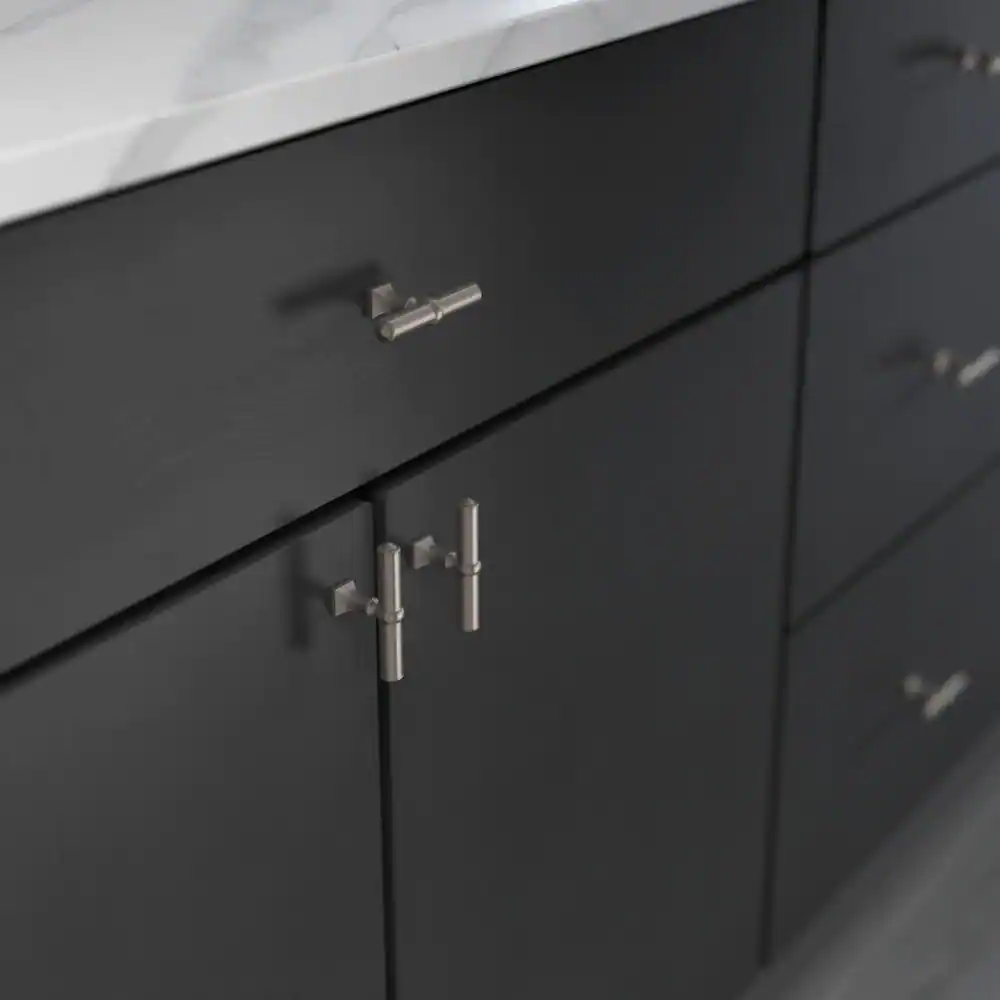 You don't have to use traditional arch pulls or modern, straight-line pulls if you don't want to. If you're looking for something different, consider these small bars.
These pulls are the perfect size to replace knobs and work for drawers and cabinet doors. They measure 2 ⅞ inches and come in three finishes, including satin nickel, matte black, and champagne bronze.
Combine Black Cabinets with Heirloom Silver Pulls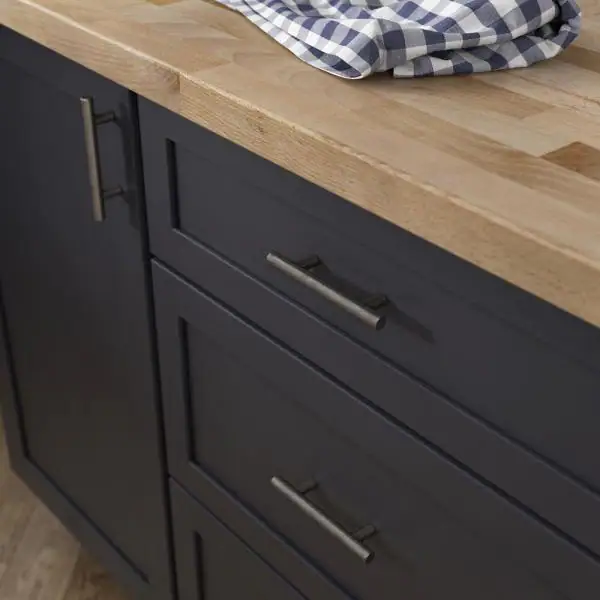 Another great contender for black cabinets is heirloom silver. Heirloom silver provides sheen without being so polished that it steals the show.
These heirloom silver pulls are three inches center to center and appropriate for doors and drawers. You can also find them in a lighter silver color and bronze with copper highlights.
Add Old World Charm with a Clear Geometric Knob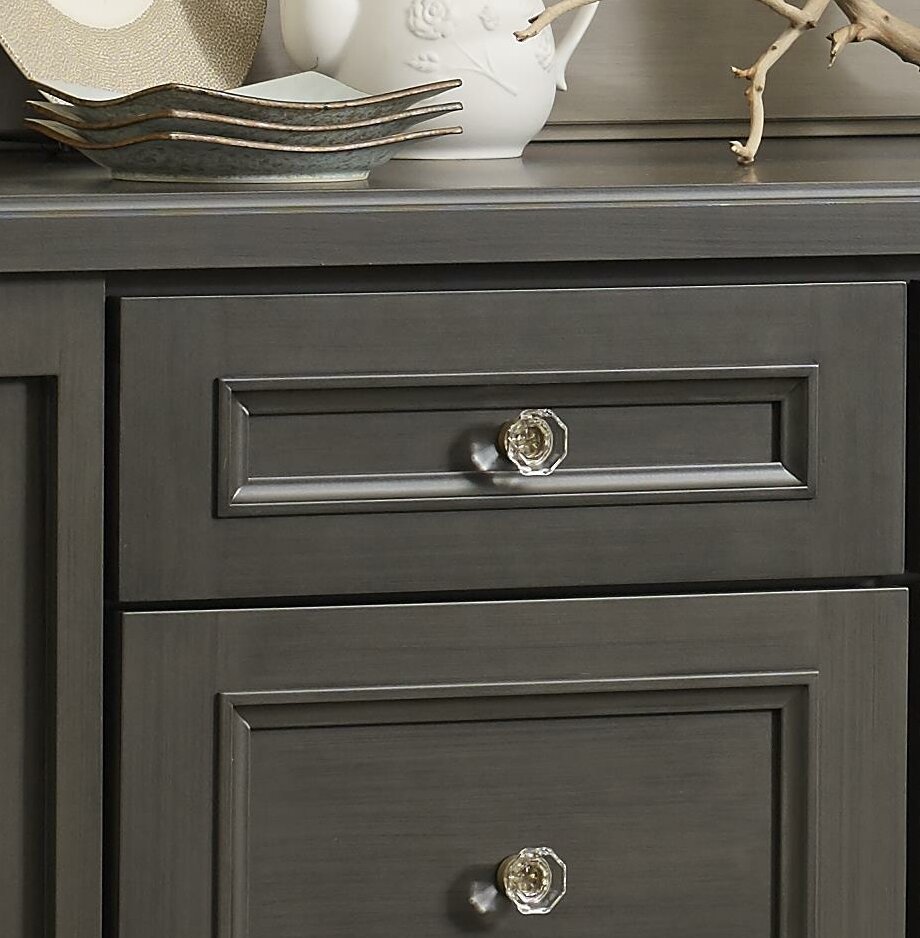 If you're looking for something other than a run-of-the-mill knob, consider an option like this. These clear geometric knobs will add an old-world feel to your room.
The knobs pictured are crystal with a golden base. If you're not a fan of the base color, you can pick from six other finishes.
Use Brushed Gold for a Glam Look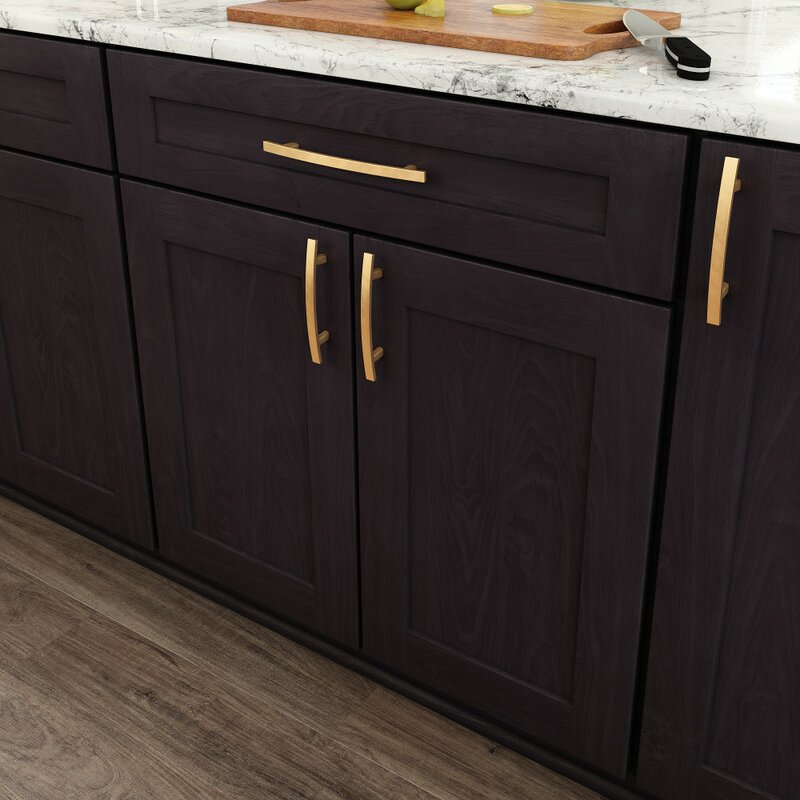 If glam is the look you're after, you can't go wrong with brushed gold. Brushed gold is a high sheen and looks like jewelry for your cabinets. Just be warned that this is a bold look, not meant for everybody.
You can find these gold pulls at Wayfair. They come in several sizes ranging from 3 to 6 5/16 inches, center to center.
Final Thoughts
Black cabinets are modern and sophisticated. While there are a lot of hardware choices to go with them, the most popular are satin nickel and gold.
If you're not into modern looks, you can get an old-world or rustic feel by using a crystal knob, antiqued pull, or black nickel. Since so many options work, it's best to narrow down your favorites and order one of each to see how they look in real life next to your cabinets.