Decorated Life is reader-supported. When you buy through links on our site, we may earn an affiliate commission. Learn More
What Color Rug Goes With a Green Couch? – 14 Ideas
When you have a green couch, there are a lot of different avenues you can go with area rugs. Whether you're thinking of choosing a solid print rug in a complementary color or a styled print with an interesting design, there's plenty of ways you can go.
Join us on this fun journey as we explore some different options you have on rugs that go with a green couch. This list of 14 ideas will demonstrate the creative freedom you've got for picking a rug to match a green couch.
The exact shade of your green couch can affect which colors will work. For example, a hunter-green couch would work with different color combinations than a green that's olive or lemon-lime.
Over the Moon for Oriental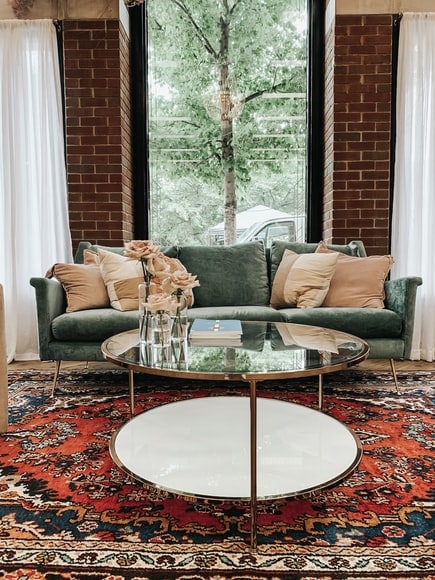 Oriental style rugs are one of the most go-to looks due to the intricate scrollwork and color use. These rugs work with most colors and furniture styles, including green couches.
The classic look of a bright-colored Oriental rug in bold shades of orange, red, and blue with light shades of white and cream in an intricate border can look incredible with a green sofa.
Simple Solid Shag in Charcoal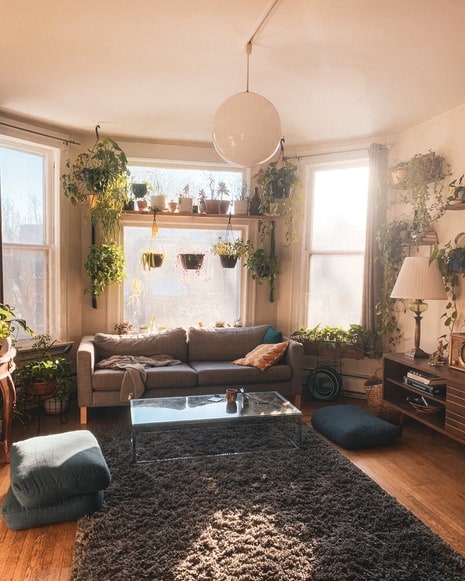 If your living space contains a lot of greenery, like natural or artificial plants, along with a green couch in more of a khaki color, you can create a cozy environment by going with a shag.
Shag rugs – like this solid print in a rich charcoal gray – have a high pile, which provides a comfy spot under your feet and a charming yet simple aesthetic for your room.
Tasseled Boho Pattern in Nude Neutrals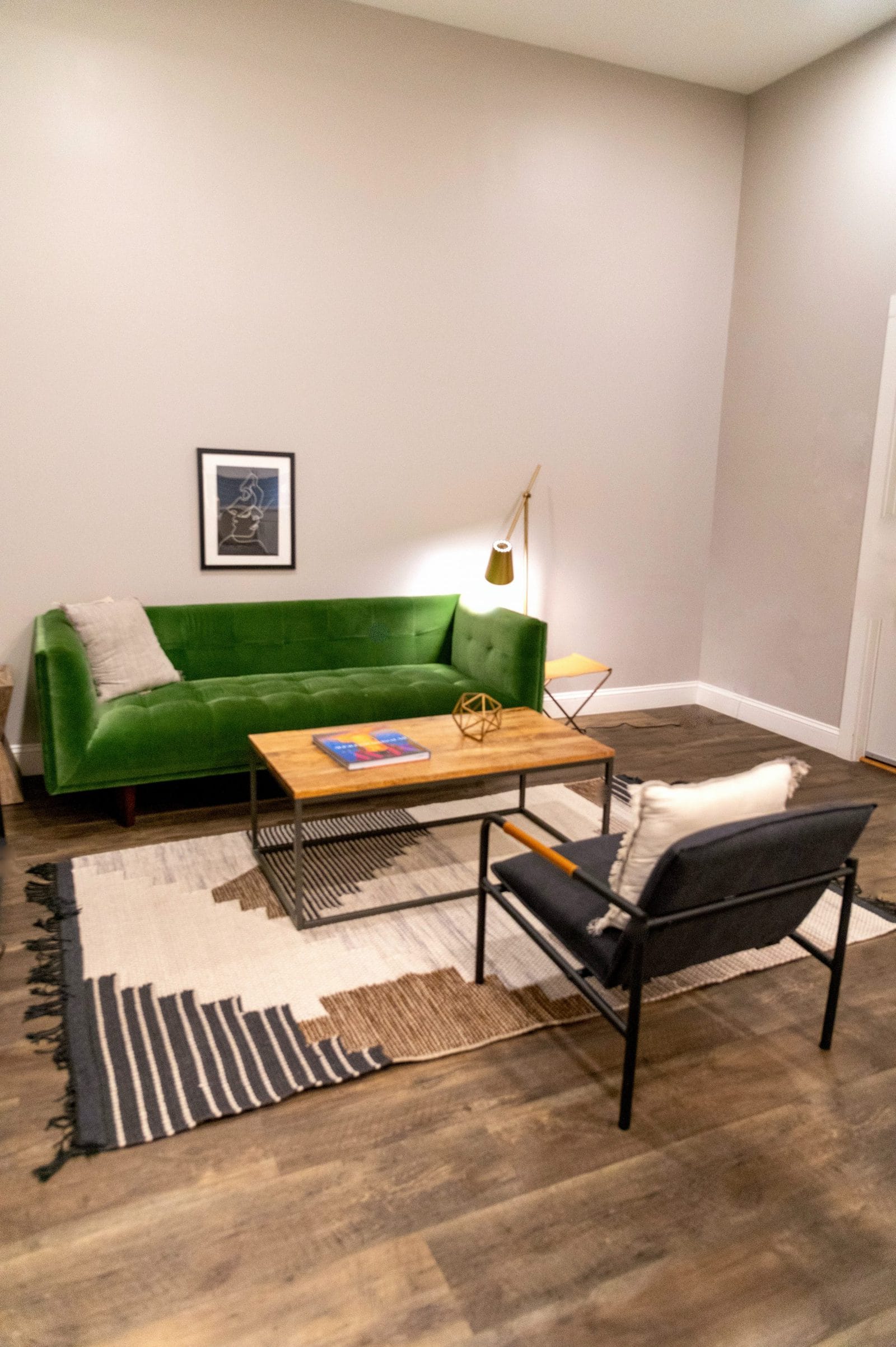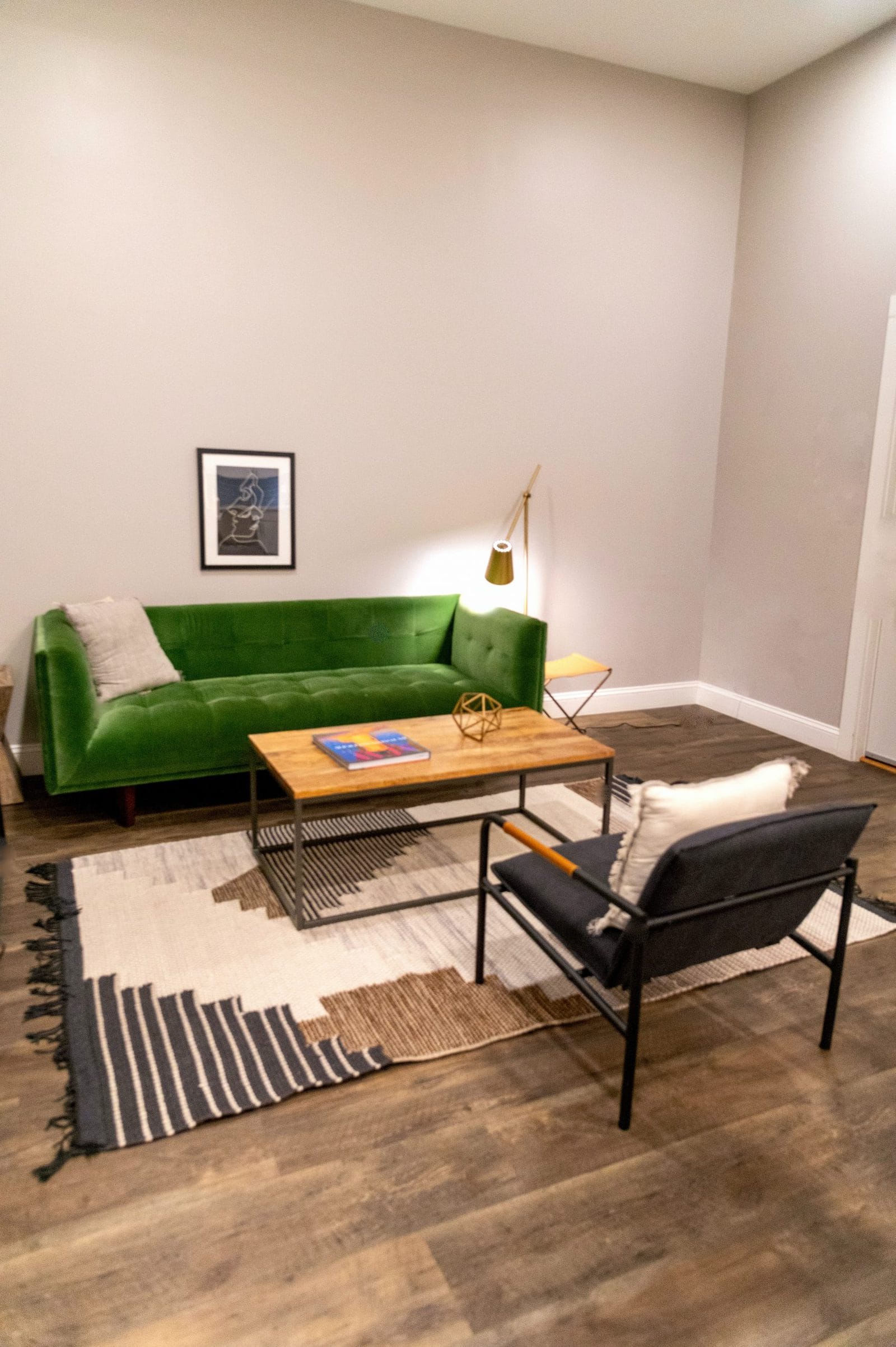 Emerald green couches require a light touch when choosing colors for your area rug. Due to the boldness of the shade, you'll want to go light and simple with your design.
Check out the look you can get by choosing an area rug in a simple Boho design with tasseled ends. The neutral, understated palette of gray, beige, white, and black in this rug help tone down the richness of the incredible green.
Blotted in Blue Abstract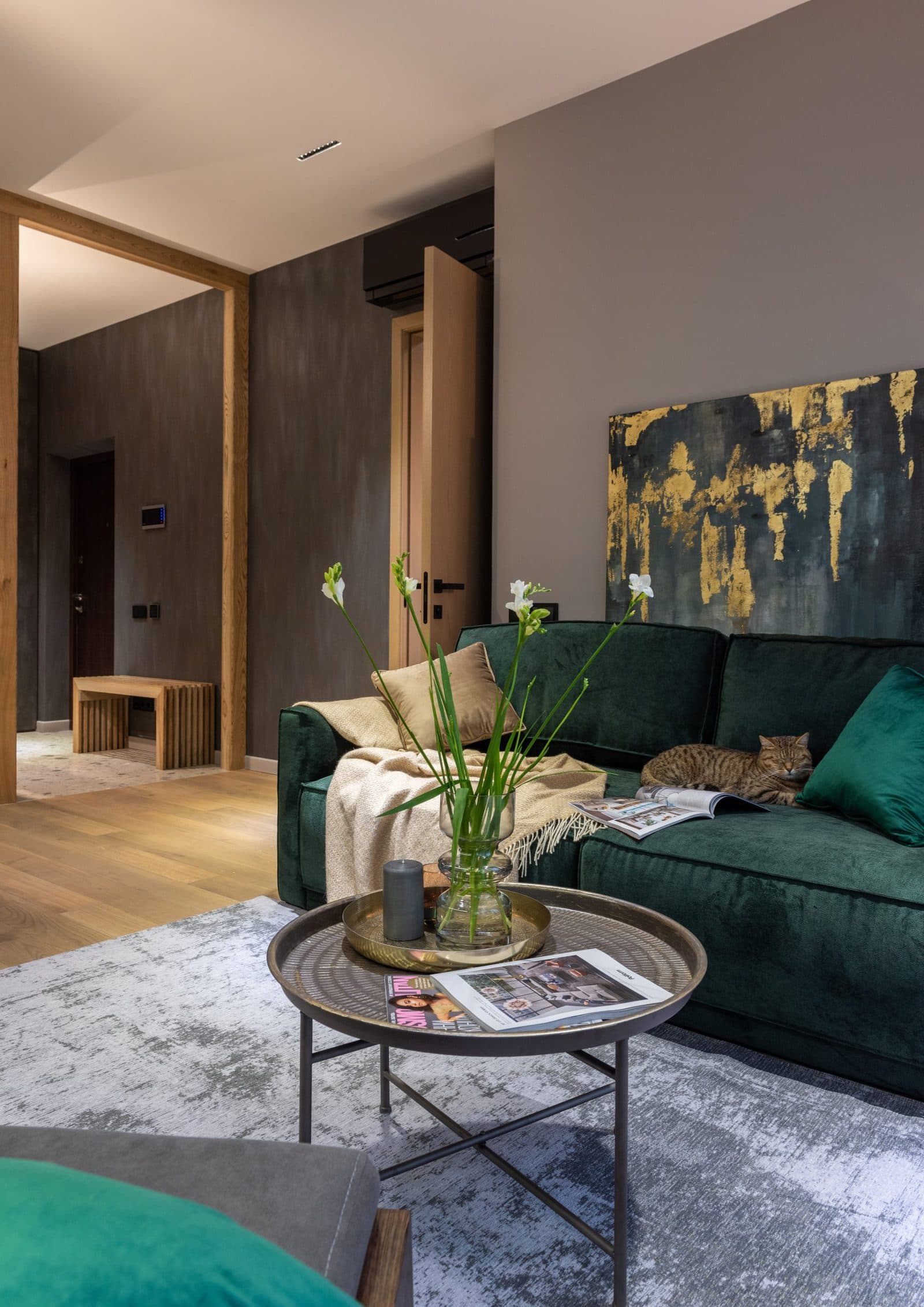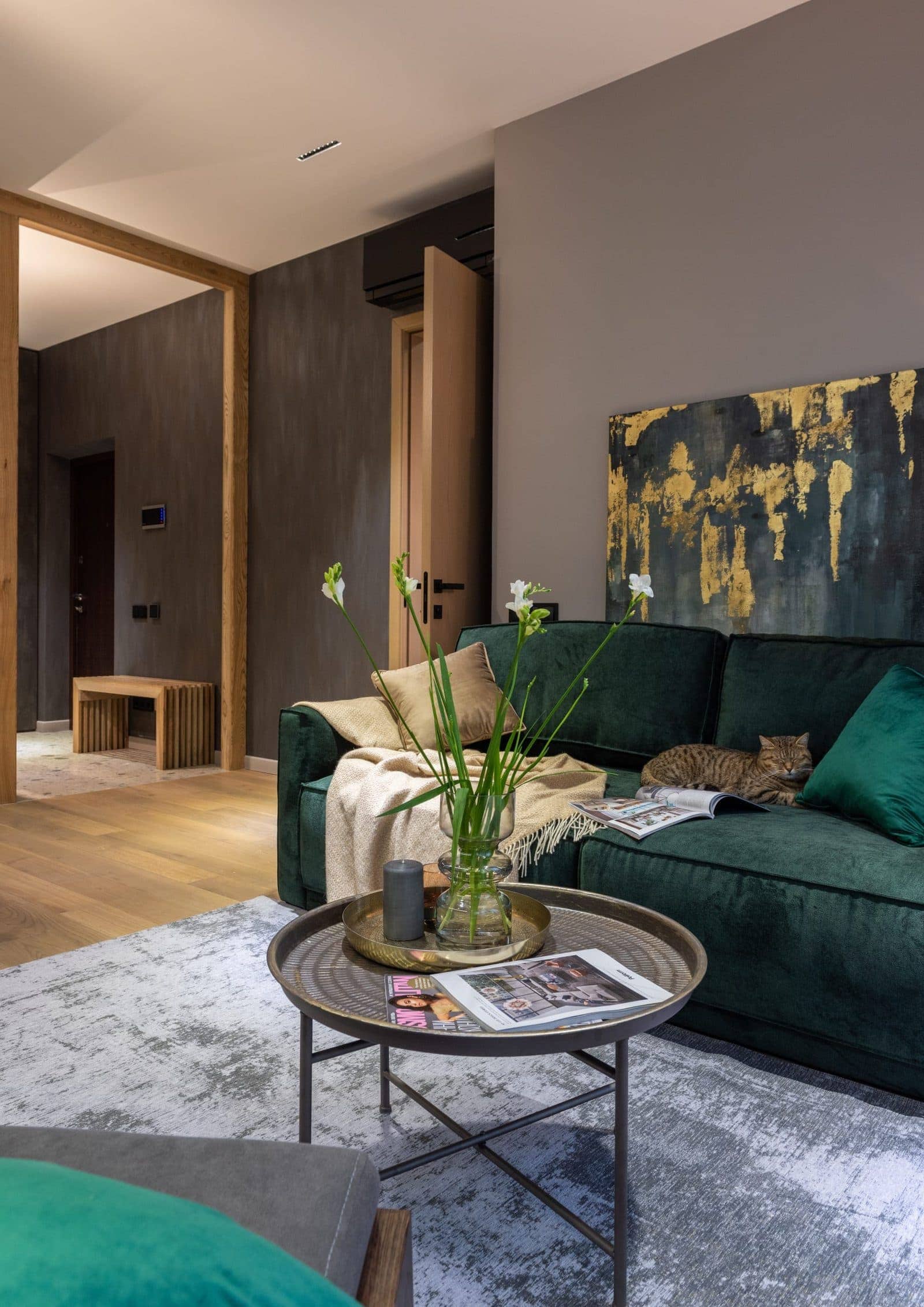 Another option you have for green couches, such as a dark Ocean, is to pair with an area rug with blue traces.
Observe the play of colors you get with this plush Ocean green couch with shiny green and gold pillows resting atop an abstract rug of predominant blue with faint pink streaks.
Braided and Beautifully Basic in Gray Jute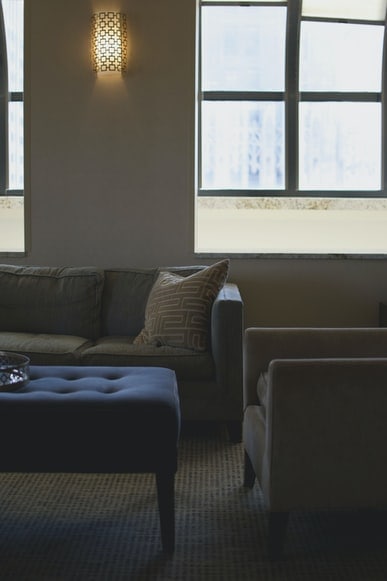 If you're looking for a floor covering that serves the purpose of protecting your floors but doesn't do much to affect the aesthetic of your room, you may want the reliability and simplicity of an old classic – jute.
This braided area rug in 100% jute gives your floor a comfy thick texture that is the perfect look for farmhouse, nautical, or casual themed spaces. And the dark gray color in ½" thick flatweave pile with tasseled ends is the perfect color against green sofas.
Try a Teal Striped Pattern Topped by Teal Sofa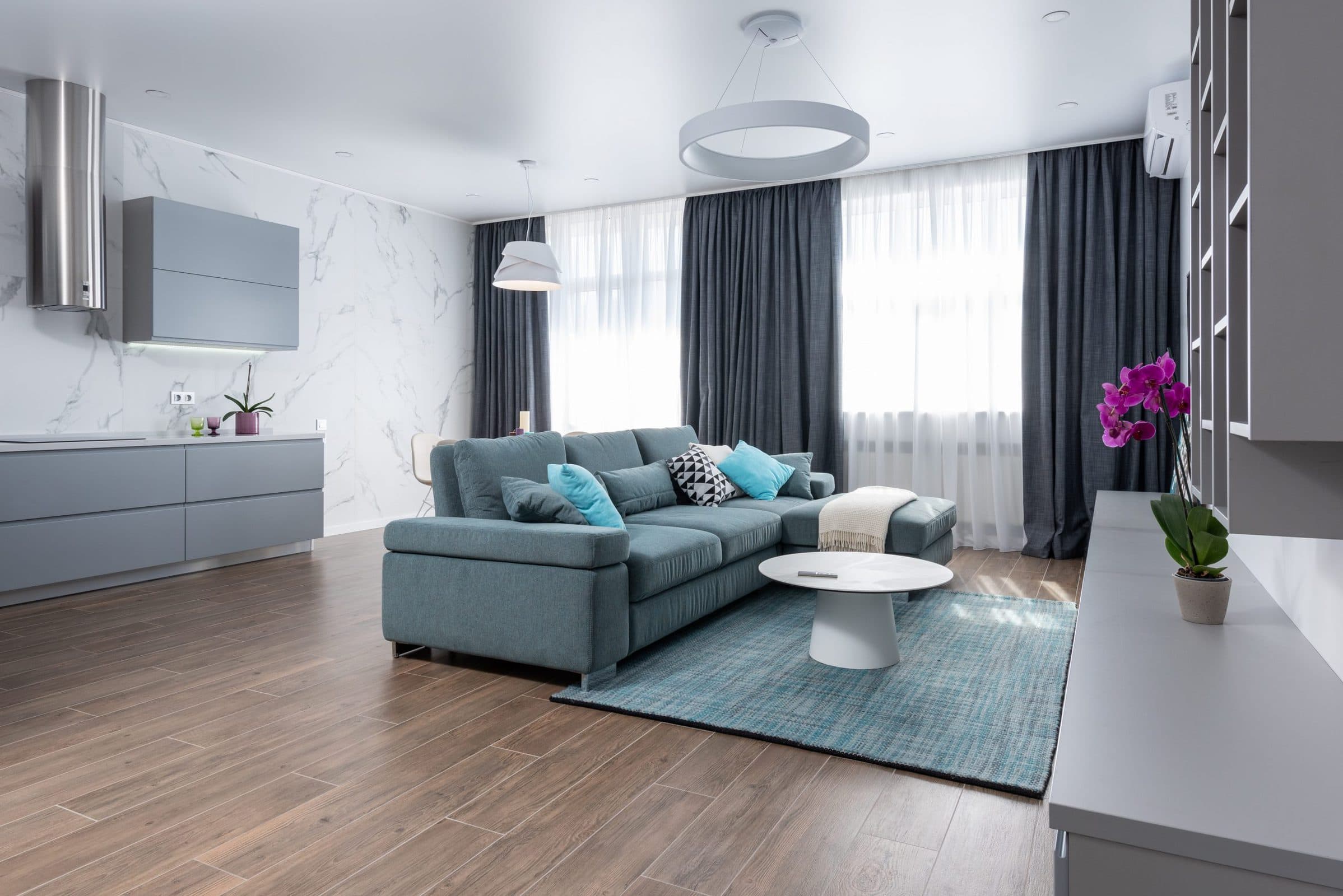 If you're trying to match an area rug with a teal green couch, you can get a balanced yet stylish look with a simple striped pattern of color blends.
You can use this rug style for pops of color that are perfect for blending with accents around the room. And picking a rug with blue, green, gray, and white will perfectly match a teal sofa.
Entertain an Eclectic Multicolor Area Rug
If you're all about bright colors and chic in-your-face femininity, you're going to go goo-goo-eyed over the drama of matching a gem green couch with bright pinks and other multicolors.
To tie the entire look of contrasting shades together, pick an area rug in a hodge-podge of bold colors in a funky pattern.
Pick a Pattern in Black and White Stripes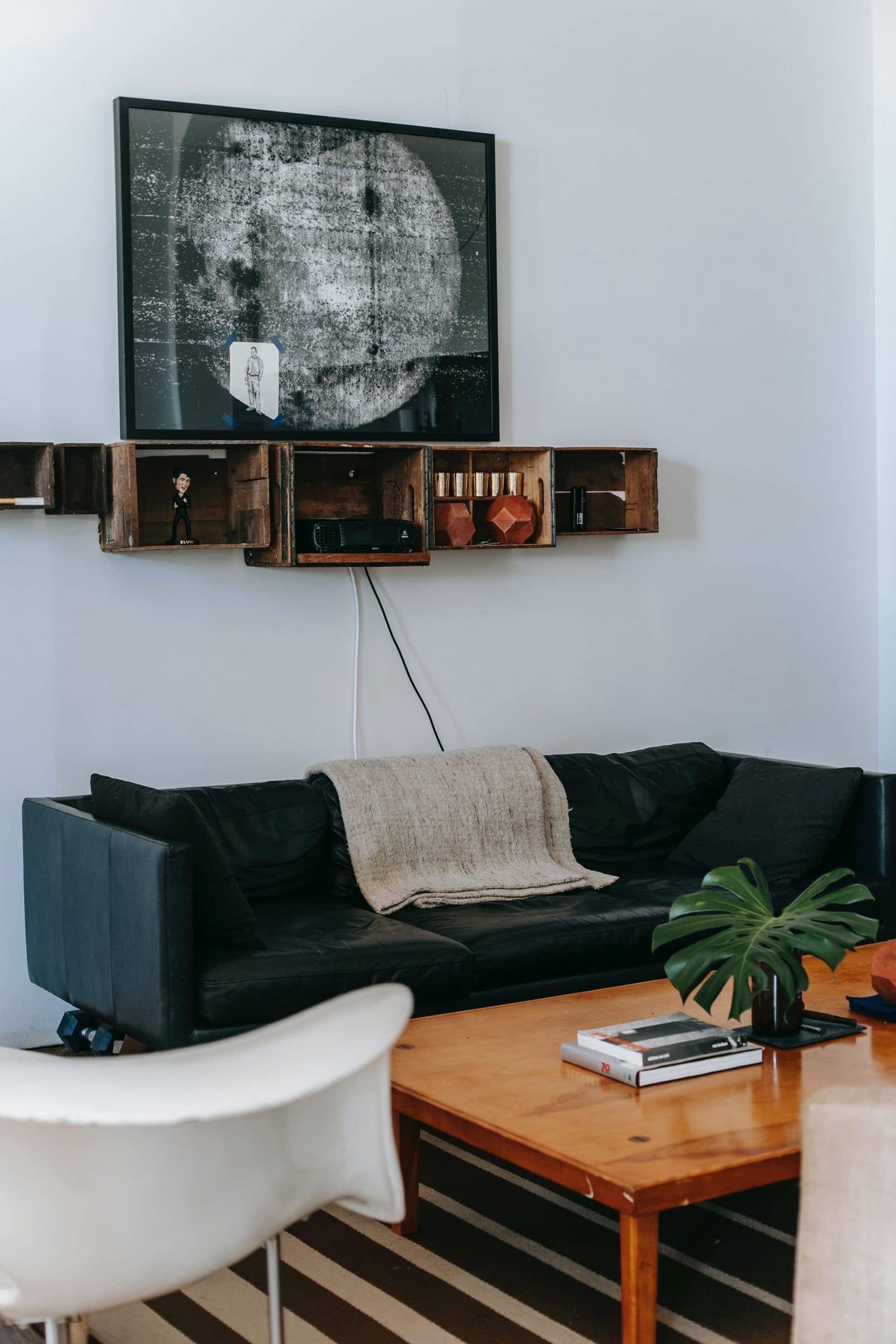 Black and white is a classic color combination that works for just about any design theme. And it looks fantastic with almost every solid color, including green.
You can make your space look updated and inviting by blending the modern look of a green sofa with the classic appeal of a rug in a striped white and black pattern.
Shiny and Subtle in Soft Platinum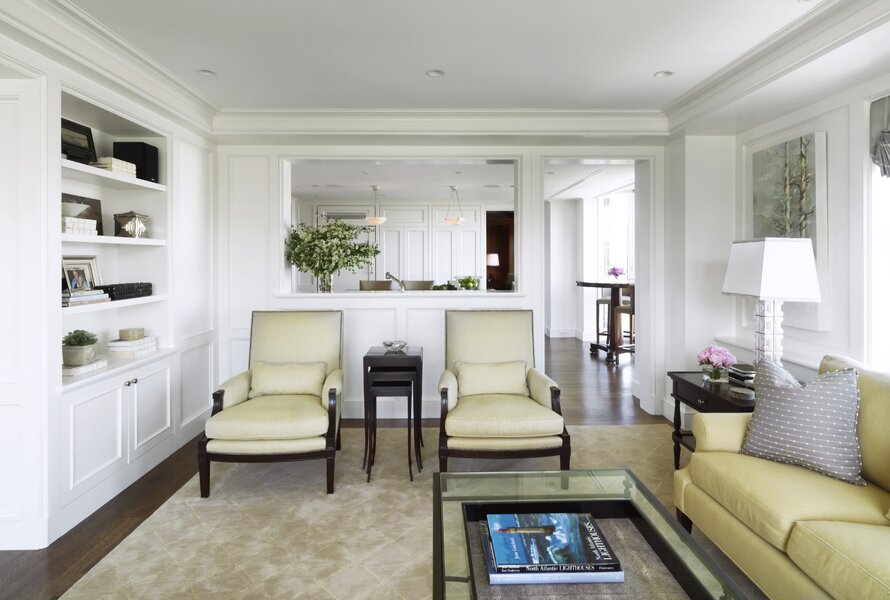 When you have a sofa in a pale lemony yellow, you can go with an area rug that's light and soft. So we're loco over this luminescent rib rug by Calvin Klein.
The Vicose material gives this hand-crafted rug a luxurious sheeny-shiny, silky-feeling surface similar to the suppleness of velvet for understated elegance in a simple, modern solid shade of platinum.
Add an Embossed Neutral for Olive Couches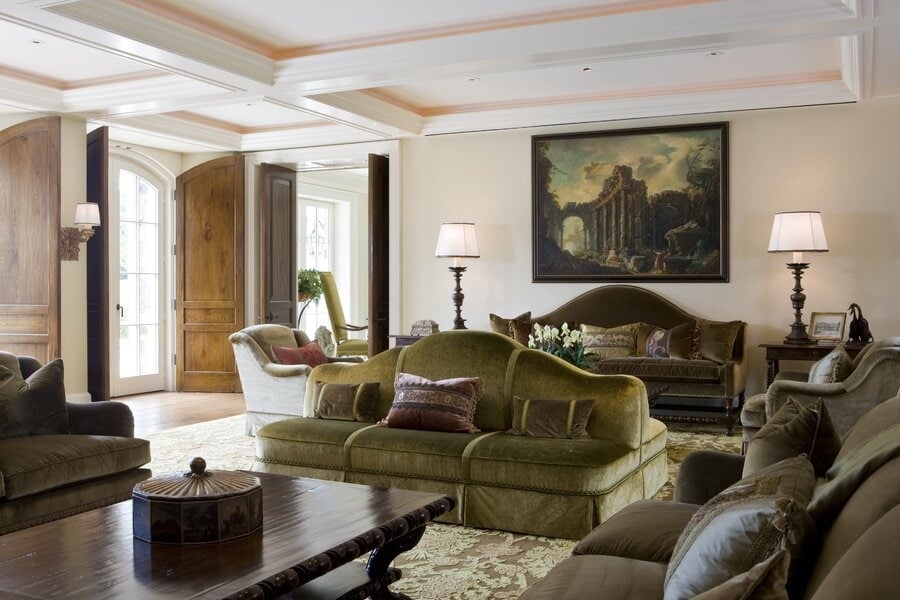 For an area rug to pair with sofas in olive green, limit your choices to neutral colors. You can also look for unique design features like embossed or embroidered designs.
You can go with an area rug with a neutral-colored base like brown, tan, cream, or beige with an embossed overlay in a contrasting color like ivory, cream, or silver.
Try a Tropical Theme for Teal Sofas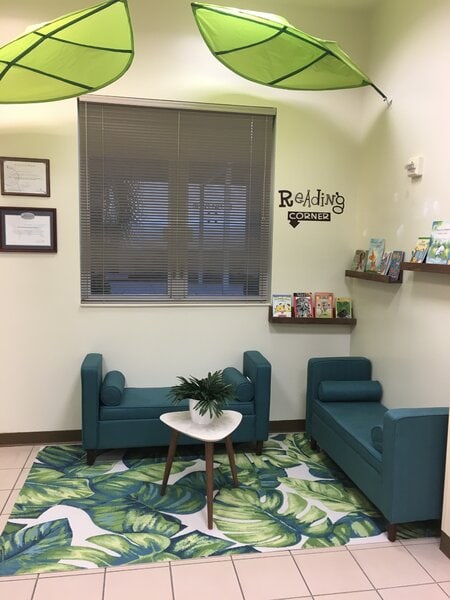 When you have a teal-shaded green couch, you can play around with area rug designs and go for something creative and fun instead.
This tufted polyester rug with a large floral design with dusty soft details on top of a splotched gray base can make any room feel tropical.
Go for a Trendy Geometric for Green Outdoor Couch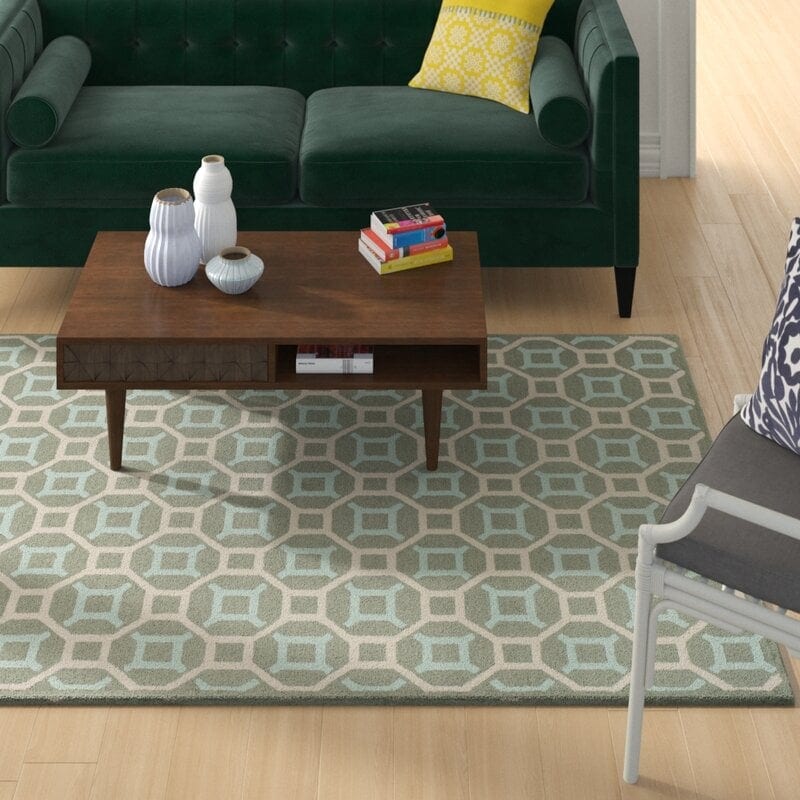 When working with an outdoor space, geometric print rugs are fantastic for jazzing up the area and making it feel like an extension of your indoor living space.
For rattan woven patio furniture in a dark grayish-green shade, a geo print area rug in a simple transitional pattern makes the perfect combination.
Tap into a Traditional Design for Funky Retro Feel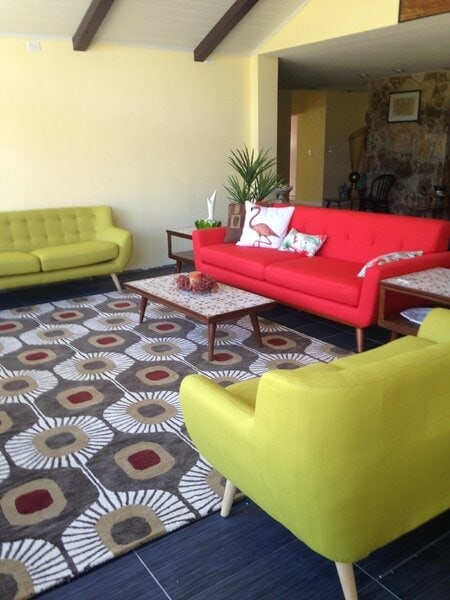 If you're working with a green sofa that's more of vintage neon color, it's a nifty design idea to go traditional and understated with the area rug.
Consider a traditional pattern in a modern but neutral pattern and color combination of beige, red, gray, and tan. This rug's high pile (0.75") gives you comfort and style that's the perfect anchor to pair with the wildness of a bright light green couch.
Decide on a Distressed Design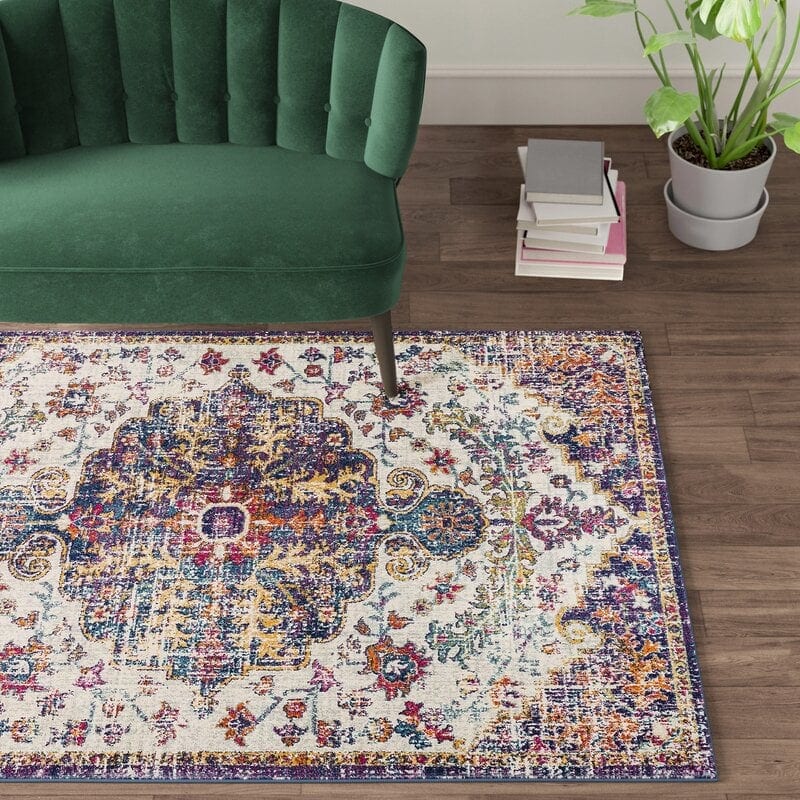 Oriental style area rugs are so popular and gorgeous that we had to feature two different types. The distressed look of this rug tones down the vibrant shades of dark blue, garnet, and saffron floral print on an aged beige base.
The vintage look of this area rug gives a Boho vibe that's echoed in the trendy style of the green velvet settee with a tufted back and no arms.
Final Verdict
There are many different shades of green, allowing for a huge range of design choices for area rugs. We've given you twelve ideas for rug colors that can look fabulous with green couches.
From solid prints to area rugs with various colors and designs, you have a lot of wiggle room to express your unique creative personality. So which idea is your fav?
We've shown you ours. Now share the love and give us a peek at your color ideas for rugs with green sofas. Drop your pics in the comments.