Decorated Life is reader-supported. When you buy through links on our site, we may earn an affiliate commission. Learn More
What Color Rug Goes With a Teal Sofa? – 10 Ideas
When you have bold-colored furniture like a teal couch, you may think you're stuck with limitations on what rug colors you can use. But we're here to set the record straight on what color rug goes with a teal sofa.
You may find yourself shocked with what options you have for rugs for a teal couch. Check out these ten inspiring ideas for rug colors that work with teal sofas, including some options that are more patterned than colored. There are even some with multiple colors!
Join us on this wild ride as we cruise through the rainbow of colors, patterns, and prints available to match with teal furniture. Then drop us a shout telling us what look is your fav.
Combine a Cream Carpet with a Teal Couch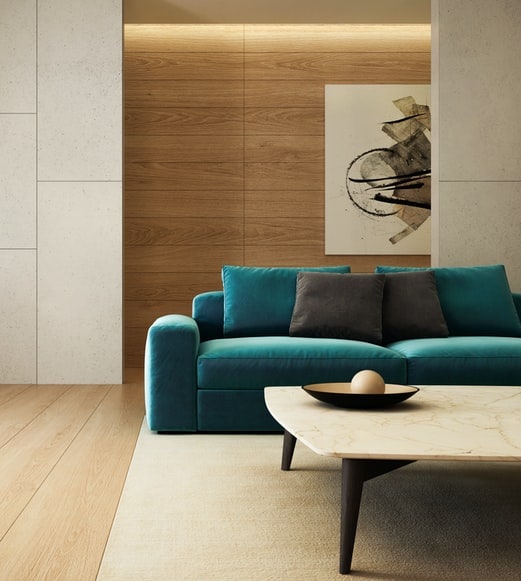 The dark drama of a teal couch lets it balance superbly with light-colored area rugs, like cream sofas in a simple, braided solid pattern.
Mixing light and dark colors give you a modern yet homey feel, complete with throw pillows in teal and brown. Finish with abstract art and minimalist pieces in various materials.
Get Wild with a Wool Animal Print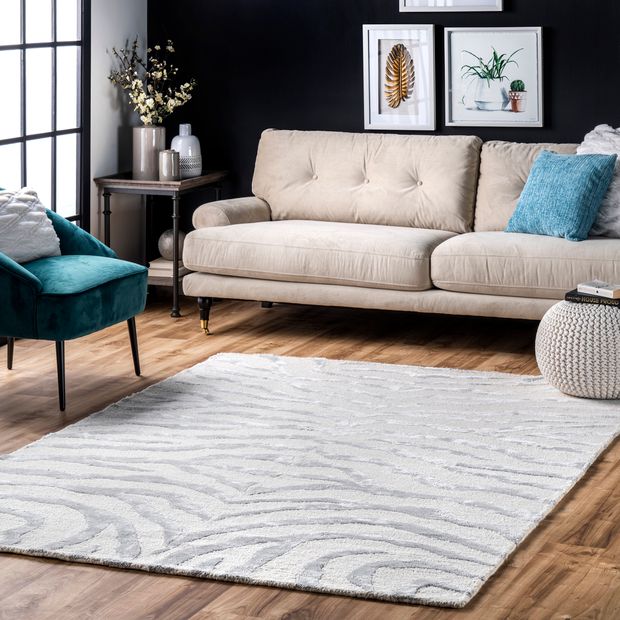 Another choice for teal furniture is using a light-colored area rug in a light-shaded animal print. We love the look of this area rug with a classy zebra print in an ivory base with light gray stripes.
The luxurious softness of the ½" hand-tufted faux silk material gives any space an upscale, exotic feel, while the shimmery sheen of the rug upgrades the elegance factor.
Take It Totally Different with Multi-Colored Geometrics
Teal sofas create an amazing opportunity where you get to play around with the use of different bold colors and patterns.
This area rug produces the perfect blend of simplicity with a tan base and geometric patterns of diamonds and arrows in multiple colors – black, light and dark blue, red, orange, and pink.
Achieve an Absolutely Awesome Aesthetic with Abstract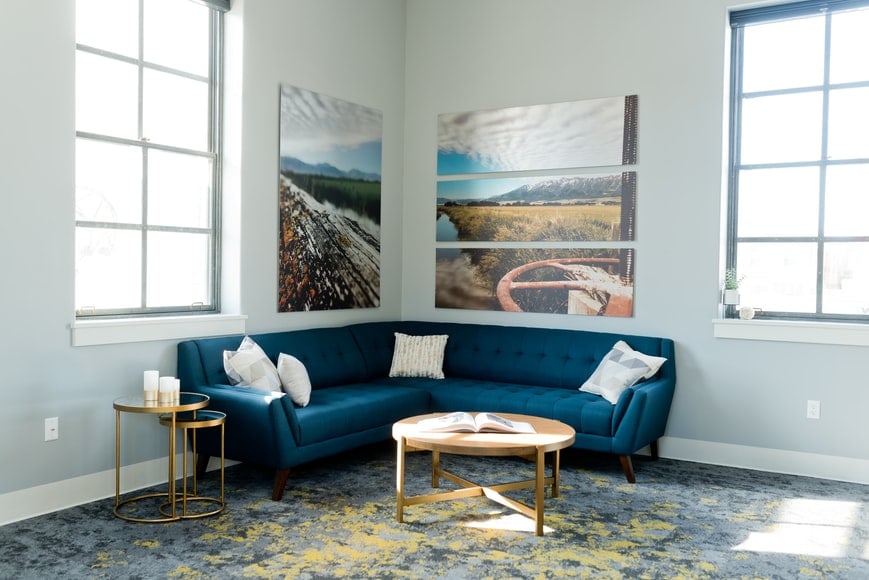 Give your living room a majorly modern look by matching a sleek tufted sectional sofa in rich teal with mixed-material accents like glass and bronze end tables and a round pale wood coffee table with metallic copper legs and white patterned throw pillows.
On the floor, put down an oversized area rug in an abstract color pattern with blotches of different colors of blue and white. Bright white trim and soft gray walls soften the use of bright colors. The final piece is canvas prints on the wall.
Rock Out with a Really Red Rug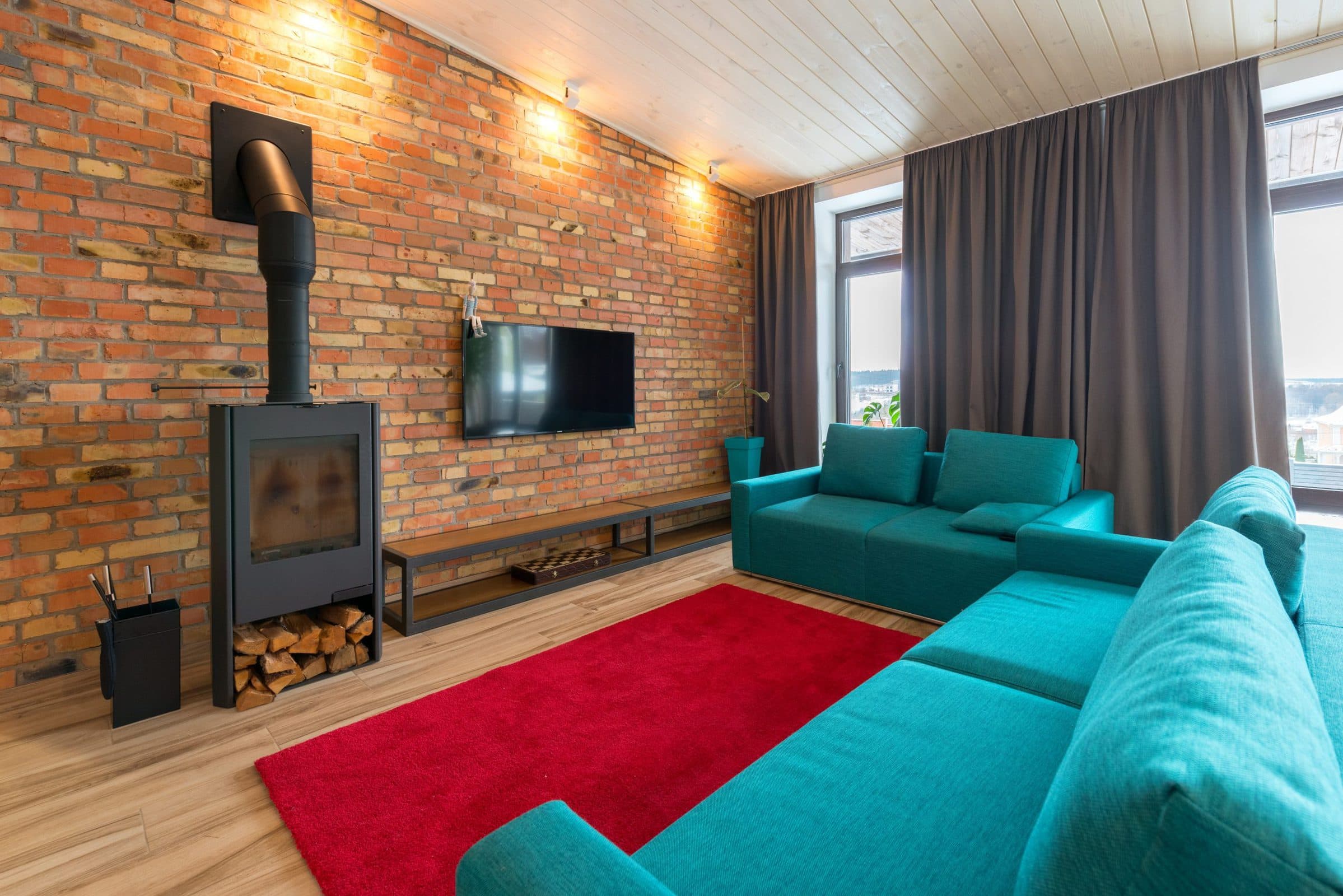 For an eclectic combination of clashing colors and materials that scream with style, go bold with teal sofas and a blazing red shag rug.
The contrast of colors melds with the industrial look of the cast iron wood burning stove, metal and wood benches, and exposed brick wall. Whitewood plank ceilings, gray curtains, and light wood floors balance the look.
Try a Distressed Turquoise Monte Carlo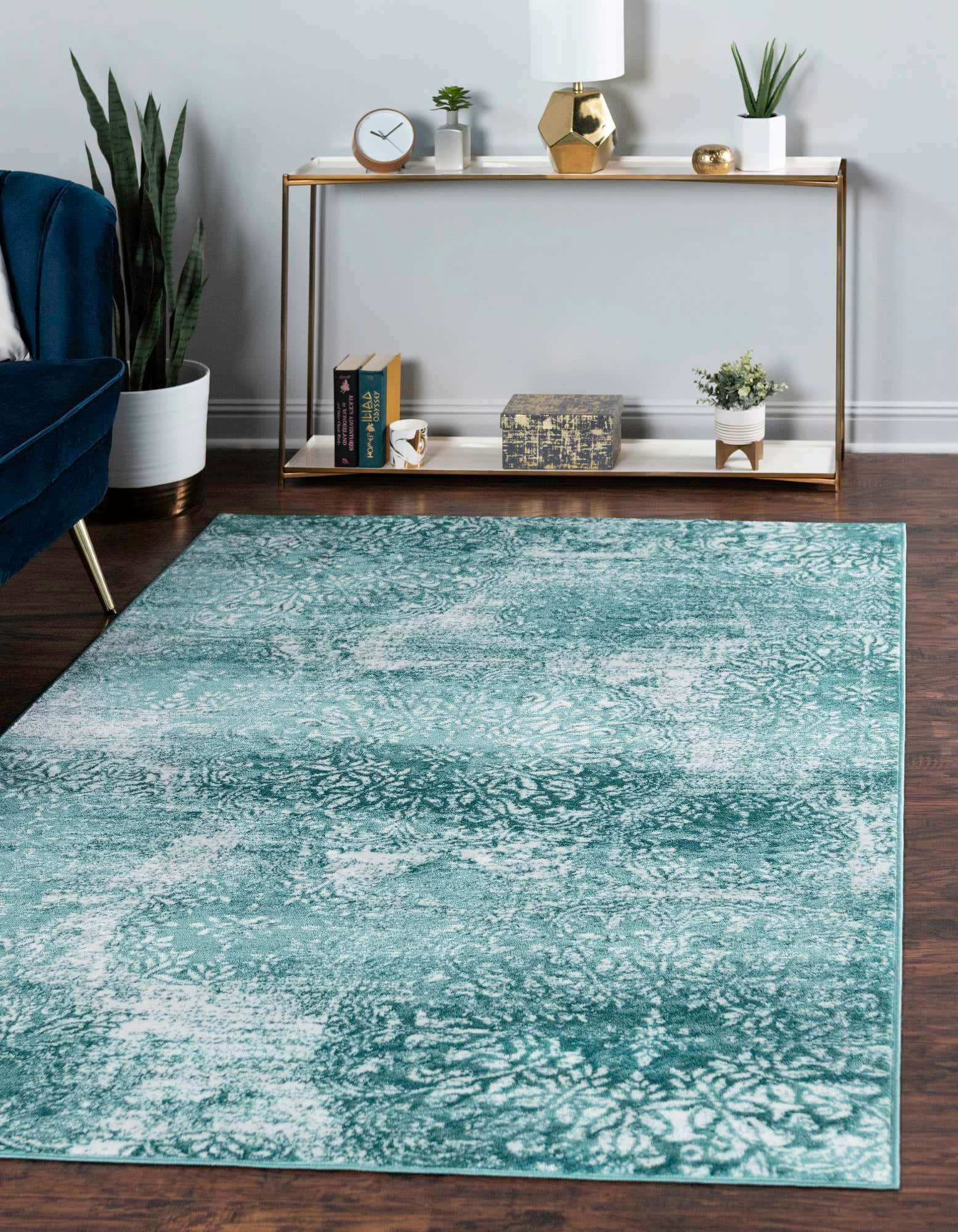 Placing a patterned area rug with a teal sofa creates a stylish, modern appeal. In addition, the distressed look of this faded turquoise rug with ivory medallion print creates a soft drama that can enhance the look of a teal sofa.
Distressed two-color prints like these rugs (available in nine colors so you can get one for each room in your home) can work for any design theme and color palette.
Keep It Calm and Simple with an Ivory Chevron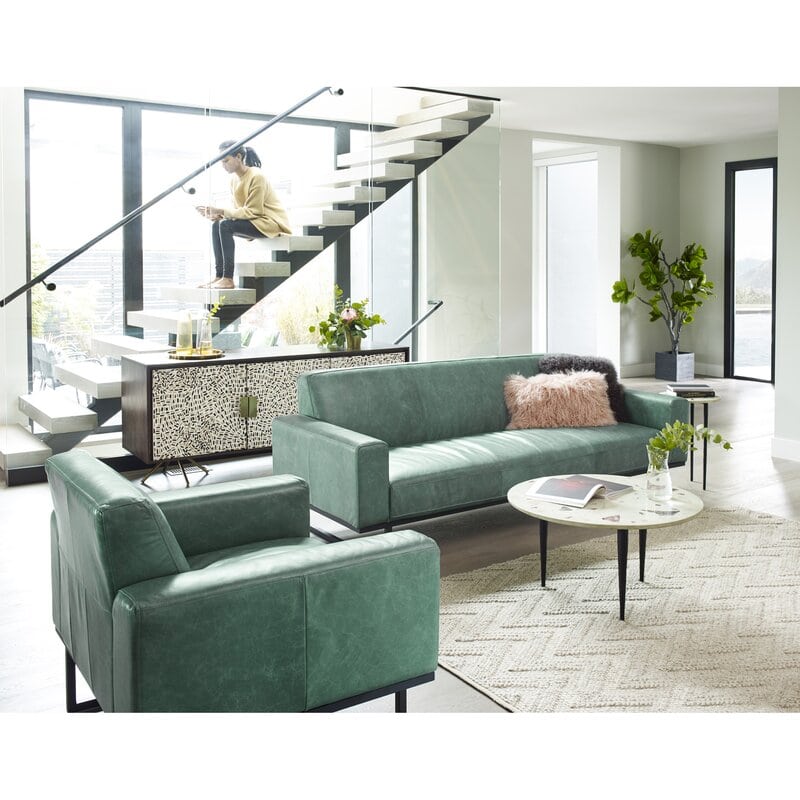 Since teal is a dominant bold color that can look overwhelming when used in large moderation, a solid neutral area rug, like soft ivory, can tone down the in-your-face color.
We love the calm aesthetic you get by pairing teal furniture with an ivory rug in a 0.5" low-pile jute woven chevron pattern.
Teal on Teal – Double Trouble for Delightful Drama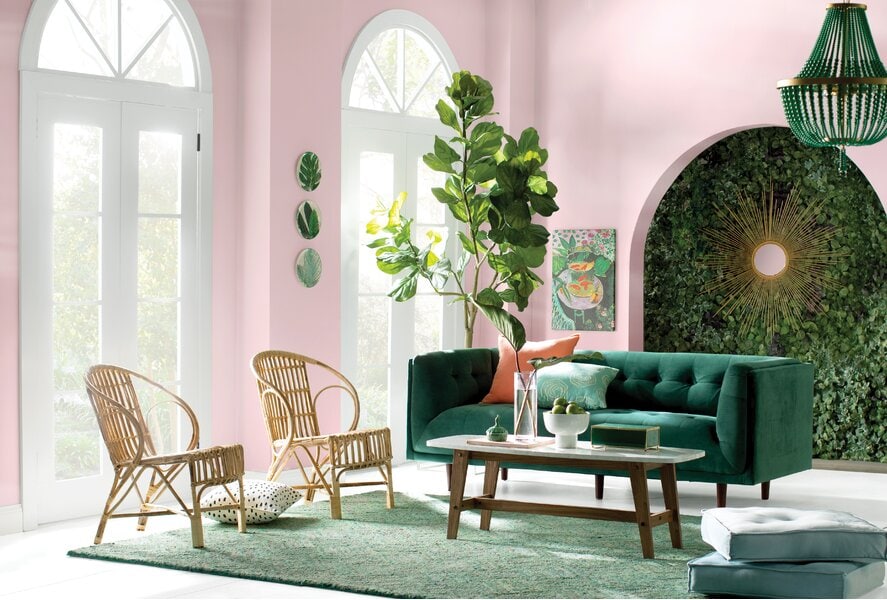 If you love teal a ton, then you can match a teal sofa with a similar shaded area rug in a lighter shade of green – or make it a teal rug.
Combining light wood chairs with a dark wood coffee table and a solid print rug in a thick plush (high pile) creates the perfect intimate sitting area.
Take It Traditional with Blue Oriental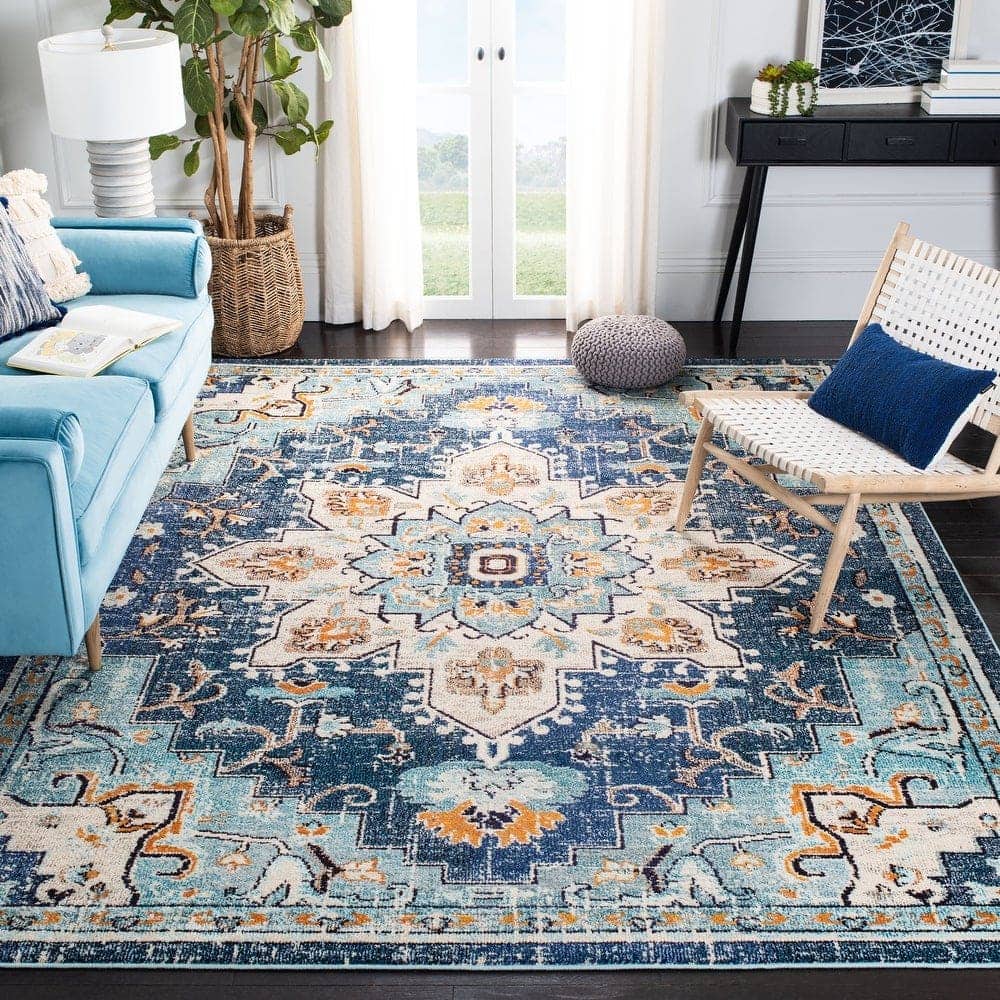 If you're looking for a living room area rug to match with a modern minimalist teal sofa, nothing is more traditional yet diverse as an oriental rug.
This stylish light blue carpet features a large, bold, intricately detailed medallion print in navy blue, beige, tan, brown, and orange shades.
Blaze It Up with a Bold Boho Floor Blanket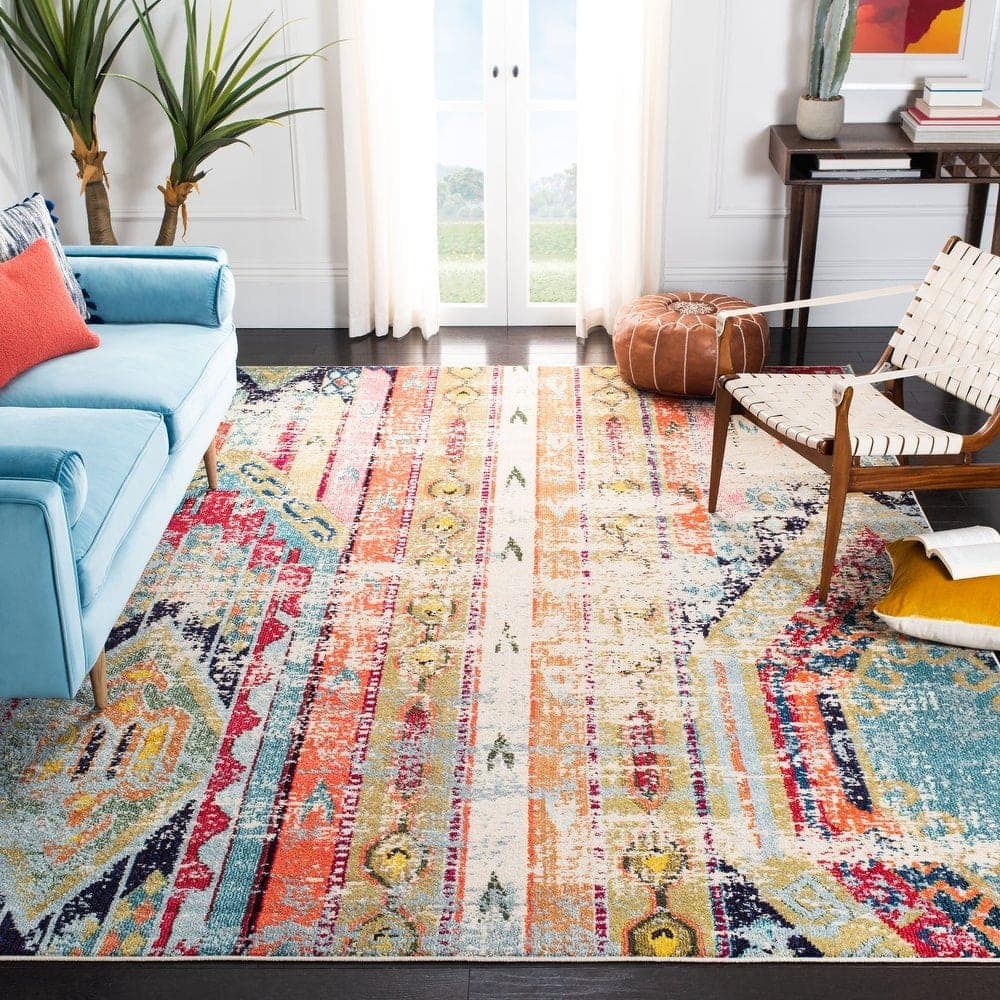 The final idea we have for what color rug to use with a teal sofa is a rug that's isn't just one color but lots, in random prints, bright shades, and lots of distressing wornness that makes it look well used and aged.
The colors of blue, black, yellow, orange, hot pink, white, and gold pop with the boldness of a teal sofa. It's the perfect style of rug to tie together a room full of minimalistic random, eclectic furniture and accent pieces.
The End – Teal Sofas Have Lots of Choices
Teal sofas offer a range of style options, from upscale elegance to vintage retro or mid-century modern over to traditional comfort. And teal is just as versatile with the types of compatible rug colors you can use. We've demonstrated options from neutrals to patterns and bold solids.
We've shown you ours. Now, we want to see yours. Drop pictures of your design ideas for what color rug go with a teal sofa in our comments.