Decorated Life is reader-supported. When you buy through links on our site, we may earn an affiliate commission. Learn More
What's the Best Rug Size for the Living Room – 12 Ideas
Choosing the proper area rug size for a living room requires extreme caution and attention. If you pick a rug that's the wrong size or in the incorrect placement, you could end up ruining your design.
So, what's the best size rug for a living room? It depends on the size of your space. The typical rug size for living rooms is 8′ x 10′ or 9′ x 12′, but a standard rug size for small living rooms would be 5′ x 7′ or a 6′ x 9′ rug size.
We've put together this list of 12 ideas for the right rug size for a living room.
Choose a 10′ x 13′ Herringbone for All Legs on Board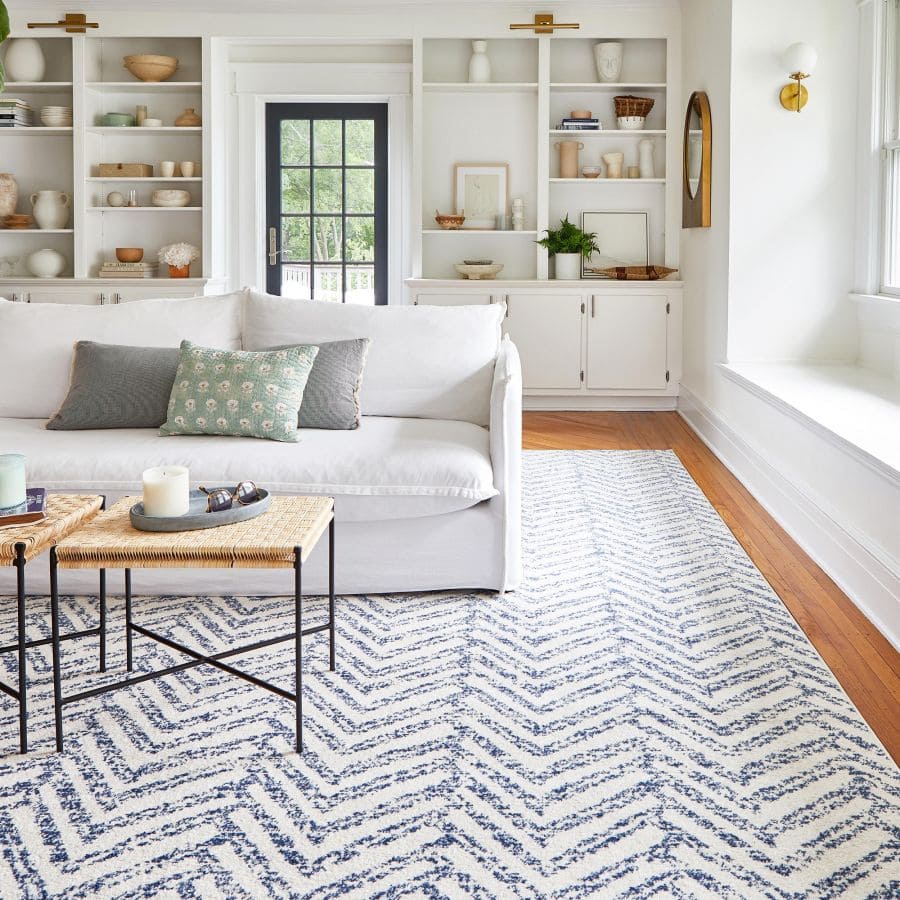 You can get an excellent aesthetic with a large living room rug size, such as a 10′ x 13′. However, for this size to work, you will need at least three to six feet of space around your furniture – length and width-wise – to create a border.
We love the look of all the furniture positioned on top of the rug – all legs on board – like this one anchoring this large gorgeous herringbone rug.
Large Rooms Love 9′ x 12′ Tasseled and Textured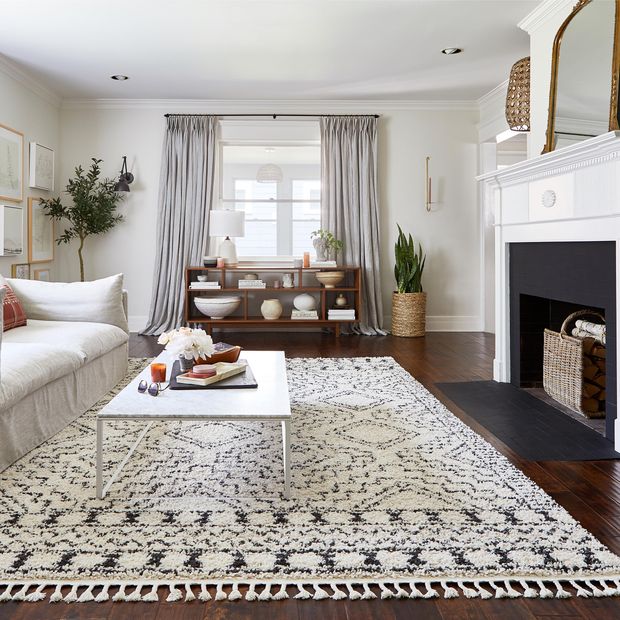 Another choice for large rugs for a living room is to use a 9′ x 12′ carpet, like this elegant yet chic Moroccan rug in an off-white with a bold vintage palette with geometric print and tasseled edges.
The thick 1 ¼" shag makes this rug look luxurious and opulent while also being cozy and inviting. It's the perfect style for when your couch rests against the wall (or a few inches away), letting you move the rug closer to the wall than the recommended 10″ to 18″ gap.
All in the Front – 8′ x 10′ is the Way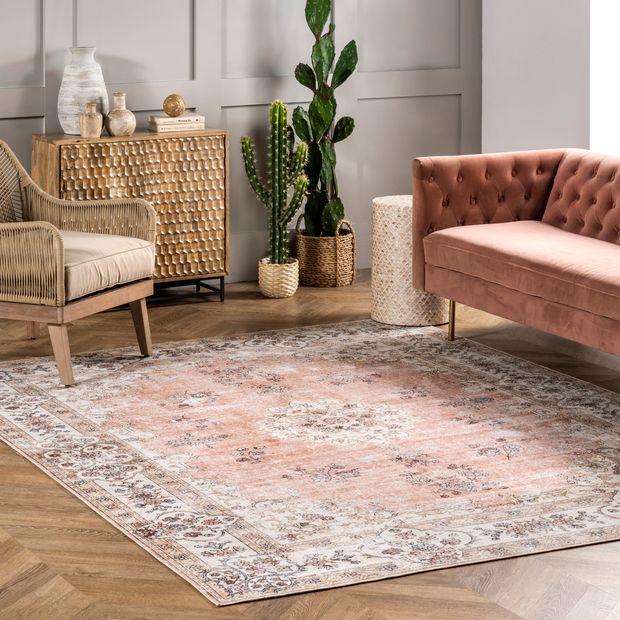 If your living room isn't that big, you may not have the space to use a large rug that will fit all of your furniture. But you can arrange it so that the front legs of each piece do.
We love this idea because it can make your room feel more spacious, perfect for small, cramped spaces. See how the furniture wraps around this peach rosette medallion rug to create an open yet intimate sitting area?
Floating In The Middle – Small but Powerful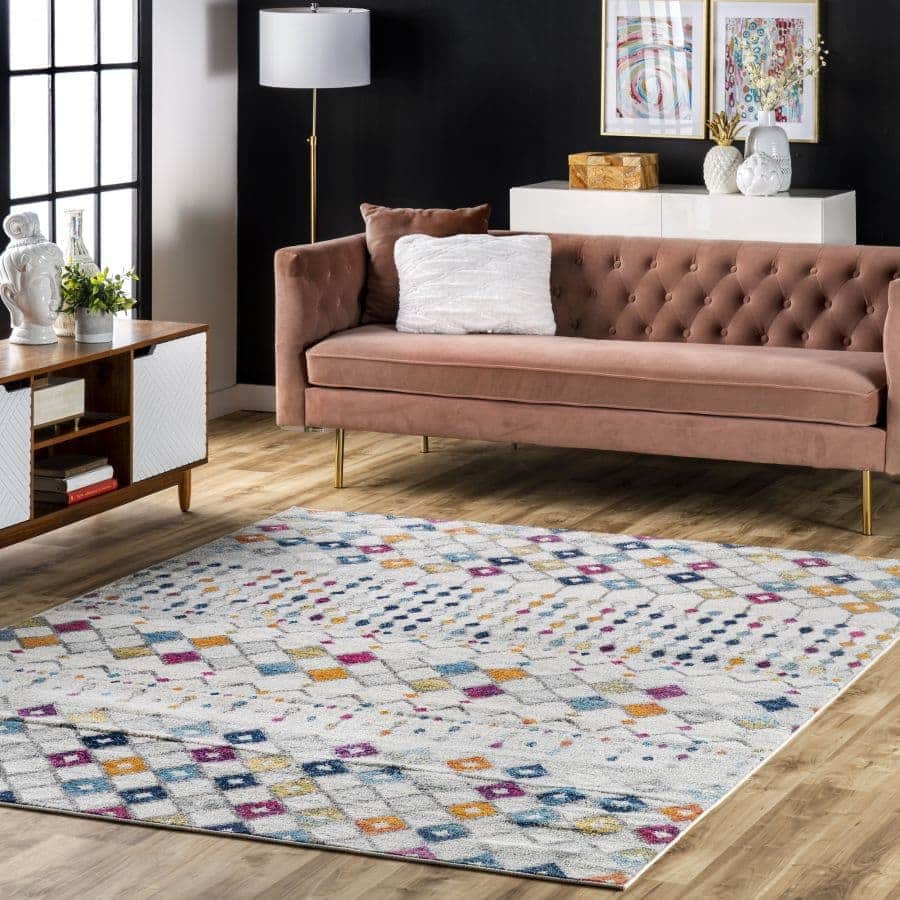 You may have a preference for arranging your living room, so none of the furniture sits on the rug. In these cases, the carpet rests in the middle of the floor – 6″ to 18″ in front of the couch. So, you'll want something comfy but stylish.
We appreciate a rug that's bright and fun to view. A light base with a Moroccan trellis print in bold colors allows you to enjoy nuances of understated color – excellent for small spaces. For example, if your sofa is 76″ long, you'll need a 5′ x 7′ rug in the living room; 90″ couches look best with a 6′ x 9′ rug size.
Running Behind – Keeping Your Couch Covered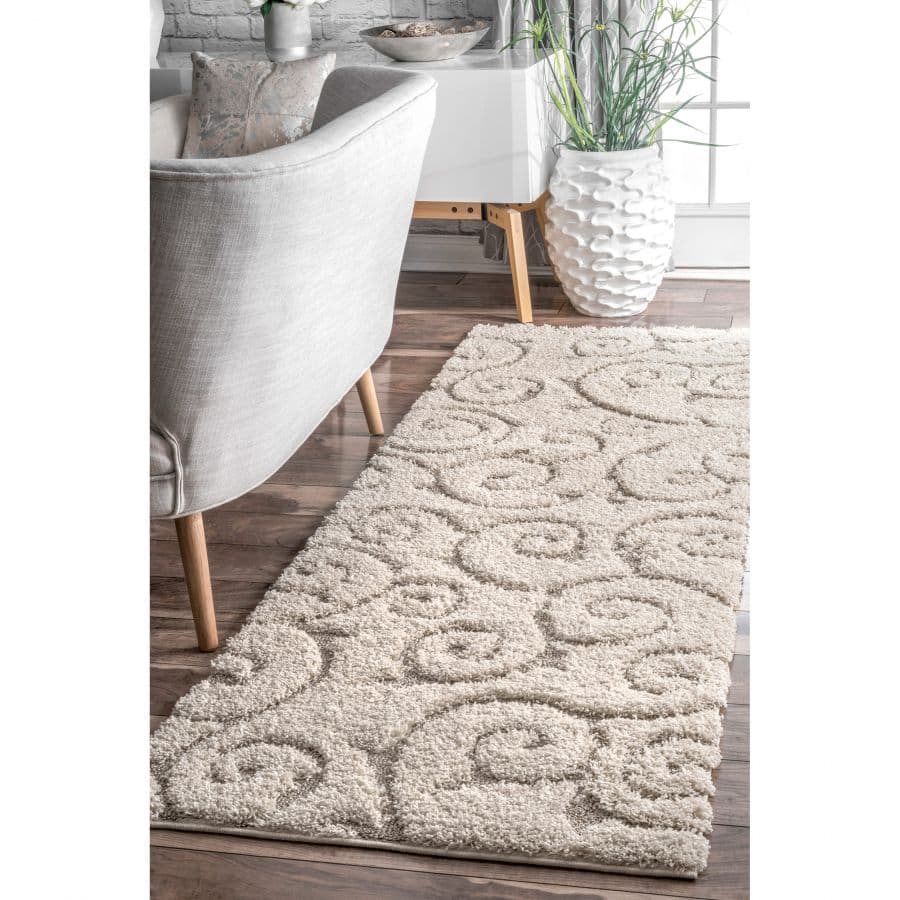 If you have a living room with an open layout and a couch that doesn't butt up against a wall, you can place a small rectangular rug or a runner along the expanse behind the sofa. We adore this romantic neutral cream rug with low pile vine swirl decor.
Runners typically have a width of 2′ and vary in length from six to twelve feet. They're perfect for filling small empty gaps of floor space. You could also go with a smaller area rug, such as a 3′ x 5′ or 4′ x 6′ size.
Surrounding a Sectional – This is How We Do It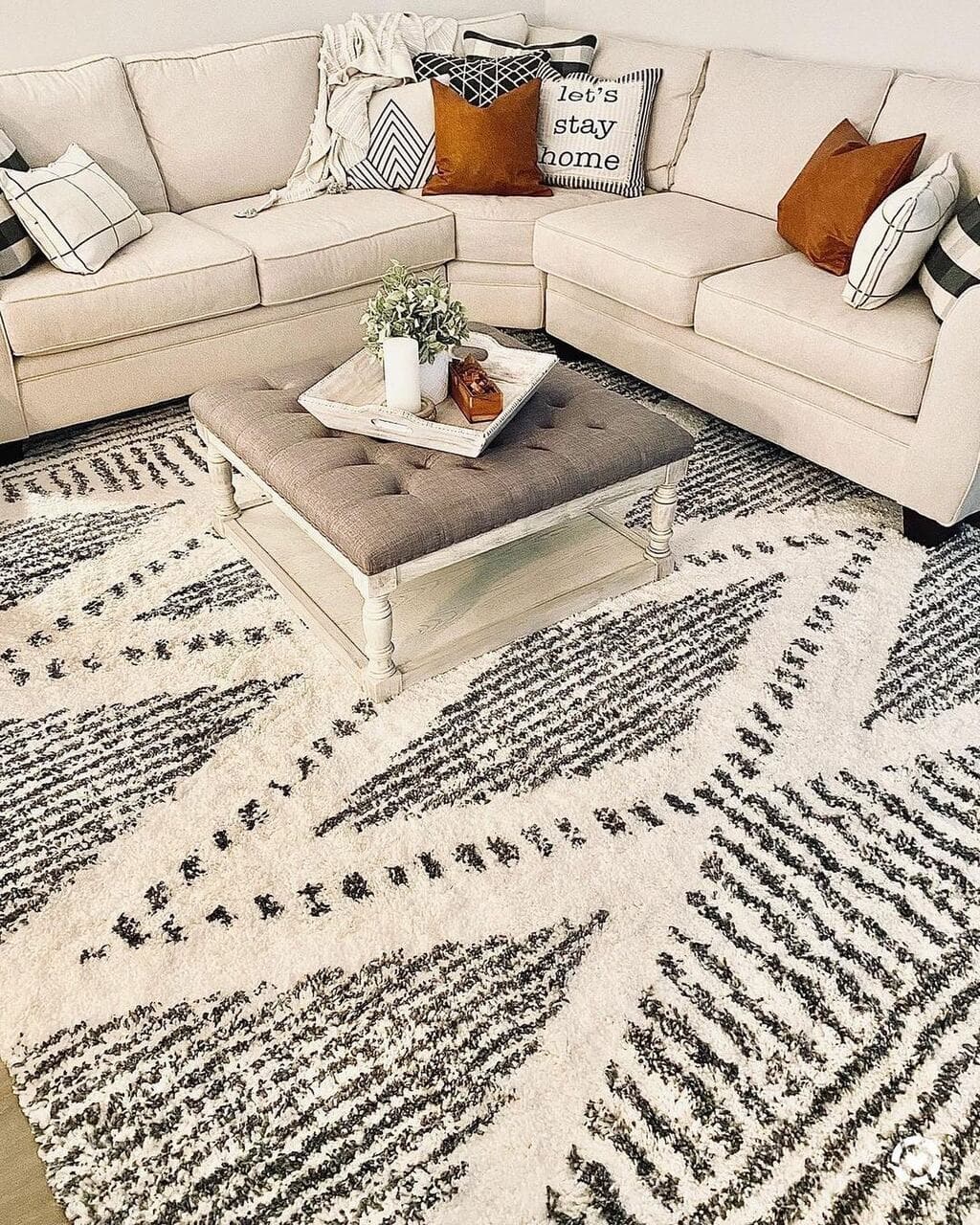 Rug placement in the living room with sectional couches – L-shaped – looks the best when the area rug is underneath and sticks out on either side. If the size of the room permits, you'll need a carpet that's 8′ x 10′ or larger.
If you have limited space, you can choose a smaller area rug to cover the ground in front of the sofa but doesn't extend underneath it. You can also use a round rug with a sectional sofa.
Octagonal – Odd Shape but Beautiful Look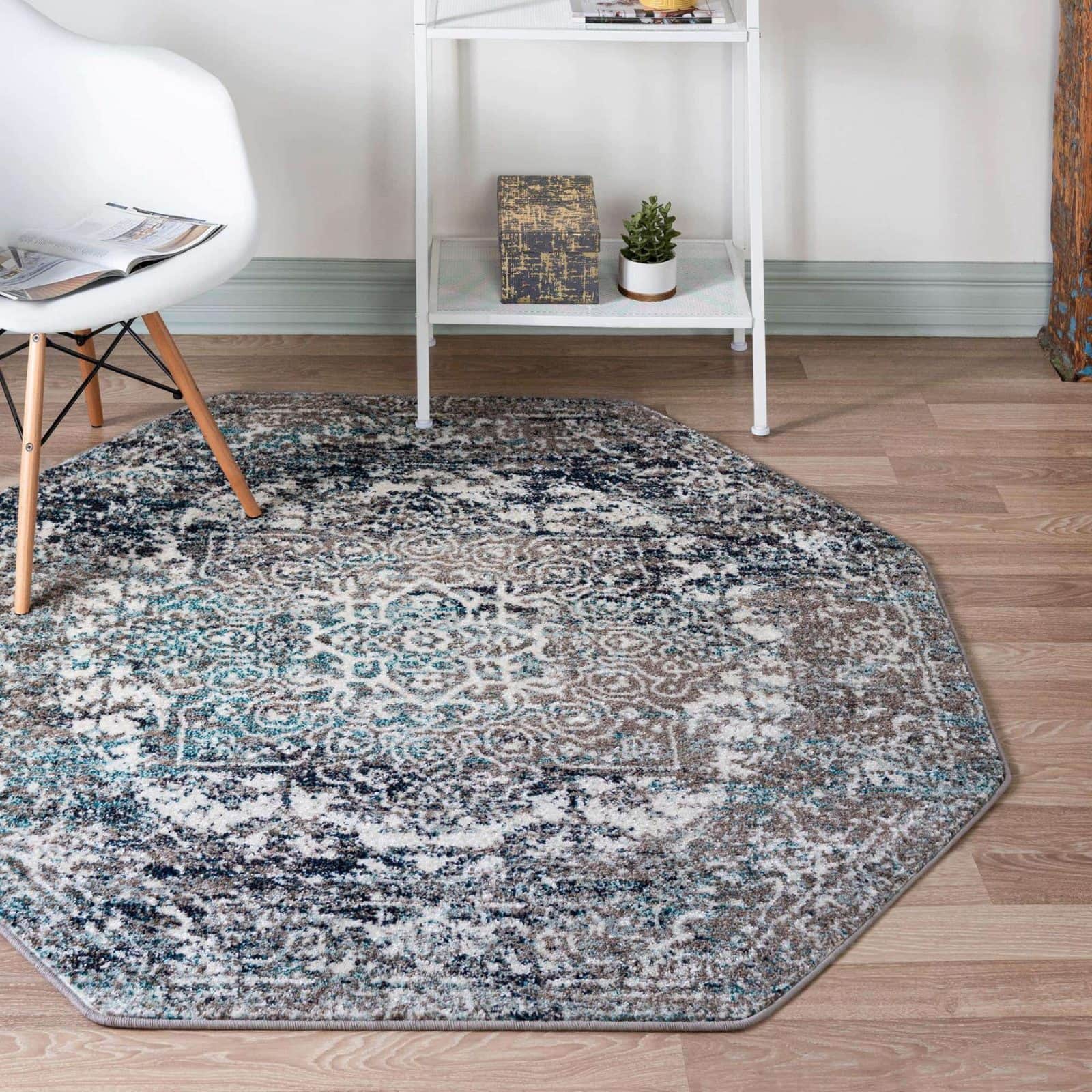 Another choice for rug placement in the living room is to pick an area rug shaped differently than the standard rectangular (or circular) that we normally expect.
An octagonal-shaped area rug like this one (5′ x 5′) is perfect for creating a stylish yet intimate small sitting area. It could also be a great solution in front of a sectional couch or for living rooms with little space (7'10" x 7'10").
Round on the Ground – What a Way to Go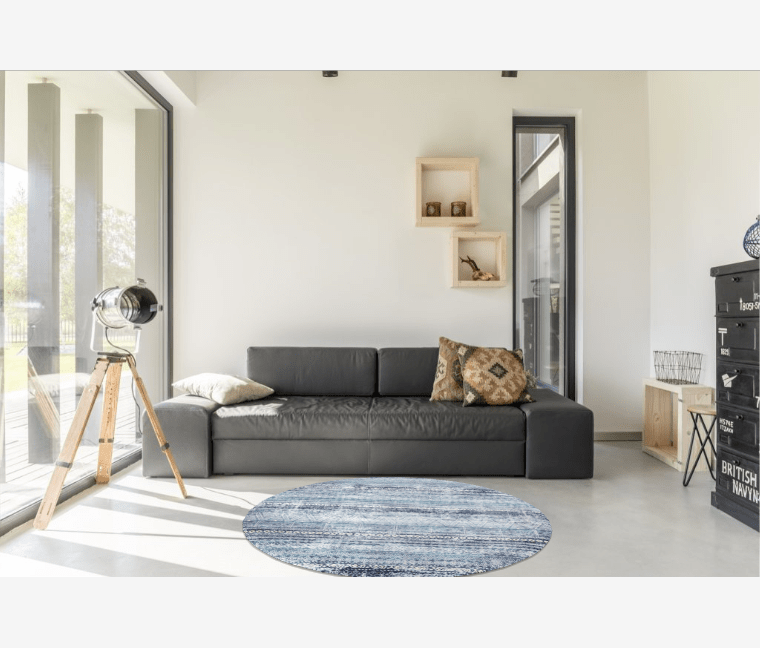 You could also toss tradition out the window for something more modern and intriguing, like a circular area rug, like this 5′ x 5′ Malibu.
You can use a round rug with sectional sofas as an anchor for a coffee table in front of a regular couch. Or for creating a cozy sitting nook in front of a bay window or fireplace.
Traditional and Trendy – Make this 5'7 Work for Your Small Space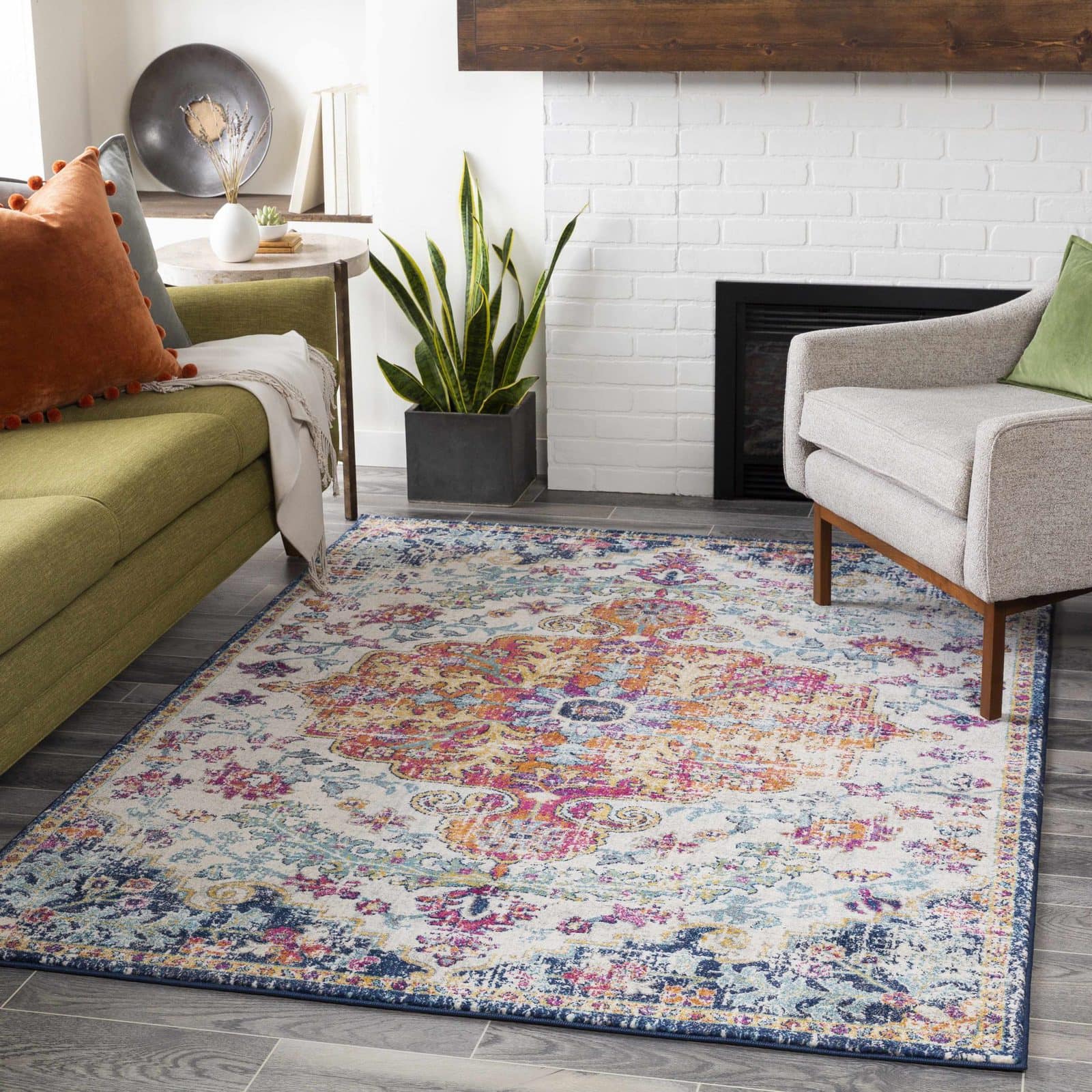 If you like sticking to the traditional route, nothing is more impressive than a standard rectangular rug in a floral medallion print and bright colors (distressed to look authentically antique).
Using a rug with a lot of colors gives you greater freedom when choosing accents for your room. But all of this color can look too busy in a large print, which is why we love it as a medium 5'7 rug in the living room.
Getting Busy on the Block – It's Good to Be Square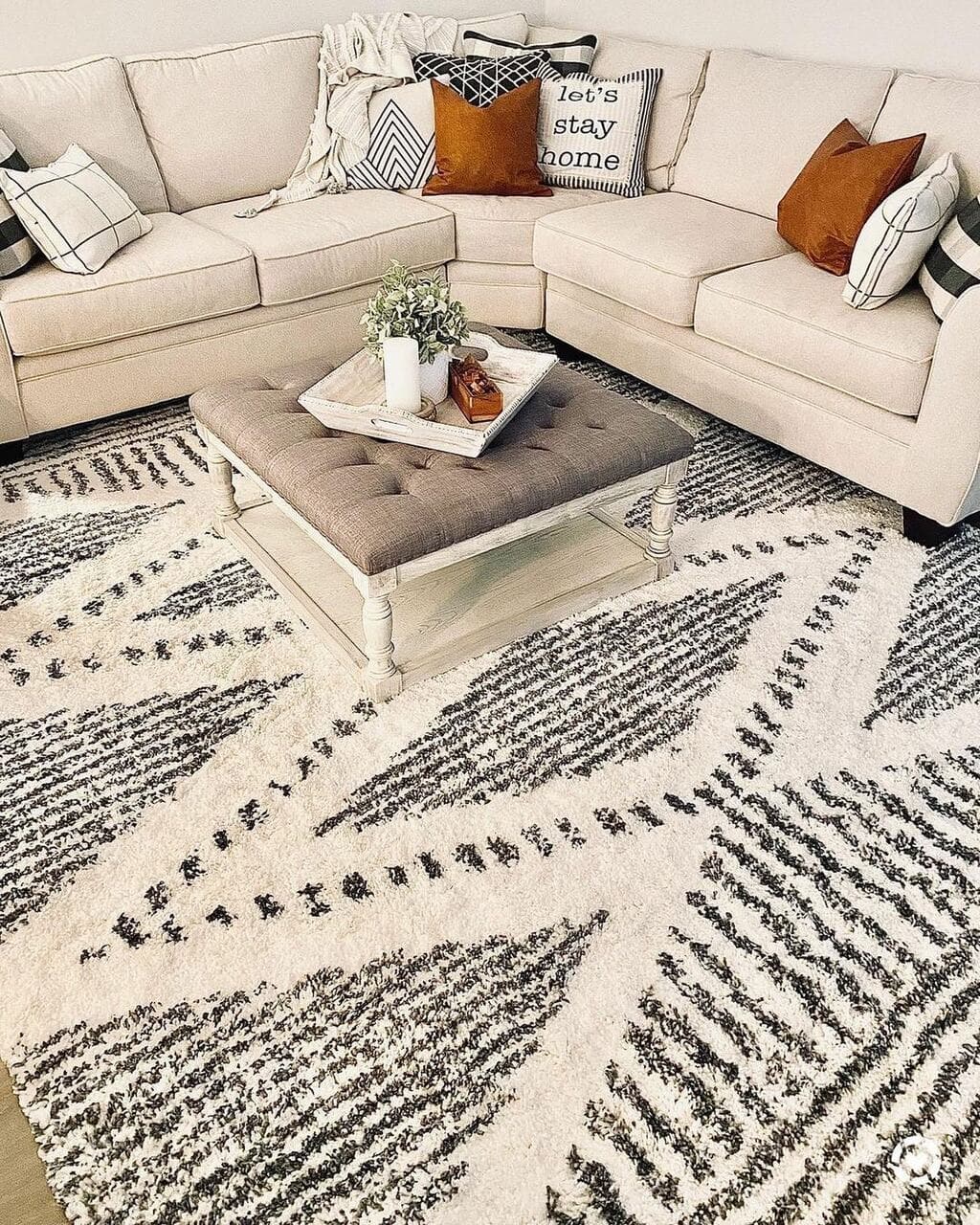 If you have a limited amount of floor space to cover that's not shaped properly for a rectangular rug, think about jumping on board the square train.
We can't get enough of this plush area rug in a 7′ x 10′ square shape. The soft gray color gets lightened by the bright white print that transitions from stripes to geometric diamonds.
Add this Mega Medallion Motif for Modern Mix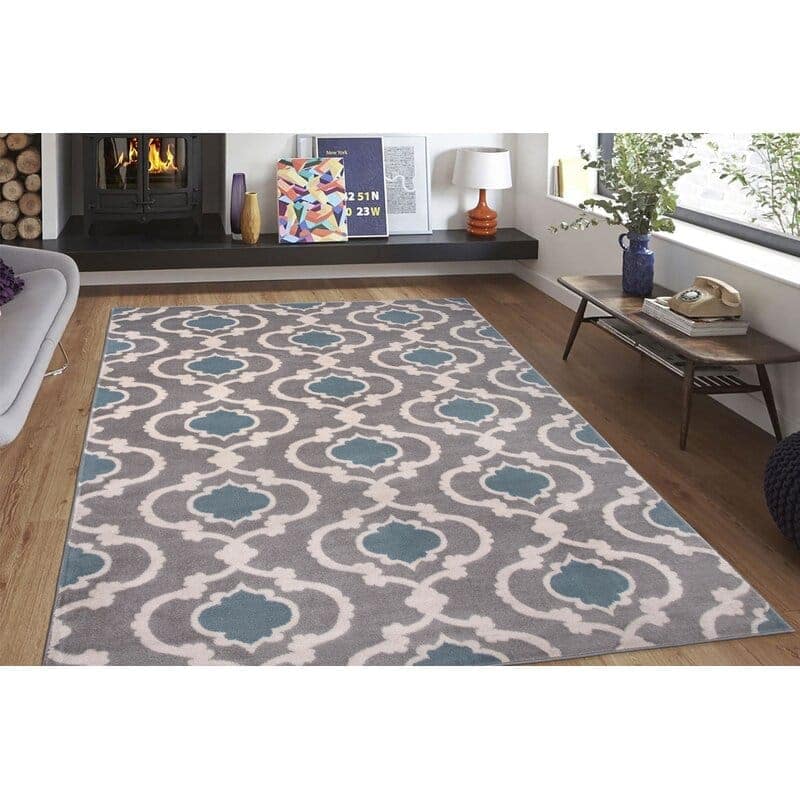 Area rugs with a simple yet stylish medallion motif can give your living room a major upgrade. Whether you go with a large print for big living rooms or a small block square or circle for smaller spaces, it looks great.
This area carpet with a dark gray base, white motif outline, and solid teal-colored emblems works for boho, modern, classic, or traditional designs. But you can also get this area rug in a delicate yellow motif pattern.
Obviously Obsessed with Braided Oval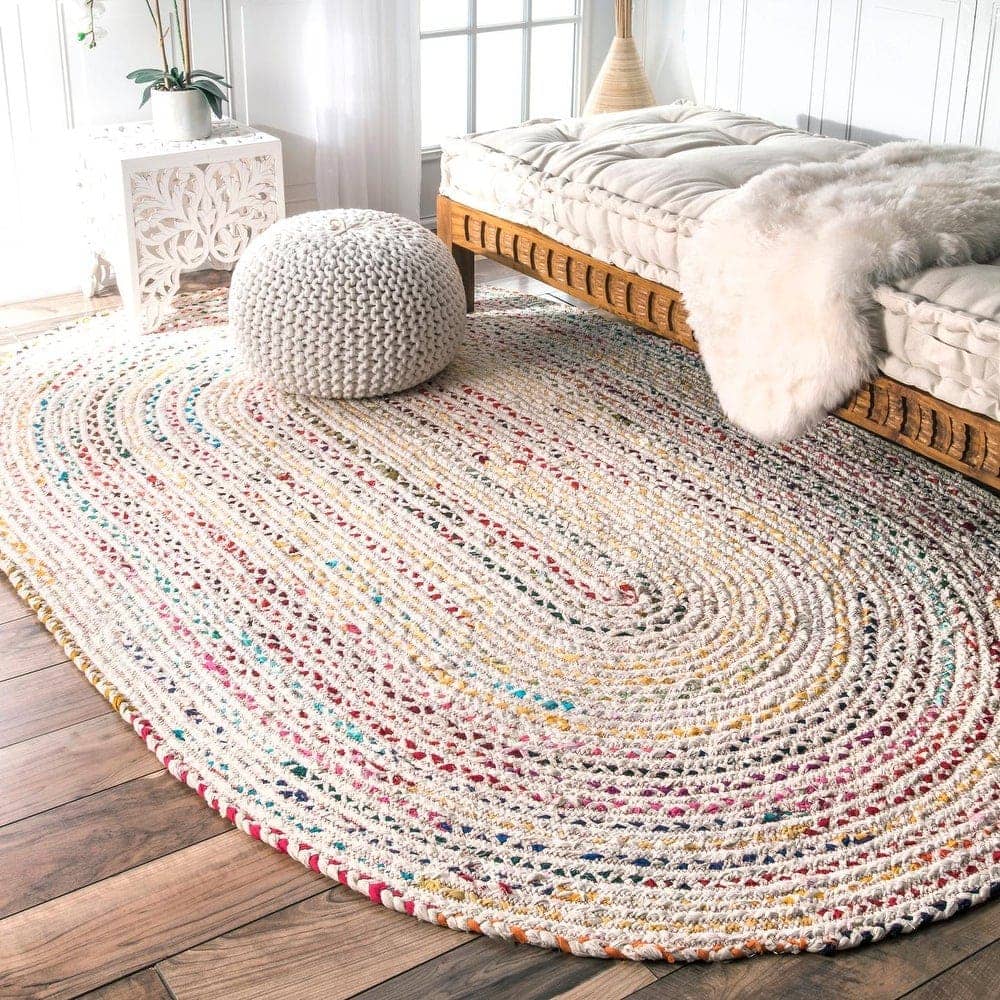 Who wouldn't adore this braided area rug in front of their sofa? The soft multi-colors give this rug a homey and Boho feel that makes color coordinating a breeze.
And the oval shape gives this piece a unique look that's different than a rectangular rug. You can use this braided carpet in various sizes to go for any style of furniture or space size.
Expert Tips for Picking the Proper Size Rug
If you're unsure of the size of your room or the space you're trying to fill, it's always best to get a tape measure and take accurate measurements. At a minimum, you'll need to know the length and width of the room.
And before you buy a rug, you can visualize how your room would look using tape or a sheet. It's important to try different sizes in your room to see which one looks best.
You can use painter's tape to mark out how your rug would look on the floor. In addition, it's an excellent idea to use different colored tapes to test how carpets would look at various sizes simultaneously.
If you don't have painter's tape, you can use a sheet to mimic an area rug. Fold the sheet into different sizes that you put on the floor to visualize better how each rug size will look.
And if the unfortunate happens and you end up with a rug that's too small for your space, you can make it work by layering it over a larger natural rug.
In Closing – Rug Size Matters
When trying to pick a rug for your room, the first thing you'll want to consider is the size of the space you'll be covering. An area rug that's too small in large spaces can look misproportioned, while a rug that's too big can create tripping hazards or make your rug look like a carpet.
Standard-sized living rooms usually require an area rug that's 8′ x 10′ or 9′ x 12′ in size. But in smaller spaces, the carpet may need to be 6′ x 9′ or 5′ x 7′ or even a different shape than the standard rectangular.
We've shown you twelve ideas for what size rug to use in your living room, including rugs that are large and small, rectangular, square, and circular.