White Bathrooms with Gold Fixtures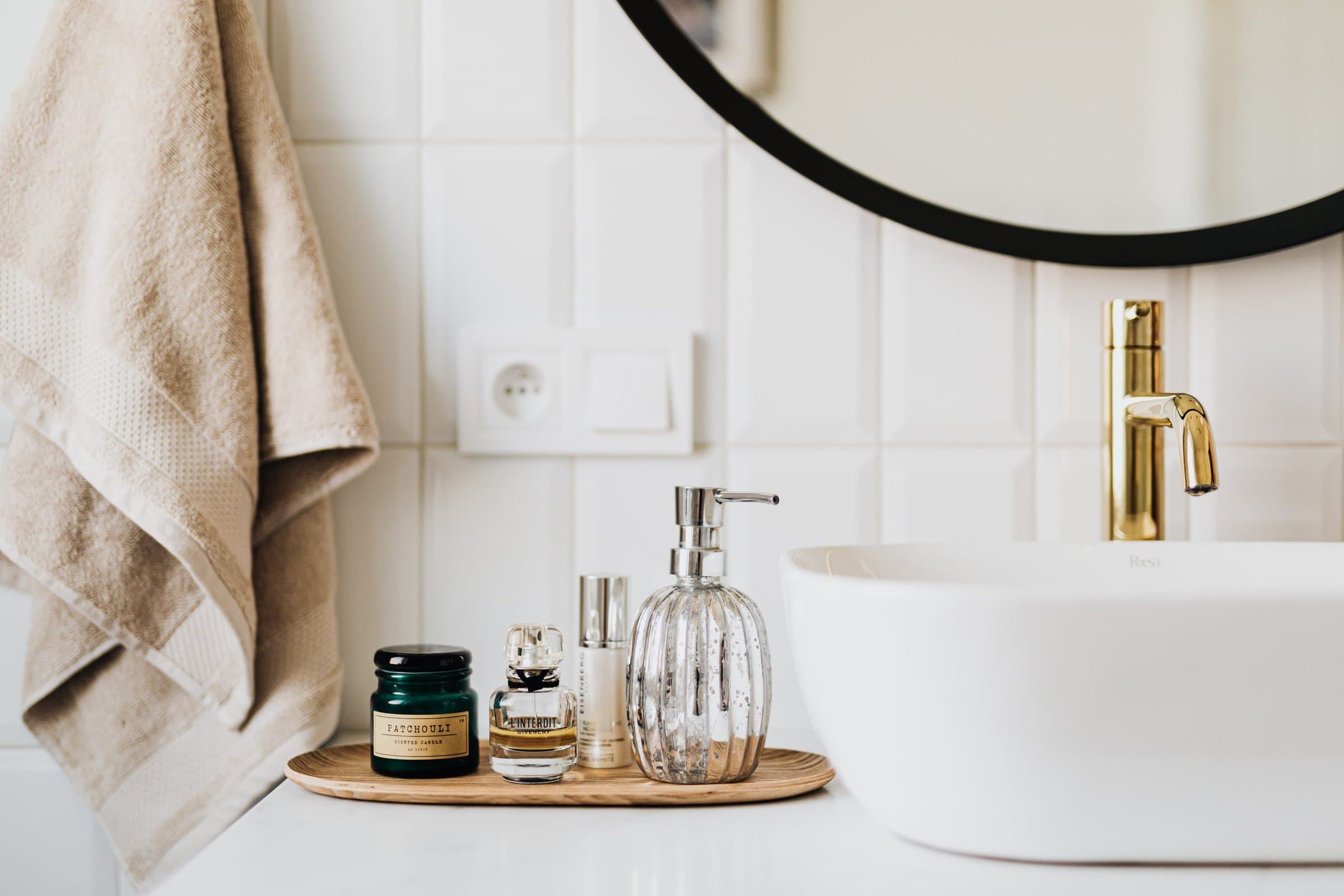 One of the hottest trends in bathroom design right now is to finish white bathrooms with gold fixtures, like faucets, handles, shower heads, and more. This luxurious look is a great way to add a touch of glamour to your space, but how do you balance the white and gold elements in a classy way?
Keep reading for some white bathroom with gold fixtures ideas that will have you inspired to give your own bathroom a glitzy makeover!
Classic Marble Finishes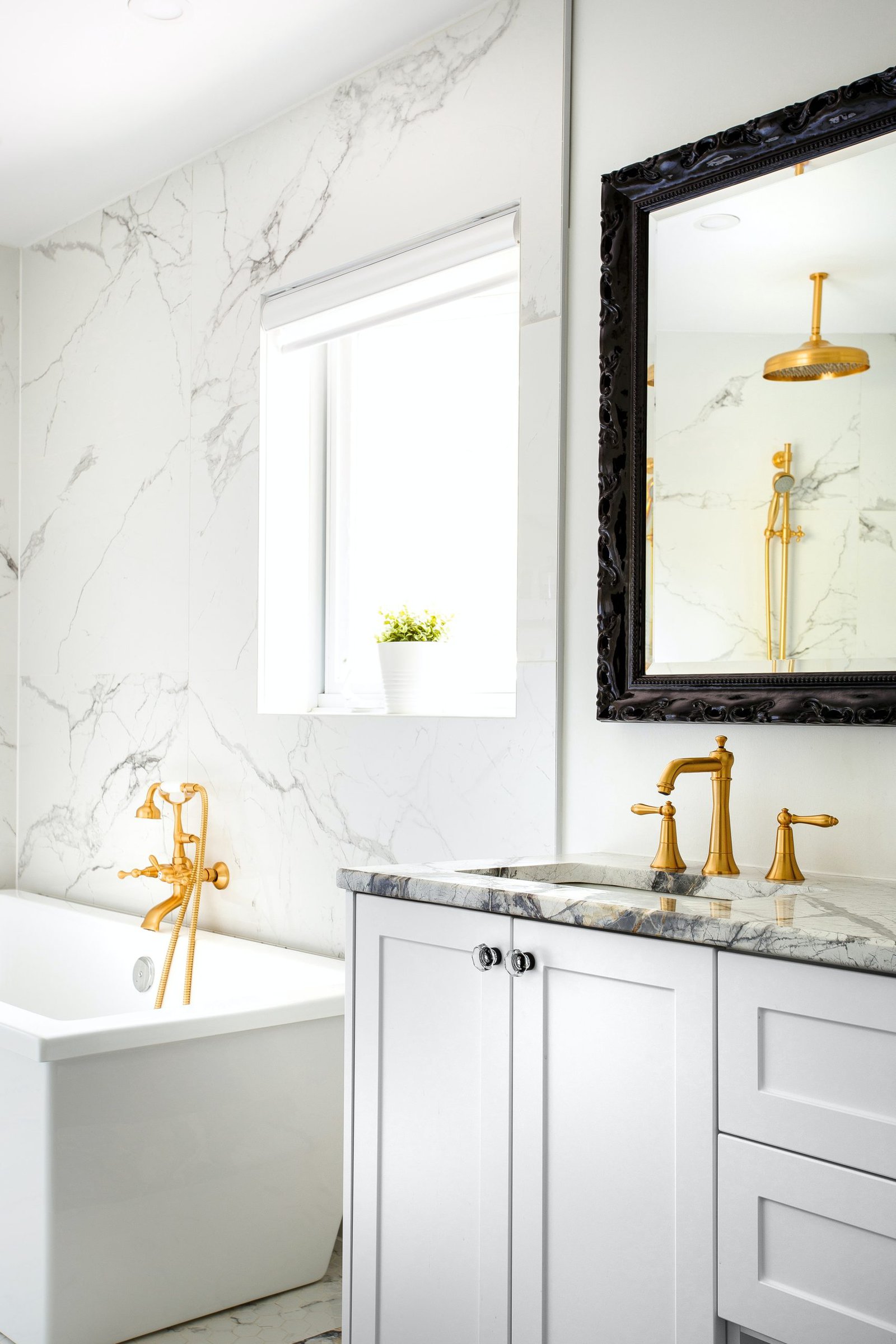 White and gold is a classic and elegant color scheme, but it can come off a bit tacky unless you use the right patterns, textures, and finishes in the room.
When you've got a white bathroom, one surefire way to give it a luxurious lift is to choose marble finishes. You can add marble to your bathroom in a variety of ways, from bathroom vanity sink tops to shower and floor tiles.
Marble can be very pricey, so if you're on a budget, use it in small amounts to accent the rest of your white bathroom. Or, if you're looking to make a bigger impact, try quartz for a more affordable marble look.
But marble can be a little distracting and busy in some bathrooms, so make sure that you choose a pattern that is mostly white with subtle black or gray veins running through it.
Fresh Florals
White bathrooms don't have to be solid white—instead, why not substitute your plain white walls for a stunning floral wallpaper? This look elevates your white bathroom and gives it a bit of color and movement, without taking away from the gold fixtures.
Black and white is a classic color combo that pairs beautifully with gold, so a delicate black and white floral pattern will blend seamlessly into your bathroom design without distracting from the clean white look of the room.
Since the wallpaper or mural will be very eye-catching, choose simple, modern fixtures in antique gold. They should have a streamlined shape with very little ornate detailing, so that the room doesn't feel cluttered or dated.
Finally, you don't have to go for a black and white pattern if that's not your thing—instead, consider soft pastels like blush or light blue in your floral pattern to keep the space bright and airy.
Go for the Gold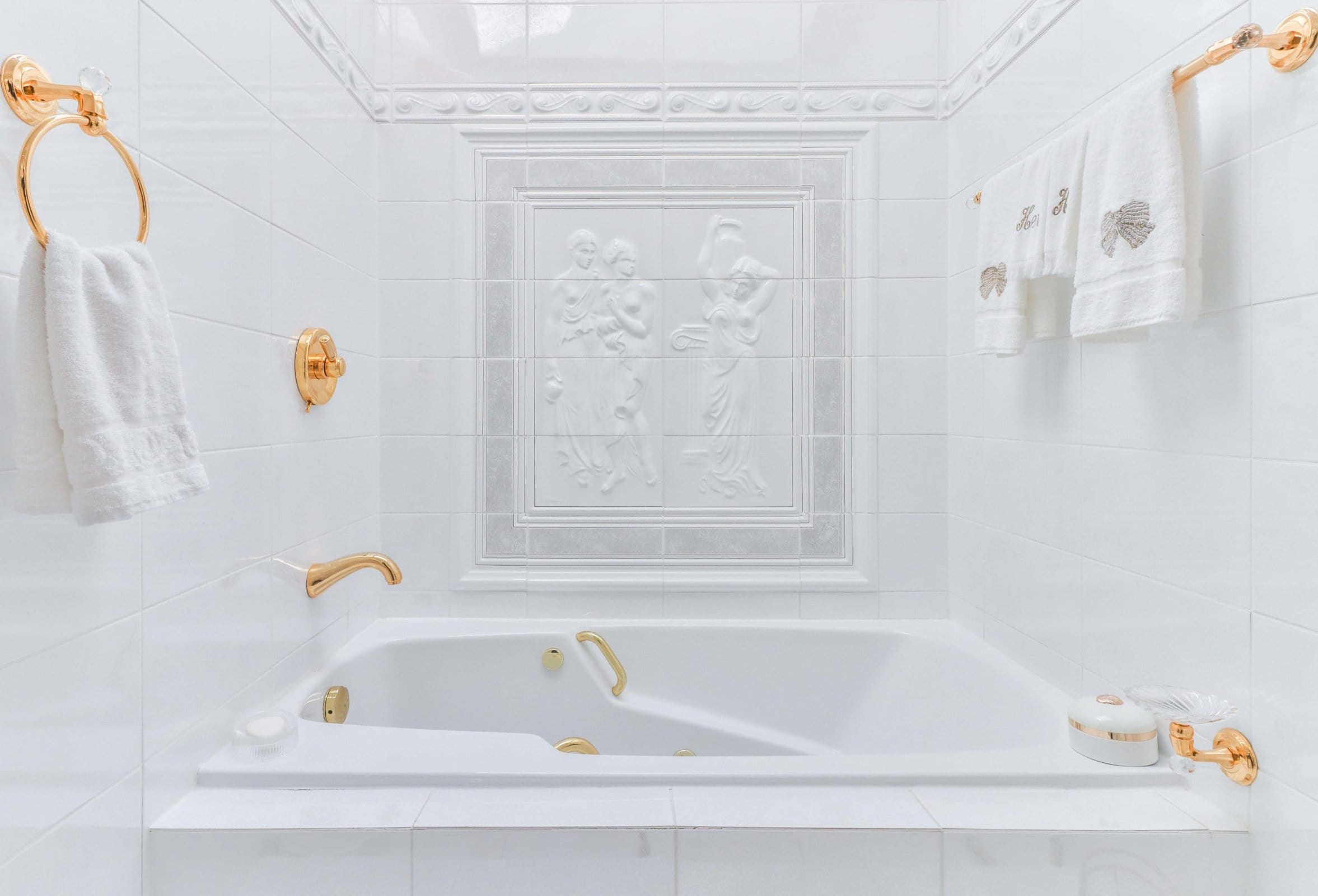 One of the reasons that gold fixtures work so well in white bathrooms is that the gold pops out against the clean white background in an interesting way. If you're looking to make a huge statement in your bathroom, keeping it simple is key.
A plain backdrop like white subway tiles is a great place to start—it's got texture, but no color. Adding bright yellow gold fixtures to a white backdrop like this will bring in an exciting pop of color and glam, without overdoing it.
A tile mosaic against your bathtub wall, done in all white, may be a great way to add some visual interest without distracting from the bright gold fixtures. It will also give your bathroom a bit more of a luxurious feeling.
Glass Shower Doors
It's all well and good to install white flooring, white shower tiles, or white bathroom furniture. This will create a bright and airy room that allows for lots of natural light.
But if you really want to allow light to bounce and move through the room, and in turn reflect on the beautiful gold fixtures in your bathroom, you need to make sure nothing is blocking the light.
How do you do this? For one, make sure that you don't use a shower curtain or heavy shower door. Instead, opt for a glass door with minimal hardware.
It may seem like such a simple tip, but when you open up the space with a glass door, you allow the light in your bathroom to shine more clearly and more freely, and it makes your white bathroom feel larger, brighter, cleaner, and more luxurious.
Marble and Mirrors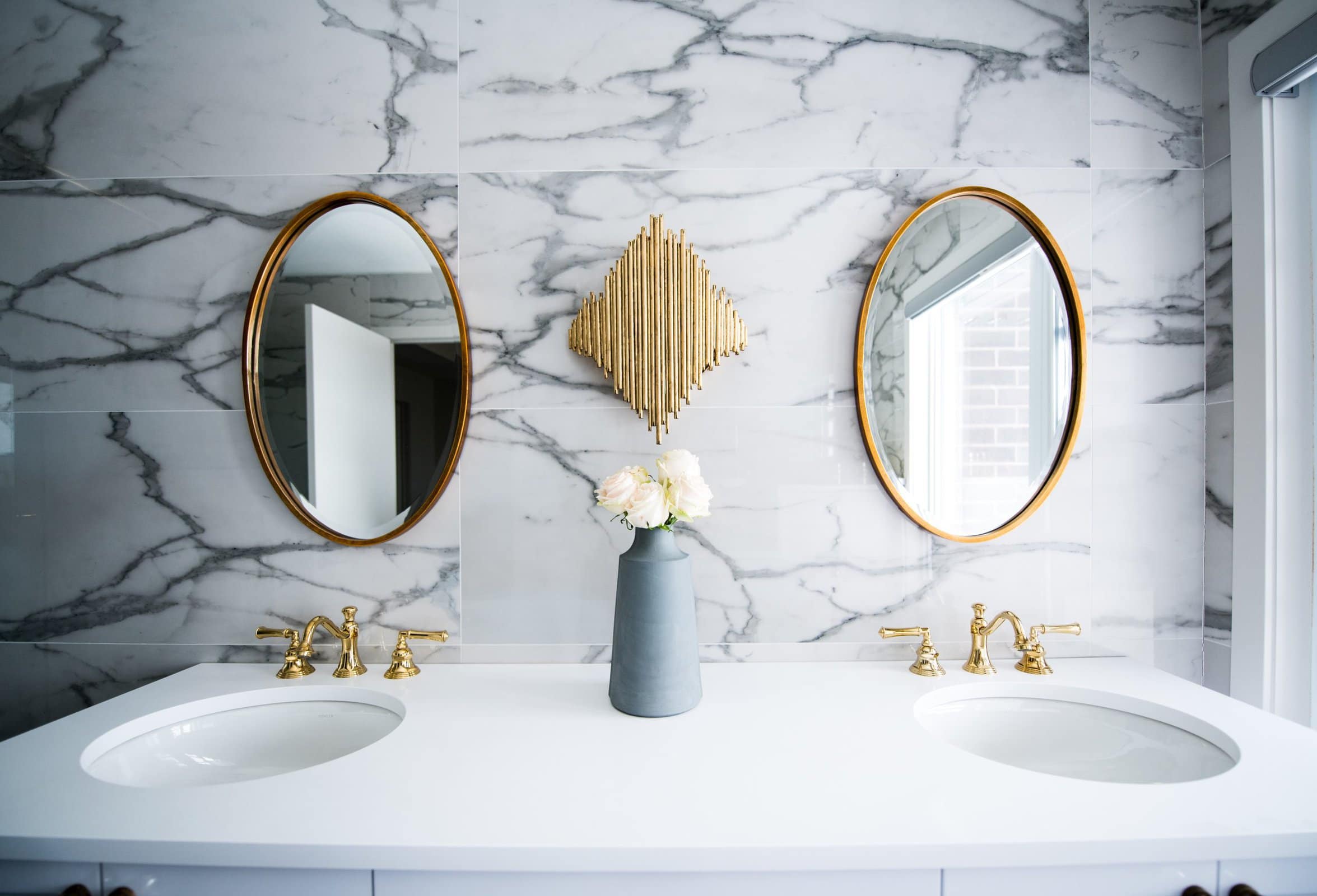 When it comes to bathroom fixtures and decor, mirrors are often left to the last minute. But that shouldn't be the case—after all, you spend a good chunk of your bathroom time looking at or in the mirror!
If you've got white patterned tiles on your walls, or maybe a marble background, like in this example, then a simple gold mirror (or two) can be the perfect addition to a glamorous and opulent bathroom.
Make sure that your bathroom mirror is simple; a minimalist circle, rectangle, or oval shape is all you need. If it's too opulent then it will feel too busy when paired against a marble pattern.
Also, make sure that the gold tone in your mirrors matches your faucets and other bathroom sink hardware as closely as possible; the last thing you want is for the gold tones to clash in a very noticeable part of the bathroom!
Mix and Match Materials
So you're looking to create a beautiful white bathroom with lots of gold fixtures. But does that mean that you can't introduce any other color or material into the space?
Of course not! White bathrooms are the perfect backdrop to introduce a variety of decor styles and fixtures, without feeling overwhelming or cluttered.
Consider adding gold faucets and towel racks, and then pairing them against wooden shelves or a black metal bathroom mirror. The effect is more casual and laid-back than a traditional white and gold living room.
To give the space even more of a relaxed quality, add in a few woven baskets or some greenery in a ceramic vase. Just be sure to keep the decor simple and sparing.
Add a Pop of Color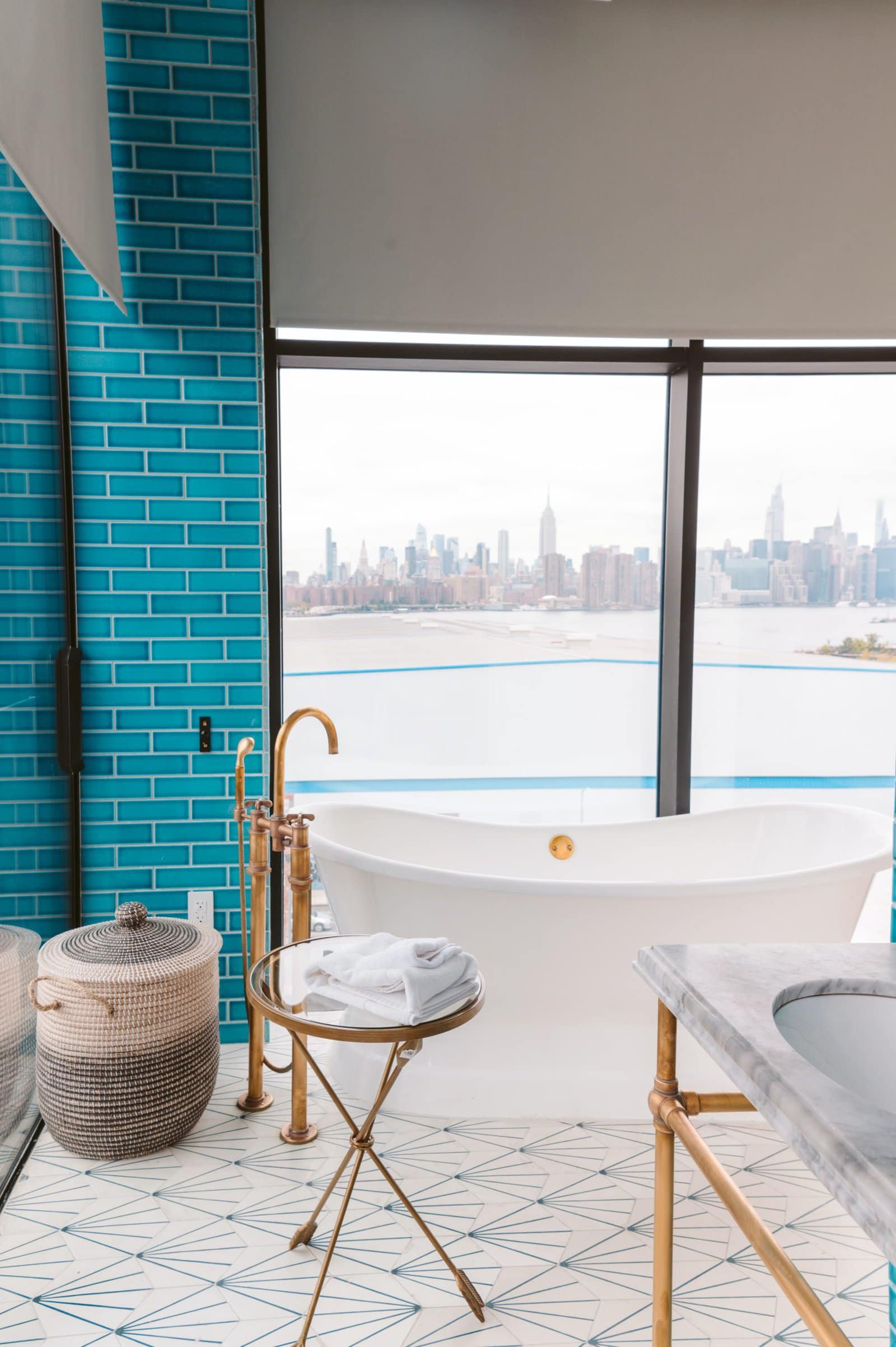 White bathrooms are all the rage because of their simplicity and how they make any bathroom feel more elegant and luxurious. But who says you can't have a little fun with it?
If you've got an area of your bathroom that could use a bit of color, go for it! Adding blue tile along a wall, or painting your bathroom vanity your favorite shade of green can make a big impact.
The one thing to remember is not to overdo it; a touch of color here and there will grab attention and give your bathroom a more custom look, but too much colored decor and your space will start to look a little cluttered.
Get Creative with Fixtures
When you think of bathroom fixtures, what comes to mind? Probably bathroom and shower faucets, showerheads, maybe lighting fixtures or a towel rack.
But there's so many more bathroom essentials that may get forgotten about, when they can have a huge impact on the space's design and the balance of white and gold in your bathroom.
Consider adding gold shelving; be careful though, because shelving that's too opulent will feel heavy and dated in the space. Stick to shelves with a simple, thin frame and glass elements.
Make it Modern
Gold fixtures in bathrooms sometimes tend to be dated or old-fashioned, which is why tones like black and silver have been more popular recently. So how do you make your gold bathroom fixtures feel more modern?
For one, consider the shapes and silhouettes of not just your fixtures, but also the furniture and larger bathroom elements. Start with a modern white bathroom sink that features sharp, angular lines, like you see here.
In your bathroom fixtures, choose minimalist and streamlined pieces that have a very simple shape. Also, choose a softer, darker shade of gold and avoid brassy antique gold tones.
Finally, consider the shape of other elements, like your bathroom mirror or lighting fixtures. They should be as simple as possible, like a sleek gold rectangular mirror. WHen it comes to decor, less is more, so cheese wisely!
Conclusion
There are so many fun and easy ways to dress up your bathroom space when you use gold fixtures in a white bathroom. The end result is glitzy, glamorous, and charming, just like any bathroom should be!
Remember that when you're decorating a white bathroom that simplicity is key; it's all about allowing those special elements, like the gold fixtures, to stand out and shine. So don't overdo it with too much added color or patterns.