Decorated Life is reader-supported. When you buy through links on our site, we may earn an affiliate commission. Learn More
15 Accent Chairs That Go With Brown Leather Couch
Pairing your brown leather couch with an accent chair may seem daunting and challenging – however, it's truly not. Even though browns are comparatively difficult to deal with, you can always play creative and imaginative. Generally, it's very common for homeowners to get caught up in this dilemma since the leather couch is such a popular option for the living room.
So, here is a list of the best colors and styles to take inspiration from. From off-white to gray, black to teal, and multicolored to patterned – it's time to let the creative juices flow and design a unique haven for the living room.
Pari Rattan Chair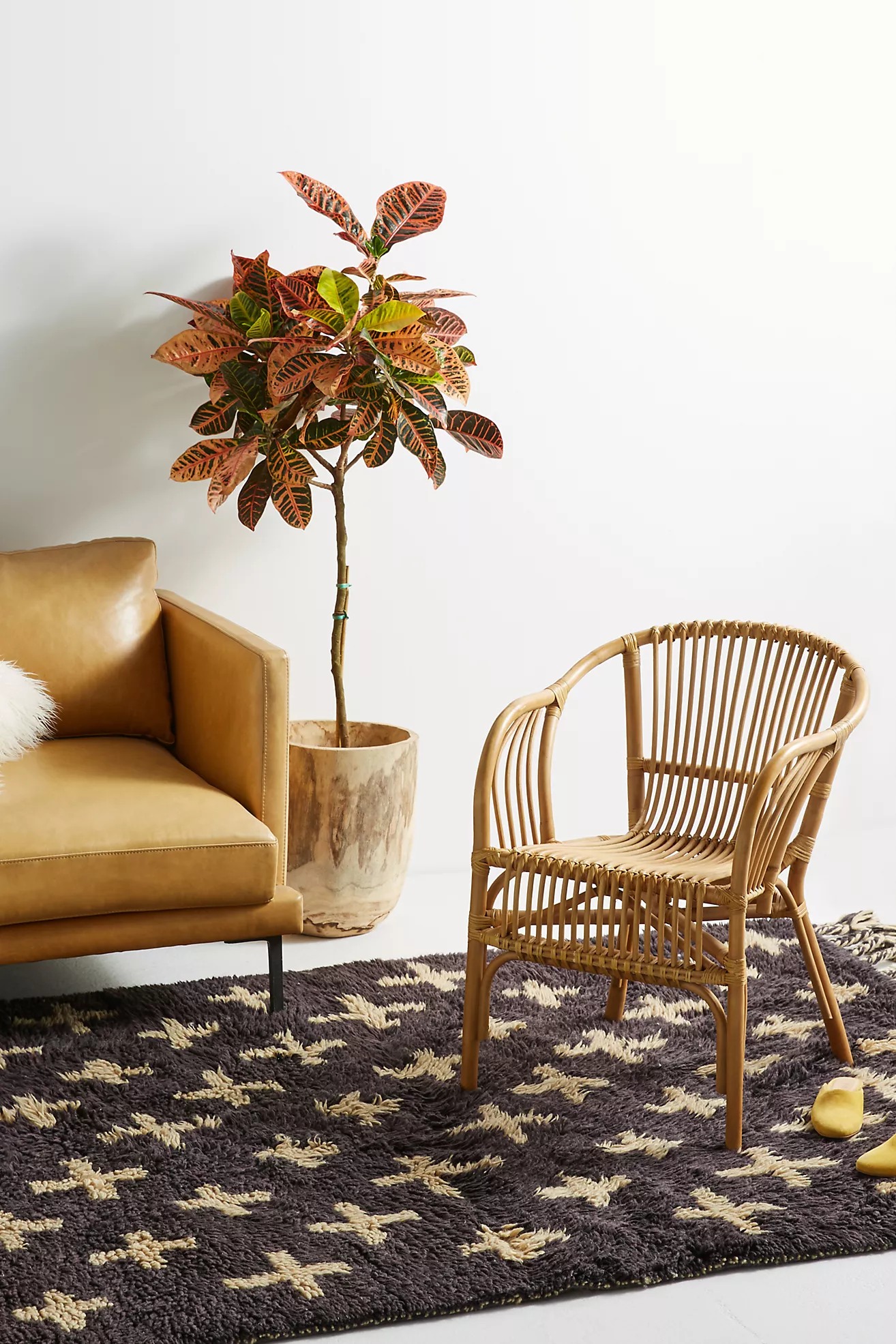 Composed of naturally durable rattan reeds, this classic chair defines an authentic British Colonial style. The neutral-toned hue makes a subtle addition to the existing leather couch without overpowering the room. And it's also suitable for smaller living rooms since they don't take up a lot of space.
Hence, if you don't want a bold, saturated, or loud living room space – this accent chair for a brown couch works the best.
Multi-Colored Kantha Chair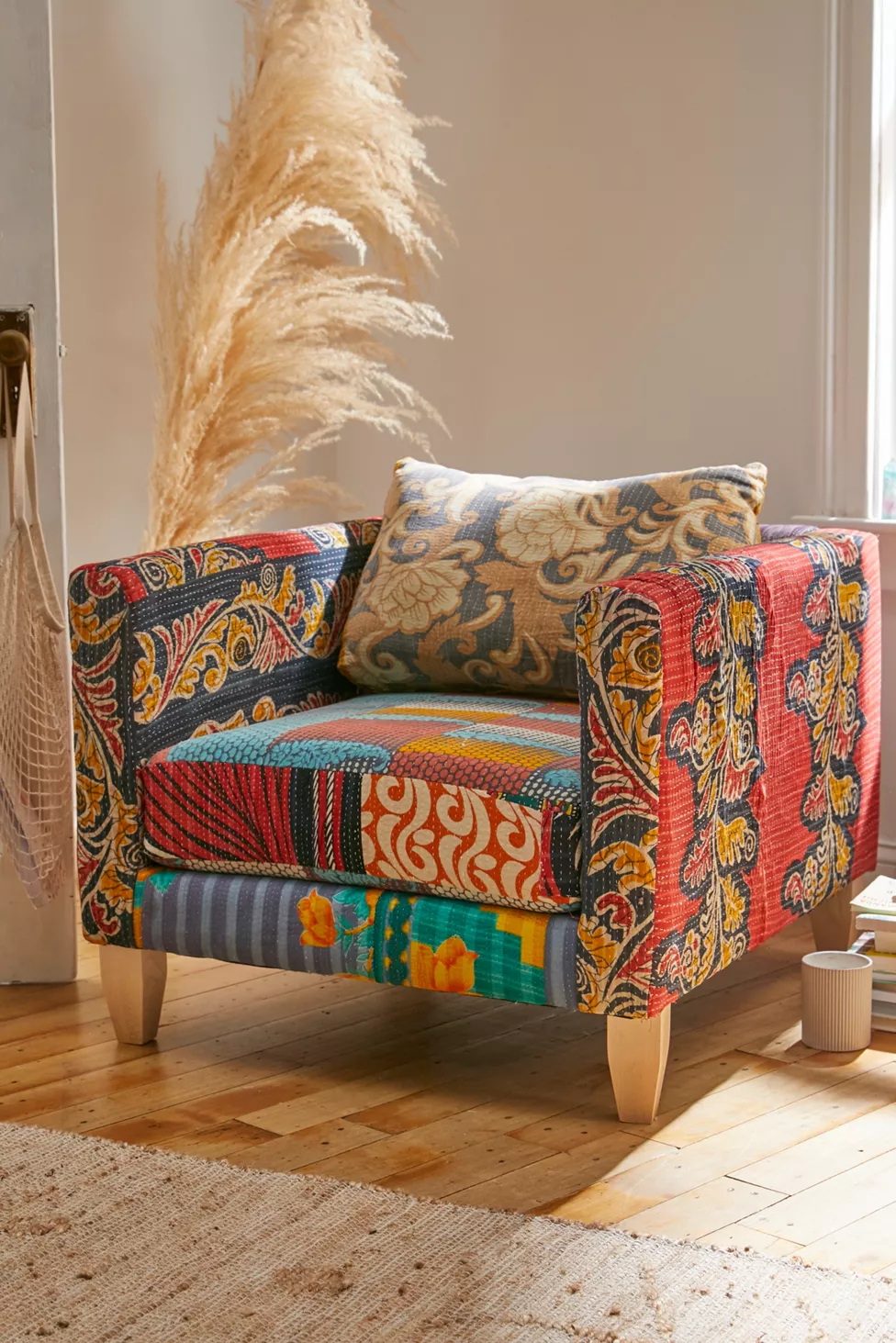 The brown color is a strong, warm-hued tone. And to best complement and create a contrast, you can pair it with a multi-colored chair that exhibits casual and boho vibes. This one-of-a-kind upholstery will give your living room a stark, comforting, and welcoming vibe.
So, you don't have to give a second thought when pairing the accent chairs to match a brown leather sofa. And this overall backdrop is bound to exhibit a playful and fun-loving vibe.
Taupe Rustic Chair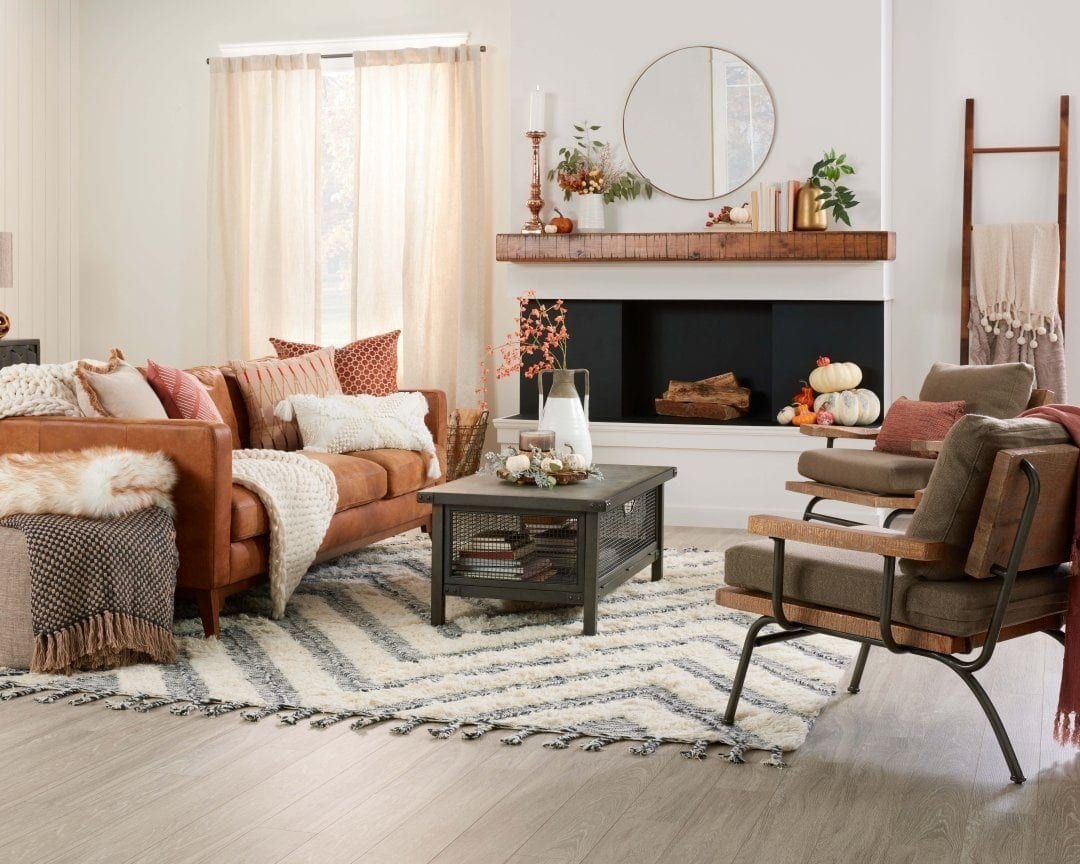 Undeniably, your brown leather couch perfectly complements the taupe accent chair. This makes a great duo in the modern, contemporary, and traditional interior design styles. And since the palette is mainly reigned by a monochromatic theme, you can choose to add a tinge of mustard to further add a sense of interest.
Furthermore, don't hold back from introducing tons of faux and fur for a cohesive experience. It will bind the entire panorama of your living room together.
Patterned Accent Armchair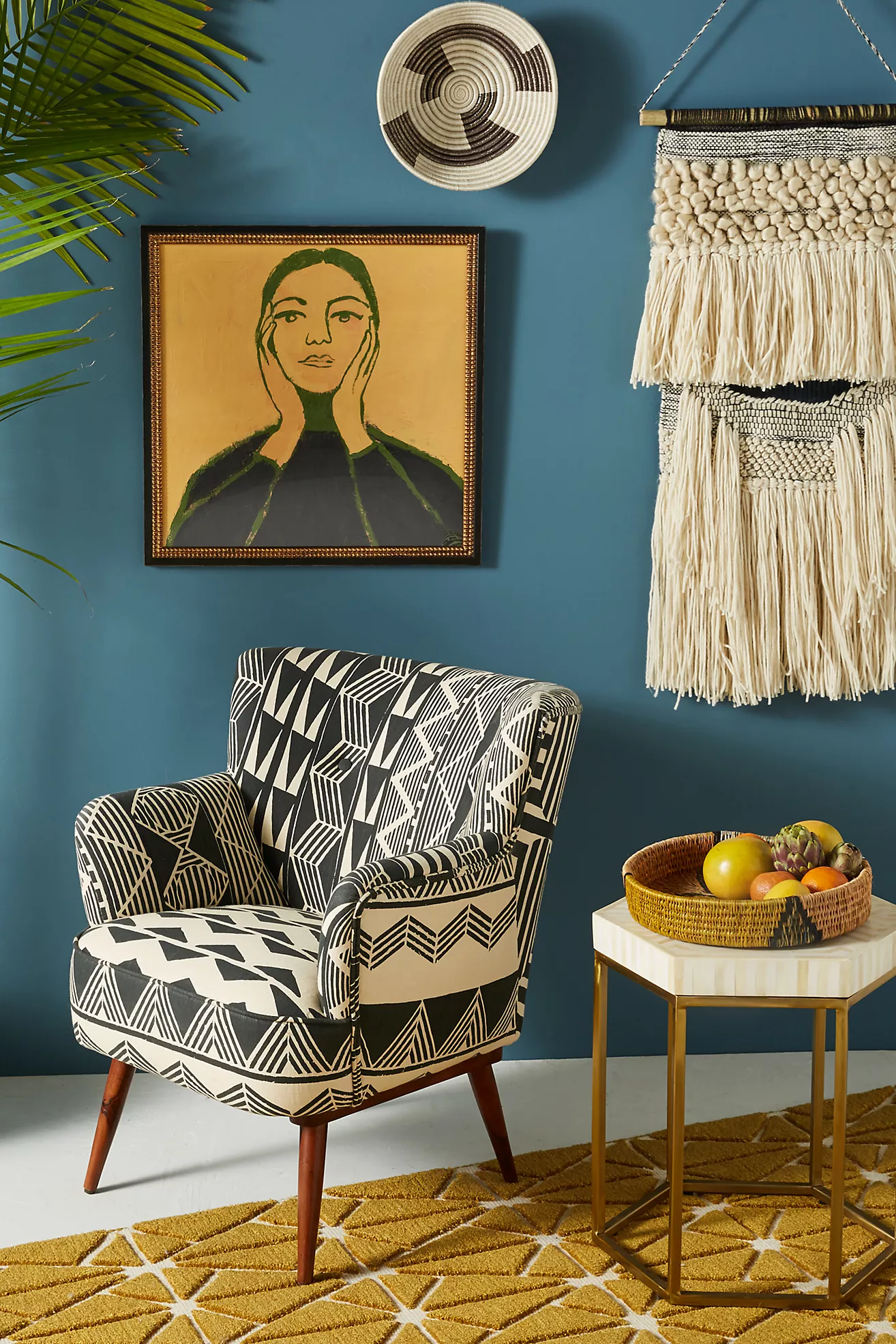 When in doubt, pick Moroccan textiles to add a fun-loving and playful vibe. The dominant black and white color combination in amalgamation with geometric patterns tend to make a modern and contemporary appeal. And it's even recommended for mid-century modern backdrops!
This doable combination will make your brown leather couch a notable submissive decor element. You can further play with textures and brighter mustard and burnt orange to create a stark contrast.
Black Boucle Chair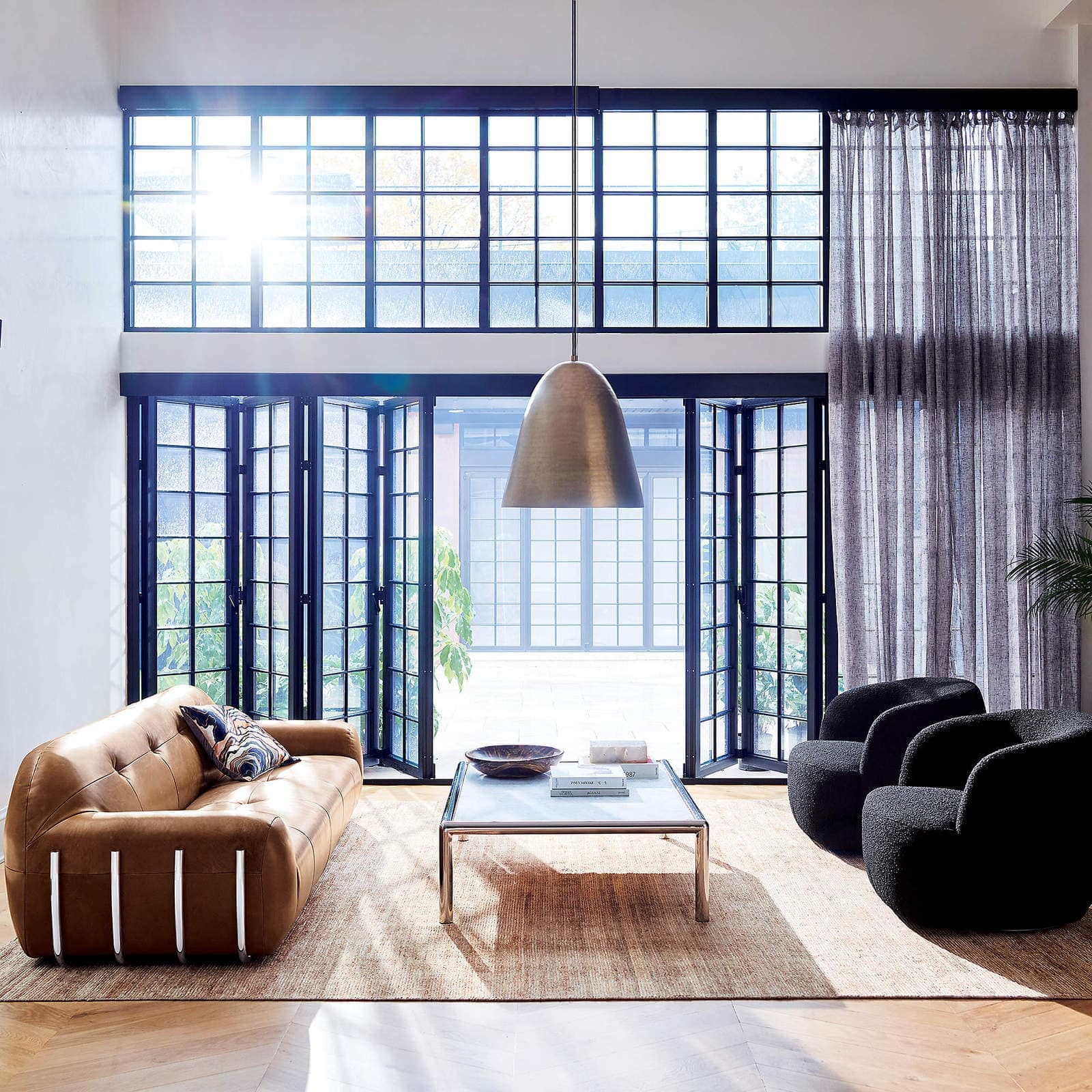 You can never go wrong with a black accent chair to match your brown leather sofa. This duo is assuredly timeless, versatile, and totally modern. Subliming the overall palette, the living room is bound to feel extra delightful and extra welcoming for your guests coming over.
This bespoke accent chair design feels lush and has a rich texture that provides your living room, a chic and breathtaking experience. Worth it, right?
Leather Armchair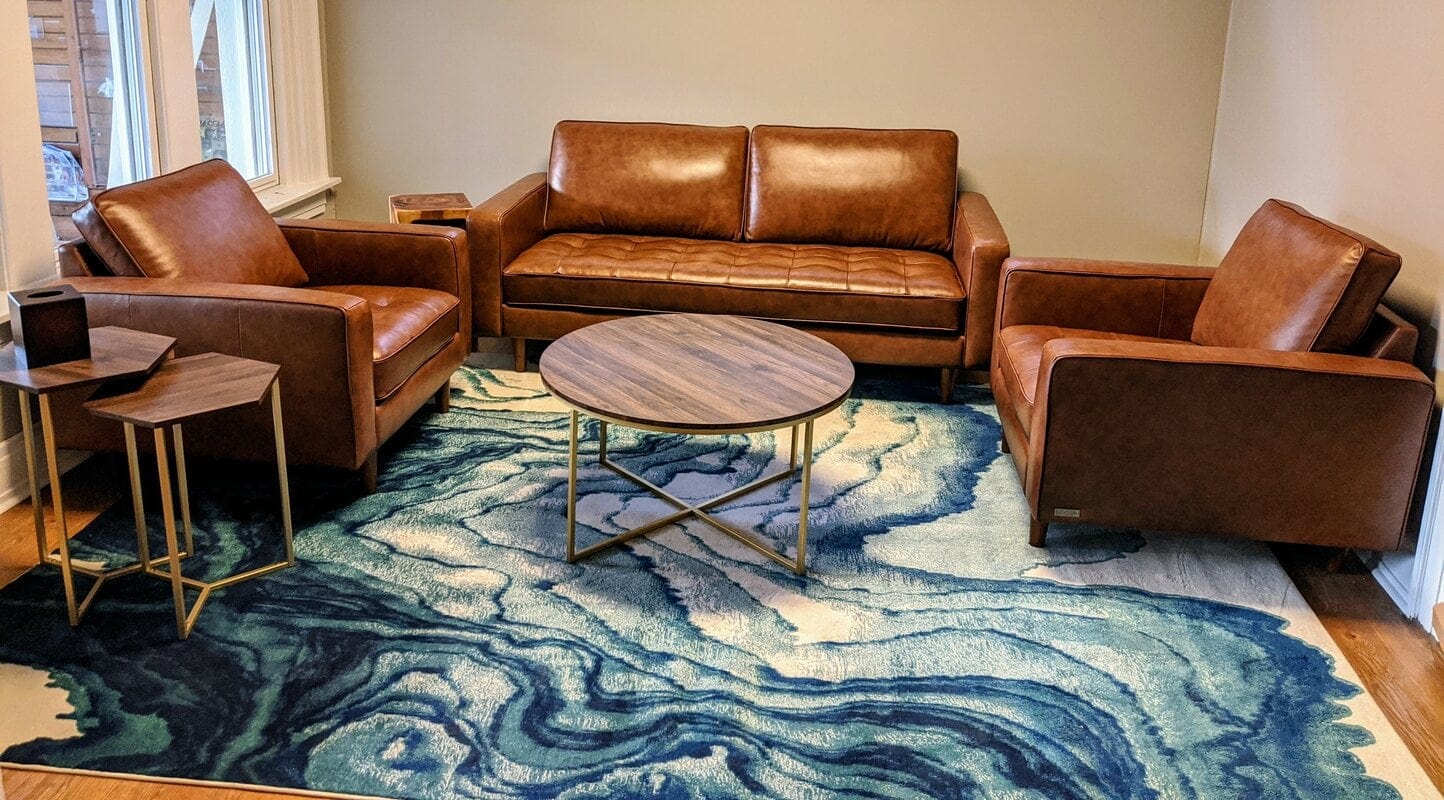 It's time to stay within the same color family. Not necessarily the same tone, but you can also go a shade or two lighter for best results. Generally, the accent chair material could vary from genuine leather to suede, or even linen and velvet. In short, a brown accent chair can very well complement the brown leather chair.
And talking about the brown family, you can even consider pairing the brown leather couch with taupes, darker beiges, greiges, tans, and burnt sienna.
Cream Boucle Lounge Chair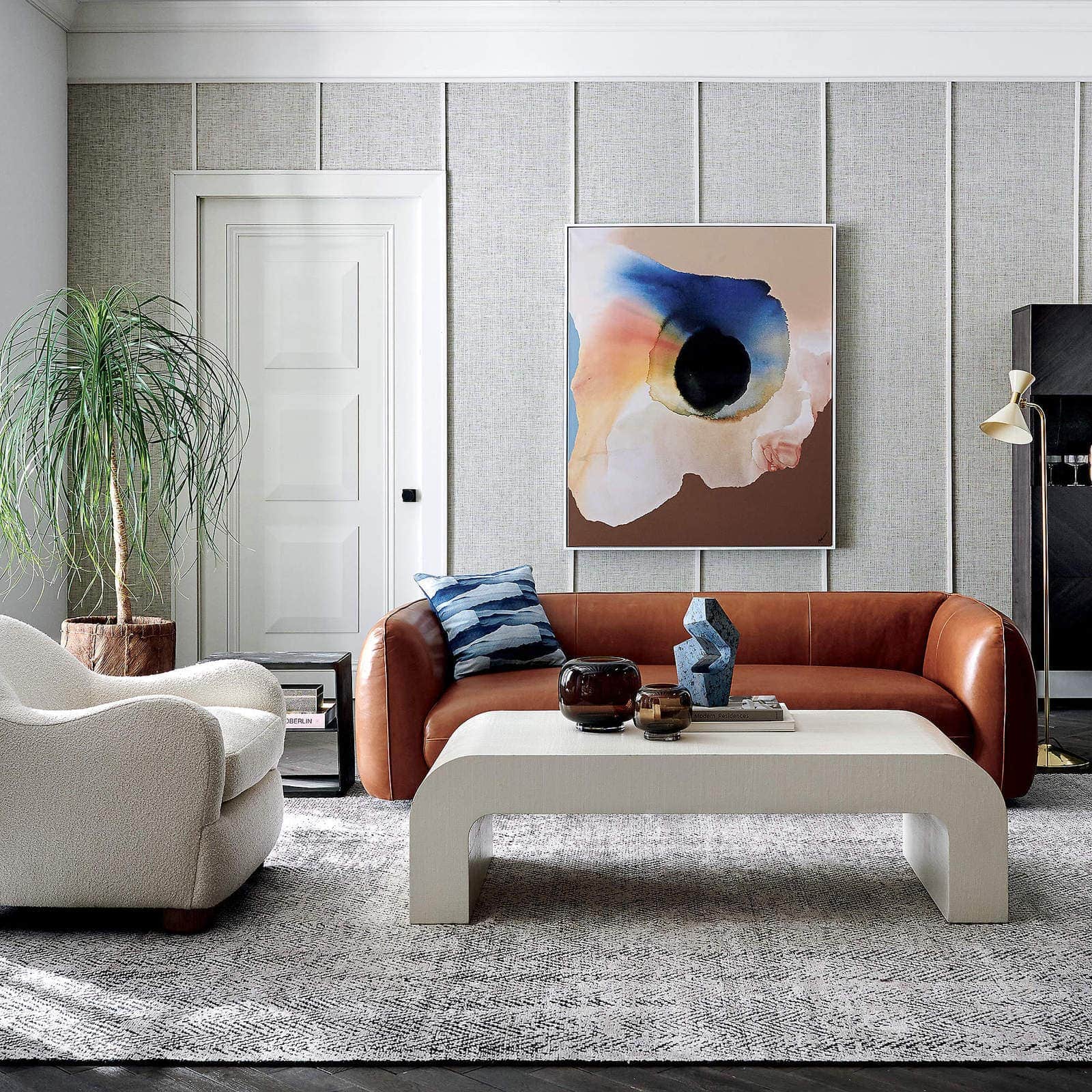 It's time to let the brown leather couch speak loud and dominant. And one of the best ways to achieve the desired look is by simply pairing the cream or off-white accent chair with the brown leather couch. You can further foster balance in the room by placing tones of gray as a base in the form of rugs and curtains.
This is also suitable for smaller living rooms where you desire to use a leather couch. Also, don't ignore the shades of blue stealing utmost attention.
Prussian Blue Armchair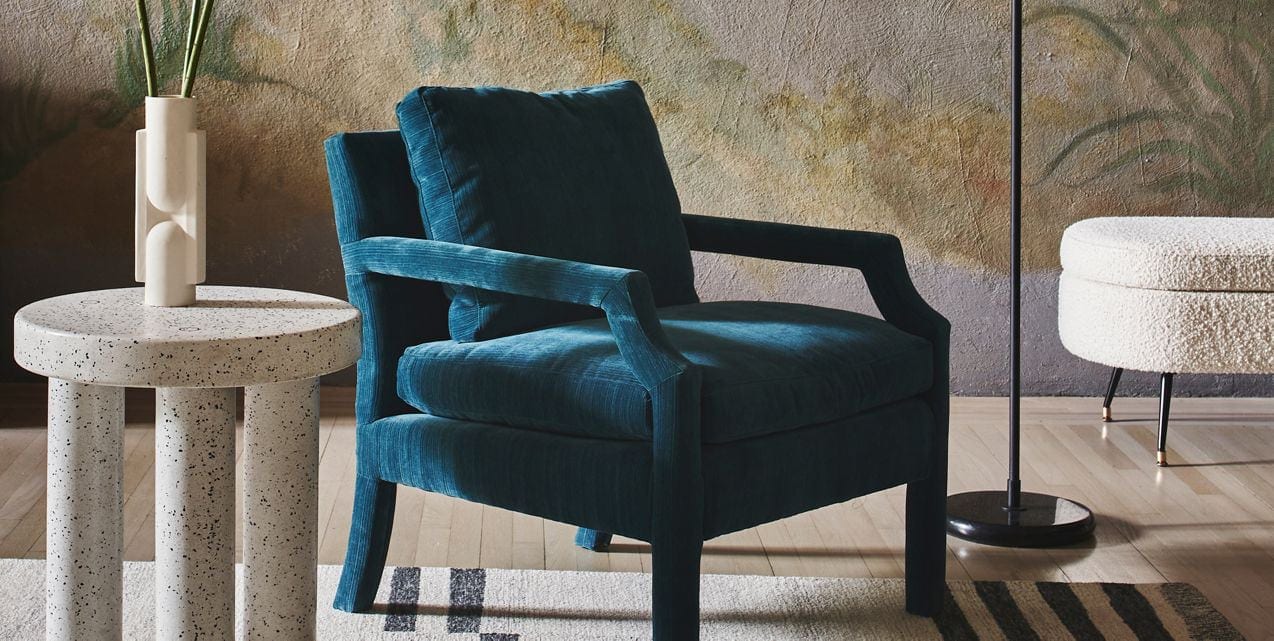 With the ample warmth in the living room, it's time to pick a cool-hued Prussian blue that plays eccentric, eclectic, and contrasting. Generally, this particular tone best complements the medium shade brown leather couch – but if you want, you can also pick a pastel blue to pair.
Apart from this blue, you can also choose from peacock blue, sky blue, turquoise, navy, and cobalt blue.
Dark Green Swivel Chair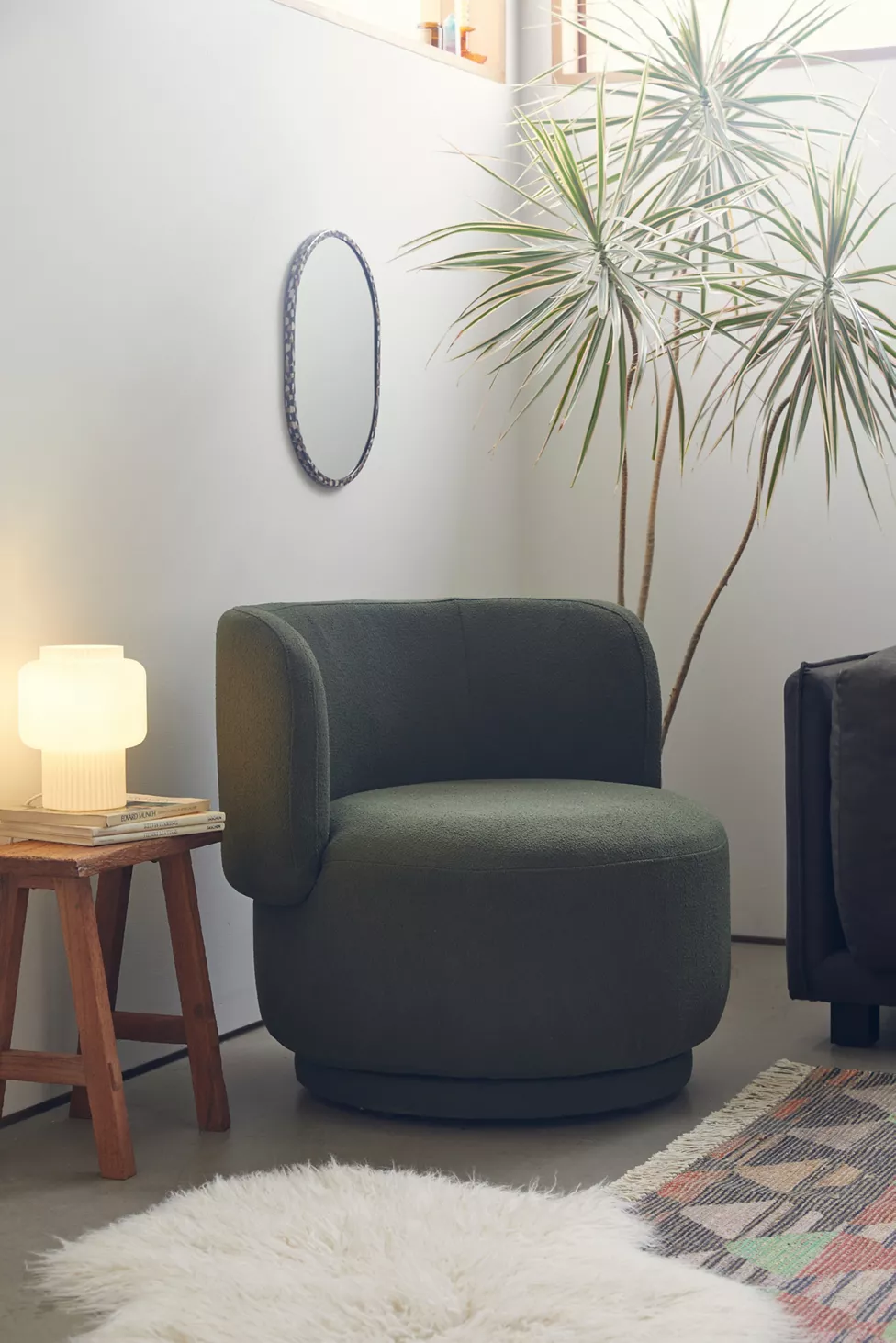 The earthy dark green accent chair is a great match for your tan brown leather couch. This subtle and soothing duo makes a great backdrop for English, Vintage, Cottagecore, and Modern setbacks – without making either of them stand out too much.
Hence, if you have the taste for simplicity and pure elegance – this deep and dark green swivel chair would work the best. Lastly, you must also add ample indoor plants to create that moody ambiance.
Plaid Accent Chair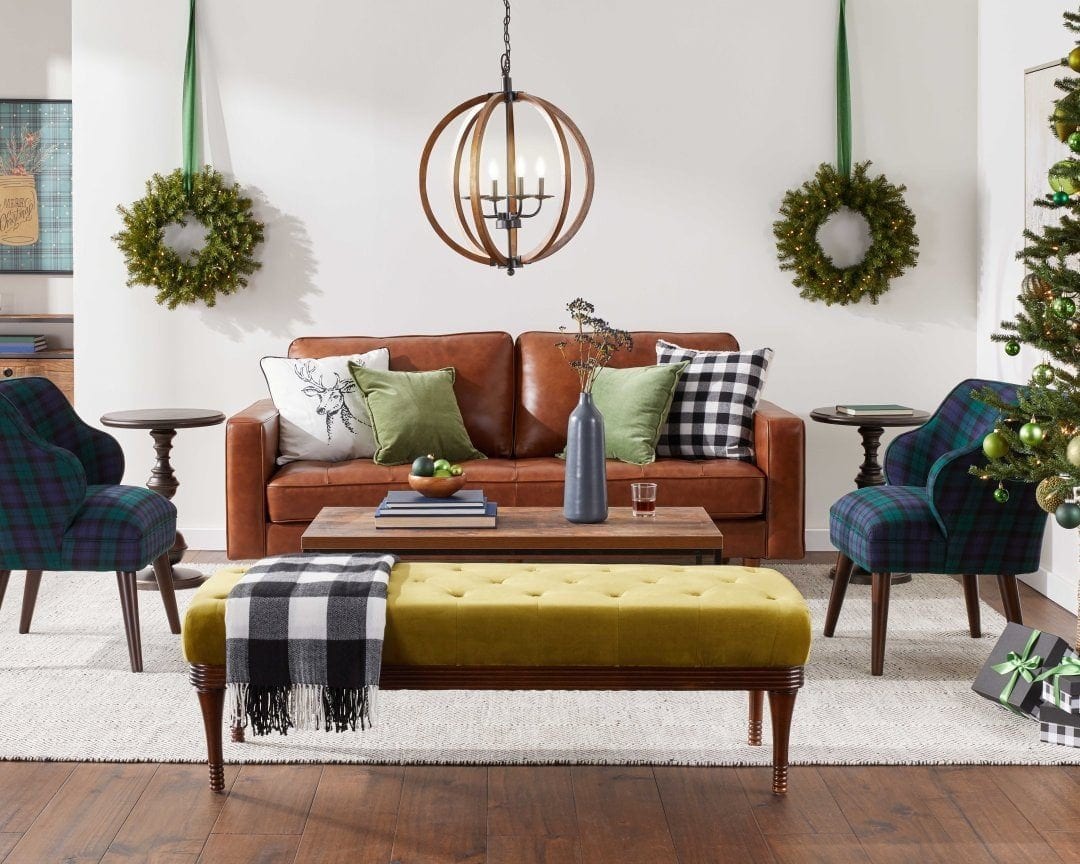 Amalgamating the traditional and modern, another bold match is a buffalo plaid check that totally complements the brown leather couch. Since it isn't too feminine, the overall appearance will be bold, authentic, and also quite English and Cottagecore.
You can either pick from black and white check or even a blend of blue and green to splash some hue to the living room. Don't forget to further repeat these checks to foster cohesiveness.
White Slipper Chair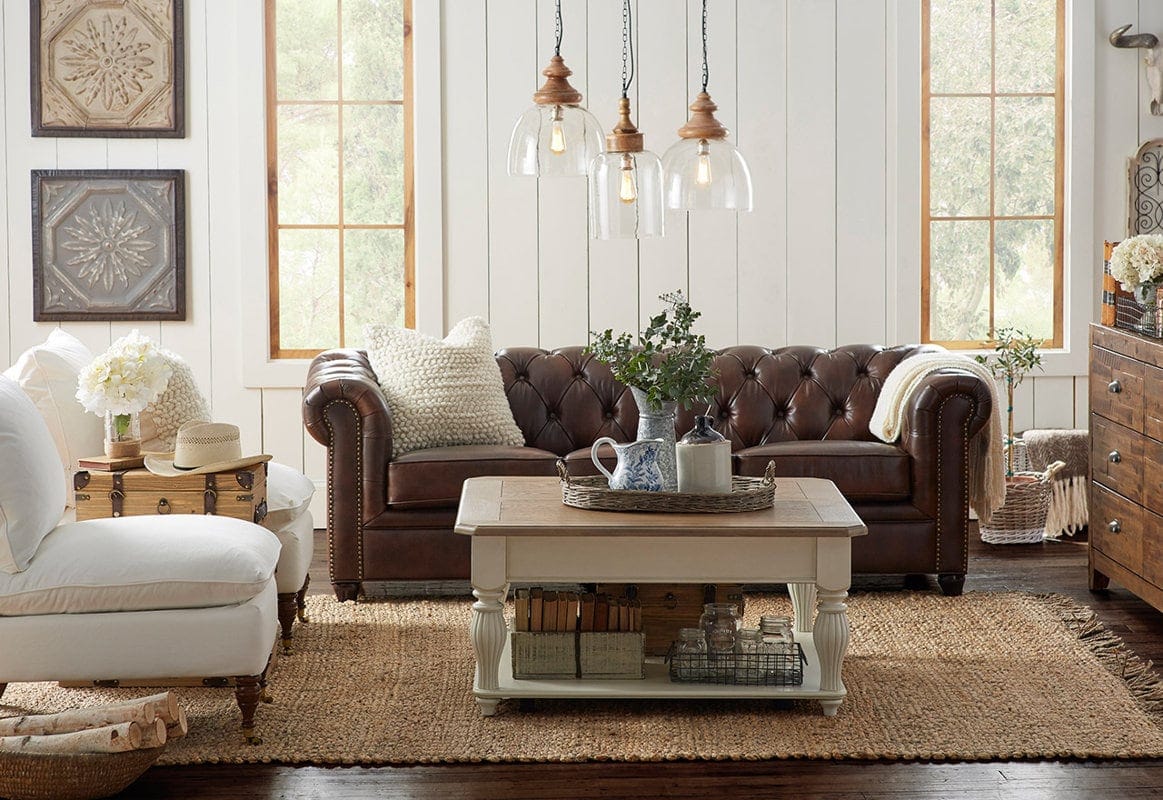 Right when you're too confused about picking that perfect color of accent chair, it's generally the safest option to choose whites. You're simply anchoring down the bold and loud brown with these super subtle neutrals that play in the backdrop.
However, don't go too simple. Ensure that you're adding details with the help of tassels, textures, and material fabrics. An iconic chair design would generally work the best!
Gray Accent Chair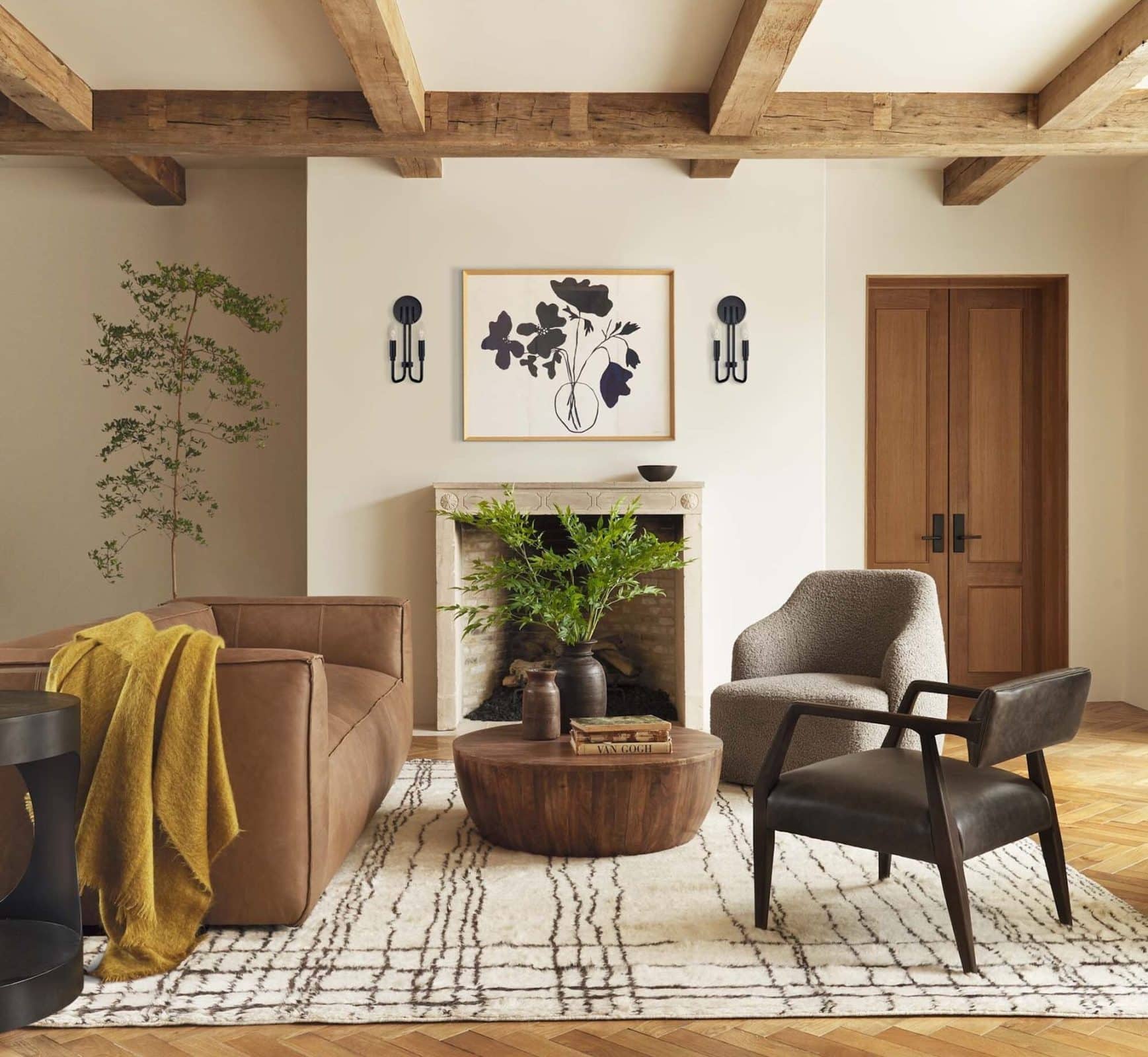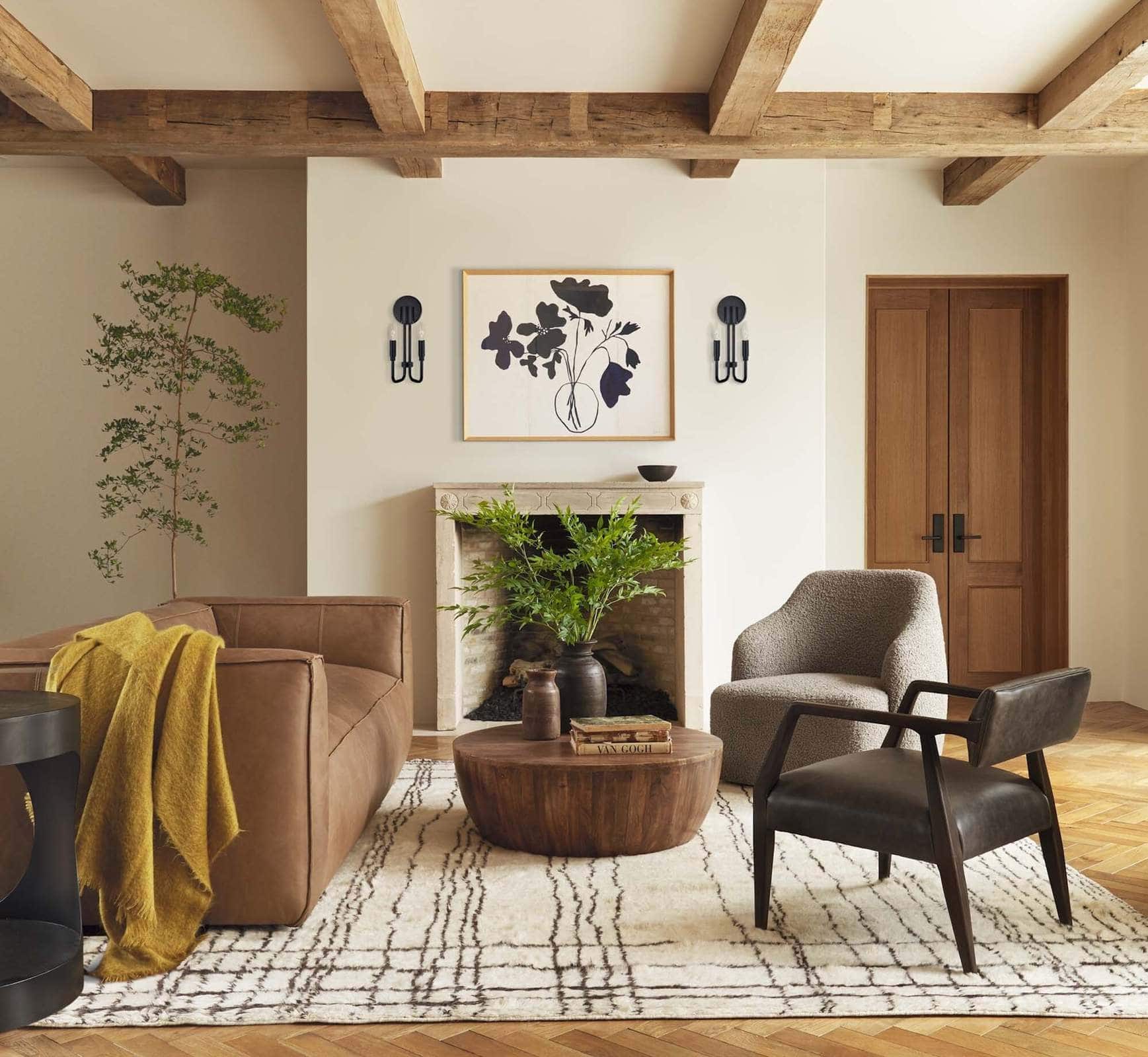 Another amazing neutral color to pair with your brown leather couch is gray. Depending on how warm or cool it is, you can best tone down the overall appearance of your room with this versatile color on the accent chair. It's not going to overpower, while rather, exhibiting soothing vibes.
However, you must ensure to choose the same family of tans and browns for the visible legs of the accent chair. That way, even if you use a dominant cool gray, it will not contradict the space.
Selena Mustard Armchair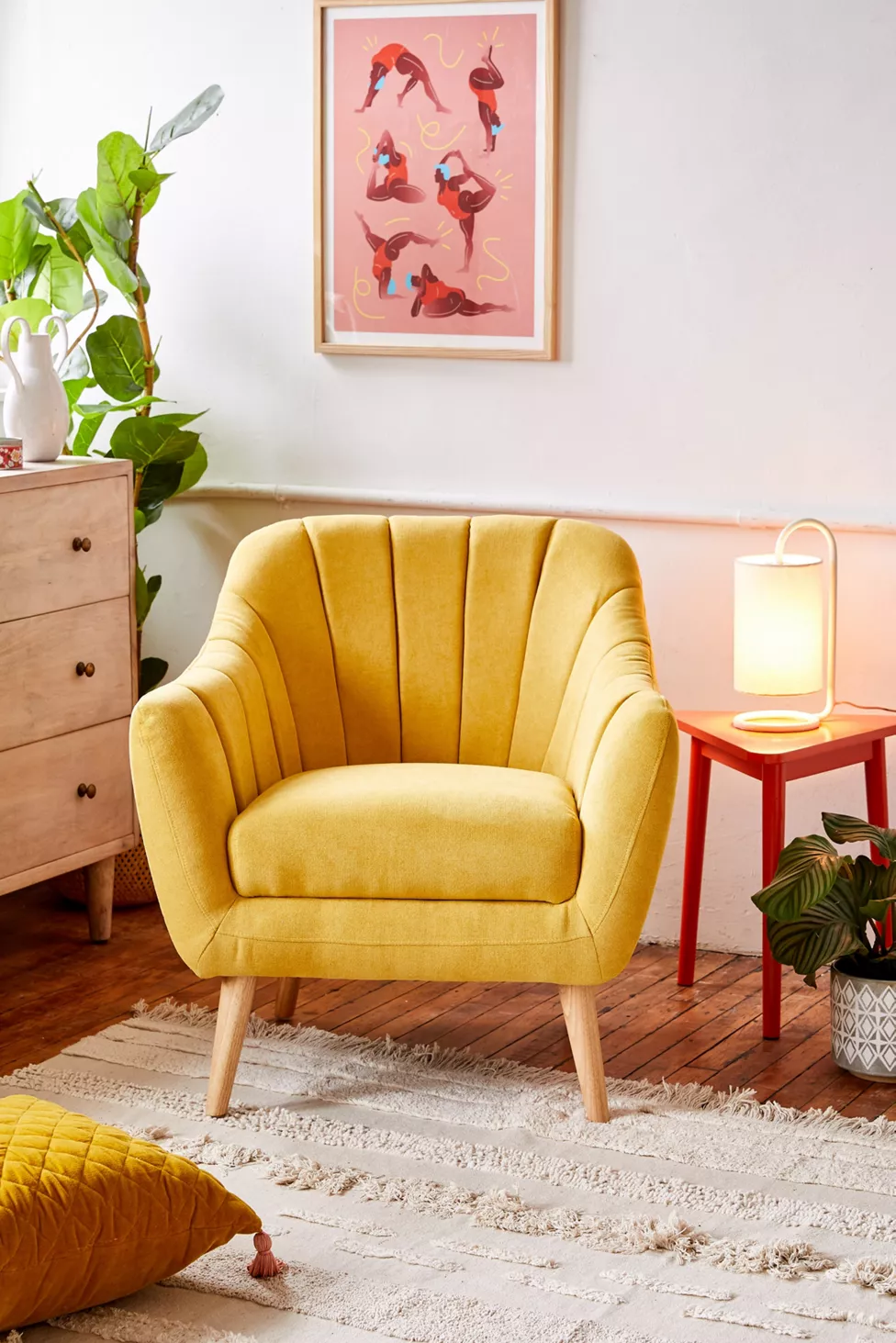 Time to go bold and bright with this beautiful and friendly yellow color. Since the hue is known to bring warmth to the home, it's utterly significant for creating a welcoming experience. Well, this is one of the best duos as mustard is a far-off cousin to tans and browns.
Furthermore, this hue in your living room will bring the space an inch closer to fun and creativity. Sparking visual interest, it's a given that you would never regret this doable combo!
Red Catwalk Accent Chair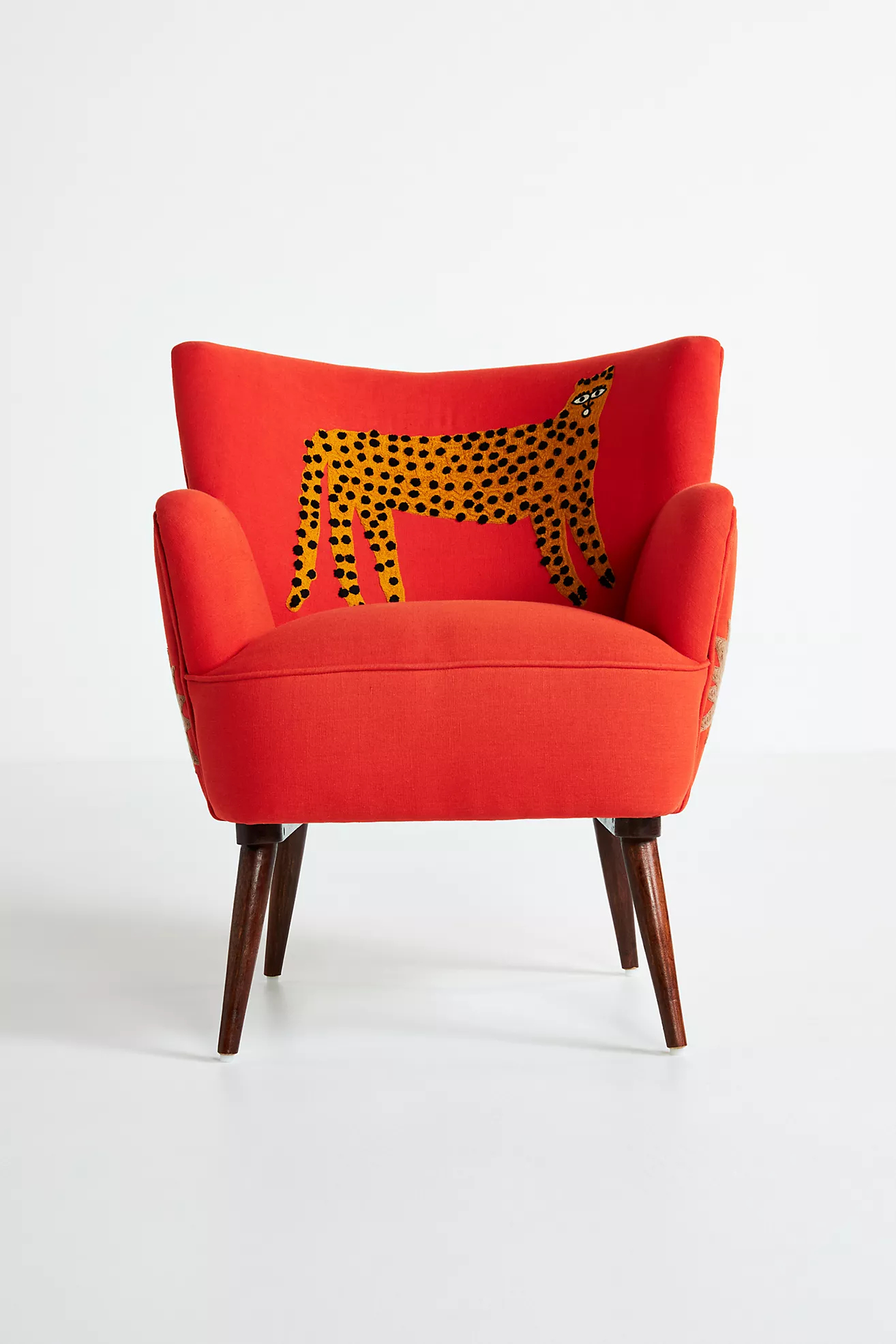 If you have an admiration for quirky colors and abstract forms, this bright red accent chair is your answer. This rich and splendor color adds to the beauty of your brown leather couch while giving the room a fresh and vibrant look.
This combination is generally great for bohemian and eclectic interior design styles. And right when the winters are approaching – you must catch hold of this vivid tone.
Sky Blue Wingback Chair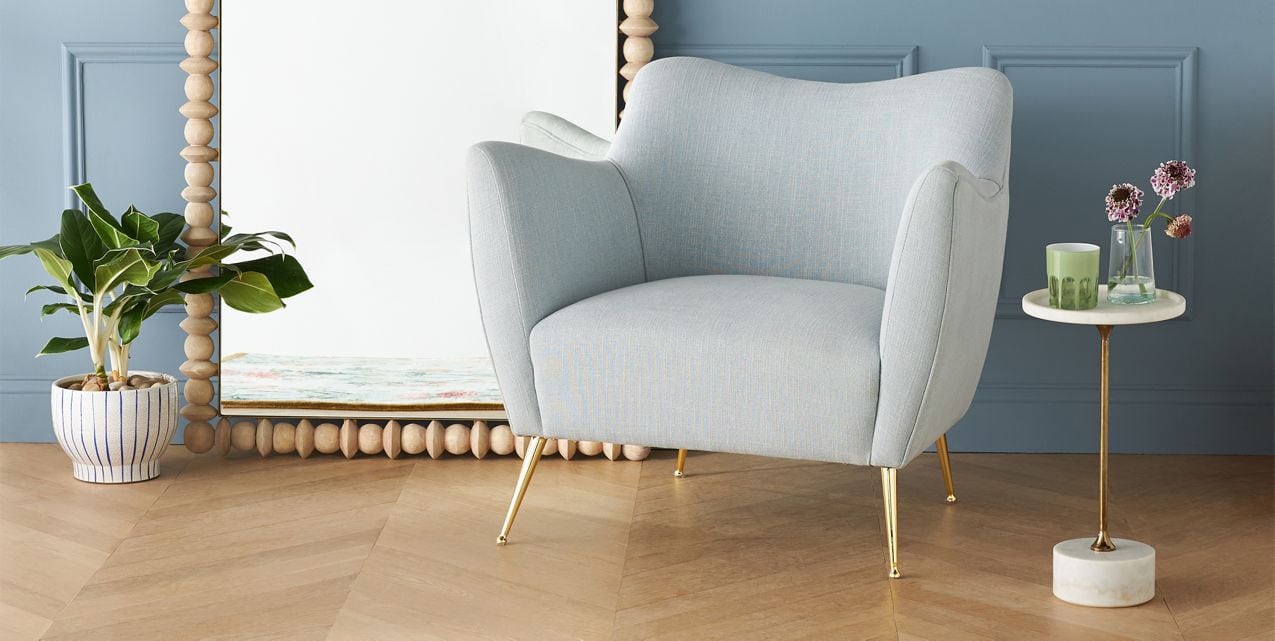 If the bold brown leather sofa is too loud and saturated for you, it's vital that you tranquilize the palette by incorporating a sky blue accent chair. With the little details on the legs and the utmost pastel-like feel of the chair, you're bound to feel extra comfortable in this environment.
Moreover, it's appropriate to further add ample whites, rattan, and wooden textures to this overall coastal-like bliss.
Summing It Up
Now that we have discussed a wide array of accent chair colors to match the brown leather sofa, it all boils down to your particular style and theme. Generally, neutrals work the best if you embrace simplicity and a modern touch. But if you want your living room to stand out, brighter hues are your answer. Do let me know what accent chair color was admired by you the most!