Decorated Life is reader-supported. When you buy through links on our site, we may earn an affiliate commission. Learn More
Beautiful Homes! What Really Makes Rooms Come Alive?
By: Decorated Life Team
|
Beautiful rooms and beautiful homes are an absolute necessity for helping us thrive. That may sound a  little over the top. I guess it all depends on your definitions of 'beautiful rooms' and 'beautiful homes'.
For me, the coolest, most beautiful homes are more than eye candy. They are uplifting, clear and clean. They support your inner drive and crazy creativity.
A beautiful home should fuel confidence, freedom and help you focus.
You need a new Mantra: Turn Every Room Into Its Own Paradise
Successful rooms help you glide through your day. A beautiful home should fuel confidence, freedom and help you focus.
Sounds like a lot of responsibility to put on an ottoman or accent pillow! Really, how can a few inanimate objects help change the world?
A room that makes you feel great, is the perfect incubator to create amazing dreams and go for them!
They are a conduit to hang out with family and friends.
They set the standard for great things and reduce your family's overall stress, help you sleep better, argue less and laugh more.. ..because you  have created a home that demands it and allows it.
 Creativity and Beautiful Homes
It's easier to be creative, inspired and moved to action when you live in a beautiful home, and so hard if you live in a space that drains you. Spending years in a beautiful home is practically meditation. Anything less is … well, less!
Beautiful rooms are a responsibility to keep the energy high, calm and …
… a must if you work in highly pressured environment, demanding career or are in a difficult relationship. External pressure is normal these days. And anything that relieves it, like exercise, yoga and meditation, solve part of the problem.
What if you could reduce your stress levels way down by creating a great home to live in?
If you follow these next few steps and create a beautiful home that replenishes and supports your daily life, you won't waste the first 10 days of your vacation unwinding.
Everyday will be energized.
Creating Beautiful Rooms That Work for You
Remember your new mantra –
Turn each room into its own paradise.
So, how do you do that without breaking the bank and spending hours looking at online catalogs??
1.  Start with one room. No overwhelm. Decide on bringing life back into one room. It may be your bedroom. Bedrooms are often the most overlooked rooms because they are rarely on show.
2. Create storage, get rid of things or tidy up because the visual impact of open space is relaxing on its own.
3. Move your furniture around. The fastest way to get the energy going in any room, is to move furniture. It's also the cheapest and one of the most rewarding ways. Rearranging furniture, means you move differently around the room. Maybe you create a new feature like making a great piece of furniture the focal point instead of a sofa.
If you place your chairs and sofa around the fireplace in winter. Why not move everything, in summer? Maybe to a window if you have a great view. If not, just move things. In a couple of hours you can make your room look completely different without spending a cent.
4. Paint something. Paint one wall and make it a feature. Use something swanky like suede or textured paint. Paint your fireplace or maybe a piece a furniture.
5. Change your lighting. Move your lamps around. Swap lampshades or simply turn them upside down. Add a new lampshade if your lamp looks tired or dated. Increase your lighting. Lampshade styles and shapes change. Adding a new shape, style or color lampshade is a quick makeover. Check your overhead light covers. They discolor, get dirty or become bug traps; so take off the cover, see if that improves your lighting and replace the cover with something you like.
6. Increase your lighting using mirrors. Mirrors add lighting and mood to any room. The more mirror you add, the more light you add.Go as grand as you can. That can mean big, rustic, gold. Make a statement. Move mirrors from the hallway to the bedroom, living room or bathroom. A great mirror in a bathroom is a quick update.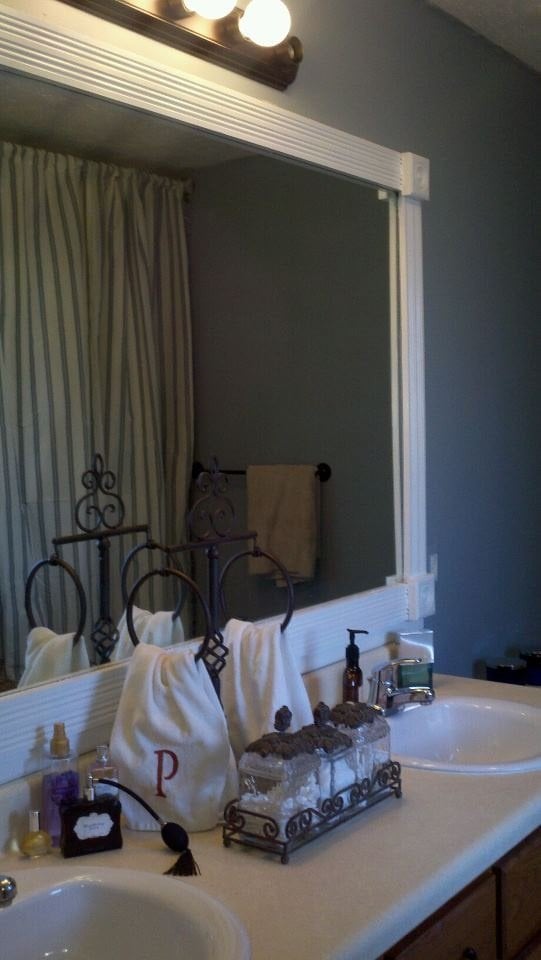 Source: Pinterest
7. Play things. Are you ready to add a few little fun things to your room? From a great chair, to some pillows, or a little wall decor, think of these things as trinkets that add a little oomph when you are least expecting it.  It could be stencils on the bathroom floor or new bed linen. To get the most out of your play things, make them fun, unexpected and a little edgy.
8. Upcycle. This is not as hard as it sounds. It can be adding great contact paper, stencils, wall paper or paint to the back of a bookcase. Maybe it's changing some photo frames. Turning bedlinen into cushions or reupholstering a chair with old curtains.  Turning odd wine glasses into candle holders. Moving a pot from the garden into your living room or taking a pot from inside and placing it on your porch.
9. Texture. Monochromatic or flat rooms can be fixed by adding texture. Texture is visually appealing. From suede paint for a 3d effect, an oil painting, different fabrics in pillows or cushions; look for a combination of rough and smooth looking surfaces to give your room interest and depth.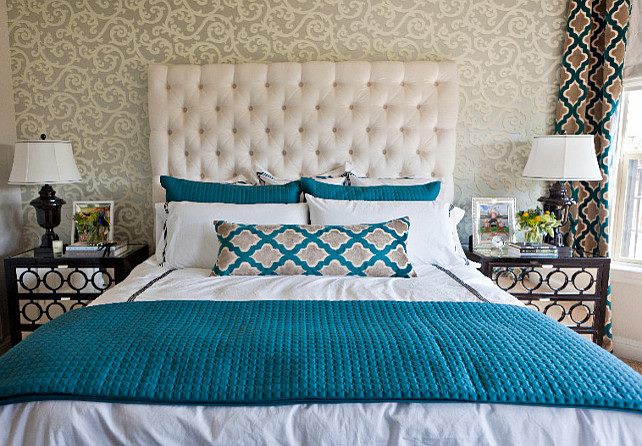 Source: Homebunch
10. Add color. Splashes of color make the eye move around the room. Think of a triangle. Three splats of bright color; the same or different colors forces your eyes around the room.
10 . Add flowers. The presence of flowers decreases depression, enhances memory and increases social contact. So, go get some.
11. Do it all over, again. Keep the process going. Energy creates energy. To create new energy you need to feed your home with great ideas, decorating trinkets and splashes of color. So, as soon as your finish.. do it all over again!
Transforming spaces into beautiful rooms
Transforming your rooms might sound like 'work'. That's your mindset talking.
You can almost feel your rooms begin to smile when you are almost there.
Rooms that are not appealing scatter your energy. See how you notice all the tiny things out of place and on your invisible list of things to do. That creates an energy leak.

The cost is more than a little eye candy.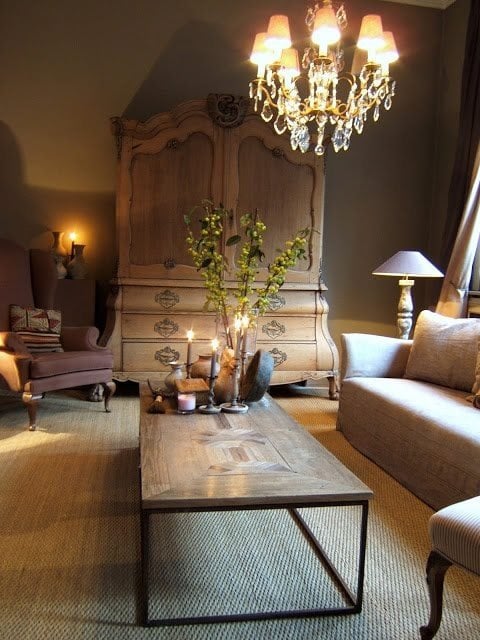 Source: Pinterest
Beautiful Homes Work!
Beautiful homes center you and make you feel strong. Beautiful rooms make you feel confident and are wonderful to come home to. They are streamlined, fresh and peaceful.
Turn each room into its own paradise.
Get your beautiful rooms in order and keep thriving! Don't forget to join our free email list to get our DIY Cheat Sheet and 42 Interior Decorating Secrets, plus our weekly tips and newsletter.