Decorated Life is reader-supported. When you buy through links on our site, we may earn an affiliate commission. Learn More
9 of the Best Benjamin Moore Green Paint Colors
Green is the color of awakening our senses, of fragrant herbs growing from rain-damp soil. After the last couple years, it's not surprising that green is the new trend.
This color is everywhere: virtually every paint company has chosen some shade of green as their color of the year for 2022. Benjamin Moore's 2022 Color Trends palette has four green colors in it!
There's no better time to take a look at some of the best greens Benjamin Moore has to offer. In this article I'll round up some of the most lush and revitalizing hues for you, and give you some helpful hints about incorporating them into your decor.
Mallard Green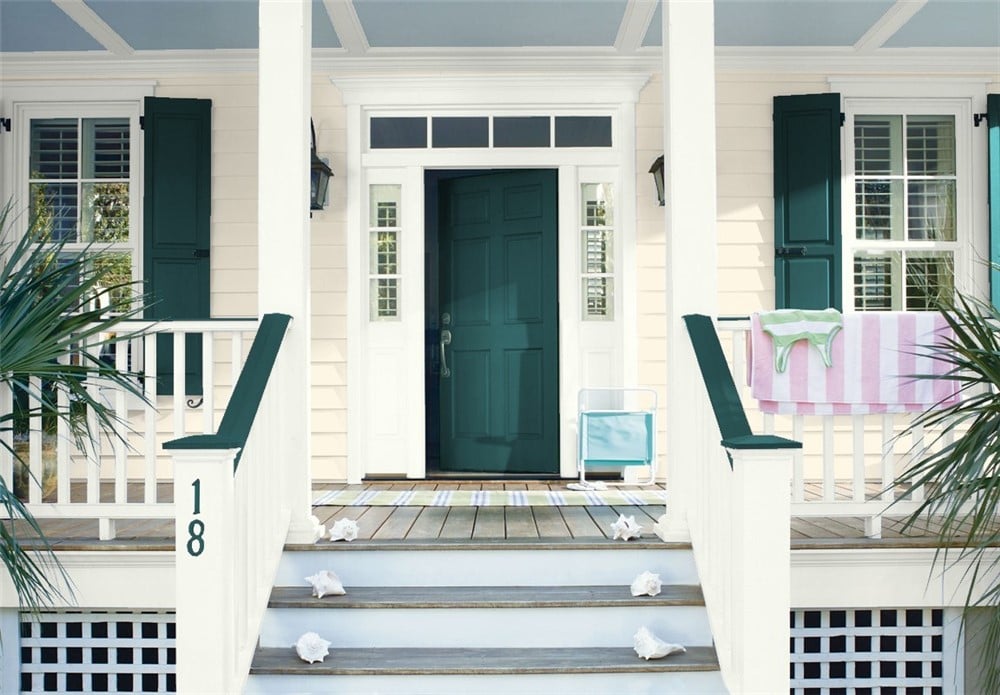 Mallard Green is a rich, deep green with a blue-black cast. It carries a traditional air, as if you might find it in a stately manor home. This handsome color has a very low LRV of 5.89.
Mallard Green is Stunning with Metal
Fairmont Green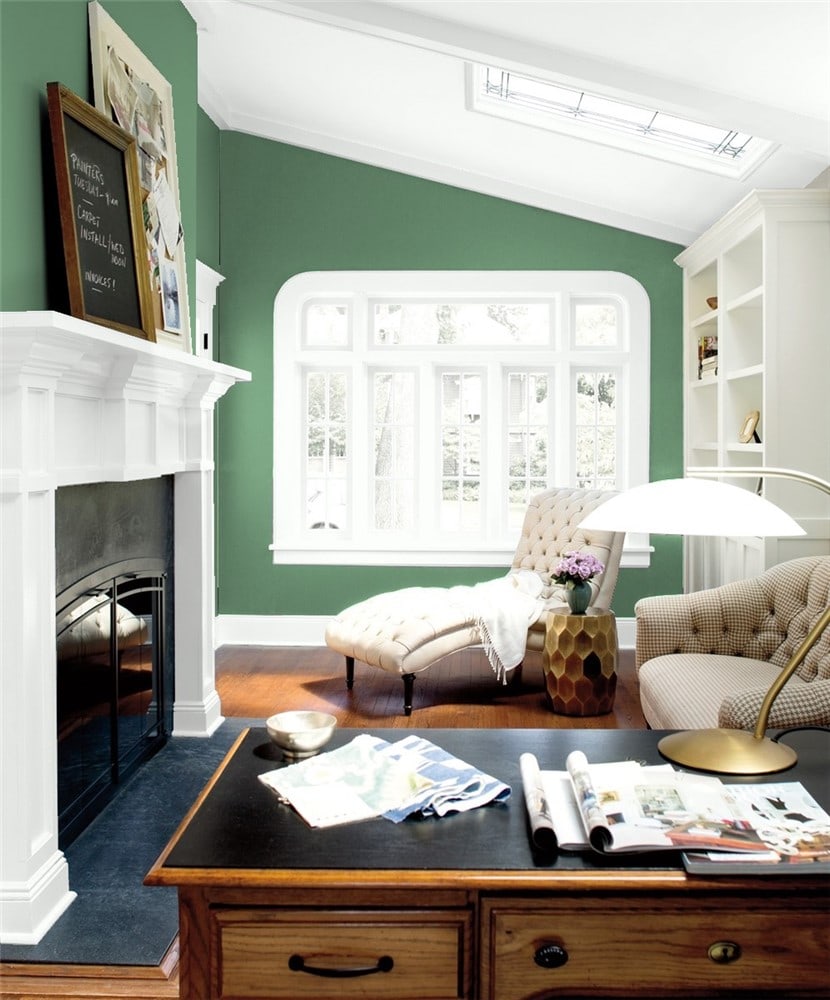 Fairmont Green is another color with some history behind it, looking traditional and elegant in this study. It's got a sunnier disposition thanks to more yellow in its makeup and a brighter LRV of 19.6. Fairmont Green is part of Benjamin Moore's popular Historic Colors Collection.
Fairmont Green is Handsome with Leather
October Mist
October Mist is a medium-toned sage green blended with gray. It was chosen as the Benjamin Moore Color of the Year for 2022. This color brings a sense of the forest indoors. It's a lovely choice for kitchens, where it can complement herbs, vegetables, and fruit. October Mist has a LRV of 46.33.
October Mist Brings Nature Indoors
High Park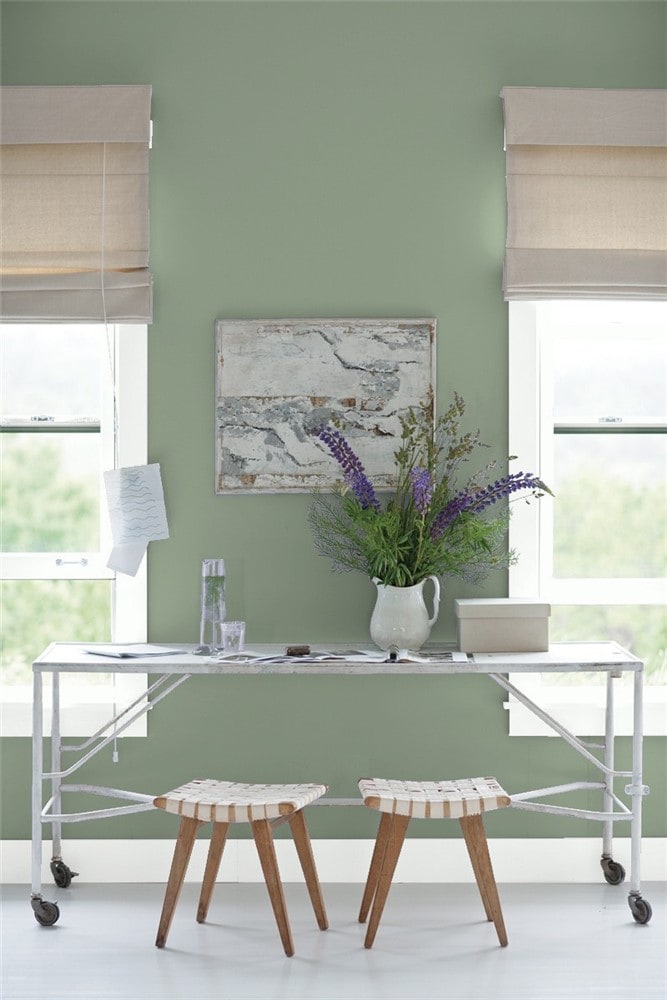 High Park is an herby green blended with gray undertones. With a LRV of 29.27, it has a pleasing depth that sets off brighter floral colors, or whites and creams. High Park also partners well with grays thanks to its undertones.
High Park is Great with Grays
Hunter Green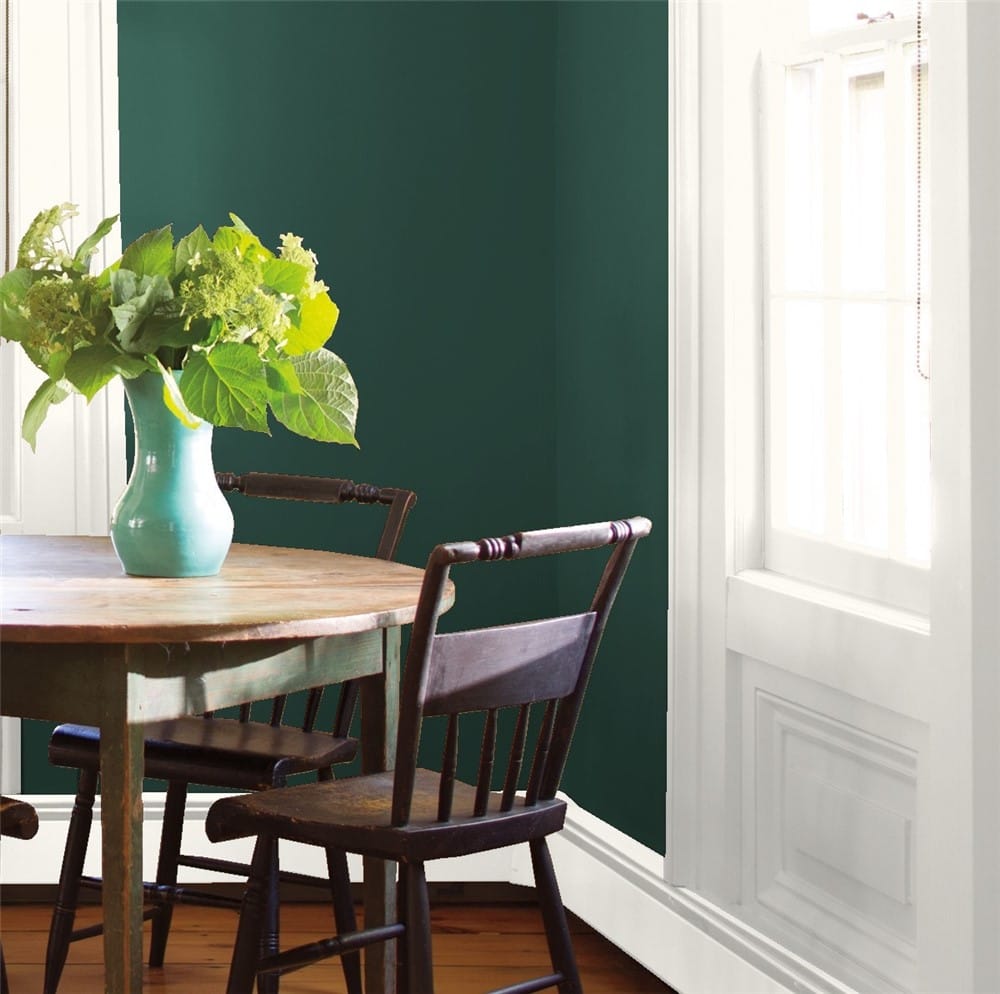 Hunter Green is a bold, rich green with sophistication and elegance. The darkest green on this list, its LRV is 4.31. Hunter Green is equally stunning next to whites and natural materials like wood, leather, and stone. It's also dramatic next to black. Use this deep shade to draw the eye.
Hunter Green is a Bold Statement Color
Jack Pine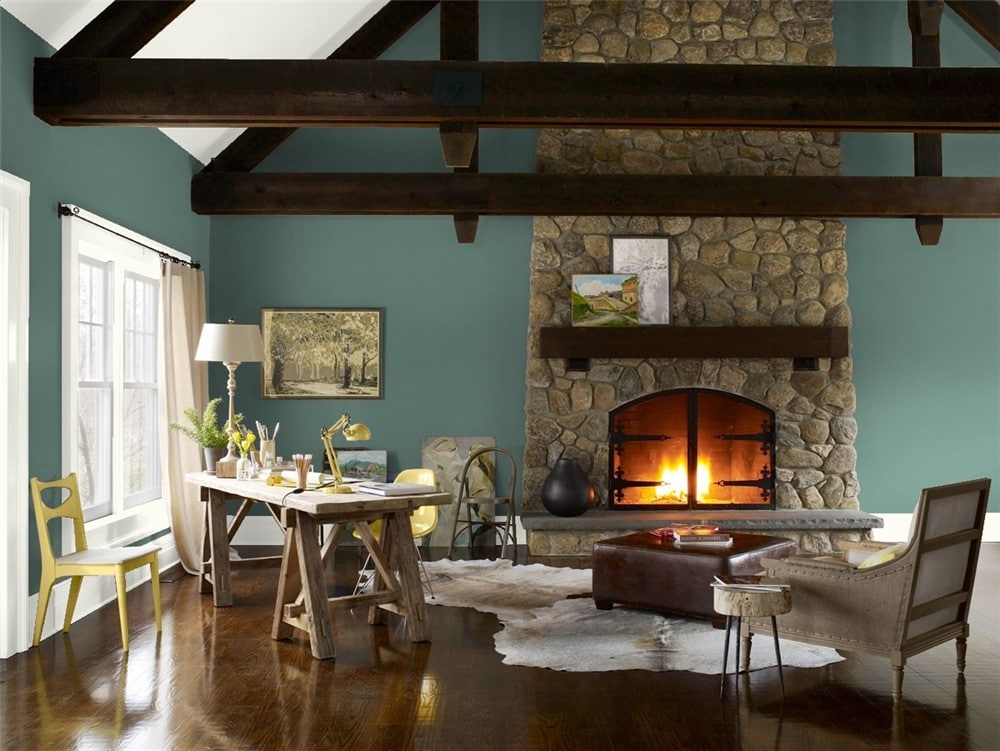 Jack Pine is a nature-loving green that leans on its blue side. This color evokes the trees it's named for, so wood floors and furnishings make intuitive companions. Jack Pine has a LRV of 14.75.
Jack Pine is Beautiful on Cabinets
Bath Salts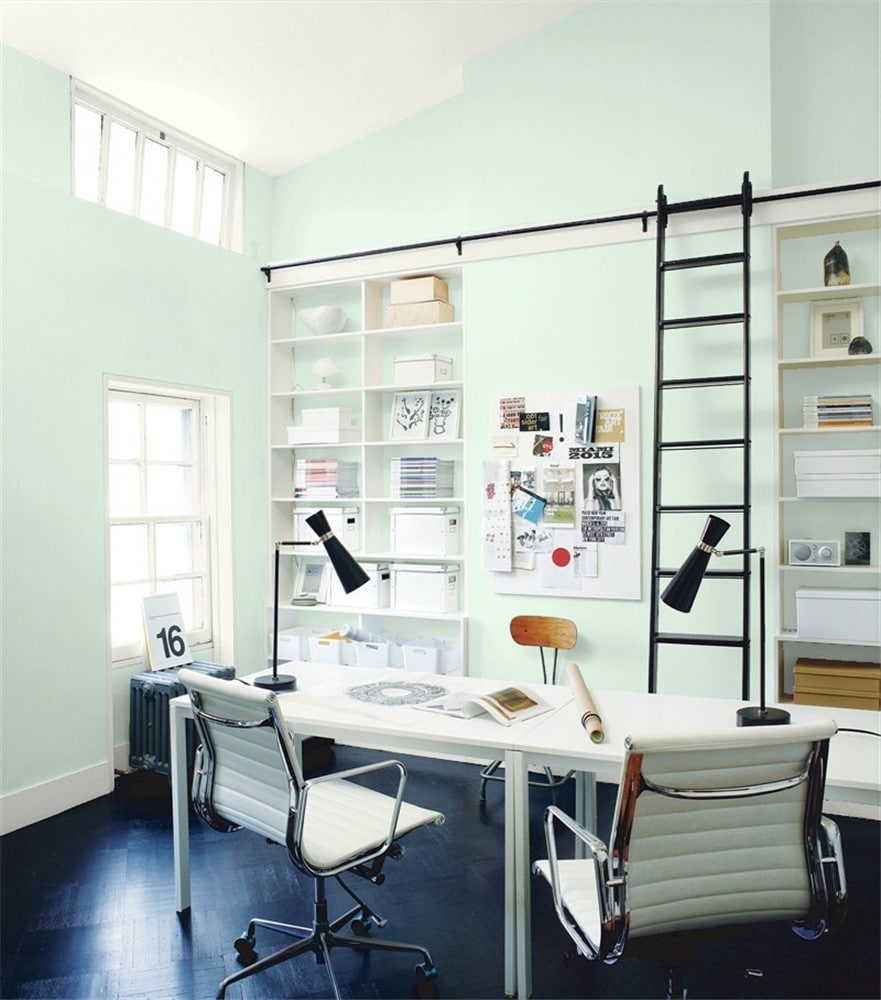 Light and uplifting, Bath Salts is a delicate seafoam green with noticeable silver undertones. It's a bright 77.77 on the LRV scale. Whites are a common coordinating color for Bath Salts, but branch out with coral pinks, sky blues, and leaf greens to have fun with this color!
Bath Salts Invites Light Into Any Space
Feather Green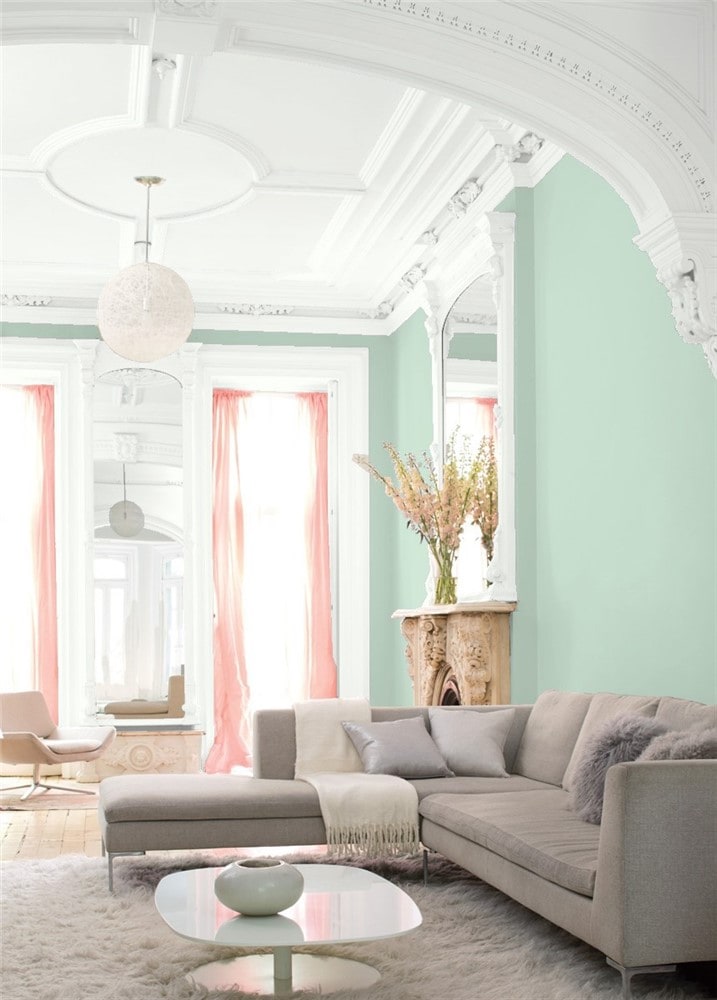 Feather Green is a light green-blue with a refreshing feel. This color would work well as a highlight in a palette with other greens. It has a close-to-ideal LRV of 67.78.
Feather Green is Soothing in Bedrooms
Light Pistachio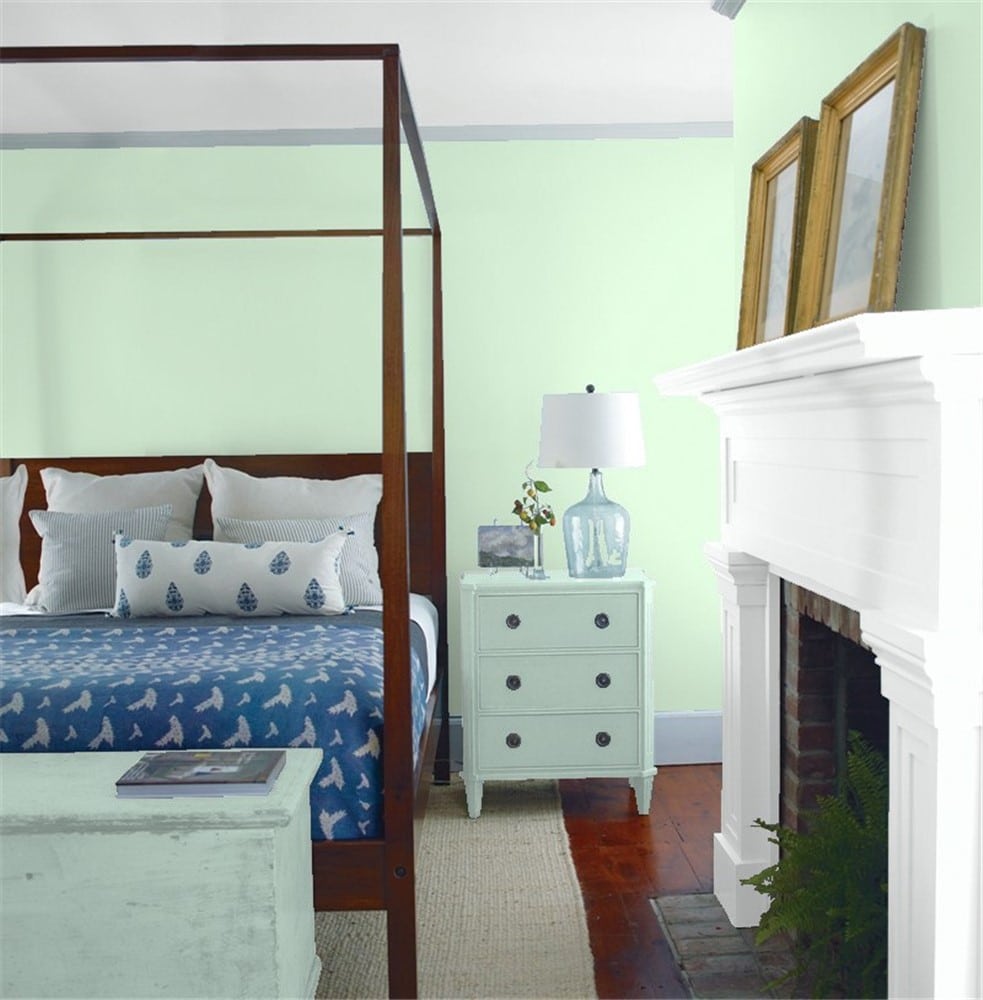 Light Pistachio is a light, minty green that's perky and eye-catching. It can be used as a wall color, but its real talent is in drawing your attention to details with its bright pops of color. Consider Light Pistachio for trim, molding, accents, and doors. This color has a LRV of 73.96.
Light Pistachio Highlights Details
Final Thoughts
Light or dark, jungle, sage, or aquatic, there's so much to love about green! This cool and vibrant color can liven up your color palette and make your space feel more liveable. Greens are relaxing and soothing. Bonus: this color is now becoming popular as nature-inspired decor picks up steam. Is green growing on you yet?