Decorated Life is reader-supported. When you buy through links on our site, we may earn an affiliate commission. Learn More
Benjamin Moore October Mist Paint Color Review
New things are blossoming into being this year, and Benjamin Moore invites us to make our creative expression one of them.
Their floral-inspired color trends palette is built around a color that "quietly anchors a space", and was created to bring to mind the stem of a plant. Allow me to introduce you to the Benjamin Moore 2022 Color of the Year: October Mist.
What Color is October Mist?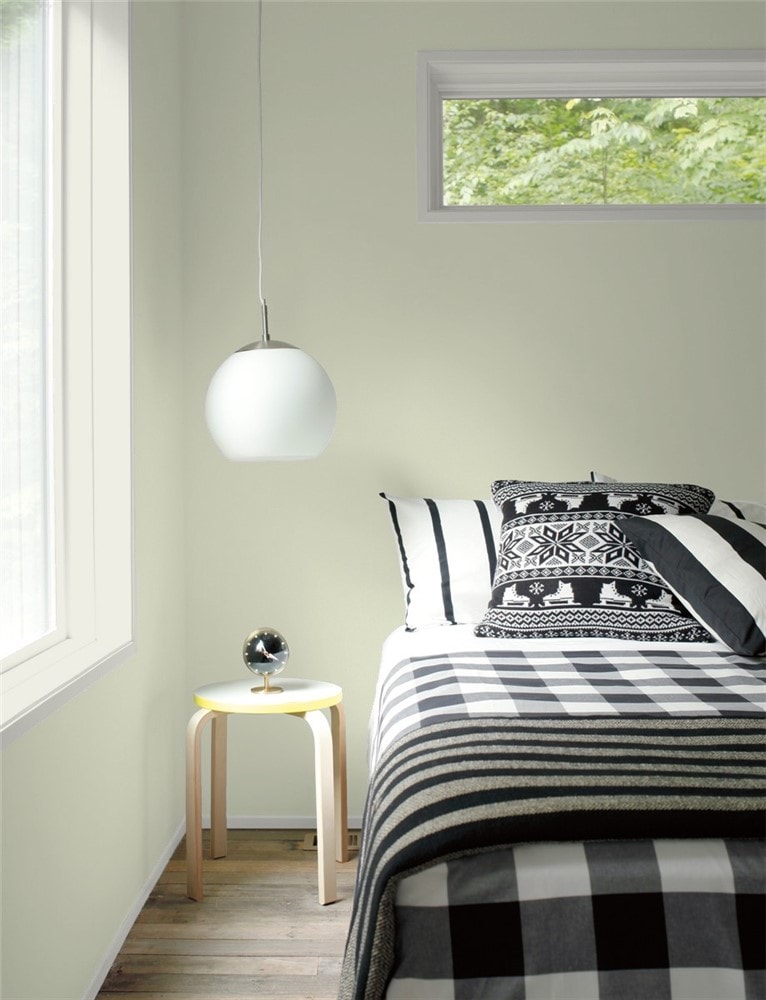 October Mist is a light sage color, gently shaded with a silver gray. It comes across as earthy and herbal.
LRV of 46.33
October Mist has a light reflectance value (LRV) of 46.33. LRV is a scale designed to measure the brightness of a color. It runs from absolute black at 0, to sheer white at 100. October Mist is a medium-toned color.
What Undertones Does October Mist Have?
October Mist has gray undertones that can be described as silver–not unlike mist itself!
Is October Mist a Warm Color or a Cool Color?
October Mist is a cool color. Its component colors, gray and green, are both cool colors as well.
Where Can You Use October Mist?
October Mist is a soothing and relaxing color that's great for spaces where you want to feel refreshed. It's a natural choice for living rooms and bedrooms.
This is a mid-range color that may be too dark to be an all-over color in some spaces, but it can excel as an accent color or trim. October Mist also is a wonderful choice for cabinets. Its herbal, earthy vibes are a perfect fit for country or farmhouse kitchens.
If you'd like to use October Mist as your wall color, consider balancing it with light ceiling and floor choices, and furnishings in colors like cream or linen.
Let's take a walk with October Mist and explore its possibilities!
Entryway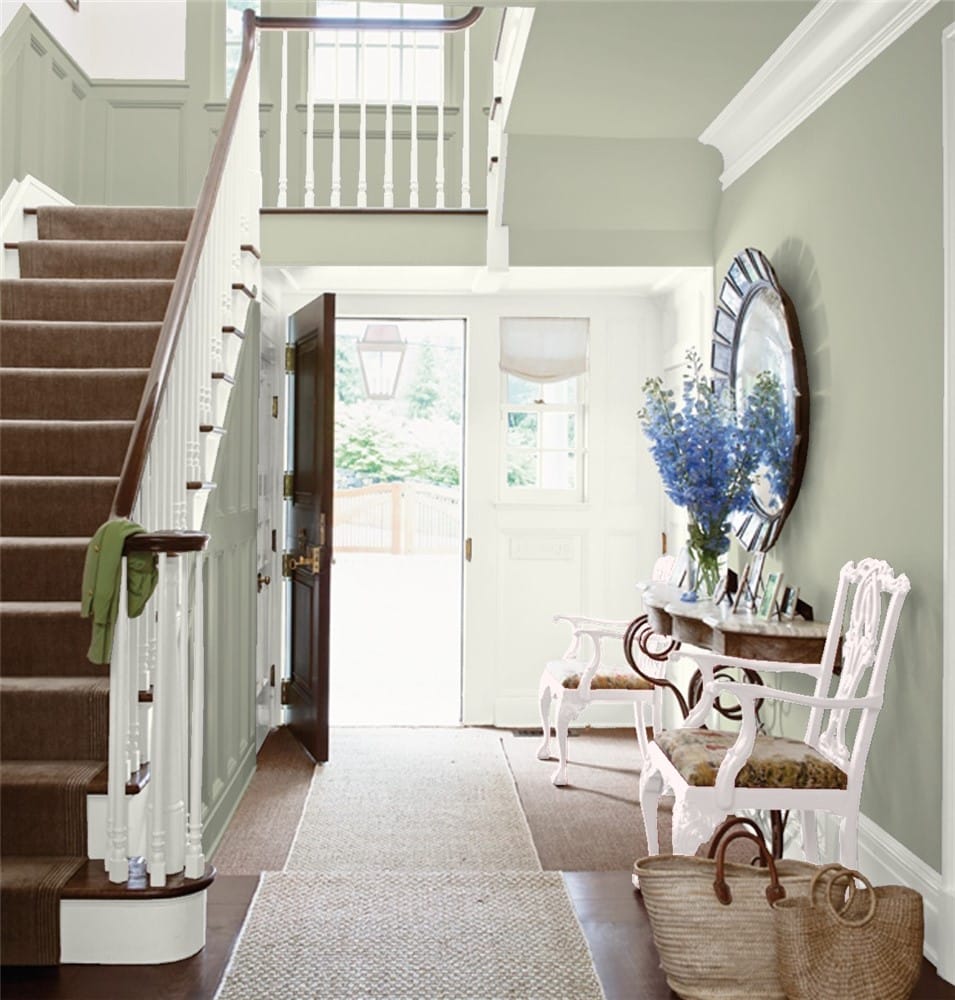 October Mist bridges the divide between indoors and outdoors with floral accents and Hint of Violet chairs in this entryway.
Living Room
This living room uses October Mist and thoughtful decor choices to make the space feel like relaxing on the porch in the tropics.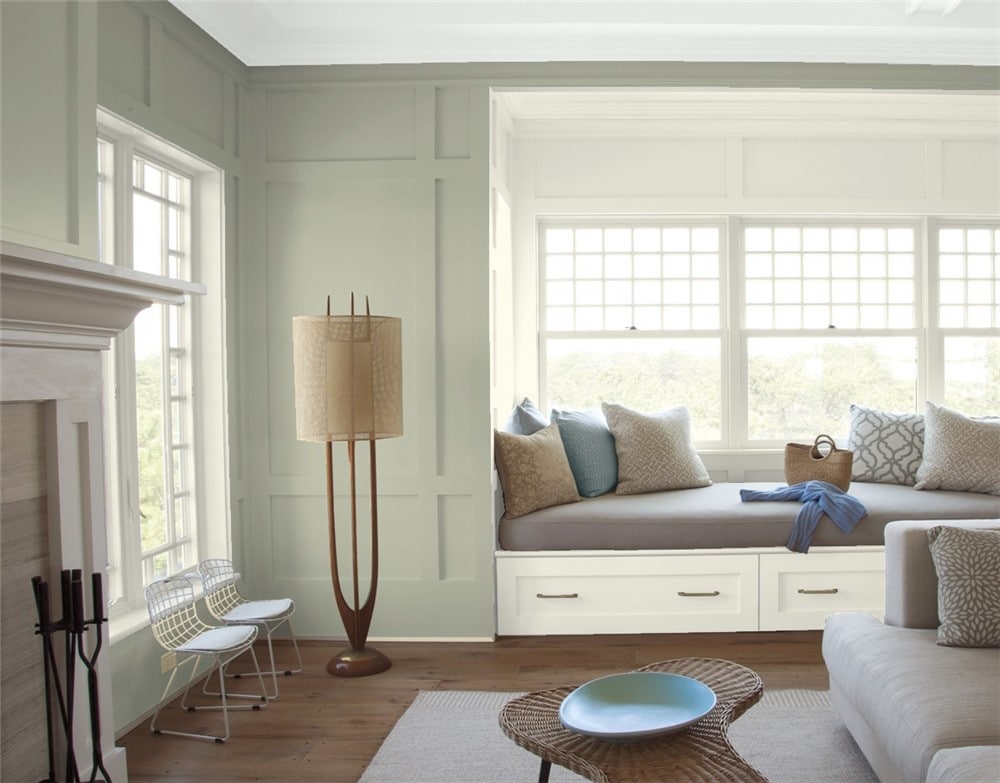 October Mist creates a soothing backdrop for this neutral living room with a cozy alcove.
Kitchen/Dining Room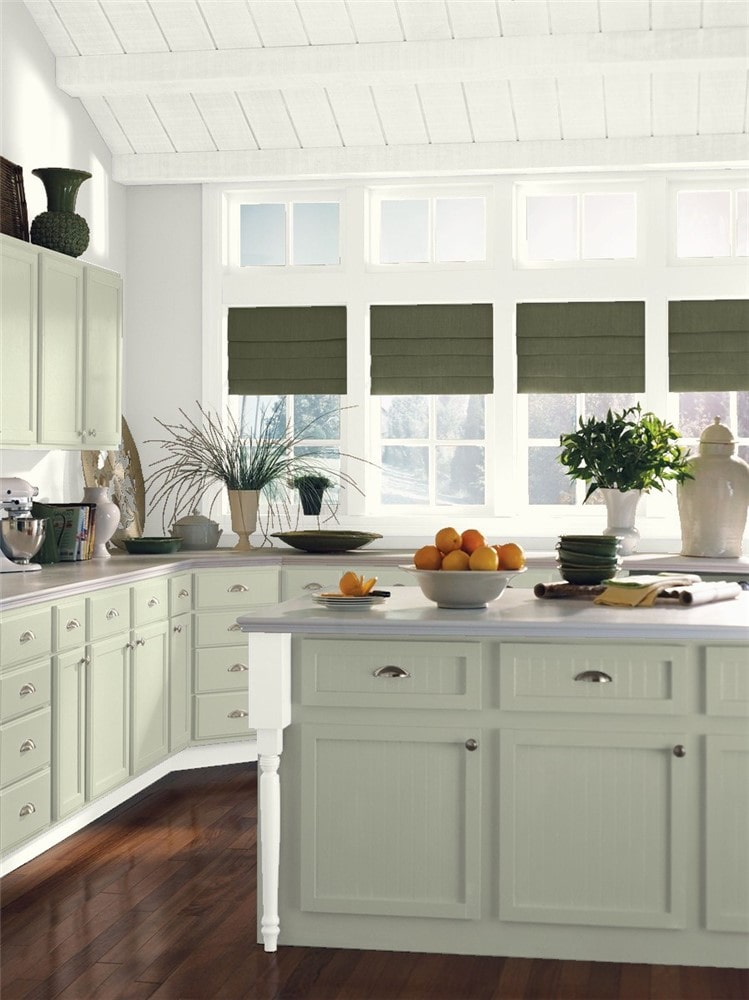 October Mist is a handsome choice for kitchen cabinets, and coordinates well with potted plants or fresh herbs and vegetables.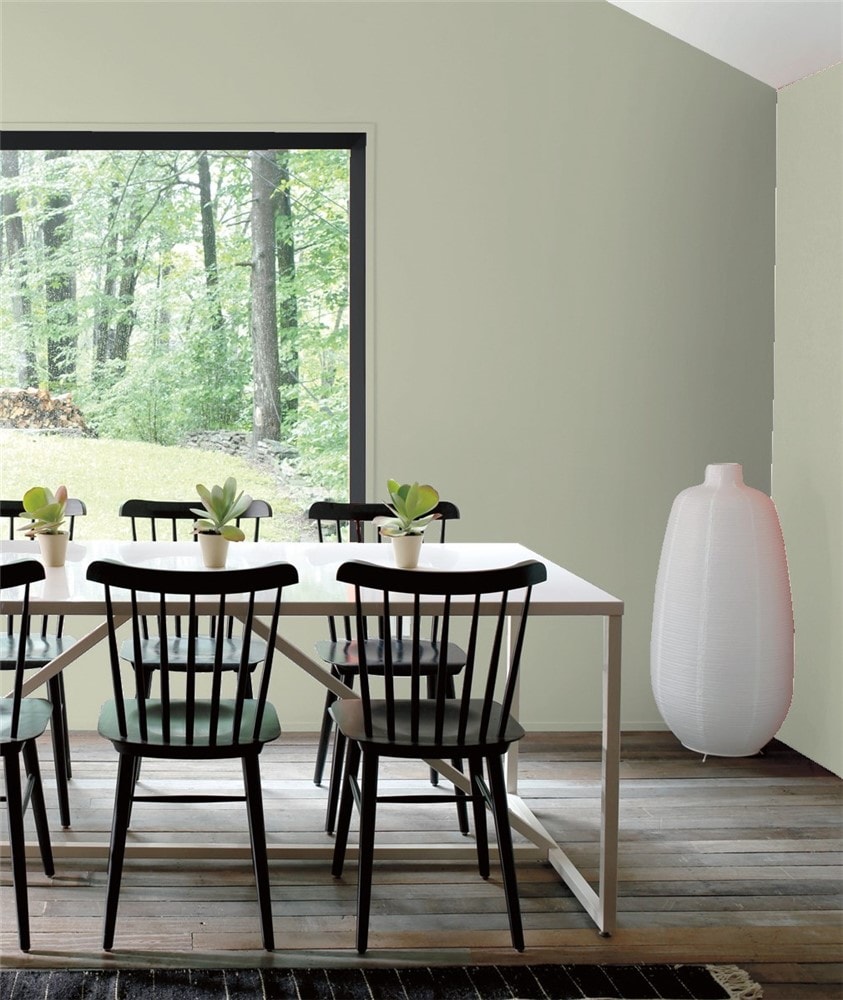 October Mist is just as at home in modern, trendy settings as it is with rustic or farmhouse decor.
Home Office
October Mist complements the natural woods in this home office.
Bedroom
The robin's egg blue in this bedding is an unexpected but pretty complement to the October Mist walls.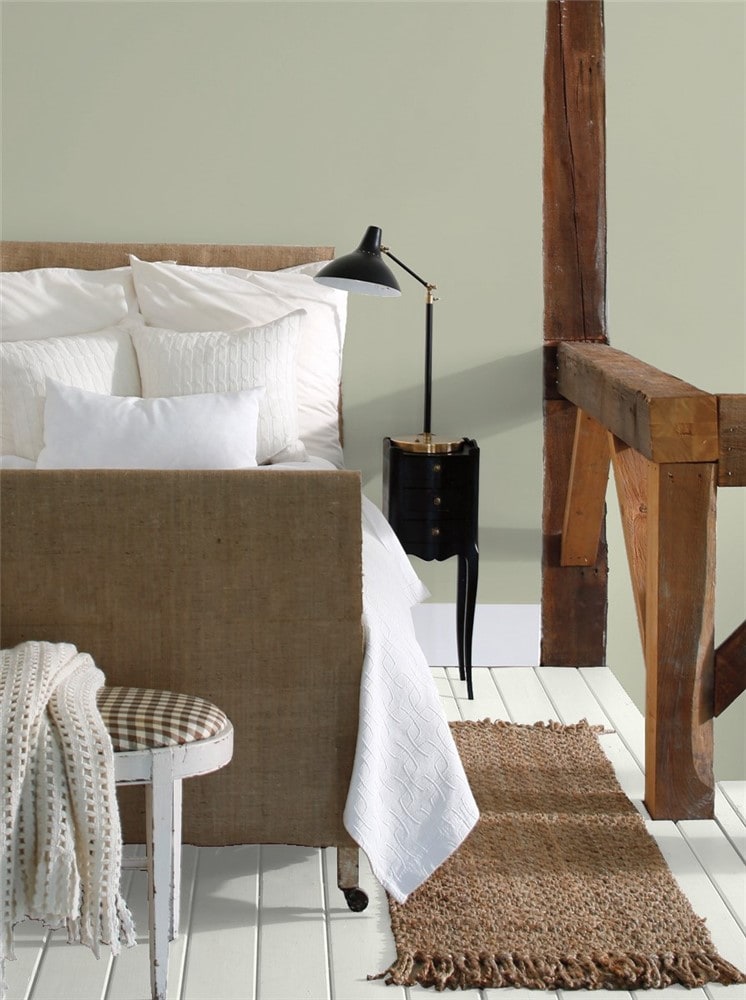 As a wall color, October Mist brings this bedroom the same grounded feeling as a neutral, but with more personality.
Bathroom
October Mist on the bathroom vanity breathes a touch of nature into this bathroom, accented by florals to enhance the effect.
Using your favorite white paint to balance October Mist is a great idea for small rooms that would otherwise look too dark, such as bathrooms.
Dark wood and sage make handsome accents for October Mist in this bathroom.
Laundry Room
An October Mist makeover helps breathe some vitality and spaciousness into this laundry room.
Coordinating Colors for October Mist
October Mist is a subdued, organic color that pairs well with other earthy colors. Think of clay pottery, weathered bricks, or rain-dark soil ready for planting.
October also works well with neutrals, like creams, off-whites, and linen colors. These balance October Mist with a gentle glow of light.
If we were to consider October Mist as a stem, then any color we would find on a flower can work with this color. Consider bright pops of Wild Flower, delicate trim in Hint of Violet, or a rolling field dotted with Moody Blue.
Here are some coordinating color ideas for October Mist as you begin to express yourself with this color:
How Does October Mist Compare to Other Colors?
October Mist vs Evergreen Fog by Sherwin Williams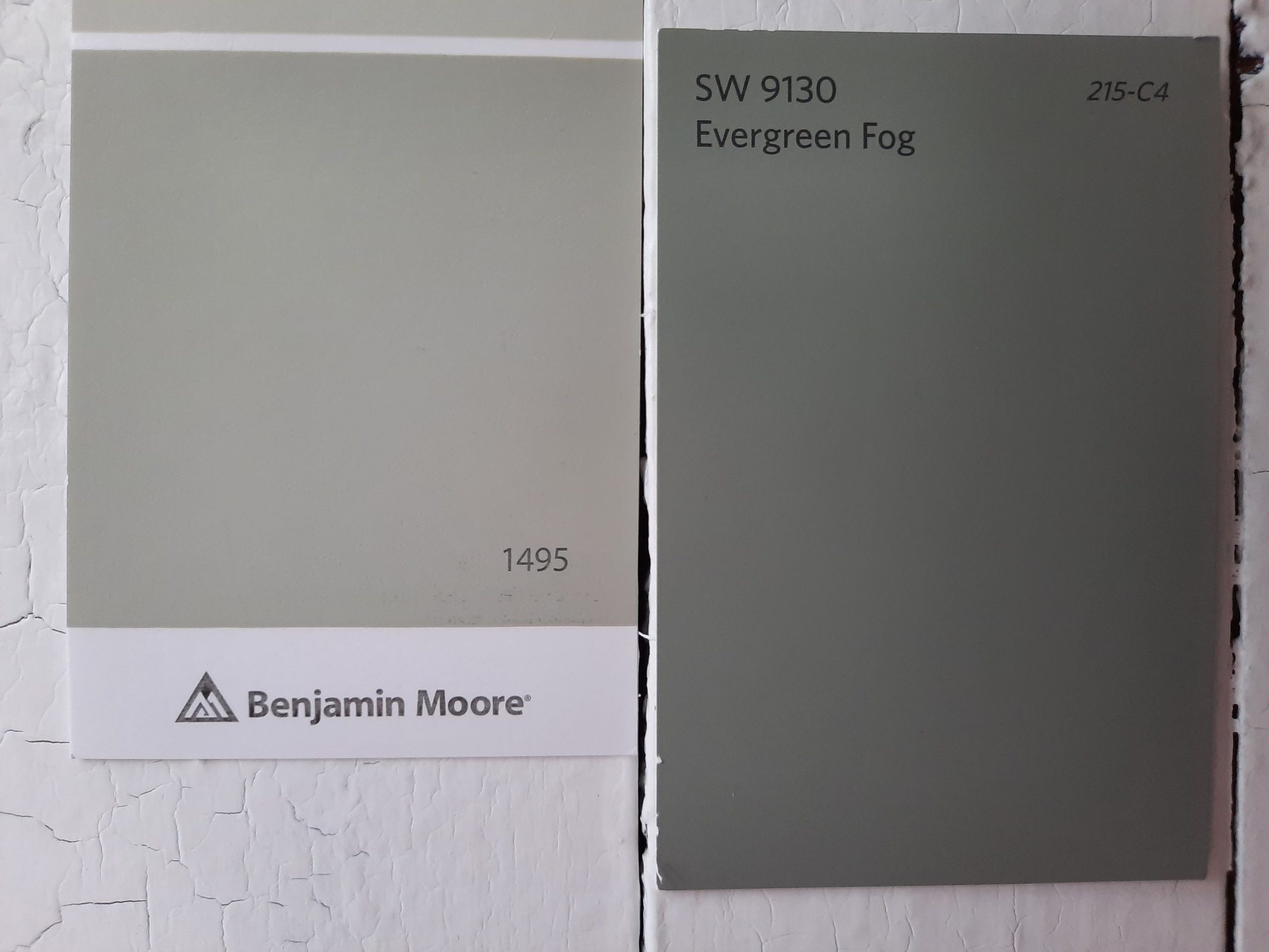 When Benjamin Moore and Sherwin Williams came out with such similar colors for 2022, it's not surprising that everyone immediately became curious about comparing them!
These colors are both green-grays in the same segment of the color wheel. But October Mist is substantially lighter than Evergreen Fog, with a LRV of 46.33 versus Evergreen Fog's LRV of 30. October Mist also has a higher amount of gray in its blend as compared to its green. Evergreen Fog leans into its green side more. 
October Mist vs Escape Gray by Sherwin Williams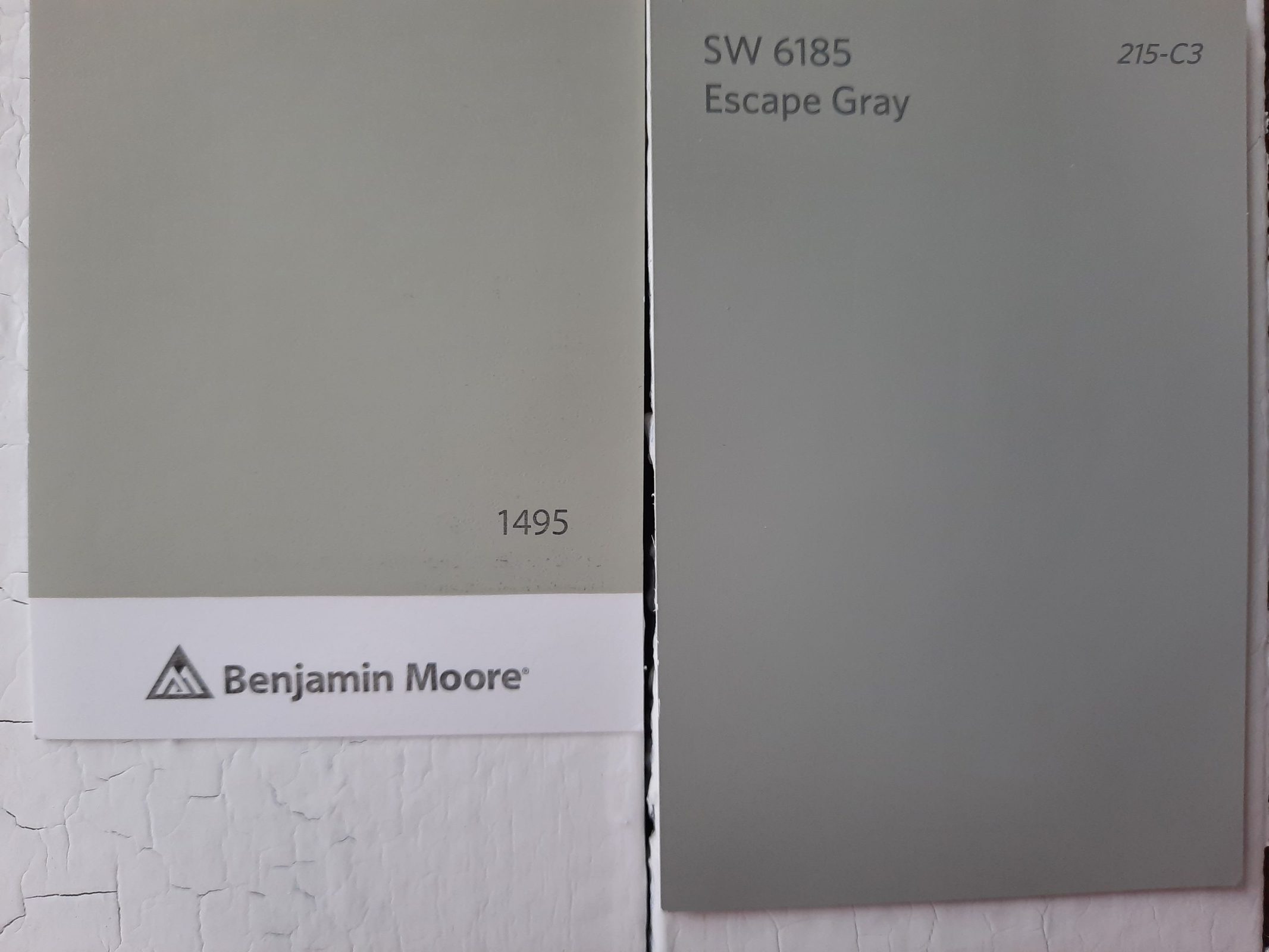 If October Mist is a green that's blended with gray, then Escape Gray is a gray that's blended with green. If that sounds like these colors are pretty similar, that's because they are. Escape Gray is both darker and grayer than October Mist, with a LRV of 41.
October Mist vs Vale Mist by Benjamin Moore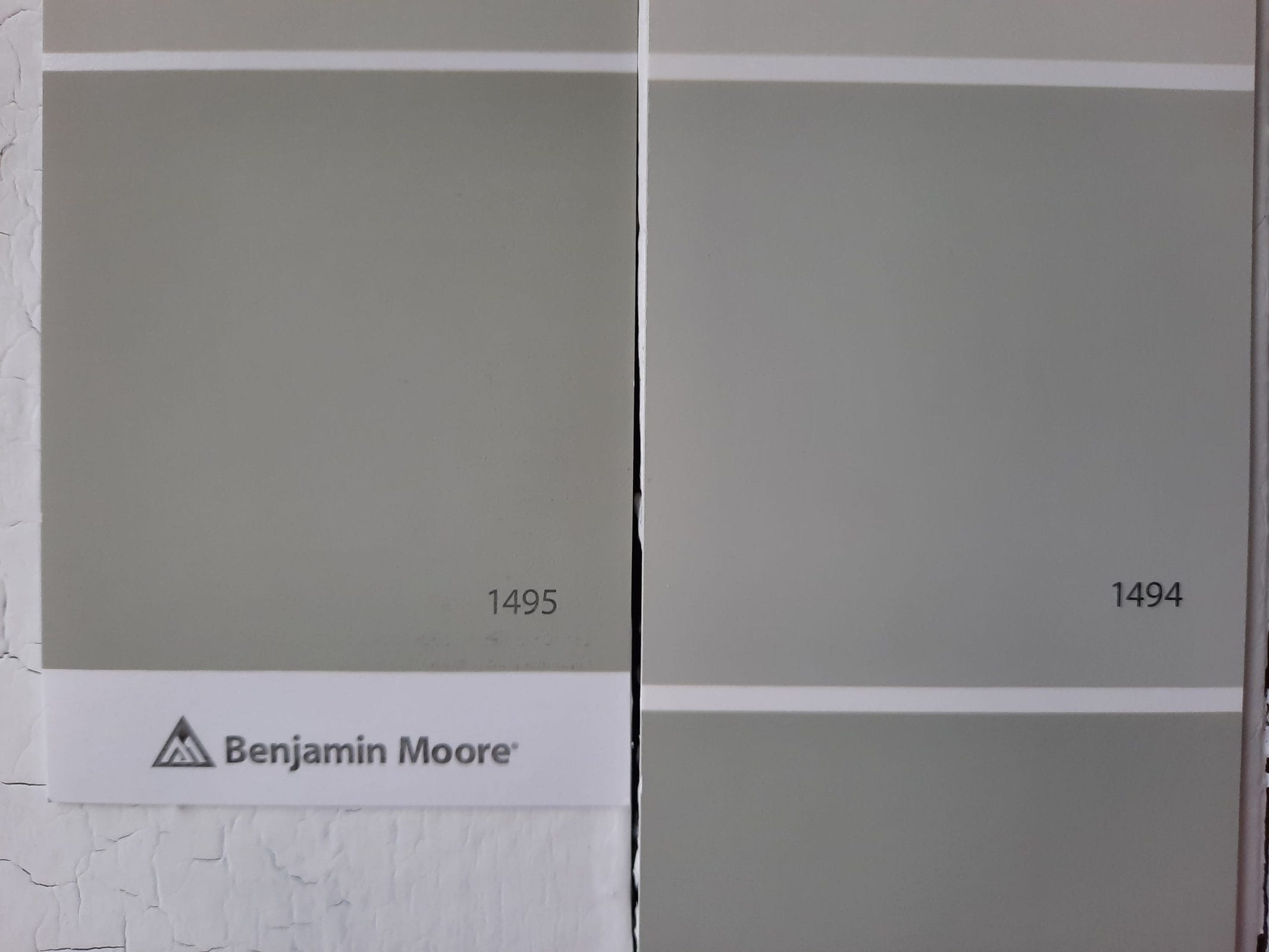 Vale Mist is October Mist's neighbor on the paint card. These colors are close, but Vale Mist is the lighter of the two, and is definitely more gray, whereas October Mist is more green. Vale Mist has a LRV of 56.53.
October Mist vs Spanish Olive by Benjamin Moore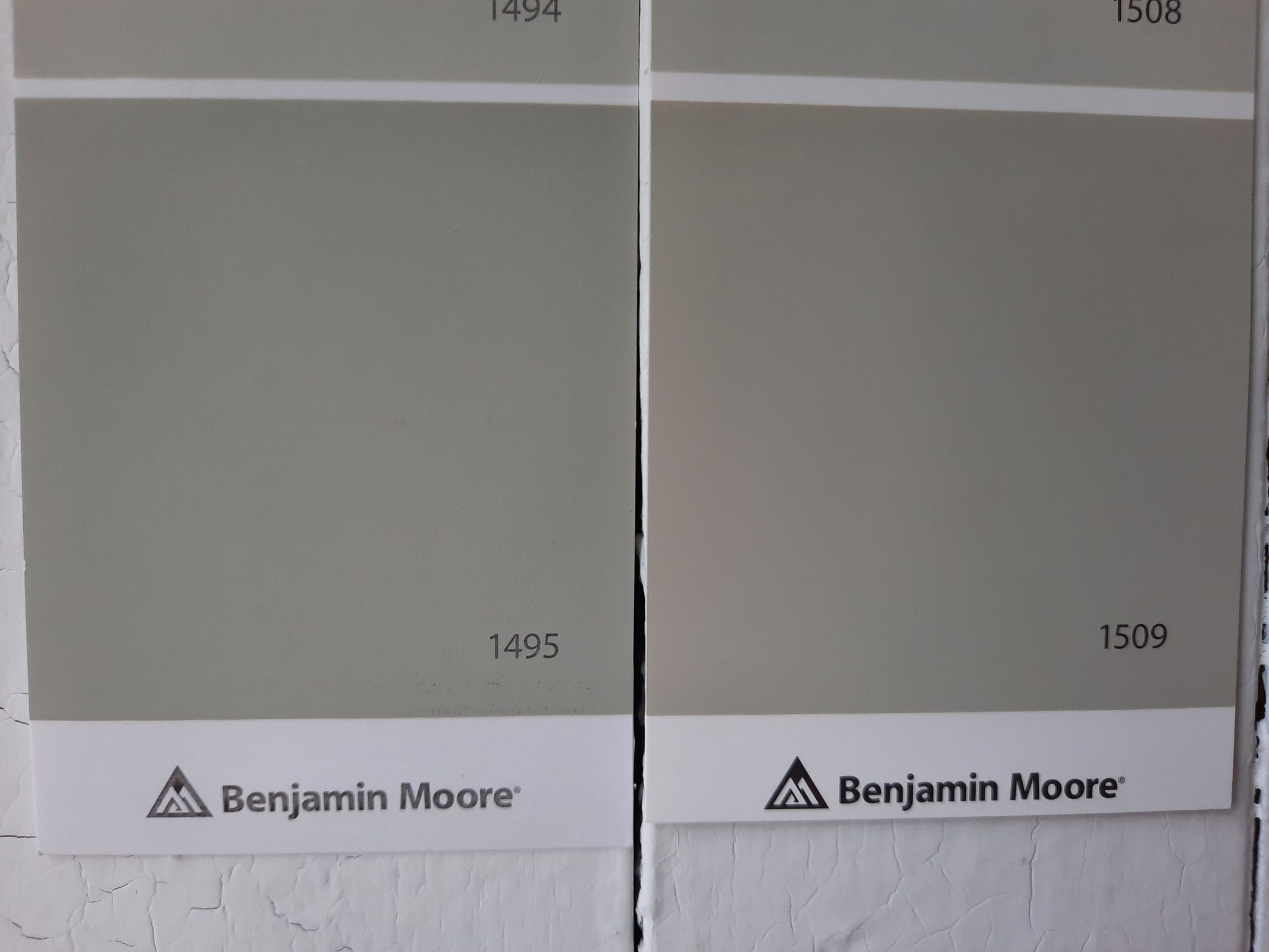 Spanish Olive is a warmer color than October Mist, blending both gray and beige with a subtle green. It's similar in tone to October Mist, but the lighter of the two, with a LRV of 53.36.
Final Thoughts
October Mist is a soft organic sage that provides a field in which to explore the rest of your color palette. This color promises to connect us with the natural world and soothe the senses. If you're looking to refresh and enliven your space, October Mist just might be the color for you.