Decorated Life is reader-supported. When you buy through links on our site, we may earn an affiliate commission. Learn More
19 Best Mid Century Modern Dressers
If you've been looking at ways to add extra storage to your bedroom, then the addition of a stylish mid century modern dresser is the perfect way to do it.
Finding something the right size, shape and style for your bedroom is key. There are so many gorgeous mid-century modern dressers to choose from, it can be overwhelming!
Don't worry though… I've found 19 of the best mid century dressers to inspire you when shopping around for your next set of bedroom storage drawers.
Dorinda 6 Drawer Double Dresser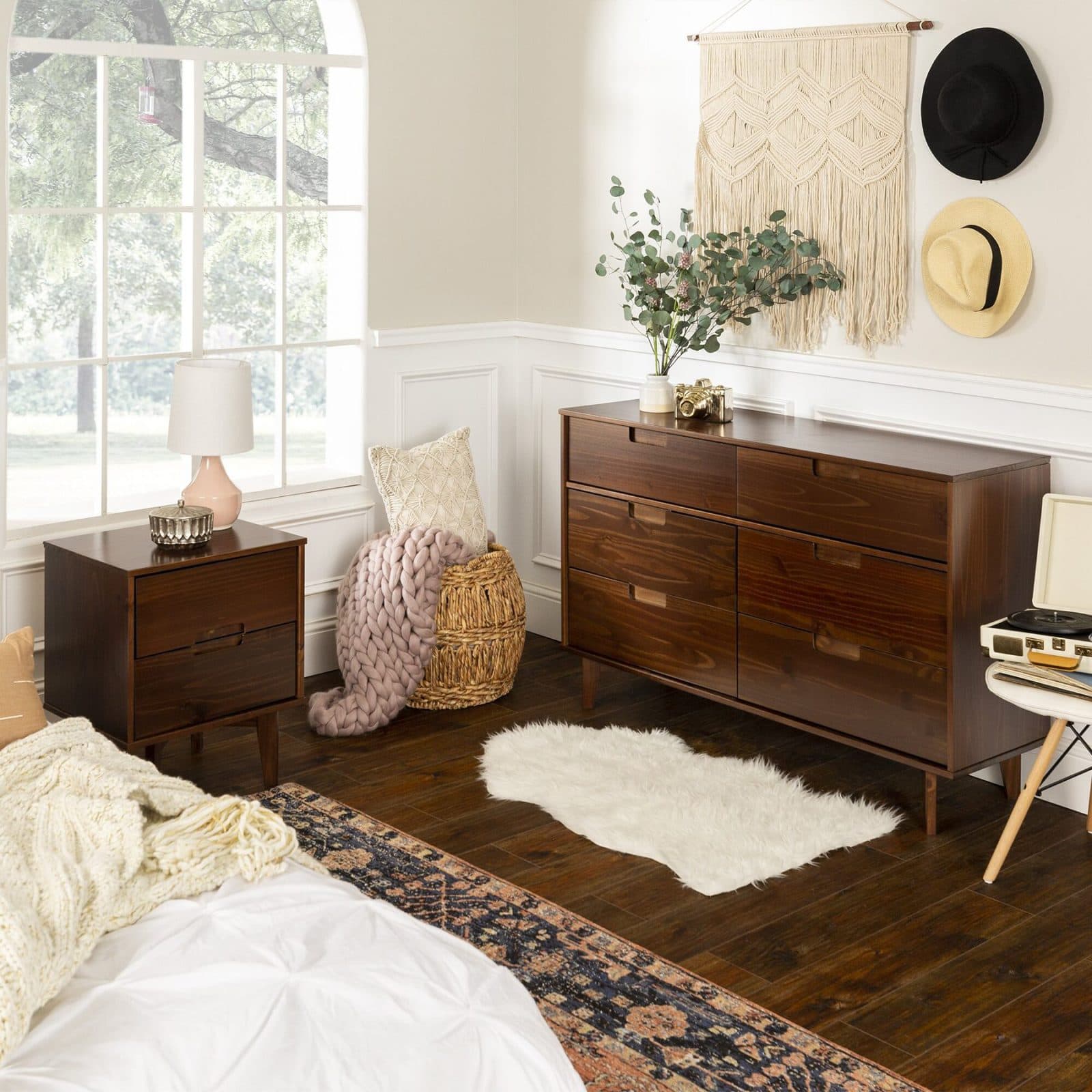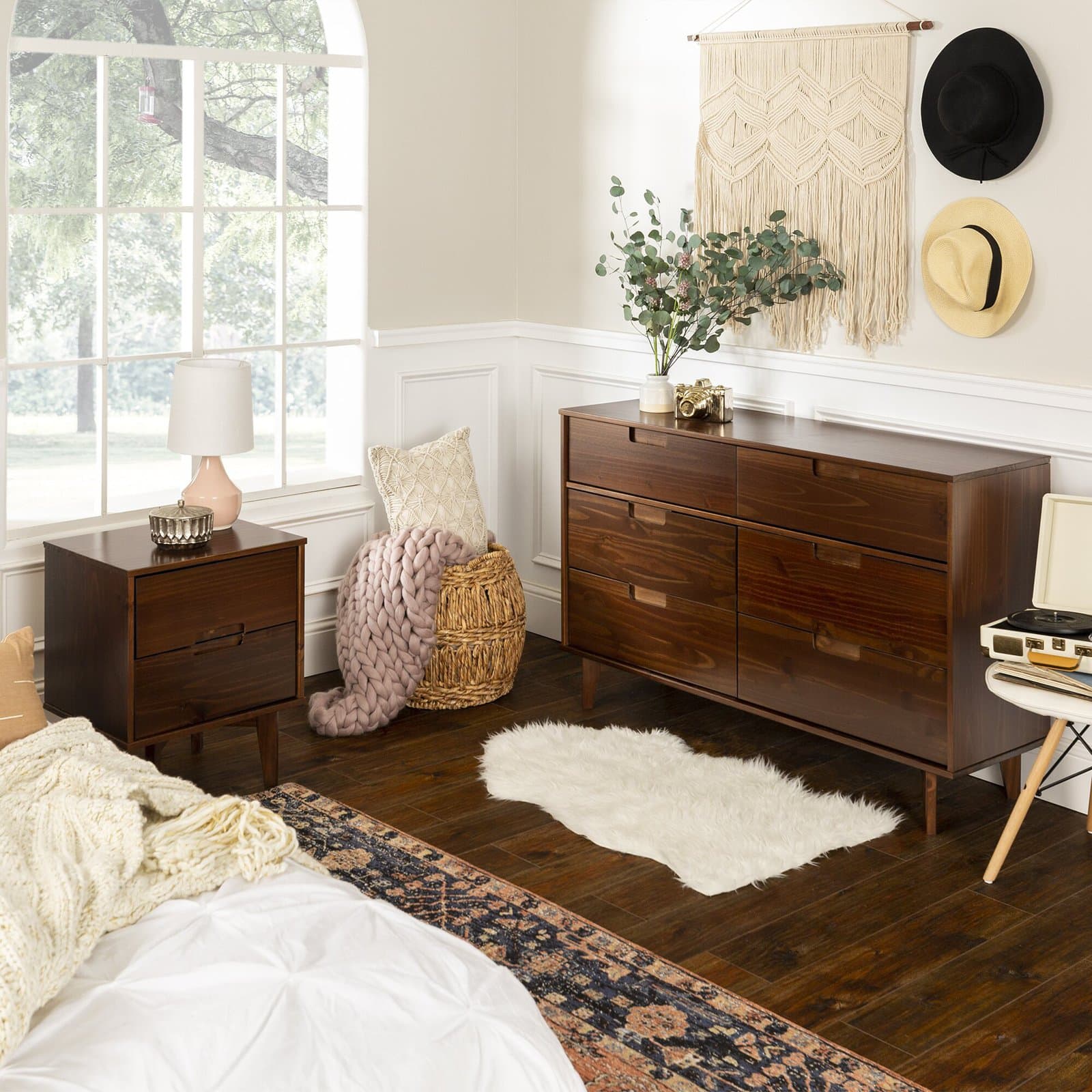 With 6 evenly spaced deep drawers this dresser offers plenty of storage. It has been designed in a classic mid-century style, with straight legs and carved-out drawer pulls. The wood is a lovely deep brown color which means it'll also fit in with pretty much any bedroom colour scheme.
You could easily style it in the same way, with a mirror and light so you can also make use of the top of the dresser for extra storage, leaving things such as beauty products and cosmetics within easy reach.
Lorraine Mid-Century Modern 3-Drawer Dresser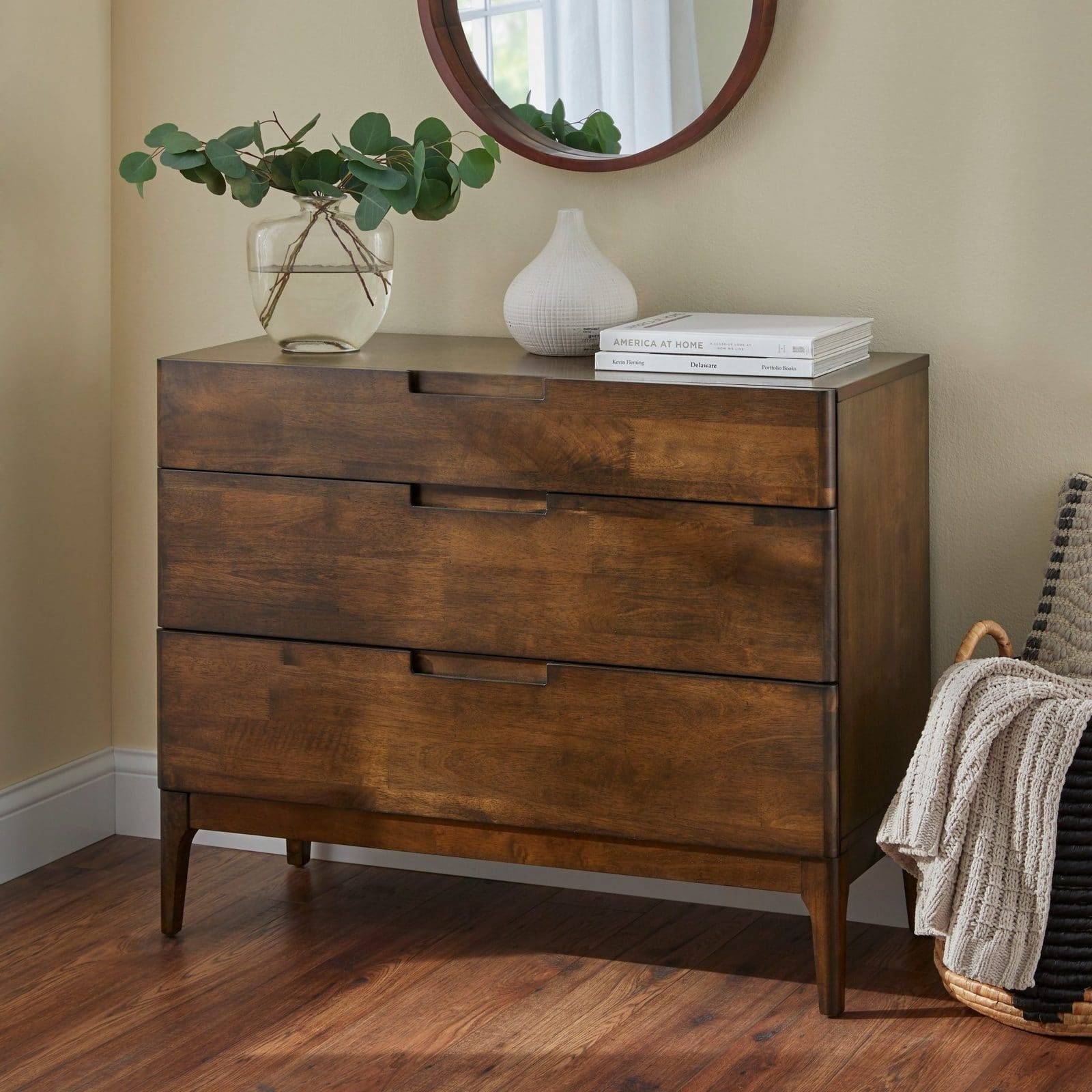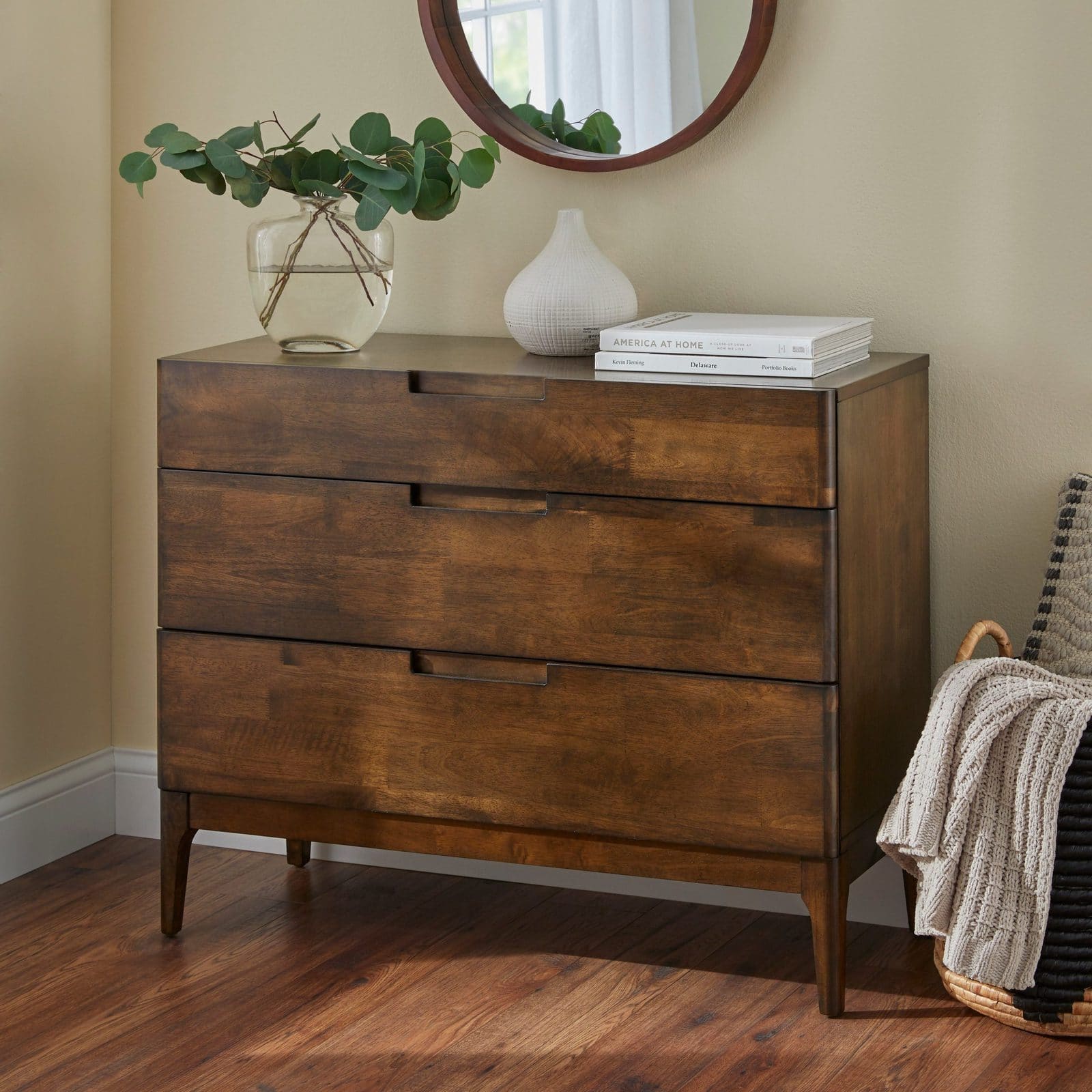 This gorgeous 3-drawer dresser features a stylish design, typical of the mid century period. With minimal ornamentation and clean lines, this dresser is perfect for creating a smart, stylish look in your bedroom.
The darker colored wood will work fantastically well in a lighter coloured bedroom, creating a wonderful contrast between dark and light. The walnut finish on the dresser gives it a really rustic look, so if you're looking to create a more traditional looking bedroom then this Lifestorey Lorraine dresser would be a great choice.
Gerbold 6 Drawer Double Dresser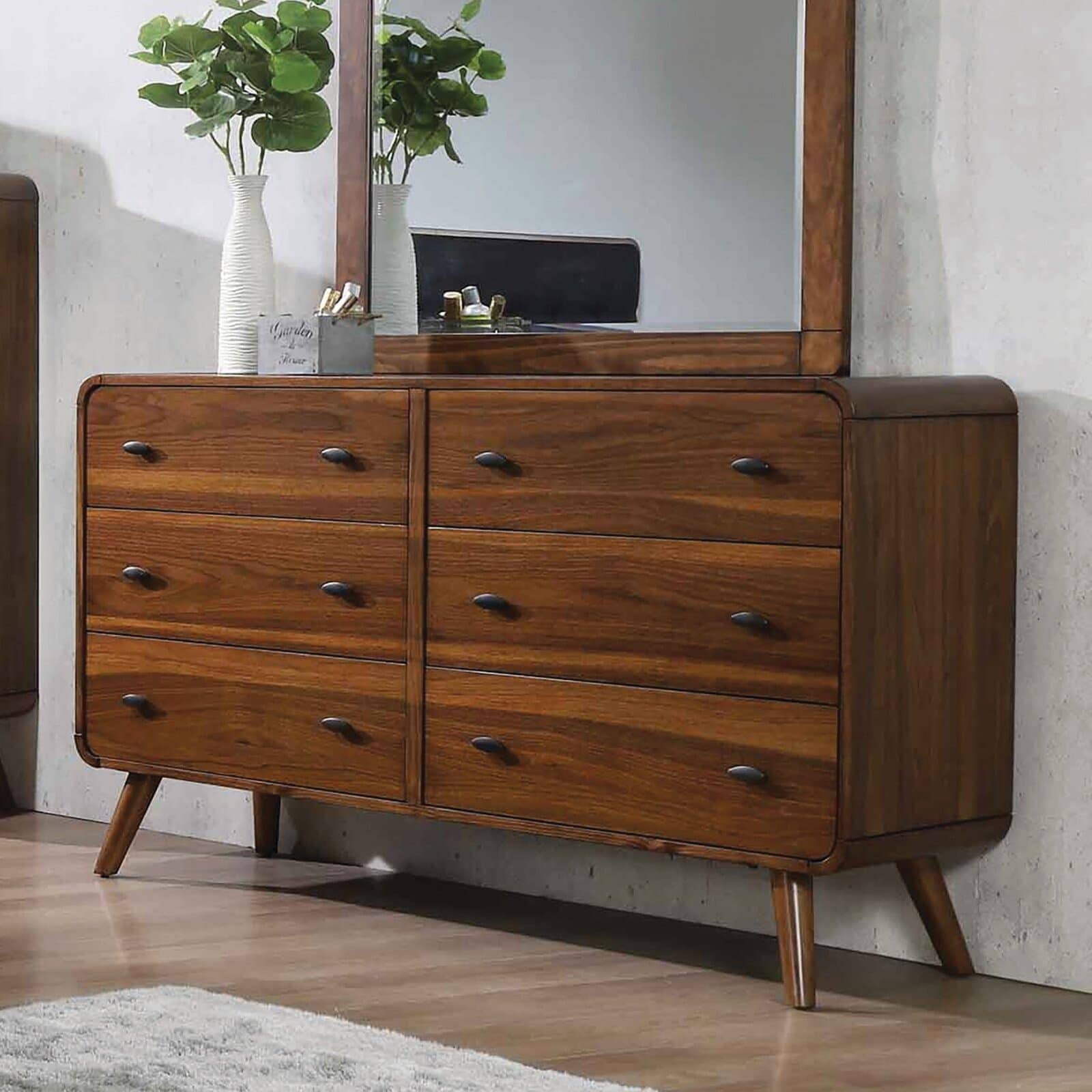 You'll get plenty of storage with this stunning 6 draw unit, which comes complete with a mirror. The grain of the wood showing gives the drawers a unique look, which is complemented well with the pale wood flooring they have in this bedroom.
This goes to show that although the unit has a dark walnut finish it will easily fit in with bedrooms of all styles.
Tabitha 6-Drawer Dresser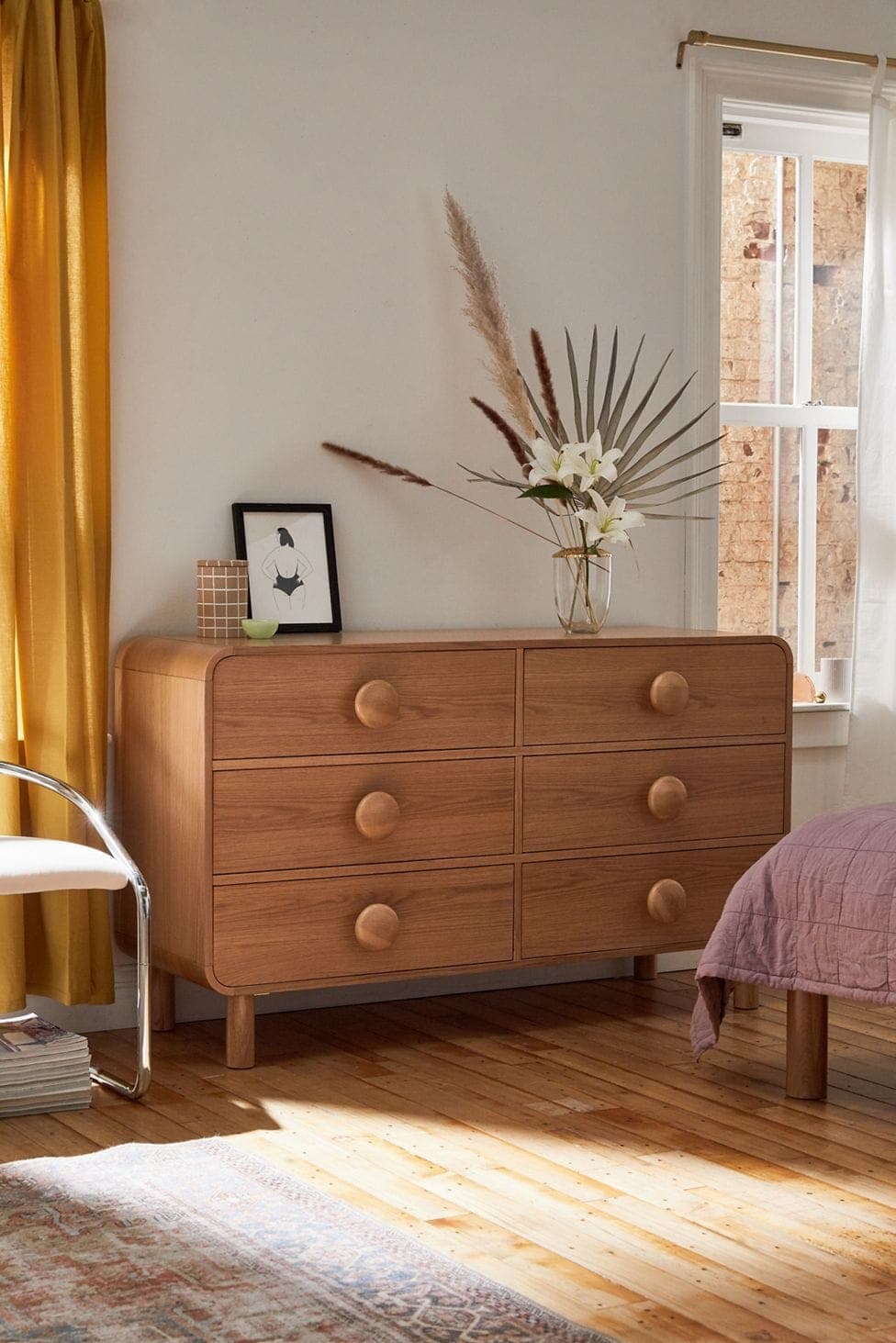 The symmetrical design and light wood in this mid-century inspired dresser gives it a clean contemporary look. Soft curves and defined lines keep well with the aesthetically pleasing symmetrical nature of this gorgeous dresser.
The oversized drawer knobs give a soft, tactile look and feel while the understated legs disappear, creating a floating effect. If you're looking for a mid century modern dresser that is understated but gives plenty of storage, this could well be the choice for you.
Dorrit 6 Drawer Double Dresser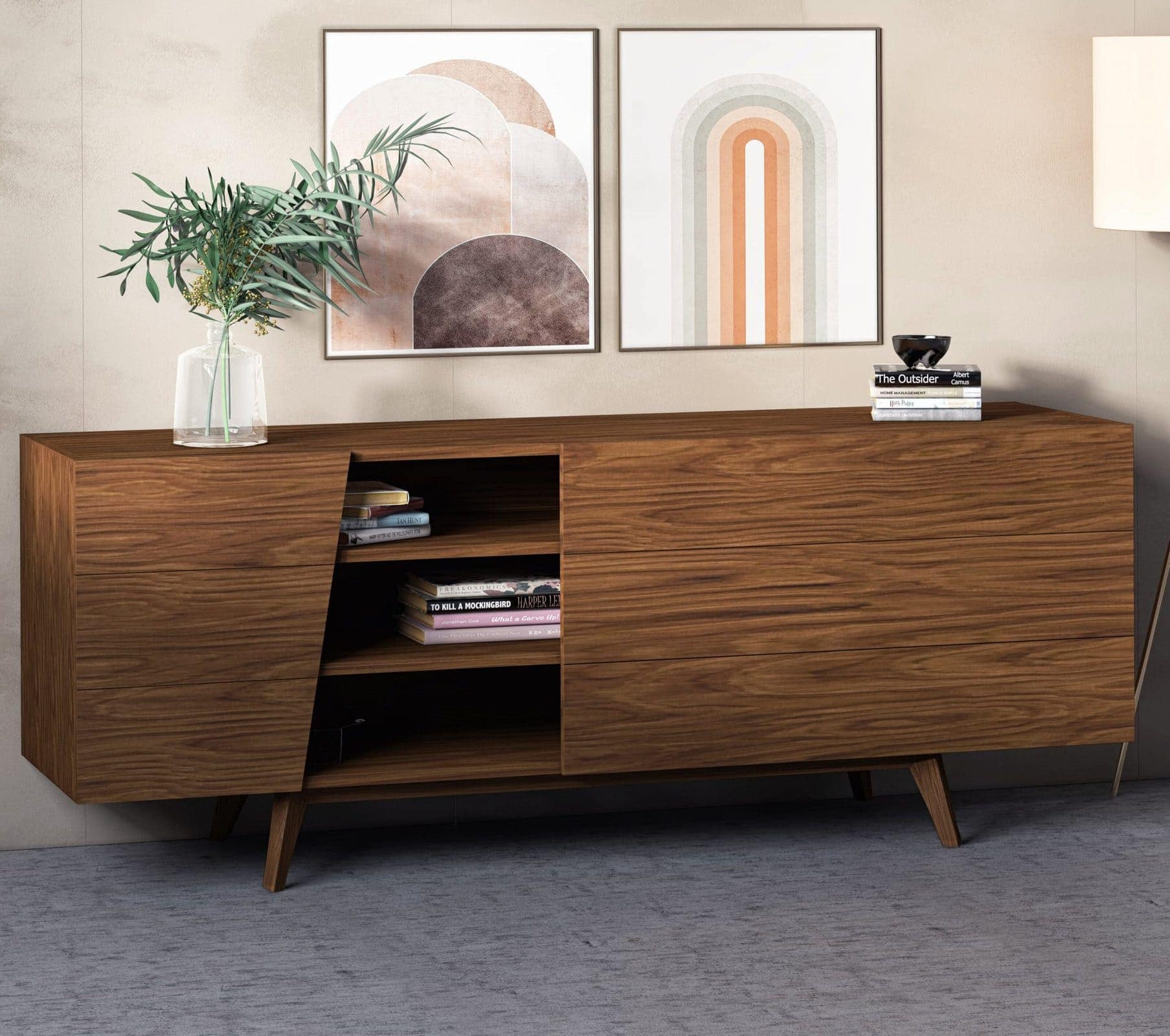 This 6 drawer dresser is striking from all aspects. Right from its vivid hypotonic wood grain in colors swirling from dark to light shades, through to its solid angular brutality. This would be a striking addition to anyone's stylish home.
With a set of shelves on view it clearly offers a unique variety of storage and display options. It has been styled here with large pieces of art on the wall, which helps to complement the overall striking look of the unit.
Carson Carrington Christian 8-drawer Dresser
The different sized and color drawers in the Carson Carrington Christian dresser give this piece of furniture a really unique look. Completed with a white wood surround, it features a variety of colours that help to bring it together with the rest of the room.
In this bedroom it has been contrasted against a dark teal wall which works perfectly and goes to show that the earth tone colors could be matched against just about anything.
Lindel Coco Oak Wood and Leather Dresser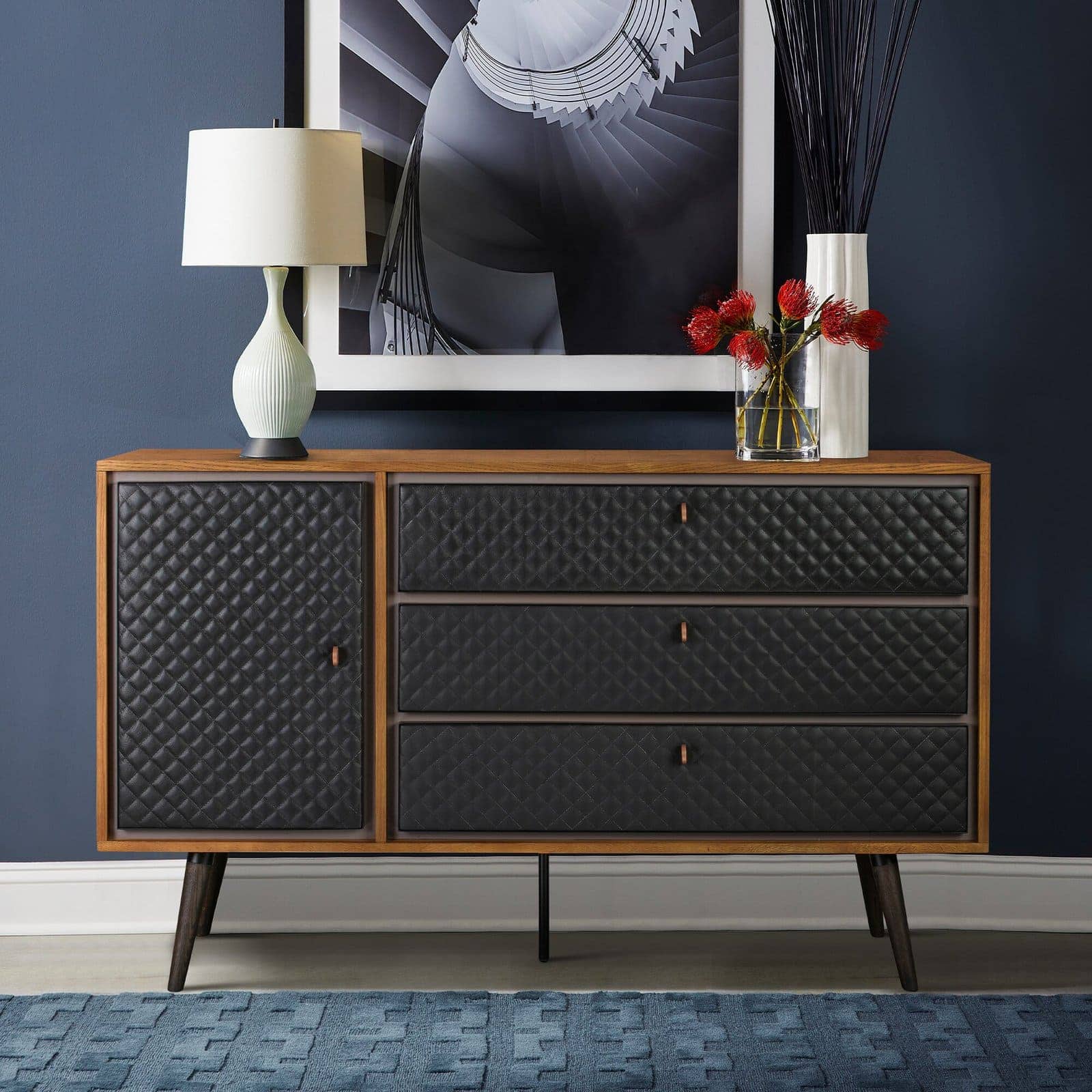 Leather and wood have been known to work together well on various pieces of furniture and this Lindel Coco Oak Wood dresser is no exception. Although it only has 3 drawers they are a good size so storage should not be an issue.
The side cupboard also helps to give more storage options. The light color wood and the dark leather front work well together, giving this piece a really unique look.
Marienne 6-Drawer Dresser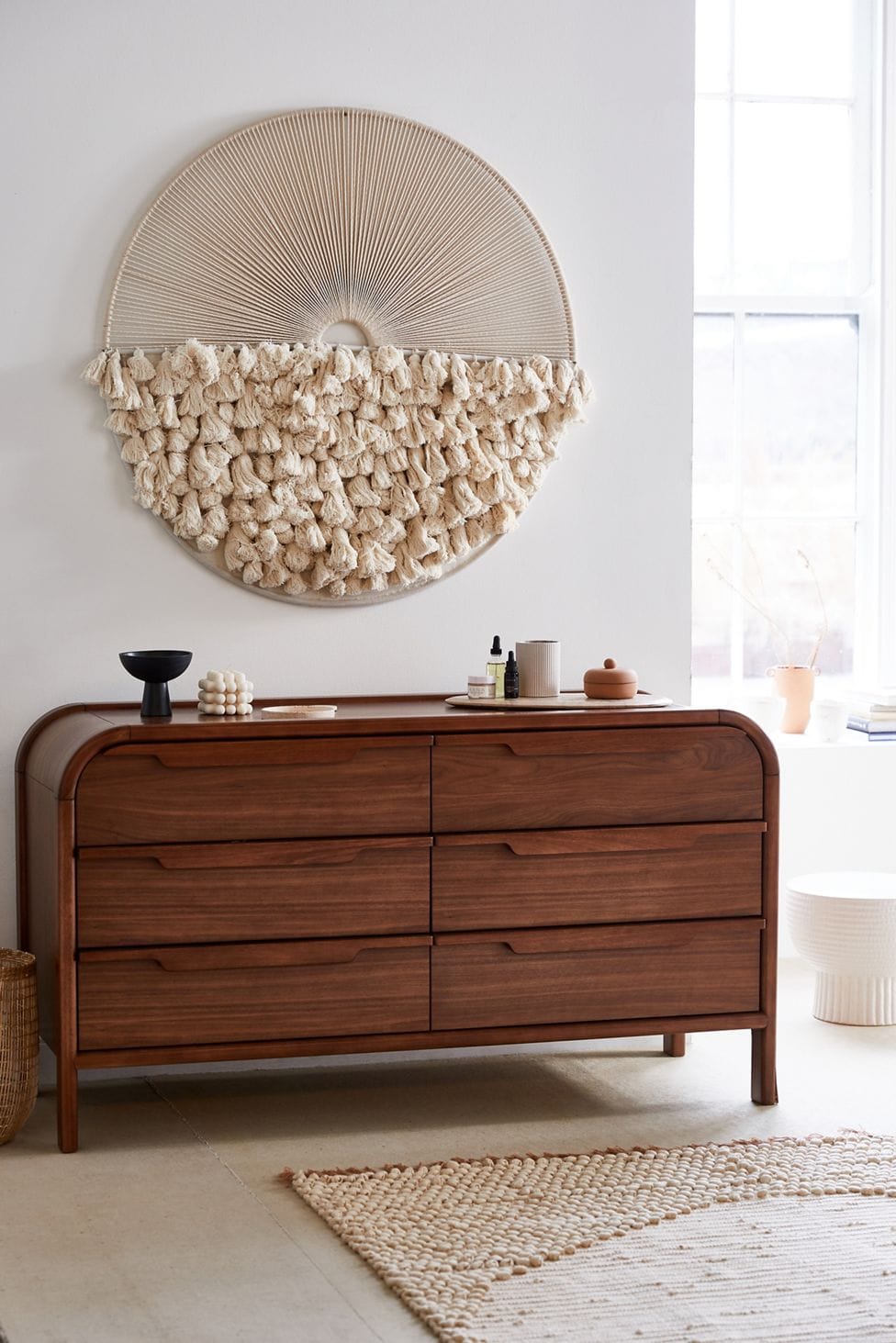 The long integrated bar-pull handles and smooth curved corners on this 6 drawer dresser give it a classic mid century look, which looks beautiful with the darker wood finish. With 6 large drawers and space on top this mid century style dresser is both practical and stylish
The large piece of art hung above the drawers helps to bring out the color of the unit, and neutral ornaments complement the overall look allowing the dresser to stand out as a feature in the room.
Bulluck 6 Drawer Double Dresser with Mirror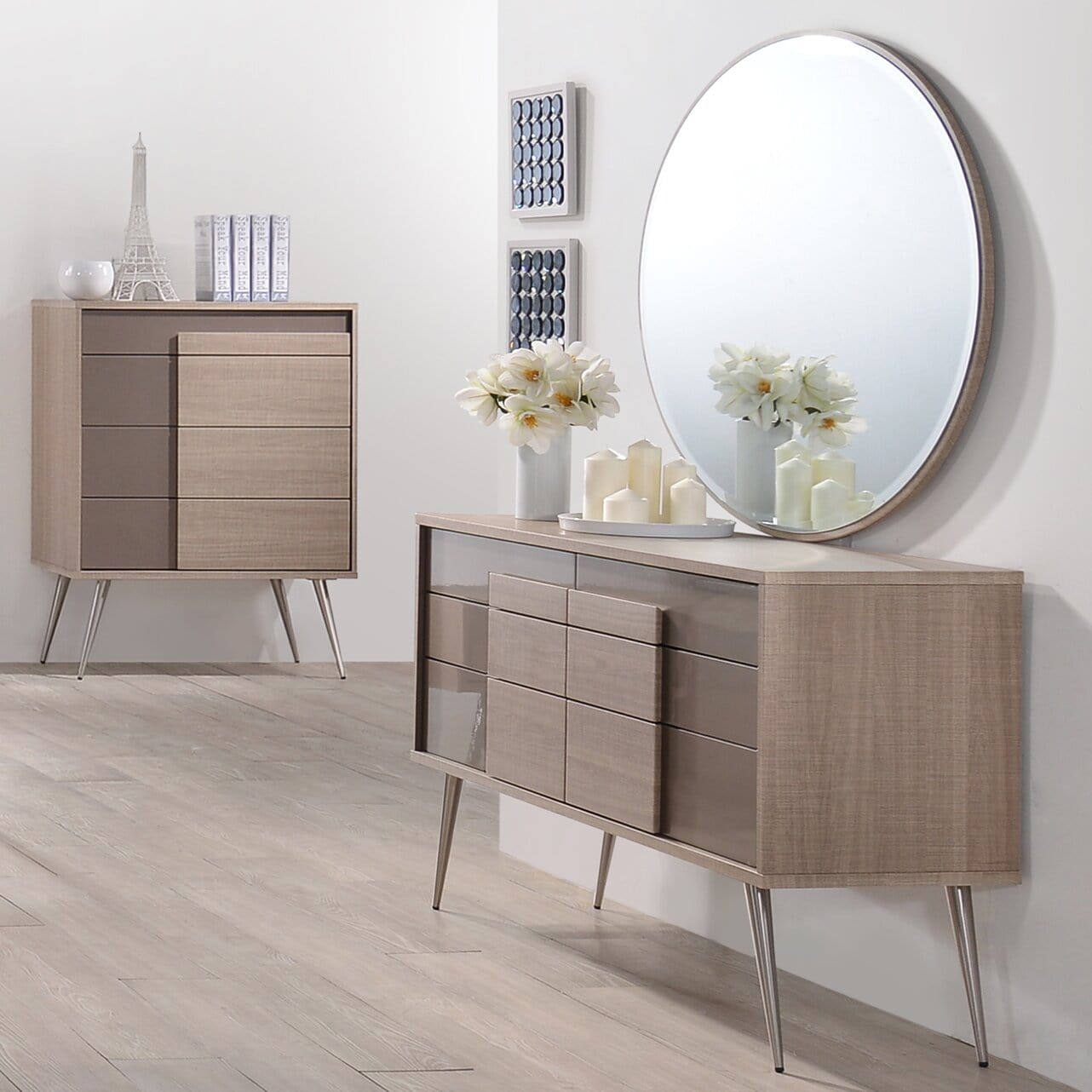 With a retro style, the understated finish of this dresser means it will fit in just about any room. It's completed with a high-gloss coating and a large round mirror which really helps to bring everything together.
Stylish metal legs complete the retro look perfectly and if you like this mid century chest of drawers you might also want the matching side-unit as they have done here, to finish off the overall look of the room.
Milo Mid Century Modern 7-Drawer Dresser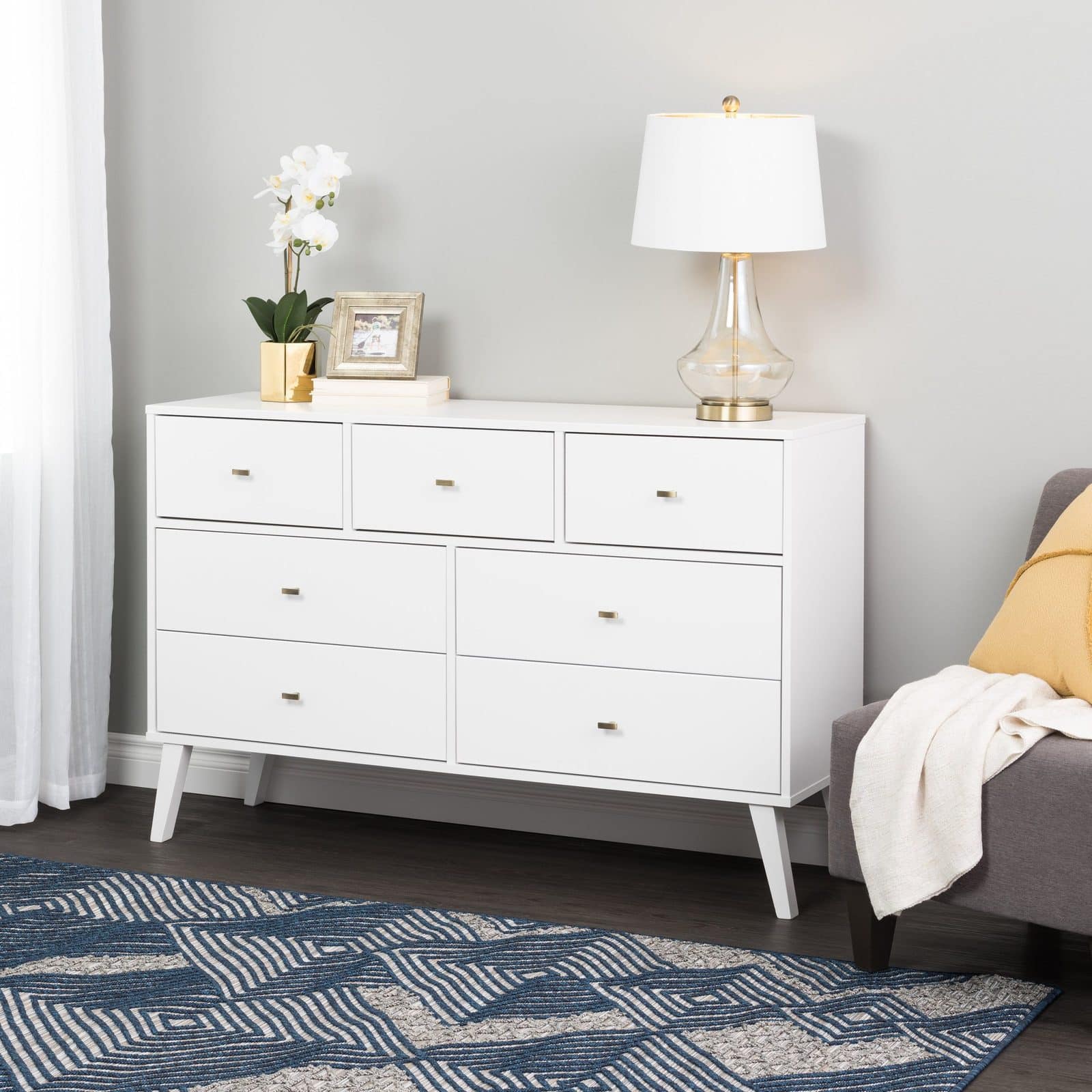 If you're looking for something that has a few more storage options, then this white mid century modern dresser might be the choice for you. Complete with 4 large drawers and 3 smaller ones you're spoilt for choice when it comes to storage space.
The crisp white finish gives it a clean look, which could be finished with white accessories in a similar way to the photo, or contrasted with bright accessories which would look just as great.
Jaxon 6-Drawer Dresser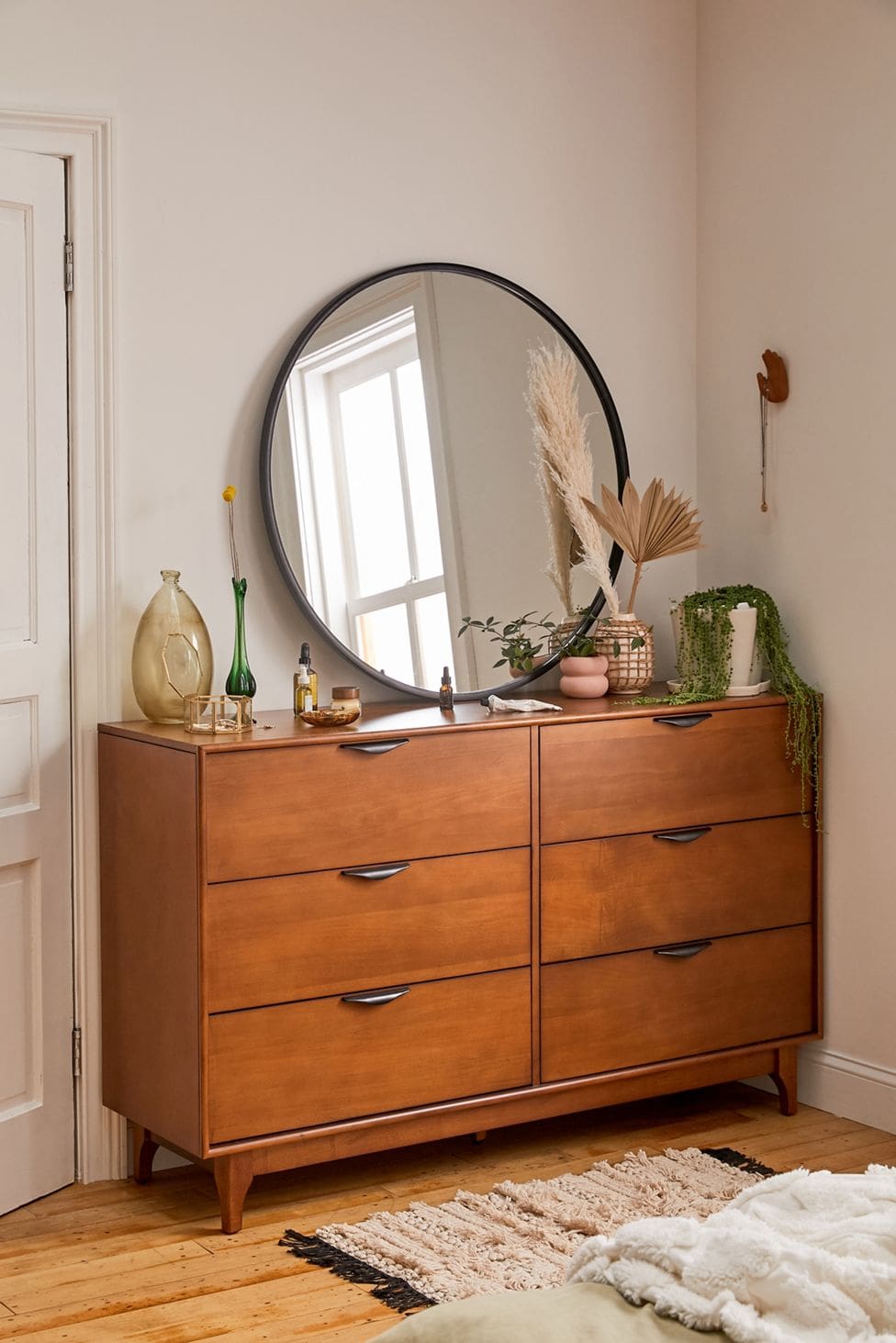 The smooth finish of this stunning mid-century dresser will make it look at home in almost any style of bedroom. The curved metal drawer-pulls complete the look of this dresser, which matches perfectly with the large mirror used on top of the drawers.
It has a deep wood color finish and uses dovetail joints which is a lovely detail. The top drawers are felt lined, giving it a real sense of luxury.
Antonelli 6 Drawer Double Dresser with Mirror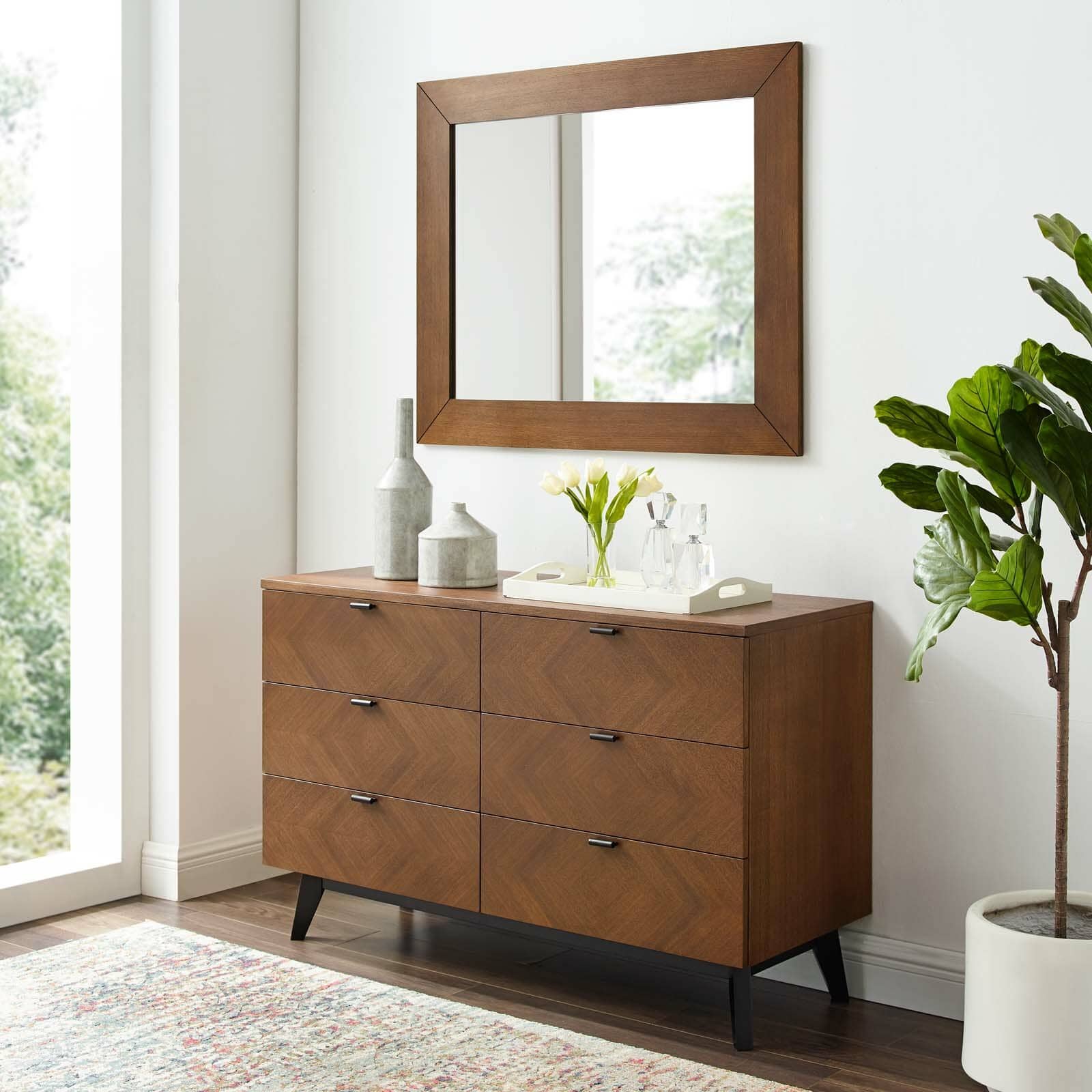 The boxy look of these drawers is balanced out by the legs which are placed at angles. The drawers feature a stunning geometric chevron pattern, and have been designed to glide easily, so the unit is both beautiful and a joy to use.
This dresser most certainly commands attention, especially placed under a large square mirror with a matching frame like the one in the image. The grained wood finish is bold and definitely fits in well with the shape of the dresser, giving it an overall strong look.
Gjovik Mid-Century Distressed Grey 6-drawer Dresser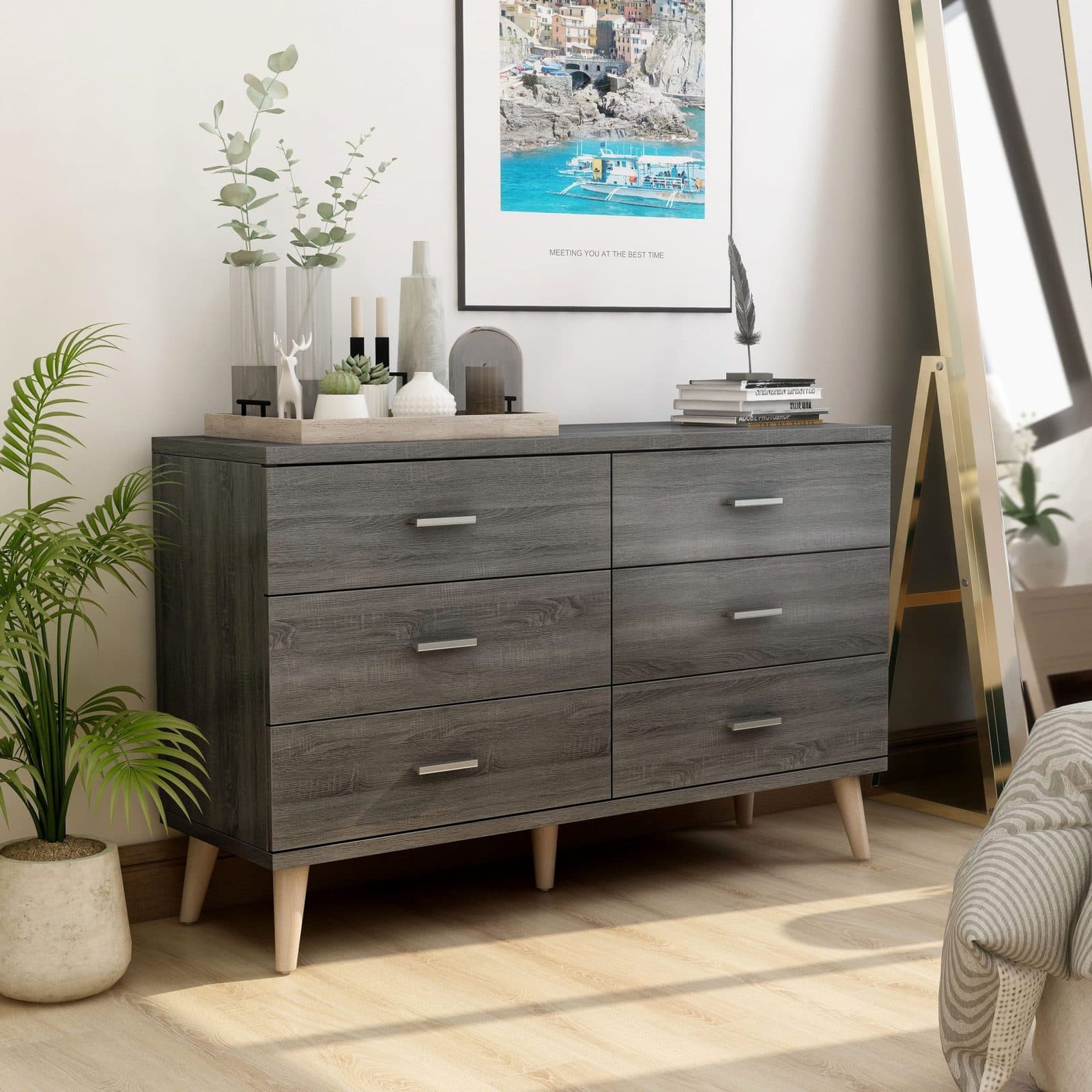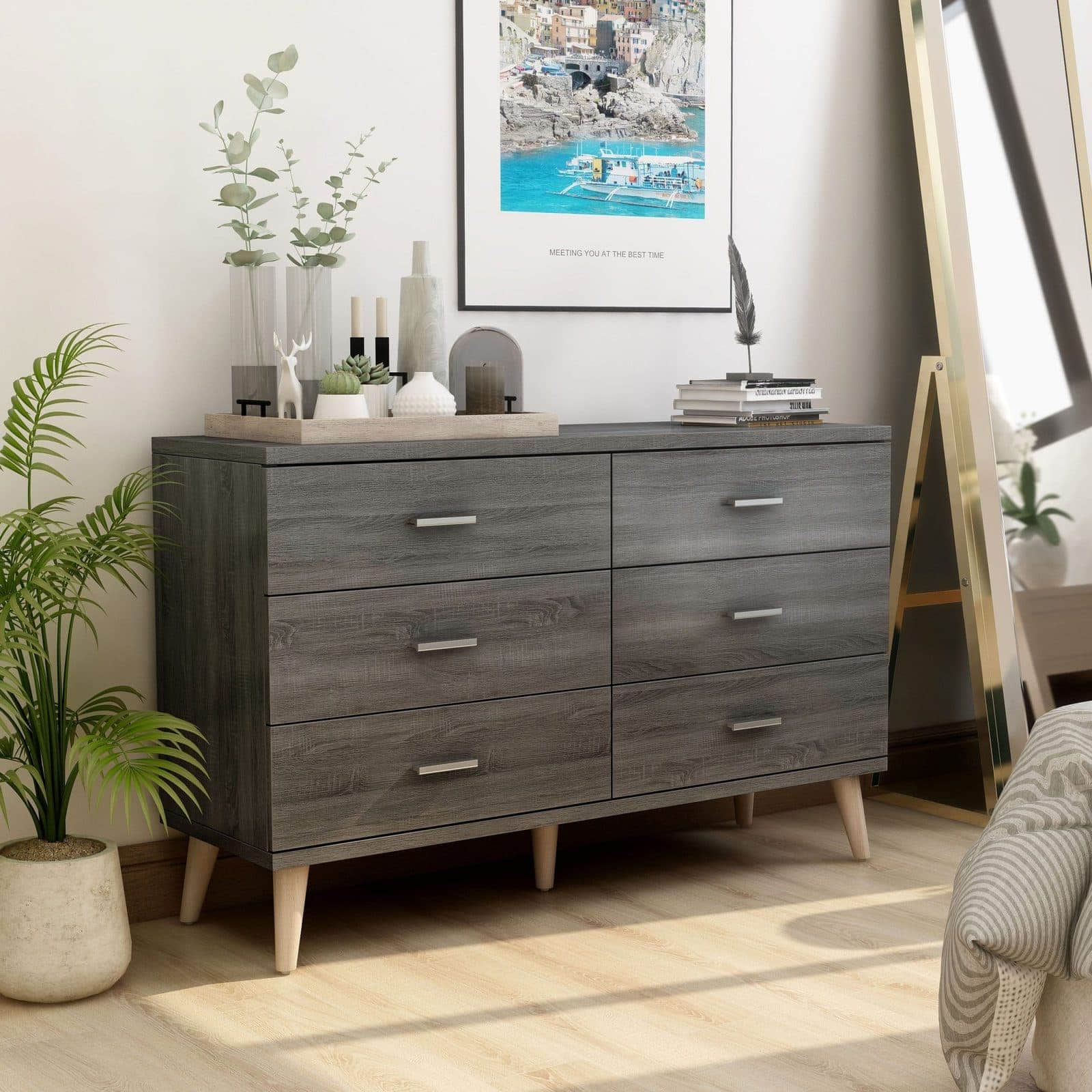 If you're looking for mid-century modern bedroom dressers but you want to stay away from a traditional wood finish then these grey drawers will be just up your street.
With 6 drawers all matching in shape and size they give plenty of storage, with the drawers going right to the edge of the unit. It has 5 legs which means you can be sure it will be strong and sturdy, making it the perfect choice for just about any bedroom!
Akina 6-Drawer Dresser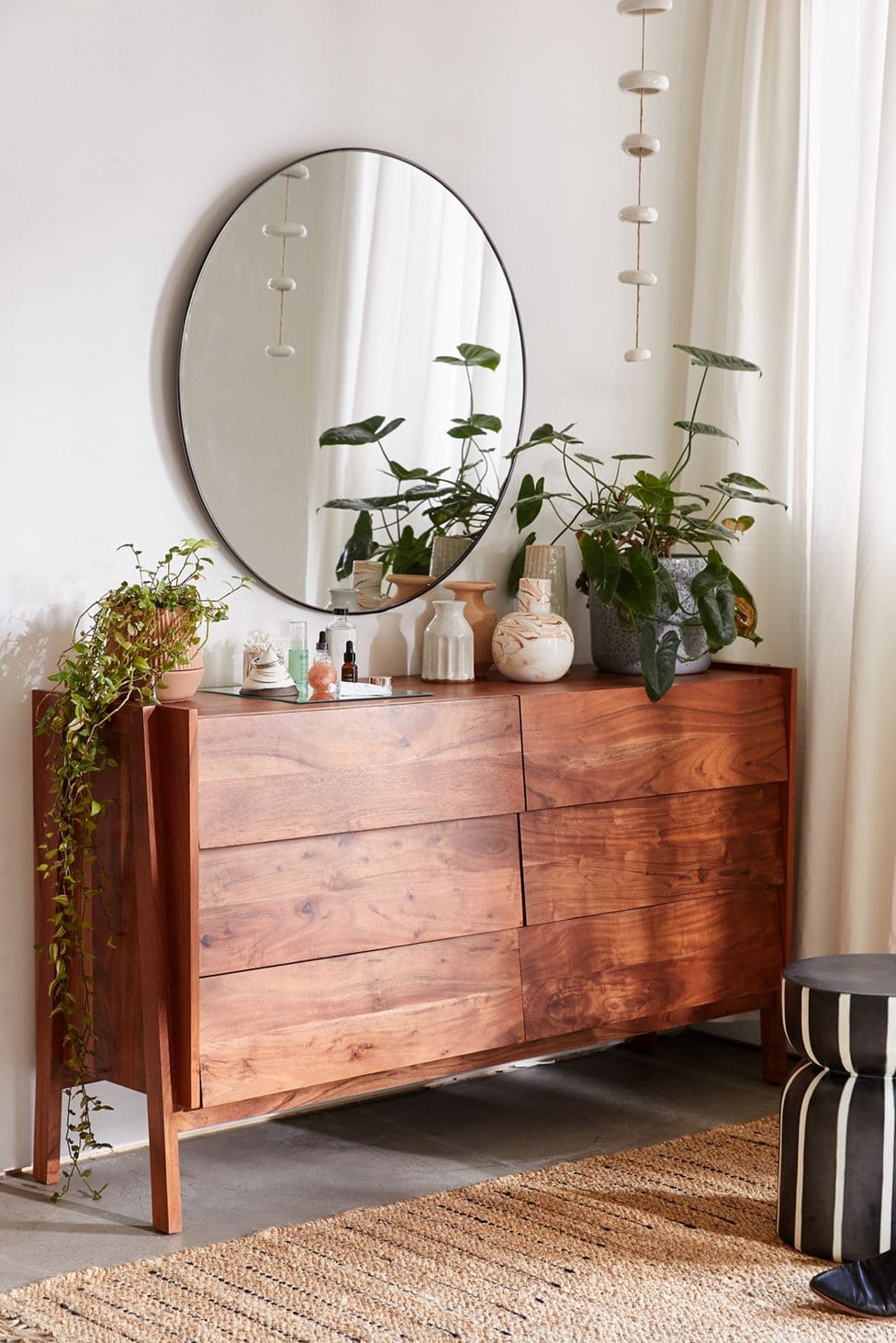 The Acacia wood finish to these drawers features a live edge finish, giving it a truly unique look. With 6 drawers, designed to be easy to pull with an angled front there is plenty of storage.
The legs are stylish and bold, and positioned to the side of the unit, giving it a modern feel. The top has plenty of space and can be utilised like it has in the photo to make sure you get the maximum benefit from all the storage available.
Large Acorn Wood Brewton Dresser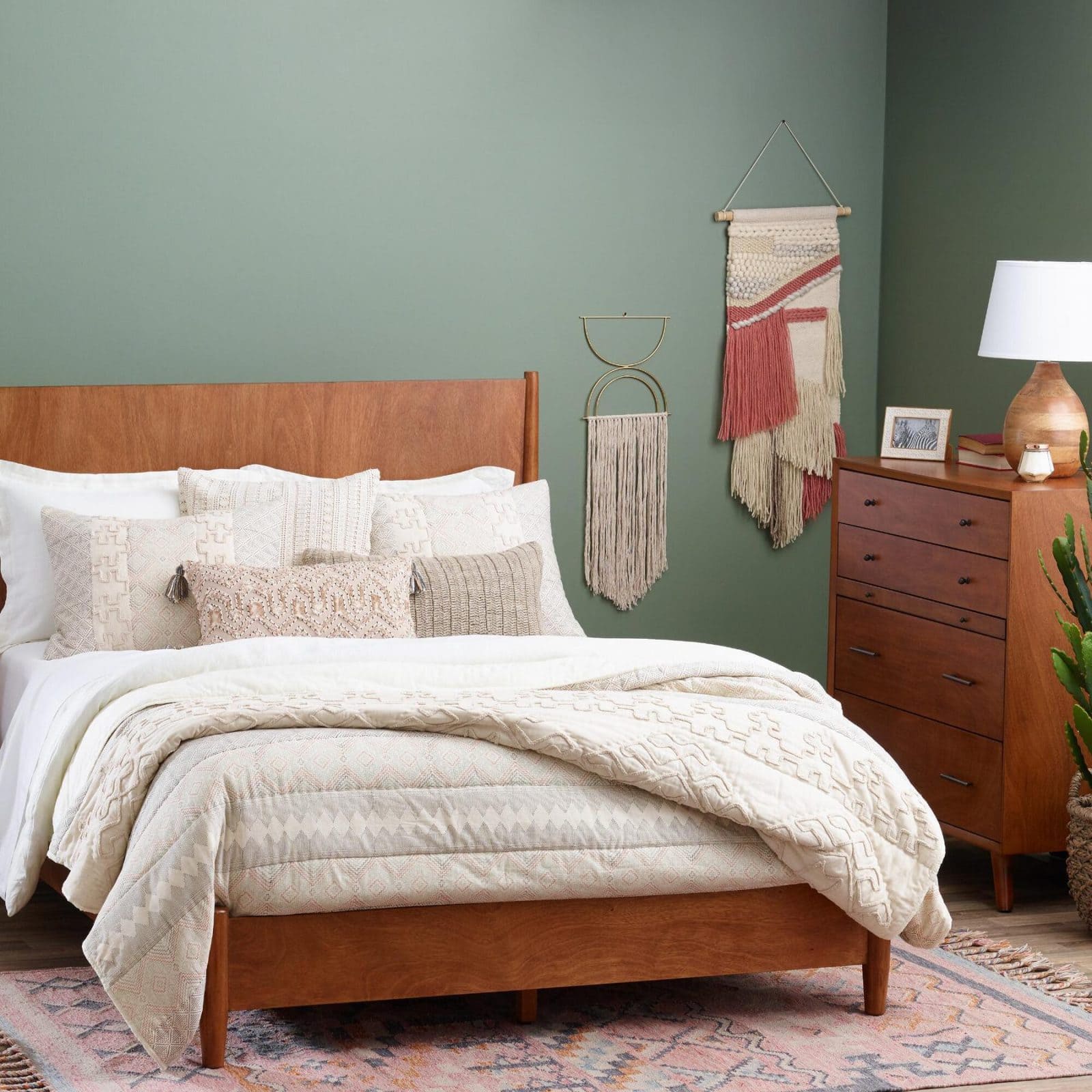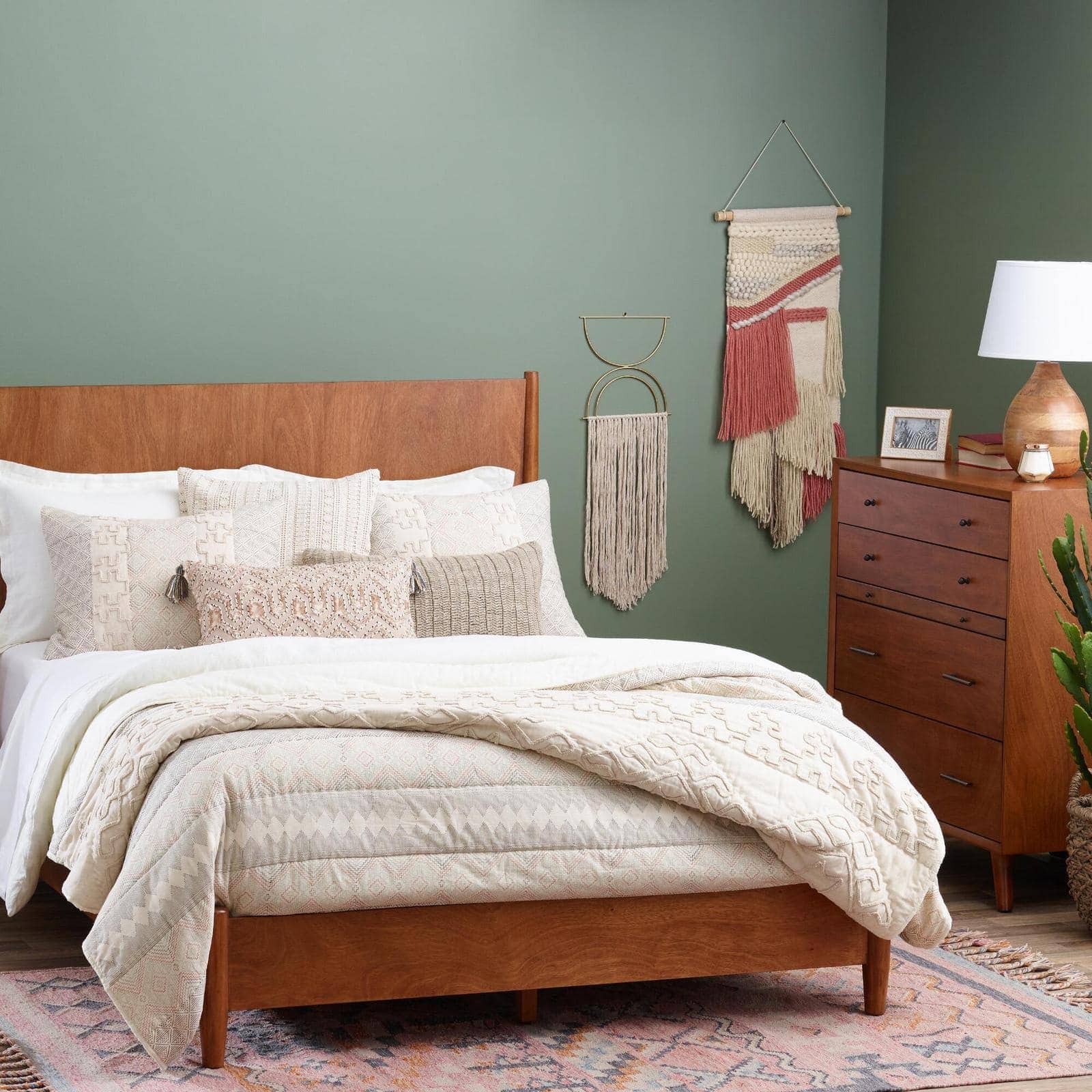 This stunning dresser has been crafted from mahogany wood and okoume veneer with an acorn finish. It offers ample storage with a choice of 7 drawers to use. The acorn hued finish is light and the understated burnished brass hardware gives a really subtle look to the whole dresser.
This would sit nicely in a minimal style room, or easily be dressed up with bright homeware accessories placed on the top. It's a large size dresser so you'll need a decent sized room, but the benefit of having so much storage will be vast.
Kono Dresser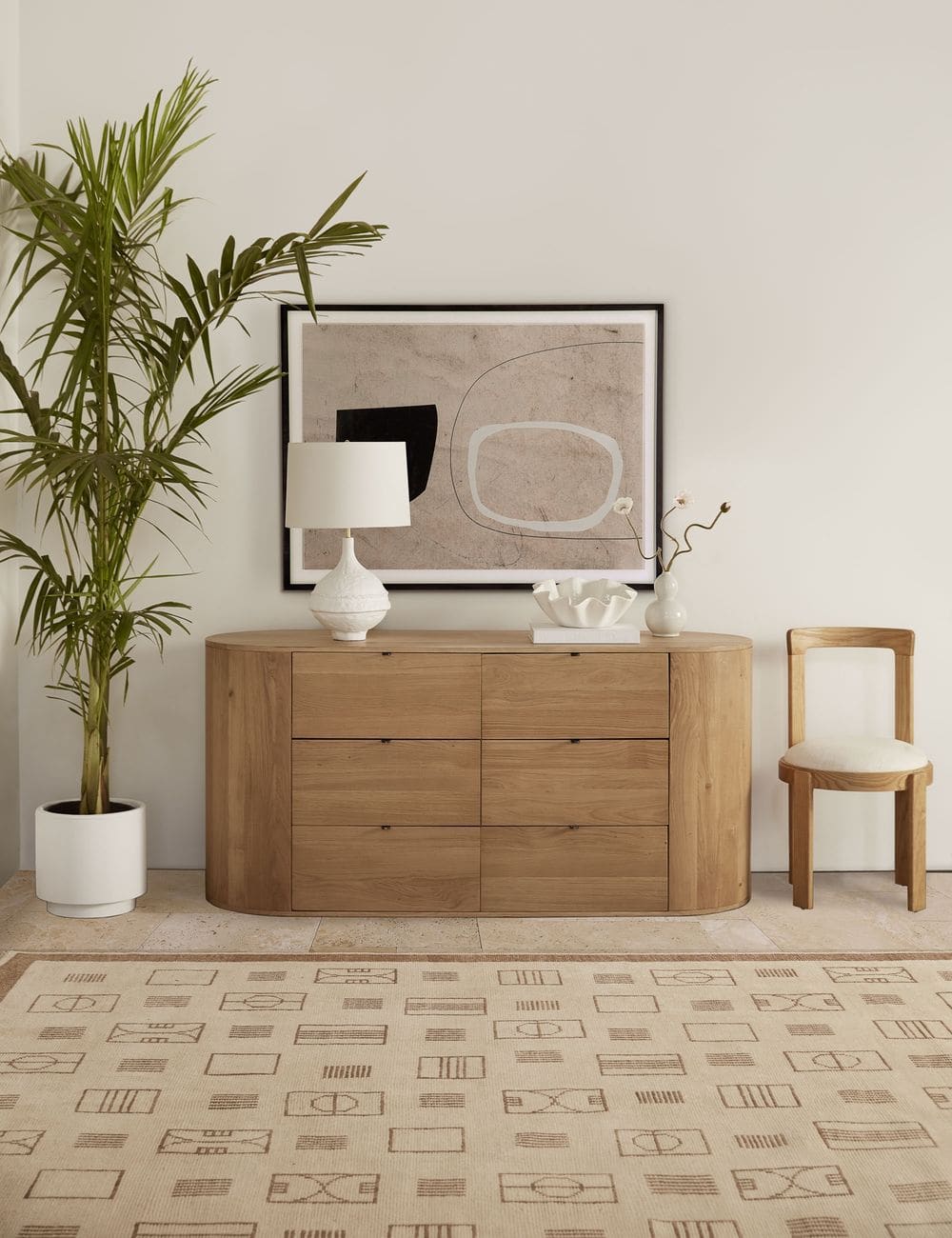 This dresser screams sophistication and would be right at home in a 5-star hotel. From the curved edges to the small handles it is obvious that a lot of thought has been given to the design of these drawers.
The smooth, solid-oak finish creates a versatile piece, which would work in most bedrooms. The storage options are vast, with felt lined, soft-closing drawers giving the whole piece a real sense of distinction.
Deepa 6 Drawer Double Dresser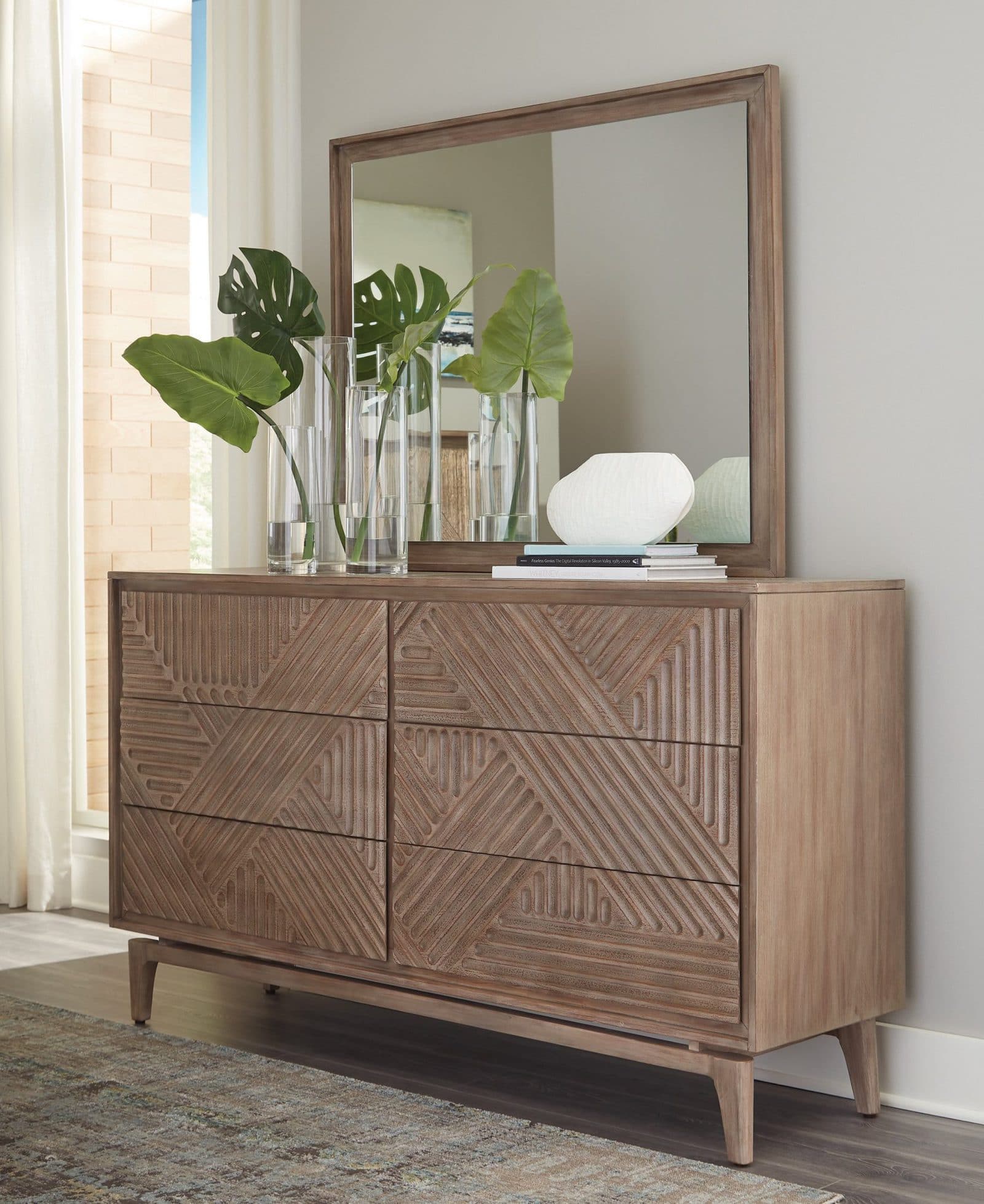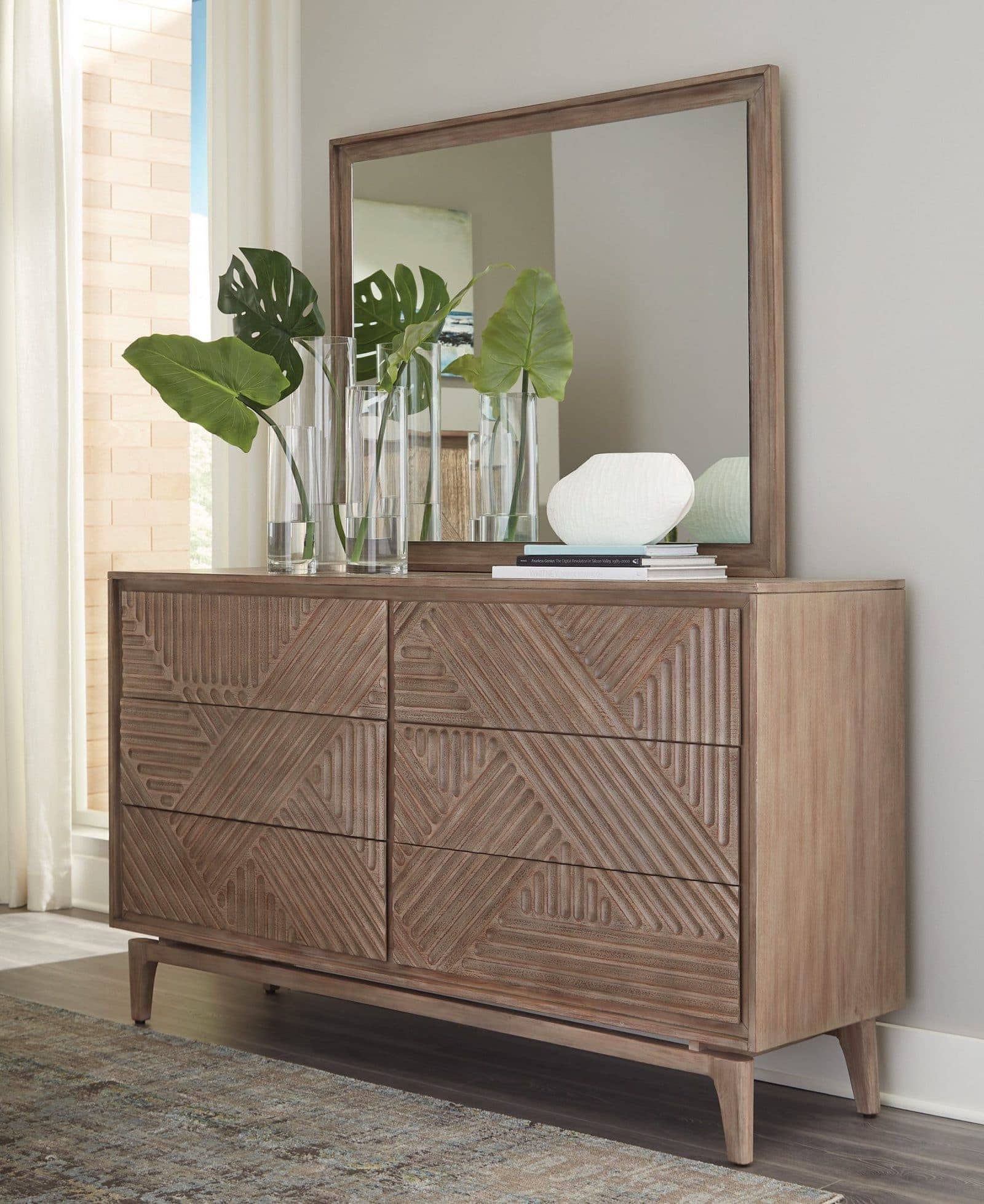 The block style design at the front of this dresser is both eye-catching and beautiful. The light brown colored finish helps to ensure that the drawers will fit in with any style bedroom, whether you want to go for matching or contrasting colors.
Six good-sized drawers help to give this mid century dresser a stylish edge as well as being practical. Team it up with a large mirror like in the photo and you have created a perfect centrepiece for your bedroom.
Gammelstaden Mid-century 6-drawer Dresser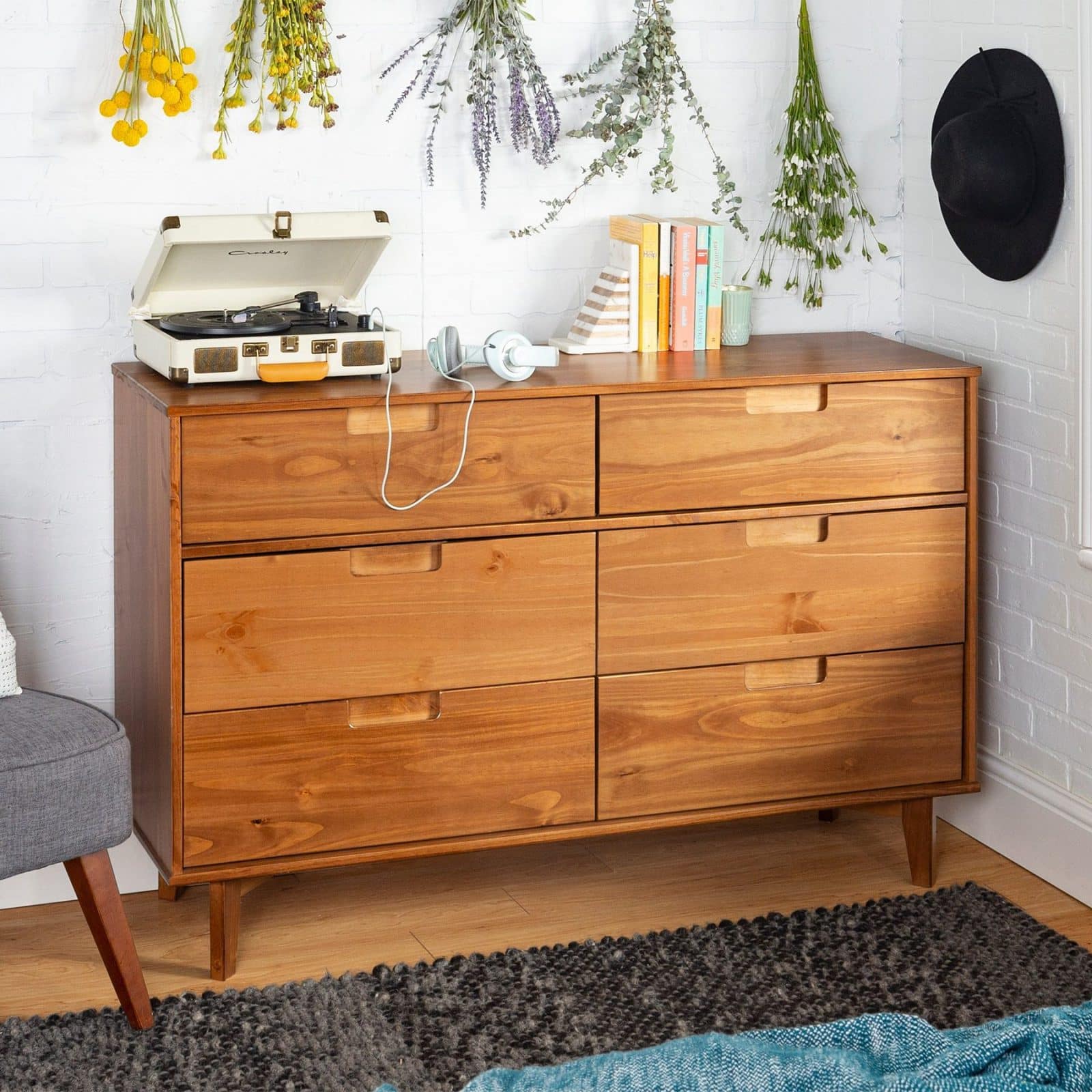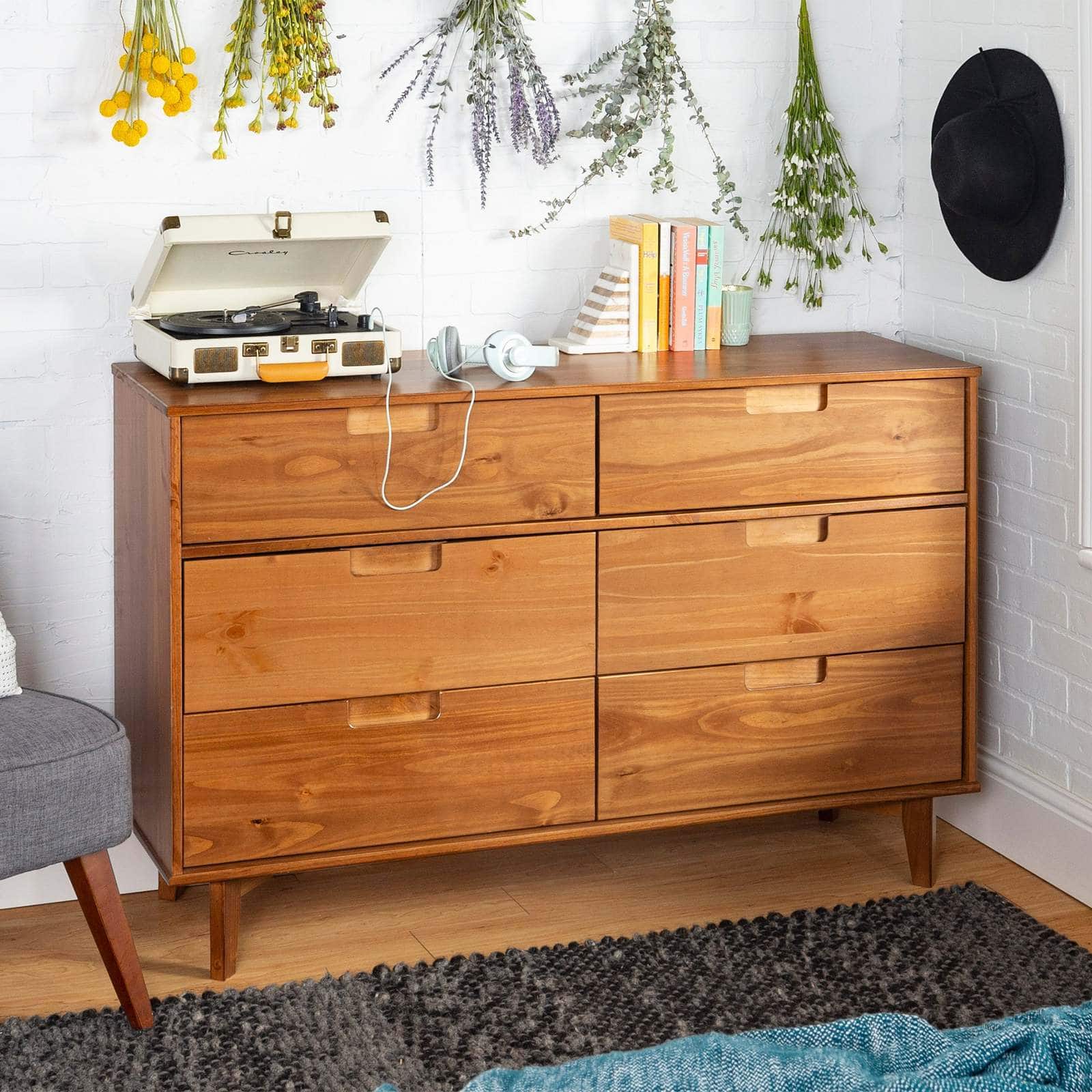 Here we have another dresser that strays away from the traditional wood finish and opts for white. The cut out handles in the drawers give the chest of drawers their own unique look, whereas the white color finish helps to make sure that they'll be at home in any room.
It's a simple design, perfectly for a room that has gone for a minimalistic look, although dressing it up to fit in with a modern bedroom wouldn't be difficult.
Williams Two-Tone 7 Drawer Double Dresser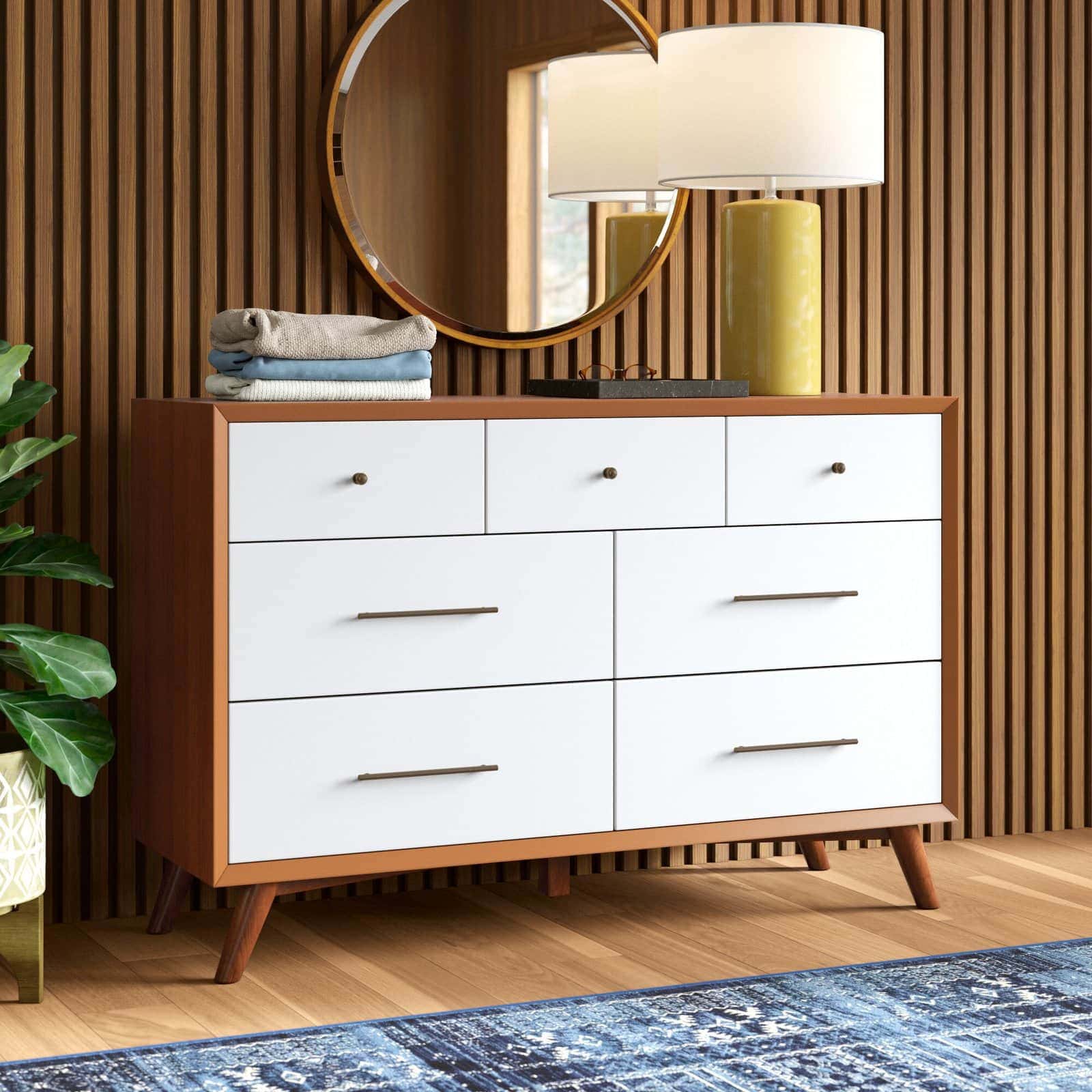 This stunning mid century dresser makes use of both clean white and a traditional wood finish. With 7 drawers and stylish drawer handles this is a set that really does tick all the boxes.
You can see the legs have been built for strength, so you can feel confident that you're investing in a piece that is likely to last if you treat yourself to a mid-century style dresser that looks like this.
Final Thoughts…
Mid century modern bedroom dressers are the perfect way to create a designer look in your bedroom. As you can see, there are plenty of different choices on offer. This is great news because it means whether you are looking for something big and bold, or something slightly more understated, you'll be able to find something that works for you.
When it comes to styling your dresser, a mirror is key. Some of these dressers have mirrors included, but if the one you like doesn't include a mirror, you can buy one separately. Round mirrors work particularly well with the curves and clean lines of mid century modern furniture!