Decorated Life is reader-supported. When you buy through links on our site, we may earn an affiliate commission. Learn More
28 Decor Ideas for a Mid Century Modern Bedroom
If you've never heard of mid-century modern style, chances are you've already seen this decor style without knowing it.
It's a style that became popular in, you guessed it, the middle of the 20th century. It's recognizable by its use of wood and other natural materials, neutral color palette, and focus on functionality.
Whether you're just looking into it for the first time or you've already decided it's the style for you, read on for the top decor ideas for your mid-century modern bedroom.
Use Natural Materials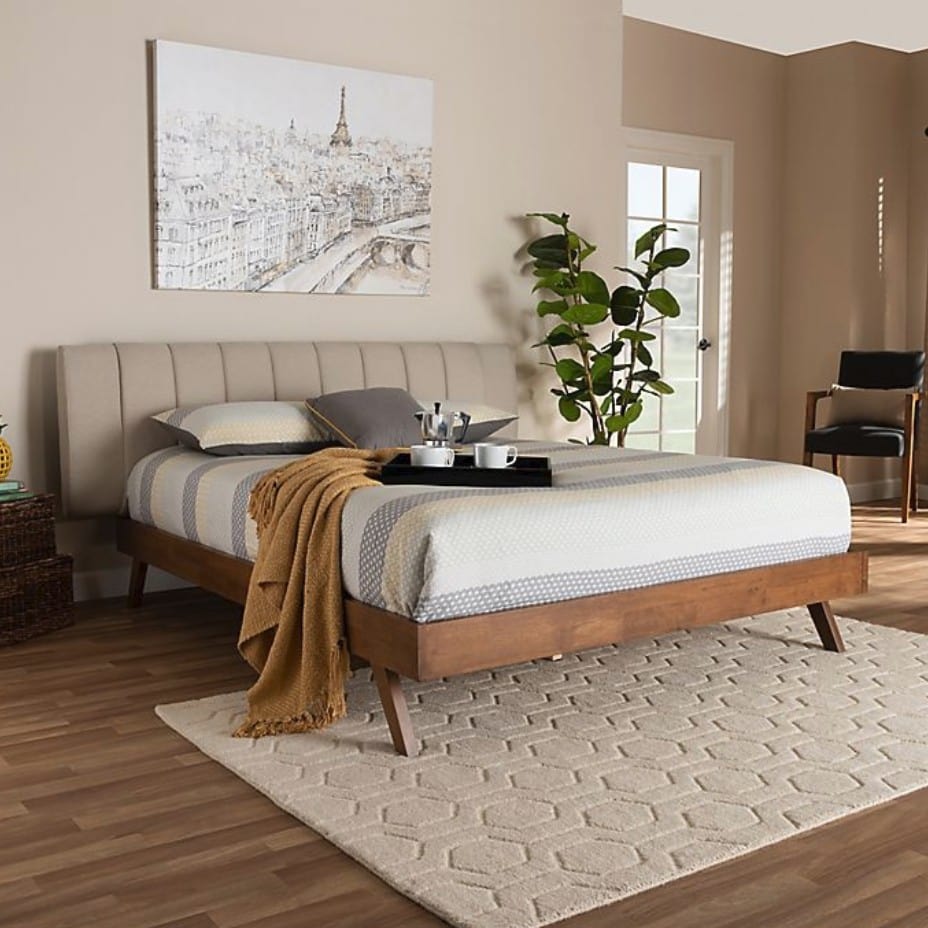 This decor style is all about using natural materials, like in this example. The room combines some natural wooden furniture with lots of sunlight and some plants to round out the colors.
You can easily recreate this look by mixing some different wood grains and looking for furniture with metal legs or trim.
Focus on Earth Tones and Colors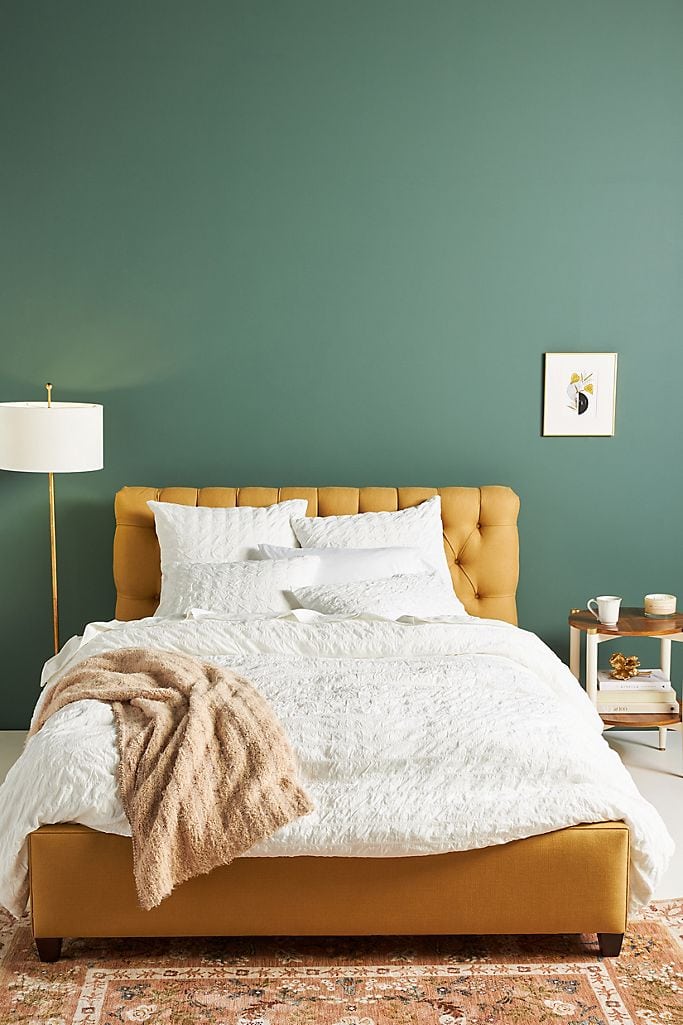 For a classic mid-century modern style, you'll want to focus on the color palette, like neutrals and earth tones. Play with different shades of brown, rust, mustard yellow, and green, with a touch of gray and white.
If you're using a dark wall color, make sure you have enough natural light coming in so your room doesn't look too gloomy.
Make a Splash with Bright Accents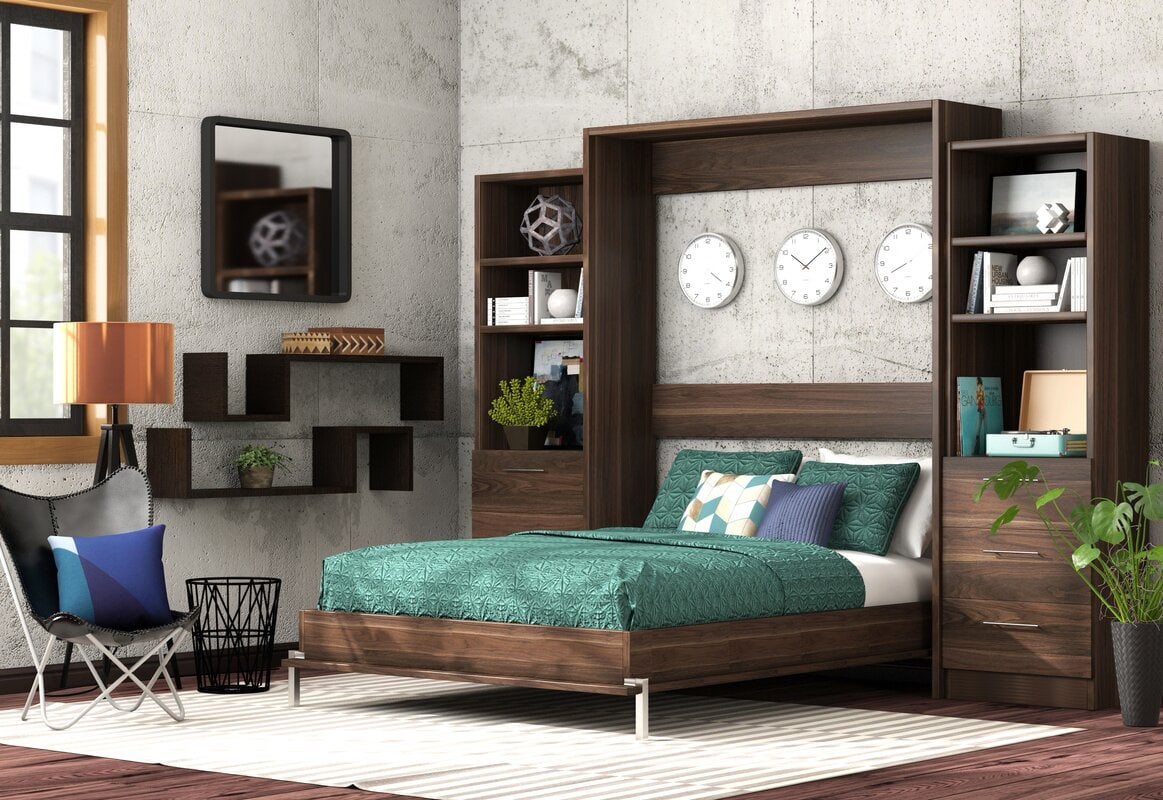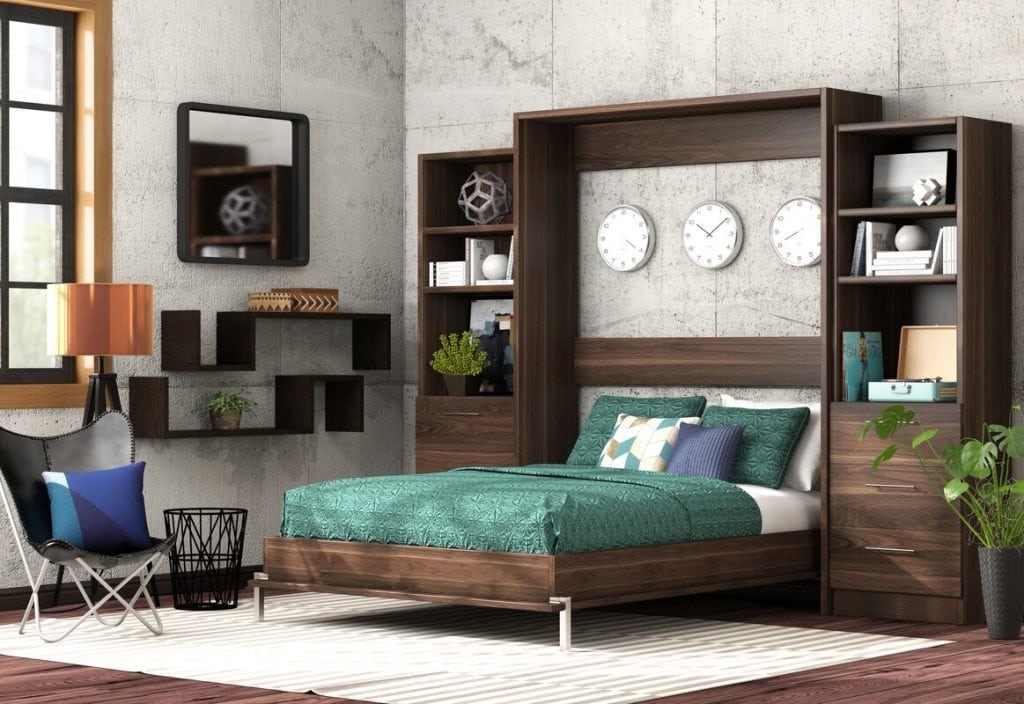 Just because the mid-century modern look is all neutral colors and low-key tones, it doesn't mean it has to be boring! Add a splash of color with some bold accents, like in this gorgeous bedroom full of pops of emerald.
The green pops from the browns, blacks, and greys of the room, giving it a bit of life (and color).
Furnish with Clean Simple Linens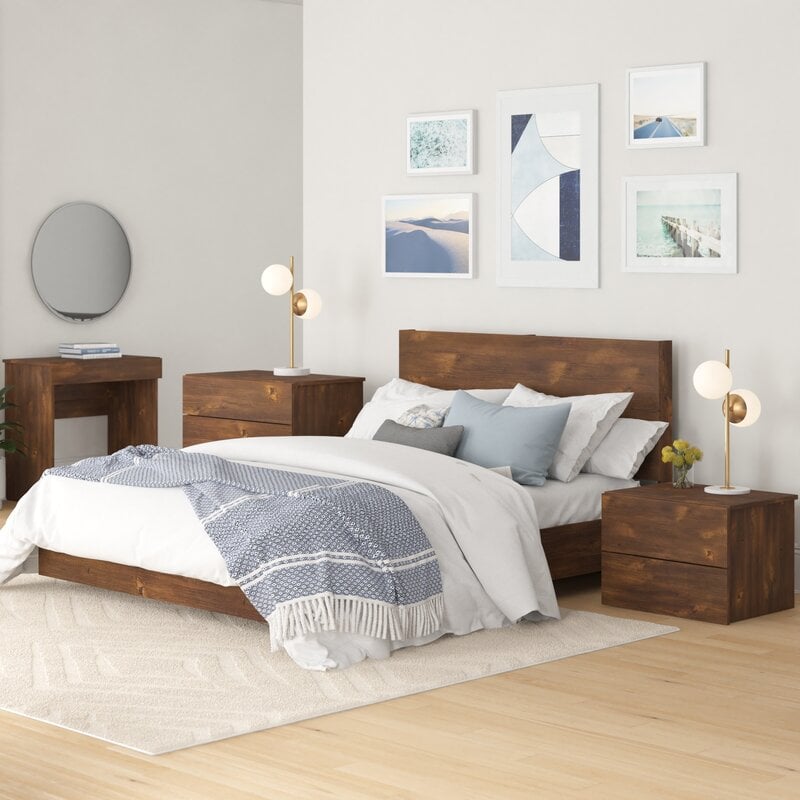 What's important with this style is to keep it simple and clean with straight lines and organic curves. It's all about the clean aesthetic here, and simplicity reigns supreme!
Bed frames, nightstands, and dressers—look for furniture that is straight and simple, without any adornments. The bedside lights in this gorgeous room add some curvature and break up the parallel lines, while still staying true to the uncluttered appearance of the room.
Keep it White for a Minimalist Look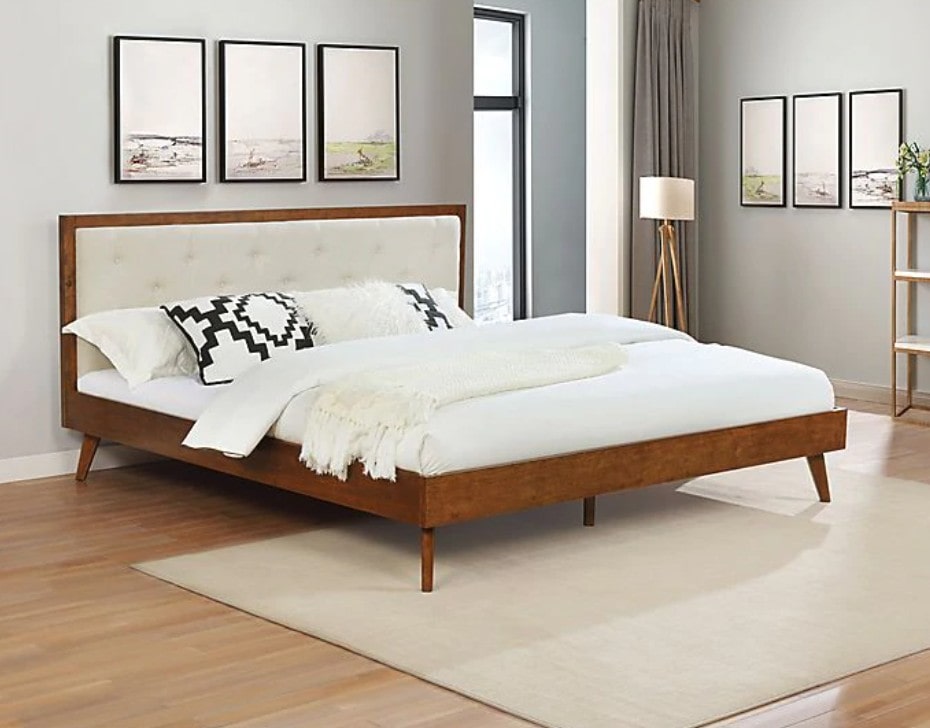 If you're all about the minimalist life, you can definitely go in that direction with a mid-century modern bedroom, because white and neutrals are a staple of the style. Choose all-white walls and bed linen.
Instead of looking washed out, the white complements the natural wood nicely and creates a light and airy bedroom that will leave you feeling rested and fresh.
Skip The Classic Color Scheme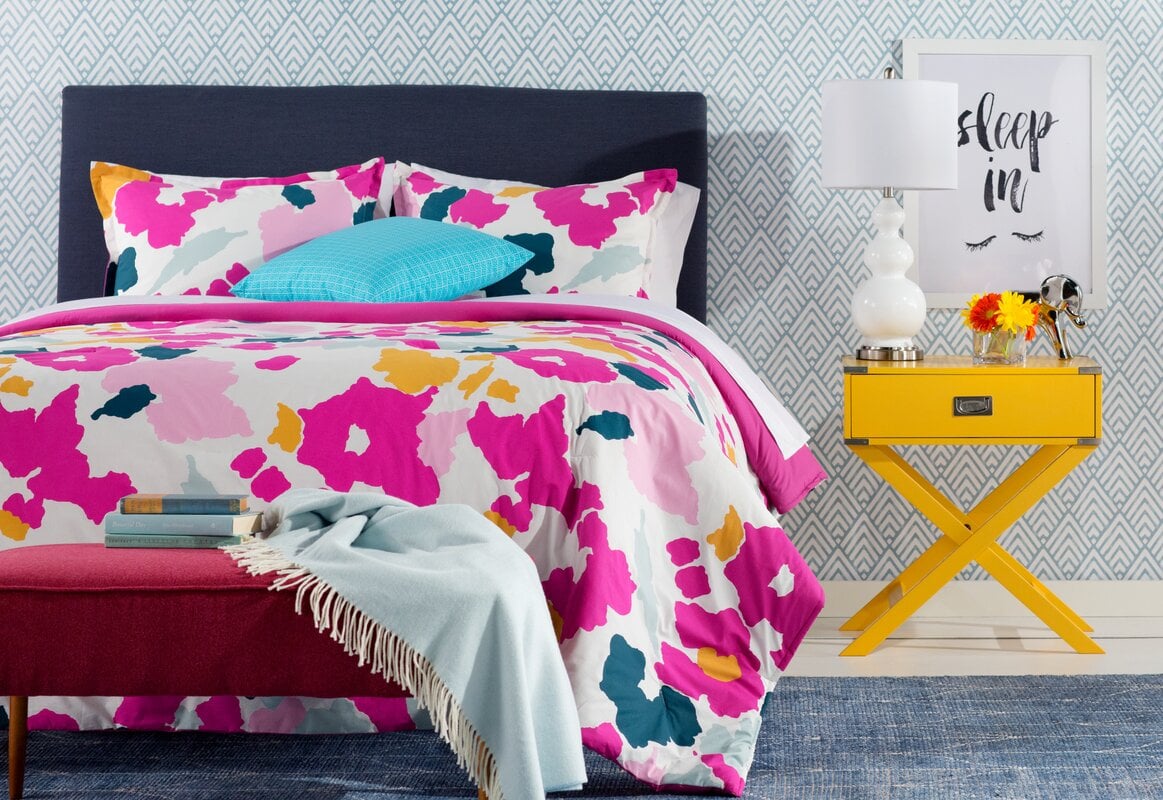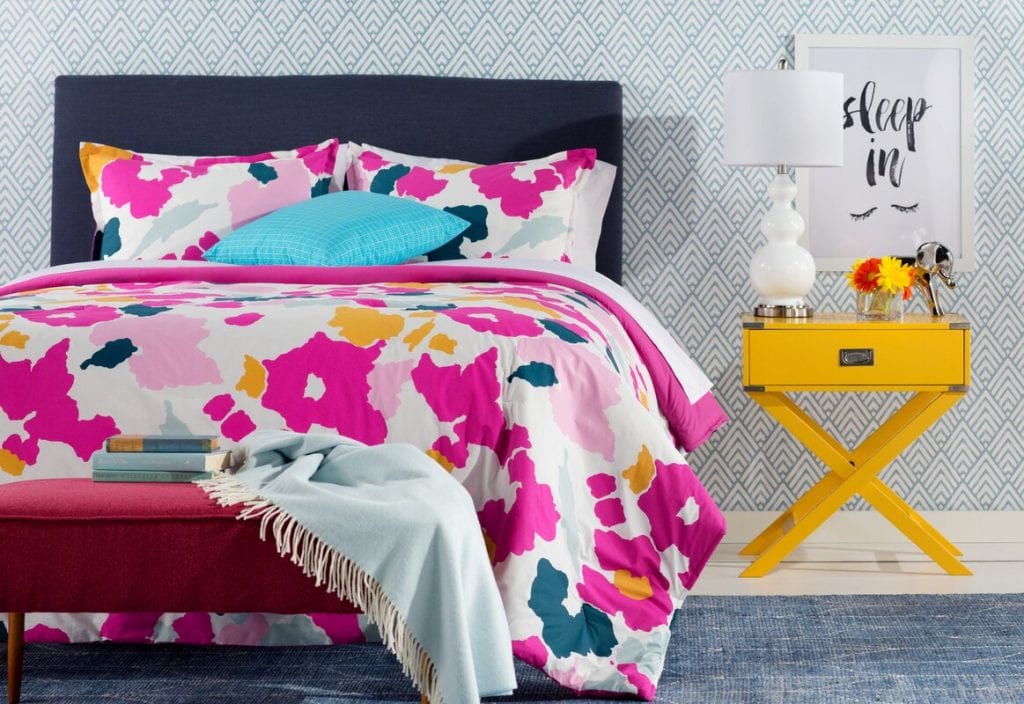 If you love the clean lines, geometric shapes, and overall clean feel of the mid-century modern style, but aren't thrilled about the muted tones, keep the style and ditch the colors.
This bedroom is full of color, flair, and fun, but still has the retro vibe thanks to the nightstand, table lamp, and wallpaper. It doesn't have to be boring to fit the aesthetic.
Look for Tapered Legs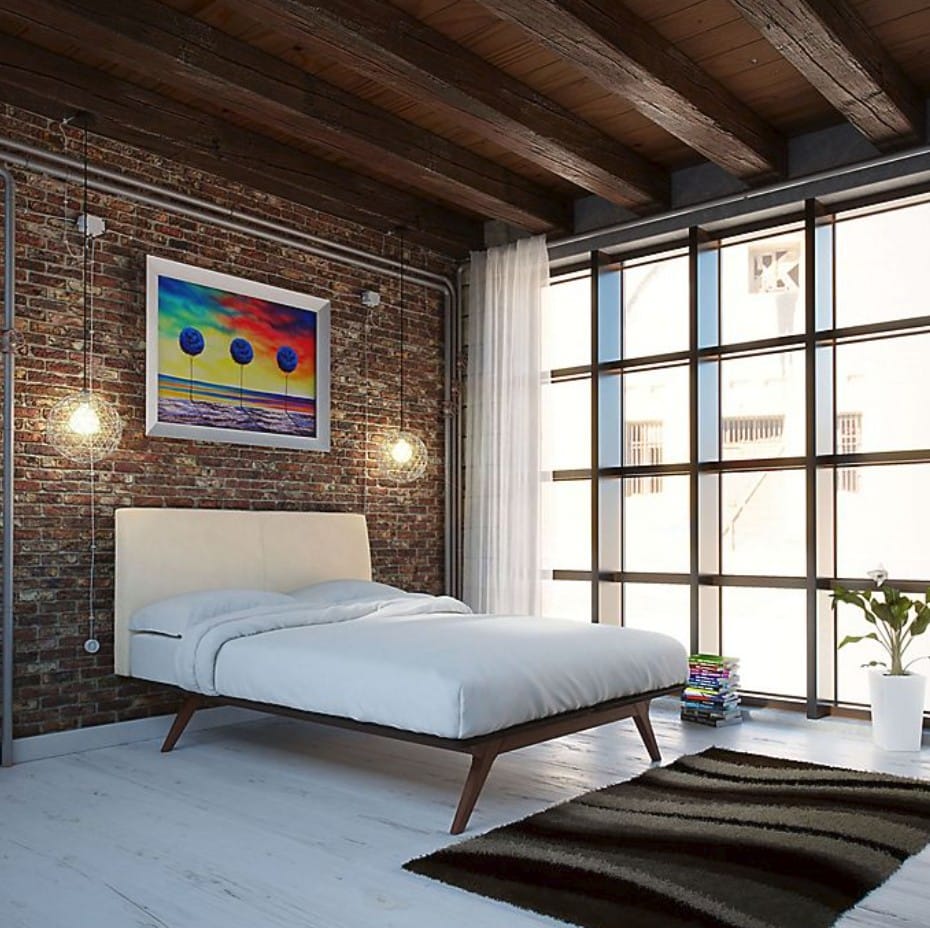 One of the easiest ways to spot a piece of mid-century bedroom furniture is by looking at its legs. Tapered legs are a fixture of this style, from bed frames to dressers. Their sleek, round frames make for a roomier and more spacious look.
If you have a small bedroom and you want to give the impression of space, or you're looking for an easy place to start your mid-century decor journey, start with tapered legs.
Don't Be Afraid to Mix Materials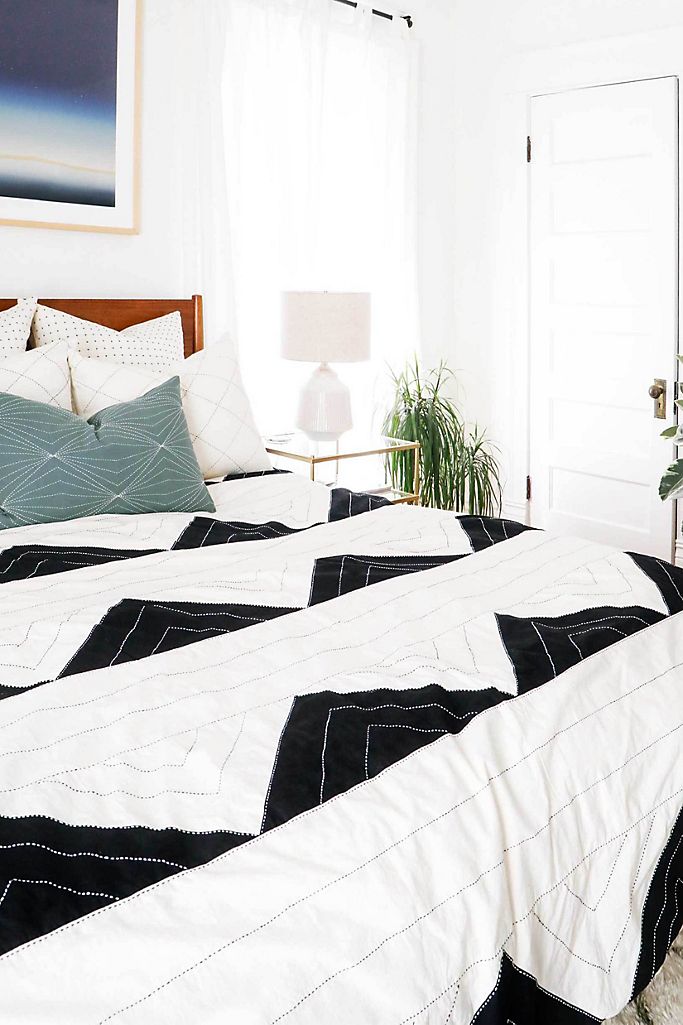 If you want to truly adopt this style for your bedroom, you have to ditch the matching bedroom sets! The mid-century style is about going against the traditional bedrooms with ornate bed frames and dressers.
Try mixing different materials, like metal, leather, wood, brass, and plastics. You can even get a piece that combines both, like an interesting bedroom bench.
Get a Bold Area Rug as a Focal Point
Another option to spice up your room is to invest in a bold area rug. Not only will it serve as a focal point, but it'll be a statement piece to show your personality.
You can use the color palette of the area rug to find the best accent color for your room, like the lampshades pictured here. Note that the area rug is in a geometric pattern very appropriate for the mid-century style.
Add Some Pizzazz with an Accent Wall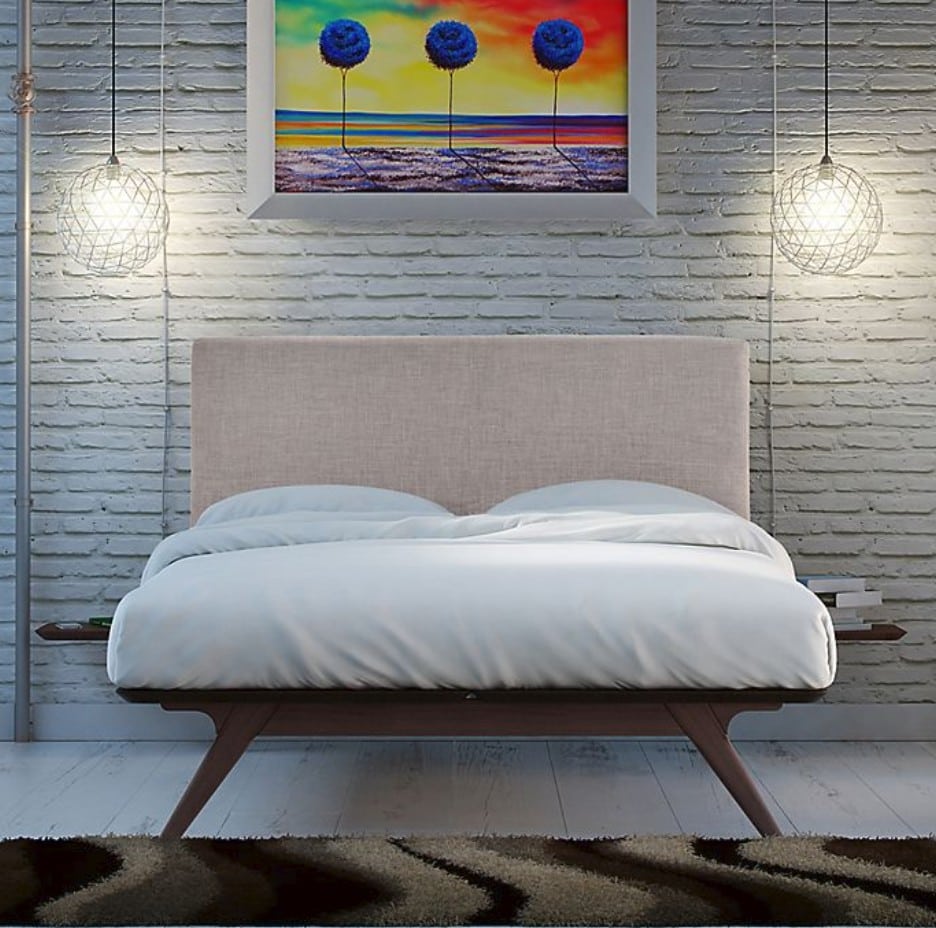 An accent wall is a great way to liven up a space, especially when your room is white or neutral colors.
You can do a white brick like in this photo, because it adds some much-needed texture to the room. Or, go for a fun wallpaper or molding. Have fun with it!
Add Some House Plants to Soften the Room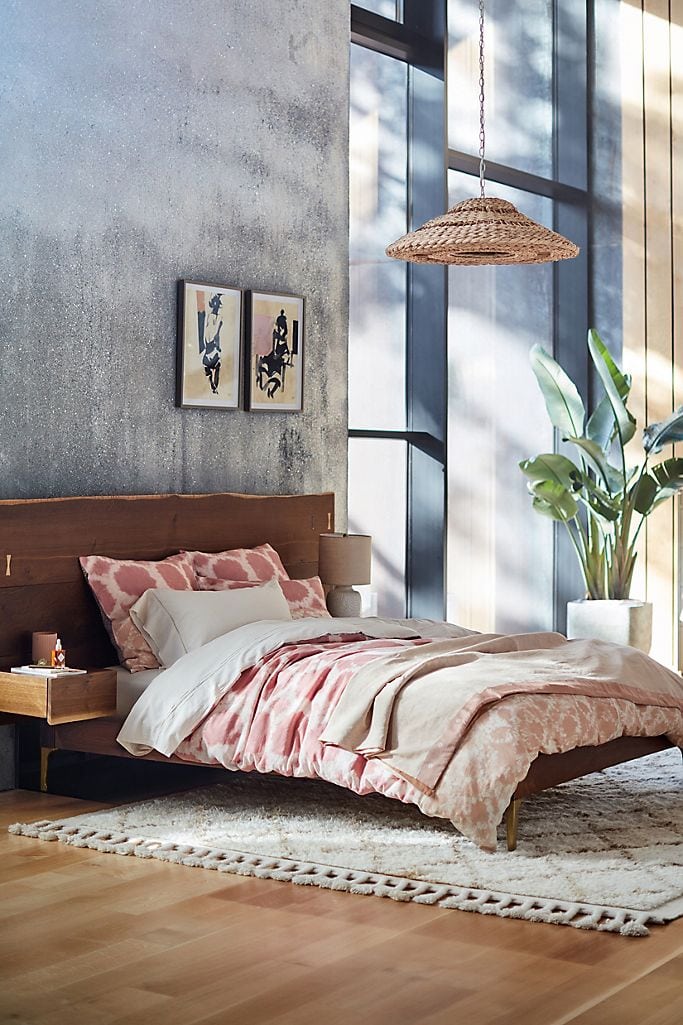 Having some houseplants in your bedroom will not only brighten up the space but will also make you healthier and happier, as studies show.
Make sure to keep the leaves trimmed for the health of your plant (and to match with your room's clean aesthetic!) The green of the leaves looks especially pretty in a room with wooden accents.
Don't Shy Away From Your Personality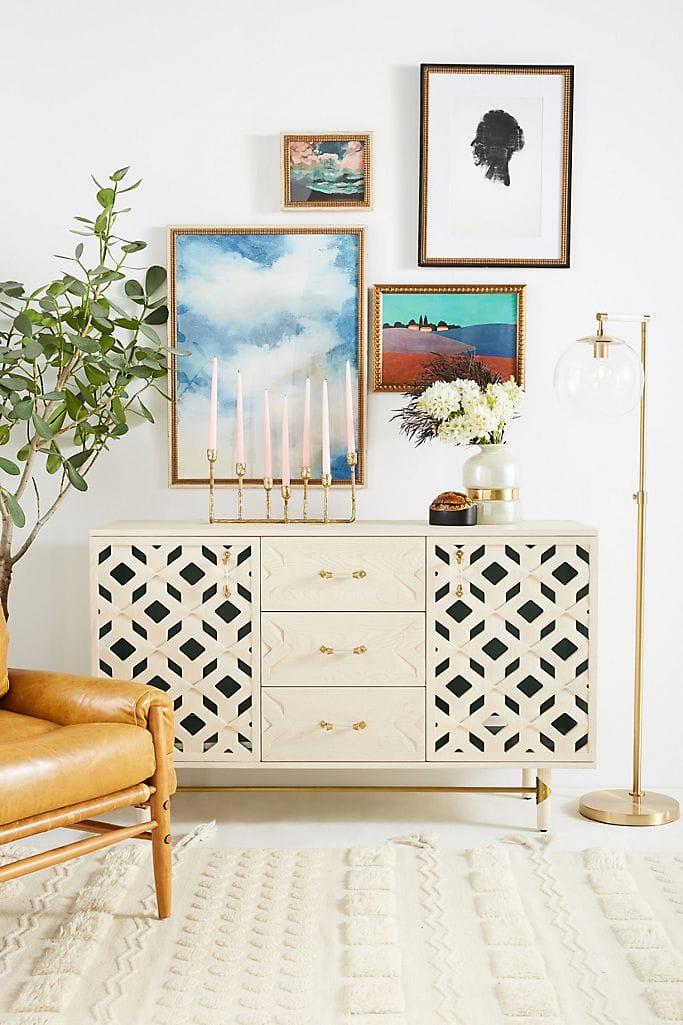 Having a mid-century modern room doesn't have to mean it's a room without personality. If you like ornate details or splashes of colors, work it into the style!
This room has all the classic mid-century modern touches, but also tons of color, glam, and feminine touches.
Look for Natural Wood Furniture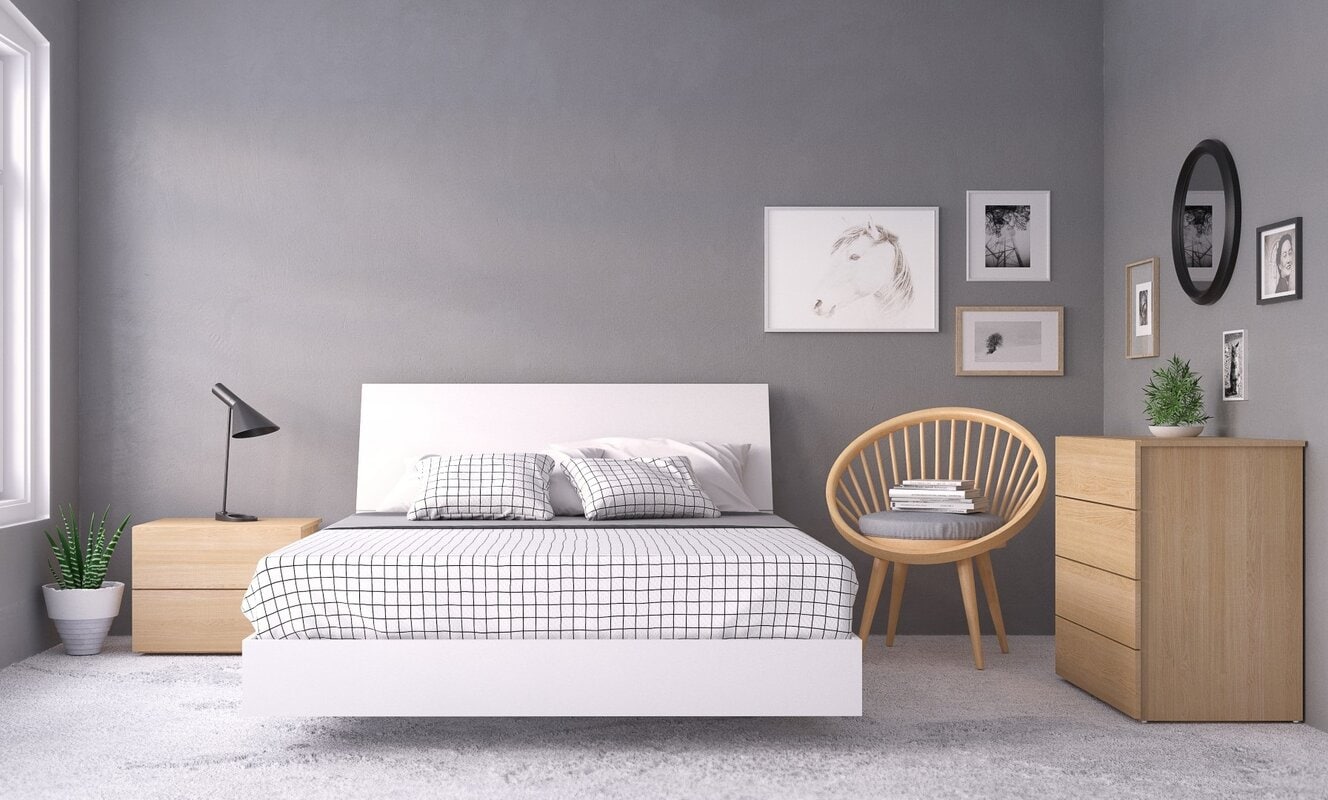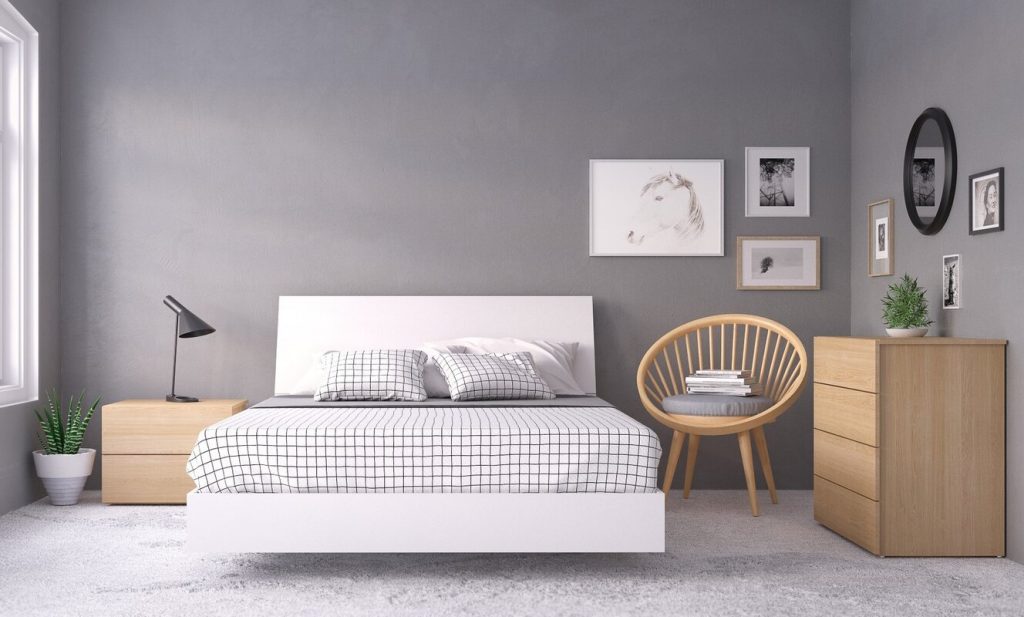 Mid-century rooms are all about natural materials, so feel free to go a little more Scandanavian by skipping the stain altogether.
This minimalist room still has a mid-century modern vibe because of its clean lines, muted tones, and natural wood furniture.
Don't Forget The Kids' Rooms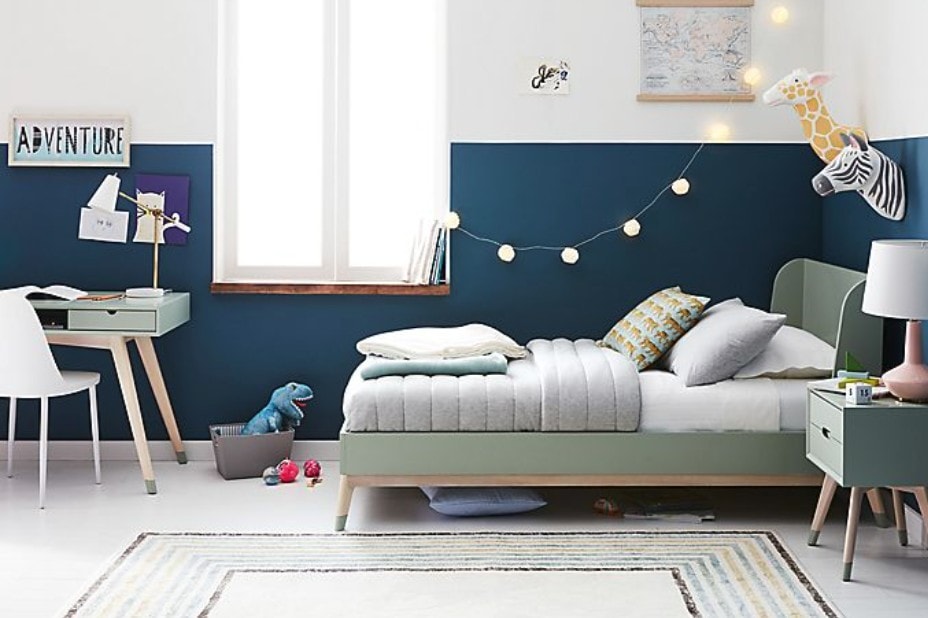 Why not set your kiddo up with a retro modern bedroom, too? Even though the style is historically a little more mature, you can add in some bright colors and still have the aesthetic you want.
This room is a perfect example of mid-century modern with a whimsical touch. It still definitely looks like a little kid's room, but also has those classic tapered legs and clean lines.
Change Things Up with a Platform Bed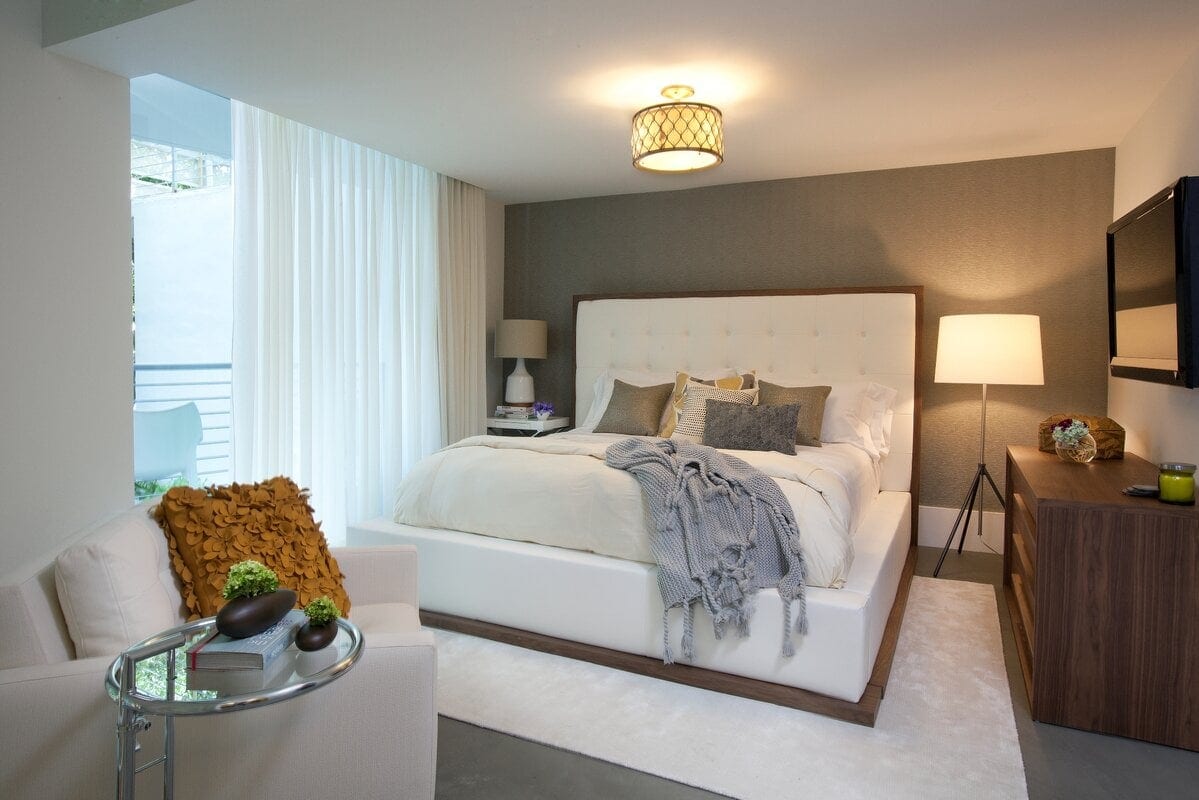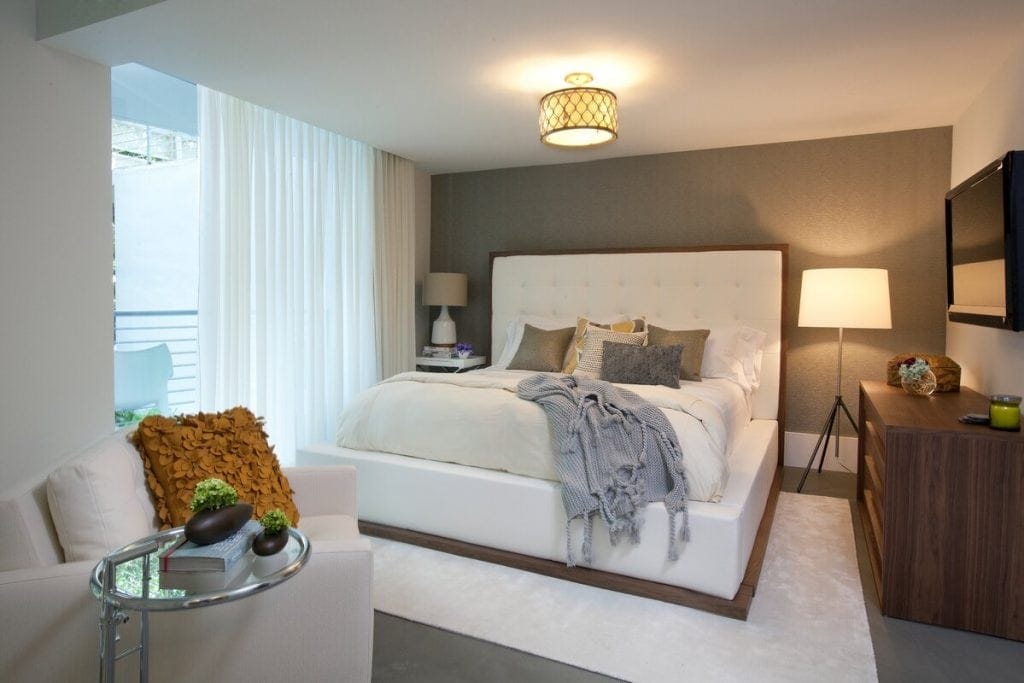 Don't hesitate to change your basic bed frame for a more glamorous platform bed. The straight lines of a platform bed work well with mid-century decor.
This option is perfect in a larger room if you want your bed to be the focal point of the room. That's because platform beds appear to be larger than life.
Bonus tip: if you're short on storage space, get a platform bed with drawers underneath!
Load Up On Accents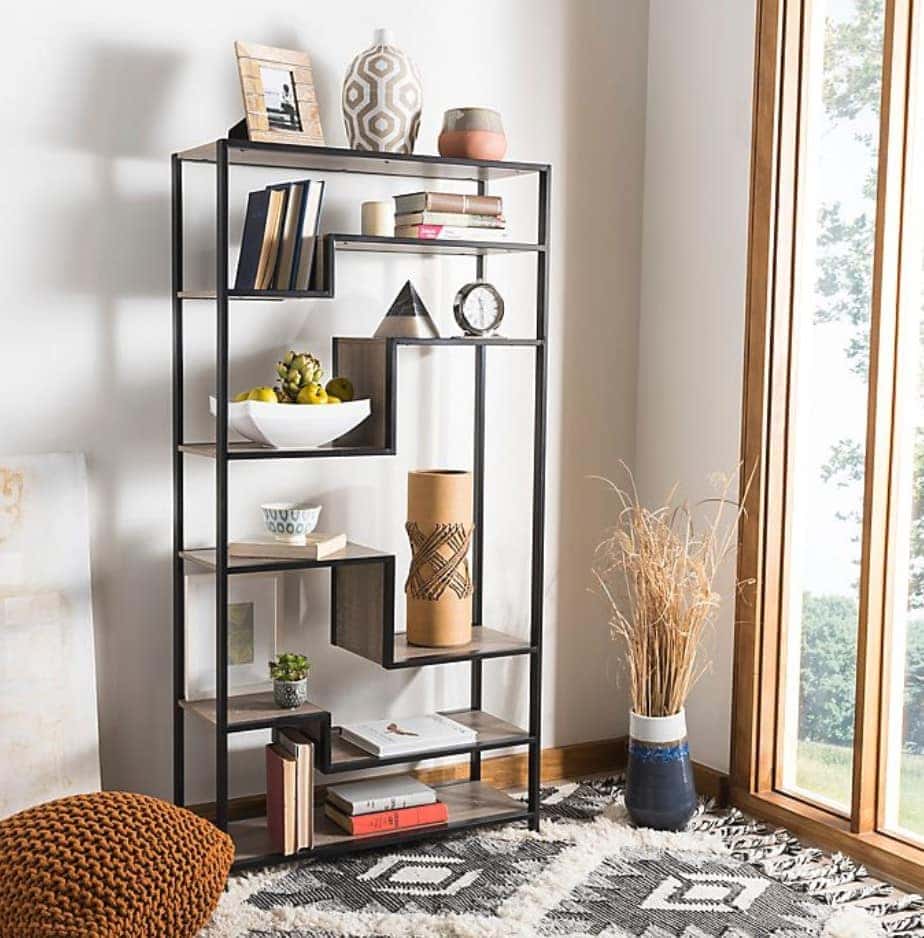 One way to bring in the mid-century modern vibe without having to replace all of your furniture or linens, is by focusing on your accent pieces.
Invest in some stylish floor lamps, a good chair, or a bookshelf like this one to help bring the style out.
Jazz Up Your Dresser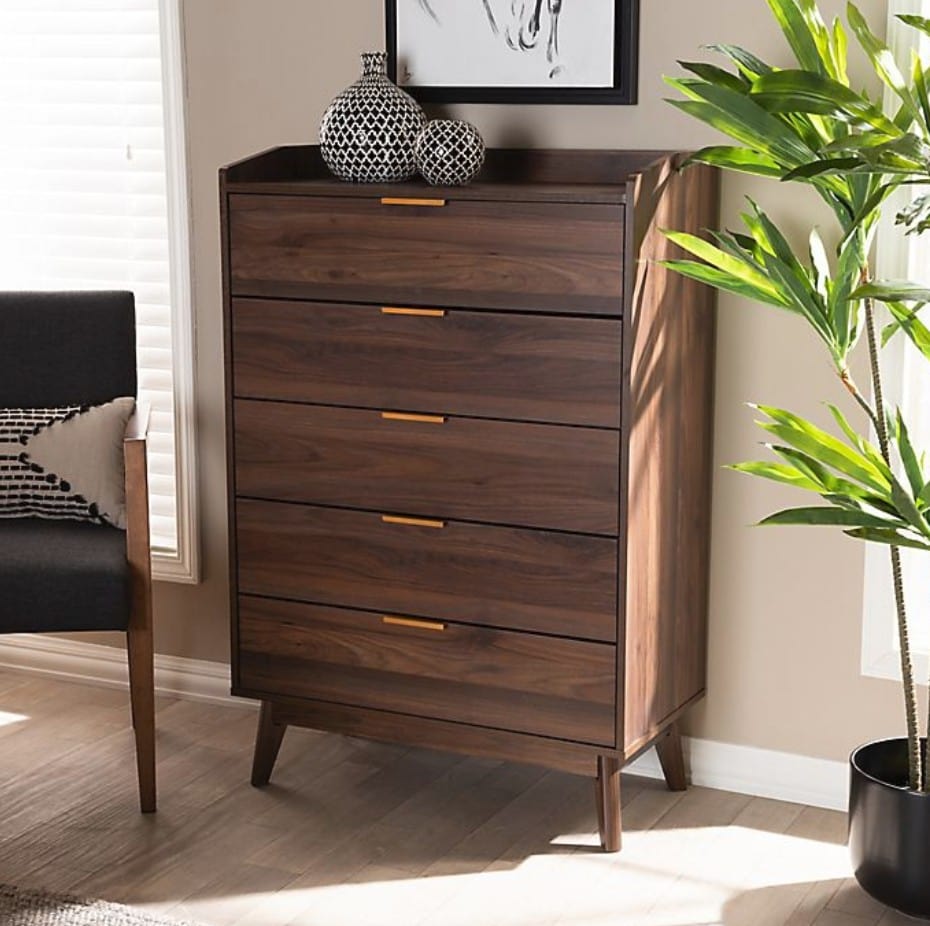 It would be a crime for a mid-century master bedroom to go without a master-size dresser to hold all of your cute clothes, so you might as well have a little fun with it.
Your dresser is a great piece of furniture that can add a little flare to the room. Get gold knobs or find something with a funky geometric pattern. It's a great opportunity to bring in some character.
Add a Touch of Geometric Patterns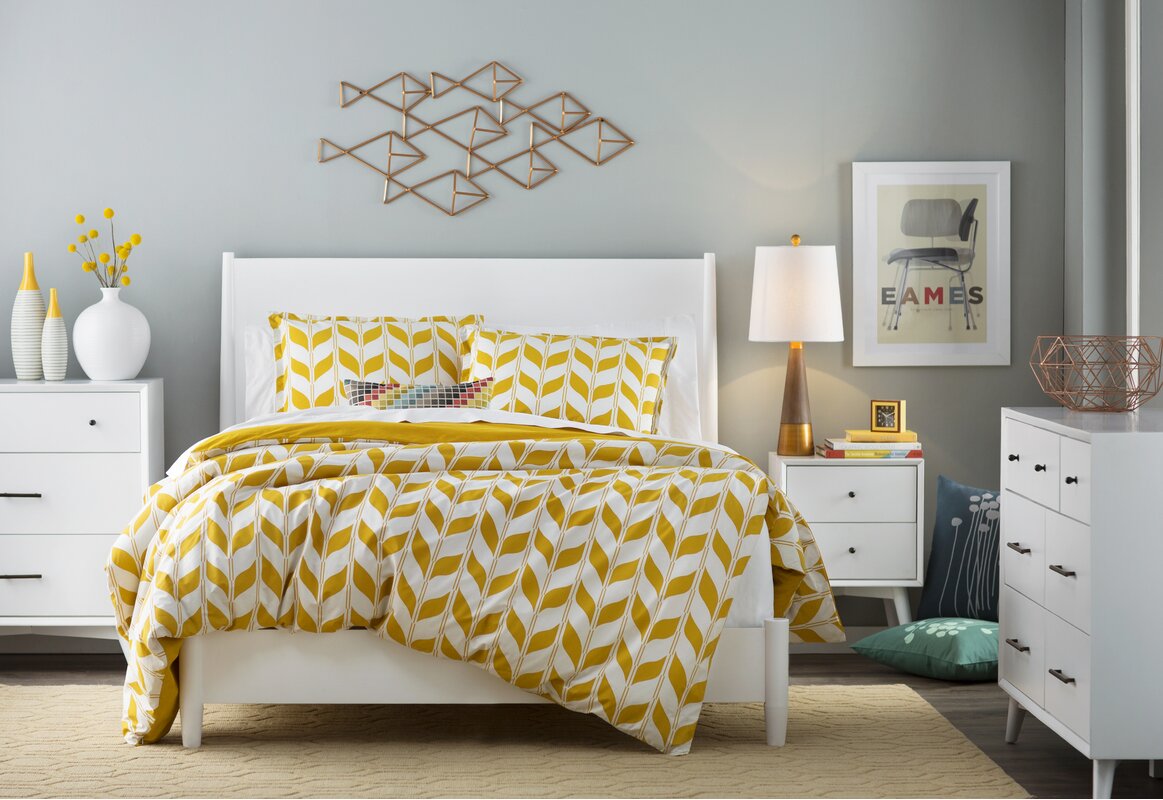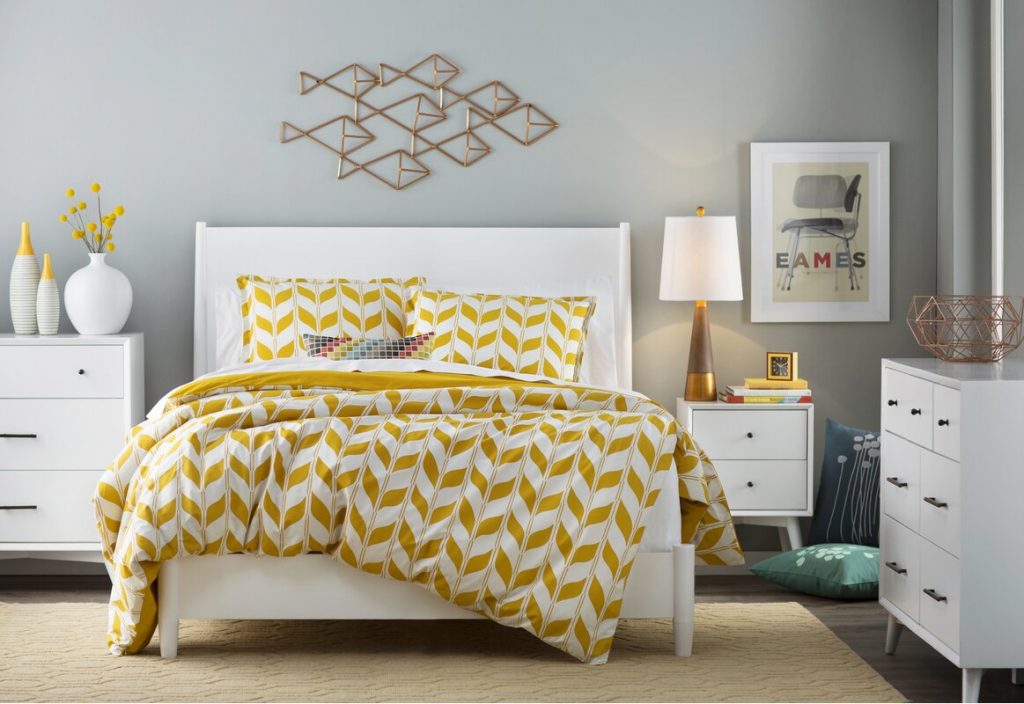 This is a classic mid-century modern room, from the tapered legs on the nightstand and dresser to the organic shapes of the lamps, and the clean, straight lines of the furniture without adornment. There is even an Eames chair artwork on the wall.
Decorate with a Pendant Light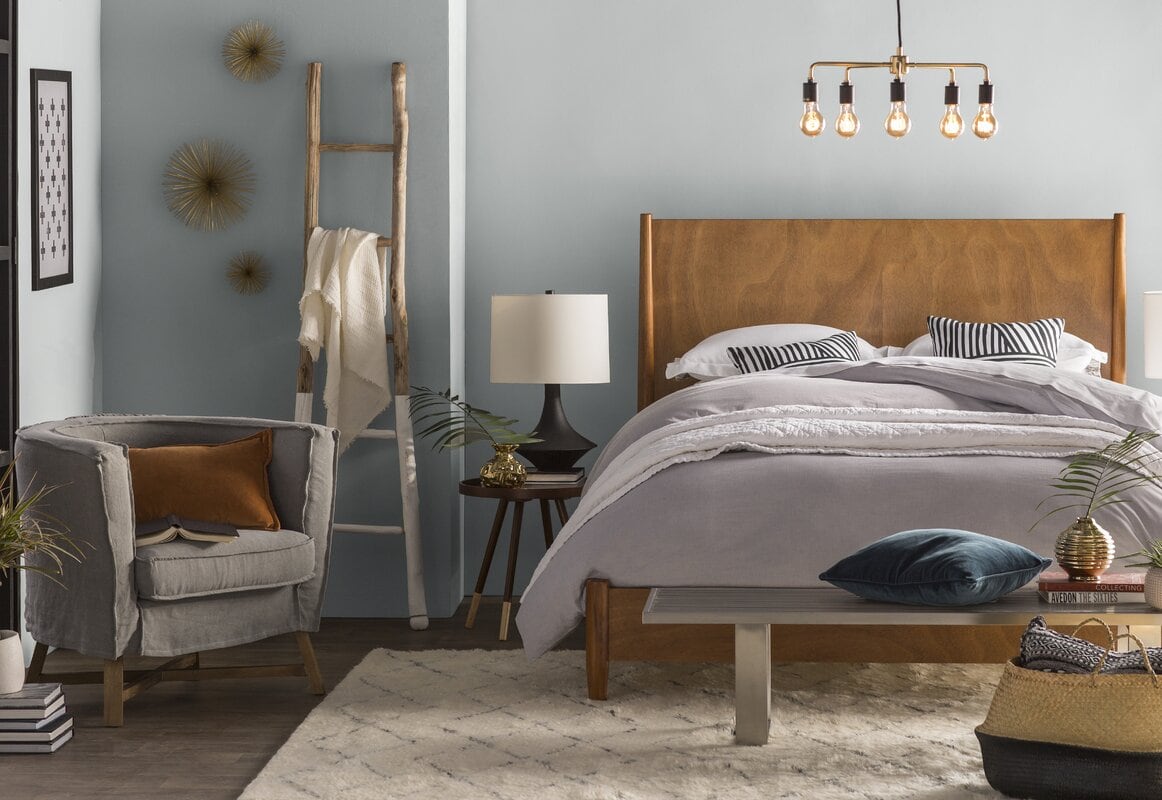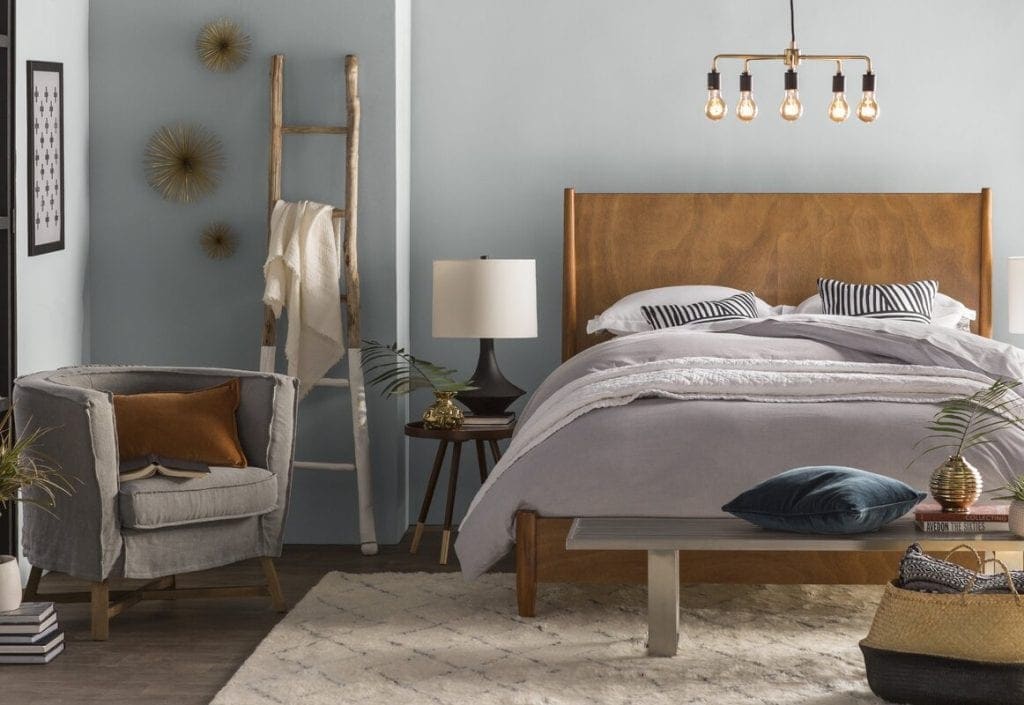 When you look for your own pendant light, you'll want to choose one that's simple, not an elaborate chandelier. Look for smooth metals and exposed light bulbs.
Make A Cozy Reading Corner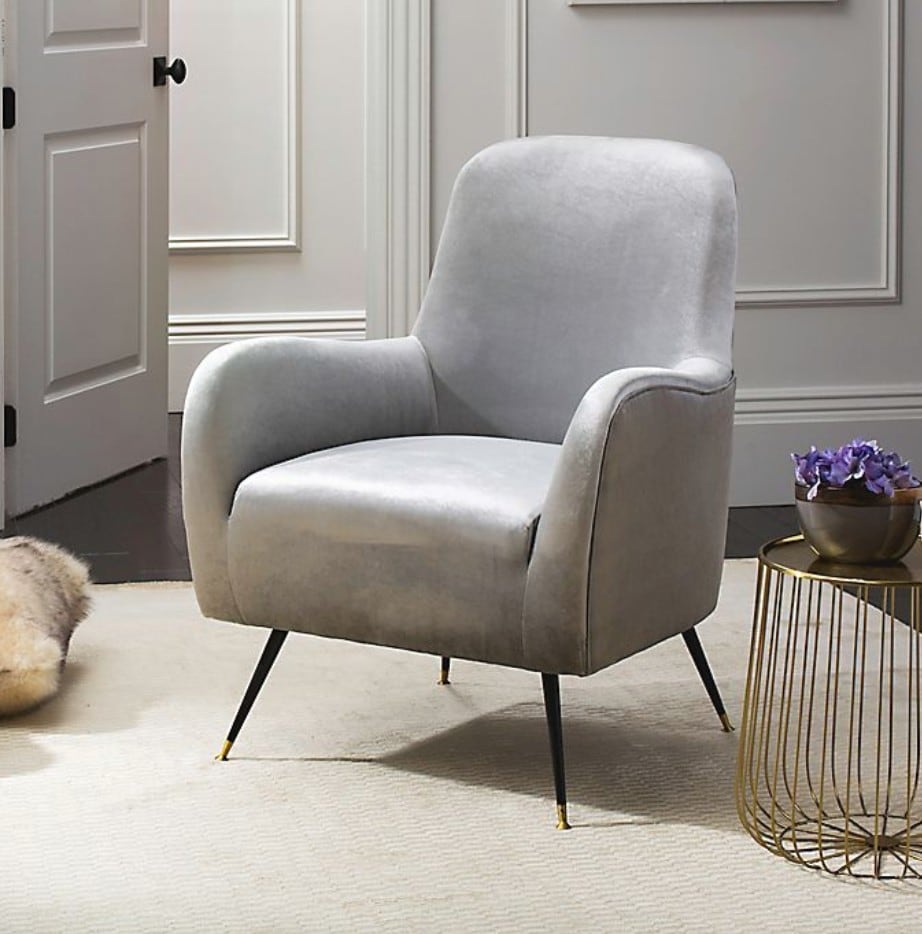 Your bedroom should be a place of relaxation, so adding in a cozy reading corner makes sense.
Invest in a chair that sticks with the style, but is still comfortable enough to relax in. This velvet piece looks like the perfect spot to curl up and read (or have a night cap, either one).
Create a Gallery Wall to Draw the Eye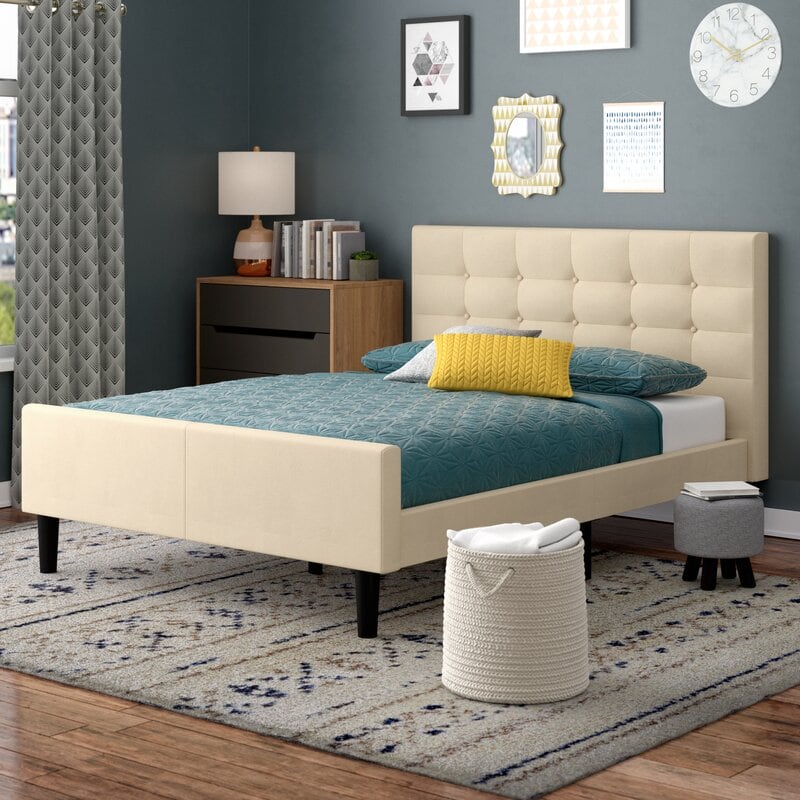 A gallery wall is a great idea for bedroom decor because you can mismatch frames and sizes to create a focal point for a room. It works well with mid-century modern because you're using different natural materials, and adding a pop of color and more straight lines in your room.
Another benefit is that it eliminates the need for an accent wall, because the photo gallery acts as one in and of itself.
Play with Different Textures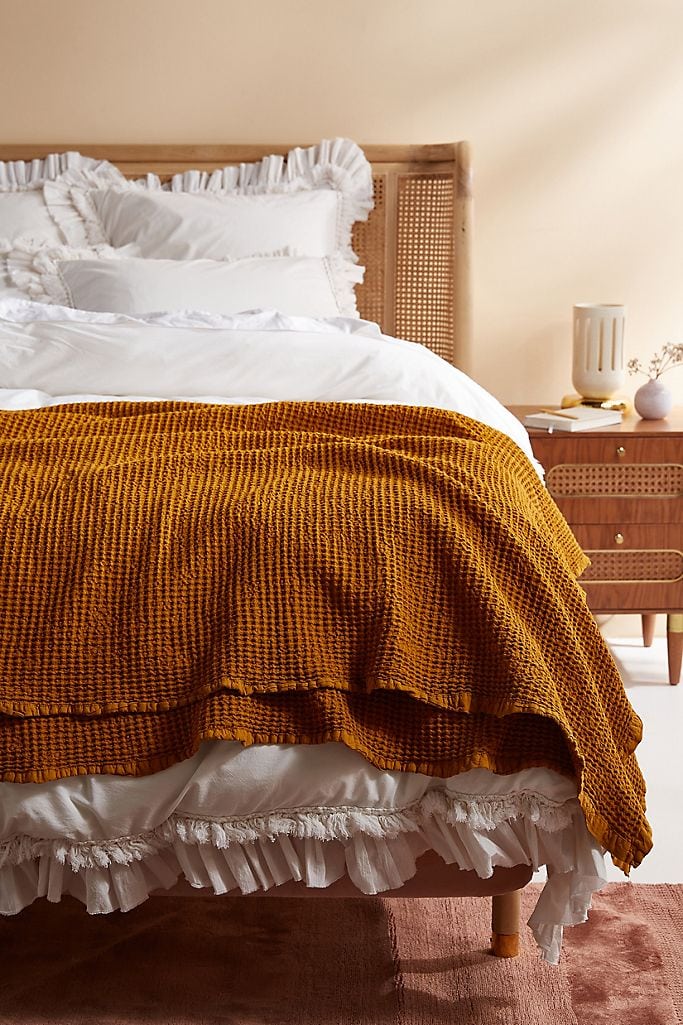 Mid-century modern is all about mixing materials and shades, as we've explored in past ideas. Another great way to do this is to use different textures to add life to the room.
Here is a great example with the frilly pillows, waffle blanket, and textured headboard and nightstand. It's mis-matchy but inviting.
Stick With Classic Brown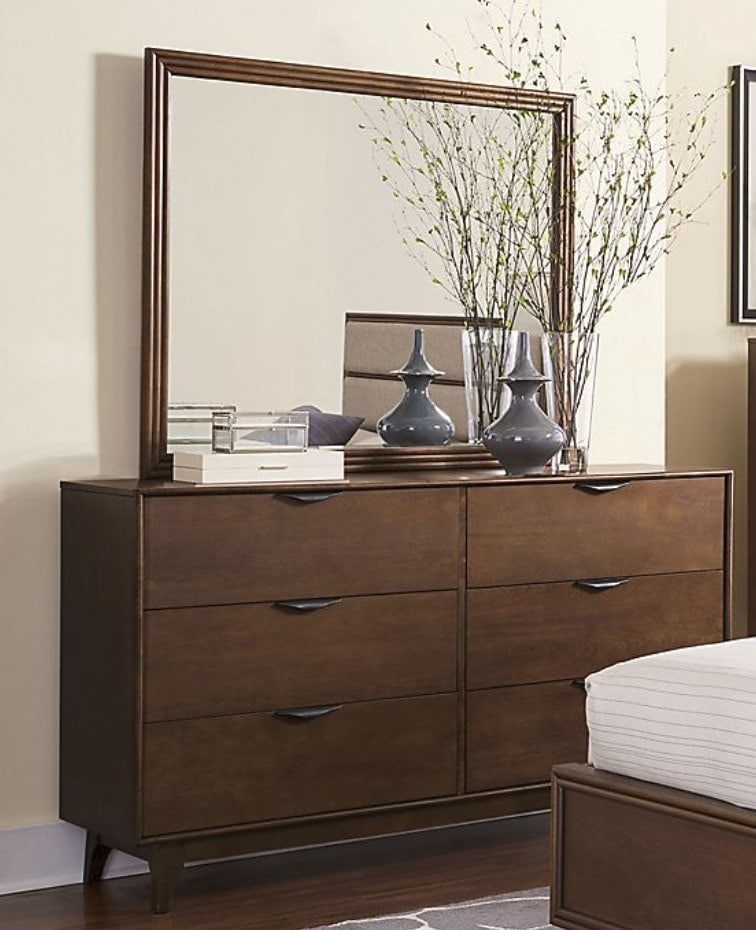 You can't go wrong with shades of brown in a mid-century modern bedroom. It's basically what the style was built from, after all.
Play around with espresso, camel, natural, and whiskey browns to see what you like. Even better, mix and match them for a varied look that's still in line with the style.
Encourage Natural Light for an Airy Feel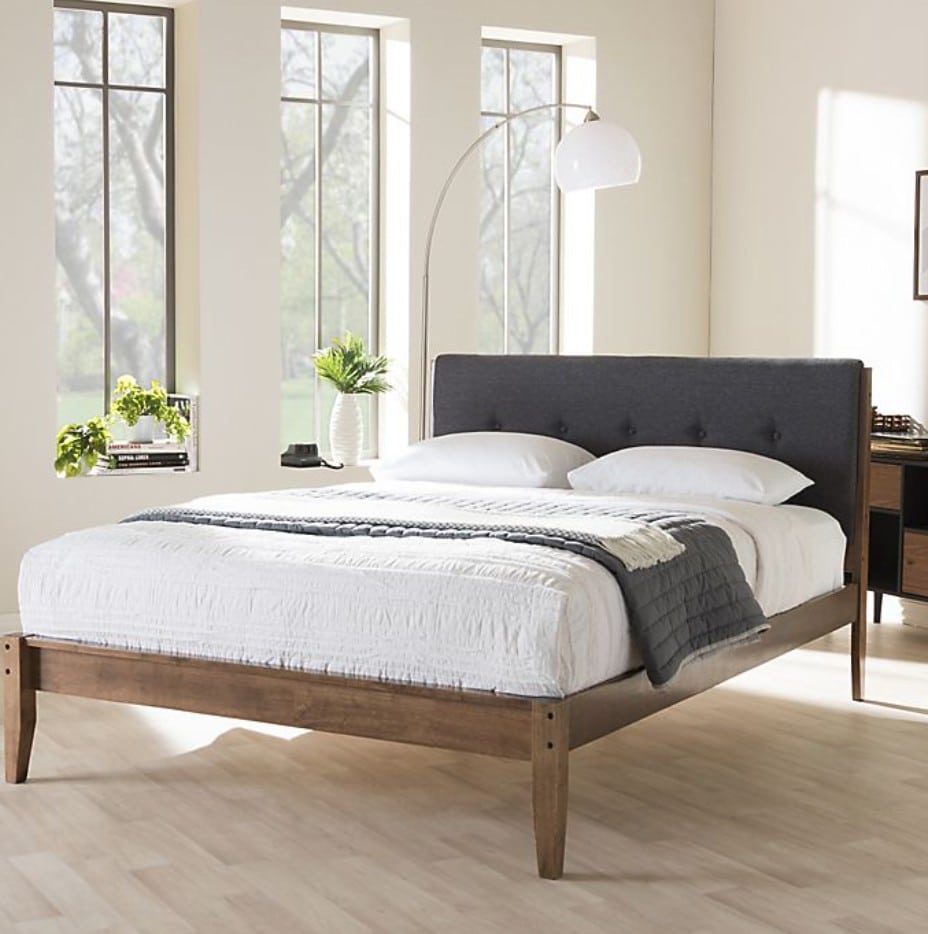 To add to the natural and airy feeling of the mid-century room done right, make sure you're getting in as much natural light as possible.
Rooms with big windows are best, and you'll notice that curtains aren't used here. They add too much frilliness and unnecessary decoration, plus they tend to make a room look smaller and darker even when open. The high ceilings and white paint help the sunlight spread through the room.
Bring In Some Brass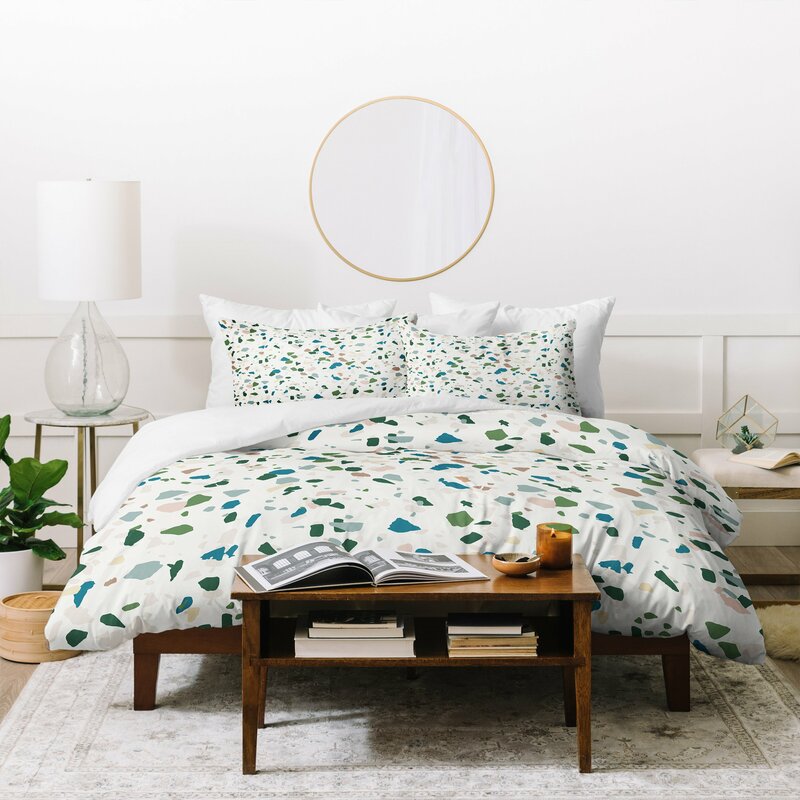 As we've seen in many of these previous examples, brass is a popular material in mid-century modern design.
Whether you're getting a brass light fixture, mirror frame, or bedside light, a few touches here and there tie the room together and look great paired with your wooden furniture. Don't go overboard, though, a few accents are enough.
Play Up Blush Pink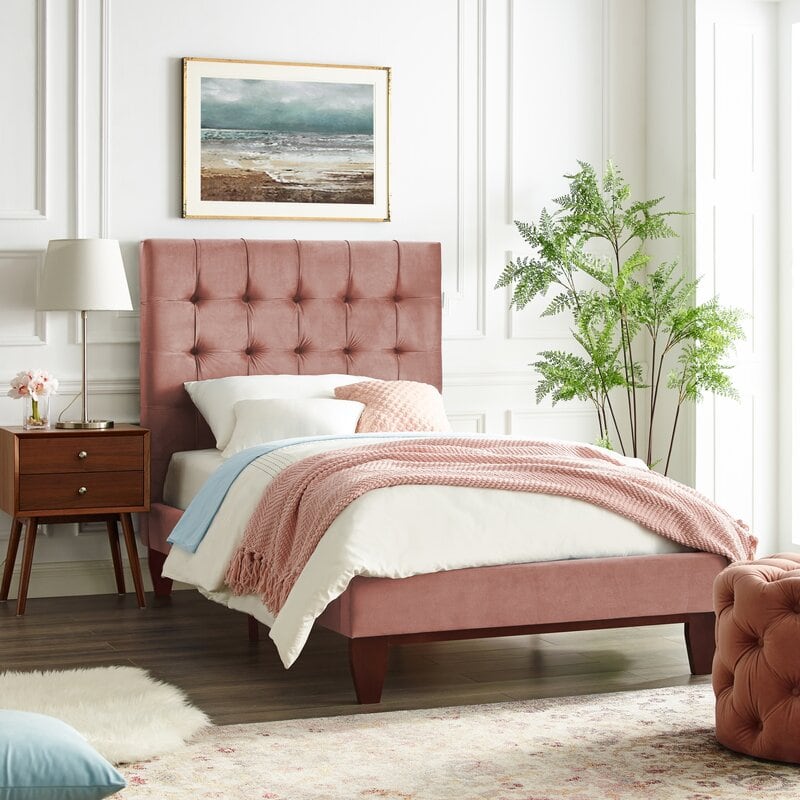 One of the more modern takes on the mid-century style is using a lot of jewel tones to soften it up a bit. Emerald green, dark teal, magenta, and blush pink are all perfect accent colors.
This bedroom really plays up the blush pink trend, and does it without sacrificing the mid-century modern aesthetic. Everything is still clean, it's just also a little prettier.
Keep It Cozy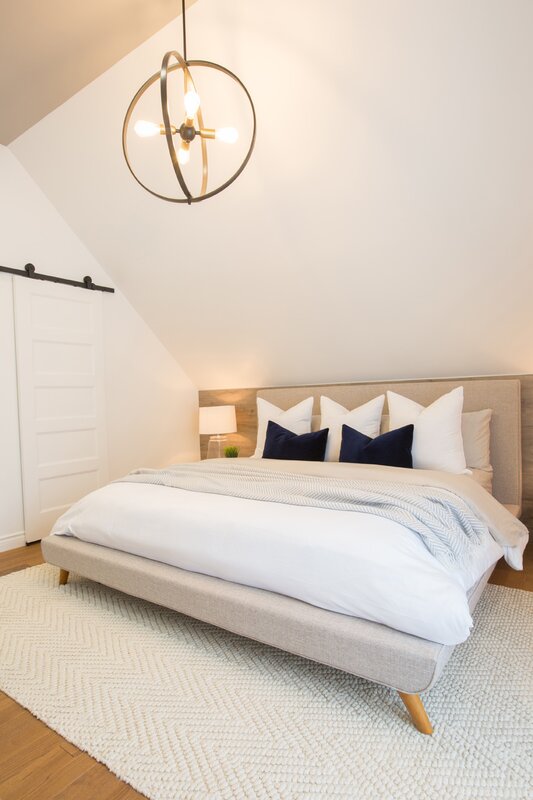 With all of those sharp corners and straight lines, the mid-century modern style can sometimes feel a little cold, which is exactly the opposite of what you want for your bedroom where you relax.
Make sure to add in lots of pillows, throw blankets, and warm lighting to cozy up the space a bit so it can still be your place of refuge.
Add a Leather Headboard to the Bed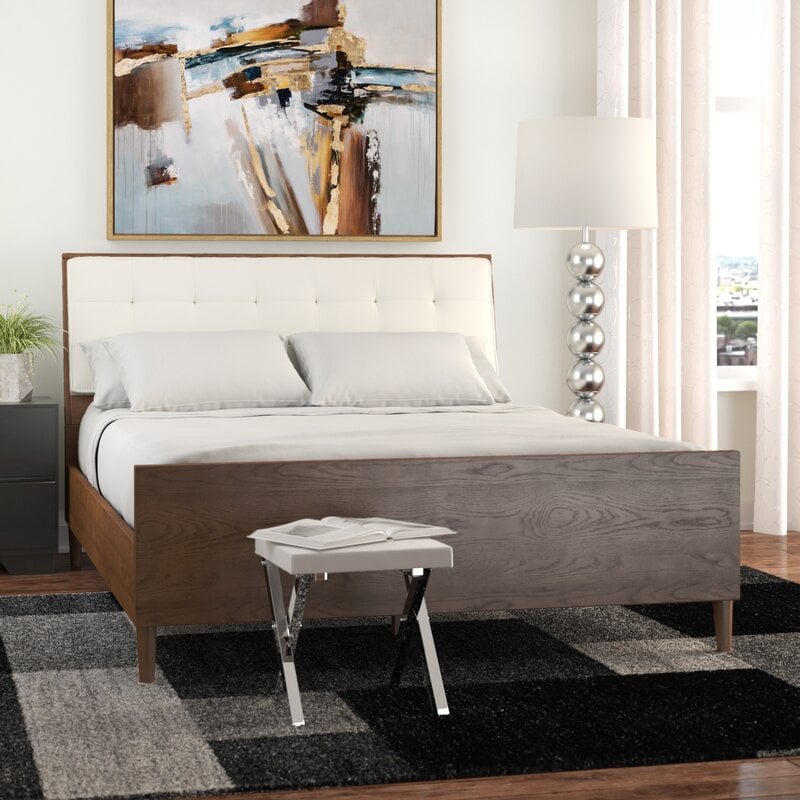 What better way to mix and match materials than to combine a leather headboard with a wooden mid-century style bed frame? In this collection from Wayfair we can see how well it works in the room, especially with the metal accents of the floor lamp and the end table.
Final Thoughts
Well, there you have it. Don't be overwhelmed by all of these ideas; you don't have to completely overhaul your bedroom right away. Start with a couple of small steps, while keeping in mind the key elements of mid-century design: functionality, simplicity, and modernity.
Whether you start with a piece of artwork or a statement light fixture, the point is that this is an accessible style for everyone. Who knows, maybe once you fall in love with your mid-century bedroom, you'll go for that look in the rest of your home?