Decorated Life is reader-supported. When you buy through links on our site, we may earn an affiliate commission. Learn More
8 Best Rug Pads For Vinyl Plank Flooring
Vinyl flooring is one of the most preferred options amongst homeowners. Possessing the characteristics of durability, strength, hard-wearing, and toughness – vinyl plank flooring is also quite easy to maintain and take care of. However, the cold and hard feeling of the floor is what makes it challenging to walk barefoot or move around. And that's when area rugs play a major role!
Apart from adding comfort, coziness, soundproofing, and warmth – the area rug will also extend the life of your floors. But you must note that this rug (if not anchored down) is highly subjected to slipping, sliding, or bunching up. Hence, you need a rug pad that can add cushion while offering thrust to your feet. So, let's have a look at these 8 best rug pads for vinyl plank flooring.
Rug Pro Ultra-Low Pad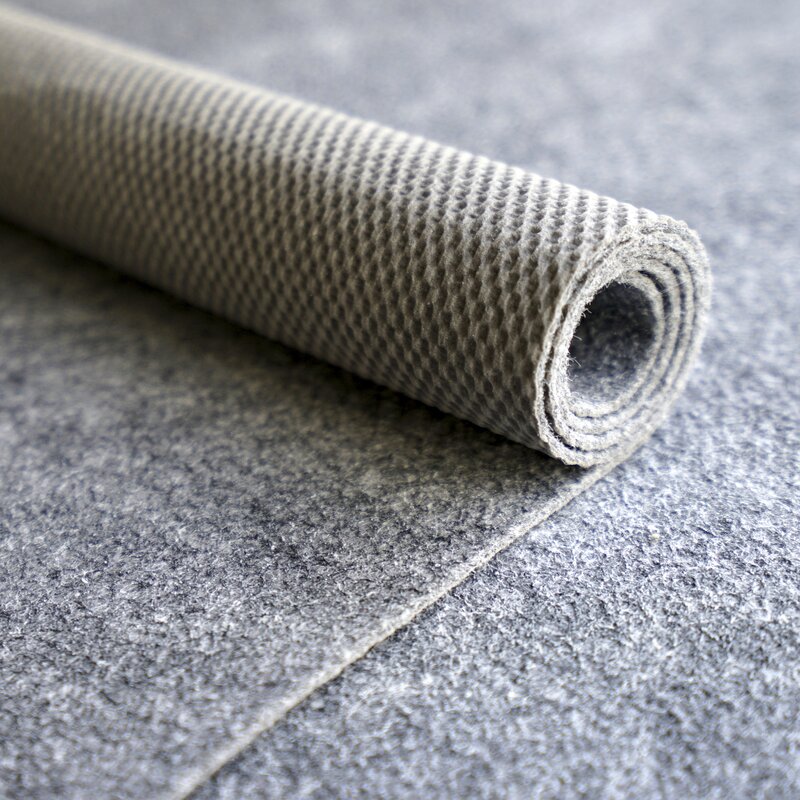 Appropriate for vinyl plank flooring, this low-profile and high-performance rug pad can firmly stay anchored to the floors without the requirement of an extra cushion or bulk. It is generally ideal for high traffic areas such as the living room and hallways where footfall is higher.
Composed of rubber and felt, the bottom of the rug is specially ribbed in order to grab and hold the rug to the floor.
Basketweave Non-Slip Rug Pad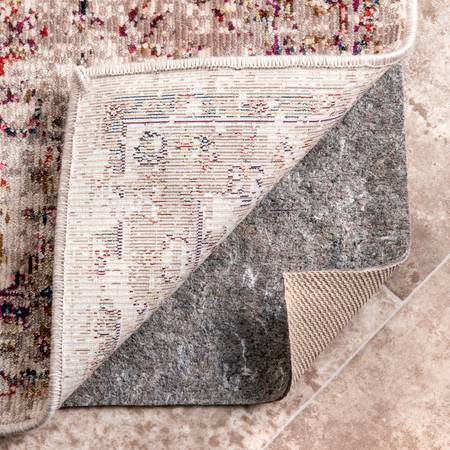 Composed of 100% recycled synthetic fibers with a non-skid rubber backing, the rug pad tends to stay strong while preventing any slipping or tripping due to moving. Moreover, this rug pad is guaranteed not to damage or discolor your vinyl floors and is also safe to use on radiant heated floors.
And you can easily trim the pad to customize its size according to the size of your rug!
Uni-Luxe Rug Pad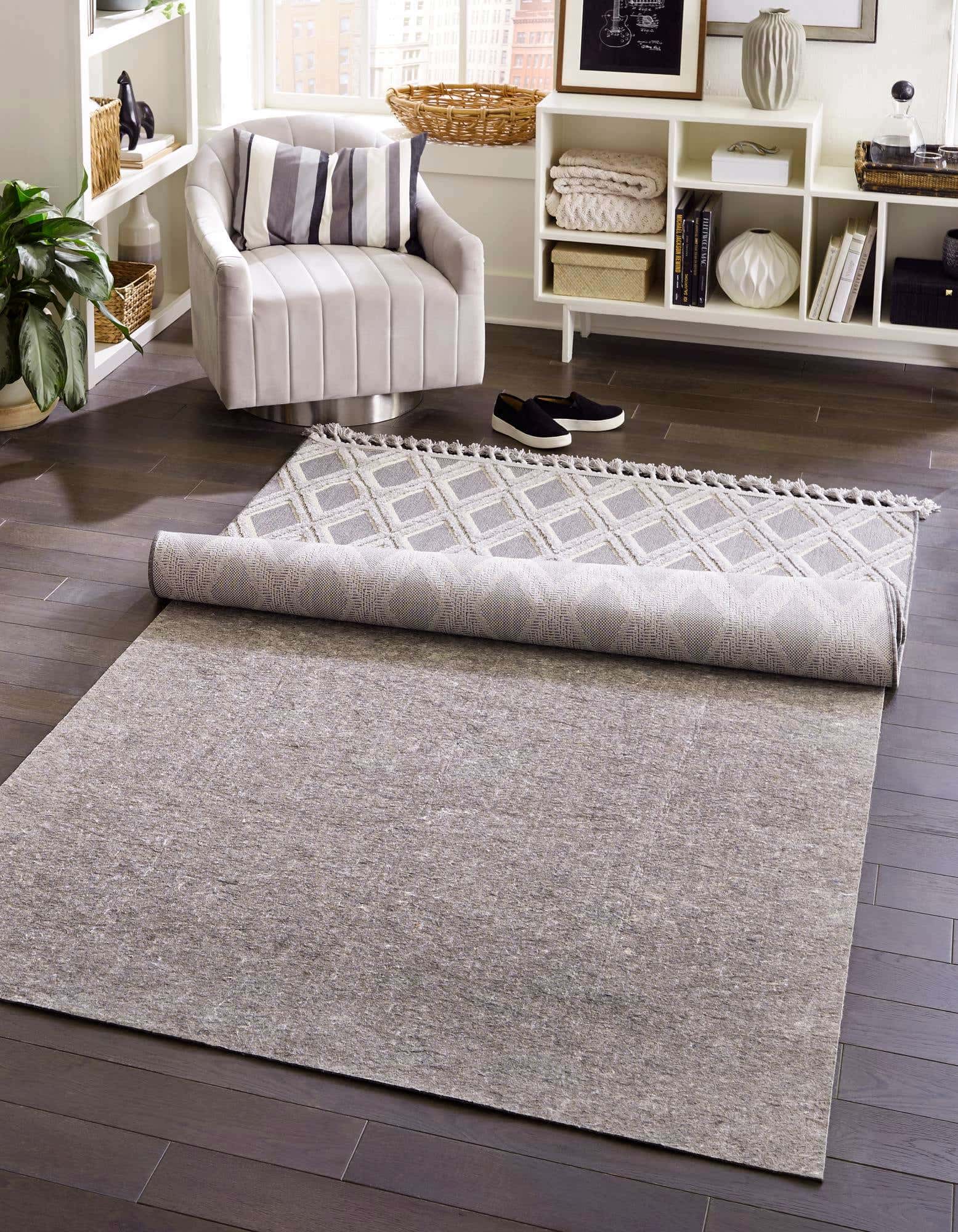 The uni-luxe rug pads define utmost comfort and durability. Made of 100% natural rubber and recycled felt, this rug pad easily prevents slipping while providing insulation and cushioning at home. Moreover, it also protects your floors from discoloration or any damage. Thus, a must investment!
Secondly, the rug pad is one-fourth of an inch thick and can also be used underneath the revolving doors.
Eco Plush Cushioning Rug Pad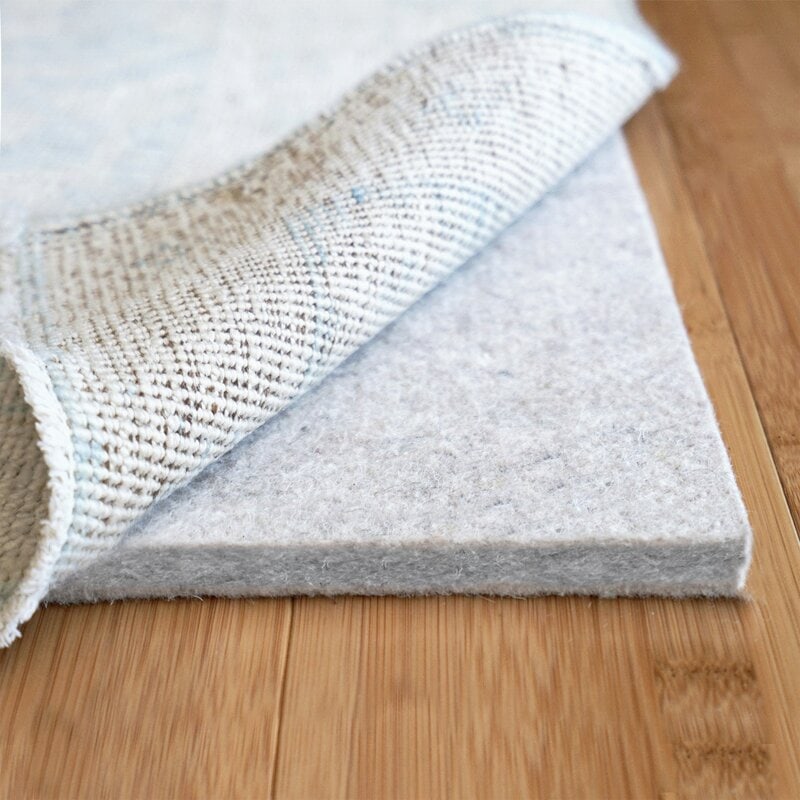 This Eco Plush non-bunching rug pad is bound to add a statement of comfort and luxe to your bedroom or living room. Composed of 100% heat-pressed felt, this cushioned pad is water-resistant and can protect your vinyl floors against any damage or discoloration.
Secondly, they can easily be trimmed at home to customize as per the size of your rug. Generally, you must make sure to make it 1 to 2 inches shorter!
Dual Surface Non-Slip Rug Pad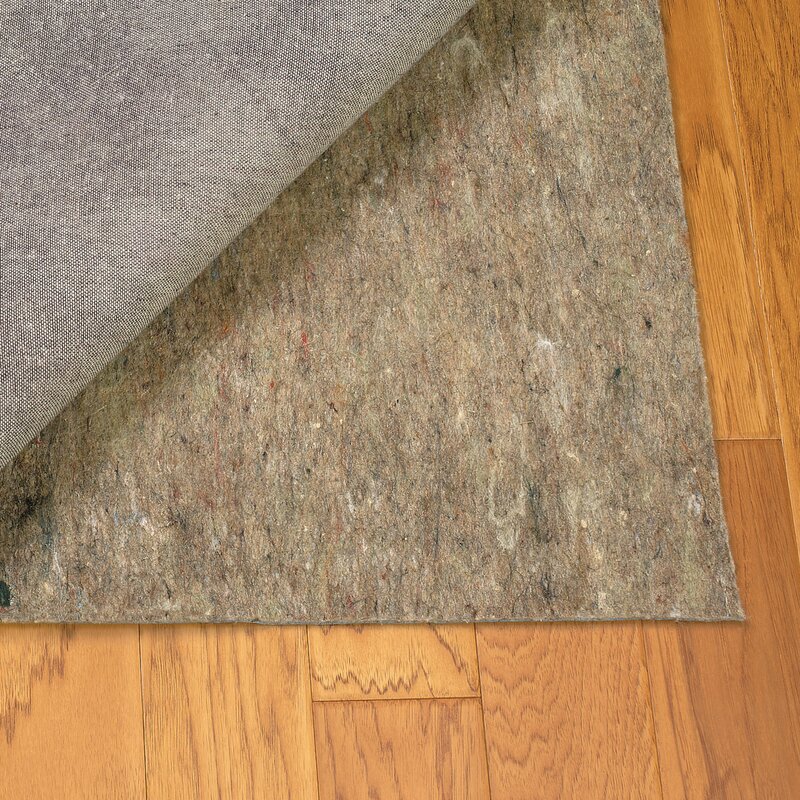 Made from the highest quality of felt and carpet fibers, this non-slip rug pad is a great choice for vinyl plank flooring. It is also equipped with a rubber backing that can easily prolong the lifespan of your vinyl or other smooth floors.
Plus, it will not deteriorate or damage your existing vinyl floors and protect them from any stains or discoloration.
Solid Extra Grip Rug Pad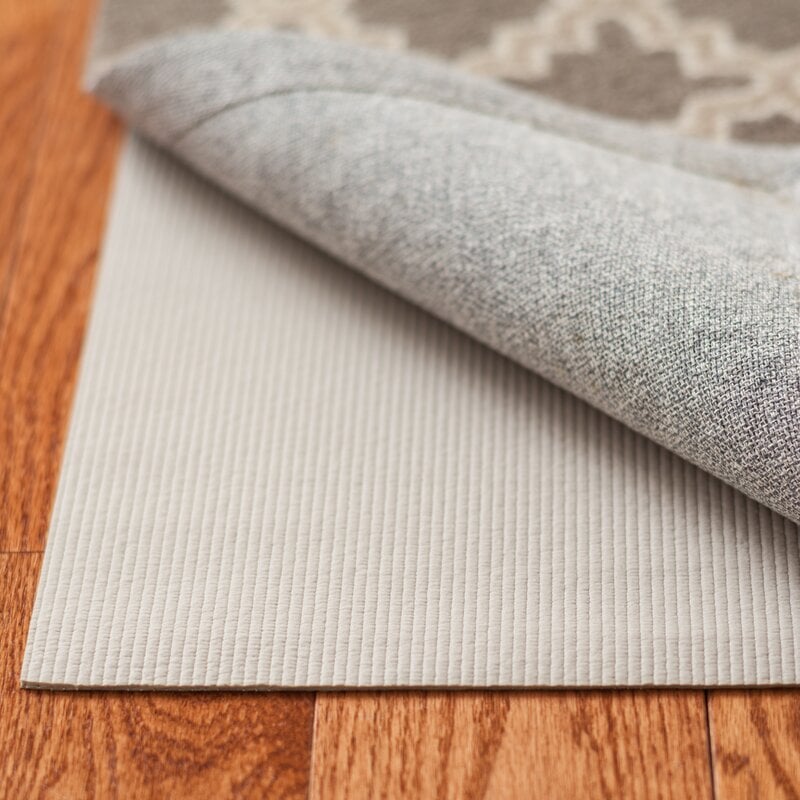 This rug pad offers a wide array of benefits. From cushioning to non-bunching and non-slipping – it also provides an extra grip that can ensure a super sturdy surface and a sense of security. The thick profile of this rug pad is ideal for high-pile rugs to make it extra plush and comfortable to walk barefoot.
The woven polyester is coated with a high-grade PVC that can prevent the floors from getting discolored or damaged by the spilling liquids. Hence, also ideal if you have kids and pets at home!
Superior Lock Rug Pad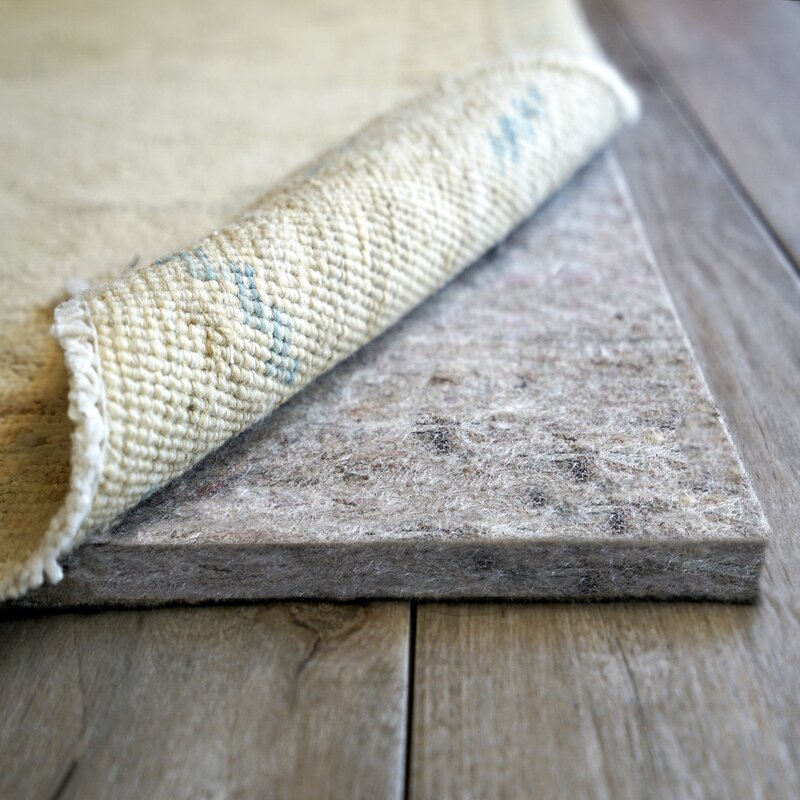 This is one of the best rug pads for vinyl plank flooring. So, when picking a rug pad, you must ensure to pick a material like felt that doesn't off-gas or harm the surface underneath. Moreover, this rug pad is quite thick and can further add soundproofing and insulation to the room.
However, you must ensure to vacuum the pad periodically and spot clean with detergent and water.
Nazario Rug Pad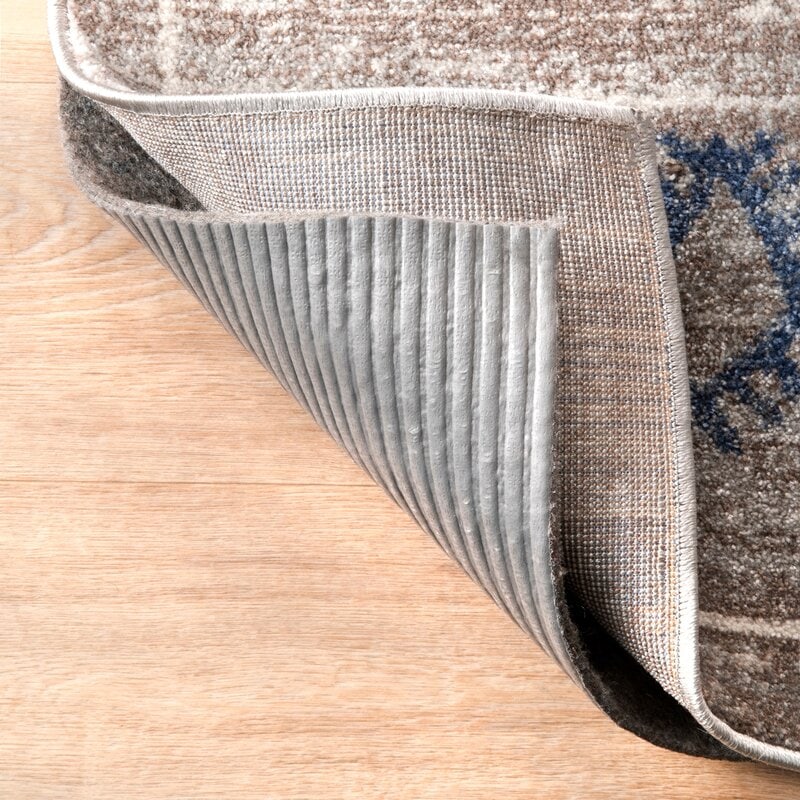 Made of felt, this rug pad is definitely something to look forward to! With the utmost thickness and a dual surface, it ensures extra grip while preventing slipping or sliding. It will also undeniably protect your floors against staining and discoloration – and that's why it's kid and pet-friendly.
Furthermore, you can easily trim the size of your rug pad as per the size of the rug.
Summing It Up
A rug without a rug pad will slide, slip, and bunch up! Hence, it's very important to have a rug pad that can protect the floors, extend the lifespan of floors, and protect it from discoloration. Generally, with the vinyl planks, you must avoid rubber pads that could easily damage the floor. It's highly recommended to pick materials that are organic, sustainable, and breathable!
So, which rug pad intrigued you the most? Well, do let me know in the comments below!