Decorated Life is reader-supported. When you buy through links on our site, we may earn an affiliate commission. Learn More
10 Best Rugs for High Traffic Areas
If there's one thing every room needs… It's a beautiful rug! The right rug will make your room feel tied together, as well as adding interest and personality to your space, so a good rug is definitely a worthy investment.
You may think you can just buy any rug you like the look of, but the truth is, some rugs are better than others when it comes to standing up to heavy foot traffic. So today we're going to be sharing ten of the best rugs for high traffic areas to help you find the perfect rug for you!
Let's take a look…
Natural Jute Braided Area Rug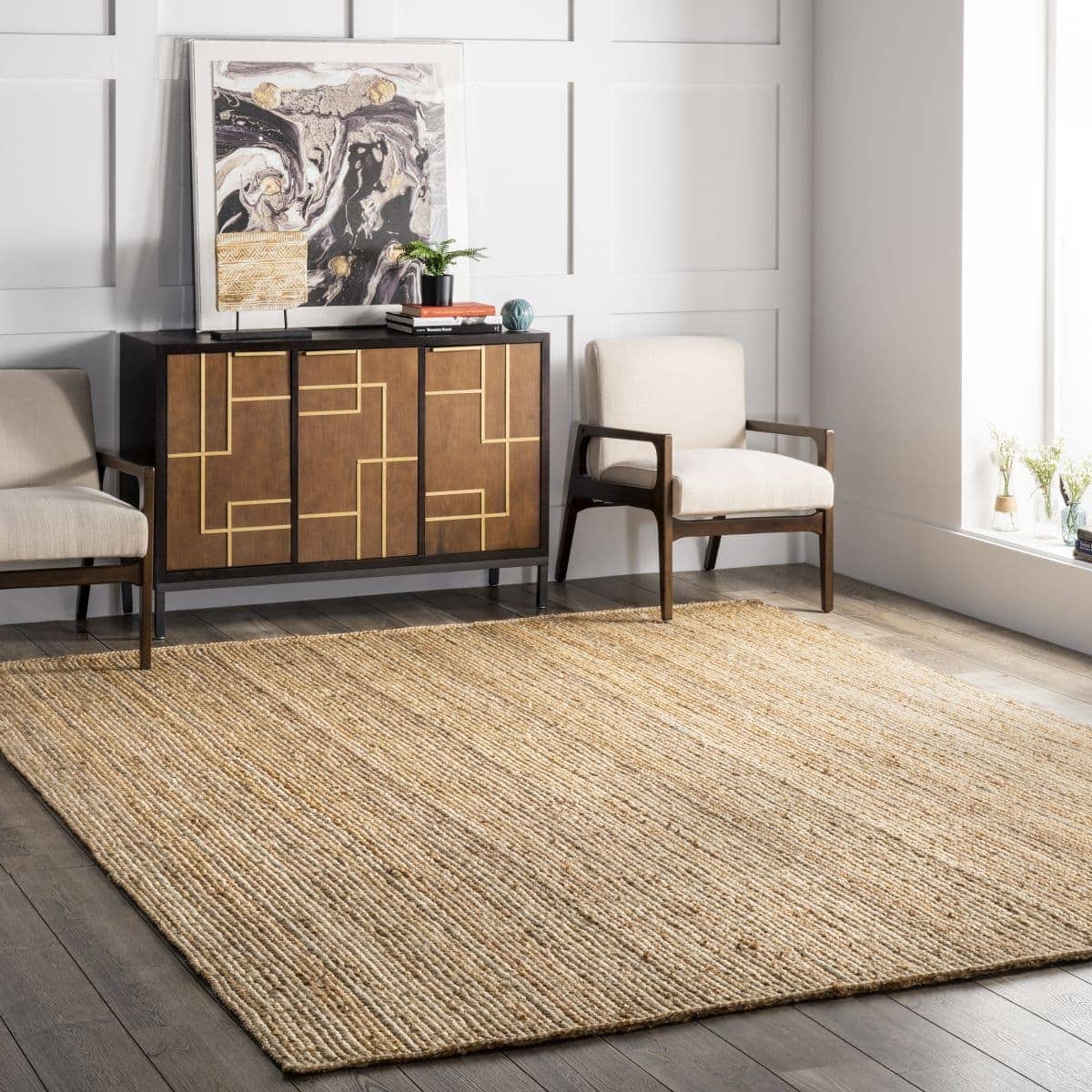 Jute is an ideal material for high traffic area rugs, since it's naturally strong and hard wearing. This makes it an ideal choice for living rooms and hallways where foot traffic can be high.
This gorgeous handmade rug is 100% Jute, and since Jute is a renewable (and natural) material, it's the perfect eco friendly choice too! The neutral color will go with most decor styles, and it will also work well layered, with other rugs on top.
Malileh Heriz Opal Rug
If you love the look of traditional Heriz rugs but you are worried they might not hold up in your busy home, then this is the perfect solution for you! This is the best type of rug for a high traffic area, because it's low-pile and light weight at only ⅛" thick, and it's machine washable too!
Although this beautiful rug looks exactly like an antique, it's actually made from polyester with a polyurethane water-resistant barrier, so even if you spill a whole glass of red wine on it, it will simply run off, and won't stain.
Chino Mirona Sisal Area Rug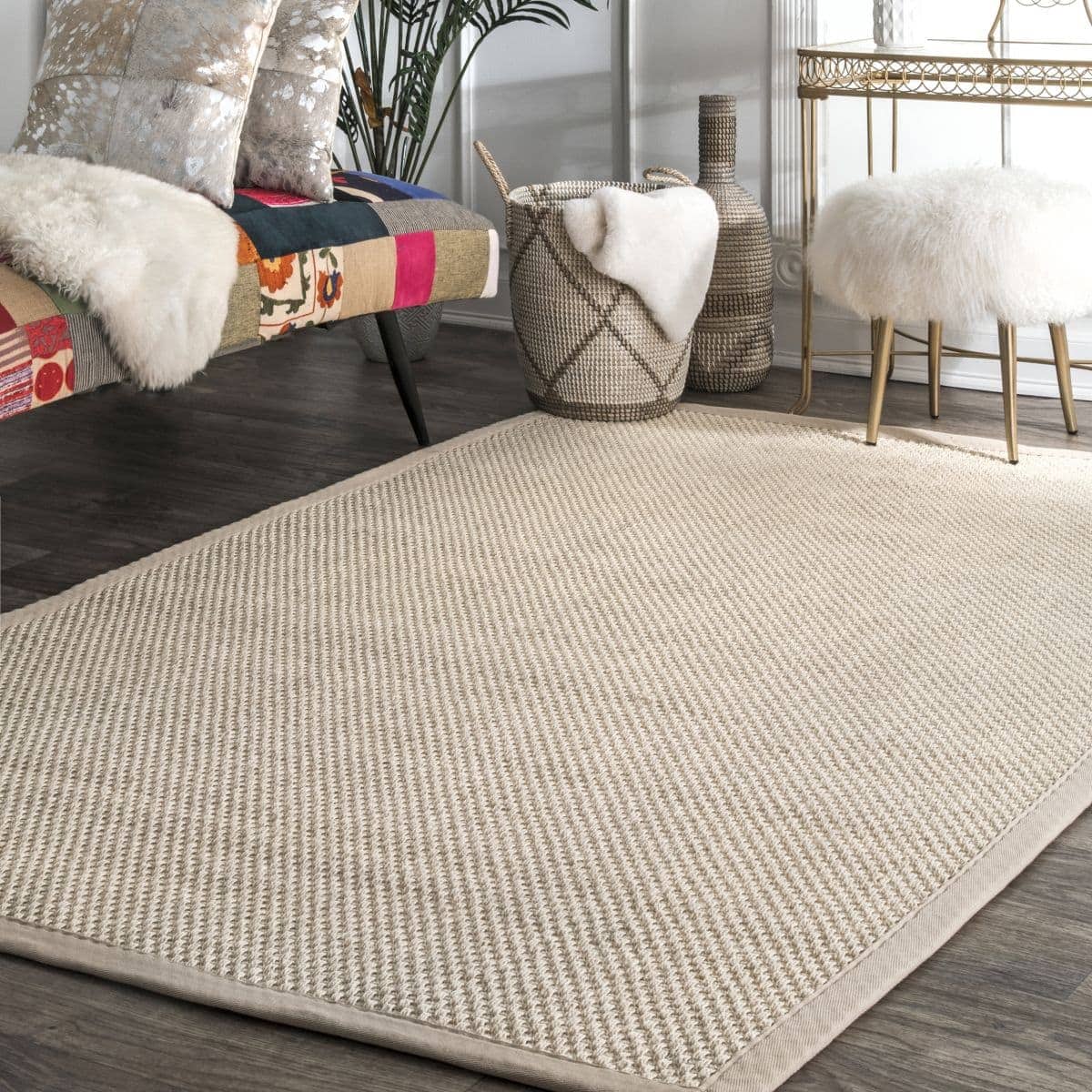 Much like Jute, Sisal is a hardwearing, natural fibre that is perfect for use in high traffic areas.This rug is actually a blend of 65% Sisal and 35% cotton, so although it's strong, it's soft underfoot too.
This rug would be ideal in a living room or dining room, and it's also available as a runner so would be a great addition to a hallway too.
Finksburg Area Rug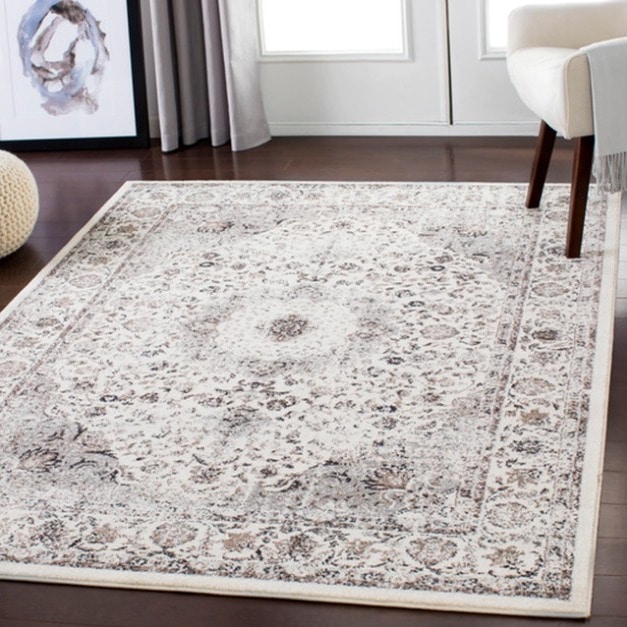 This beautiful grey area rug is machine woven from 100% polypropylene, which is probably the best rug material for high traffic area rugs. The stunning palette of greys and ivories will work with most decor styles.
Although this rug is hardwearing and will stand up to even the heaviest of foot traffic, it's still beautifully soft underfoot. It's perfect for all high traffic areas including living rooms, hallways, kitchens, bedrooms and more!
Dark Blue Wool Coventry Area Rug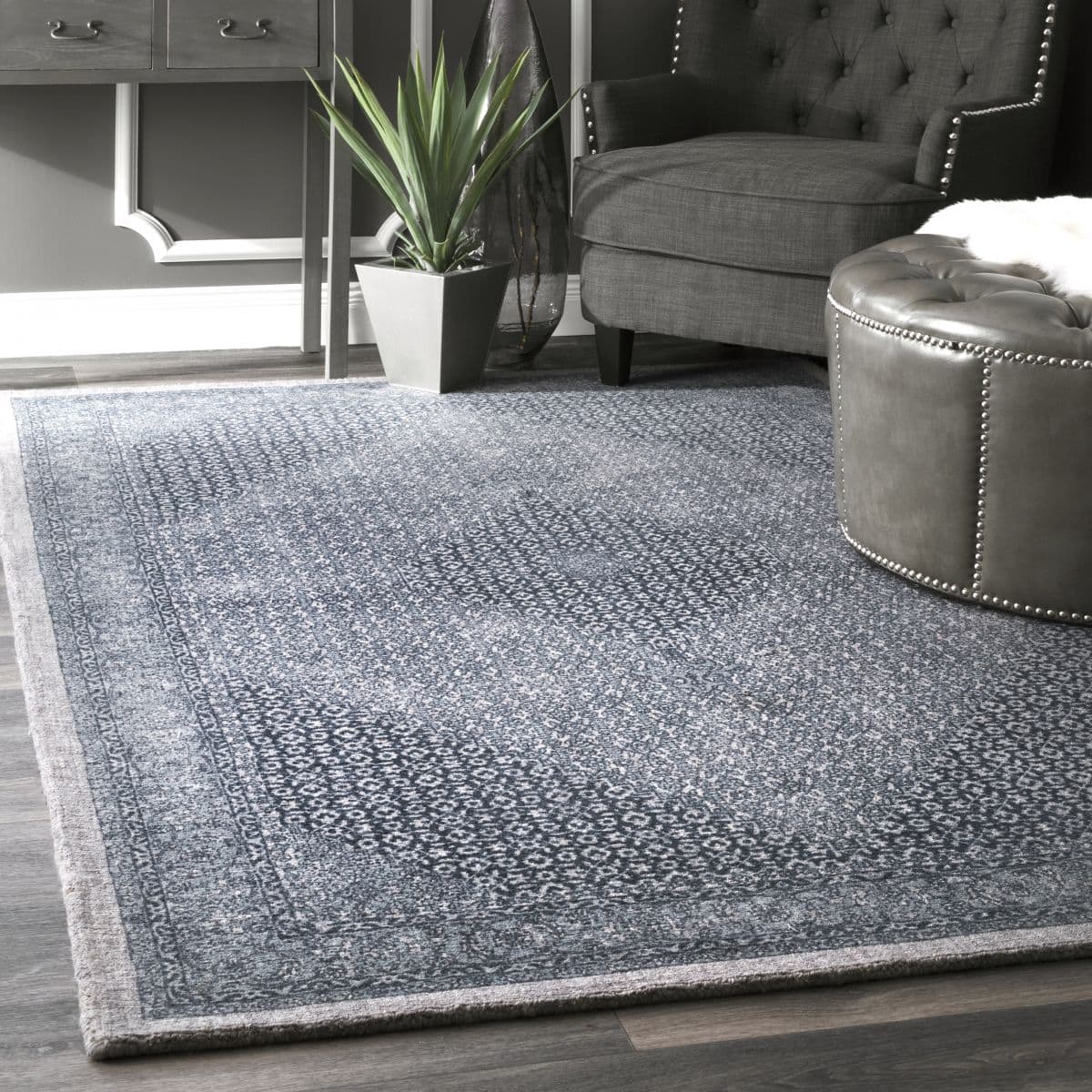 Wool is another ideal material for rugs in high traffic areas, since it's tough, and one of the easiest fibres to clean and maintain. This beautiful hand tufted rug is made from 50% New Zealand wool and 50% Indian wool, for a perfectly soft texture.
Wool is eco friendly and naturally hypoallergenic, so it's an ideal choice for households with allergies. The pale blue color design with gray trim will look great in most homes, and would suit bedrooms, living rooms, entrance halls, and other high traffic areas.
Cambrie Oriental Gray Area Rug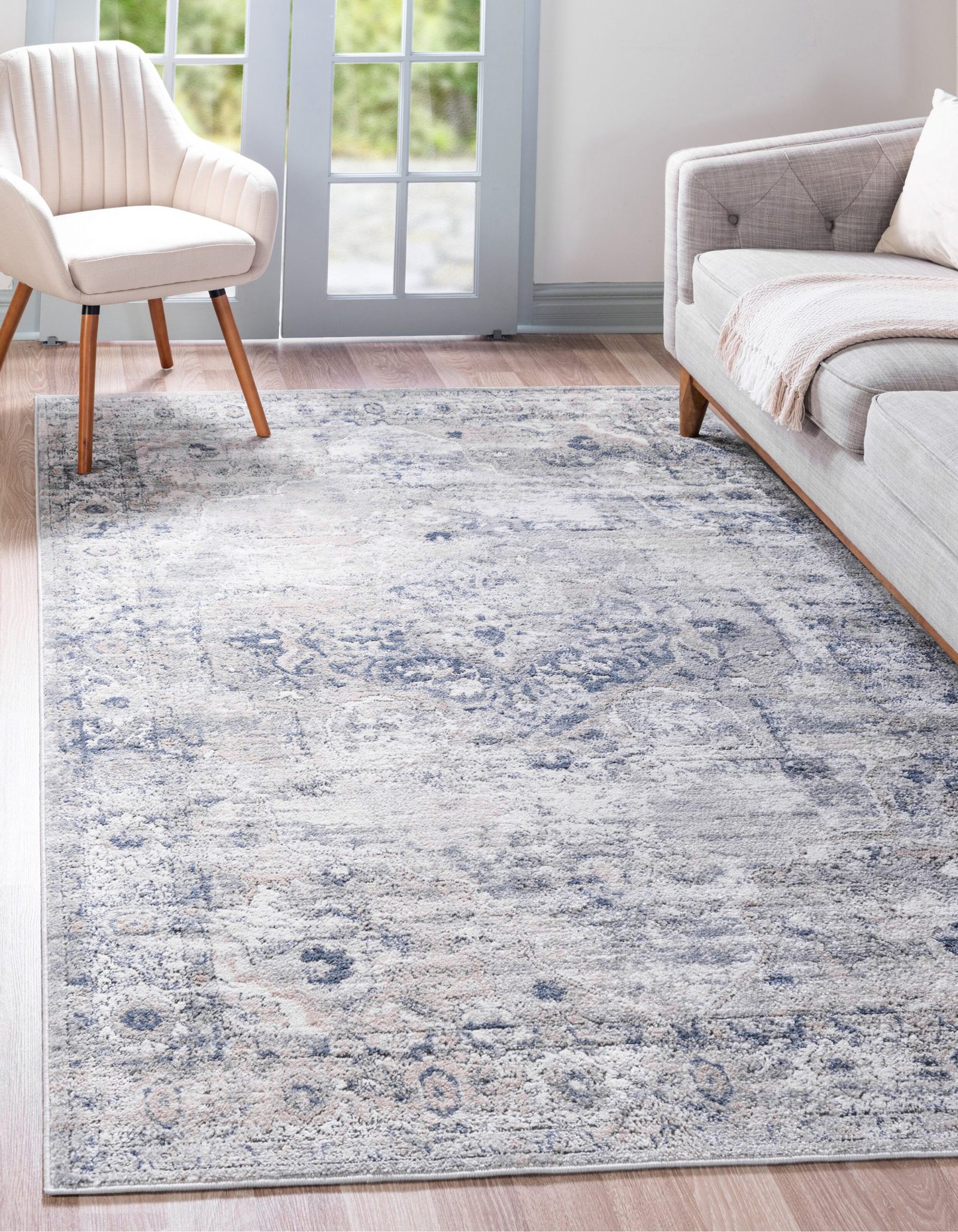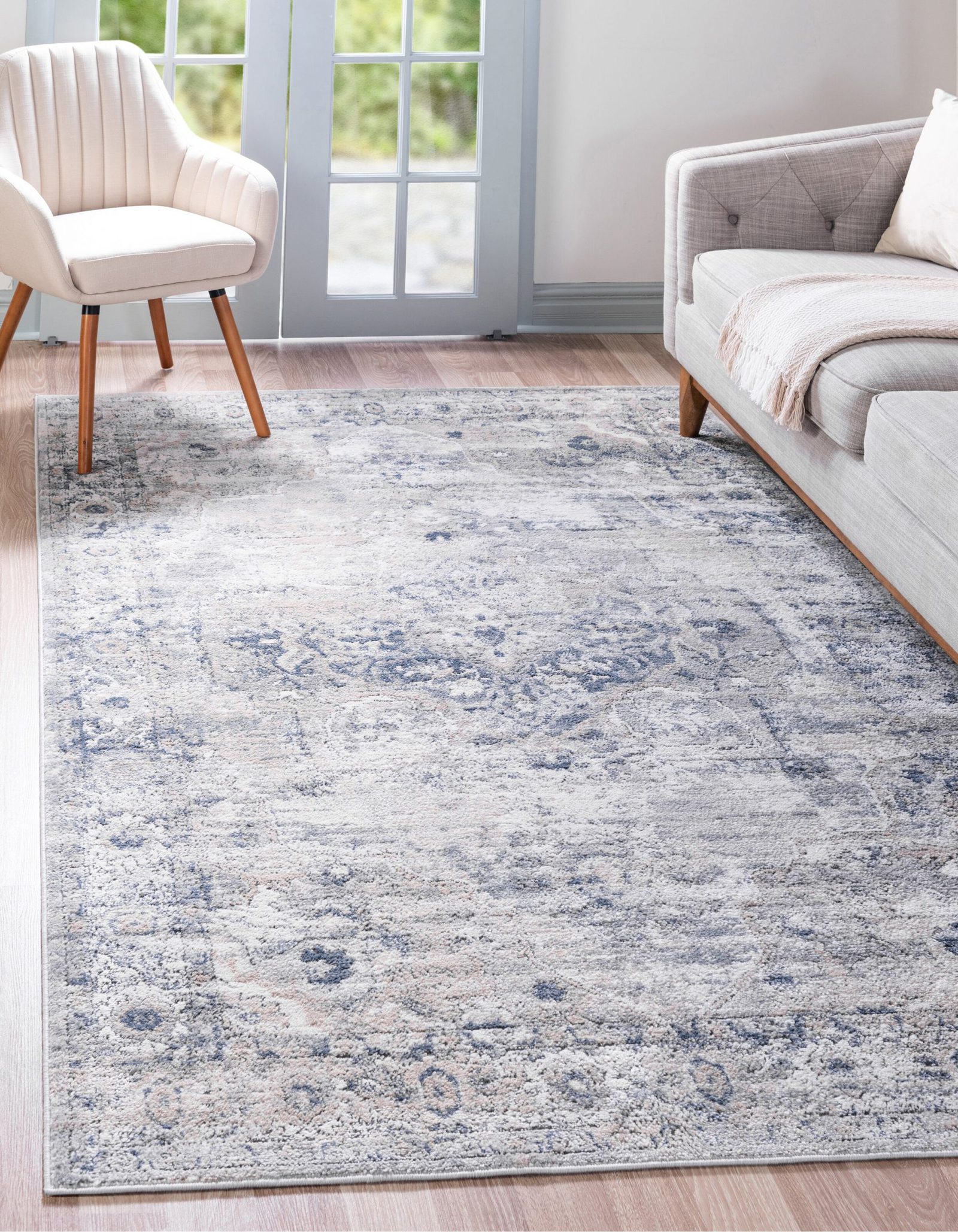 This beautiful rug features delicate oriental patterns in a calming palette of soft greys, beiges, and blues. It has a medium pile, making it ideal for any high traffic areas in your home. It's also stain resistant so there's no need to worry about spills and accidents in a busy household.
This sophisticated rug is woven from polyester and polypropylene, so it will stand the test of time and look beautiful for years to come.
Nordic Emblems Washable Area Rug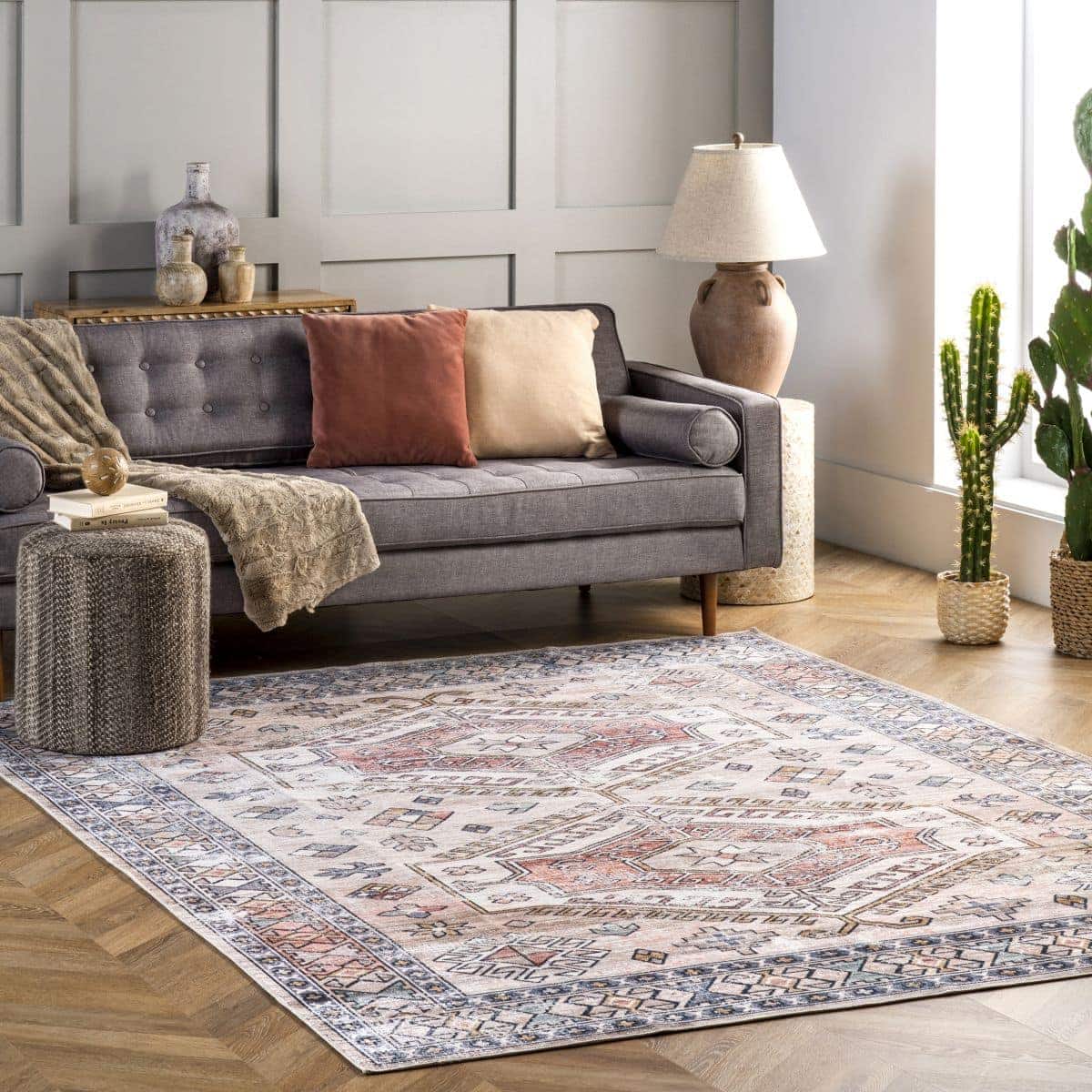 Premium synthetic fibres make some of the best rugs for high traffic areas, and the great thing about synthetic fibres is you can get the look of a beautiful vintage rug, without having to worry about it getting damaged by wear and tear.
This Nordic emblems rug is ideal for high traffic areas. It's spill and stain resistant, and it stands up well under heavy foot traffic. Best of all, when it gets dirty you can simply remove the rug from it's backing and wash it in your household washing machine.
Xia Blue Bohemian Nomad Area Rug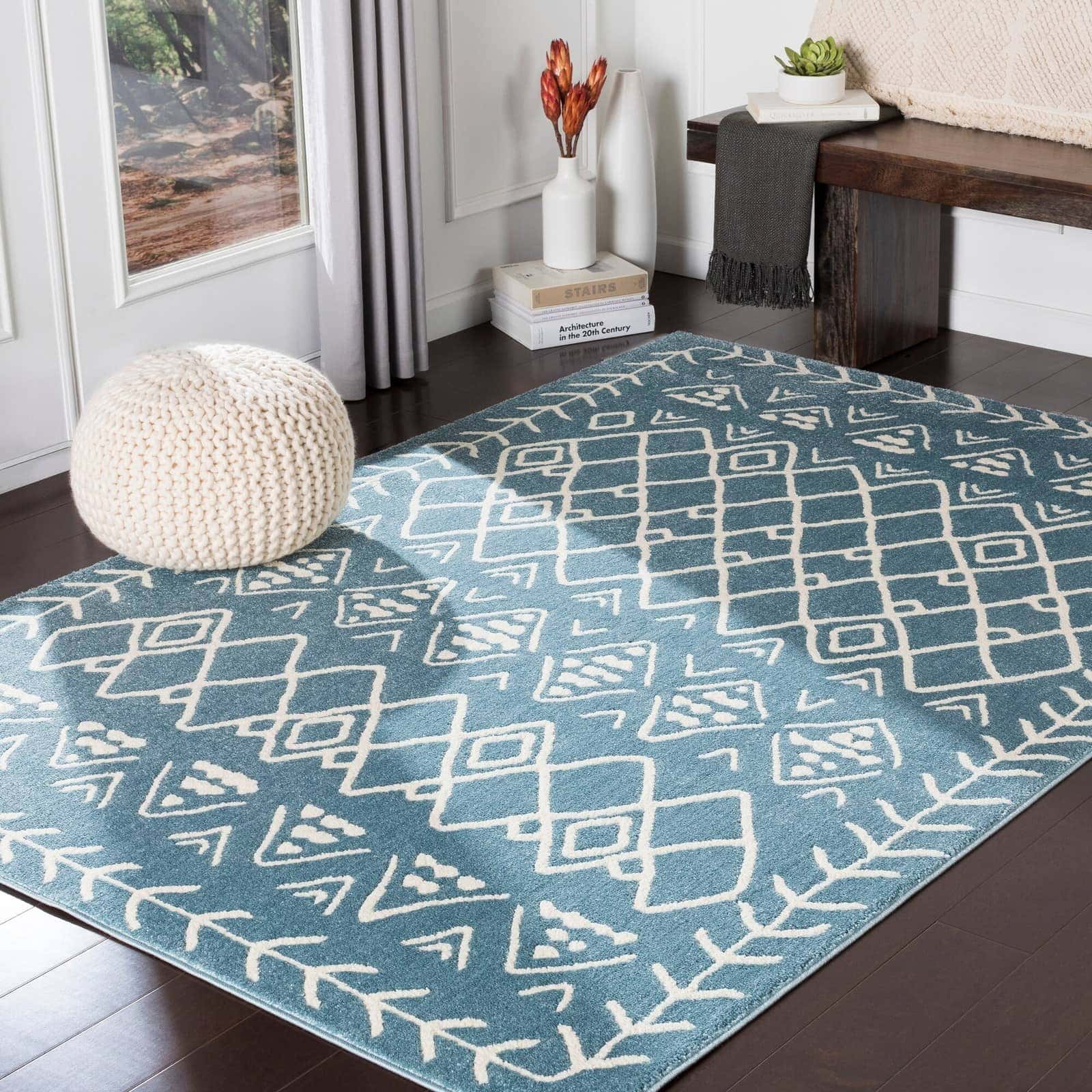 This stylish blue bohemian nomad area rug is made from 100% polypropylene and is ideal for use in high traffic areas of your home. The rug itself features a globally inspired geometric pattern in denim blue and cream.
Although this rug is strong and hardwearing, due to its material it's still lovely and soft underfoot, so it's ideal for all areas of your home including the bedroom!
Oriental Washable Area Rug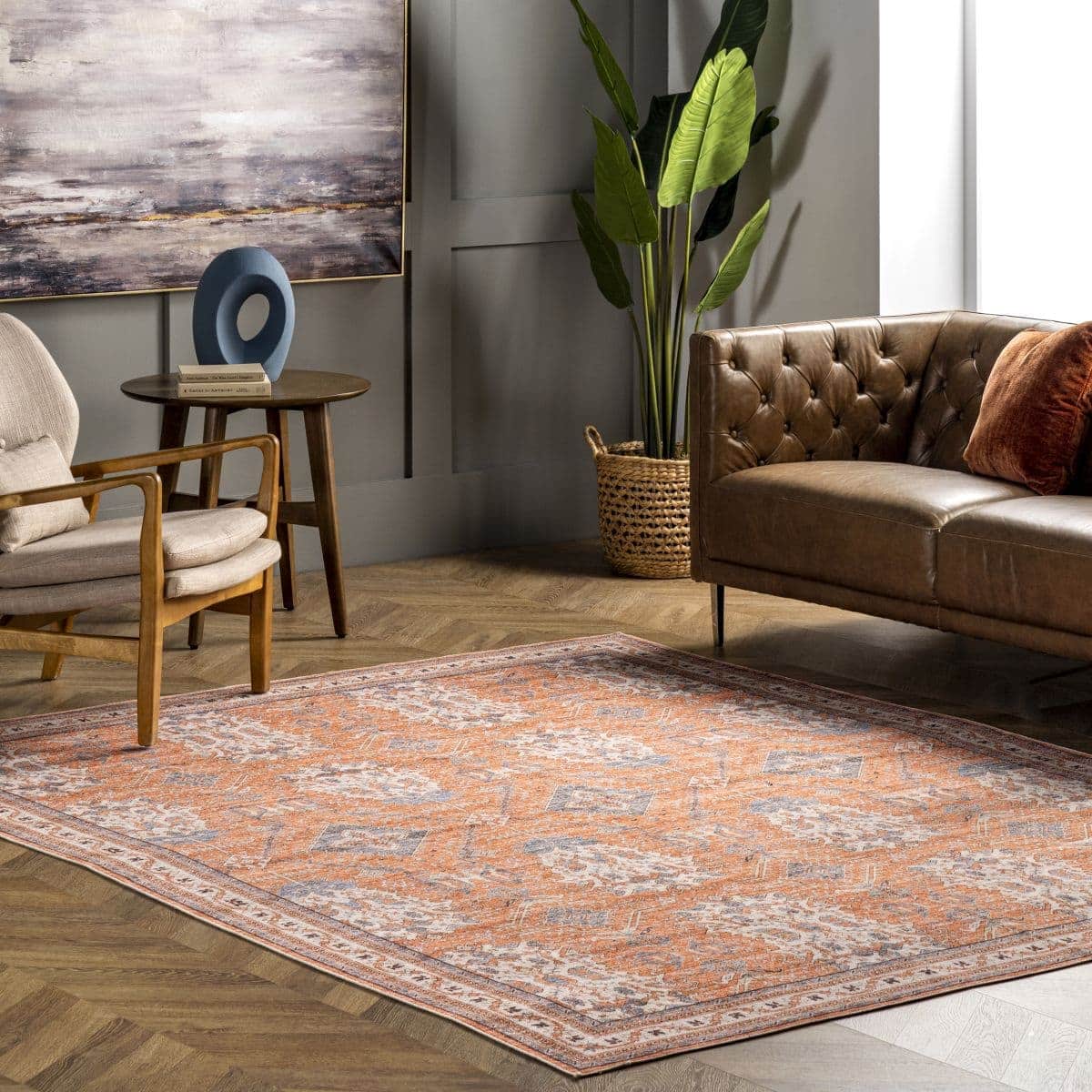 This rug is the perfect blend of beauty and function. It holds all the beauty of a vintage oriental rug, but although it might look delicate, this gorgeous rug is suitable for use almost anywhere in your home!
Created from sustainably sourced premium recycled synthetic fibres, this rug is perfect for any high traffic areas in your home. It's washable too, so it's also ideal for areas such as the kitchen or dining room where spills might happen. The delicate oriental design in warm rust colors is perfect for adding warmth to your home.
Granite Ombre Light Grey Rug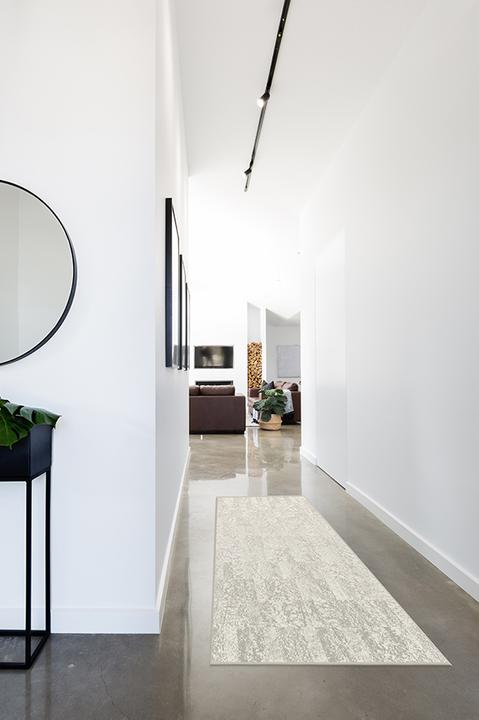 If you've ever thought you can't use a light colored rug in a hallway, I have great news for you- you absolutely can! The beautiful pearl white and dove grey hues in this stunning rug would work well with most decor styles.
This granite colored light grey rug is stain resistant and machine washable, so it's perfect for high traffic areas like hallways, kitchens, and living rooms.
Final Thoughts…
When choosing a rug for a high traffic area in your home it's important to consider the material of the rug. Jute and Sisal are particularly good materials for high traffic rugs, since their natural fibres are naturally tough and hard wearing.
If you're looking for something a little softer underfoot, then try a wool or polypropylene rug. Many synthetic fibre rugs are machine washable too, making them an ideal choice for homes with pets or kids.
Whether you are looking for high traffic runner rugs, or area rugs for your living room, we hope this selection has inspired you!