Decorated Life is reader-supported. When you buy through links on our site, we may earn an affiliate commission. Learn More
20 Gorgeous Rug Ideas for Your Kitchen
While kitchen rugs have the downside of being harder to clean if you make a mess, the benefits of adding a rug to your kitchen floor are many. Whether you get a big area kitchen rug or a small one, you can really soften the look and create warmth in your kitchen.
It also can work to enhance your decor style, from a modern approach with geometric patterns and colors to a more rustic and earthy option. Read on for some great inspiration!
Look for a Large Area Rug for the Kitchen Table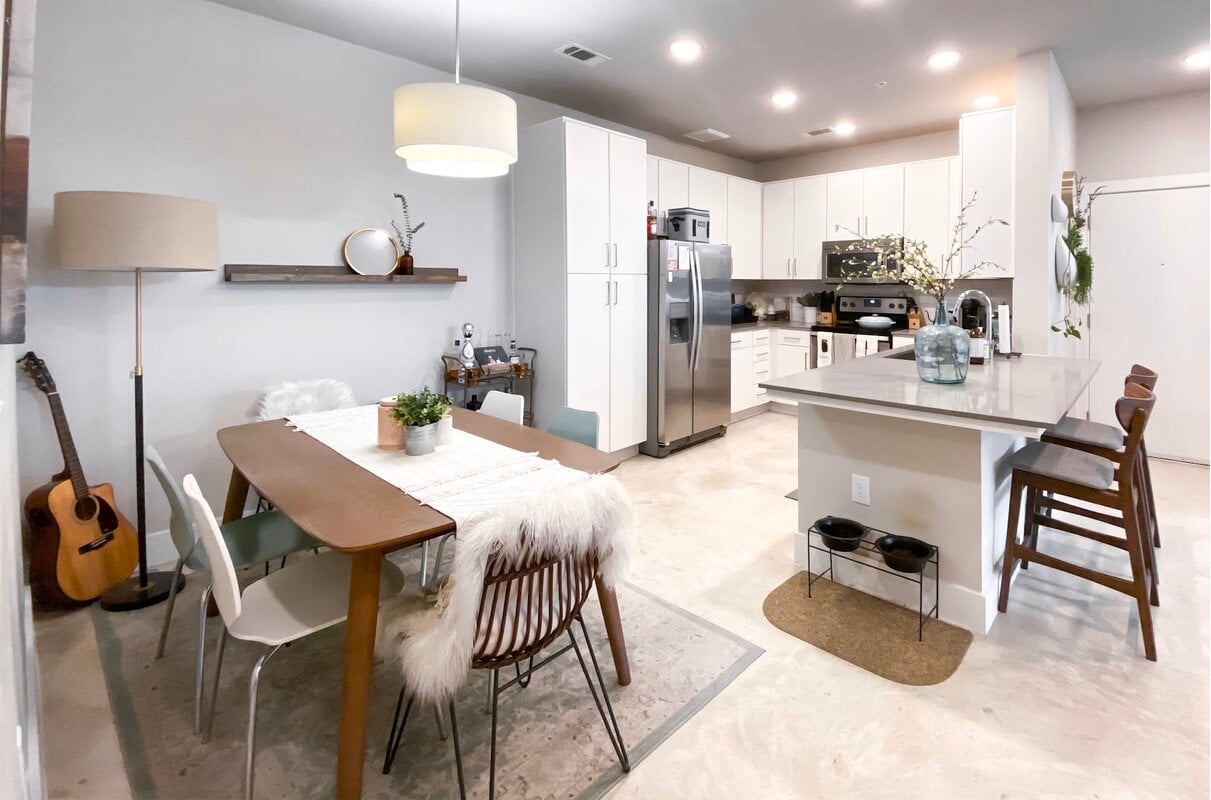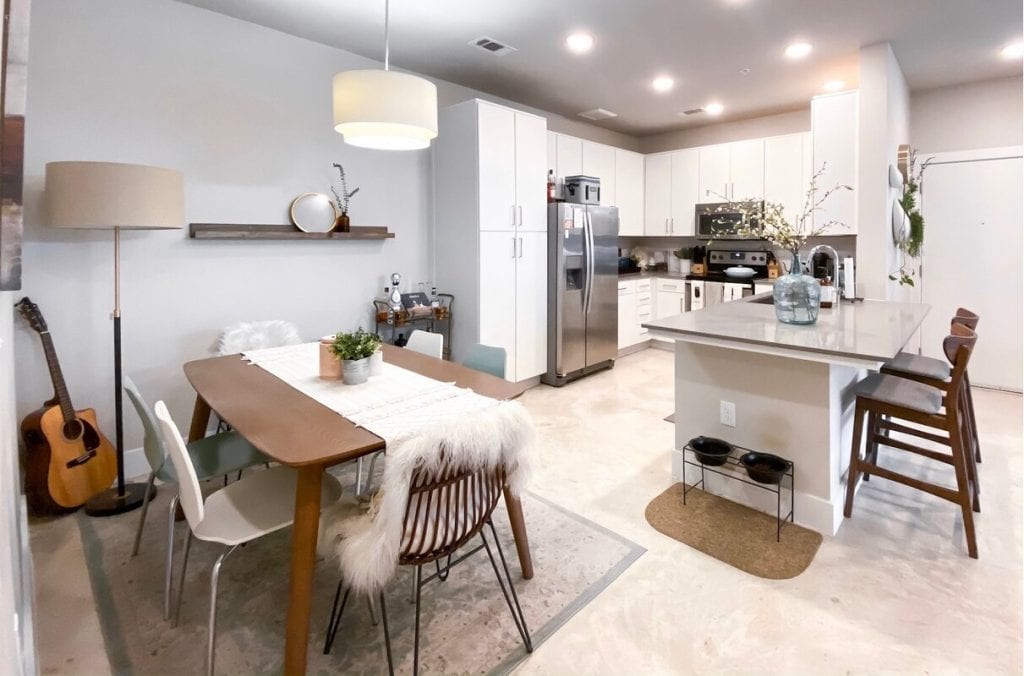 Placing a large kitchen rug underneath the kitchen table is a good idea to create a separation between that part of the room and the cooking and food prep area.
Make sure to get a big kitchen rug that extends not only underneath the table but also the chairs when they're pulled out to avoid having uneven leg chairs. This example shows that idea perfectly, with the area rug large enough for everything.
Get a Fun Cooking-Themed Kitchen Mat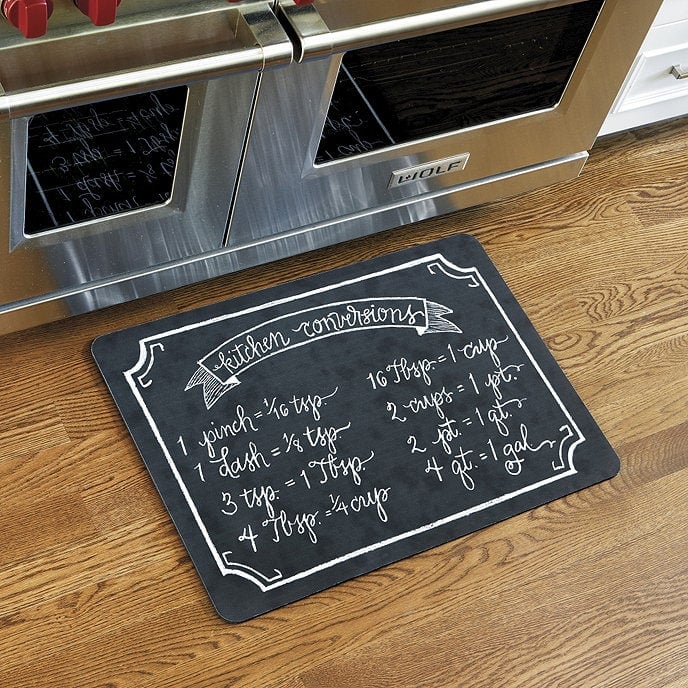 This kitchen mat is a good choice if you want something small by the sink or oven, especially if you're decorating in the rustic or farmhouse look. Those two decor styles will really benefit from having a small and cute kitchen rug with handy conversions scrawled on it.
If you're looking for a small kitchen mat idea for the sink, you can get one that is more plush and better for standing on for long periods of time.
Go Rustic With a Weathered Wooden Look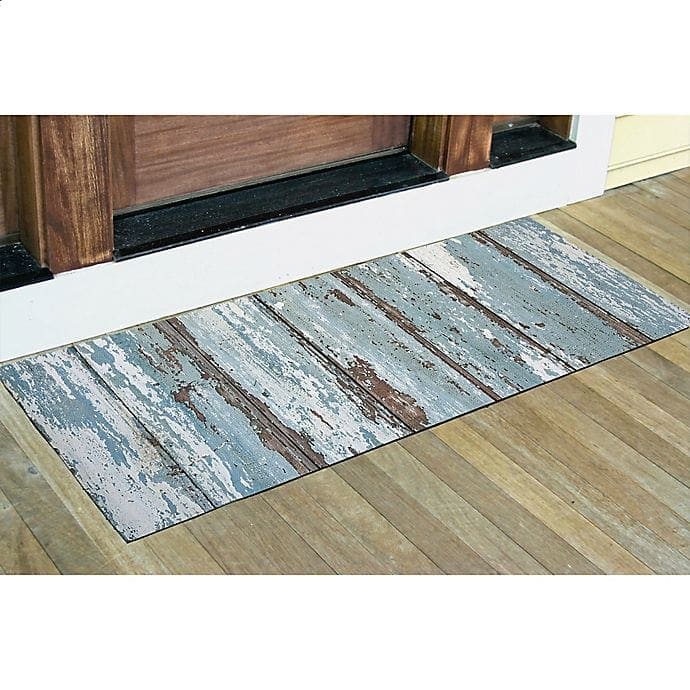 I like the contrast of this rustic kitchen rug with the hardwood floor. The rug is made to look like a weathered wooden floor in wide planks and it's placed directly on top of a real hardwood floor, but this one with narrower planks and a different grain of wood.
This small area rug for the kitchen has a lot of personality, so you should make sure it doesn't overwhelm the rest of your rustic decor.
Add Texture by Layering Two Rugs Together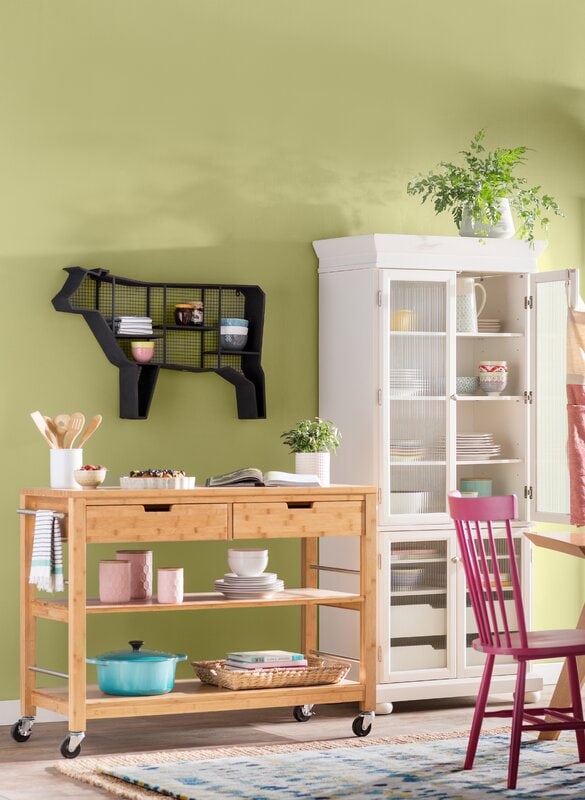 This look is much less commonly seen but it screams style. Two kitchen rugs are layered, one on top of the other, for extra texture and contrast. The bottom rug should clearly be larger than the top rug and look for different textures and colors.
If you like the idea of layering two rugs together but you're not sure where to start in terms of pattern, texture, and color coordination, check out this really helpful article.
Match a Pale Gray Rug With Wooden Floors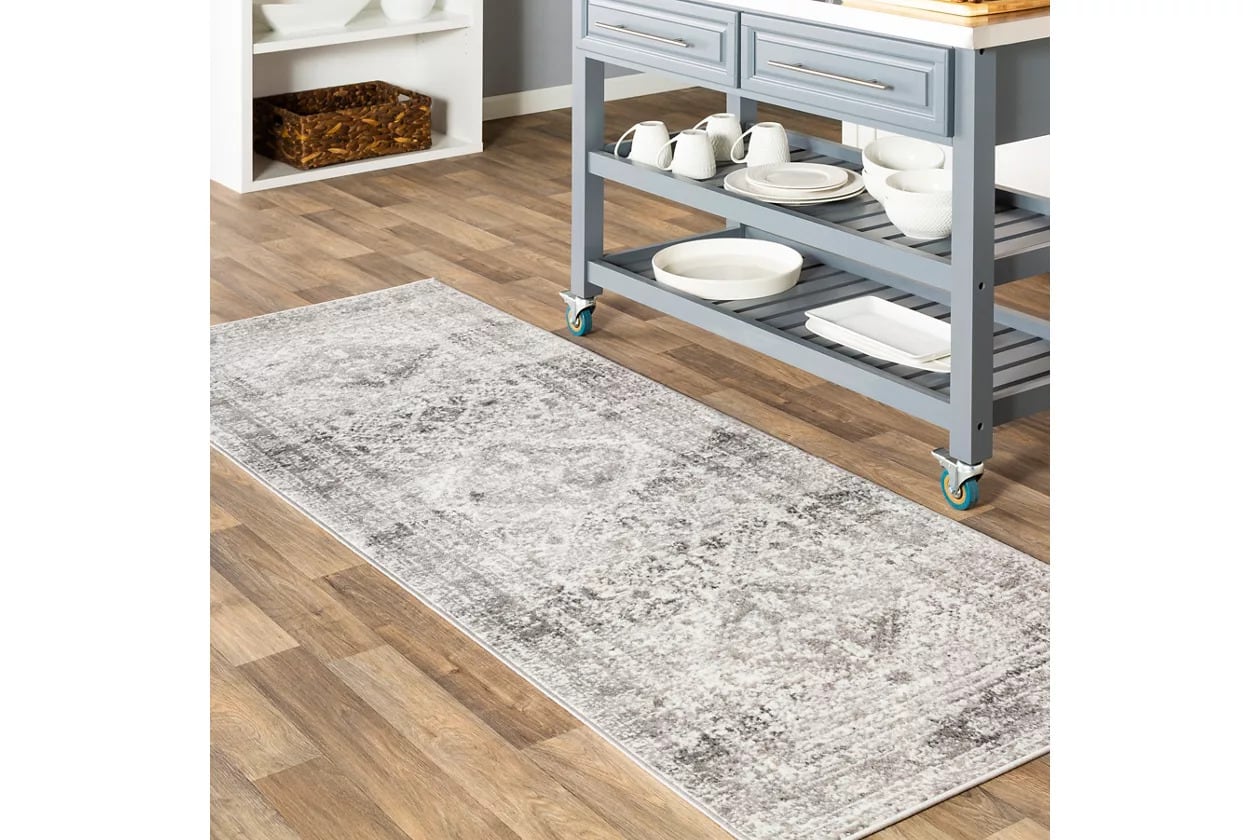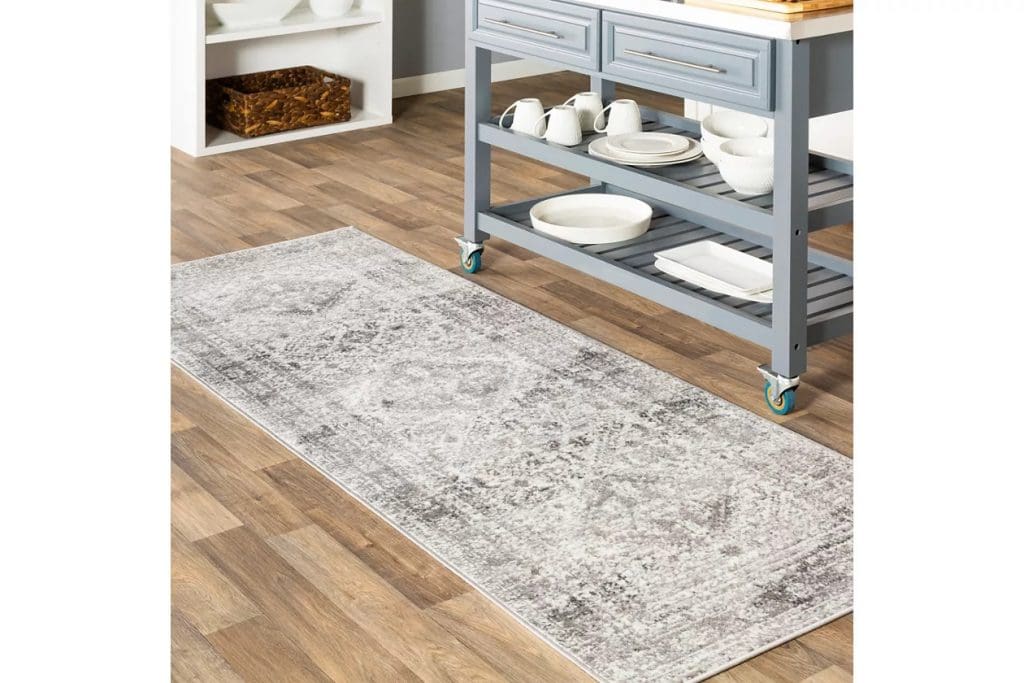 Hardwood floors are an excellent base for a cute kitchen rug, especially one that contrasts well, like gray and medium-grain wood. This pale gray faded patterned area rug ties the gray tone of the cart with the wooden floors.
Also, note how the rug isn't used underneath a table or the cart but is simply placed in the open space of the kitchen to soften up the room and fill the empty space.
Buy a Hand-Woven Area Rug for Farmhouse Kitchens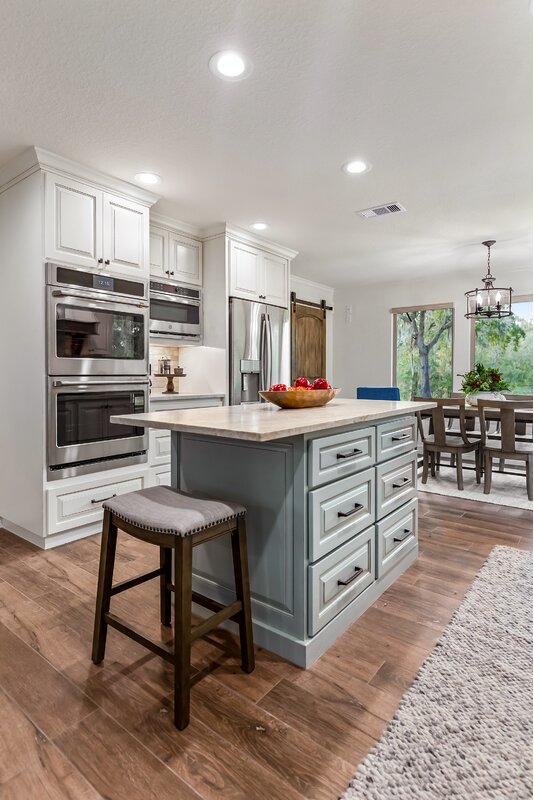 This thick, cable-knit rug is a great choice for a stylish farmhouse kitchen. Not only does that hand-woven style channel the farmhouse vibe, but it's also in a suitable neutral tone for this type of kitchen.
When choosing a rug for your kitchen, the texture of a kitchen rug is just as important as the size and pattern or color.
Go for a Subtle Criss-Cross Pattern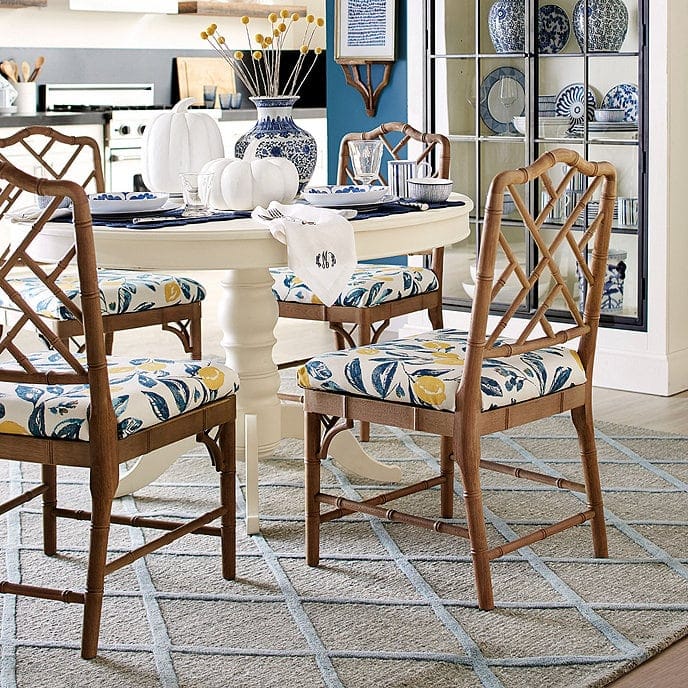 This cute kitchen rug has a subtle pale blue raised criss-cross pattern on a beige base, which is perfect for adding a large area rug to your kitchen without letting it fade completely in the background.
The criss-cross matches the backs of the chairs really well while the blue lines are complemented by the blue accent colors throughout the room.
Add a Delicate Touch With a Floral Pattern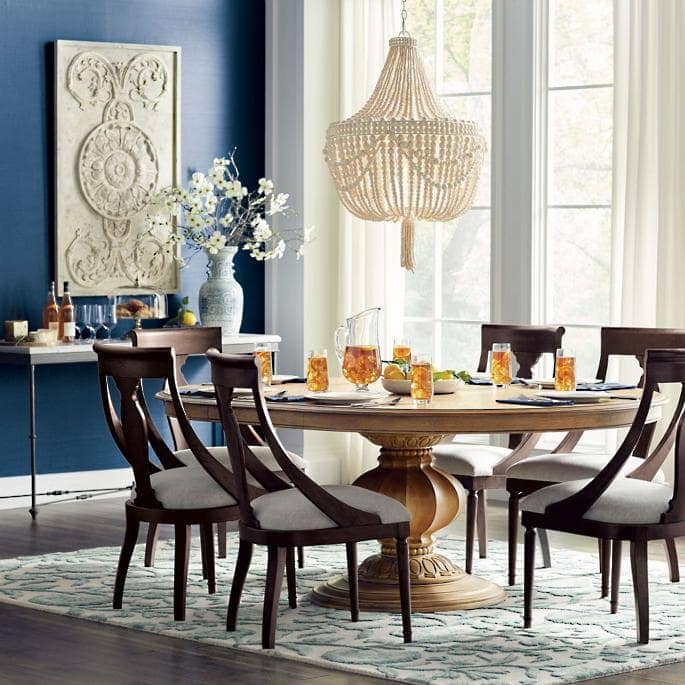 A floral pattern is a great way to go for a stylish kitchen rug, especially one in a more traditionally decorated kitchen. The rug pictured here softens the room and ties the table and chairs into the console table with vase and artwork.
The curved lines of the floral design are mirrored in the curved chandelier above the table and the table leg itself.
Get a Long Runner for Smaller Kitchens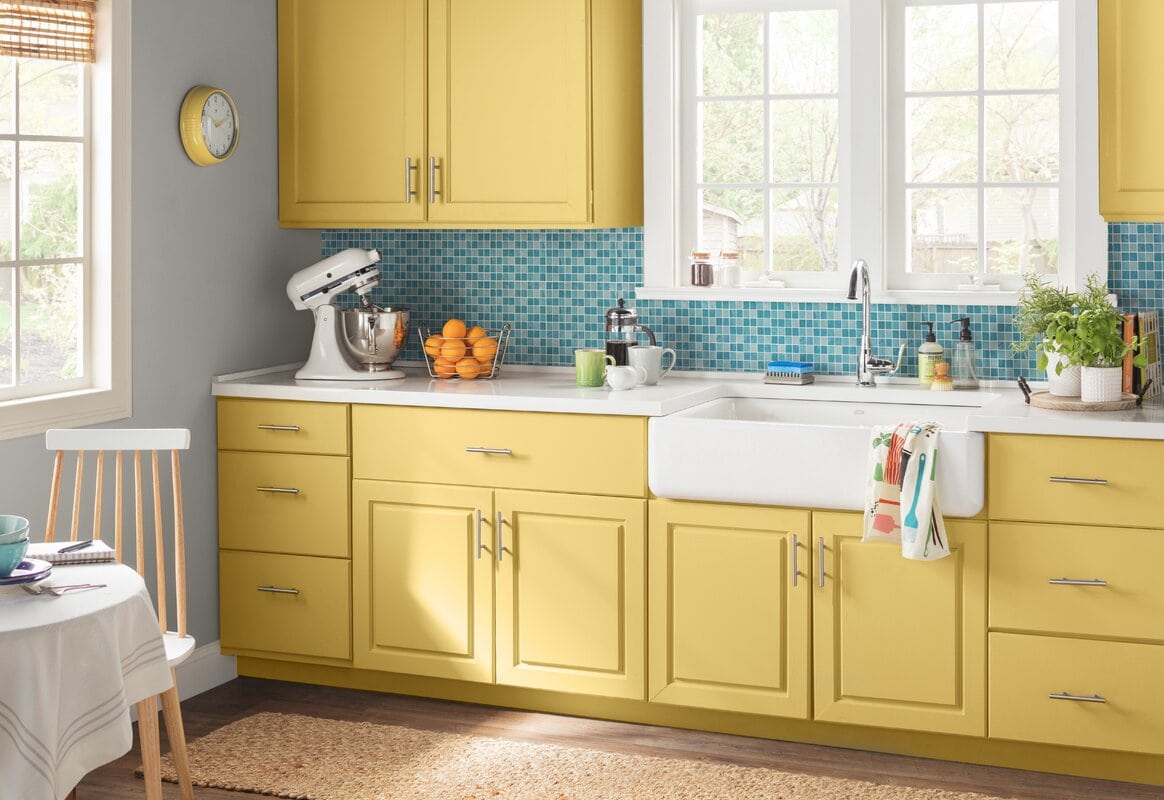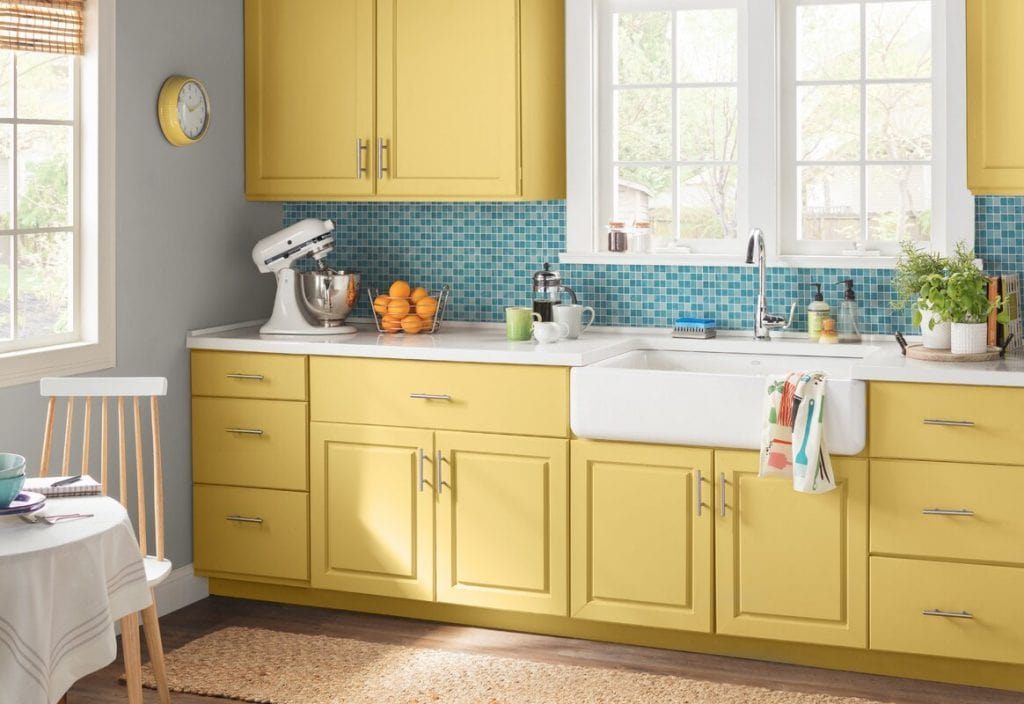 A long, narrow runner rug like this one is a good choice for a smaller kitchen with less space. It still adds a feeling of warmth and personality without hiding the wooden floors. The warm shade of the beige carpet also complements the yellow cabinets perfectly.
Go Rustic With a Rock Floor Accent Carpet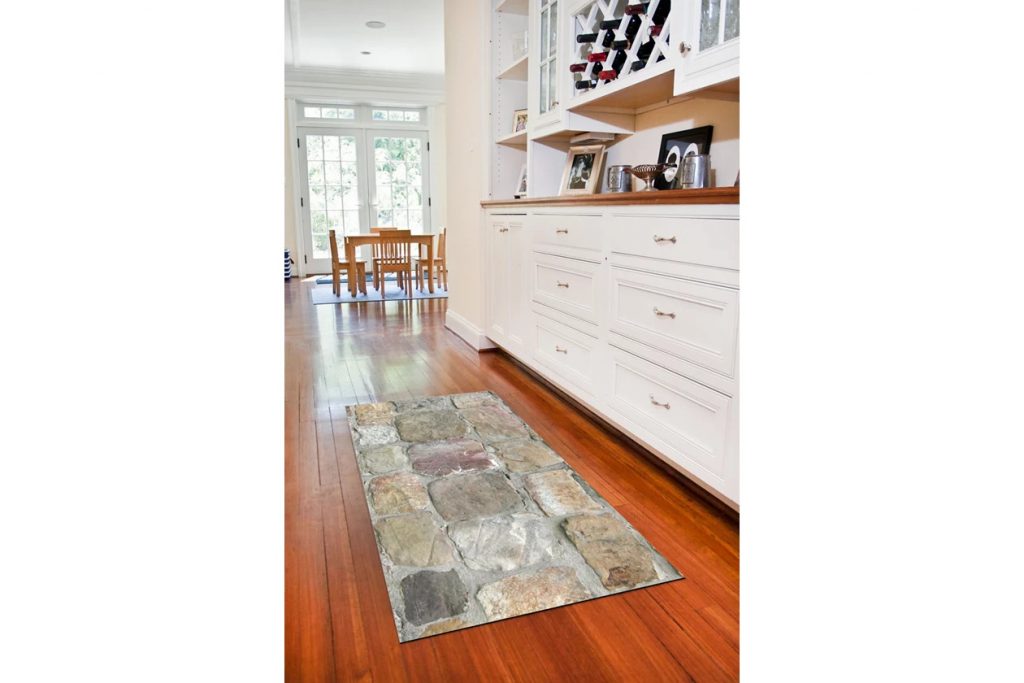 This is quite a unique rustic kitchen rug since it imitates a rock surface quite well. It's a fantastic choice for a rustic or Tuscan-style kitchen since both of those styles use natural materials like wood and stone throughout the decor.
When going for a bold kitchen accent rug like this one, it's important to keep the size of it small so it doesn't appear too over-the-top.
An Abstract Rug Can Add a Touch of Color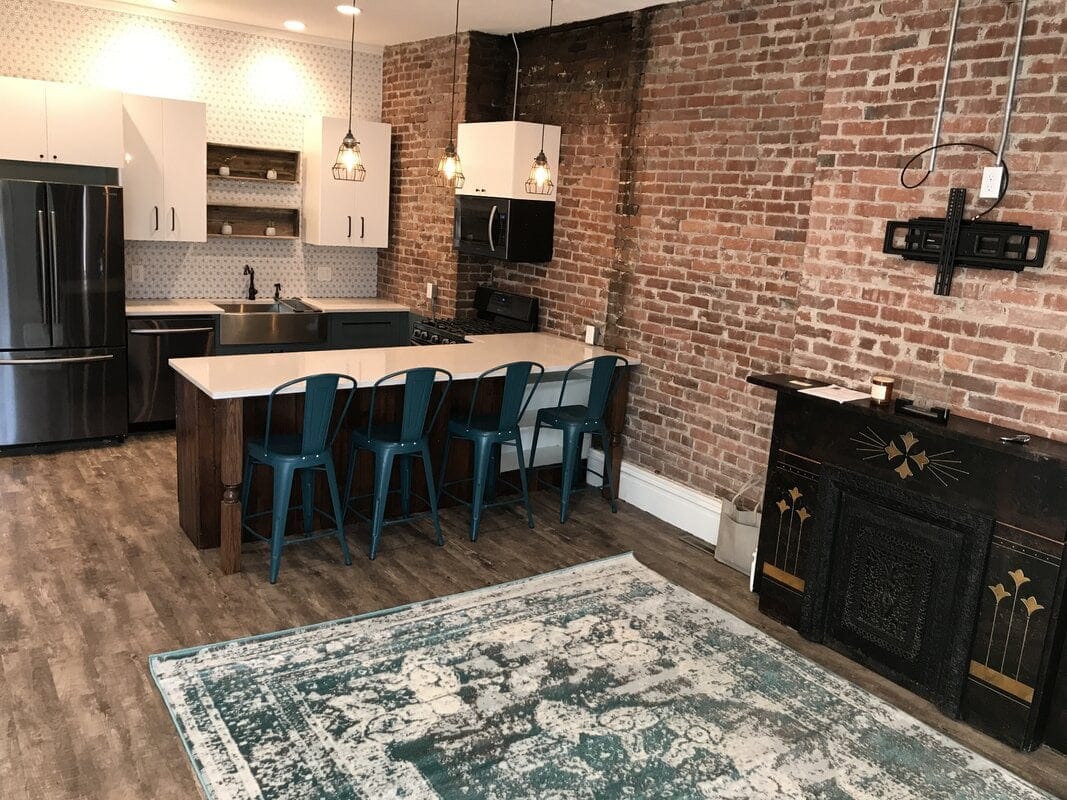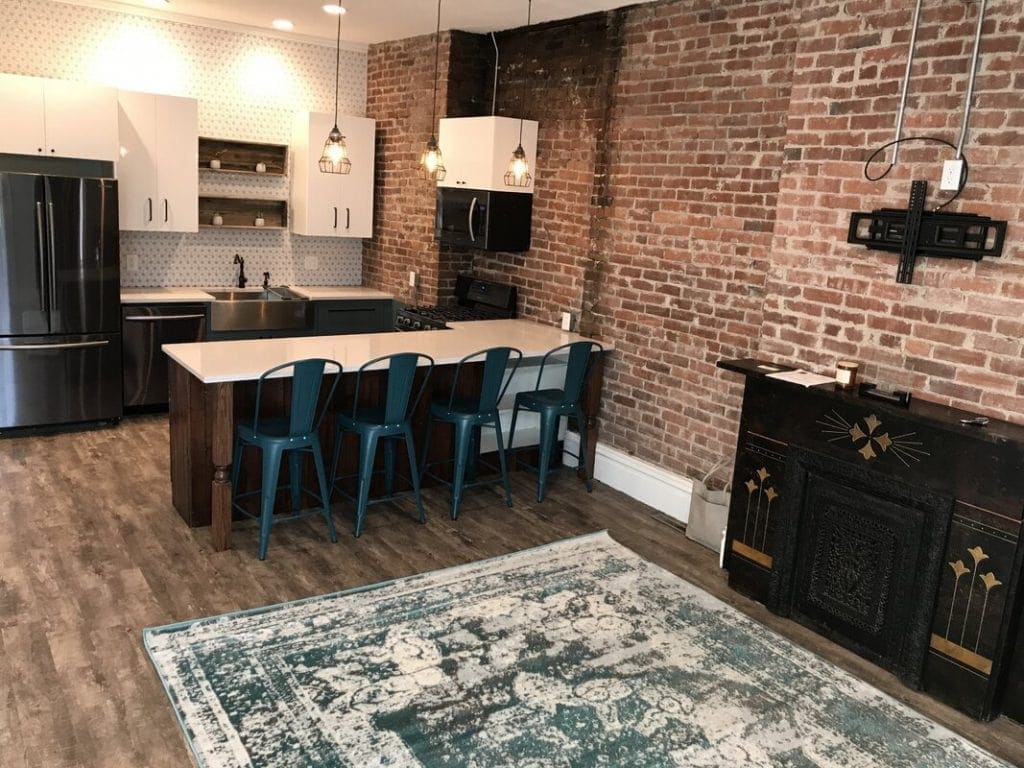 This stylish kitchen rug matches the bar stools perfectly, but the rug is faded and abstract enough that it's not overwhelming. Teal is a great choice in a rustic-style kitchen with a brick wall and wooden furniture.
If you're looking for an area rug with a complex pattern like this one, be sure to get it in a distressed or faded style so it's not too bold and bright — unless that's what you're going for, of course!
Freshen Things Up With a Pale Blue Rug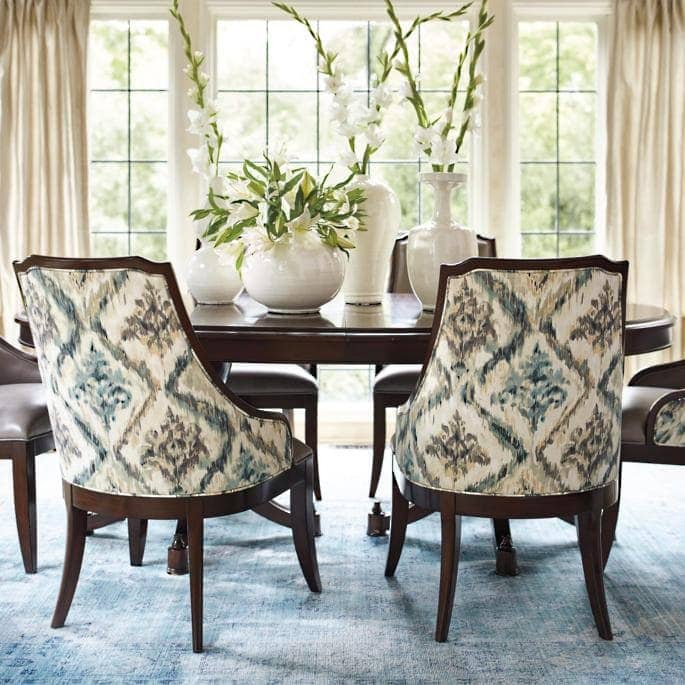 This large area rug takes up the majority of the room and the result is a light, bright and fresh eating space. There are hints of the pale blue color of the rug in the upholstery of the chairs and the dark wood of the furniture makes a bold contrast to the pale shade.
Channel Country Charm With Matching Curtains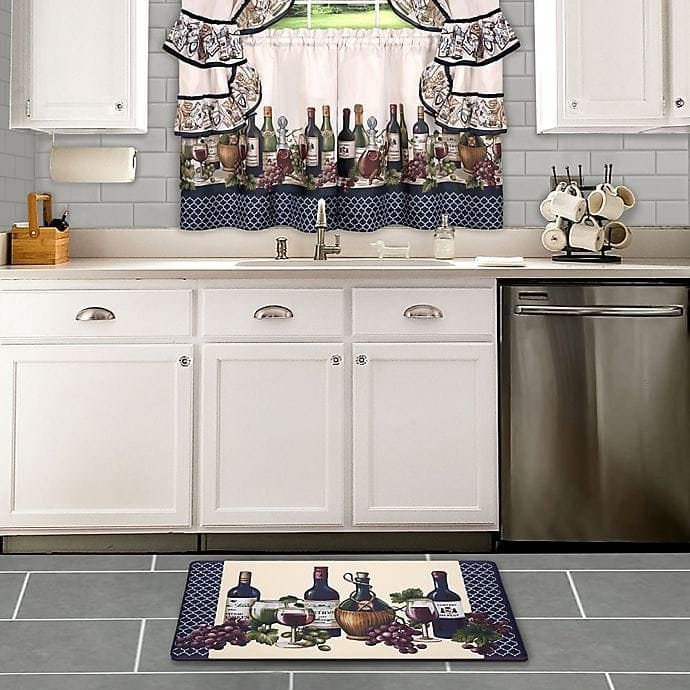 If you're a big fan of a country style kitchen or Tuscan decor, you should look for a kitchen mat that matches your window curtains, especially if it's in a cute cooking or eating theme.
In this example, we can see the vineyard theme, with wine bottles, glasses and grapes, and the bold, bright colors of the mat and the curtains add some color and charm to the rest of the kitchen, which has minimal decor.
Put a Round Carpet in a Kitchen Corner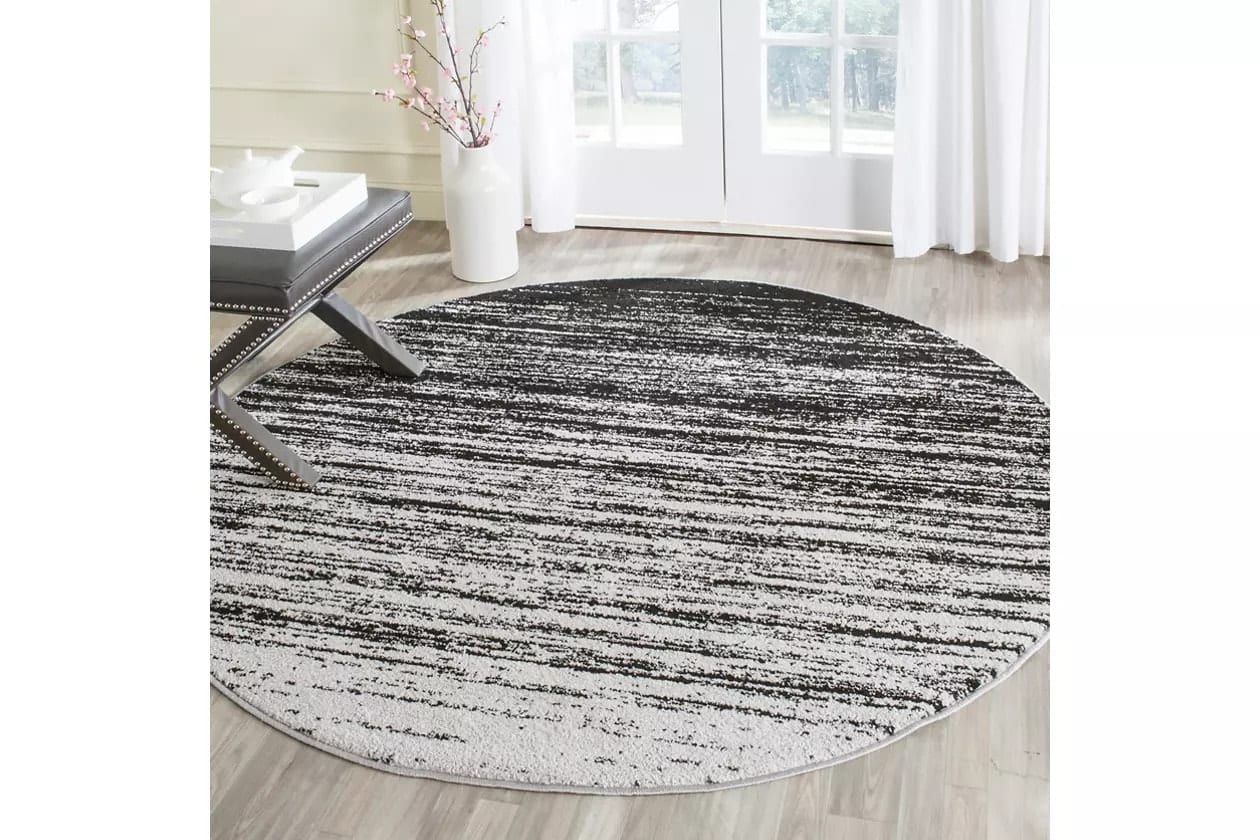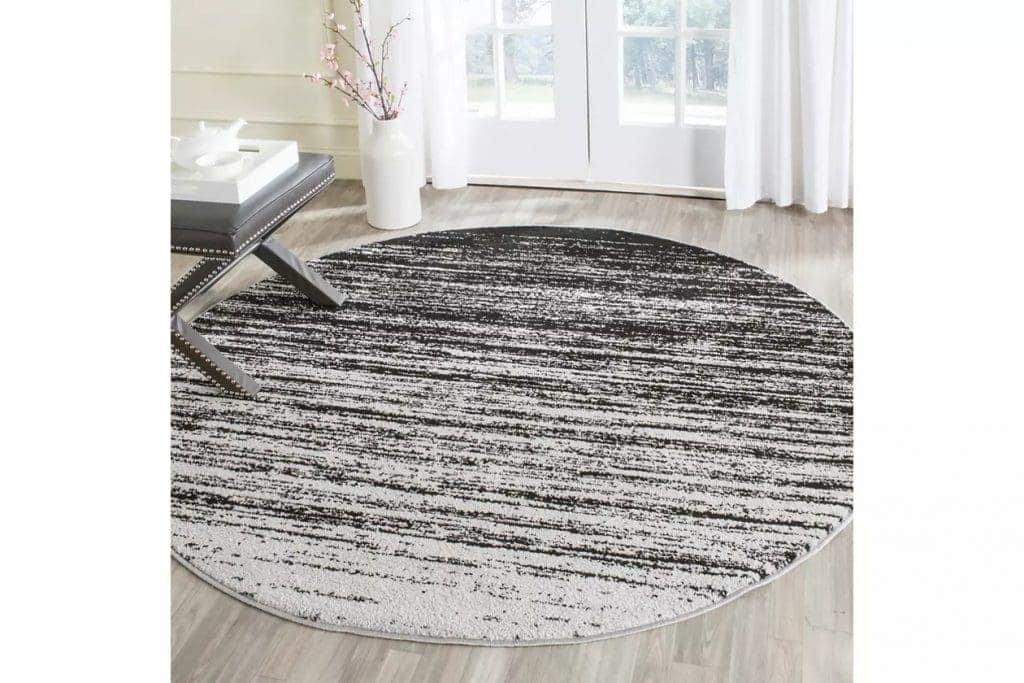 Most carpets are in a square or rectangular shape, but a round carpet can work really well in a kitchen layout, especially a smaller kitchen or if it's placed in a corner.
A round carpet can fit under a small, round breakfast table or can be placed by a kitchen door. It's a great way to add some more curved lines in your kitchen, especially if it's decorated in the modern style.
Look for Neutral and Earthy Colors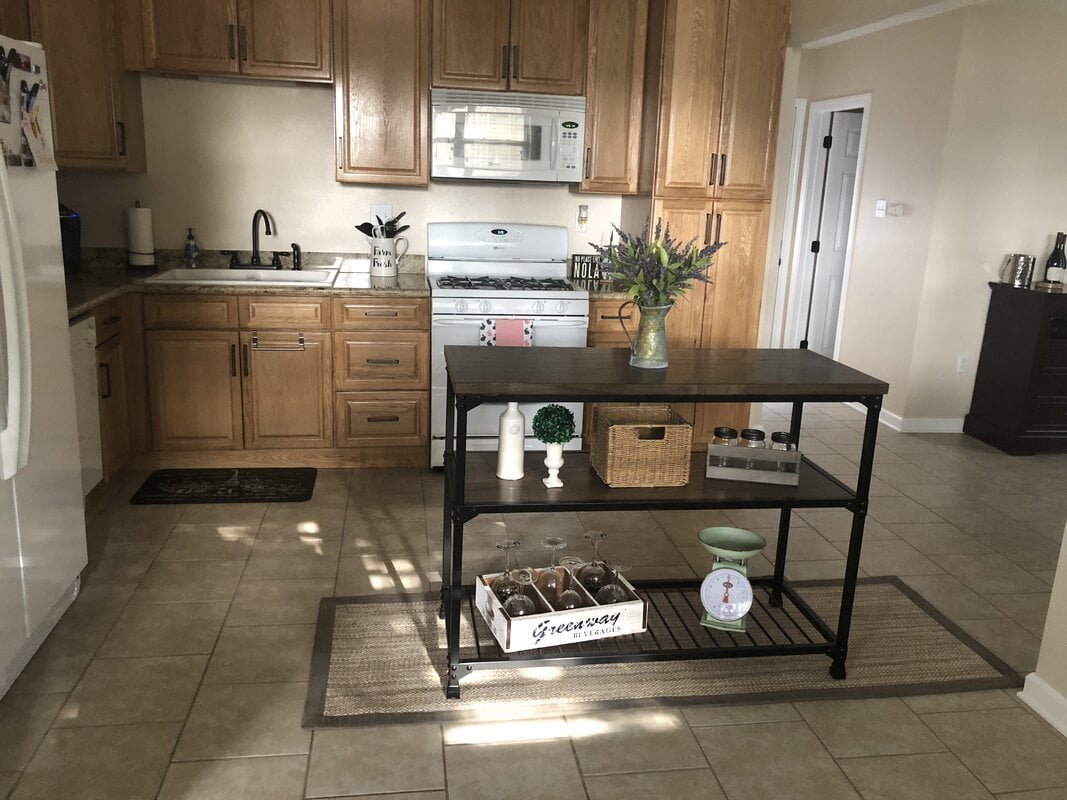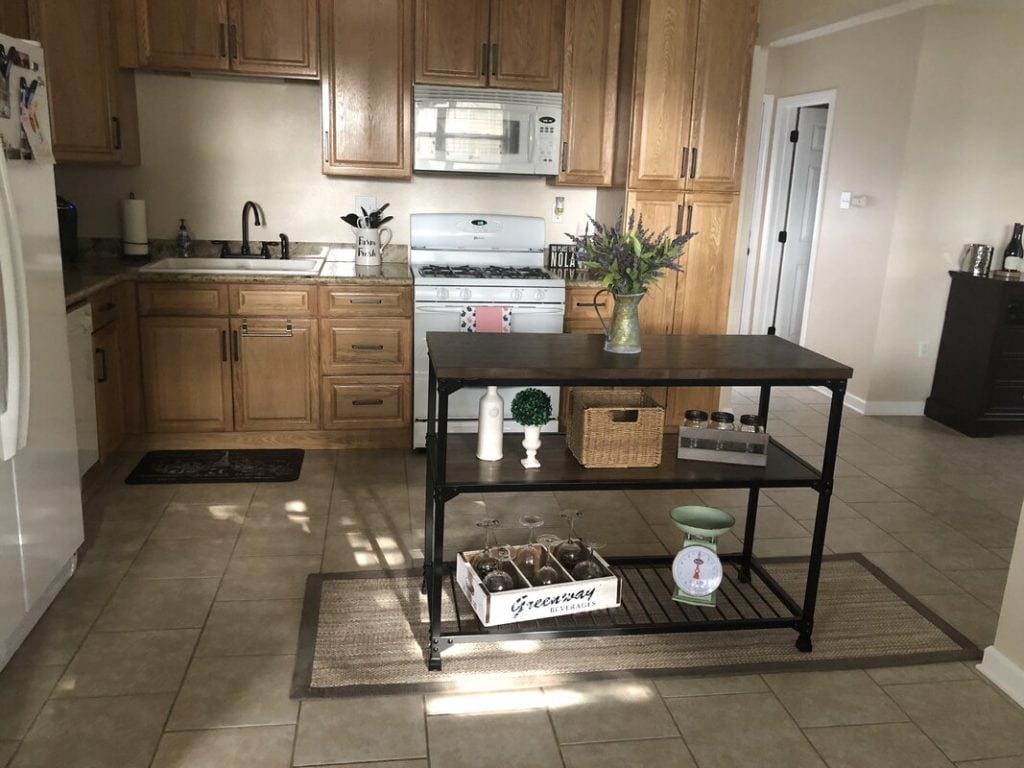 Often, you don't want your kitchen rug to be the focal point of the room. Whether that's a piece of art, a chandelier, or a kitchen table centerpiece, you want to make sure that you don't create a second statement piece with your rug.
That's why some of the best kitchen rugs are in neutral or earthy colors, like the one pictured here. The darker brown border adds some color contrast to the beige rug.
A Jute Rug Is a Natural and Relaxed Look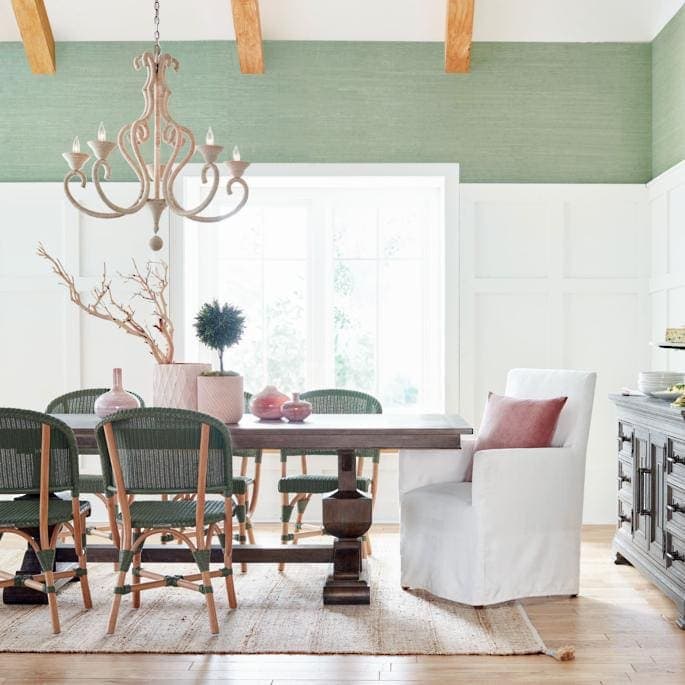 A jute rug is the perfect choice for a more relaxed or bohemian dining corner, like the one pictured here. It matches the wicker chairs really well and the plant centerpieces on the kitchen table.
Don't be afraid to look for a carpet with unique features, like the tassels on each corner of this particular rug. Another great feature of this example is that the rug and the kitchen floor are almost the same color.
Mix and Match Colors and Geometric Patterns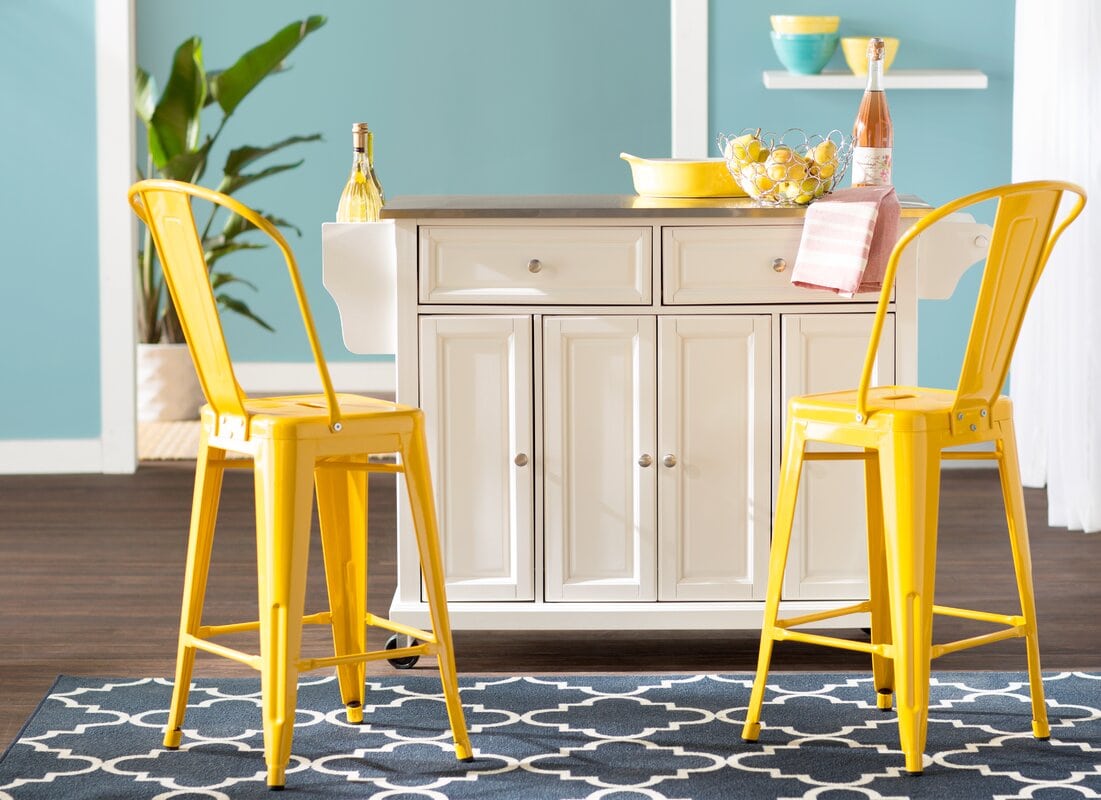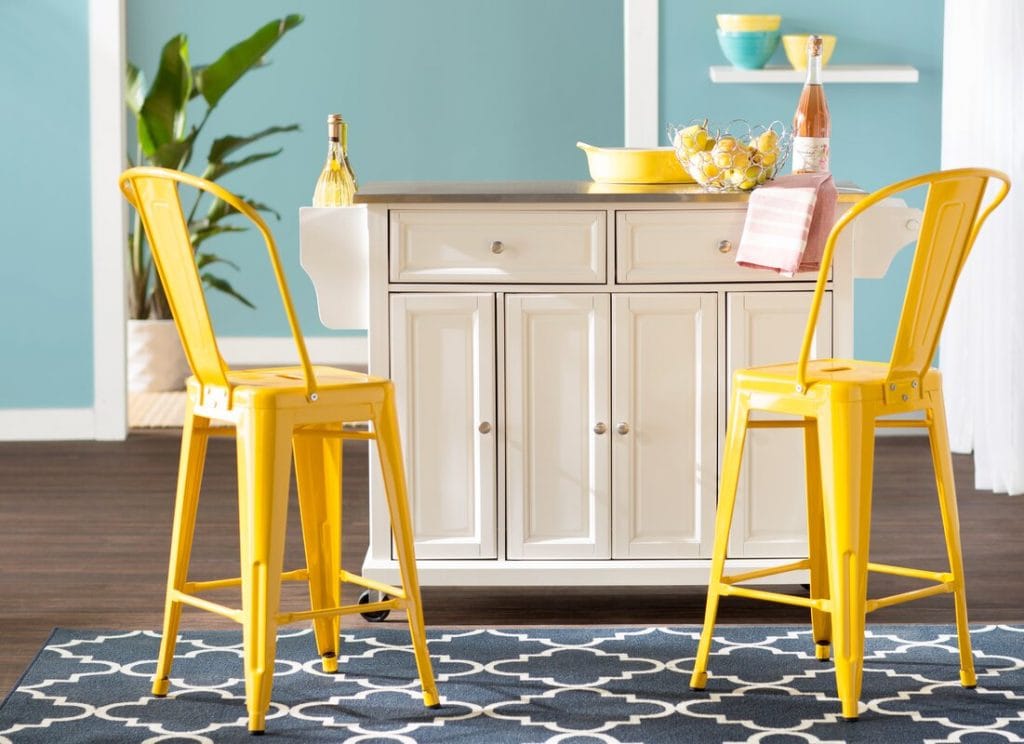 If you want a modern kitchen and you like adding pops of color throughout, consider mixing and matching bright colors with geometric patterns. The bright yellow barstools go really well with the navy kitchen rug, and the bold white pattern adds even more flair.
A navy carpet is a really good choice with a dark brown hardwood floor, and the white accents of this stylish kitchen rug tie into the kitchen island and the trim.
Pair a Distressed Look With a Traditional Room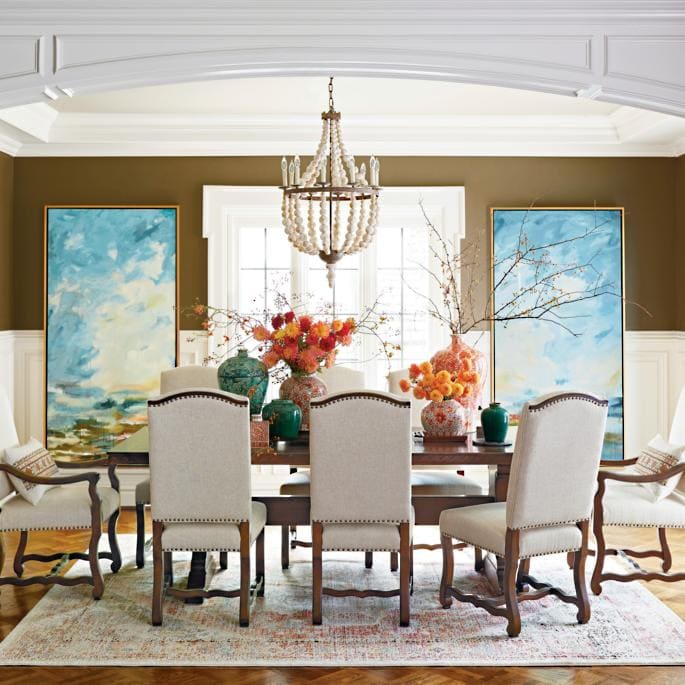 So far, all of the examples showing distressed or faded rustic kitchen rugs were incorporated in the farmhouse or country style of decor. However, you can combine a distressed area rug with a more traditional or elegant kitchen, as this example proves.
The paleness of the carpet matches the upholstered chairs as well as the chandelier, and the two large paintings add the pop of color to the room that the rug doesn't.
Look for Bright Stripes and Color Accents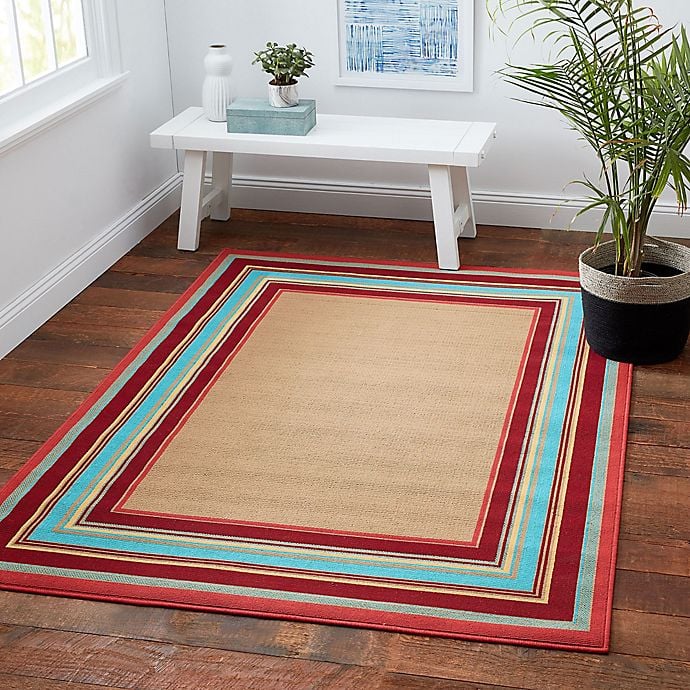 This colorful kitchen rug shows that you don't always have to stick with neutral colors. The eclectic mix of stripes and colors bordering this small area kitchen rug brightens up the whole room.
If you're still not sure about whether you want a rug in your kitchen, this article does a great job of outlining the pros and cons so you can make the best decision for your style and needs.
Be Bold With a Dark Red Patterned Area Rug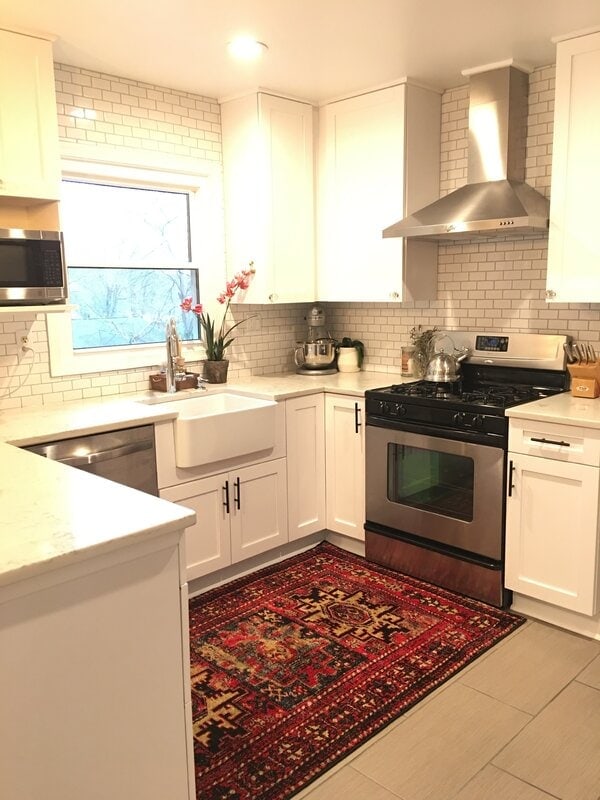 This dark red bold rug fills up the whole cooking area of the kitchen but it really brightens up what would otherwise be a generic, cold white kitchen space. With a rug like this, you don't really need to focus on getting other decor pieces and you can let that be the focal point.
In Summary
A kitchen area rug is a great way to add style, color, or warmth to a room that you might not be sure how to decorate. You definitely don't want to fill up your kitchen with clutter from different decor pieces, so a colorful or cute kitchen rug can be great to decorate.
Think about the best space in your kitchen for a rug and the size of rug that you want. Then, you can think about the color or pattern that you'd like to have, whether it's something bold and stylish or simple and rustic. Happy decorating!