Decorated Life is reader-supported. When you buy through links on our site, we may earn an affiliate commission. Learn More
15 Boho Curtain Ideas That You'll Love
Bohemian-style home decor is a huge trend combining old-world charm with an exotic, eclectic mix of textures, patterns, and colors. The mix-matched decor is the name of the game.
Curtains are arguably the most significant decor piece in a Boho design, meaning this one simple feature can make or break your whole room theme.
We will look at 15 Boho curtain ideas using different materials, looks, colors, patterns, and brands.
Jealous for Jewel Tones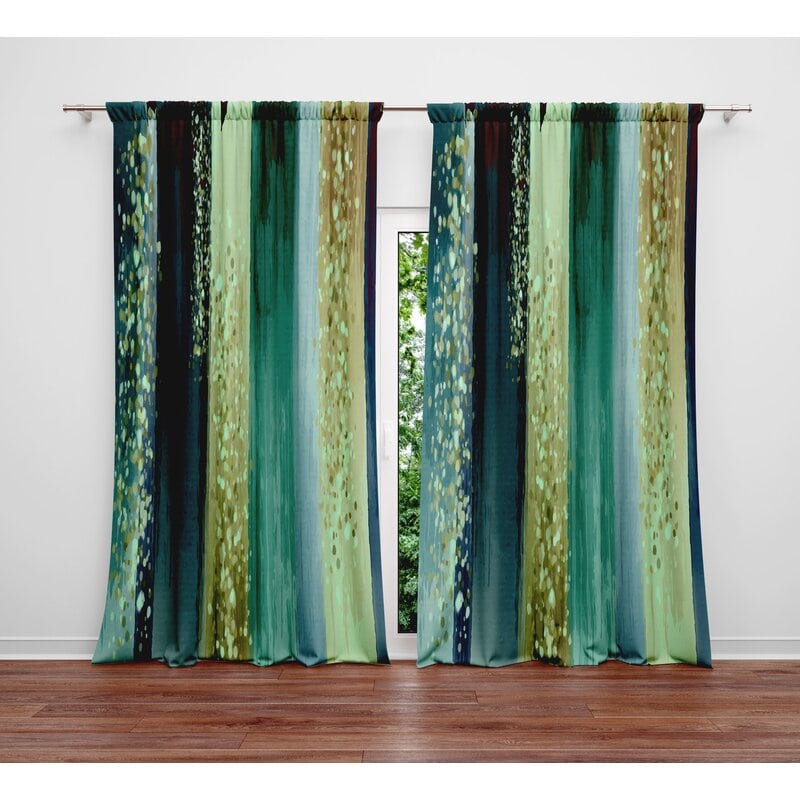 Jewel and water-colored Bohemian curtains can keep the sunlight out while bringing in warmth and style, bathing your room in ocean-inspired colors.
Like these incredible curtains in varying shades of blue, aqua, turquoise, green, and yellow topped with shimmering gold accents. Brightly colored curtains are the perfect way to give your space a fun nuance amid subtle, simple design features like gray walls and white furniture.
Nice and Naked Neutrals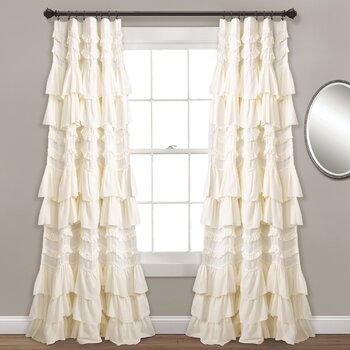 A fabulous thing about Bohemian style is that it's extremely versatile, working with bold and bright colors or lovely subtle nudes like ivory, cream, or white.
To give your curtains a loose, carefree look typical of Boho designs, look for nude curtains in a semi-sheer, romantic flowing ruffled pattern that cascades to the floor.
Bright and Beautiful Prints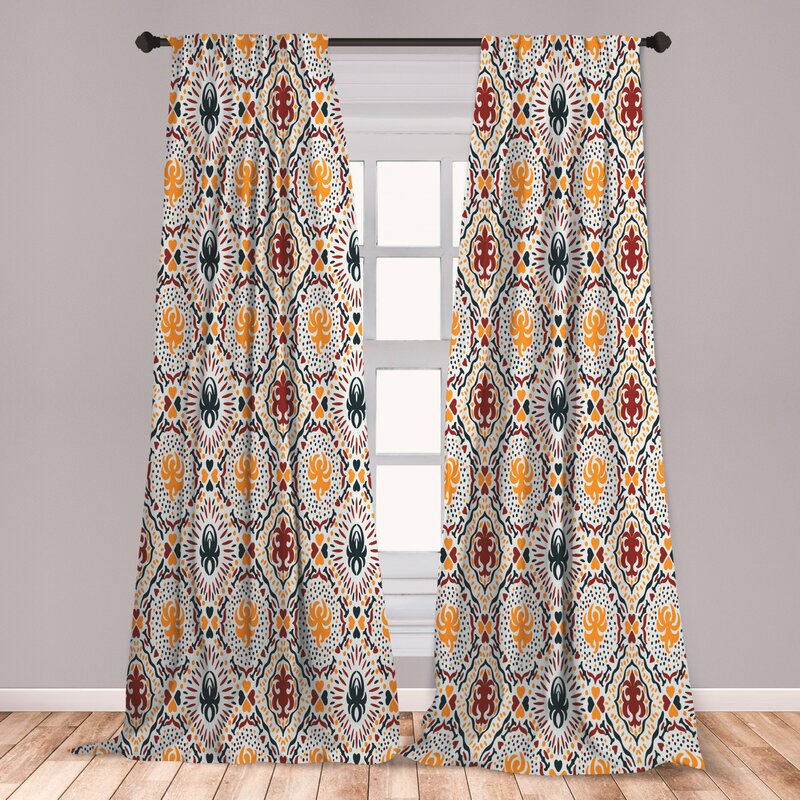 You can also go with a printed Boho curtain design, featuring a plain base layer in a light color topped with chevron stripes of geometric patterns in bright colors.
These curtains may seem too busy for some spaces like the bedroom. But if you're looking to make your area feel heavily Boho, these patterned curtains are the way to go. Finish the look with accents in the same colors as the drapes.
Random Patterns Rule the Roost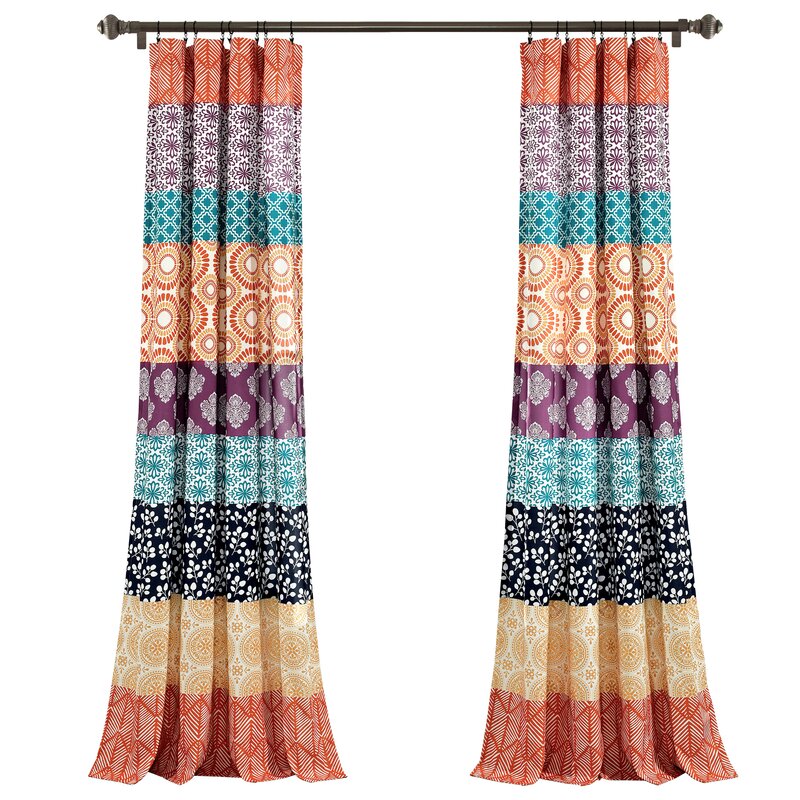 If you're looking for a fun – yet brave – way to incorporate some Boho style into your home, look for Bohemian drapes in multiple patterns and colors like these glorious patchwork curtains.
You can choose curtains in random colors and patterns like turquoise and orange, shades of blue and green, or bright shades like fuchsia. A long, flowing design and individual panels stitched together to create a one-of-a-kind window treatment.
Simple, Short, Sheer and Tassled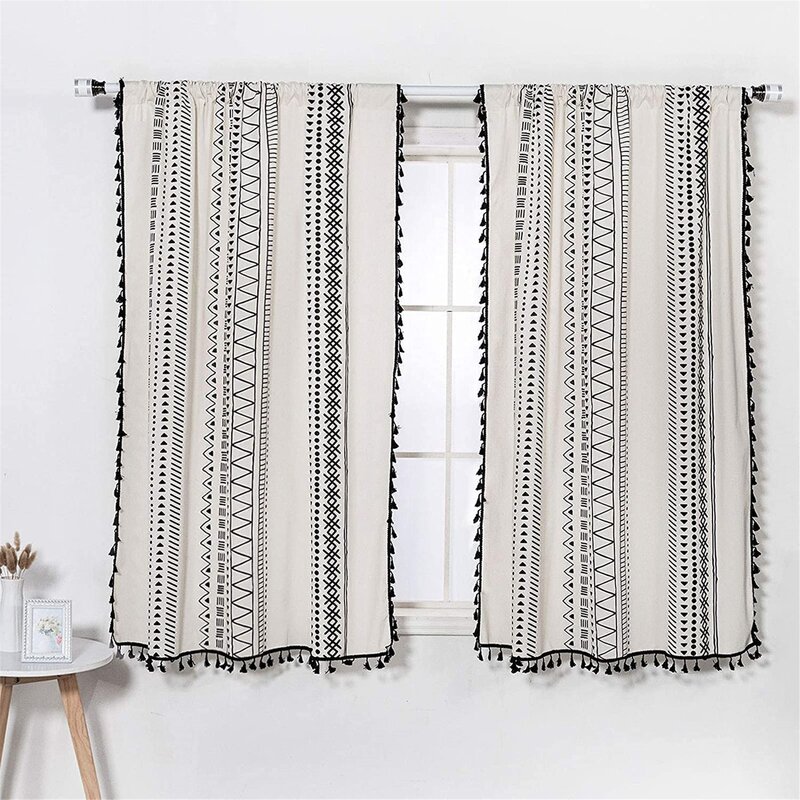 You may think you have to go with long flowing curtains for Boho. And while this style is heavily prominent, it's not the only way to go – as proven with these chic shorter (36") Chiffon Viole curtains.
The simple design of a white background, with black stitched lines of different sized prints and vintage black tassel fringes, screams Boho, despite not draping to the floor. Add these window treatments to bedrooms, living rooms, or smaller windows like kitchens or bathrooms.
Moody Mandala Magic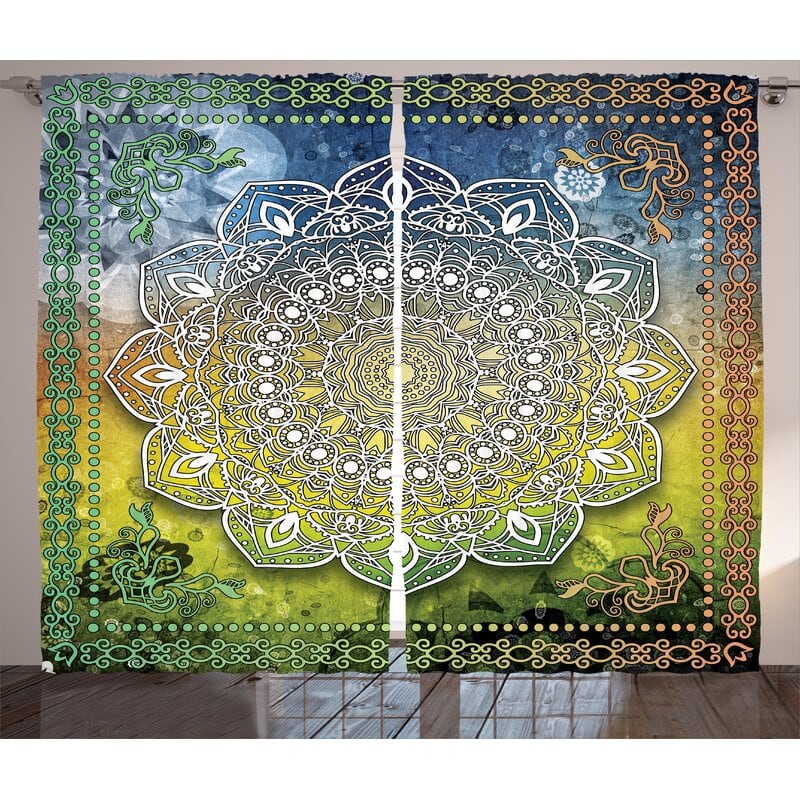 Mandala pendants are a common sight for Moroccan, Indian, and other cultures, primarily used in Boho designs. We love seeing these intricate pieces in bold colors like yellow, black, and violet resting atop a majestic teal blue base.
You can add these intricately detailed curtains to any room where you're looking to enjoy rich hues, dynamic patterns, and eye-drawing appeal.
Mega Medallions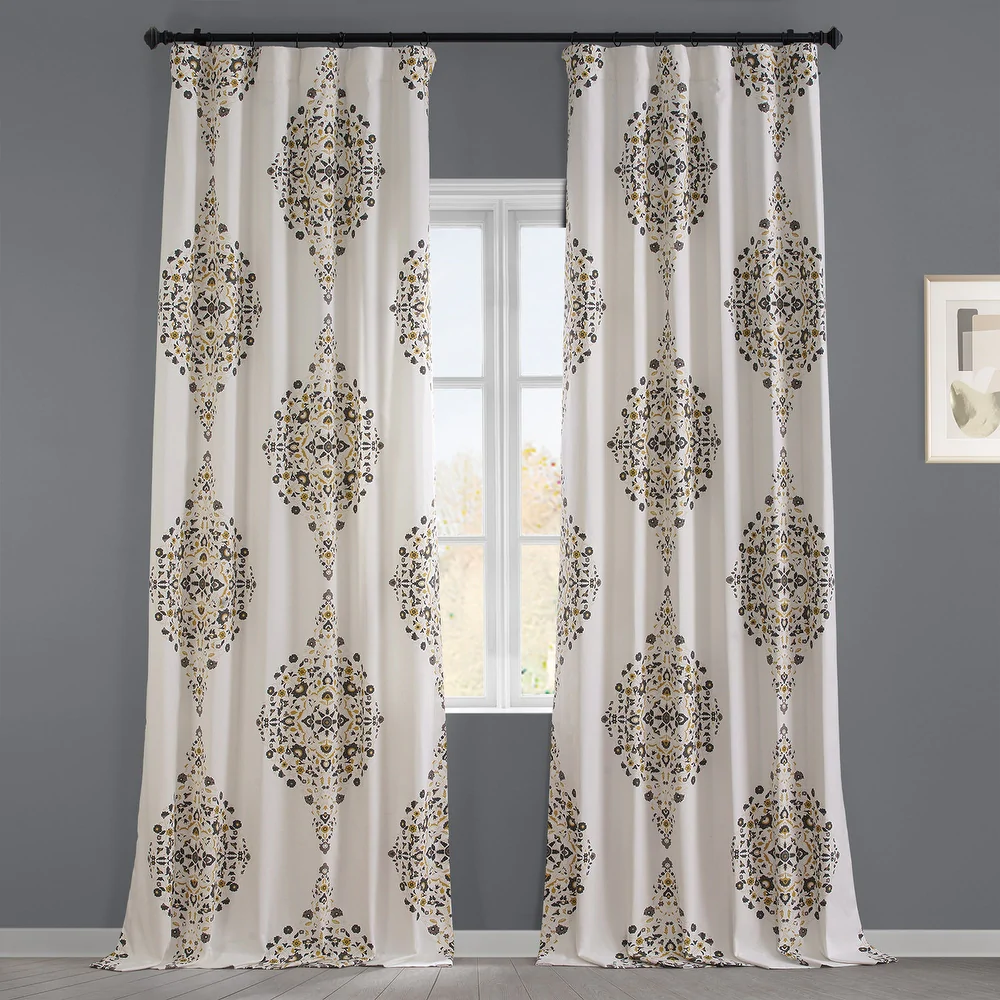 Another signature design element of Bohemian is medallion prints. There are numerous styles of curtains featuring medallions in different shapes, colors, and sizes.
Give your room a romantic, antique feel by adorning your windows with curtains in plain, neutral background color with solid-print medallions. Going restrained with the curtains is excellent for a modern, upgraded Boho look.
Sexy Yet Subtle See-Through Lace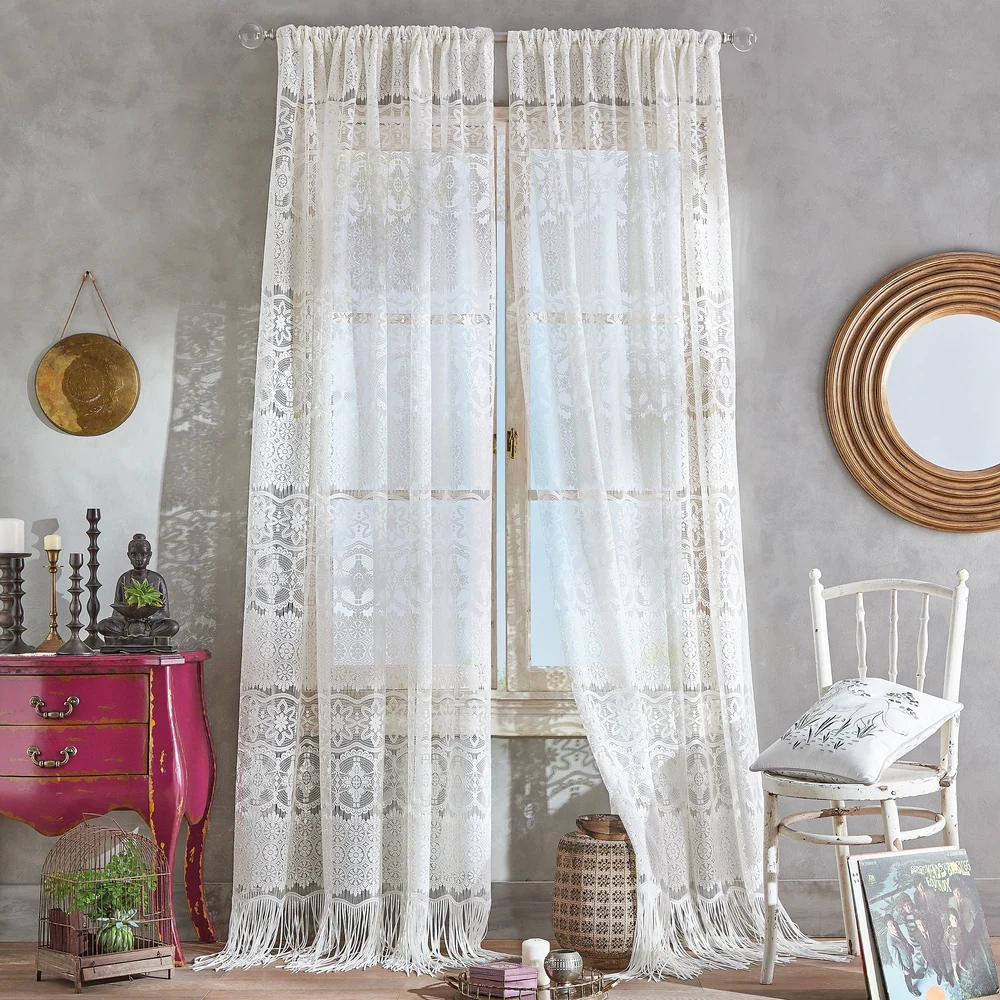 Bohemian style doesn't always have to be bold, dramatic colors and patterns. You can also go for a more refined, grown-up style, like sheer lace curtain panels.
But to capture the Boho feel, look for sheer lace curtains with geometric patterns and frayed lace tassels on the end that caress the floor in lovely pools of fabric.
Popping Bold Patterned Perfection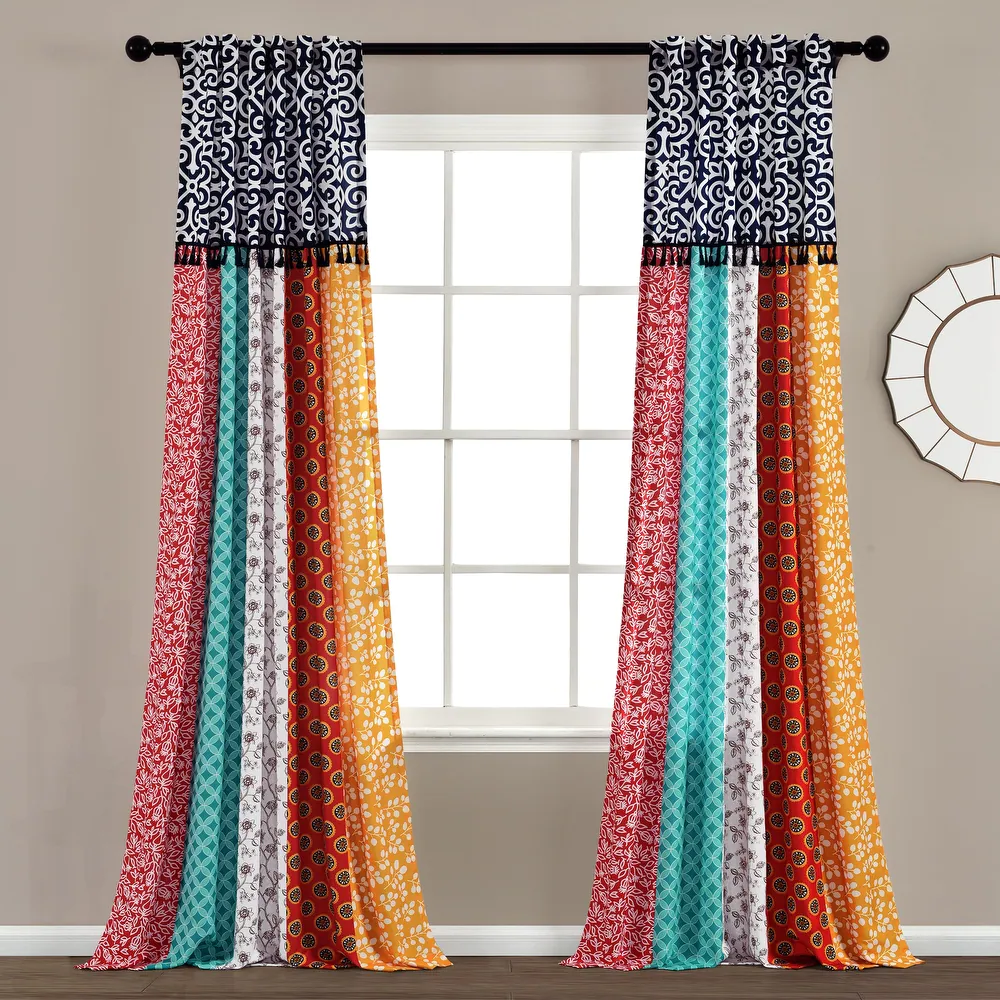 Another fun way to incorporate a Boho style in any room throughout your home is to use boho drapes that feature multiple theme elements.
Such as these eye-popping curtains, which feature a different pattern and color for each of the flowing, drooping panels, plus adorable black string tassels and a bold black and white top section.
Feel Blue about These Boho Beauties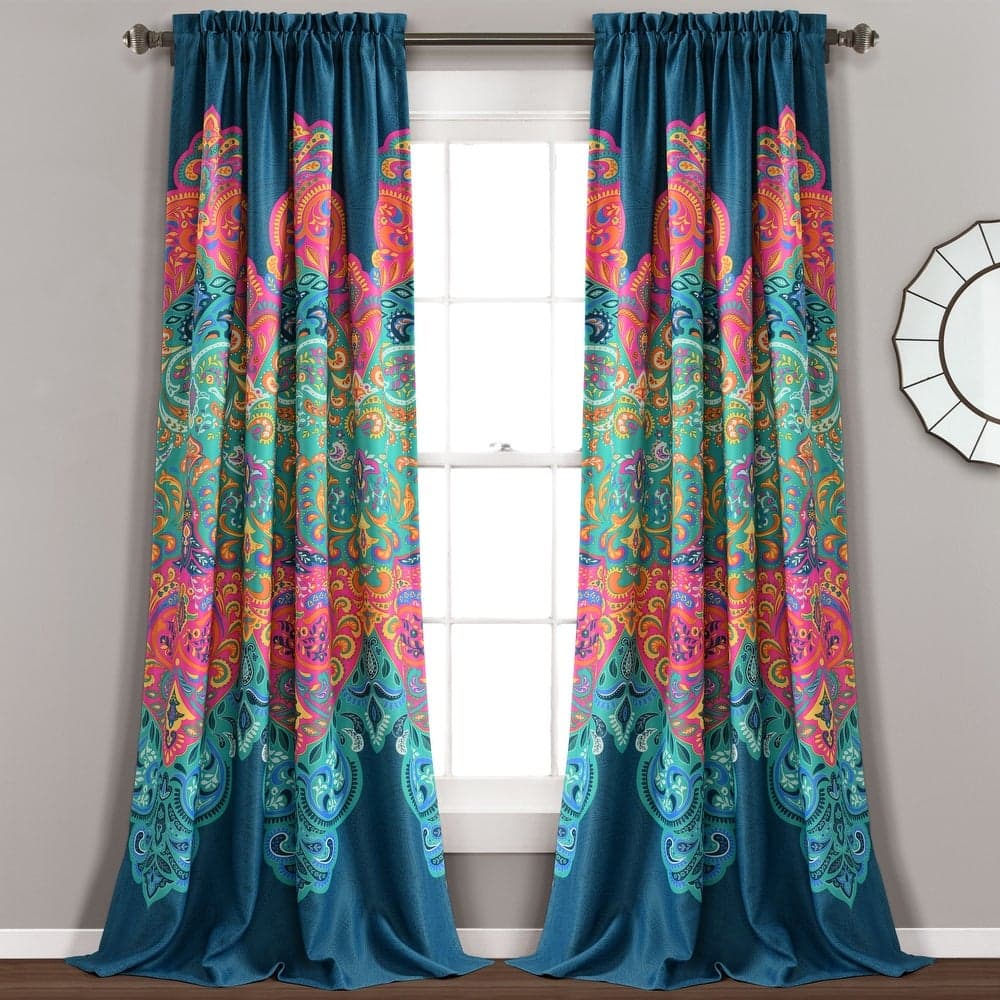 While the color blue is often associated with sadness and depression, the vibrant and loud shades of blue used in these Boho curtains are sure to make you feel powerful and impressed.
A navy color starts and ends these colorfully designed curtains, with pleats of incredible swirls and sways in shades like pink, orange, seafoam green, turquoise, and purple that puddles to the floor.
Glowing with Gold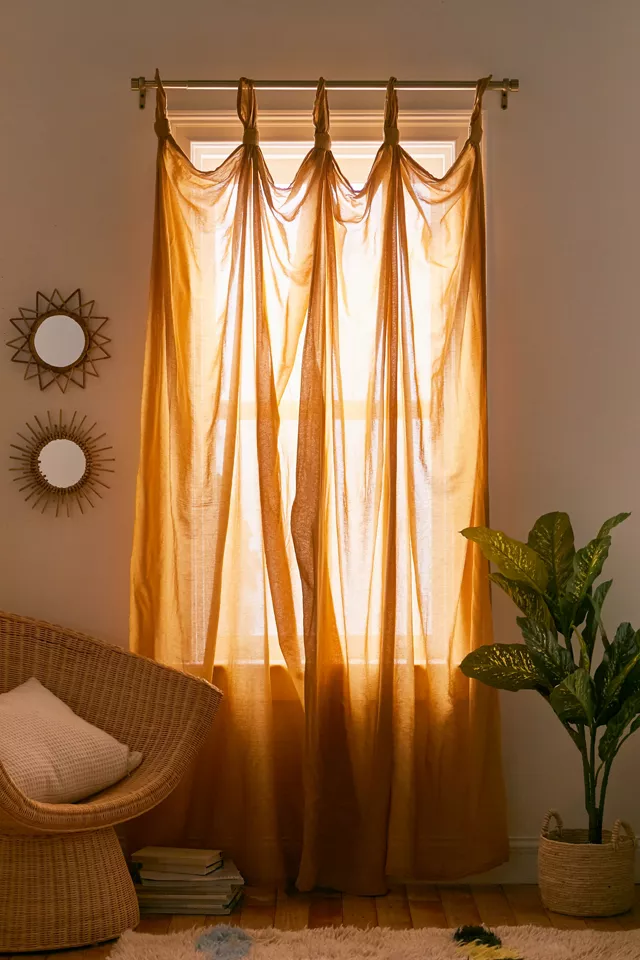 There's something cheerful – and dare we say magical – about a room sun-drenched through sheer, gold curtains. Enhance the natural look with other Boho features like Rattan furniture, green plants, and simple wall decor.
In true Bohemian style, look for unique design elements like knotted loops that secure on a Boho curtain rod and panels that droop down in a dramatic flow of gold to puddle onto the floor.
Beaded and Beige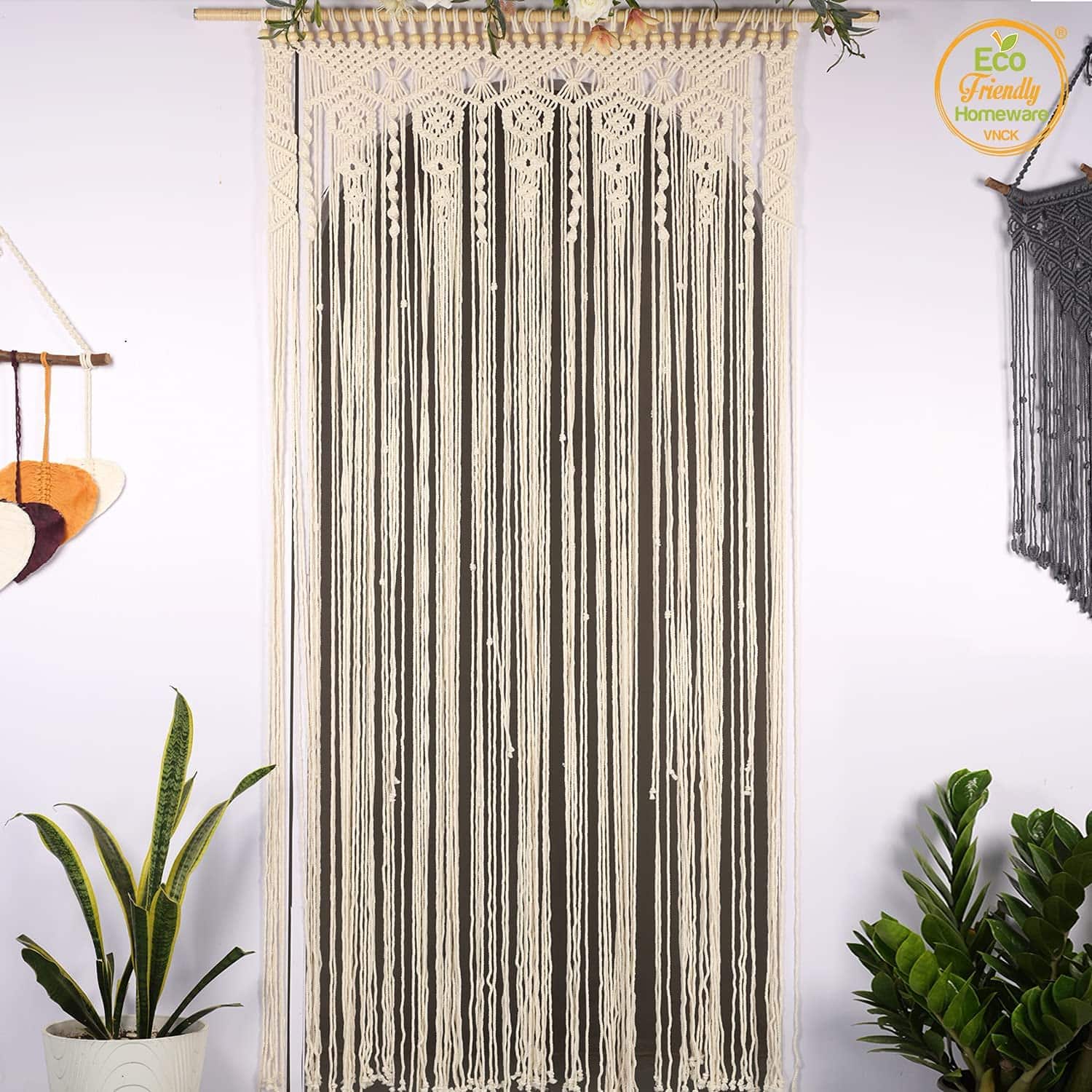 You can give any space in your home a boho vibe with simple yet elegant beaded curtains hung in doorways, over windows, or as a privacy screen to separate an open layout.
You can pick elegant ones in a Macrame design with off-white fabric strings and wood beads or as full beaded strands, which give you less privacy but a delightful sound. Or there's a vast variety of other styles.
Light and Lovely White and Gold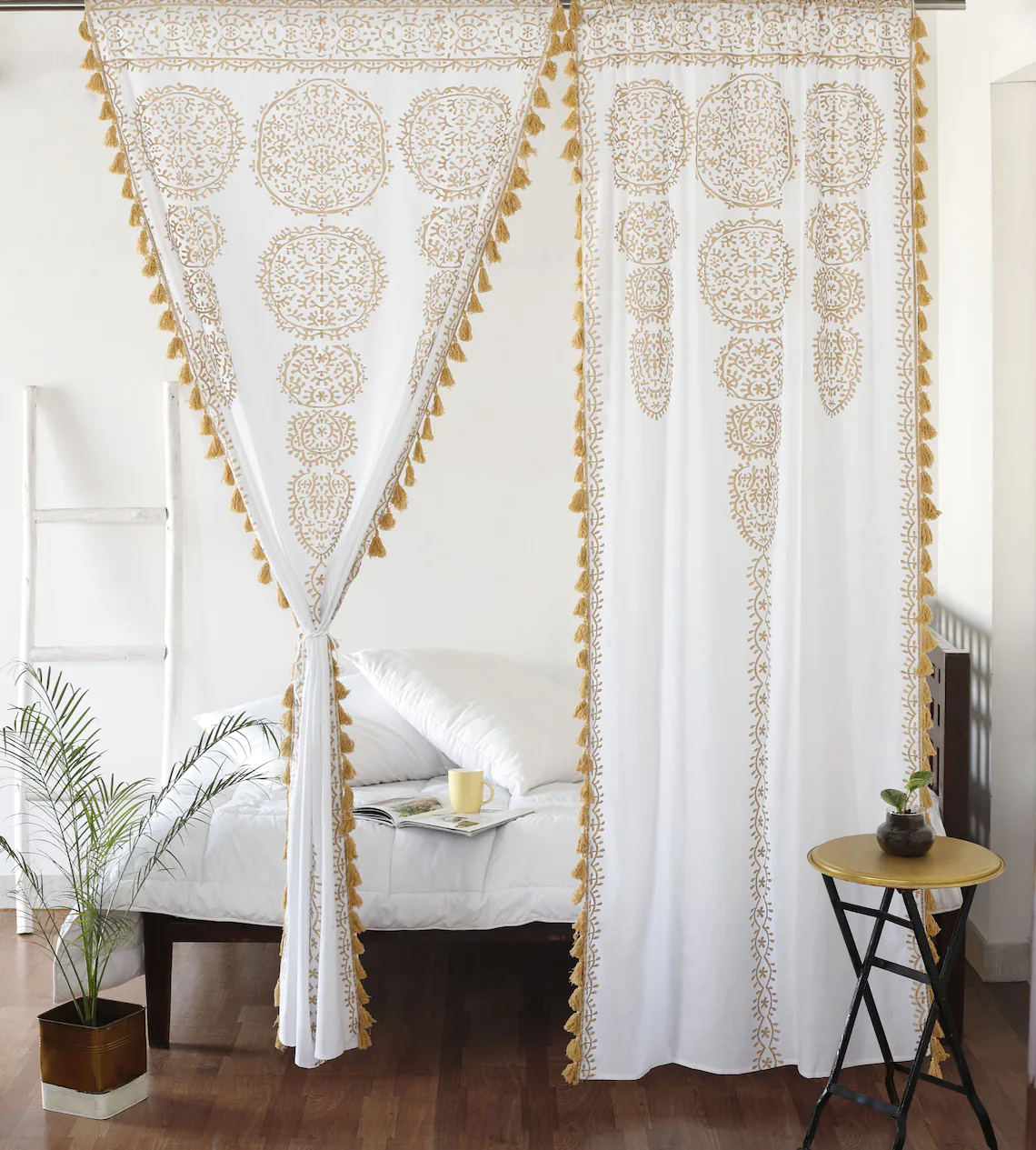 Many Bohemian designs incorporate components from other themes, like Moroccan. Such as these beautiful Boho curtains on simple white tapestries with elegant gold mandala medallion embroidery and pom tassel lace edges.
You can use these lightweight fabric drapes for covering windows, open doors, or creating room separations. These gorgeous drapes are also fantastic for creating a romantic nuance around the bed.
Bold is Beautiful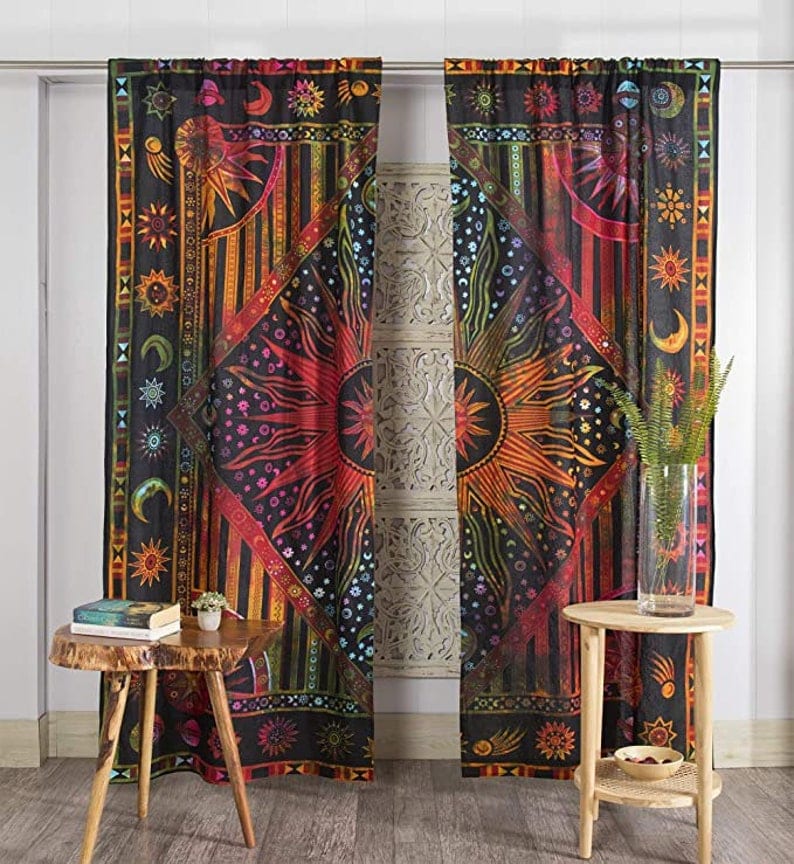 Another design element of Bohemian is bright, bold color – warm earth, jewel, and metallic tones – electric blues, saturated purples, greens, deep browns, fiery oranges, and bold reds. Patterns, geometric, and symbols are also prevalent.
Like these boldly beautiful drapery valance panels in a tie-dye pattern with gorgeous sun, moon, and planet symbols. These double curtains – available in multiple sizes and patterns – can make any space Bohemian.
Bamboo Beads are Boho-tastic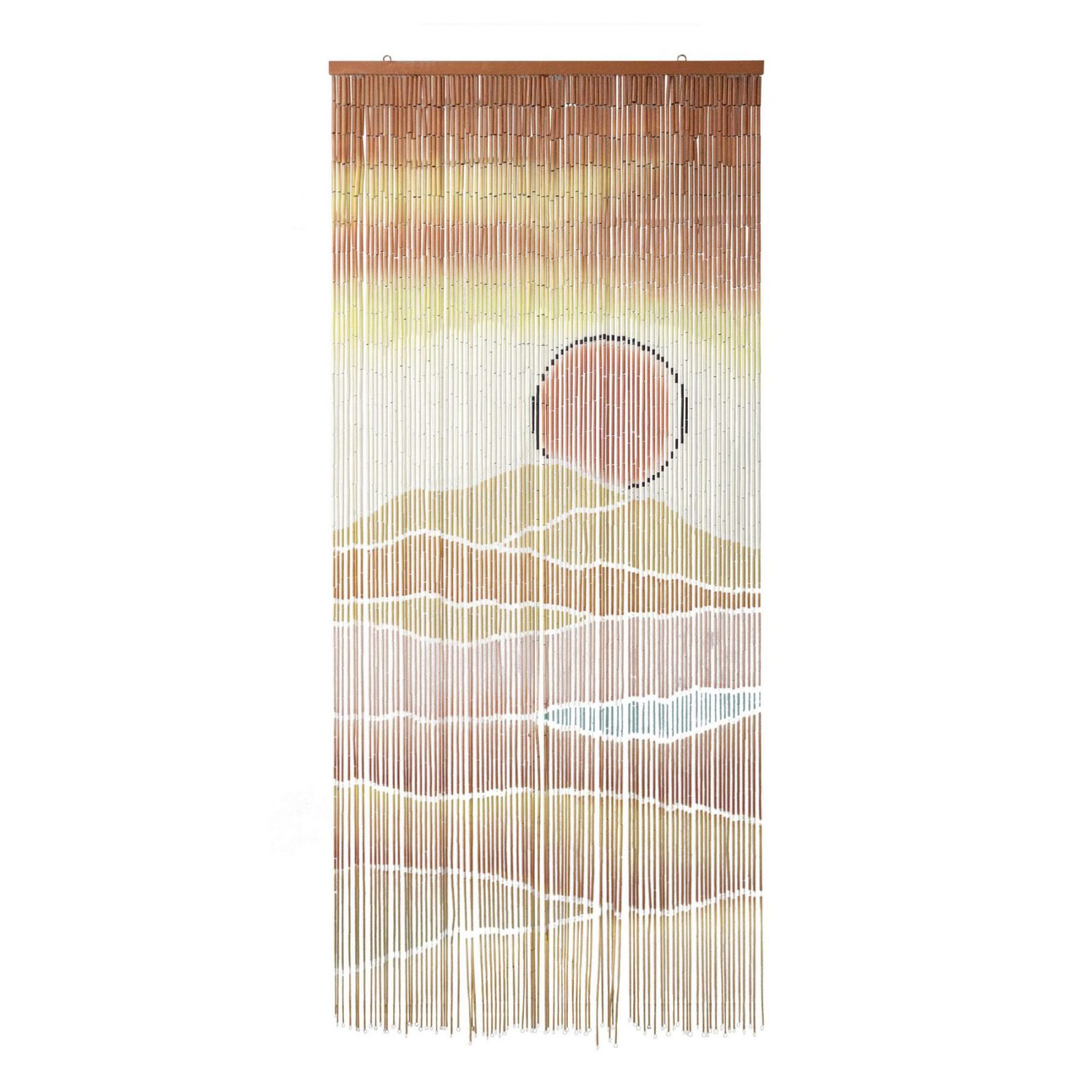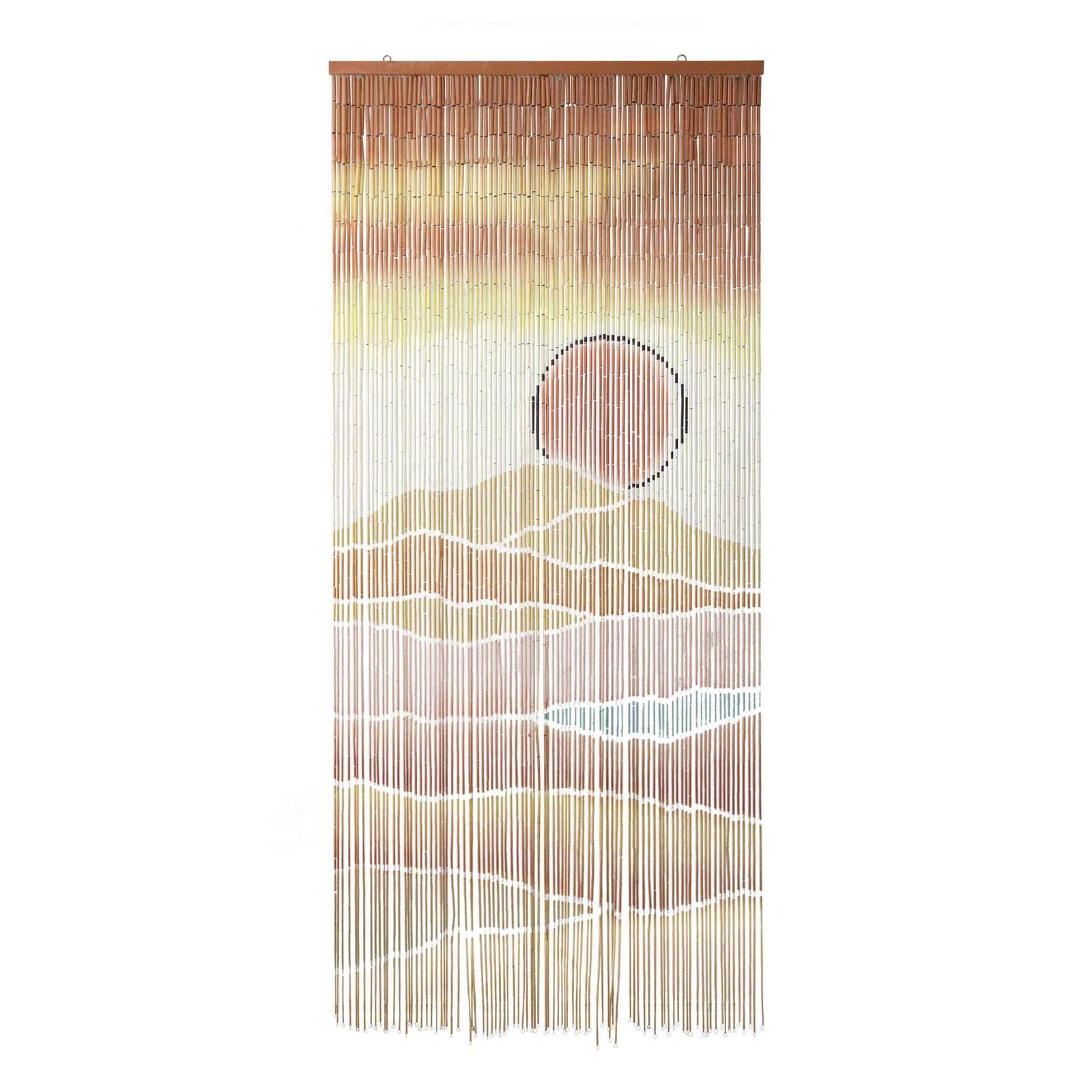 Beaded bamboo curtains are artistic and beautiful to view. And they absolutely scream Bohemian, from the individual strands of bold-painted beads to the elaborate patterning.
You can use these colorful curtains for window coverage, although the spacing between each strand of beads can let in light. Adding a solid-colored fabric underneath the beaded curtain can form a block. But these curtains can also look glorious for doorways or as room separators.
Conclusion
Wowza, who knew there were so many different design possibilities for a Bohemian theme? Well, obviously we did, and now, so do you! Although we demonstrated fifteen incredibly different Boho curtain ideas, we didn't get to list a ton of designs.
Did one of our ideas draw your fancy? Or perhaps you know of an incredible Boho design we didn't include? Let us know your thoughts!