Transform Your Porch with Creative Curtain Ideas
A porch can be a delightful place to sit out and enjoy the fresh air for much of the year. One of the ways you can make this work for you in all seasons is to install curtains on your porch. This'll create shade for the summer and some coziness when it's cooler.
Depending on the mood you want to engender, you can choose a color and style of curtain to suit your scheme. So whether it's a little romance or an injection of color you're looking for, you're bound to find a fabric and style you love for your porch.
Sultry Neutral Porch Curtain
A curtain is a gorgeous interior design touch and is simple to replicate out on a porch. You might like to try installing your own curtain rail on your porch. But make sure the curtains are from the ceiling to the floor, no half measures!
Who would think a beige could create a sultry mood? If you install a floor length, wide neutral curtain, this will envelope your porch area with a darker, warm light.
Linen is always a classic fabric and a sandy tone will look great with orange accents. So if you're into earthy tones, this will be a good choice for your porch.
Sheer Romance
On a freshly painted white porch, with clean, white furniture and soft furnishings, opt for a sheer white curtain. Offering shade from the sun and gently diffusing light, when pulled back they have a wistful, romantic feel.
So if you like a feminine style of decor and gentle draping lines, fix a curtain pole to the inside top of your porch ceiling and frame your beautiful porch.
Classic White Porch Curtain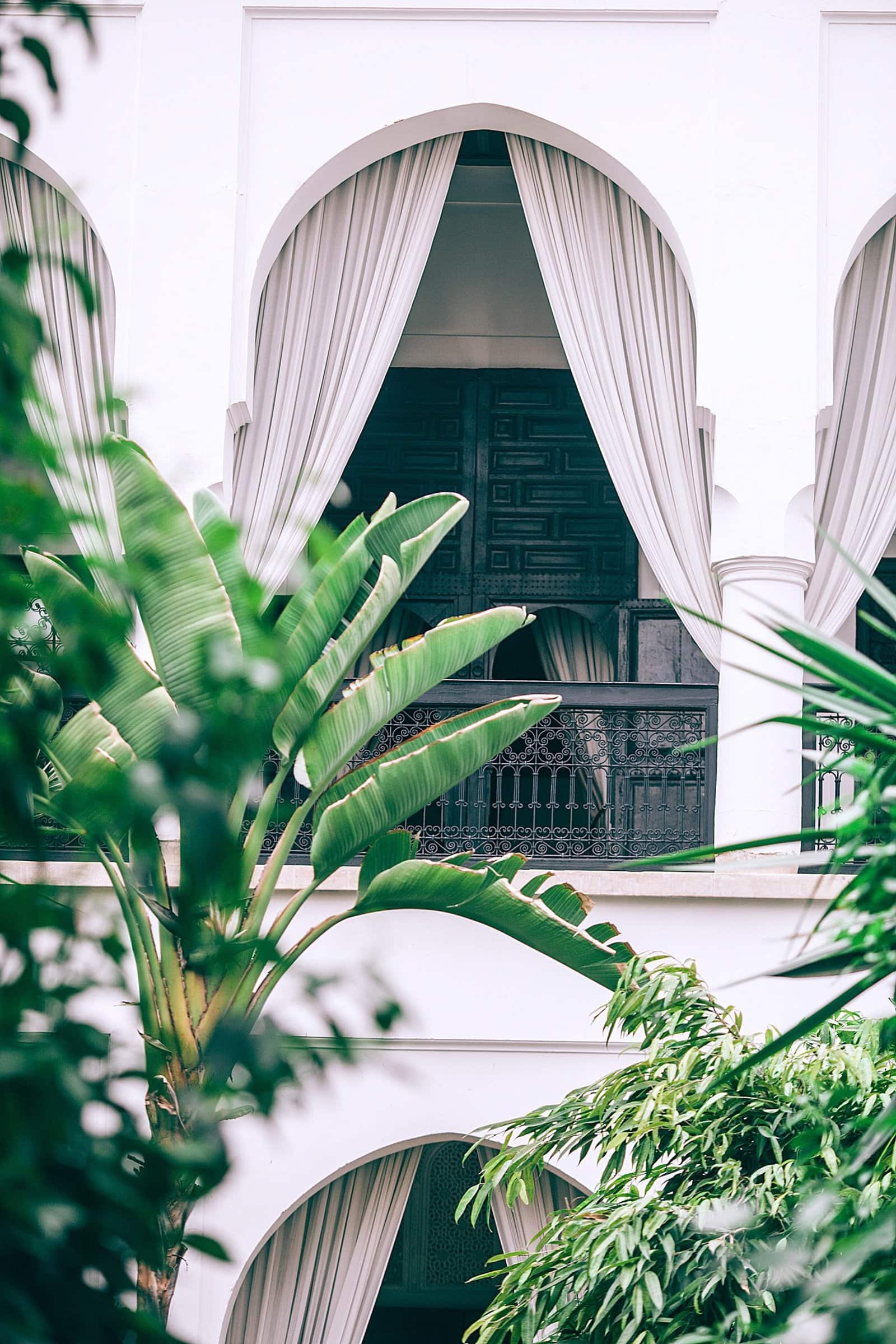 A heavy white fabric looks practically biblical against a white stone porch or balcony. If you have classically ornate features on the exterior of your building, then a sweeping drape will complement the architecture.
As to whether you should choose a sheer or more opaque material, it'll depend on the climate. Sheer works for a warm breeze, where in hotter parts, screening out the sun with a thicker fabric would work best.
Light Up at Night
As well as giving some shade, curtains can also keep out the chill later in the evening and on cooler days. You can draw the curtains around a seating area and keep out the draughts. Nice and cozy.
And for some lighting, why not fix some string lights to the tops of the curtains and add a lantern or two? A perfect twinkly look for a nighttime porch.
Simply Draped
You don't have to tie your curtains bag into swags. That looks great but works for a more traditional look. So what if your thing is more modern?
You can just let your curtains hang loose in a simple style, if you're up for a more contemporary aesthetic.
When it comes to choosing the right curtain rail, black and white are always a winning combination, so a black metal rail will look sublime and divine against a white fabric curtain.
Waterproof Porch Curtain
Did you know you can buy waterproof curtains for your porch, or even adapt a shower curtain. For those who live where there are frequent showers, this is a great idea to keep you dry.
You can sit on your porch in the rain and have no fear of a downpour drenching you on a windy day. To keep this kind of curtain fresh, open them out after rain and make sure they're bone dry so you prevent any build up of mold.
Narrow Porch Curtains
If you don't want your view obstructed but like the idea of the curtain aesthetic, you can install a smaller rail at the corners of your porch.
This way you get that framing effect but without swathes of fabric to keep clean. Linen on a wood porch has a timeless, rustic style.
Attention to Detail
If you have the perfect cream or white backdrop, you'll need to ensure your decor is up to scratch.
Curate your porch as if it's another room in the house. A swing looks great against soft fabric, and can be styled with cool cushions. And pot plants will give a homely feel so add them in abundance.
Peaches and Cream Dream Porch
Do you like dreamy, romantic retreats? A space in your home to unwind and relax in an otherworldly setting? Then you can create a little paradise on your porch.
Drape peachy coral and cream sheer curtains overhead of a neutral sofa, cover with pastel cushions and fill the space with pink and coral blooms. And for an unusual touch, complement with branches fixed around the porch ceiling.
Candy Pink Porch Curtains
If you can't get enough of pink then consider installing pink curtains on your porch. For a cutesy, fun look, keep the curtains short.
Add some twinkle with some fairy lights at the top of the curtains and how about some paper lampshades to add some shape to your design.
Orange Porch Backdrop
A warm, zingy orange will enliven and enlighten a cool white porch. To be right on trend with the season's color palette, select patterned pink and orange cushions for your porch bench. And what about a bright ikat rug? Beautiful!
Furniture can be simple against bold designs. And to add a living feature, how about some bright green thriving foliage to make you feel at home?
Coastal Stripes
If you live near the ocean, or even if you'd like to imagine you have a beachside porch, you can conjure up the look by installing red and white striped curtains.
Reminiscent of a beach sunlounger, this color combo looks great with neutrals and can even stand to be set against colorful cushions.
In Summary
A porch curtain is a fantastic way of framing your setting. You'll want to show off your gorgeous furniture and great taste in accessories.
On a practical level, curtains can offer shade, or warmth, or even some waterproofing against the elements.
Perhaps you like a romantic sheer curtain, or a cool classic linen. But curtains are also a great way to introduce color to your porch. So have a look and decide which porch curtain will work best for you.