Decorated Life is reader-supported. When you buy through links on our site, we may earn an affiliate commission. Learn More
20 Colors That Go Perfectly With Burgundy
Burgundy is a dark reddish-purple color that shares synonyms with elegance, timelessness, sophistication, and eccentricity. This exotic color is making headlines in the interior design industry – and no wonder why the designers and homeowners are looking to find more and more inspiration. So, are you wondering what colors go with burgundy? Well, the list is endless and it all boils down to the kind of vibe you're aiming to create.
From shades of gray to blue, white, lavender, tan, beiges, mustard, and gold – you can choose from a wide array of options. Furthermore, the tone of burgundy can further be categorized into brown, purple, and red undertones. So, let's have a look at these 20 gorgeous colors that pair well with burgundy.
Sage Green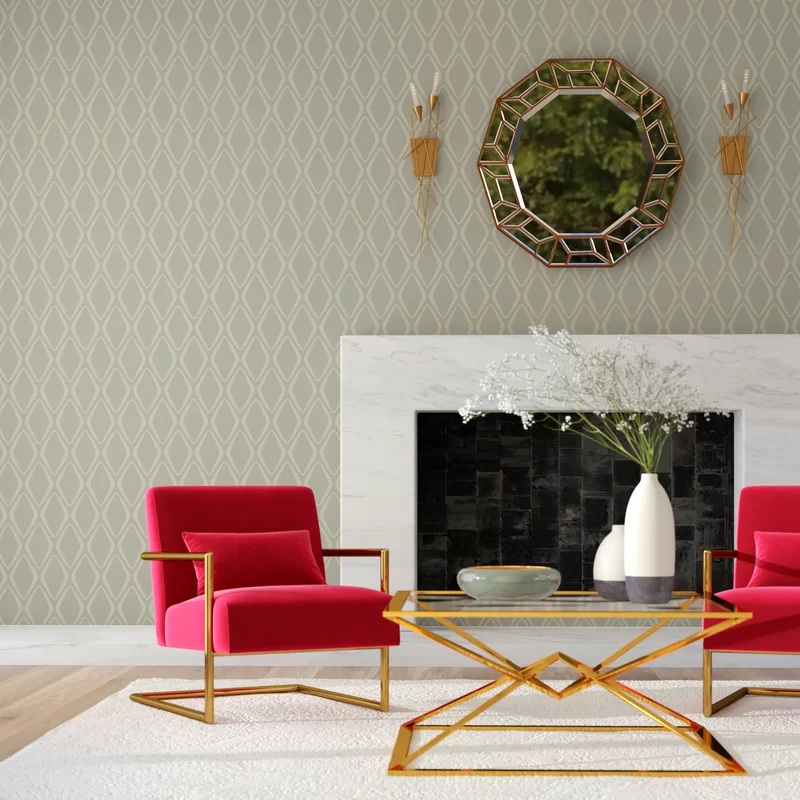 The rich and lustrous color of burgundy pairs beautifully with shades of sage green (especially lighter tones). The bright and stark look of the color juxtaposes with the soothing and calm sage green that creates an utmost striking and yet eye-catchy appeal.
So, it's ideal to pick a sage green color for the walls and burgundy for the furniture upholstery and other accessories. Choosing vice versa would be too overwhelming – hence, a big no-no!
Gold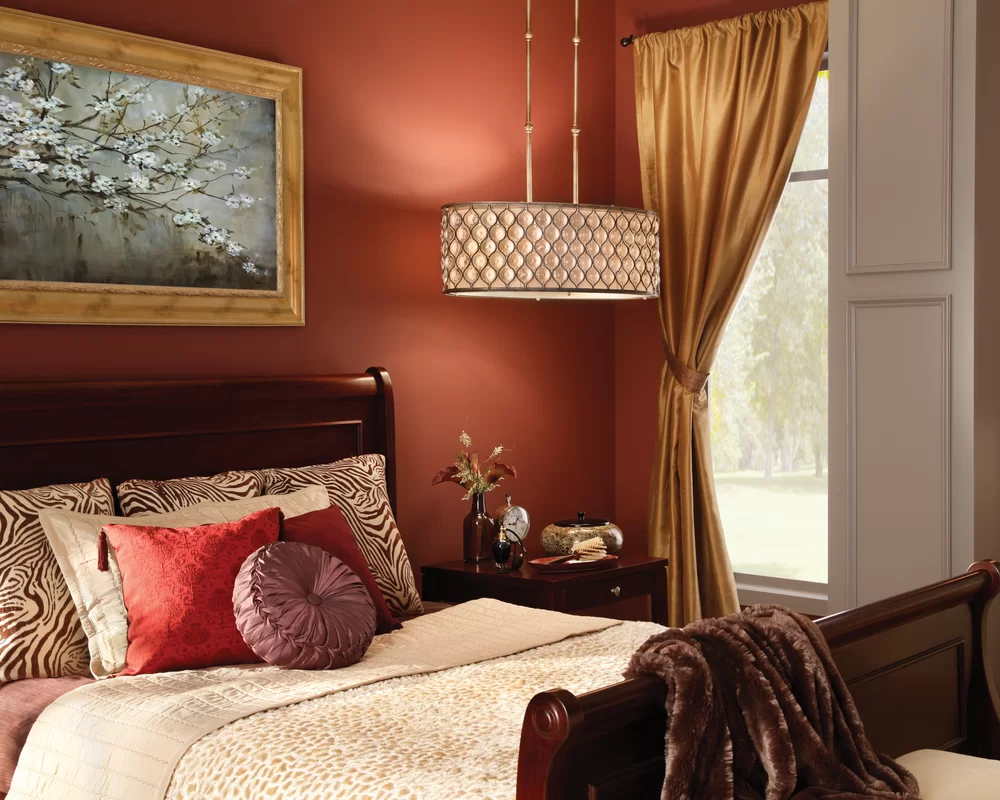 Now it's time to talk about luxury, opulence, and richness! To further complement the magnificence of burgundy, you can add tinges of gold to create a Victorian or Palace-like interior. Hence, it's best to throw a splash of burgundy red on all the walls of your room, and further pair it with golden yellow curtains and artwork frames.
At the same time, you must know that gold is available in a variety of textures. Hence, for a traditional flair – you must choose the gloss or semi-gloss, else brushed or matte would work as well.
Tan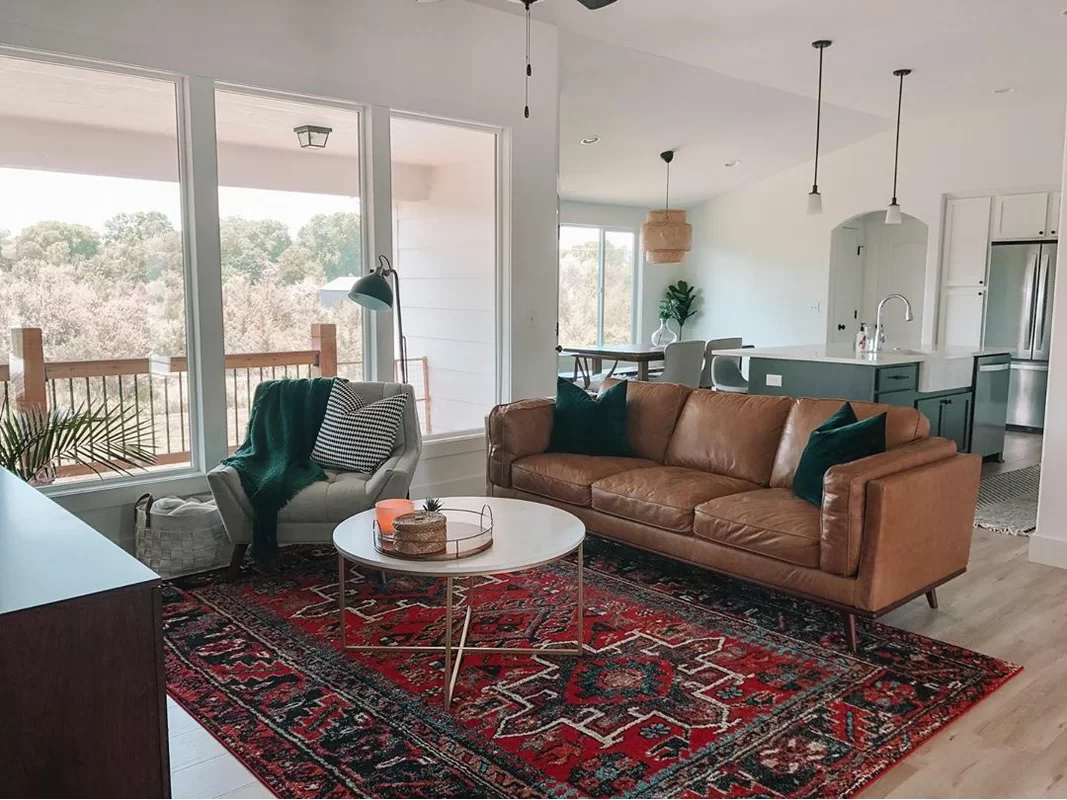 Burgundy and tan are comparatively quite difficult to deal with. And that's why you must be extra cautious! So, with a neutral backdrop like off-white and gray, you can definitely consider adding a tan-hued couch with a burgundy red splash on the area rug or the tabletop accessories.
If you're looking to avoid too much burgundy, well – it's best to choose the vintage or distressed area rug to add just the right amount of visual interest.
Pink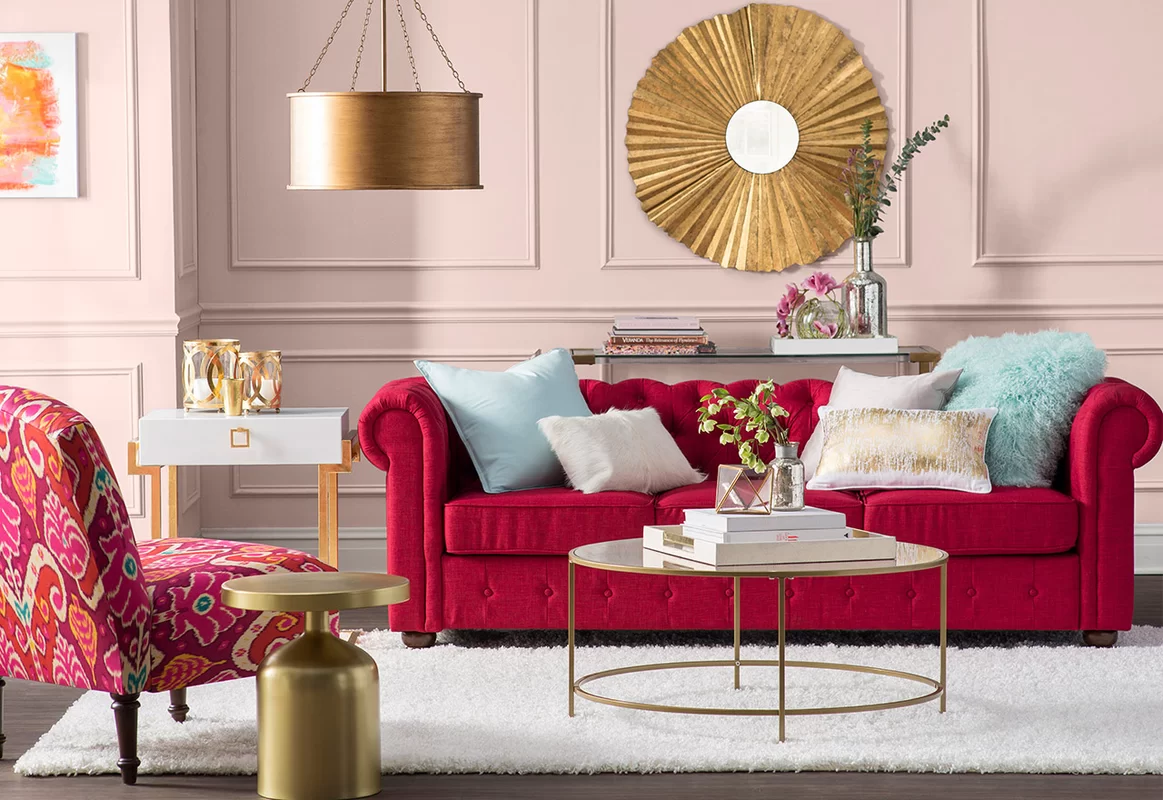 Pink and burgundy lay closer to each other on the color wheel. Hence, a reason why these two colors will seamlessly complement each other – also proving to be a great burgundy analogous color scheme. So, it's best to choose an airy and light pink (like a blush or baby pink) on all the walls in addition to burgundy on the furniture upholstery and fresh flowers.
This feminine palette must definitely be supplemented with tinges of metallic gold on the furniture legs, artwork or mirror frames, chandelier, and tabletop accessories.
Black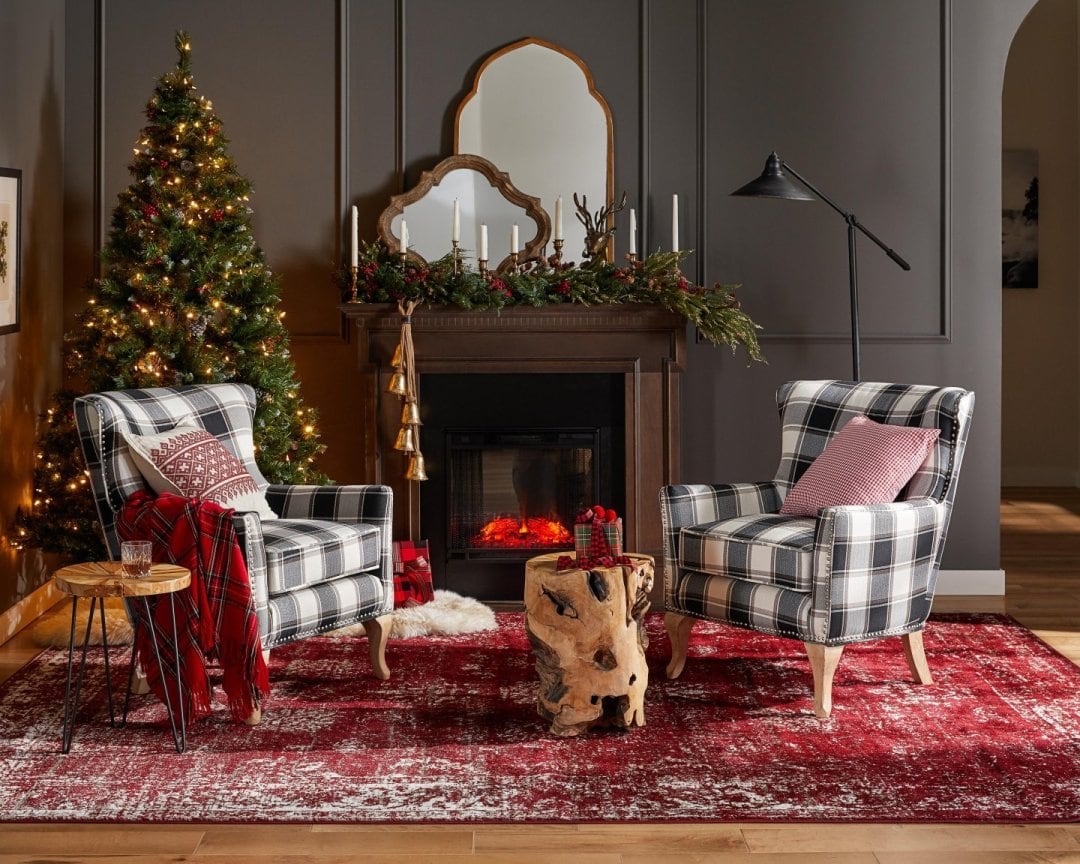 Another color that matches burgundy is black! This bold and daring combination can readily invite a romantic and passionate vibe indoors – thus, making your space feel more adventurous and fearless. In such a case, you can choose to style both ways – splashing a hue of black on the walls and burgundy on the furniture or vice versa.
To add a medium that further brings the beauty of this combination – it's best to style with fresh indoor plants in the negative corners or coffee tabletops.
Navy Blue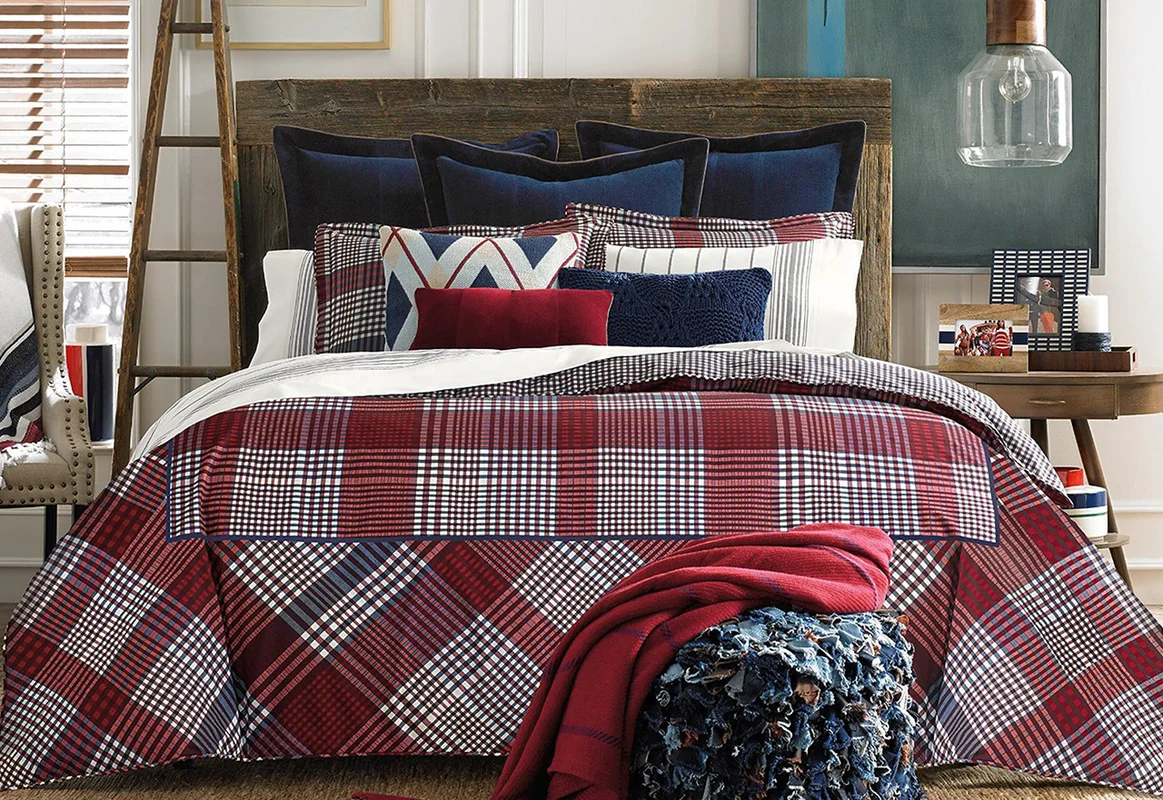 Doesn't this color combination remind you of a perfect nautical or coastal English theme? Well, believe it or not – this is one of the most creative colors that pair well with burgundy. It adds just the right amount of contrast and power to the room while making it feel like a little countryside cottage.
To further streamline the palette, it's best to add whites as a base on the walls and bed sheets to help protrude the true superpowers of this duo.
White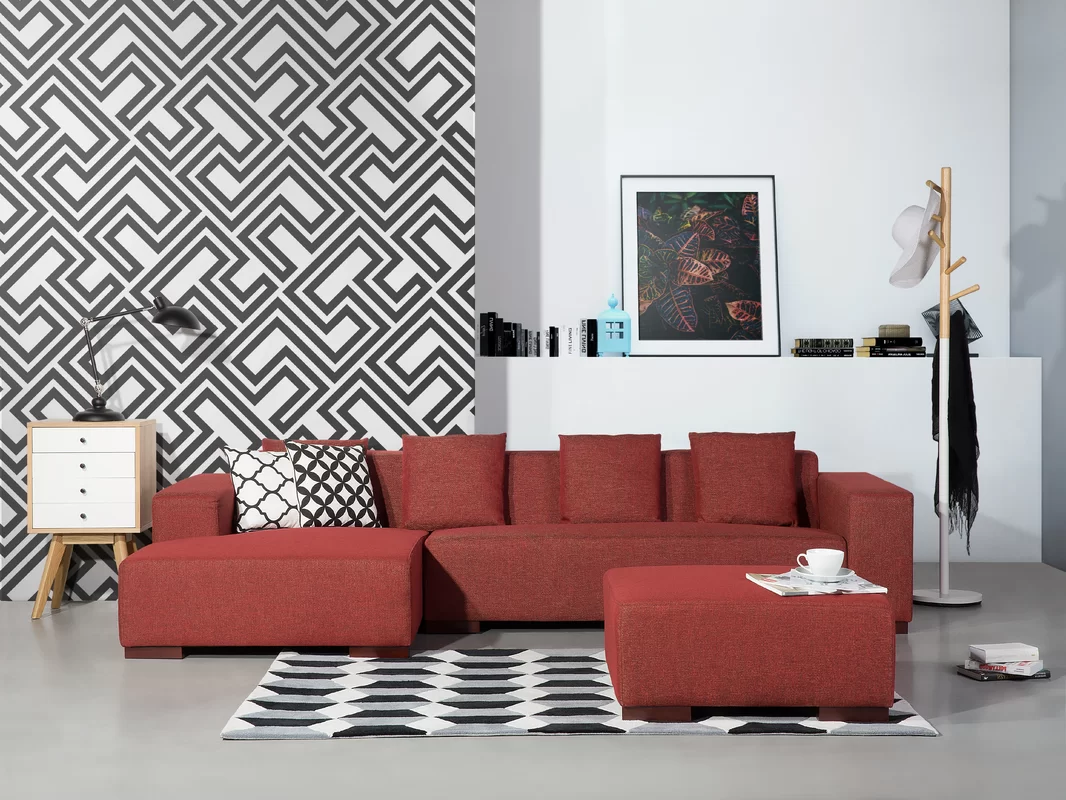 If you want your burgundy accessories to stand out and play a focal – it's best to pair the panorama with a clean white background. Of course, it can't be too white everywhere since it can feel too monotonous and old-school. And that's why having a subtle black (in accents) on your furniture frame and artwork wouldn't be a bad option.
With whites, you also have the liberty to play with patterns. Especially on the wallpaper or throw pillows – you must throw a beautiful geometry here and there!
Lavender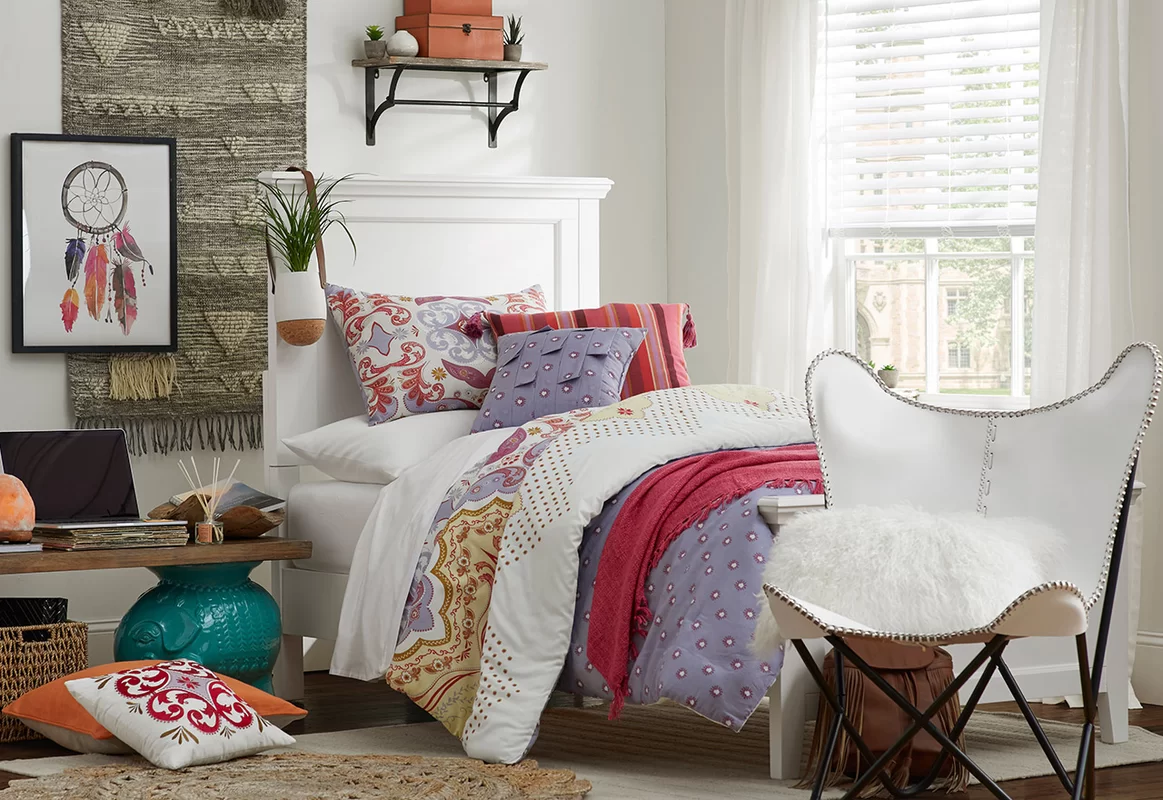 If you truly want to think outside the box – pairing the hue of lavender with burgundy is something you must look forward to. This unique combination will exhibit a fun-loving and eccentric vibe to your room – and at the same time, add a perfect visual interest into the space.
However, note that both these two colors are used in the same amounts. This will create a perfect sense of balance and harmony!
Mustard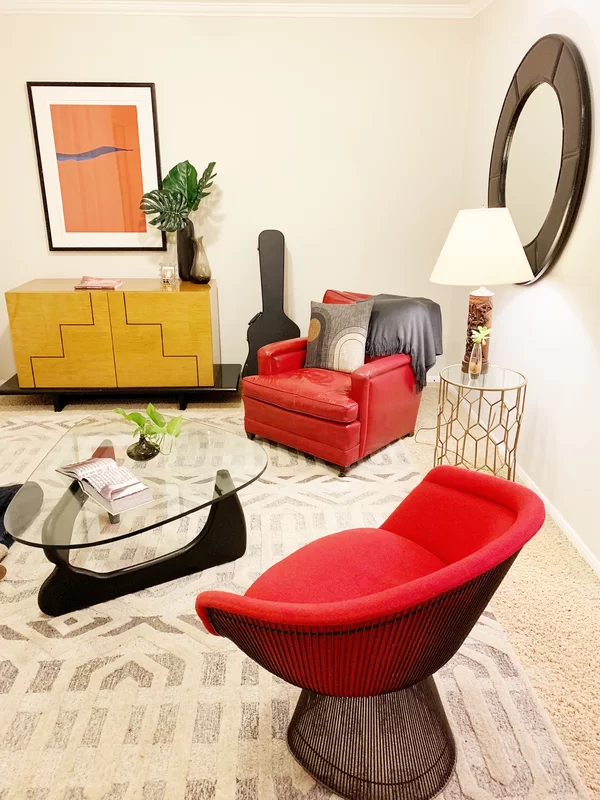 These two colors are poles apart – and that's what makes your palette even more visually appealing and interesting. So, you must ensure to mix and match the burgundy red and mustard on the furniture as well as the accessories – while keeping the walls crisp white, beige, or light gray.
At the same time, you can add ample glass and metal to the coffee and side table to complete your palette. Especially for Eclectic setups, this color duo can definitely be taken inspiration from!
Rust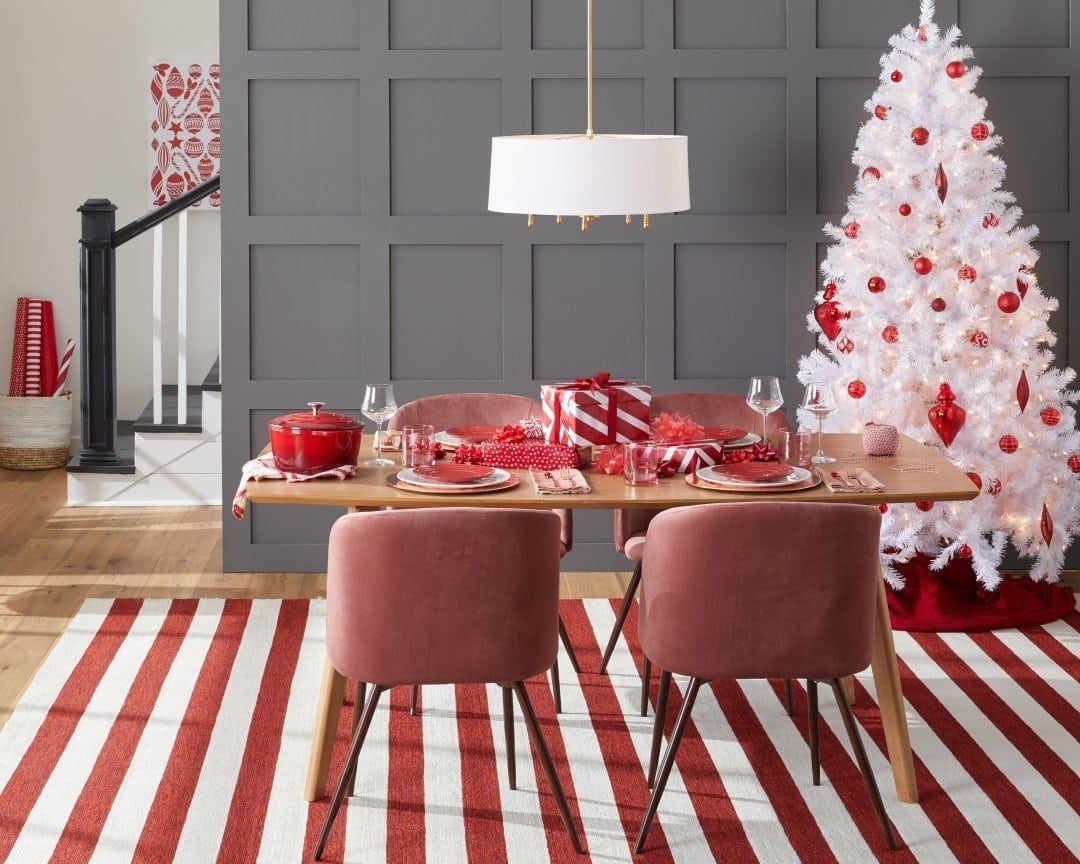 Wondering if rust-red pairs seamlessly with burgundy red? Well, if you're looking for a monochromatic vibe – these two shades will absolutely play phenomenal. Especially if you choose a burgundy with purple undertones – the rust-red is bound to add a romantic and whimsical vibe indoors.
You can choose rust-red for the walls and burgundy-purple for the furniture, accessories, and fabrics. Lastly, don't hold back from golden-tints that will equally play luxe and stunning!
Aquamarine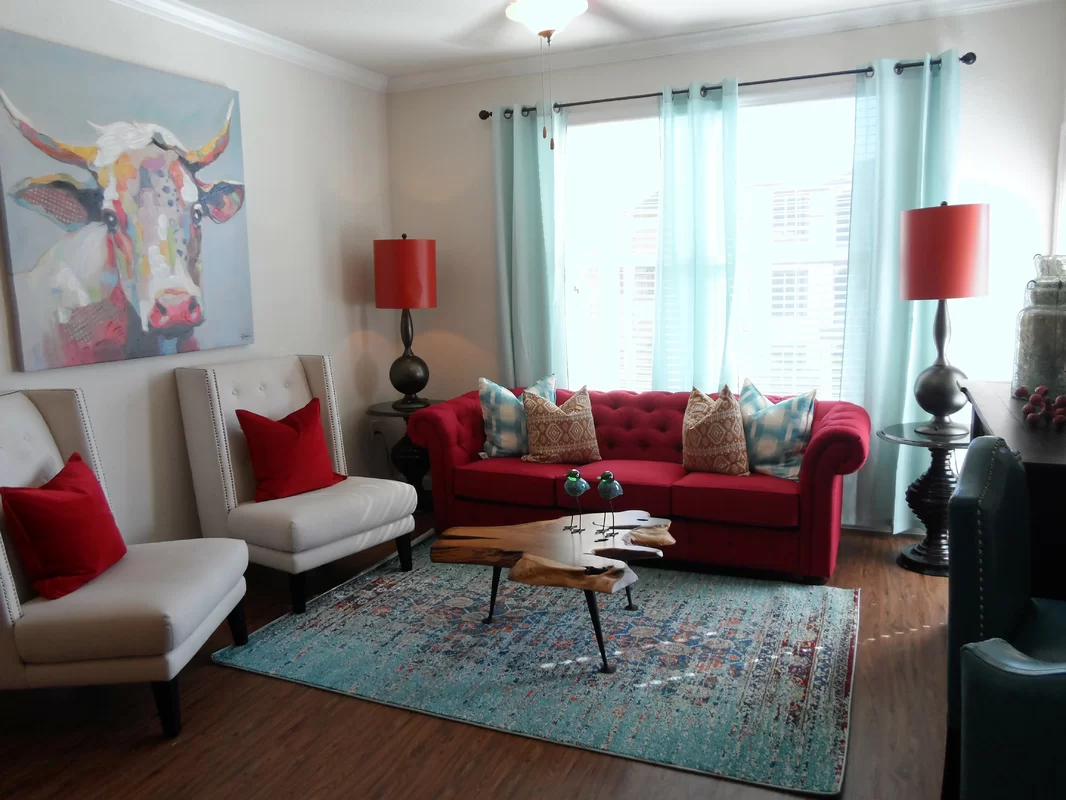 Aquamarine is a beautiful calm and refreshing blue that can bring the beauty of the sea right into your home. And believe it or not – it adds a perfect contrast to your existing burgundy setup. So, it's time that you mix and merge the two contradictory tones to achieve an utmost outstanding and unique look!
Especially for Eclectic setups, it's a must panorama to have an eye on! Secondly, you can always add a third wheel like beige or white to play a strong base.
Warm Gray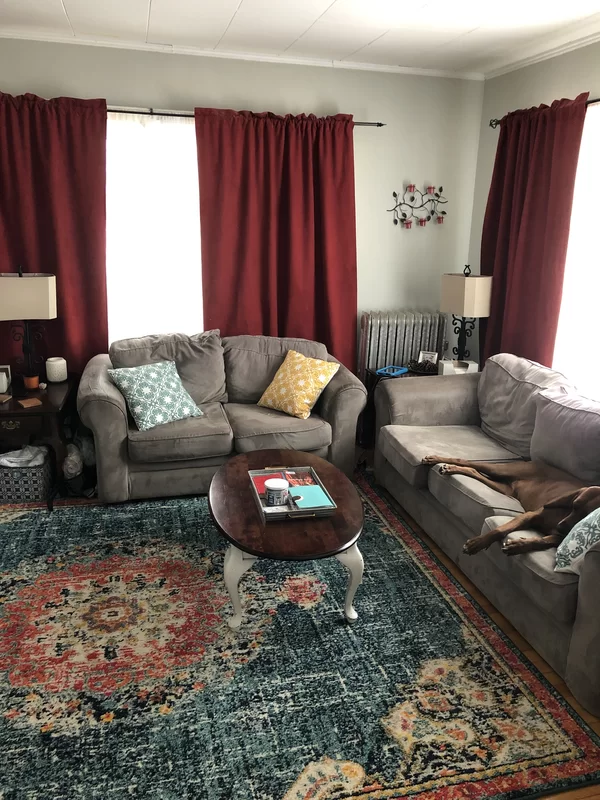 Warm gray and burgundy walk hand-in-hand. So, this is one of the most versatile and popular color schemes to pair the burgundy with. Now here is one interesting and creative way to make the most use of this duo – well, you can either choose the warm gray for the walls or furniture in amalgamation with burgundy on the furniture or accessories.
Always remember that the burgundy red curtains will always add drama and depth – and that's how you can make your room absolutely moody.
Taupe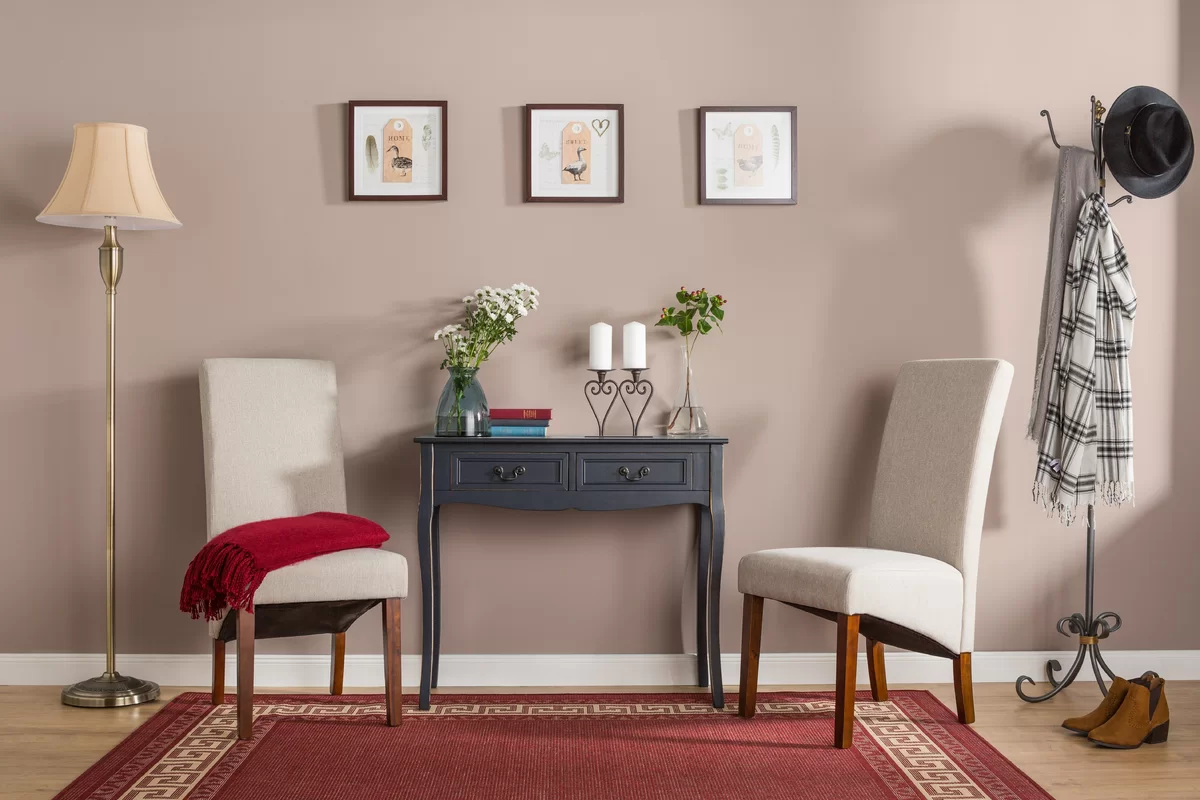 The soothing, soft, and subtle taupe is bound to take your breath away! Whether it's paired on the walls or furniture – the fusion of taupe and burgundy will never disappoint you. Moreover, it's a great palette for the earthy backdrops where you always want to play muted and subdued.
However, don't let the burgundy play too loud. Just remember to add a tinge on either one or two accessories to make the space look cohesive and not "shabby".
Sky Blue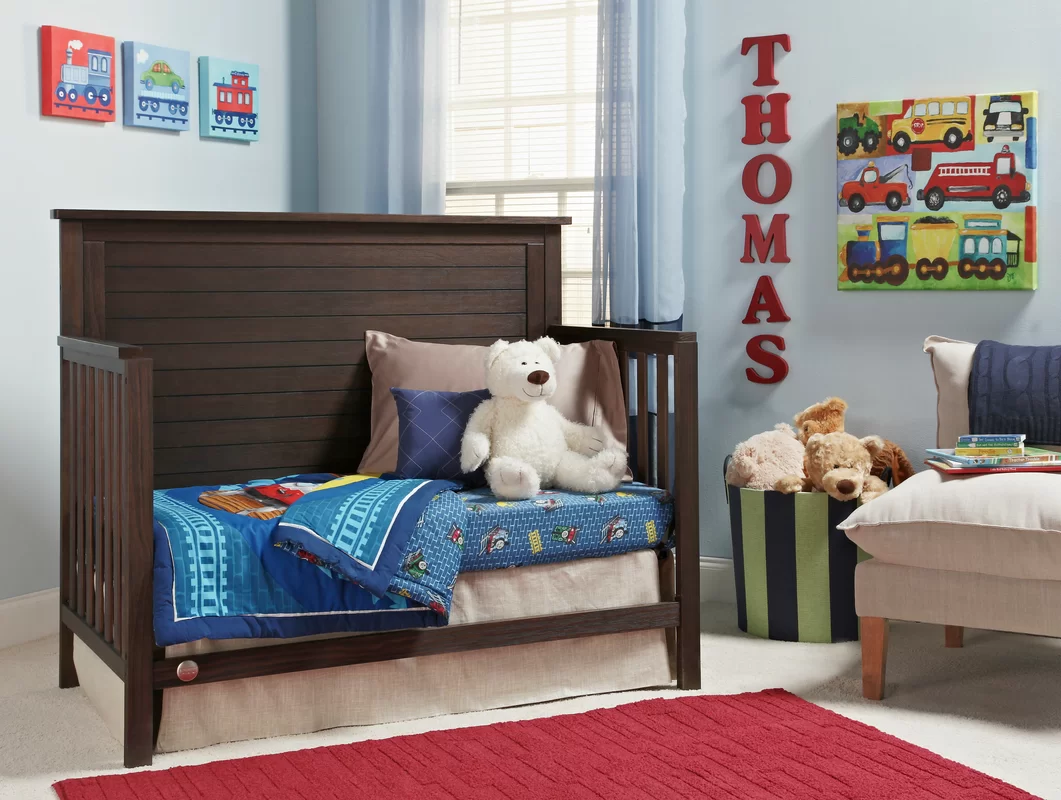 Wondering how to creatively infuse a tone of burgundy that also makes the room feel calm and peaceful? Well, it's time to get hands-on with this particular shade of sky blue. Also known as baby blue, this color when fused with burgundy will absolutely make it relaxing and stress-free for you and the kids.
However, ensure that you only add burgundy red as an accent in bits and pieces on the accessories. Too much can be overwhelming and confusing!
Dark Gray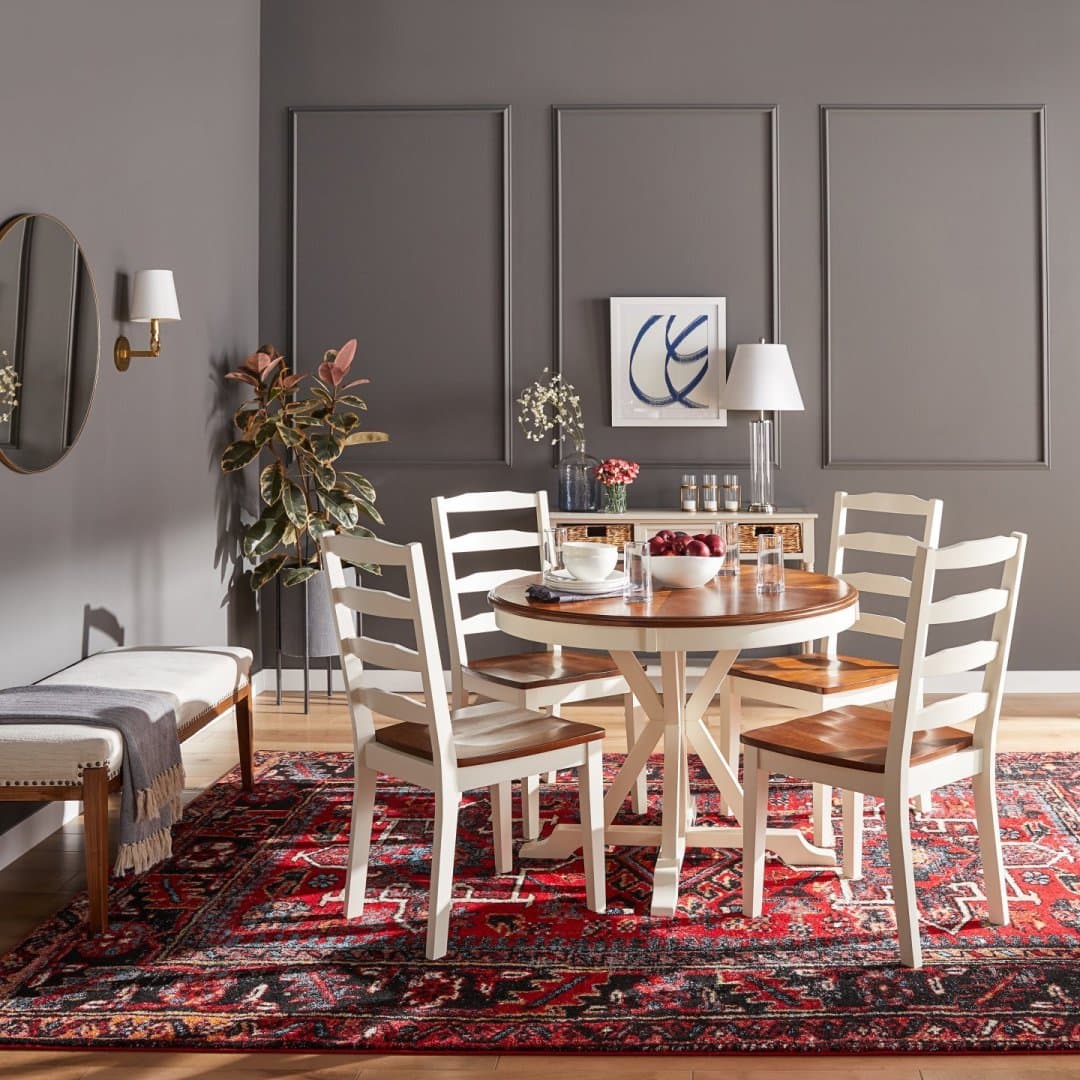 Even though these two bold colors are quite dark and dramatic – at the same time, when used carefully, they can result in a delightful overall experience. Well, have a look at this traditional dining room – wouldn't you want to spend some quality time here?
On the other hand, you must also note that burgundy should be used on your very limited accessories. For instance, just the rugs, throw pillows, or a centerpiece is good to go.
Ivory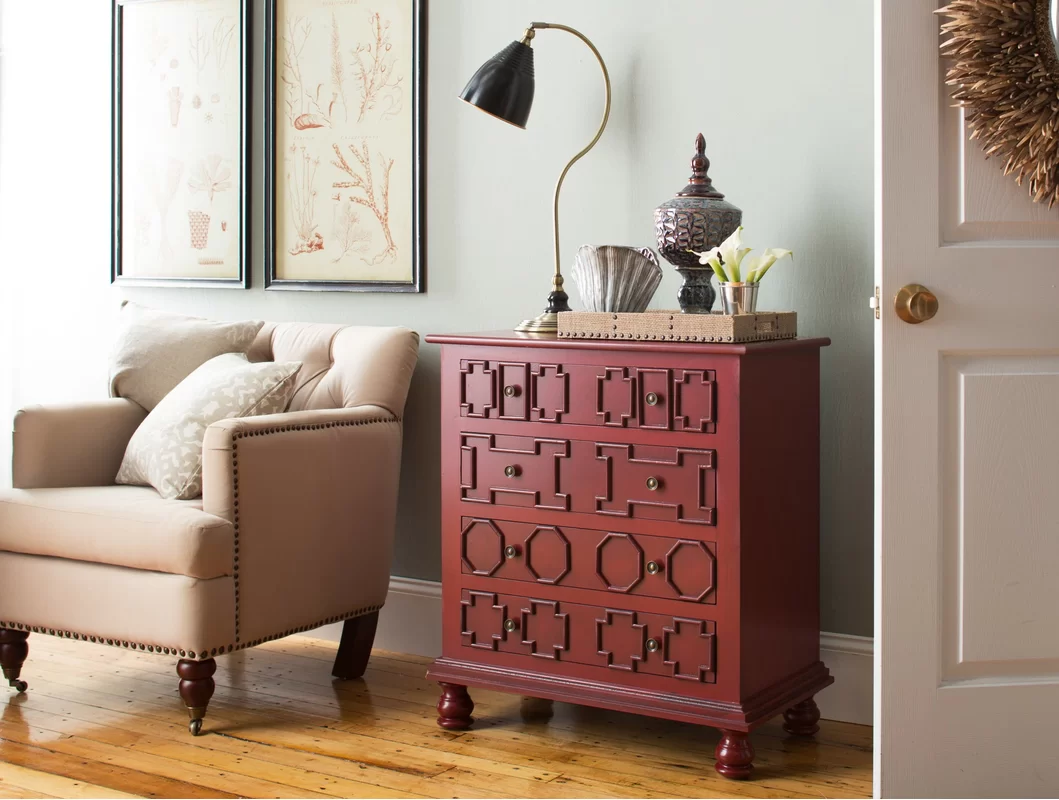 Speaking of neutrals and beige is always a number one option! So, if you want a warm color palette with a single outstanding pop of hue – the tone of burgundy plays quite well. Don't believe it? Well, have a look at this living room setup. The beige-upholstered chair in amalgamation with a burgundy-hued chester will always prove to be timeless!
This combination is also responsible for a much-needed warmth in any space. Moreover, if you have a traditional, French Country, or Eclectic style – you must definitely go ahead!
Teal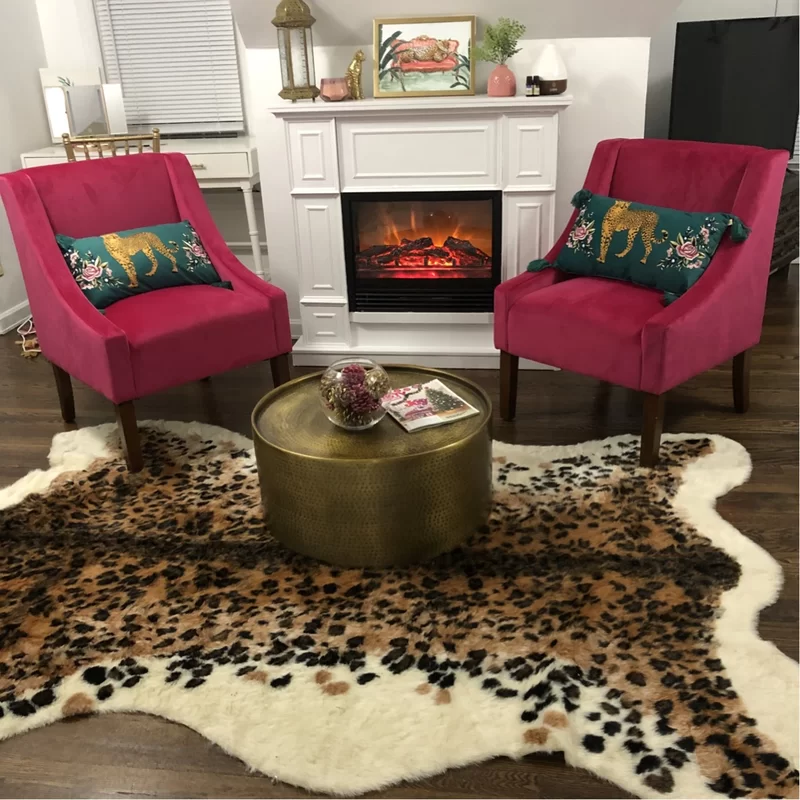 Here is a very close observation for you to test a combination of burgundy red and teal. Well, have a look at these accent chairs and the throw pillows – don't they make a fabulous statement? Yes, teal comes in blue or green undertones, and know that both these types will equally make your space look vibrant and energetic.
This is one of the quirkiest colors that go with burgundy. And since they juxtapose each other, the space looks even more astounding and Eclectic!
Cyan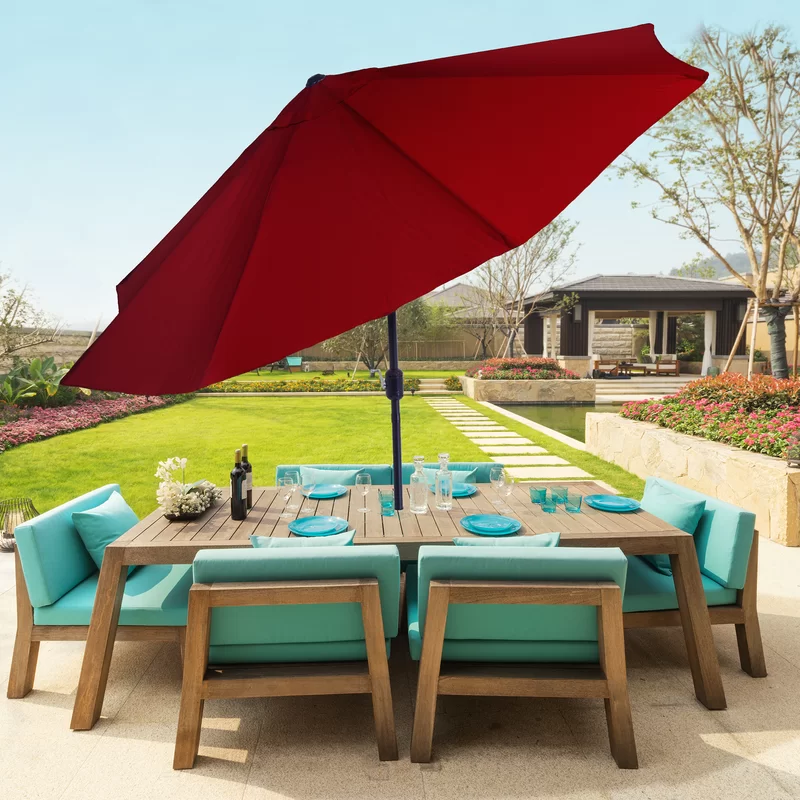 Another color that matches with burgundy and makes your space feel totally out of the box – cyan! Yes, it's a bright and stark tone of blue-green and thus, you must always remember to limit the use of it on the accessories. A clean white background with two accents like burgundy red and cyan playing focal is how you must make the most of this palette.
Styling with a cyan-printed accent chair or candles wouldn't be a bad thing!
Coral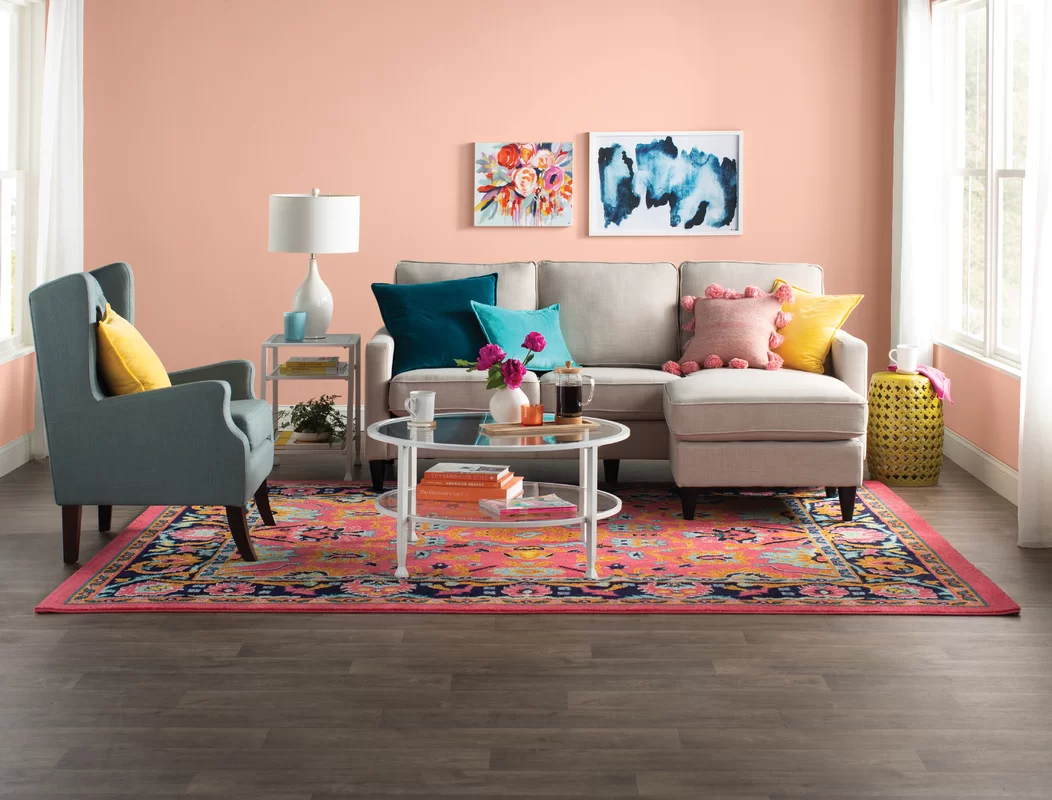 Looking to have a happy-go-lucky and warm feel in your living room? Well, it's definitely the best time to strike the burgundy red against the cheerful coral. This blissful combination is made in heaven and will always make your space feel extra energetic, bright, and welcoming.
So, it's generally better to coat a fresh paint of coral on the backdrop walls accompanied by tinges of mustard, steely blues, mustard, and white on the base and accents.
Earthy Brown
The brown and burgundy red will always play sophisticated and timeless. Since they align to a similar parent color category – the result of this fusion will never feel out of place or misleading. Hence, if you want to add that earthy touch to your space with a tinge of visual interest – this combination should definitely be your next move.
You can further embrace cohesiveness with the help of accents like light brown, plum, beige, and wooden textures.
Summing It Up
Colors that go with burgundy don't necessarily have to be always subtle and light! You can equally play with likewise bold hues like plum, orange, and rust to create a striking appearance. Well, like always said – it all boils down to the kind of vibe you're aiming to create. Quirky? Monochromatic? Soothing? Traditional? Yes! These above-mentioned burgundy complementary colors will work for all.
So, are you intrigued by any particular color? Do let me know your thoughts in the comments below!