Decorated Life is reader-supported. When you buy through links on our site, we may earn an affiliate commission. Learn More
How to Decorate with Ceiling Medallions
By: Decorated Life Team
|
Ever thought of using ceiling medallions as wall decor? A little DIY can go a long way when it comes to using ceiling medallions as wall features, not only ceiling decor.
Ceiling medallions most often used as chandelier or ceiling decor, but because they are light, made from either plaster, tin or synthetic materials, and come in so many shapes and sizes, they are perfect to create amazing wall decor.
They work well as clusters but you can use just one if its the right size for the right spot. This Victorian tin ceiling tile above looks great, mounted and give a rustic make over with a little diluted paint and a rag for that washed out look. If your ceiling medallions are smaller, and with different designs, group them like a photo gallery.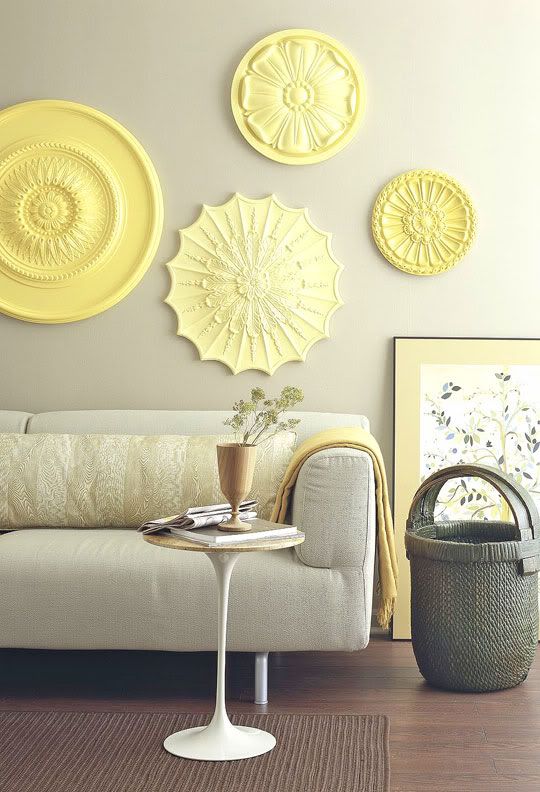 You can paint them, frame them, group them, age or stain them. Painting them one color unifies them, so even if the designs are different, the color pulls them together. Painted a bright color they freshen your decor and lift your walls.
Medallions with holes in the middle work perfectly as the frame for a mirror to use as  feature over the mantle. 
These few ideas are a jump start but you are only limited by your imagination.
To recreate this mantel look, find an inexpensive medallion at a home improvement store. You can stain, age or chalk paint it to match your decor. A little sanding and distressing goes along way to give these ceiling medallions a worn look full of character and instant history.
How to Use Ceiling Medallions on Walls
Hang them like art, in different sizes and designs, colors or styles.

Create a grid and place photos in the center.

Use them as wall sconce decoration. Place them around your wall sconce, and paint them the same color as your sconces or in gold for more glamour.

Halve your ceiling medallions and use them as cornice swags or wall panel ornaments.
Variety is a great way to give your medallion collection character, using different sizes and designs to differentiate them. These are just a few ideas to use. Do you have any ceiling medallion decor ideas you would like to share?