Decorated Life is reader-supported. When you buy through links on our site, we may earn an affiliate commission. Learn More
How to Decorate an Ottoman
Ottomans are the perfect multifunctional piece of furniture. You can use them as extra seating, a footrest, a coffee table, and some even double as storage.
But as practical as they are, they're also great decor pieces.
They add texture to a room and blend in well with other furniture. But, you don't have to leave your ottoman bare. You can treat it like an end or coffee table and add decor on top.
Here's how.
Create a Solid Surface with a Tray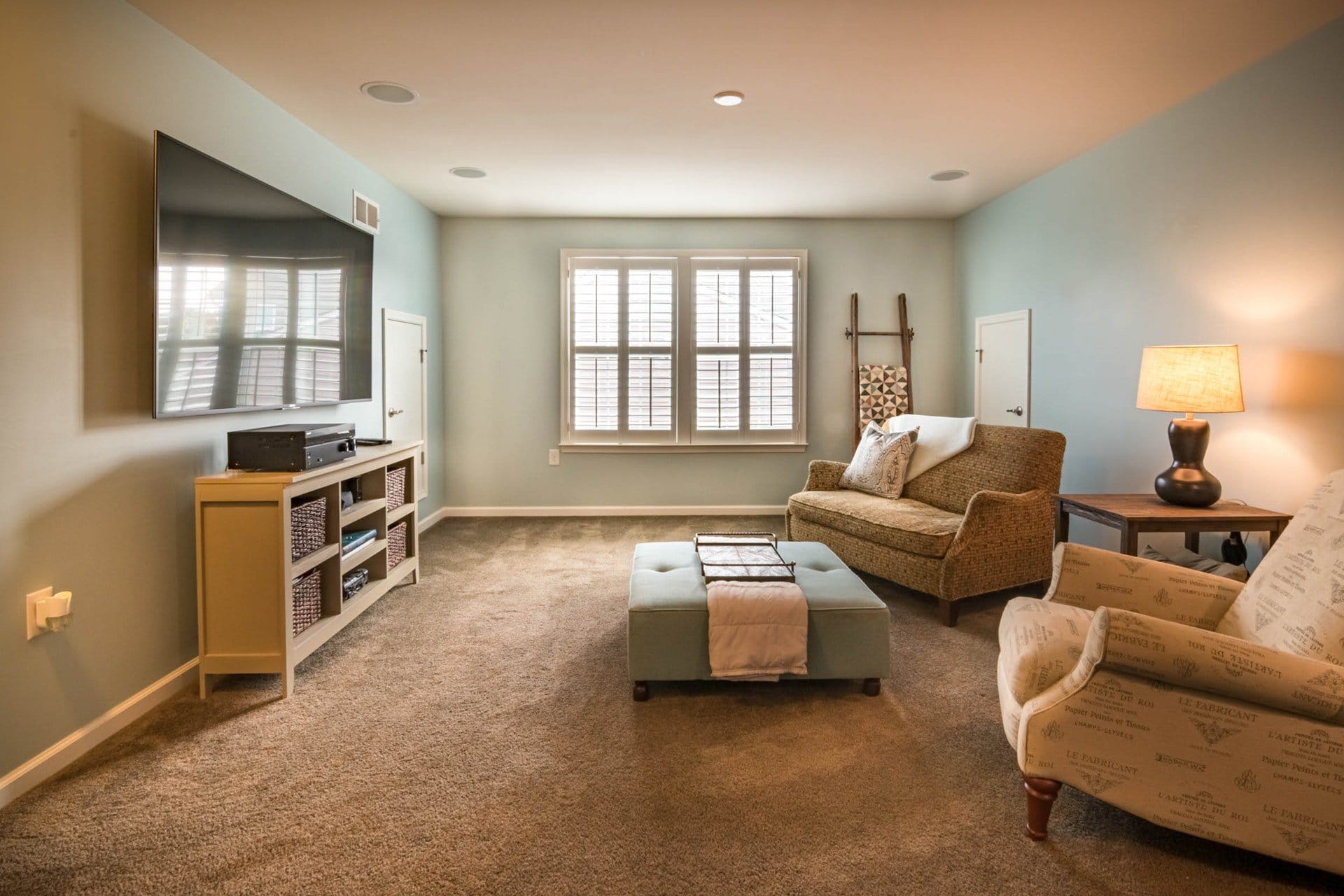 If you want to use an ottoman in the center of your living room, add a tray to it. The tray will give you a place to set your drinks without worrying about spillage.
You can also add a simple runner or fold up a throw blanket to place under your tray. While this isn't absolutely necessary, it helps the tray look more grounded.
Use a Small Box to Corral Items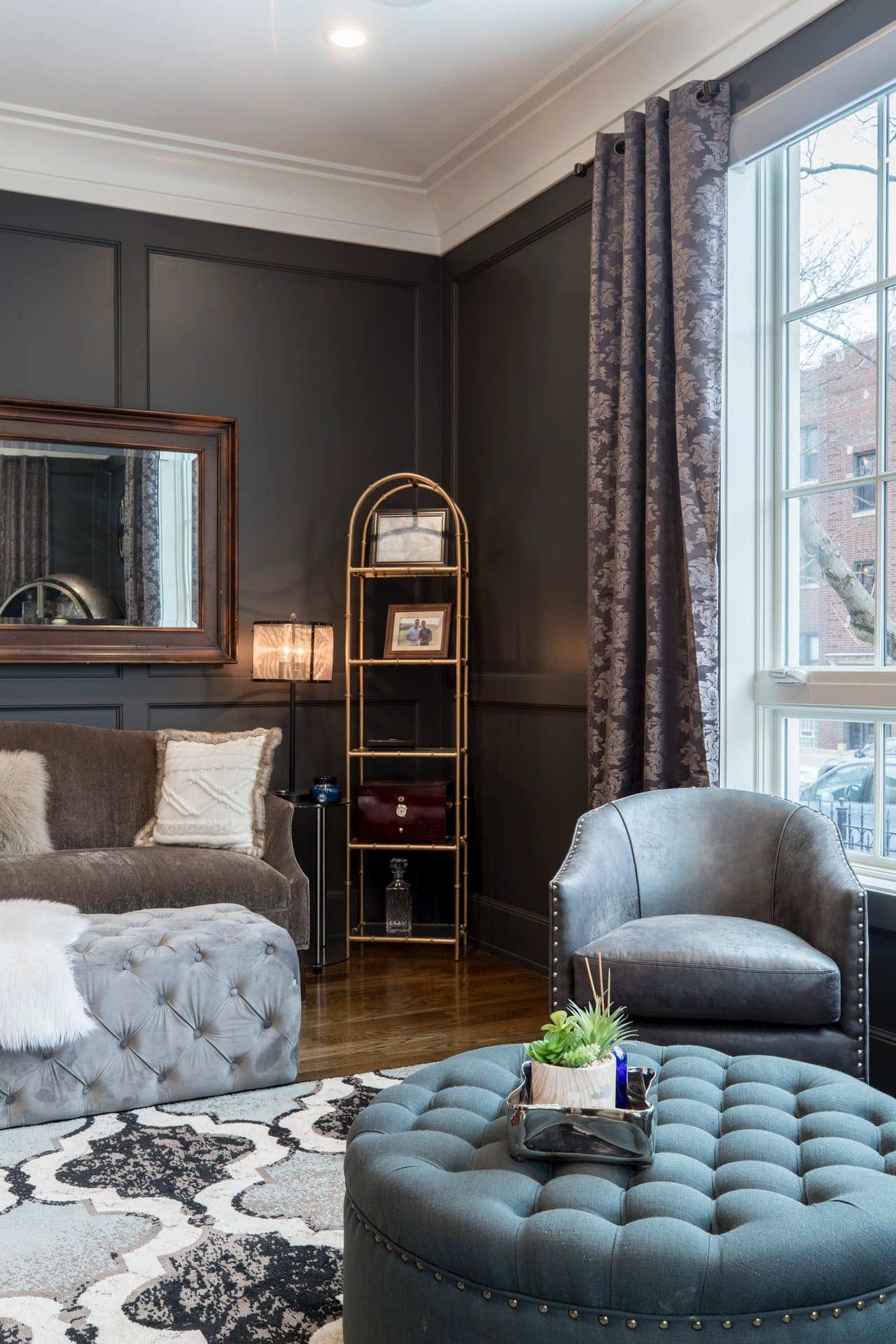 Aside from using a tray, you can create a flat surface with an open box. A box is a great way to add decor to your ottoman and corral commonly used items like a remote and reading glasses.
If you're into glam or modern style, use a metallic-like pictured. If you want a farmhouse look, wood is your best option. For boho, go with a woven or wicker basket.
Load Your Ottoman with Small Plants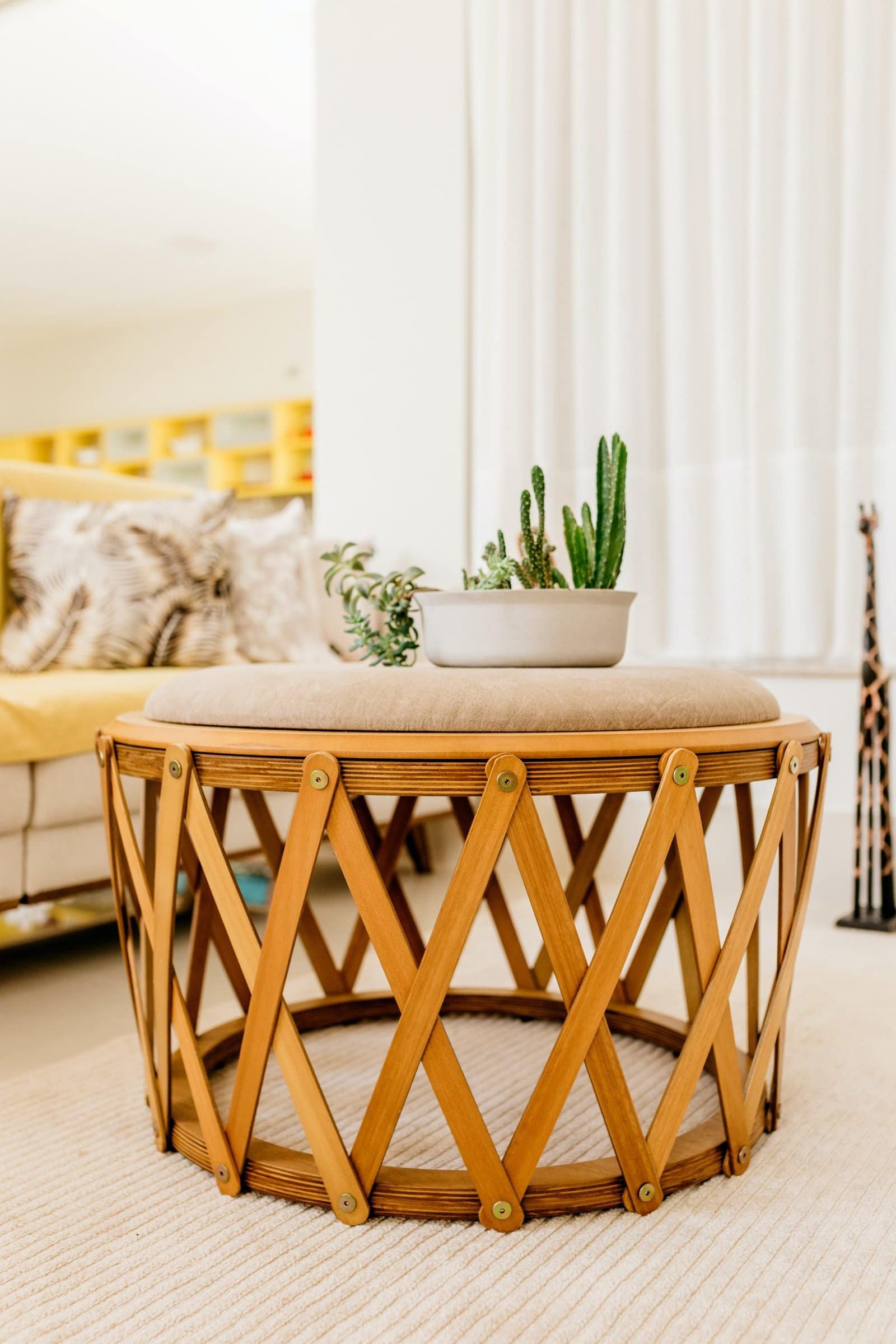 If you want a unique way to add texture and interest to your room, consider putting a pot of succulents on a table-height ottoman.
The linen and wood texture of the ottoman, combined with the greenery on top, adds a boho-style flair to this room. However, you can use this idea for any decor style – simply use an ottoman and planter that coordinates.
Set the Mood with Candles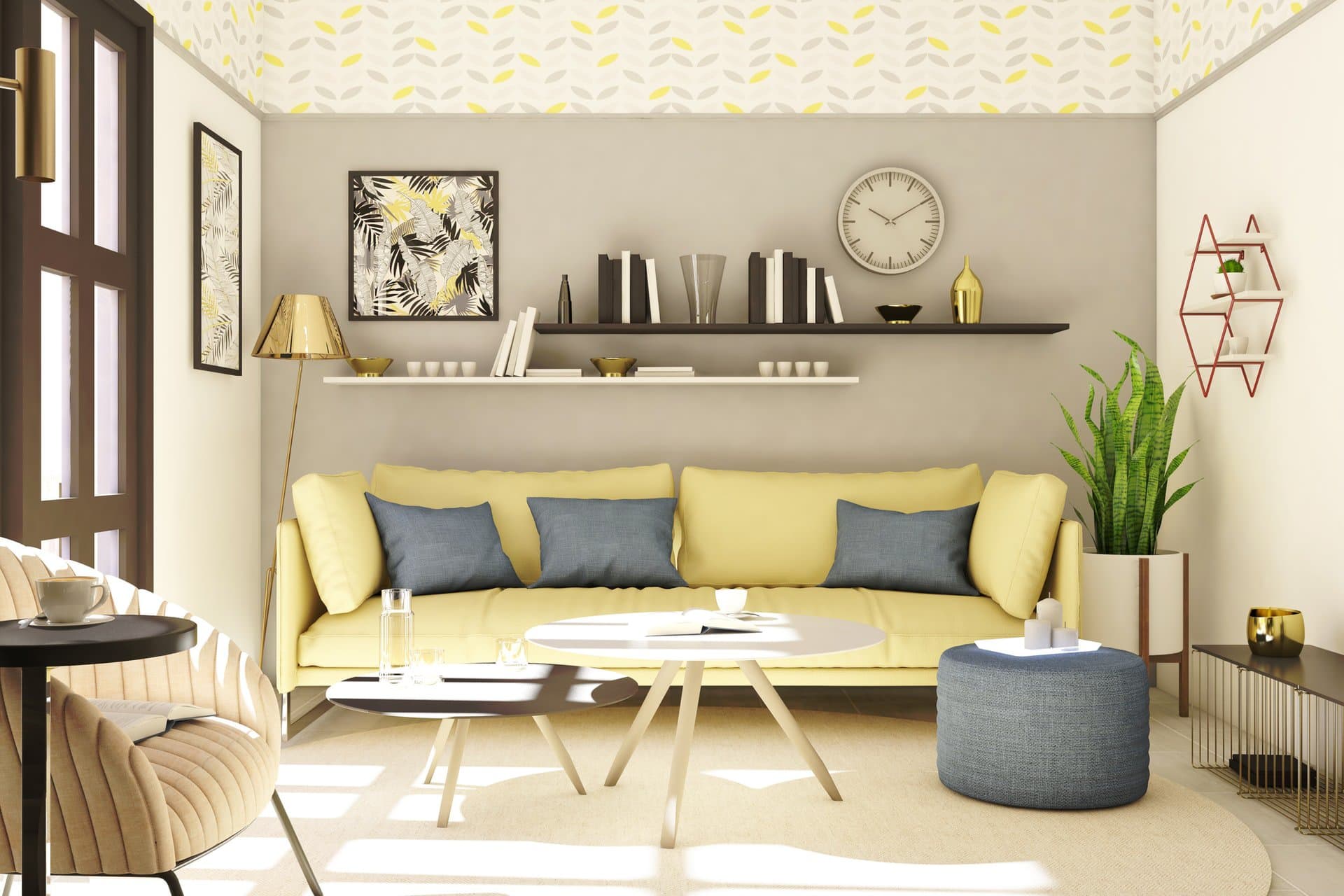 Flameless candles are an easy decor item to place on an ottoman. You can set them on a tray or, if your ottoman is flat, group them on their own.
Just remember, if you decide to use real candles, ensure they're completely steady before lighting them. You'll also need something underneath to catch the wax.
Decorate with a Bouquet of Flowers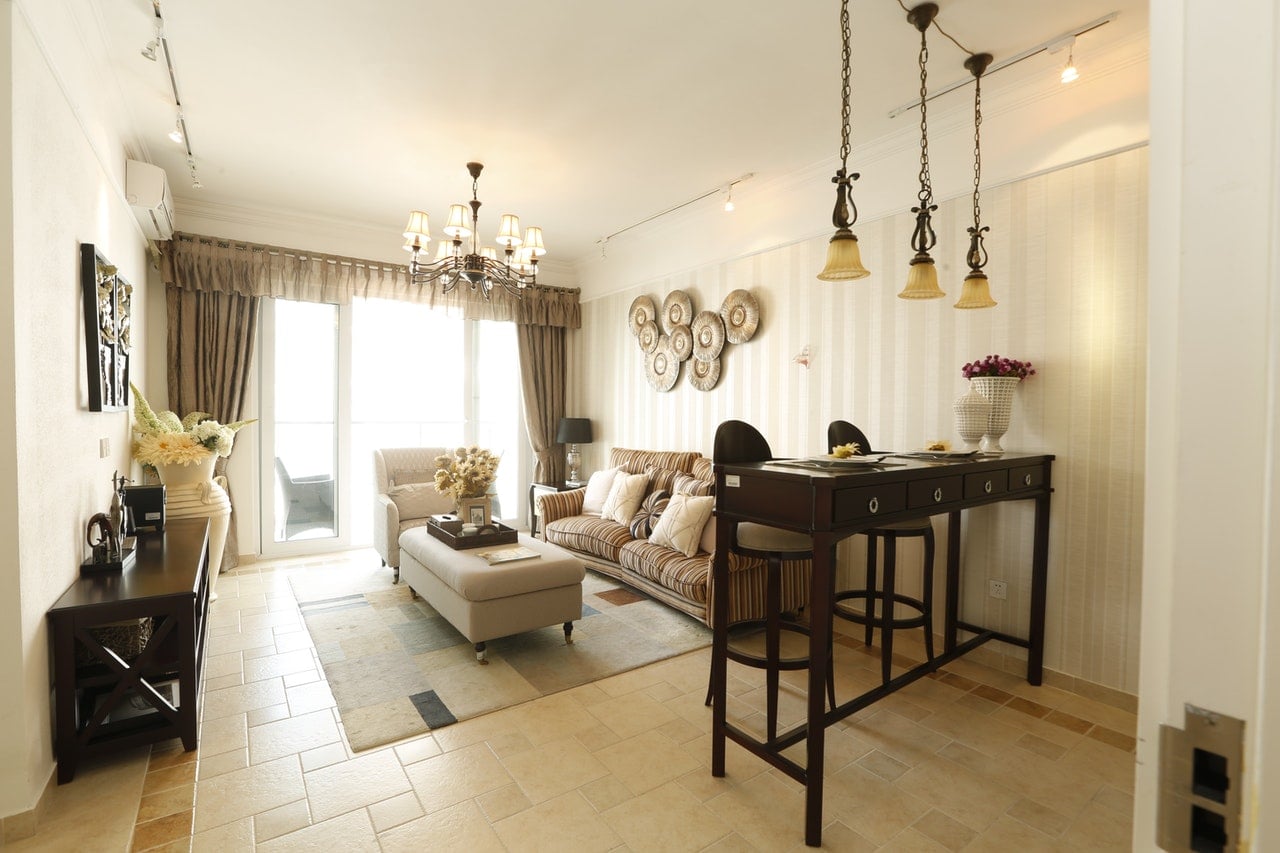 There's no better way to liven up a space than to add flowers. So if your living room is feeling blah, grab your favorite bouquet and put them on your ottoman tray.
If you use a large tray, you can add other items, like interesting books and a spot to set your morning cup of coffee.
Double Up to Create Height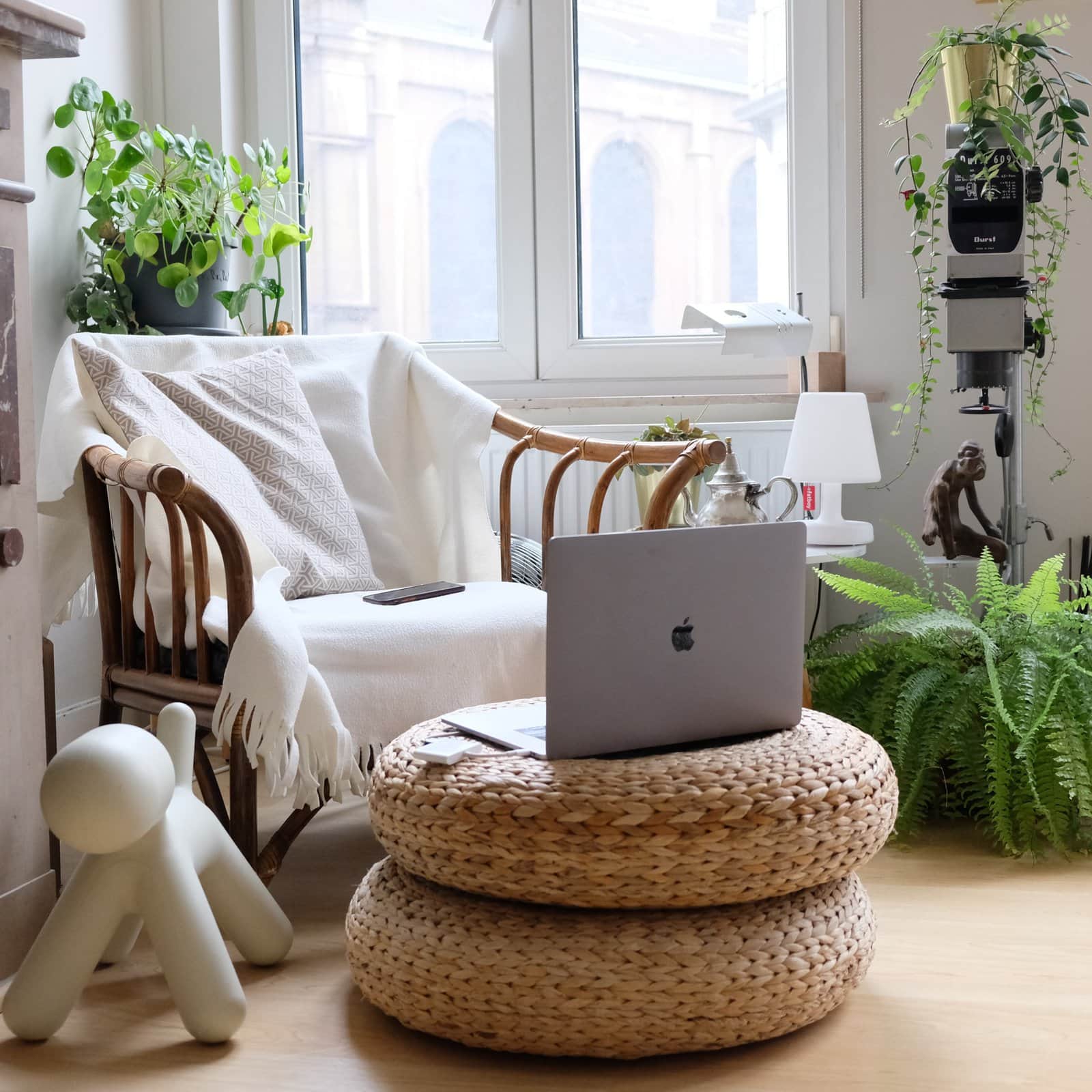 If you keep a couple of low-to-the-ground ottomans to provide comfy seating for your guests, try doubling them up.
Doing this will give you a new look without spending any money. Plus, if your ottoman is high, like pictured, you can use it as a table.
Add Texture with a Woven Tray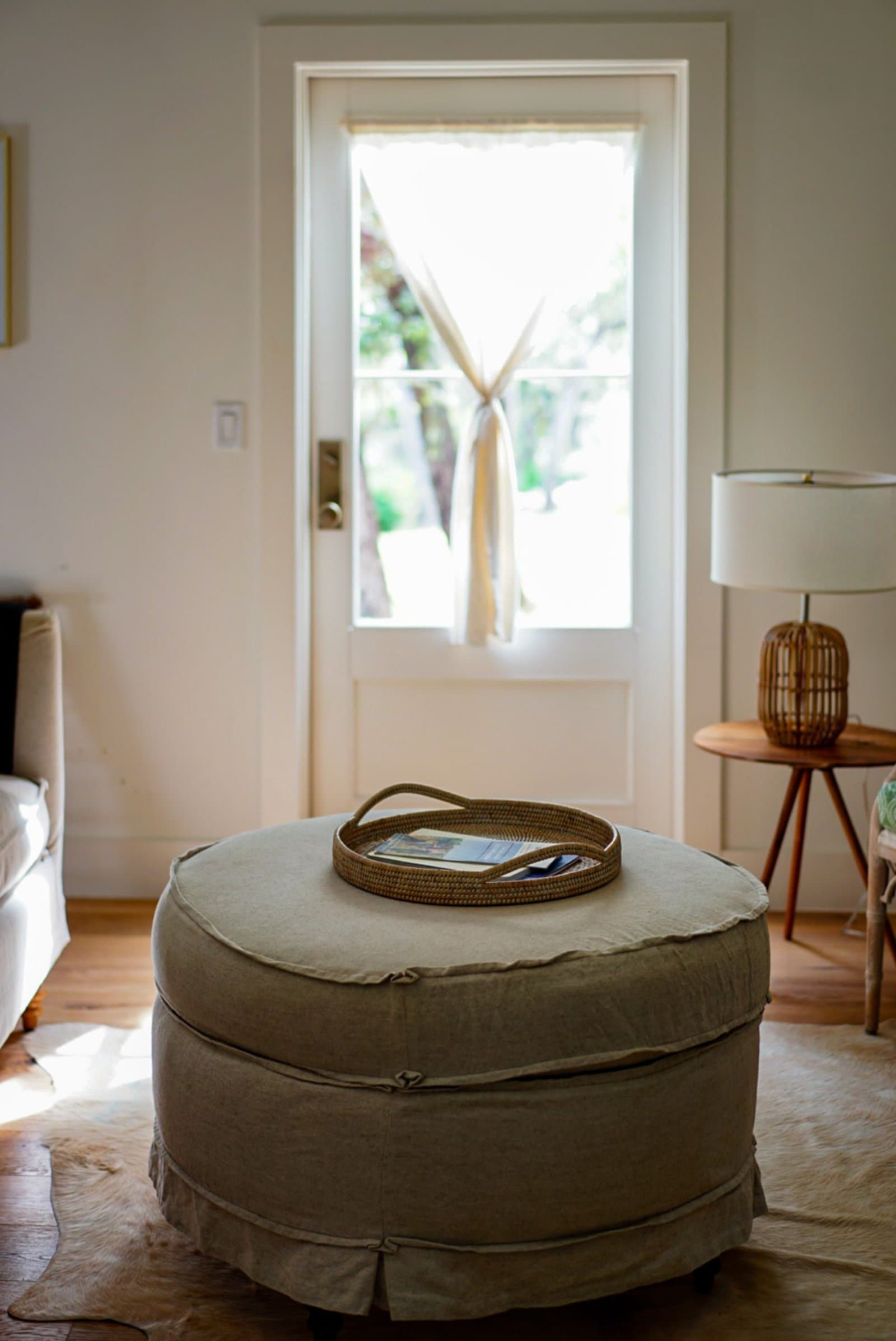 Sometimes the simplest decor is the best. That's the case with this ottoman styling – the round woven tray is the same shape as the ottoman and looks perfectly placed.
If you want to do something similar, any tray material works. But do try to find something that mimics the shape of your ottoman.
Coordinate Colors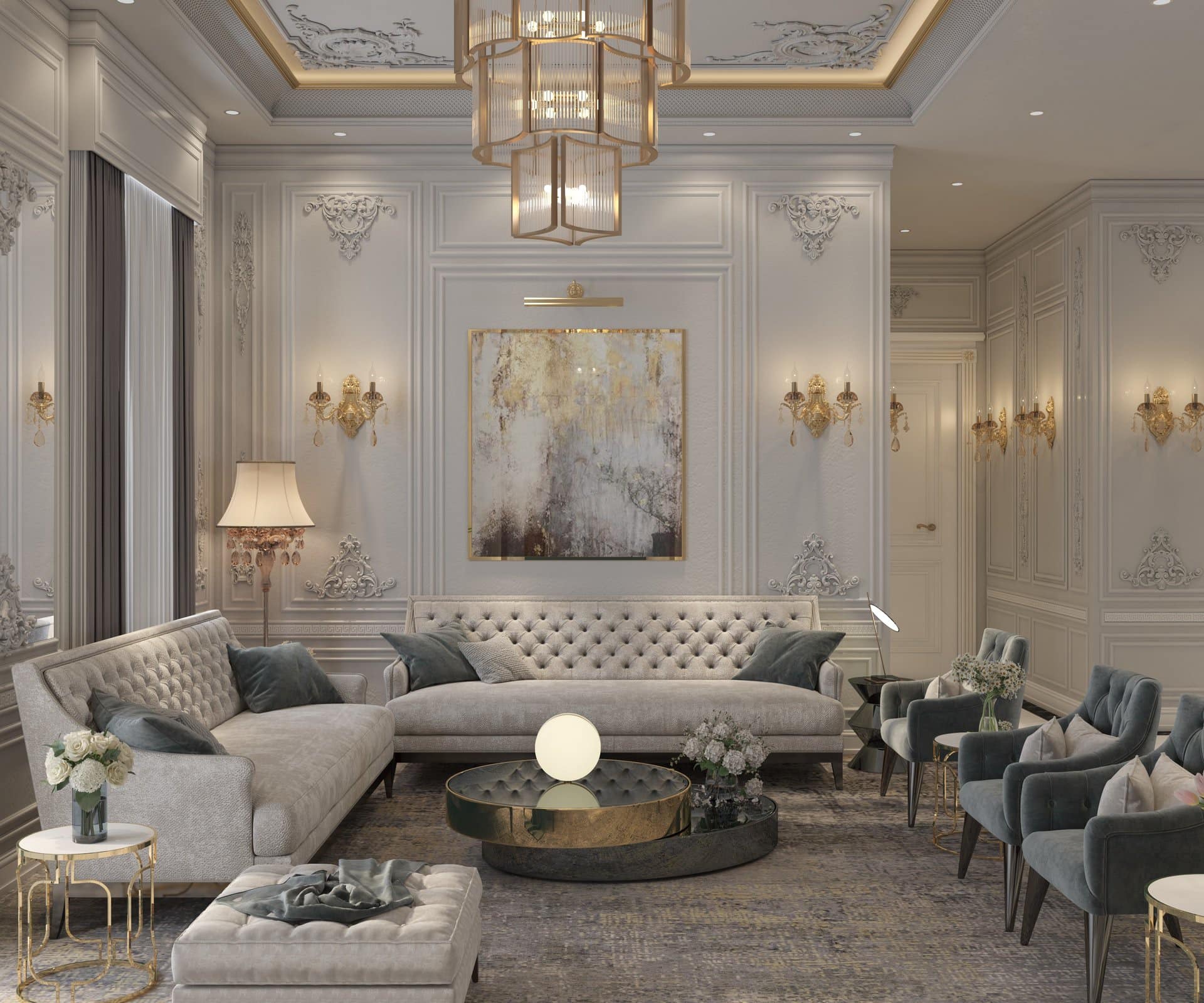 If you want a highly-polished space, coordinate the colors between your ottoman, furniture, and accessories. A simple sheer blanket on the ottoman perfectly ties in with the room.
When decorating, it's important to remember that simple is okay. Your decor doesn't need to be heavy to impact your space positively.
Final Thoughts
You can decorate an ottoman the same way you'd decorate an end table. But before you go loading it with decor, make sure to set out a tray or open box to create a flat surface.
The easiest ottoman decor includes serving trays, blankets, flowers, and plants. You can play around with items you already have to determine what works best for your space.