Decorated Life is reader-supported. When you buy through links on our site, we may earn an affiliate commission. Learn More
22 Side and End Tables for Small Spaces
Small spaces still deserve well-thought-out, high-quality design. And fortunately, most furniture manufacturers know this.
If you have a small living room or bedroom and you're looking for the perfect side table, there are many options to choose from regardless of your style.
Since there are so many options, I've rounded up the best. Here are 22 end table ideas for small spaces.
Try an Eye-Catching Gold Table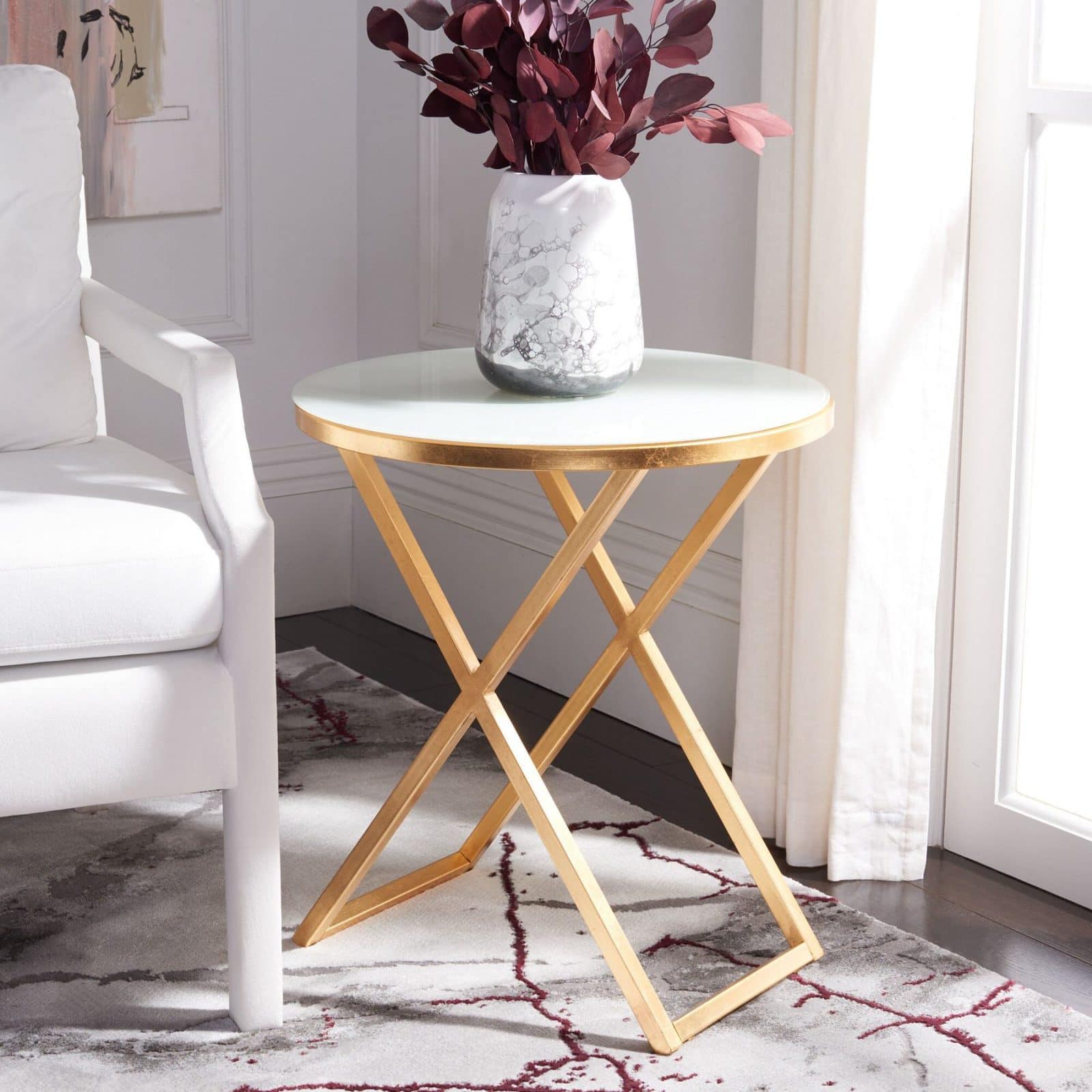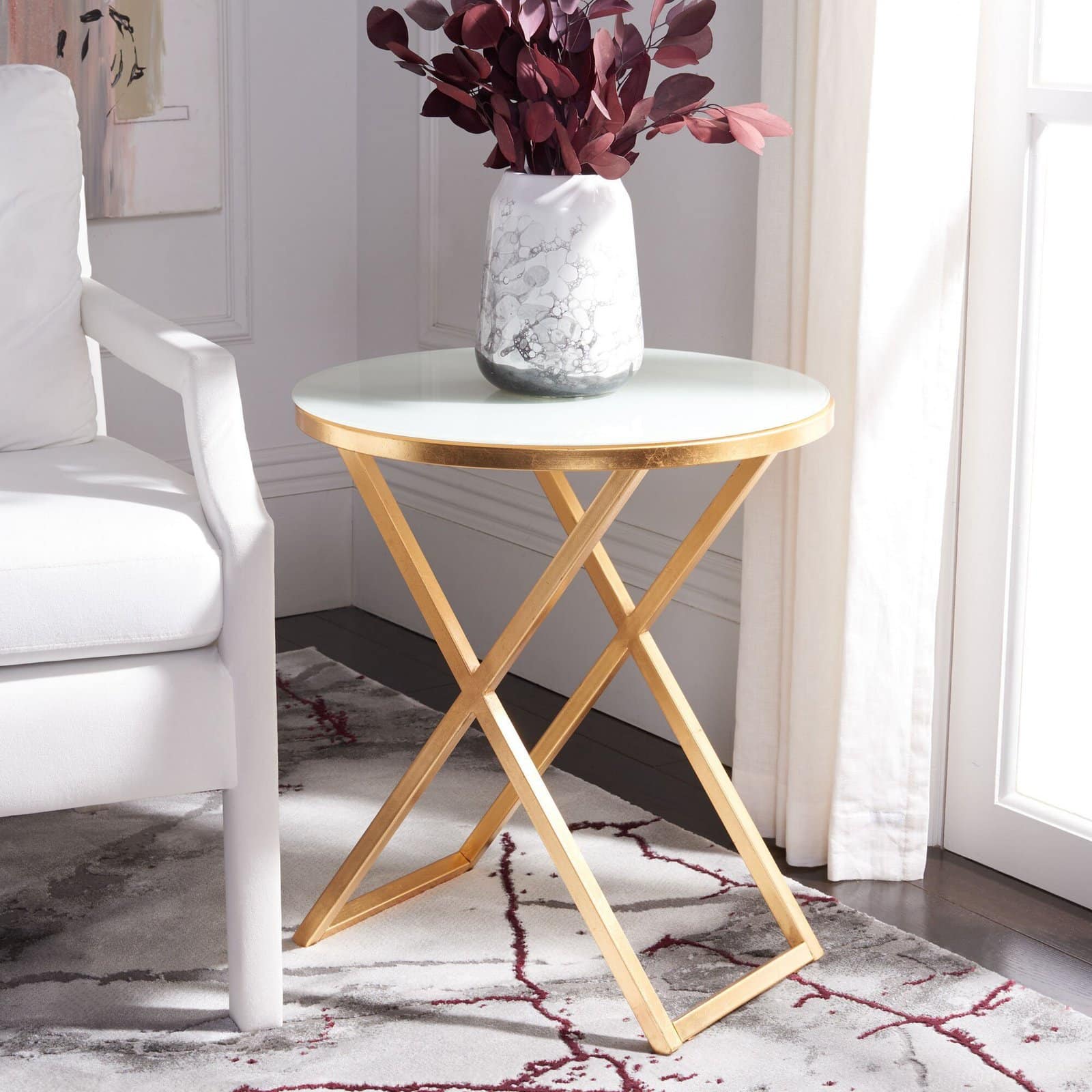 If you're just as worried about beauty as you are function, this shimmery gold table from Wayfair can act as jewelry in your living room.
The x style base is iron while the top is glass, perfect for any glam or modern room. You can find this table in two finishes: gold and white or gold and black.
Upgrade Your Space with an Asymmetrical Design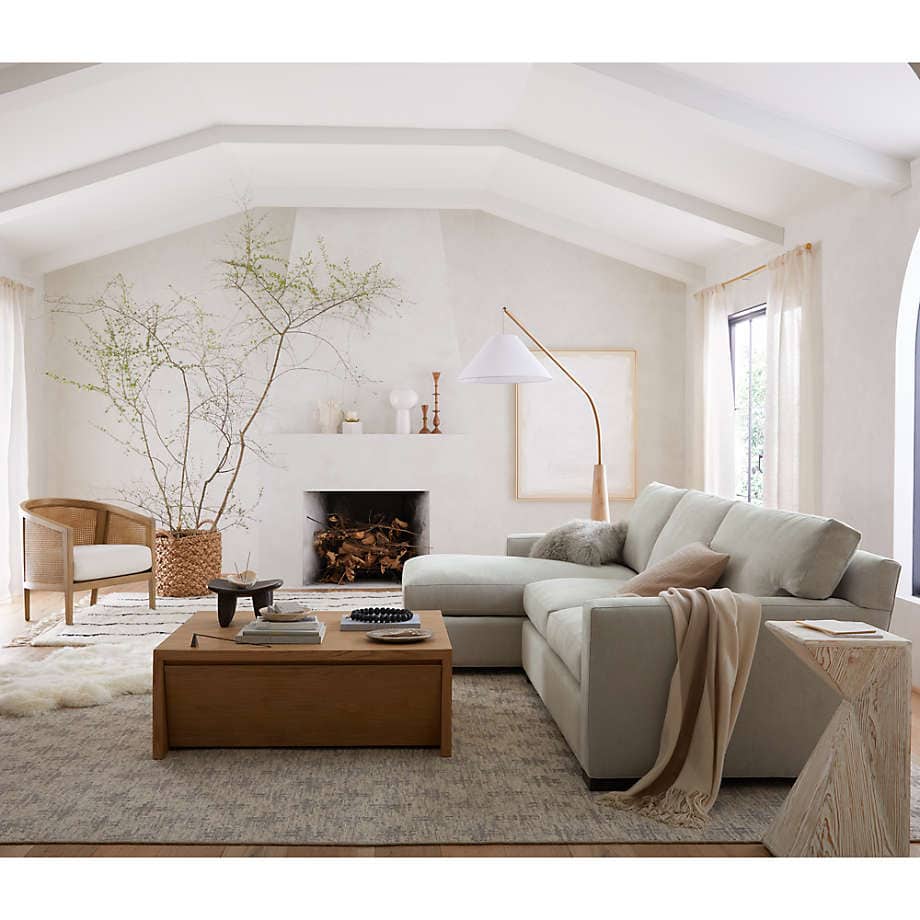 Looking for a minimalist side table? This small asymmetrical option from Crate&Barrel is all function and no-frills.
This space-saving side table is Douglas Fir with a whitewash finish. The tabletop dimensions are 12 x 12", so it's small enough to fit into tight spaces but stills gives you a place to set your morning cup of coffee.
Keep it Low to the Ground with Acrylic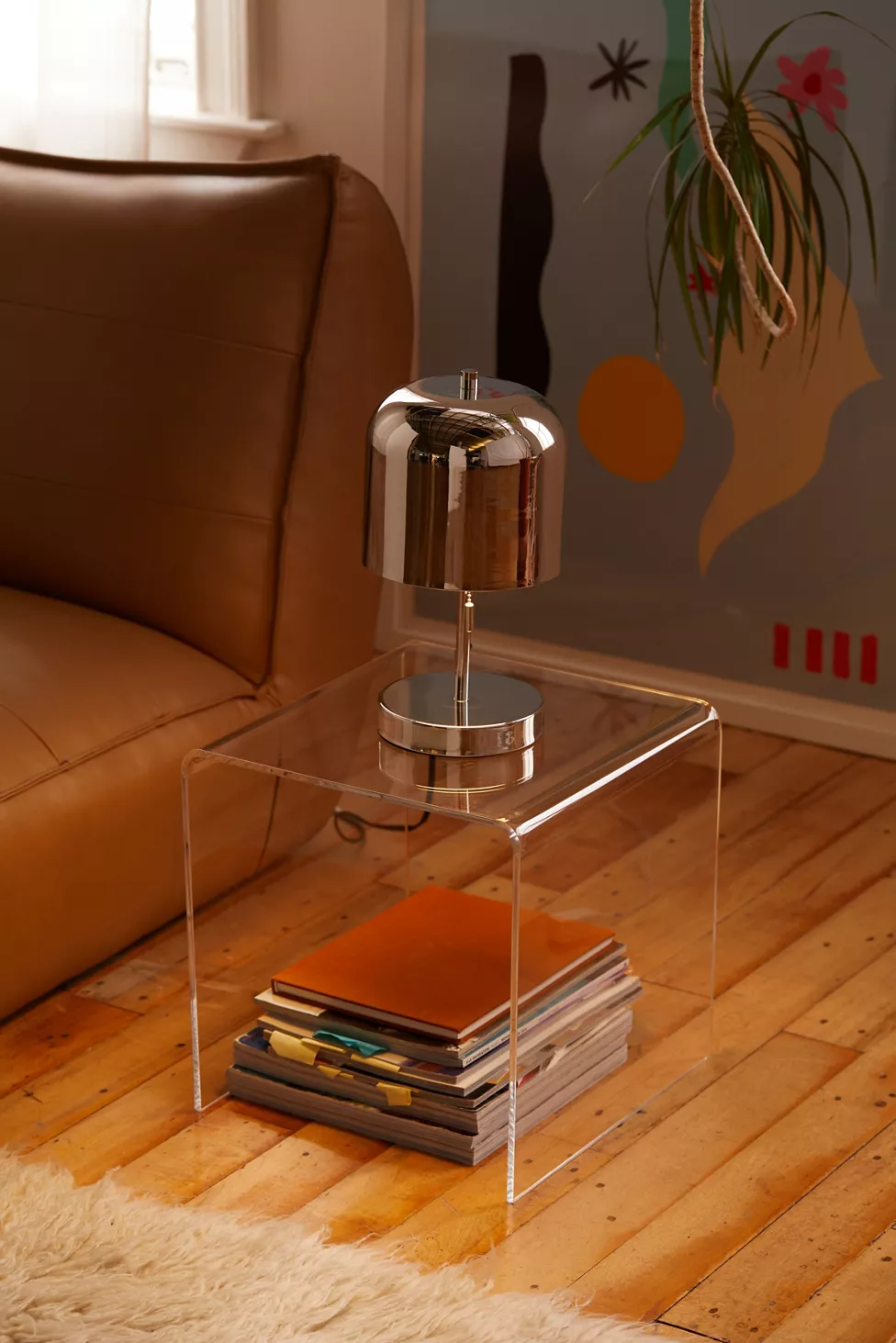 If you love boho style and have furniture that's super low to the ground, pair it with this.
This acrylic end table measures 14 x 14 x 14 inches. The sleek design gives you a space to store things underneath it and plenty of room for a lamp, book, or beverage on top. You can pair this with low to the ground couches and floor cushions.
Maximize Space with a Triangular Table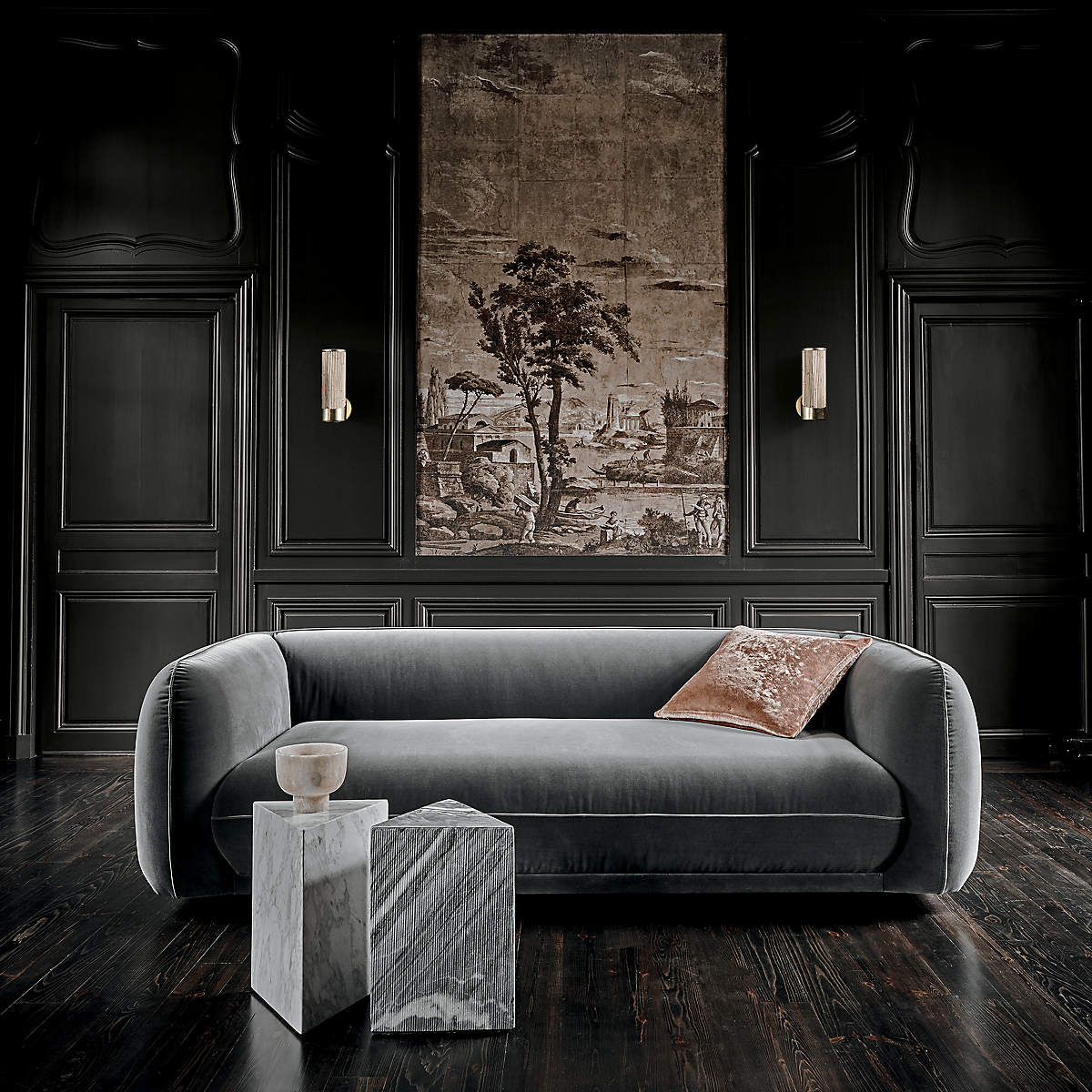 Do you love the look of marble? If yes, and you want it in a space-saving end table, this is a great fit.
While this looks like a solid piece of marble, it's actually engineered wood with a marble veneer. The triangular design allows you to place two of these tables together to make a larger, square surface if you'd like.
Add a Touch of Nature to Your Home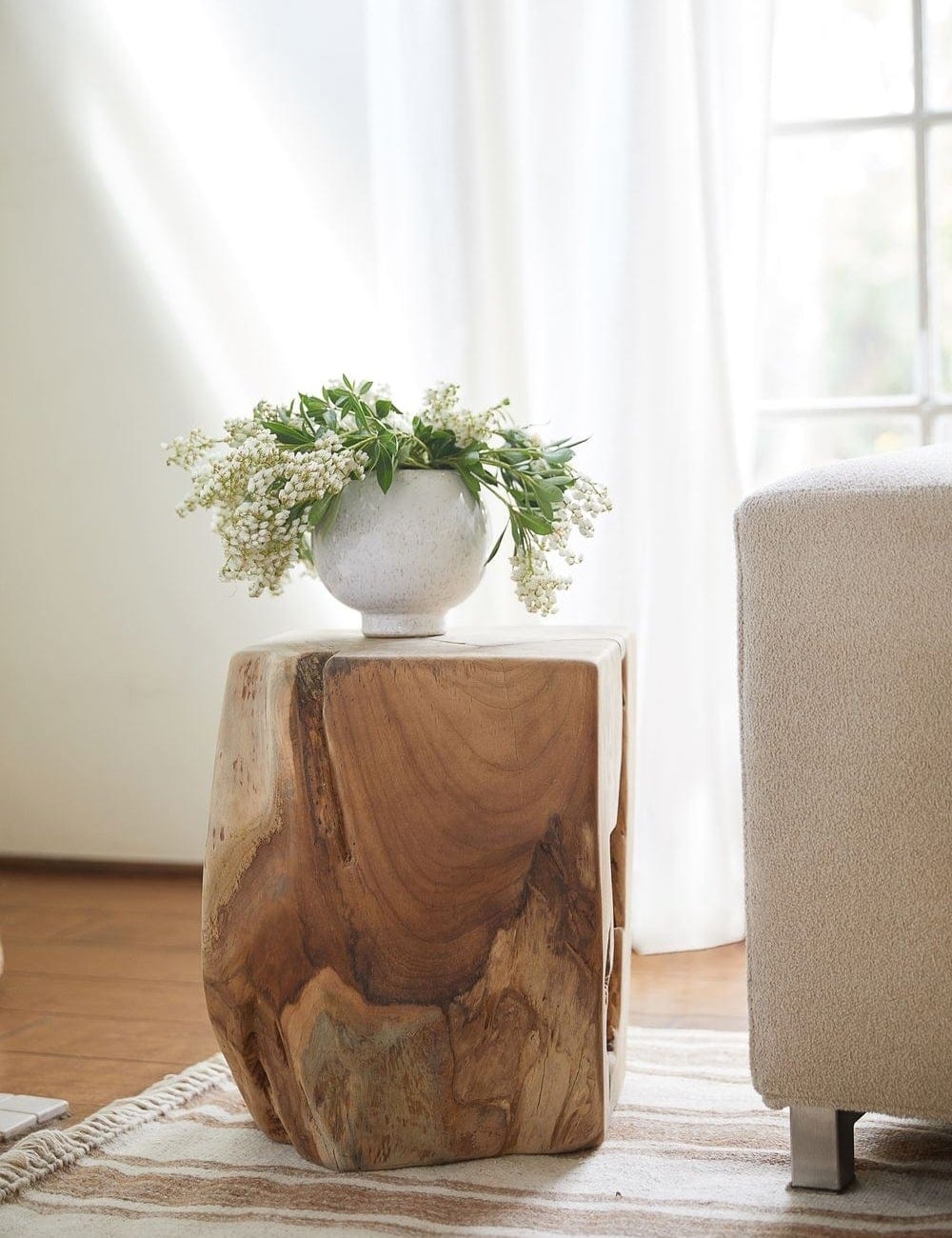 If you like the modern rustic look or need to bring an interesting texture to your room, this table is a must-have.
While each table is slightly different, the top measures about 12 inches by 12 inches. The piece is natural teak wood, so each one is unique.
Fill in a Narrow Space with This Table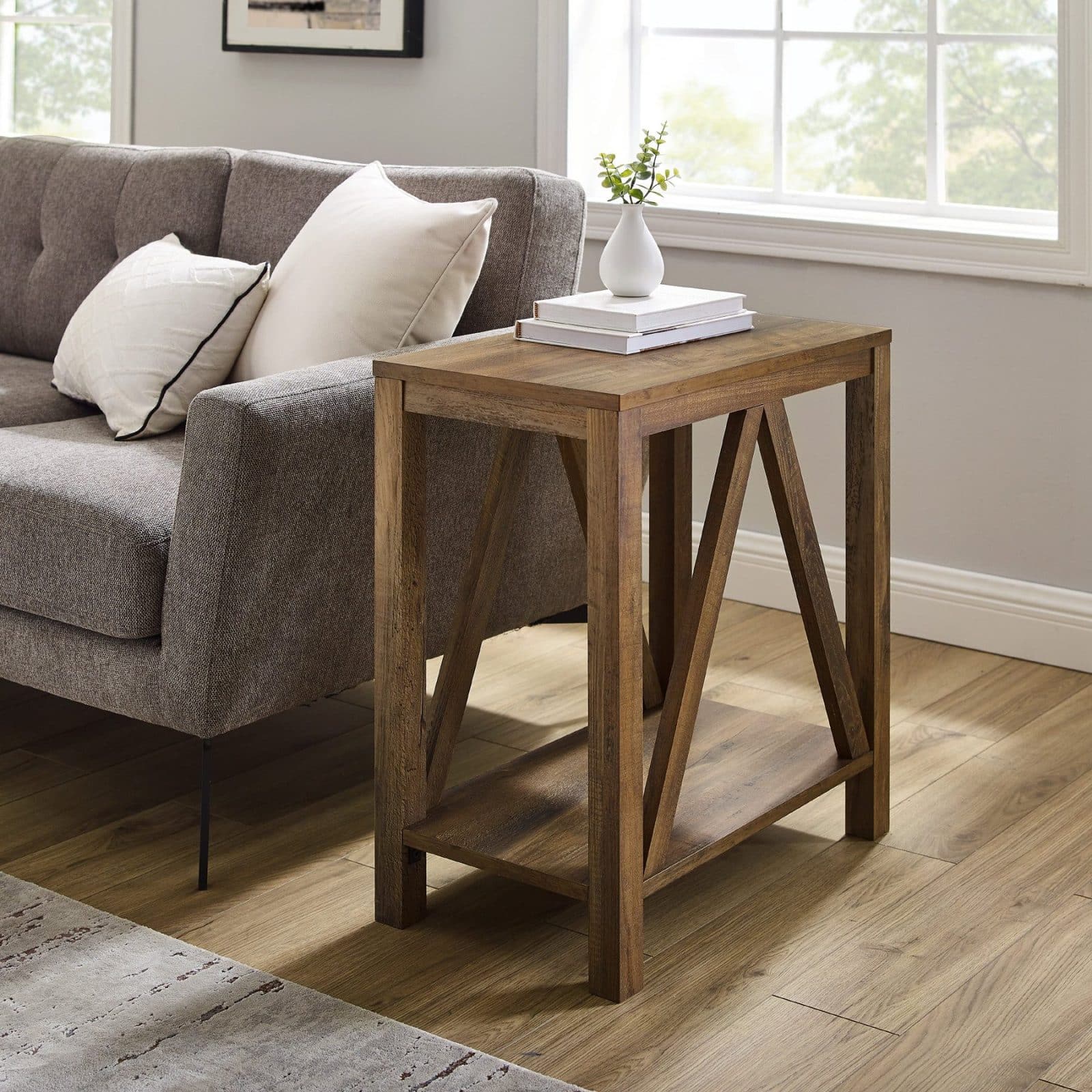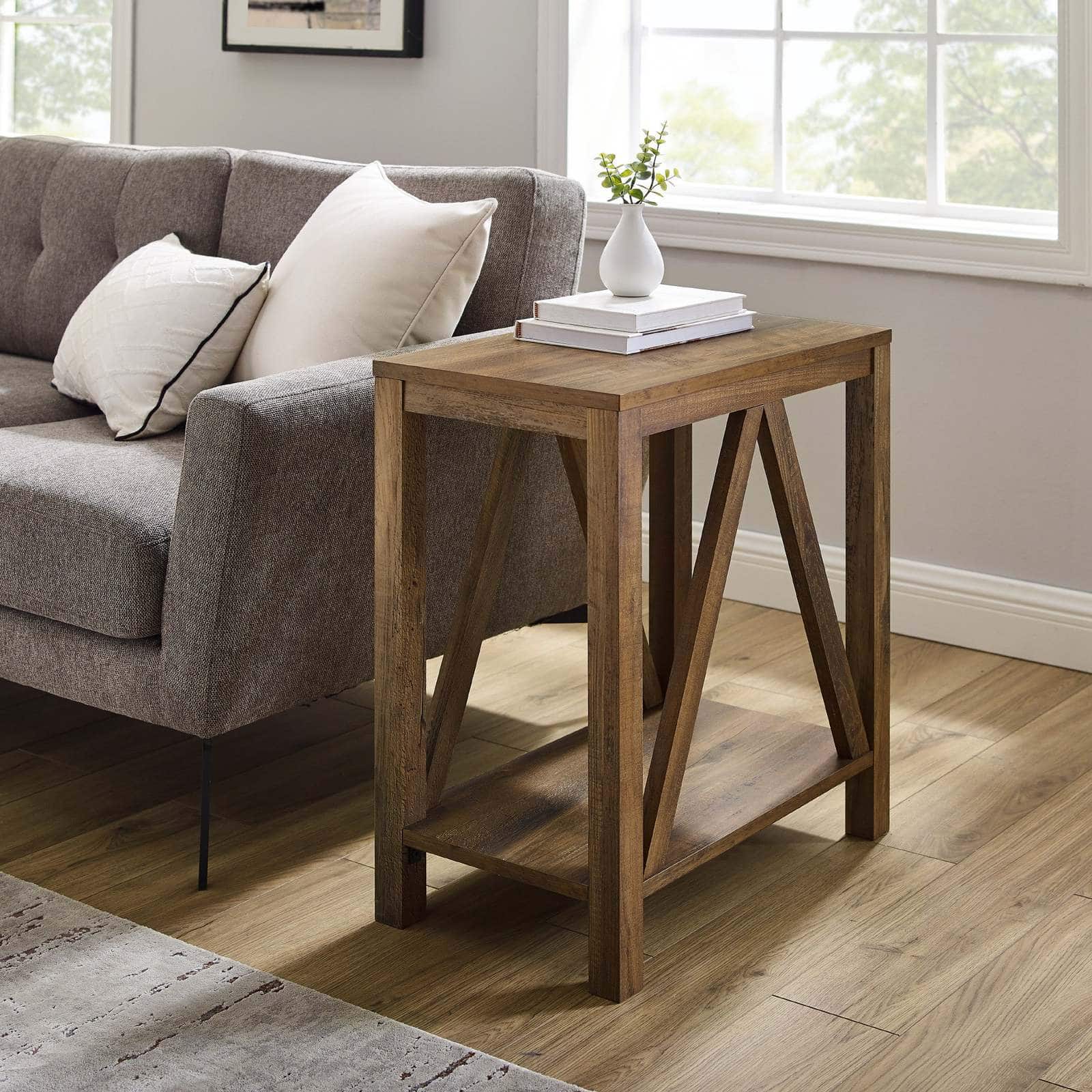 Do you have a long skinny space beside your couch or bed? You can fill it in with a table like this.
This table has a traditional design that can work with most decor styles. It's 13 inches wide, 22 inches deep, and 25 inches wide – perfect for fitting into narrow spaces. You can find it in three color options: white oak, white faux marble, and rustic oak.
Opt for a Table with Hidden Storage Space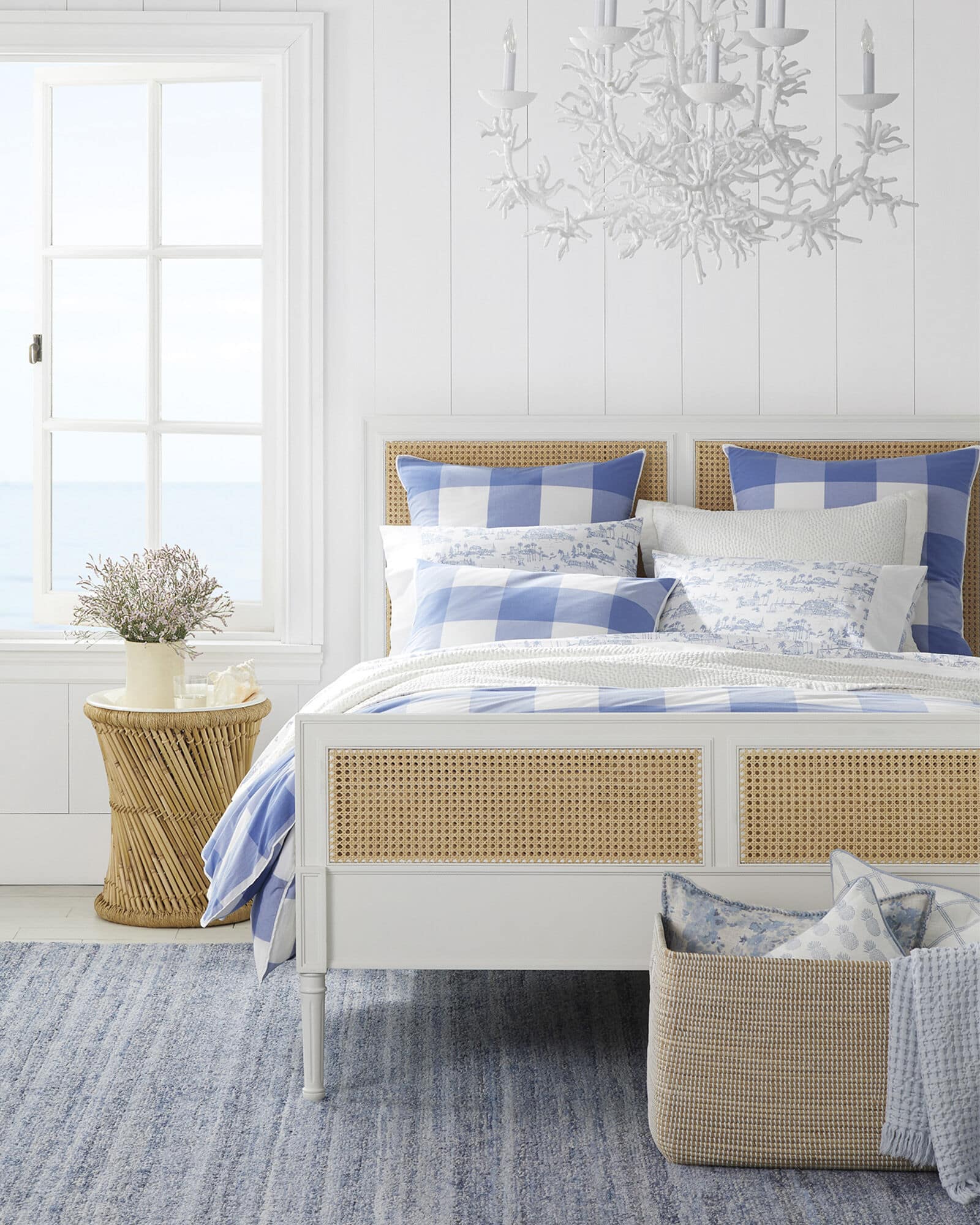 It can be hard to find a tiny side table with hidden storage. Luckily, if you have space for a table that's roughly 20 inches in diameter, this one could work.
This small space end table has a bamboo and jute base. The top is enameled iron that lifts off to reveal storage space.
Stand Out with a Brass Peacock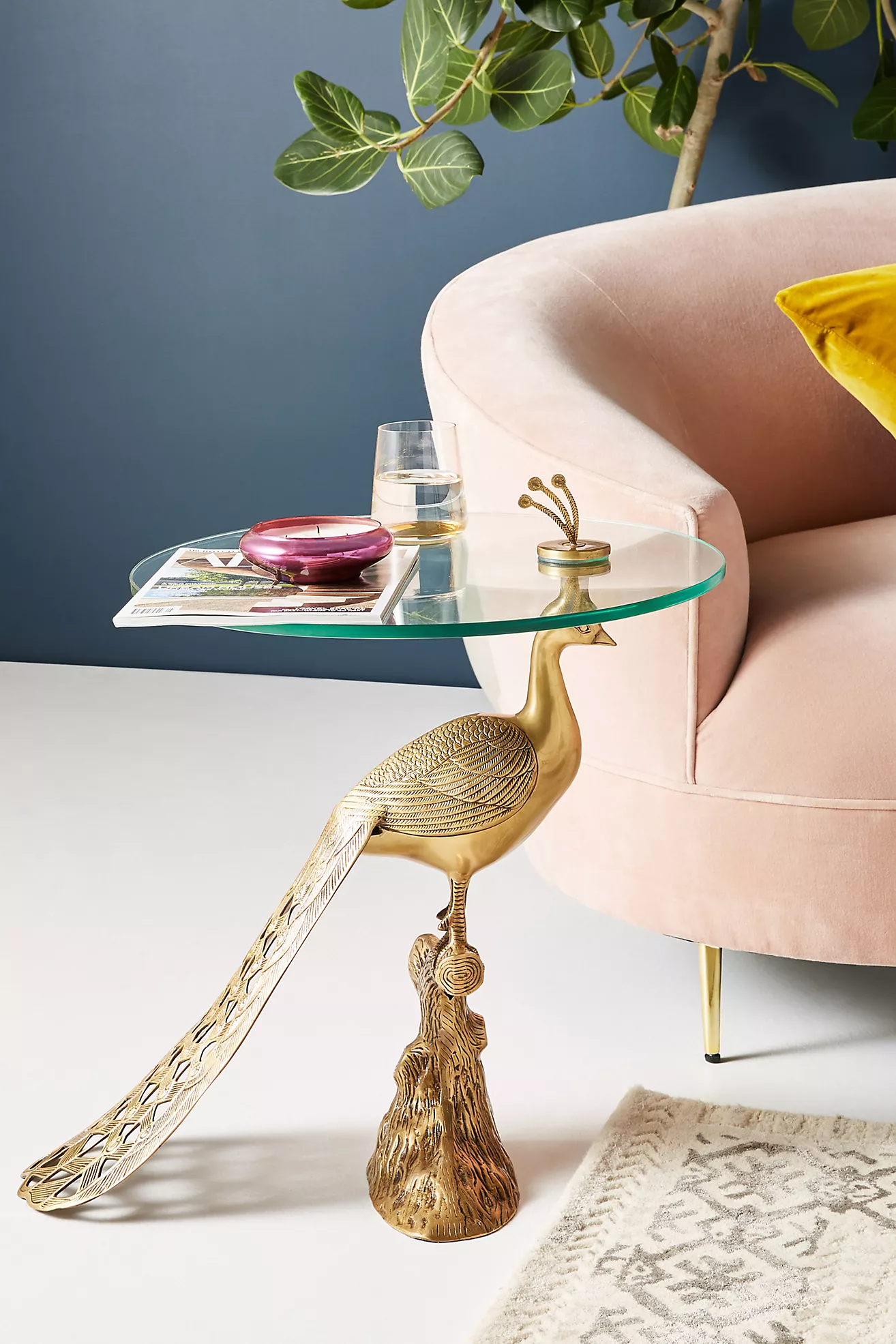 If you're looking for a small side table that can double as a conversation starter, look no more. This brass peacock end table will steal the show.
From Anthropologie, this table measures 20 inches in diameter. It features a beautiful brass peacock that will fit most glam or modern rooms.
Get a Modern Look with Black + Wood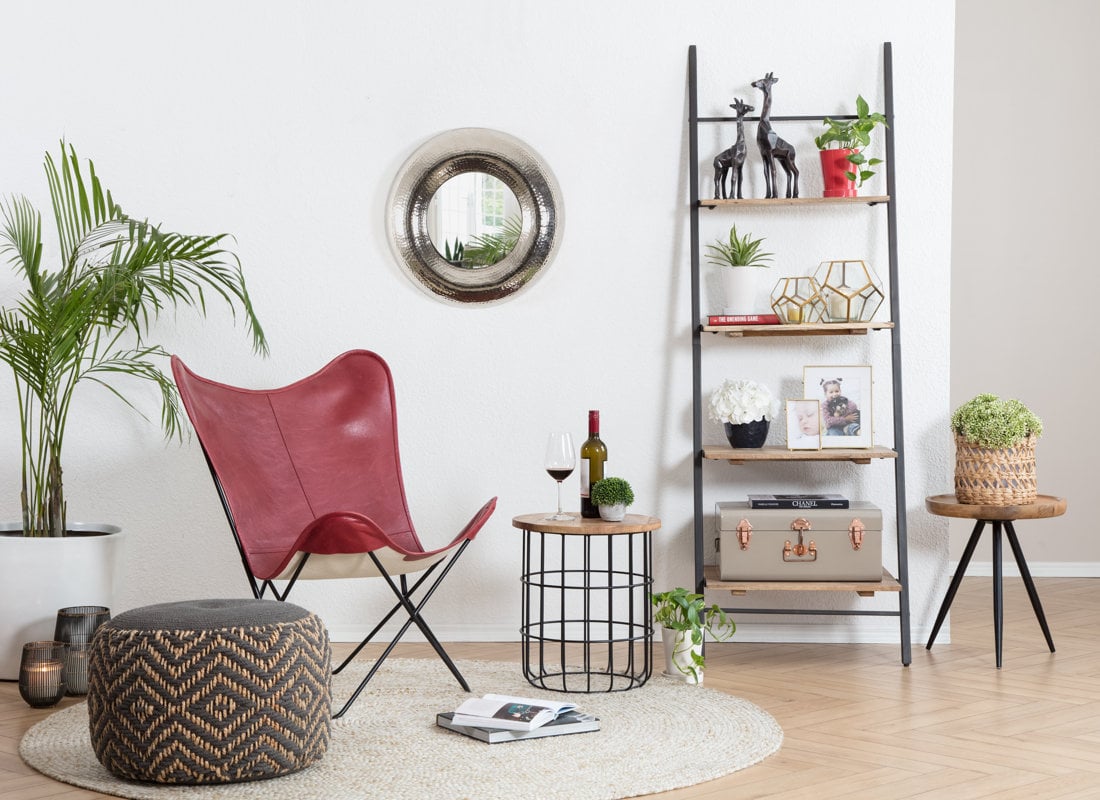 Sometimes the best side tables for small spaces are the simplest. That's definitely the case with this black and wood option.
This table sits pretty low to the ground at only 17.8 inches high. While it has a modern touch, it can seamlessly blend with most decor styles. You can even place some books or magazines underneath for extra storage.
Accent Your Furniture with a Versatile Table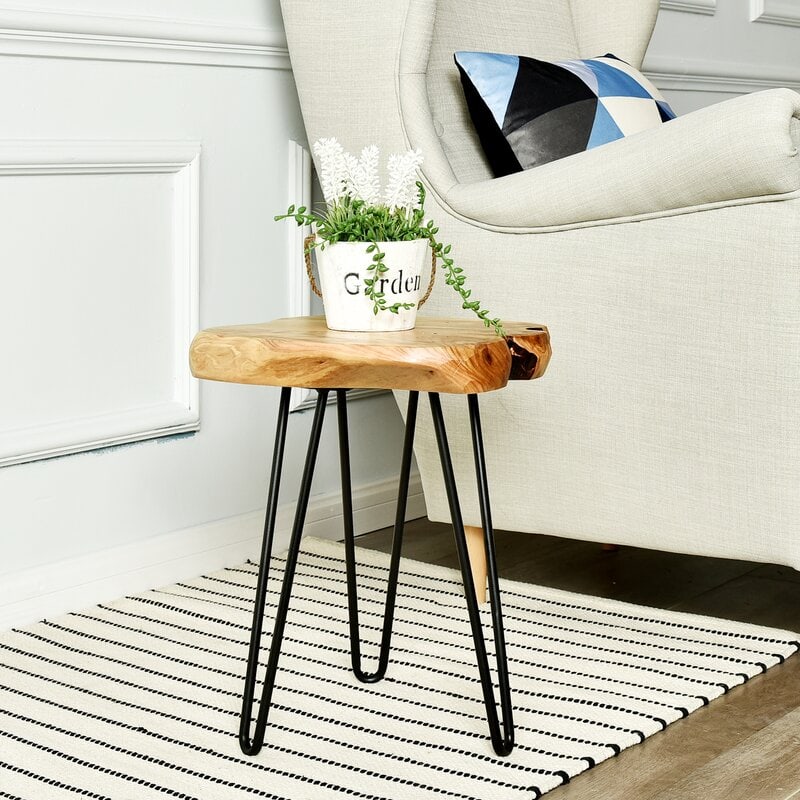 Here's another super versatile table for small spaces. From Wayfair, this table gives off a rustic flair with black legs and a live edge wood top.
The tabletop measures about 13" x 13.5", so it's pretty tiny. But, while small, the live edge top will bring a lot of character to your room. You can use this with modern farmhouse, rustic, and traditional design schemes.
Keep it Simple with a Pedestal Table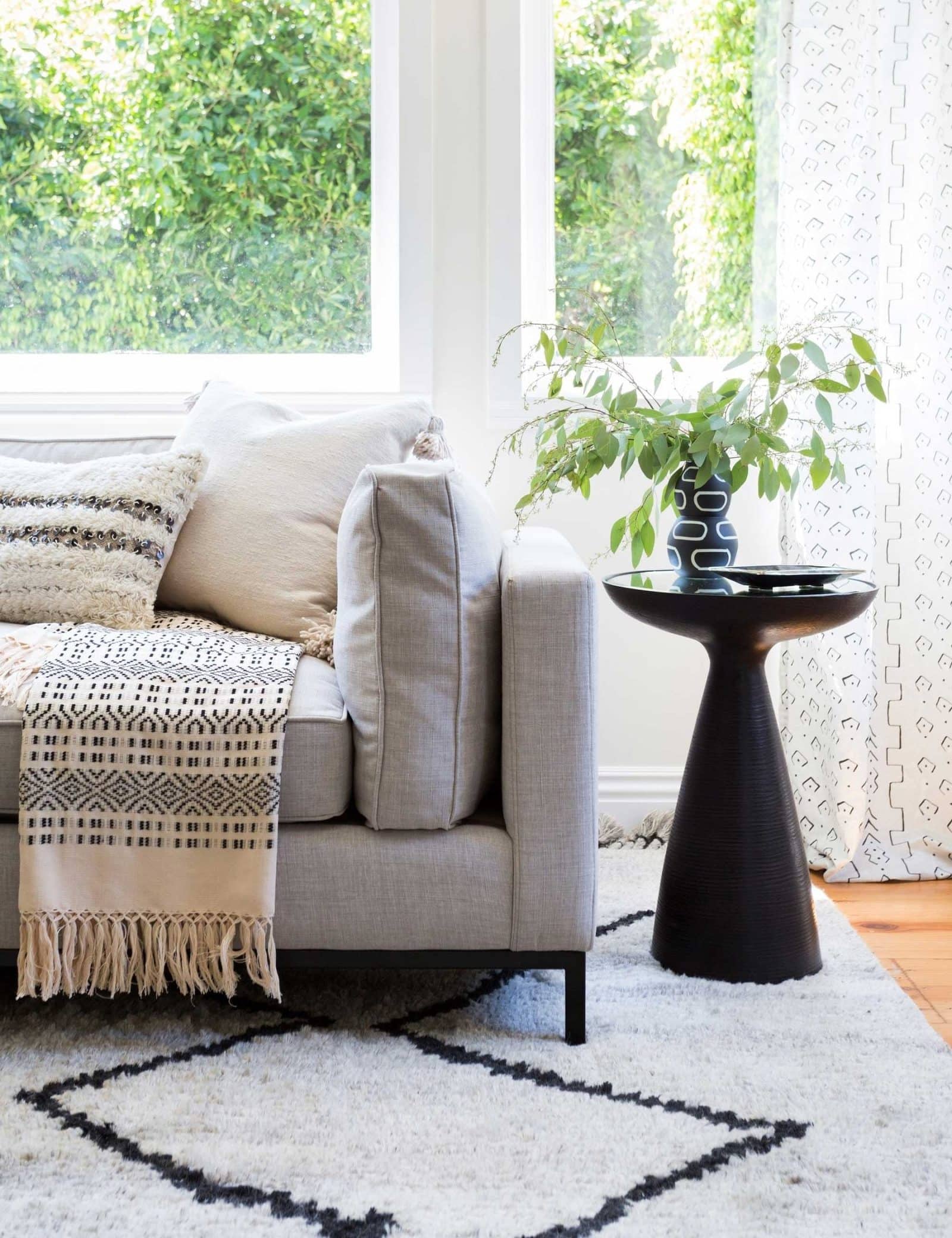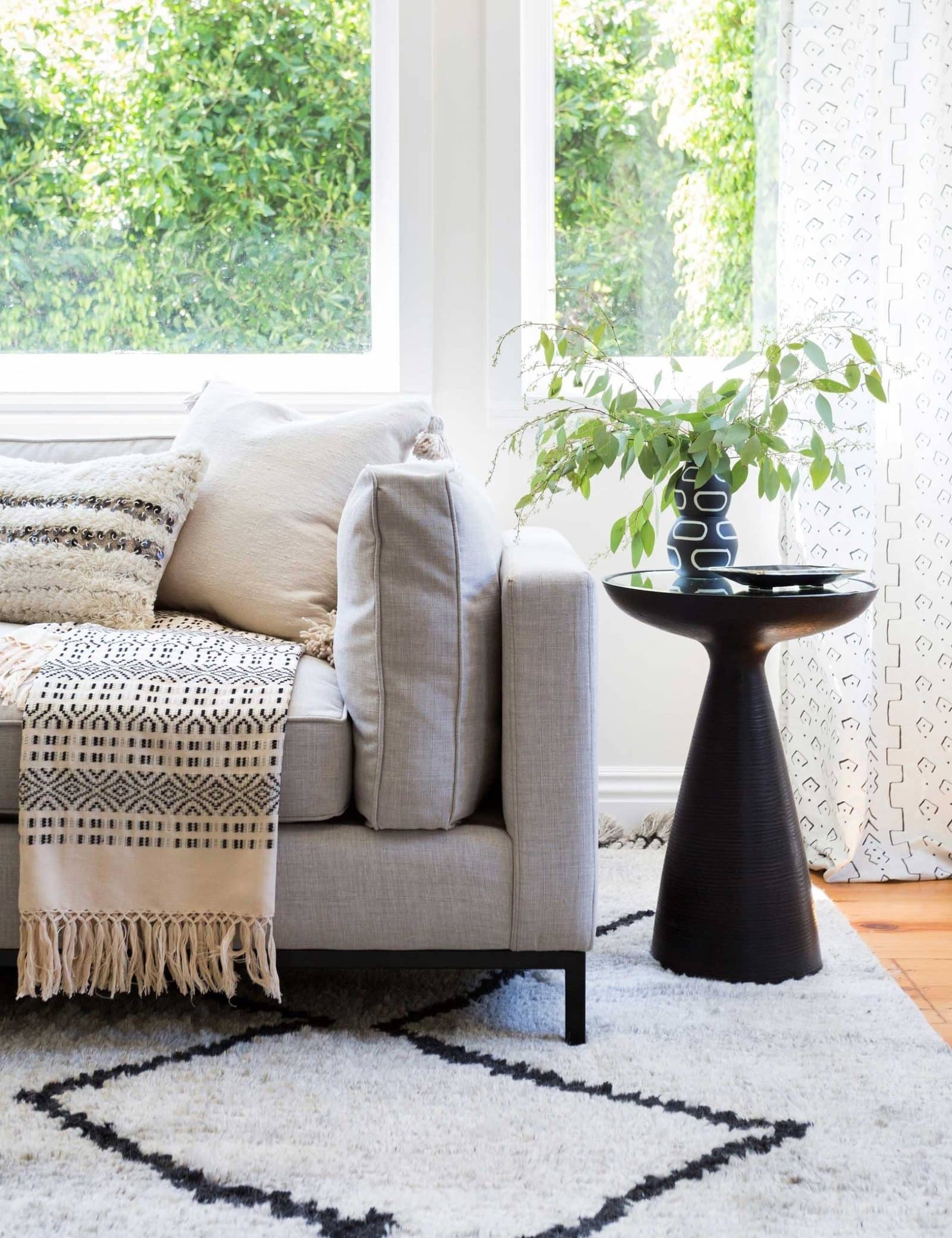 If you want a no-nonsense table fit for a modern or minimal space, you can't go wrong with a simple pedestal.
This pedestal from Lulu and Georgia features a brushed bronze base, a mirrored ash glass top and is 16 inches in diameter. The attention to detail gives it a very high-end look.
Use this Table for a Long, Skinny Space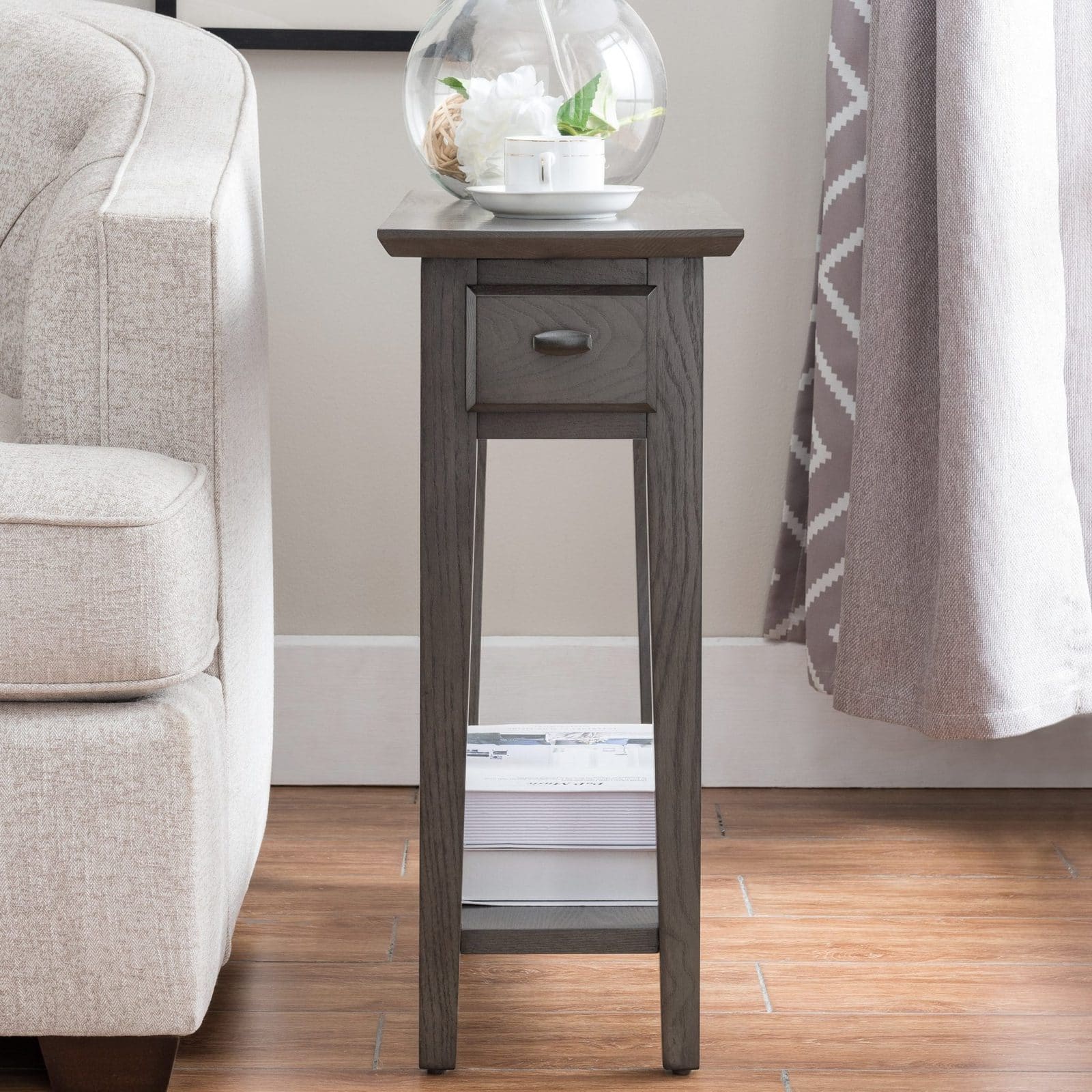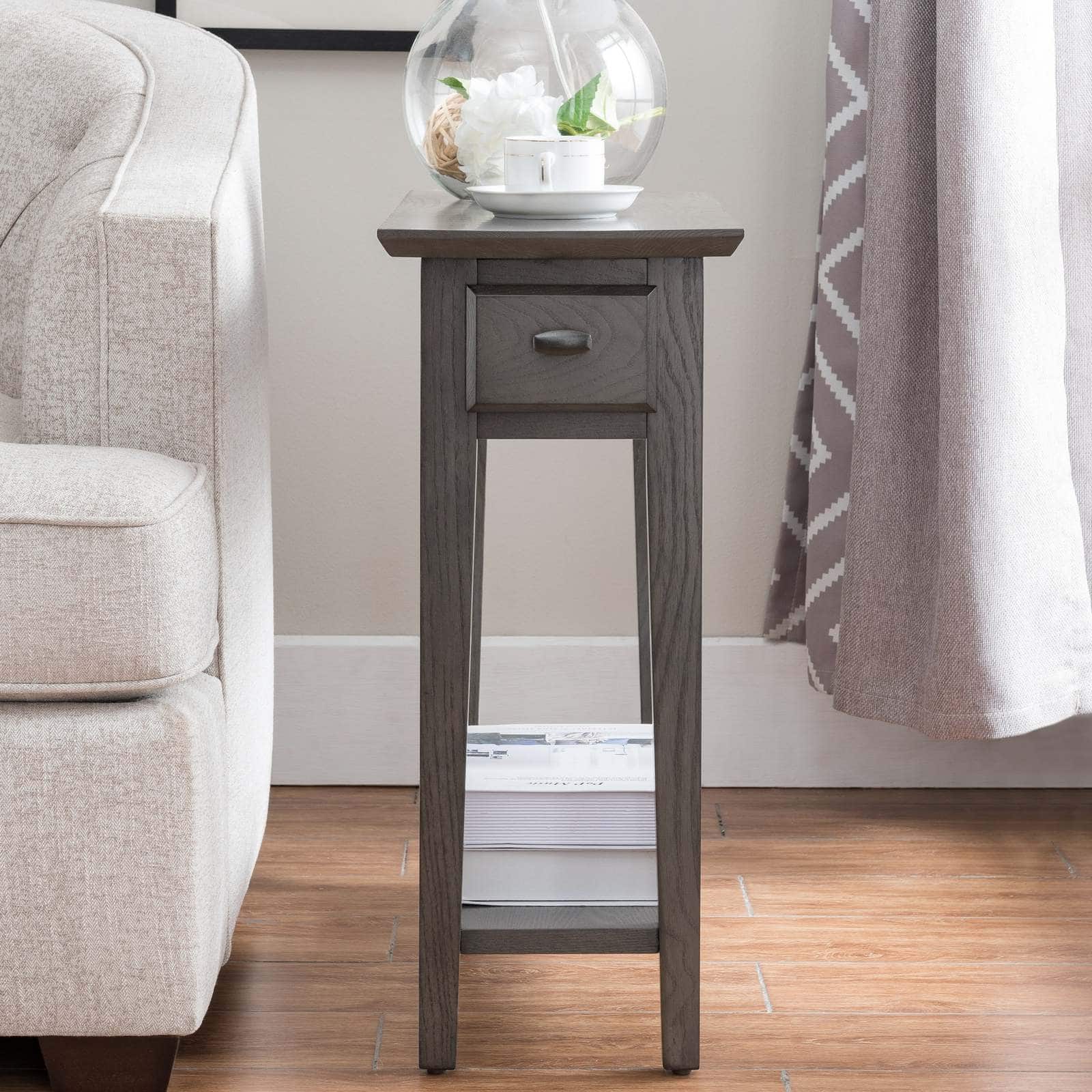 Need more table options for narrow spaces? This table is another good option for areas at least 13 inches wide.
From Overstock, you can find this table in three colors, including beige, brown, and gray. It has a shelf on the bottom to store books and a drawer big enough to hold a remote.
Go Truly Tiny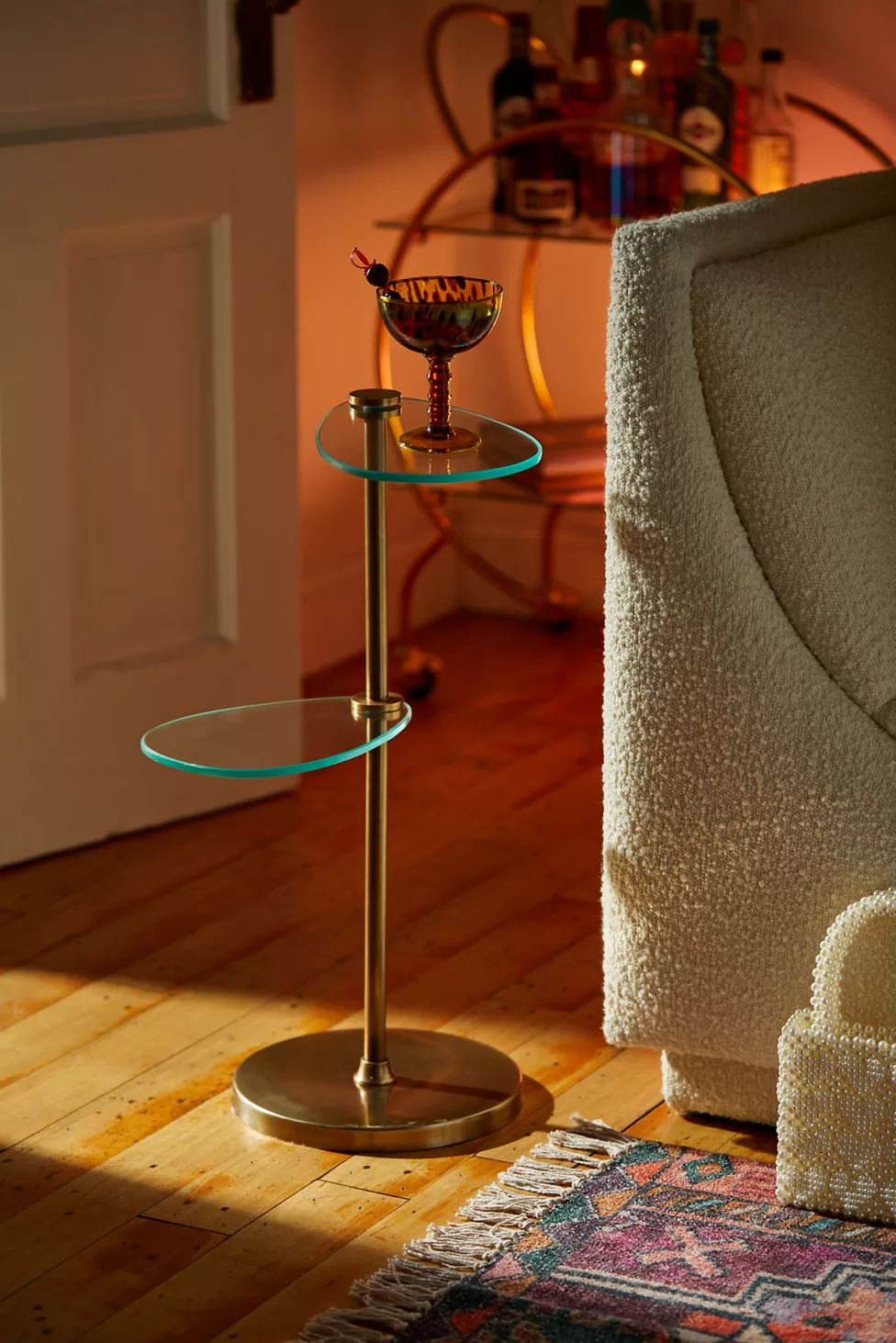 Try a funky pedestal table like this for a super small modern space. While this table won't hold much, it does have room for a drink or two.
This works best in modern and minimal designs. The table's base is an antique brass finish, and the shelves are glass.
Bring in a Martini Table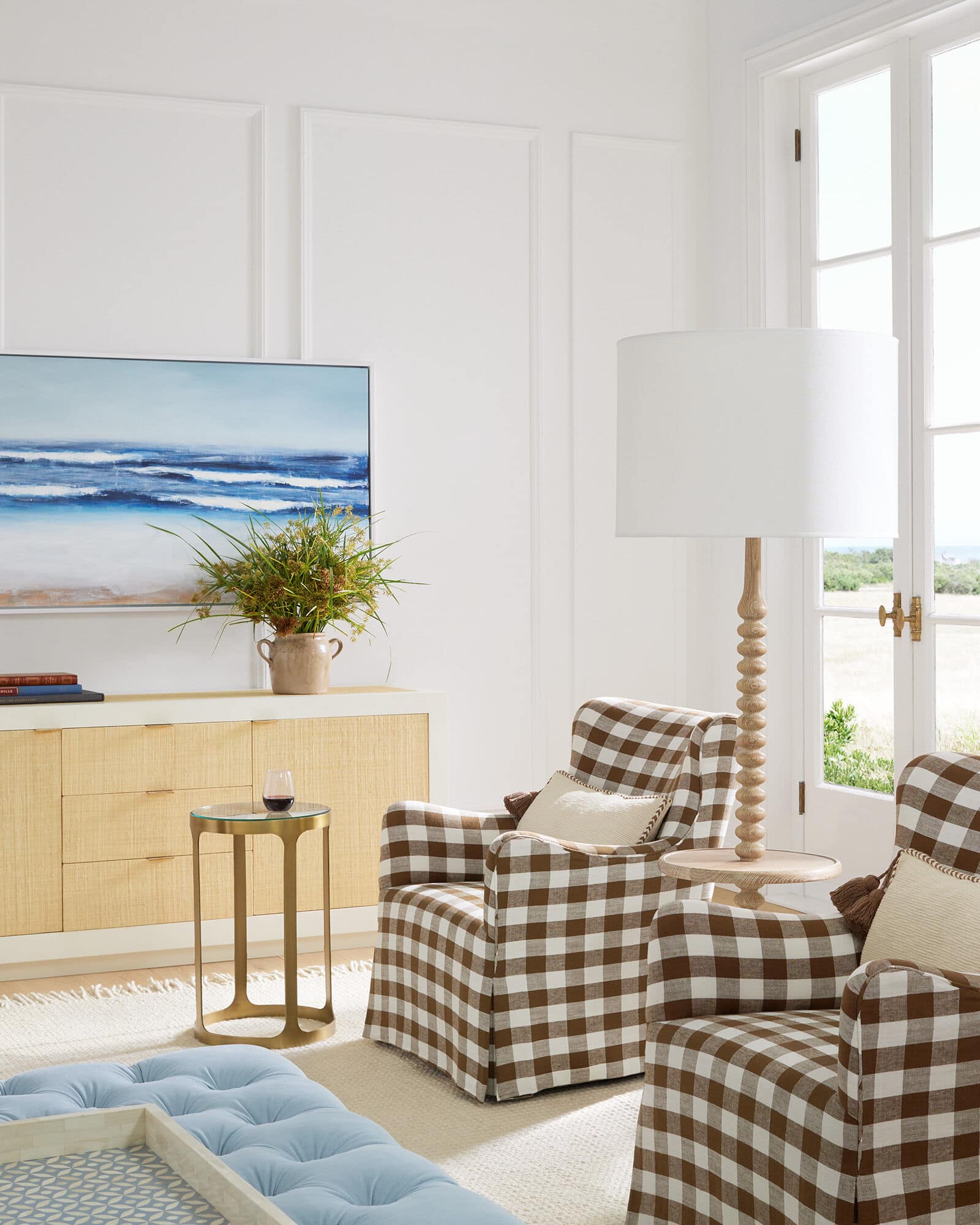 Martini tables are made for one thing: to hold a martini (or another cocktail!) If you like its simple look and small stature, use one as your side table.
This version from Serena & Lily features a brass frame and glass top. While it will best fit in with glam and modern styles, it's pretty versatile.
Pull Off Retro Vibes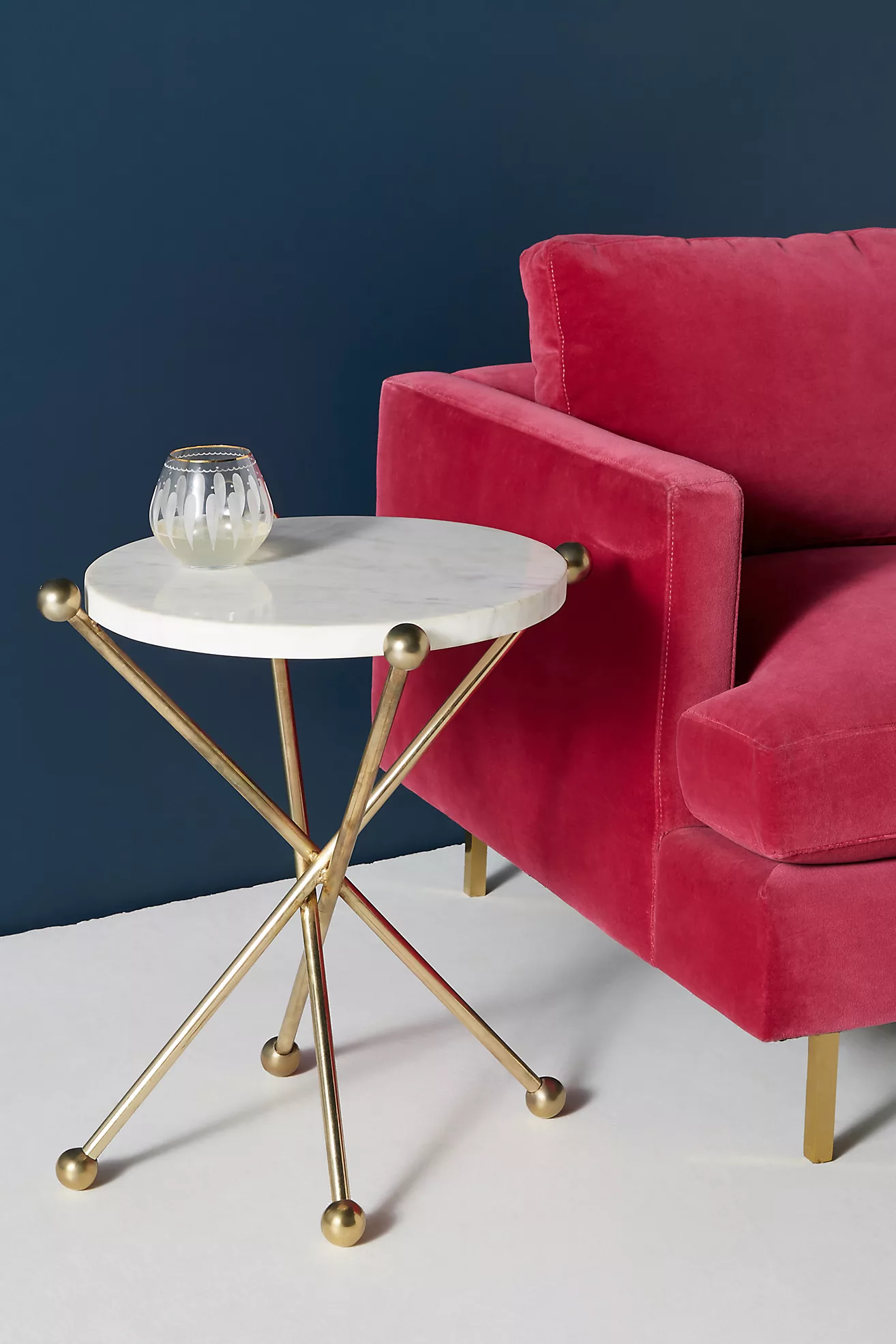 Do you like retro looks? If you do, this is a high-quality table that gives off the perfect whimsical retro vibes.
From Anthropologie, this piece has a polished brass base and a top that's a mixture of marble, rose quartz, and amethyst. It's 19 inches in diameter, so it has just enough space to hold a drink and a book.
Create Extra Storage with this Classic White Table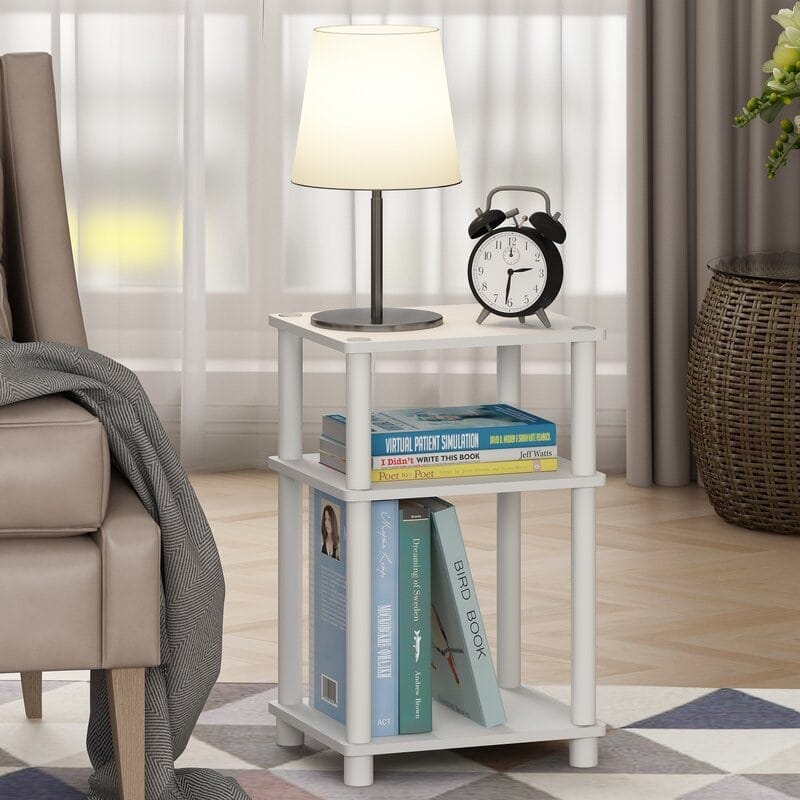 When you need extra storage but you're working with a small space, every inch counts. And fortunately, you can add storage with this table.
The base measures 13.5 inches by 11.5 inches. And even though this table is reasonably small, it has two shelves where you can store extra books or supplies. You can find this piece in five different colors.
Use a Tall Shelf Table for Extra Workspace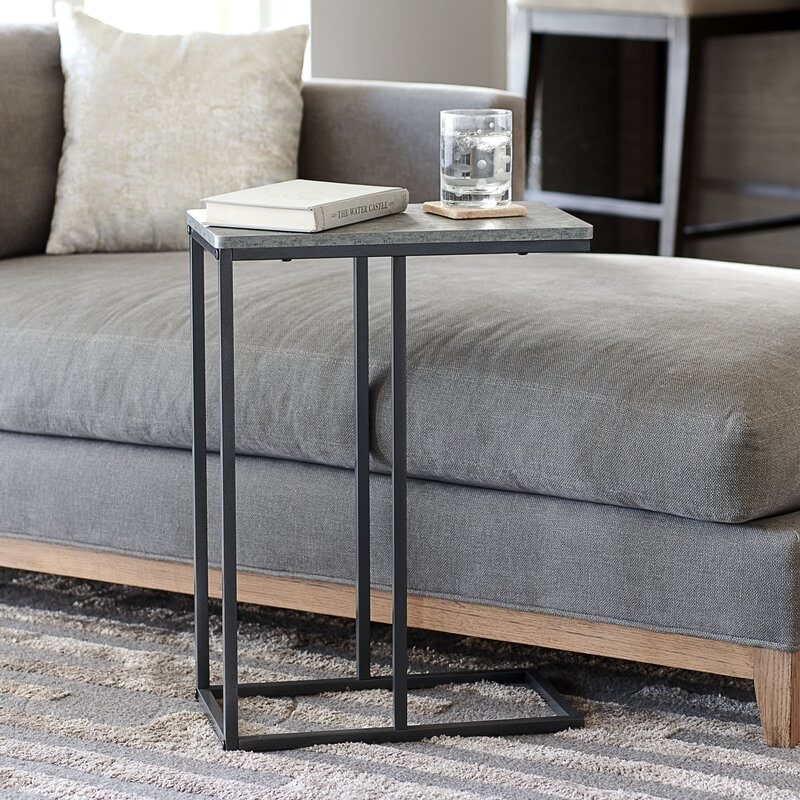 Want something you can pull close to you and use as a workspace? Try a tall shelf table.
While these tables are usually pretty narrow, they're tall enough to use as a place to hold your laptop while you sit on the couch. Then, when you don't need to use it, you can move it to the side to act as an end table.
Try a Set of Nesting Side Tables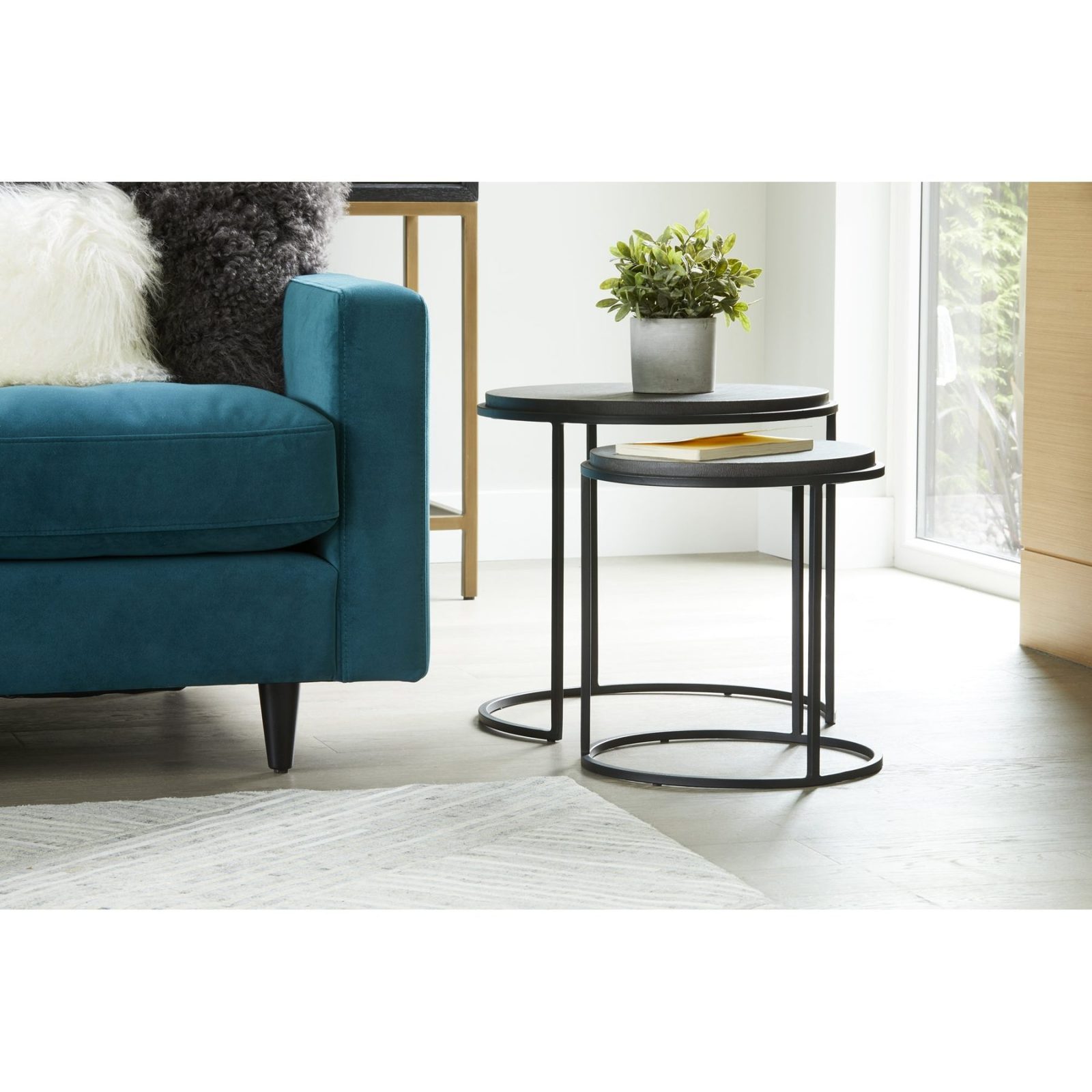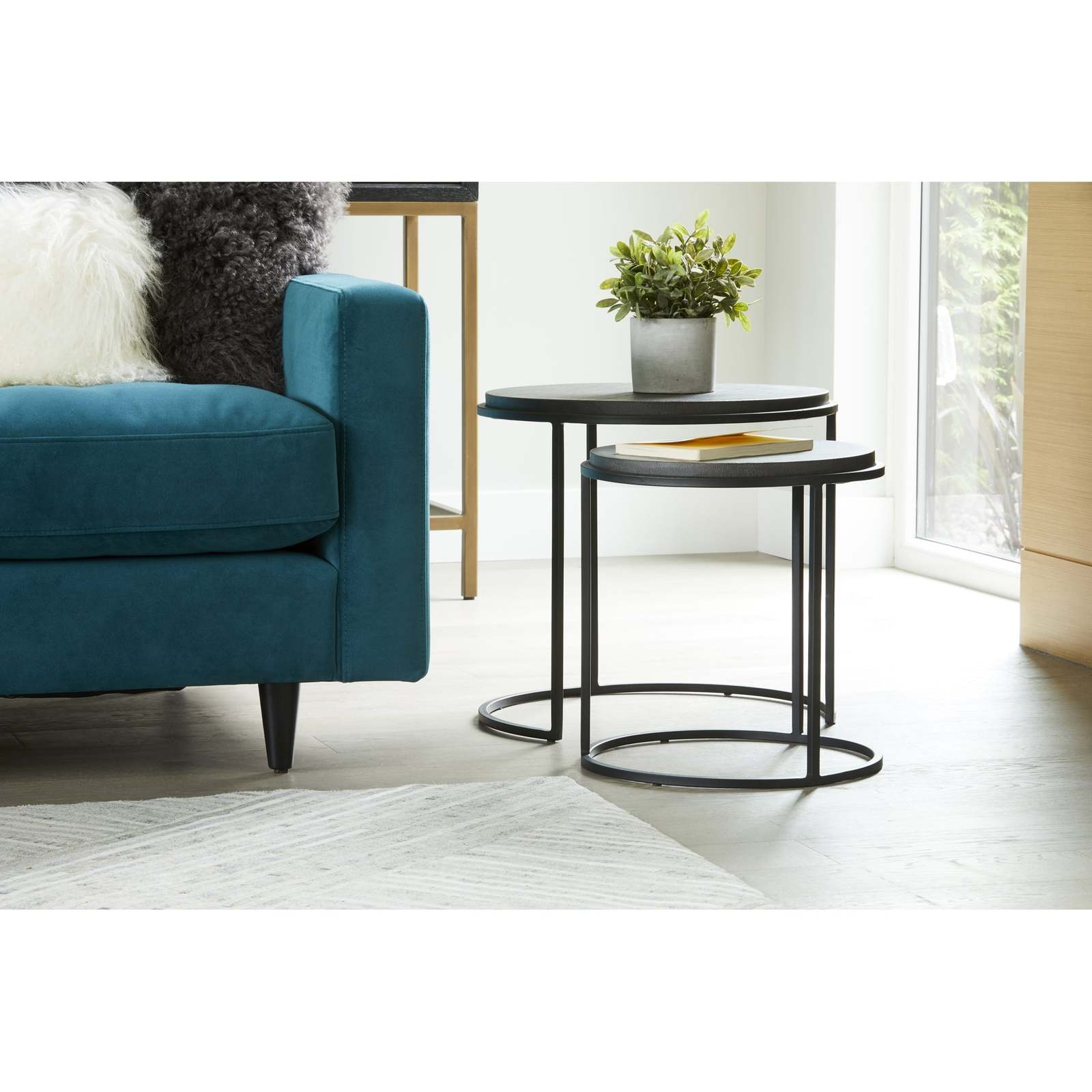 If there are times you wish you had an extra table to pull out for company, try a set of nesting side tables.
With nesting sets, you get one large and one smaller table that hides underneath. You can pull out the smaller table anytime you need to create extra space. For a high-end look, try a set like this that features a lava-stone top.
Mimic Nature with a Mushroom Stool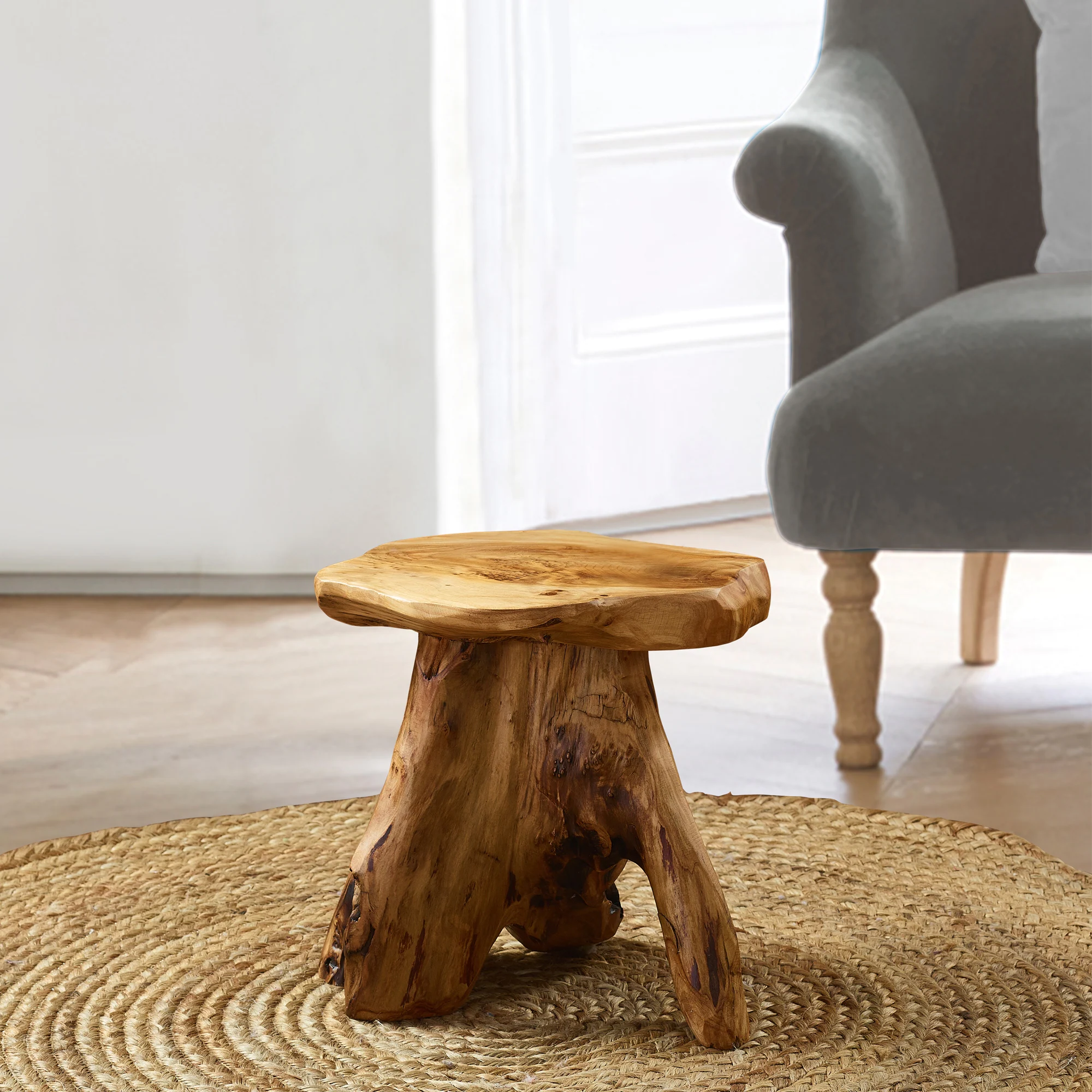 If you like nature-inspired designs, this mushroom stool can work as your end table.
This cedar stool has a natural finish and sits about 15.5 inches high. You can use this as an end table next to your favorite recliner. Or, this can double as a stool when you need extra seating or work as a plant stand.
Complement Your Space with a Small Ceramic Drum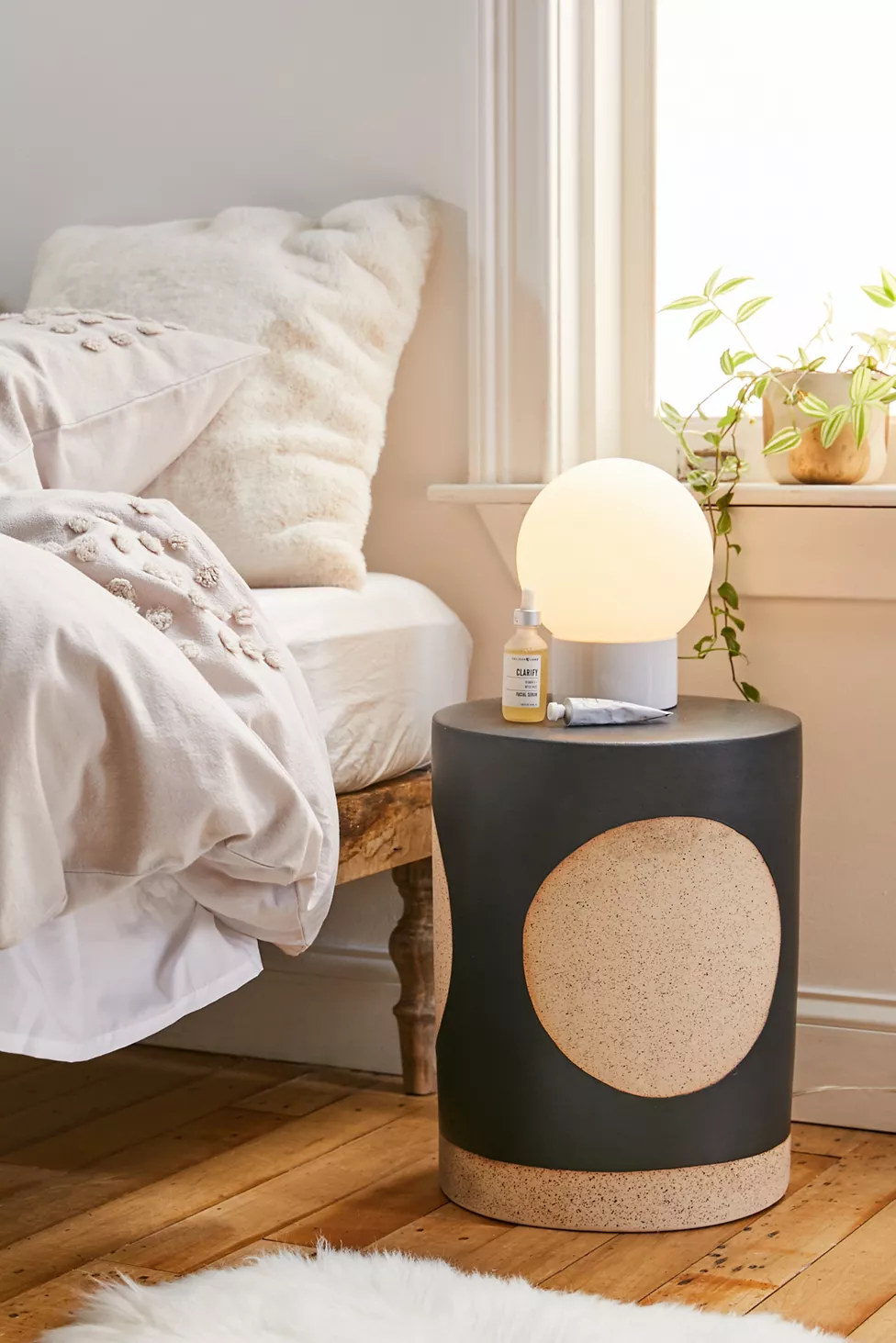 Round drum side tables are not only simplistic but unique. This one from Urban Outfitters has a two-toned painted design that works in neutral color schemes.
The top is 13-inches in diameter, so it's pretty tiny. You could use it as a side table in the living room or bedroom. However, since this table is ceramic, it's probably not the best choice if you have young kids in the house.
Pull in a Coastal Table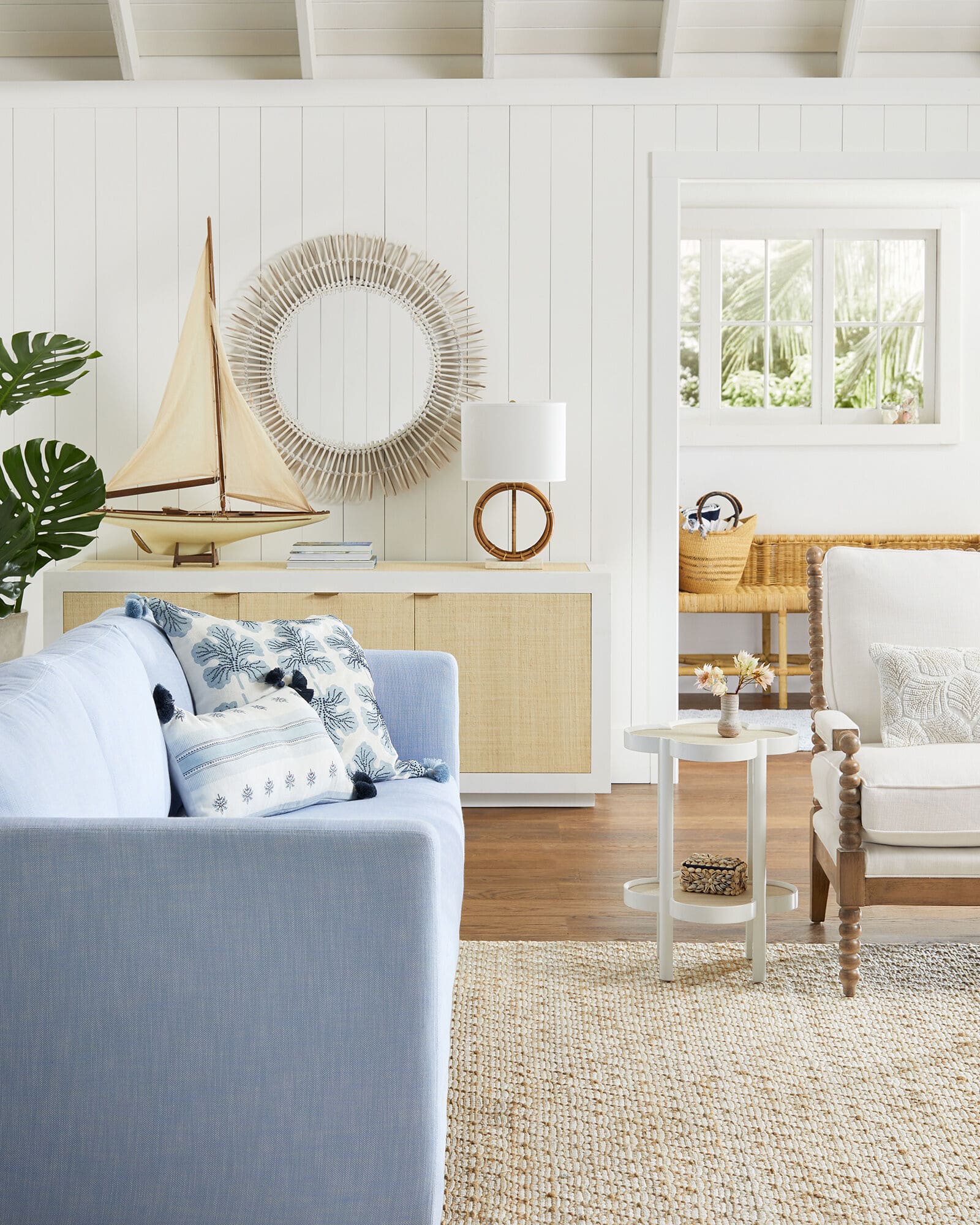 This white and woven raffia table from Serena & Lily is the perfect solution for small spaces with a beachy vibe.
The top and shelf have a simple flower pattern of woven material, while the poplar base is white. The white and woven look creates texture and gives off the perfect modern coastal vibes.
Go For a Modern, Minimal Look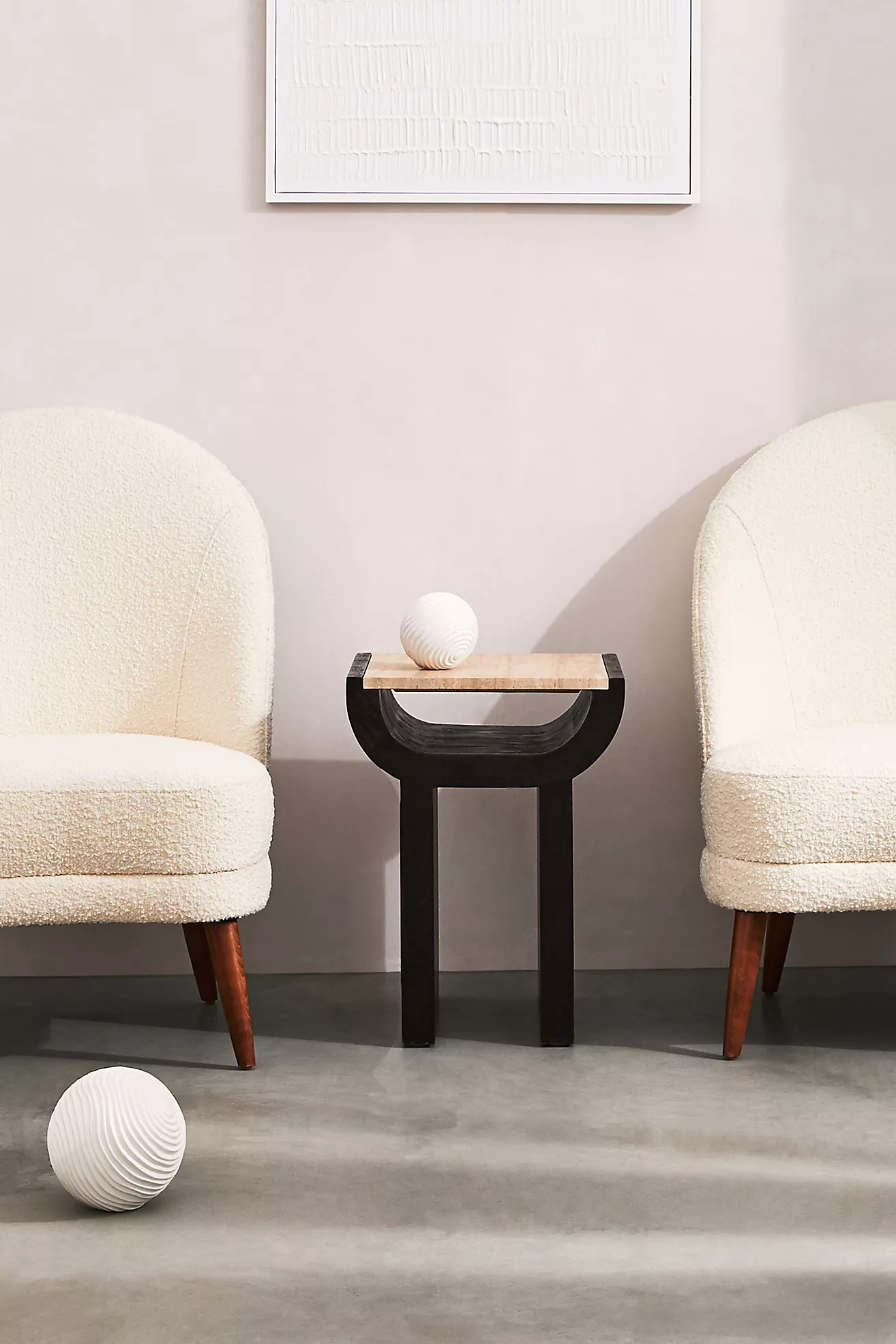 Do you like a modern, minimal feel in your home? If so, this table is a stunner.
From Anthropologie, this piece has a blackened acai wood frame and a sand-colored travertine top. The mix of materials adds visual interest and brings texture to any room. The tabletop is 17 inches by 17 inches.
Final Thoughts
There's no shortage of small side tables for small spaces. You can find teeny tiny options that fit into the tightest of spaces.
If you want pieces that perform double duty, look for nesting tables or stools. If you prefer something that will last for years to come, try a natural material like real wood or stone. Regardless, there are plenty of options at all price points.