Decorated Life is reader-supported. When you buy through links on our site, we may earn an affiliate commission. Learn More
How to Decorate Around a Beige Couch – 17 Ideas
If you worry that beige equals boring, don't. Beige is coming back in a big way, especially when it comes to couches.
And fortunately, decorating around a beige couch is pretty easy since this color sofa can go with any style or color palette.
If you're looking for some specific ideas, here's how to decorate around a beige couch.
Bring in Pattern with Your Accent Chairs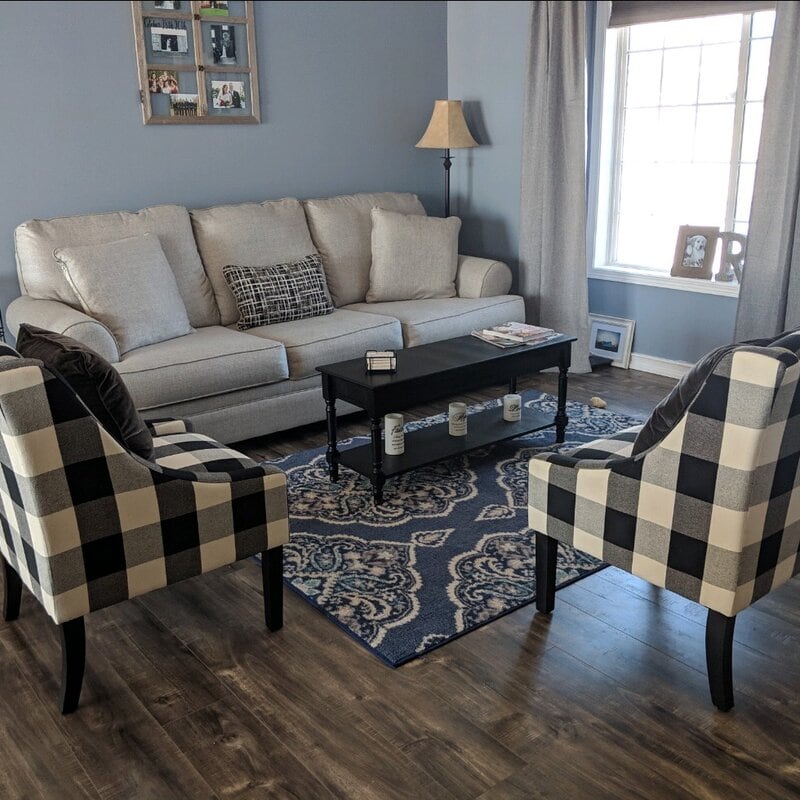 The great thing about a beige couch is that it allows you to go bold with your accent chairs. You can pick an interesting color or pattern for your chair, and it will easily match as long as the rest of the room is toned down.
For a farmhouse look, choose a buffalo plaid accent chair like the picture above. For a traditional or minimal look, choose a solid-colored chair in a fun color.
Hang Two Large Prints Over the Couch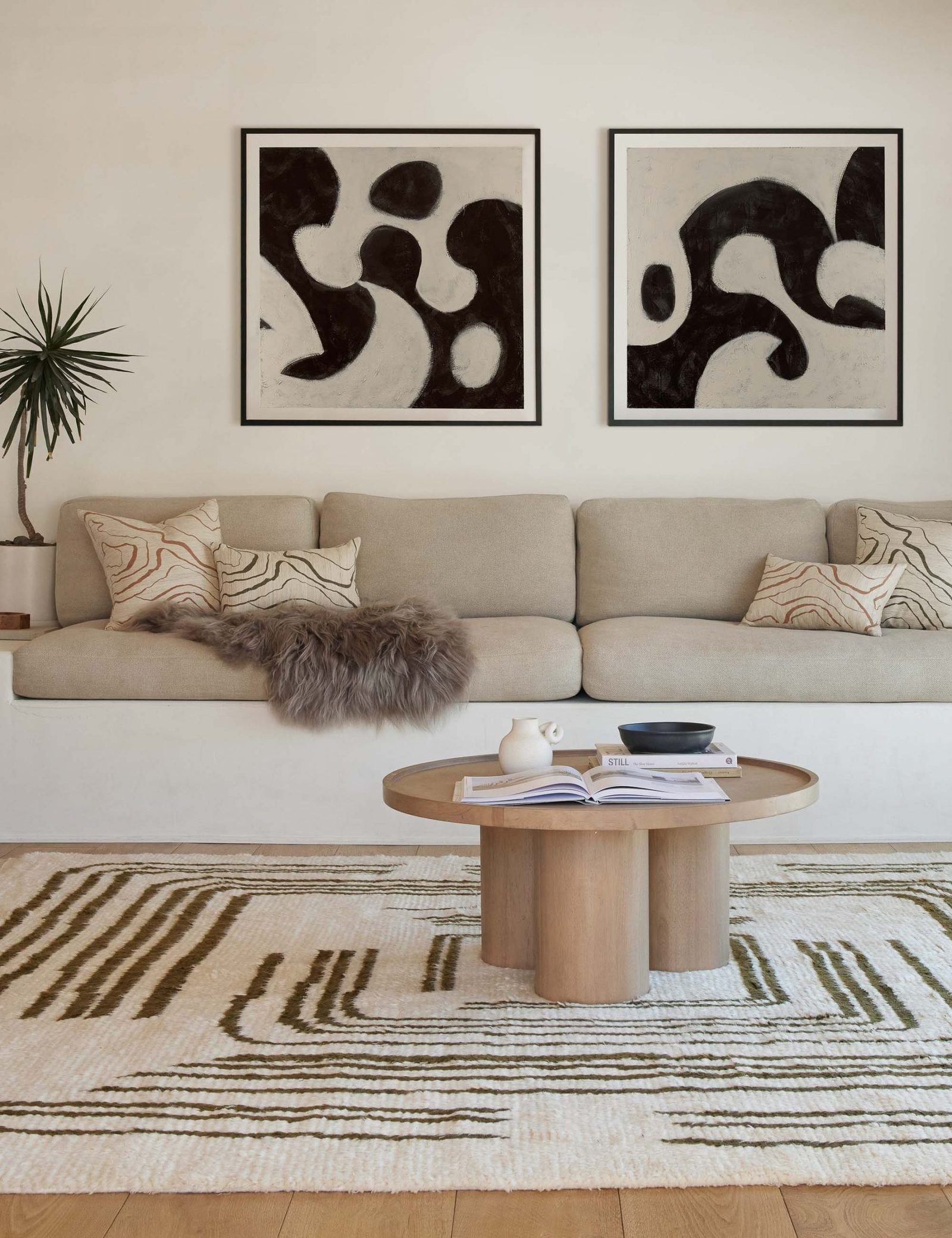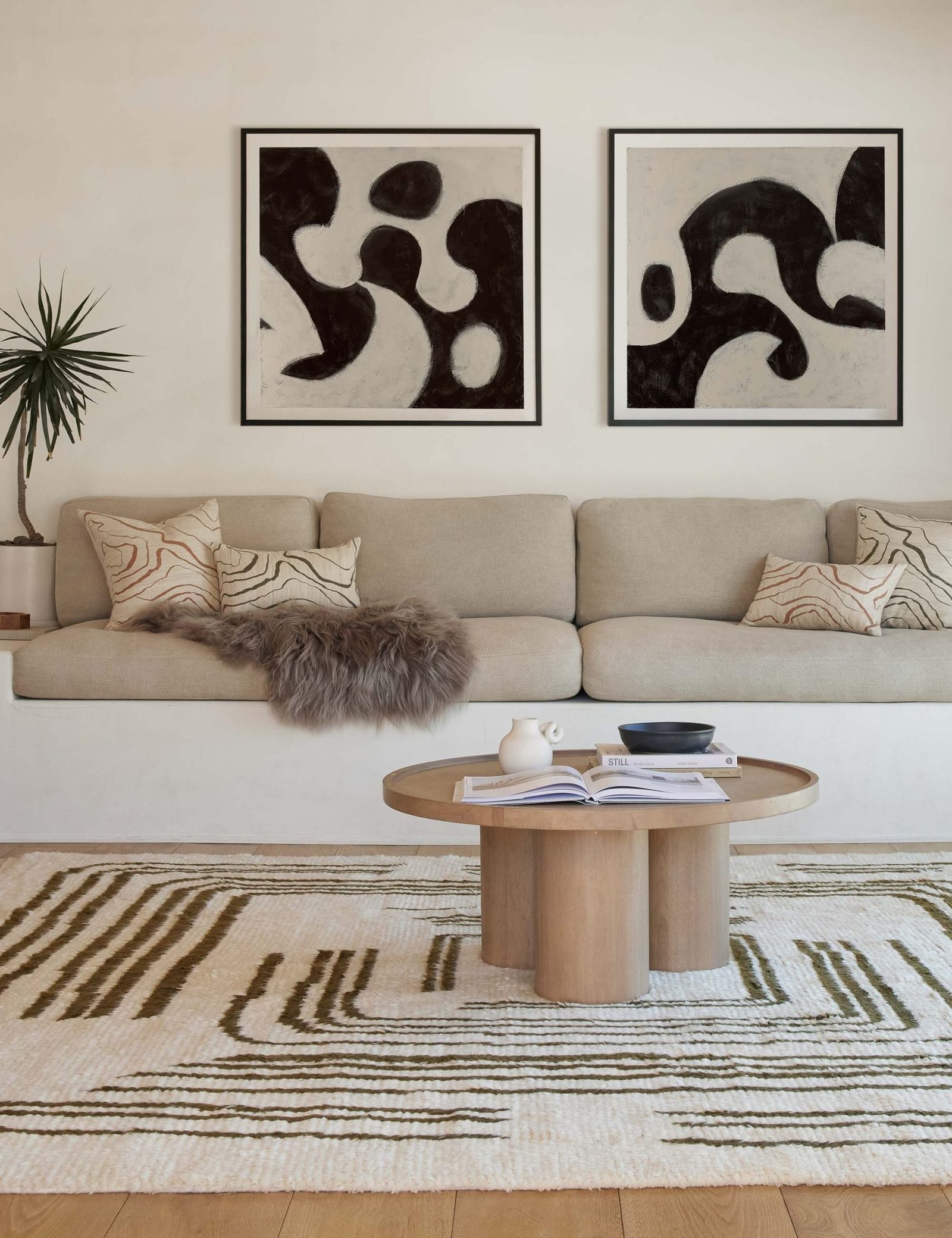 Adding two large prints over the couch balances it and creates a focal point. To get this look go for abstract art prints, paintings, or even large family photos.
Try to choose large-scale art and center the pieces over your sofa.
Decorate with Throw Pillows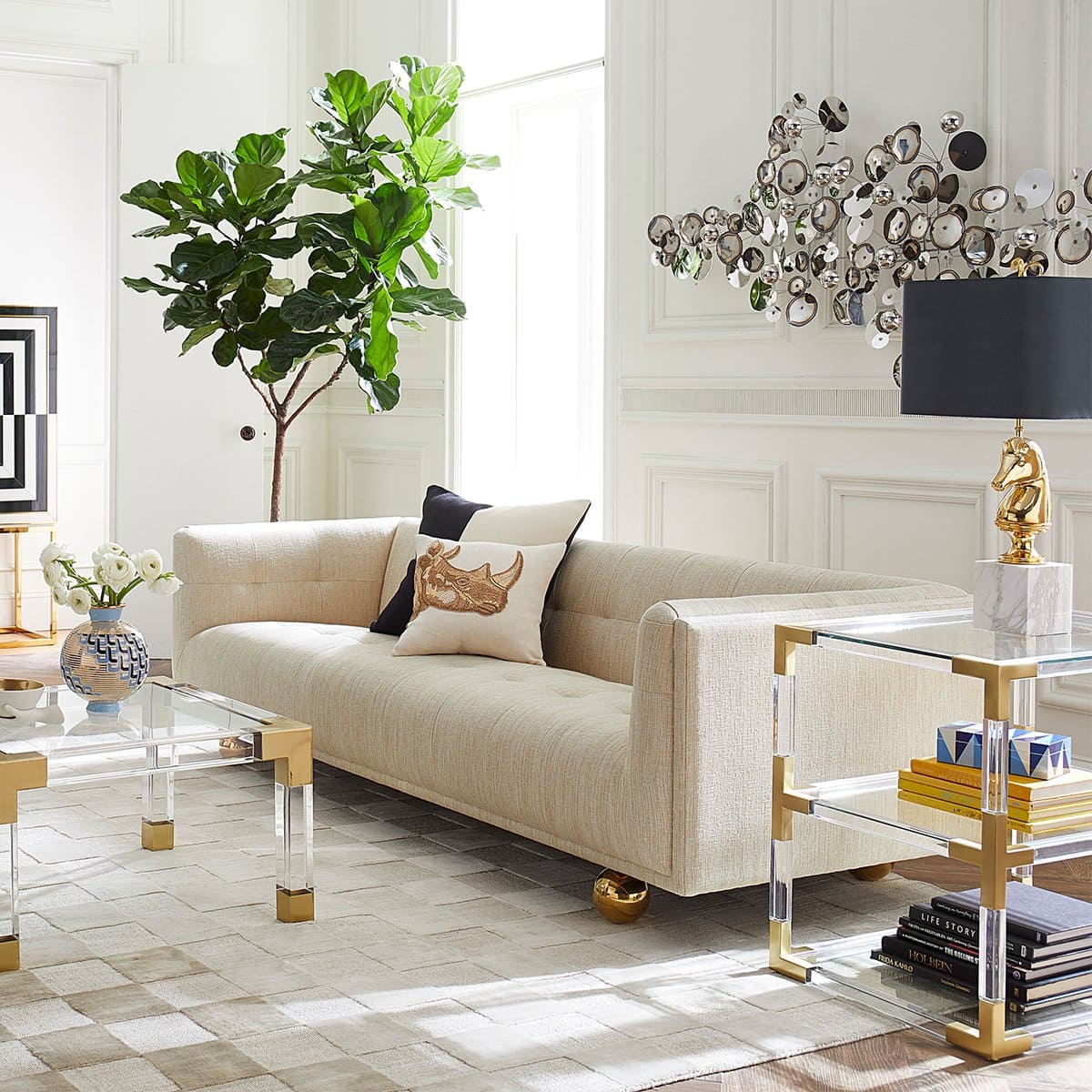 Throw pillows are a great way to change the look of your room. You can instantly make your sofa seem more glam by using an embellished pillow, as pictured above. 
Alternatively, you can add plaid pillows for a farmhouse look, blue pillows for cottage style, or change out your pillows as the seasons change. Throw pillows are one of the cheapest and easiest ways to dress up your couch.
Create a Collage Above the Couch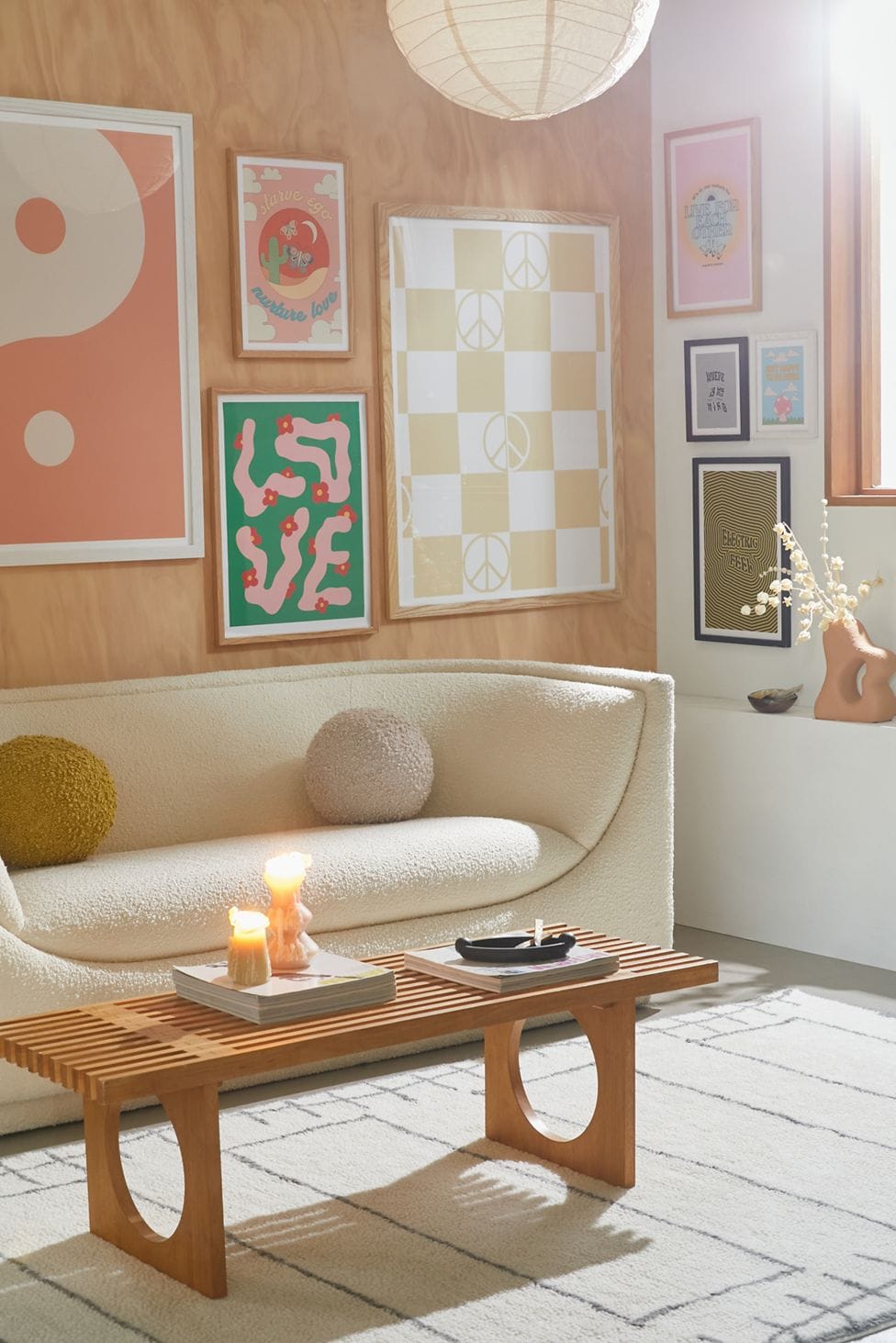 If you want to draw attention to your couch, create a collage above it. You could go for a boho-inspired theme, like this one from Urban Outfitters, or you could create a collage to match your decor.
You can take it a step further by applying wallpaper before hanging your wall art.
Add Contrasting Wallpaper to Make Your Couch Pop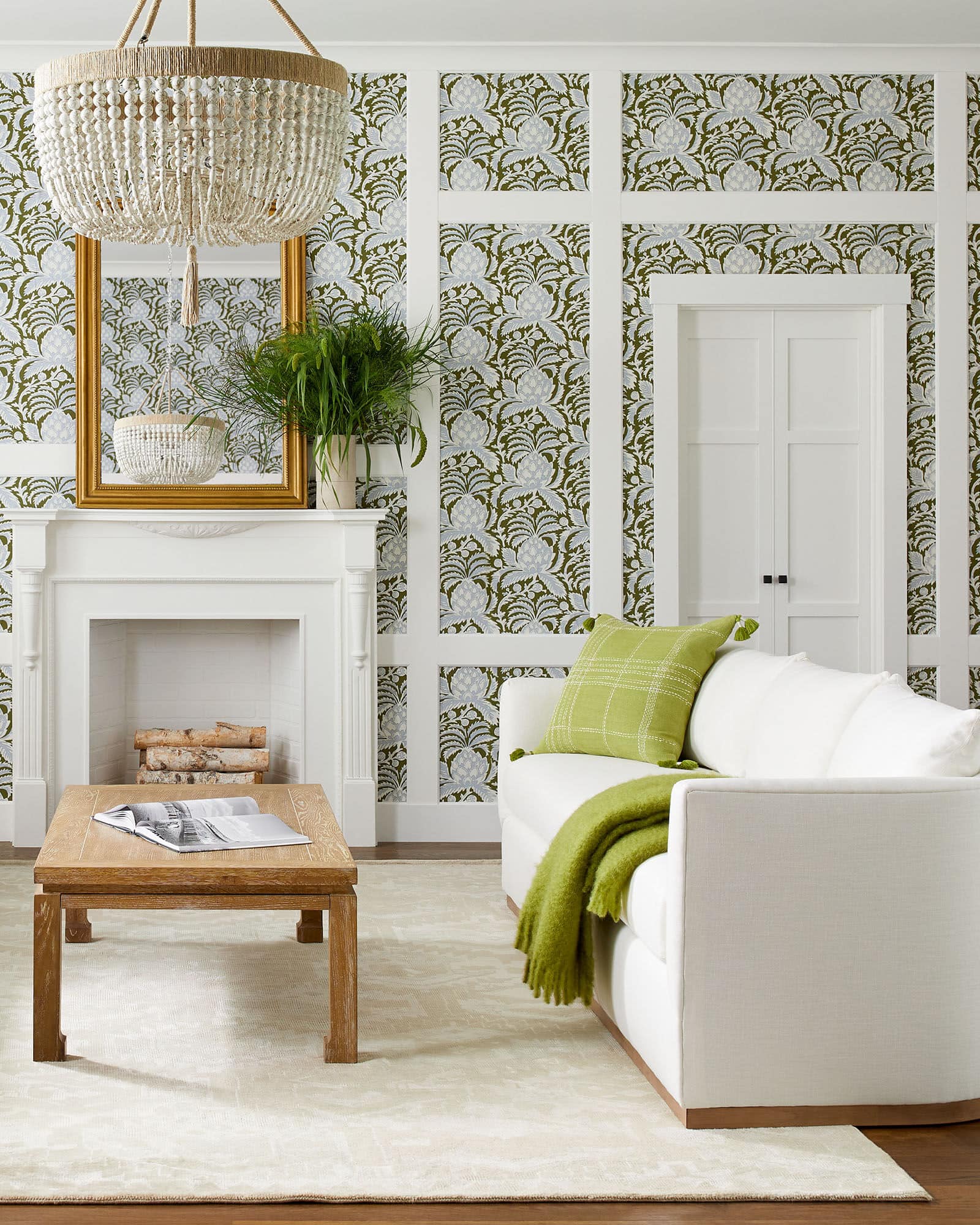 If you're looking for tan couch living room ideas to make your sofa pop, consider wallpaper. You can make your couch stand out by using dark wallpaper. If you don't like the bold look, try a paper with lighter colors and a delicate pattern.
You can use a traditional, high-quality wallpaper like the one pictured or opt for a temporary peel and stick paper. You'll get a fun result either way.
Place a Large Rug Under the Sofa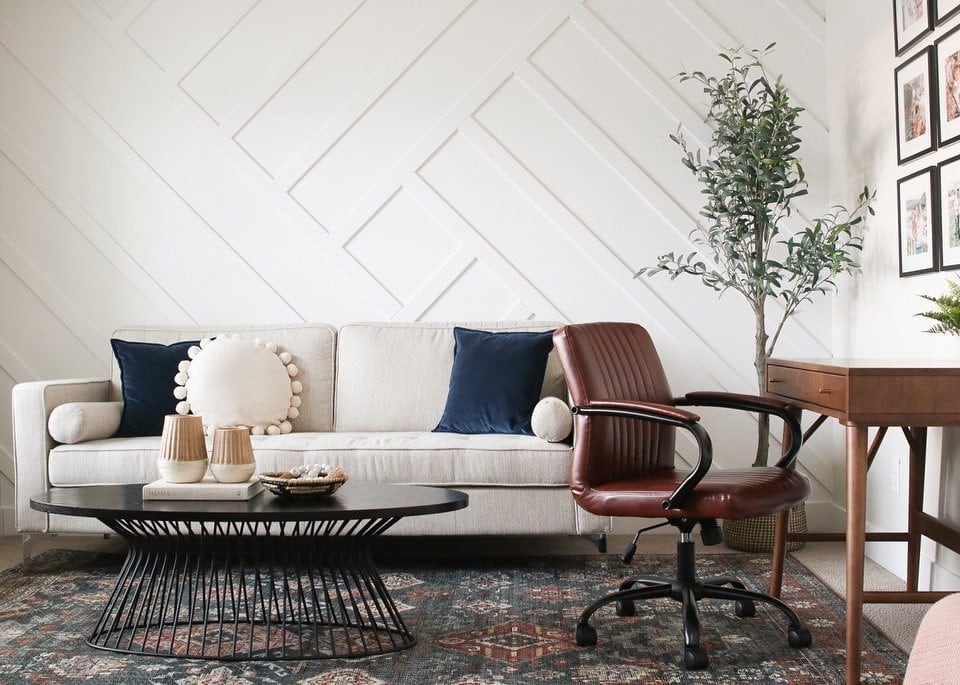 An instant way to bring style to your room is to add an area rug underneath the sofa. A large rug like the one pictured goes well with traditional, boho, and transitional styles.
When choosing an area rug, go for one that's a little wider than the couch – having an extra six inches (approximately) left on each side is ideal.
Bring in Comfort and Practicality with an Ottoman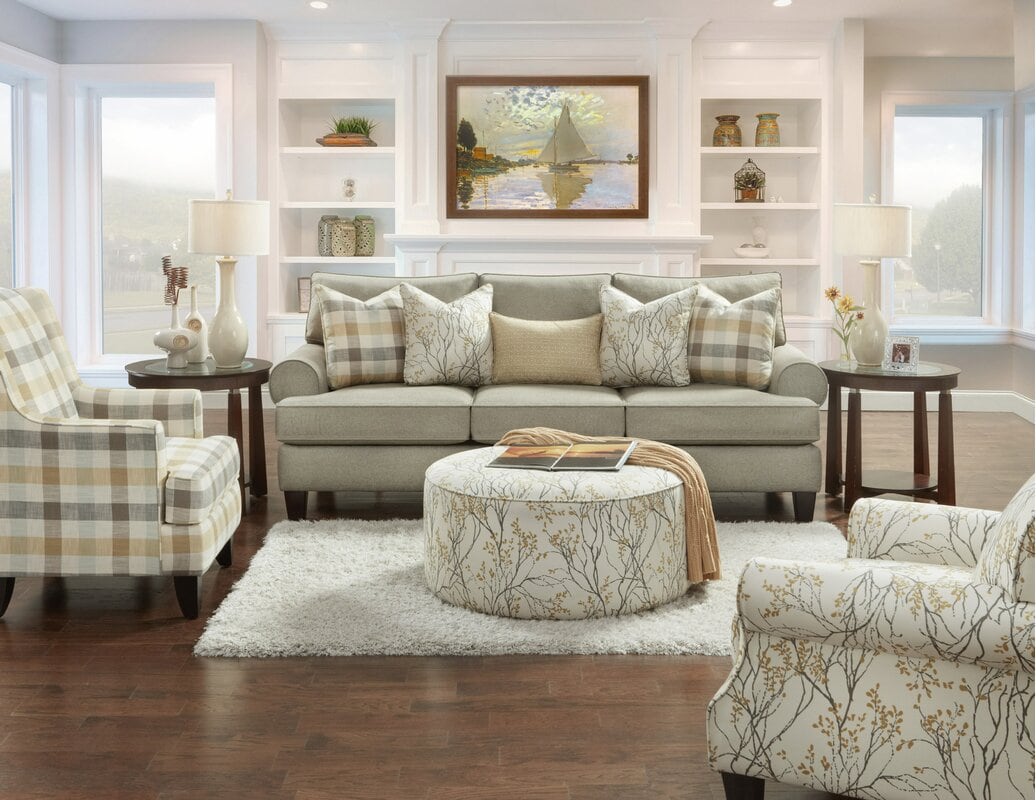 If you're looking for an alternative to the standard coffee table, try a patterned ottoman. This is one of the best beige couch living rooms ideas since practically any pattern or color will coordinate.
A large ottoman can work as a coffee table, footrest, and a way to add visual interest to your living room.
Contrast a Dark Beige Couch with Light Pillows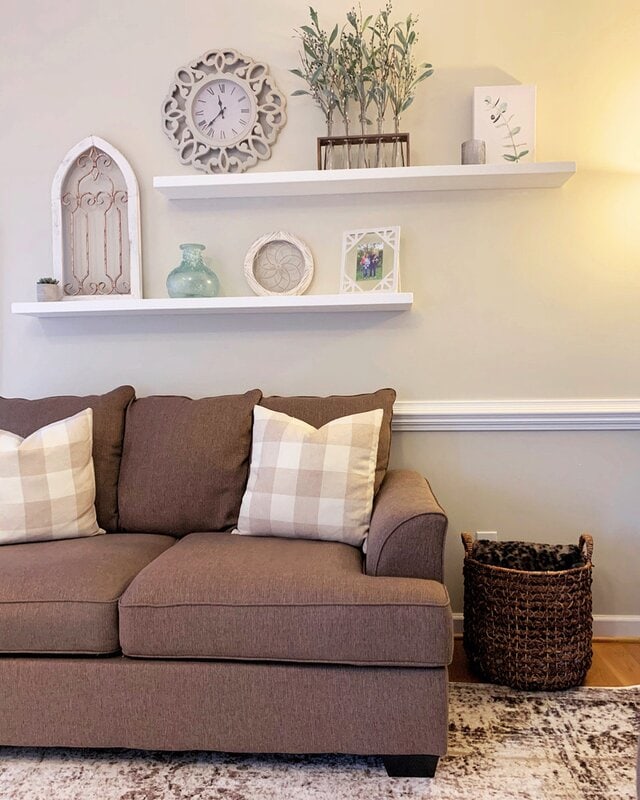 Looking for dark beige sofa living room ideas? Try contrasting your couch with light-colored pillows. Doing this makes the color of the couch pop. You can use a pattern like shown above, but you'll want to avoid any designs with overpowering dark colors.
As shown in the above photo, you can take the style further by adding white shelves and light-colored decor.
Put a Floor Lamp Beside the Couch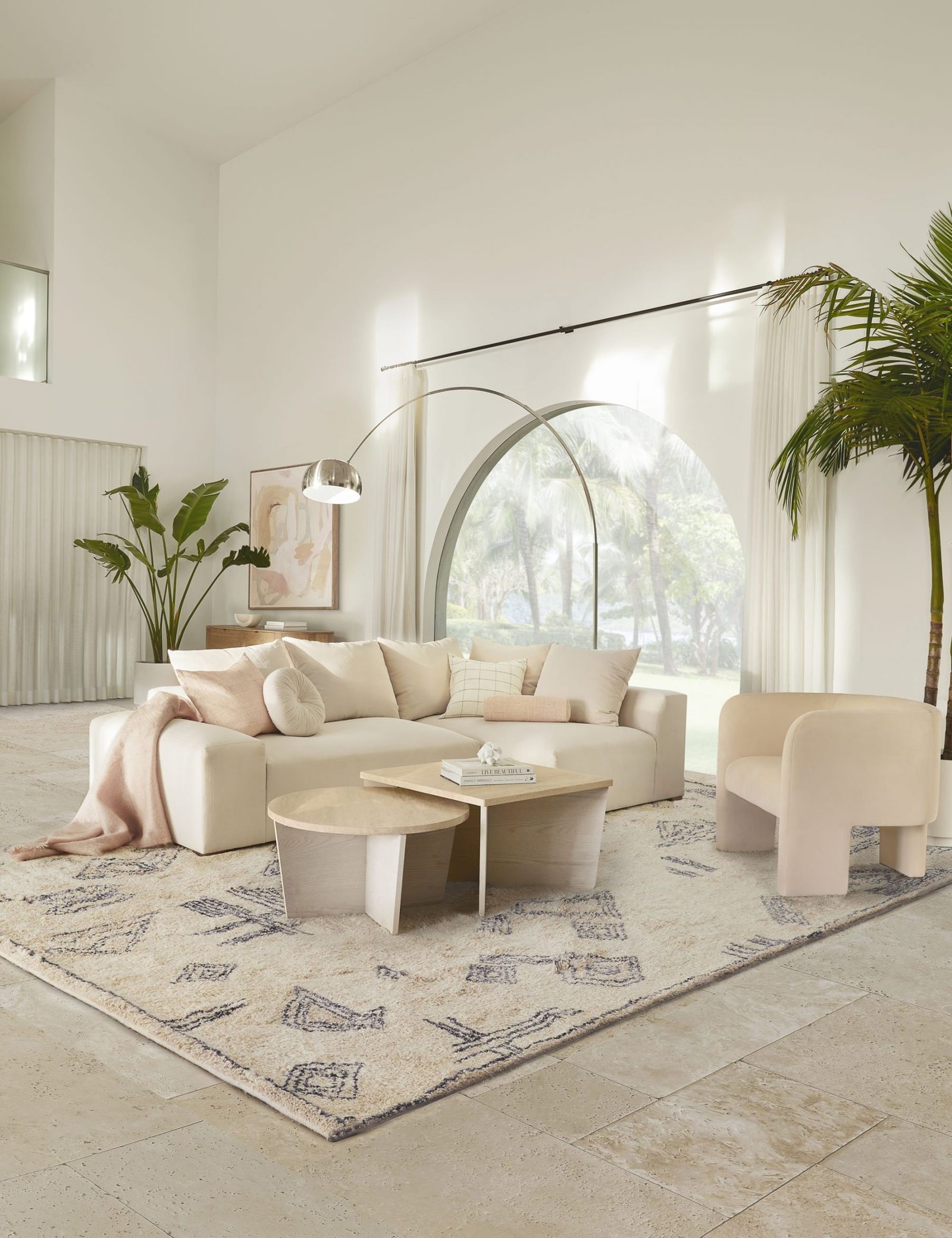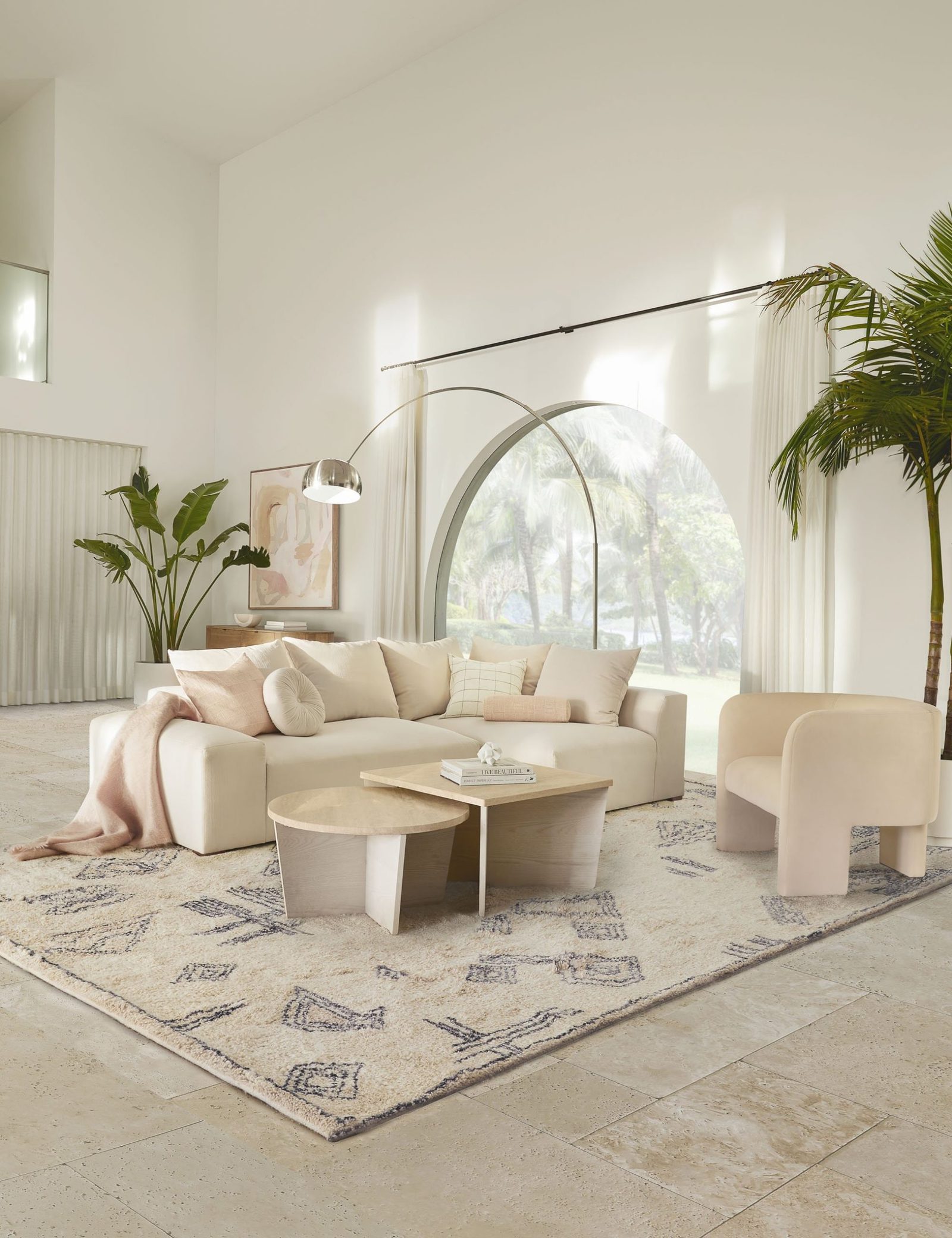 If your room is low on lighting or you're a late-night reader, consider adding a floor lamp next to the couch. A curved floor lamp like this one lends to a very modern or minimal look.
You can opt for a matte black floor lamp if you prefer farmhouse style, and traditional lovers can add straight floor lamps with fabric shades.
Modernize Your Living Room with a Sleek Accent Table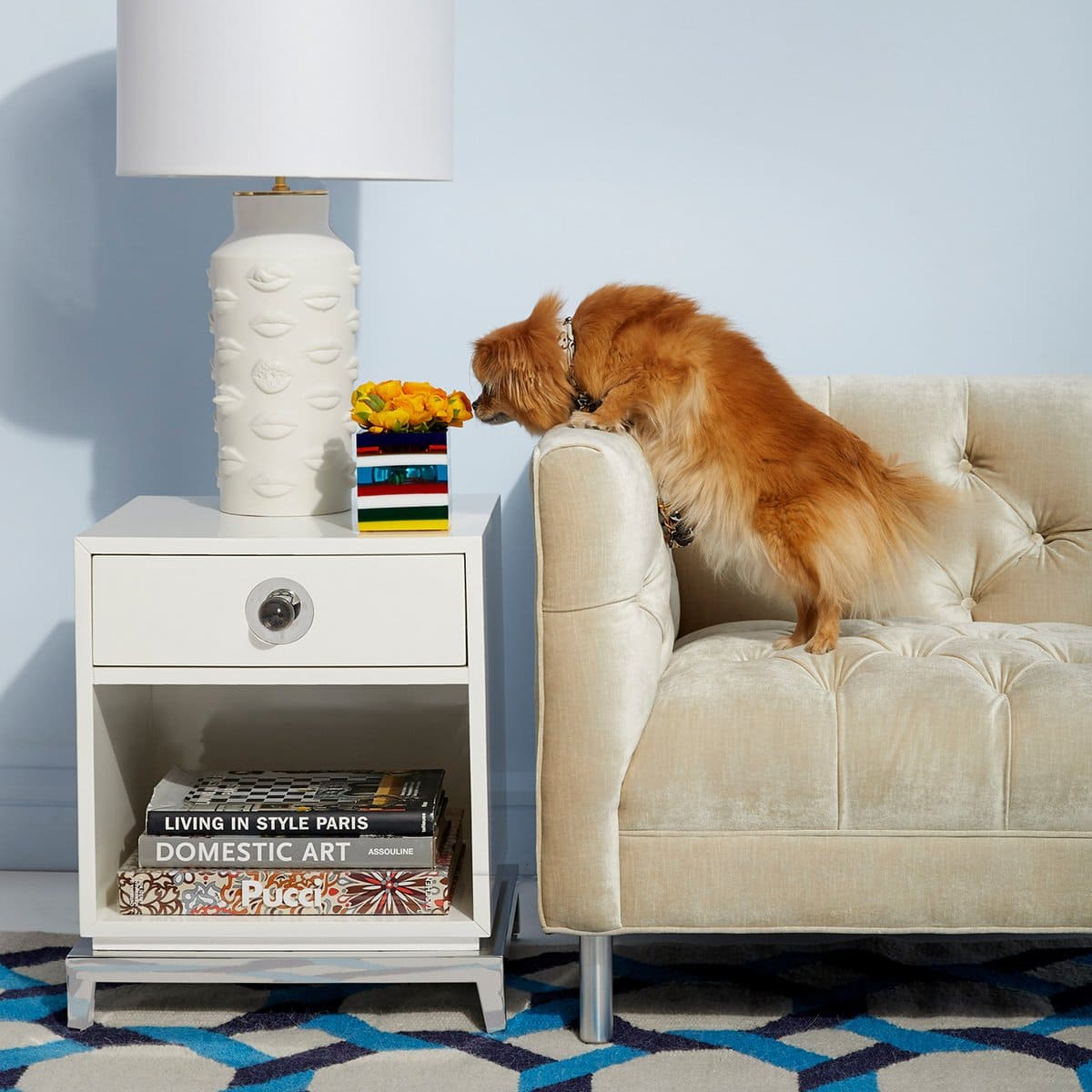 While beige couches are popular in farmhouse, traditional, and cottage-style homes, they can also look good in modern living rooms. If you're looking for beige sofa living room ideas that have a modern flair, try placing two sleek end tables on either side of your sofa.
Tables like these from Jonathan Adler are functional yet super modern.
Add Bamboo Baskets for Warm Artwork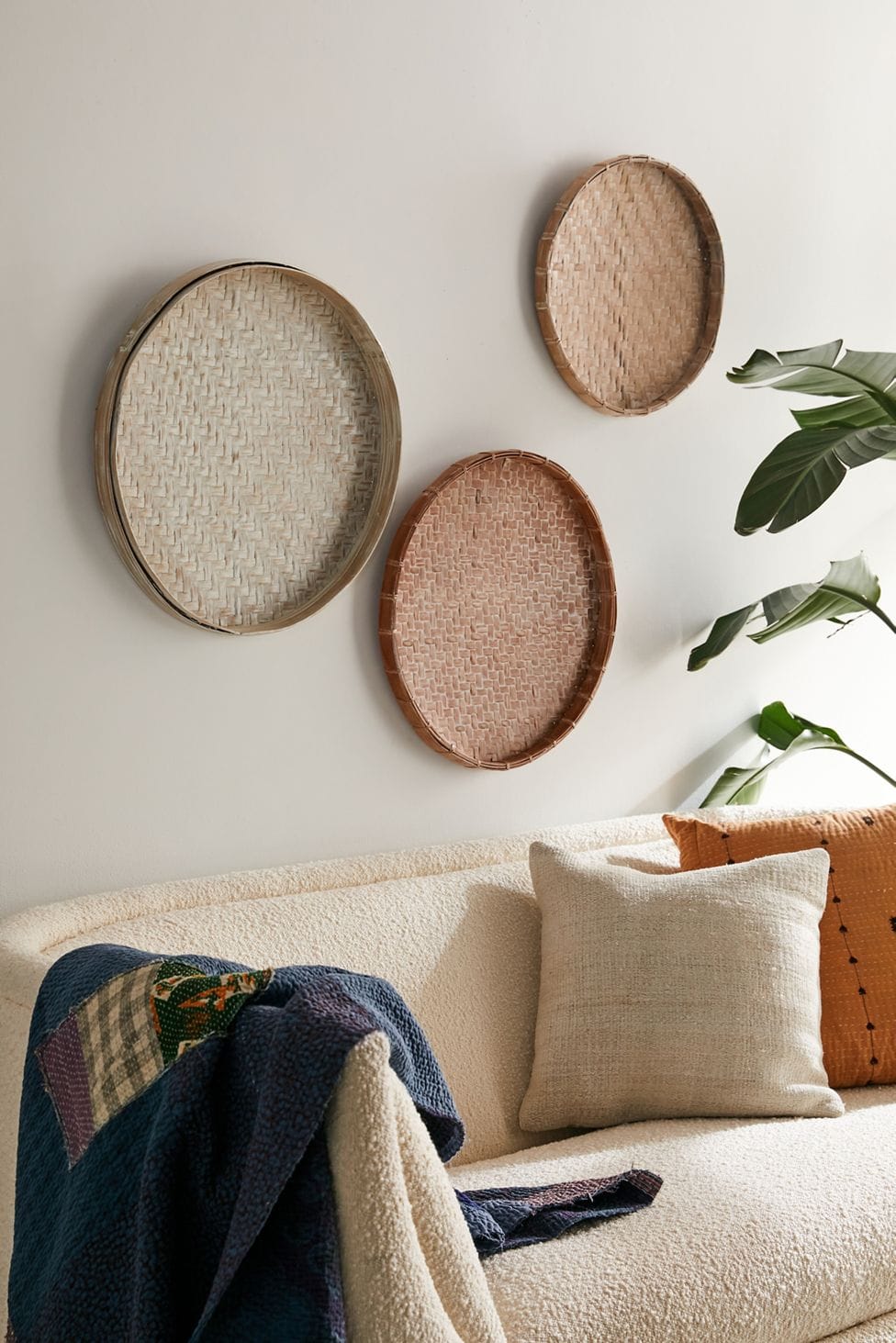 If you need to bring in warmth or texture, add bamboo baskets over your couch. This look works amazingly well for boho styles but is also suitable for traditional and farmhouse styles.
You can add baskets in groups of three or five and even make them part of a wall collage if you prefer.
Go for a Darker Beige Accent Chair
Into a neutral color scheme? Me too. And fortunately, if you already have a beige couch, staying neutral is easy to do. You can bring interest to your room by bringing in accent chairs that are still neutral but darker than the color of your couch.
After, add in some greenery and soft throw pillows for the perfect cozy, neutral room.
Achieve a Romantic Look with Pink Accents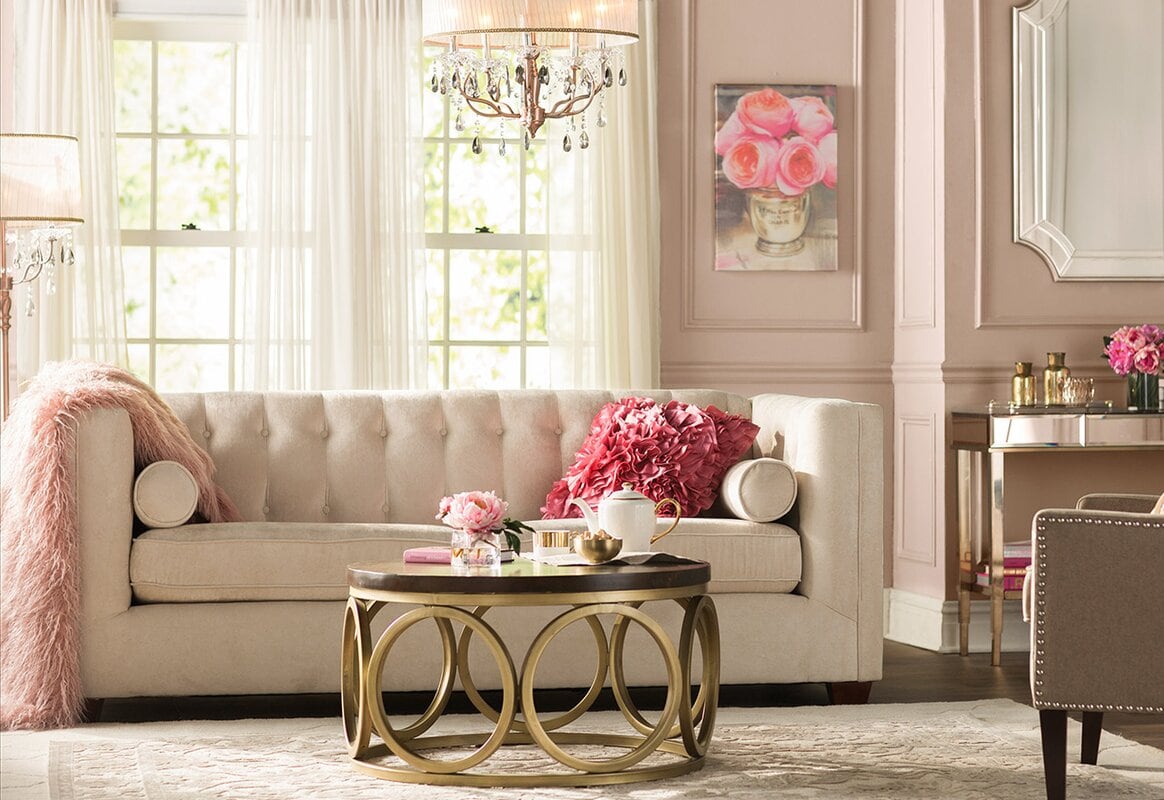 The light beige couch and dusty rose color of this wall give off a romantic vibe that the pink accents intensify. But don't worry – you don't have to paint your walls pink to achieve this look. Instead, you can get this style by layering in pink accents as long as you have a beige couch and a neutral color scheme.
Bring in the Blues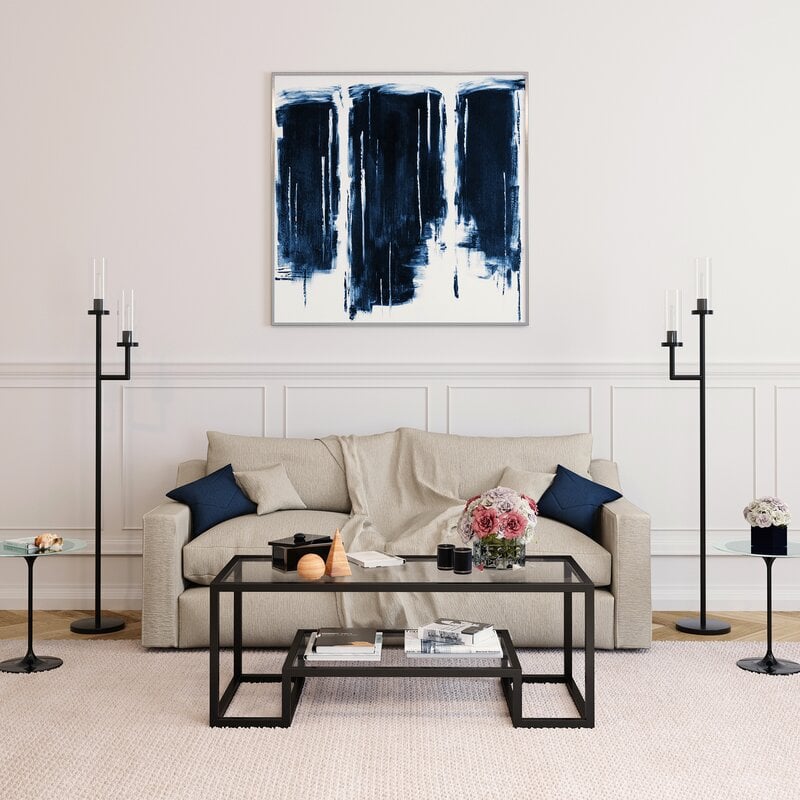 Blue and beige are a color combo that will never go out of style. So if you love the blue + beige duo and you're looking for some modern living room inspo, this large artwork can help you achieve it.
The minimalism of the living room helps draw the eye to the artwork, while the blue pillows pull everything together for a cohesive look.
Add a Second Sofa to the Room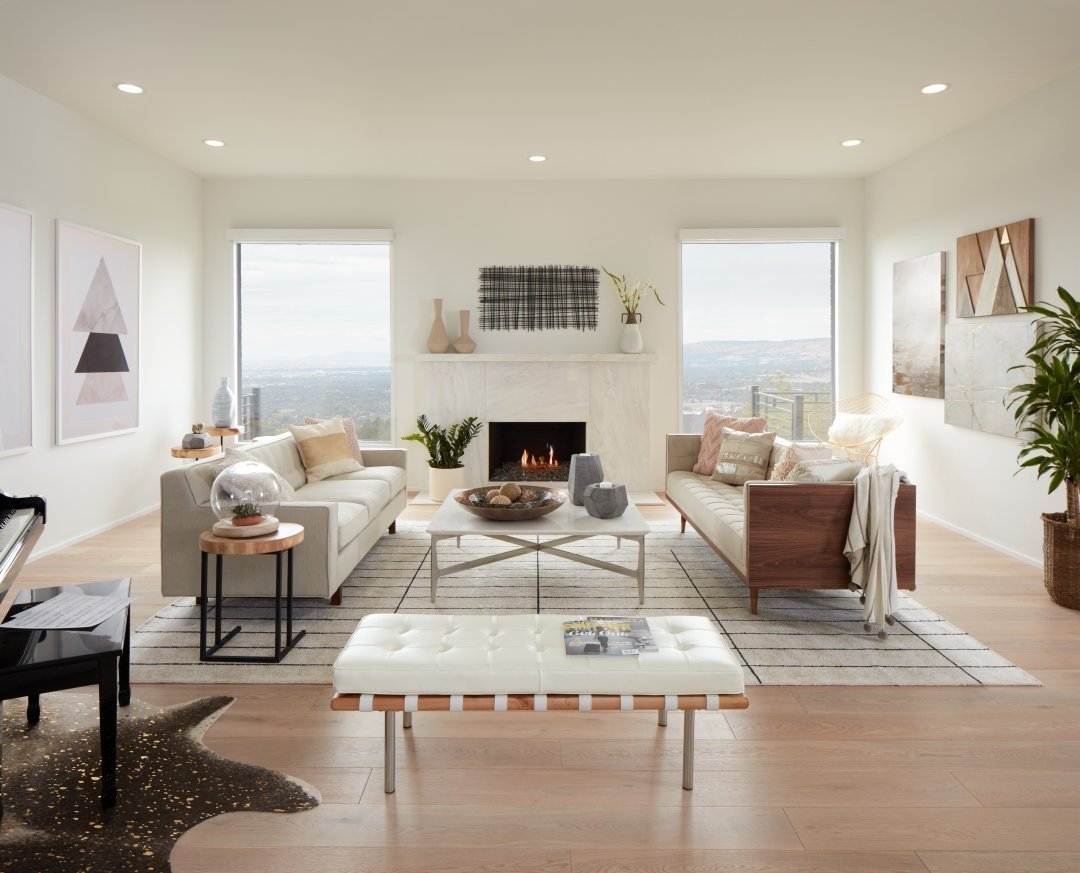 If you have a large living room and need to fill up space, add a second beige sofa facing the first. And don't worry, the sofas don't need to match. If you want to create visual interest, it's better to stick with similar color palettes and sizes but choose slightly different designs.
You can use a large rug to anchor the two sofas and make them look intentional.
Pull in Earthy Vibes with a Wooden Coffee Table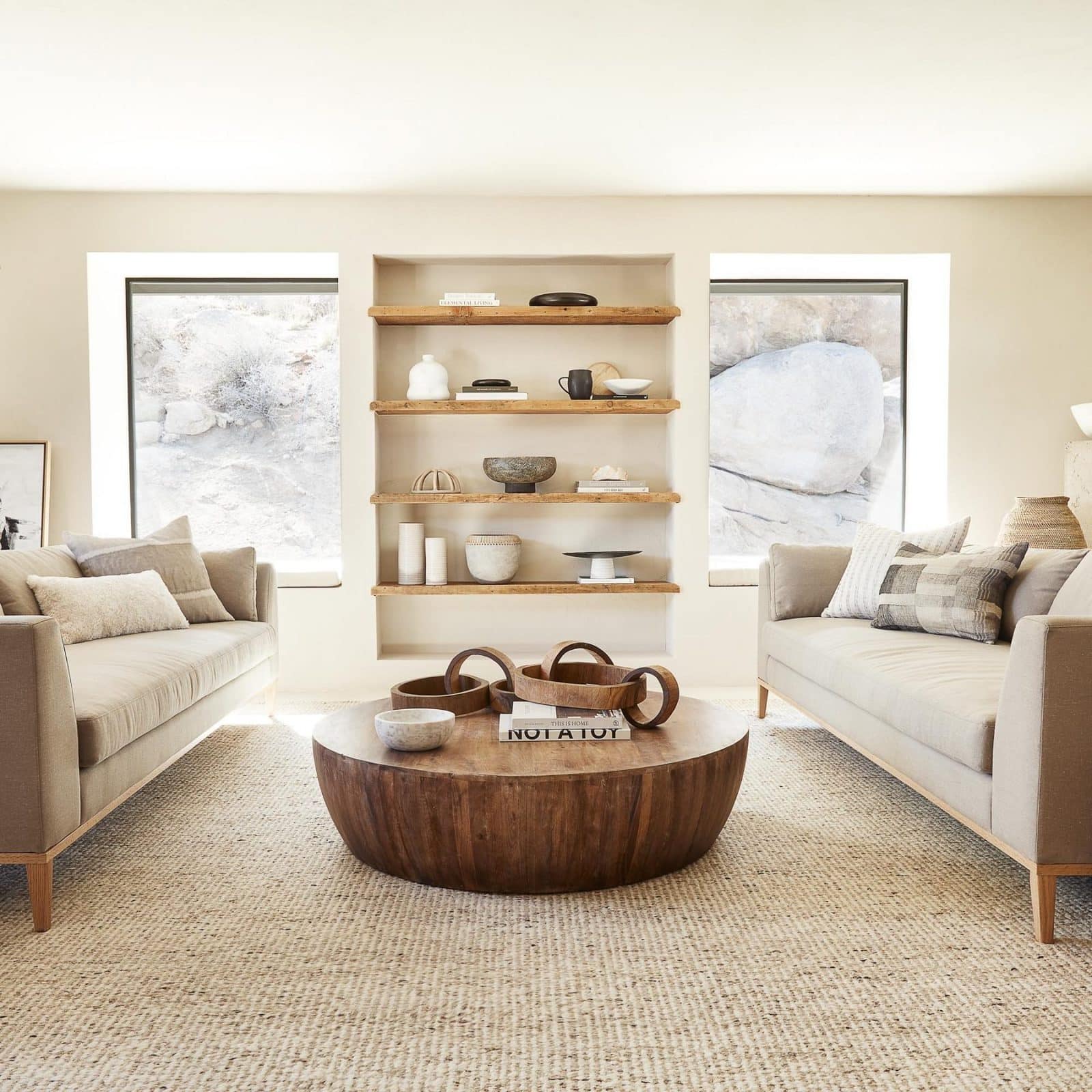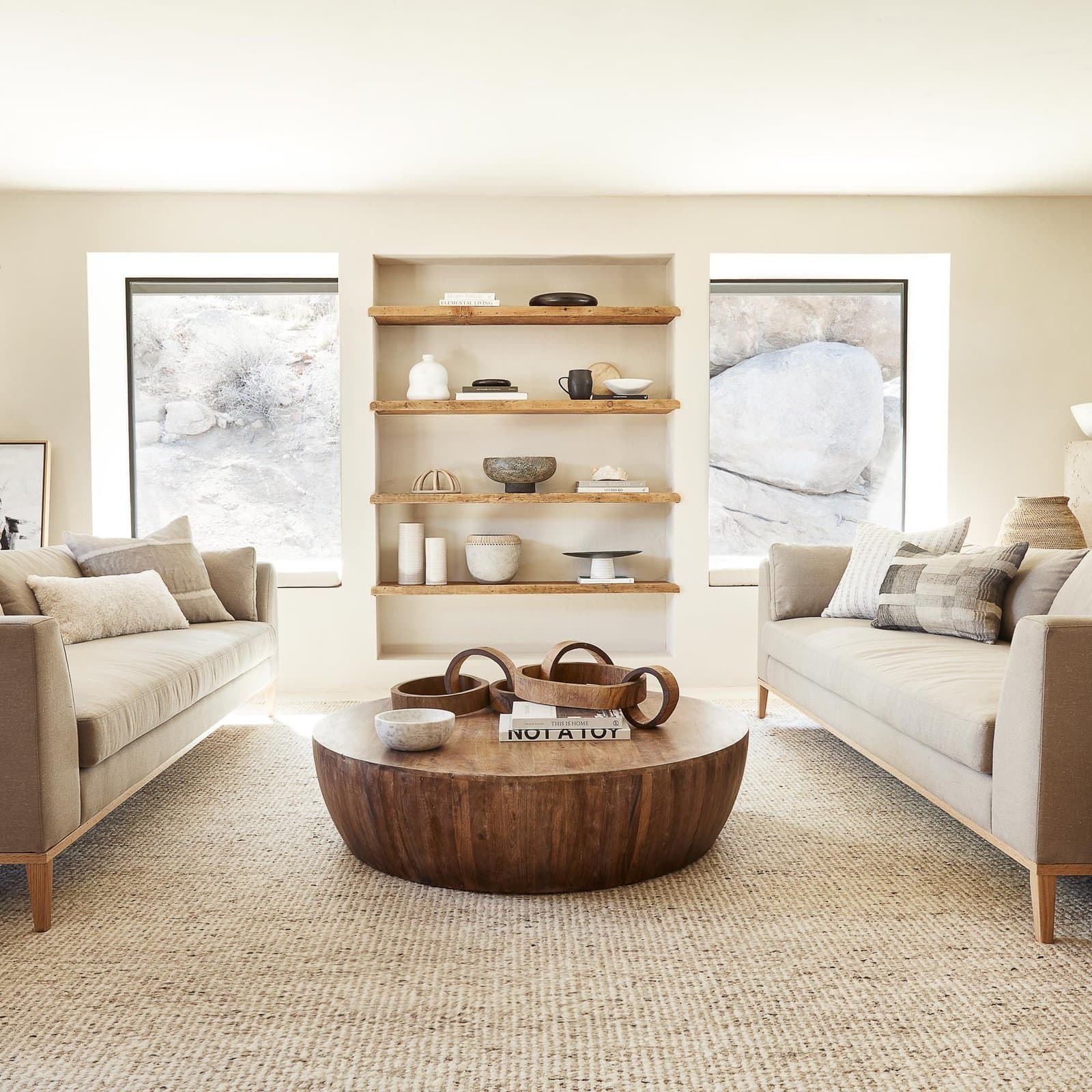 Another fun play on neutrals is to bring in earthy colors around your beige sofa. You can do this by using a wooden coffee table like pictured above.
Other ways to bring in earthy style include adding antlers, mixed wood tones, wicker, pottery, and soft neutrals—layer the items in your room for a soft and pretty effect.
Use A Lot of Greenery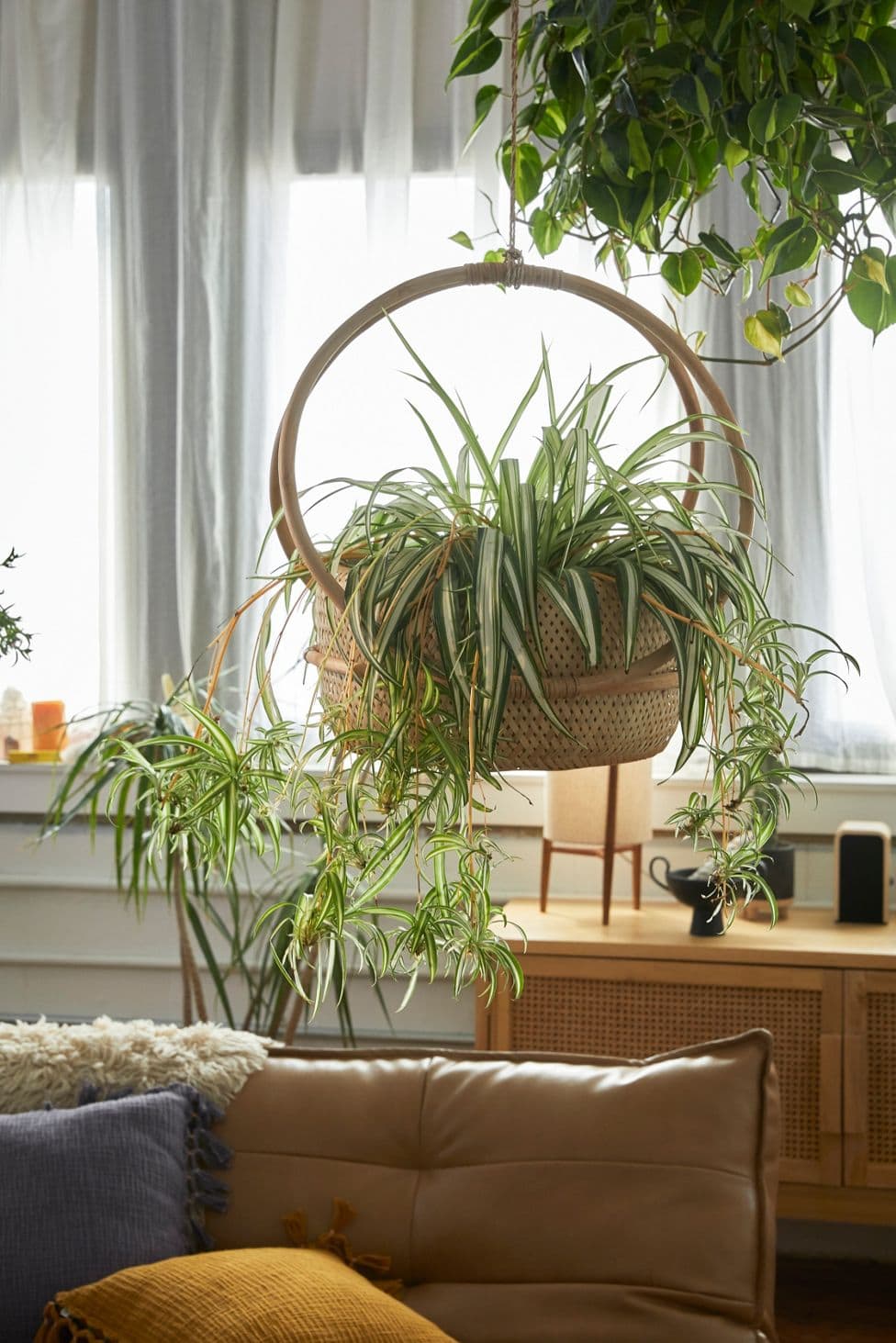 Plants work well in every room and work with every type of decor. So, when decorating around a beige couch, adding at least one plant to the room is a good option.
You can opt for a hanging planter like this one from Urban Outfitters, a tall tree (faux or real), or use a combination of trees and planters. If you're new to decorating with plants, start with one and work your way up.
Final Thoughts
If you're wondering how to decorate around a beige couch, I hope these ideas provide you with some inspo. Beige sofas are versatile and great starting points in any living room.
If you need help with design ideas, try adding a few throw pillows on the couch, art on the wall over the sofa, and put a plant in the room. Following those simple steps will add classic style and beauty.