Decorated Life is reader-supported. When you buy through links on our site, we may earn an affiliate commission. Learn More
What Color Rug Goes With a Beige Couch – 15 Ideas
When decorating your room, you may be wondering what color rug goes with a beige couch. The neutrality of beige means it can go with light or dark colors.
Whether you want a solid neutral shade that blends with the beige or a patterned print in multiple colors that stands out, picking an area rug with a tan couch doesn't have to be difficult. Try any of these ideas for the best rugs for a cream couch.
Keep It Neutral With Braided Tan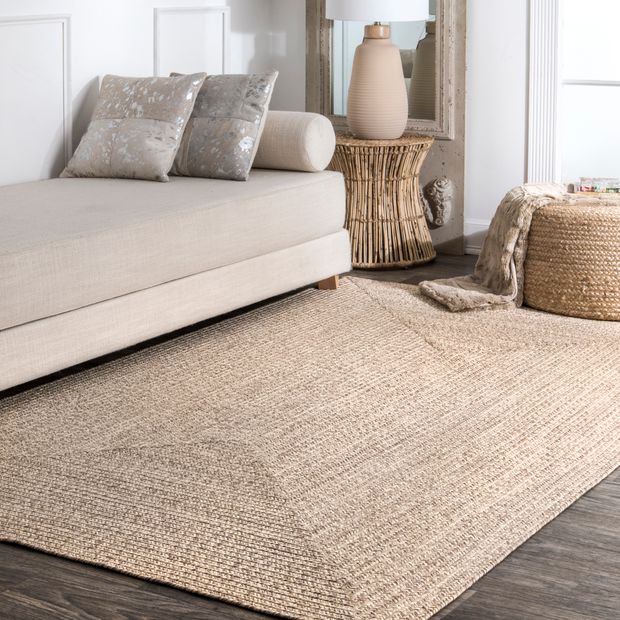 The beautiful neutrality of beige makes it perfect for pairing with other light neutrals to create a bright, welcoming environment, like this cozy space.
Just look how the lightness of the beige couch balances with the woven, wicker accents, darker cream lamp, mirror frame, and the simple yet stylish braided area rug in a neutral tan.
Get Blue with this Distressed Persian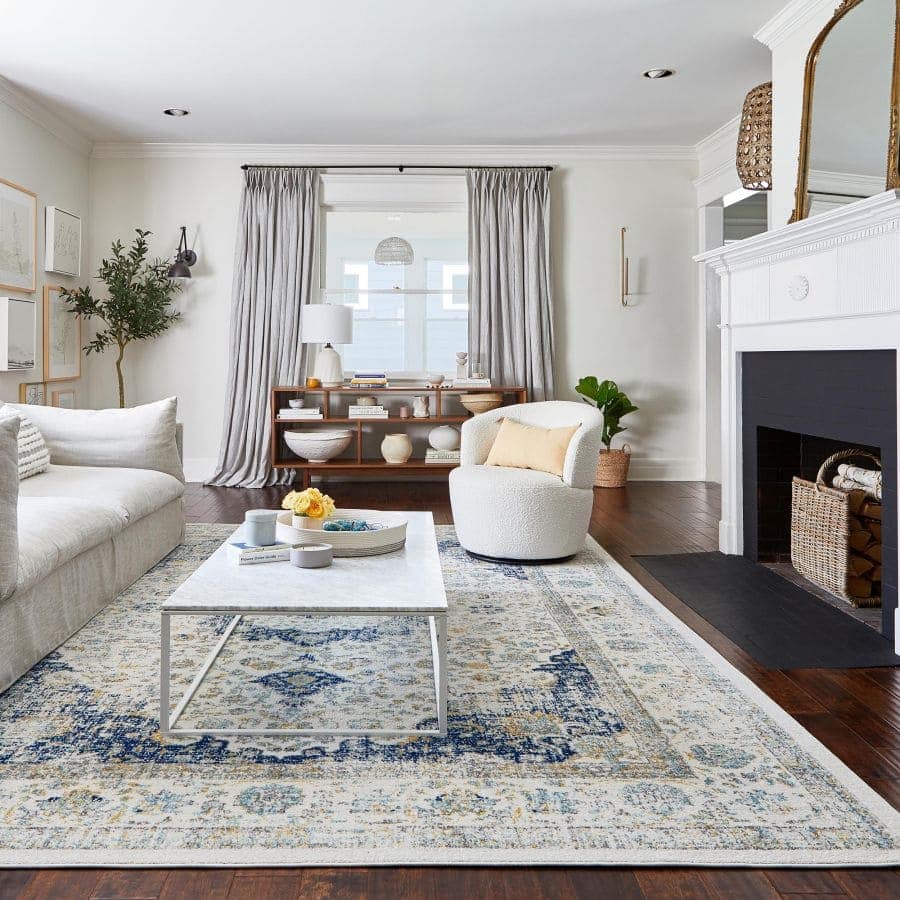 A Persian area rug is a fan favorite when you have a large expanse of space to fill. Full of intricate yet aged details, you'll notice faint hints of yellow, light blue, and gold lines – and many creams.
This style can add elegance and the perfect amount of blue color – distressed – to cure the heavy use of neutral from the rug's cream base against the beige couch to the white table and chair and other light accents.
Make It Medallion Multi-Color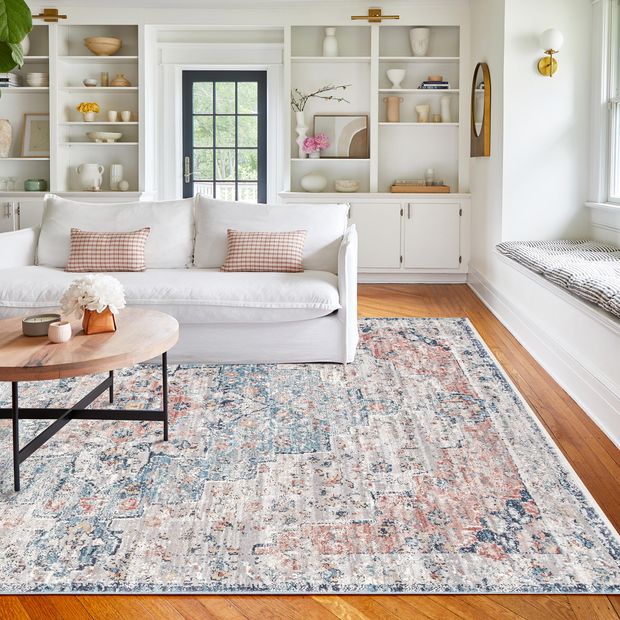 Beige can also be the perfect background for a rug featuring multiple colors. This spectacular rug is sure to give your space fantastic color in an antiquated, heirloom motif with a modern twist.
Enjoy an updated spin on a classic medallion print in a glorious mix of subtle and bold colors like red and blue, slightly faded to look authentically aged. Place it under a beige couch for the perfect transition for colored accent pillows.
Give In to Your Animal Side with Printed Area Rugs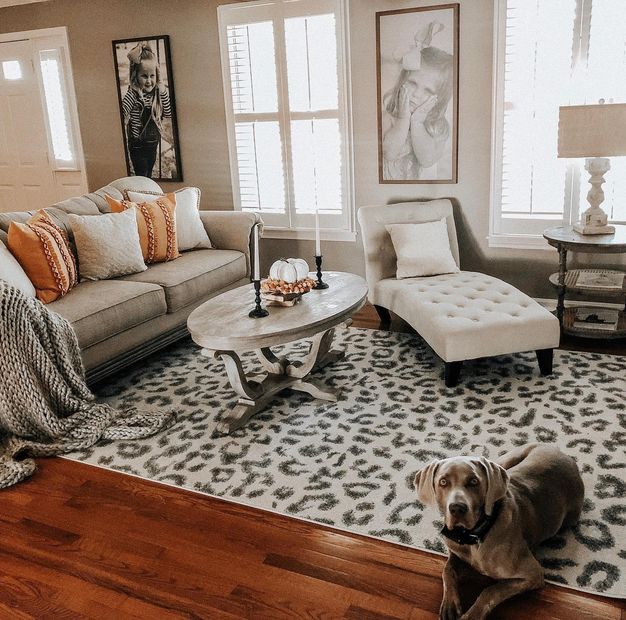 Another choice for area rugs under beige couches is a simple yet classic animal print. This low pile carpet has a gray base with a black leopard print pattern that provides style and contrast.
Animal prints are more of a modern or boho taste and might not work for farmhouse, minimalist, or retro. But when paired with a beige couch, a white lounge chair, and light-colored tables and accents, it can look quite luxurious and upscale.
Designer tip: Want to get a bit more wild? Skip the neutral, natural look and go with blue, pink (light or hot), brown, or black prints.
Say It Softly with a Subtle Zebra Print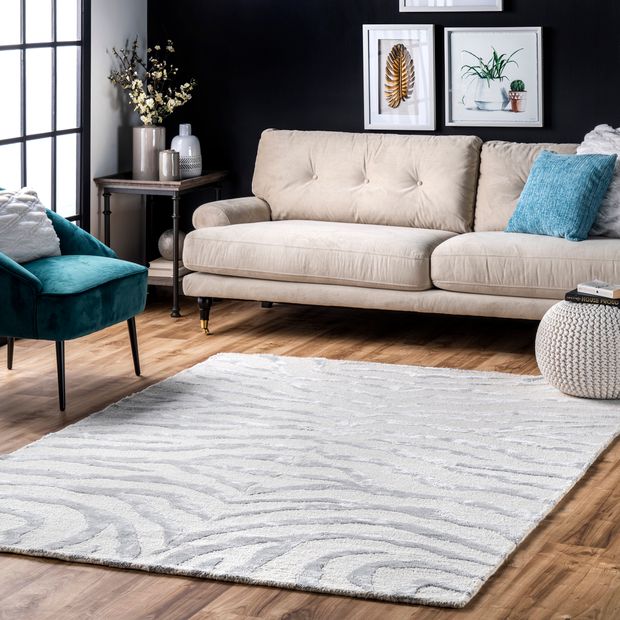 Another way to add a touch of the wild to your room without feeling cheetahy is to go with a less in-your-face design like the gentle swirls and lines of a zebra print pattern.
Enjoy the exotic look from the luxury of faux silk softness that gives this soft, low-pile wool rug a glorious sheen. The hand-tufted gray base with light black lines achieves the look of modern yet traditional.
Designer tip: You can also choose Royal blue, black, Navy Blue, Ice Blue, or brown zebra print patterns if you want a more dramatic contrast.
Amazing Abstract Art in Awesome Color Combo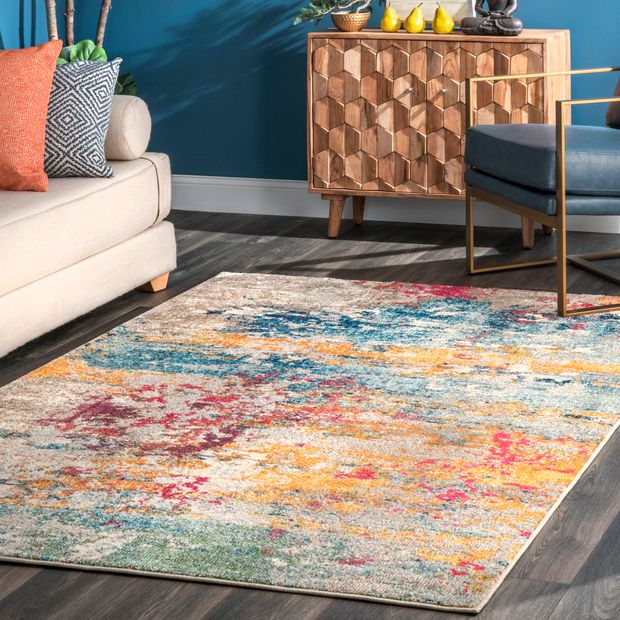 If you're not scared to feature bright colors in your space and you're a fan of modern art, add this multi-colored abstract area rug to offset the warmer neutral noncolor of your beige couch.
You can use the rug's colors for inspiration on your accents for the other furniture and decor pieces. It's the perfect way to incorporate different shades into your design, like blue, yellow, red, and orange – colors of a space nebula.
Spread this Sophisticated Shag to Spice the Space Up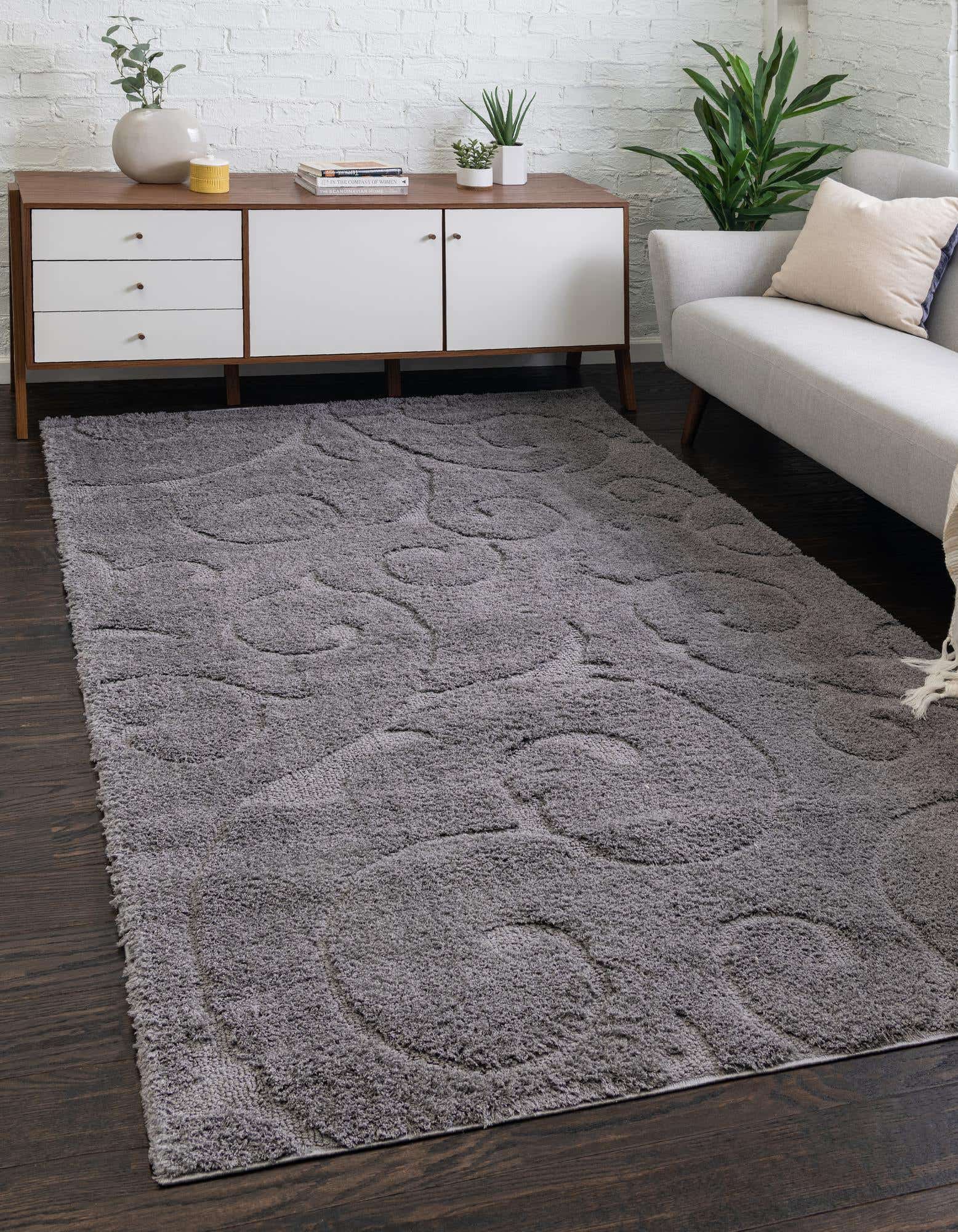 Gray is one of the best colors to decorate with because it's outrageously versatile. Need a neutral noncolor with enough shadow and darkness to provide color? Gray! Or, want a color that looks different based on the accent colors surrounding it? Yup, gray again.
It's also a superbulious color to use with a light-colored couch. The contrasting dark against the lightness of the beige creates a delightful play of neutrals. And the low pile botanical designs give this high pile shag carpet style and comfort.
Get Funky with This Rippling Rainbow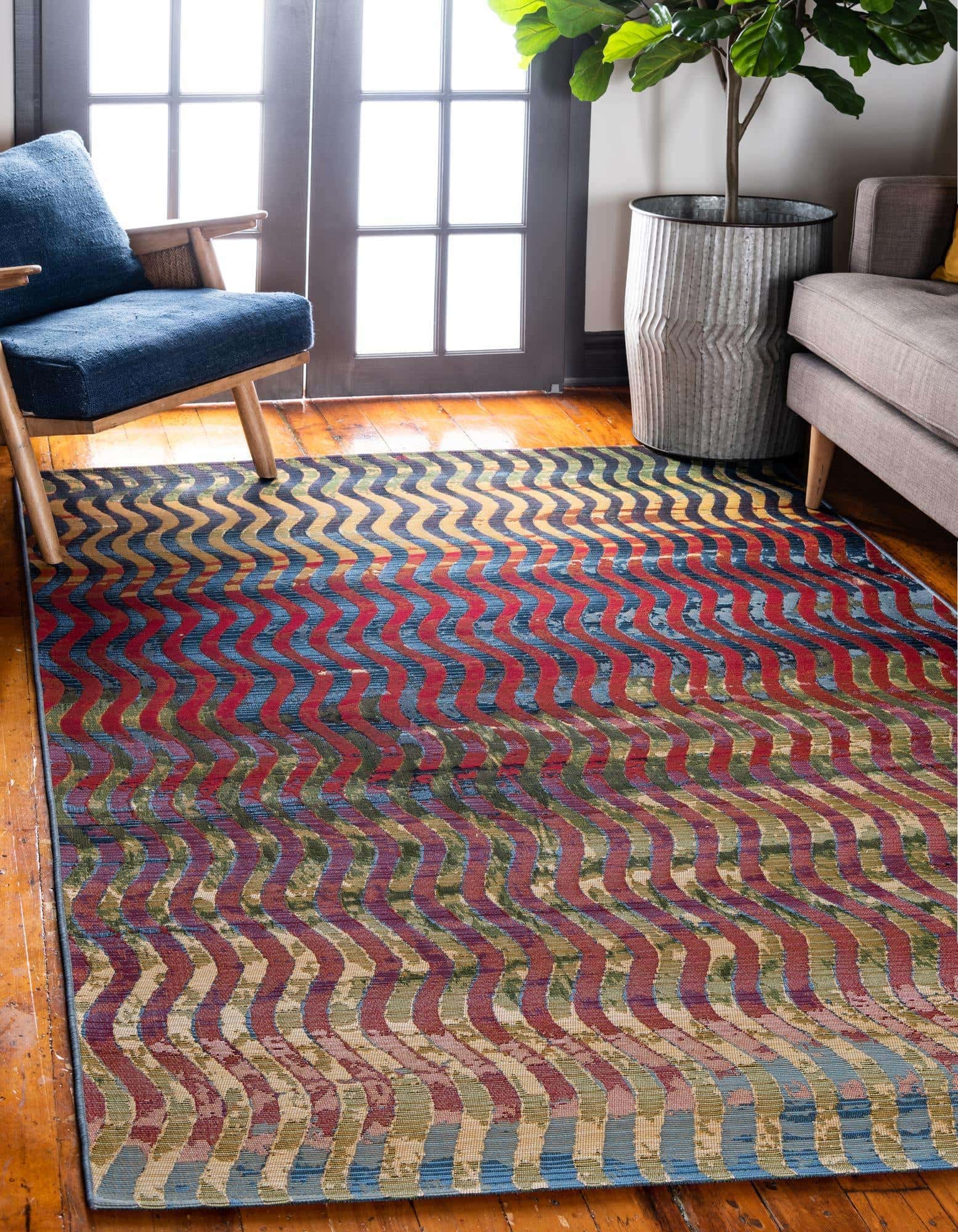 If you love bright, bold colors and fun visual effects, you'll feel thrilled at the way your space can transform using this fun, low pile area rug.
You can enjoy the rainbow effect of green, blue, cream, red, navy blue, orange, olive, and beige for a modern flair that pairs excellent with the lighter color of a beige couch.
Fill Your Floor with Farmhouse Fresh Fashion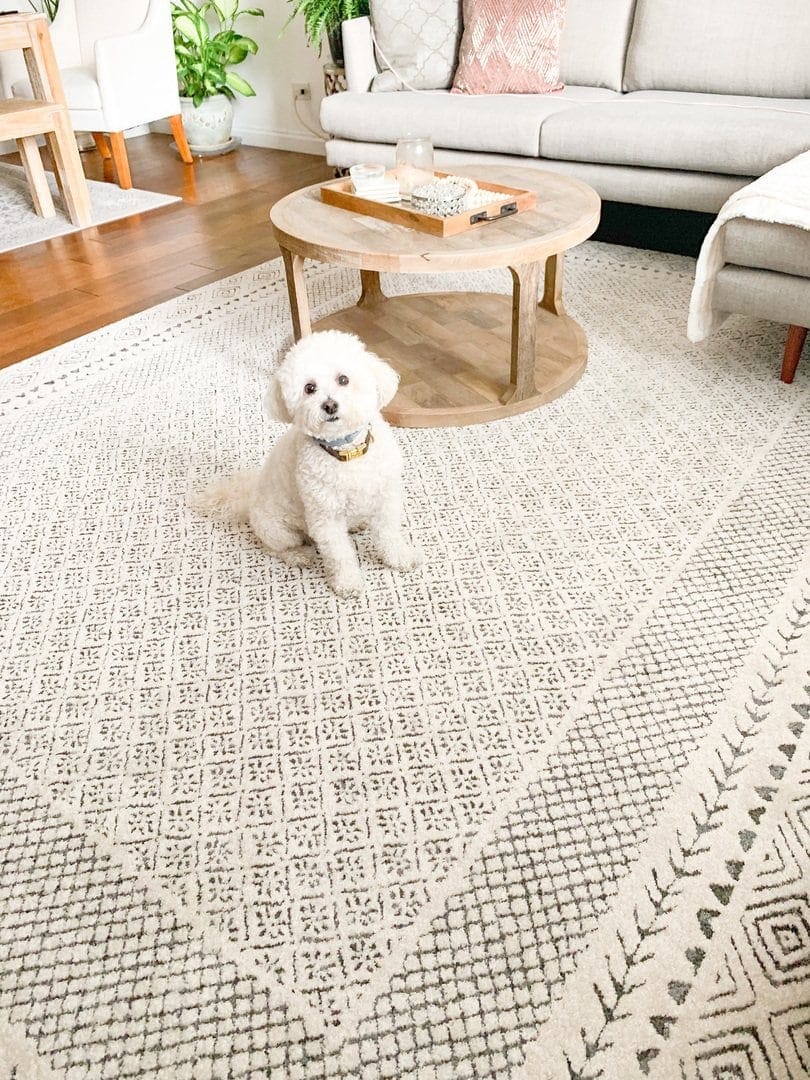 This area rug is too adorbs with a light beige base with intricate charcoal and medium gray prints that give this neutral piece a handwoven look.
Matching a beige sofa with a beige area rug can work exceptionally, especially when the carpet has a print on it to keep a large amount of light color from being too boring.
Beige, Brown, and Orange for a Beautiful Blend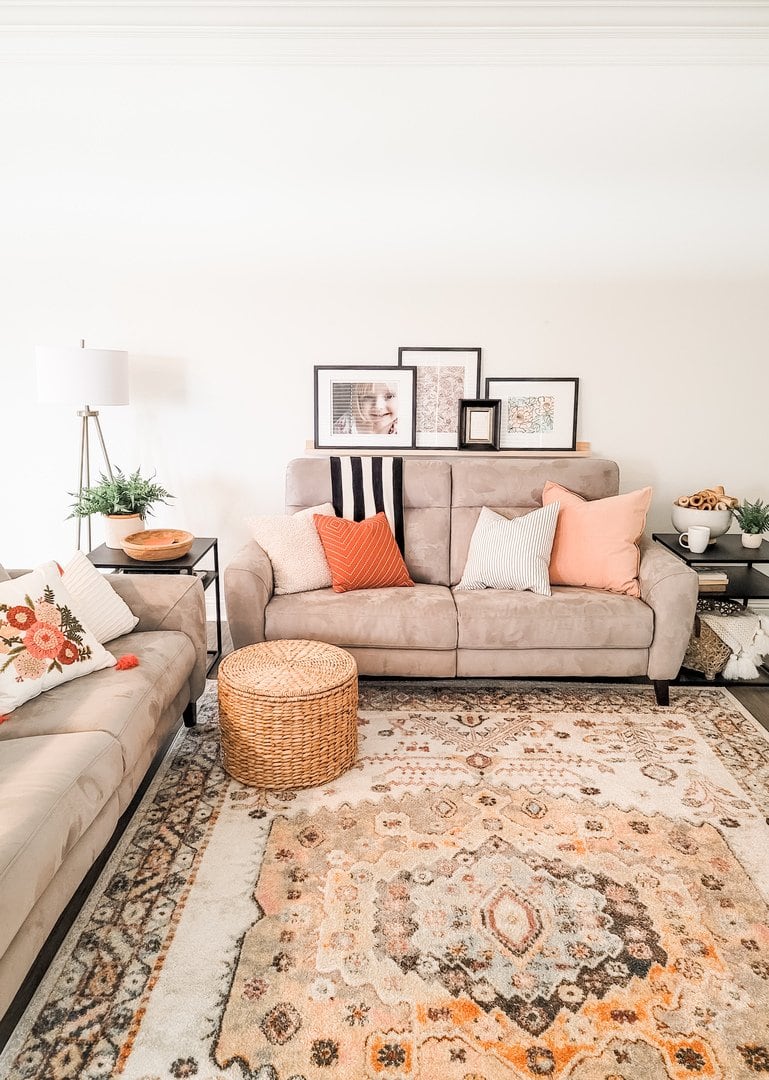 This area rug has beautiful blends of bright and burnt orange, rose, charcoal, bright pink, khaki, butter, purple, white, and denim.
Pairing this rug with a tan couch gives you more freedom to have fun and be colorful with your accents. We love these pillows in black and white, pink, orange, and floral.
Mix It Up with Moroccan Magic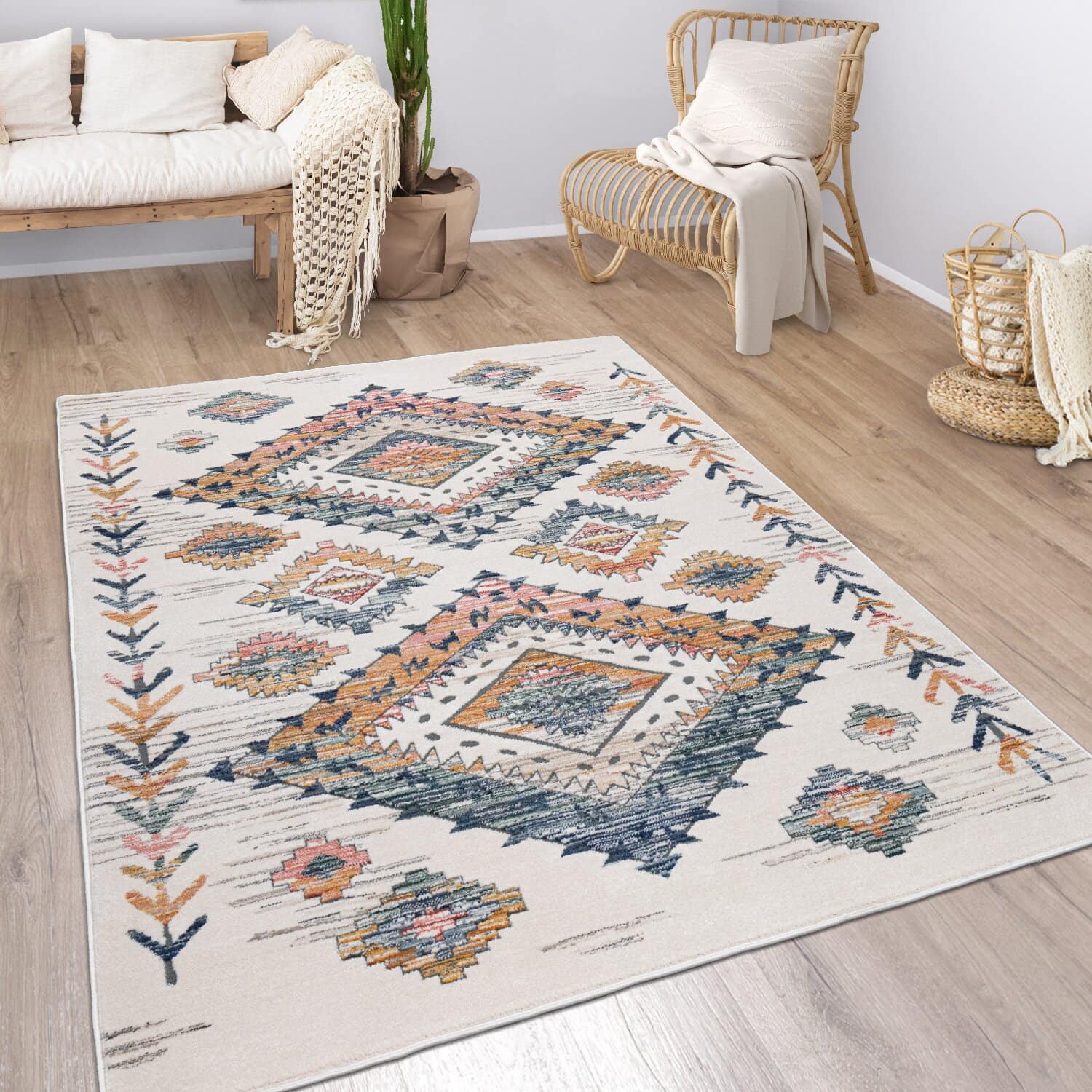 If Bohemian simplicity describes your style, you may be in the market for an elegant Moroccan piece, which looks stunning with natural materials like rattan and wood furniture.
Look how chic this space looks with Macamre throws, neutral-colored pillows, a beige couch, and this bold, multi-colored Moroccan rug with bright geometric patterns on top of the beige base.
Be Bold with Black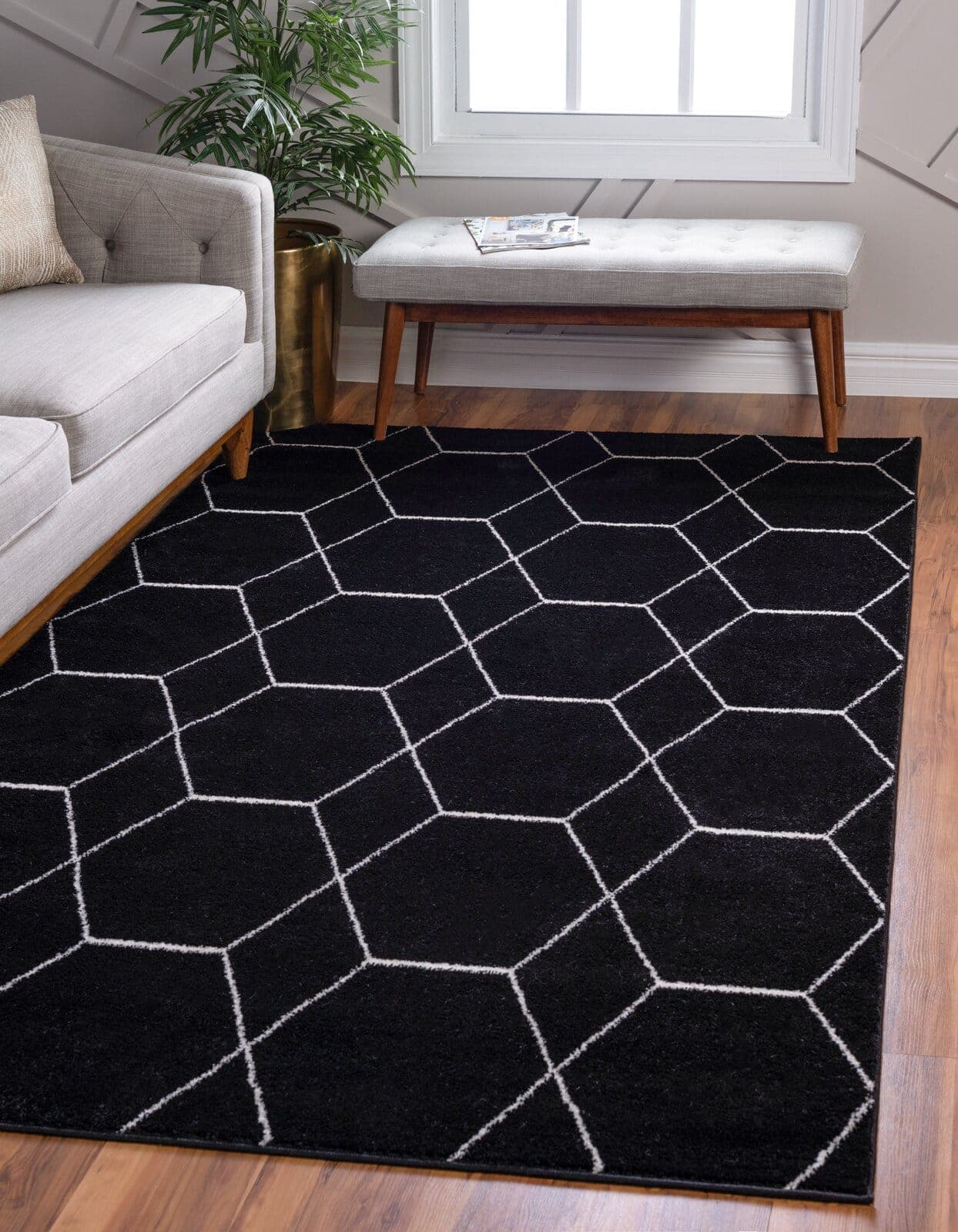 Beige is so versatile it can even look fantabulous as a light contrast against the darkness of an area rug in black with white lined geometric shapes.
This dramatic play against colors creates the perfect modern or contemporary living space for a luxurious, upgraded take on minimalist.
Designer tip: If black is too dramatic for you, there are numerous colors for this rug, including our second favorite – a bright, sunshine yellow.
Achieve Mid-Century Modern with This Angular Abstract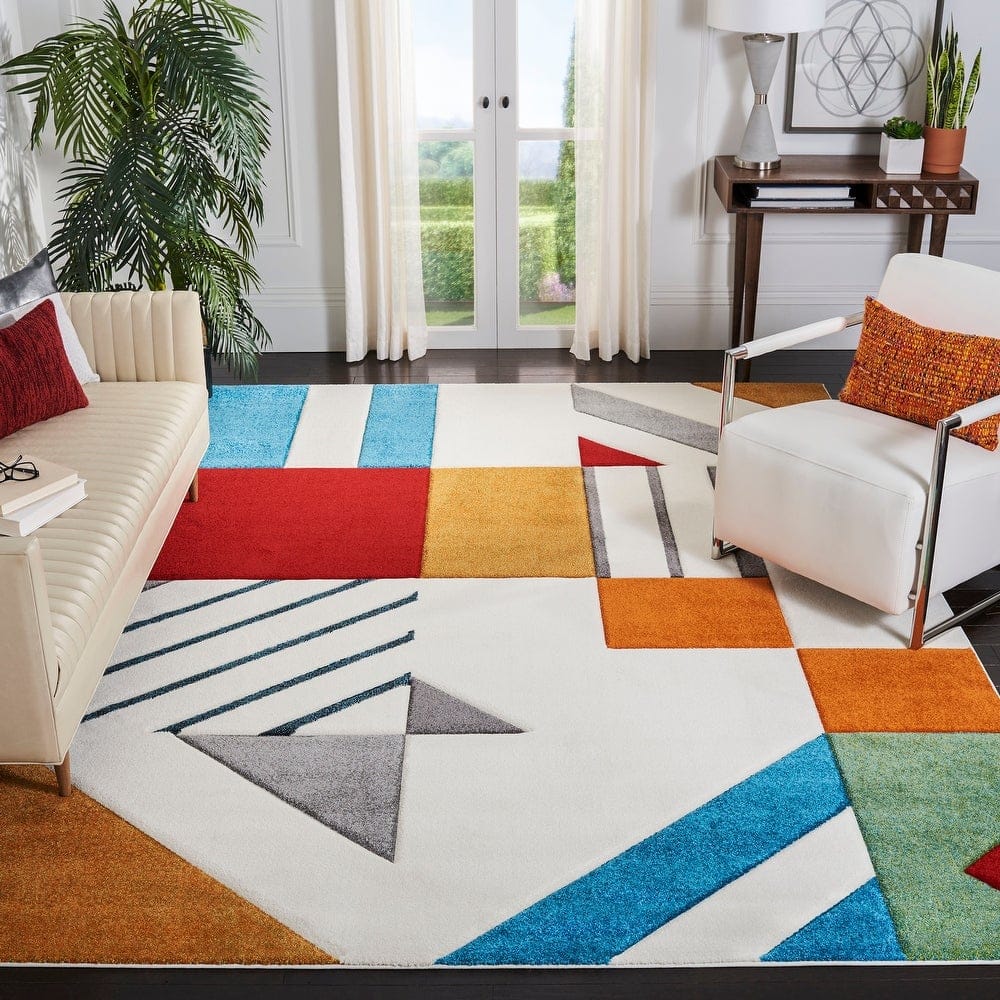 How retro is this mid-century modern area rug with all those bold primary colors and shapes? It's the perfect piece to pair with a trendy beige leather couch with a pleated seat, skinny wood legs, and narrow arms.
The bright shades of blue, orange, red, gray, green, and white give you plenty of options for what colors you want to use for accents.
Transform with Tassels and Texture
We love multiple things about this plush shag carpet, from the 2″ of cozy fluff to the intricate knotted tassel border.
The diamond trellis with abstract designs printed on the ivory base is classic Moroccan, in a faded gray that looks nearly purple in some lighting.
Designer tip: Check out the other color options too. The pink is perfect for a more feminine space, while the brown and dark gray rugs are more earthy and masculine. Teal or navy are excellent for a more nautical feel.
Soak in the Seafoam Shag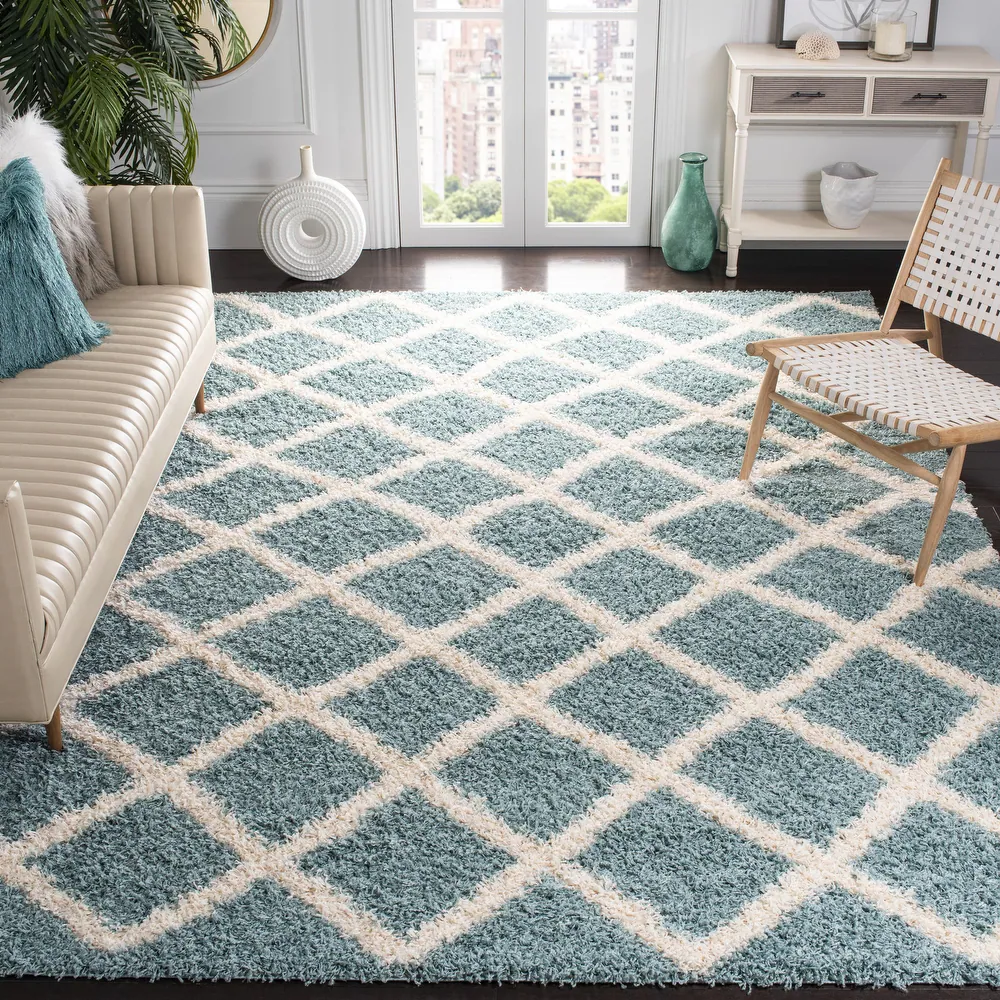 Adding a simple trellis design area rug like this one is an easy yet effective way to give your room character and style while also being super comfy due to the 1 ½" thick shag pile.
We love the way this beige couch turns toasty warm with subtle gold undertones when matched with a rug in classy seafoam green with an ivory trellis pattern. This color combo is excellent for coastal or beach themes.
Final Words
While your beige couch may look good on its own, it can achieve rock star status by adding an area rug underneath. So whether you prefer something subtle that will blend with the sofa or you want something that's going to stand out, beige can go with it all.
We hope you enjoyed this list of 15 rugs for a cream couch. Now, it's your turn to show us – what color rug goes with a beige couch. Drop your pics and deets in the comments!