17 Irresistibly Mid-Century Modern Style Ideas
Most people recognize mid-century modern for its simple aesthetic, geometric patterns, and retro style furniture.
But even within this style, there are lots of variations. For example, you can go glam by choosing velvet and gold accents or keep things simple by choosing wood furniture and a neutral color scheme.
Either way, you'll end up with a beautiful modern room that has a timeless style.
If you're looking for some inspiration, here are 17 mid-century modern style ideas you can use in your home.
Get Cozy with the Perfect Leather Couch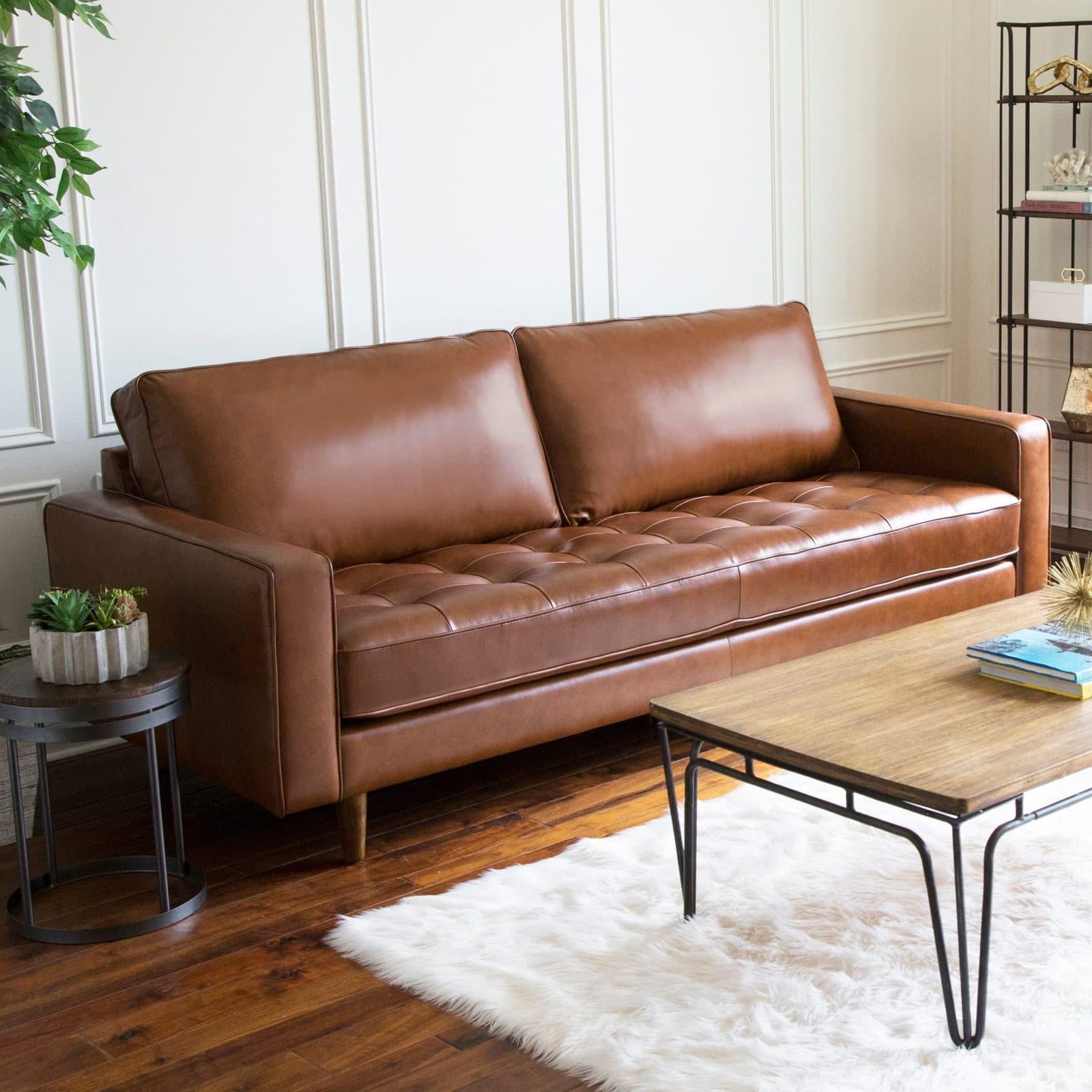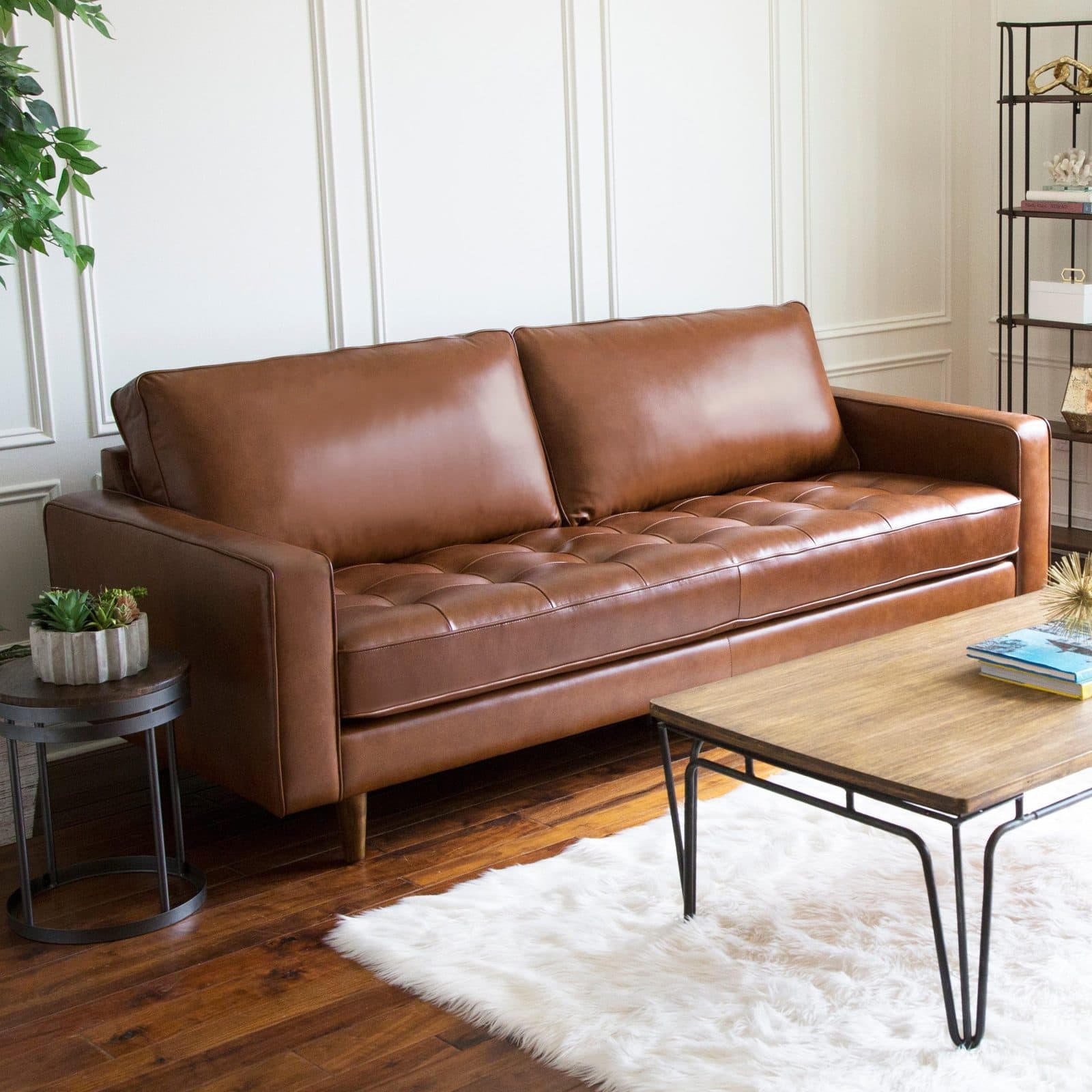 Need a couch that will never go out of style? This mid-century modern leather sofa is hard to beat.
This couch has top grain leather, wood legs, and tufting on the bottom cushions. Even though the sofa is stylish, it's also timeless. It comes in three colors including camel, grey, and brown. This sofa would look fantastic in a living room, office, or study.
Sleep Better with this Platform Bed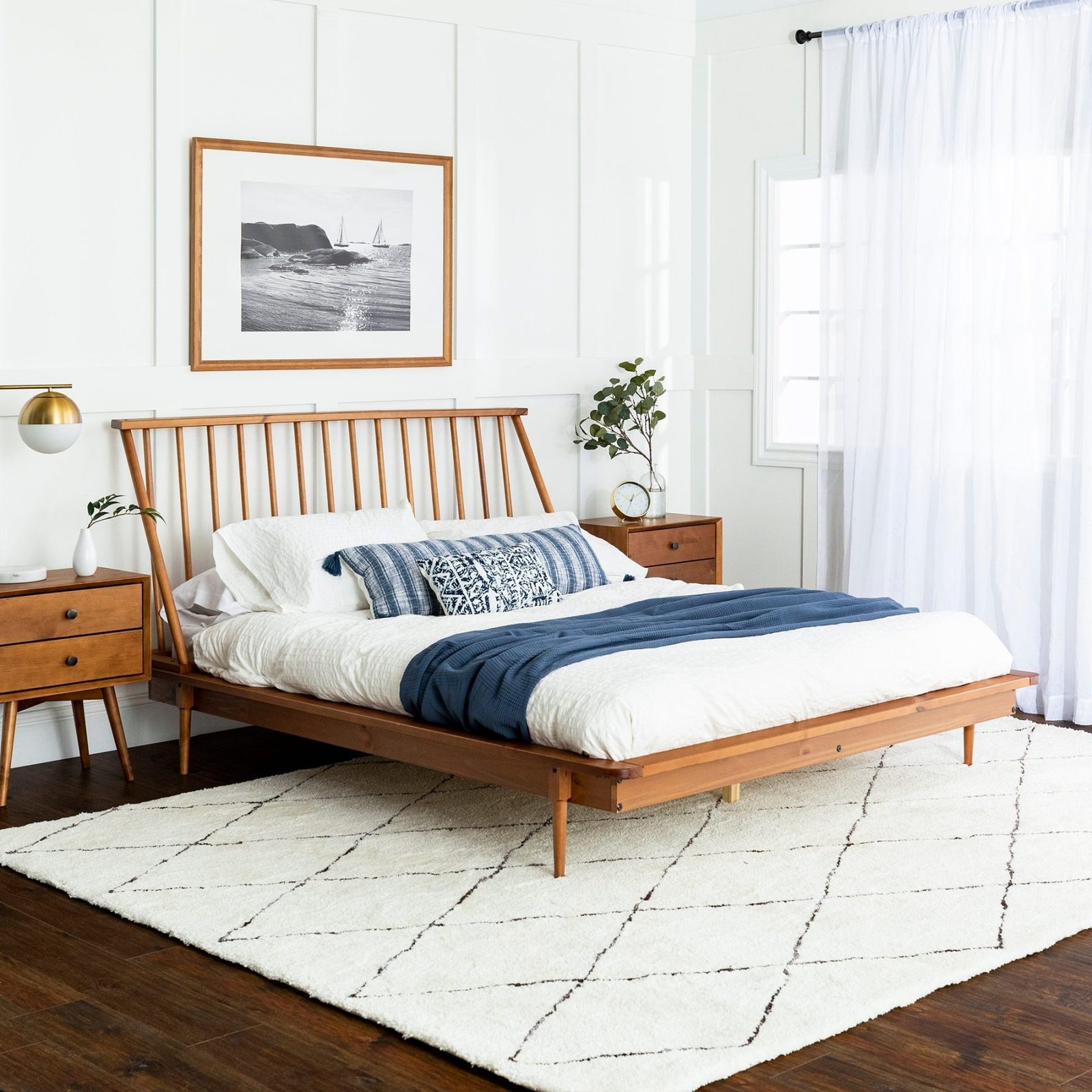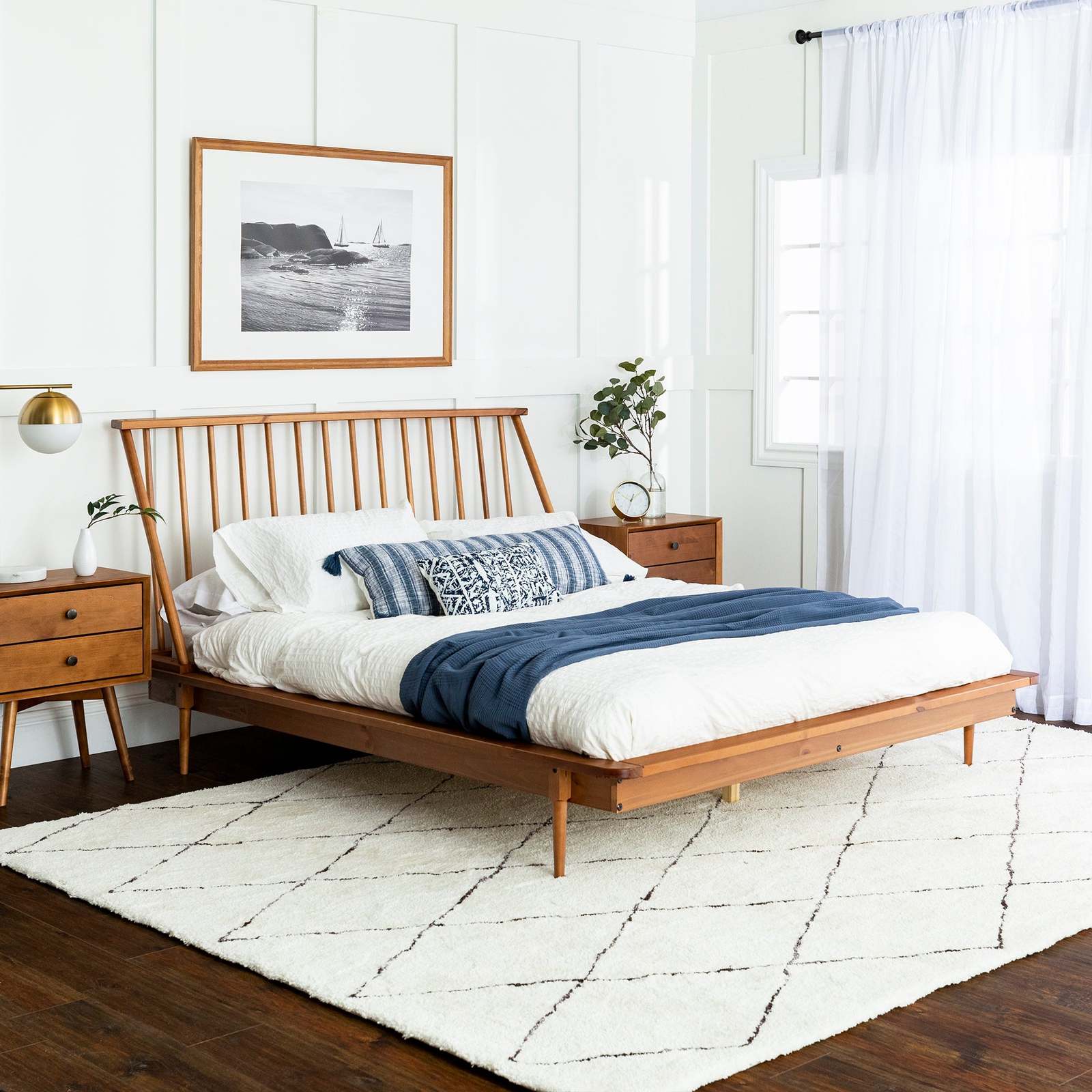 Do you dream of better sleep? If so, create a calming mid-century modern bedroom with this wooden spindle platform bed.
This bed is solid pine wood, and since it has slats, it doesn't require a box spring. The bed comes in five finishes, including white, black, walnut, light oak, and caramel. You can find it in twin, king, and queen sizes.
Put Down a Geometric Rug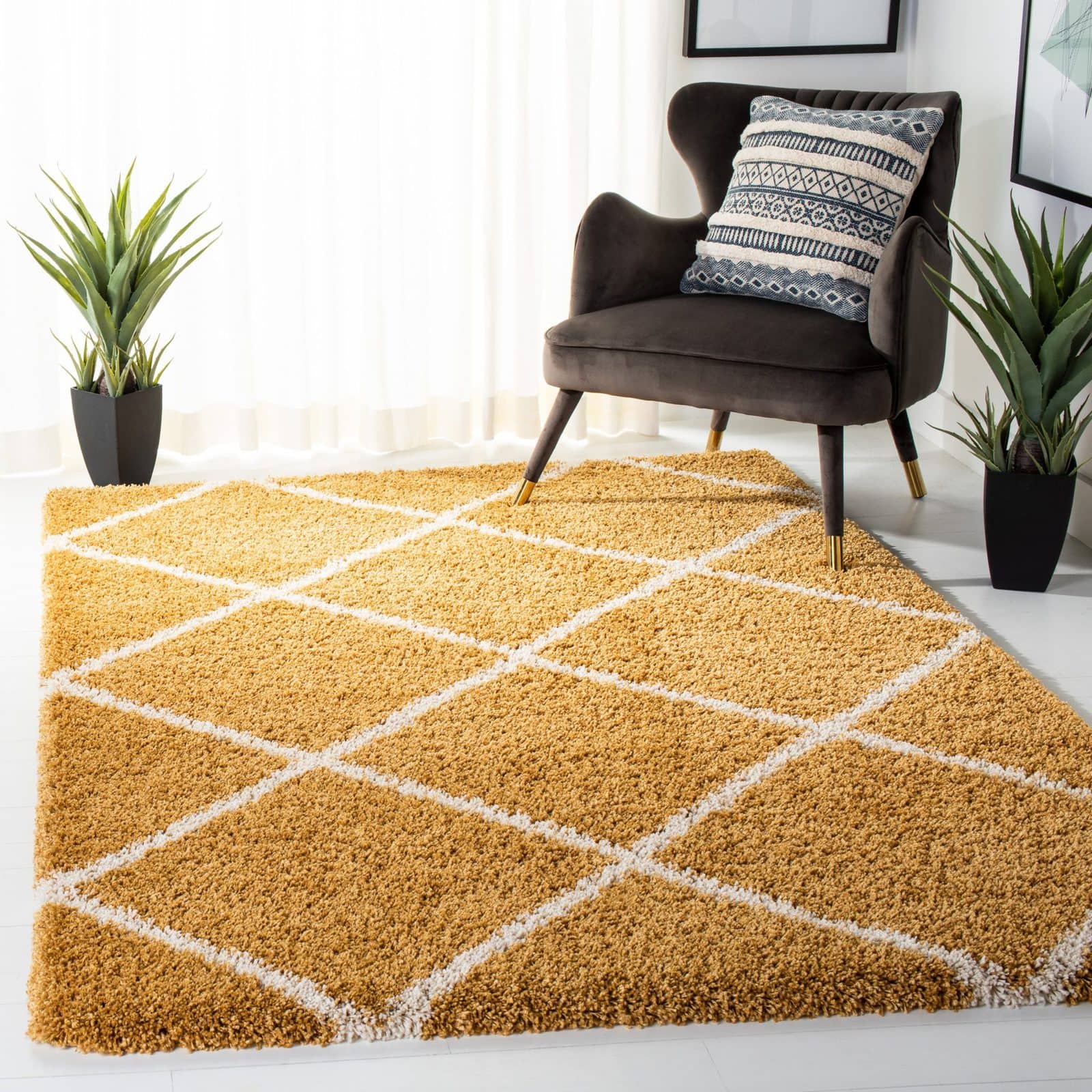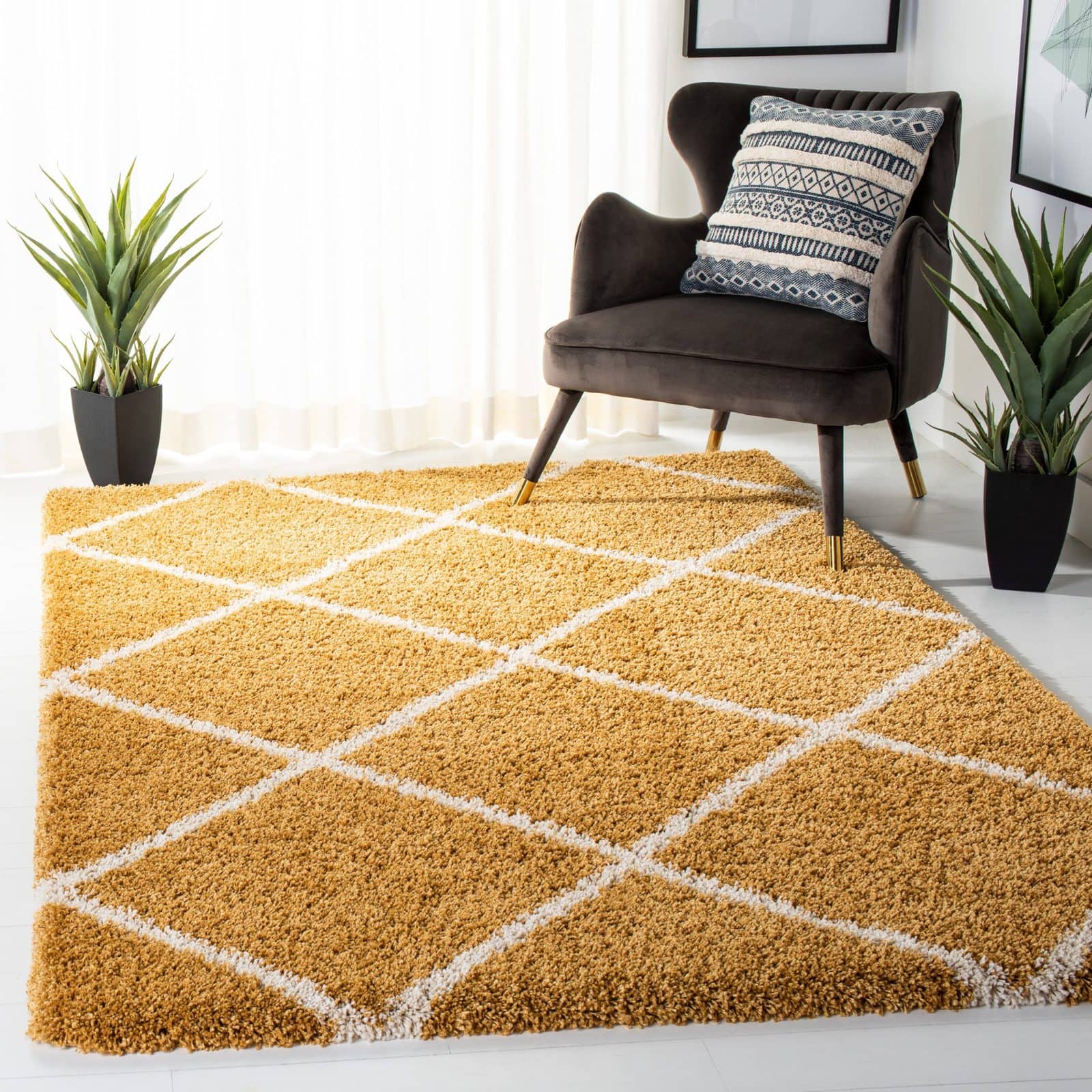 If you're looking for the perfect rug for your living room or bedroom, this one from Overstock has a great mid-century modern feel and is highly rated.
This rug comes in multiple colors, sizes, and shapes. It would look great under a bed or sofa, and you could even get the runner version to line a hallway.
Modernize Your TV Stand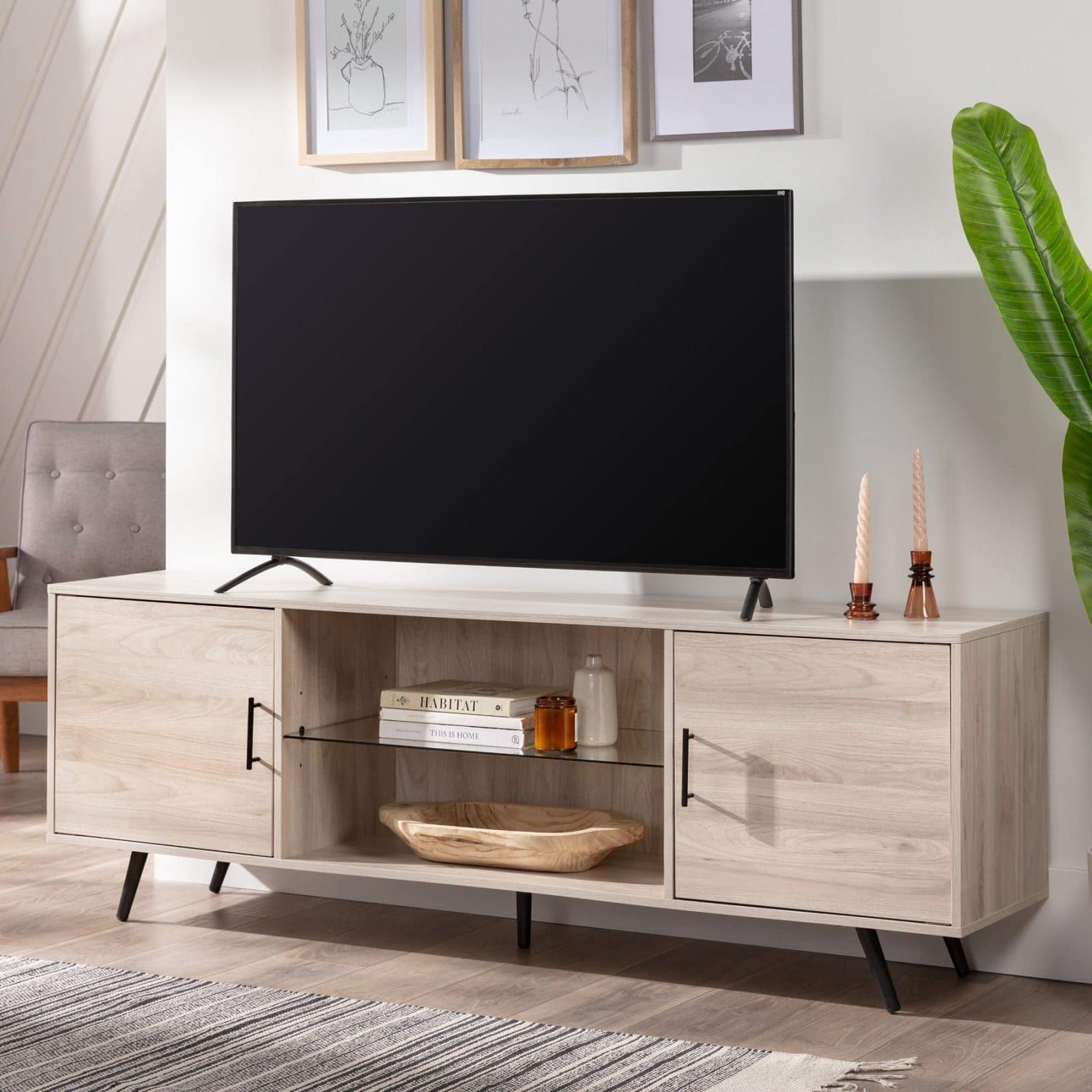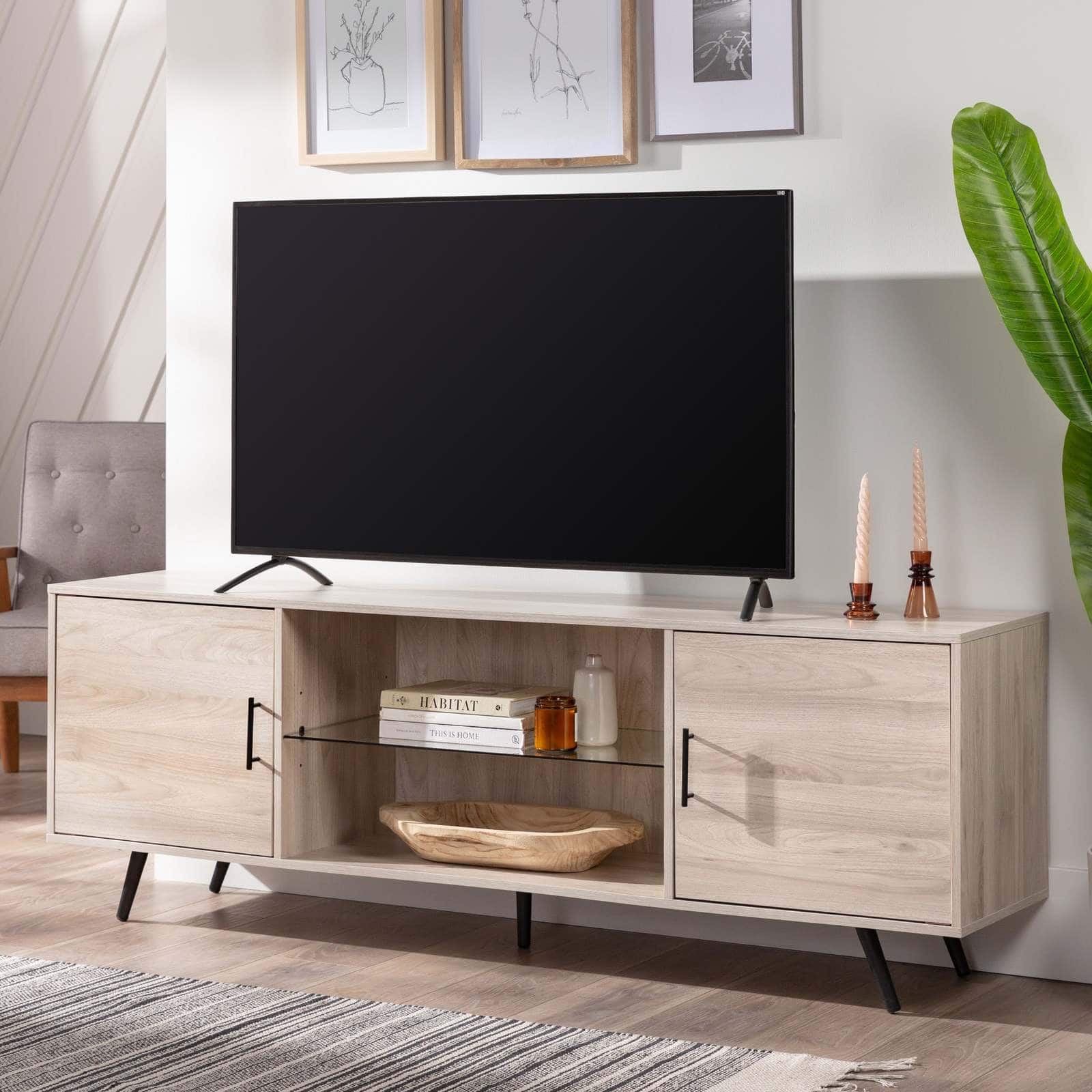 Need a place to put the tv? This mid-century modern tv stand gives you a place to put the television while adding style to your room.
You can get this tv stand in two colors: graphite and slate gray. It's a blend of high-grade MDF and laminate with slanted metal legs.
This stand would look great in any modern or minimal-styled living room.
Glam Up Your Dining Table with an Upholstered Chair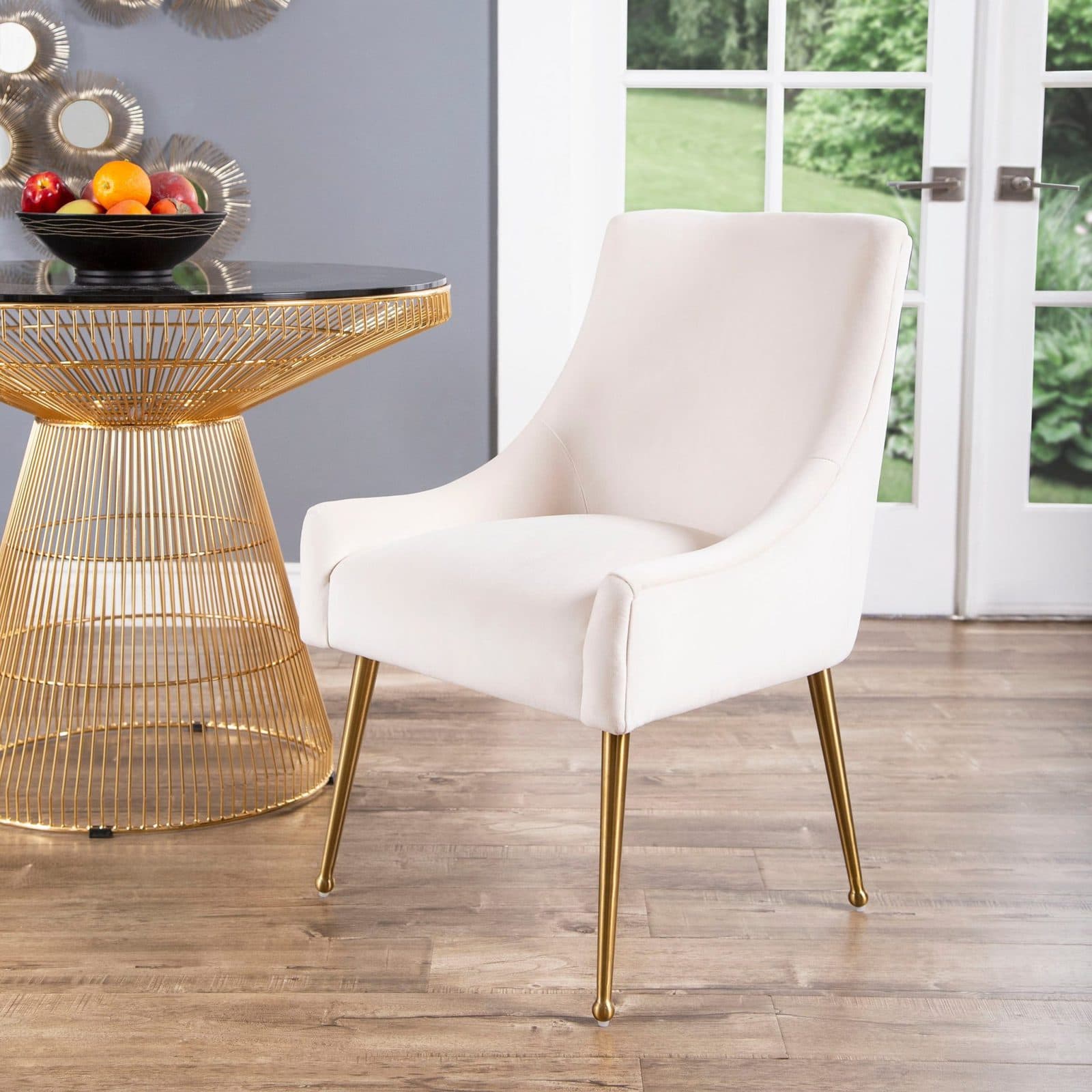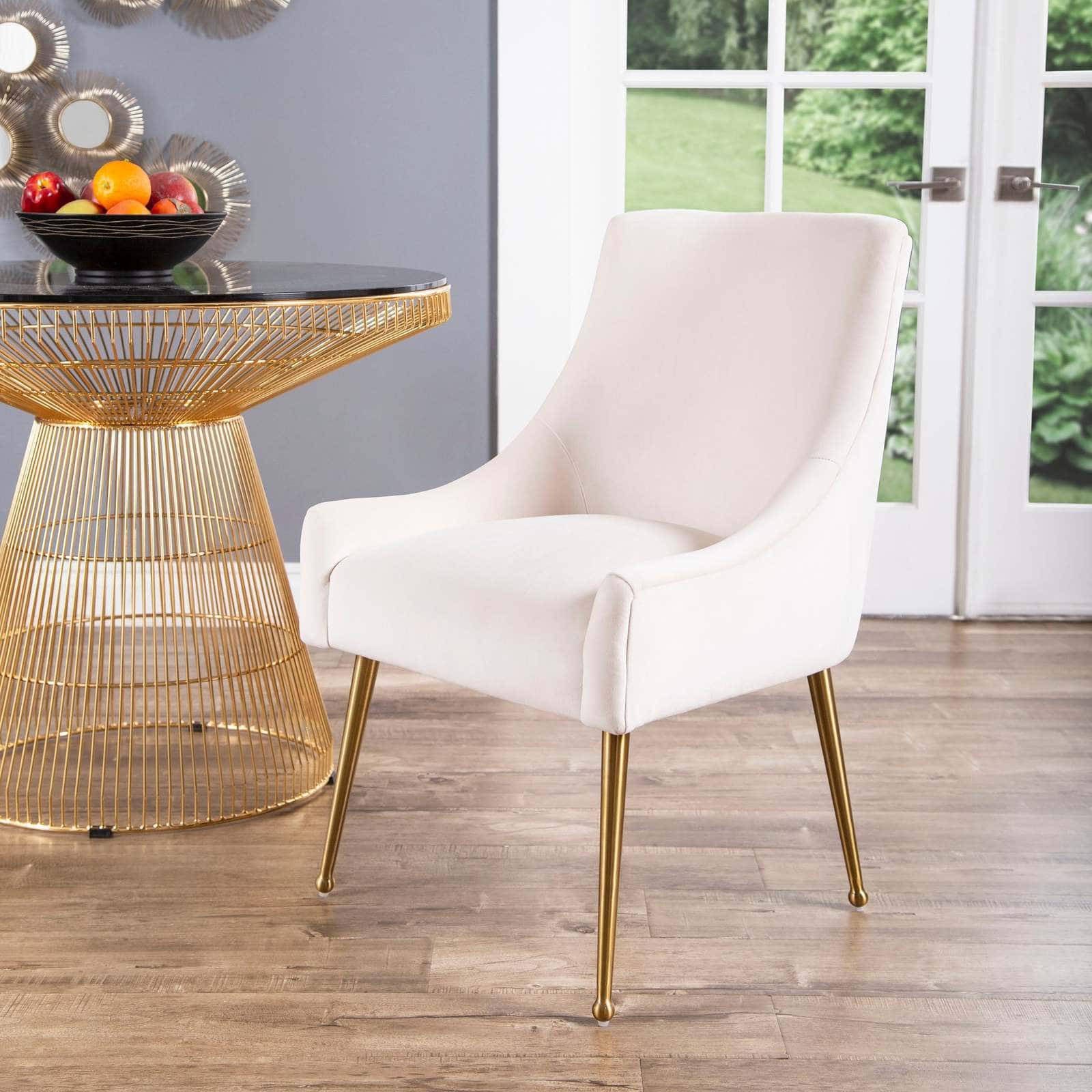 If you like your mid-century style to have more of a glam feel, these dining chairs can help you achieve it.
These chairs feature velvet upholstery with metal legs and a metal accent handle on the chair's back. The chairs come in five different colors, and you can purchase them in sets of 1 or 2. You could place two t a small breakfast set or one at each end of a long dinner table.
Make Your Room Feel Bigger with a Sleek Mirror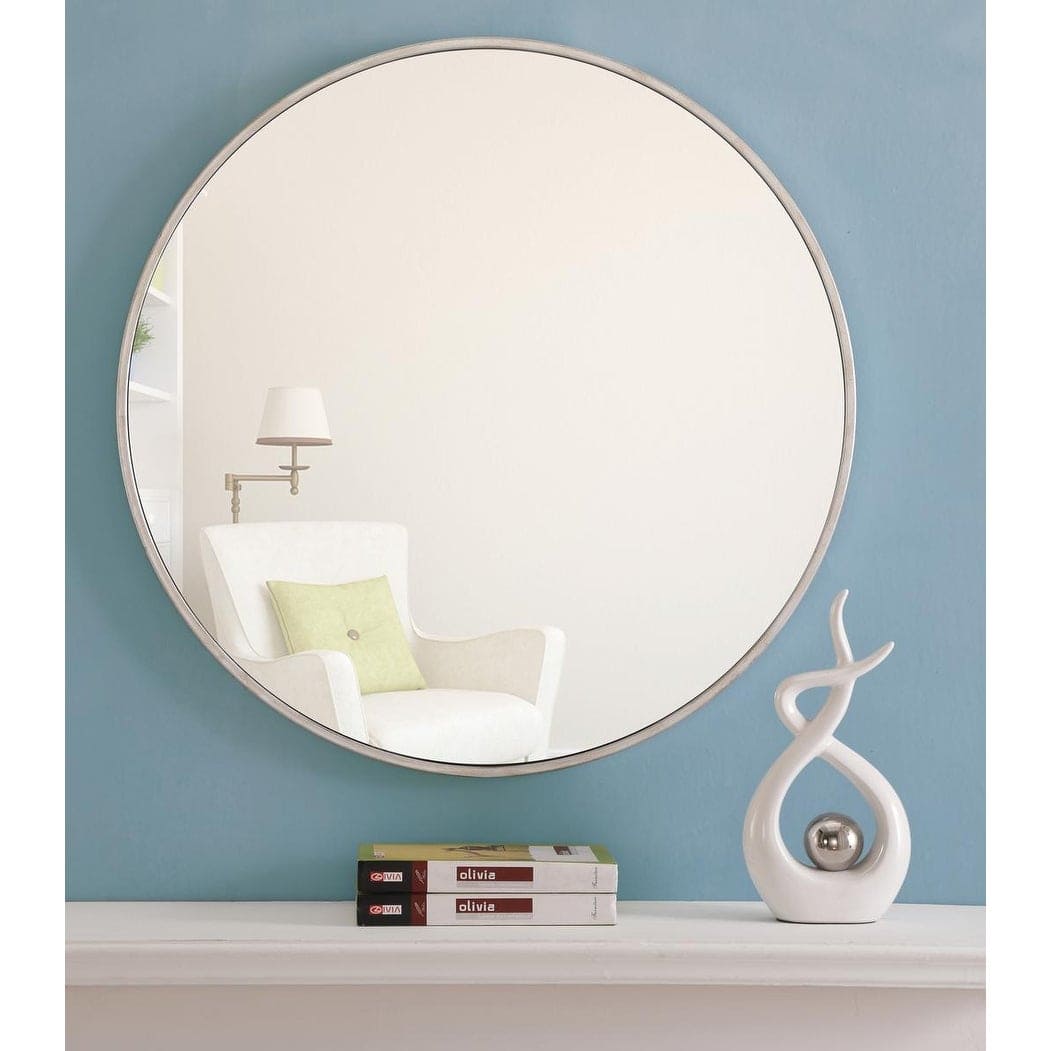 If you're looking for style ideas for a small room, try a mirror. Mirrors reflect light, making even the smallest of spaces feel bigger.
For a mid-century modern style, go with a simple mirror-like picture. This round mirror has a thin frame and comes in multiple sizes and frame colors.
Accent Your Couch with New Throw Pillows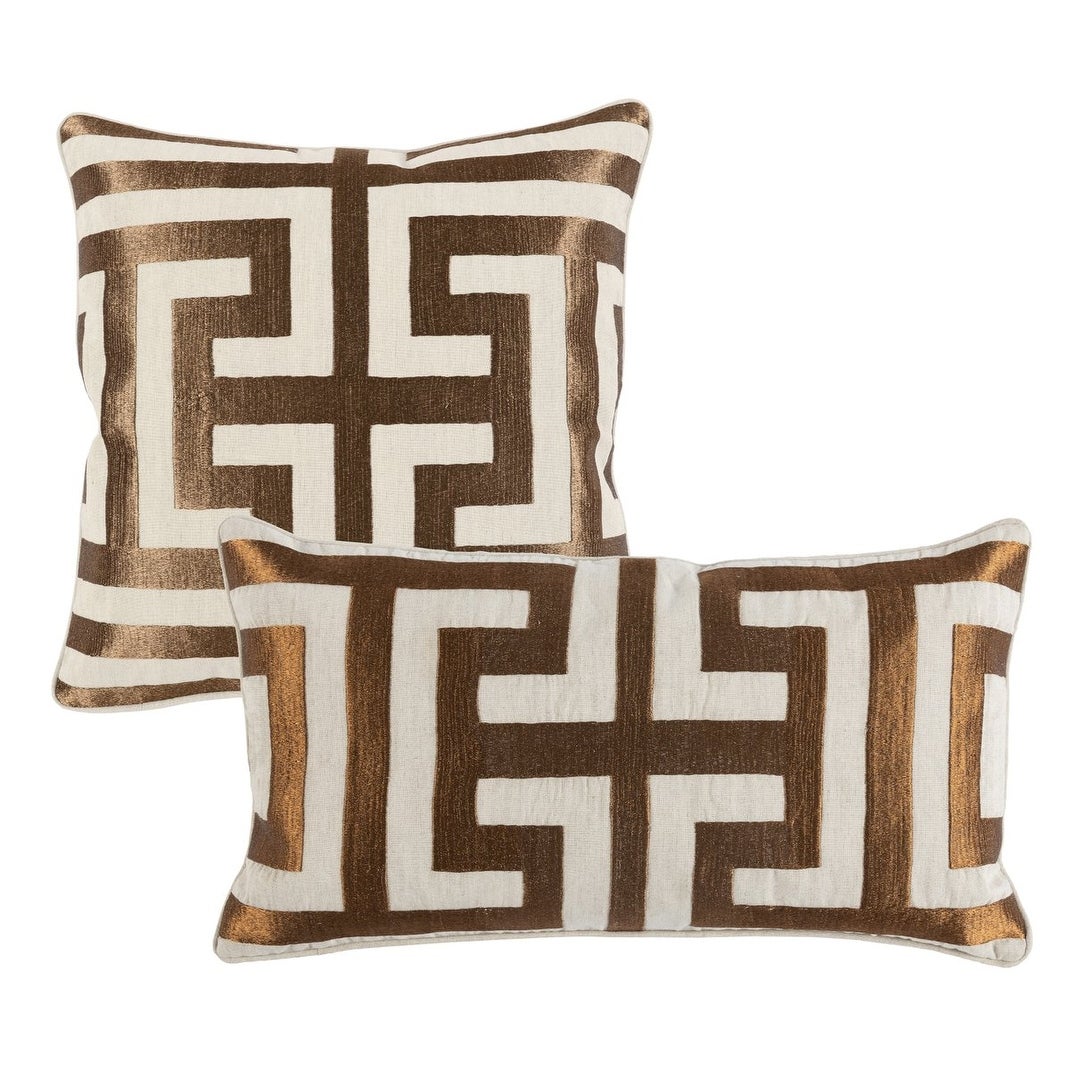 You can instantly make a traditional couch look more modern by adding the right throw pillows. These pillows are a great option, featuring a fun geometric design in metallic colors.
Since these pillows are neutral, they'd work well with virtually any color sofa and are an easy and inexpensive way to modernize your living room.
Add Function to Your Bedroom with Retro Nightstands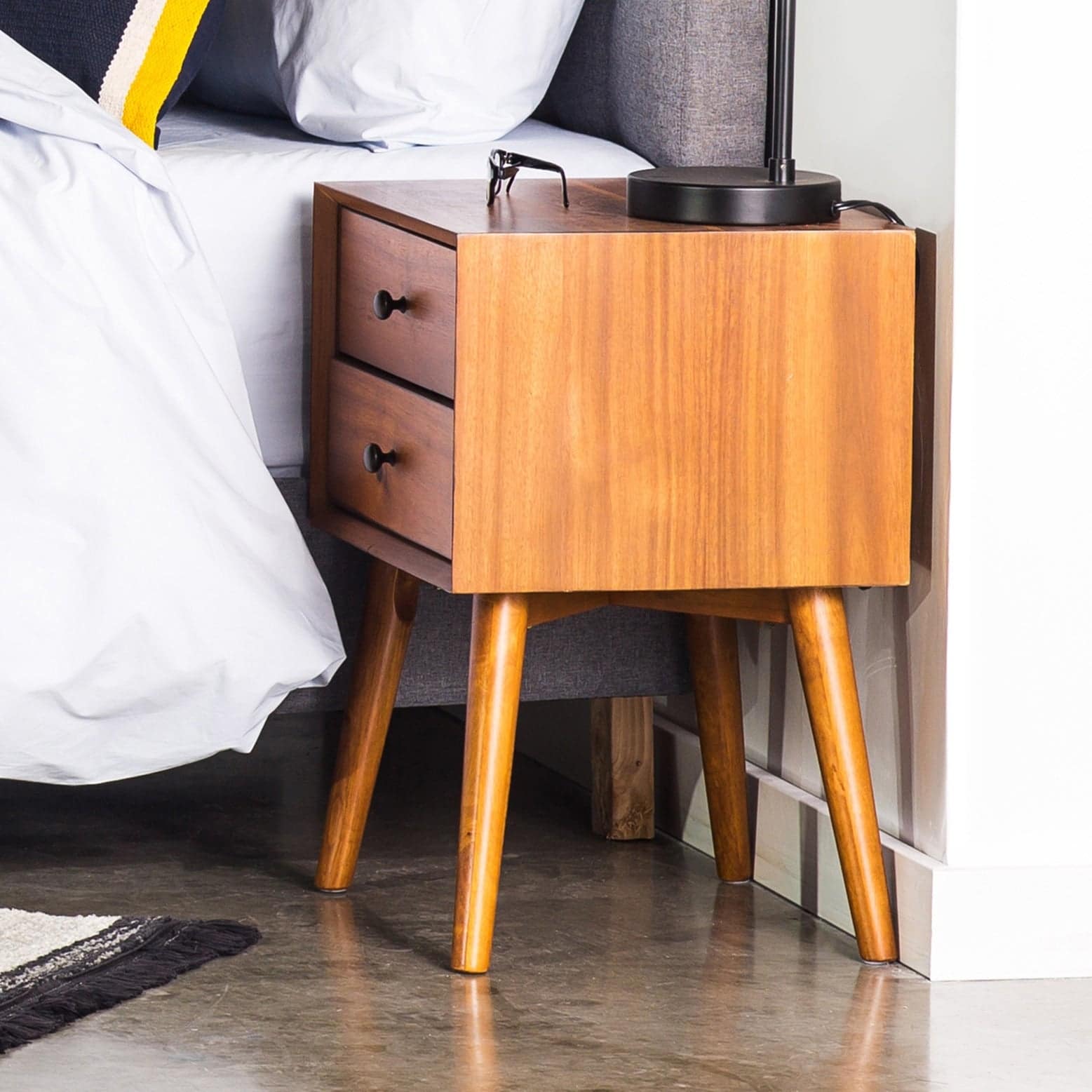 If you're looking for a nightstand that has as much function as it does style, this one checks both boxes.
This mid-century modern nightstand is a blend of MDF and acacia wood. Its slanted legs give it a very retro but simple feel, while the two drawers offer plenty of space to store the things you need beside your bed.
Update Your Dining Room Table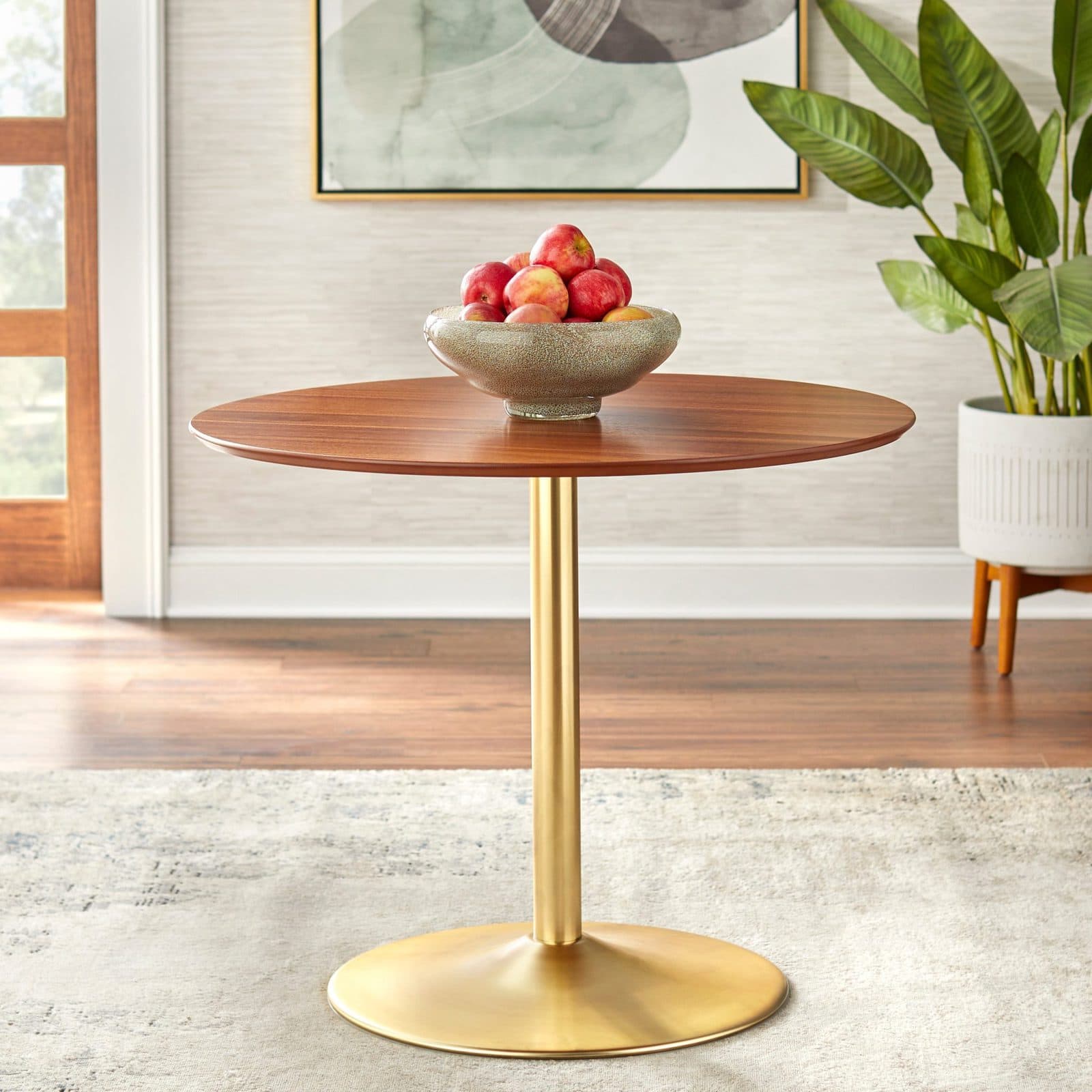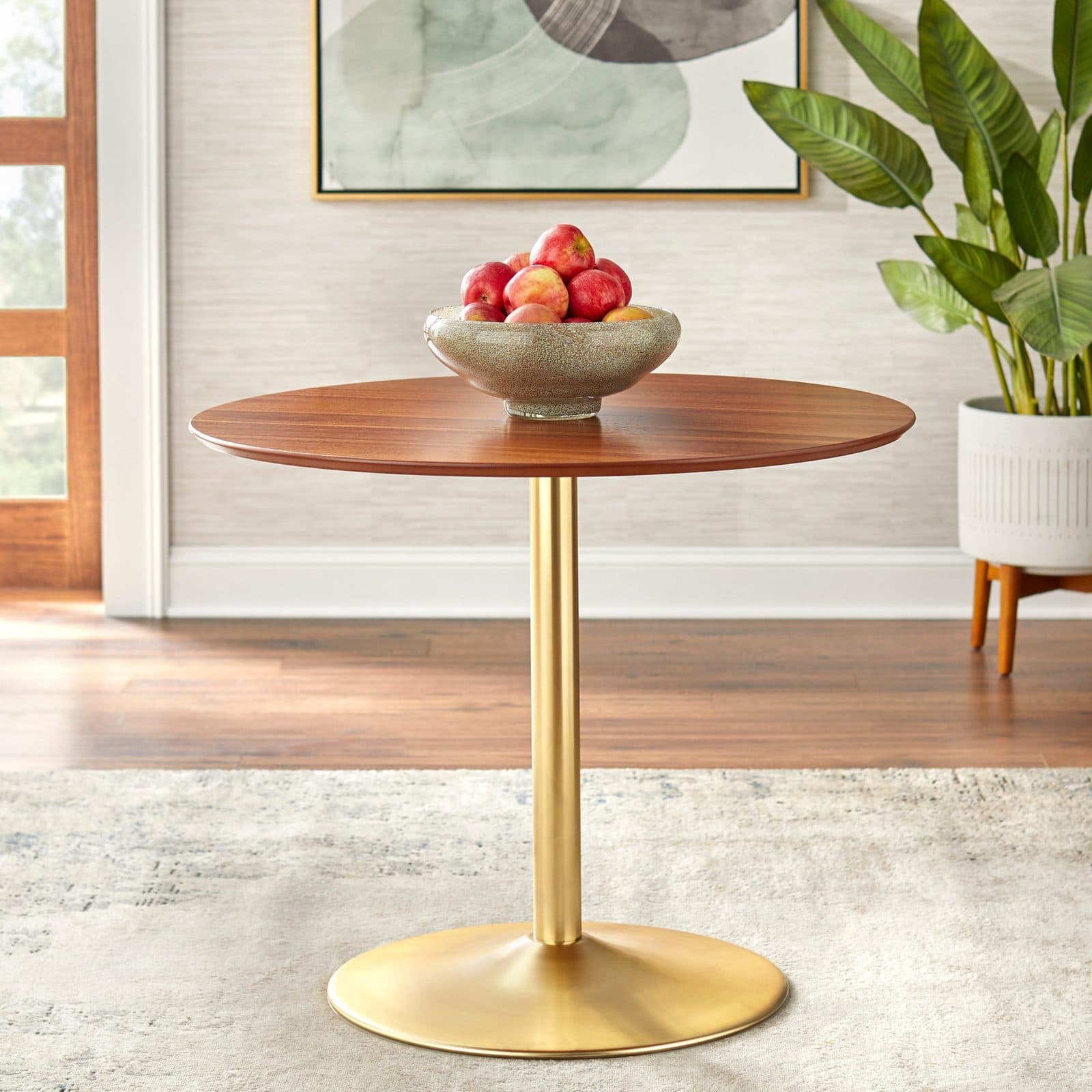 Need a table for a small dining room or eat-in kitchen? This rounded table from Overstock is 35.4 inches in diameter – the perfect size for most eat-in kitchens.
You can find this table in several finishes, including black, white, and clear. You can make this table look glam by adding two upholstered chairs or make it look simple and streamlined by using smaller metal chairs.
Relax in Style with a Tufted Recliner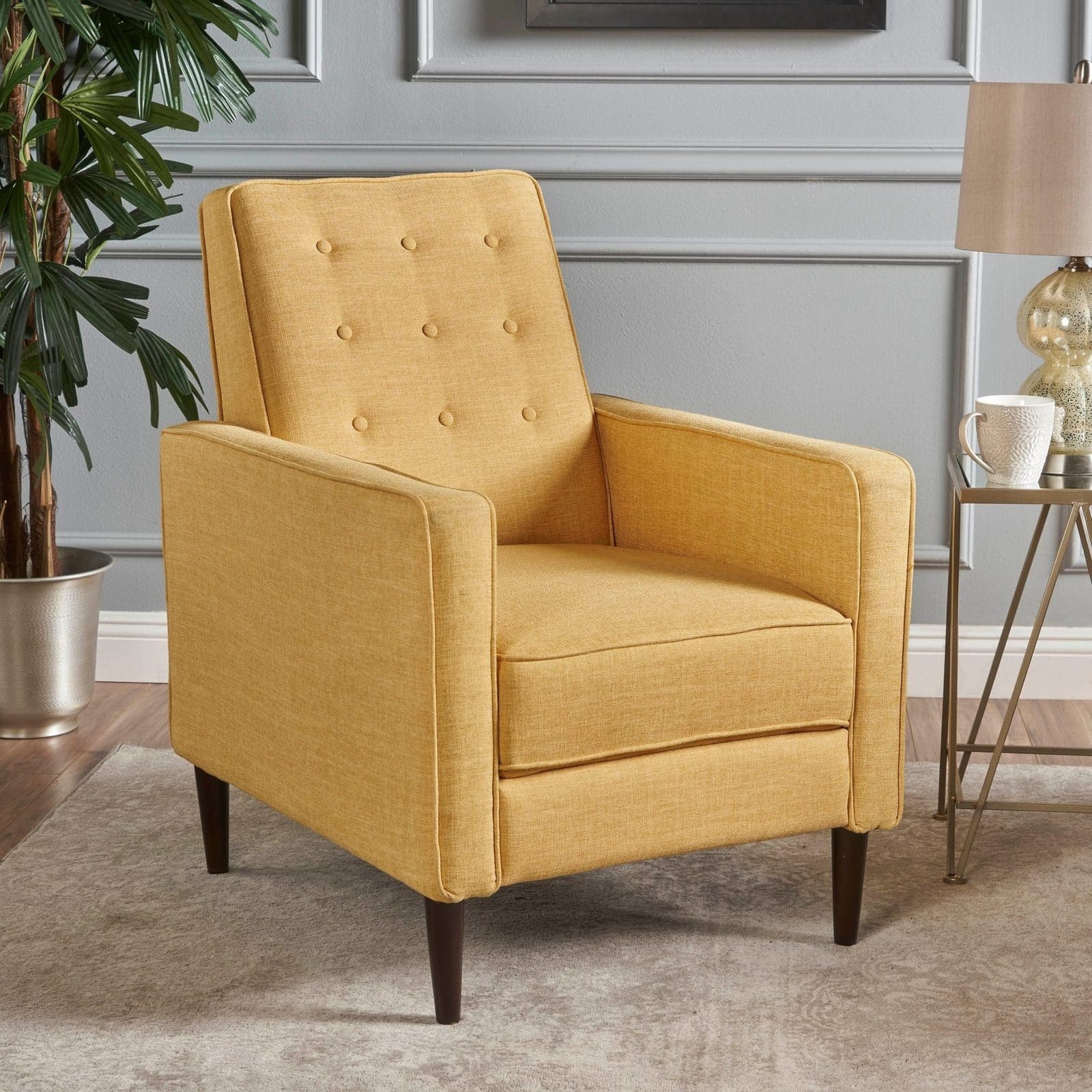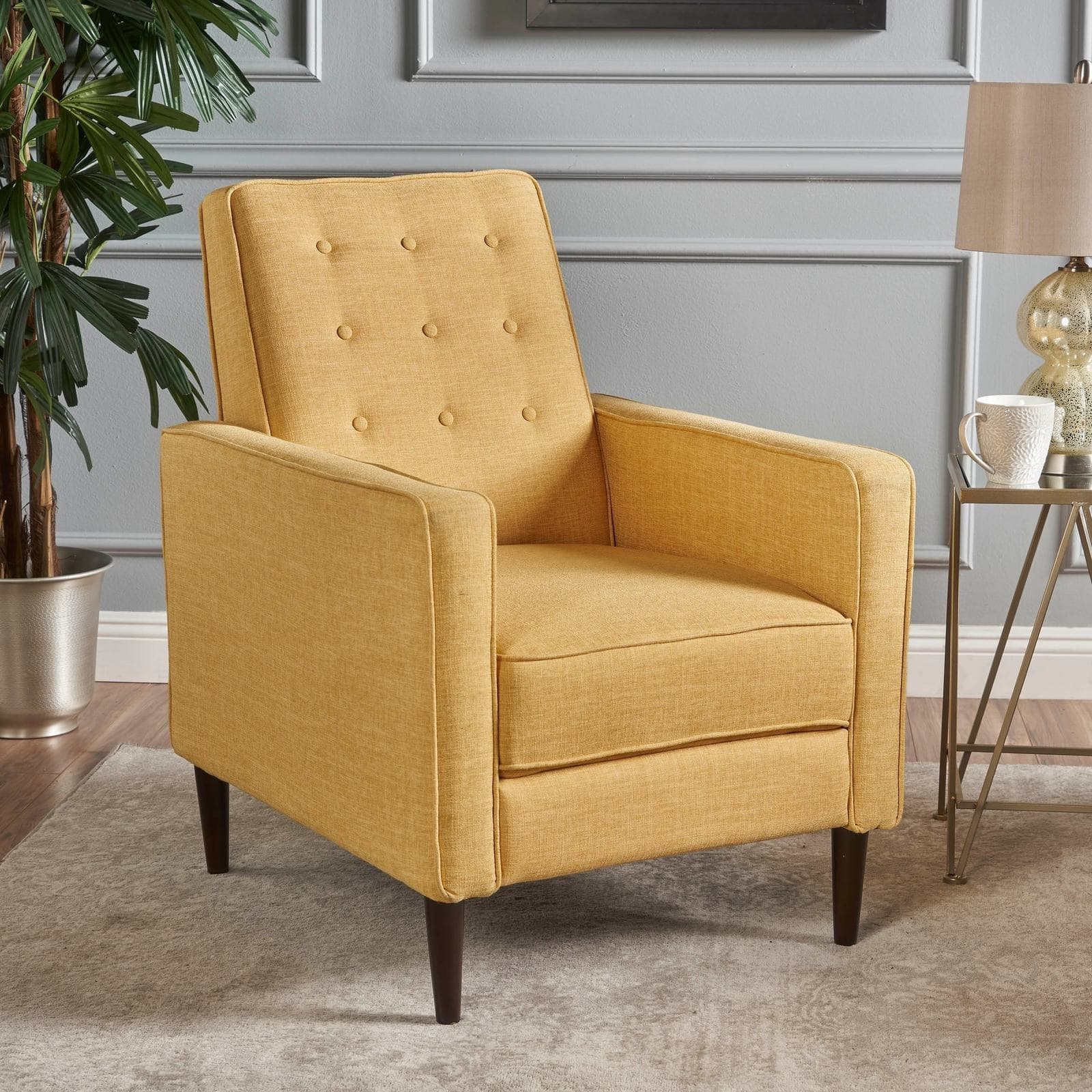 If you need a recliner for your living room but aren't having much luck finding one in a mid-century style, this option may be your saving grace.
This recliner comes in ten colors ranging from neutral to bold. It features a beautiful button-tufted waffle stitch, a semi-firm cushion, and is a push-back recliner.
Brighten Up the Bathroom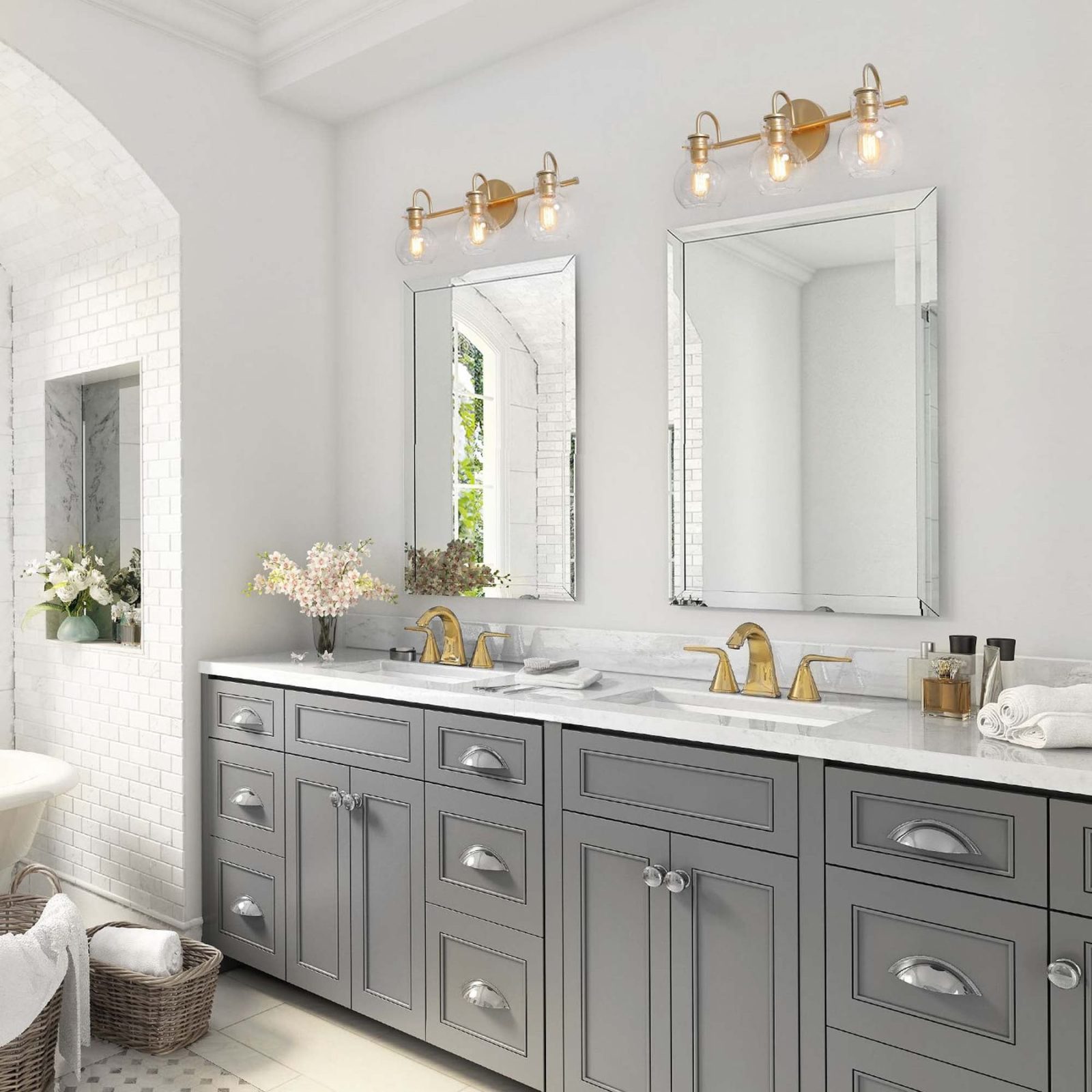 If you still have builder-grade lights in the bathroom, you can pull off a more modern look by upgrading your over-the-mirror light fixtures.
For a modern look, try a gold wall sconce like shown above. You can install these light fixtures with the lights facing up or down – whichever better fits your preferences. These sconces also come in black.
Create More Storage with a Mid-Century Buffet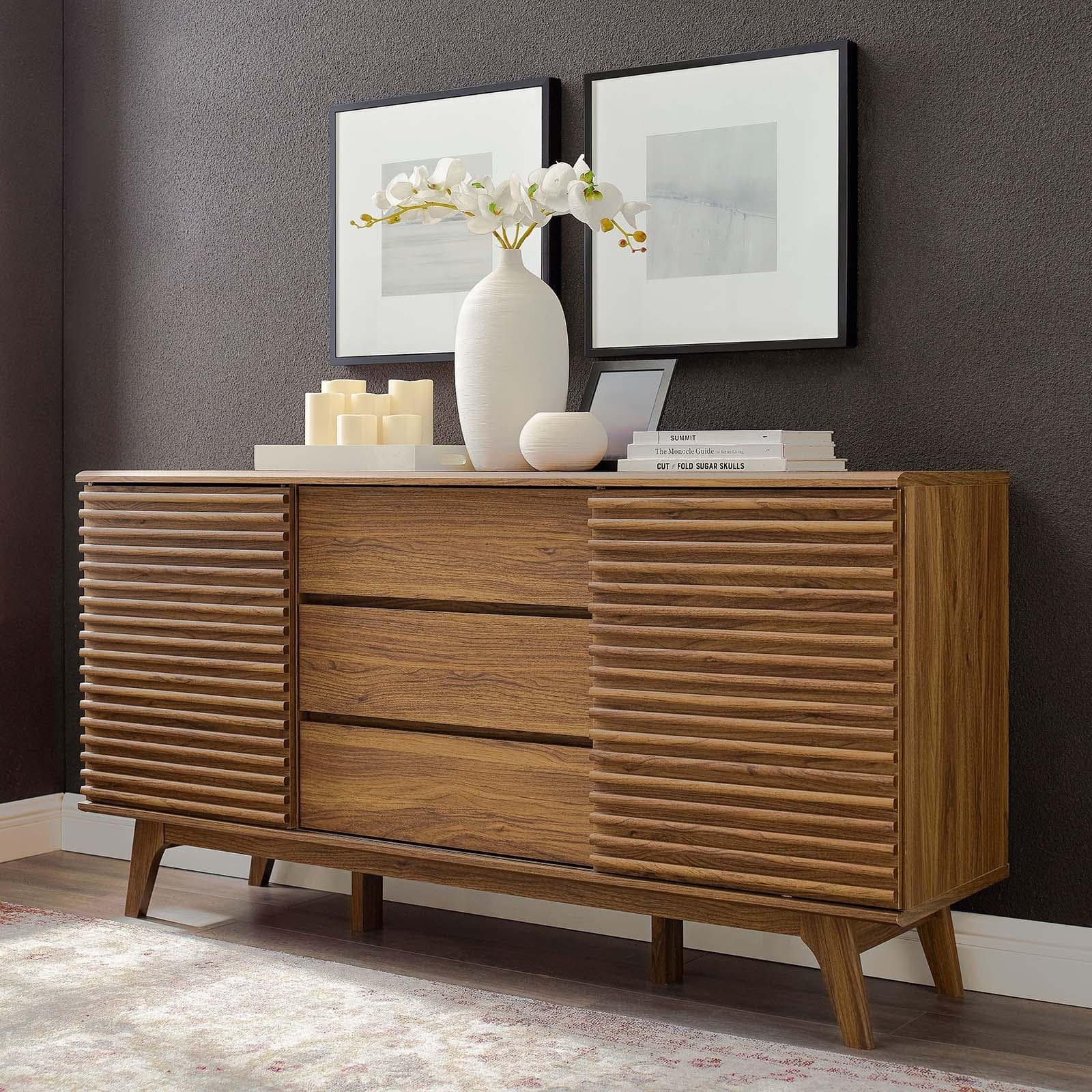 Sideboards and buffets are great pieces of furniture to bring into the dining room for storage. You can use them to keep extra napkins, dinnerware, or even party supplies.
If you're looking for a buffet with a modern flair, this is a great choice. This buffet has three shelves on each side with sliding doors that cover them. In addition, it has three drawers which give you plenty of storage.
Bring In a New Desk Chair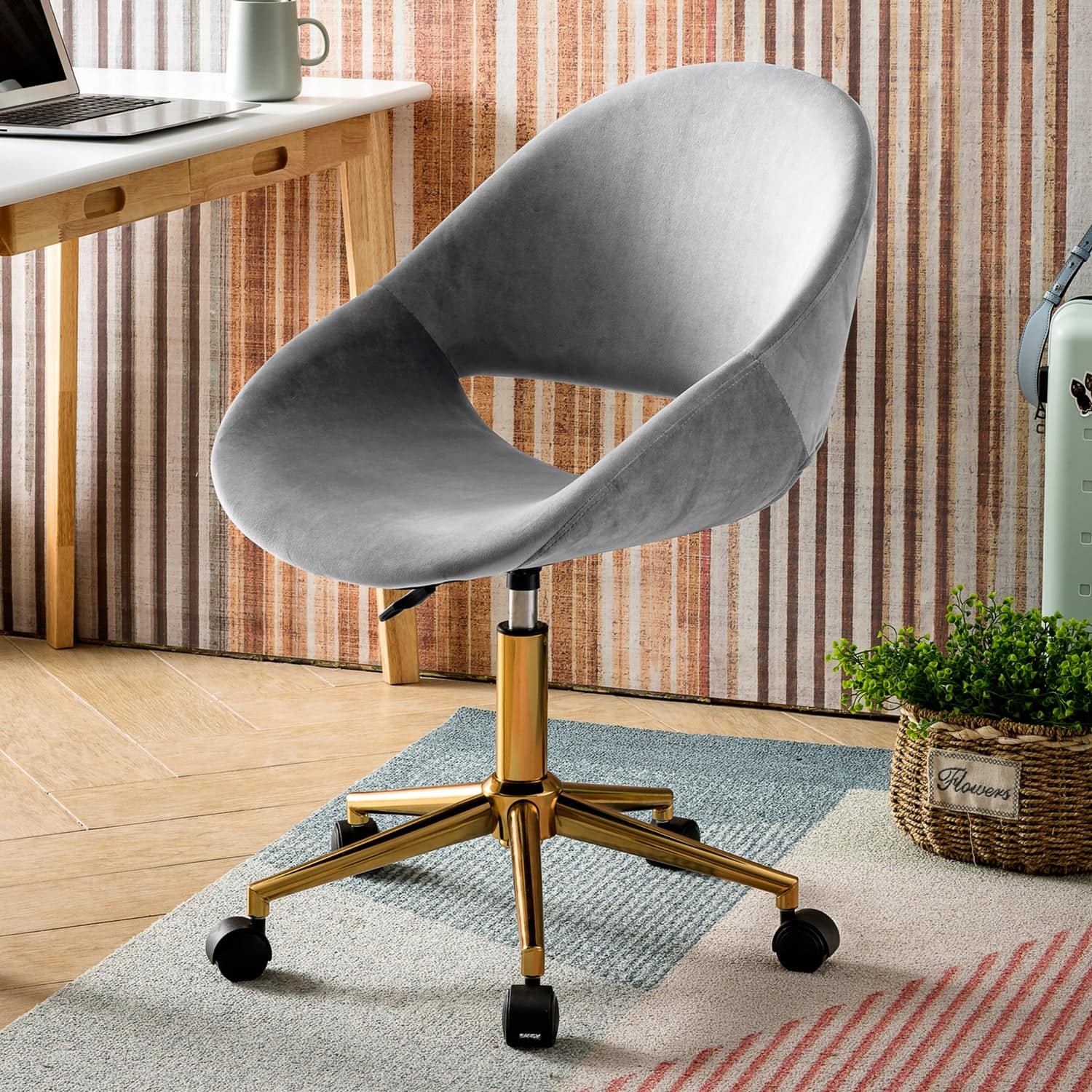 Desk chairs should be comfy since you sit in them for hours each day. But aside from comfort, it's also nice to have a desk chair that looks good. Fortunately, this one fits both sets of criteria.
This mid-century desk chair is upholstered in plush velvet fabric, has a 360-degree swivel, and adjustable height. You can find this chair in pink or gray with an option of gold or silver legs.
Make a Statement with a Scalloped Arm Chair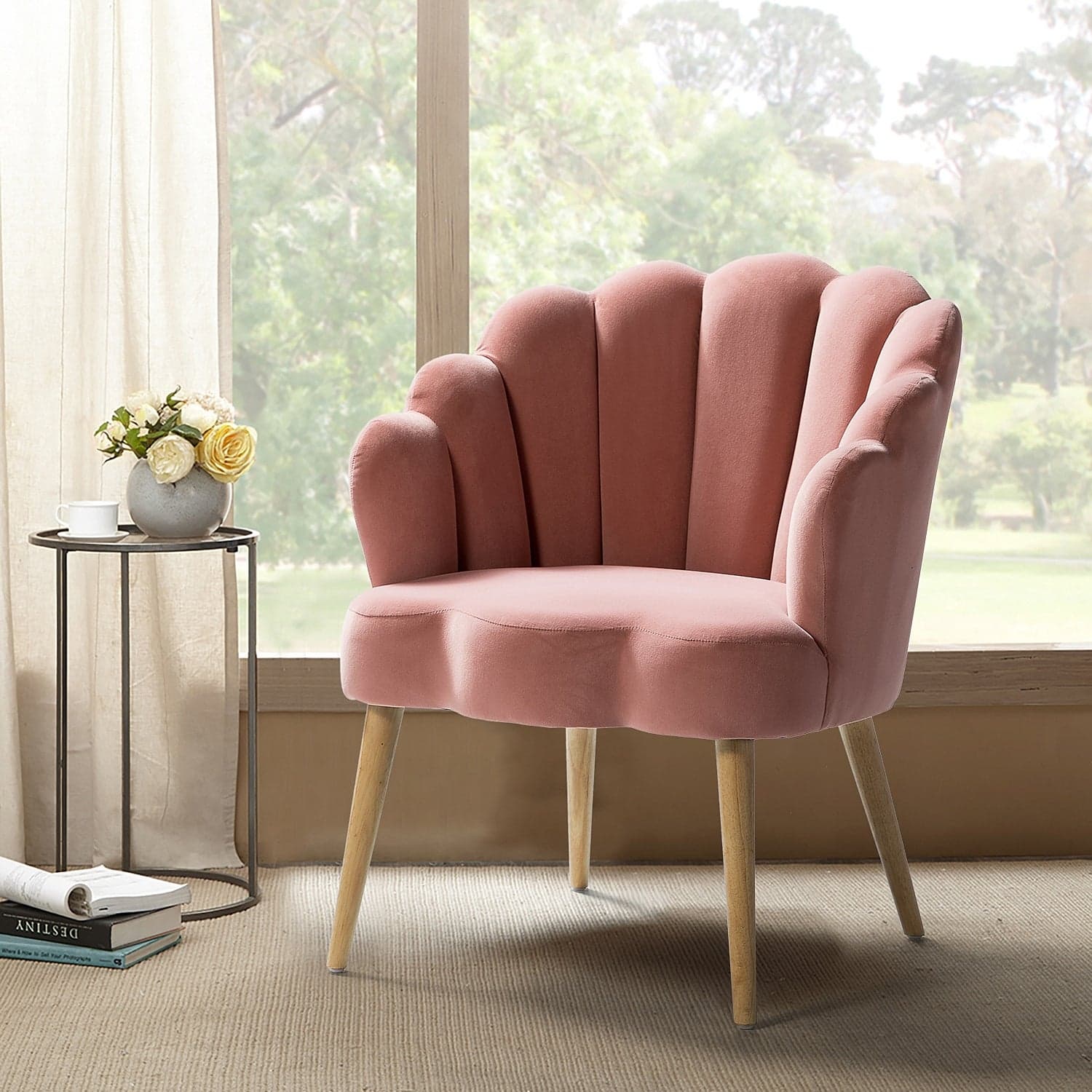 Need a chair that makes a statement? It's hard not to notice this scalloped velvet accent chair. This would look amazing as a vanity chair, placed beside your bed, or as part of the seating area in your living room.
This chair comes in eight colors. It has velvet upholstery with natural wood legs.
Add Greenery with Modern Planters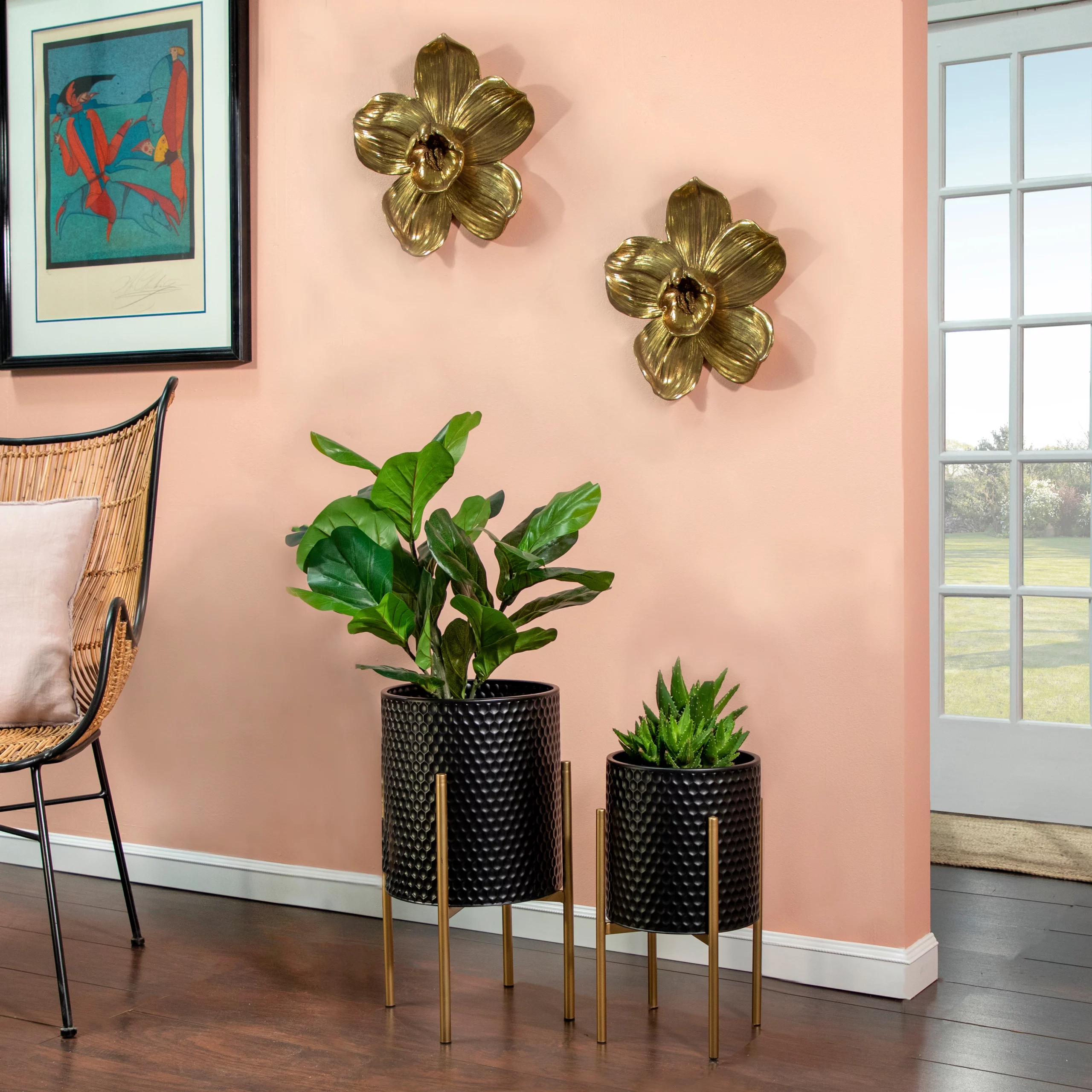 What's a good design without a little bit of greenery? If you're trying to bring plants in the room and need a way to incorporate them with a modern style, these planters will do the trick.
The set includes two metal planters with black honeycomb pots and gold stands. These would look fantastic in any room.
Increase Your Productivity with a Writing Desk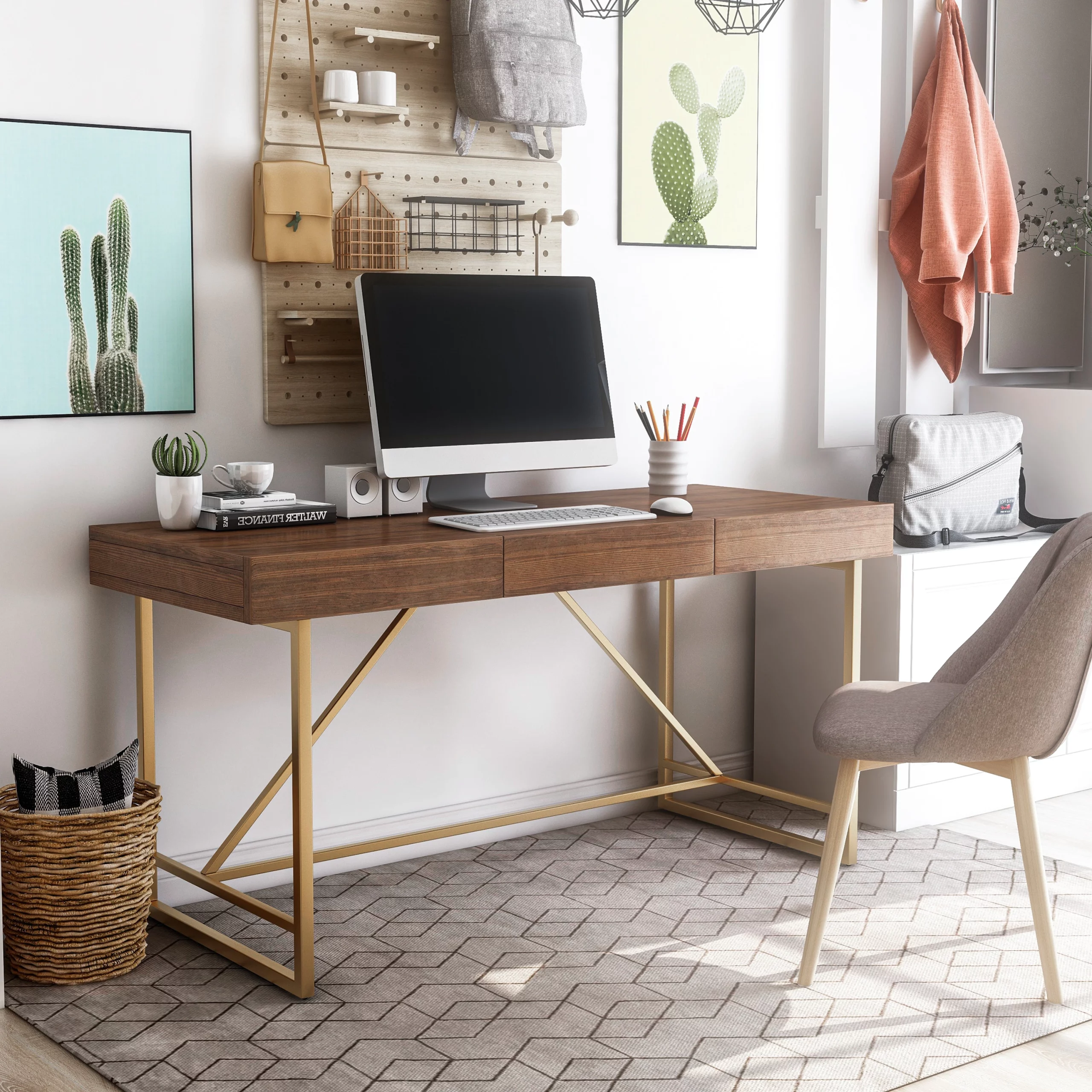 If you need to increase your productivity, get yourself a writing desk that's so pretty, it draws you to it.
This mid-century modern version comes in several colors, including blue, light walnut, grey, and pink. The desk is small enough to fit in bedrooms or a living room but big enough to place your monitor and keyboard on.
Bring in Texture with a Rattan Backed Chair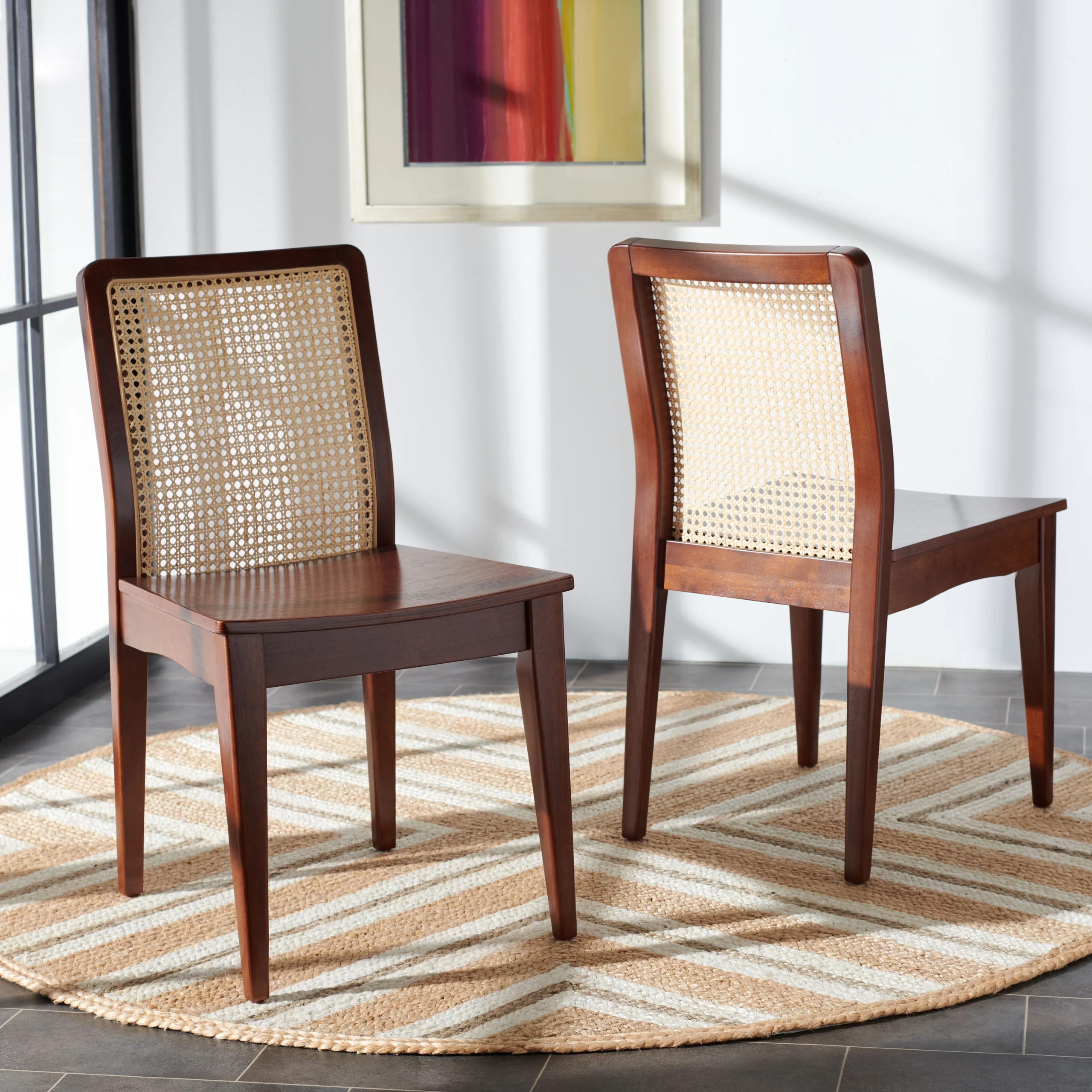 Rattan is usually reserved for boho and coastal styles, but in the case of this chair, it also works well for mid-century modern. These dining chairs have a sleek modern profile with rattan on the back as an accent.
The result is a beautiful texture, and a chair fit to go with any wooden mid-century dining table.
Final Thoughts
If you need to give your home some mid-century style updates, any of these ideas will do the trick.
You can make your room look mid-century glam by bringing in velvets and golds or keeping things simple with wood and leather. Either way, you'll end up with a beautifully modern home that won't go out of style any time soon.