Decorated Life is reader-supported. When you buy through links on our site, we may earn an affiliate commission. Learn More
18 Mid Century Modern Dining Room Ideas
Are you looking for the best mid-century dining room ideas?
Mid-century style is full of clean lines, curved chairs, and abstract art. These rooms can be bright or neutral, depending on your tastes.
If you're ready to decorate or remodel, try any of these 18 looks for a mid-century space fit for entertaining.
Install a Sputnik Light Over the Table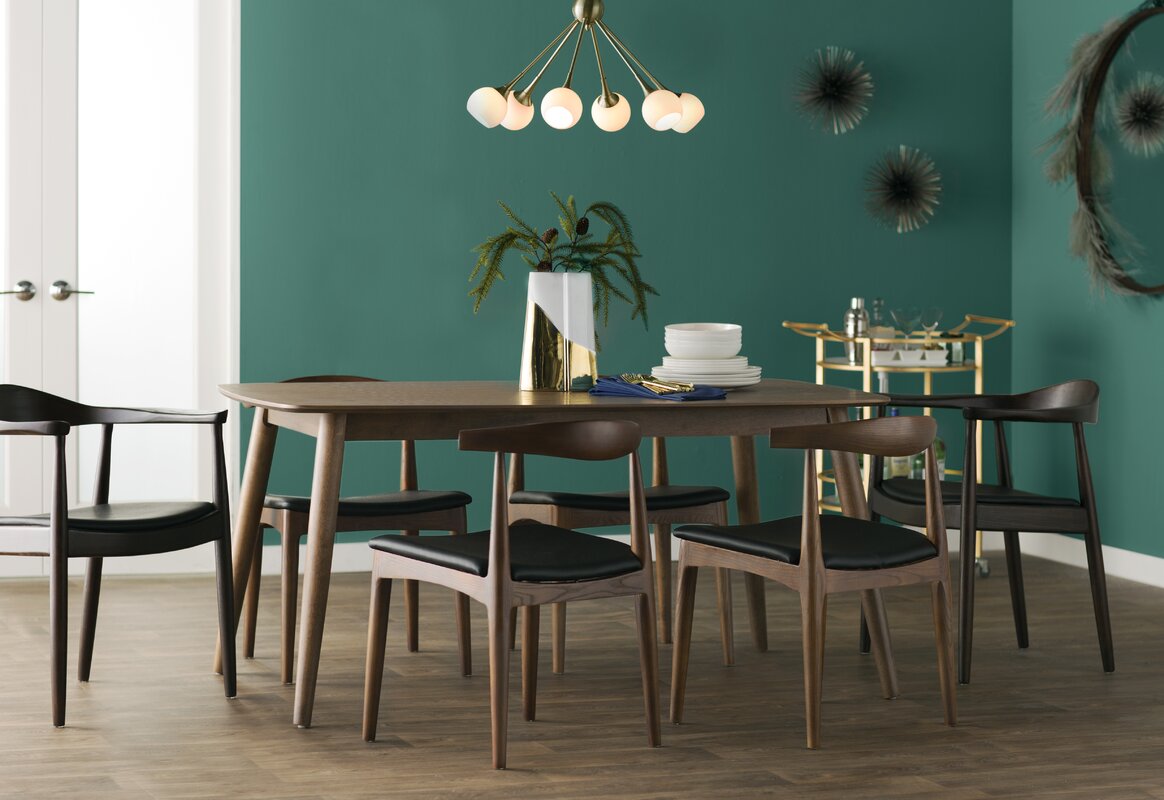 If you're decorating a mid-century modern dining room, forget the chandeliers and long pendant lights. Instead, go for a modern sputnik-style light like shown above.
Sputnik lights are mid-century staples. They feature a center globe with many extending arms, each holding a light bulb.
Choose a High-Quality Dining Set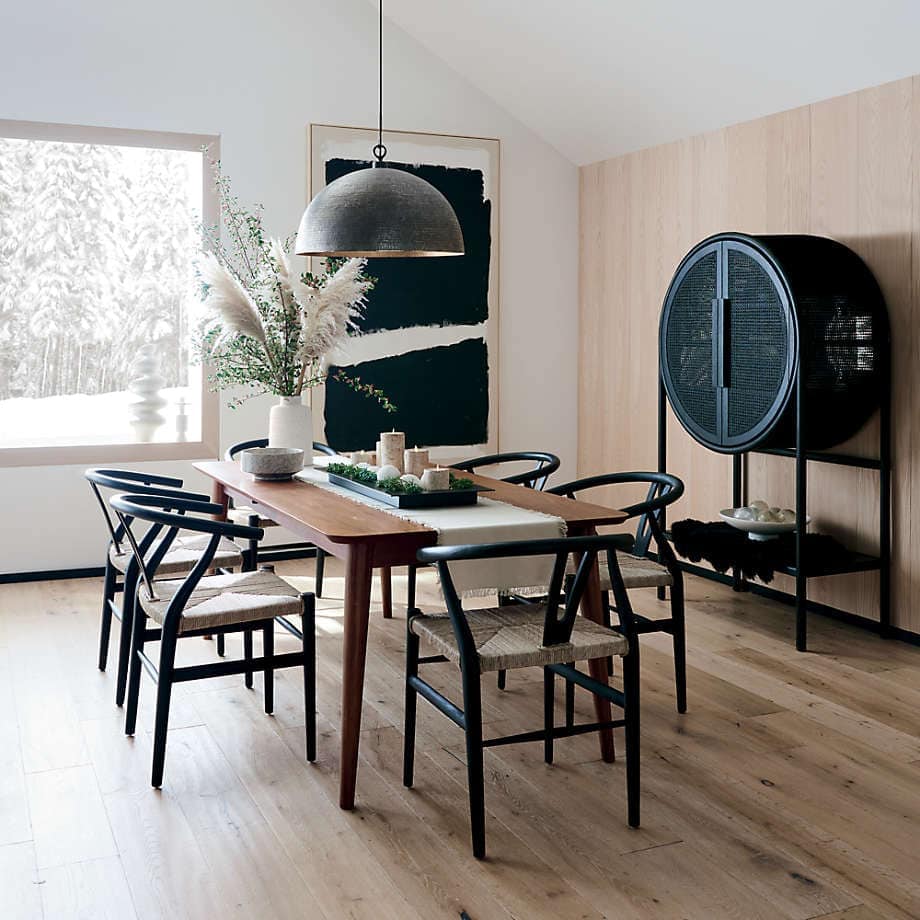 Your dining table can make or break the look of your room. Fortunately, a wood or metal table with clean lines is all you need for mid-century style.
This table from Crate&Barrel is a mixture of hardwoods and engineered wood with a walnut veneer. It's extendable, so you can make it larger whenever you host dinner parties. You can dress it up or down depending on the chairs you choose.
Pick a Chair with Curves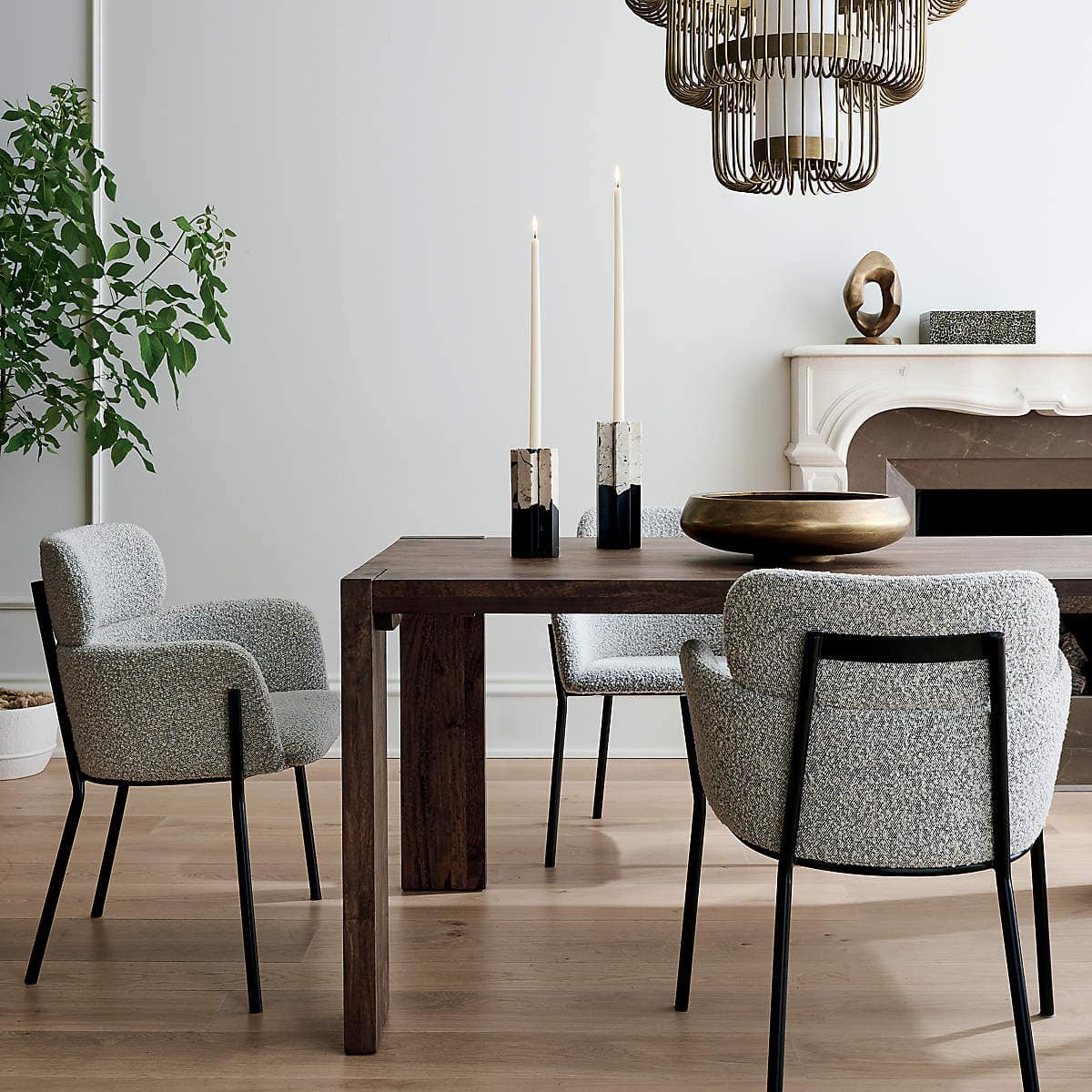 A common theme among mid-century modern furniture is curved lines – this holds true for dining chairs.
You can use upholstered curved chairs like these from CB2 at the ends of your table. Then, add simple chairs along the sides. This works great if you like a mix and match look.
Pull in Contrast with a Rug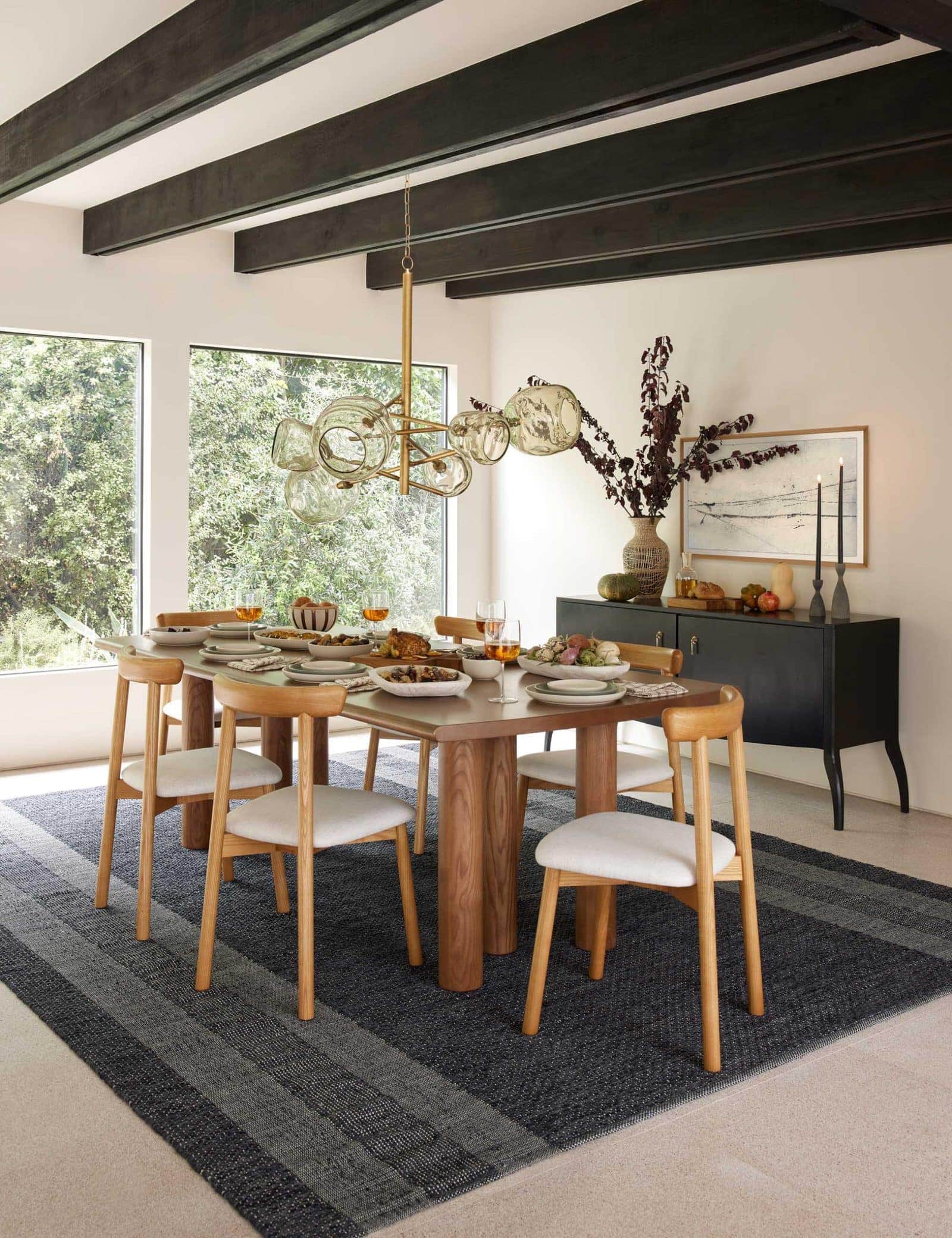 If you like color in your mid-century modern dining room or want to contrast the lightness of your table, pull in a rug. You can use a simple rug like this one from Lulu and Georgia.
This rug is flatweave wool, so it's great for high-traffic areas. The dark colors will go with any existing color scheme.
Fill the Wall with Abstract Art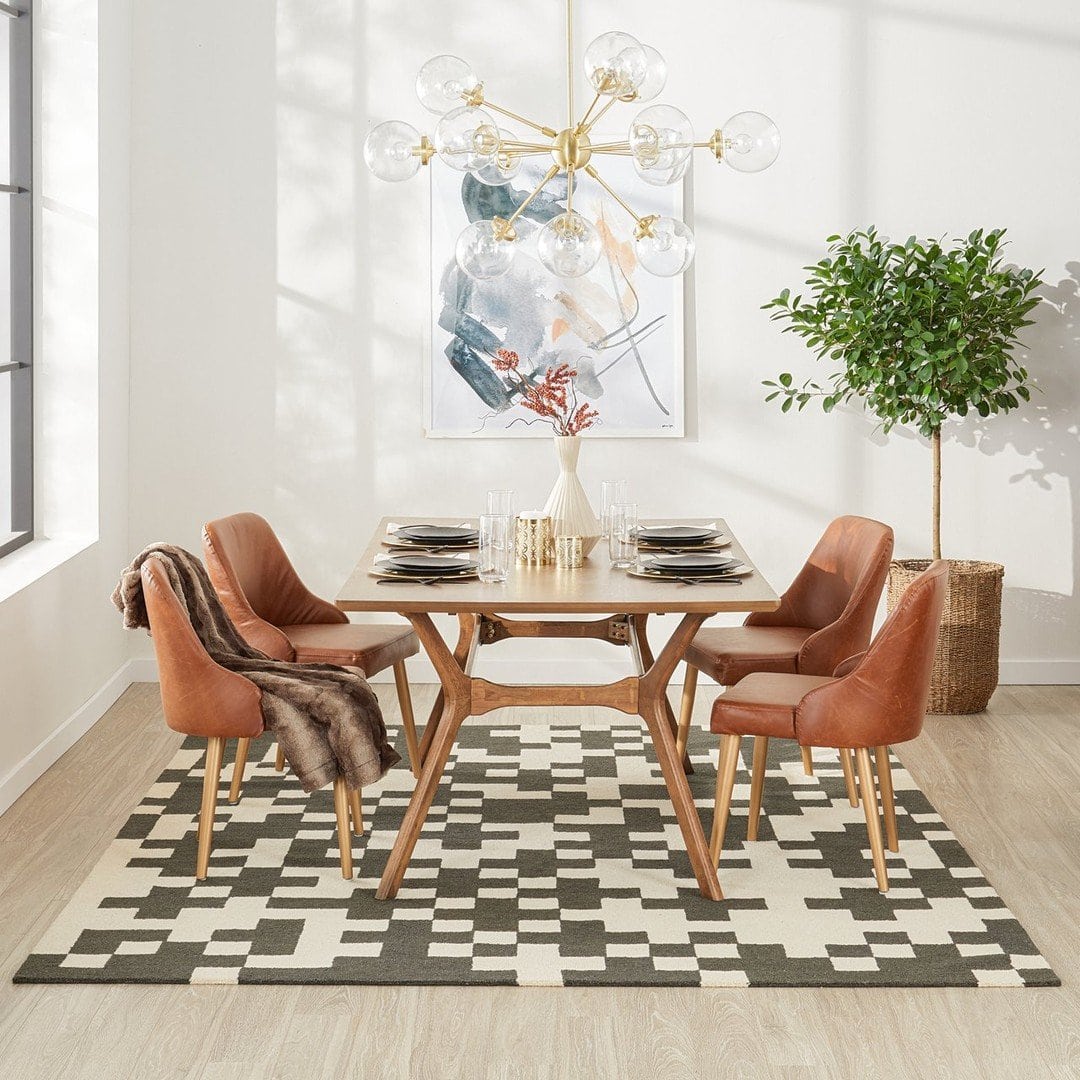 Abstract and geometric art is the perfect mid-century modern dining room decor. So, if you have wall space that you need to fill in, consider a large painting.
You can order a print like this one off of Overstock. You could also get a large canvas and paint your own.
Add Storage with a Curvy Console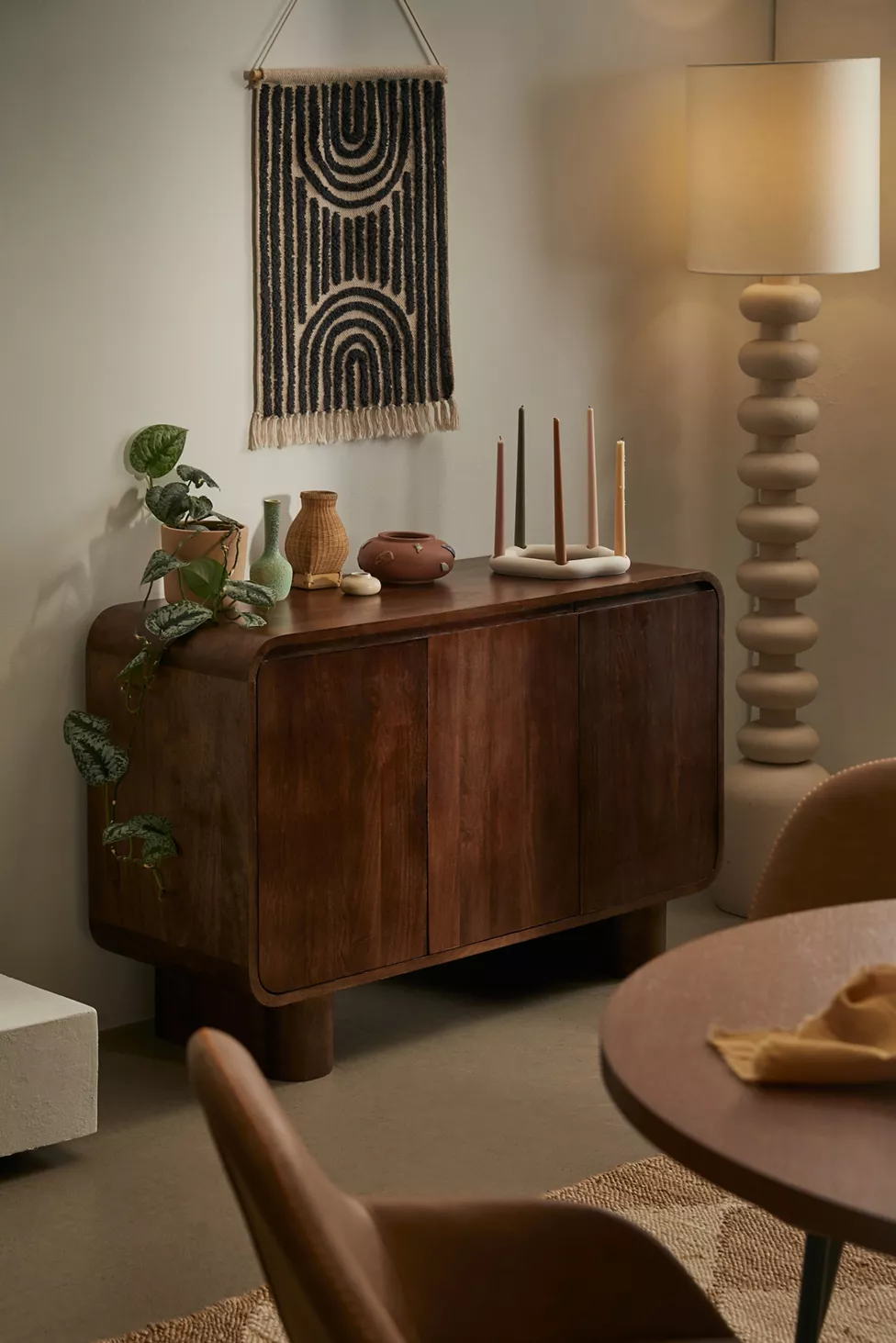 Do you need a place to store extra drinkware or serveware? If so, solve the problem by adding a storage console like this.
This console is perfect for small spaces. It's made of mango wood and even has a slot on the back if you want to run cords out of it. It has three doors, so there's plenty of space to store your extras.
Use a Round Table for a Small Room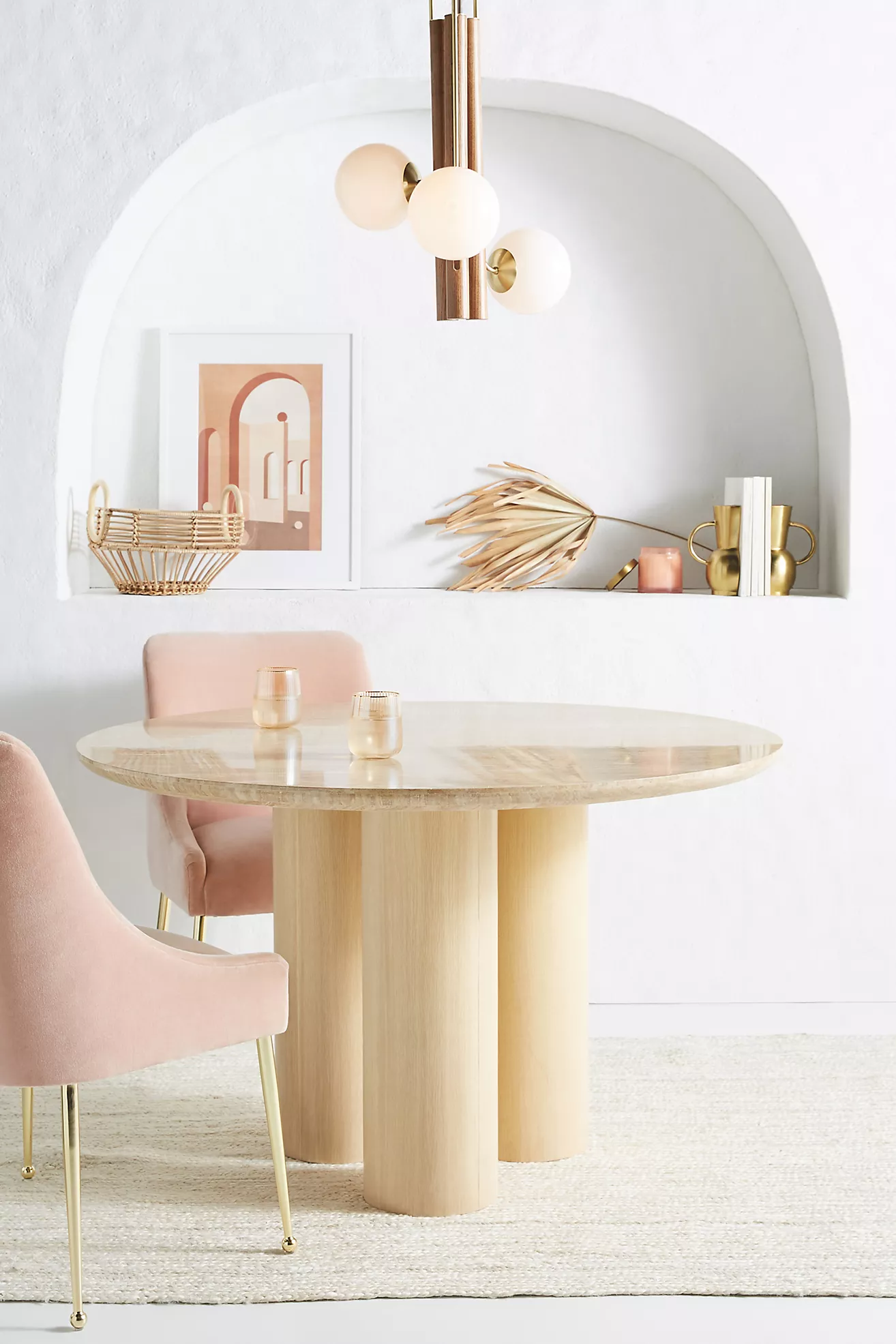 Finding a good dining table can be a chore if you have a small room. Luckily, round tables work perfectly with mid-century design.
This travertine table from Anthropologie is 48 inches in diameter and comfortably seats four to six people. Its neutral top and bottom lend it to even the most colorful dining room setups.
Adorn Your Table with a Unique Vase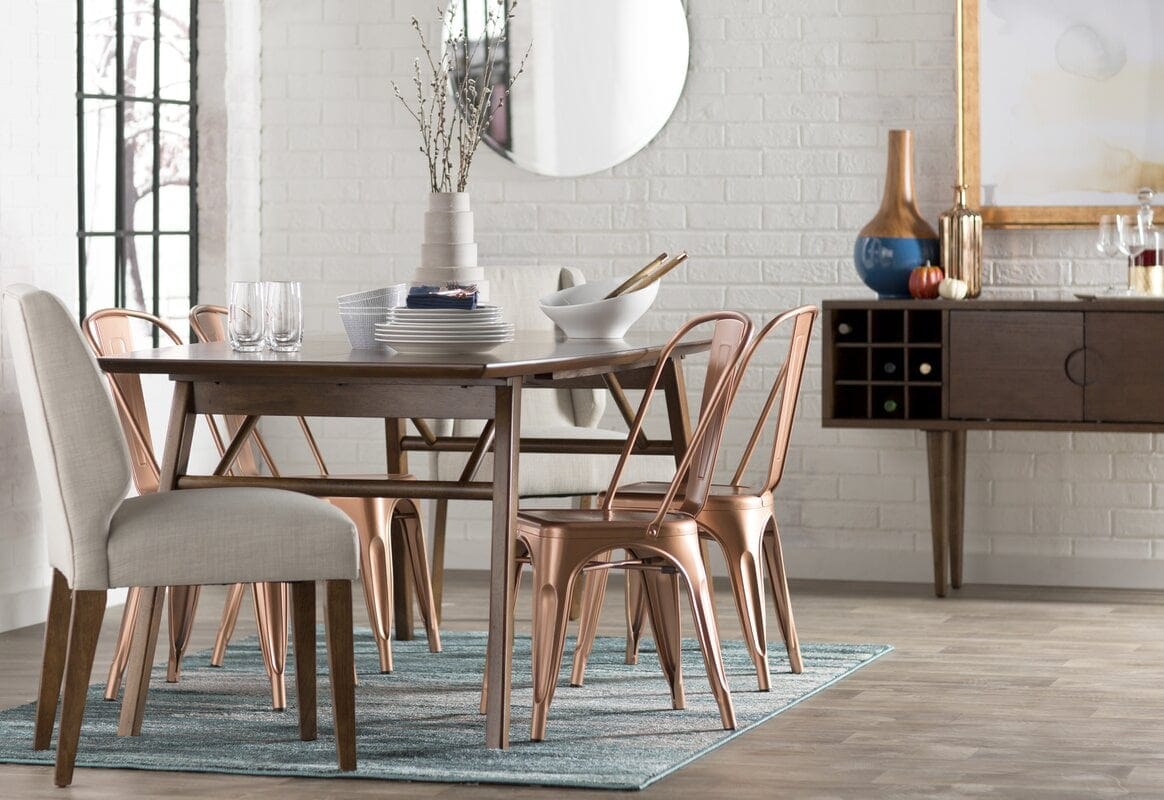 If you need a centerpiece idea for your mid-century dining room, try a vase like this one. This ceramic vase gives the appearance that it's several pieces stacked together, ready to tumble over.
Other good vase options include white ceramic and any geometric shapes. You can fill your vases with simple stems or whatever plants are currently in season.
Line the Table with a Sleek Arm Chair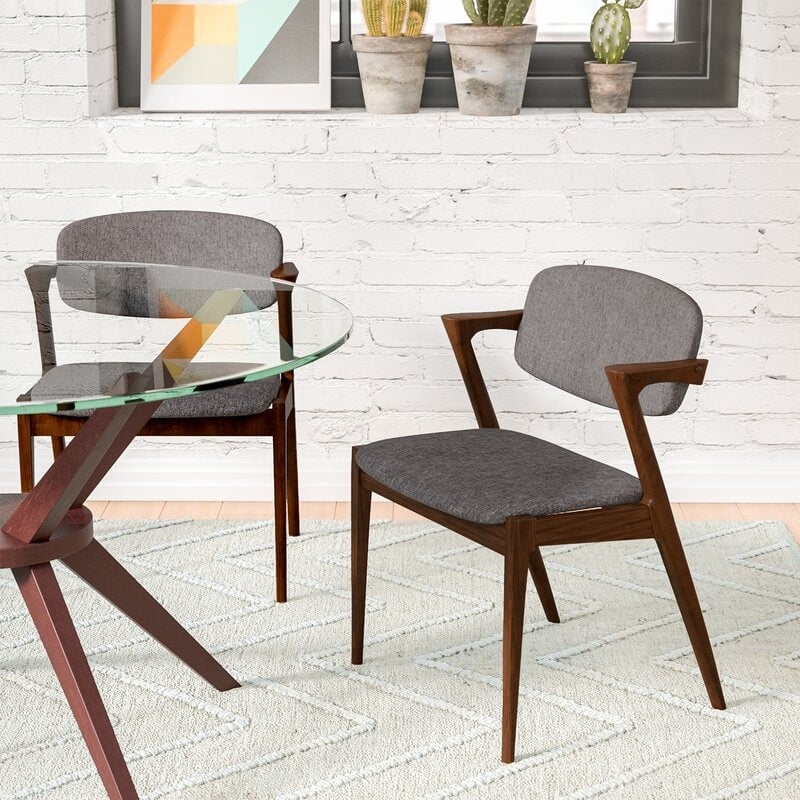 Looking for a chair that almost defies gravity? Try this one from Wayfair.
The design on these armchairs is so sleek that it appears the headrest is floating in mid-air. If you're looking for chairs to line your table with, these are a great choice. These chairs are solid wood with a gray and black upholstered seat.
Mix Black and Wood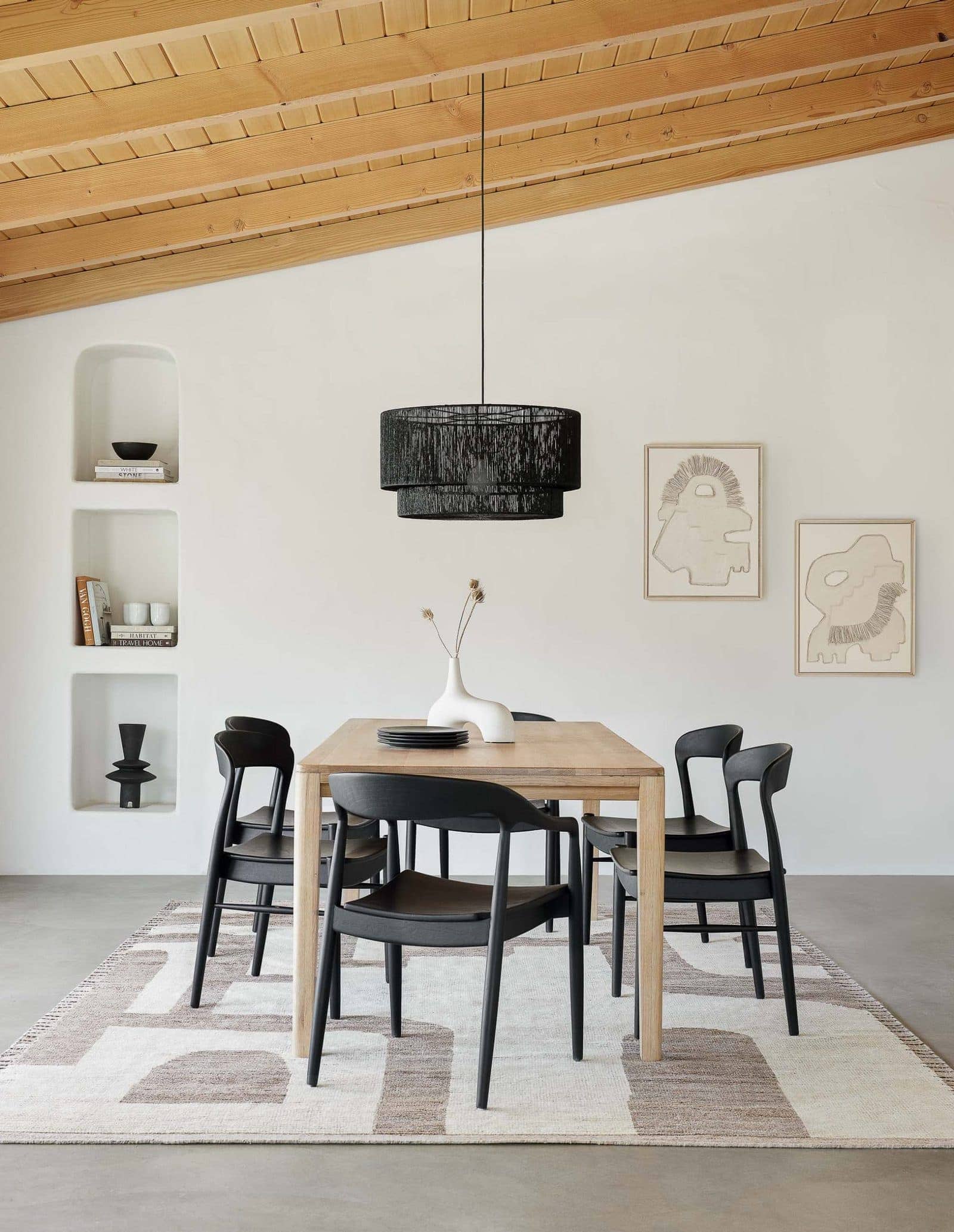 If you prefer a neutral color scheme, one great way to go about it is mixing black with wood. For example, you can do as shown above and pair black armchairs with a light wood table.
Once you have your table and chairs set up, keep your walls neutral and throw in some black and wood accessories. You'll end up with a very stylish mid-century dining room.
Bring in Color with Your Chairs
If you prefer color over neutrals, bring in bright shades with your dining chairs. These chairs have the perfect modern shape and come in three colors: yellow, dark blue, and gray.
You can make the bright pops of color look intentional by pulling more of the shade throughout the room. For example, you can match your chairs to color in your rug or curtains.
Add a Touch of Glam with Velvet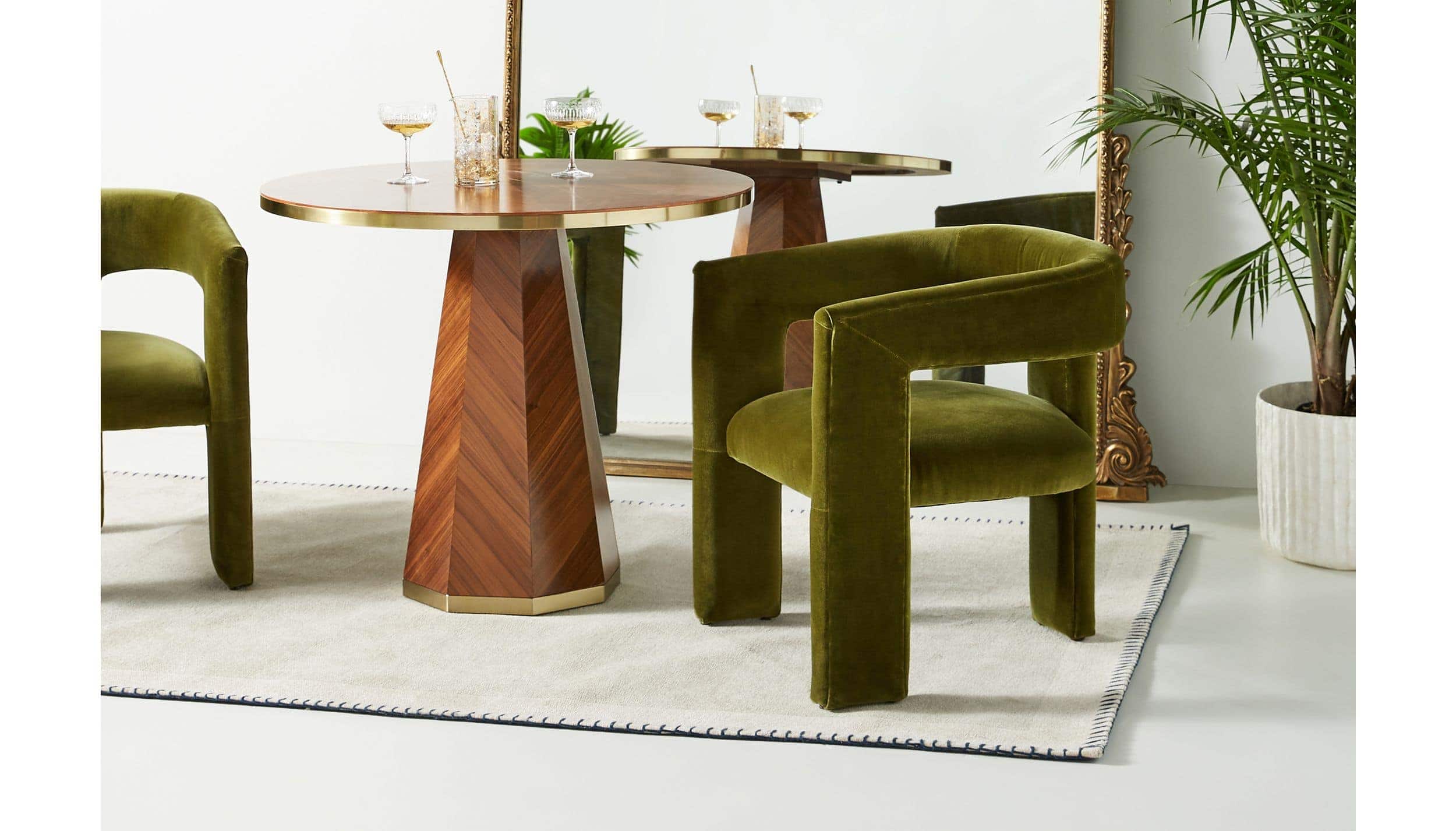 Do you like understated glam? Then, put one of these chairs at the head of your table.
These chairs scream mid-century, but their velvet upholstery lends to a very high-style, glam look. This chair comes in four colors, including gray, green, light blue, and dark blue.
Decorate with a Round Mirror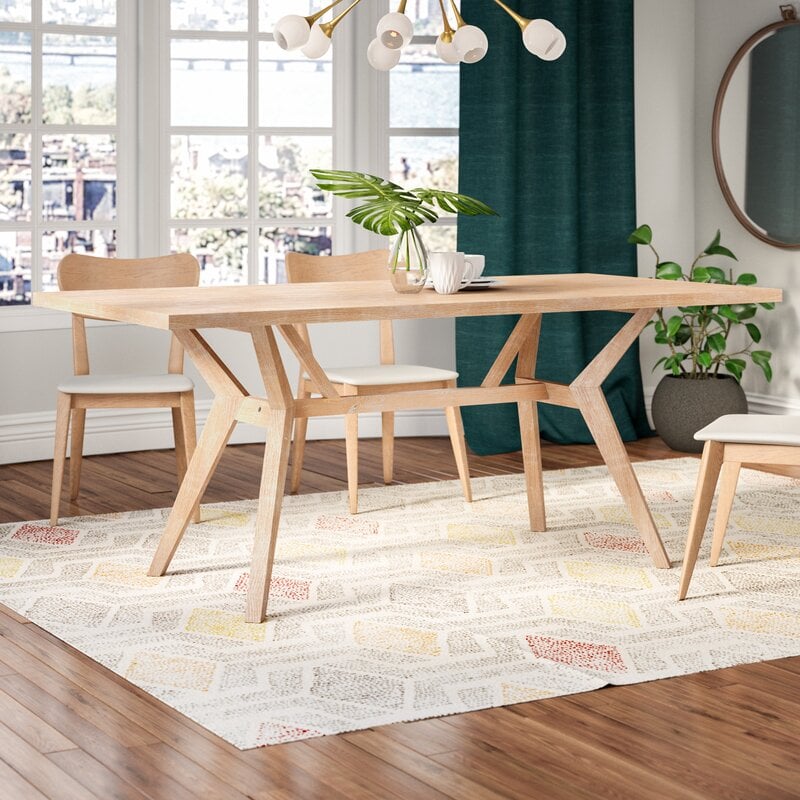 Round mirrors are the perfect decor for mid-century dining rooms. You can use one with a simple wood, black, or gold frame.
If you have a small dining room, a mirror will reflect light and make the space appear larger. You can even create a collage of mirrors if you have a lot of wall space to fill.
Warm Up the Space with a Jute Rug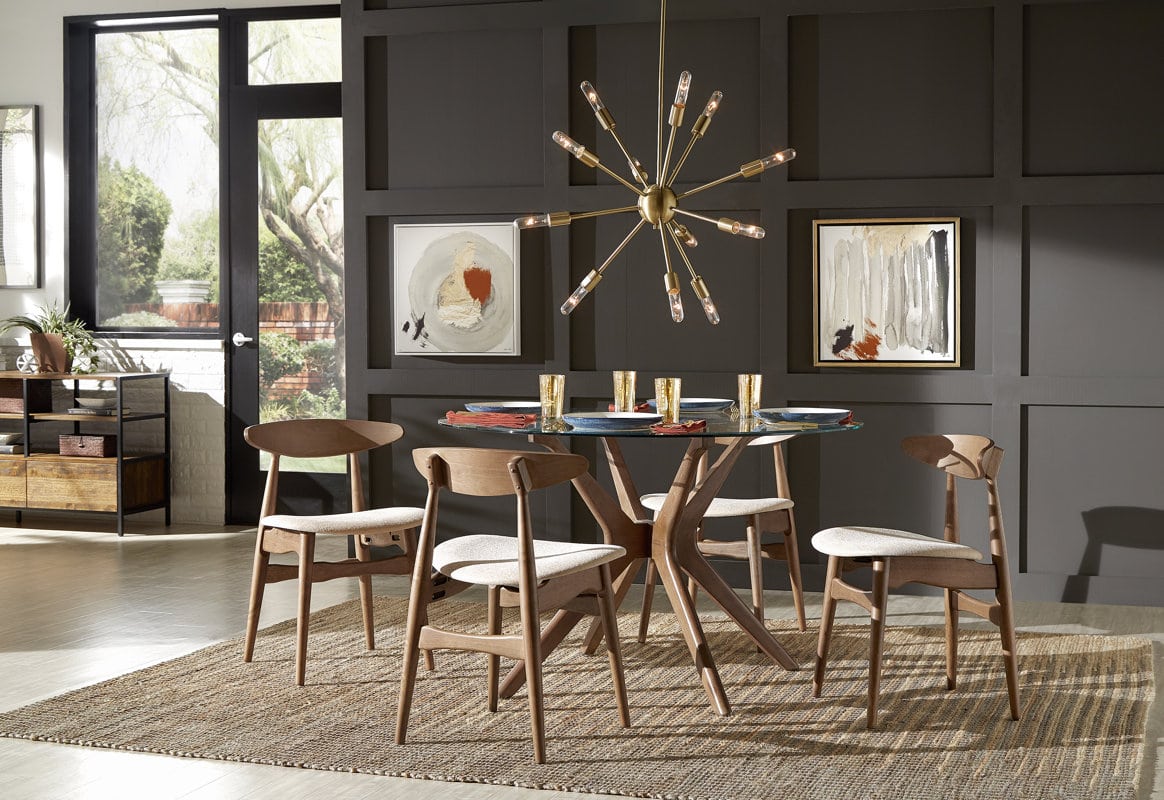 If your room is full of dark or cool colors, you can bring texture and warmth with a jute rug. Jute and sisal rugs are pretty inexpensive yet hold up very well in a dining room.
If you prefer a minimal room or don't like to go overboard with geometric shapes, a rug like this is an excellent solution.
Accessorize with Geometric Wall Decor
If you want wall decor that's a little more interesting than a standard mirror or art print, try something like this.
This mid-century wall decor features geometric shapes and is perfect for the dining room. It's a combination of fir wood and metal and would look great hanging over a storage console or credenza.
Pull in a Subtle Pattern
We've covered a couple of rug options for a mid-century dining room, and here's another great choice. Try a simple geometric rug like this if you're looking to pull in a pattern but still want a clean look.
Since this rug is neutral, it doesn't overpower the room. However, the diamond pattern adds to the mid-century look in a very sophisticated way.
Try a Pedestal Console Table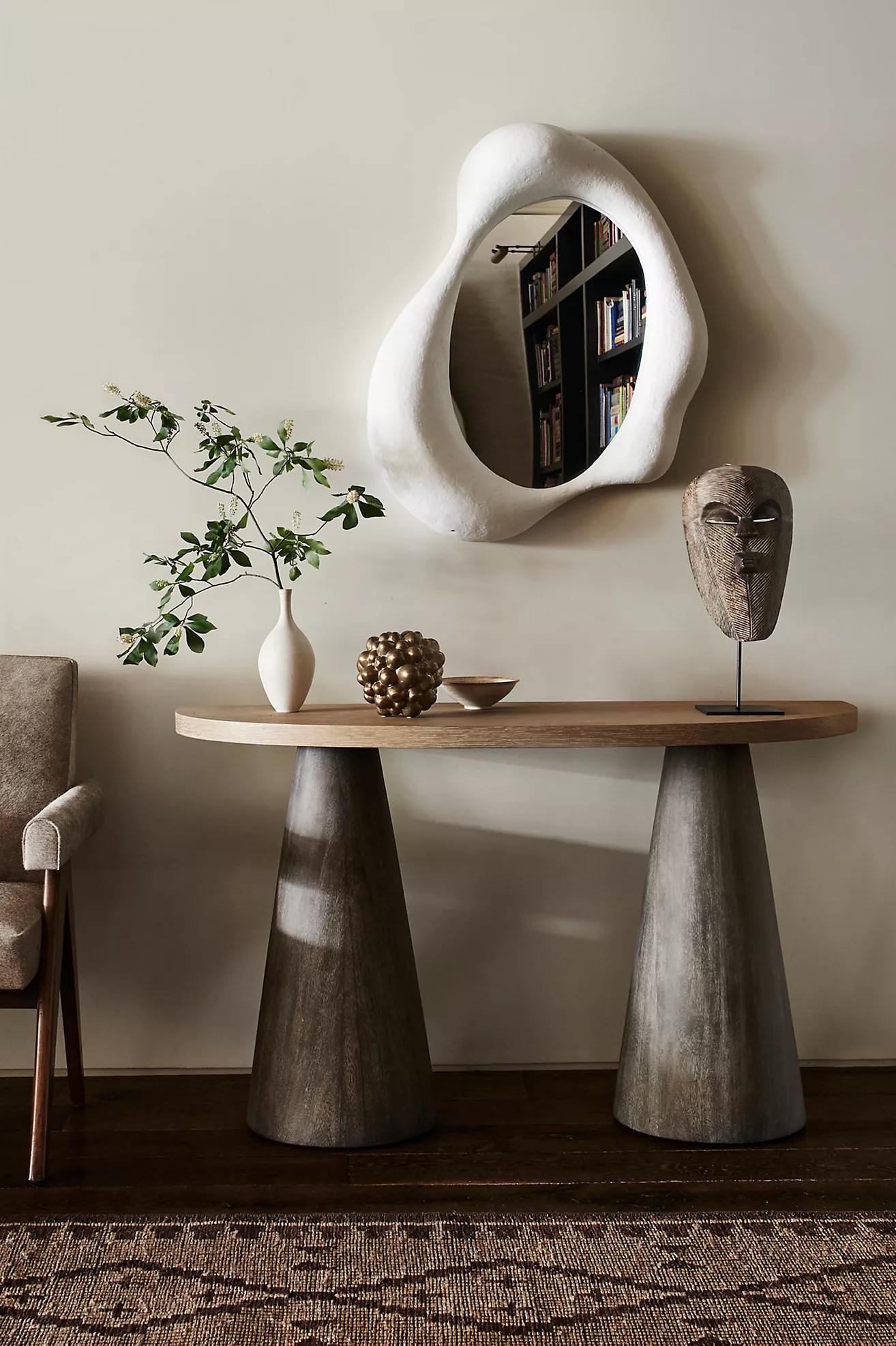 Just because you're decorating a dining room doesn't mean you have to go with a traditional credenza. Instead, consider a pedestal console table like this one for a minimal mid-century look.
You can use this table to hold your extra serveware or as a place to showcase your best decor.
Display a Fun Wall Clock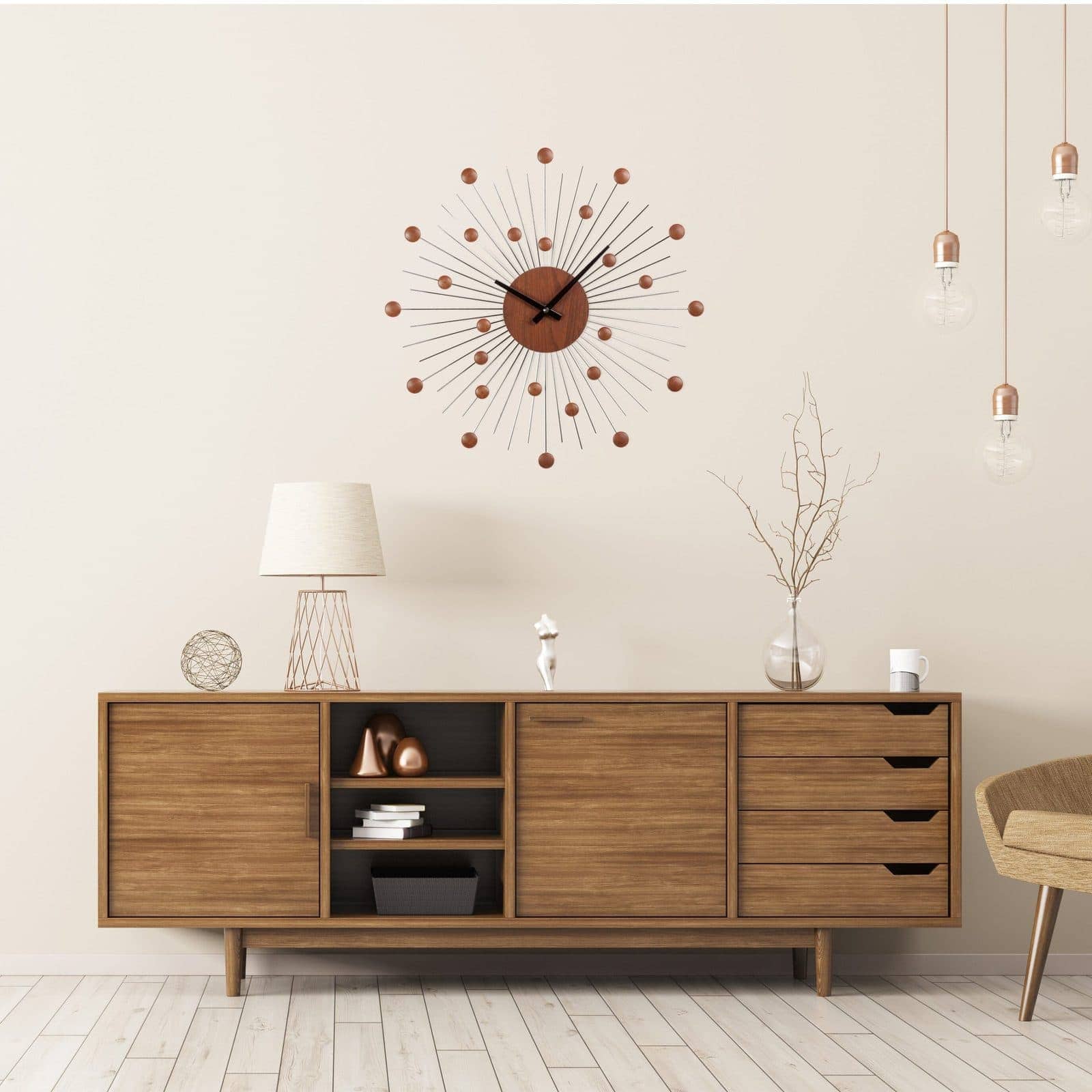 Do you like to keep a clock in the dining room? If so, ditch the standard options and go for a unique shape like this.
This wall clock from Wayfair is solid wood with silver metal and wood balls radiating out of it. It adds the perfect mid-century touch to any room.
Final Thoughts
Mid-century dining rooms look clean and tidy, but they don't lack style. If you're decorating your dining room from scratch, start by choosing a table with clean lines and curved chairs to complement it.
From there, you can add a mirror, clock, or abstract art to the wall. You can choose just about any rug, depending on how the rest of your room looks. It will all come together for a mid-century look you love.