Kitchen Countertop Ideas - Up Your Kitchen WOW Power
There is nothing more luxurious looking than expensive looking countertops. This post has kitchen countertop ideas from concrete countertops to dark granite counter tops, soapstone and stainless steel, plus, a handy tool that can help you what it might look like in your kitchen.
What is hot right now are over sized islands made of concrete, stone, wood and granite and kitchen islands and carts that serve as extra counter top space in every kitchen. You can upgrade all, or part, of your kitchen to get some of these looks, so keep reading for ideas and options.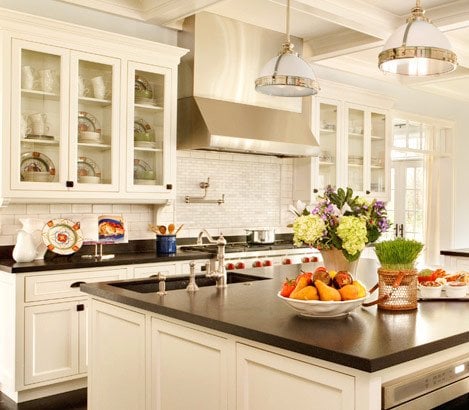 Source: Wayfair
Trending Kitchen Countertop Materials
Almost anything goes. Concrete is big, as is stone and granite, soapstone and stainless steel and laminate; so there is enough variety to serve every budget.
There is a big trend towards poured and diy concrete countertops, and more and more people are learning how to make concrete countertops, because they look good and are so resilient. At the other end of the scale, kitchen granite countertops are still popular. The kitchen below mixes the look with wood and two different granite colors.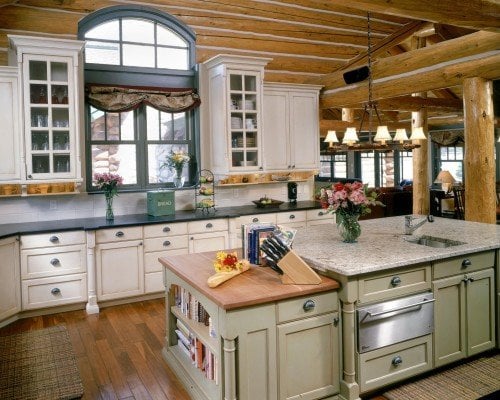 Source: Designer Kitchen here
Here are some kitchen countertop options -
1. Poured concrete countertops
2. Dark granite countertops
3. Caesarstone
4. Carrara marble
5. Dark soapstone counters
6. Green soapstone counters
7. Stainless steel countertops
9. Gold-flecked granite
10. Butcher-block counters
11. Stained and sealed mahogany
12. Farmhouse cherry counters
And the trends...  include large faucets, range hoods, extensive storage space, bars and islands.
The trend is keep small to medium appliances out of sight. Even though you use your toaster and juicer everyday, the trend is to keep all countertops bare.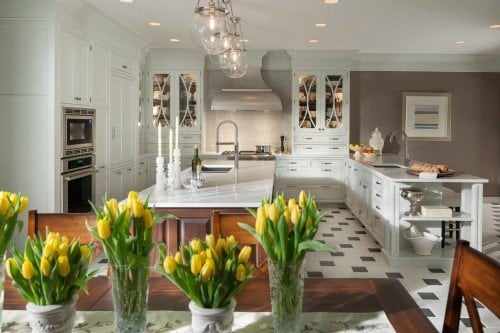 Source: Kitchen and Bath Cottage
If changing your countertops is not an option right now, and you have a larger styled kitchen, adding a kitchen island or bar is an instant update.
Apart from the look, islands and carts create extra working space, which almost every kitchen needs. The costs of these vary according to style, quality and size, but there is something out there for every taste and pocket.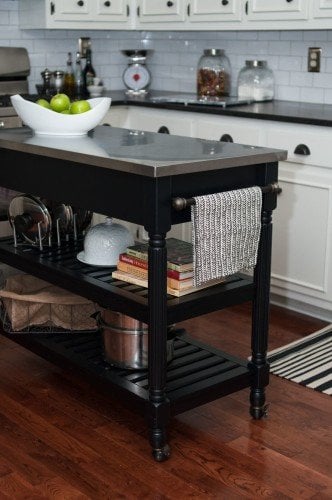 Source: Wayfair on sale $299
Kitchen Visualizer
Kitchen & Countertop Center of New England have created a great online tool that helps you visualize any changes to your counter tops, cabinets, floors, and splashbacks you might like to make. 
Start by choosing one of the four different kitchen designs, that suits your kitchen, and change the countertops, floors, tiles and splashbacks. Take it for a test drive here. You can download and print your favorite selections and use them to get quotes or just work towards.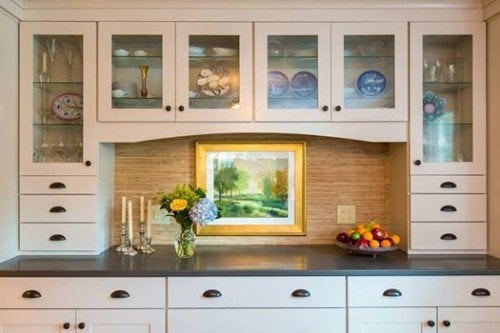 Source: Kitchen and Countertop Center of New England
Small Kitchen Countertop Options
If you have a small kitchen, a good kitchen countertop idea is to have sleek, elegant edges. Fancy decorative edges can look fussy and create an illusion of less space. From granite to laminate countertops, these three edge styles look the best and work the best in a smaller kitchen space. They are also easier to clean; dust, liquids and food crumbs simply have no where to go. And they also cost less. Here's a quick run down on these three elegant edges.

Source: Kitchen Magic Double eased, single beveled and full bull nose countertop edges
Double eased is an almost square edged countertop. It is rounded along the top and bottom which prevents sharp corner chipping. The simplistic edge will open up a small kitchen space and make it feel like a much larger space.
Single beveled is a square edge cut along the top at a more or less than 45-degree angle. This looks elegant and looks expensive. Full bullnose is rounded so that it looks like one continuous smooth edge.All of these work well in a small kitchen, opening up the space and taking away the fuss of a decorative edge.
More Kitchen Countertop Trends
Open Shelving
Open shelving can help make a small kitchen appear larger. It's a great way to display your dishes and appliances and see everything at a glance. The box countertop looks finished and expensive, but the style can be done in wood or laminate and still look great.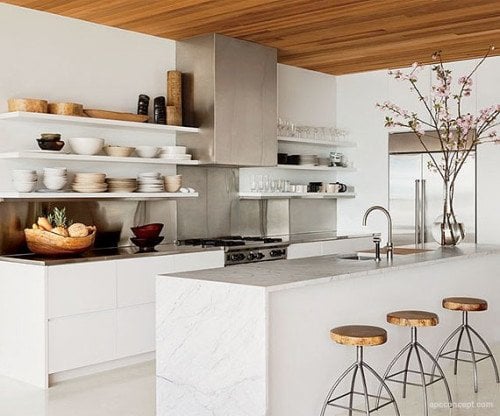 Source: River Bend home
New Modern Styles
Colorful appliances, warm wood materials, stylish lighting and minimalist materials are a strong trend. An easy way to upgrade your kitchen is to change your existing faucet for a professional grade faucet with wow factor.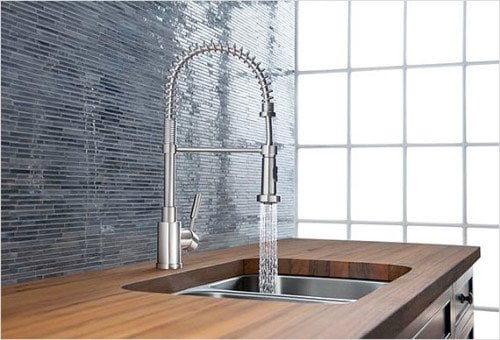 Source: River Bend home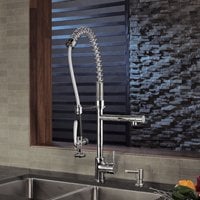 Reduced at Efaucets
Quality Kitchen Countertops
Professional quality kitchen countertops are more popular than ever! They are prestigious looking and add value to your home. So, a gorgeous kitchen countertop is .. an investment! This wood box cover countertop is sleek and modern but warm enough for the stone and wood walls in this country kitchen.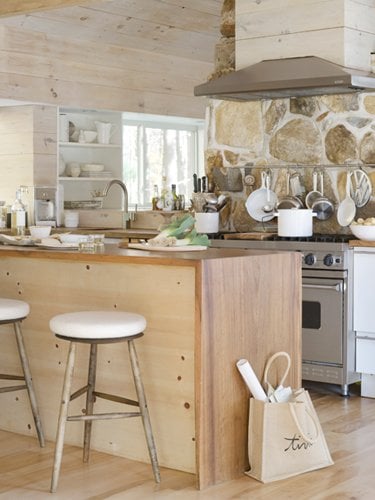 Source: Country Living
Statement Range Hoods
Large range hoods add style. Range hoods are getting bigger and sleeker. They are taking over as the kitchen centerpiece in many ways. The custom look is a focal point to any kitchen; balancing the large amounts of flat countertop in today's kitchen designs. 
Bar and Table Themes
Adding a table to your kitchen countertop is trending. Countertops with a lip large enough to cater for bar stools and breakfast meals have now extended to tables like the one below - sitting at the edge of the island. Adding a table is easy and flexible enough to move at any time if the trend changes.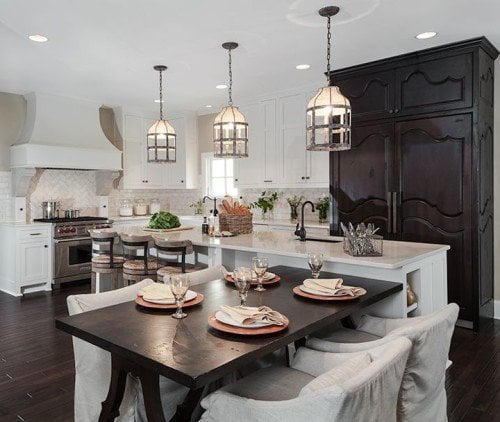 Source: Pinterest
Adding a cart at the end of your kitchen island is also popular. Whether you choose the same material or something different - it extends your storage and kitchen working space.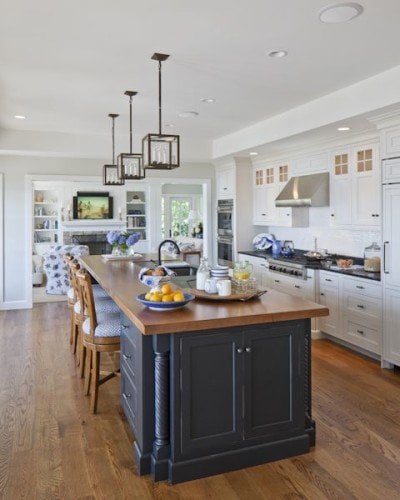 Source: Wayfair to shop this look
Just changing your kitchen countertops can make an enormous difference to the look of your kitchen. You can find more articles below by following the links.