Decorated Life is reader-supported. When you buy through links on our site, we may earn an affiliate commission. Learn More
19 Kitchen Countertop Organization Ideas You Can't Live Without
If you have a small kitchen, your countertop space is probably doubling down as storage. And while necessary, if you're not intentional, your counters can quickly look busy and cluttered.
Which, in my experience, can make you want to stay out of the kitchen altogether. Not good.
Fortunately, with a little bit of organization and the right products, you can make your countertops look fantastic.
Here are the best kitchen countertop organization ideas that are easy to implement.
Display Your Baking Supplies with Clear Canisters
Clear canisters give off a very stylish and clean look. And since they are see-through, they tend to make a small space feel less cluttered than other styles of storage canisters.
You can use these to store and display baking supplies like flour or sugar. Or, you could even use them as cookie jars or pasta storage.
Take Advantage of Vertical Space with a Three-Tiered Shelf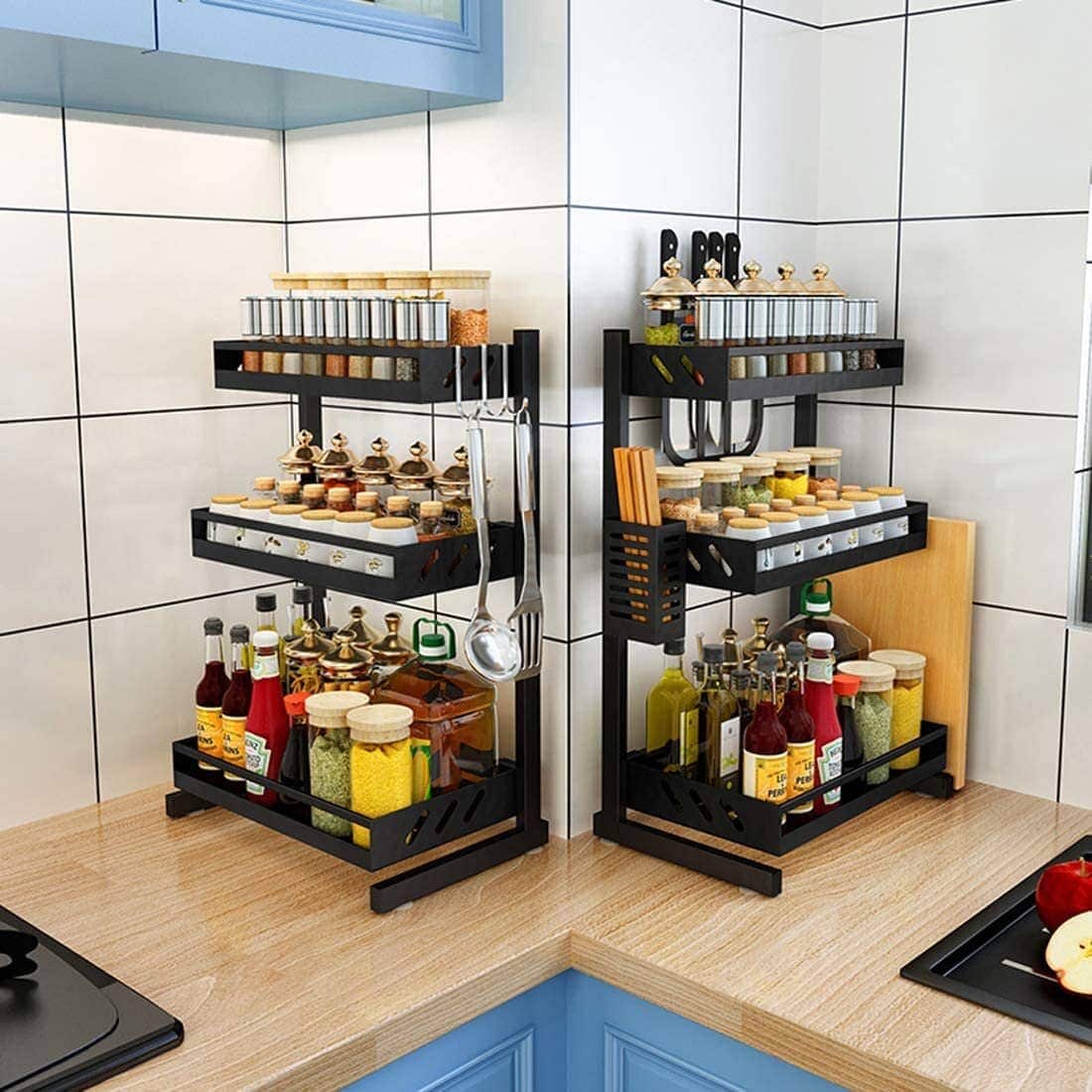 One of the best ways to clear space off your counters is to take advantage of vertical space. An easy way to do this is with a shelf.
Use a countertop shelf to store any spices, spatulas, or extra condiments you have lying around. Also, if you have a unique space in your kitchen like the one above, you can add two of these shelves for double the storage.
Put Your Utensils in a Crock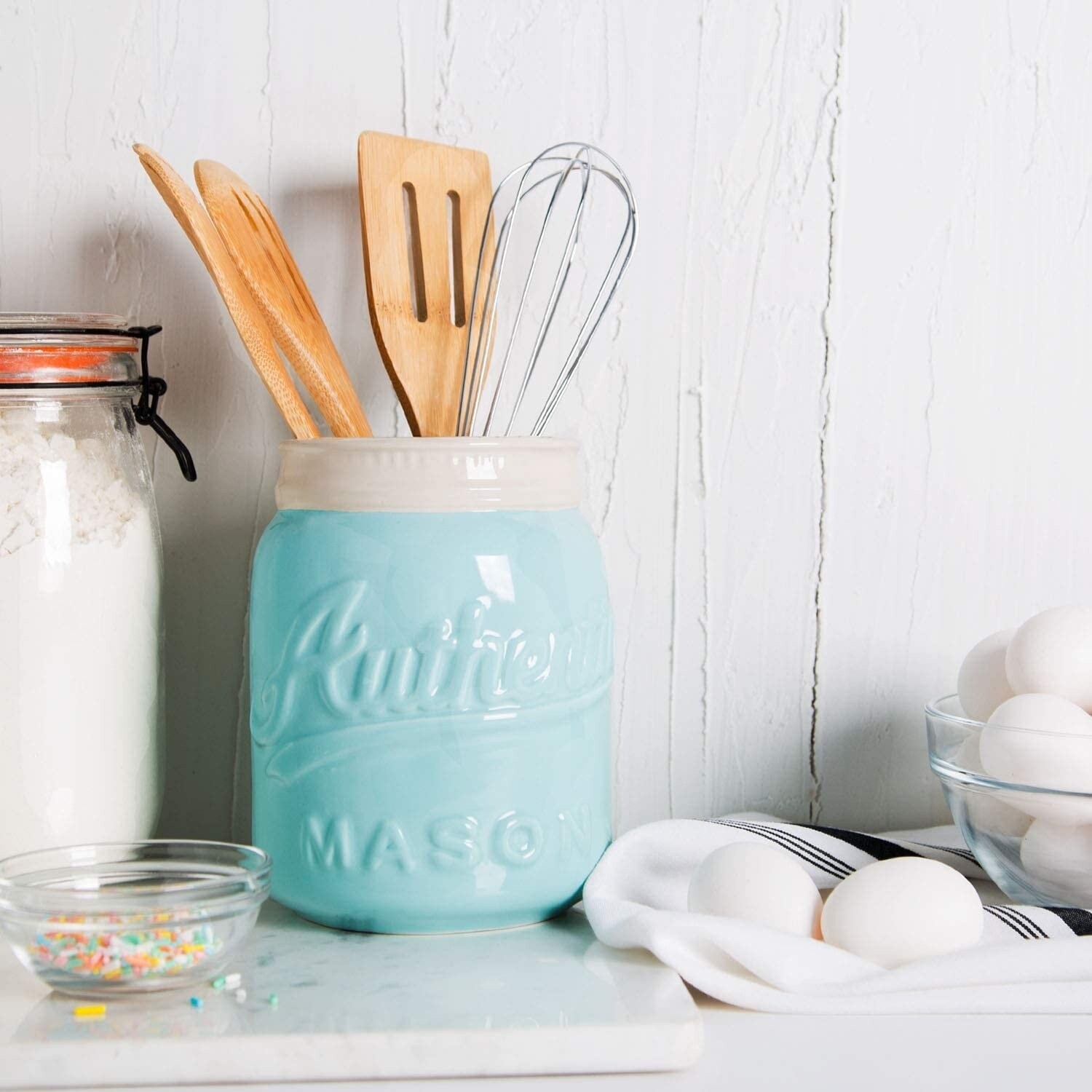 If you're struggling with ideas for your kitchen utensils, try putting them in a crock right beside your stove. This way, you have easy access to your most-needed kitchen tools, and they look like they're purposely displayed.
If you're going for the rustic look, consider a Mason Jar crock like the one above. If you like a more minimal look, go for a solid white or neutral.
Use an Over the Sink Drying Rack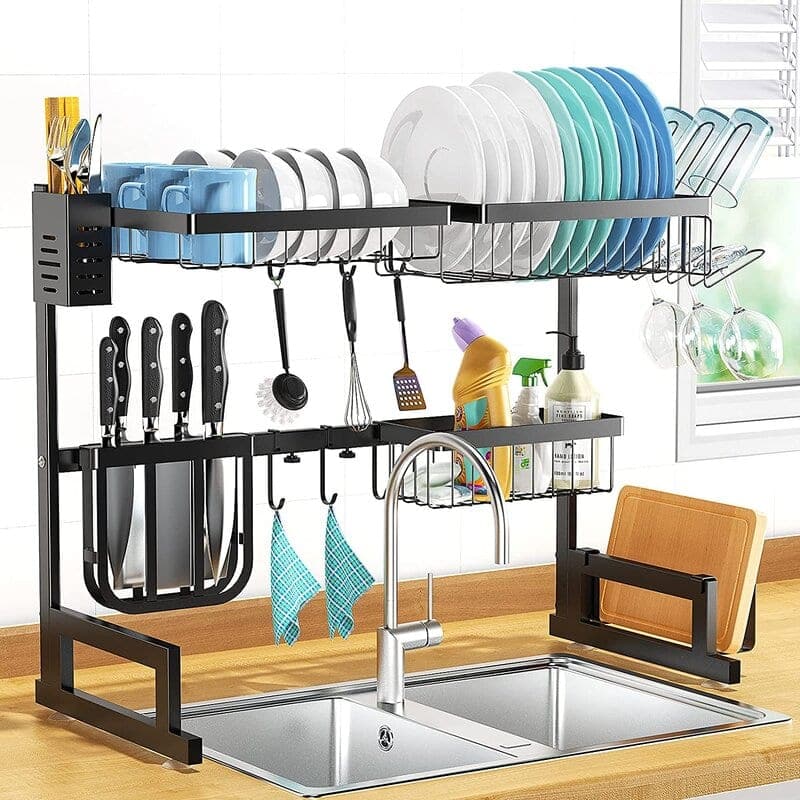 It's no secret – if you're hand washing your dishes, your drying rack is probably taking up a significant chunk of your counter space. So, if you're looking for small kitchen counter organization, you need to check out this over the sink drying rack.
This rack can help you take advantage of your vertical space, freeing up a good portion of your countertops.
Turn Your Mugs Into Hanging Art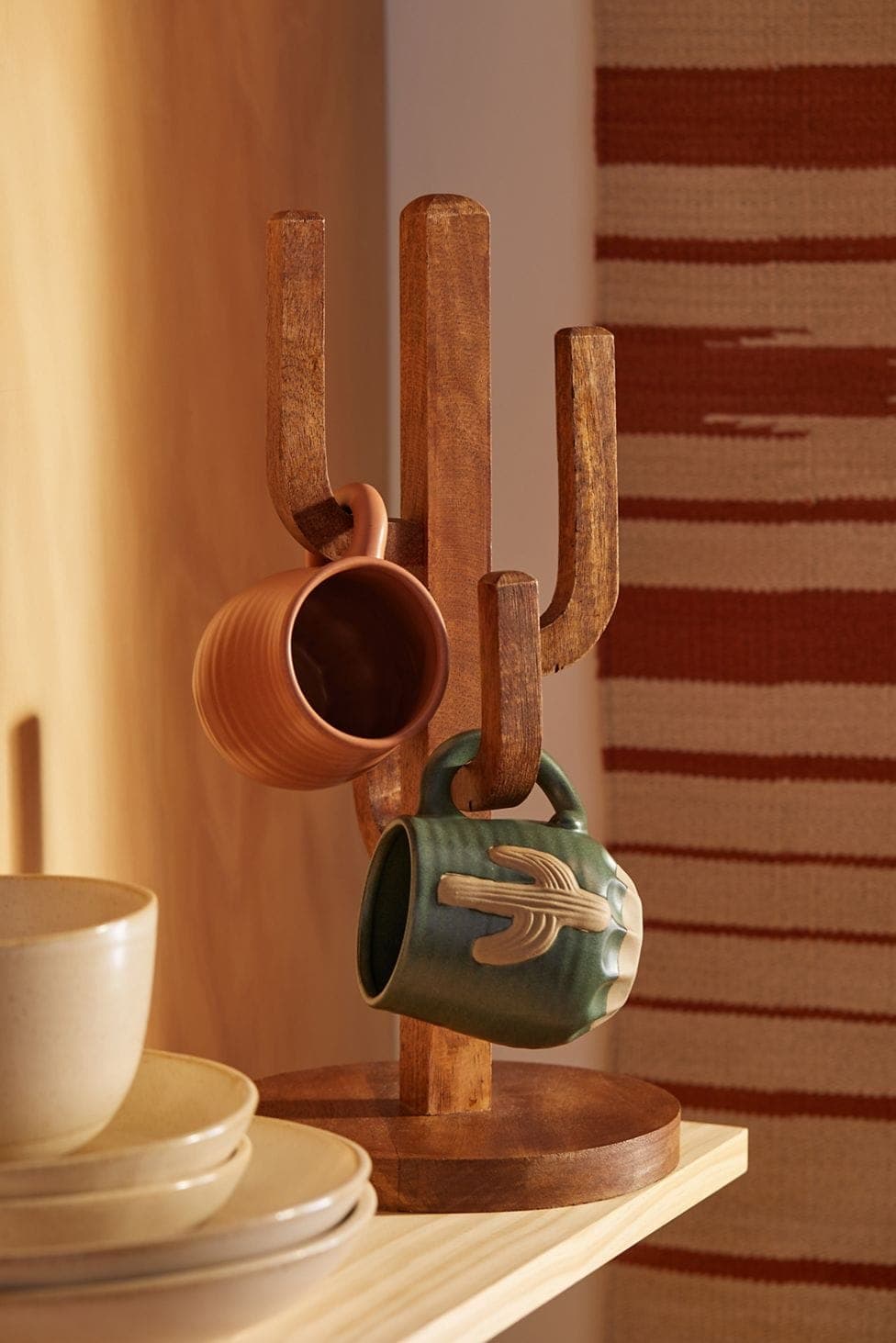 If you want to declutter your kitchen countertops, start by eliminating multiples. One place to do this is with your mugs. If you currently have 10+ mugs for one or two people, try cutting them in half.
Then, you can hang the mugs that you decide to keep on something like this mug tree. This way, your mugs turn into an art piece, and you free up counter space.
Keep Your Wine Contained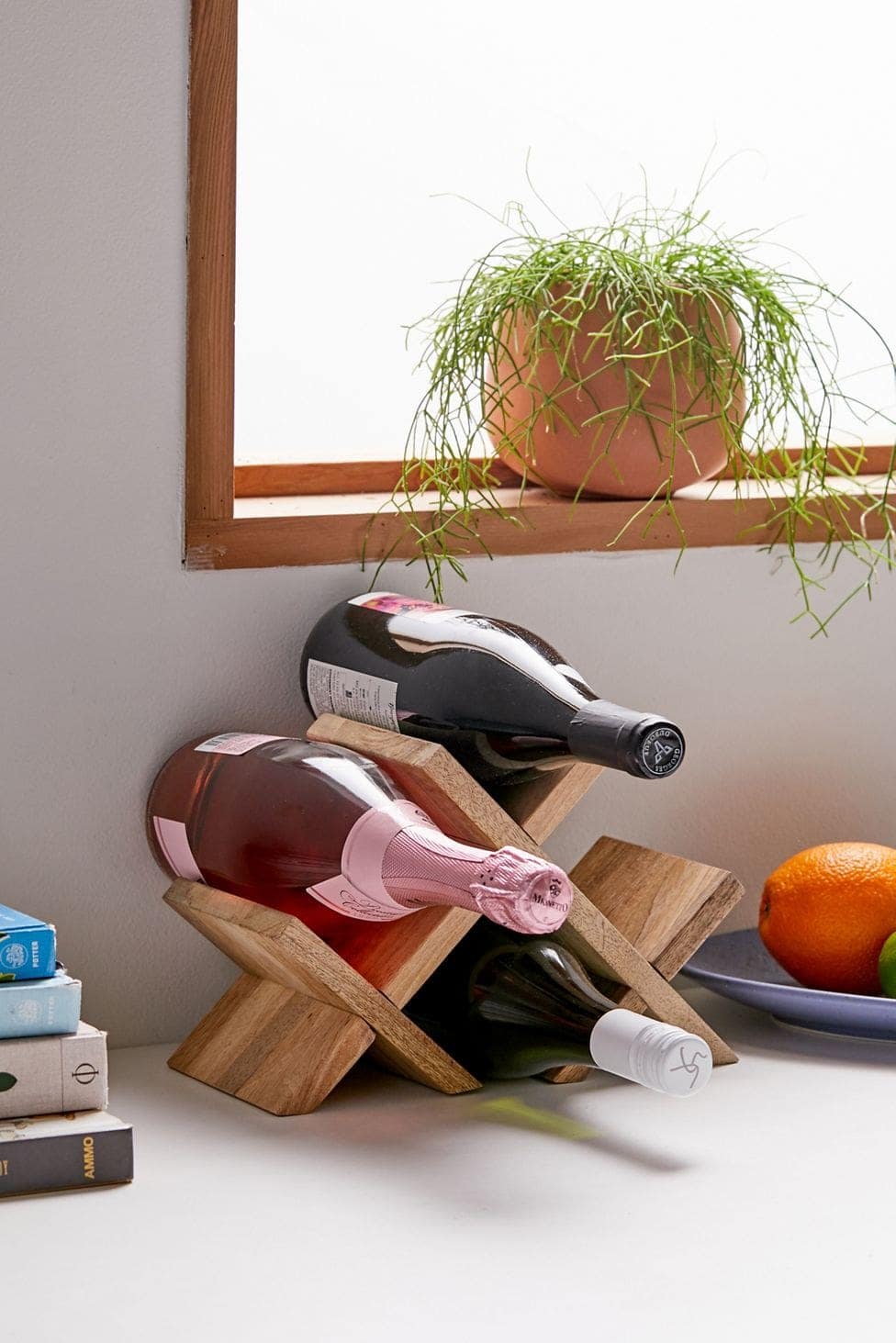 If you like showing off your wine collection or are looking for a unique storage idea, check out this bamboo rack from Urban Outfitters.
This wine rack can comfortably hold four bottles of wine, and using it is an easy way to pull a bit of natural warmth into your kitchen.
Make Your Coffee Pods Easily Accessible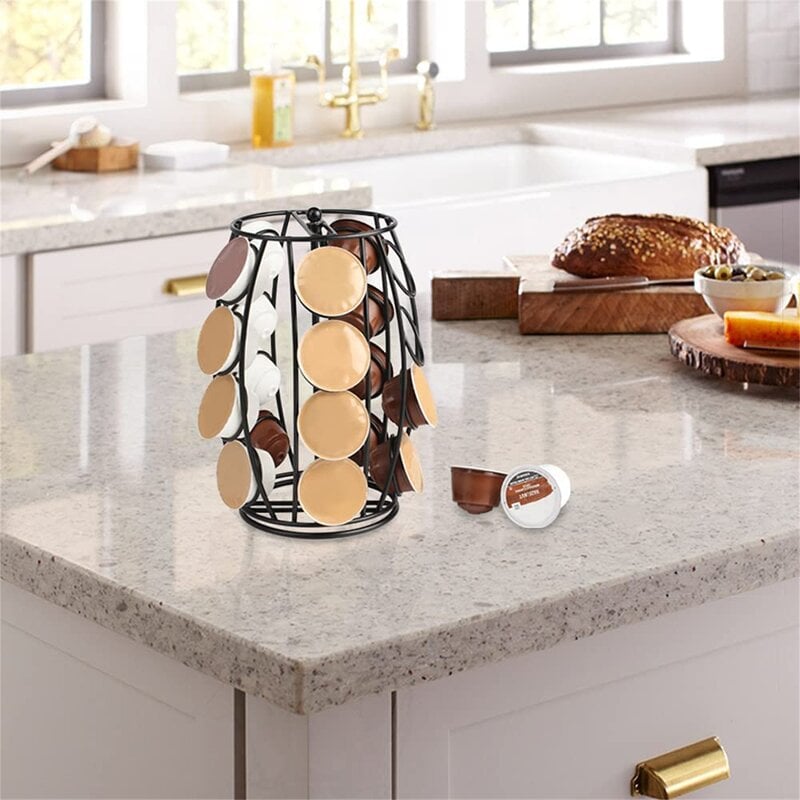 If you're a big coffee drinker and keep your coffee supplies on the kitchen counter, ditch the cardboard boxes and opt for a sleek coffee organizer. This organizer doesn't take up a ton of space and makes it easy to grab what you need in the morning.
This organizer is compatible with k-cups and other pods. It holds up to 20 pods at a time.
Corral Items with a Woven Basket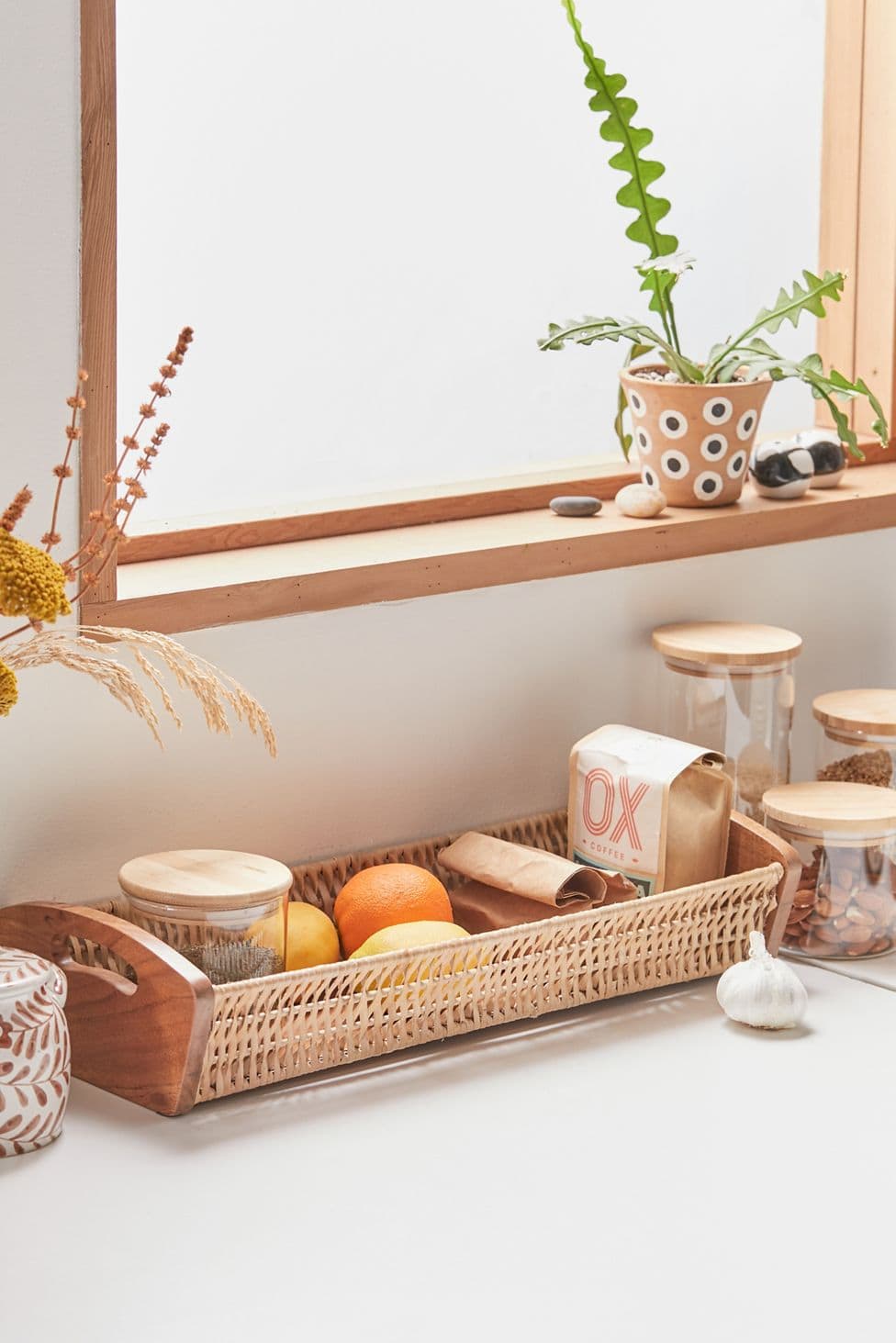 Need kitchen counter storage ideas that are easy to maintain? You can't go wrong with a beautiful woven basket.
You can use long storage baskets like these to corral items. If an item doesn't have designated space on your counters or in a cabinet, simply place it in the basket for instant organization.
Put Your Fruit on Display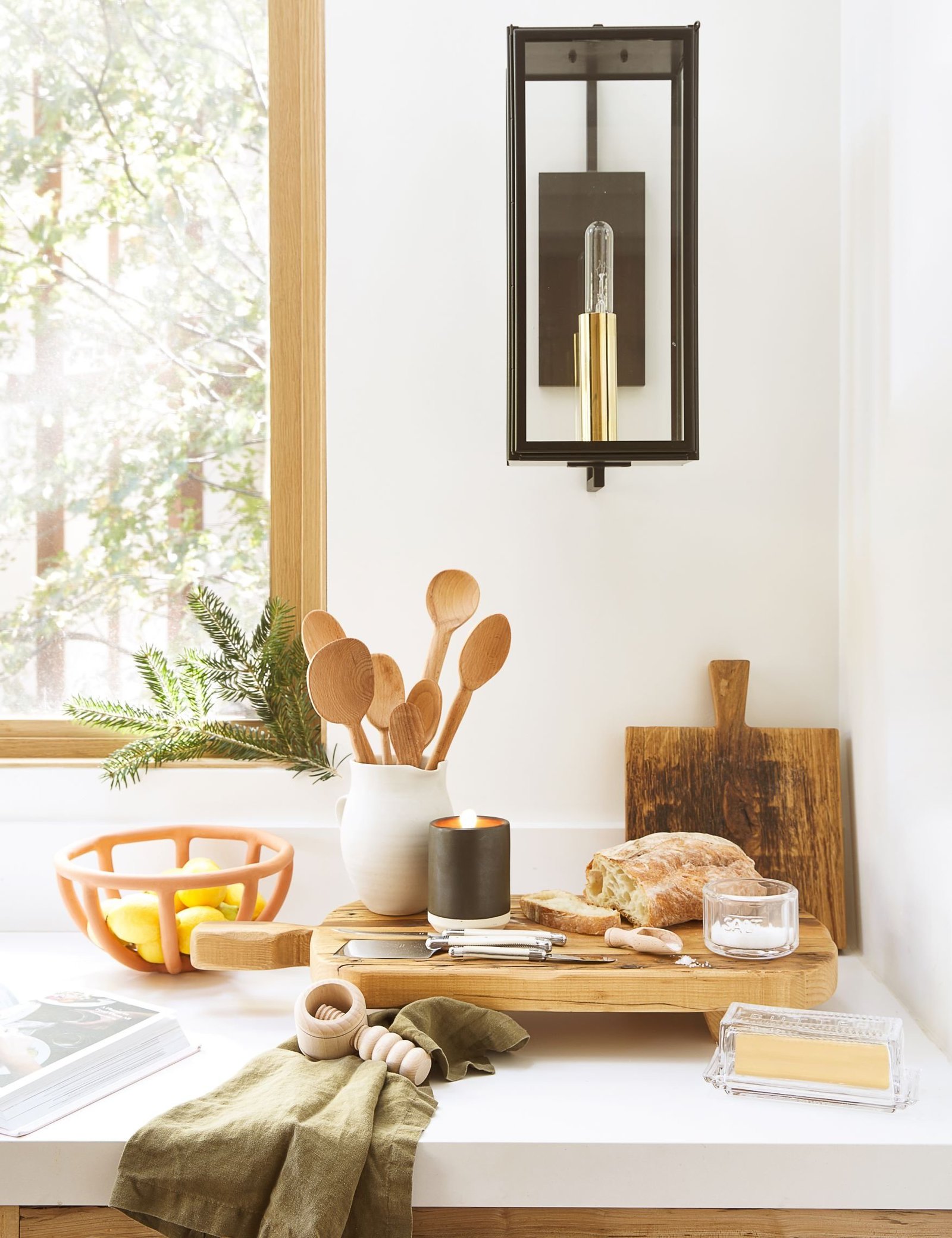 Turn your fruit into a centerpiece by choosing an ultra-stylish bowl. Using kitchen or decorative bowls to organize is a super easy and inexpensive way to keep similar items together.
You could opt for a modern-rustic bowl like the one pictured or choose something that works well with your kitchen decor.
Add Kitchen Countertop Shelves When Needed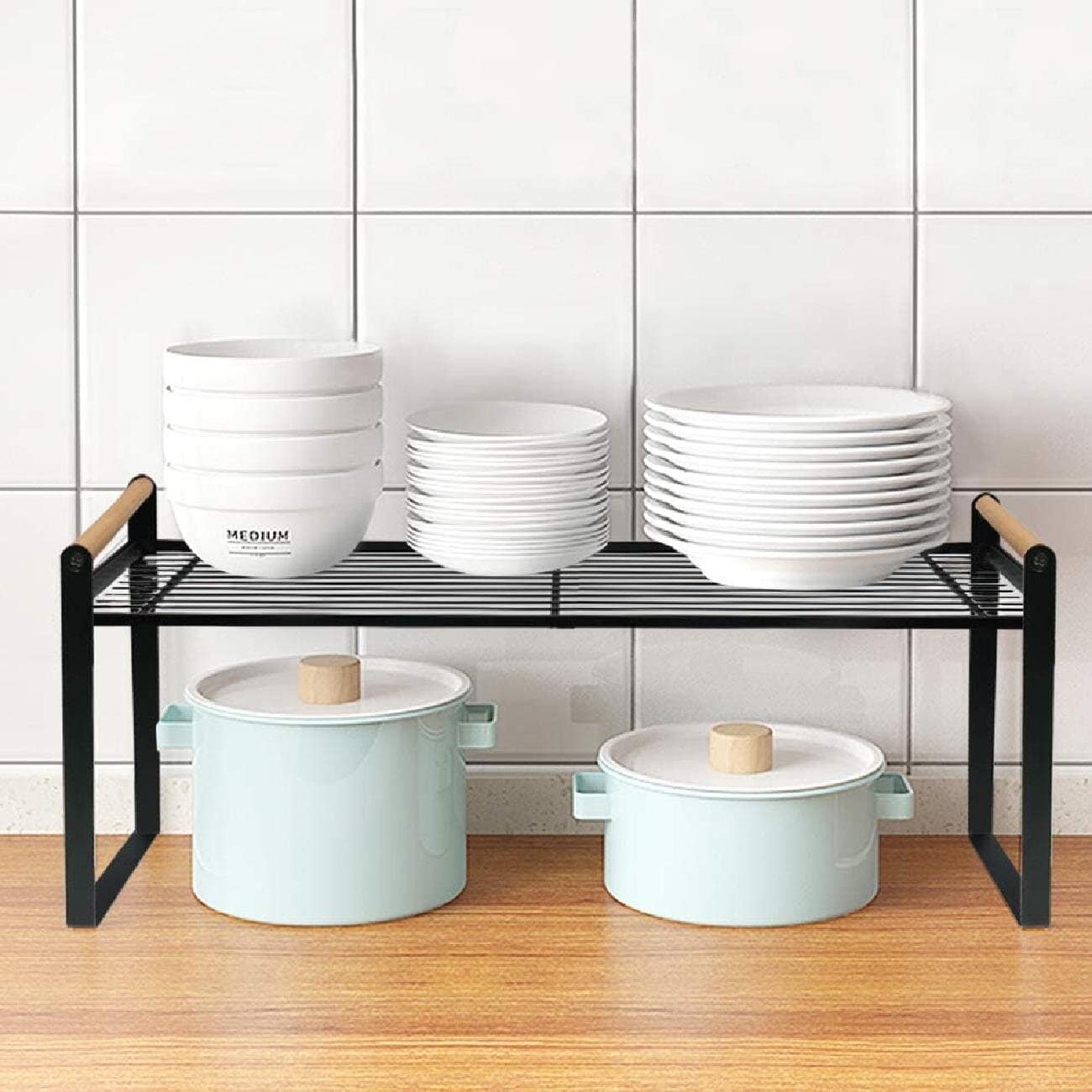 If you're looking for kitchen countertop shelf ideas that will fit in with your decor, this one is hard to beat. This matte black countertop shelf with natural wood handles is sturdy enough to hold heavy dishes but works perfectly for small stuff like spices or extra mugs.
You can place a shelf like this anywhere extra storage is needed. For example, it could be the perfect place to add cereal bowls so that they're easy to grab in the morning.
Store Extra Canned Goods with a Free Standing Shelf
If your cabinet space is next to nothing and your pantry items are overflowing, try an organizer like this. This free-standing shelf and cabinet organizer has a drawer that will hold regular-sized canned goods and a smaller drawer for the smaller-sized cans.
After utilizing the drawer space, you can stack any extra items you have on the top shelf.
Hang Baskets Under Your Cabinets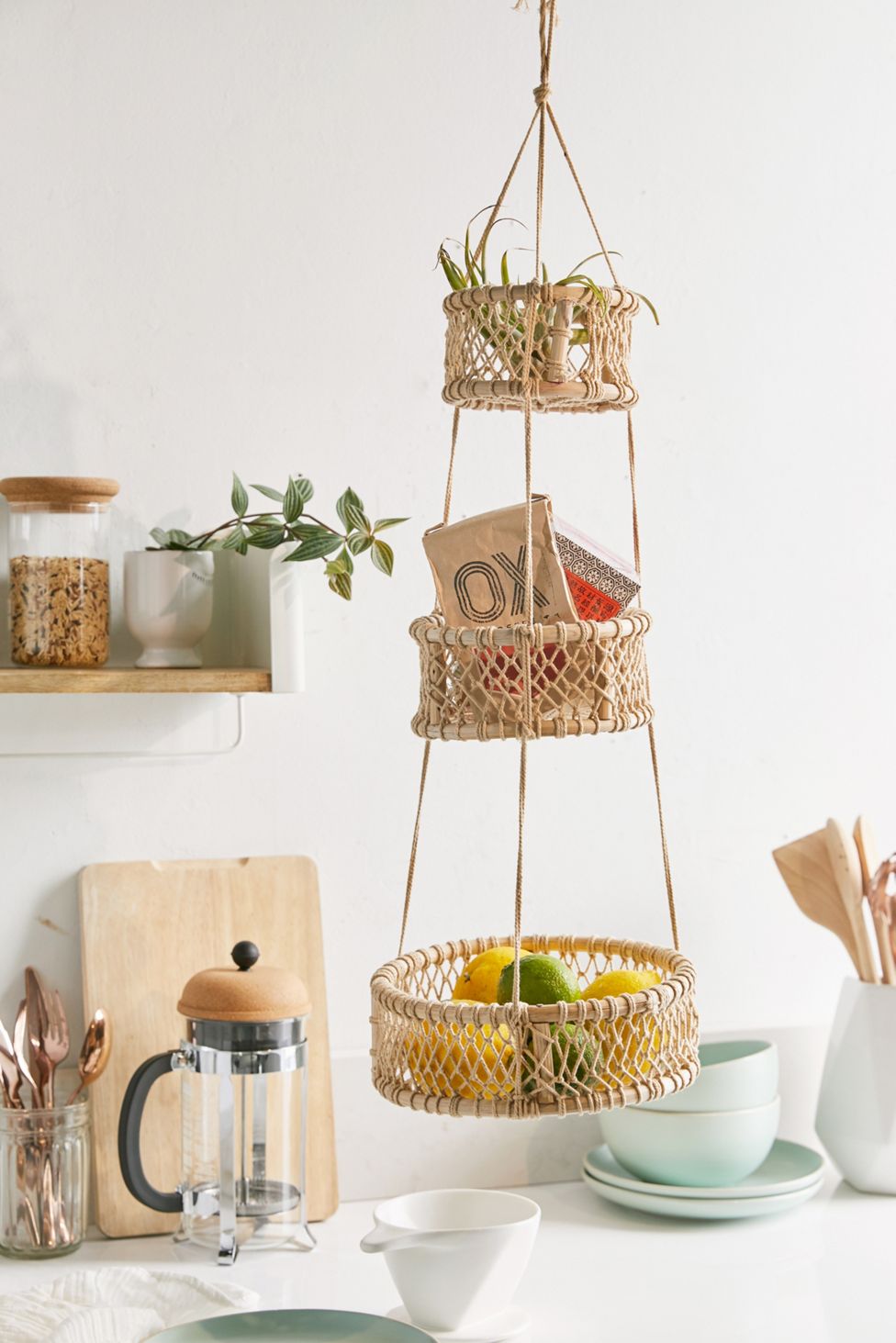 If you're not keen on shelves but like the idea of the extra storage, try hanging some baskets underneath your cabinets or from your ceiling.
This three-tiered hanging basket from Urban Outfitters not only looks good but is excellent storage for all lightweight items you want to get off of the countertops.
Keep Your Pans Close with This Counter Organizer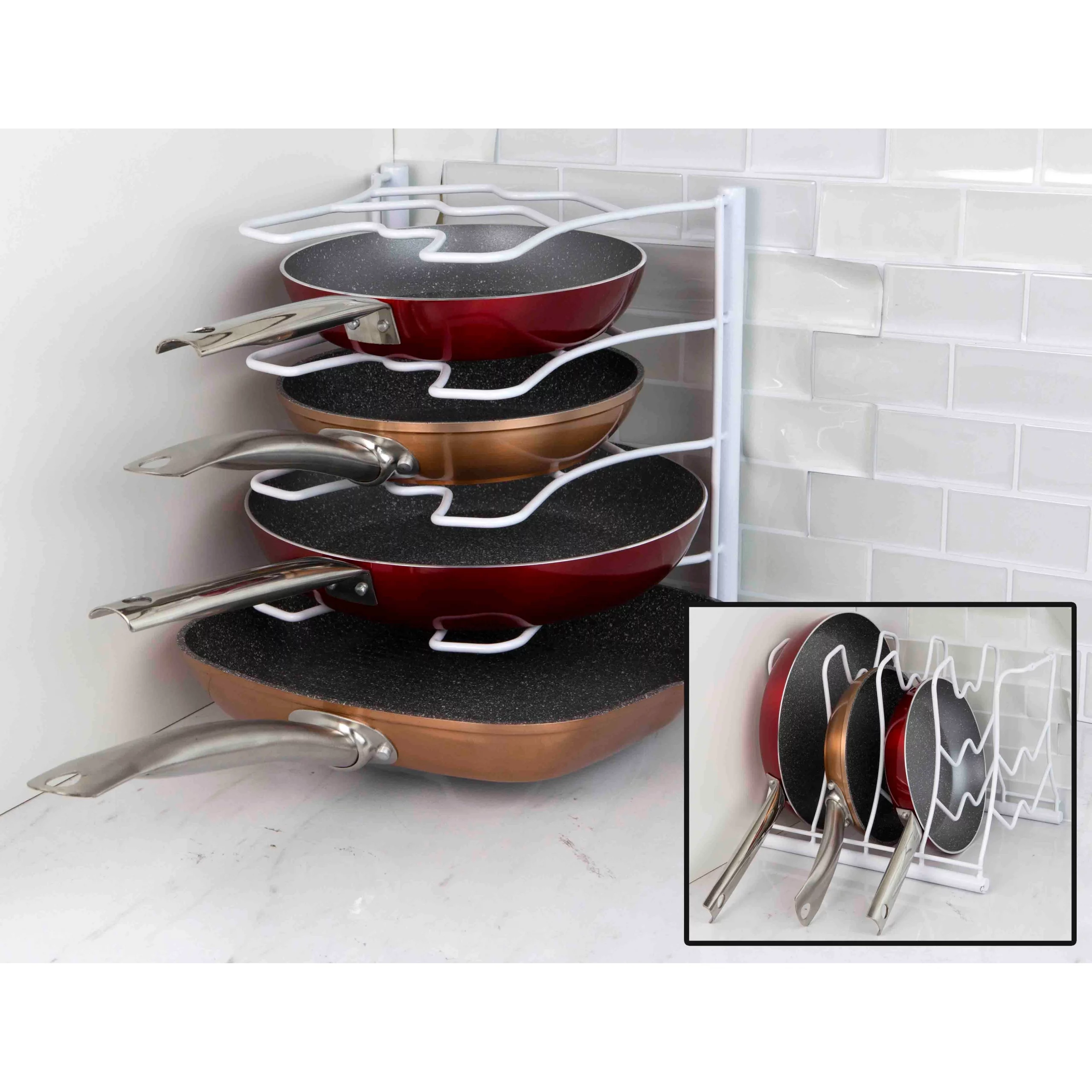 No place to put your pans? Keep them close by and organized with one of these counter organizers.
You can use this model vertically or horizontally. For maximum space-saving, stack your pans vertically, like shown in the picture. However, if you don't have enough space between your counter and cabinet to do so, you can flip this organizer on its side and use it horizontally.
Make the Most of Your Kitchen Counter Storage with a Lazy Susan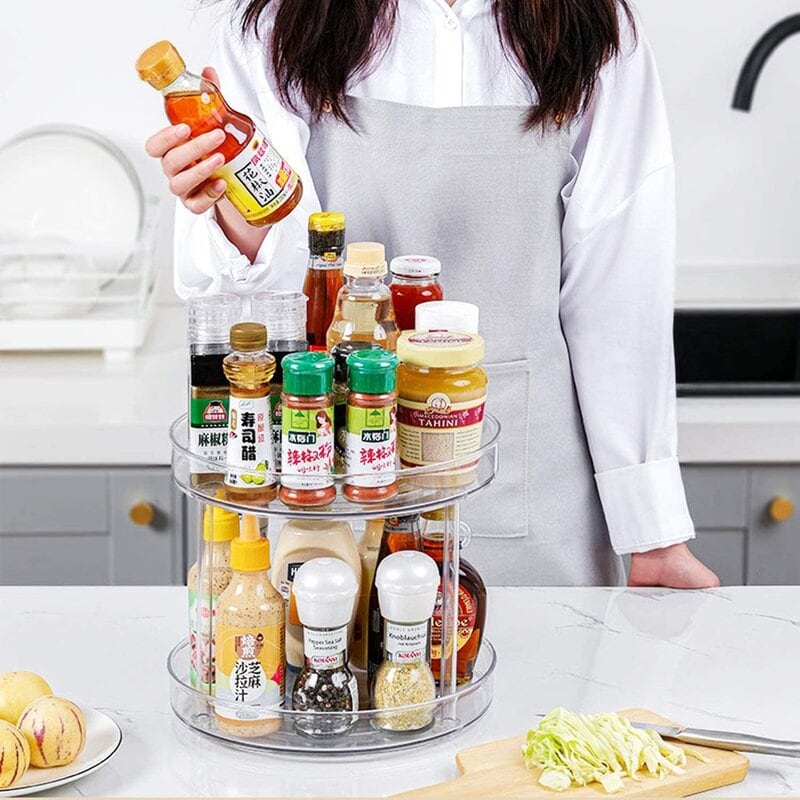 Lazy Susans are the queens of space maximization – and they're not only for your cabinets. If you're looking to make the most of your kitchen counter storage, add a lazy susan.
You can find these available in all kinds of materials, including natural stone, wood, acrylic, and even glass. Find the size and style you need, and then layer on the items taking up your valuable countertop space.
Opt for a Multi-Functional Soap Dispenser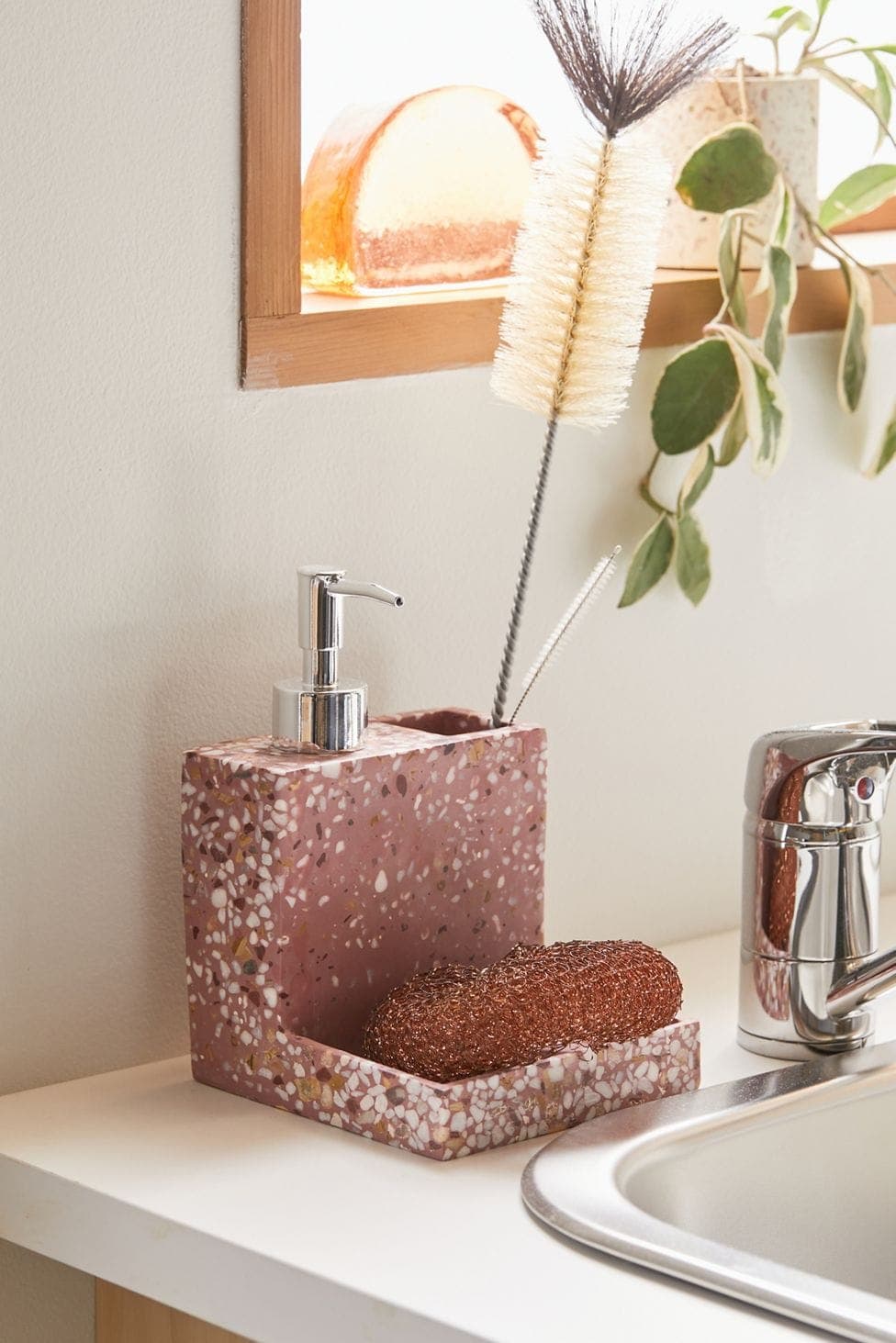 If you keep your soap beside your sink, try a soap dispenser like this one – it has space for your kitchen sponge and any other tools you use to wash dishes. As a bonus, it's not only functional but also beautiful.
Simple organizers like these can help you declutter and add style, all in one swoop.
Mount Cereal Dispensers to the Wall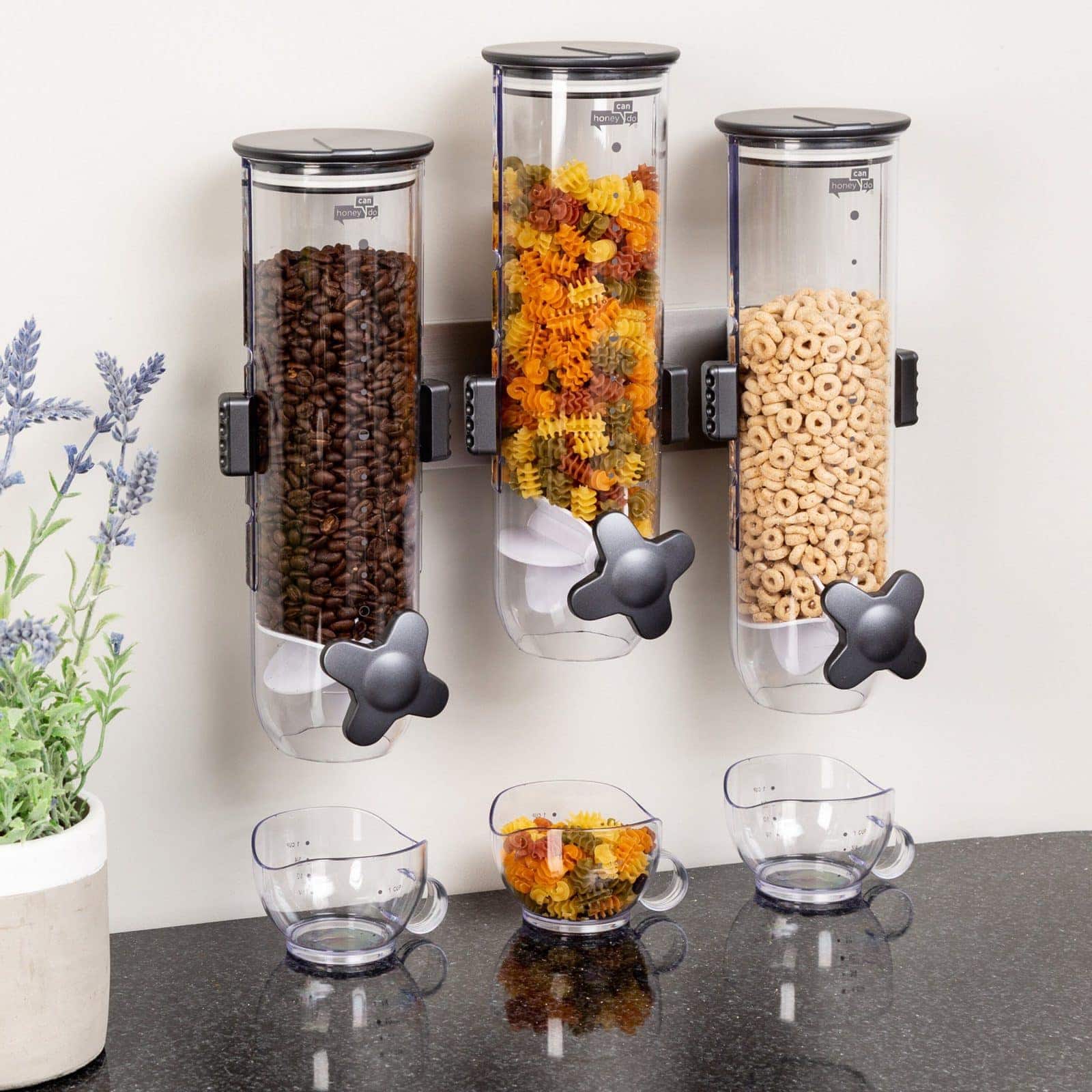 If you have a family of cereal lovers and are desperate to find a good method for organizing it, ditch the boxes and opt for dispensers. You can find a free-standing cereal dispenser or go with the wall-mounted kind like shown above.
These dispensers are great for all of your most commonly used dry goods.
Use a Serving Tray as an Organizer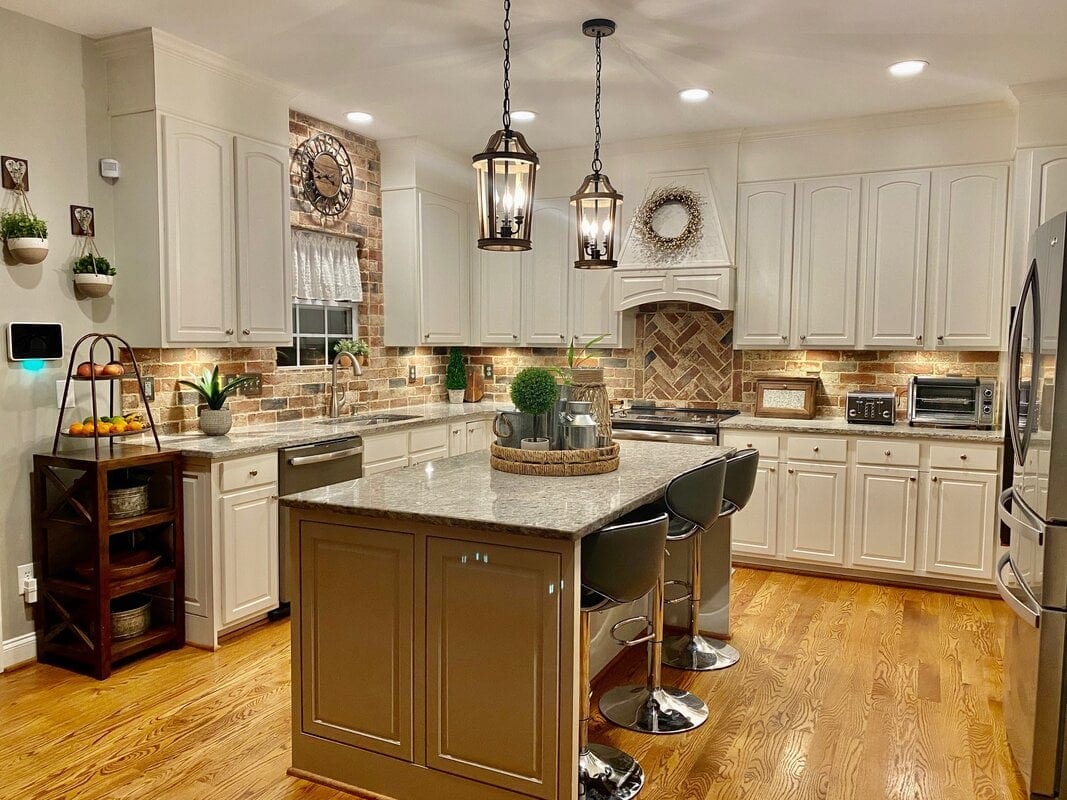 Looking for a piece that can pull double-duty? Try a pretty serving tray.
Serving trays are great to use for corralling items and creating a centerpiece. However, they can also be used for their intended purpose whenever you want to serve food at a party or serve breakfast in bed to a family member.
Put Your Utensils in a Caddy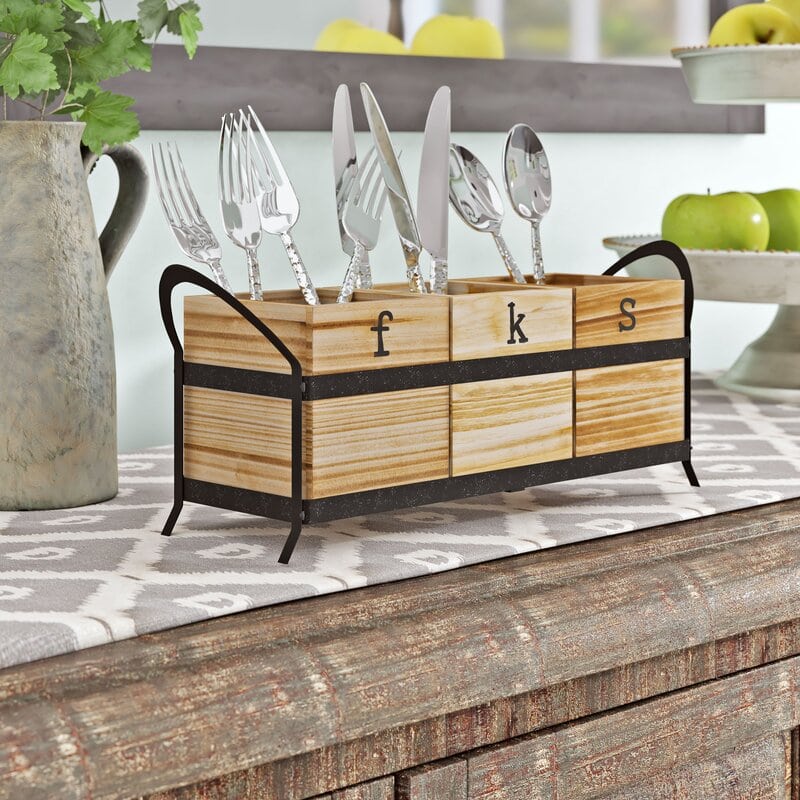 No place to put your forks, knives, and spoons? Try a utensil caddy.
These caddies are the perfect solution for a small kitchen with no drawer space. Plus, they're easily moveable, so you can switch them around whenever you decide to rearrange or redecorate.
Install Wire Baskets for Extra Storage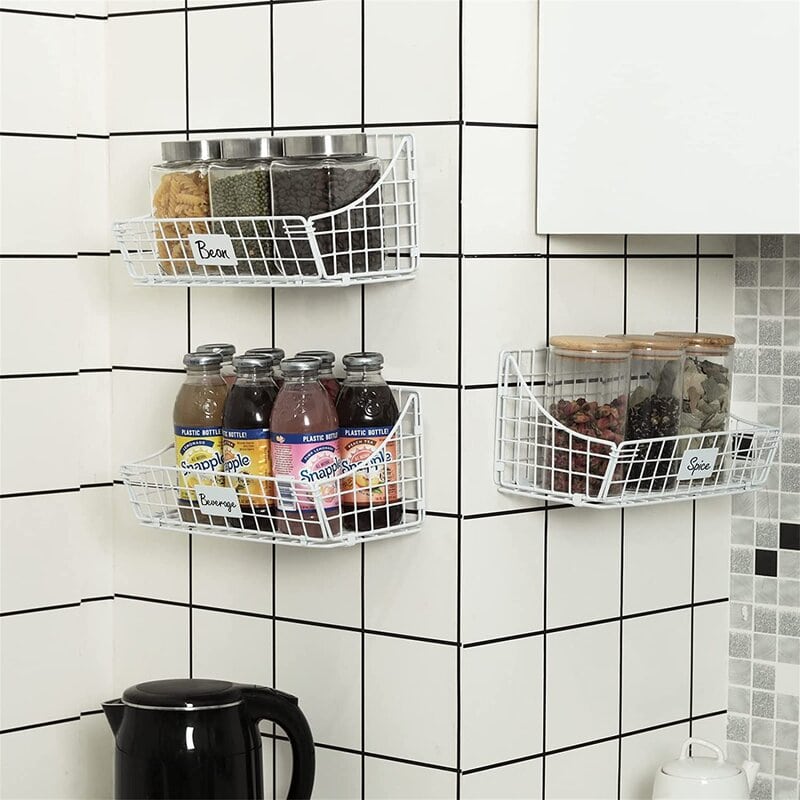 If you're trying to use every bit of space you have, install these wire baskets in between your counters and cabinets. These baskets can hold a variety of items – everything from mail to canned goods.
You can find these bins in both black and white. If you're not keen on hanging them, they can also sit flat on the counter.
Final Thoughts
If you're looking for the best kitchen countertop organization ideas, these will help you free up a lot of space. When organizing your kitchen, start by doing a big declutter. You can use the Marie Kondo method to help guide you, or you can simply get rid of everything you haven't used in six months to a year.
Then, try using some of these kitchen storage ideas to organize everything that's left. You'll end up with clutter-free kitchen counters.