Laundry Room Flooring: From Budget-Friendly to High-End Ideas
When it comes to selecting your laundry room flooring, top of the list will be durability and a surface to withstand the damp. You'll also want it to be impact-resistant to outdoor boots and shoes, and to be stain-resistant from splashes and spills.
With a whole range of materials and designs available it can be hard to know what works best in your laundry room. Affordability might be a consideration but you needn't sacrifice aesthetics with the variety of designs available.
Whether you're starting from scratch or you have existing fixtures and cabinets, there are a number of design considerations to take into account when picking the right flooring for your laundry room.
Tile Flooring
The obvious first choice for a laundry room floor would be tile. Whether ceramic or vinyl, it's an attractive finish, easy to clean and is hard wearing.
Available in both traditional and modern designs, your color cue will be the cabinets, and the other fixtures and fittings. Use a traditional pattern if you have plain cabinets and walls for a design statement. Or go bright for impact in your laundry room.
Pretty Gray Vinyl Tiles
Luxury vinyl tile is waterproof and damage resistant to withstand the moisture, humidity and foot fall in the laundry room.
On a practical level vinyl tiles are quieter, more insulating and softer than ceramic tiles but give you the same kind of look in a traditional pattern. They can also be laid over existing flooring which makes them simple to install.
To enhance a gorgeous classic colored laundry room in a period design, a gray and white pattern will complement the look perfectly. And the advantage of a pattern is that it's forgiving of the odd mark unlike a totally plain finish.
Traditional Ceramic Tile
A ceramic tile can be the cheapest option to use per square foot and has a certain charm. If you're already experienced in laying tile in other areas of the home then this may be something you'd like to try. This guide gives tips on the materials you'll need and the best techniques.
Ceramic tiles range in size usually from small 4 inch tiles to much larger quarry style tiles. A hexagonal design in a bright color is unexpected and completes a colorful look.
Easy to wash and keep clean, they will last for years. Bear in mind, however, they may be a little slippery and can be a noisier surface for your washer to stand on than more modern materials.
Luxury Marble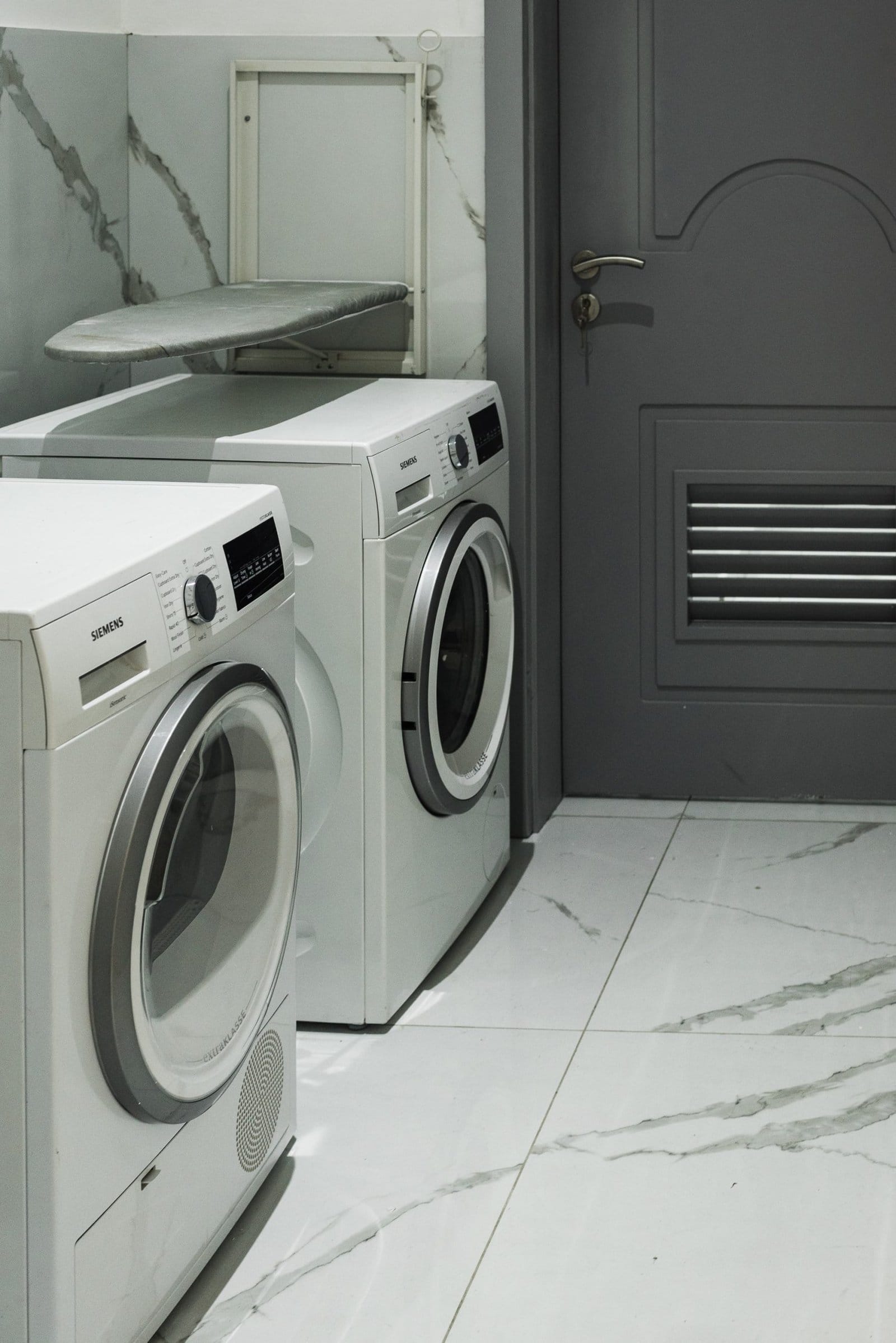 Marble is the epitome of luxury and will make your laundry room look fabulous. If you want a truly hardwearing, classic finish then this is the go-to tile.
Marble speaks of simple sophistication and is a natural product for those who are averse to the artificial and prefer a more eco-friendly material.
Available in a range of colors, classic white with black complements grays and could also look good with blush pink or shades of blue and green.
Herringbone Slate Tiles
Slate is a beautiful natural material to use and looks great in both modern and traditional homes. Perhaps a little utilitarian, it works well as laundry room flooring. Whether textured or smooth, there are a variety of sizes and shades to choose from.
A herringbone pattern will add impact to an otherwise plain room and can be less tricky to install than you might think.
As a rule of thumb, you'll want to keep geometric style patterns like herringbone separate from bold patterns like floral, busy walls. Instead use the flooring design to add character to plainer decor and muted tones.
Wooden Laundry Room Floors
You can almost smell the timber in this beautiful wooden laundry room. If you have a hankering after the look and feel of hardwood floors, you can continue that into your laundry room.
In theory, wood is at greater risk of damage or rot from the moisture. But as long as you pick a hardwearing, treated plank and maintain it, this can be a durable option.
Styled with other natural materials such as wicker and clay pots, this wooden flooring is warm and inviting. So much so you might find it a good spot to spend some down time.
Wooden Herringbone Style
As well as slate, a wooden floor can look beautiful in a herringbone style. For a classic option, this will warm up cool gray walls and cabinets.
The chevron design can also be used to create an illusion of space. Laid as arrows going across the width of the room, this enhances a smaller room.
Traditional Hardwood
As well as a modern look, hardwood works as a period style flooring. Dark gray cabinets are on trend and the mid-wood color is at the opposite side of the color wheel which has a brightening effect.
Matched with a pink wallpaper and natural wood, this laundry room has heaps of charm. The wooden floor adds warmth and depth.can be installed cheaply and quickly
Laminate Flooring Ideas
Laminate flooring has come a long way over the years. Now it's available in special water resistant finishes suitable for your laundry room. It doesn't come only in wood effect planks but in patterned tile, and in slate, stone and terracotta style finishes.
It is slightly cheaper than hardwood and can be more scratch and dent resistant. It is also not faded by the sun in the way a wooden floor night be. Easy to keep clean and to mop up spills, this is a good, practical option.
Patterned Laminate Tiles
If you like the classic patterned floor tile design but want more warmth than a ceramic tile and a harder surface than vinyl tile, then this can be a suitable solution. Paired with classic cabinets and colors this has a timeless, elegant feel.
Mostly available in click-lock sections, this flooring can be installed cheaply and quickly. You'll need to make sure the surface underneath is flat and free of any grit and buy an underlay. A great option for modern homes with minimal fuss.
Linoleum Flooring Options
Vinyl sheeting is one of the cheapest flooring options. Provided it's fitted well, this can be a strong flooring contender for your laundry room.
Offering excellent water resistance and durability, linoleum can also look smart and attractive. Designs range from traditional to more modern.
Traditional Tiles in Vinyl
If you already have a smooth, flat laundry room floor, then linoleum is a good option as you can lay it on top. You can have a tile effect floor in a fraction of time and so much easier to install than tile.
These muted dark blue cabinets look great with a gray and white traditional pattern. This vinyl covers a large area easily and makes the floor look like less of an expanse in this large space.
Other Laundry Room Floor Materials
A Simple Rug
A rug is a popular choice in laundry rooms as it serves to bring in a homely feel against electric appliances. It adds warmth and texture to stone or cold floors.
As you will have a lot of foot traffic and perhaps the occasional spill, it's worth buying a washable rug so that you can easily maintain hygiene in your laundry room.
Paint Your Floors
This is such a great idea, using floor paint to brighten a room. If you have vinyl flooring or smooth concrete then you can paint directly onto them.
This stripy look adds an unusual feature to this laundry room that'll make you ask, why didn't I think of that? You'll need to buy specialist flooring paint. Then mask off or draw in pencil the areas you want to paint.
Brick Flooring
This laundry room has a New England feel with white cabinets and black hardware which are finished off by brick flooring.
Robust and durable this is a good surface to consider. It is easy to wash and keep clean and looks wonderful. Perfect for those who like period charm and who are fond of the Victorian style.
Conclusion
There are practical considerations for laundry room flooring that may not apply in other parts of the home. You'll need a durable, wearable finish for your floor.
With a range of flooring options from ceramic tiles to vinyl and wood, the best choice will depend on the style and finish of your laundry room.
Pattern and color enhance a plain background, while wood and laminate effects can add warmth. For a quick update, choose a washable rug to add texture to your laundry room.