Farmhouse Mudroom Ideas: Where Function Meets Style
A mudroom is such a useful area if you have the space to have one. Maybe you have a laundry room where you could add a bench and storage. Or perhaps you have a mudroom that's seen better days and you're in need of some inspiration to transform it into a gorgeous farmhouse design.
While a mudroom is a functional space to remove outdoor footwear and clothing so you don't traipse dirt through the rest of the home, it can also be very stylish. You might like to think of storage solutions to add to your mudroom as well as making the best of your beautiful decor.
Clean and White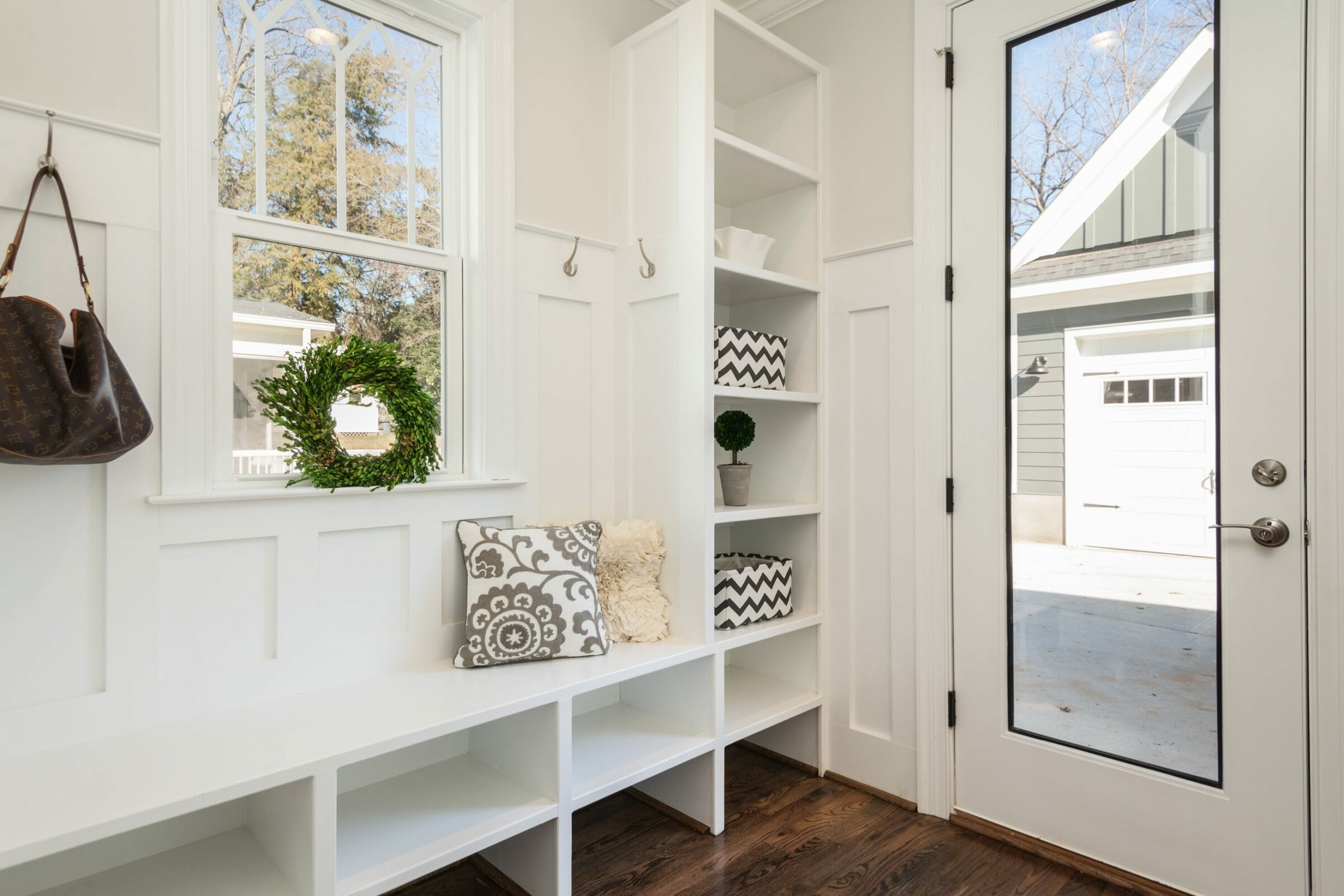 A mudroom does what it says on the tin as a place to confine outdoor mud and dirt from the rest of the house, but it can also be clean and bright.
White walls will add some dazzle, especially if your mudroom is a little on the dark side. In keeping with the farmhouse theme are paneled walls. You may like to construct your own MDF wall paneling for a feeling of tradition yet modernity.
Also dark hardwood floors give a durable, rustic appeal. Add some clever shelves and coat hooks and you have the perfect airy mudroom to greet your guests.
And if you get a few scuffs here and there, it could add to the charm. Or if you prefer a cleaner look, be prepared to touch up with your white paint now and then.
Elegant Blue Farmhouse Mudroom
For some excellent roomy storage space, you can build a floor-to-ceiling closet for your coats and coveralls. Inside, you could fix dedicated box shelves for shoes as well as rails to hang clothing.
A gorgeous duck egg blue paint will contrast with a lightwood bench seat and blue shiplap walls. And for a designer finish, keep an open shelf and style with farmhouse ornaments, lanterns and riding equipment.
All in Order
If you are the queen or king of decluttering and can't get enough of those CleanTok videos then neatly ordered storage boxes and cubbies will be perfect for you.
Each member of the household can have their own basket to put their outdoor things. So there's no excuse for mess in this mudroom!
When it comes to rustic farmhouse styling have you thought of adding foliage? A tall, leafy plant in a natural pot will look divine. And for the finishing touch, hang a simple straw hat on a coat hook.
Art Deco Farmhouse Mudroom
If you like a sumptuous 1920s Art Deco look, you can extend this from the rest of your home to the mudroom.Consider your wall color and paint paneled walls in black or dark jeweled colors such as green or eggplant.
Large copper or brass mirrors either circular or geometric in shape will add to the theme. Your storage can be as simple as woven baskets, and cushions will add a touch of luxury.
For the true period farmhouse look, add a patterned rug. If you buy a wool rug, due to the natural fibers, you'll find this remarkably self-cleaning.
Equestrian Farmhouse Mudroom
If you own horses or you like to go horseback riding then your mudroom will need to accommodate your equipment. You'll need deep enough storage for riding boots and somewhere to put hats and riding crops.
To blend with wood beams on the ceiling you could use the same rustic oak wood to create storage benches for shoes and boots. You'll need plenty of metal hooks for coats, jackets and hats. This has to be a practical space.
But for a little panache, hang some rustic artwork above your coat hooks. This will show off your good taste and natural style!
Mudroom Window Storage
You might think you don't have the space for a mudroom in your home but take a look at your entryway or back door area and think again. All you need is room for a bench and a little storage.
A low window which is cute and rustic can have storage added beneath in the form of a chunky wood bench with woven baskets.
Shiplap looks every inch the country farmhouse painted in a sage green. And for styling, drape a soft blanket with a fringe, and a vase of wild flowers. Very romantic!
Small Space Mudroom Update
Another idea for a mudroom in a tiny space or corner of a laundry room or farmhouse kitchen is to add a freestanding bench. A simple wood bench against painted shiplap will look gorgeously rustic.
Ensure you have plenty of hooks to hang coats and some open shelves for storage and ornaments. A woven rug will add to the simple aesthetic and give you somewhere practical to wipe your feet but will be easy to wash and keep clean.
Beautiful Wood Mudroom
For a simple yet finessed mudroom finish, a bespoke wood storage unit is just the ticket. If you have a recess, you can build closets around a bench and also add some drawers. You might get the locker custom built or if you are a solid carpenter, you could try building your own.
A soapstone or dark stone tile contrasts perfectly with a mid wood tone and can be softened with a rug. For simplicity, keep all tones and textures rustic and neutral with woven baskets and a pot plant.
You can think about installing a tile inlay where you hang your coats which is also very durable and waterproof. Simple, practical and with bags of style.
Beautiful Brick Floor
For a traditional farmhouse floor in your mudroom, a brick tile looks wonderful. You can lay it as you would a wall or in a chevron herringbone design.
This is a gorgeous, hardwearing texture that adds tons of character. You can try laying a brick floor yourself. Mainly to do this, you need to be ordered and patient, laying out the pattern before you add mortar. This floor can work well in a small space.
Open Shelf Farmhouse Mudroom
If you use the space under a mudroom bench for storage, a neat little idea is snakecharmer baskets for each person's shoes. You can add open shelves for baskets and hats.
Using a black metal bracket in a traditional design is in keeping with the farmhouse design. Style with cute succulent plants in ceramic pots and hang up a pretty shawl or hat.
Wallpaper to Finish
For utter country sophistication and style you can paper around a shiplap wall. Painted cabinets give a solid yet elegant feel and can contrast with a patterned wallpaper. You can try wallpapering the walls yourself if you like DIY.
An antique oak wood storage unit looks just the part and continues that theme of solidity. For chic styling, add country style hats and ornaments and hang up your favorite bags.
In Summary
There are many ideas for cabinets, closets, shelving and decor to achieve a farmhouse look in your mudroom. As well as getting the foundations right such as colors and textures of your fixings, the final touches and details are key in addressing your theme.
So look out for metal coat hooks and brackets, think about using open shelving and go all out on woven baskets for storage. Cute little touches to complete your scheme include potplants, flowers, blankets and hats. Gorgeously rustic!