Laundry Room Tile Ideas
In a laundry room where you probably have a sink, and the air can be damp, it's practical to have a tiled wall or backsplash.
Your laundry room doesn't have to look overly functional. You can have elements of design even in a room that is usually overlooked when it comes to home decor.
When choosing a wall tile it's worth taking into account your entire scheme, from wall color to flooring. Also you'll need to consider the natural light in the room and the space you have to decide where to tile, and whether you go the whole wall or a half backsplash.
There are a myriad of laundry room options. You can choose to go for a bold statement or take a simpler tone.
Basically Speaking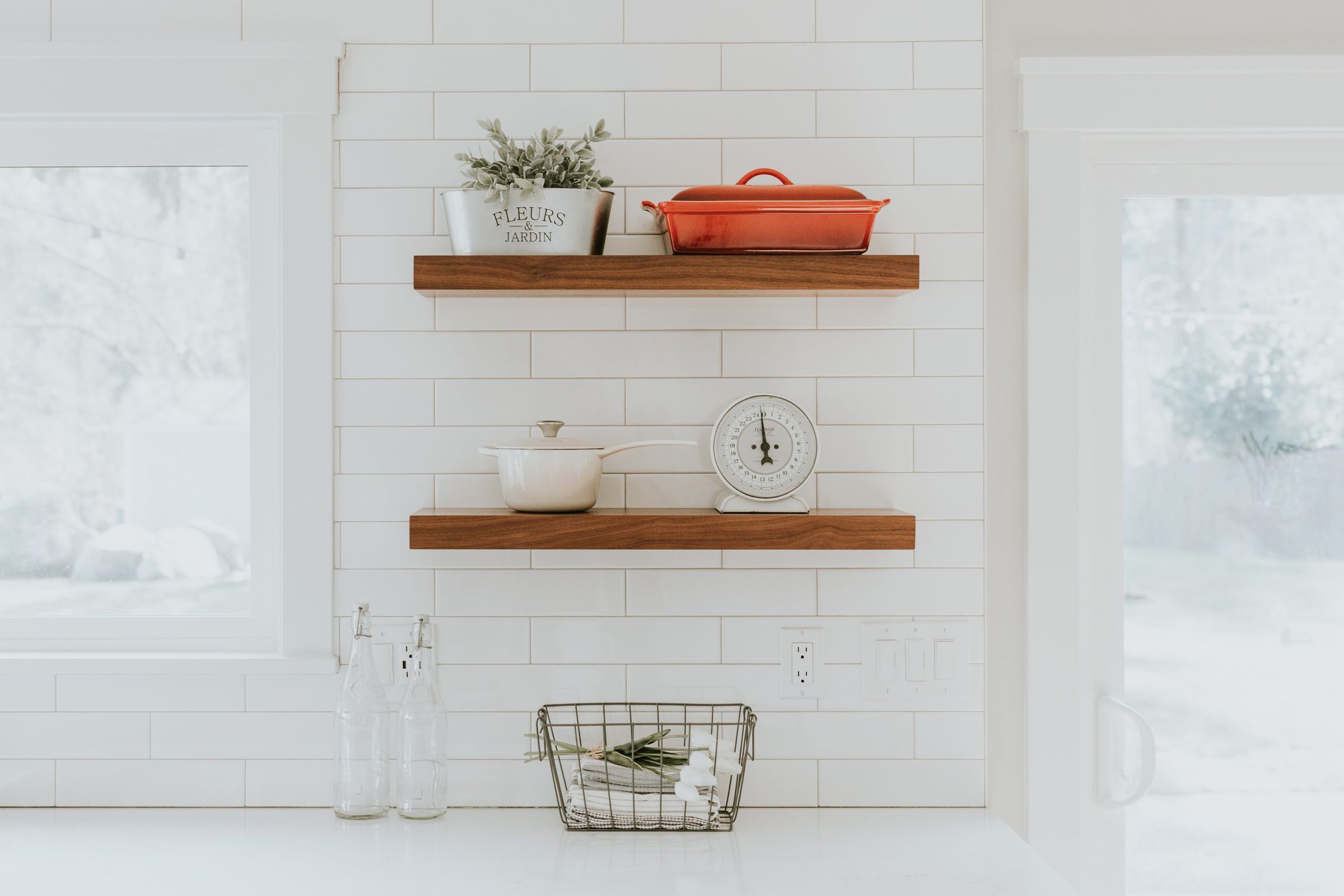 If we go back to basics then a cool white tile is a clean look for a laundry room. For an unfussy look you might want to consider a white subway tile. It never goes out of style, is easy to keep clean and the decor can be updated with accent colors.
If you like a minimal look against white window frames and simple wooden shelves then this could be a good choice for you. Lighter shades will make the room bright which would work well where there is a lack of daylight.
And if you like to try your hand at DIY, you might like to give the tiling a go yourself. Laying tiles out on the countertop before you stick them to the wall is a great tip so that you can plan your cuts.
Simple Gray
Keeping things simple, this gray tile is just beautiful. The shade and pattina add interest to the white cabinets. Selecting a similar color will add a feeling of expense to your laundry room.
Slightly shorter than a subway tile, this tile has been turned 90 degrees and laid vertically. It is distinct and gives an illusion of height in a small room. It also serves as a feature, tiled only to just above the bottom of the wall cabinets.
There are four tones here: the white, gray, natural beige and black. All of the accessories pick out these tones to bring the scheme together and create a feeling of tranquility.
Classic Farmhouse Laundry Room
This is a beautiful period look where the classic cabinets and exquisite hardware are given a decorative boost from the patterned wall tile.
The traditional tile has a look of a classic damask wallpaper and is complemented by period style globe shaped light fittings.
This updated take on nineteenth century grand house decor could be recreated in any size of laundry room.
Blue and White Tile with Yellow Zing
This small laundry room packs a punch in style! The unusual patterned tiles covering the entire walls match the royal blue washing machine. The white of the cabinet door and ceiling is continued in the background of the tile.
But what adds drama and an almost edible lemon zing is the sunshine colored light fitting and the bright yellow door.
If you are bored of your wall tiles, you may be able to give them a lift with contrasting colors painted in the rest of your laundry room.
Geometric Flower Wall Tiles
This laundry room has cabinets that are plain gray and the decor is uncomplicated. Here the sky's the limit as to the pattern you could choose for the wall tile.
A geometric tile design in a floral shape looks pretty yet still sleek and unfussy. Not only does the tile work as a useful backsplash but as a means of creating an attractive laundry room scheme.
The tiling is used from floor to ceiling on one wall. You might consider the same affect and create an accent wall in patterned tile.
Mosaic Laundry Room Tile Idea
This tiny tile is a delightful choice for an airy, natural laundry room look. You won't need to spend hours painstakingly fixing individual tiles though as this tile can be bought in sheets. Easier to put up than subway and square ceramic tiles, you can update a wall in no time.
This is a durable, hard wearing finish which has an appealing aesthetic. The uncluttered backsplash is given warmth by the items on the countertop and the shelf, the natural baskets and leafy plants in the same tones.
Laundry Room Brights
Don't be restricted to the kinds of tiles you think you should choose for your laundry room. You don't have to pick a muted, conventional look. If you love color then look out for wild designs.
These unusual green cabinets look gorgeous against the brightly patterned hexagonal tile. More of an artwork than a backsplash, the tile is enhanced by the countertop being left clutter free to make the most of the design.
Wood Effect Wall Tiles
This tile is a total surprise in this laundry room. The walls look like they are paneled in wood. Suited to an urban apartment, the sophisticated navy cabinets are matched with this stunning geometric design tile.
The shape of the tile design, and the tones used, resemble a wood grain. This gives warmth and also a feeling of enclosure, as well as looking expensive.
Gray Sunburst Tiling
This could be a modern favorite. For those who like the monochrome look, this is a perfect choice.
The countertop over the washer, and the plain white sink, are first lifted by the unusual modern brass toned faucet. Then the entire scheme is transformed by the sunburst design tiling.
In gray and white it remains classy but adds a little buzz of joy through the charming floral tile design. The basket and practical clothes rail complete the look.
Mid Century Practicality
This blue subway tile is a gorgeous ocean shade against white cabinets. You can see how that blank canvas in a laundry room gives you the option to pick a color you love.
The wooden shelf and coat hooks are picked out in a light wood which contrasts with the blue and adds a warmth. The basket filled with blooms is an unexpected touch in a laundry room and softens the functionality of the space.
Small Tiles Have Big Impact
This is a wonderful laundry room with cabinets in a dark duck egg blue and useful shelving in the same material. The shade of tile chosen works perfectly to enhance the blue.
These small gray tiles have been laid in columns rather than overlapping like you would expect a subway tile. Trying out different configurations on your countertop before fixing your tiles may give you inspiration.
Conclusion
The main idea for your laundry room finish is to think about bucking the trend and looking for unconventional design touches. The space should reflect the decor in the rest of your beautiful home, not be a room you close the door on as it is used only for function.
You can tile the entire room if you like a busy look, or opt for tile backsplashes or accent walls. A patterned tile can inject fun and interest to your design.
A plainer tile lends a more tranquil look or works as a backdrop to cold colored cabinets. The way you lay the tile will also affect how varied or plain your backsplash feels so go ahead and experiment to find the look that works best for you.