We independently select these products — if you buy from one of our links, we may earn a commission.
Monograms are Posh! Are You Cool Enough for a Monogram? Know The Rules, Then Break Them
By: Decorated Life Team
|
Think monogram and fanciful images of elaborate three-letter monograms used by celebrities, society families and aristocrats, and even extravagant over the top rappers with way too much bling swamp you. We're used to monogrammed scarves, jewelry, bags and sunglasses. What about in your home?Are you cool enough for your own monogram?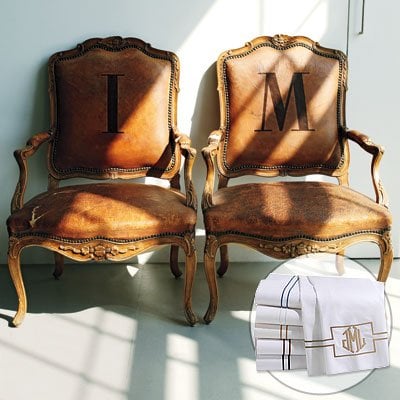 You can go subtle or loud – like these Isaac Mizrahi chairs here as long as you are comfortable with the design.

Monogram Branding Tool
Monograms are a great branding tool that develop and establish your personal or family style. Cool, huh? You can go super traditional to show influence and prestige or modern, bold and strong. Done tastefully, you can create a home decorating look that is full of drama or  fun. Careful; overdoing it is easy, but not wise.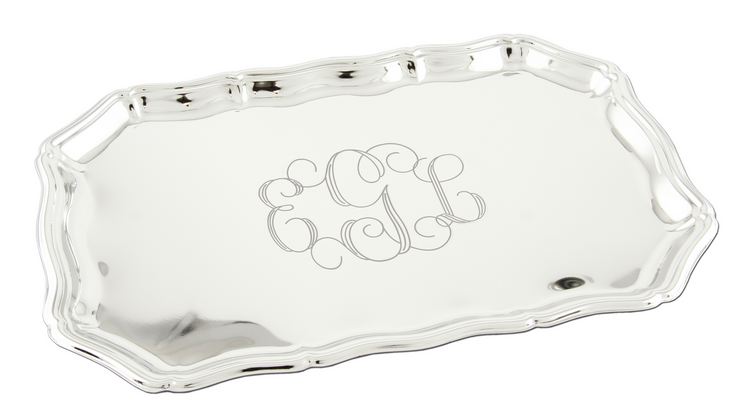 Personal branding has become a large part of our world. We're used to collecting monograms like this Louis Vuitton bag spotted on Coolspotters; aligning with the best and creating a sense of prestige. From Facebook pages to signature perfume. Social media guru, Laura Roeder, styling expert Kat Kim and transformational coach Margaret Lynch are all about developing your personal voice, helping to ground you in your personal power so you can stand out in a highly commoditized world.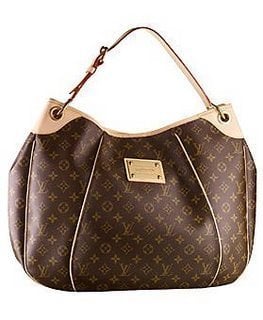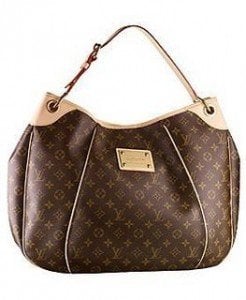 Originally, the monogram was reserved for the rich and privileged as a symbol of power, family, money, heritage and coolness. Well, move over, because the monogram is now a Uber chic home decorating tool that everyone can use.

It could be a single initial on a glass like the range from Carolina Clover or an iphone cover from The Monogram Merchant.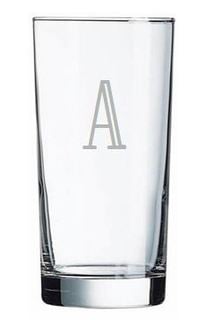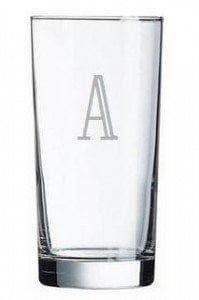 Or something more traditional like plates and flat ware.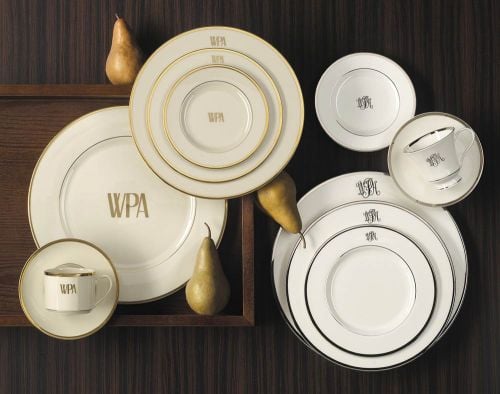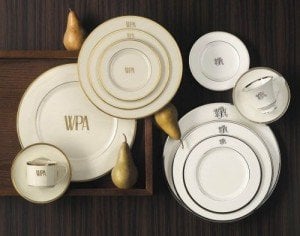 The choices range from outlandishly expensive monogrammed sterling silver candlesticks, cutlery or flat ware  to inexpensive stationary and flip-flops. You can easily create your own high society 'inherited look'; a few portraits, antiques and a monogram.
The first step is to design your monogram; one you feel comfortable with and fits your home decorating style. Then, use it like a logo on 2 or 3 things, 6 at most, using the same font and style.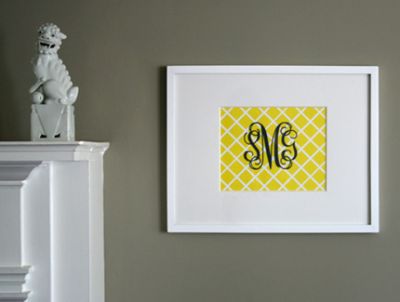 Monogram Access Denied
It might seem straightforward but monograms have rules such as how you use a monogram for women who keep their maiden names, unmarried couples in partnerships or same-sex marriages and where to place a monogram on a bath towel, a cuff or sheets. Your branding efforts could fall flat if you don't get the fundamentals right.
The three-letter monogram is still the most used design. Styles vary but script lettering is popular. It looks prestigious (read posh and expensive). Block lettering styles are also popular. They are simple and contemporary and often used for men.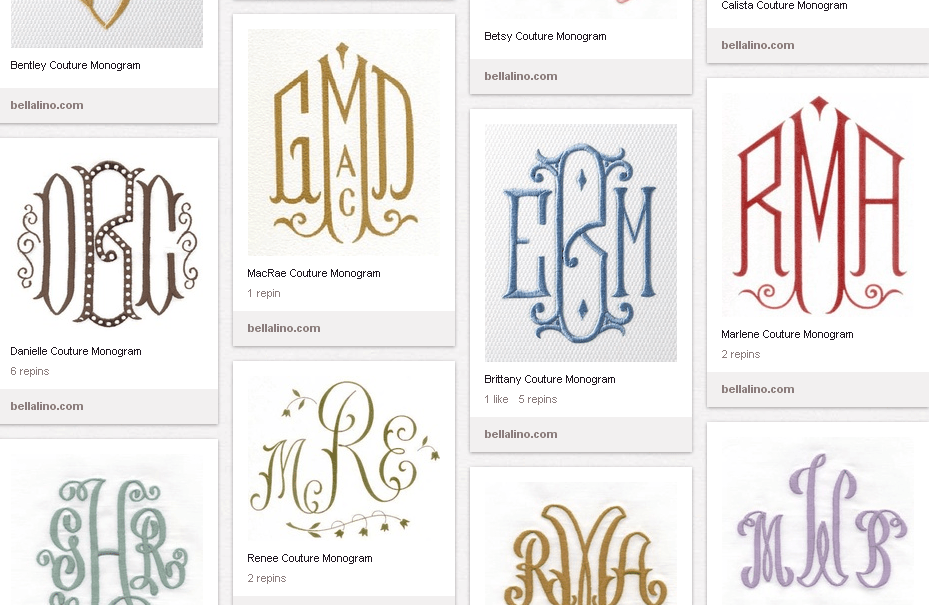 Monogram – The Order of Initials
Not to be confused with an underground cult, the order in which you place your initials is important. Very important. Get this wrong and you will be laughed out of the monogram world.

There are two main design structures:
A large initial in the middle, and two smaller initials on either side. The middle larger initial is the surname initial. Always. The smaller initial on the left is the first name initial and the smaller initial on the right is the second name initial.

Where initials are the same size, the first name, second name and surname initials remain in that order.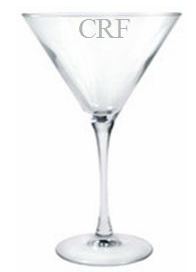 This is the first decision when selecting a monogram for your home decorating or buying a monogrammed gift. It often depends on the size of the item being monogrammed and the impact you want to create. People often stay away from one initial because it doesn't look personal enough. But the choice is entirely yours.

Monogram Styles
There are so many monogram styles to choose from including elaborate, intricate scripted letters or clean and simple block lettering or fancy frames surrounding a monogram to embellish a simple piece of fabric, glass, silver or linen. You can go stitched, embossed, stamped or engraved. Check this video from Southern Living for more ideas.
We've all been to homes of well turned out individuals to find that their amazing style and polish stops right at the front door. Monograms are like any branding so take care when developing yours.

When it comes to creating your Monogram style consider:
The style and decor of your home. Floral, vintage, geometric in traditional English, French, Chinese, country or rustic, minimalist, carved or modern.

Be consistent. Don't create multiple monograms.

Making sure your personal dress style and your decorating style align.

How far are you will to go? Napkins, table linen, bed linen, bath or guest towels. How about china, silver or glassware?

Font style. The letters F, S J and T can look very different in some fonts and difficult to read. You can see a great range of styles at numberfoureleven.


Think about blending the two styles by using one for the first name initials, and another style for the last name initial. This is a very chic and unique way to create your own personal monogram.

Beware – some fonts can look like clip art and could look dated within a few years.


Break the rules and place your monogram on less traditional places like your phone cover, an abstract piece of art or bed head.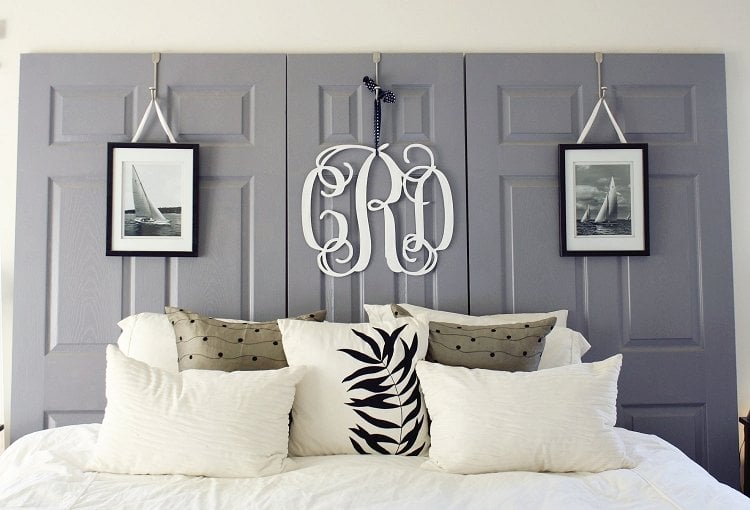 Splendid Sass has a great selection of traditional monograms and The Monogram Merchant has colorful monogram styles.
Monograms and Marital Status
Now that style is out-of-the-way, marital status is your next major issue especially if monogramming a gift.
Wedding Presents
A very sweet gesture is to monogram wedding gifts. The style should be in keeping with taste of the couple, not your own personal style or what you think they should have.
The order of initials: the bride's first initial, the surname of the couple, and the groom's first initial. For instance Kirsten and Thomas Richardson could be either:
TRK 
KRT
Traditionalists will stick with her initials on linens and his on glassware.

Monogramming a Gift for a Woman
For a woman, monogramming includes her first, middle and last initial or if she is married, her first, maiden name, and married name initials. Julia Christine Parker could be as follows:
JPC
A woman's maiden initials can be used even after she's married, although most people use the married surname initials. Given the divorce rate, that may not be such a wise move. If Julia Christine Parker married David Griffith, her new monogram becomes:
JGP
Monogramming a Gift for a Man
The shape of the item being monogrammed can play a role in choosing the order of initials. For items such as briefcases, luggage, shirt pockets and cuffs Peter William Sotheby would most likely be:
PWS
If you prefer placing the surname initial in the middle then go back to the curved style:
PSW

Monogramming for Children
Children often receive monogrammed gifts at their birth, christenings and birthdays. The same monogramming rules apply for children as for adults. A curvy script is perfect for a christening spoon, but as they get older a simpler type font could be more suitable for pillows or backpacks.
Same Sex Monogramming
Using the last name initials creates a two-letter monogram. This is simple and effective. Hyphens are used but are less popular. You could combine all initials like other engaged or married couples. The choice is personal. David Hill and Ben Marlin could be:
HM
DHMB

Engaged Couples
If Jenny Boston and Malcolm Deane announced their engagement and blend their surnames their monogram after they are married will have Jenny's initial on the left. You could go hyphen, you could have Malcolm's initial first, but the popular choice is set out below.

JBDM
Hyphened Monograms
Families with double barrel names such as Jon Smith-Ryland and Emma Harley-Snowdon and want monogram styles that incorporates both of them have a number of choices. The monogram below is simple and effective but you could do more or less.

ERSJ
It's important to remember that a monogram is a personal 'logo' so take time and give it the same attention you would when creating any other logo. If you want to feel like a Rockstar then your home decorating should help you live like one because life's too short for ugly furniture. Remember to join our News Letter at the top of the page and get free access to 42 Interior Design Secrets.