Decorated Life is reader-supported. When you buy through links on our site, we may earn an affiliate commission. Learn More
15 Paint Colors That Go With a Red Brick Fireplace
Red brick fireplaces are a design feature that you either love or hate. Choosing paint colors that go with a red brick fireplace requires fine juggling personal tastes and color chemistry.
Unfortunately, not all colors will complement red brick. The best paint colors for rooms with brick fireplaces are warm-toned neutrals. Think whites, beiges, greiges, grays, and taupes. Considering the color of the mortar is an excellent way to color coordinate.
But if you don't want to highlight your fireplace, avoid cool colors – green, blue, and these undertones in greige and gray.
Nebulous White by Sherwin Williams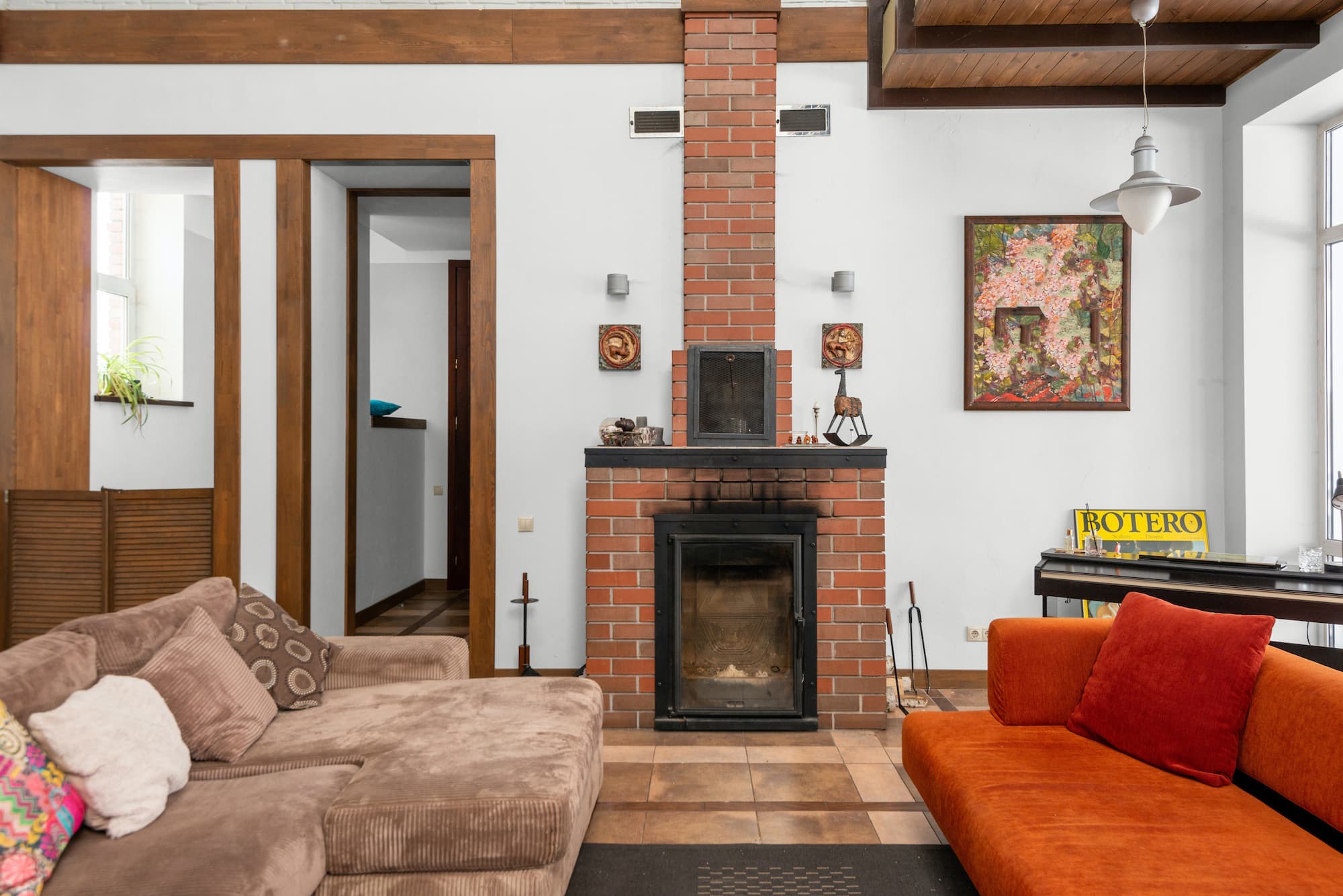 White is one of the best paint colors with a red brick fireplace. Using this cool color can tone down the richness of red brick.
Nebulous White gives you the blank slate factor associated with white. But it also has personality from gray tinting that adds just the right amount of contrast when placed with red brick.
River's Edge by Sherwin Williams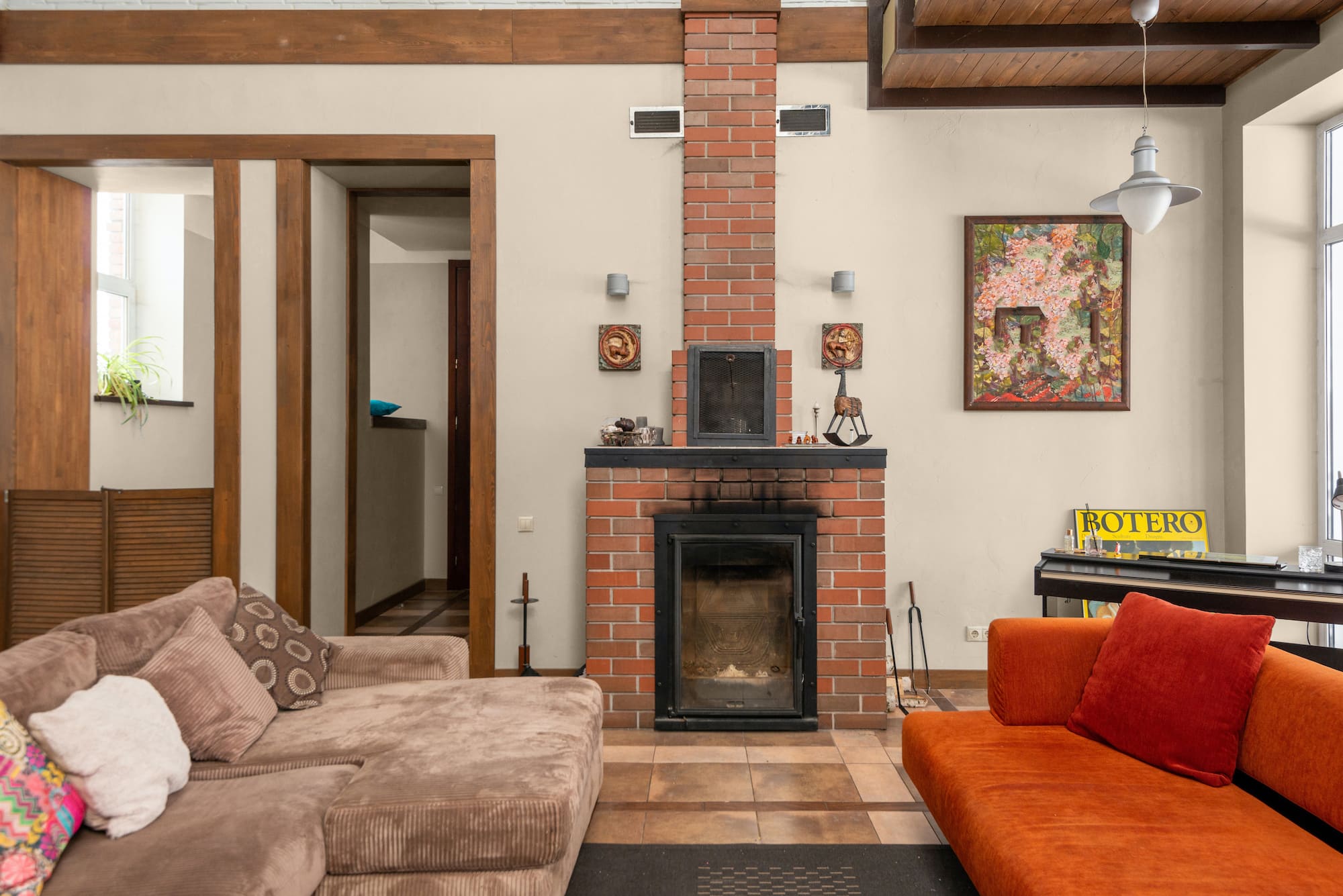 River's Edge is a shade of tan that can do well as a paint color for a red brick fireplace. The dark notes in the brick can enhance the red undernotes of the brown, giving it dimension.
A 63 LRV helps this color stay fresh and light, regardless of the darkness of your red fireplace. And the neutrality means you can go with whatever style and palette for the room design. Or redecorate on a whim without needing to repaint.
Grayish by Sherwin Williams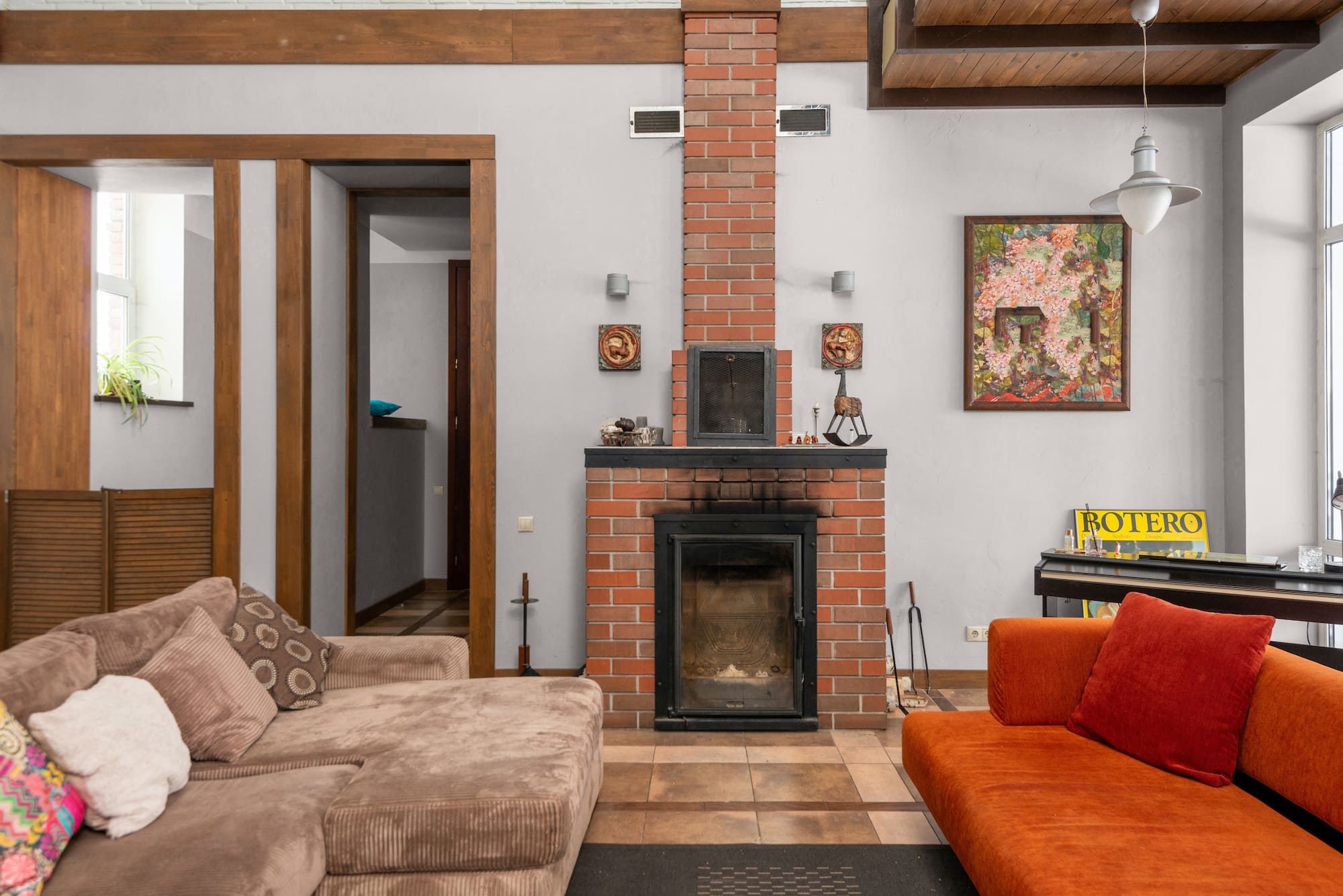 As the name implies, grayish is a blended gray with mauve and lavender notes. When used as a paint color to go with a red brick fireplace, you get a soothing neutral setting.
But in some lighting, the rich rust tones of red brick can pull out interesting yellow notes that turn this gray into a fascinating greige (gray-beige).
Softer Tan by Sherwin Williams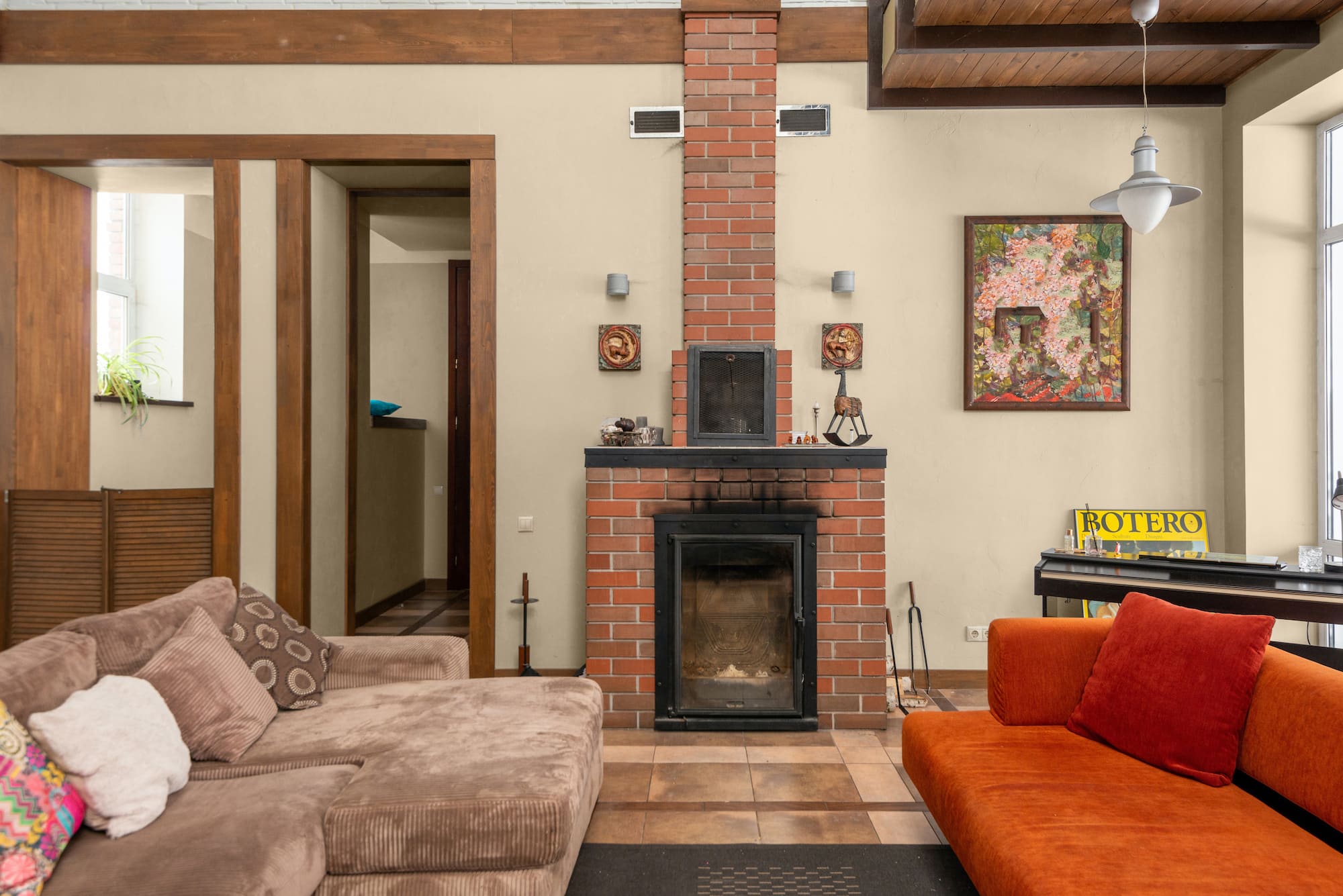 Try Softer Tan for more saturated wall color to go with red brick. This darker-toned neutral has heavy shadows enhanced by the multi-tonal variations found in bricks.
Rooms with lots of natural light can experience a brighter effect that's nearly cream. But in low light, you may notice richer brown tones.
Temperate Taupe by Sherwin Williams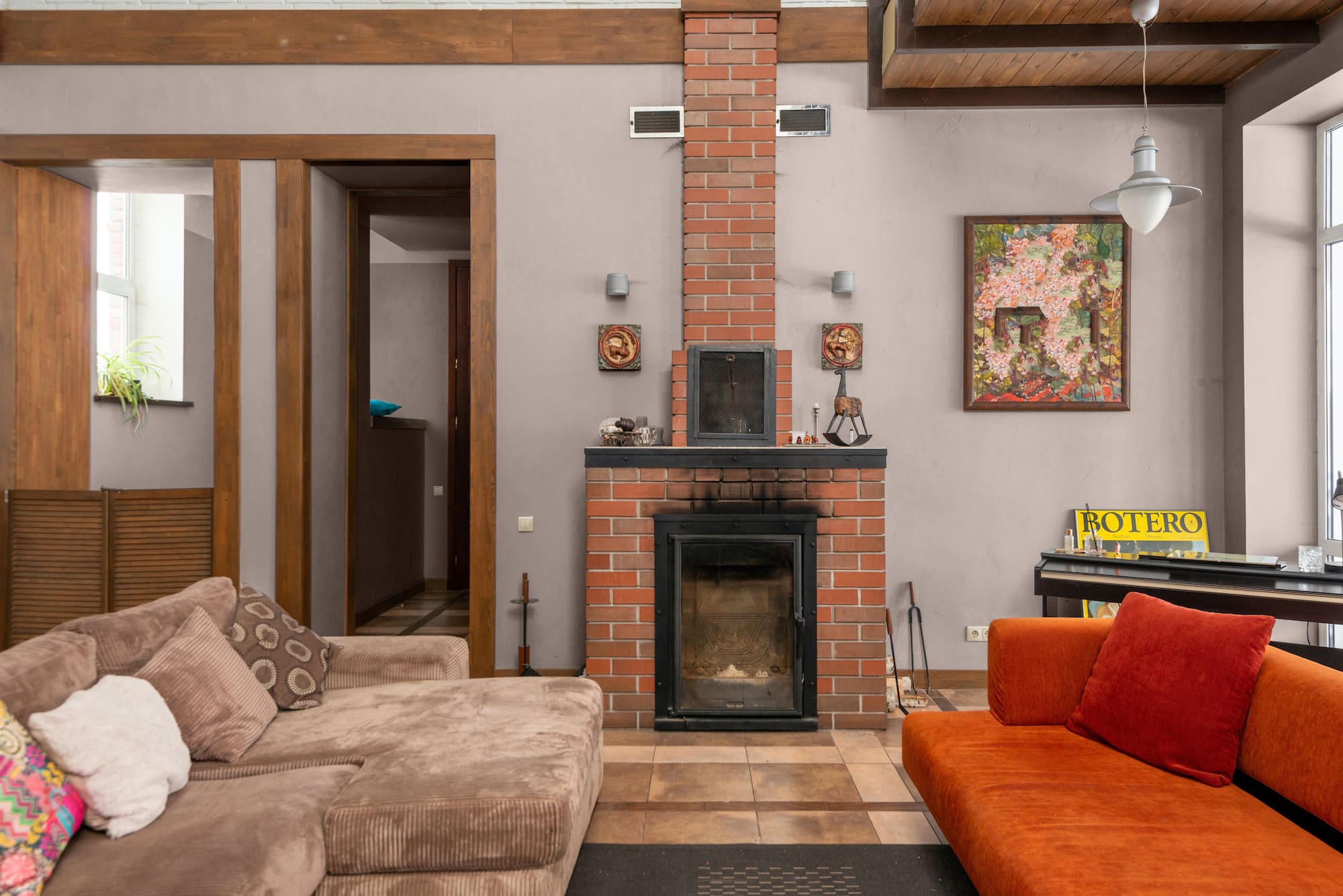 Temperate Taupe is a brown-based taupe – a blend of gray and brown – with dark undernotes that give it a bleached cocoa look.
When used against a red brick fireplace, this taupe can develop elegant, subtle hues of red. As a wall color, it's an excellent dark neutral for refined elegance.
Gris by Sherwin Williams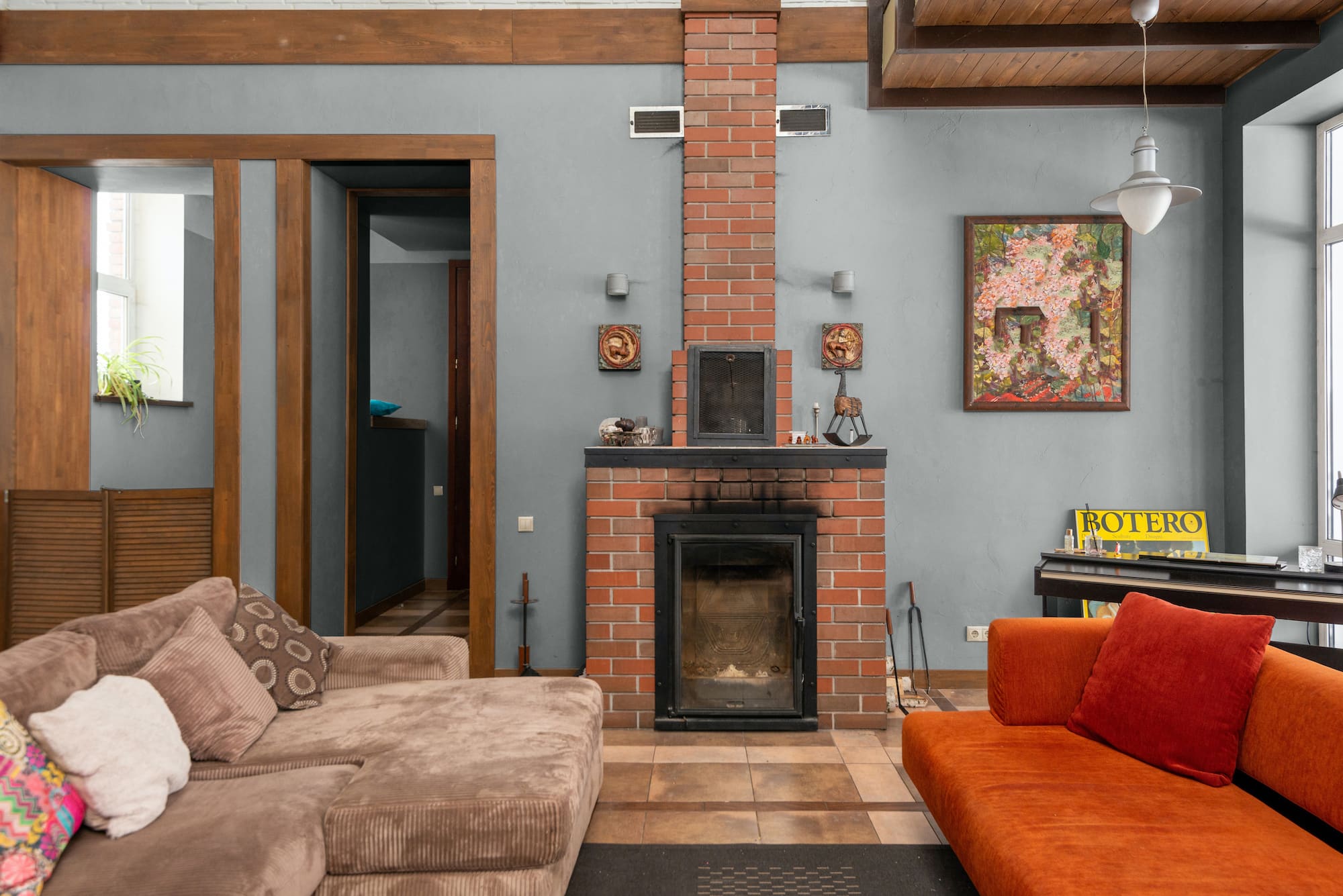 Gris is a heavily saturated, lower LRV 39 shade of gray, creating sophisticated contrast against red brick fireplaces.
This dark gray can experience hints of green and lavender when added besides brick in various shades of red and violet. Tinted whites and pale neutrals make the best accents.
Nature's Essentials by Benjamin Moore
Nature's Essentials is a soothing shade of greige that can be the perfect balance to reduce the vividness of red brick.
This earthy beige with gray notes gives your room a rustic palette that's pigmented enough to be off-white. But it's not so dark that it has any true color, giving you the freedom to get creative with your design and style.
Ambrosia by Benjamin Moore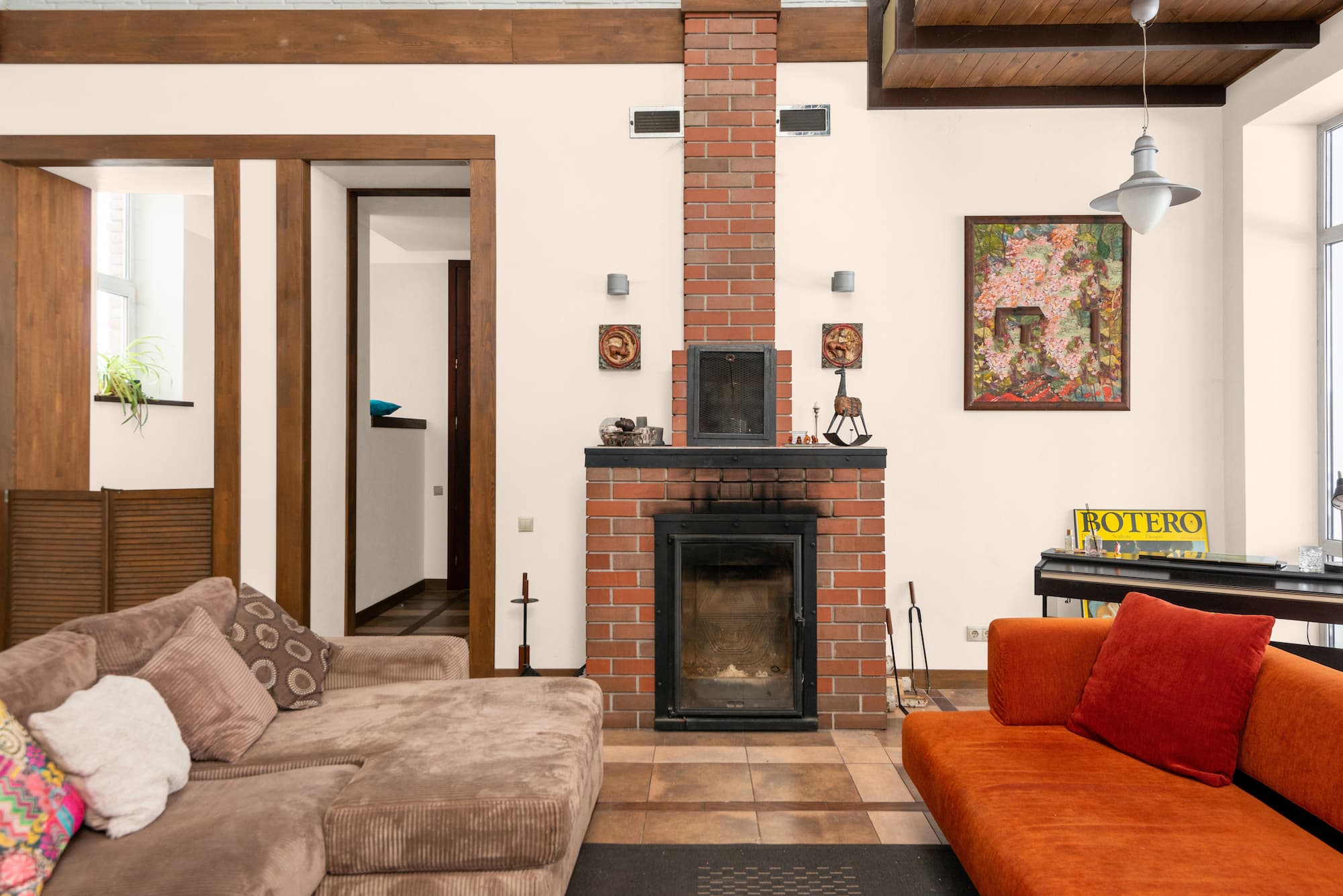 Named after the food of the Greek gods and goddesses, Ambrosia is eternal bliss on a wall that can enhance the look of a red brick fireplace.
This beige neutral has heavy peach influences from slight pink and yellow undernotes. These little secrets come to light when you put them against the burnt ruby and Chicago red fireplace bricks. You can enjoy walls that blush with pleasure at the kiss of the sun or darken with passion when the lights go down.
Mountainscape by Benjamin Moore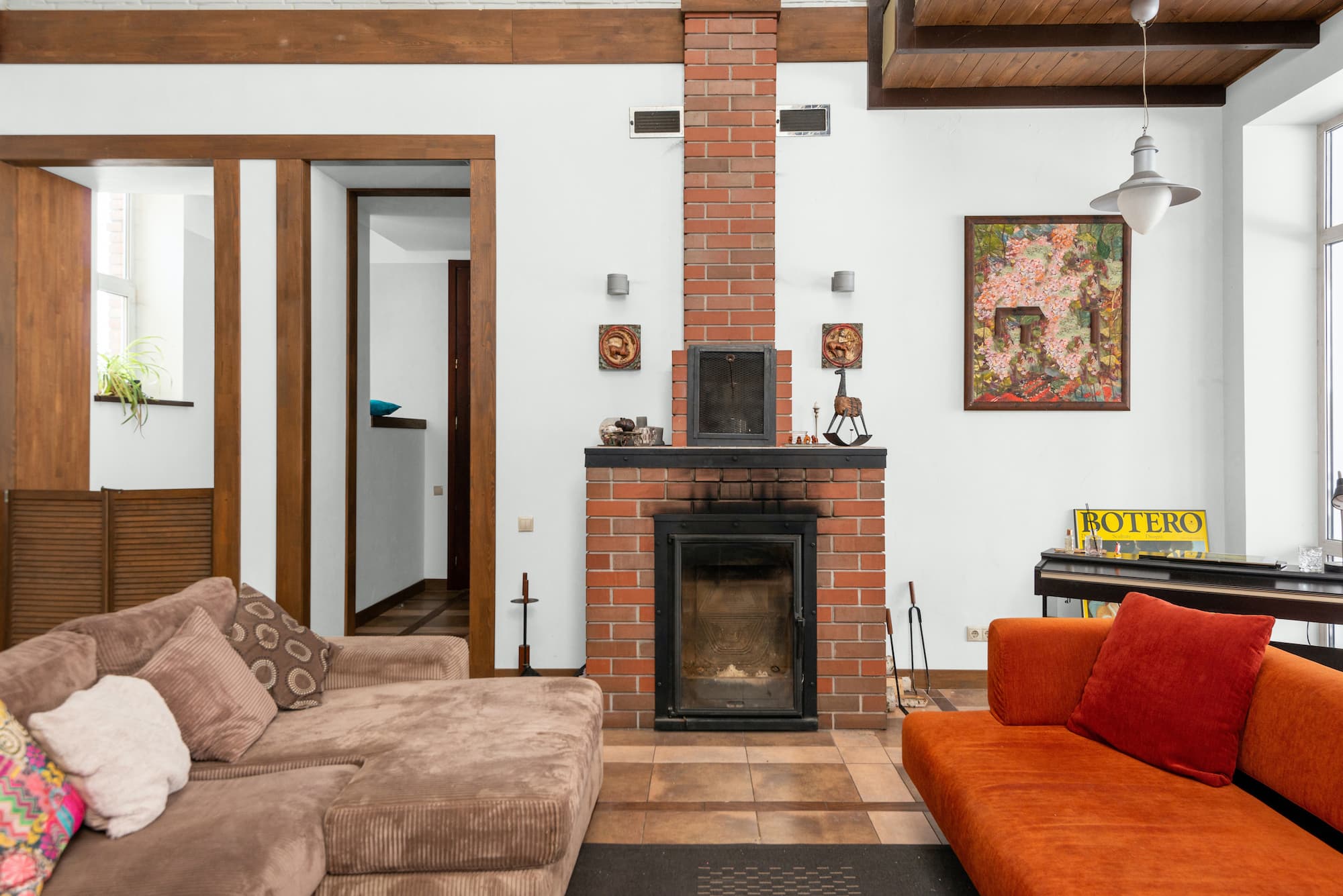 Mountainscape is a timeless neutral that can give your walls serious pizzaz while enhancing the richness of a red chimney fireplace.
This crisp shade of gray is so pale it almost classifies as white. Or is it a white that's turned a foggy, dreary gray? Either way, the high LRV and tinted pigmentation make this a classic color that will never go out of style.
Kitten Whiskers by Benjamin Moore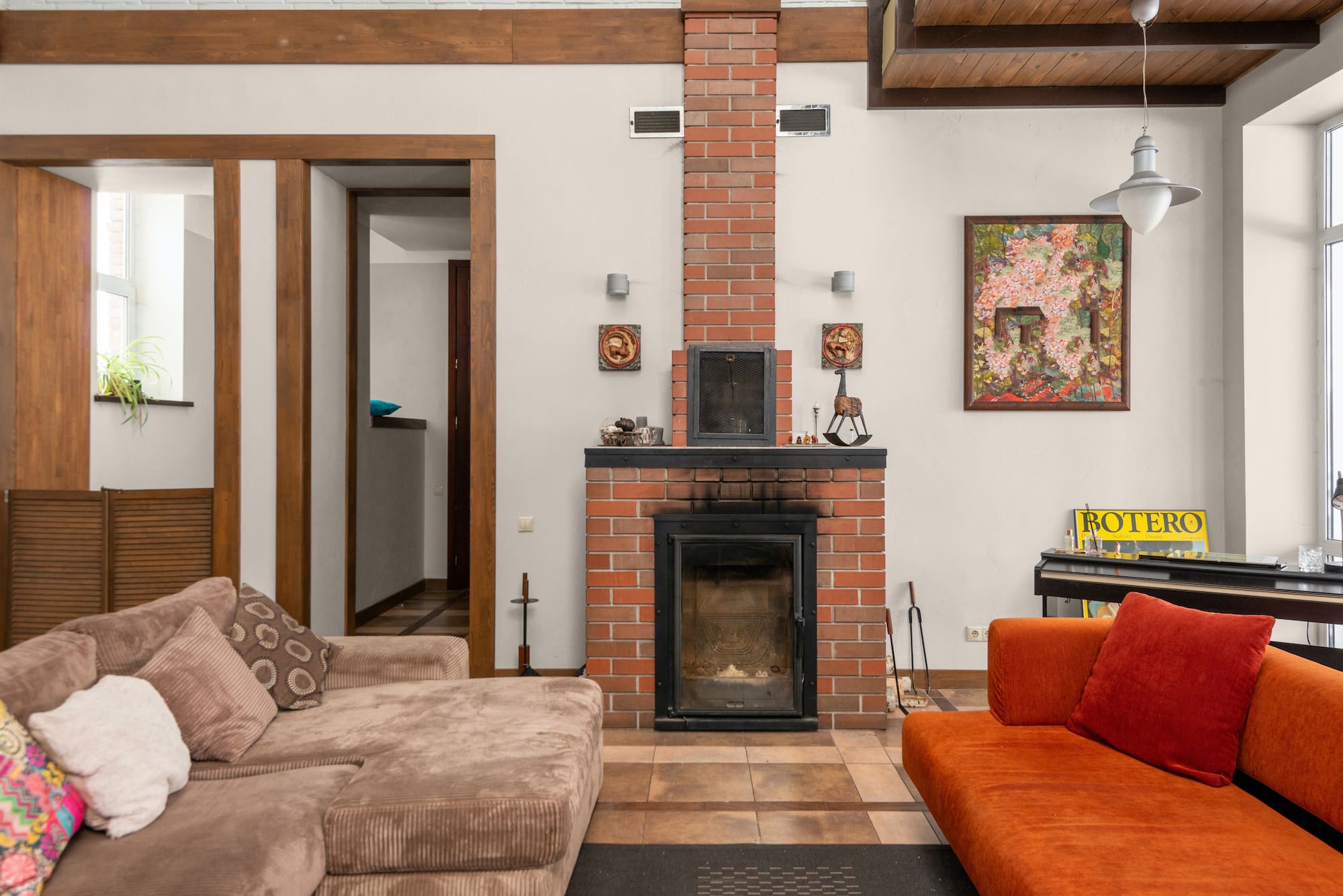 Kitten Whiskers is a light brown that can get a major temperature change when you use it with red brick. The brightness of the red makes this muddy mix dance with traces of mauve.
This gray pigmented brown can be a basic neutral fading into the background. Or it can be a warmly tinted greige that spices up your atmosphere.
Hampshire Taupe by Benjamin Moore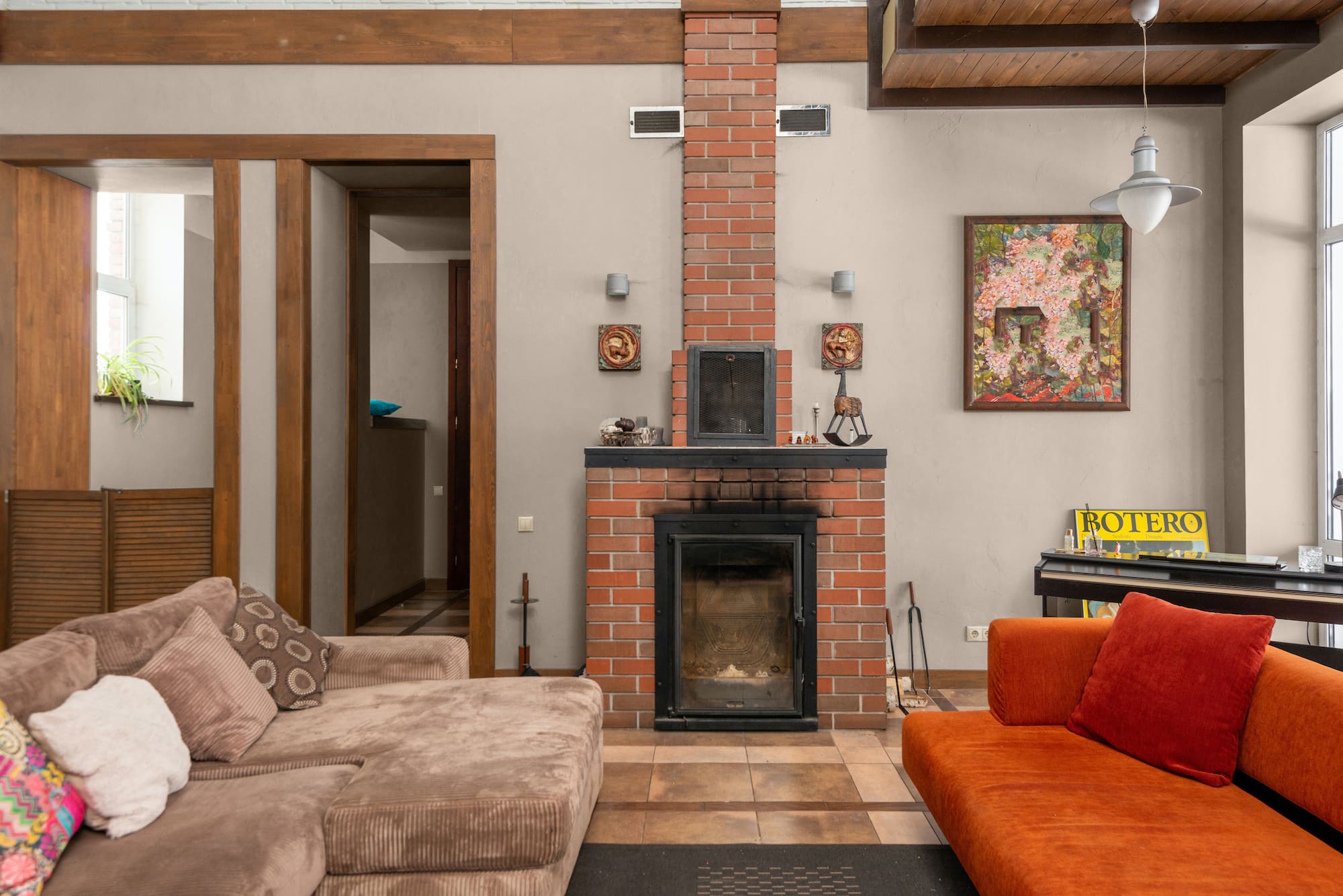 Hampshire Taupe is a charming gray-brown with the perfect amount of mauve highlights. When you put it with red brick, you notice subtle shades of red that enhance the brick colors.
Keep your theme earthy for a naturalist vibe or decorate with pastels for an art deco feel. Pick bolds like blacks for an industrial feel. Or use greens and browns for a rustic look.
Honey Tea by Behr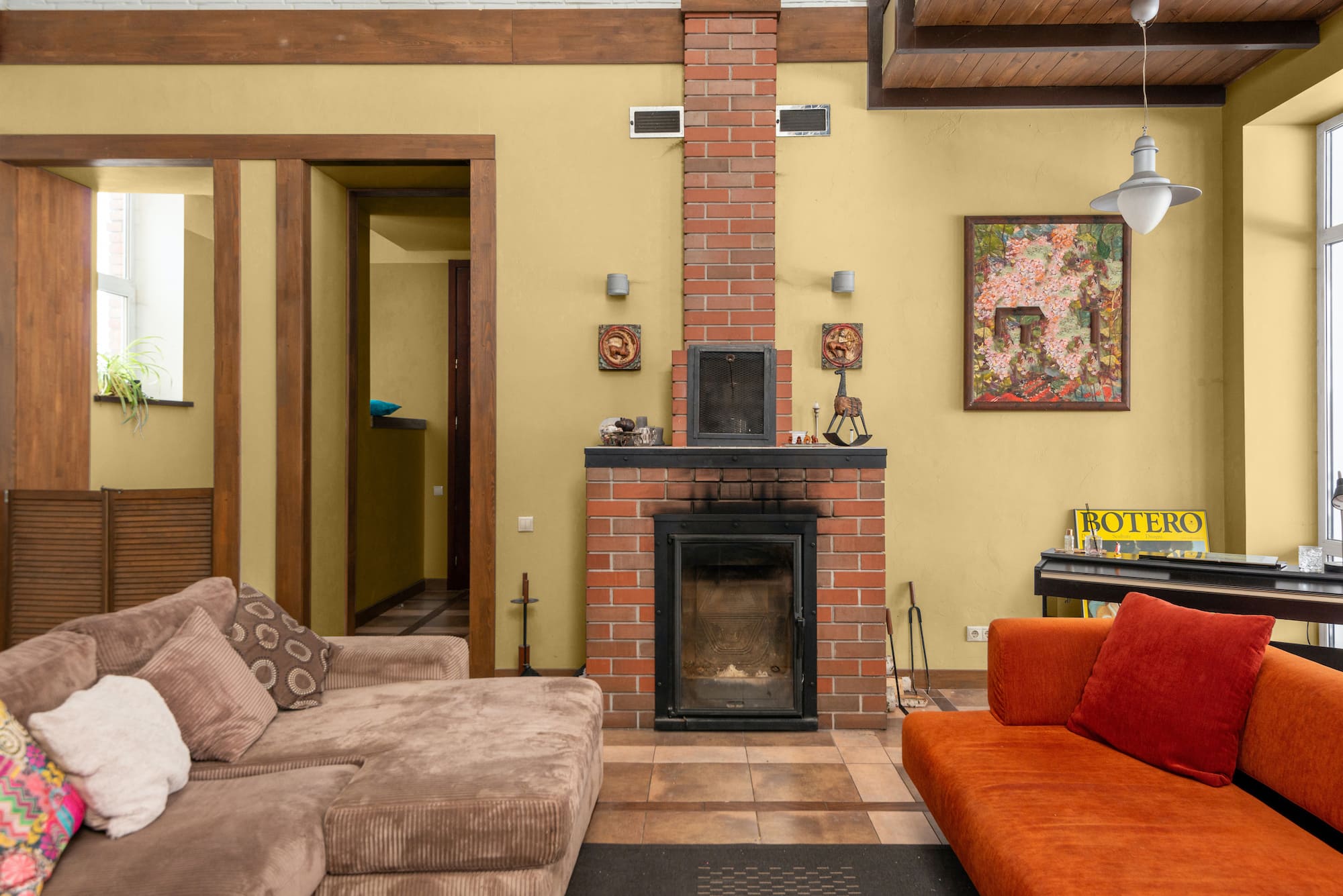 Honey Tea is a lighter brown with warm honey tints that can make your room bask with a cozy glow. This golden color can capture the different shades of the bricks and make them feel less dated and more intriguing.
The mid-toned LRV means that you'll want to choose this color for rooms with lots of natural light. Sunlight can set this color alight with rich warmth that radiates throughout your space and deepens to rich gold in the light of a crackling fire.
Rainmaster by Behr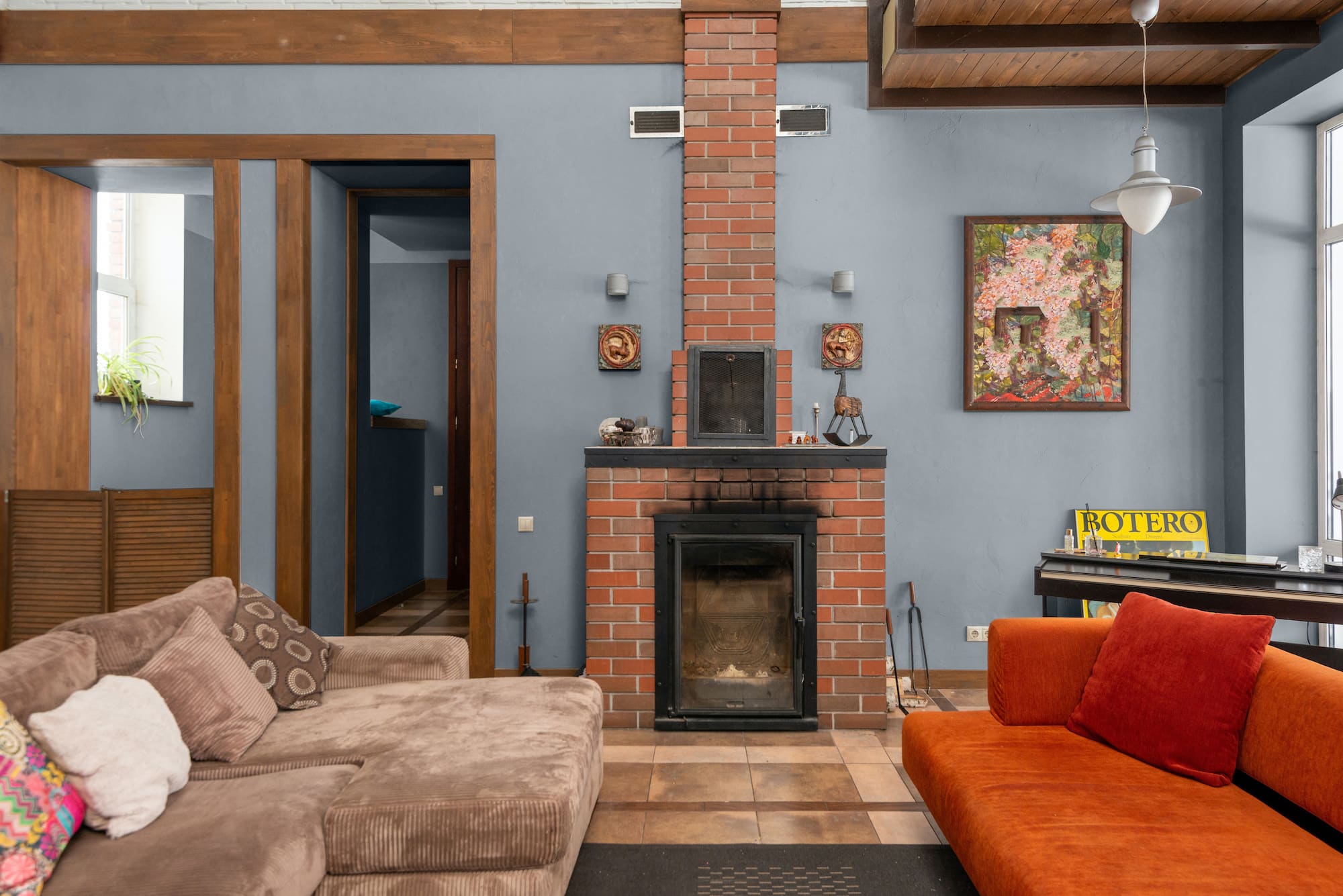 Rainmaster is a dark gray that can inherit lavender tints from the dark brown burnt bricks when paired with a red brick fireplace.
Depending on your room, you may want to limit the use of this darker color to rooms with lots of windows. Or only use this color for an accent wall, such as around the fireplace.
Wevet by Farrow & Ball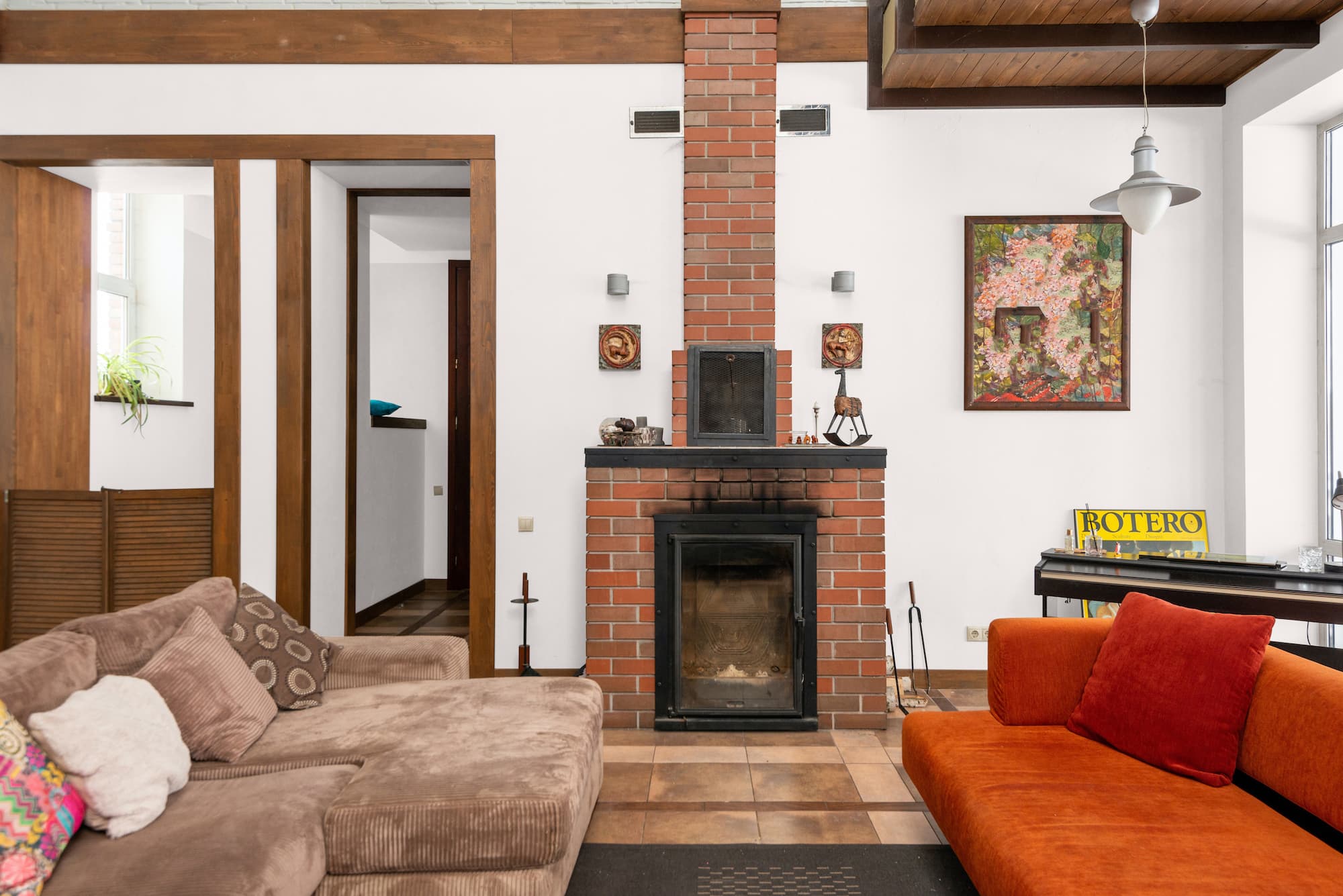 Give your walls a bright white coat of paint with a color that's got the slightest hints of gray to give dusty shadows. Named for a spider web, this clean, collected white will soothe your worries over having a red brick fireplace.
Whites are a good choice when you're not too fond of the richness of red brick and want a way to detract from the boldness.
Peignoir by Farrow & Ball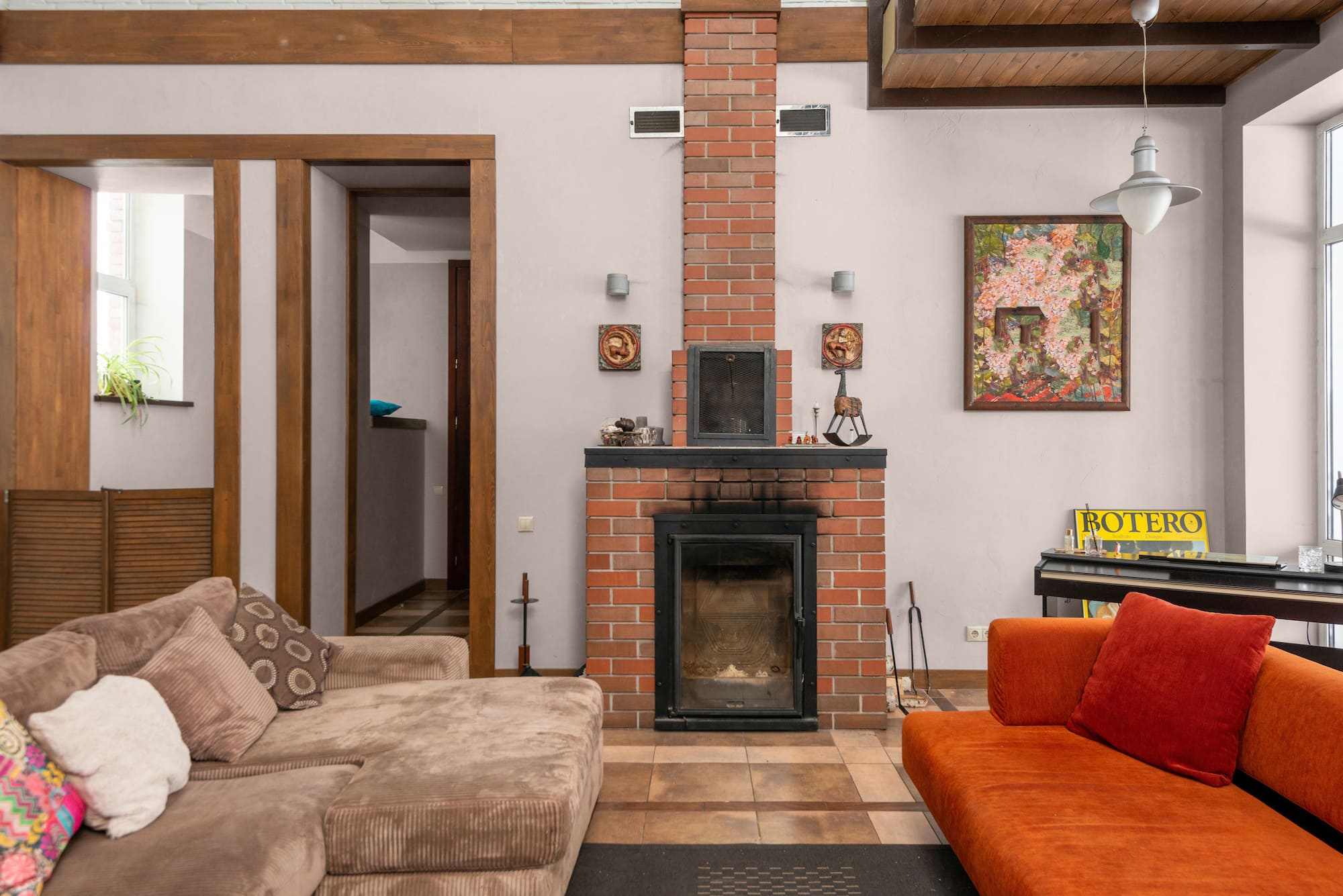 Peignoir is a subtle gray with romantic dusty pink hues. Using this chiffon-inspired gray with a red brick fireplace can give the extra pink vibrancy.
In rooms with lots of natural light, you may find this color turning peach or a pale beige with warm red hints.
Final Words
You may love your red brick fireplace and want a color to accent its warm brassy tones. Or you might want to detract from the richness with something light. This list of fifteen paint colors that go with red brick fireplace should jumpstart your search in the right direction.