Decorated Life is reader-supported. When you buy through links on our site, we may earn an affiliate commission. Learn More
Sherwin Williams Sea Salt Paint Color Review
The decorating world loves its neutrals. Grays and greiges, black and white, taupe and beige, all get all kinds of attention. But what about all the beautiful colors out there? Sure, colors may offer a little more challenge than neutrals, but isn't it worth taking a chance on something that could be beautiful?
If, like me, you believe that homes cannot thrive on neutrals alone, but you don't want to risk a decor faux pas, then you might be taken in by the siren song of Sea Salt by Sherwin Williams.
This soft ocean tone is fresh and breezy, offering color without overwhelming a space. It features in the Coastal Cool collection as well as the Living Well: Recharge collection. While the name may make you think this color is only appropriate for beach inspired decor, Sea Salt's soft wash of color is just the right touch for a wide range of styles.
If you've been longing for color, but don't want it to dominate your space, then join me for a look at Sea Salt.
What Color is Sea Salt?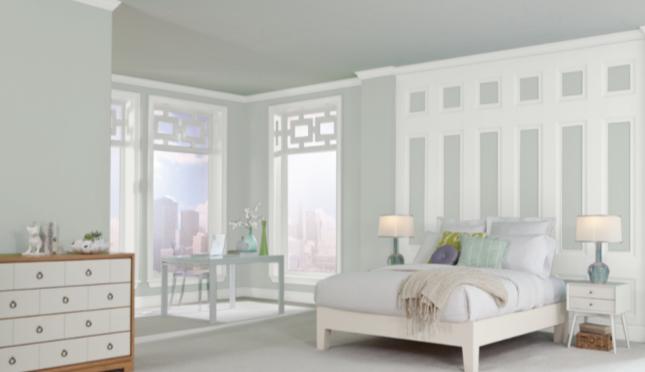 Sea Salt is a very muted, soft blue-green. You'll readily see its green and gray hues. This color shows many different sides of itself depending on its color companions, and whether it looks more blue or green will depend a lot on what colors are next to it and what your lighting conditions are.
LRV of 63
Sea Salt's LRV (light reflectance value) is 63. This is close to the ideal range of 60-62 favored by many designers for its adaptability to lighting conditions. Sea Salt is a fairly light color suitable for bright or dark rooms.
What Undertones Does Sea Salt Have?
Sea Salt has very noticeable undertones of green and gray. I wouldn't even necessarily consider these undertones, since it's the nature of this color to be a blend of blue, green, and gray. Which face Sea Salt shows depends a lot on nearby colors and lighting conditions.
Is Sea Salt a Warm or a Cool Color?
Sea Salt is a cool color, with its combination of blue, green, and gray that bring together the chilled-out side of the color wheel.
Where Can I Use Sea Salt?
Sea Salt is a light, muted color that you can easily use throughout the whole home without concerns about creating caverns or overwhelming the space. With just a gentle hint of color, Sea Salt can be used in many of the same situations that would normally call for a neutral, but where you'd like to see some color emerge.
Sea Salt is part of the Coastal Cool collection, so it's especially suited to coastal and beach decor styles. Its watery vibe makes it a favorite anywhere that water might be in use, such as bathrooms, kitchens, and laundry rooms.
This color is also excellent for creating a relaxed and refreshing atmosphere. There really isn't any room where that would be a bad thing!
Let's watch Sea Salt work its magic in different spaces and gather some inspiration!
Exterior
This Sea Salt door is complemented by white brick and medium brown shutters, colors that bring to mind eggs in a robin's nest.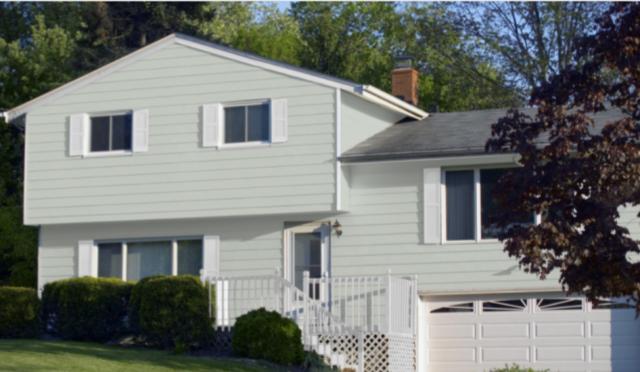 Sea Salt gives a subtle wash of color to this home exterior.
Entryway
This coastal farmhouse entryway uses Stratton Blue and Simply White from Benjamin Moore alongside Sea Salt to create a breezy oceanside look.
The Sea Salt bench in this entryway is a lovely focal point.
Stairway
Sea Salt pulls together the quirky decor elements in this stairway, while contrasting handsomely with the white trim and dark wood.
Kitchen/Dining Room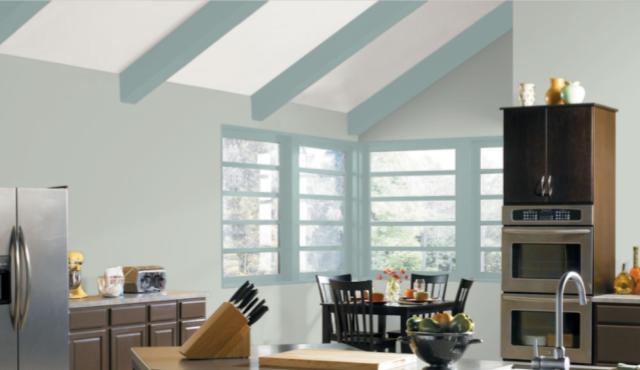 Sea Salt and Watery partner up in this kitchen with an open, airy white ceiling.
Sea Salt and white make this dining room feel fresh, and work together to set off the wood floors.
This dining room makes use of Sea Salt and white in a more formal way, then juxtaposes that look with shabby chic furniture.
Sea Salt is the element that brings the decor in this dining room together, as it picks up the blues and greens throughout the room.
Bathroom
Sea Salt is a favorite for any rooms where water is used, thanks to its refreshing vibes.
The darker marble and wood bring out a different side of Sea Salt in this bathroom.
Set against the cheerful corals and blues in this bathroom, Sea Salt shows us a seaglass green side.
Bedroom
Sea Salt is a gentle wash of color, and it pairs well with the other soft colors in this coastal cottage bedroom.
Grays can coordinate with Sea Salt for rooms that calm and soothe.
Kids' Room
Putting bright colors with Sea Salt can make it perky and playful.
Sea Salt offers a modern update to nursery pastels that's restful and inviting.
Living Room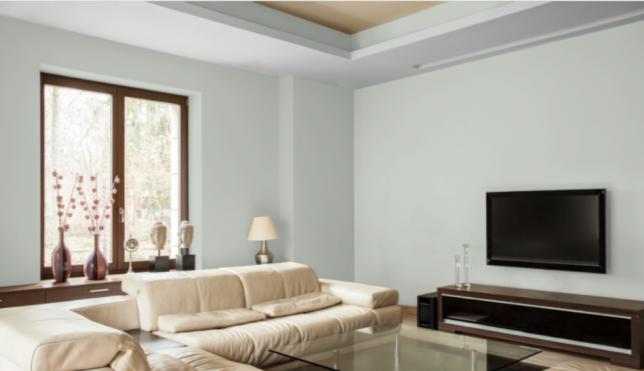 Sea Salt brings lushness to the earthy neutral palette in this living room.
All these beautiful soft greens bring out the seaglass tones in Sea Salt. Simply White from Benjamin Moore is used to uplift and brighten the space.
Home Office
Sea Salt offers some color while being neutral enough to play host to some eclectic decor in this home office.
Laundry Room
Sea Salt is a stunning choice for these laundry room cabinets, which coordinate beautifully with the gray and white tile.
Sea Salt and Decorator's White are the refreshing update this once-yellowed laundry room desperately needed.
Sea Salt Coordinating Colors
Sea Salt is soft and muted enough to pull double duty as a color and a neutral. The crowd favorite is hands-down partnering this color with your favorite white. This is a winning combo you'll see again and again in real homes.
But another neutral partner that can work nicely with Sea Salt is a soft gray, which can be in tandem with the white or on its own. Driftwood furniture and decor are great natural examples that are lovely with Sea Salt. Navy blues and sandy browns can also bring out the coastal side of Sea Salt.
If you're looking for a fresh and cheerful choice, Sea Salt can also fit the bill, especially if you pair it with bright pops of color as accents. Bright blues, bottle greens, and coral pinks can all suit this purpose nicely.
Here are some Sea Salt coordinating color ideas to jumpstart your inspiration:
How Does Sea Salt Compare With Other Colors?
Sea Salt vs Filmy Green by Sherwin Williams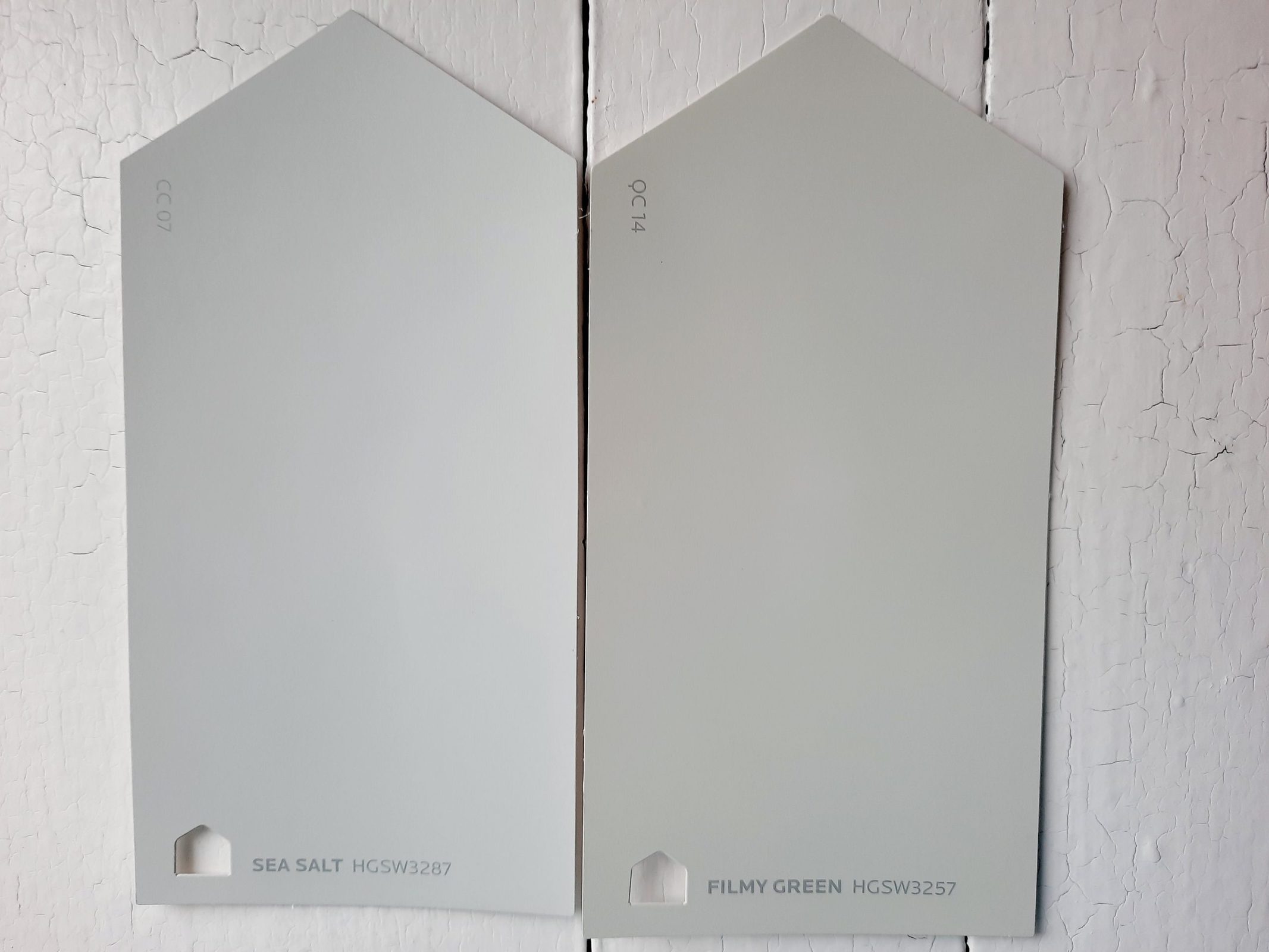 If Sea Salt is a muted blue-green, then Filmy Green is a muted green-blue. These colors are both soft and grayish, and similarly light–Filmy Green has a LRV of 64 to Sea Salt's 63. Both of these colors are suitable for all-over use and similar decorating styles. Which one you choose will probably come down to whether you like the slight blue of Sea Salt or the slight green of Filmy Green better.
Sea Salt vs Waterscape by Sherwin Williams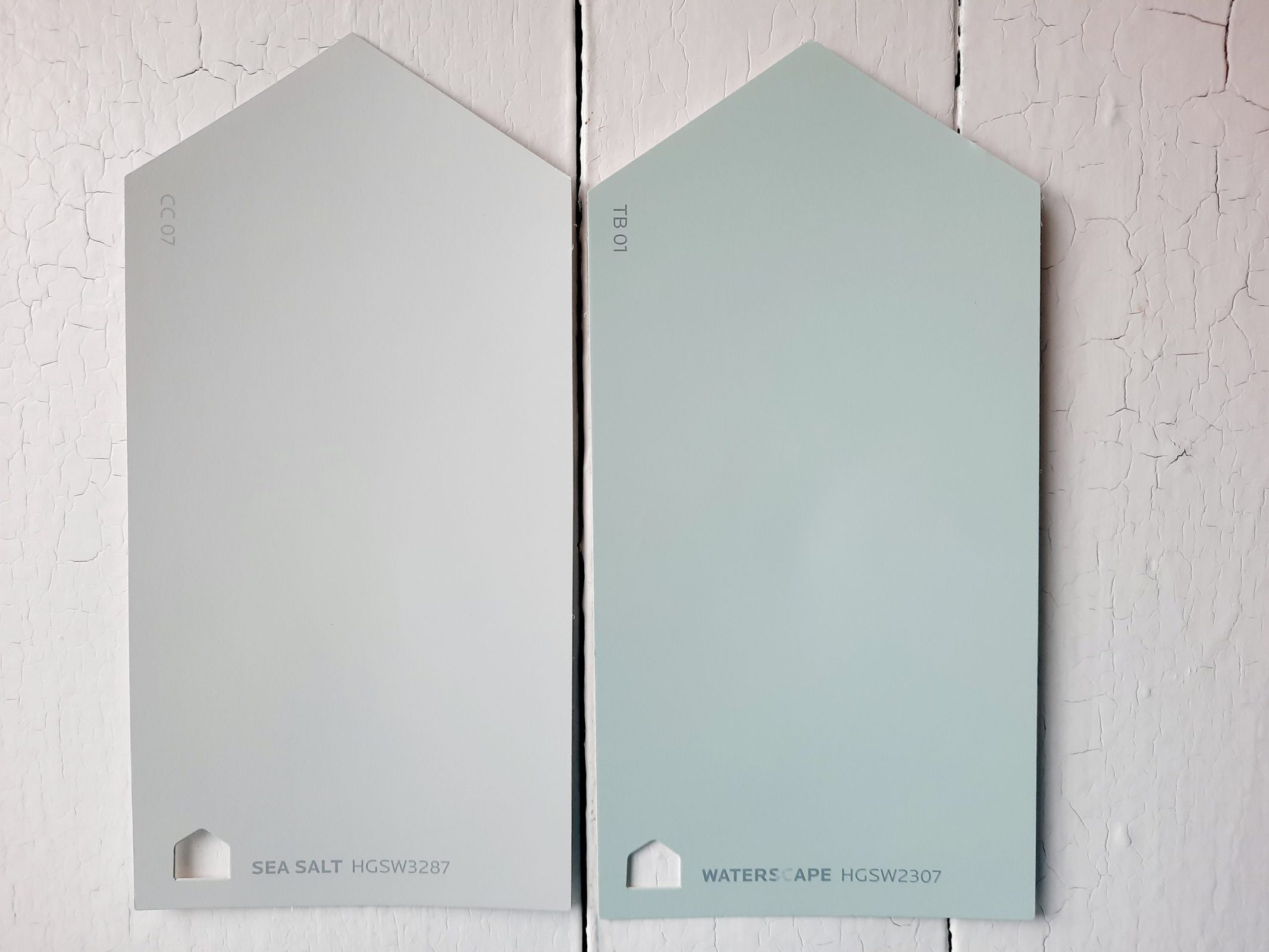 Waterscape is a light turquoise color. Its LRV of 62 is comparable to Sea Salt's 63. This color definitely leans more blue than Sea Salt, without the grayishness. But green is still part of its makeup. It's light enough to be used all over, but it reads as a color, not a neutral or semi-neutral the way Sea Salt does.
Sea Salt vs Tidewater by Sherwin Williams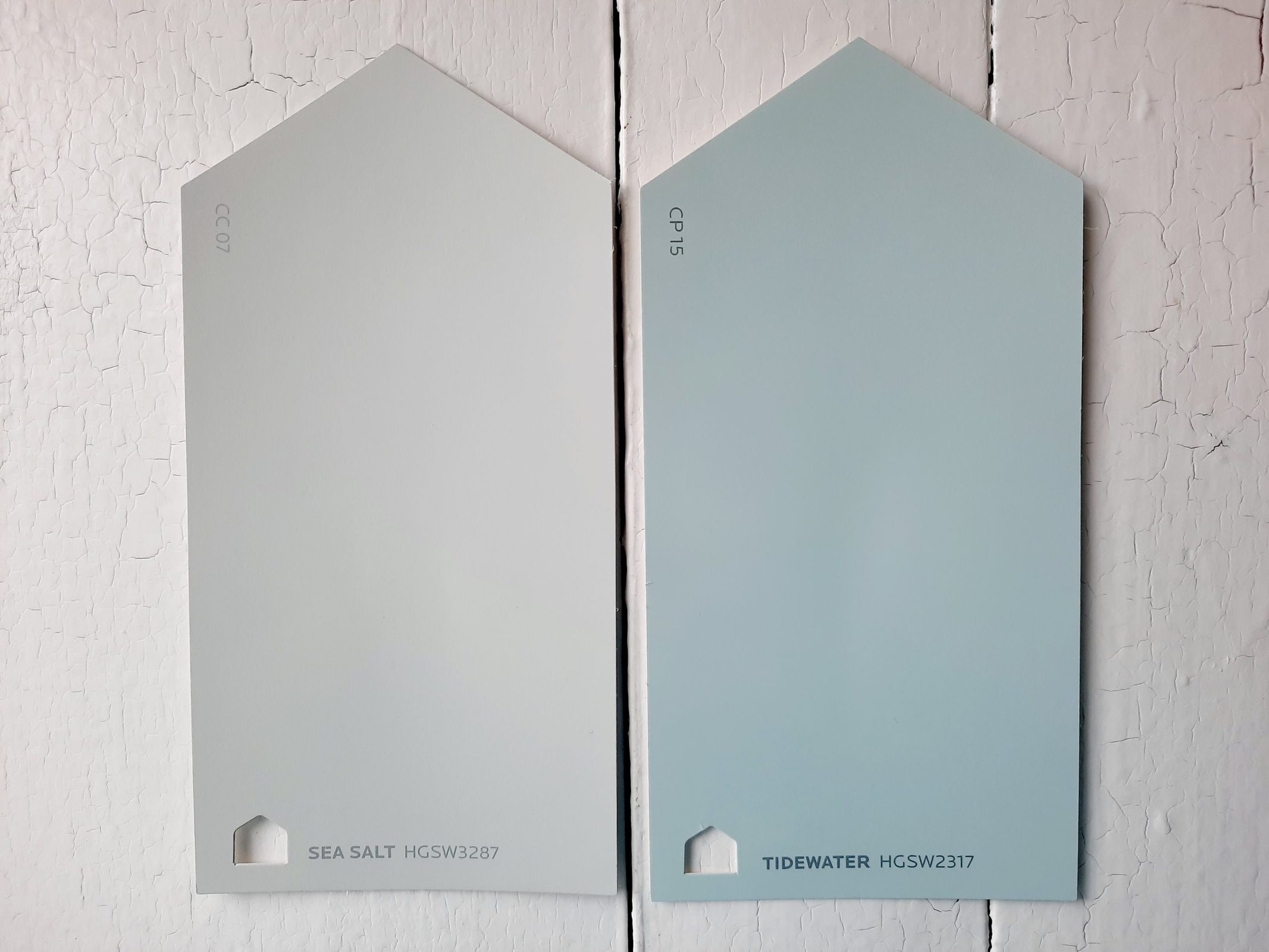 Tidewater is a light blue-green. It reads significantly bluer than Sea Salt, but it is a turquoise color. Its LRV of 65 is a smidge lighter than Sea Salt, and it pops a lot more because it doesn't have that gray, muted side.
Sea Salt vs Watery by Sherwin Williams
Watery is a light blue color, and it's a companion to Sea Salt in the Coastal Cool collection. A side-by-side comparison shows clearly how Sea Salt has a green and gray component that Watery definitely doesn't. Watery is also a few notches darker than Sea Salt, at a LRV of 57. Watery might be a touch too cool and dark for an all-over color, but it's a great component for a beach-inspired palette.
Final Thoughts
Sea Salt is a brisk and relaxing blue-green with a lot to recommend it. Its ideal LRV makes it suited to a wide range of lighting conditions. Its soft wash of color allows it to serve as both a color and a neutral. Even if you're not planning a coastal-inspired space, Sea Salt can be the canvas for many styles, including cottage, farmhouse, shabby chic, and minimalist. Is Sea Salt singing you its siren song?