Decorated Life is reader-supported. When you buy through links on our site, we may earn an affiliate commission. Learn More
12 of the Best Navy Blue Paint Colors in 2023
Listen, neutrals are great because they go with everything, right? But homes cannot live on greige alone! If you want the ease and versatility of neutrals but you are longing for some actual color, then you have come to the right article, because I am going to introduce you to the new neutral: navy blue.
Navy blue is fantastically versatile, but it offers tones like royal, purpley hues, French blues, and slate grays blended into its classic depths. This is a big, bold color that will not leave you bored. Let's take a look at 12 of the very best navy blues. I'll show you how they're used in real homes, cover picking coordinating colors and understanding the technical info, and make you into a true blue expert.
Let's set sail! Hey, you can't talk about navy blue without silly ocean references; it's a rule.
Navy Blue Paint Colors
Salty Dog by Sherwin Williams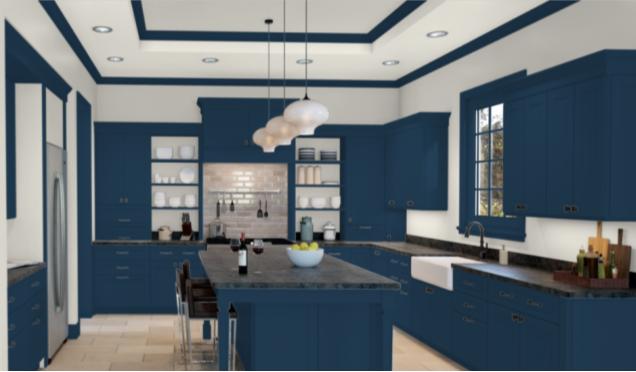 The vivid hues of Salty Dog are surprisingly bright given its dark LRV of 5. Salty Dog will pop more than many members of the navy blue family. This color is part of the Sherwin Williams Trendsetter collection.
Dress Blues by Sherwin Williams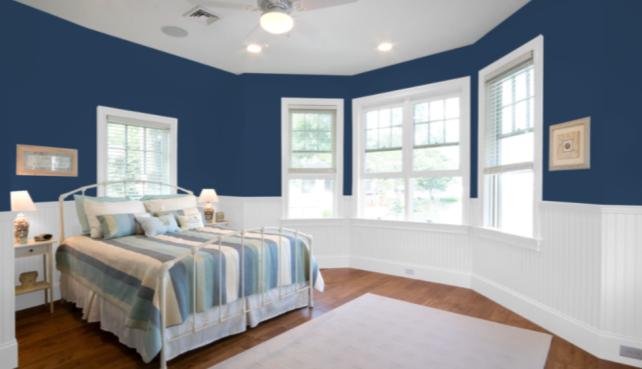 Dress Blues comes across as a brighter blue than Salty Dog even though it has an identical LRV of 5. It's got a vibrant royal blue tone that's unique and lovely, but it's still dark enough to work as a navy blue.
Anchors Aweigh by Sherwin Williams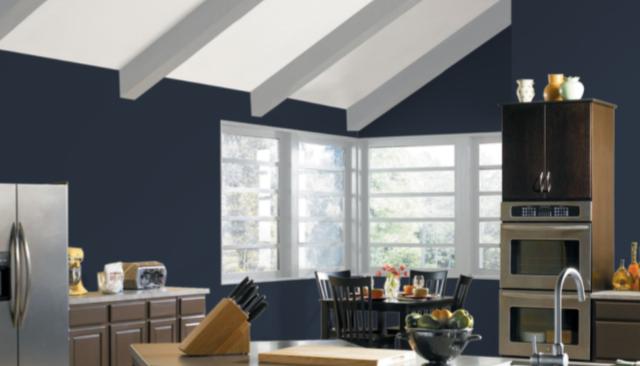 Anchors Aweigh is an inky dark navy blue. It's part of the Sherwin Williams Dreamer collection, and you can tell those dreams are from the deepest depths of the ocean. Anchors Aweigh has a LRV of 3.
In the Navy by Sherwin Williams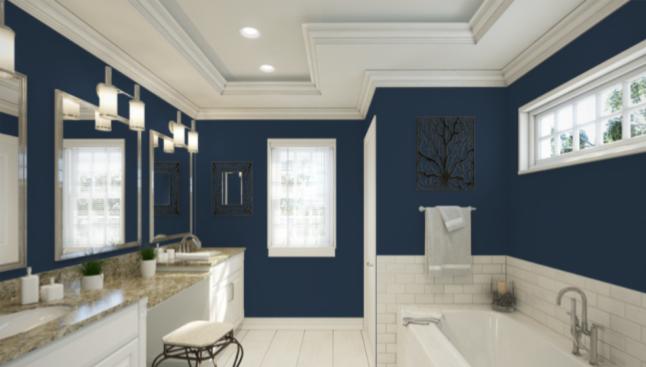 In the Navy is a traditional navy blue, with the classic look you can rely on from this color. Visibly blue and not black, it's still quite dark, with a LRV of 4.
Naval by Sherwin Williams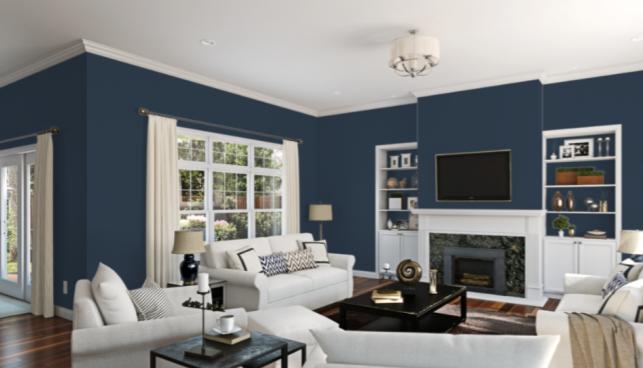 Naval is very close to In the Navy, with the same traditional navy blue base, and the same LRV of 4. However, it's a more muted blue, coming across with more of a gray cast that tones this color down.
Sea Serpent by Sherwin Williams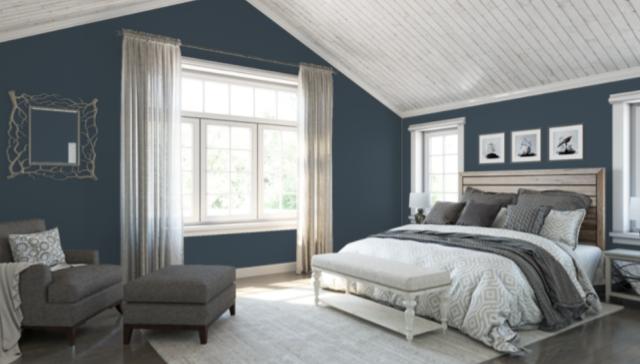 Sea Serpent is a lighter, muted navy blue blended with slate gray. Its LRV of 7 is a couple notches lighter than some of the other colors we've looked at so far. Sea Serpent is part of the Nurturer collection from Sherwin Williams.
Hale Navy by Benjamin Moore
Hale Navy is a classic, sophisticated navy blue with a fanatically devoted following. It's hands-down Benjamin Moore's most popular navy blue. A slate gray cast makes Hale Navy come across darker in lower lighting, but its LRV of 6.3 is moderate compared to its fellow navy blue colors. 
Newburyport Blue by Benjamin Moore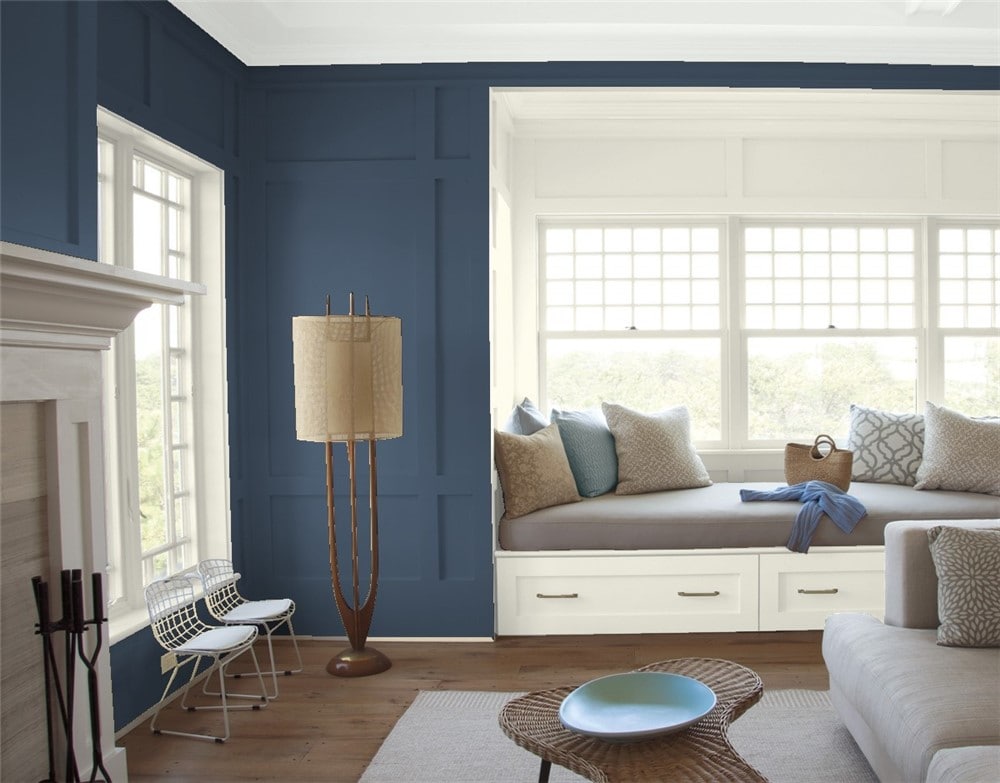 Newburyport Blue is a deep slate blue. A LRV of 8.28 puts it on the lighter side of the navy blue family. It's part of Benjamin Moore's Historic Color collection.
Old Navy by Benjamin Moore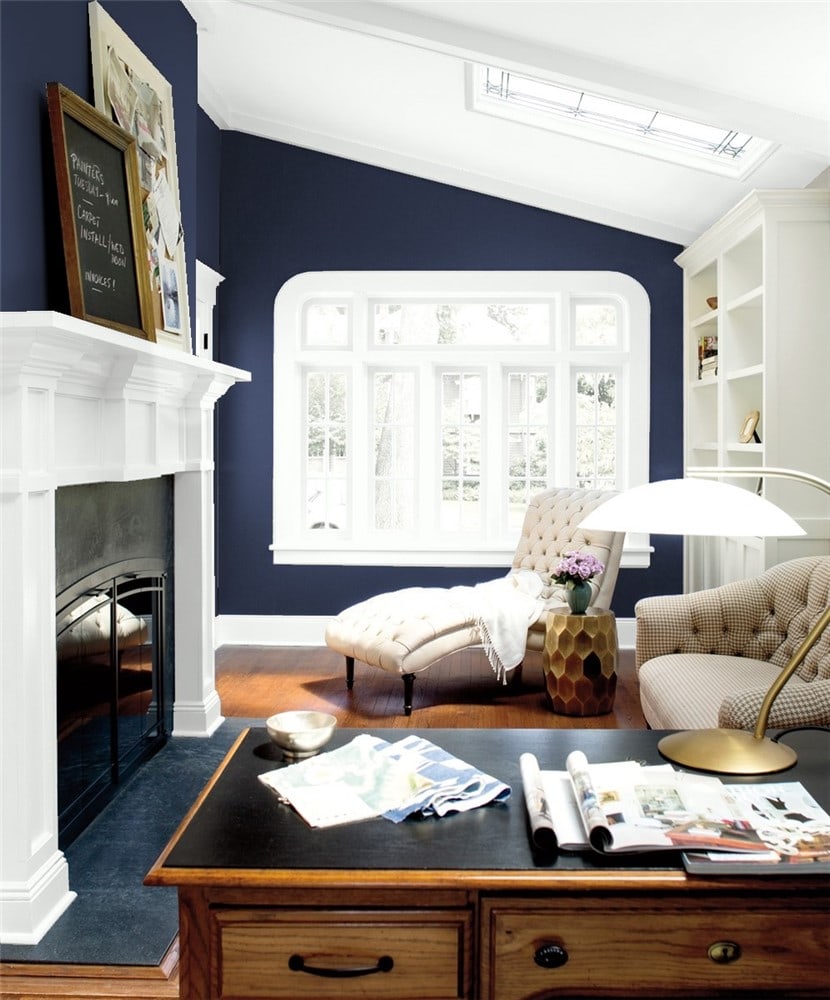 A deep and vibrant color, Old Navy is a dark navy blue with a lot of intensity. It's vivid navy blue without any slant or tint. This color is part of Benjamin Moore's Color Preview collection. Its LRV is a very low 3.11.
Admiral Blue by Benjamin Moore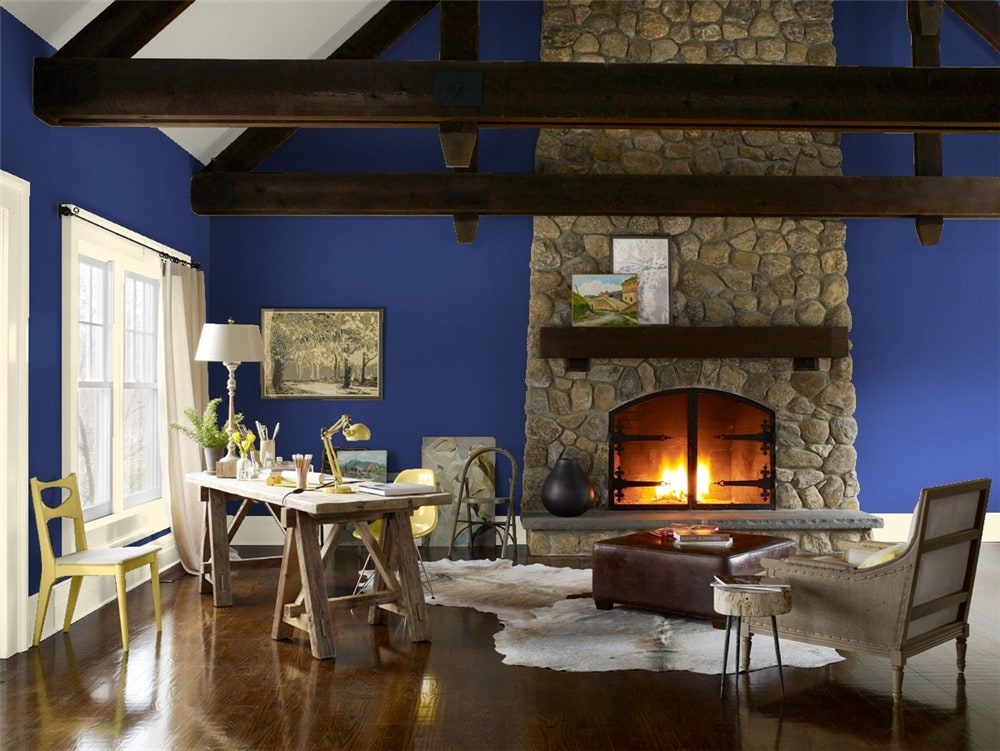 Admiral Blue is an intensely royal navy blue that has undertones of purple and black. A rich and luxurious color, it's simply fun to use! Admiral Blue is dark and deep, with a LRV of 3.85.
Nocturne Blue by Behr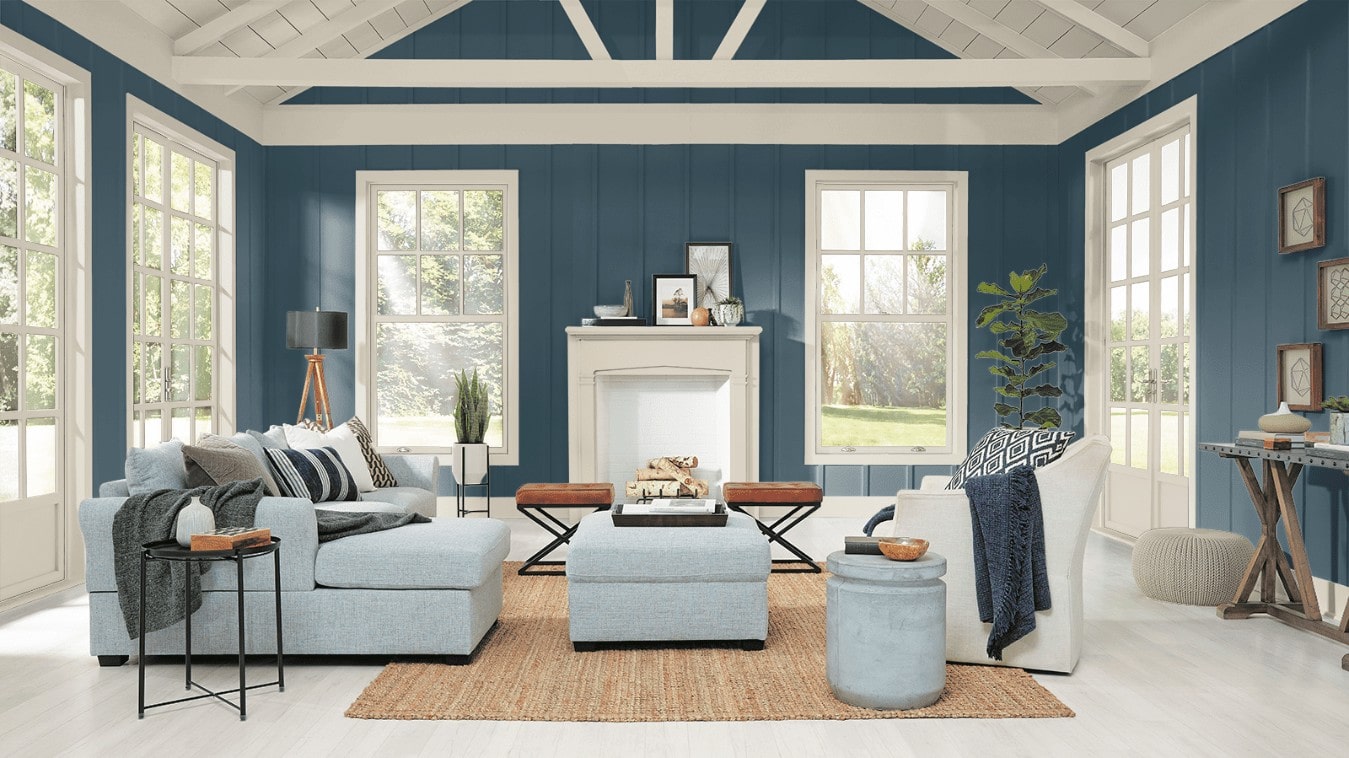 A lush twist on navy, Nocturne Blue is great for coordinating with greens. This is a color that can straddle the divide between navy blues and the rest of the blue family, giving you some flexibility in how you use it. Its LRV is 7.
Dark Navy by Behr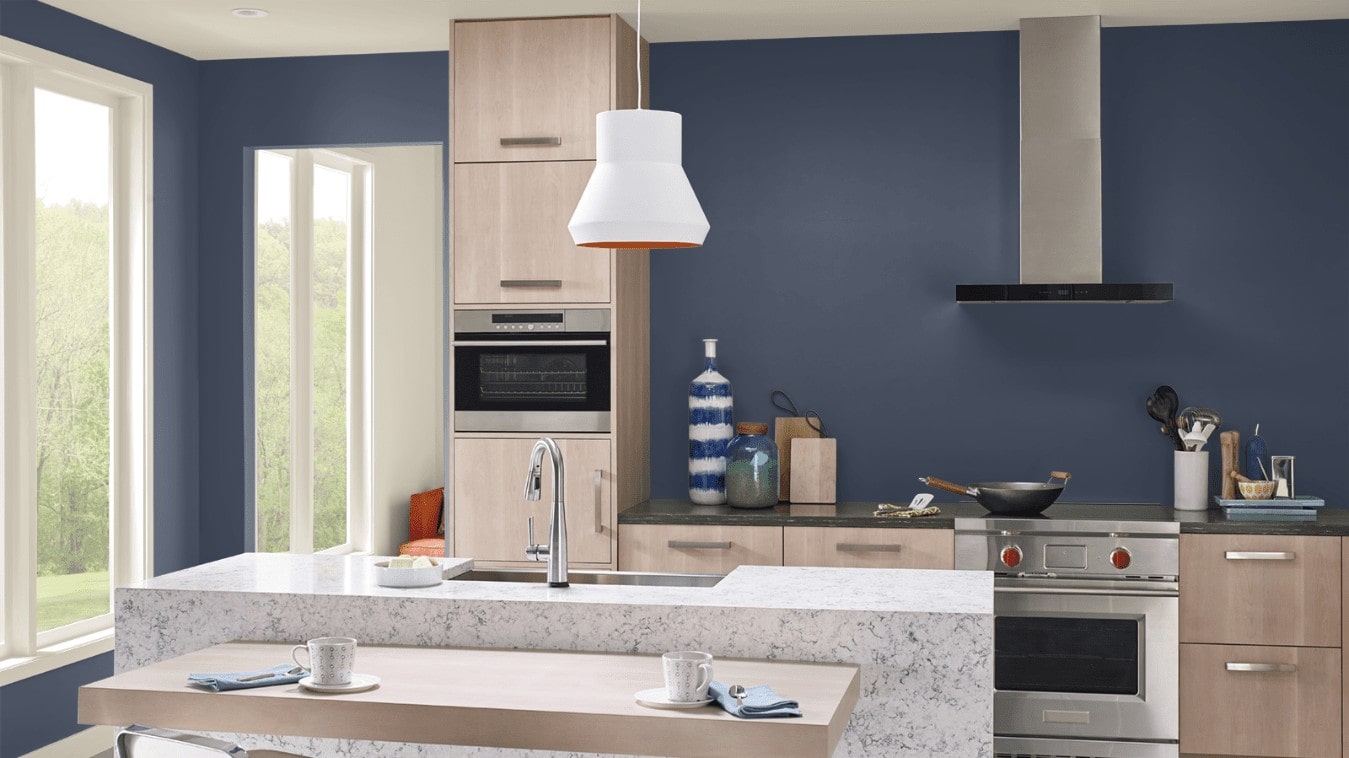 Dark Navy is a traditional navy blue with gray undertones. With a LRV of 7, it's a little on the lighter side for a navy blue.
Navy Blue in Real Homes
Now that we've looked at some of the best navy blue colors, let's explore some options for using navy blue in real homes. It's time to get inspired, so let's dive in! Aha, you thought I forgot about the ocean bit, didn't you?
Navy blue makes a dramatic backdrop for a gold chandelier and oak and cream ceiling in this dining room.
Soft pink might not be your first thought when you look at navy blue, but it's a great coordinating color option.
Love the drama of navy blue, but looking for a lighter room? Use it for an accent wall, and have your favorite white pick up the available natural light.
This fairytale Victorian exterior uses the royal blue of Sherwin Williams' Salty Dog to set off a golden cream trim.
Navy blue of course evokes thoughts of nautical decor. But you can use that idea in subtle details, such as the rope and canvas stools in this kitchen. The navy blue island really draws the room together.
Infants, whose eyes are still developing, are drawn to look at strong contrasts. A bold nursery like this one gives baby lots of interesting places to look! Consider a navy blue nursery rather than the more traditional pastels for both style and substance.
A bold focal wall can give a room new life, and make it look instantly put-together.
Navy blue can coordinate with any other shades of blue, such as teal, sky blue, and periwinkle. Grays that lean blue are also great coordinating options.
Coordinating Colors for Navy Blue
Navy blue is truly the new neutral. Just like your favorite denim, it can go with anything. To start your palette off right, you can't go wrong putting navy blue next to other neutral colors, like whites and off-whites, creams, browns, and tans.
White is so frequently used with navy blue it seems like it's almost required! It's a classic and handsome combination to be sure, but feel free to push the boundaries and experiment. No one's going to make you walk the plank if you don't use it.
Navy blue as a totally cool color will absolutely show love to greys and greiges, so if you're a fan of those colors, go wild–any of them will look fantastic with navy blue. Grays with more blue in them will look cooler next to navy blue, so keep that in mind for the overall feel of your room.
Metalwork gets such a boost from navy blue; these two decor elements are absolute besties! Gold and silver look stunning and elegant against the serene backdrop navy blue offers.
Cool colors such as greens and lighter blues all are excellent companions for navy blue, and can create a room that feels refreshing. Add white accents for a crisp look or pale grey for something more misty and meditative.
Here are some coordinating color ideas for navy blue for you to explore:
A Note About Navy Blue and Light Reflectance Value (LRV)
You'll notice that each of the navy blue colors described in this article have a light reflectance value (LRV) given. That's just a number to help you understand how light or dark a color is. It's on a scale from absolute black, at 0, to sheer white, at 100. So very dark colors like navy blue have very low LRVs. The lower the number, the darker the color.
What does that mean for you when picking out paint? You might want to limit your use of navy blue to things like accent walls, trim, moulding, or cabinets so that it doesn't overwhelm your space and make it into a dark cave. You could use a light color, like white, cream, or pale gray, as a main color, to reflect more light into the room. But this definitely isn't a rule, and there are plenty of examples of rooms that work with very dark colors all over. It depends on how much light your home gets and what your personal tastes are.
Final Thoughts
The coolest trend in neutrals right now is navy blue. Its versatility in color palettes and styles can't be beat, but this is one neutral that isn't going to put anyone to sleep. It can be traditional and refined, sophisticated and chic, or bold and daring; it's up to you. What's certain is that no matter what your next project is, navy blue is sure to make it more interesting.