21 Smart Outdoor Tile Ideas for the Smart Homeowner
Outdoor patios are generally made with masonry work such as bricks, concrete, or tiles.
With tiles, you can give your old patio a new look. There are so many options in tiles that it's easy to get confused. The right type of tiling depends on the climate, usage, and your tastes and preferences.
Modern tiling materials are durable and retain their color and look for a long time. There are a number of beautiful designs to choose from and you can make your patio look colorful and vivid with the right type of tiles.
Porcelain Tiles for Outdoor Use
Porcelain is well-suited for outdoor applications and thus is a good choice for patio tiling. You can get plain as well as textured tiles. Textured are generally preferred because they provide friction even in snowy or rainy days.
However, if plain is your style, you can go for plain porcelain as well. Since there are different types of porcelain tiles, make sure you get high quality ones because the cheap ones won't last long. The porcelain tiles you choose should be thick enough for outdoor purposes.
Ceramic Tiles for Outdoor Use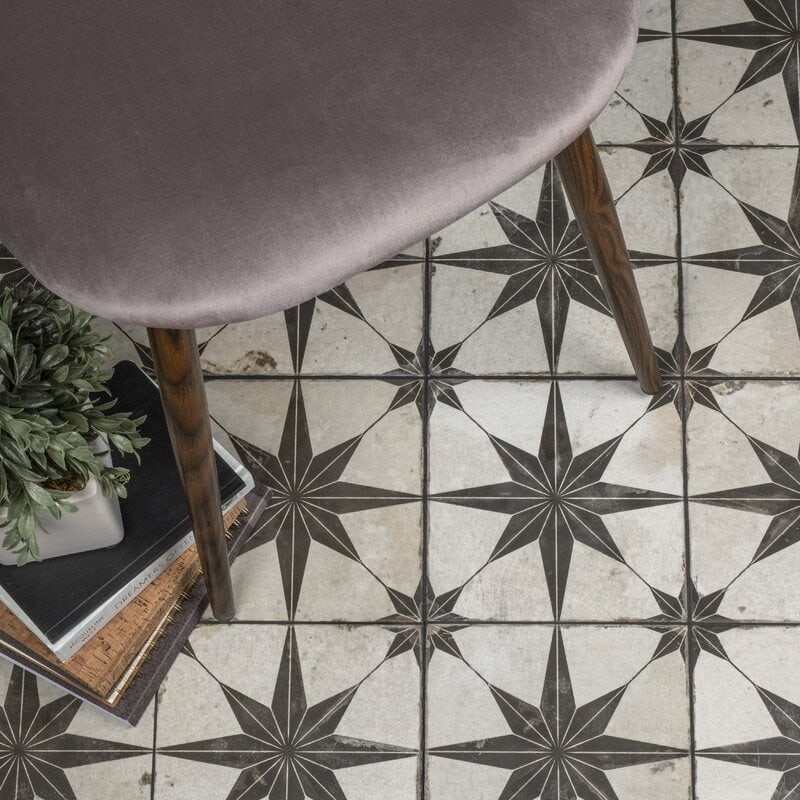 There are a number of ceramic tile options you can choose from. And they come in different looks, colors, and prints. But before you buy them, you need to make sure that they are strong enough for outdoor use. Since they'll need to withstand different weather conditions, you'll need to buy strong ceramic tiles.
Ceramic tiles are also available for walls – these are less strong so you need to make sure the ones you're getting are indeed for floor use. There are a number of different designs and color options, which means you can give any look to your patio.
Granite for Outdoor Use
Granite carries a very luxurious appeal. Granite is a natural stone that comes at premium prices, but it's also very attractive and robust. While granite is good for external use, it can get slippery in rains so it's not the best outdoor tile for areas that receive heavy rainfall.
Granite is resistant to heat and if installed properly, it is resistant to mold and mildew as well. Granite is also a popular choice for kitchen countertops. And the best part is that granite is available in several colors and patterns.
Slate for Outdoor Use
Slate is an excellent choice for patio tiles but you'll need a durable surface below them, like concrete. It's a natural stone and has a matte texture that gives a rustic and attractive look. Slate can offer a unique and beautiful aesthetic to your patio and other outdoor space.
Slate is non-porous and stain resistant. And because it's not very easy to damage, it is an ideal choice for outdoor use. If you live in an area with excessive heat or precipitation, it's best to seal the slate tiles for longevity.
Quarry Tiles for Outdoor Use
Quarry tiles offer great natural coloring and are slip-resistant. These features make them an excellent choice for outdoor use.
Quarry is basically kiln-prepared ceramic that's unglazed. The reddish kiln color gives it a very natural look that's attractive as well as durable. It makes for exceptional flooring, not just for indoors but for outdoor purposes as well.
While it does look like stone, it's not natural stone. Rather, it is prepared in a kiln, quite like regular bricks. It is ideal for areas with high foot traffic.
Limestone for Outdoor Use
Limestone is timeless and universal. It's being used in architecture for thousands of years. Even the pyramids of Egypt have been built using limestone. This should give you an idea about its durability. It is heavy and hard-wearing, and thus perfect for outdoor use.
It's also insulating so it won't be too hot in summers or too cold in winter. There are different types of limestone that vary in texture and color. Depending on the area you live in, you will get limestone in specific colors. Limestone has a natural charisma that's perfect for patio and other outdoor usages.
Plastic Tiles for Outdoor Use
Plastic tiles have interlocking edges. They come with a slip-resistant texture that increases friction and helps you walk easily even on rainy days. Also, since they don't need any special installation can be fitted with each other, they're easy to DIY lovers.
On the upside, they're cheap and come in several design options. But on the flip side, they are not the most elegant looking. If you're looking for an option that's quick and doesn't cost much, plastic tiles would be ideal for your patio flooring needs.
Travertine Tiles for Outdoor Use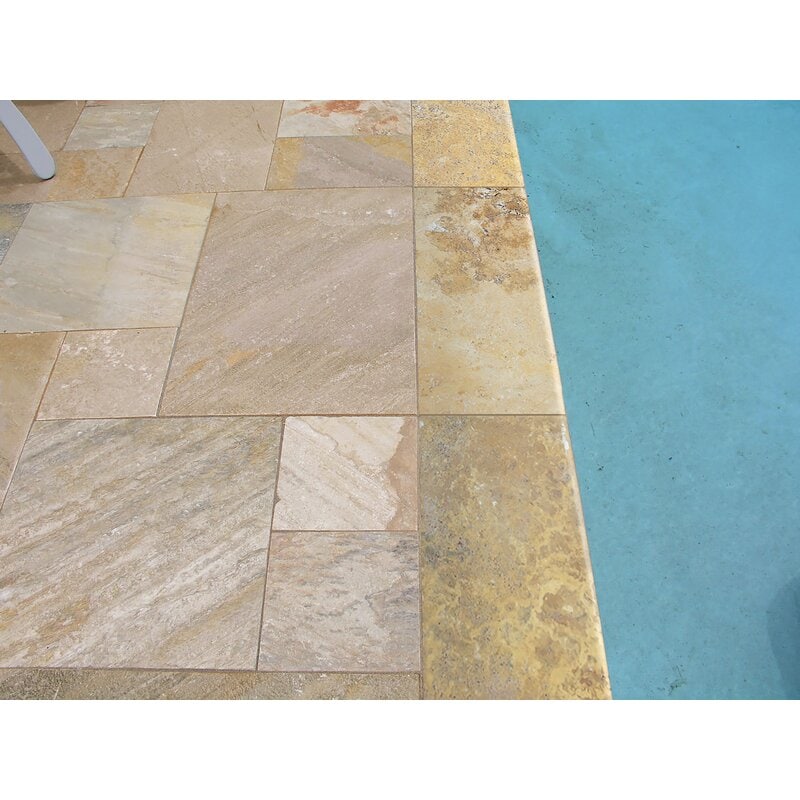 Travertine will make your outdoor area more beautiful with its natural looks. It can be used not just for the patio but also for garden pathways, swimming pool decking, and exterior walls. It's a natural stone and is highly durable against heat.
Since travertine is available in many colors, you can pick the right one depending on your preferences. While travertine is durable, it's reactive to acidic substances so make sure you don't use vinegar or salt while cleaning it.
Soapstone Tile for Outdoor Use
Soapstone comes in several shades – both light and dark. It has a distinctive and beautiful look that can beautify any area where it's installed. Since it doesn't get as cold as stone or ceramic tiles, it's ideally suited for colder areas.
Also, since it's non-slippery, it's good for places that get a lot of rain or snow. And it has high heat resistance as well, making it a good choice for hotter climates. Because it's non-slippery (against what the name suggests), it's a good choice for installation on swimming pool decks.
Concrete for Outdoor Use
While concrete can look dull and boring for outdoor areas such as the patio, you can make it more happening with the help of paint. A stencil and some paint can give it a faux rug look that will make it look more warm and welcoming.
For a long lasting look, make sure you use porch paint that is rated for outdoor purposes. Before you apply the paint, make sure you wash and dry the concrete floor. Concrete is very durable and long lasting and needs little or no maintenance.
Wooden Tiles for Outdoor Use
While untreated wood isn't the best material for outdoor use, it can be treated to suit for outdoor use. Wood has the warmth and elegance that cannot be mimicked by any other material. While there are several options for faux wood but none will give the same looks as that of real wood.
You can find treated wood in several colors and textures. It has slip resistance that makes it a good tiling option near swimming pools as well. The most common woods for outdoor use are redwood and cedar.
Sandstone Tiles for Outdoor Use
Sandstone is a natural rock that looks good and is durable. And it's easier to cut than granite, which makes it easier to install. It has beautiful natural textures but it's soft by nature and can be easily scratched.
If you live in areas that receive heavy snowfall, this might not be the best choice for you as shoveling can leave marks on it. It's a stone that's best for drier climates. Common colors are greyish but you can find it in other colors as well, such as cream, tan, and orange brown.
Rubber Tiles for Outdoor Use
Rubber is often used for play areas. If you have little children in your house, you might want to use these types of paving options. Just like plastic interlocking tiles, these are easy to install and come in a number of shapes, sizes, designs, and patterns.
Since rubber is non-slippery, it can be a good option for the swimming pool deck area as well. Rubber forms a uniform and resilient surface, that's good looking and available in many color options. Also, since rubber can withstand wear and tear, it's a good outdoor tile option.
Carpet for Outdoor use
You can outdoor carpeting that is quick and easy to install. If you have unsightly outdoor flooring and you don't want to spend days and several dollars in fixing it, carpeting will quickly fix it for you.
There are several types of outdoor carpets including the ones made from natural fibers such as hemp, sisal, jute, and seagrass. These carpets are sustainable and add texture to the area. You can also get synthetic coverings such as plastic or polypropylene.
Synthetic carpets come in a number of colors and texture options. While carpeting can save money on tiling but the results aren't exactly the most elegant.
Stamped Concrete for Outdoor Use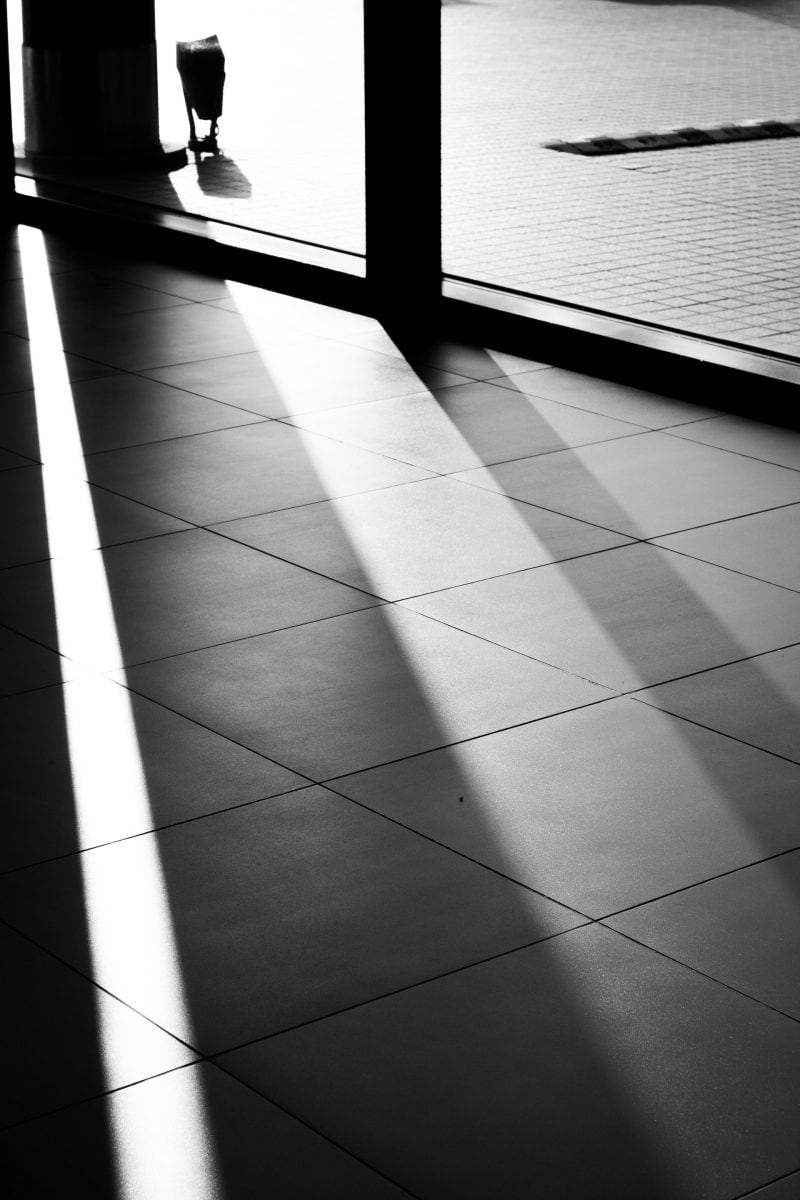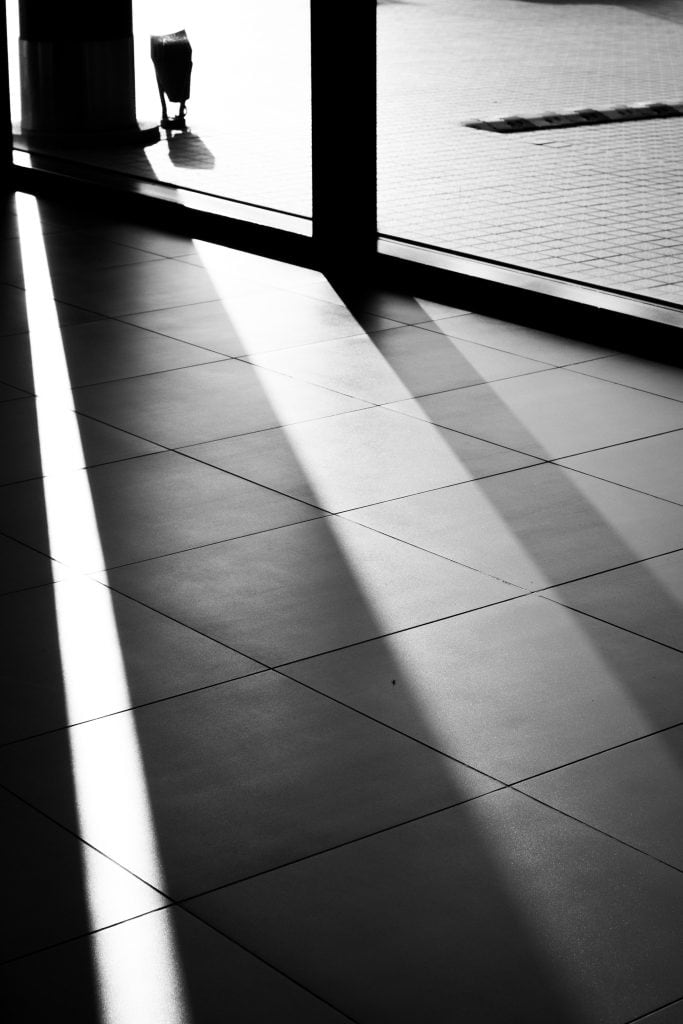 Stamped concrete is pretty much like regular concrete except that the former looks like it's a tile arrangement. Once the concrete is laid down, it is stamped in a way that it looks like bricks. Stamped concrete has the same properties as of regular concrete but it looks better.
Also called imprinted or patterned concrete, stamped concrete is great not just for patios bus also for driveways, pool decks, and courtyards. It is available in textured and pigmentation trends as well. It carries all durability benefits of concrete plus good looks.
Resin Tiles for Outdoor Use
Resin tiles are often made from resin and recycled materials. While some resin tiles need to be screwed or glued in, others come with interlocking features that make them easy to install. Resin gives a stylish appeal to the floor and they require little to no maintenance.
Resin tiles come in different shapes, sizes, colors, and patterns. They are also made of different materials. Resin floors can be used as faux tiles as they can be made to look like other materials such as bricks, granite, slate, and others.
Stepping Stone for Outdoor Use
Stepping stones look good in outdoor use. You can fill up the spaces with anything – pebbles, gravel, or grass. If you're going for stepping stones, it's best to get irregularly shaped stones as they look natural and beautiful.
Stepping stones can be made with any material and most people go for natural stone such as sandstone or limestone. The durability of your outdoor tiles will depend on the stone you use.
Select the right type of stepping stones to achieve the look you desire – modern or rustic.
Brick Tile for Outdoor Use
Bricks give the look of an antique street. Install them in a zigzag pattern and you'll get a vintage paving design. You can use reclaimed bricks to save money and give an even more antique look.
Bricks are sturdy and can sustain all weather conditions. However, over some time, they will start chipping due to weather extremities. The good thing is that a little chipping on bricks doesn't look bad. Instead, it just adds to the rustic look. However, if you're looking for something that doesn't need much maintenance, you should try other options.
Decorative Concrete Blocks for Outdoor Use
This is yet another way you can use concrete on your patio and other outdoor areas. While concrete is plain and simple, concrete stamping can let you have more design options. And then concrete blocks are a completely different thing.
There are different types of concrete blocks including decorative ones that can provide a unique look to your patio. There are some premade patterns and you can also get some patterns made according to your own preferences. You can also get solid concrete blocks if that's what you prefer.
Marble Tiles for Outdoor Use
Marble gives a very rick look. It's durable and comes in tiles of different sizes. You can find marble in different colors. It's naturally occurring and has a rich veining that makes it look stunning. Make sure you don't use polished marble for outdoor use because it can be damaged easily.
Instead, go for seashell or sandblasted marble that has a matte finish but is more durable. The marble you use will look considerably different than the one that's used outside because the indoor marble options are glossier.
Onyx Tile for Outdoor Use
Onyx is a soft stone and is available in several colors. Onyx tiles are commonly used inside homes but they can also be used in patios. Since Onyx comes in extreme color variations, you can use it to create a focal point to draw the attention of your guests.
Onyx installation is a bit difficult because while it comes in several color variations like marble, it's not quite as hard. This is why you need to exercise caution while cutting it. Another problem with Onyx is that it should be installed on a perfectly uniform surface or it might crack.
So Many Options – Which One to Select
The right kind of tiling for you would depend on your needs and preferences. If budget is not a constraint, you can get expensive options like marble and granite. But if you're limited by budget, you might want to try plastic and concrete.
Looks and maintenance are other factors that will affect your decision. If you're looking for a rustic appeal, you might want to try cobblestone or brick paving. If you're looking for a modern approach, you'll find several options in faux tiles.