Decorated Life is reader-supported. When you buy through links on our site, we may earn an affiliate commission. Learn More
15 Driveway Ideas – Spruce Up the Path to Your Home
Changing your driveway style will give an entirely new look to your house and improve its curb appeal. There are several types of driveway types including concrete, asphalt, gravel, slate, brick paving, and cobblestone, and the design you choose matters a lot.
Since a driveway is like the introduction of your home, it's very important to put some thought into it. Let's check out some driveway ideas for a discerning homeowner. These ideas will give you the perfect opportunity to transform an apparently suburban facet into a lasting impression.
Lined with Stones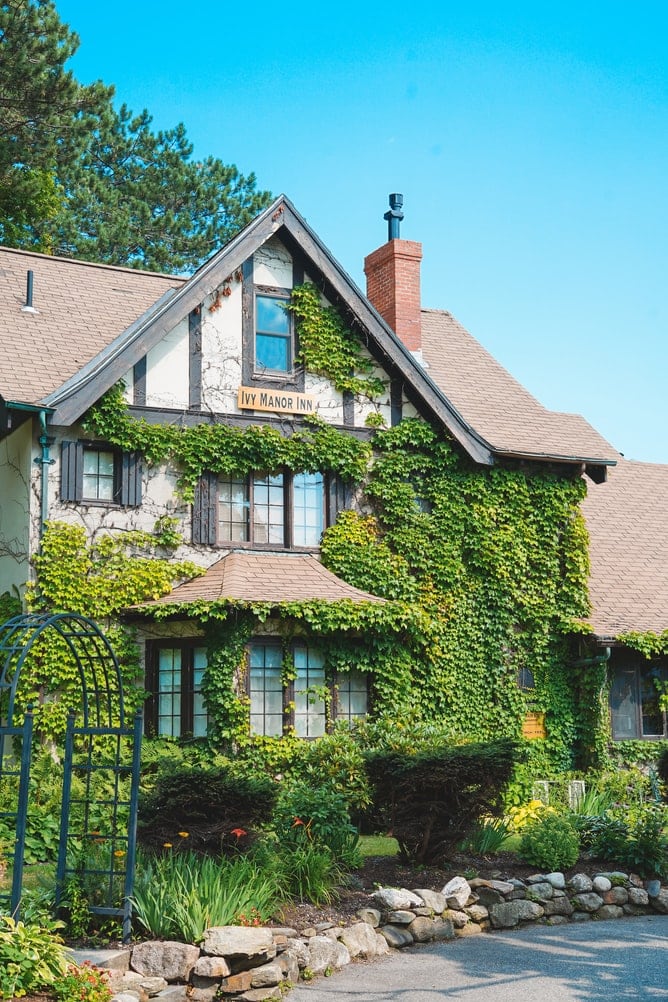 Modern driveway paving leaves a little to be desired (to put it nicely). Slabs of concrete make practical sense, but don't have the most beautiful aesthetic.
If you are in a home with a modern concrete driveway, spruce it up a bit by lining it with stones. The small touch will add some texture and depth to the path and elevate your home's curb appeal significantly.
Wrap Around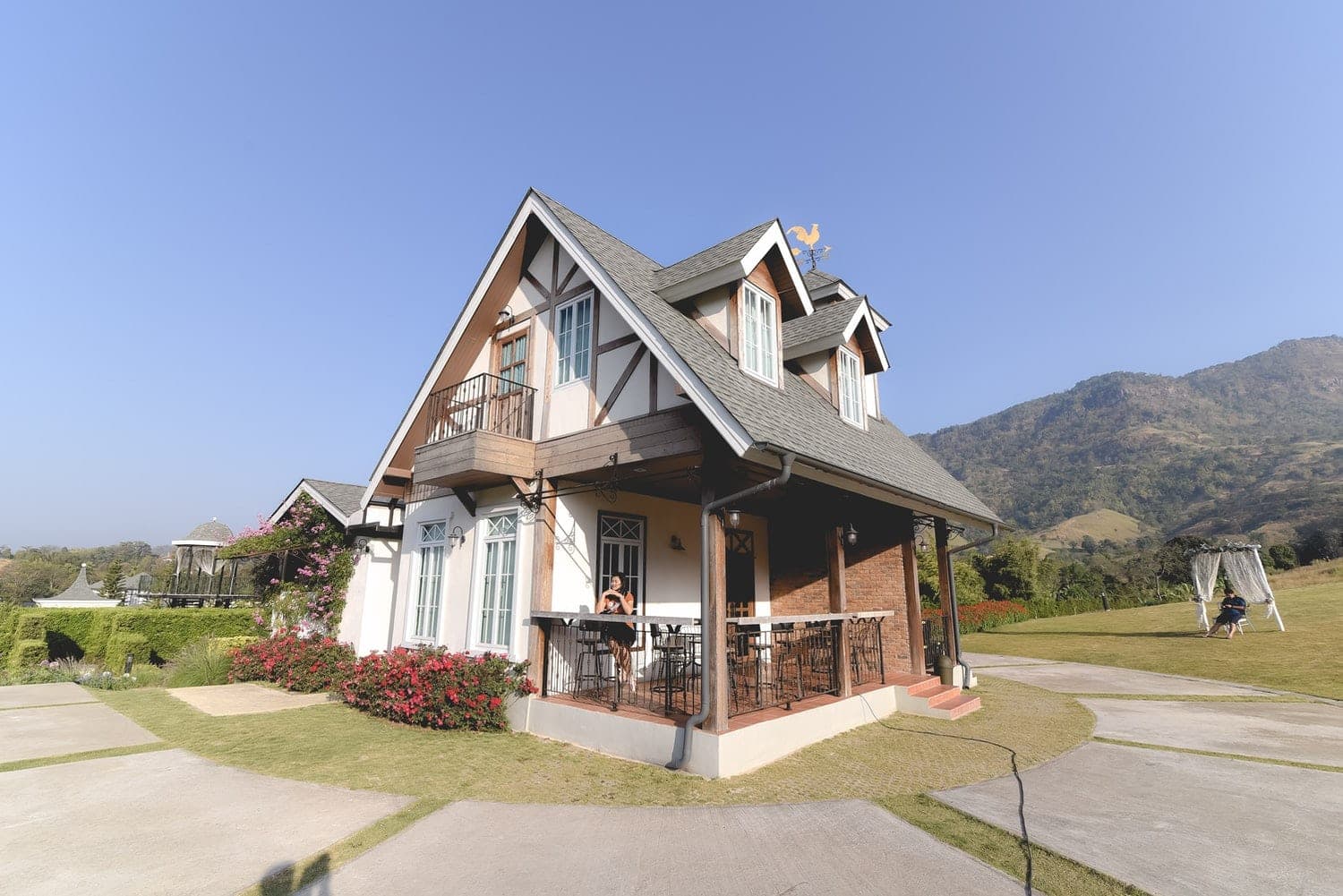 Among the best concrete driveway ideas is a beautiful wrap around path. It gives your home a little bit of uniqueness and gives visitors an easy turnaround solution instead of having to back out of a long driveway.
The house in this picture has large slabs of concrete separated by a little bit of grass surrounding the home. It's definitely a new take on green driveway ideas, but it would also look just as good if it were one solid piece.
Totally Natural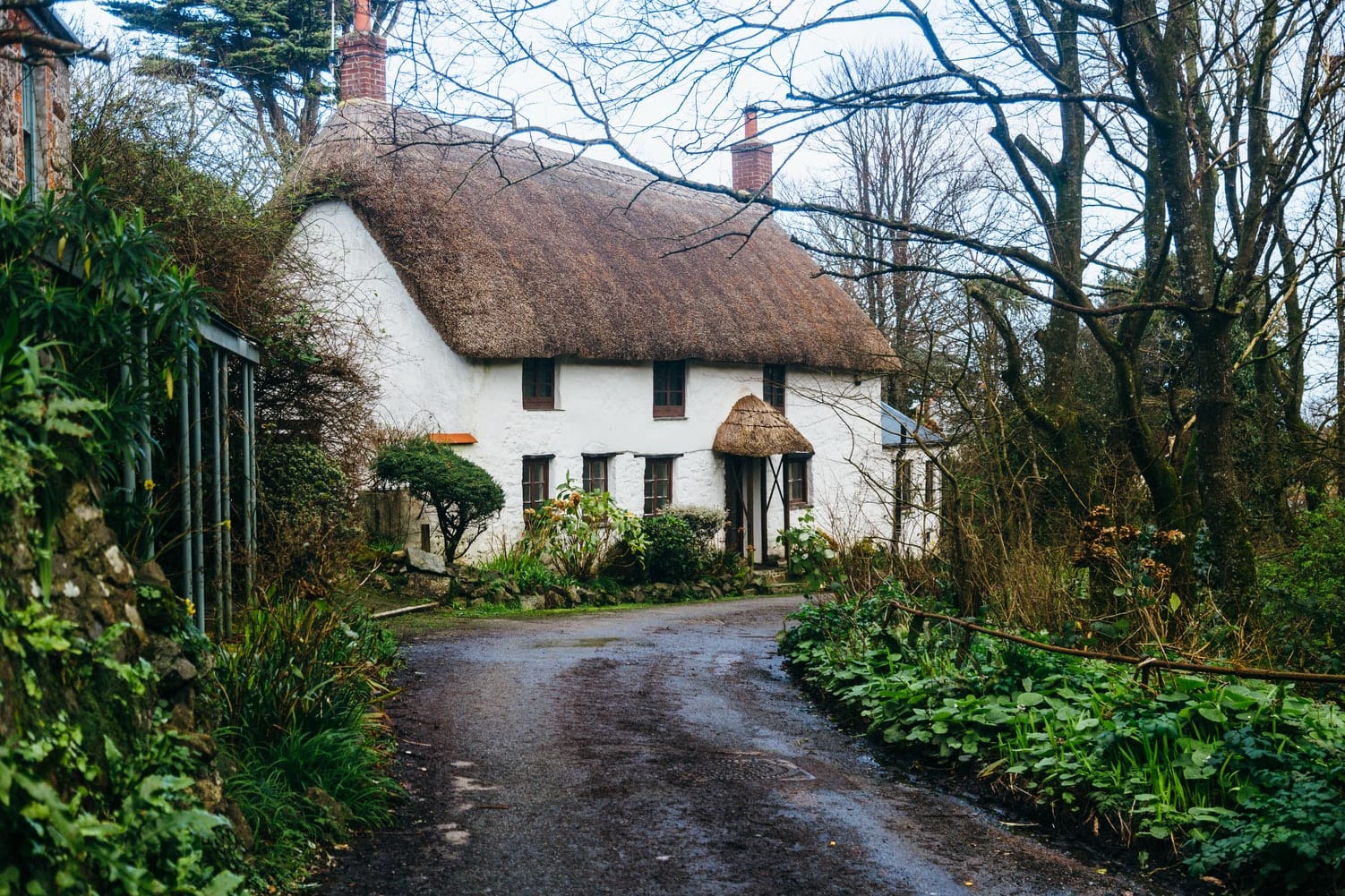 A totally natural driveway is easy to come by (as long as you don't live in a neighborhood with an HOA) and it's probably one of the most inexpensive driveway ideas out there.
If you have a big yard, just drive right through it and, over time, it will create a beaten path. To accomplish this, make sure you are driving in the same area every day, otherwise you're just going to damage a bunch of land without getting the look you're hoping for.
Decorative Pavers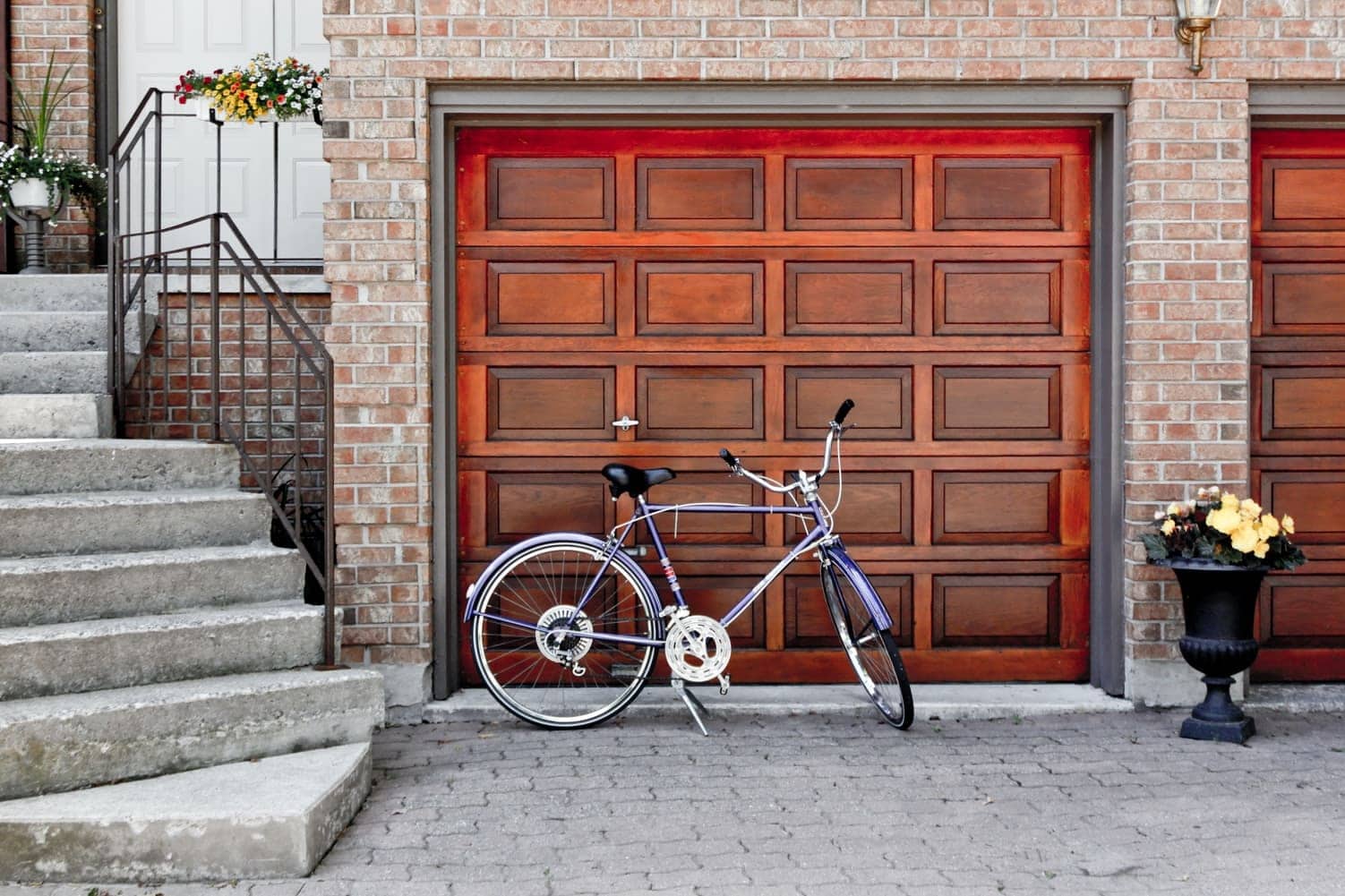 Depending on your driveway layout, you can consider decorative pavers or even traditional pavers laid in a decorative way.
A unique driveway with pavers can help differentiate your home from your neighbors', and add a little character, too.
Paved With Stone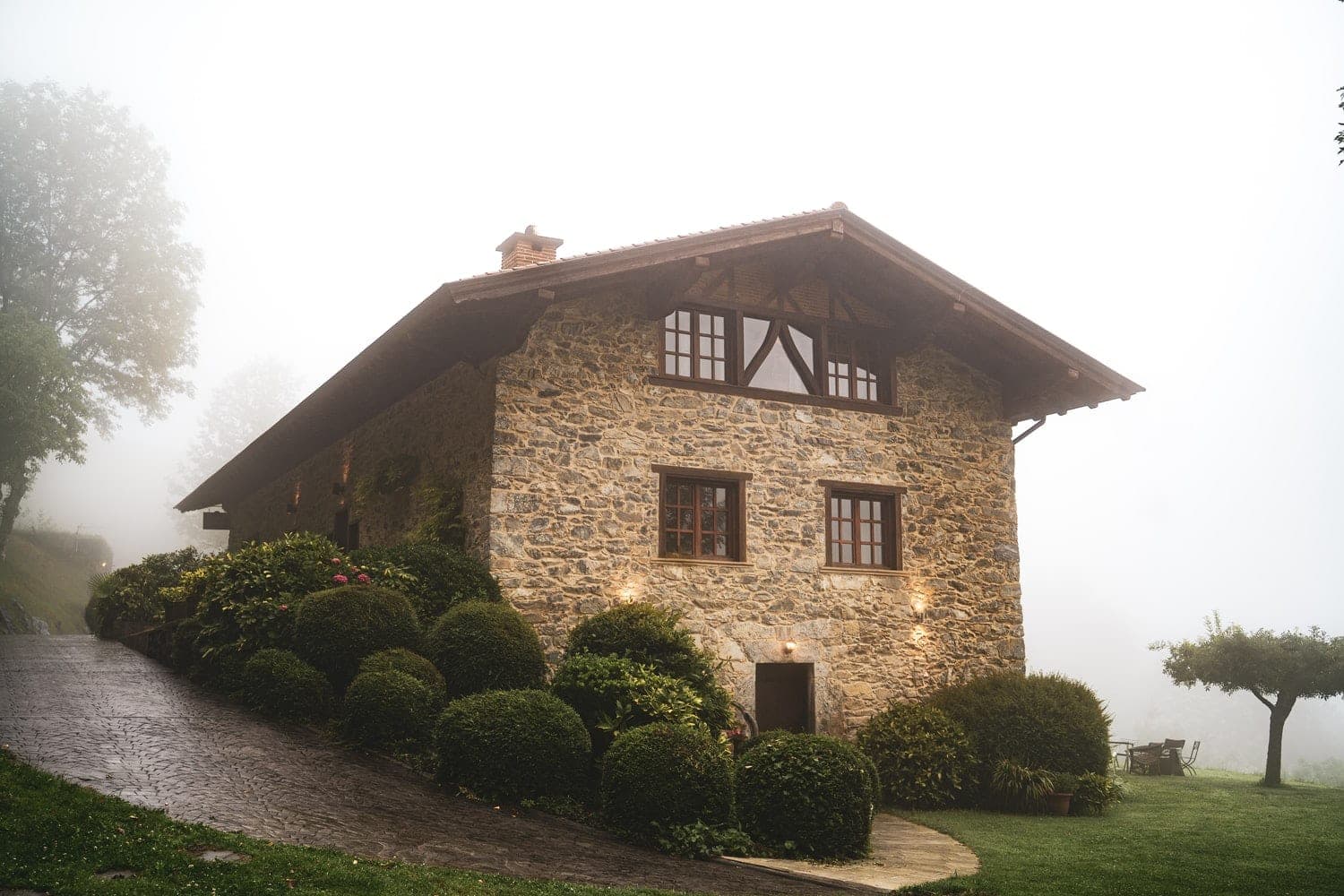 If you're hoping for something classic, consider looking into stone driveway ideas. When done right, they are still level and smooth while also having a little depth and the appearance of texture.
The driveway at this house complements the home's siding really well, but you don't need a stone home to pull off one of these driveway designs. Just make sure the stone color you choose is cohesive with your home's siding, whether it's vinyl, brick, or wood.
Cedar Chips
Laying cedar chips down is a simple, inexpensive way to create a driveway on a piece of land where there isn't an existing one. They're great for creating straight paths, curved driveways, and even a little walkway up to the home.
Chevron or Herringbone Pattern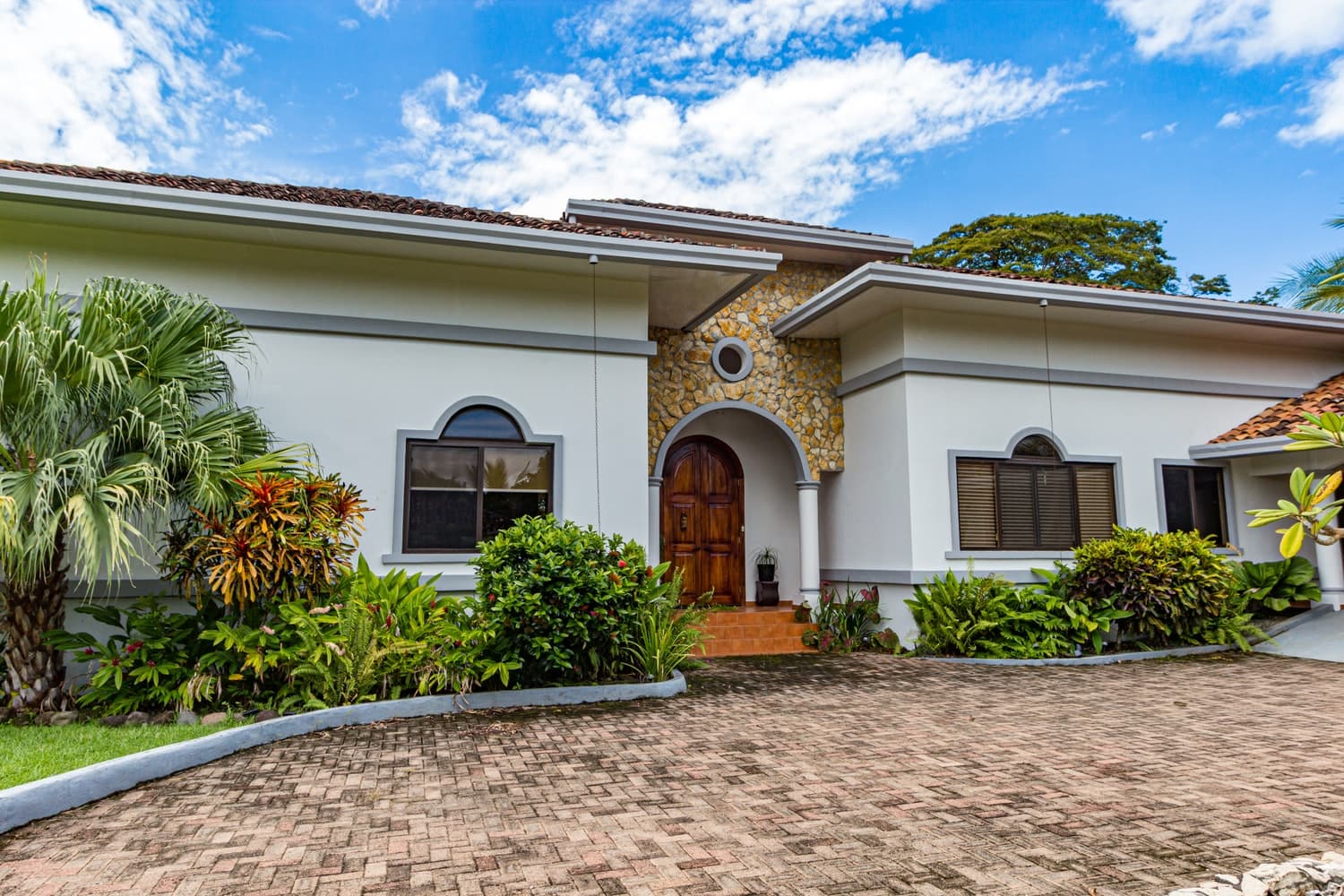 You can really elevate your home's exterior by paving the driveway with a pattern like chevron or herringbone.
The technique is timely but works for all driveway shapes and sizes and it adds a bit of style, especially for a home that doesn't have a lot of landscaping opportunities otherwise.
Cobbled Circle Drive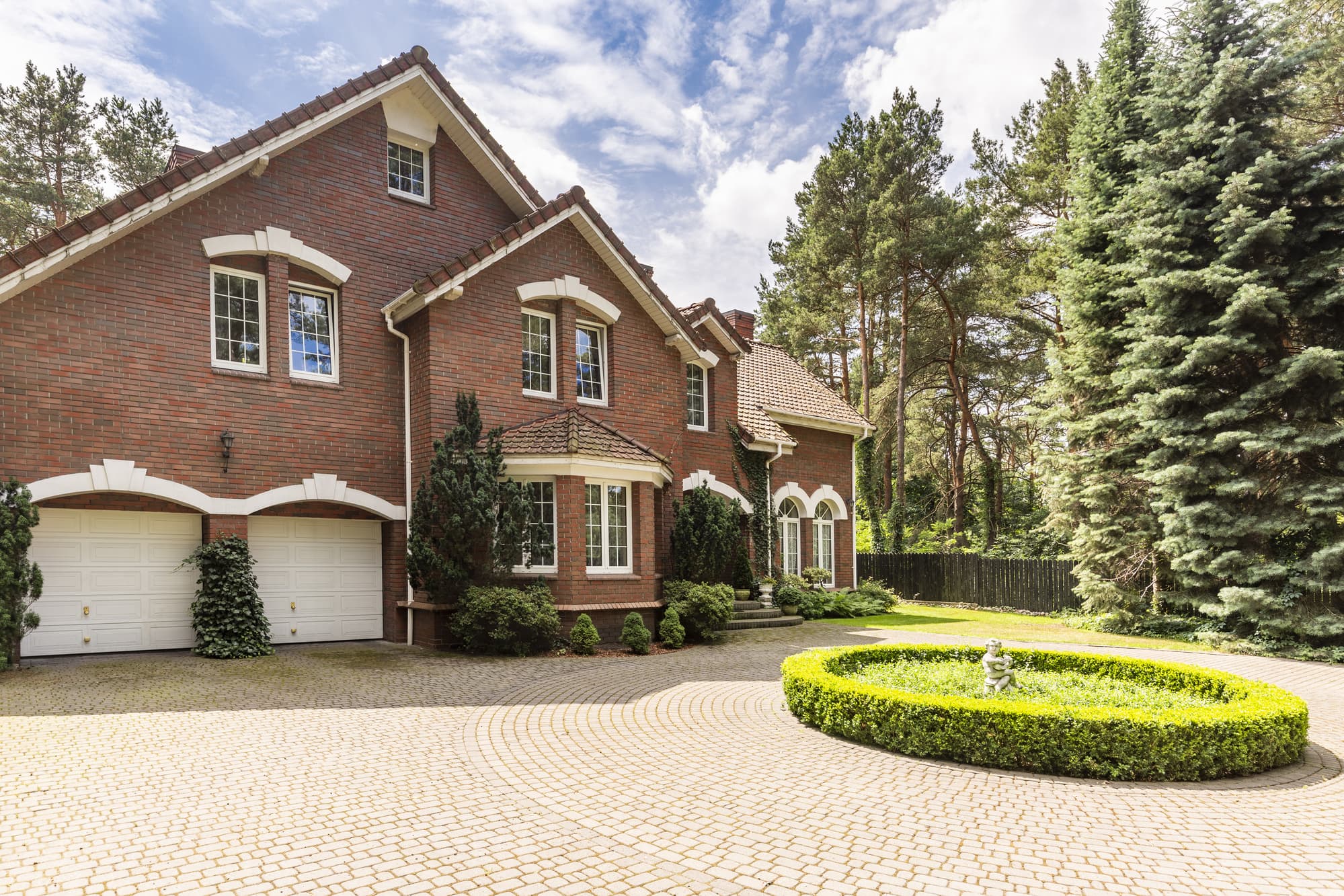 When you imagine pretty driveways, what comes to mind? It's probably something that was planned and created very carefully to have a beautiful finished product, like this cobbled circle driveway.
Cobble stone is probably one of the more beautiful ways to create a driveway, but you may want to skip it if anyone in your house likes to ride bikes, because it's very bumpy. Otherwise, if you have the ability and the space, a cobbled circular driveway is certainly something to consider.
Gravel and Grass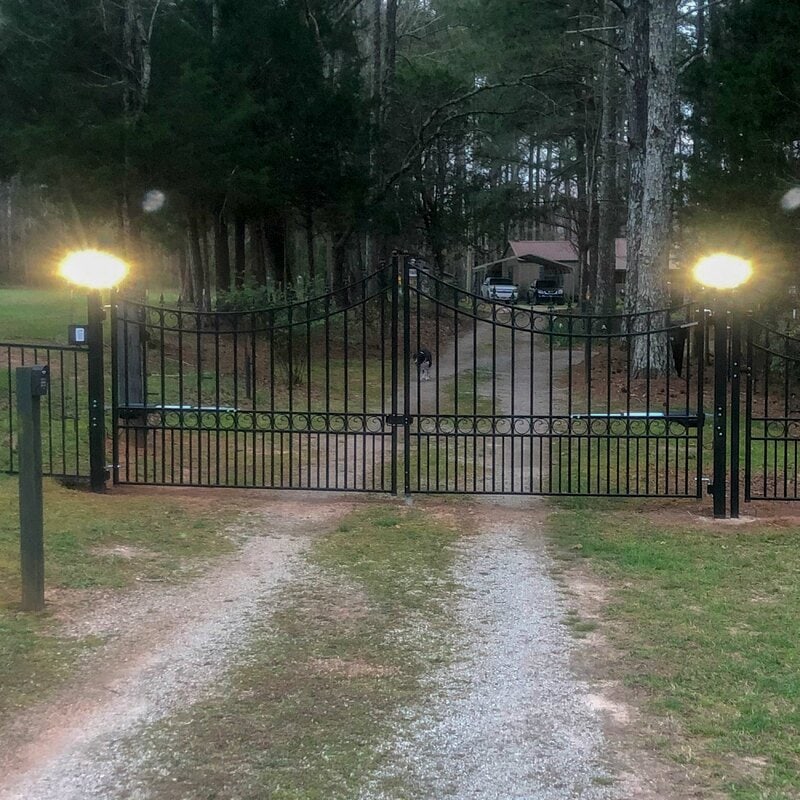 As easy as a totally natural driveway is to make, it can result in some deep tracks and a lot of mud.
So, to avoid that, lay down some gravel in the tire marks. Not only will it prevent a big mess, but it'll also give your tires a little bit of friction so you don't get stuck in the driveway on a really rainy night.
Tree-Lined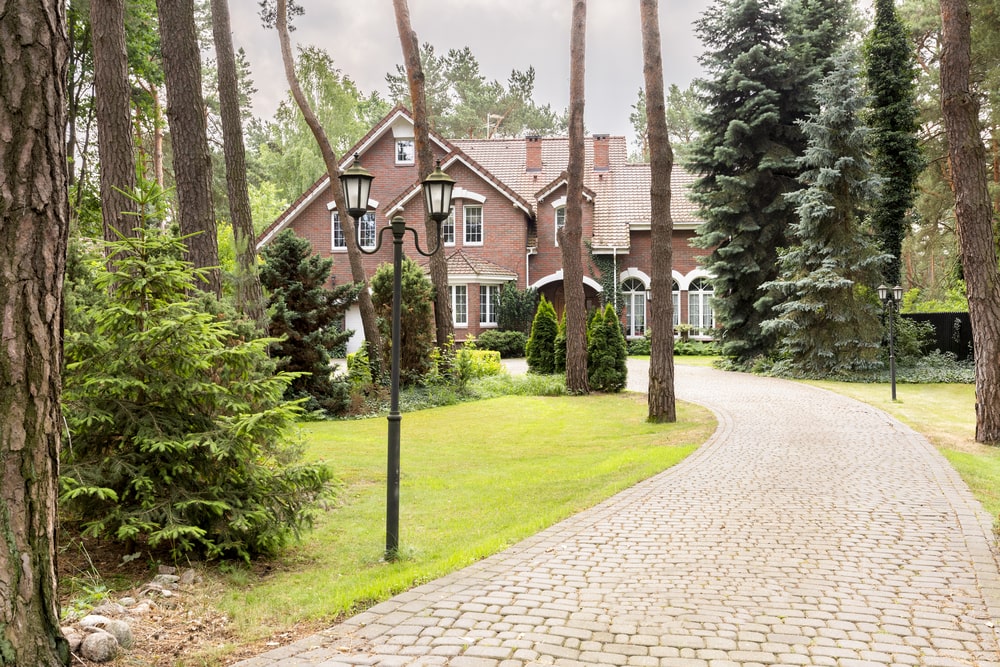 If you're on the hunt for some long driveway ideas, look no further than this picture. It's gorgeously paved with cobblestones, but that's not the best part of it.
The driveway is also lined with trees, which give it a beautiful look from the street but will also make for a gorgeous leaf canopy in the summer (and just imagine how it'll look in autumn!). It takes a lot of time to grow trees, but if you're planning on staying in your home for a while, it's worth the wait and investment to get this look.
Winding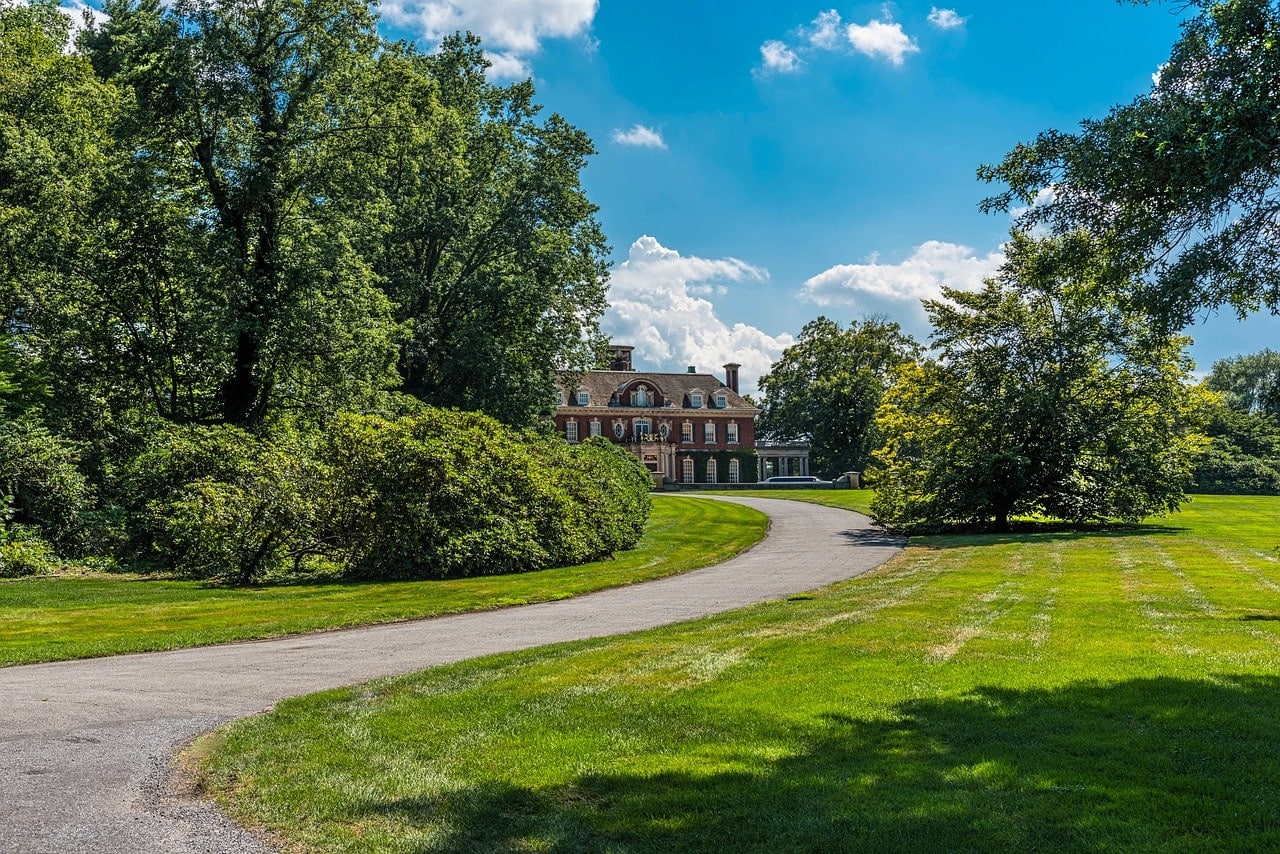 Another great long driveway idea? Go big and make it winding!
A super long straight driveway is boring, especially if there's plenty of land around it to give it a more rounded look. It makes for a more appealing look from the street, and a more interesting ride for drivers.
Mosaic Design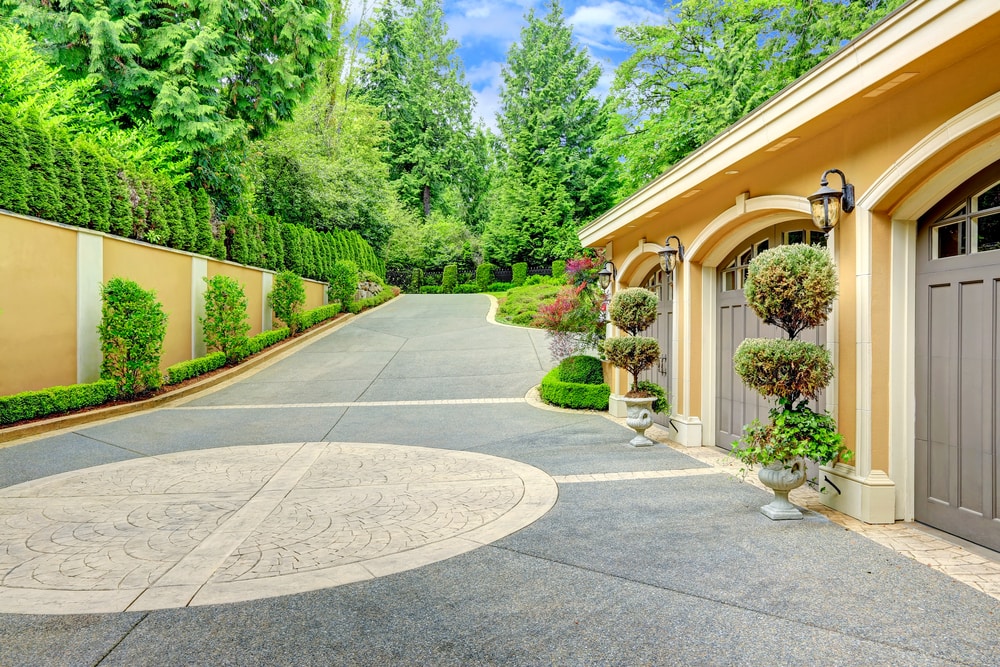 If you really want to make your driveway stand out, go for a totally unique mosaic or custom design like this one. It has a mixture of traditional asphalt, rectangular pavers, and stone but the circular design in the middle is made from curved pavers that create a mosaic appearance.
Minimalist Design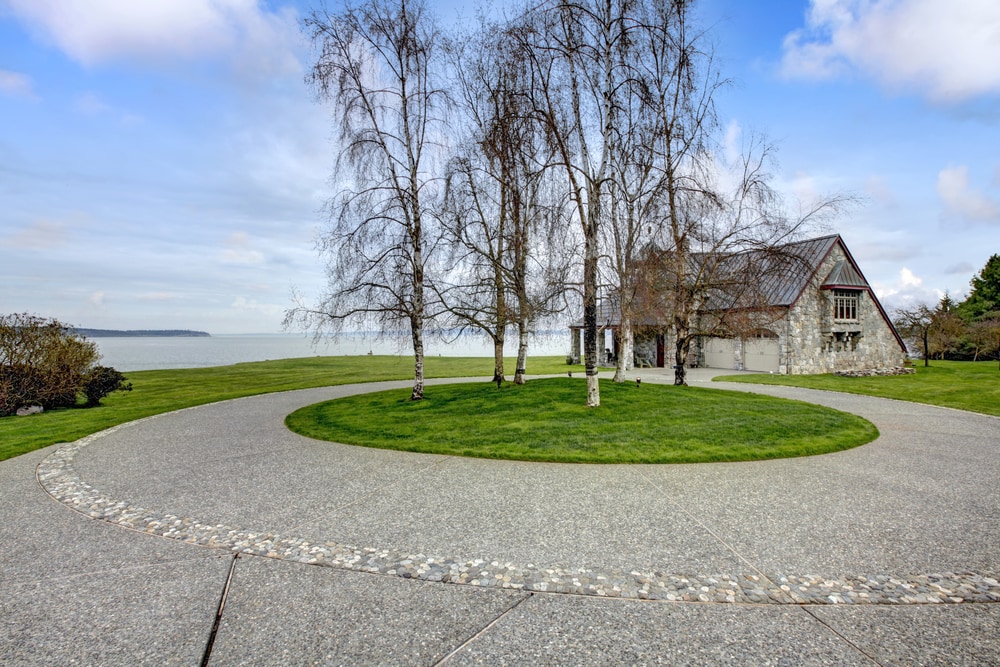 This driveway is by no means basic, but if you look closely at how the grand design is made, it's actually very minimalistic.
The circular driveway is made mostly of large slabs of pebbled concrete with just a small border of stones that match the home's exterior. What makes it stand out so much isn't really the design, it's the circle's grassy tree-filled center.
Beautifully Landscaped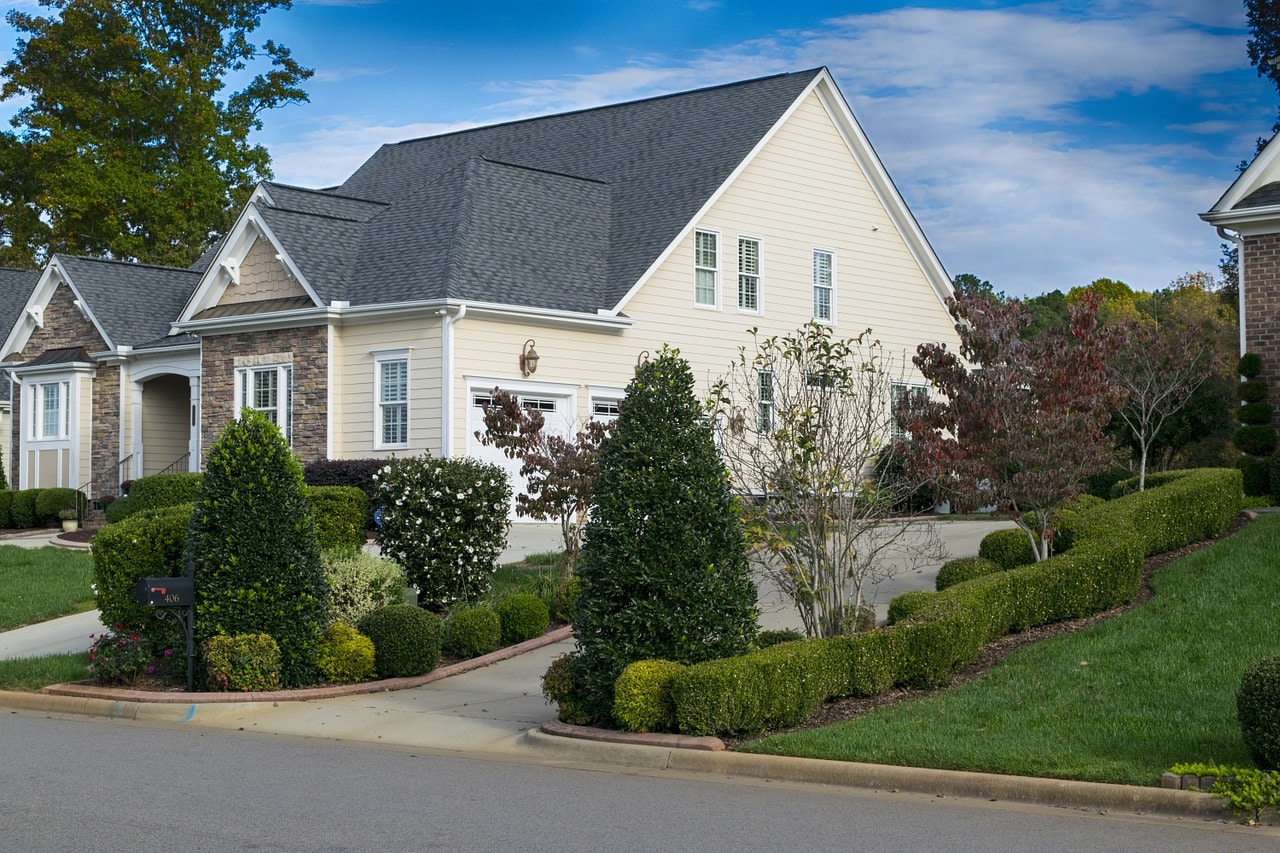 Living in the suburbs, there is only so much you can do to your driveway. But, while your HOA may not let you get creative with what your driveway is made out of, they may give you some liberties with the landscaping around it.
This home's driveway is lined with a carefully manicured landscape that makes it look more like a path than just plain concrete. By doing this, you'll improve your home's curb appeal and may even be able to use the bushes for a little extra privacy.
Lined with Lights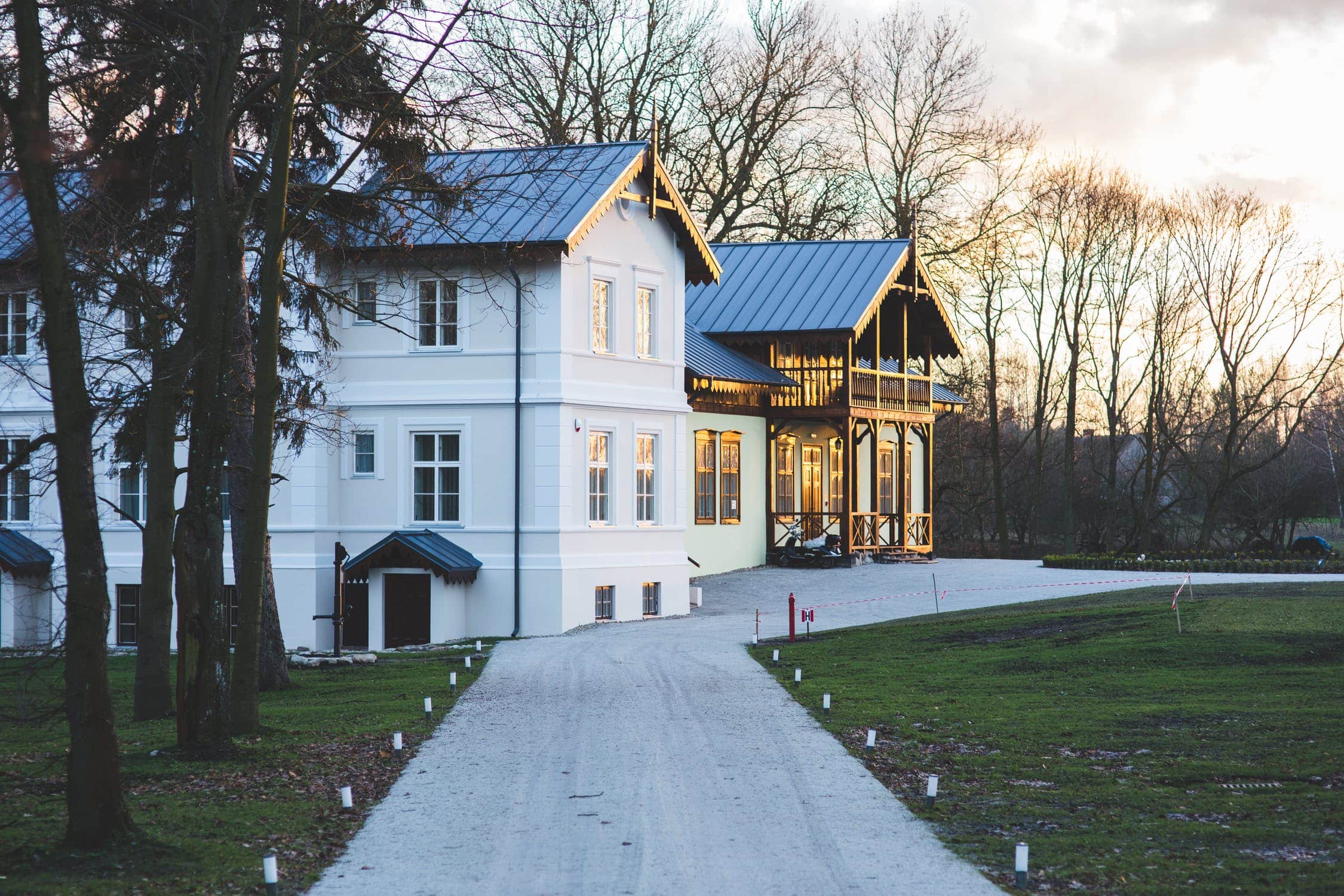 A great way to improve your driveway's appearance without investing a ton of money is to line it with landscaping lights like in this photo.
Without those lights, it's a pretty boring driveway, but the lights make it look a little more high end and add some style.
Final Driveway Thoughts
Even if you're happy with the driveway you have right now, it doesn't hurt to check out some options. After all, with the number of choices out there, you might want to change the curb appeal of your home in the future.
A good driveway will increase the value of your property as it's the first thing that buyers will see. Are you planning to get a new driveway? Make sure you consider all the options so you can make an informed decision.