Decorated Life is reader-supported. When you buy through links on our site, we may earn an affiliate commission. Learn More
Tradewind by Sherwin Williams
Lots of people love the beach: sun, surf, sand. But just as appealing as the vibrant, tropical hues are the cool and misty tones of the ocean. Fog-blanketed waters beyond a rocky shoreline, gray and mysterious.
Tradewind is a blue that carries this kind of mystery, this different vision of the coast. It's light and versatile enough to show up in many different styles of decor.
Let's take a walk alongside Tradewind and learn some of its secrets.
What Color is Tradewind?
Tradewind is a subdued sky blue, blended with a soft, silver-toned gray. It's a light and refreshing color with watery vibes.
LRV of 61
Tradewind has a light reflectance value, or LRV, of 61. Light reflectance value is a scale designed to measure how bright a color is, and ranges from absolute black at 0 to sheer white at 100. The higher the number, the lighter the color.
Many decorators prefer a LRV from 60 to 62, because it looks great in a wide range of lighting conditions. Tradewind sits right in this favorite range!
What Undertones Does Tradewind Have?
Tradewind has strong gray undertones, which quiet down this blue and make it look misty and ethereal. It has a very tiny hint of green, although this is not a strong part of this color.
Is Tradewind a Warm Color or a Cool Color?
Tradewind is definitely a cool color. Its blue, gray, and green components are each themselves part of the cool side of the color wheel, so no surprises there.
Where Can You Use Tradewind?
When we look at where you can use a color, we're usually focusing on two things: how a color makes a room feel and how versatile it is under different lighting conditions.
Tradewind won the jackpot when it comes to lighting: its LRV of 61 is smack dab in the middle of that designer's favorite range. What that means for you is that you can easily put Tradewind in any room without worrying about it being too dark or light.
As to how Tradewind makes a room feel, this is a cool, relaxing color that feels calm and even a little mysterious. That can be a fantastic mood for a lot of rooms.
Tradewind's natural coolness is a great choice for rooms where you want to feel refreshed, like a bathroom, or where you want to relax, like a living room or bedroom.
Just about the only place you might not want Tradewind is a space that already feels too cold. But you can also balance that trait by using warmer coordinating colors with Tradewind.
Tradewind can be your primary color or an accent color. It's also lovely on cabinets. You can even use it on exteriors.
Let's sail away with Tradewind and see how it looks in home spaces.
Exterior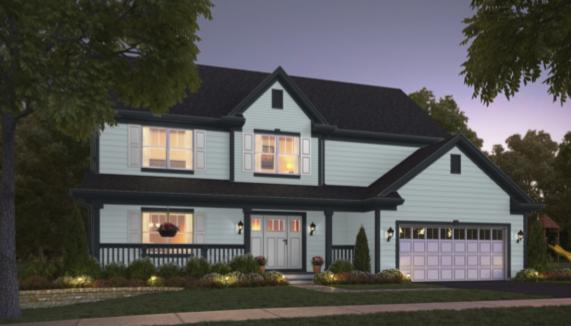 A smart, deep contrast from Inkwell makes this Tradewind exterior look fresh and bright.
Living Room
Tradewind adds interest as an accent wall in this coastal farmhouse style living room.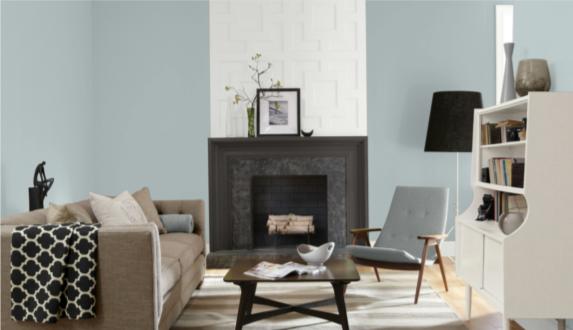 This minimalist living room leans into Tradewind's gray side for a twist on its usual look.
Kitchen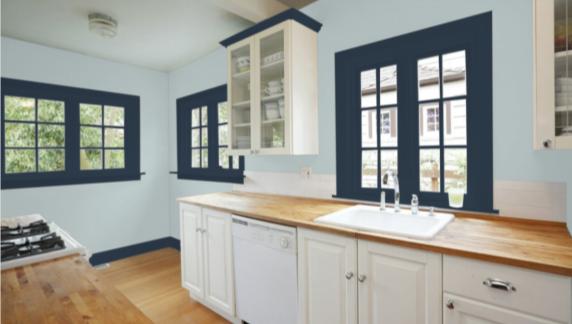 Naval trim is a beautiful coordinating color with Tradewind walls in this comfortable kitchen.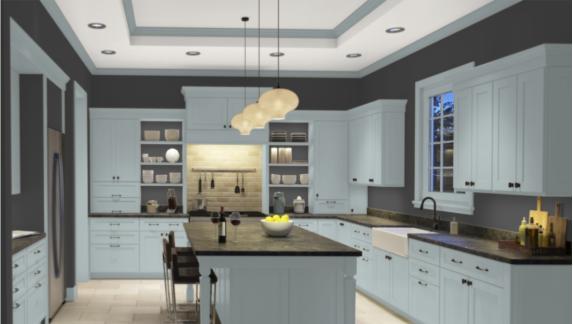 This kitchen switches things up with dark Peppercorn walls and light Tradewind cabinets.
Dining Room
Tradewind pairs beautifully with the rich wood tones in this dining room furniture.
Bedroom
A white ceiling can emphasize the airy feel of Tradewind walls.
Tradewind is a calm and refreshing bedroom wall color.
Bright gold accents offer a shimmering contrast to Tradewind in this bedroom.
Bathroom
Tradewind is whisper-light in this well-lit bathroom.
Gray tile and marble bring out the soft gray undertones in Tradewind.
Coordinating Colors for Tradewind
Tradewind is a soft gray- blue that has many lovely options for coordinating colors. Of course it's easy to pair with your favorite whites, especially cool whites that have a touch of gray shading.
Tradewind's gray undertones make other gray colors a great fit for your palette. Darker grays will make Tradewind look crisp and fresh. Lighter grays, or light colors tinted with gray, will blend with Tradewind softly.
Varying shades of blue will also work with Tradewind to great effect. One combination you have to try is to put your favorite navy blue with Tradewind. Navy blue's inky depths will make Tradewind stand out, and its undertones are slate gray, which is a perfect match for Tradewind's silver side.
Speaking of silver, don't forget silver metalwork and appliances when coordinating with Tradewind. Spaces like kitchens and bathrooms are a natural fit for this watery color.
Need some coordinating color inspiration for Tradewind? Here are some ideas to help you get started:
How Does Tradewind Compare with Other Colors?
Tradewind vs Rainwashed by Sherwin Williams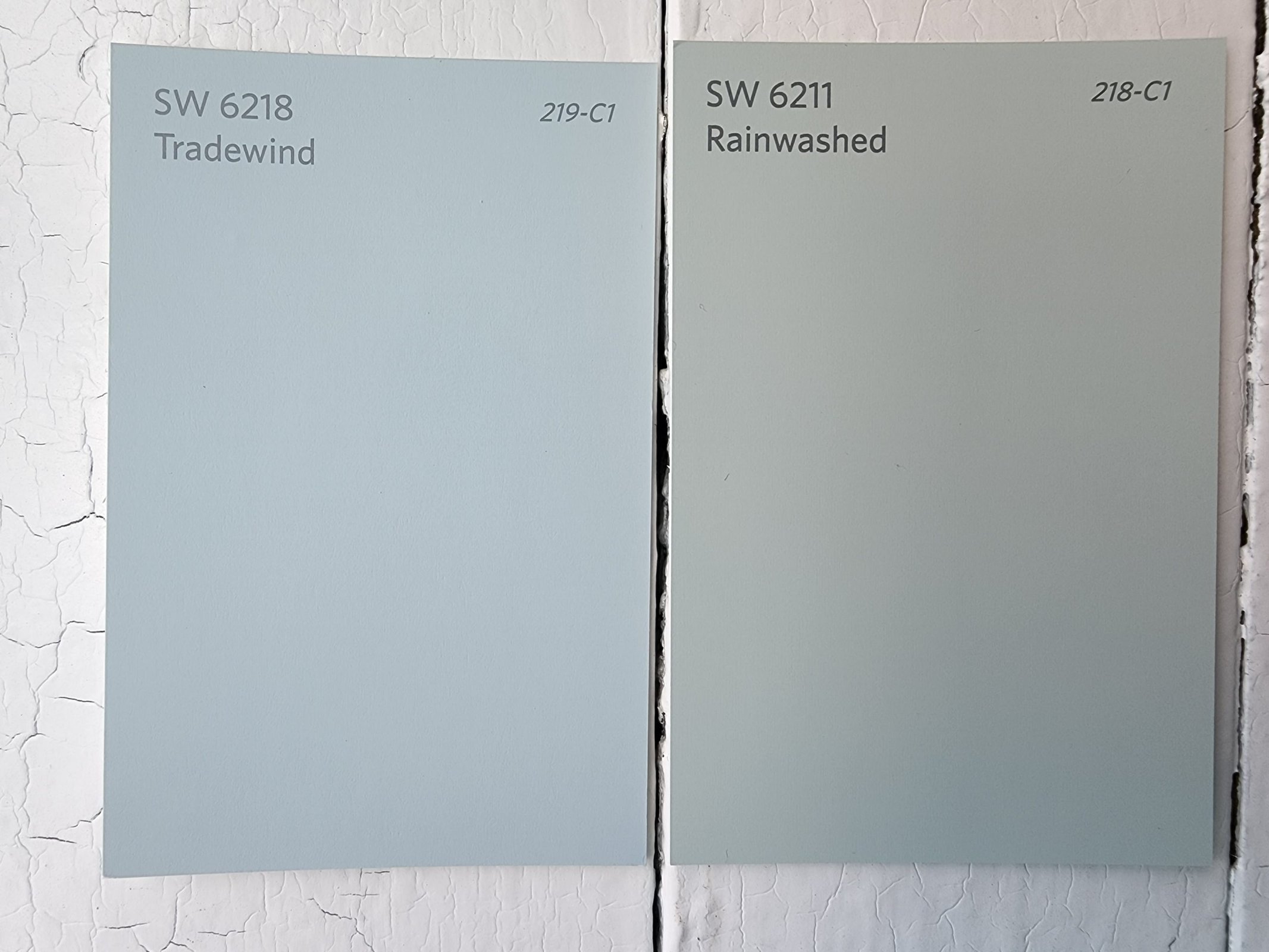 Rainwashed is a soft blue-green that's similar in brightness to Tradewind. The primary difference between these two colors is the green in Rainwashed. Both share a significant gray undertone. Rainwashed has a LRV of 59.
Tradewind vs Sea Salt by Sherwin Williams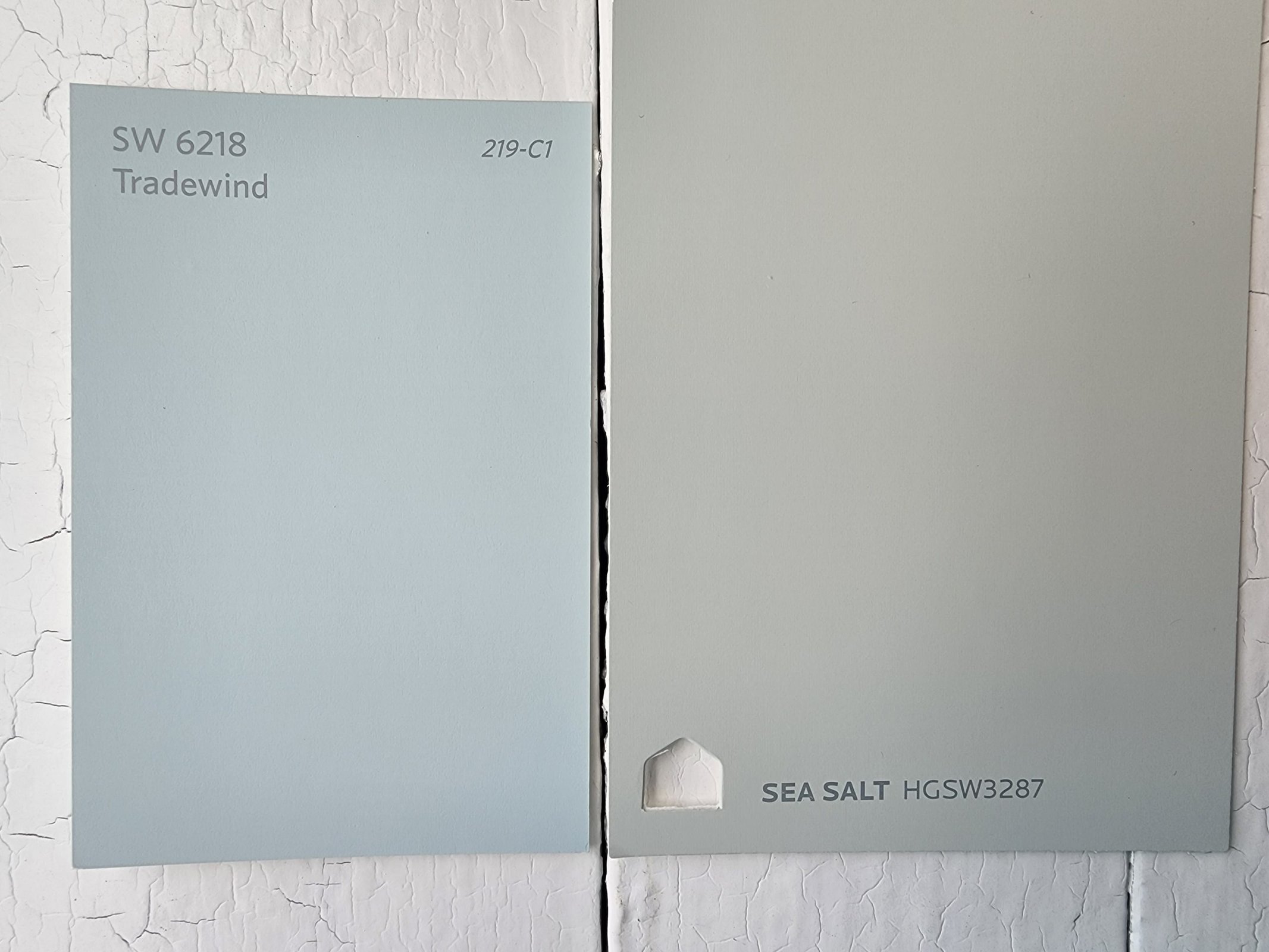 Sea Salt is a very light green with a lot of gray in it. Unlike Tradewind, it hasn't really got a lot of blue going on. It's similarly light, with a LRV of 63.
Tradewind vs Topsail by Sherwin Williams
Topsail is an extremely pale blue blended with gray. It's a very similar color to Tradewind, but lighter. Topsail has a LRV of 75.
Tradewind vs Copen Blue by Sherwin Williams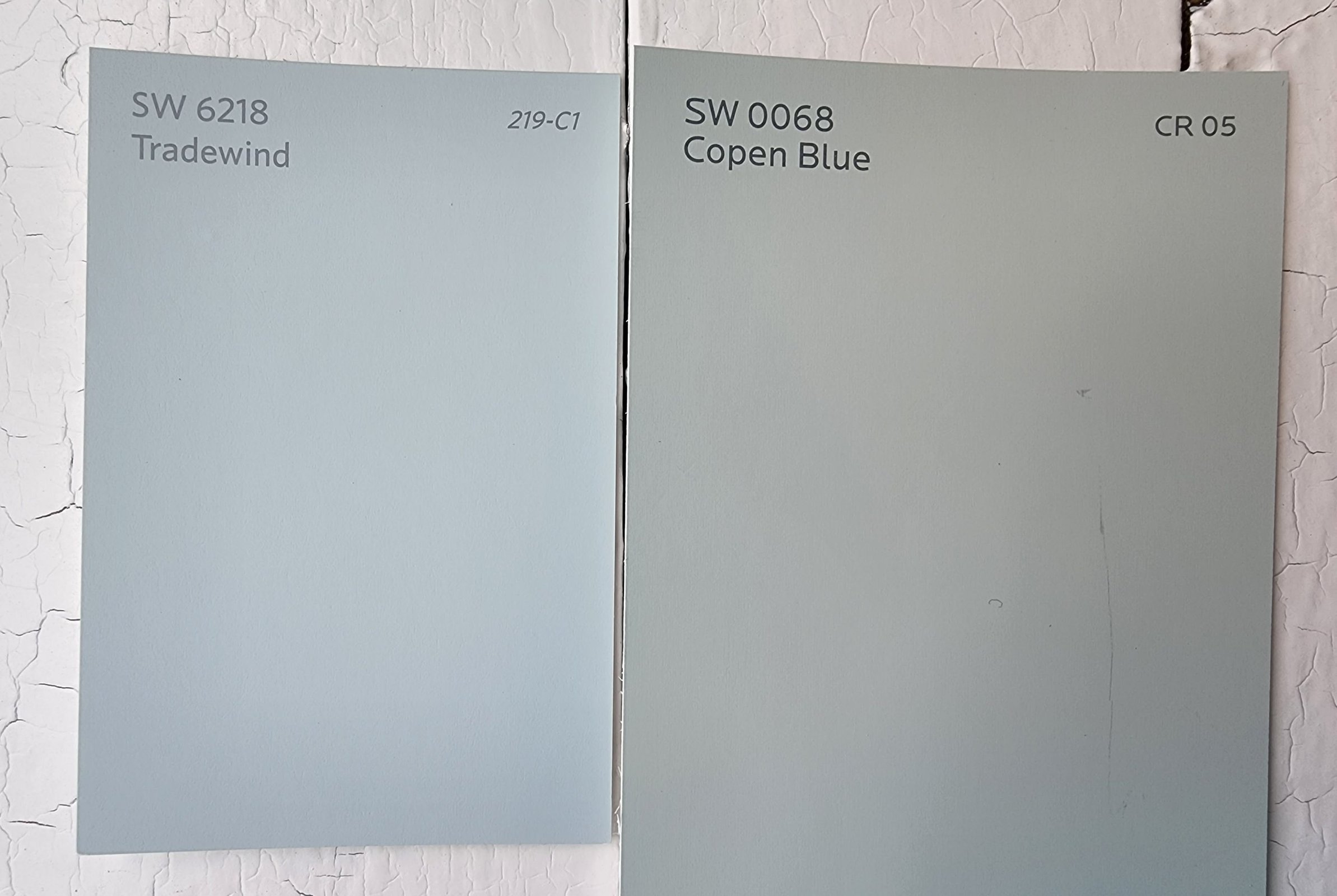 Copen Blue is a light gray-blue color with a stronger dose of green than Tradewind has. It's also more gray than Tradewind. They are similar in brightness with Copen Blue sitting at 59 on the LRV scale.
Final Thoughts
Tradewind is everybody's favorite sky blue taken to a misty and mysterious place with soft, silver gray. It's just the thing to make this color airy and interesting. Whether you're looking for a coastal feel or minimalism with a twist, Tradewind can support many decor styles, and its ideal LRV makes it versatile enough to go in any room. Will you be setting sail with Tradewind?