Add a Boho Twist to Your Porch with These Design Ideas
You love boho with its mix and match, eclectic, playful style. So when it comes to the outdoors at your treasured home, you'll want to carry this design style through from your beautiful interior.
A porch has a wonderful versatility of being outside yet under cover so you can dress it with both interior and exterior style touches. But as to what those designs might be, you could be in need of some boho scheme inspiration.
Dreamy Boho Porch Design
A porch is just the perfect place to relax. You can have the comfort and privacy of being in your own property while breathing in the fresh summer air and chilling on your deck. Preferably hidden by trees and shrubs in your yard.
For some boho design basics, think earthy tones, a variety of textures, and patterned rugs with woven and wool soft furnishings. Find a spot you like on your porch and place a cane daybed strewn with neutral aztec design cushions.
And perhaps you have a hanging chair you could install with some rope. A great place to chill with your own thoughts.
The finishing touches could include a soft persian rug in rusts and blush pinks, as well as come cute wood tables and ornaments.
Porch of Many Colors
While you can go all out on the furniture and accessories on your porch, you might find you want to begin with a bold base color for your boho theme.
So if your porch is in need of a coat of paint, don't head straight for the can of white. A bold color like lime green or maybe a coral pink will look divine as the backdrop to your scheme.
If it's vibrant color more than earthy hues that gets you inspired, then dress your cane furniture with bold cushions and blankets. And why not fill planters with colorful blooms to properly set the boho tone.
Classic Boho Styling
Boho has its origins in the hippy movement of the sixties and seventies. A lot of this inspiration came from tribal designs, as well as the feel of a Moroccan Bedouin tent. Think Marrakesh, billowy fabrics and metal fretwork.
For this 'peace out' look, add rust color pattern rugs with earthy neutrals and leather poufs. Cane lanterns will work as bohemian accessories.
Your porch is a good spot for pot plants hung from above with gorgeous trailing foliage and some pretty ceramic lanterns.
And for true flower power relaxation, how about low upholstered benches in aztec designs? Dot with similar design pillows, lie back and chill out.
Monochrome Boho Porch
For those who prefer the sophisticated side of boho, keep your textures layered and varied but stop at one or two colors.
A monochrome scheme is wonderfully effective with neatly folded tasseled blankets and some black and white accessories like cute drum tables.
And to give you that exotic experience, a huge pottery vase filled with dried fluffy grasses completes the look.
Laid Back Porch Color
Colors that complement the boho look include bright pink and vivid turquoise, so choose some cushions you love to accessorize a bench seat and wicker chairs.
For added privacy and to create some floaty, ethereal design notes, you could hang a sheer curtain from the top of your porch. Then add some boho lanterns as well as lots of plants.
Your backdrop in white will enhance the bright colors so if your porch needs an update, consider the shade you paint it. And for lighting, you could hang paper lanterns from the ceiling. Both decorative and practical.
Hang About in a Reading Nook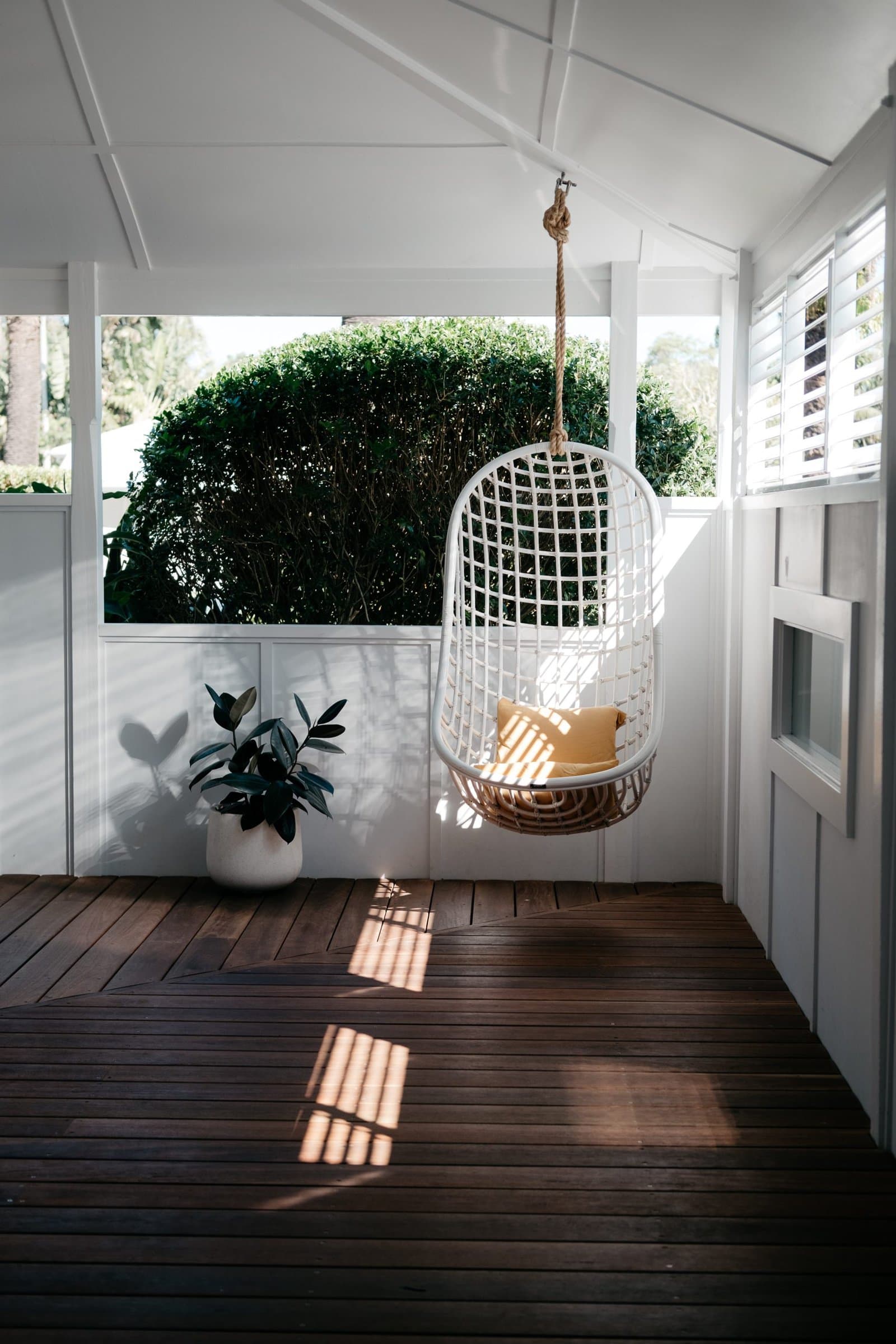 Don't we all just love cute little reading nooks? You don't always have to read though. They are a comfy spot to sit back, relax and perhaps meditate for five minutes or even have a well-earned nap.
A porch is just the perfect spot for some me time. You can sit and listen to the birds, smell the flowers on hot days. And when it's less favorable weather, you can stay under cover and listen to the rain or stay cool from the hot sun.
A hanging egg chair is a wonderful retro boho design. Styled with blankets and cushions, you can be tucked away in a corner of your porch, hidden by some large leafy plants. Do not disturb!
Design Details
Beautiful Wicker Chair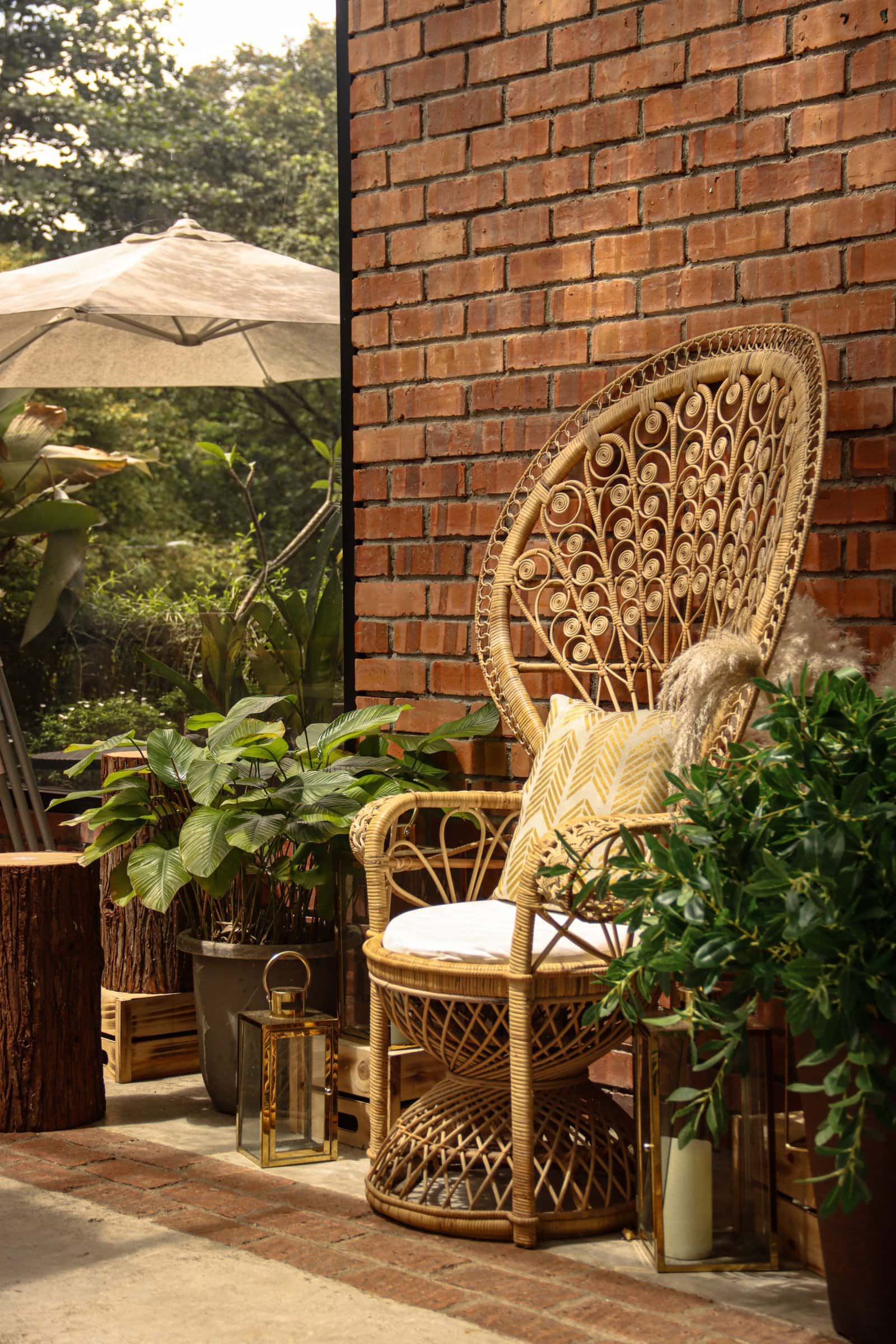 Nothing quite marks the boho look as much as a unique, ornate wicker chair. Its roots deeply in mid to late 20th century retro, your porch will give off the right vibes if you select such an object of beauty.
To perfectly style this look, add a neutral colored cushion and fabrics plus pots and planters of green leafy plants. And accessorize with candles and metal lanterns. This is boho at its finest.
Gentle Hammock Design
A hammock is such a fun way to relax as well as being super supportive and comfortable. If you have a porch it'll be fairly easy to add, so you may like to install your porch hammock yourself.
For the boho look, keep your colors natural but choose an ornate, lacy design. Very romantic! Then softly layer rugs and pillows. For extra privacy you could fit white painted wood trellis on your porch. Now, is it time for a snooze?
A Pair of Rockers
A porch would not be complete without a pair of rocking chairs. For boho designs you could pick cane rockers or wood chairs either natural or painted white.
In a monochrome theme, as well as woven tribal designs, you can also add furs for warmth and softness. This is ideal if you like to use your porch later into cool evenings or go out for a hot coffee in the winter months.
The Perfect Boho Porch Bench
A wood bench has a smart, natural look but it can easily be incorporated into the boho design style. Casually drape a gorgeous tasseled blanket and add cushions. You will of course need to add a rug. A macrame circular design looks neat on a wood deck.
Woven drum stools decorated with abundant plants add to the boho aesthetic. As do lanterns and pretty blousy blooms. And you might also want to hang gauzy white curtains for a fresh, romantic ambience.
In Summary
Porches are ripe for the boho design aesthetic. With a soft, lingering look reminiscent of hazy, lazy summers, think about layering textures from woven rugs to silk and wool blankets, aztec cushions and Moroccan fabrics.
Cane furniture looks fabulous, particularly in an ornate design and can be styled with fluffy dried grasses and metal lanterns.
You might also like to install a hanging chair or add a wood bench, all with soft cushions and abundant pot plants. Or perhaps swing from a hammock.
Those who like color can add that through cushions and accessories. The boho porch is simple to create a wonderful place to sit out and relax.