Decorated Life is reader-supported. When you buy through links on our site, we may earn an affiliate commission. Learn More
What Color Area Rug Goes With Light Hardwood Floors? – 15 Ideas
Picking the right rugs for light wood floors can be a fun process when you have an idea of your available options.
The best color rug for light hardwood floors is as varying as the colors of different woods. Basing your color choice of the rugs for light wood floors on the wood's tone (and undertones) is an excellent way to get a cohesive design. Explore 15 ways that you can get creative with area rugs for light hardwood floors.
Try a Distressed Rug in Splotched Granite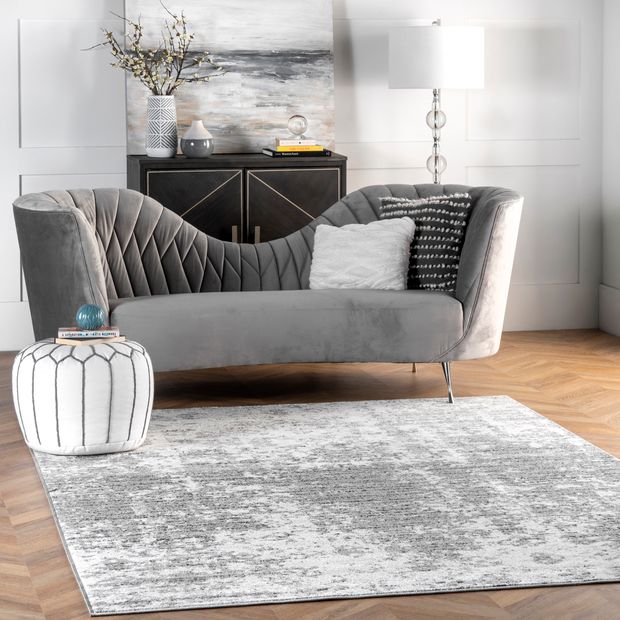 Light hardwood floors are the perfect palette for an area rug in a flecked pattern, like this stylish yet understated carpet in white and gray.
The muted color palette of this area rug balances against the rich honey hues of a herringbone hardwood, although it can also look fantastic on darker floors.
Be Bold with a Black Rosette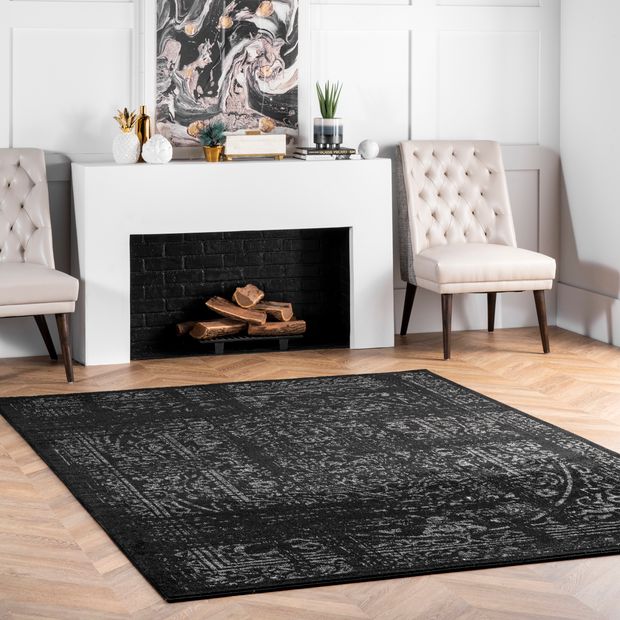 Suppose you're looking for something bold and dramatic. In that case, you might like the impressively traditional yet modern stylish design of adding a monochrome patterned rug in black with faded white outlines with a rosette in the heart of the carpet.
The distressed look makes this rug look comfortably worn and aged while still feeling up-to-date. And the dark faded color pops against a light hardwood floor.
Scream Style with Light Shagadelic Tassels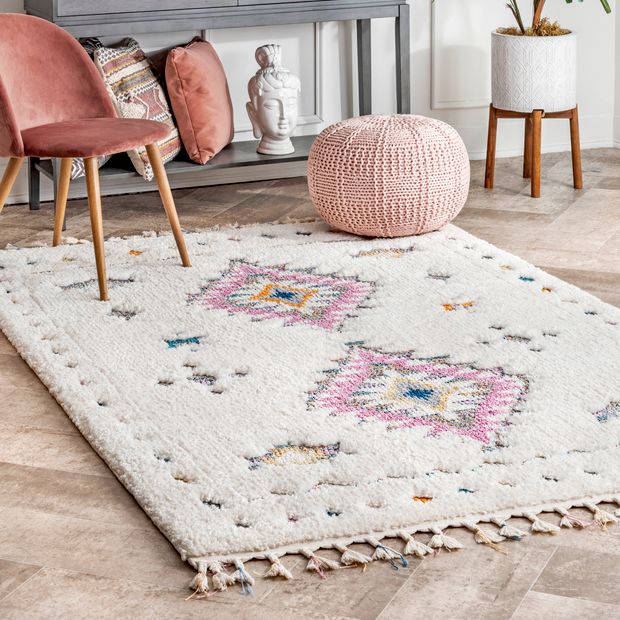 Light hardwood floors can look exquisite with a pale area rug, like this shaggy thick pile carpet in a lovely off-white color.
The geometric pattern and tasseled edges give this rug a heavy Bohemian feel that's fantastic for all decor styles and themes.
Make Magic with Medallions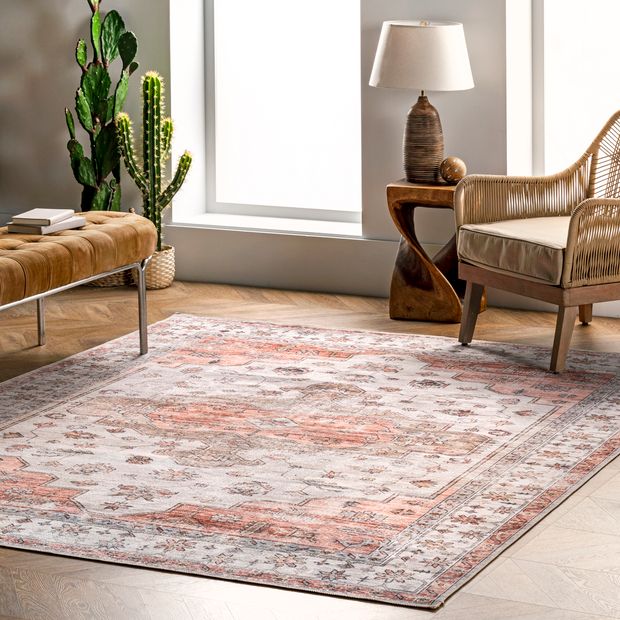 Medallion prints are a widely popular style for area rugs. When you have light hardwood floors, you can get a powerful statement piece with a carpet in soft, light colors.
This beige printed rug with coral, black, and brown distressed medallion prints provides enough color to look impressive without going so overboard it washes out the honey hues of lighter floors.
Own an Odd-Shaped Cow Hide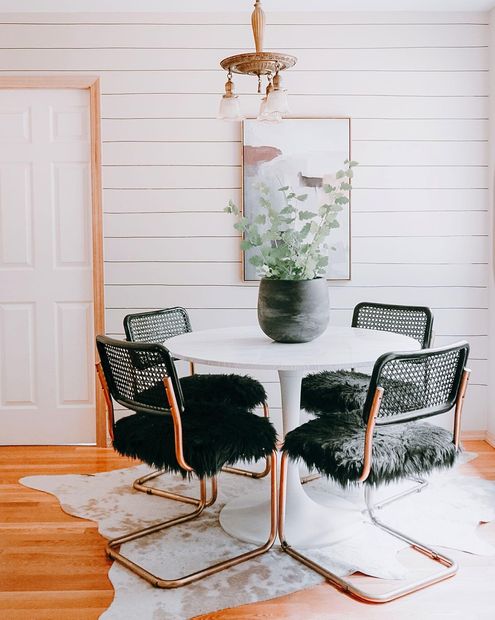 If you enjoy the rustic look and are interested in creating a modern contemporary design with area rugs that you might not see often, you might be in the market for a faux cowhide rug.
With a soft texture and standard shape of animal-print rugs, this uniquely-shaped carpet can be the perfect covering for light hardwood floors with bleached honey tones.
Try Thick and Dark with Navy Shag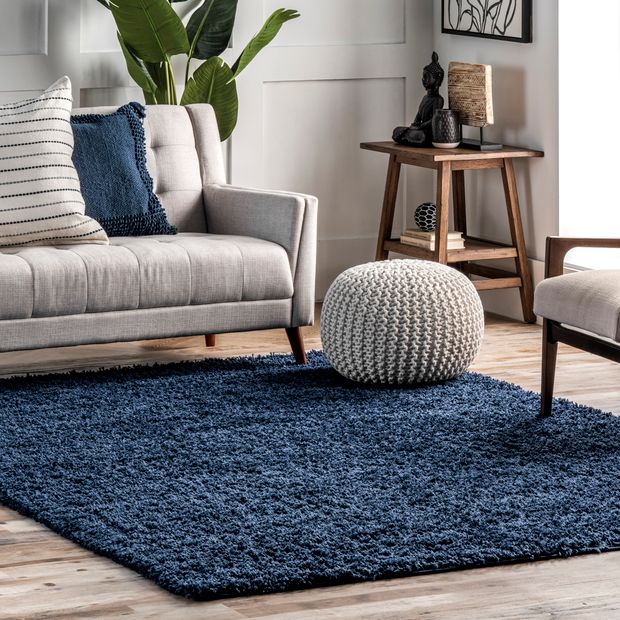 Light multi-toned hardwood floors are the perfect base to go with a dark area rug. Picking a thick high pile carpet in a bold color choice like navy blue gives you a major wow factor.
Shag style area rugs are stylish and functional – giving you a cozy cushion under your feet while looking modern and exciting for your room's decor.
Roll Out a Distressed Persian Rug in Red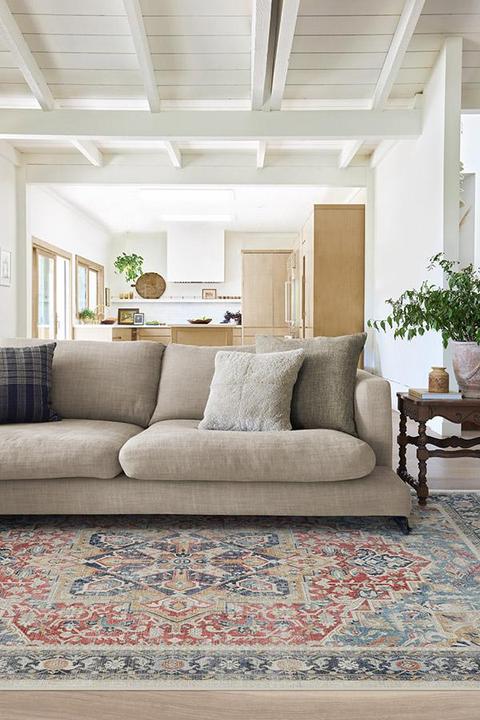 Light hardwood floors can also benefit from stylish area rugs in a timeless Persian design in bold color choices (colors may vary from pictures).
This antique-inspired area rug features a beige base with an intricate black border and a large medallion taking center stage in gorgeous navy, red, and gold shades.
Rock Out with Red Diamond Blends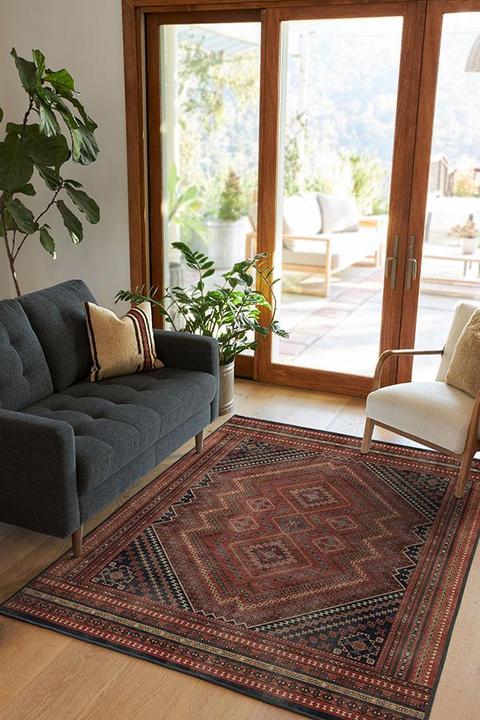 Why go with a boring solid when you can get creative with a carpet that's bold, colorful, and stunning against light hardwood floors.
The traditional decorative border features thin strips of decorative trim with a central diamond medallion and geometric blue, gold, coral, and vintage reds.
Put Down a Dark Persian for Pale Wood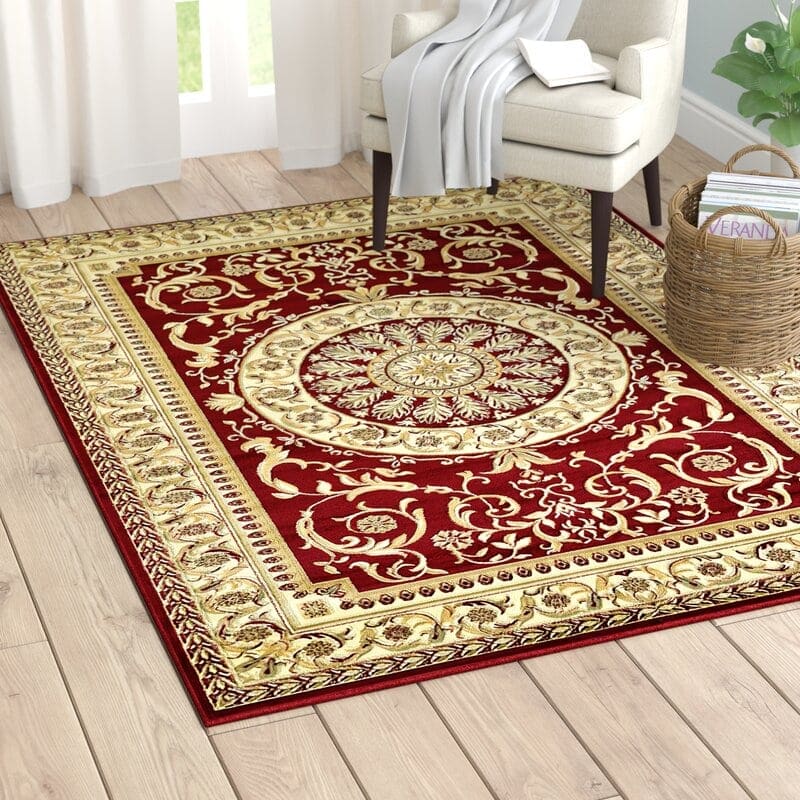 When you have super-light hardwood floors, you can get a stunning aesthetic with an area rug in a Persian-inspired motif in rich, dramatic colors.
Choosing a bold color palette of rust red and glowing gold traditional Persian scrollwork helps pull out the brown woodgrain in bleached-looking hardwood.
Try a Trellis Print in Blue and White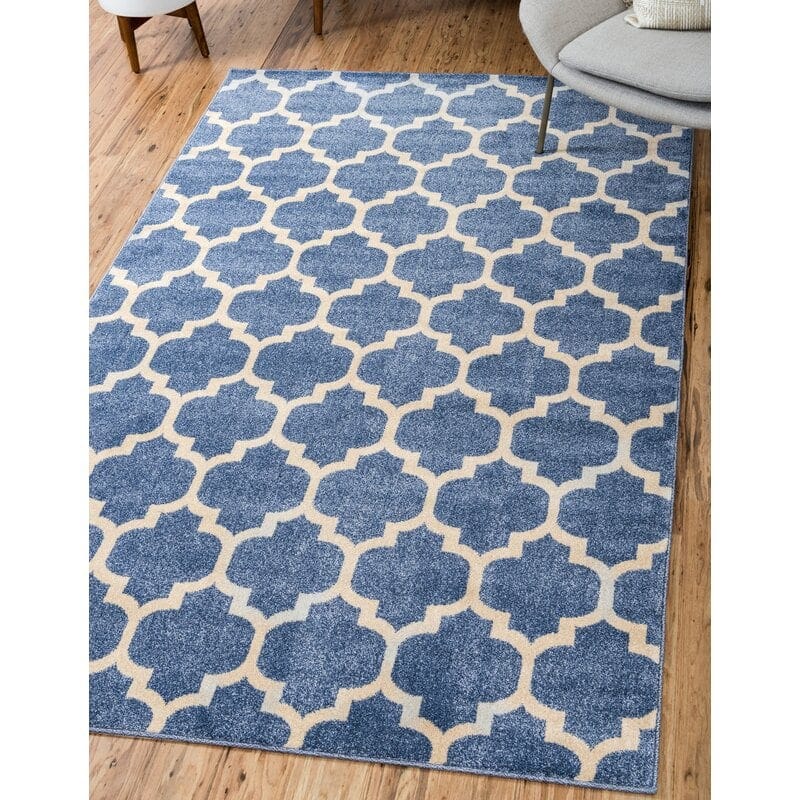 With medium-tinted wood floors polished to a low sheen, you can get away with something bright and elegant, like an area rug in a simple trellis print.
Going with a colorful choice, like this area rug in a calming shade of dark blue with a thick classic white outline, provides the ideal balance of color without being over-the-top.
Go for Geometrics in Gorgeous Yellow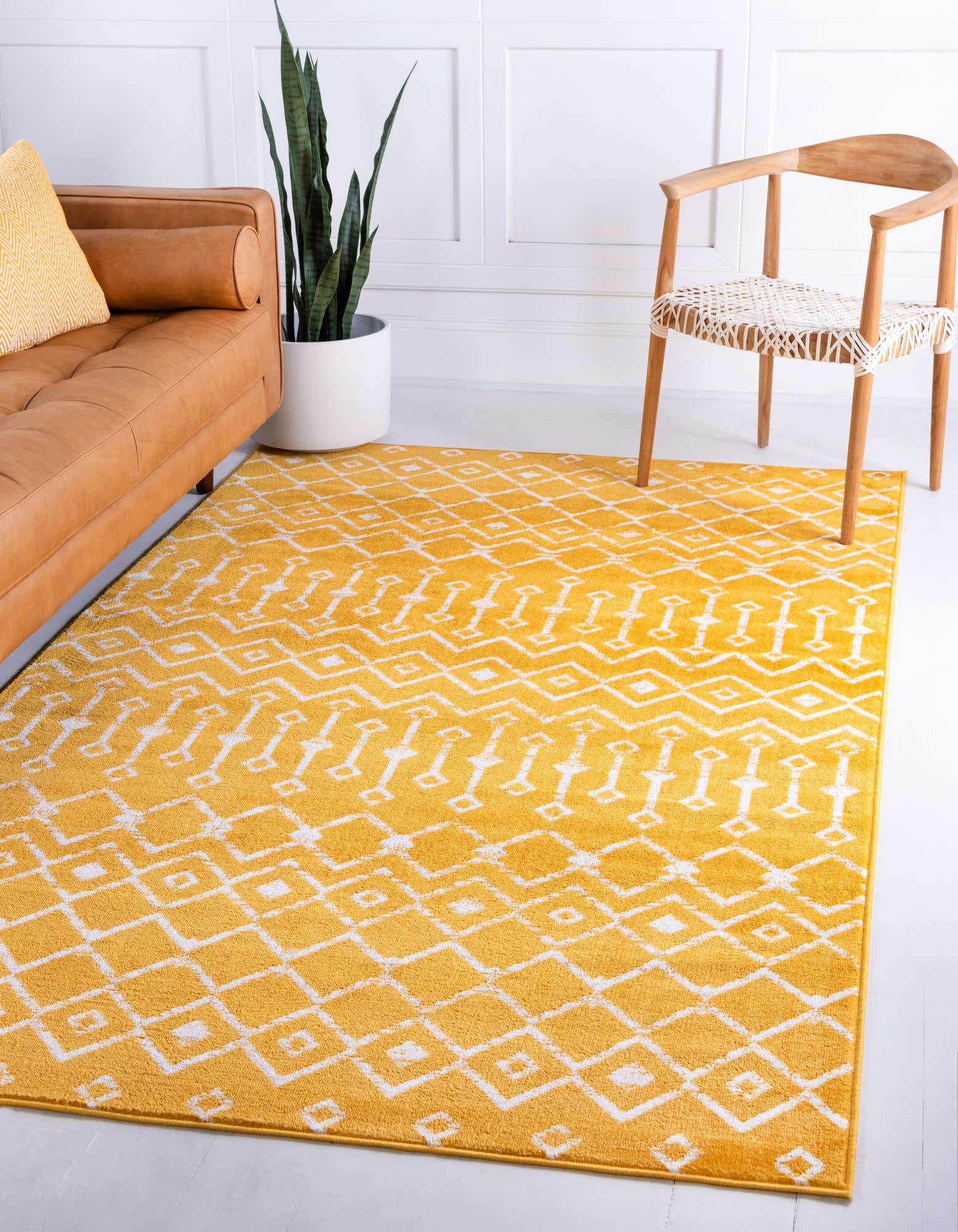 If you're not afraid of color and design, you may be the perfect candidate for an area rug in a dark yellow with ivory prints.
Design details include diamond patterns, zags, and lines with open and closed-colored holes. So, whether you're looking for a rug to meet your contemporary, traditional, modern, or abstract room design, this rug works for it all.
Add an Abstract Area Rug in Awesome Colors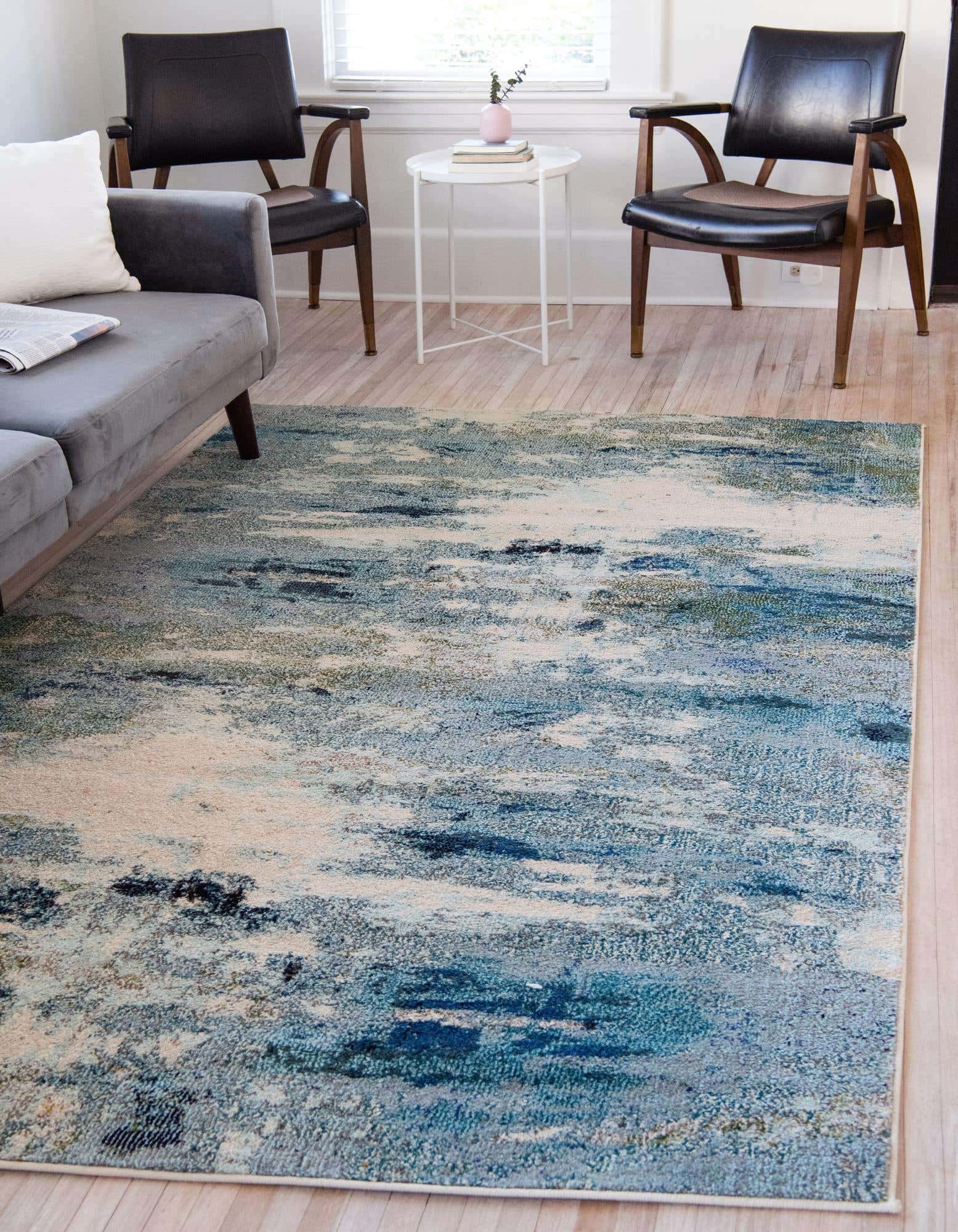 Light-colored thin hardwood planks can benefit from an abstract area rug with multiple colors atop a plain neutral beige base – it's bluer than the other colors.
Random streaks of gray, light and navy blue, tan, green, ivory, beige, and blue give this area rug a modern look that works for contemporary, transitional, and boho themes.
Bring Out the Boho with Bright Bold Colors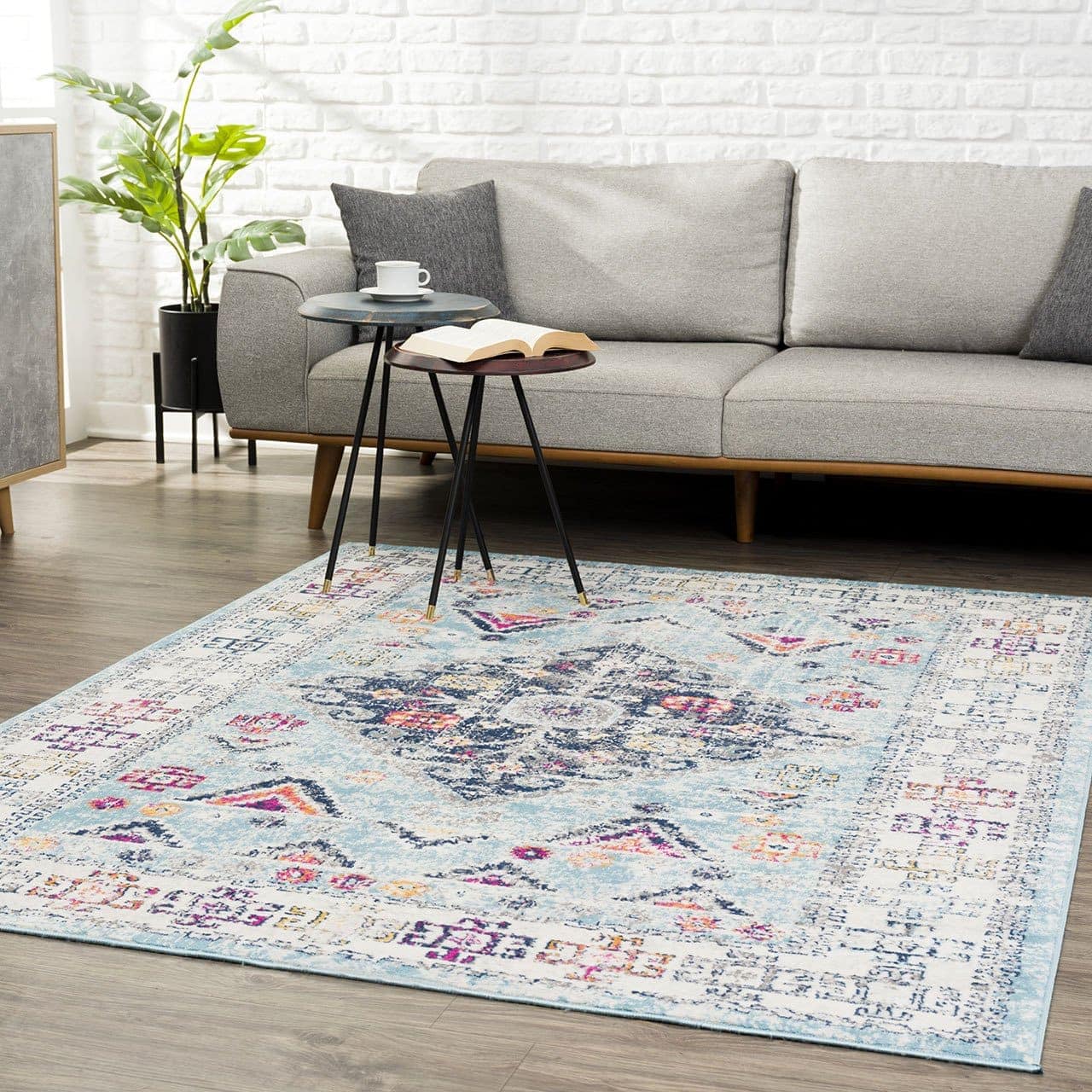 Bohemian styles are all about bright colors, funky designs, and eclectic pieces. Things might not match; they may contrast with each other.
The multiple colors and patterns in this ivory and turquoise Boho rug features colors like pink, orange, black, and beige – artfully distressed to look worn and well-used.
Vision with Vintage Vibes in Very Colorful Floral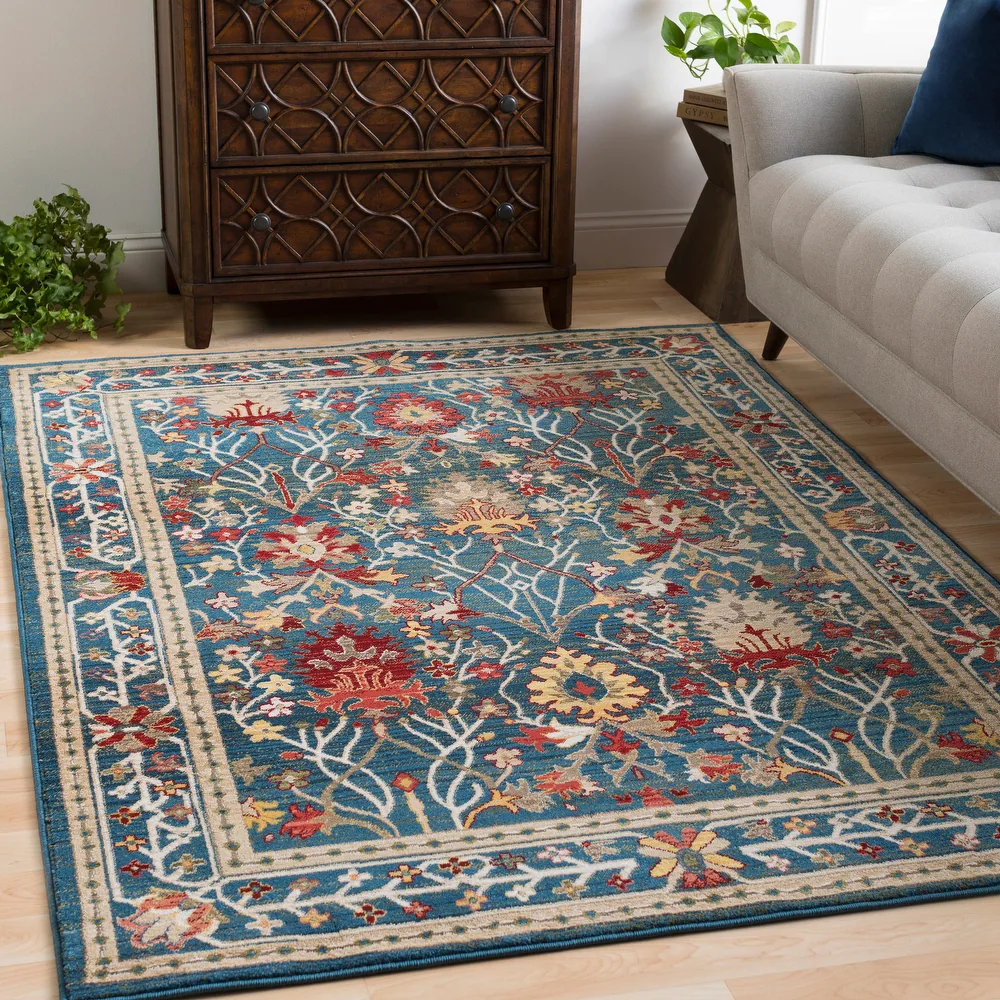 If you prefer a slightly more traditional design, remember that vintage pieces will never go out of style. Even after they've aged and lost their vibrant color, vintage rugs can still look lovely.
You can try a classic floral print in a subtle navy blue base with tan geometric borders, ivory lines, and Oriental flowers in red, yellow, beige, and orange.
Damask Your Floors with Drama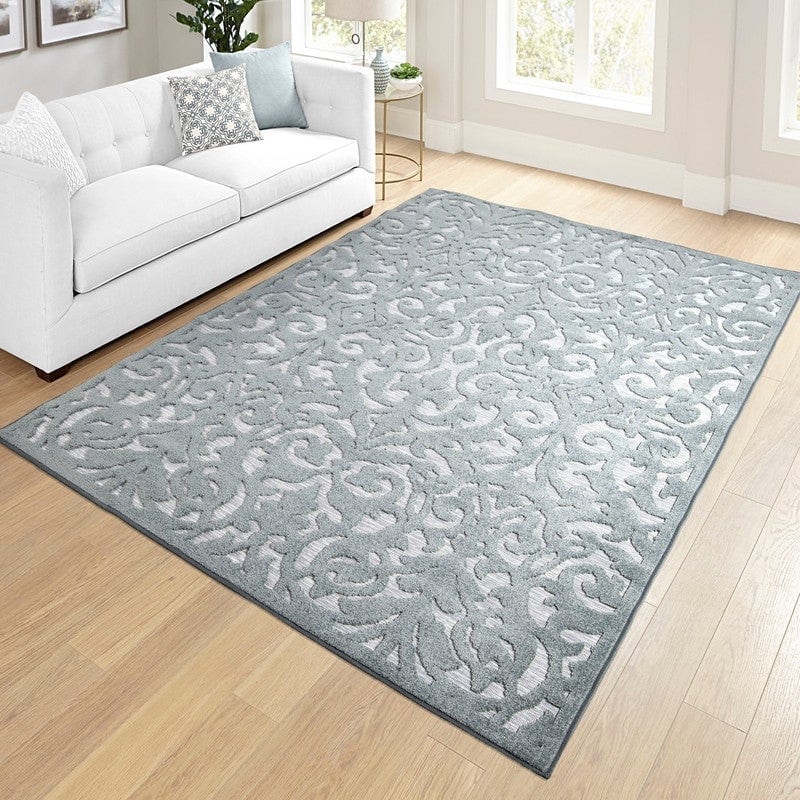 The intricate scrollwork of damask patterns makes them look inviting and cozy when used as an area rug. Whether your room is transitional, traditional, or farmhouse, this combination of geometric, floral, and abstract split pile level gives your floor a unique texture and look.
And choosing a neutral color scheme means that your rug will look elegant and match, no matter your room's color palette and theme.
In Closing
Light hardwood floors give you the perfect base for going a little crazy with your area rug color. We've illustrated rugs in various colors, patterns, textures, and styles, showing that you have a lot of creative freedom.
Did we inspire you on a specific color choice of area rug for your light hardwood floors? Show us your designs in the comments!