Decorated Life is reader-supported. When you buy through links on our site, we may earn an affiliate commission. Learn More
What Color Door Knobs Go with White Doors?
Door knobs are a frequently overlooked piece of hardware when decorating. In some cases, your doorknob might not even get noticed.
But when you have the brightness of a white door, the color doorknob you pick should be an important consideration. We've gathered 10 ideas on what color door knobs with white doors to demonstrate the powerful design aesthetic you can achieve. Suitable colors include black, white, nickel, bronze, and brass.
Nickel-Plated with Clear Knob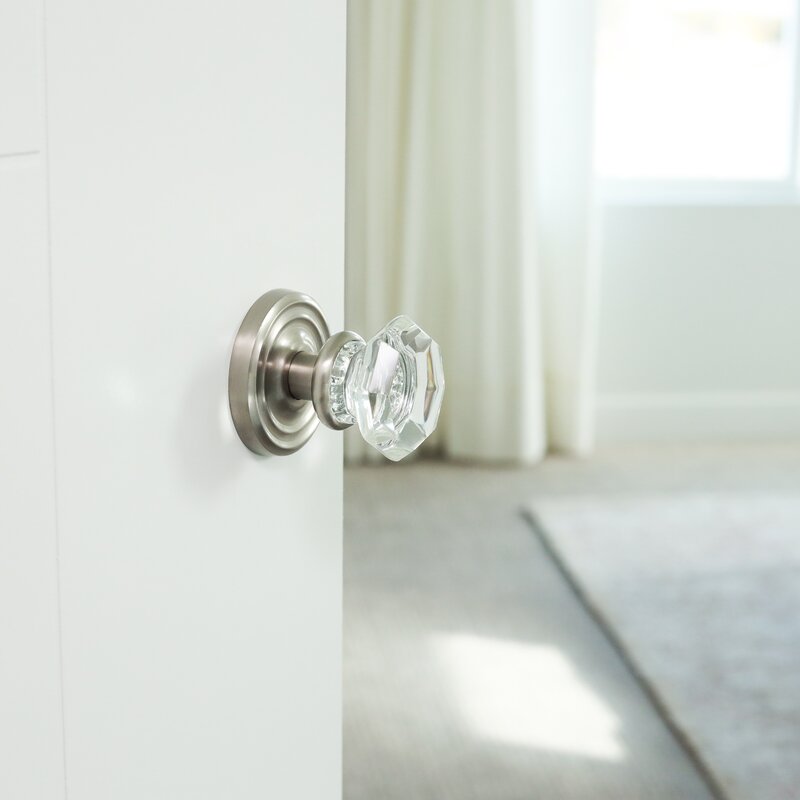 One option for a doorknob that goes with a white door is to go for an old-fashioned look, like a clear crystal glass doorknob.
White doors with brushed nickel hardware and a transparent octagonal clear knob can add a graceful Victorian touch to increase the elegance of your plain white doors.
Crystal Fluted Knob with Timeless Bronze Plate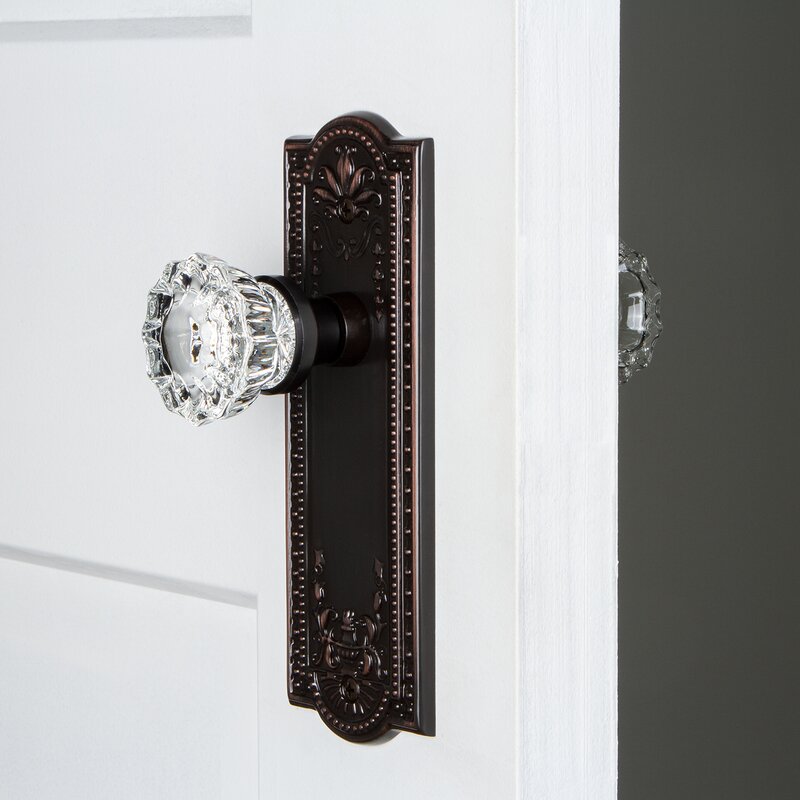 A solid forged bronze plate with intricate beading and botanical emblems is the perfect decor for a transparent, crystal doorknob.
This nostalgic piece of hardware is perfect for older architectures, but it can also look good for a chic, modern, or eclectic design. This specific knob also comes in six additional finishes.
Attractive Egg in Aged Black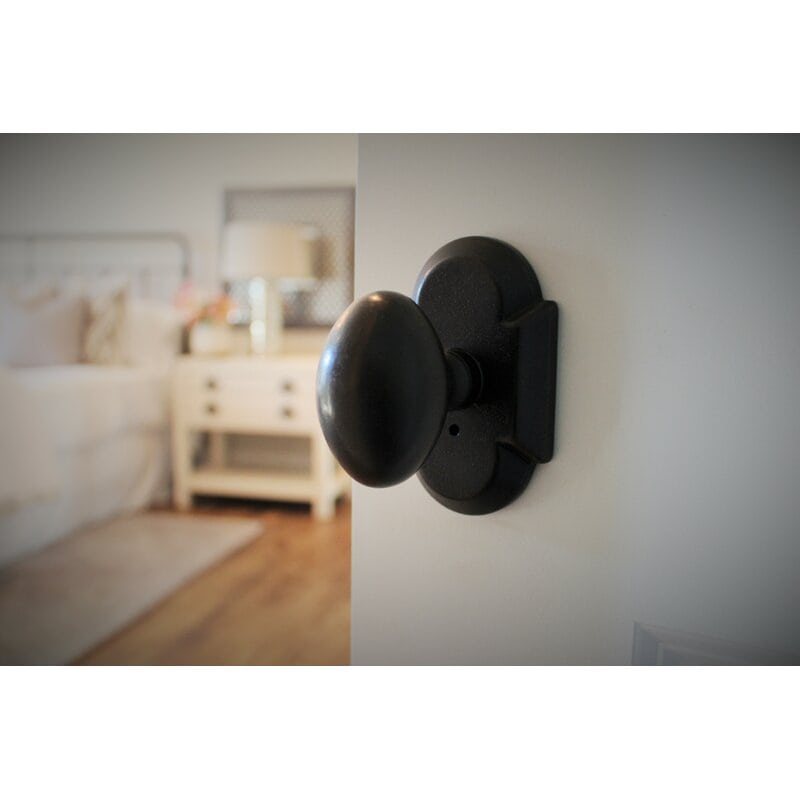 Consider a small, egg-shaped piece with a rosette arch in aged black door knobs on white doors for a stylish interior doorknob.
Oval egg-shaped doorknobs add a touch of chic traditionalism that can give your space an extra touch of class for an upgraded look.
Rustic Round in Antique Brass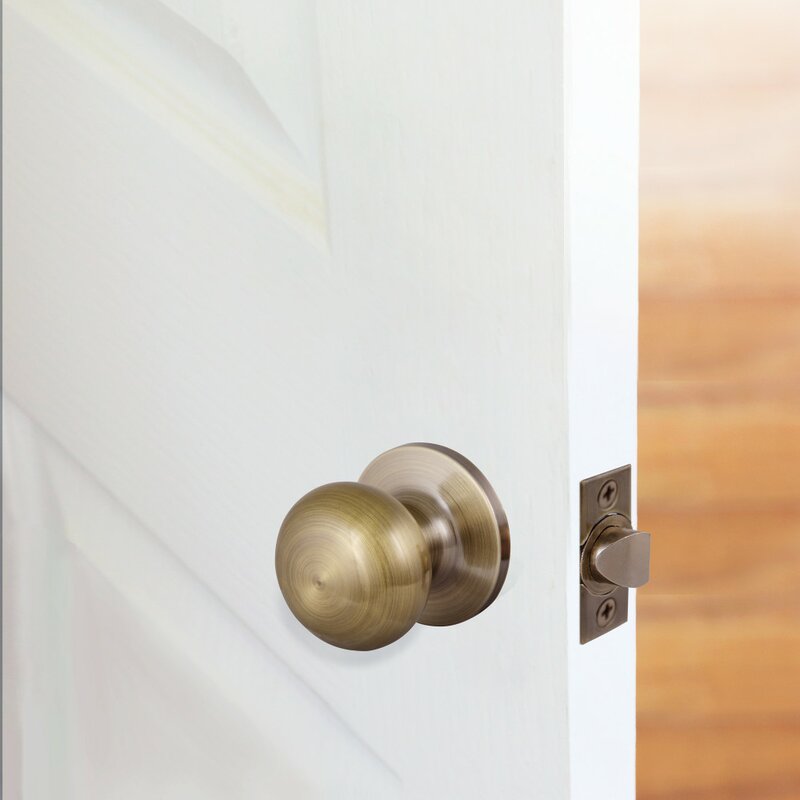 Antique brass hardware is a popular staple in rustic farmhouses and vintage homes. This simple round interior knob is versatile for any door inside your house.
This polished metallic knob offers a warm glow that can add a honeyed tint to white doors. Unfortunately, and due to being an antique finish, it has a dull, worn finish that makes it look old and used.
Vintage Metallic in Flat Black
Black is an excellent neutral that you can use in various ways. For example, when you pair a white door with a black knob, you get a shocking contrast of light and dark.
Changing the paint finish can give you as much difference in looks as if you changed the paint color. For example, try a flat black for a softer, more vintage look or a bright glossy for a more modern touch.
Bold Shiny Polished Brass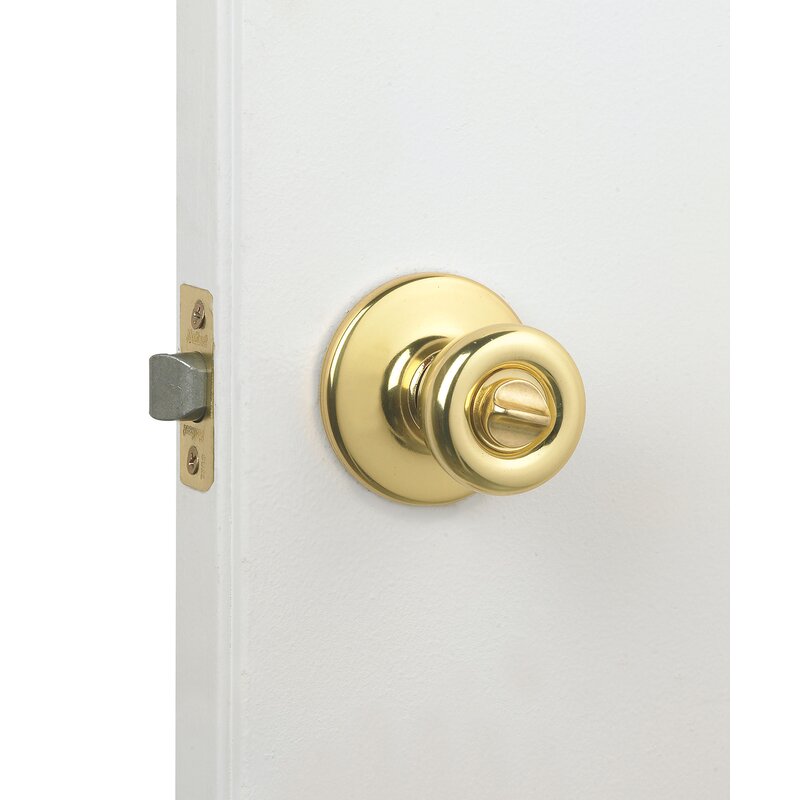 Polished brass is a classic doorknob color choice that can work for every interior design style. You can use this shiny gold color for neutral, contemporary, or traditional nuance.
But the shiny gold look can also work fantastic if you want to add a bit of glitzy glamor to your space. The warm brassy tones can soften the harshness of a white door to make it feel more comforting and welcoming.
Distinct Vintage White Porcelain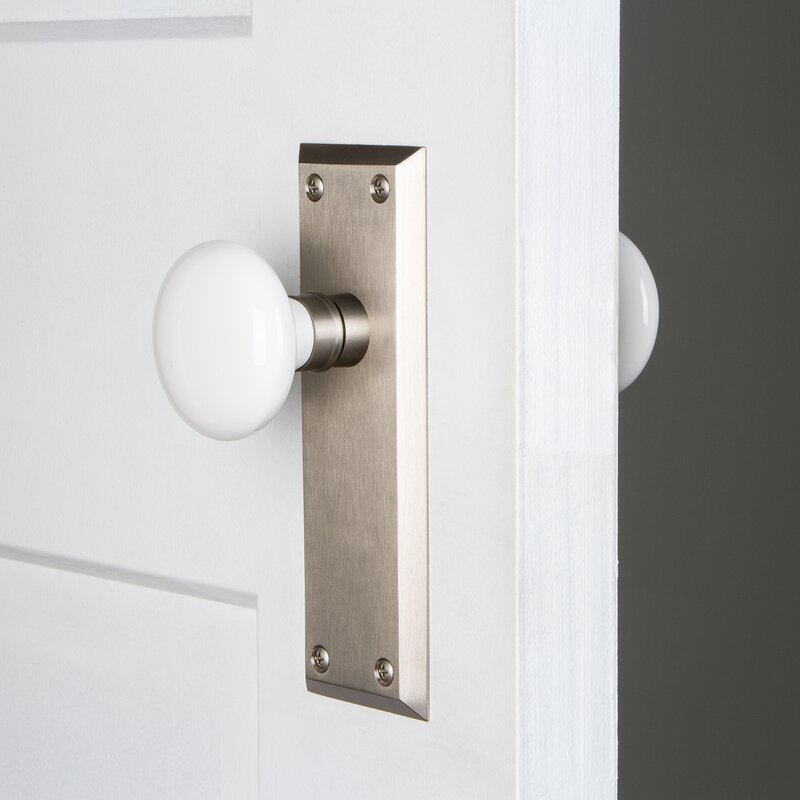 A monochromatic look is achieved using the same color for the door and the knob. So, try this look by gracing your white entrance with a classic round white porcelain handle for a vintage look.
If you want to break up the monotony of using white on white, you can choose a different colored door plate to add a touch of color.
Classic Contemporary Polished Chrome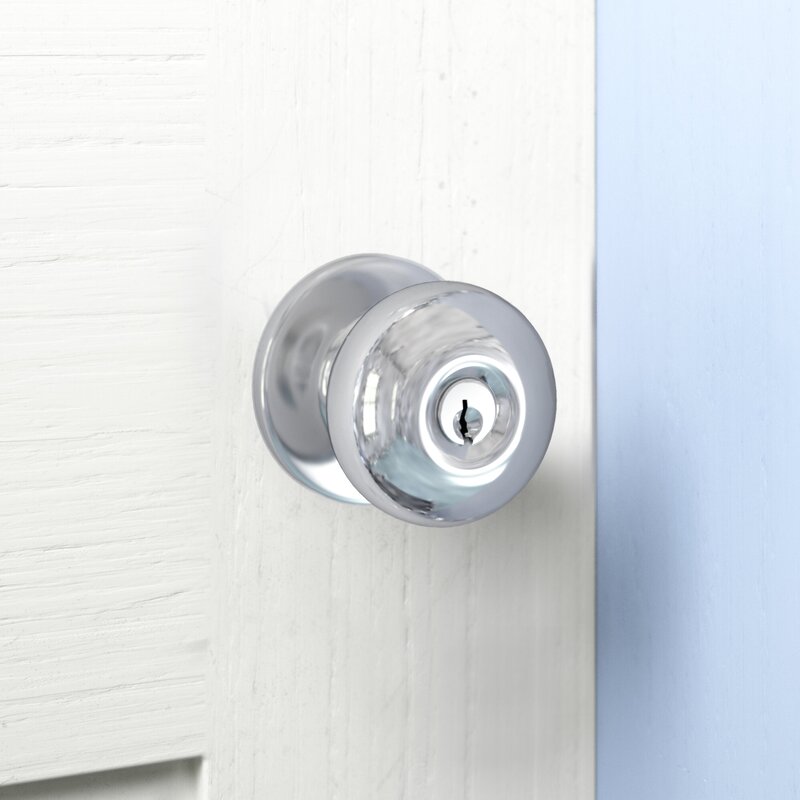 You can get a subdued contemporary look by picking a shiny silver metallic for your doorknob, like pretty polished chrome.
This simple yet elegant doorknob can work for any aesthetic, whether you want something that stands out. Or, when paired with a white door, a polished chrome handle can look neutral and understated.
Satin Nickel and Clear Glass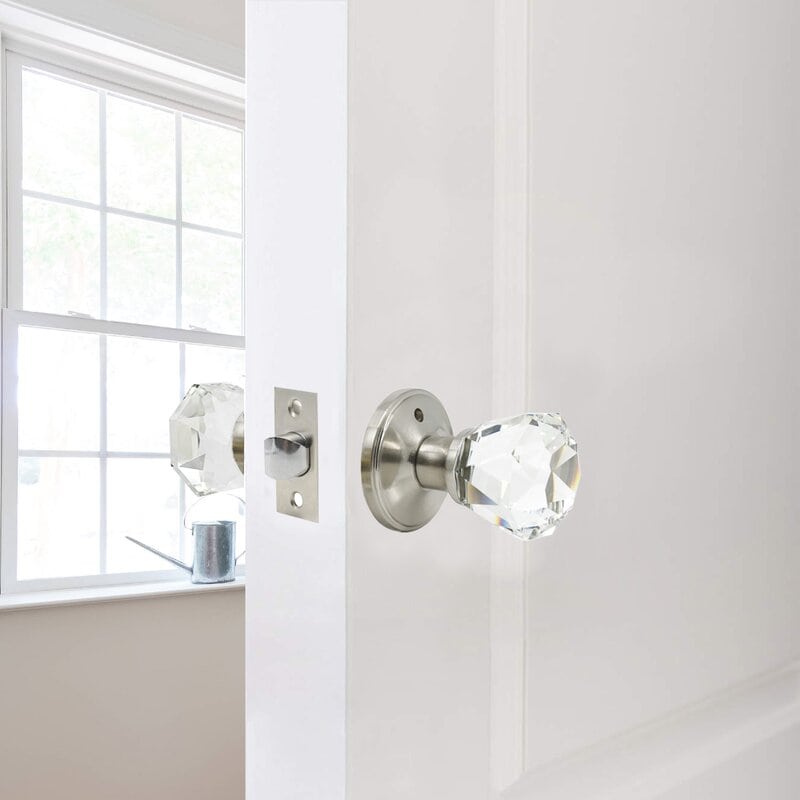 Satin nickel offers a shinier silver metallic finish that can give white doors a modern, updated look. Pick an upgraded doorknob, like translucent glass, if you want a fancier feel.
This glamorous door opener has a glossy zinc alloy doorplate in a satin nickel rosette with a heavy-duty diamond door handle in clear glass.
Dark Worn Venetian Bronze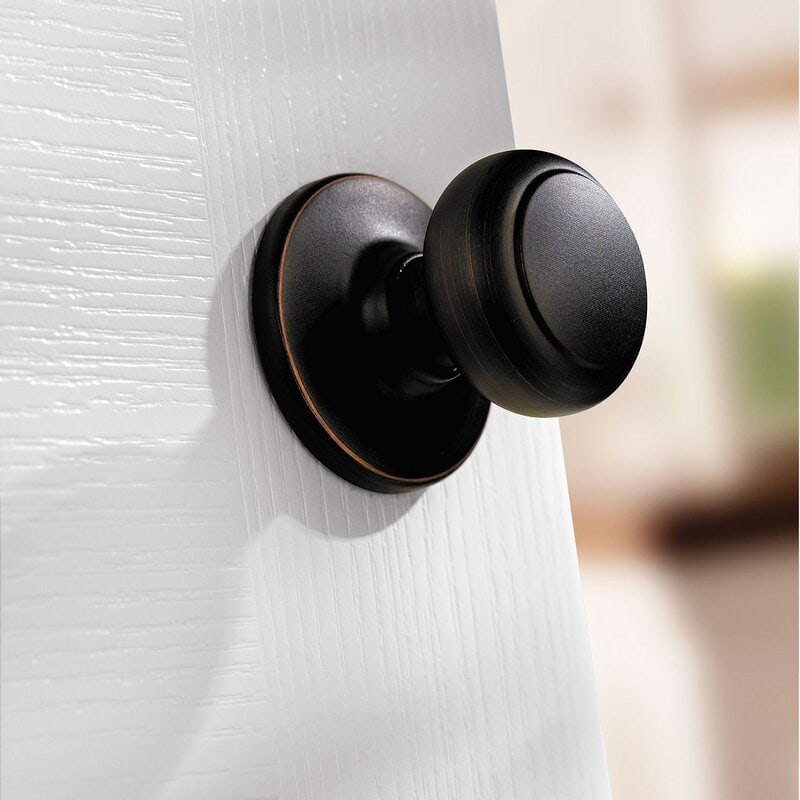 Venetian Bronze is a dark, luxurious metal color that can give white doors an instant upgrade. This warm-toned metallic has a dull finish with worn distress marks to give it an aged charm.
The smooth knob face highlights the ridges and etched light brown grooves on the faceplate for a softer, more vintage feel.
Final Words
Every aspect of your home is a decorating opportunity. Use it to your advantage by focusing on the small details to create a cohesive look. For example, when deciding what color doorknob to use for a white door, consider what color hinges for white doors. Shades of black, white, bronze, brass, and silver look excellent with white.