Decorated Life is reader-supported. When you buy through links on our site, we may earn an affiliate commission. Learn More
15 Farmhouse Front Door Ideas for a Beautiful Exterior
The outside of your house is just as important as the inside and should represent you well. And, if you're going for a farmhouse look, your front door can play a massive part in that.
Farmhouse doors are usually wood, black, or red shaded. Modern farmhouse versions feature clean lines, while traditional ones look more ornate.
If you're buying a new door for your home, here are 15 farmhouse front door ideas that will make a significant impact on your home's exterior.
Go For a High-Quality Mahogany Door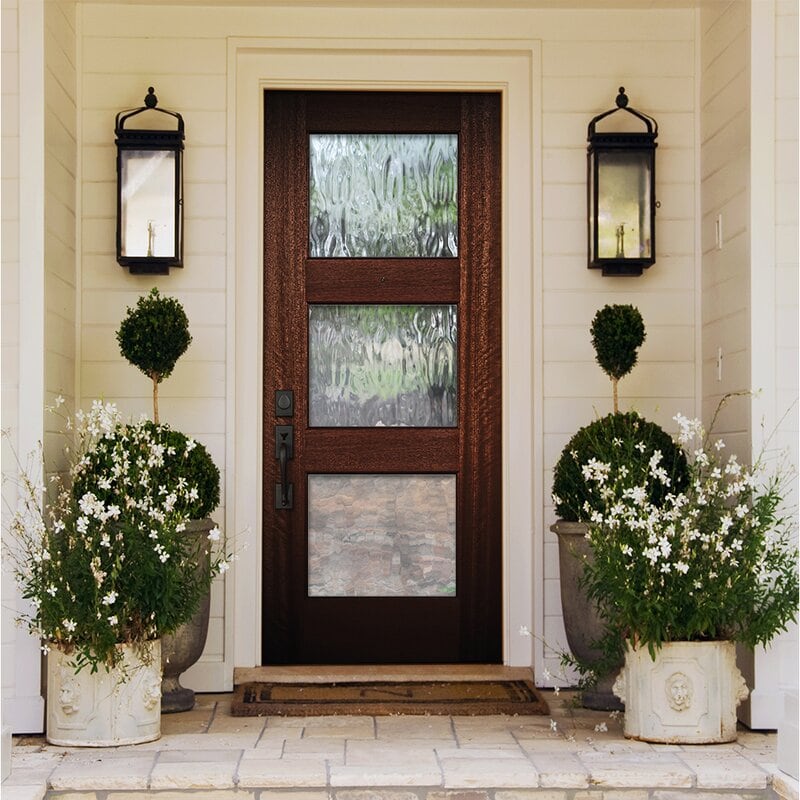 Solid wood doors are an excellent option for farmhouses. They can provide contrast to your siding and warm up the exterior of your home.
This mahogany door from Wayfair comes in three colors: black, brown, and gray, so there's an option no matter the color of your siding. It features three panels of tempered glass and a timeless design.
Keep it Classic With Four Glass Panels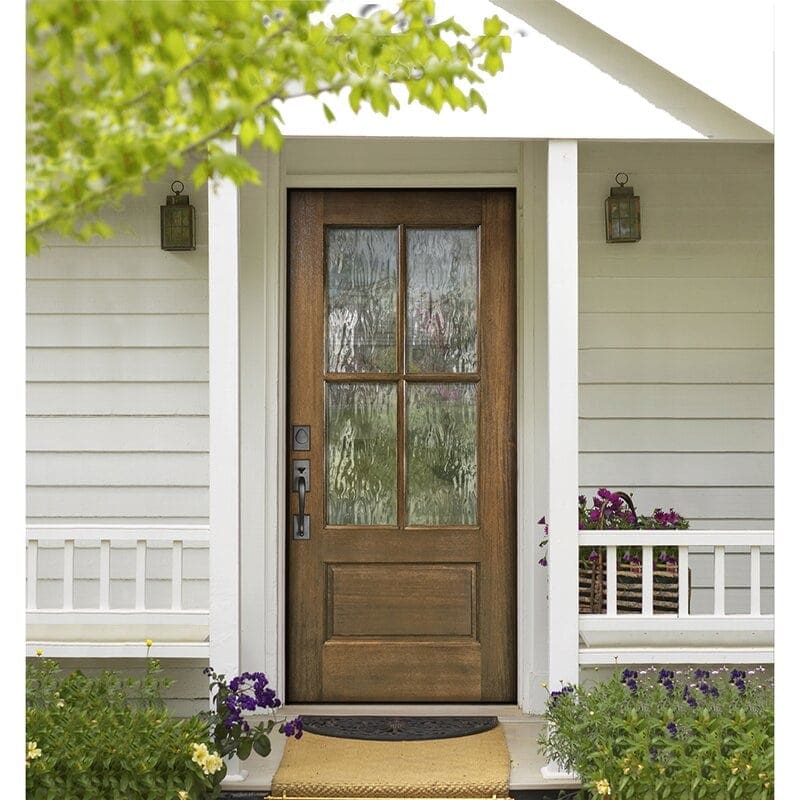 If farmhouse wood front doors are your preference, this is another excellent option. This farmhouse door is mahogany. It features four glass panels for a classic look.
The door comes in three color options and two glass options. The color options are canyon brown, charcoal, or owl gray and the glass finishes include clear or flemish.
Try a Door with Sidelights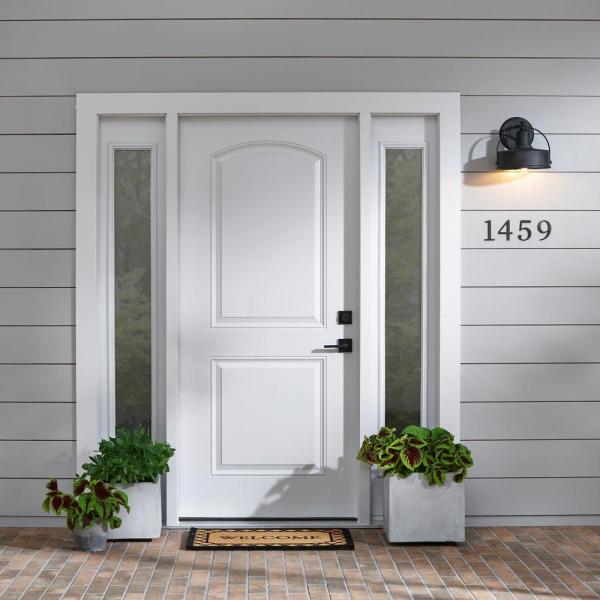 Do you have a wide space to fill-in? Try a modern farmhouse front door with sidelights. The sidelights let a little light into the home without feeling like an invasion of privacy.
This door from the Home Depot comes in twelve colors and two sizes. It's fiberglass and comes prehung.
Add Curb Appeal with a Rustic Wood Door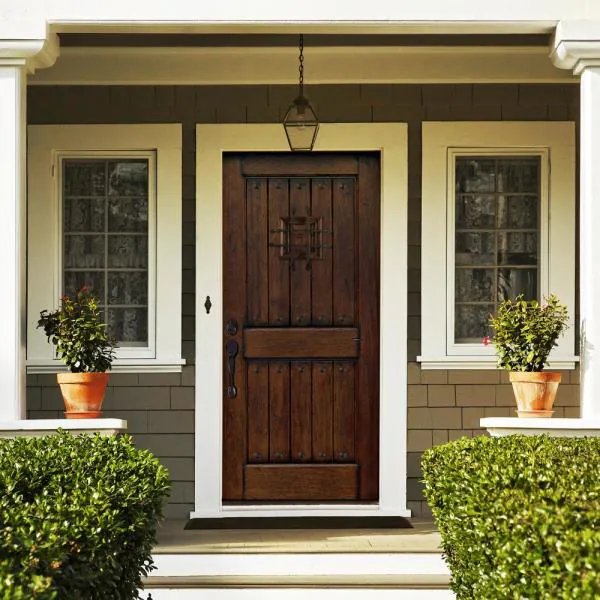 If you want your home to have curb appeal, consider this porch farmhouse front door. Not only does it add warmth to your home's exterior, but it creates a very high-end farmhouse look.
The door is solid wood and comes ready to hang. The only thing you'll need to do is select a doorknob.
For a Simple Look, Choose Black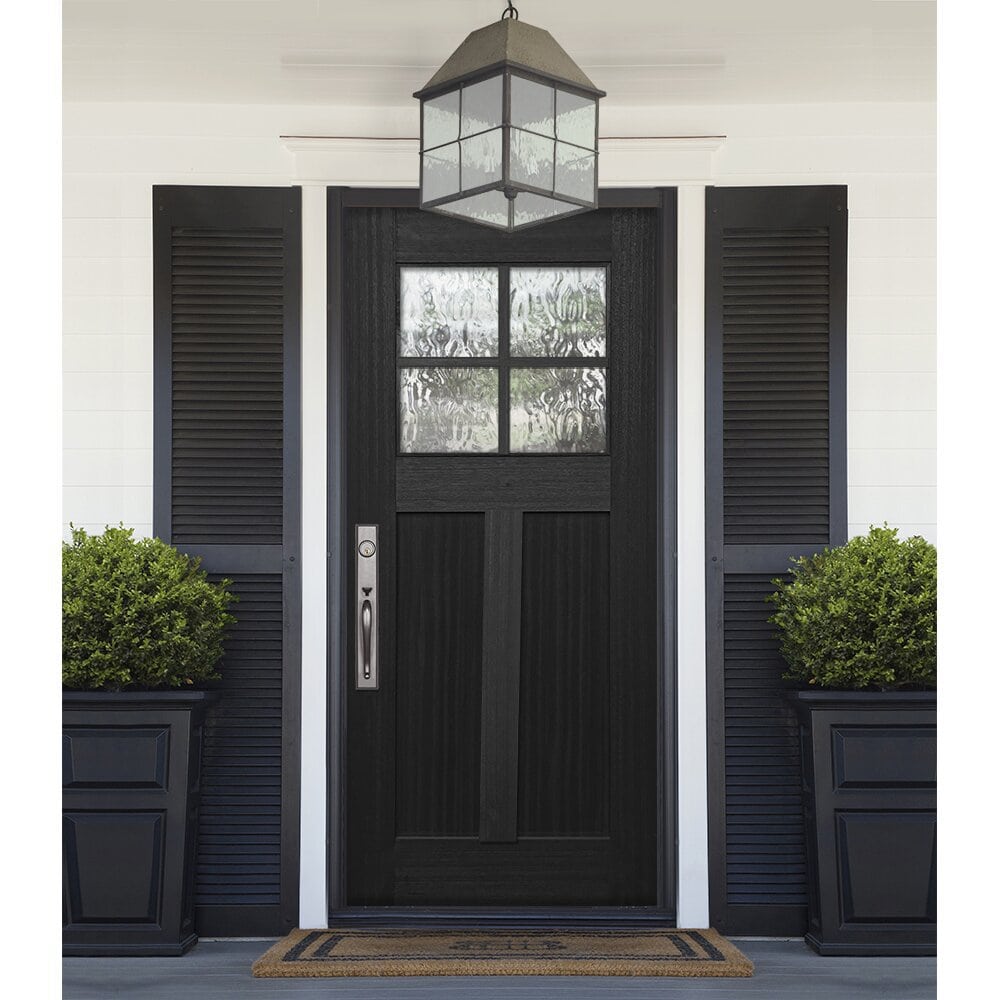 Do you prefer a more traditional look? If the answer is yes, you can't go wrong with a black traditional farmhouse door.
This door is mahogany and comes in three color options. If you have white siding, the black or brown will work perfectly. You can also choose whether you'd like the glass panels to be transparent or flemished.
Draw Attention with a Robin's Egg Blue Door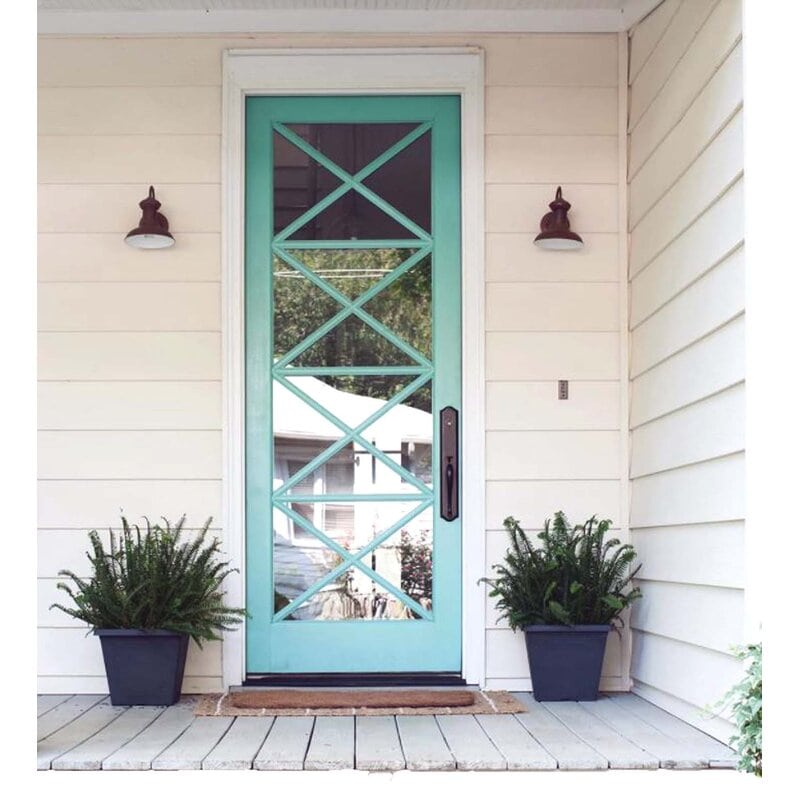 If you're sick of seeing the same colors and designs on repeat, give your farmhouse a fun feel with robin's egg blue door.
This door is iron, with a fun geometric pattern and fresh color. It would work well with modern farmhouse style and white, gray, or black siding.
Pull in Warmth with a Douglas Fir Door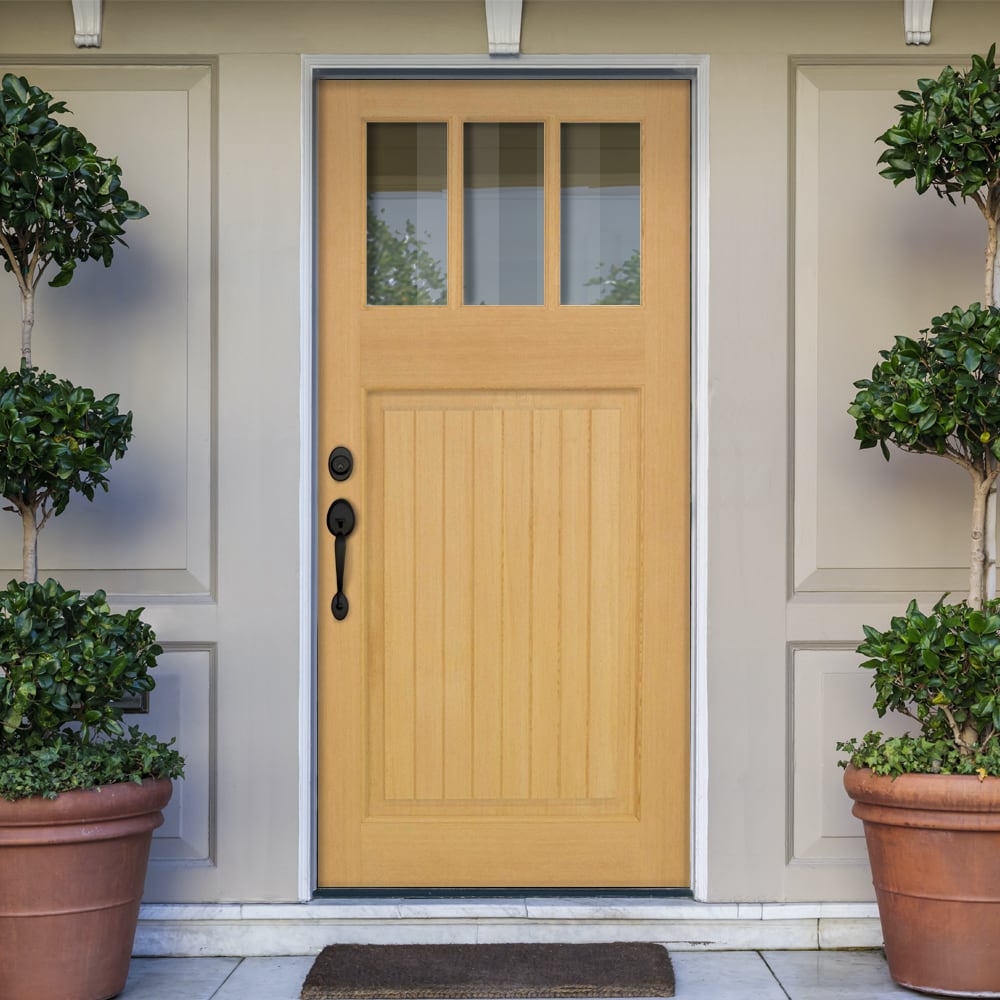 Douglas fir is another great wood option for front doors. This one pictured is unfinished, but you can order it in several stain colors or a clear coat.
This door has three clear glass panels up top and a vertical design on the lower portion. If you like modern farmhouse designs, this is a great option.
Make a Statement with Knotty Alder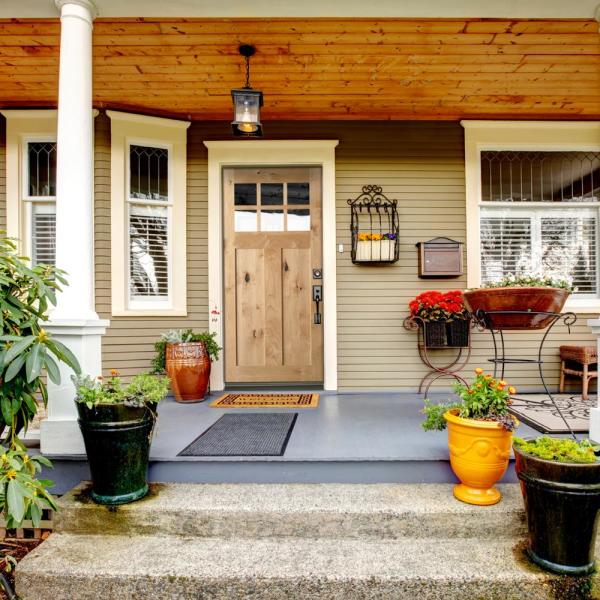 If you're looking for a door that's a little more budget-friendly but just as beautiful as similar options, this knotty alder door is a great choice.
You can find this door in three sizes. It comes unfinished, so you can add a stain, paint, or a clear coat when you receive it.
Create a Grand Entrance with Double Doors
If you like the look of double doors, black or wood is an excellent option for a farmhouse. Go with something like these for a more ornate, traditional farmhouse style.
The design on these doors adds a fun detail that will look great on your porch. The doors are iron with mirrored glass for plenty of privacy.
Let the Light In with Six Panels of Glass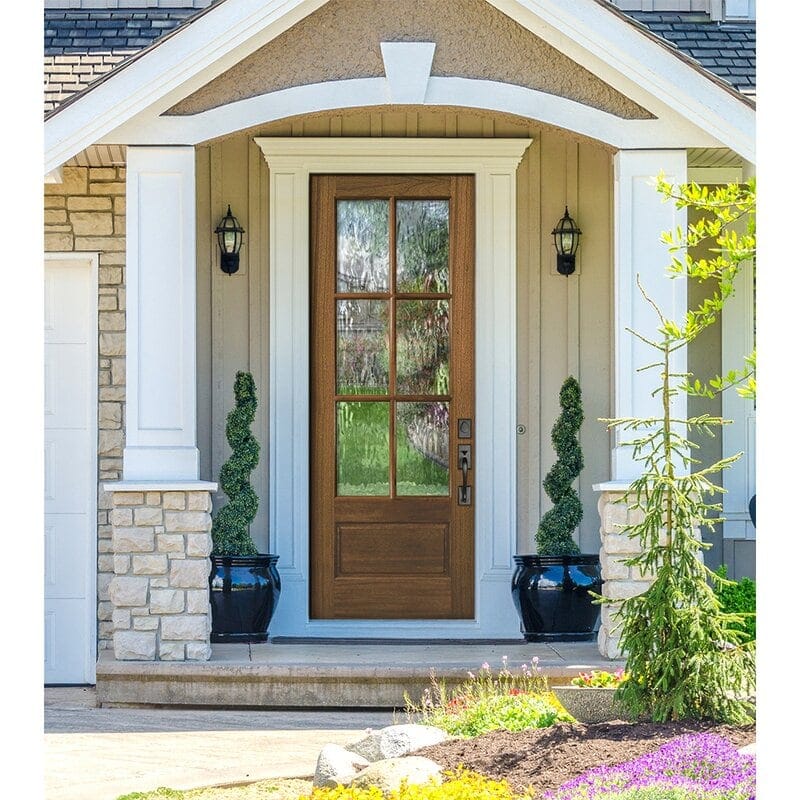 Do you want the maximum amount of light to enter through your front door? If your answer is yes, try an option like this.
This door is mahogany with six panels of glass that take up almost the entire frame. The glass comes in a clear or flemish finish. The flemish finish is an excellent choice if you live on a busy street since it allows privacy.
Try a Door from the Cottage Collection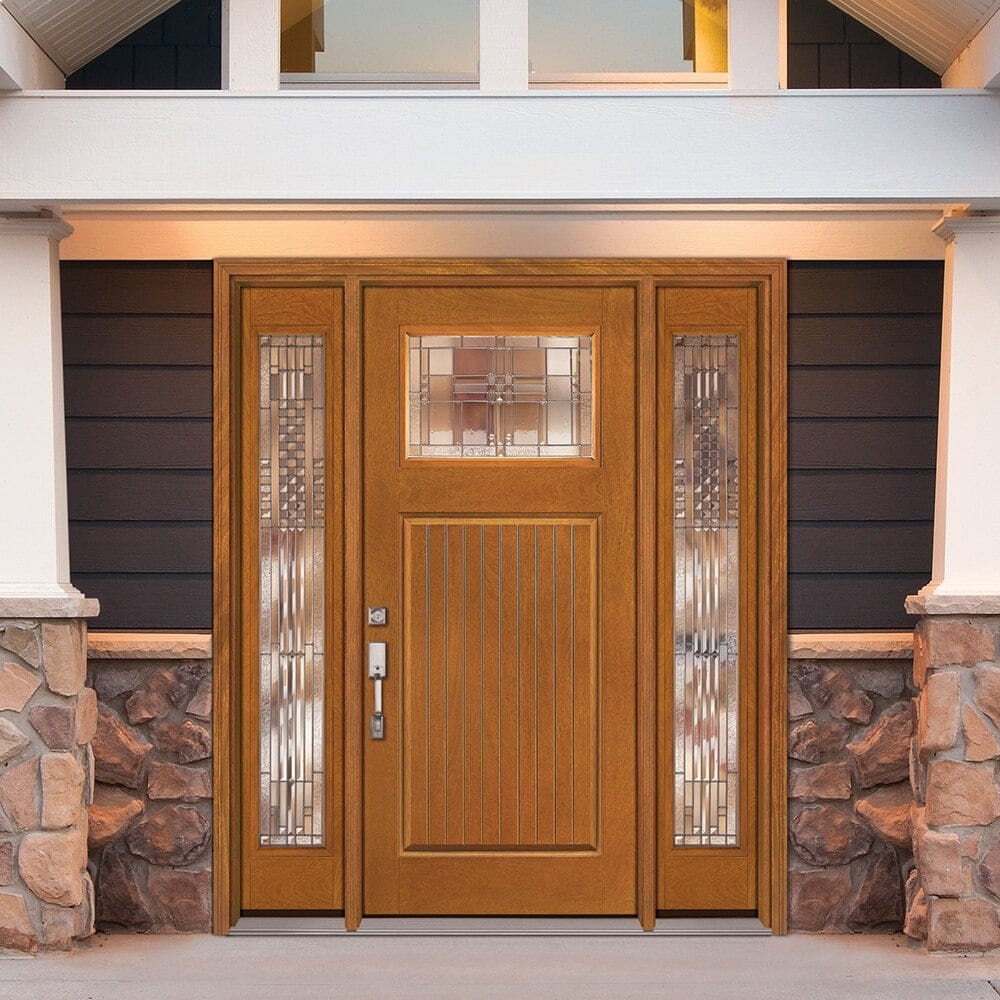 If none of the farmhouse doors you find speak to you, look at cottage front doors. These doors can work just as well on farmhouses as they do cottage-style homes.
This door from the Home Depot is fiberglass, so it won't rust or rot. It comes in many style options, including a single, double, and door with sidelites.
Brighten Your House with Ruby Red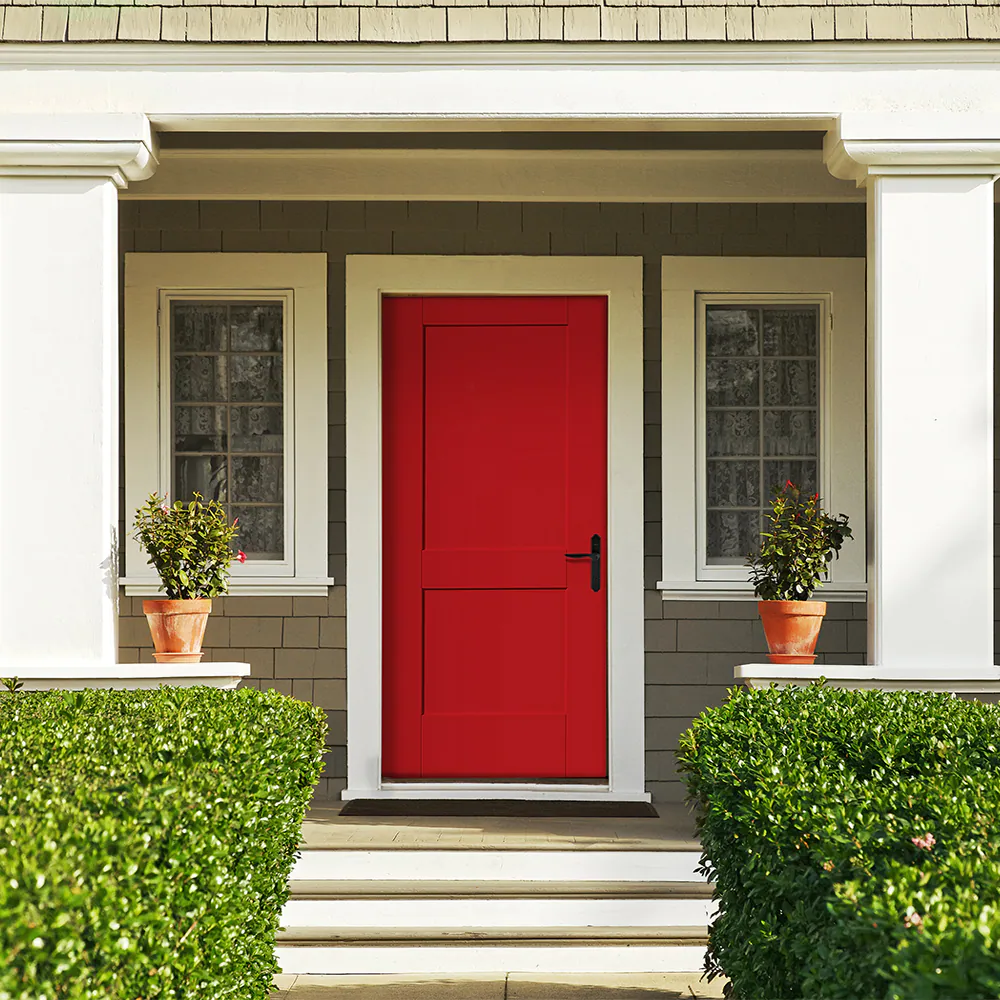 Colored doors are great accents for a modern farmhouse aesthetic. One of the best door color choices for white and gray farmhouses is ruby red.
You can find this door at Home Depot. It comes in seven colors and three-door styles. One style has windows at the top, which is excellent if you want to let some light in.
Play it Safe with a Standard White Door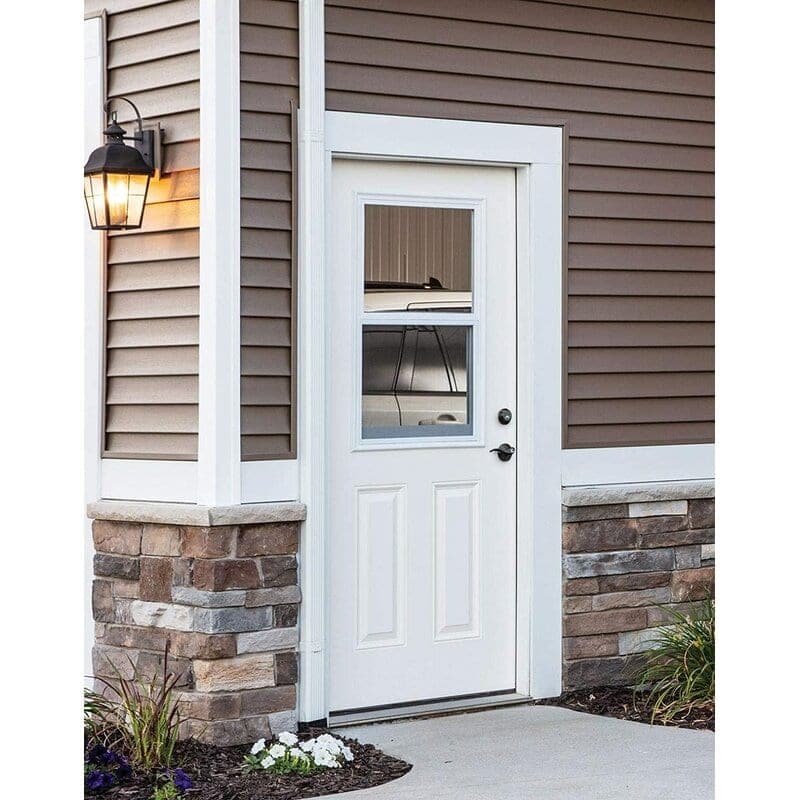 Try the standard white fiberglass door if you want a door that will match any farmhouse exterior and likely won't go out of style.
This door is slightly less expensive than comparable options but just as high-quality. It's fiberglass, so it won't rot, mold, or rust. Also, while the door is white, you can paint it for a different look.
Make Your Door the Star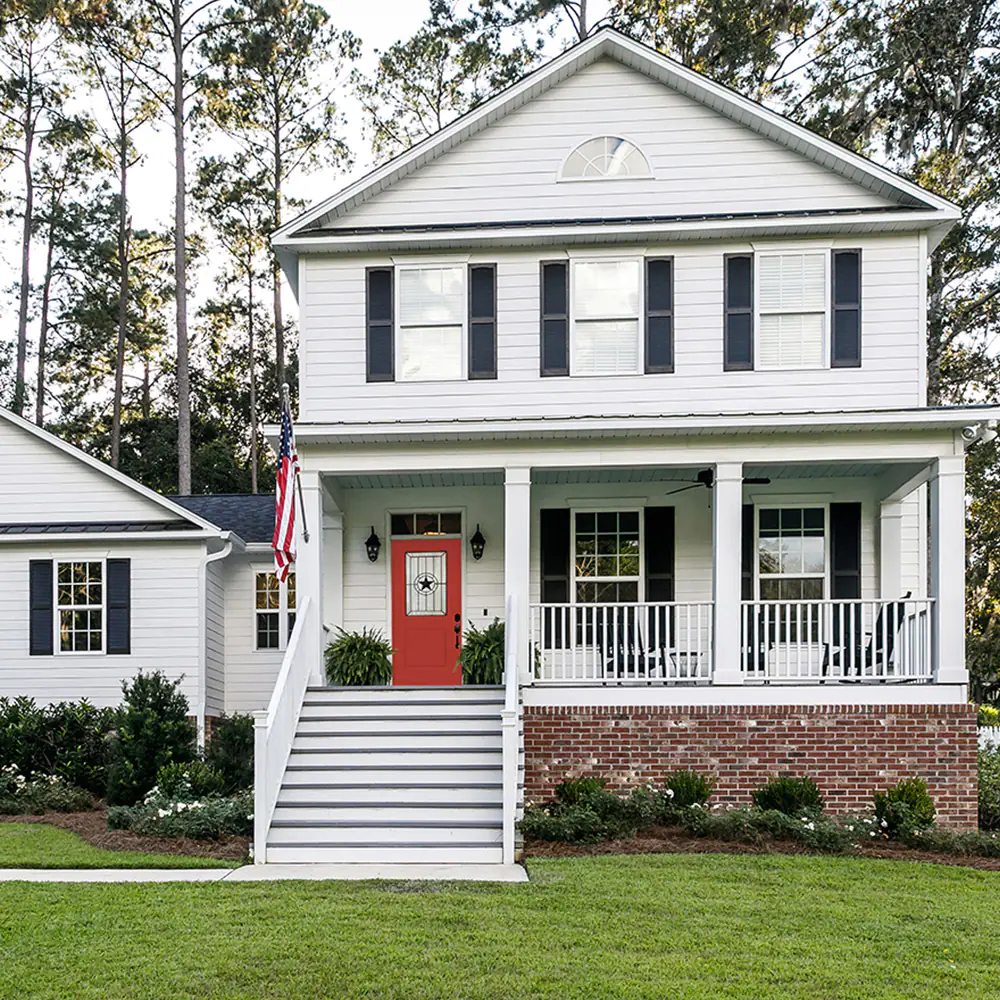 Stars are a frequent home decor item in farmhouses. This is a perfect option if you love to decorate with stars and want to showcase that on your home's exterior.
This door from the Home Depot is entirely customizable. You can pick the color, size, and number of windows. The red, blue, and black doors match seamlessly for a farmhouse.
Choose Wood-Looking Fiberglass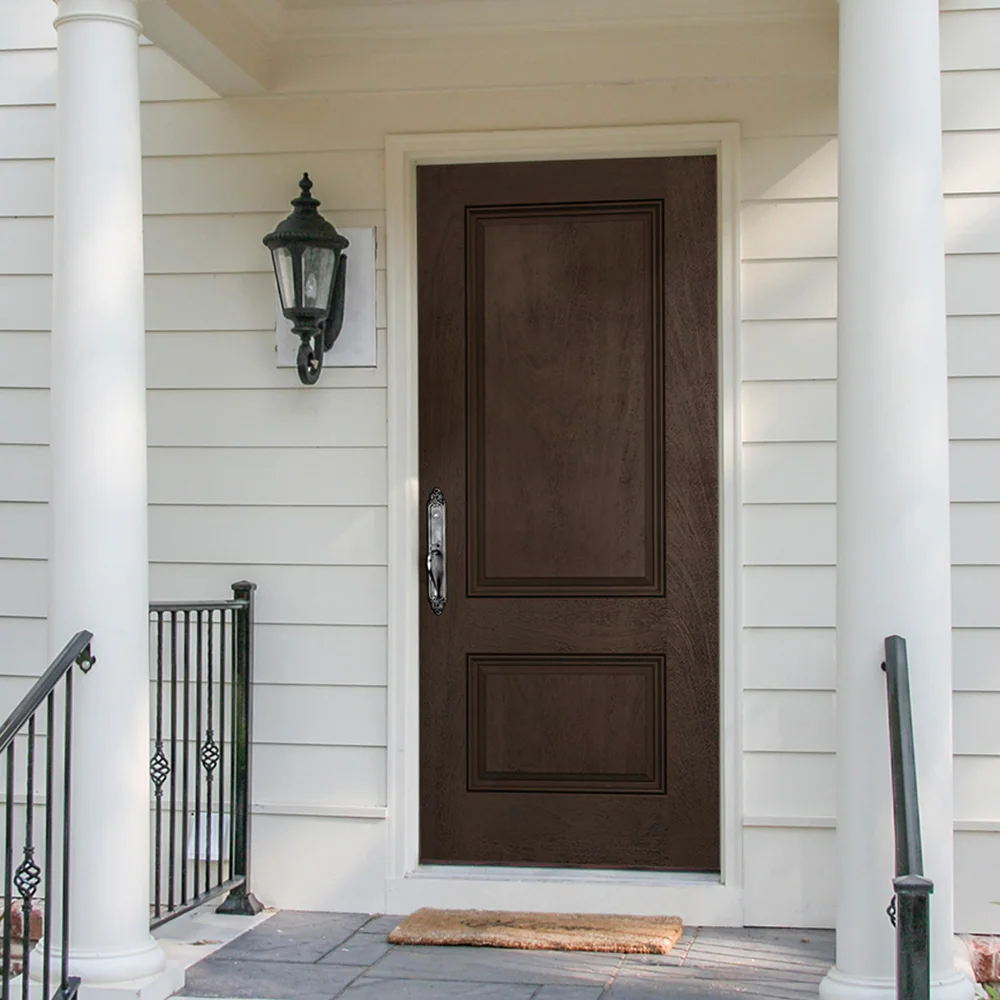 If you like the look of wood but want a fiberglass door, this is a great fit. This fiberglass door is rust, rot, and dent-proof. In addition, it has an authentic wood look.
You can choose from over 11 colors and nine styles. While this particular model doesn't have any windows, several others do.
Final Thoughts
A new door can completely transform the way your house looks. For farmhouse style, gravitate toward wood, black, and red options.
If you like modern farmhouse, choose a streamlined door with panels. For a traditional or rustic look, choose a door with metal or ornate accents.