Decorated Life is reader-supported. When you buy through links on our site, we may earn an affiliate commission. Learn More
What Color Rug Should I Use For Dark Wood Floors? 18 Ideas
Dark wood floors are growing in popularity, and it's easy to see why. Wooden flooring is an ideal choice for families with pets and kids, because as well as looking stylish, it's generally easy to clean, and hides the dirt exceptionally well!
Sometimes though, there can be too much dark wood, making your space appear smaller or darker than it really is, but there is an easy solution to this: Rugs! In this article we are going to be sharing the best rugs for dark wood floors, to help you find the perfect rug for your home.
Go For Light Colors in a Dark Room to Lift The Space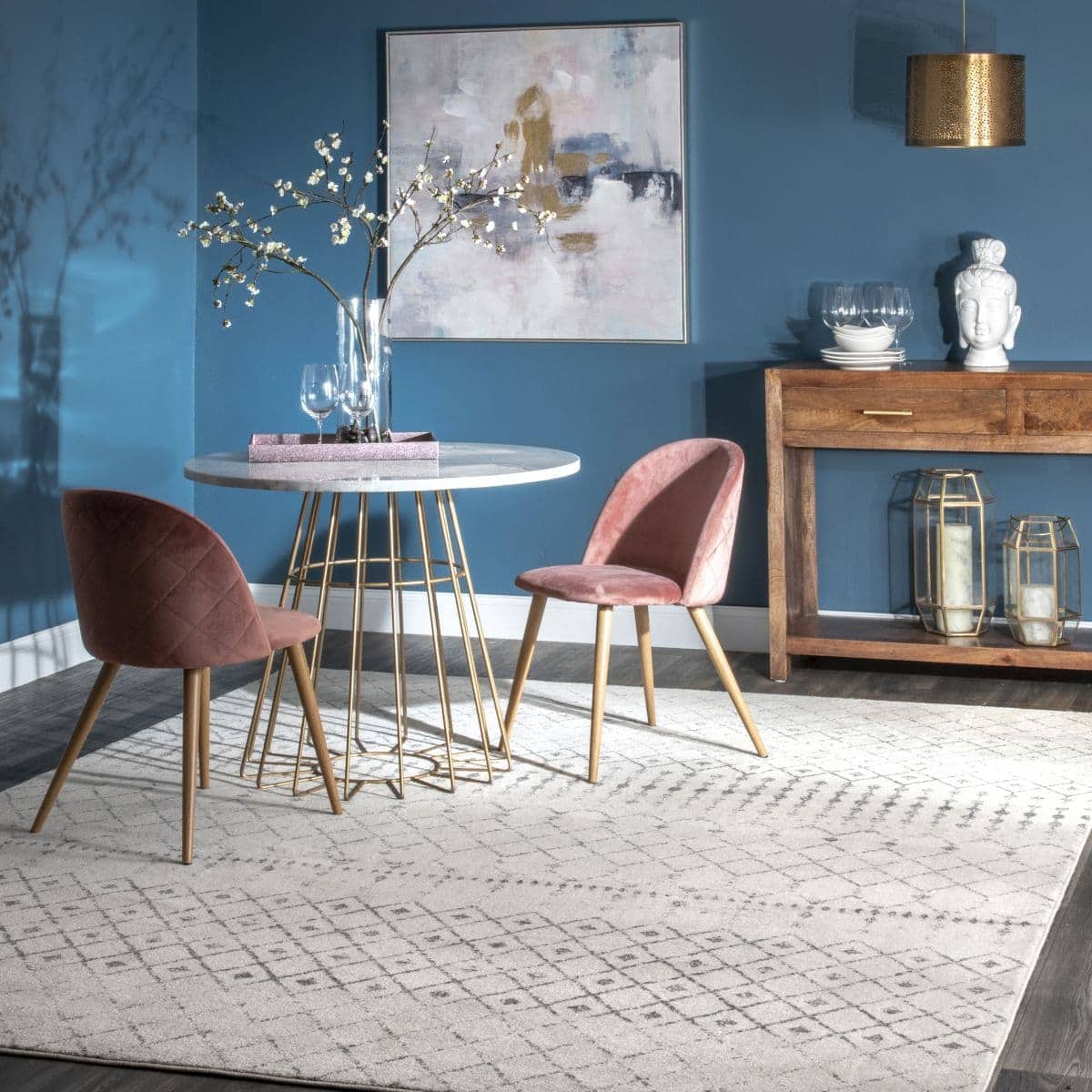 If you have dark walls in your room as well as dark wood floors, then you can bring light and color into the space with your furniture and accessories.
This Moroccan trellis area rug brightens up the room, and zones off the dining table nicely. The light color and subtle pattern would work well with a variety of different interior styles, so even if your tastes change frequently, this rug will stand the test of time.
Add a Natural Element to Your Room With a Jute Rug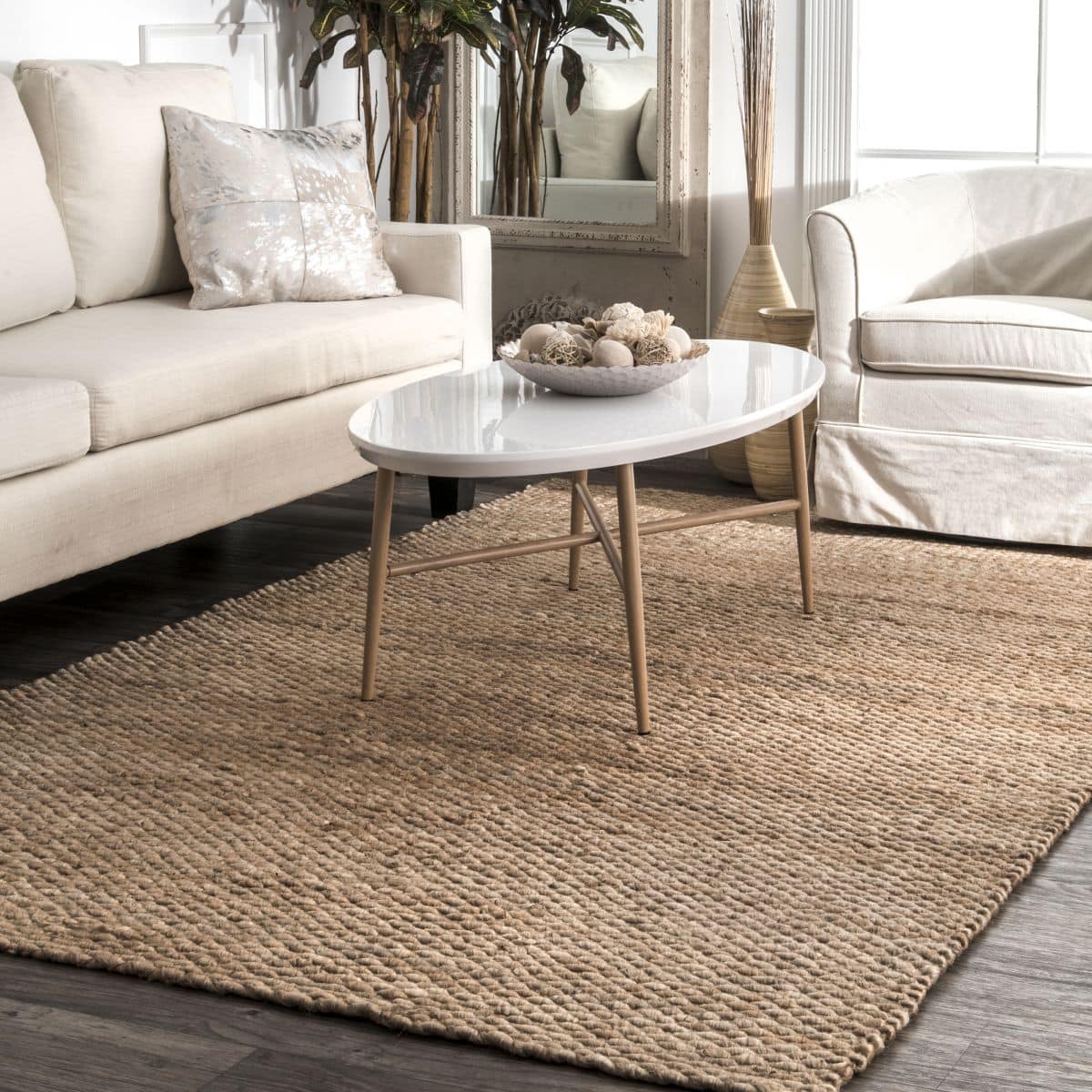 There are many benefits to using natural fibres in your home, so if you already have wooden floors, you may want to enhance the natural feeling further by using a Jute rug.
Jute rugs are not only lovely to look at, but they are also hard wearing, eco friendly, and recyclable, so what's not to love? Their natural look goes well with most styles whether your home is modern or has more of a bohemian vibe.
Add Texture With a Shag Pile Bohemian Area Rug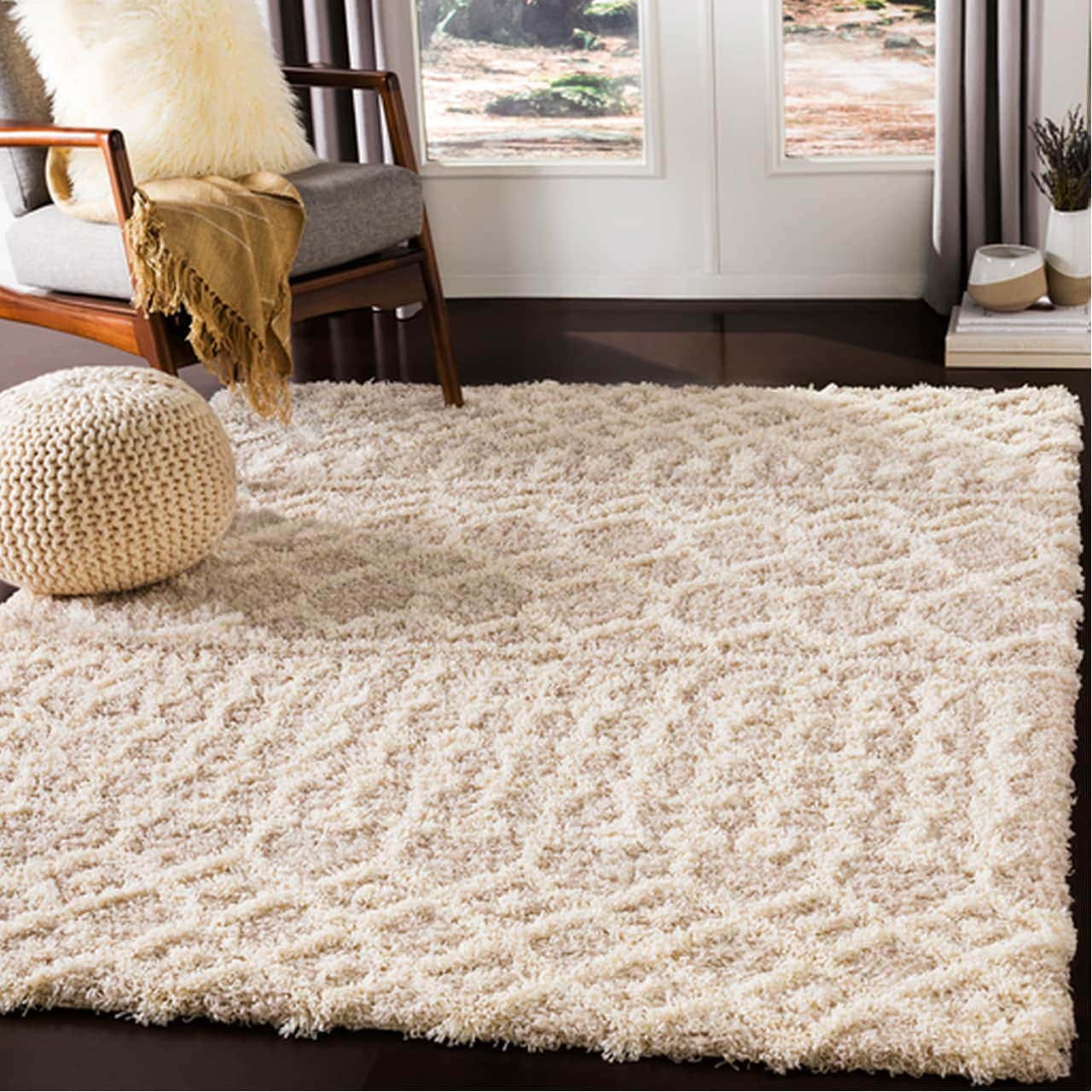 Texture is important when it comes to interior design. The texture of any material has an effect on how the light bounces off it, and how it absorbs sound, so a gorgeous shag pile area rug like this is the perfect solution for living rooms or bedrooms with hard wood floors.
The thick pile will feel lovely and soft underfoot, and it will also reduce any echo you might have in a large space with wooden floors, for a much cosier feeling.
Choose a Red Persian Rug for a Timeless Look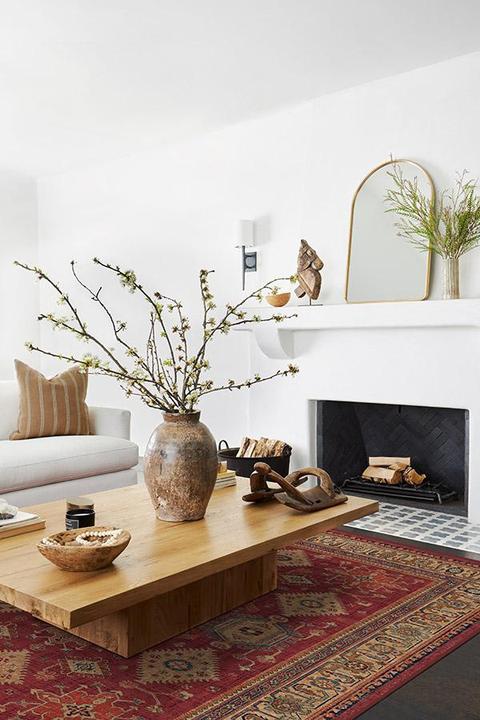 Persian style rugs are a timeless classic, and look great in almost any space. You can be sure that if you choose a Persian rug it will never go out of style!
The rich red and sand colors of this rug work beautifully on a dark wood floor, bringing warmth and life to an otherwise very plain and neutral space.
Embrace Color With a Bright Tribal Area Rug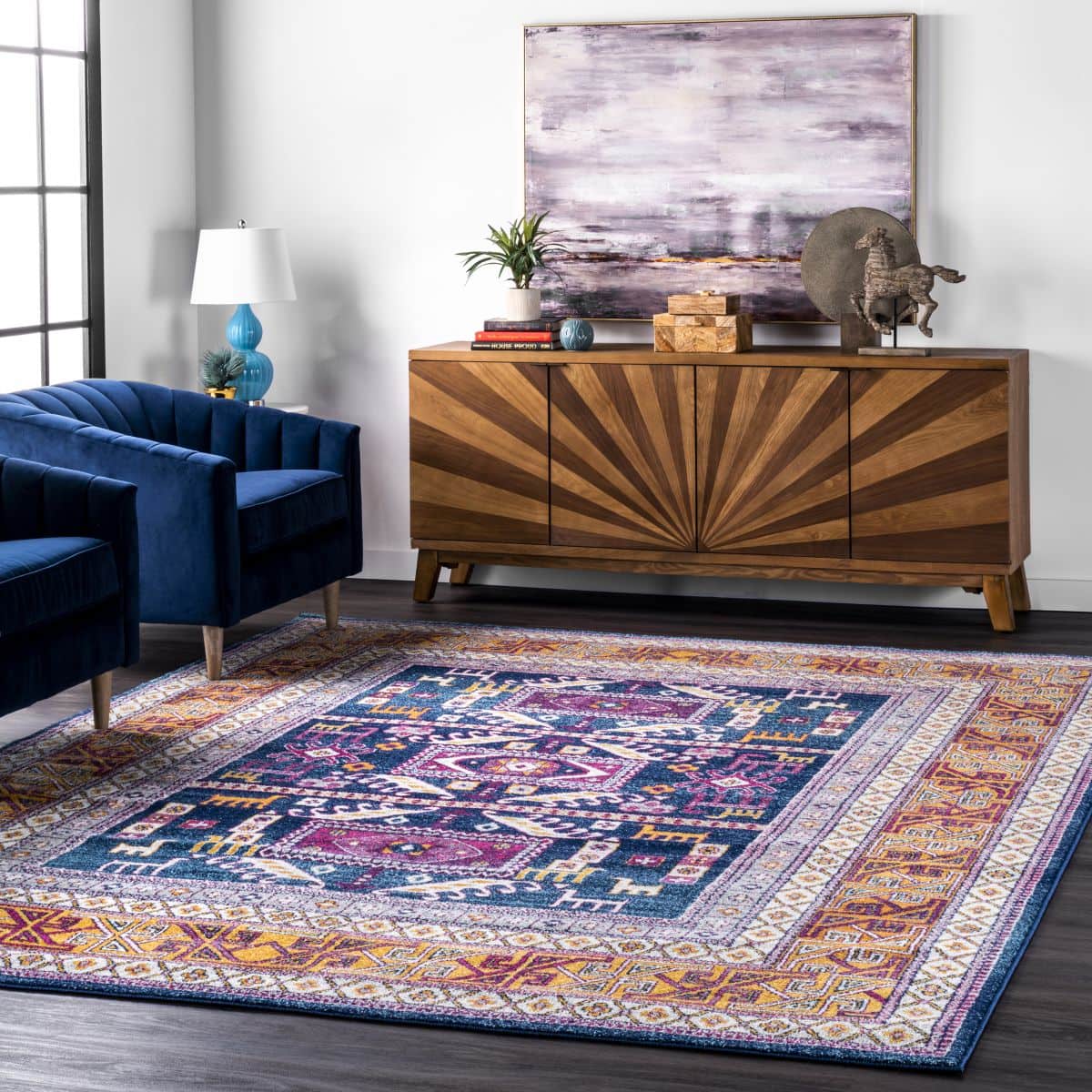 If you're looking for area rugs for dark wood floors in a modern interior, you may want to consider using something colorful!
This tribal style rug looks amazing against dark wood floors, and brings so much life to the space. The unusual colors make it really stand out as a feature in the room, especially since it coordinates so perfectly with the art and the armchairs. Perfect!
Use a Cool Blue Rug on Dark Wood for a Chic Vibe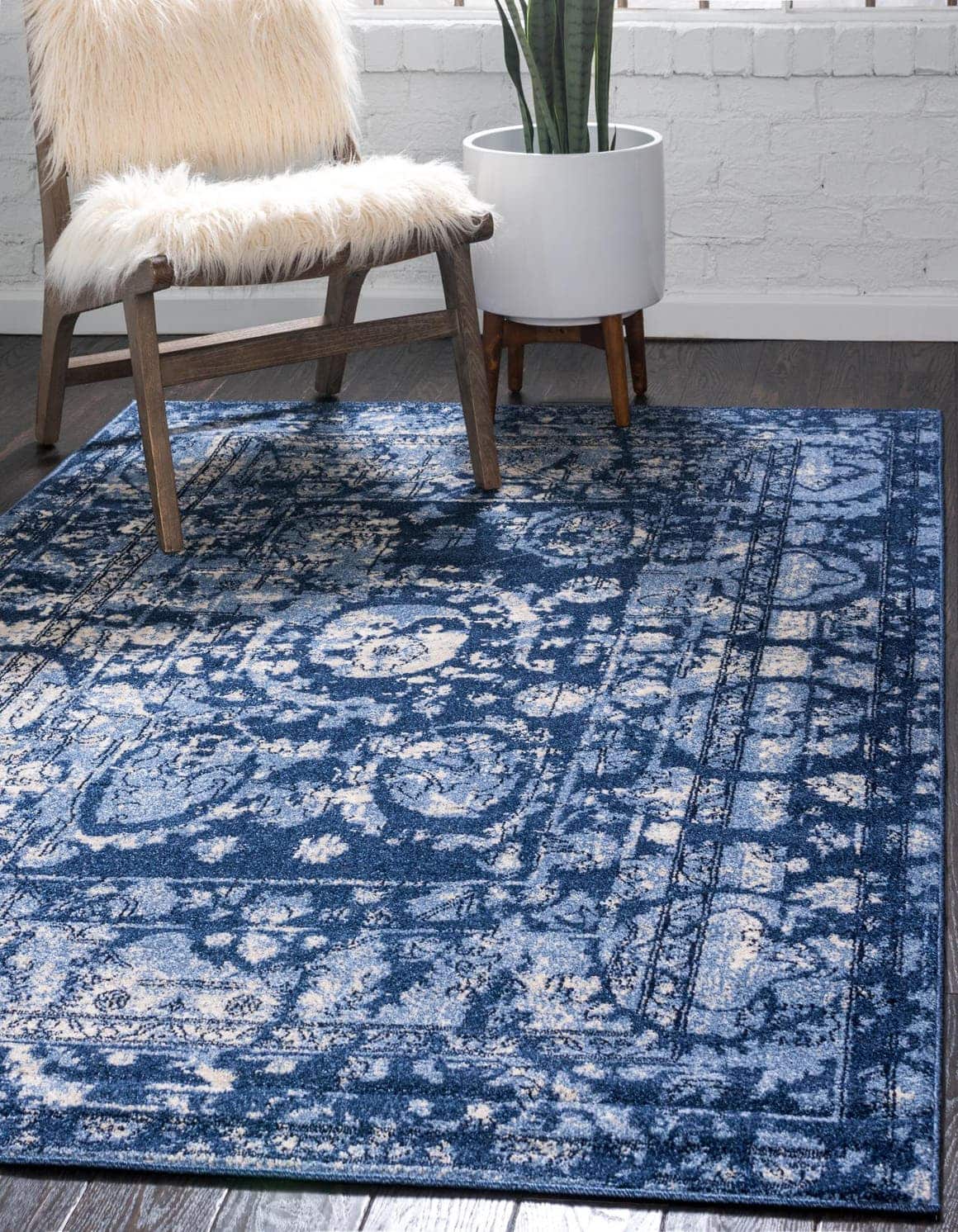 For an effortlessly chic vibe, look no further than this beautiful blue area rug. Blue is quite an uncommon color choice when it comes to rugs, but this is exactly why it makes such a statement.
This rug will work well in most interiors, and although it has lots of excitement going on in the pattern, the fact that it's monochrome means it's not overpowering so it would be suitable for formal spaces as well as classic and more vintage style interiors.
Add a Touch of Vintage Style to Your Living Room With a Beige & Grey Distressed Rug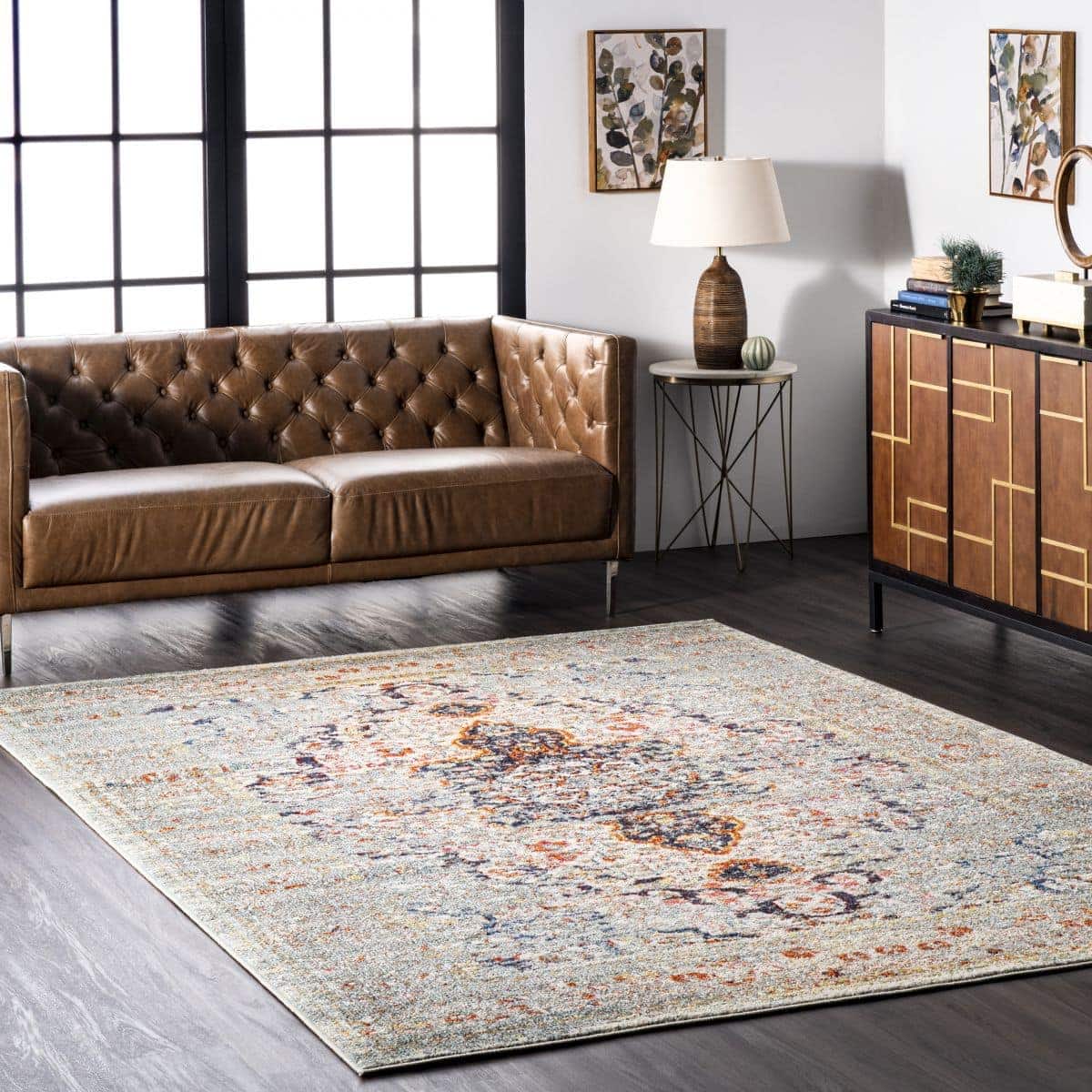 This rug has a classic design, and it has been faded and distressed for a vintage look. It looks perfect in this modern vintage interior, and because it's faded, it could work well with a variety of color schemes.
As well as being suitable for a living room, this rug would look great in a bedroom, as it's just the right size to frame the foot of the bed perfectly.
Keep it Neutral With a Traditional Turkish Hand Knotted Rug in Warm Beige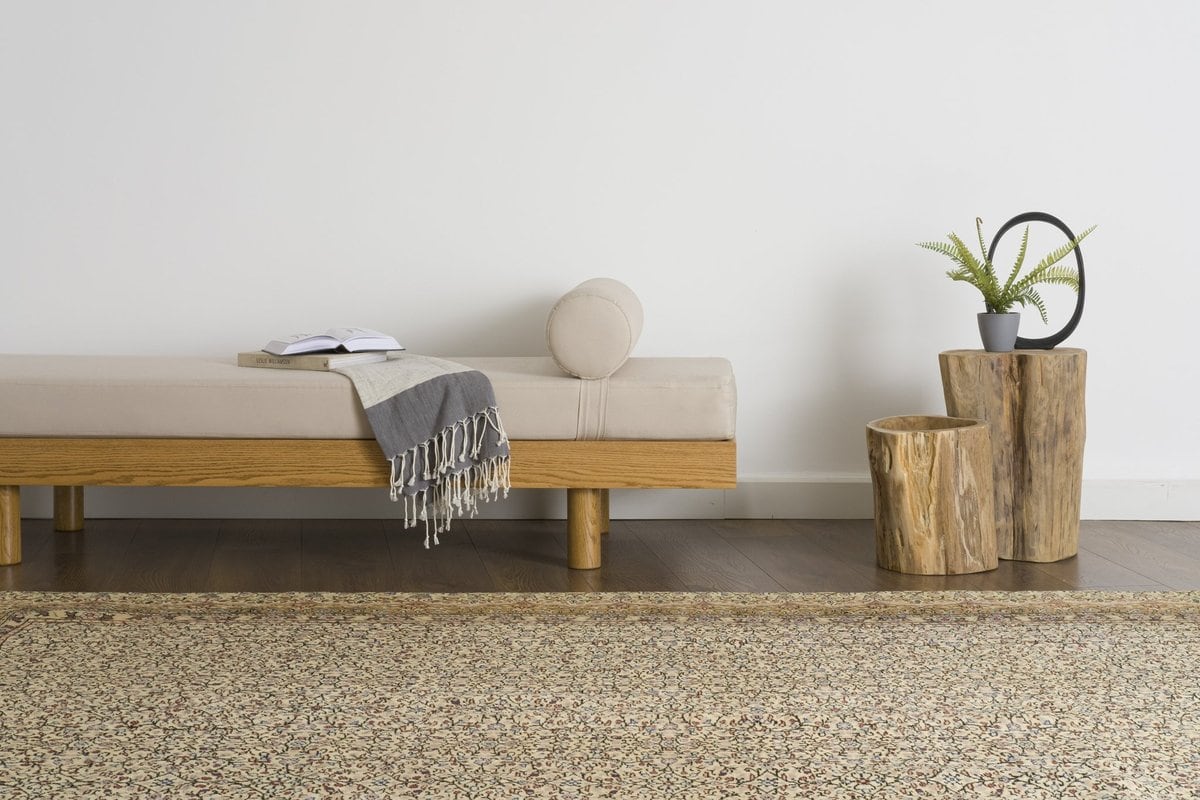 This traditional Turkish hand knotted rug is the perfect choice for anyone with neutral interiors. The light color brightens up dark wood floors, while the intricate design makes it an eye catching feature in any space.
This rug would look great in a living room, but would also be a good choice for a bedroom or dining area with a similar neutral/natural theme.
Add a Splash of Bright Color With a Multicolor Braided Area Rug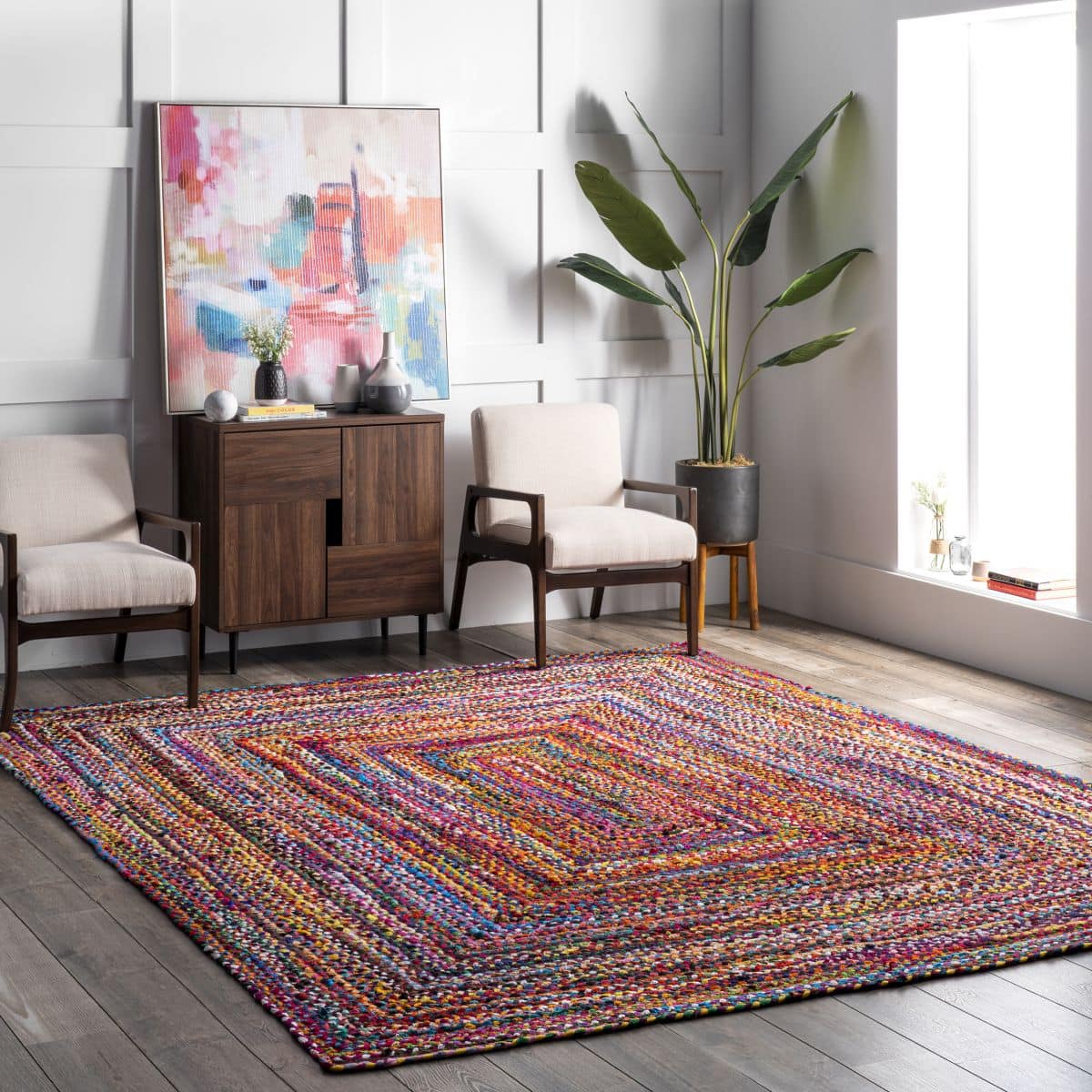 For modern spaces that need a little excitement injecting into them, this multicolor braided area rug is the solution! It's rainbow of colors stand out beautifully on dark wooden floors.
This beautiful rug is 100% cotton and comes in a wide variety of sizes, so would be suitable for rooms of any side, as well as children's bedrooms or playrooms.
Cheer up Your Living Space With a Bright Boho Style Rug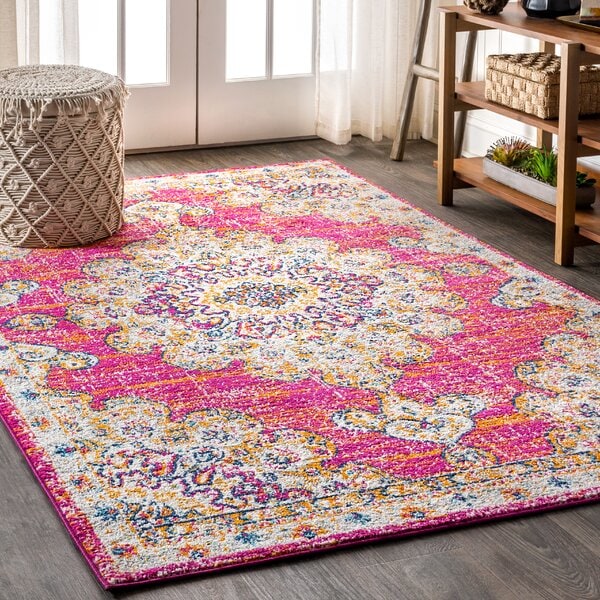 If you love the boho-glam vibe, then you will definitely want to check out this gorgeous rug from Bungalow Rose. The bright pinks and yellows will look great in an eclectic interior, and the colors will really 'pop' on the backdrop of a dark wood floor.
This is one is for the young at heart, and will be sure to bring joy to any space it ends up in!
Navy, Grey and White Rug for Dark Wood Flooring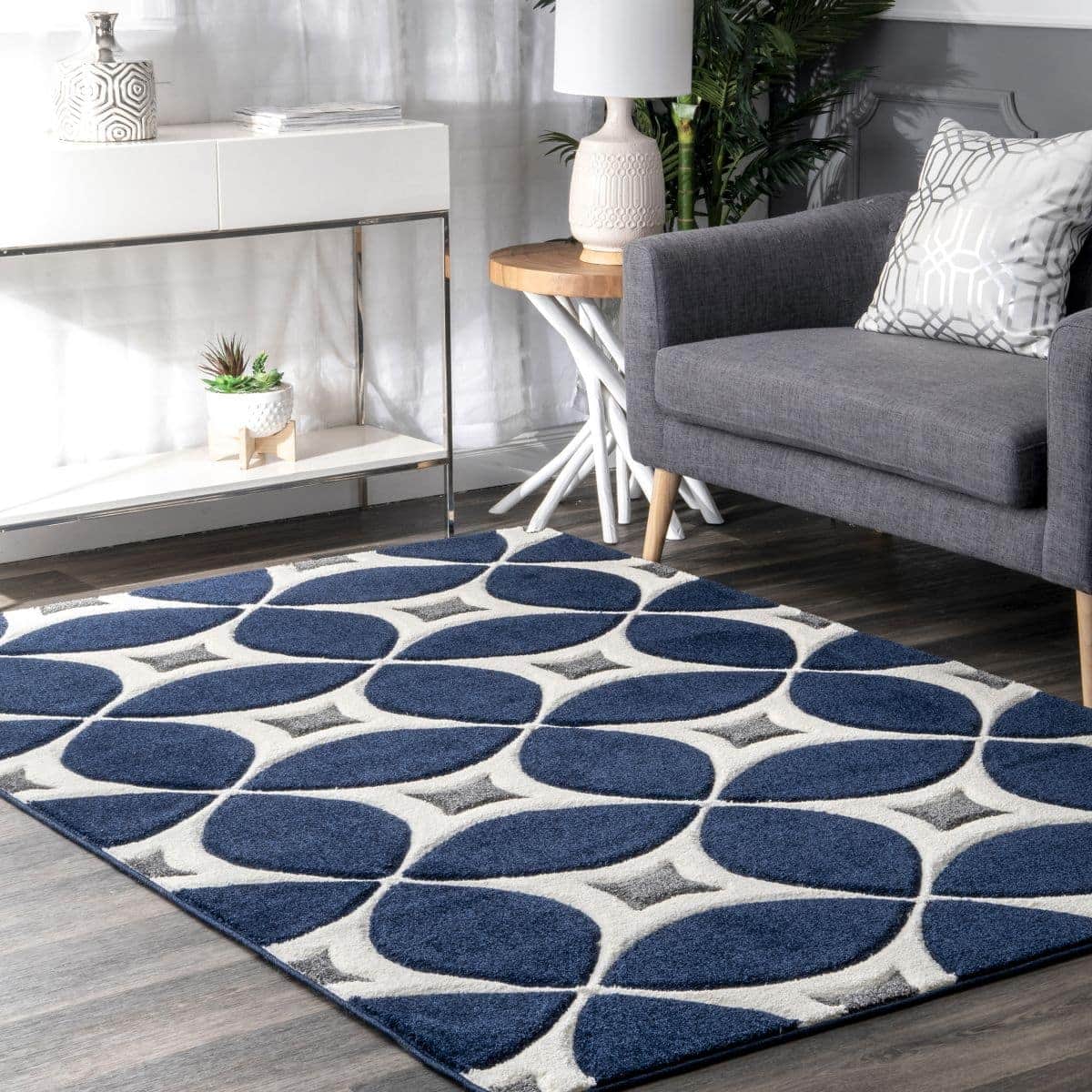 This Mod style rug will look great in any modern apartment. The bold pattern makes this a really eye-catching piece, perfect for a living or dining area.
The colors in this rug have a masculine feel, so it could work well in a stylish bachelor pad as well as a family home!
Silver Grey Rug With Dark Wood Floors for a Masculine Feel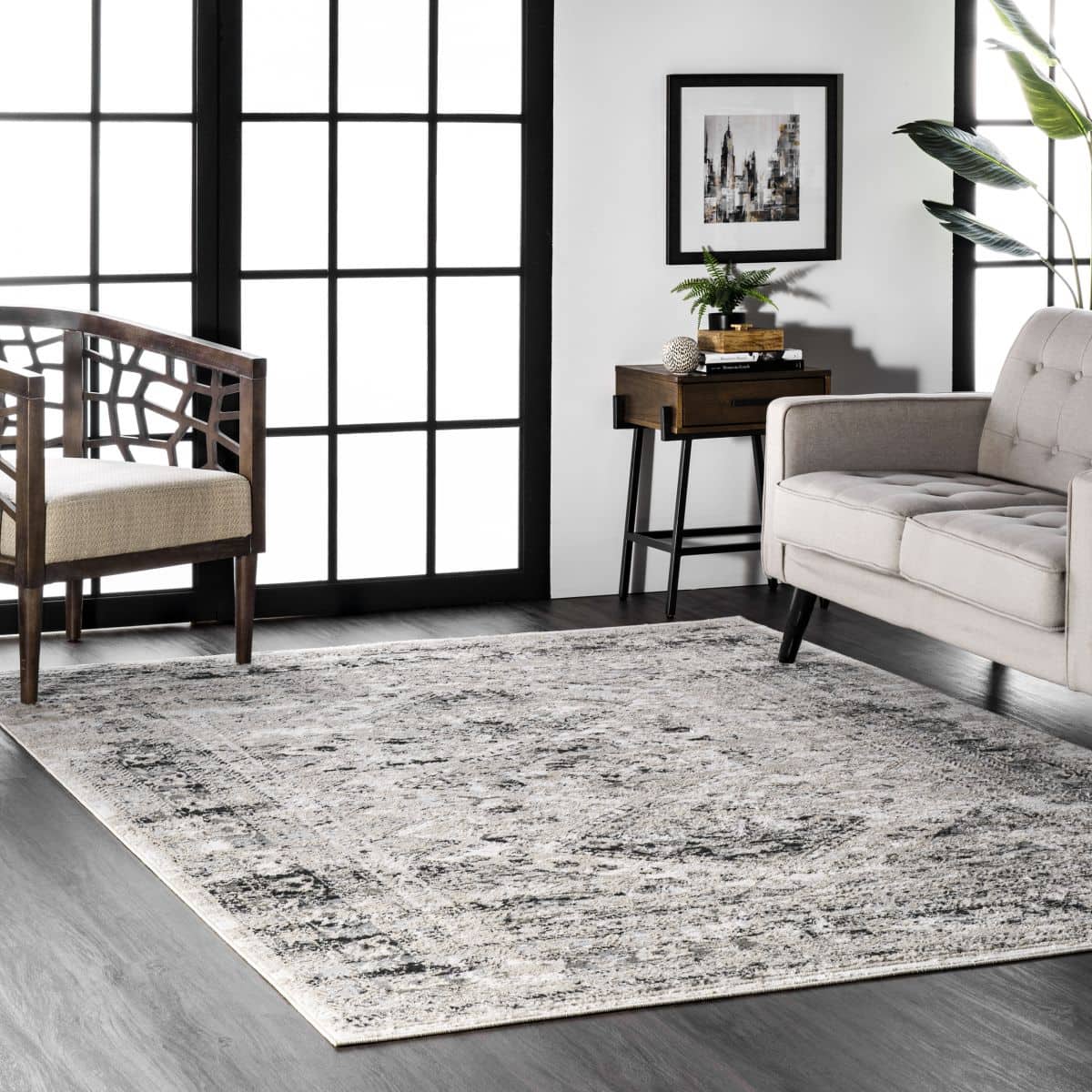 If you have dark wood floors in your home, this beautiful silver/grey rug would be the perfect addition to bring more texture and interest to the space.
The silver colors in this rug would go well with most decor styles, but it works particularly well in this modern loft style apartment for a city chic vibe. Since it is a patterned rug, it does a great job of adding texture and interest to a more plain interior, making it a wonderful centrepiece for any living room.
Bring Nature Home With a Green and Ivory Rug
Bring the outside in with this beautiful chunky textured green and ivory area rug. It's no secret that green is one of the most calming colors, since it reminds us of nature.
Green is also thought to help relieve stress and improve health, making it a great choice for a relaxing living room that you can come home to at the end of a hard day's work and just chill.
Get a Rustic Look With a Faux Cowhide Rug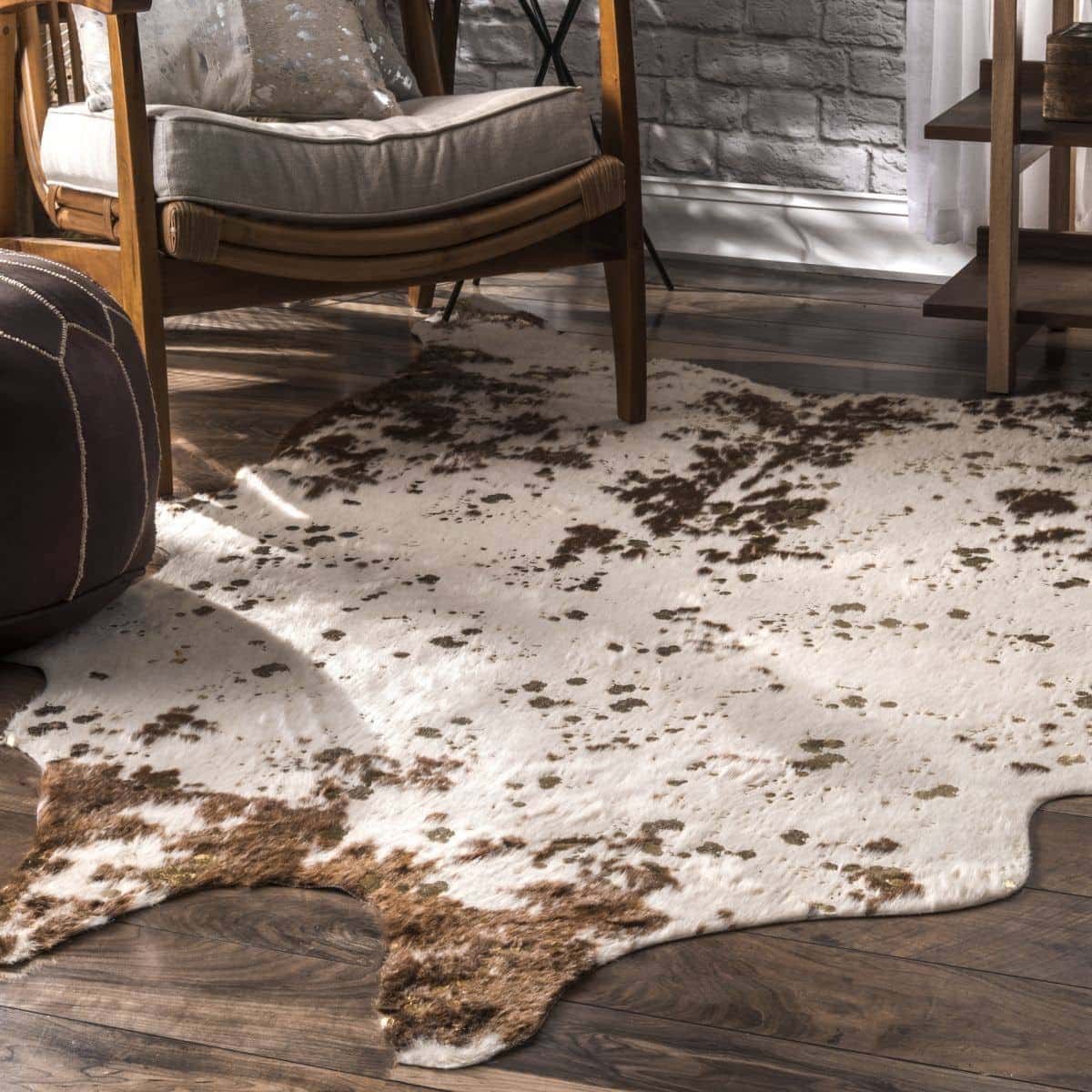 For something a little more fun, you can get a rustic feel in your home with this faux cowhide rug! The neutral colors work well with most decor styles, and since it's mostly light colored, it works particularly well against dark wood floors.
Since it's faux cowhide, it's vegan friendly, so you can enjoy the unique look whilst being completely cruelty free! Despite the fact that it's made from man-made materials, it's lovely and soft and feels great underfoot, so it's great for bedrooms and well as living areas.
Go Dark With a Black Rug on Dark Wood Floors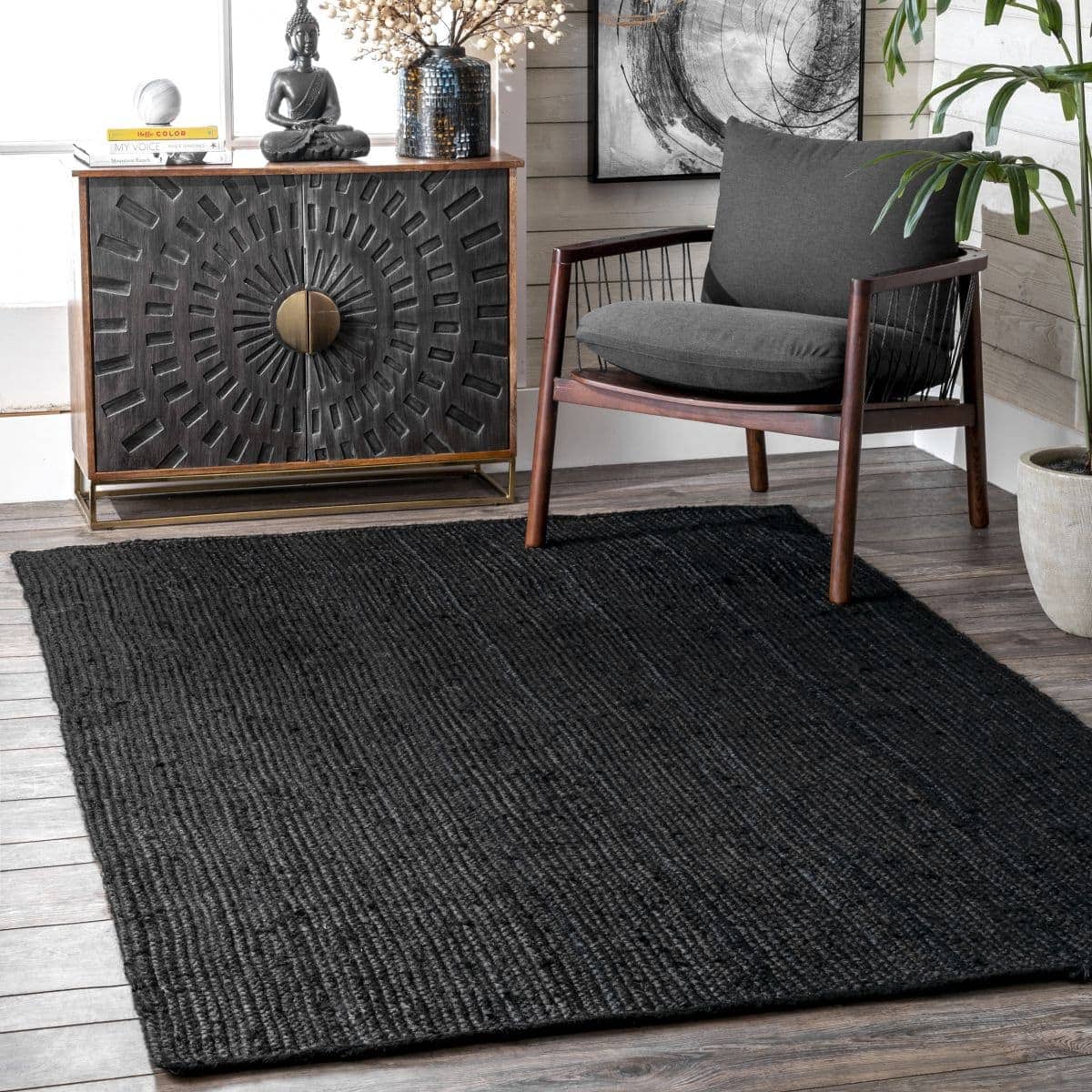 If you are a fan of dark colors, then a black rug on a dark wood floor can look really stylish, especially when paired with black furniture and accessories.
Tip: To brighten a space with dark floors and dark furniture, paint the walls a white or off-white for contrast. This will make your dark furniture and accessories really stand out.
Add a Touch of Luxe With a Pink Persian Area Rug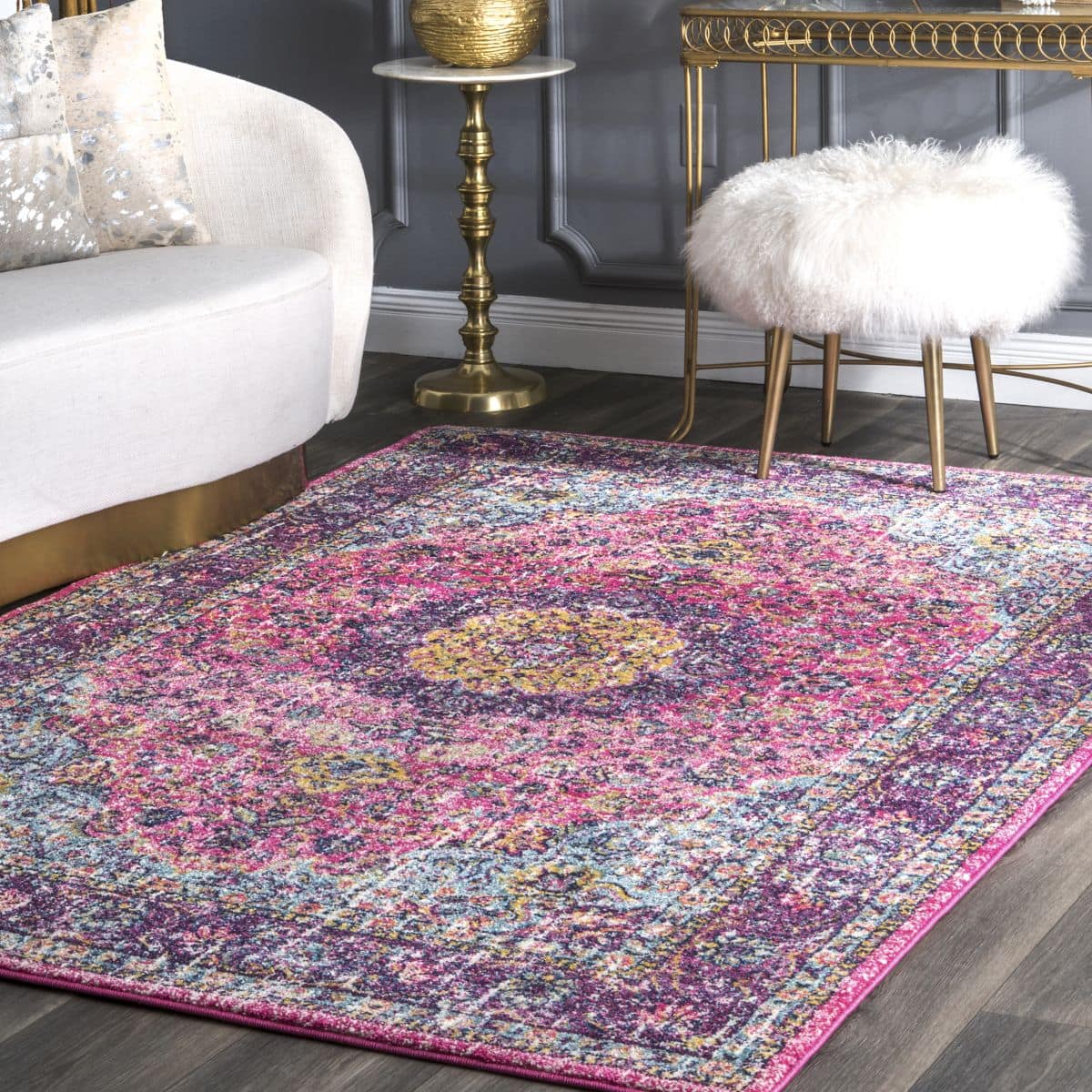 For a touch of feminine luxury, this pink persian area rug is the ultimate choice! It's great for bedrooms and living areas as it's thick, and beautifully soft underfoot.
The persian design is artfully faded and distressed, which means the colors aren't too overpowering, and makes the overall design slightly more abstract. It works particularly well on dark wood floors, which allow the colors and pattern to really stand out.
Combine Rich Reds of a Persian Rug With Dark Floors for a Worldly Feel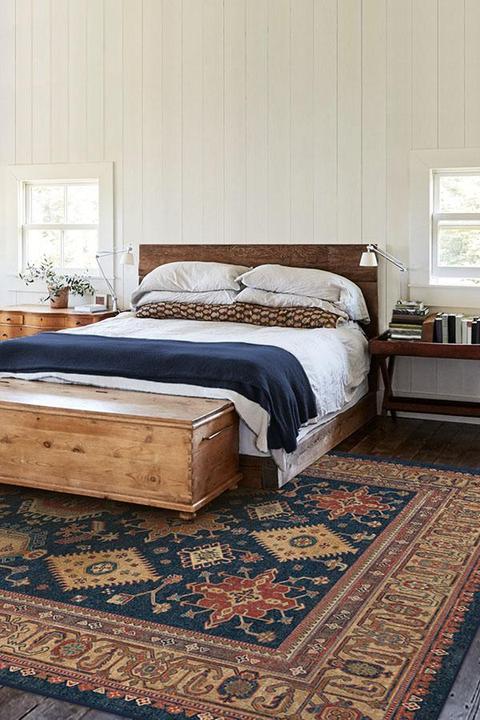 This persian rug is more traditional with deep red and navy blue hues, and an intricate design. The warm colors look great against dark wood floors, and work well to create a worldly feel in the space.
Persian rugs are always a great choice, as the design can work with most interior styles, and they don't really go out of style. You can think of this rug as an investment that you will keep and love for years to come!
Black and White Leopard Print on Dark Wood for a Bold Statement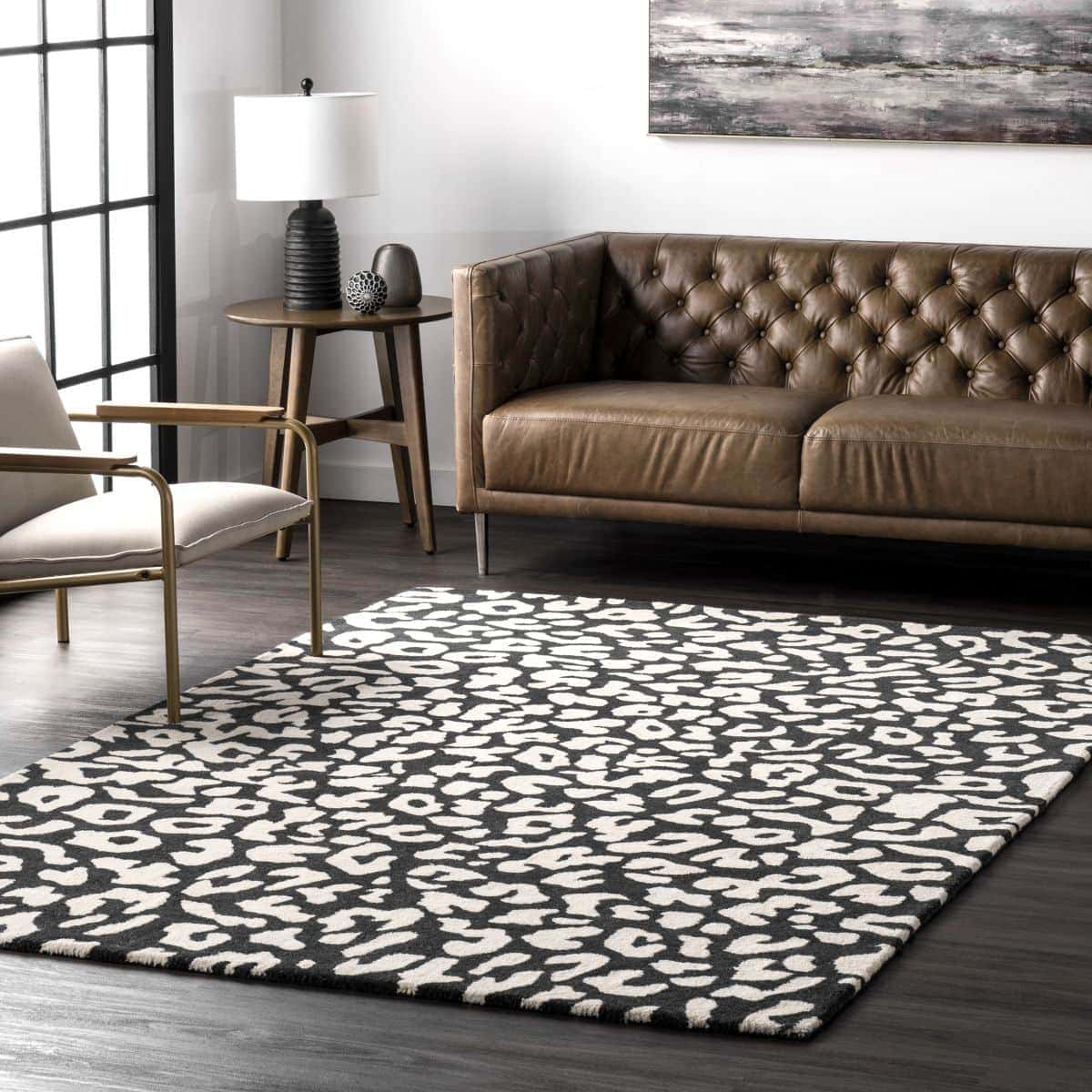 For something a little more unusual, why not make a statement with this black and white leopard print rug on your dark wood floors!
The bold black and white pattern makes a real statement and though the design is an unusual one for rugs, it will work well with most styles due to its black and white color scheme.
Final Thoughts…
If you've been looking for the best color rug for hardwood floors, hopefully this article has helped you find the perfect one for your home!
There are a few great colors that go with dark wood floors, but ultimately it's down to personal choice. All of the rugs in this article look great against dark wood, but you should also consider what will work best with your choice of decor, and your personal style.
Although rugs can be an expensive purchase when it comes to home decor, you can consider them an investment, because unlike carpets they can be easily moved from room to room, and taken with you if you move to another home in the future!